How Ed Curtis designed London's wildest Christmas tree

O tannenbaum, o tannenbaum, how lovely are thy spray paint…
There is an art to decorating for Christmas, but there are no rules. Want to keep it classy and traditional? Deck the halls with boughs of holly. Fancy something a bit more kitsch? Pile on novelty baubles until it looks like someone threw up emojis on your tree. Always dreamed of a blinged-out, Y2K WAG-approved white Christmas tree? Go for the snow!

"I don't think you should overthink a Christmas tree," says artist and designer Ed Curtis, Zooming in from his studio in London, a few hours before he'll attend The London EDITION's tree unveiling party. He should know. This year, he was chosen by the swanky hotel to design its colossal tree, which now stands proudly in the hotel's foyer and greets guests as they walk in.

You may remember Curtis from his collaboration with Stella McCartney in October (Timothée Chalamet and Dua Lipa were both fans), or better yet, his own psychedelic circus of a collection from earlier in the year. If so, you'll know that his aesthetic is doing the most in all the right ways, using an Art Attack approach to revive club kid spirit. It's whacky, whimsical and, most importantly, lots of fun.

But how could Ed Curtis' irresistibly eccentric style translate on a Christmas tree, you ask? Very well, actually. As he puts it, The London EDITION wanted a ​"really energetic, really ridiculous, really fun Christmas tree". And for that, there was no person better suited for the job than Curtis. Here, he tells THE FACE how he made it all happen.


Hey Curtis, how are you doing?

I've actually had a really crappy morning. But I'm in the studio now just trying to get stuff done before I leave later. We're doing this party at the hotel tonight [7th December] for the unveiling of the Christmas tree. I thought it would be 20 of my closest friends, but there's actually like 100 people coming now, so I need to mentally get in the place to host all of those people.

That should be a fun way to turn the day around and end on a high.

I mean, free drinks. Can't complain!

Exactly! Your Christmas tree looks incredible. How did the project come about?

I recently did a project with Stella McCartney and, when we launched the collection, I did a big installation in the Stella McCartney Bond Street store. The people at The London EDITION saw what I'd done and were like, ​"Oh, we should ask this guy to do our Christmas tree", because it was exactly what they were looking for. It really put me in the Christmas spirit quite early on.

Like everything I do, I didn't really overthink it. I just wanted to replace all of the traditional Christmas tree elements, like baubles and tinsel, and just do it my way. I love working on a big scale, so it was a lot of fun.

The initial thing was finding the right Christmas tree, which is something I've never had to think about before, getting an 18-foot tree. I was like, ​"I want the biggest, fattest Christmas tree you can find!"

How do you even begin decorating a tree that big?

For me, it was just making sure I had enough elements. I didn't really plan or do a proper sketch. When you're doing a Christmas tree, you just want to have loads of stuff – I mean, it depends what you want. I wanted it to look really maximalist, so I had to make sure I had enough artwork to turn up and just go with it.

Decorating was so much fun, but logistically a little bit difficult. Actually getting to the top of one of those Christmas trees is quite hard, because of course, the trees go in at the top, so even if you've got a huge ladder, it's still really hard to reach it. With the lights, I was like a cowboy. I literally just stood at the bottom and threw them on. It was mainly just a night of throwing stuff and then messing it a bit with baubles and stuff.

With the star, we couldn't reach the top of the tree on the ladder, so the engineers at the hotel basically had to hook it on. They spent an hour making a stick with a hook and then hooked the star onto the tree from the mezzanine. It was like fishing. It was really silly. We did it on a Friday night from one till six in the morning.

You must have felt delirious after.

I really did. There were people who were staying in the hotel coming in drunk and saying stupid stuff too. It was kind of funny.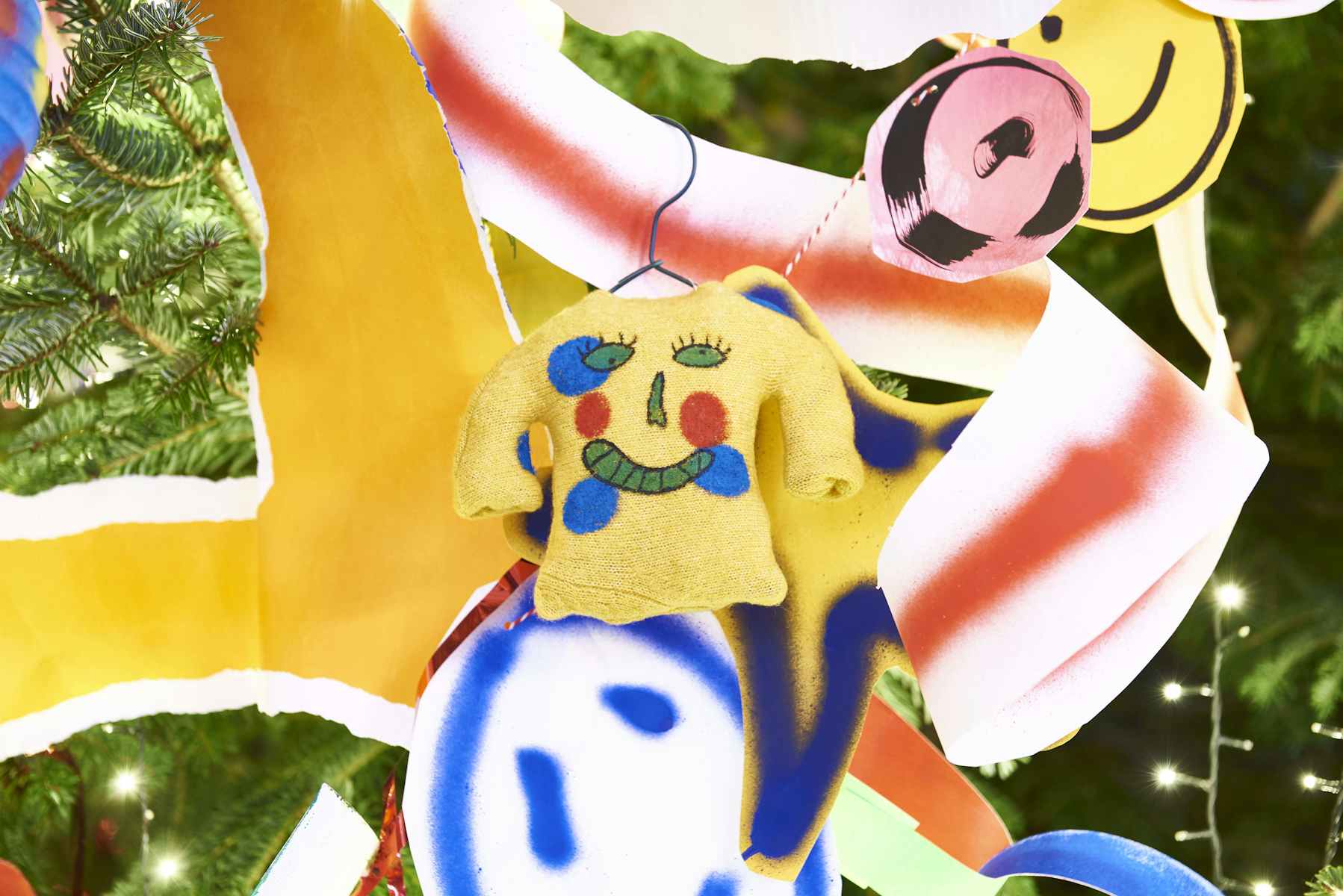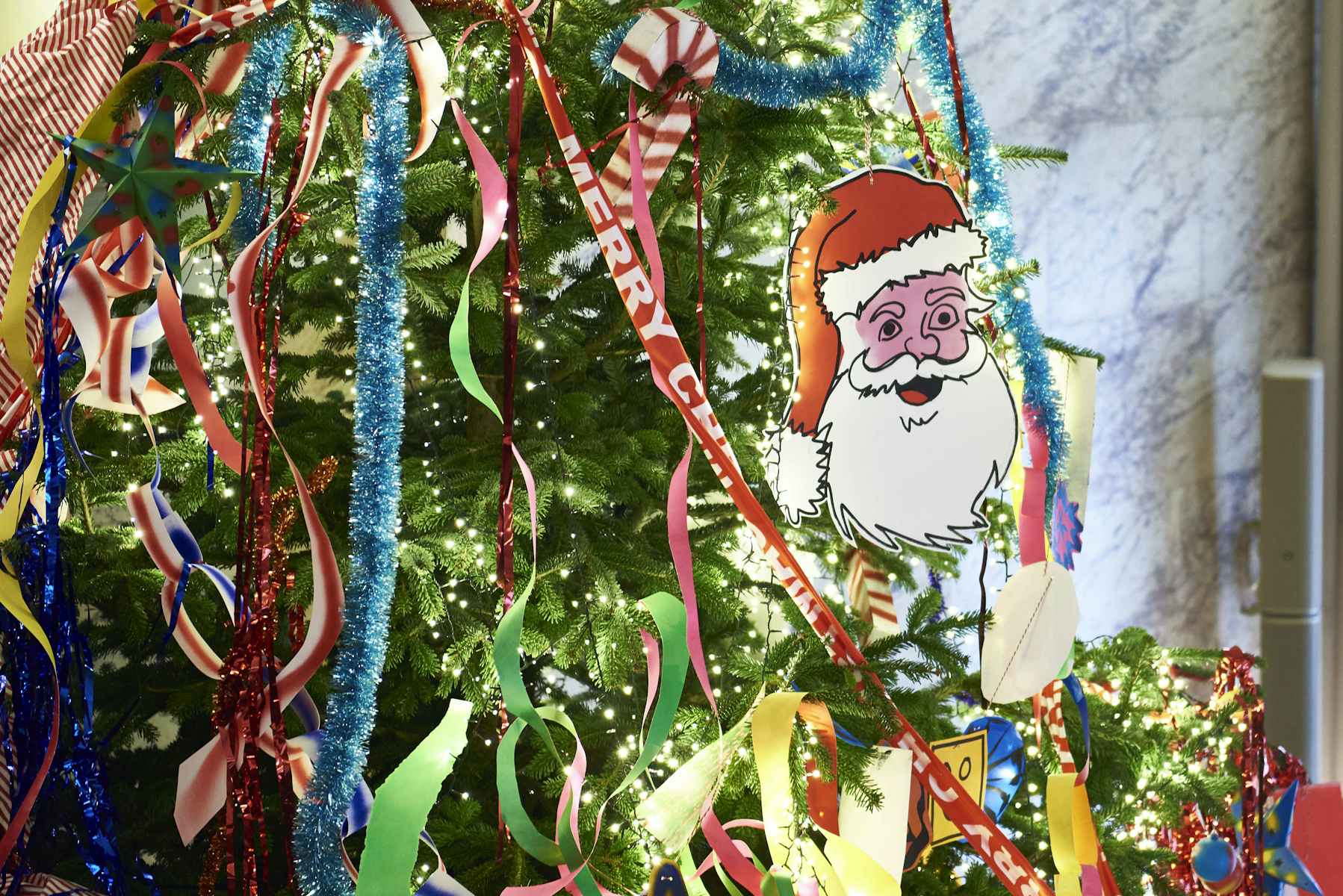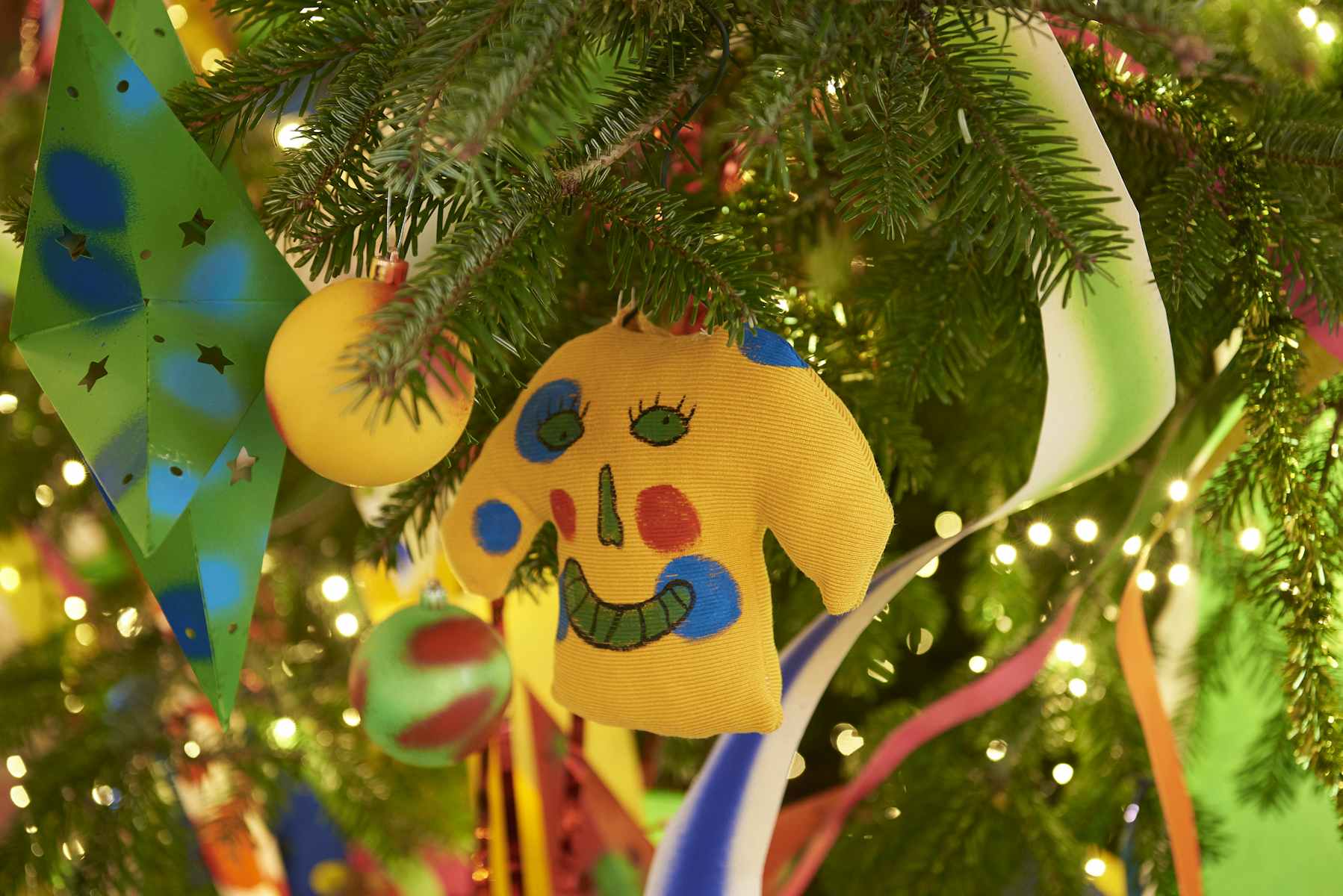 All of the decorations on the tree are handmade or hand-painted. Can you talk us through the creation process of some of those pieces?

It was quite important that everything could be either reused or recycled. A lot of set artworks I've done in the past have generally been quite paper-based. I usually start by creating loads of painted paper and I just cut it all up into different shapes or tear it all up. We hand spray painted all the baubles and we replaced the tinsel with silk fabric that has ​"Merry Christmas" printed all over, which we cut on the bias into strips and basically made a really long ribbon. It was important that everything on the tree was handmade and not shop bought. We did have a bit of tinsel, just to get in that glittery element, but the majority of it was handmade and painted by myself.

But when you look at it, it just looks like a kid has done it. I kind of felt like a big kid doing it. I actually spoke to one of the waiters in the hotel the next day, but they didn't know I had done the tree. They asked me what I thought of it and I said I really liked it. Then they said, ​"Oh, some of the staff think it's a bit extreme." I was like, ​"Oh really? Tell me more!" That's great. I wanted it to look extreme. It definitely doesn't look like any other Christmas tree in London.

Which decorations are your favourite on the tree?

I made this paper mobile on a really long piece of string. It was basically made up of all these individual little paintings that I had done, like smiley faces, little Christmas trees, torn bits of paper. It was kind of like an amalgamation of lots of paintings I already had in my studio, paintings I've been building over the years. I kind of just cut them into smaller pieces and attached them onto this mobile, so it was really a lot of my work. You wouldn't necessarily look at it and think, ​"Oh, that's a Christmas decoration", but I think that's what I liked. It was like 10 metres long and I just kept adding to it.


Like a timeline of your work! What's your Christmas tree at home like?

I basically made a mini version of The London EDITION tree in my house. But it's not that mini, it's an eight-foot tree. It's actually way too big for my kitchen and touches the ceiling. But I just couldn't help it. The guys who delivered it said they had one that was two feet bigger [than the original tree] and I could just switch it for free. I was like, ​"Yeah, no brainer."

Nice. Do you have any top tips for decorating for Christmas?

Don't overthink it and make sure you have too many decorations. Having too many is better than not enough. It just has to be fun. You definitely have to put on a Christmas playlist – that's an absolute must – and drink some wine while you're doing it. The actual dressing of the tree has to be a very festive experience.

They say Christmas is a time for reflection. When you look back on 2021, what are you most proud of?

I'm probably most proud of the campaign lookbook that I made for my own collection, which we shot in July. The collection had become a lot bigger than I initially anticipated, but before the shoot I'd only ever shot my clothes like on me. I wanted to achieve something more and push myself a little bit, so we cast like 15 people, which I'd always been a bit nervous of doing. I just felt like I didn't really have the confidence to like direct a big cast. I think I'll always look back at that as a breakthrough moment for me.


More like this