How Mr Blobby became an LGBTQ+ legend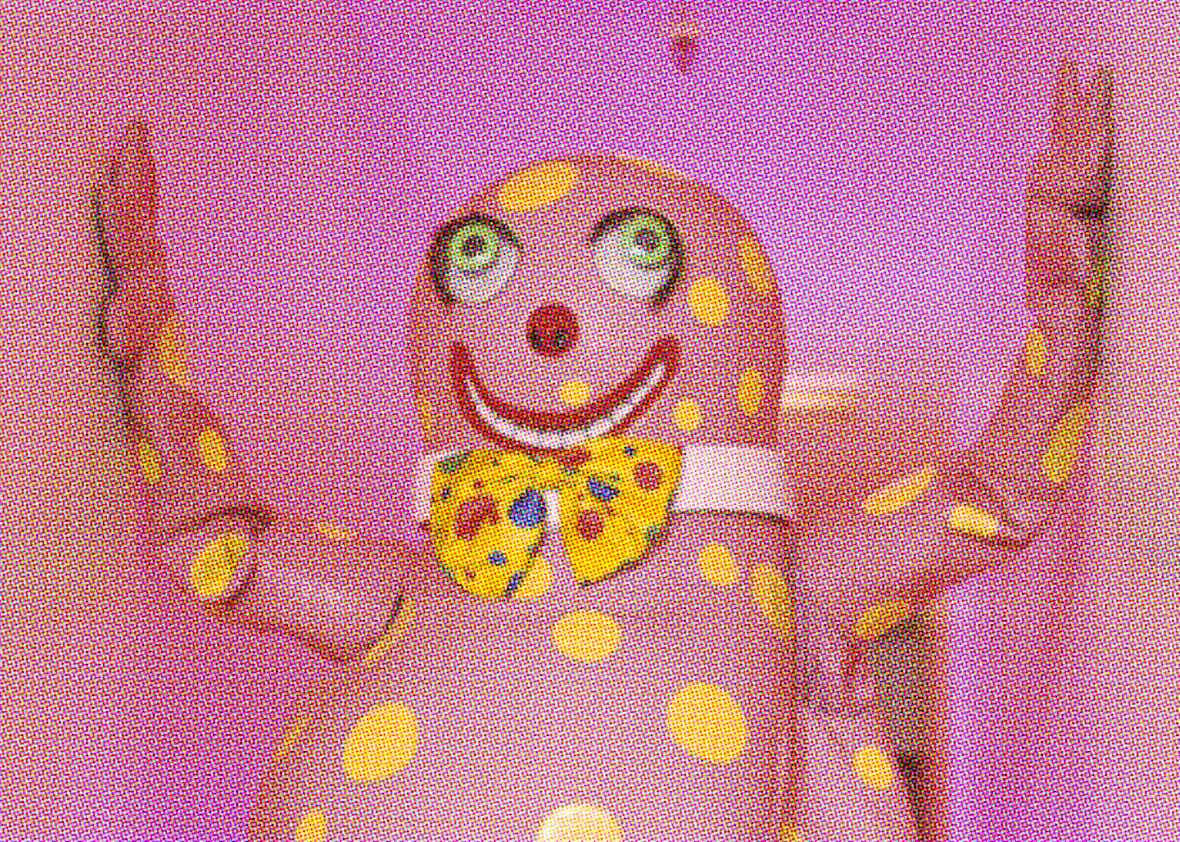 "Blobby is absolutely queer in a 'fuck the boundaries, destroy the system, embrace anarchy, live authentically on your own terms' way."
It isn't quite accurate to say Mr Blobby is having a comeback. For those who love him, the ultimate agent of chaos never really went away. But 31 years after he debuted on BBC One's Saturday night staple Noel's House Party, the pink and squidgy one is definitely gatecrashing again. In March, he even joined Self Esteem on stage during her headline show at London's O2 Apollo Hammersmith; footage shared on Twitter shows Blobby brandishing an inflatable pink guitar as he bumps into the singer and her backing vocalists. We're entering a Blobaissance, if you will. And it's firmly being driven by the character's adoring LGBTQ+ fanbase.

Last September, two RuPaul's Drag Race queens – Danny Beard and Black Peppa – created Blobby-inspired looks for a fashion challenge themed around 100 years of the BBC. ​"I just think he's so ridiculous and fun and a big part of our childhoods," Beard tells THE FACE. ​"And because we all have this shared memory of Blobby, when you put your own spin on it, people feel more of a connection to the look." Nostalgia is definitely integral to Blobby's enduring appeal and, unlike other beloved figures from our formative years, he can never disappoint us by expressing dodgy political views or being accused of tyrannical behaviour on set. (Though in a rare lapse of judgement, he did let Jeremy Clarkson play his driver in the music video for his chart-topping 1993 single.)

However, Blobby is much more than a comforting ​'90s throwback. He is also a potent antidote to today's over-curated Instagram feeds and po-faced online personas: Blobby doesn't worry about angles or filters; he just galumphs around until he ends up on the floor. He also acts as a timely reminder that the world is messy and sometimes we need to be messy, too.

Black Peppa, who was born and raised on the Caribbean island of Saint Martin, didn't discover Blobby until she moved to England for university around a decade ago. ​"My housemate had a video up of this pink character with yellow polka dots going onto a TV set and throwing shit everywhere," Black Peppa told us. ​"I was like, ​'What is this and how is it on TV?' She explained that Blobby is known for being really chaotic and breaking things, and that really stuck in my head." So, when Black Peppa received the brief for the BBC-themed Drag Race challenge, her choice of style legend was a no-brainer: ​"I just knew I had to do Blobby."

"What is this and how is it on TV?" are great questions – and ones that can be answered in several ways. On a strictly autobiographical level, he is a character created by Noel's House Party writer Charlie Adams for the show's fondly remembered ​"Gotcha!" segment. Blobby was introduced in 1992 as a supposedly well-established kids' TV character who would test the patience of unsuspecting celebrities by disrupting their bits for a fictional, Blue Peter-style magazine show. On YouTube, you can watch a classic ​"Gotcha!" in which ​'90s rugby star Will Carling tries to teach Blobby the rules of the game. Inevitably, there are more F‑bombs than drop kicks, and the lesson ends with Blobby falling over and breaking the goal. The whole thing is hilarious and strangely inspiring. On some level, Blobby is the person all of us would be if we thought ​"fuck it!" and chose chaos over behaving appropriately in any given situation.
But on another level, Blobby has consistently transcended his relatively ordinary origin story. In 1993, despite having a vocabulary limited to the word ​"blobby" repeated ad nauseam in a heavily vocoder voice, he launched a side hustle as a pop star and claimed that year's Christmas number one. His self-titled hit Mr Blobby is a tinny but catchy dance banger with lyrics that celebrate his outsider status in a surprisingly poignant way. ​"Although he's unconventional in hue, his philosophy of life will steer him through," a session singer tells us. ​"And despite the limitation of his poor coordination, he knows he'll show the world a thing or two." You go, Blobby!
If Blobby's pop career was a happy accident 30 years ago, so, in a way, is his LGBTQ+ appeal today. Performance artist Fatt Butcher, who describes Blobby as their ​"kindred spirit", says the character has a ​"lurid monstrosity" that ​"really speaks to the queer sensibility". As they put it, ​"Mix in the iconic novelty music career, the unique sense of style and the ability to always be the centre of attention, [and] that's drag, babes!" However, Butcher also points out that Blobby's LGBTQ+ following is not predicated on the character ​"necessarily being gay". After all, Mr Blobby is often joined by Mrs Blobby, whose signature pearl necklace and oversized bow make her look like a star from Hollywood's golden age. Well, almost.

"But," Butcher continues, ​"Blobby is absolutely queer in a ​'fuck the boundaries, destroy the system, embrace anarchy, live authentically on your own terms' way." And because Blobby cannot and will not adhere to social niceties, he is constantly rubbing up against the stuffier elements of heteronormative culture. ​"For a lot of young queers watching Blobby in the ​'90s – myself included – he offered a little glimpse of a different way of living [and] the possibility of a colourful, disruptive and chaotic world that was very attractive," Butcher says.

TeTe Bang, a DJ and performer who, like Butcher, was drawn to Blobby at a young age, suggests the character's queer appeal could also be rooted in a kind of radical ambiguity. ​"The fact Blobby is naked apart from a bow tie means he is free of a lot of the social signifiers people [use] to characterise a person's gender and place them into a box," she says. ​"Yes, Blobby has a wife and family, but he is also without reproductive organs which means the possibilities of Blobby's gender identity and sexual orientation are endless." In Bang's eyes, Blobby's distinctive colouring and shape ​"really leaves it up to the viewer to decide how they interpret Blobby."

However you view Blobby, he/​they look set to continue inspiring the UK's LGBTQ+ performance community. Butcher is currently honing a Blobby-themed opera number that reimagines Gotye's alt-rock bop Somebody That I Used to Know as a ​"lament" called Some Blobby That I Used to Know. ​"I want to create a moment of performance where we might reconsider the plight of Blobby as a tragic heroine – a Norma Desmond type – used to make Noel [Edmonds] a star," says Butcher. And whenever a high-profile admirer like Self Esteem calls, Blobby will be waiting in the wings.

"Every time you see Blobby, it's in some kind of iconic scenario," says Black Peppa, ​"so I think Blobby's going to be iconic for a very long time." After all, when you're born Blobby, you stay Blobby. Or, as Blobby would say it: ​"Blobby blobby blobby blobby, blobby blobby blobby!"


More like this