Issa Rae's Rap Sh!t celebrates hip-hop's hot girl summer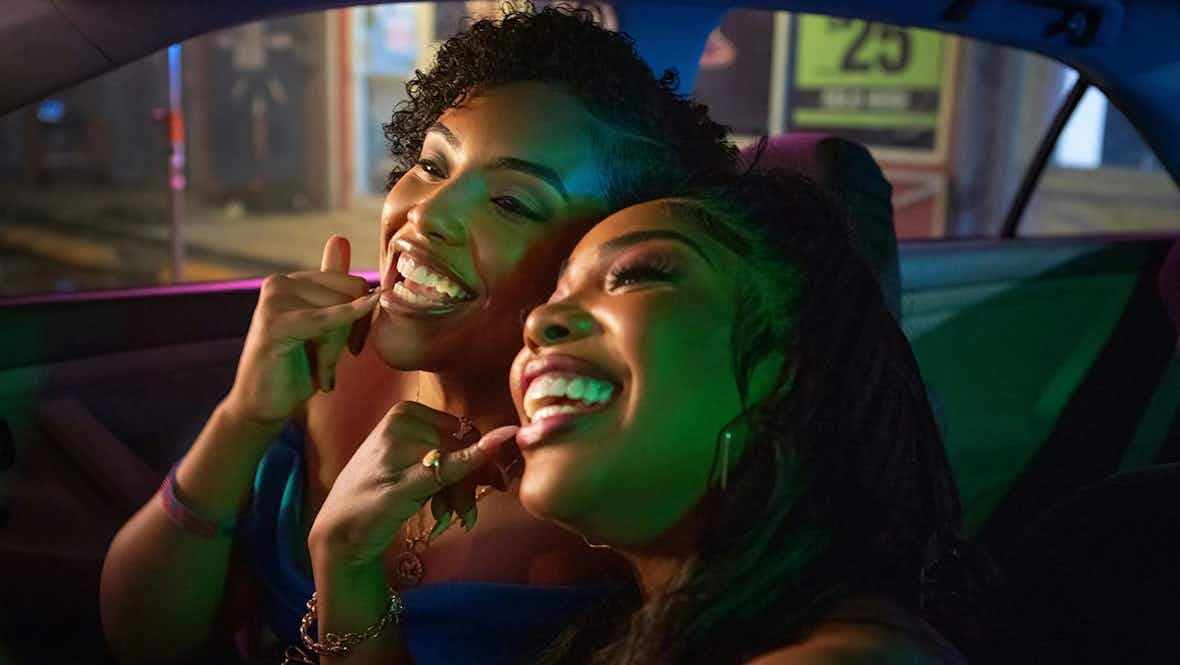 Loosely based on the rise of City Girls, Issa Rae's latest TV show celebrates rap's "bad bitch renaissance" while taking on sexism in the industry. About time, we say.
The past few years have seen some excellent television dealing with the struggle of the rising rapper: the surreal hilarity of Donald Glover's Atlanta, the surprisingly evocative satire of Lil Dicky's Dave. Egos and tension and vapid industry bullshit abound in both.
But while hip-hop has long been the hypermasculine preserve of men, often pitting the few women who have made it through against one another, we are currently in the midst of what one character on Issa Rae's new show calls a ​"bad bitch renaissance", as the likes of Megan Thee Stallion and Doja Cat dominate the charts. We are therefore long overdue a fictional TV series that gets into specific experiences of women MCs on the come-up – not least the stereotypes, judgements, expectations and abuses of their bodies that men rarely have to deal with. And so, welcome to Rap Sh!t.

Set in Miami, it's based loosely around the story of Florida's hottest rap duo, City Girls (Yung Miami and JT served as co-executive producers on the show), and at its best it channels the pair's raunchy, spirited nonchalance. When the series begins, Shawna and Mia (played with warmth, depth and a sweet chemistry by Aida Osman and KaMillion, respectively) are both dissatisfied with the roadmaps of their lives. Shawna, the more reserved and serious of the two, works at a hotel, while stealing credit card information to make extra cash on the side. She's doing long-distance with her self-important law student boyfriend (played by Devon Terrell) and is also a struggling rapper – her big break was squandered when she dropped out of college to pursue a record contract but got deserted by her former friend and producer (played by the internet's favourite Italian, Jaboukie Young-White). Mia is more vibrant and outspoken. She used to be a stripper, but now earns cash from OnlyFans and her make-up artistry, looking after her daughter and posting funny videos about why you shouldn't date broke men (she promises her ex and baby daddy, music producer Lamont, that these are not about him).

A relatively chance reunion causes them to reconnect and, after an Instagram Live of the two of them euphorically freestyling blows up, they decide to form a rap group together.

Issa Rae was always bound to create something focused on music. The writer, producer and actor's seminal TV series Insecure was anchored by fun artist cameos (who could forget Kelli's fake British accent while she's dating Aminé?), a consistently excellent soundtrack, and the protagonist (played by Rae) often endearingly rapping with her mirror self to process her thoughts. Rae also runs Raedio, an audio company that works across label services, music supervision, publishing and more. Needless to say, Raedio worked as the supervisors on Rap Sh!t, which also has a banging soundtrack – for example, the two characters' chemistry becomes apparent during a sexy club scene, as they dance to Don Toliver.

Back in 2021, the LA Times asked Rae to comment on the state of the industry, and whether she felt it was ​"a place where good ideas flourish". Her response? ​"It's probably the worst industry that I have ever come across. I thought Hollywood was crazy. The music industry, it needs to start over. Conflicts of interest abound. Archaic mentalities. Crooks and criminals! It's an abusive industry and I really feel for artists that have to come up in it."

For anyone who has ever worked in (or in conjunction with) the music industry, it's a sentiment that rings largely true. Rap Sh!t does not shy away from these issues. With Shawna, there's the trepidation over previously being screwed over by a contract and a sketchy producer, as well as the desire to be taken seriously with her sometimes hilariously corny conscious rap. Meanwhile, Mia faces the realities of safeguarding while doing sex work and trying to look after her child, laying bare how difficult building a career in music is when most pastoral care is expected of the mother.

The initial central tension is the disjunct between what the pair value in their work: conscious rap vs having fun. And why, Mia points out, should women be so afraid of pandering to the male gaze if it means they don't get to enjoy themselves? Isn't this in itself allowing their work to be informed solely via the male gaze?

Though much of the show does meander a little, Shawna moves on from her reservations pretty quickly for someone who seemed so attached to the idea of her work ​"saying something" for so long; success and feeling yourself can be pretty addictive, and she seems a lot freer for it. It's a clever way of looking at the assumptions placed on women rappers – and that tired idea that rapping about sex is somehow disempowering. But still, it would be interesting to see her try and confront this as they gain fame: will the industry only make room for one thing?

The industry observations go beyond our two key players, too. There's Mia's baby daddy, Lamont (RJ Cyler), the amiable and talented rising music producer struggling to get paid or shown respect for his tireless work, or Chastity (the ​"Duke" of Miami, played by Jonica Booth), who pimps out sex workers while also trying desperately to connect the dots for people on the music scene, thanklessly hustling her way through the clubs to get DJs to play one of Shawna and Mia's songs. There's also Jill, one of Shawna's ​"best friends" who works at Spotify – the fickle ways in which they use their connection to one another is something that plays out through the series.

The music industry is a vast ecosystem, the show seems to say, despite the fact that it often feels like everyone is in it for themselves.

But at its core, as with Insecure, this is a show about being held by your people, notably, the central female friendship. It's about finding that hot girl summer energy deep within, where girls are having fun for the girls, learning self-respect and demanding more of the people around them.

And it's precisely this last bit which underpins Shawna and Mia's relationship, as they learn to be there for and nurture one another, in spite of their differences and in spite of being wrapped up in their own lives. In an industry which thrives on egos and individualism, it makes their friendship all the more poignant and essential: an antidote to all the crooks and criminals.


More like this