How South Korean TV took over the world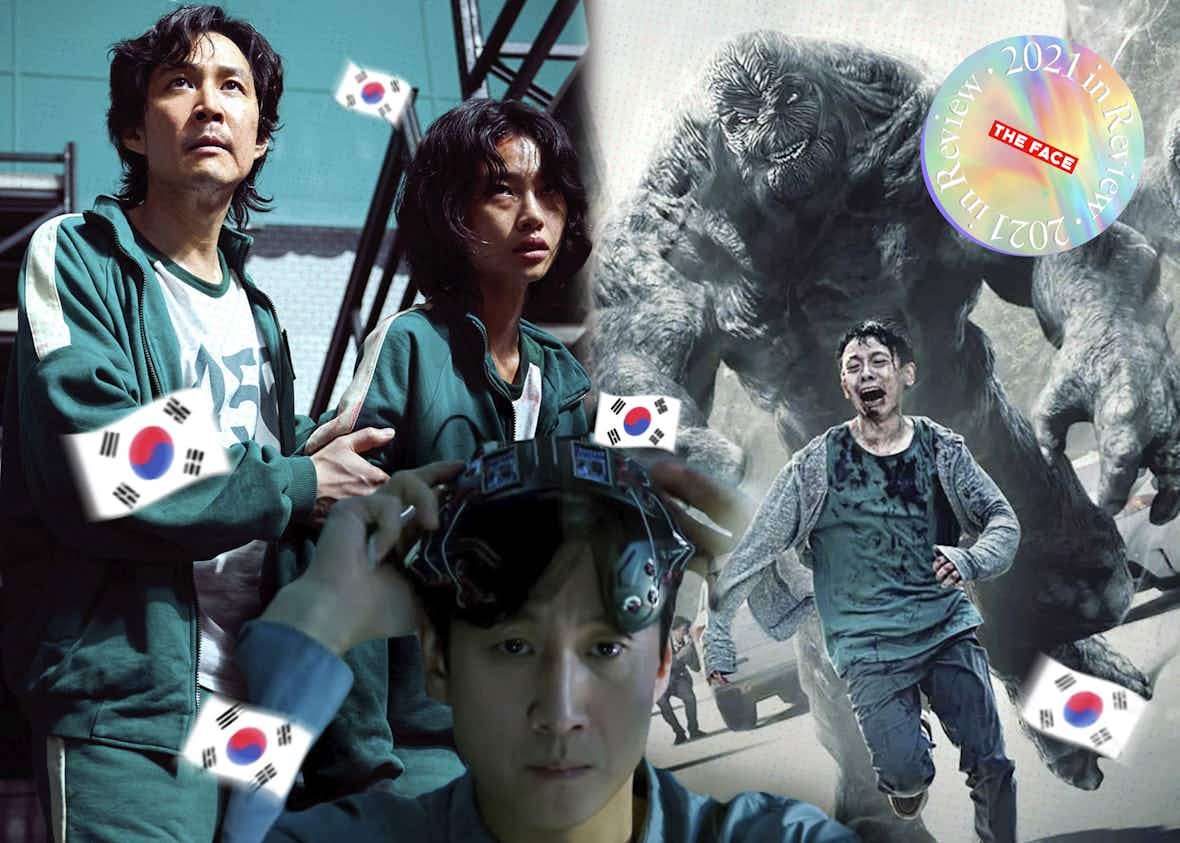 2021 in review: from Squid Game to Hellbound via Dr. Brain, this year one country bossed it in the TV thriller stakes. Here's how they did it, and also what's coming next.
This year saw the long-awaited return of music festivals, clubs, theatres and cinema, but the biggest entertainment story of the year was arguably one that took place on the small screen. Squid Game was the global media sensation of the year, a bonafide TV hit that smashed viewership records, and was the latest South Korean cultural artefact to set the world alight after BTS, Blackpink and Parasite.
By all counts, even Netflix was surprised by the show's success. So how did Squid Game achieve such a feat?
The answer is indelibly tied to the meteoric rise of South Korean global culture over the past 25 years, which is mind-boggling in itself when you consider that, as recently as the late ​'90s, South Korean cinema, music, cuisine and culture barely even registered as a specialist interest in the UK because people simply didn't know anything about it.
But much has changed in the past quarter-century, with the recent South Korean TV revolution a product of rapid cultural and economic growth that has seen a country whose annual GDP per capita was, in 1965, less than that of Ghana, become established as the 10th largest economy in the world.

Film, music and television have been at the crux of that development. And, as Anton Bitel, programmer for the Cinema Now strand of the London Korean Film Festival, argues, ​"the boom is no bubble, but rather backed by an industry that has been developing for many decades".
The seeds for South Korea's film revolution were sown in late 1997 when, in the aftermath of the Asian financial crisis, Kim Dae-jung was democratically elected as the President of ​"a government of the people". The move brought with it a wave of economic and social reforms, including financial support for homegrown film talent and the continued support for a screen quota system. This ensured that South Korean productions (of which there were only 43 in 1998, a 41-year low) received significant exhibition in theatres alongside increasingly expensive US imports.
This was part of a wider plan to invest heavily in pop culture – including K‑pop, Korean TV dramas and motion pictures – that could be exported overseas, thereby growing the economy alongside the exportation of electronic goods by Samsung and automobiles by Hyundai.
With the release of Shiri in 1999 – a Hollywood-style action blockbuster that broke box office records in South Korea – the potential of such investments was confirmed. South Korean TV dramas like Winter Sonata and Jewel in the Palace followed, bringing in massive audiences in Japan, Taiwan and across South Asia, with the term ​"Hallyu" ("Korean wave") coined to describe the South Korean media that was becoming popular across the world.
"The first introduction to Korean cinema for many people in the UK – myself very much included – was via the Tartan Asia Extreme label from the early Noughties," Bitel says.

He's referring to the British film distribution label responsible for importing popular Japanese horror films like Ring, Audition and Battle Royale to the UK and, in turn, similar-minded films from countries like South Korea around the beginning of the millennium.
"[This was] the origin of the Korean reputation here for making revenge thrillers, horror films, ultra-violent oddities," he continues, pointing to Park Chan-wook's Oldboy, released in 2003, as one of the major hits for the label. The latter's global popularity was unprecedented for a South Korean film. After winning the Grand Prix at Cannes in 2003, it became one of Tartan's most popular releases and eventually received a 2013 American remake via Spike Lee.
Hyejung Jeon, a former employee of the UK's South Korean Embassy who founded the London Korean Film Festival and the London East Asian Film Festival, acknowledges these moments as ​"milestones" for Korean culture overseas.
"There was a huge fanbase for this genre of ​'extreme' thriller and horror," she recalls. ​"There were many fans of director Park, Kim Jee-woon [A Tale of Two Sisters; I Saw The Devil], Bong Joon-ho [Memories of Murder; Parasite] and Kim Ki-duk [The Isle; Spring, Summer, Fall, Winter… and Spring] based all over the UK."

As successive governments continued to support and heavily fund pop culture, these names would dominate Western interest in South Korean cinema. Many directors and actors made inroads into Hollywood, cementing relationships with Western production houses as South Korean films competed for major awards at leading film festivals. It would all culminate with an unprecedented moment in world cinema history, some 16 years after the release of Oldboy, as Bong Joon-ho's Parasite won four Academy Awards in 2020, including Best Picture.
The victory confirmed a point made by commentators years prior.
"Korea is throwing… billions of dollars into making itself the number one exporter of pop culture in the world," wrote Euny Hong in 2014 in The Birth of Korean Cool: How One Nation is Conquering the World Through Pop Culture. ​"If you create the supply," she would conclude, ​"the demand will follow."
Netflix set up shop in South Korea in 2016, and has since invested approximately $700 million in South Korean content and created over 80 shows with native talent. While films like Parasite lit up the big screen, series such as Kingdom, Crash Landing On You and Sweet Home carved out a new market for Western viewers on the small screen.
"This exposure across multiple media has a snowballing, synergising effect," Bitel says, ​"creating a great prominence for all things Korean in the Western consciousness".
In 2021, the snowball evidently grew big enough to obliterate what Bong Joon-ho called the ​"one-inch-tall barrier of subtitles". The show was called Squid Game, and in a matter of weeks following its release in September, it became the most popular Netflix show of all time, usurping the title from Bridgerton after topping viewership charts in over 90 countries.
A visually-striking drama about a deadly competition where 456 competitors are forced to play children's games to ensure their salvation, Squid Game is by no means an original concept (the parallels with works such as Tartan Asia Extreme headliner Battle Royale have been well-discussed).
Yet the reasons for the show's success are manifold. It continued a trend previously explored by films such as Parasite and Lee Chang-dong's Palme d'Or nominated Burning (2018). But the themes of class, capitalism and debt as presented in Squid Game were even more relatable following a year where the global economy had been rocked by the pandemic. The platform it screened on itself, meanwhile, had skyrocketed in popularity during periods of extended lockdowns and stay-at-home orders.
The latter point, combined with Netflix's heavy investment in South Korean media, has encouraged key figures within the booming South Korean film industry to now make the jump to television, bringing with them a greater sense of quality and a broad appeal. As Jeon points out, Squid Game director Hwang Dong-hyuk was already a well-established filmmaker (he came to the UK to promote The Fortress at 2017's second edition of the London East Asia Film Festival).
Actors Lee Jung-jae (New World, The Housemaid), Gong Yoo (Train to Busan, The Age of Shadows) and Lee Byung-hun (I Saw The Devil, Terminator Genisys), meanwhile, are among South Korea's most bankable stars.

Subsequent TV hits like Hellbound – the apocalyptic dark fantasy series that bested Squid Game at the top of Netflix's most-watched charts in November 2021 – and mystery thriller Dr. Brain, Apple TV+'s first Korean production, only underline the point. They boast globally-renowned directors Yeon Sang-ho (Train to Busan) and Kim Jee-woon as their helmsmen and are led by recognisable stars Yoo Ah-in (Burning) and Lee Sun-kyun (Parasite) respectively.
With Netflix having pledged to spend a further $500 million on South Korean films and series this coming year, it's no surprise that the next major South Korean Netflix production, The Silent Sea – an ambitious space rescue series landing on Christmas Eve – will be led by Gong Yoo and Bae Doona (The Host, Kingdom), with notable Kim Jee-woon and Bong Joon-ho collaborators also featuring among the crew.
The Hallyu cultural infiltration of the West shows no signs of slowing as we enter 2022. Oldboy cinematographer Chung Chung-hoon has been working on the new Star Wars series Obi-Wan Kenobi for Disney+, while Ma Dong-seok (Train to Busan) just made history after becoming the first South Korean Marvel superhero in Eternals.
The Oxford English Dictionary, meanwhile, added 26 new words of Korean origin in September 2021, including ​"hallyu", ​"bulgogi" and ​"manhwa". And London's V&A Museum has just announced an exhibition titled ​'Hallyu! The Korean Wave' to open in September 2022.
Anton Bitel hopes that the greater exposure offered by the likes of Netflix and Apple TV+, as well as events such London Korean Film Festival and London East Asian Film Festival, can provide a platform for broader South Korean filmmaking genres and ​"new or unacknowledged filmmakers", highlighting lesser-known talents like Kim Jong-kwan, Hong Seong-eun and Yi Ok-seop. But he also asserts the belief that, as streaming services realise how deep the trove of ​"buried – if not very well buried – treasure" is in South Korean visual media, they will start bringing even more of it to their platforms.
"The truth is that it has been great for a very long time," he concludes. ​"I'm delighted to see that its time has come – again."

Hooray for Hallyuwood: a South Korean cultural timeline
1997: President Kim Dae-jung is elected to office. He backs a screen quota policy restricting the number of days that foreign films could be shown in Korean cinemas as a means to promote development in Korea's native cinema.



1999: Shiri, starring Choi Min-sik (Oldboy) and Song Kang-ho (Parasite), becomes the first big-budget blockbuster of the New Korean Cinema period.



2002: K‑drama Winter Sonata becomes a huge hit in Japan and wider East Asia. The production is considered a launchpad for the Korean Wave throughout Asia.



2003: Park Chan-wook's Oldboy wins the Grand Prix at Cannes, and becomes a major crossover hit. The same year, Bong Joon-ho releases his breakthrough film Memories of Murder, and Kim Jee-woon releases A Tale of Two Sisters. Both receive major international attention, sparking a boom of interest in Korean cinema in the decade that follows.



2012: Psy's single ​'Gangnam Style' goes viral. It tops charts in over 30 countries, reaches number 2 in the USA, and earns a Guinness World Record for the most ​"liked" video on Youtube.



2013: Kim Jee-woon makes his US debut, directing Arnold Schwarzenegger in The Last Stand. The same year, Oldboy is remade in Hollywood by Spike Lee, with Josh Brolin in the lead role.



2014: Oldboy lead actor Choi Min-sik makes his English-language film debut, starring opposite Scarlett Johansson in Lucy.



2016: Netflix launches in South Korea, while Park Chan-wook's The Handmaiden competes for the Palme d'Or at Cannes. The film later wins a BAFTA for Best Film Not in the English Language.



2017: Netflix funds the production and release of the Bong Joon-ho film Okja, which competes for the Palme d'Or at Cannes before receiving a wide release on the platform.



2018: Lee Chang-dong's Burning competes for the Palme d'Or at Cannes, before becoming the first Korean film to make the nine-film shortlist for Best International Feature Film at the Academy Awards.



2019: Bong Joon-ho's Parasite becomes the first Korean film to win the Cannes Palme d'Or. In February 2020, the film takes home four Oscars at the Academy Awards, becoming the first non-English language film to win Best Picture.



January 2019: zombie period-drama Kingdom becomes Netflix's first original Korean series.



November 2020: BTS become the first Korean pop act to be nominated for a Grammy, after the single ​'Dynamite' debuts at number one on the Billboard Hot 100 chart.



December 2020: Over 22 million households tune in worldwide to watch the horror series Sweet Home on Netflix. It becomes the first Korean series to break the Netflix Top 10 in the US.

February 2021: Netflix unveils plans to spend nearly $500 million on films and television series produced in the country by the end of the year.



April 2021: Youn Yuh-jung becomes the first Korean actor to win an Academy Award, for her role in Minari.



July 2021: ​'Permission to Dance' becomes BTS' fifth number-one single in the US in ten months and two weeks, making them the fastest act to achieve such a feat since Michael Jackson in 1988.



September 2021: Squid Game is released on Netflix, and becomes the platform's most popular show of all time.



October 2021: Yeon Sang-ho's Hellbound premieres at the BFI London Film Festival. In late November, it overtakes Squid Game as the most-watched show on Netflix.



November 2021: Kim Jee-woon's Dr Brain debuts the first Korean Apple TV+ production, coinciding with the platform's release in South Korea.

More like this