Art lads: the young British artists grabbing masculinity by the balls
Meet Trackie McLeod, Corbin Shaw and Sam Harris, the British artists challenging hyper-masculine stereotypes and raising awareness on mental health.
Man up, boys don't cry, toughen up. For Yorkshire-born artist Corbin Shaw, this stuffy rhetoric was all too common in the male heavy-environments he grew up in: football pitches, boxing gyms, his dad's metal fabrication workplace. Places where machismo overshadows the need to open up, get talking and have a cry on your pal's shoulder from time-to-time.
It was the tragic suicide of his dad's friend, who he regularly played football with, which first prompted him to explore the damaging effects of hyper-masculinity through his art. Bold lettering is stitched on top of St. George's flags, featuring slogans such as ​"soften up hard lad" and ​"save our bastard sons". When finished, they form a witty take on the ever-recognisable pitch, pub and PE banter.
"I can use this to spread my message to a large group [who] may need a reminder of a positive message on mental health," Shaw says. ​"I hope that my flags can be the catalyst for men to start talking about their mental health and start seeking help from friends and family."

Suicide remains the biggest killer among males under 45 years old. When leading British mental health organisation The Priory Group surveyed 1,000 men in 2015, their results revealed that at its crux, 40 per cent of men were unwilling to talk to anyone about their mental health, with further findings showing that 77 per cent of those same men have suffered from depression, anxiety or stress. Worryingly, 40 per cent of men involved in the poll revealed it would take suicidal thoughts or self-harm to seek professional help.
"Growing up in those heteronormative environments, I have always felt this pressure from the hyper-masculine men around me to conform to the same unachievable, outdated standards of what they think a man should be," says Shaw, whose other work includes a Carling advertisement with the recognisable logo removed in favour of ​"Crying" and the tagline swapped for: ​"Probably the best way to get things off your chest".
"I look at the rites of passage of manhood and the obstacles men force on each other to conform to. By documenting these spaces I grew up in, I aim to understand my own idea of masculinity and what masculinity means to people in those environments."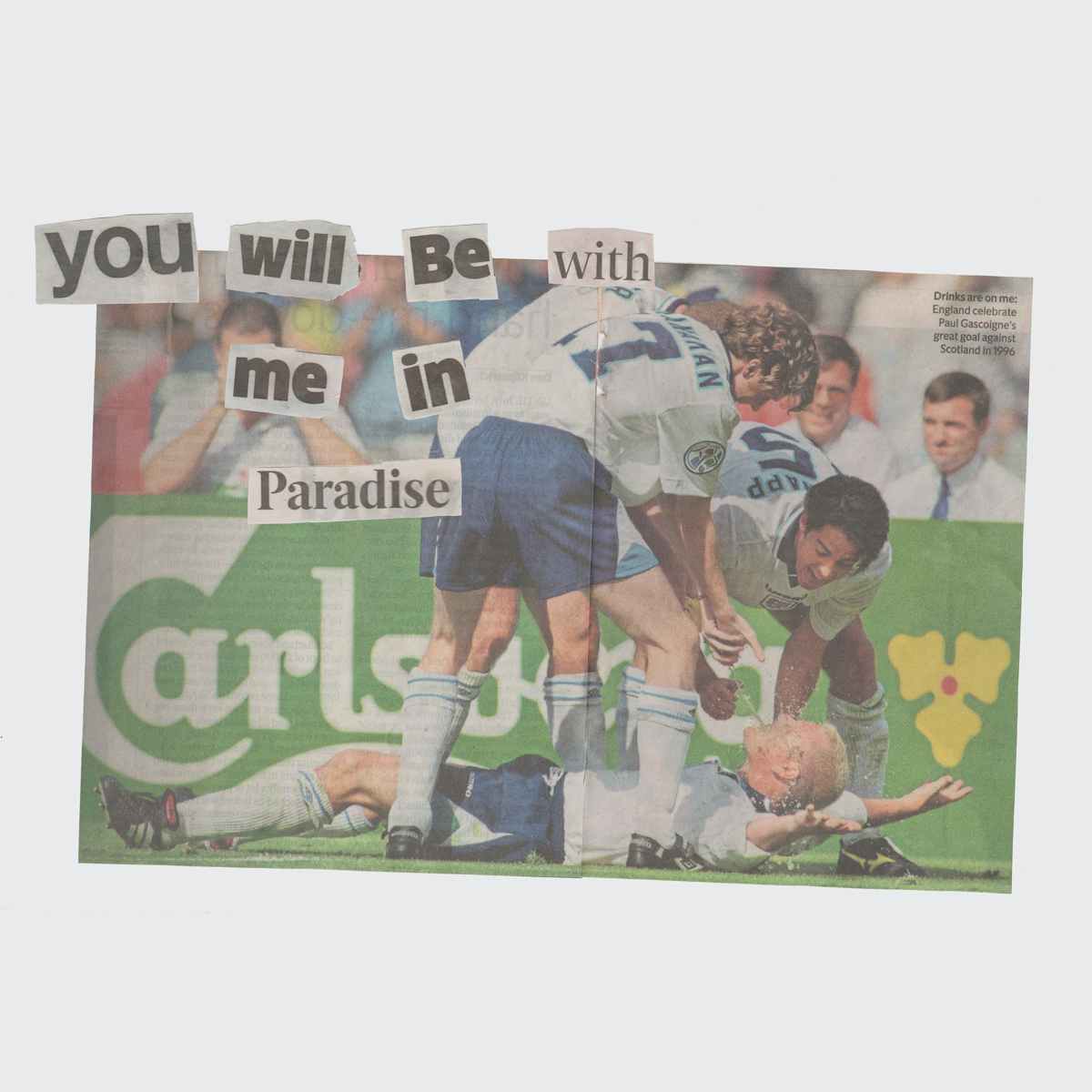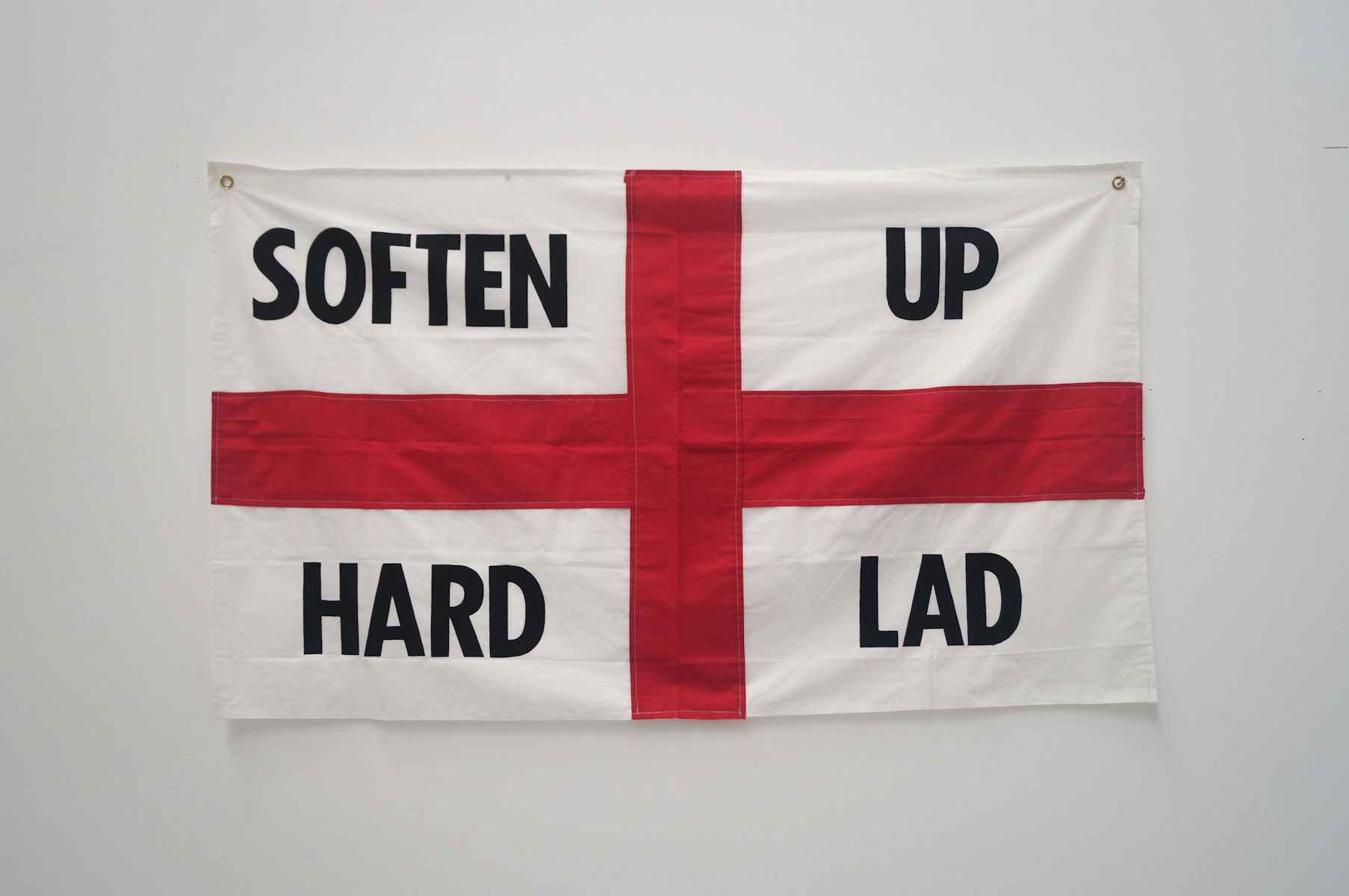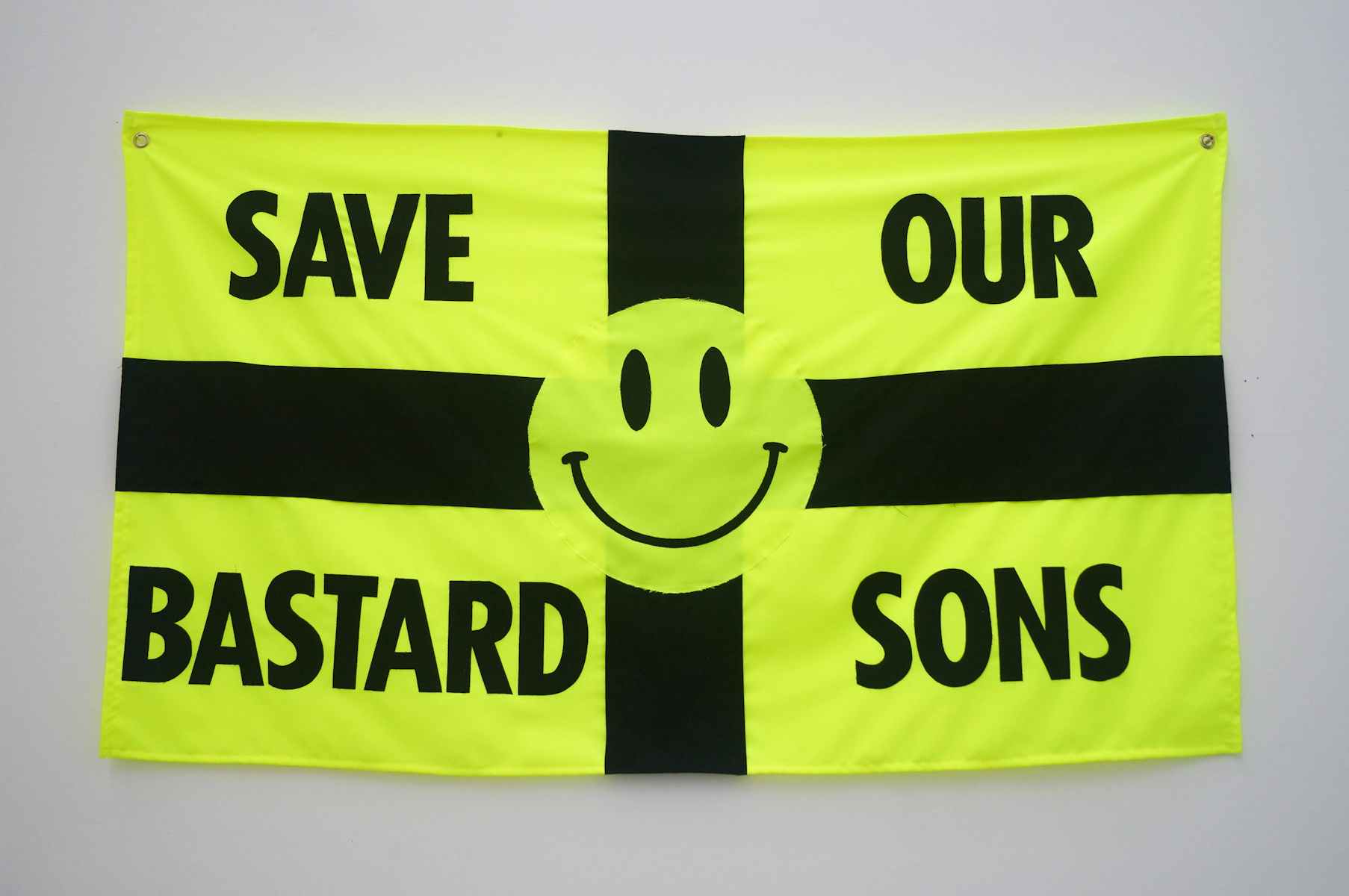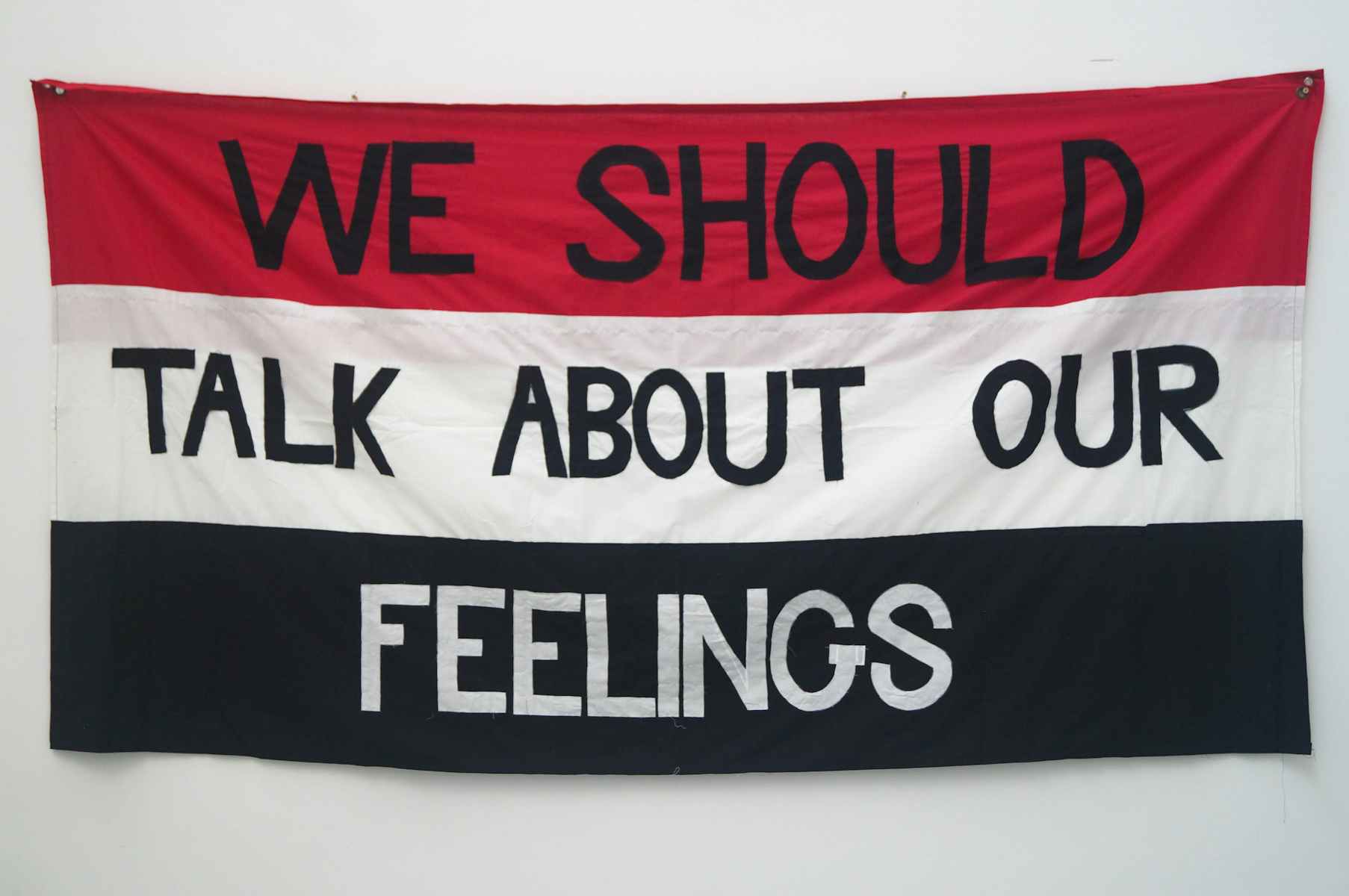 North of the border, Glaswegian artist Trackie McLeod is critical of the effects male-dominated tribes can have on young men. Exploring pop, lad and rave culture, McLeod approaches his work with a tongue-in-cheek sensibility. Think scenes of football hooligans placed on top of epic Renaissance paintings, cans of Super T stitched onto mini tapestries, and a football shirt with ​"mummy's boy" ironically written on the back.
"Men are still being brought up to be moulded into this unattainable image of a ​'man'. I believe this heavy burden is playing a huge part in why male suicide and mental health issues are at an all-time high," he says. ​"Lad culture is helping fuel a generation of boys and men that aren't in touch with themselves and have been conditioned to be scared of their emotions."
Lad culture has played a huge role in men discouraging their peers to open up about their feelings. The testosterone-fuelled heydays of lad culture in the mid-1990s, for example, played a part in forming groups of like-minded men with those same-old ​"sissy" jibes thrown around in pubs and pitches. Twenty years ago, the BBC reported on male suicide in Lad culture blamed for male suicides, suggesting a link between the newly-formed lad culture to the increase of men struggling with their mental health, as well as the growing suicide rates.

The article is based on a report by the Samaritans, and declared that ​"macho attitudes to talking about problems mean men are denied the social support they need". Further down, the statistics aren't so dissimilar to those produced by The Priory Group four years ago. In 1999, it was reported that 12 men between the ages of 15 and 24 killed themselves per week, while a survey of 1,400 men aged between 13 – 19 found ​"67 per cent who had suicidal feelings said they had nowhere to turn for emotional help".
Like many young men, McLeod felt the pressure of having to fit into a laddy mould he didn't see himself fitting into, being queer and in a straight male-dominated school. His more recent work, like a short film titled Understanding: Masculinity, features clips from a pub with a deep-voiced narration playing over the top. Its contents are critical of the ​"boys don't cry" rhetoric which tend to plague school corridors and changing rooms.
"Lad culture has helped fuel a generation of boys and men that aren't in touch with themselves and have been conditioned to be scared of their emotions," he says. ​"My main aim as a creative is to make work that is relatable and easily understood while having an impact."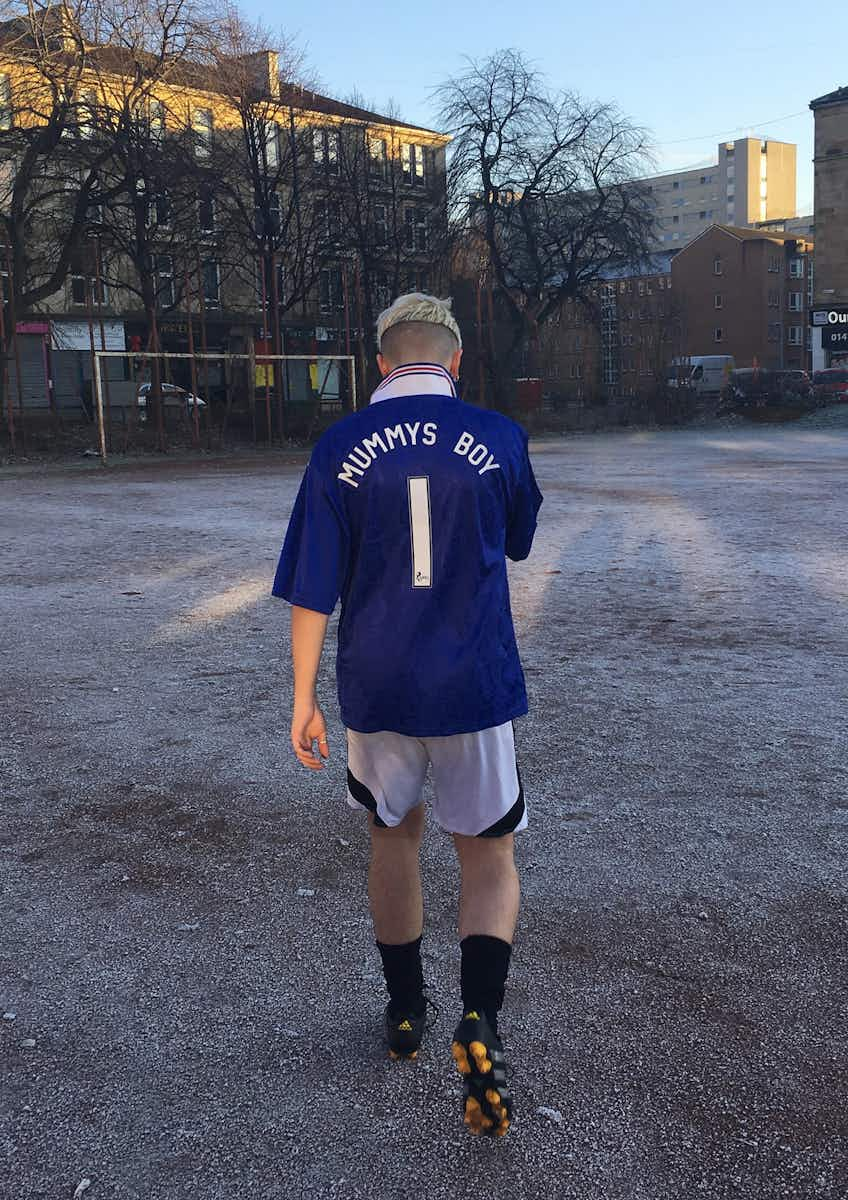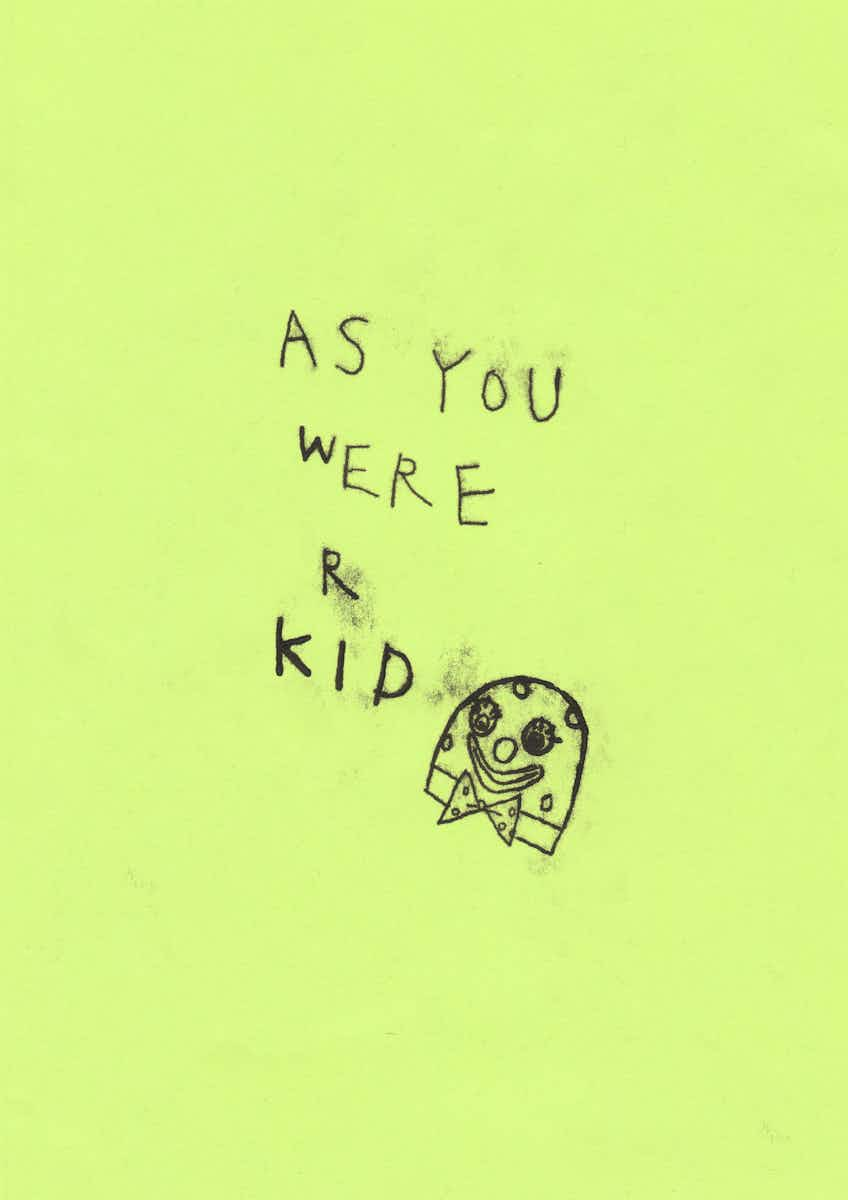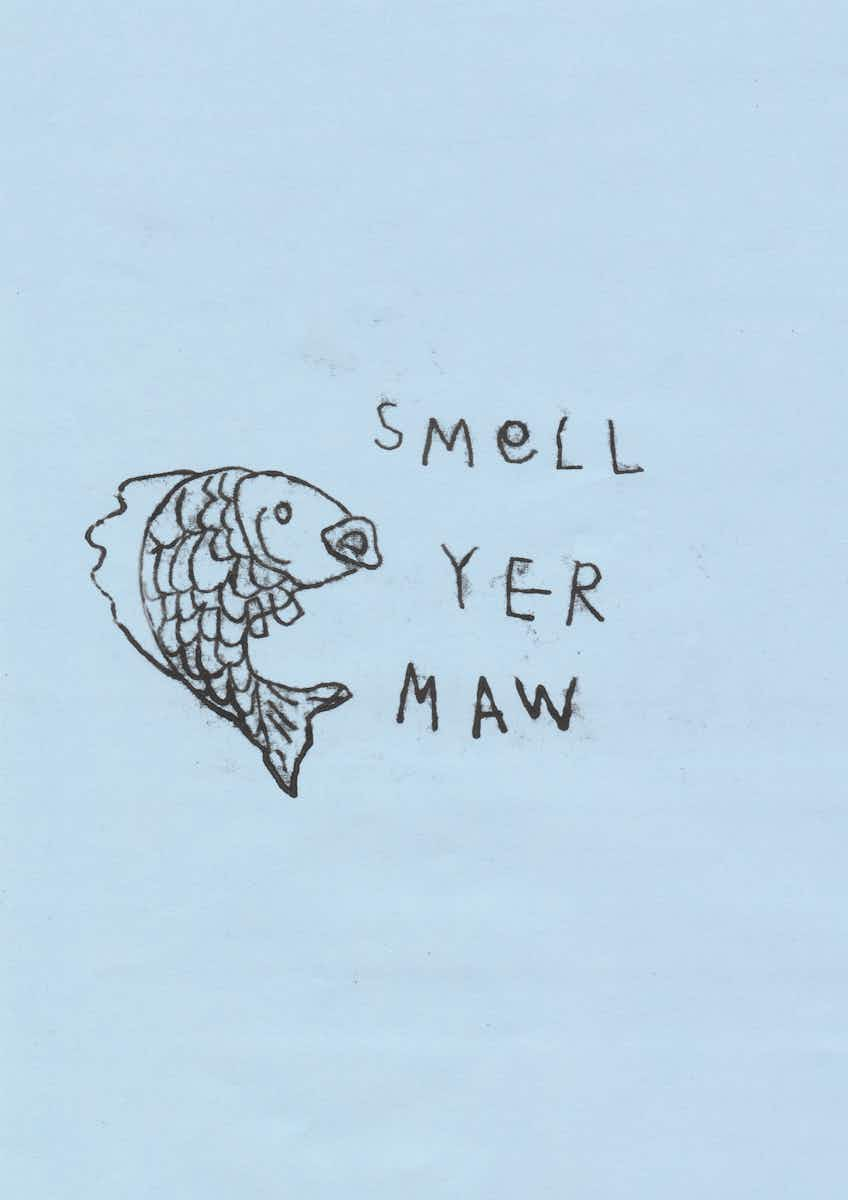 London-based zine-maker Sam Harris' approach to documenting the male-dominated culture he grew up in takes a more conceptual approach. His zine, Pure Filth, features contributors like provocative duo Gilbert & George, contemporary artist Joe Sweeney (whose latest exhibition focused on machoism within the gay community) and the ever-controversial Young British Artists, The Chapman Brothers.
But his own contemporary mixed-media work hones in on the subversion of consumer-culture by using unique and stimulating imagery to capture off-kilter aspects of growing up in the 21st century as a young man: a dirty condom sculpture titled Relic, a tongue-in-cheek zip-loc bag full of ​"London air" and cigarette butts and chewing gum coated in gold bronze are all part of Harris' witty dive into not only British culture, but the lad culture he grew up surrounded by.

"I like taking aspects of immaturity and anti-intellectualism that is contained within lad culture and using them in different contexts," says the artist. He sees potential in creating art based on the many revealing layers of the male-dominated British psyche in order to open up a conversation. ​"The exposure of lad culture has opened this whole box of ideas for young artists: nature vs nurture, self-reflection and where these things come from. Art has always been created and inspired by the cultures that surround us."
Similarly to McLeod, Harris' self-reflection as a young man growing up in modern Britain is that of not necessarily ​"fitting in" to the stereotypes of hyper-masculinity. As an artist, his tactic is to take various fragments of contemporary lad culture to then subvert them onto serious topics: ​"Juvenile humour, memes and puns … I love the weird and eccentric parts of British culture, and I really try and expose these in my work." says the artist.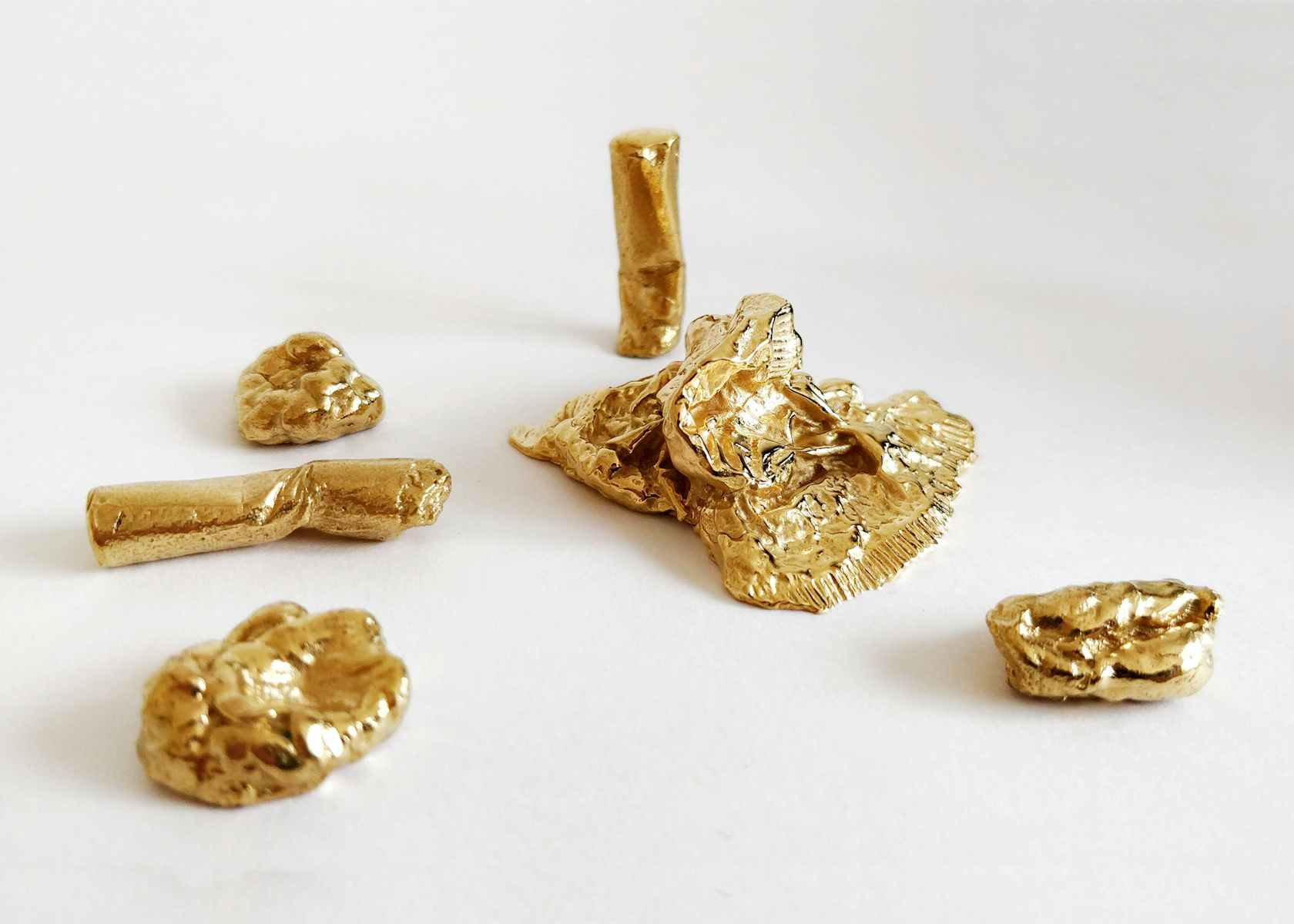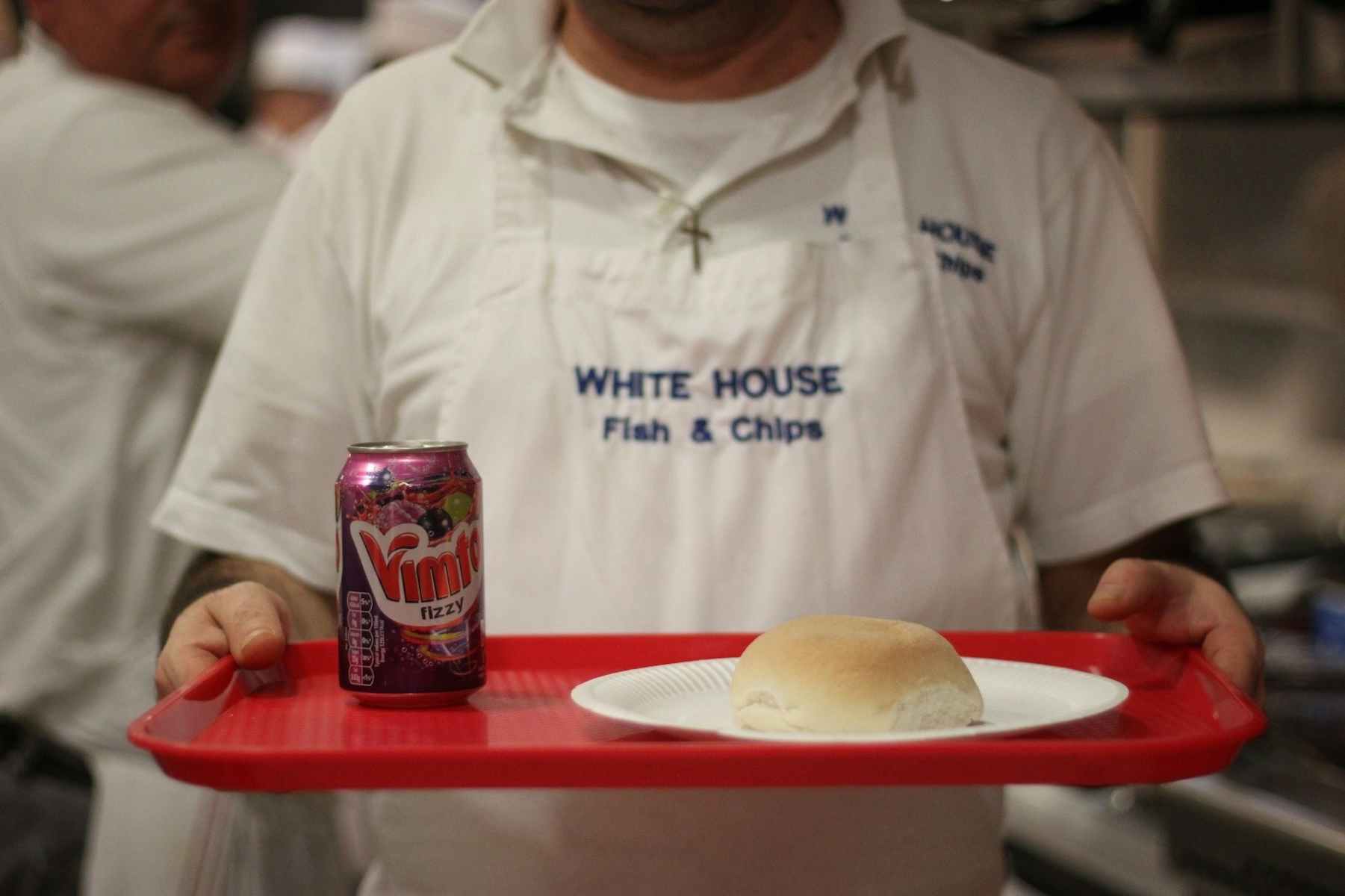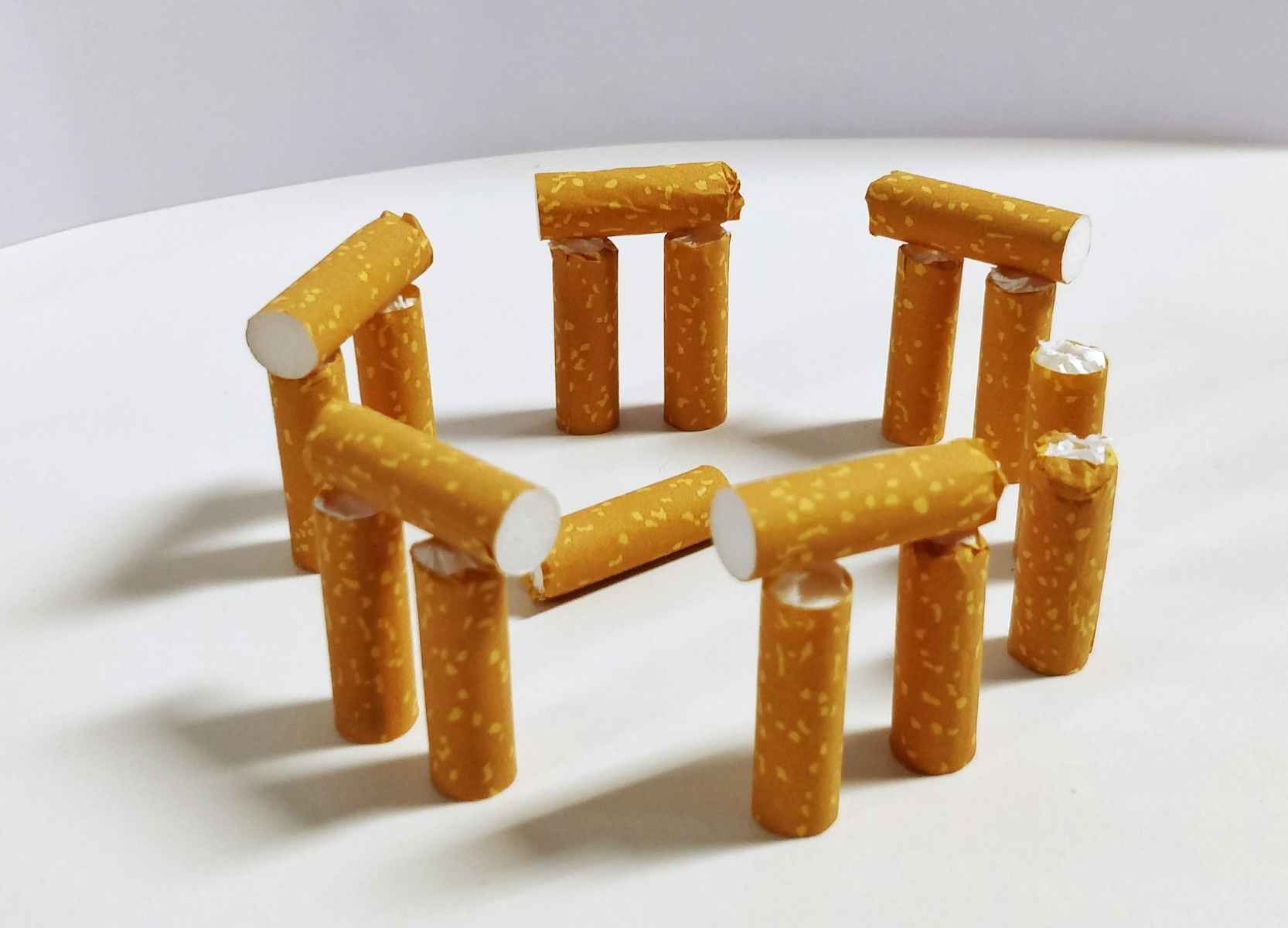 For the three artists, their experience of male-dominated lad culture in modern Britain has different meaning, just as their work spans varied mediums and concepts. But there is a distinct attribute throughout: that the mental health of men must be discussed in order to make positive change.
Twenty years on from that BBC news report, very little has improved, proving that even today – when conversations surrounding mental health are more open than ever – there is still work to be done.
But McLeod is optimistic about the future, saying ​"asking for help doesn't equate weakness. In order to end the stigma we need to begin with having these conversations, which I aim to do with my work."

Shaw is part of the collective Boys Don't Cry, set up by ex-Central Saint Martins students Brooke Wilson and Marcus Scott. The collective incorporates artists making work based on their experiences with men's mental health. For the artist, it provided a safe space to express himself alongside those going through the same as him. ​"My involvement with the collective has been important to the progression of my own work. The sense of community and opportunity to work with like-minded males that have a voice on mental health is vital in me understanding more about why I need to create work on this topic," he says.
As for Harris, he's hopeful that the modern-day lad can be flipped on its head altogether. It doesn't have to be associated with the testosterone packs of men huddled over a table in a pub, calling one another sissies and failing to act on their emotions.
"A ​'lad' can actually be someone who likes a laugh and a bit of back and forth, but actually cares deeply about his friends and the world around him," says the artist. ​"That's the side of lad culture I want to get across."
In the UK, Samaritans can be contacted on 116 123 or email jo@​samaritans.​org. You can contact the mental health charity Mind by calling 0300 123 3393 or visiting mind​.org​.uk

Sam Harris' zine, Pure Filth, is available to purchase here.

More like this