My Media Diet: Beyond The Blinds with Troy McEady and Kelli Williams
Each week, the pair host one of the internet's hottest pop culture podcasts, diving deep into Hollywood's seedy underbelly via elusive celebrity blind items. Here's what they get up to behind their own screens…

If there was a University of Pop Culture, then Troy McEady and Kelli Williams would be running it like a well-oiled machine. With knowledge that runs deeper than your average, guilty skim-read of the Daily Mail​'s sidebar of shame, the pair host a weekly podcast, Beyond The Blinds, where they've been unpacking both vintage and contemporary celebrity blind items for our listening pleasure since 2021. Now, McEady and Williams have thousands of loyal listeners and sold-out live shows across the US under their belt.
But first, let us introduce you to the wild world of blind items. Reaching peak public consumption in the early ​'00s, they're essentially cryptic, anonymous stories about Hollywood told through code. Nicknames are used throughout each one, and the identity of every celebrity in question is usually revealed by the author months later. (Note: Blind Gossip is a great website to dig into if you fancy getting acquainted with blinds).
"[My family's] version of the Super Bowl was the Oscars and the VMAs," McEady says of his personal pop culture awakening. ​"As a kid, I was obsessed with Michael Jackson and he was the first person I remember really studying. But once a sweet southern Baptist named Britney Spears entered my life, it was game over."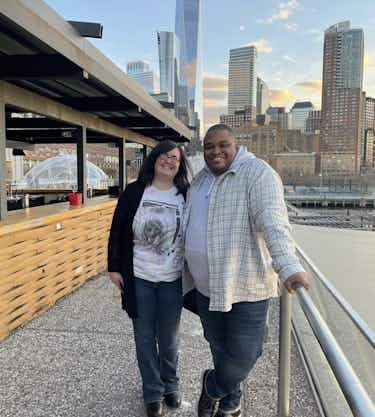 Admittedly, many blind items are to be taken with a pinch of salt. As McEady and Williams always remind us, everything they discuss on their podcast is alleged, whether that involves Lindsay Lohan's thieving tendencies, Leonardo DiCaprio's sordid love life or the general darksidedness of figures like record producer Lou Pearlman.

Then there's the PR coupledom of it all (see: Nick Jonas and Priyanka Chopra) and the unique fascination surrounding celebs getting papped at In-N-Out Burger (we're looking at you, Kim and Pete). There's a fine line between carefully constructed narratives and reality, but rest assured McEady and Williams leave no pop culture stone unturned.

Lately, blind items have experienced a bit of a revival, in part thanks to podcasts like Beyond The Blinds and infamous Instagram account deuxmoi, but also as a result of our collective, insatiable appetite for celeb gossip. This is the sweet spot the pair tap into so effectively, without ever being mean-spirited. Rather, they offer hilarious, insightful commentary about Hollywood's seedy underbelly while considering how the cult of celebrity impacts the way we consume, well, anything.
So who better to discuss internet habits than Williams and McEady? ​"Never in a million years did we think it would take off the way it has, but it's been incredible," Williams says. ​"It's pretty cool that we're so many people's guilty pleasure!"
The last article I found myself thinking about was…
Kelli: We just did a Jared Leto episode so I can't stop thinking about this article in L'Officiel about his alleged cult. The idea that a fandom could turn into an actual cult and the artist be so heavily involved as a leader… It's just wild.
Troy: Anyone who knows me is aware that I have a really unhealthy obsession with Tom Cruise and his insane marriages. The last article I found myself thinking about is this insane W interview Katie Holmes did during the peak of her being a Scientology princess. I highly recommend it.
The last new artist I discovered on Spotify was…
Kelli: I'm very much a creature of habit when it comes to music. Typically, I'm on a constant loop of Taylor Swift, Lorde, Rihanna and some emo band that you'll likely remember playing on your MySpace page. Recently I've added Fletcher to the rotation, but as far as the newest artist I'd have to say Jessia. I love a good sad girl song and she has plenty!
Troy: This really talented artist called Ginger Root.

The last podcast I spent hours listening to was…
Kelli: I'm a big One Tree Hill fan so I try to stay up to date with the podcast Drama Queens – I can't get enough of it. Other than that, I would say Fluently Forward which is hosted by our friend Shannon. It's another blind item podcast but her format is much different than ours.
Troy: Dead Meat!

The last TikTok I sent to a friend was…
Kelli: A Real Housewives meme about edibles from @yolandafister.
Troy: This girl who coined the term ​"coastal grandma", which is basically Diane Keaton's character in Something's Gotta Give. Nothing describes my personality more than ​"coastal grandma".
The last Reddit thread I got sucked into was…
Kelli: You can always find me lurking on CelebWivesofNashville, it's my guilty pleasure for sure.
The last book I stayed awake reading was…
Kelli: I'm not much of a reader so I would say The Seven Husbands of Evelyn Hugo, but that was probably two years ago at this point.
Troy: Not All Diamonds and Rosé: The Inside Story of The Real Housewives from the People Who Lived It.
The last new word I learned was…
Kelli: Cacodemon. I was trying to find the word for a hellish person and that popped up. Immediately obsessed.
Troy: My friend used the term ​"meet cute" in a text the other day and I made fun of him because I thought he misspelt something. That's more of a phrase, but you get the point.
The last blind item I read was…
Kelli: ​"While out of the country, this A‑list reality star from a family full of them yelled at a waitress for not emptying the reality star's ashtray after the star had smoked one cigarette. Apparently she likes a fresh one brought for each new cigarette." Kendall Jenner/​Kardashians/​Paris, France
Troy: The last blind item I read was from 2011, and it was about Lindsay Lohan visiting a spiritualist who told her she was the reincarnated spirit of Marilyn Monroe.
The last meme that made me laugh aloud was…
Kelli: This meme from @sluttypuffy. I love memes about being messy – every once in a while I have been known to stir a pot or two…
Troy: It's so stupid but this person edited a video of Trisha Paytas shopping at Victoria's Secret Pink in like 2012, to look like she was in the store glitching… You had to be there.

More like this