Getting to know the duo behind slowthai's punchy TYRON visuals

Alex Motlhabane and Lewis Levi, known as THE REST, talk us through the making of nhs, MAZZA and CANCELLED in the run-up to the rapper's highly anticipated second album release.

Alex Motlhabane and Lewis Levi, a directing duo also known as THE REST, are the creative minds behind the subversive visuals accompanying slowthai's upcoming album TYRON, set to drop tomorrow.
The pair have been working together for eight years and shooting music videos since 2015. They met on Myspace as early teenagers, going onto study film and graphics, helping each other out on projects whenever they could. Their visual identities soon became intertwined, and collaborating made sense: Levi is slowthai's cousin and manager, so it was a no-brainer for him and Motlhabane to move forward professionally, together.
Last November, they released a relatively pared back video for the single nhs, which mimics the repetition of lockdown and takes the piss out of the UK's infamous loo roll panic-buying saga. slowthai, now 26-years-old, stands atop a toilet paper tower, mouthing along to the crooning chorus: ​"Ain't more shit/​Just another day/​I was in my head/​Feelin' dead/​Feelin' microwaved".

The music video for MAZZA, featuring A$AP Rocky, veers into more experimental territory. Buoyant and high octane, both rappers are shown bug-eyed and rolling around their rooms in an attempt to make sense of the trip they're experiencing. References to Trainspotting, Delicatessen, and Fear and Loathing in Las Vegas sit comfortably among Ty's abrasive, powerful bars about molotov cocktails, shoplifting and murder scenes.
THE REST's latest offering, a video for slowthai and Skepta's irreverent, fast-paced track CANCELLED, came out two days ago. It's interspersed with nods to horror classics Candyman, The Texas Chainsaw Massacre and American Psycho, exemplifying Motlhabane and Levi's distinctive, cinematic approach to directing music videos.
The album's common visual thread centres around duality. The slowthai whose boisterous lyricism and personality many of us have come to know and love, versus the real Ty, a slightly more reserved version of the former.
THE FACE spoke to the duo about being influenced by foreign cinema, shooting Rocky's part for Mazza remotely, and the joy of watching Skepta wield a chainsaw at dusk for Cancelled.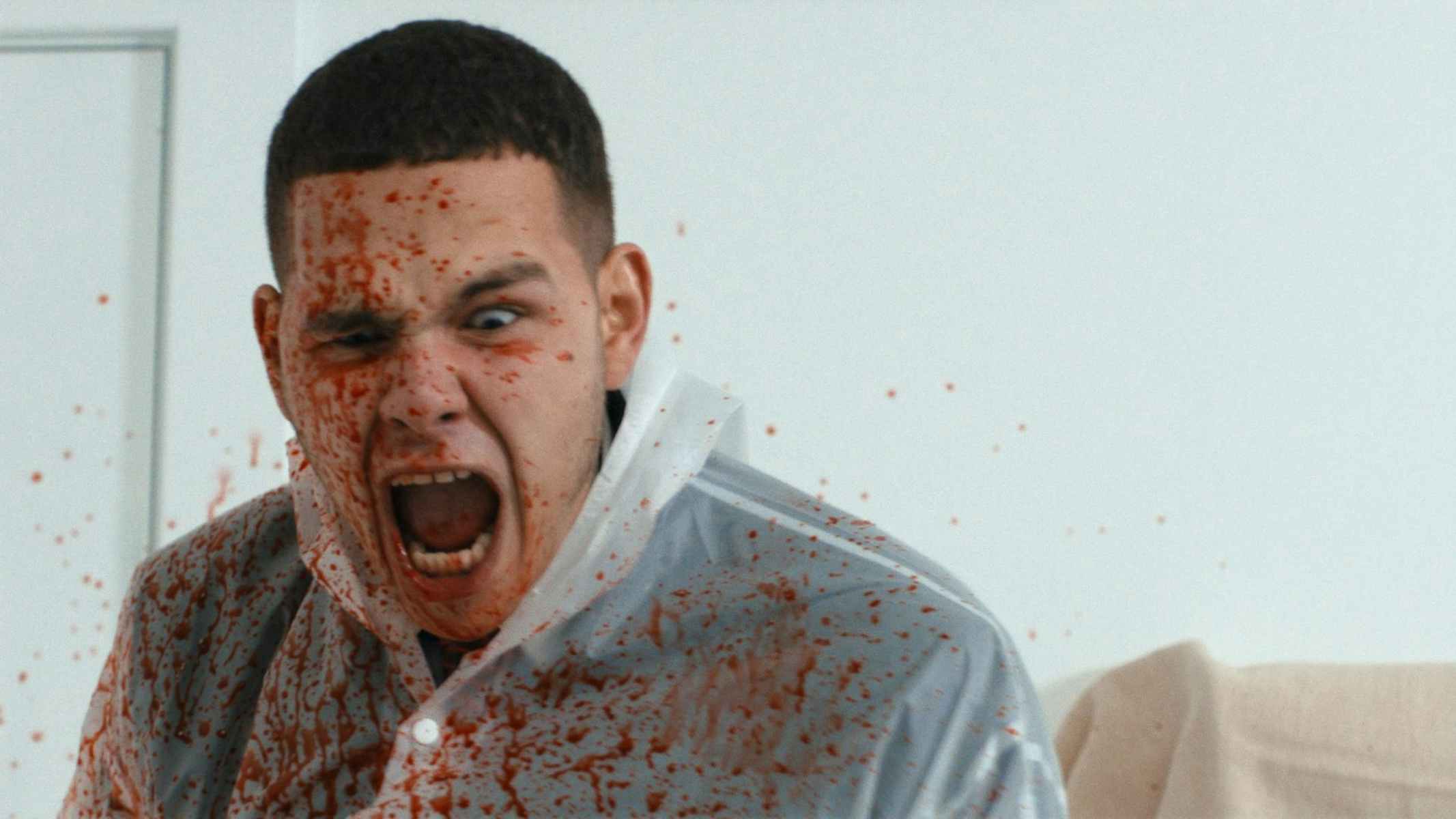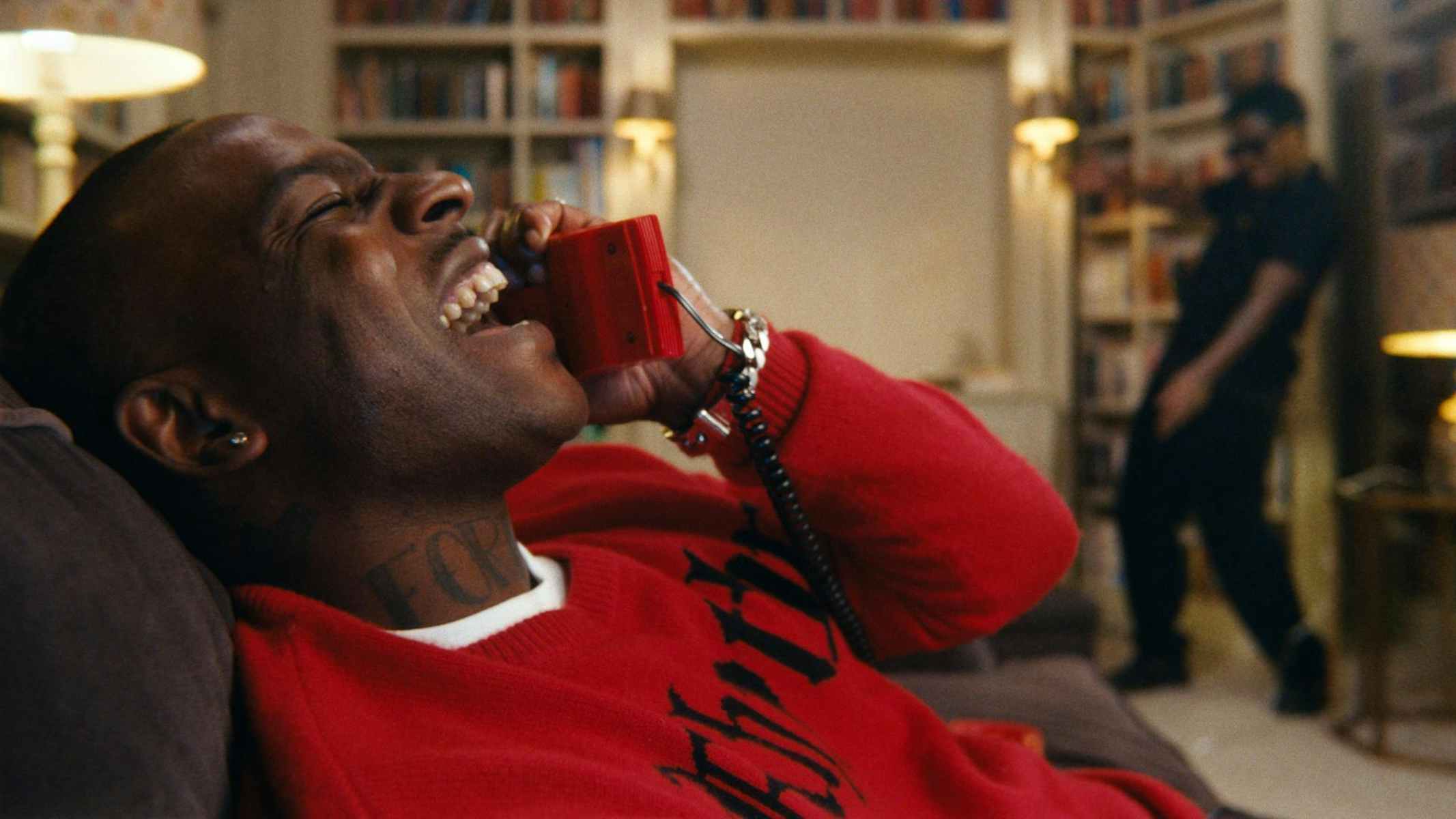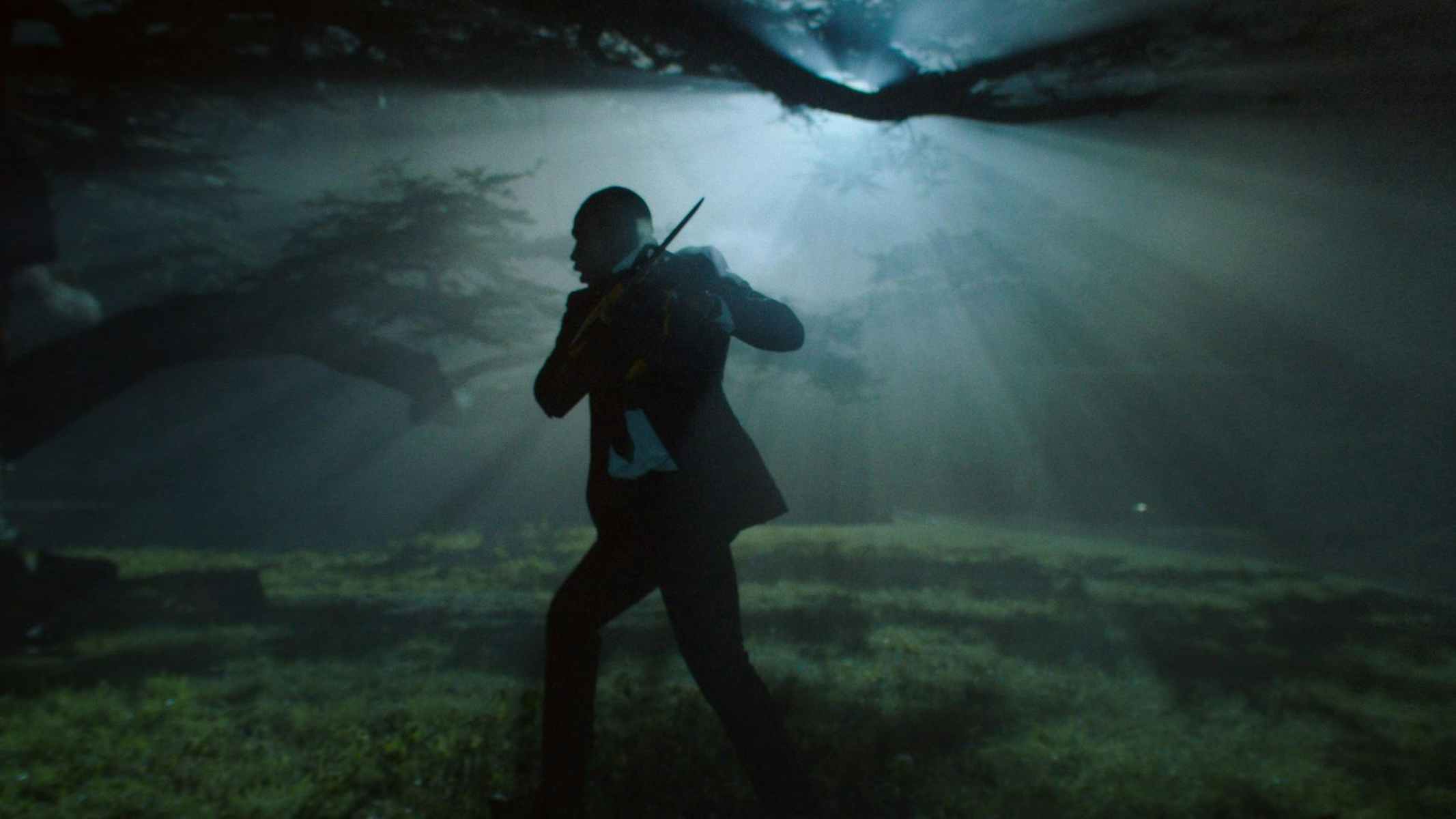 Talk us through the process of putting the MAZZA video together.
Alex: As we were going through ideas, we were deep into Covid and trying to figure out when we would be able to shoot the video. With Rocky being in the US and Ty being over here, we had to come up with something that didn't make it seem like they were so distant. The hotel room idea came first, and from there, Fear and Loathing became a reference.
Levi: Delicatessen, too. We were battling – Rocky was dying to come and do the video in the UK. He booked his flights but then we got fully locked down, so he couldn't. We didn't want to make it look like Rocky was on his own, and the hotel room seemed like the best way to achieve that.
A: I'd say the album plays on themes of duality, which we tried to communicate with the MAZZA video.
L: One of them is having a good trip, the other is having a bad one.
Did you direct Rocky's part remotely, then?

L: Yeah, over Zoom. It went a lot better than expected.
A: I'd say it was one of the most relaxing shoots that we've done.
L: They set up the camera, then had a monitor. We were on Zoom from about 8pm ​'til 6am. Rocky knocked it out of the park, he's a star. He was so easy to work with.
How involved has slowthai been in coming up with the TYRON visuals?
L: Me and Ty are cousins, I've known him my whole life. We've got a similar appreciation for film and art. Alex has known us both since we were 12, so we know each other inside out. Fear and Loathing is actually Ty's favourite film. Often when he mentions stuff he likes, we'll keep it in our mind and use it when the right song comes along.
A: He's an artist that you can push things with a little bit. You can take them wherever you want to and most of the time he'll be up for it. Having known each other for so long really works in our favour.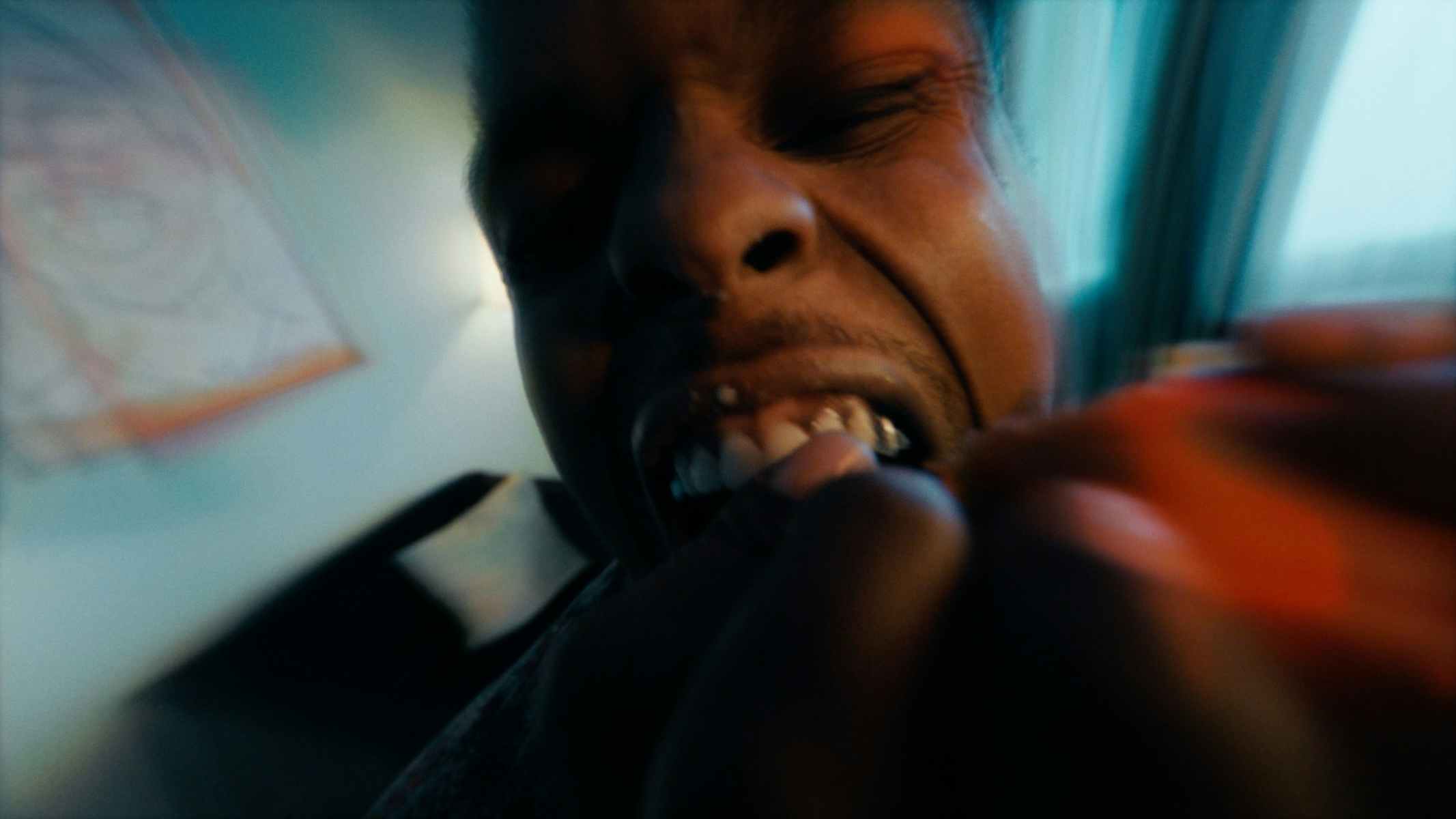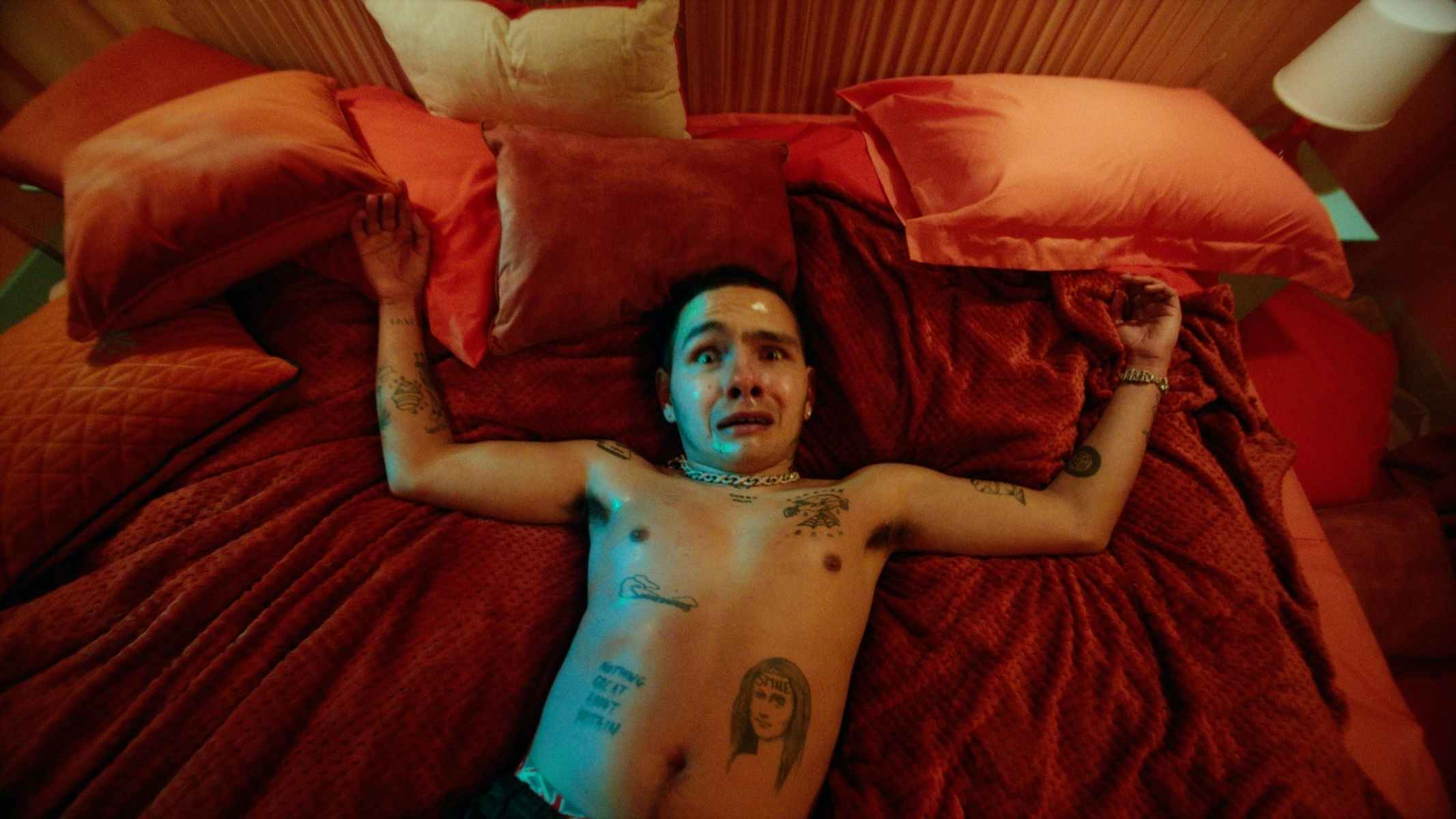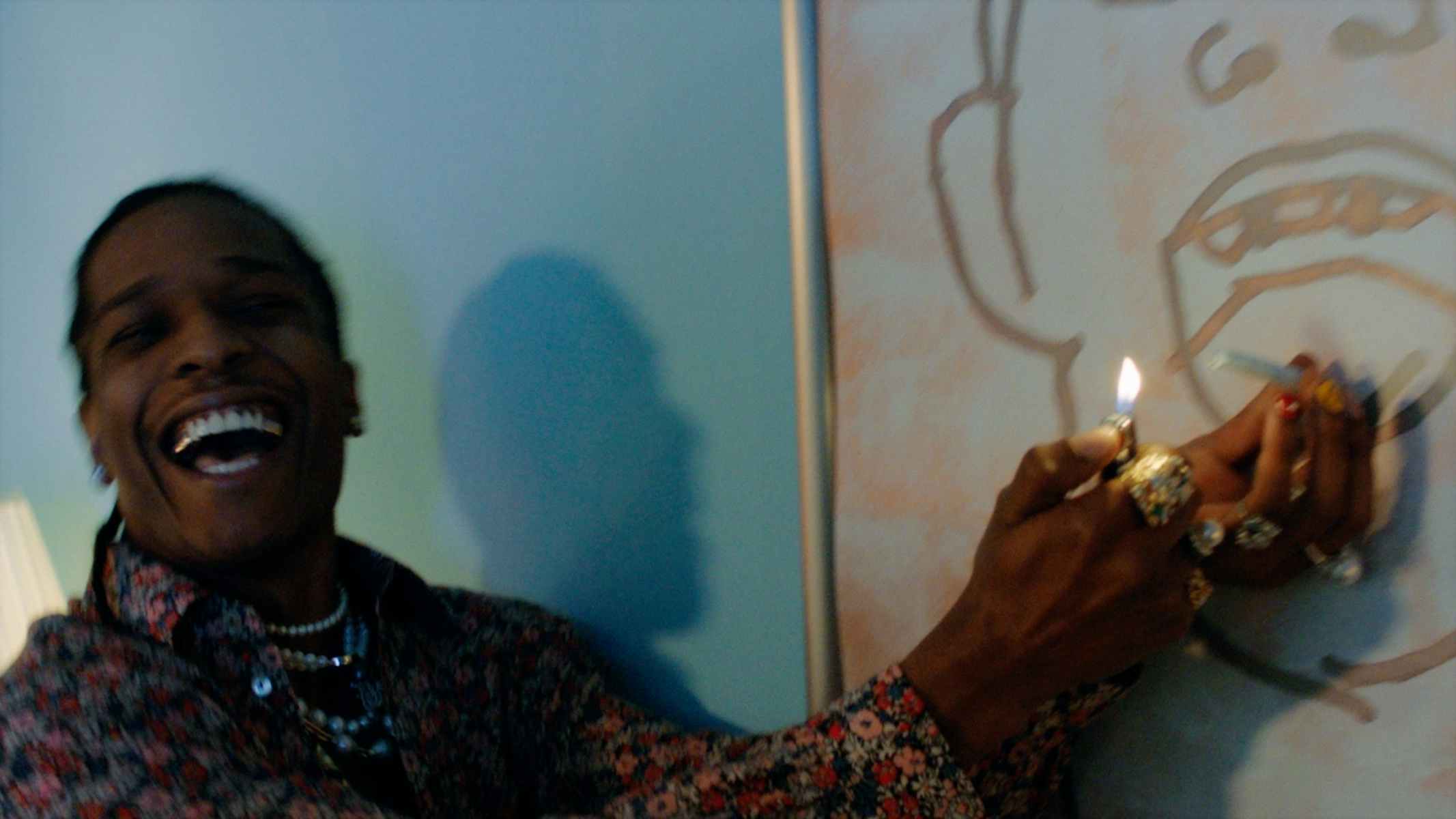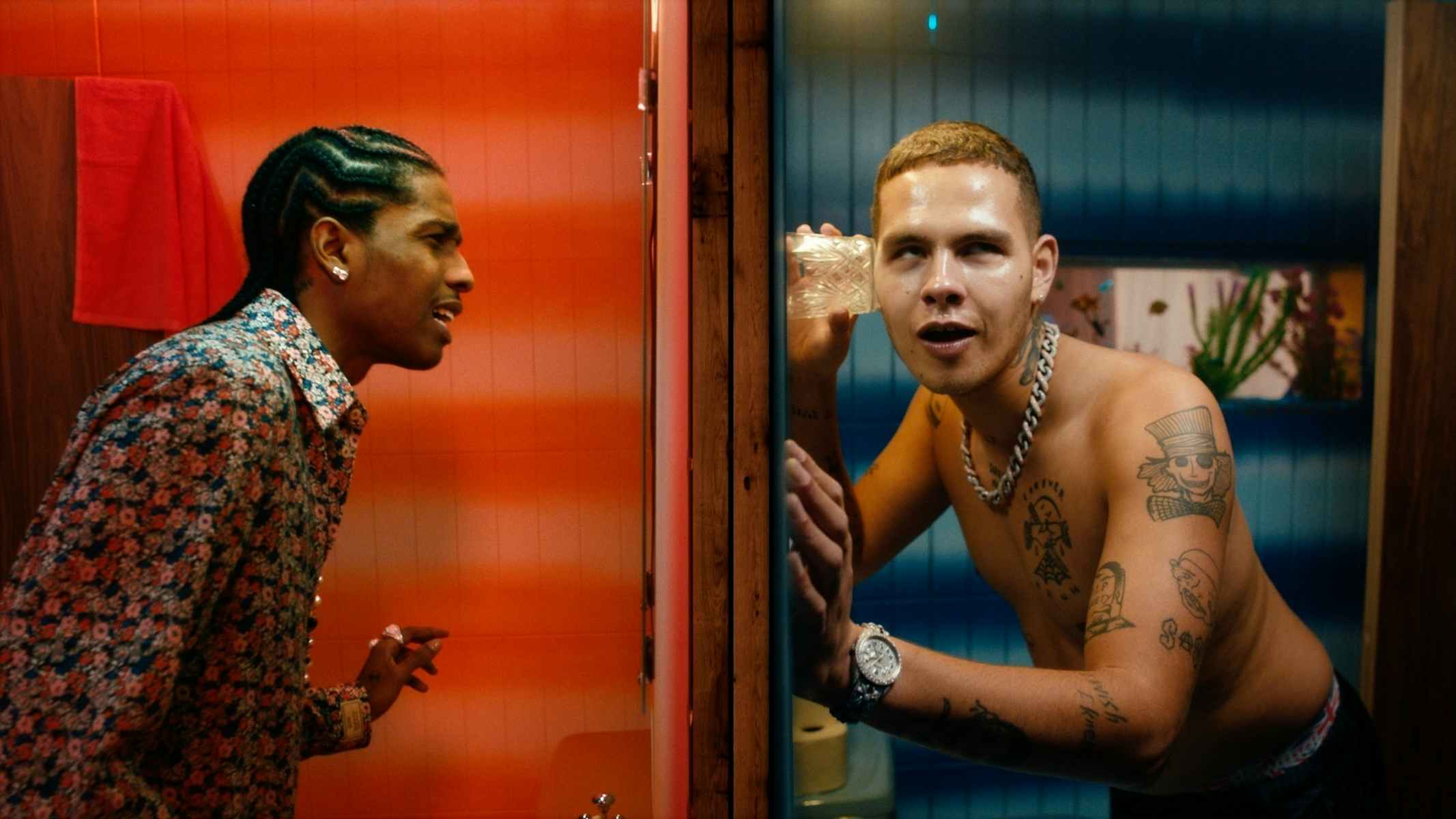 Outside of your work with slowthai, what inspires you?
A: Films definitely inspire our approach. I think everything's already been done, so if you have an idea it's best to simply try and do it better than someone else would and do it a bit differently.
L: No idea is original.
A: Sometimes if we've got an idea and somebody's done it, I think it's better to double down.
L: Our references are so bait, we never try to disguise them as our own work. We're really into foreign cinema, which is why we cut our videos with longer takes, not like a typical music video. We take it scene by scene – once we've introduced something we try never to go back to it. That's the structure for us. In a lot of music videos, within the first 30 seconds you've seen everything that's going to happen.
Are there any recurring visual themes throughout the TYRON album?

L: Definitely more so with MAZZA, CANCELLED and Vex, which are all from the A‑side of the record. People have this perception of Ty that he's crazy and mental all the time, which isn't the case. He switches that on. That's what we were trying to get across with the B‑side, with Feel Away. Even though it's a crazy video, it's him just acting. nhs shows him performing, probably softer than he ever has.
What can you tell us about the CANCELLED video?
L: We referenced horror films, so it made sense to go for Scary Movie from the jump. It goes from that into American Psycho​'s Patrick Bateman, Candyman, Freddy Krueger, and The Texas Chainsaw Massacre.
A: That bit was one of the most beautiful things I've ever seen. The light was so sick and Skepta was dancing around to some Italian classical music whilst holding a chainsaw.
L: We shot the video in Northampton in this mansion with nine bedrooms. It even had hidden doors. The best thing about all of our videos is that they're shot in Northampton [slowthai's hometown]. I think when you're watching a lot of UK music videos you can see the same places being used, the same studios and council blocks. There's no one else coming to Northampton and making videos to this level. That's a unique approach, I guess.



THE REST are repped by Pulse Films

More like this