White Lotus star Will Sharpe on playing a kit-off tech millionaire
Time to get poolside for a second season in the sun for HBO's hit dramedy. This time, we're in Sicily, with the British actor, director and writer among a mostly new cast of the rich and bonkers.
Welcome to The White Lotus, your room is ready… again.
Yes, just when we needed it most – i.e. the dreary days of November, and when it feels like everything everywhere is shit all at once – our favourite luxury holiday resort is open for business once more.
A mercifully speedy 16 months since the first series of HBO's dramedy was the sleeper hit of summer 2021, The White Lotus is back. The action has shifted from Hawaii to Sicily, the manager is now a hyper-officious Italian stress-ball rather than a recovering addict who poos in suitcases, and only one guest is back for more fun. The one thing that's returned with them? More unfortunate death-by-vacation.
Thankfully, that guest is Tanya McQuoid, the daffy, lonely, lovely billionaire shipping heiress played by the mighty Jennifer Coolidge. At September's Emmys, the veteran comedy actor won Outstanding Supporting Actress, one of 10 awards taken home by writer/​director Mike White's brilliant creation. But on her second vacay in the sun, she'll meet a new rogues' gallery of boujie guests going mad on the Med – albeit less Ayia Napa, more Succession in the sun. And, going by the first two episodes, the poolside action is Factor 50 sizzling.
Sopranos legend Michael Imperioli plays a sex-mad Hollywood producer visiting his Italian-American family's ancestral homeland in the company of his inveterately pervy dad (F. Murray Abraham) and sweet Stanford graduate son, Albie (Adam DiMarco). Haley Lu Richardson (The Edge of Seventeen) plays Tanya's put-upon assistant and, it seems, possible holiday romance for Albie.
Then there's the dysfunctional foursome centred on two college roommates-turned-fabulously wealthy Silicon Valley-types. They're played by the English acting twosome of Theo James and Will Sharpe. The former is alpha-bro Cameron, here on a loved-up trip with his equally vapid wife (Meghann Fahy). But it's the latter, married to Aubrey Plaza's Harper, who's the point round which the quartet pivots.

As an actor, Sharpe is best known for playing chaotic rent boy Rodney Yamaguchi in the BBC's 2019 Tokyo- and London-set police thriller Giri/​Haji, for which he won the BAFTA for Best Supporting Actor. But this Anglo-Japanese former president of Cambridge Footlights (a proper big deal am-dram uni society) is a director and writer, too. He created pitch-black Channel 4 comedy Flowers (2016 – 18), and later re-teamed with that show's star (and his good friend) Olivia Colman for two projects released in the last year.
She was the narrator in The Electrical Life of Louis Wain, Sharpe's feature film directorial debut in which Benedict Cumberbatch played a troubled artist who turned drawings of cats into a Victorian-era franchise. Sharpe – who has two young children with Loki actor Sophia Di Martino (they met on Casualty in 2009) – also directed Colman in Landscapers, Sky's dark'n'larky true-crime drama about a Nottinghamshire couple who shot her parents and buried them in the back garden.
Impressive, right? The British public think so, judging by what happens the moment Sharpe sits down outside a café near he and Di Martino's East London home.
"Hiya," begins a passerby. ​"Um, are you Will Sharpe? Oh, hi! I'm so sorry, you're probably in a meeting but I just wanted to say you're really amazing. My husband's a huge fan, I just walked past a couple of times and thought: I know that face… Yeah, you're really amazing."
Sharpe, not the most socially extrovert 36-year-old, squirms his bashful gratitude. ​"Paid her," he half-smiles to me as he sips his coffee. ​"It's my neighbour."
Well, Will, wait till your neighbour cops a load of you in The White Lotus. I don't mean to objectify you but you look, frankly, built in this show. Did you work out a lot for your first American role?
Yeah, I tried to stay in shape. The first text that Mike [White] sent me was: ​"Get to the gym, because you'll have to take your shirt off." I couldn't work out if he was joking or not. But also, this character seemed like a lot of his thinking time was done while furiously running up steep hills in Sicily. He seemed like someone who's quite uptight, and also driven. So it felt like it made sense.
What's your general go-to physical exercise?
I love swimming. But I get eczema and stuff, so if I go swimming too much, it's not great! I also find it helpful, if I'm writing and hit a wall, to get away from the computer and go for a run and mull over whatever it is I'm trying to work out.
So, a little bit of a crossover with Ethan?
Yeah, maybe in that sense. And I did try to do the run that he does in Taormina. The first time I did it, I thought I was gonna die. Then it gradually got easier. He's quite an internal character, certainly in the beginning. There definitely was a sense of a simmering, looming crisis, whether it's his own crisis or a marital crisis, or a combination. So that was one of the ways in which I tried to get into his head.
If the answer to this is a spoiler, I won't use it in this feature, but: what is the business he's sold that's made him a thirtysomething millionaire?
It doesn't really go into it. It's just something in tech. The only sense we get is that there is a pressure from his work. But I think in terms of the story, it's more about how that has or has not impacted on his relationship with Harper. And now they're suddenly on this holiday with this other couple – who are very different to them – almost seemingly by mistake.
"LARPing as rich people", as Aubrey's character puts it in Mike's reliably brilliant script.
Yeah! So it's like: has it changed anything for them to suddenly come into a lot of money? Or are they actually exactly the same as they always were? The thing that I found interesting was how they tell themselves that they're very open with each other, very honest with each other, love each other – to the point where, when she walks in on him masturbating, he doesn't even pretend that he was doing anything else.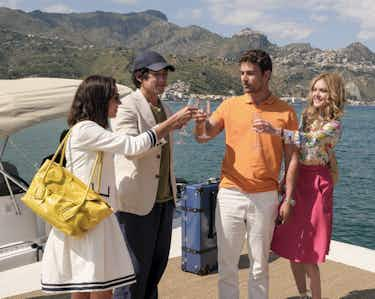 You received the invitation to audition for this in January, and were in Sicily by the end of the following month. So, a very quick turnaround…
I think I was one of the last characters to be cast, if not the last character… It was quite an ambitious schedule, with the occasional Covid pause. Then we didn't wrap till mid-July.
In a recent Michael Imperioli profile in the New York Times, the shoot is described ​"long and often intense, with six-day work weeks and frustrating Covid-19 delays". Fair comment?
Yeah, I caught it, but it wasn't too bad. It did feel long, although in a funny way, that gave us time to properly sink into it. And a lot of my most important scenes were right towards the end. So by the time I was shooting that stuff, I felt like I'd got to know Mike and the rest of the team. I felt ready.
The White Lotus came out of nowhere, a Covid baby that Mike created after HBO asked if he had any ideas for a series that could be shot in a bubble at the height of the pandemic. And he came up with this amazingly innovative and fleet-footed drama. Why do you think it struck such a chord?
It may be that part of it is that it was a holiday. A show set in a resort hotel at a time where lots of people were trapped at home. So maybe there was a certain escapism that it offered. As you say, this project was born out of HBO wanting Covid-friendly shows. They knew that Mike was a very efficient, fast writer. And it is just a brilliantly acerbic, brilliantly toned show. It's satirical of a certain set, but also contains relatable themes that people can connect with.
Do the characters and storylines overlap in this series?
[Local girls] Mia and Lucia crisscross across the stories, but otherwise there's not a great deal of intersecting. Which was the same of the first season. But they all meditate on this theme of dysfunction. A lot of people have said that this series is about sexual politics, which I think it is. Also, I feel like this season is maybe a little darker than the first season. The location obviously informs the tone and the feeling. So it has a bit of emotional scale, and also literal scale.
It's kind of operatic and, in a funny way, I feel like it's quite romantic as well. By diving headfirst into all the gnarliest aspects of relationships, different kinds of love, Mike has found a way to make it an honestly, romantic series – even if it's quite fucked up along the way!

In terms of building the actual character: back in your post-university days as a budding but nervous stand-up, you would occasionally perform in a confidence-building American accent. Did you pull on that for Ethan's accent?
I had a dialect coach, which was helpful and made me feel secure in it. But I was relatively comfortable in it anyway. I went to an international school when I lived in Japan. So when I arrived here when I was eight, I had a slightly hybrid accent anyway – kind of an American-English, weird, jumbled accent.
But it was almost more maybe [about having] an American attitude. Which I think mainly came from being around a predominantly American cast, and the rhythms of how they talk and communicate.
Did you and Aubrey do chemistry reads and hang out together offset to nail the marriage vibes?
Yeah. We had time to run the lines together, and trade notes on how we saw the relationship. Mike, Aubrey and I decided that they'd probably been together for seven or eight years. We meet them at a point where it feels like the relationship has perhaps started to go a little stale. But yeah, we had time to get to know each other. She was very open with me.
There was a version of [the situation on the production] where I arrived and it felt like there's some random British-Asian guy from the UK who had accidentally been cast in this show. But Aubrey didn't treat me like that. She treated me as an equal, always, which I appreciated and which made it easier to establish a trust. But like I say, a lot of our most important scenes were right towards the end of the shoot. That was helpful. We had time to find this relationship together, and kind of play around with it.
But I'm guessing you were also staying off set, in your family bubble with Sophia and your kids?
Yes. And I was staying out of the hotel. A lot of the cast were staying in the hotel, and shooting in the hotel. That brought a different kind of intensity. I was able to escape!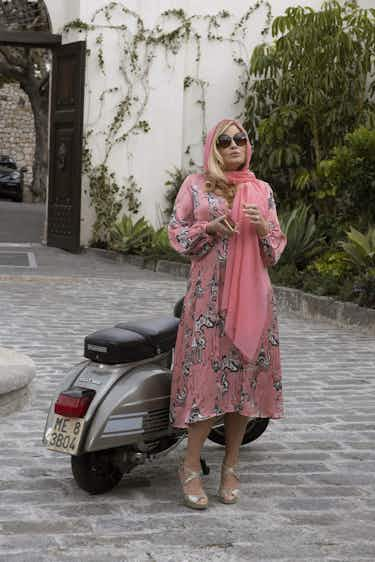 The question on everyone's pillowy Tanya lips: what's Jennifer Coolidge like?
I think it's fair to say probably roughly what you'd expect! But she's really intelligent and was very engaging company. I felt like she was very interested in everyone, and she was meeting everyone in the cast. There was one dinner where she wore a Russian hat. So there is eccentricity.
Personally, I'm looking forward to Tom Hollander checking into The White Lotus (he's ​"an English expat travelling with his friends and nephew" who isn't in the first two episodes). Apart from him – and apart from Ethan, certo – who's the character viewers should look out for in the second series?
I hope that the audience will enjoy Jennifer Coolidge's story. It's an exciting one. But I think the brilliant thing about The White Lotus is that Mike's writing really does serve all the characters. Everybody's story is speaking to each other's story, even if they don't physically meet in the show. So it's cumulative, hopefully, the effect of the series. But I'm sure people will be really excited to see Tanya back at a White Lotus hotel.
Oh, we are. No disrespect, Will, but we'll give her the last word. ​"So few brands have meaning anymore," says Tanya, newly elevated to Blossom Circle membership, in a promotion for the resort. ​"But whenever I stay at any of the White Lotus properties, it's always a memorable experience – always."
The White Lotus is on Sky Atlantic and NOW, weekly from 31st October. We've got our towels on our sun-loungers already

More like this