100% caro: PC Music's melancholy synth-pop star

As the producer and vocalist releases her debut album, Heartbeats/Heartbreaks, she reflects on what got her here in the first place, and why cooking to impress someone is always overrated.

"They say you get your whole life to make your first album," says French-born, London-based musician, caro. It feels fitting, then, that her debut album, Heartbeats/​Heartbreaks, sums up all the things that led her up to this point: the landscapes of her native Marseille, the slight melancholy of her childhood and dreamy teenage fantasies.
All these elements stretch like bubblegum across the project's 14 songs. Some are more sentimental than others, boasting piano melodies overlaid with distorted vocals. Others, like the meditative Moonrise, are intimately instrumental, offering breathing space until the next track. And while Hide Me Here and 20k Feet Under are more upbeat, they don't stray from the musician's stripped-back, introspective style, and they wouldn't feel misplaced on an after-party playlist.
Having previously been a part of shoegaze band Planet 1999, the time eventually came for caro to kickstart her solo career. Last year, she signed to the PC Music label run by fellow producer A.G. Cook. Home to the very best in synth-pop, the London-based operation has previously released music by the likes of Charli XCX, Clairo and the late, great SOPHIE to name a few.
And caro wasn't messing around when she chose to become a one-woman show, either.
"I feel like beyond just the music, the very act of choosing to write and produce everything on my own really feels like I've accomplished something. It feels really faithful to the person I am.
"The only thing you should be doing is expressing and getting to know yourself," she adds, ​"connecting with the world around you and feeling as many things as you can. Find the strength to put your modest imprint on the long chain of human experiences, and pass it on for someone else to use."
As Heartbeats/​Heartbreaks hits the airwaves today, get your 100% fill of caro's wisdom below.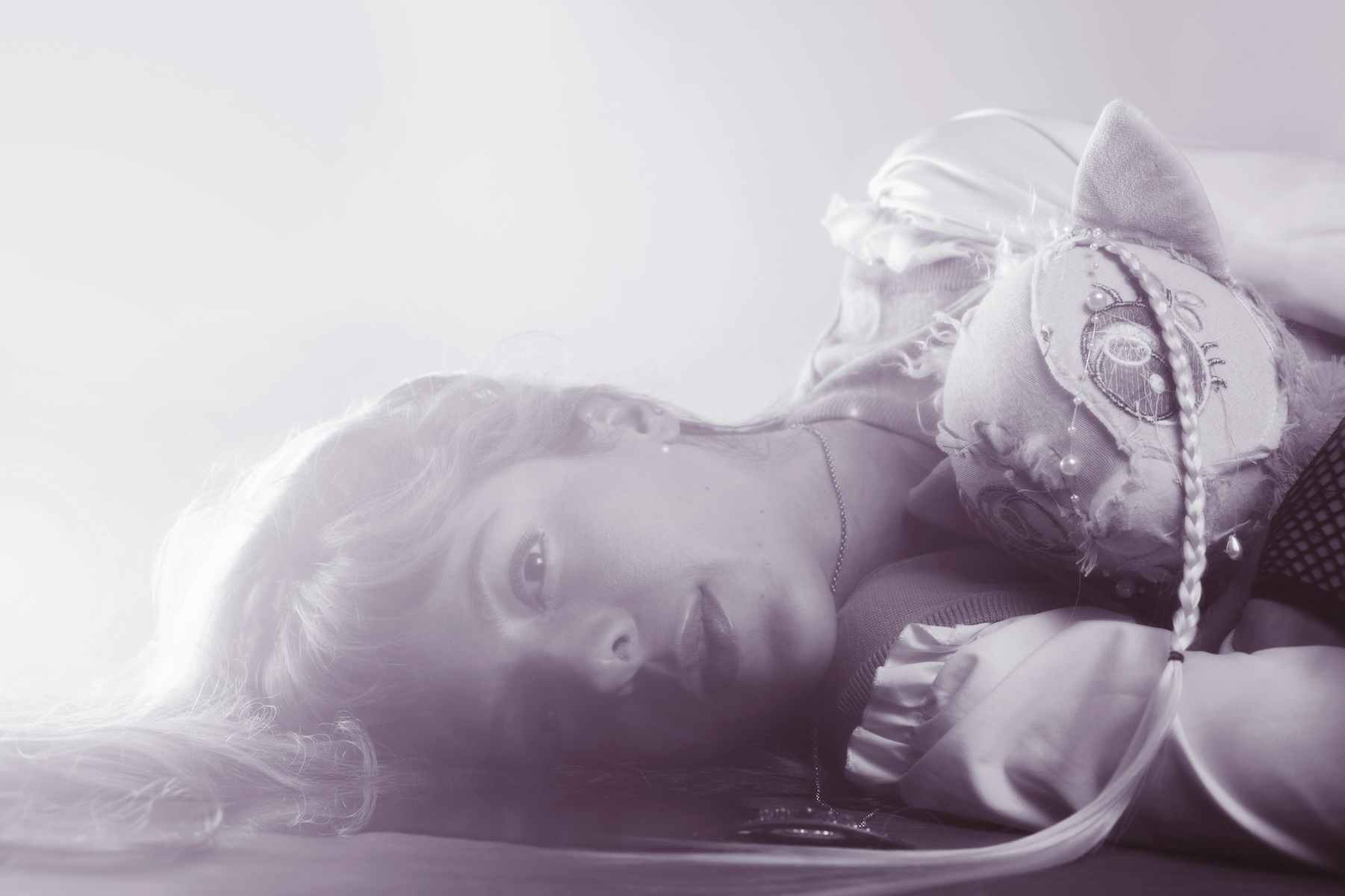 10% Where were you born, where were you raised and where are you now based?
I was born in Marseille and grew up slightly further east along the Riviera. I'm now based in London, where I've been living for the last few years.

20% What's your favourite song on your new album and why?
I have a particular affection for Over U because it's the oldest one, and it sort of started the whole thing. Beyond any question of aesthetics, I just really think it has something interesting going on – it also feels genuine and unlike anything I've done before. I sometimes think of 20k Feet Under as my favourite, too, because it felt very natural. That song was the last one I made, the missing track which allowed me to close up this chapter.
30% What kind of emotions and experiences influence your work?
Romantic stuff, feeling lonely, lost, optimistic or feisty. It depends. Right now what I'm making has quite a confident vibe to it – I have a lot of things to get off my chest, about relationships in general and being faithful to myself. While making Heartbeats/​Heartbreaks, I had a lot of conflicted feelings going on inside. Some were beautiful and motivated by a deep sense of confidence and optimism, a new understanding of love. But a lot of it was me trying to escape from things I wasn't openly dealing with. Escapism is good, but I'm now a bit more wary about finding a balance between real life and the life I have going on in my head.

40% If you're cooking food to impress someone, what will you make?
I'm gonna sound like a killjoy, but right now I'm not in the mood where I feel like going out of my way to impress anyone!

50% What's a piece of advice that changed your life?

​"Stop feeling guilty about everything." Feeling guilty about things you have no responsibility for, or no control over, really strikes me as odd. It's OK to feel guilty when you do fuck up and need to make things right, but most of the time it's actually a very destructive feeling. Making art is also really linked to that – it's easy to feel guilty about spending all that time in your head or experimenting, especially in a world that is so focused on productivity.

60% If you could travel back in time to see an iconic music act perform, who would it be, and in what era of their career?
I think I'd go see Daft Punk at Coachella in 2006.

70% What's a bad habit you wish you could kick?
Going to bed very late.

80% Do you believe in star signs and horoscopes?

I do recognise myself quite a lot when I read about Sagittariuses, but I don't like compatibility predictions between signs – it seems a bit simplistic. A friend told me about this app, The Pattern, which can be quite surprising. I installed it and it pretty much predicted I'd make this album.

90% At what point did you realise you'd be able to do what you love for a living?
It's an ongoing process. I think the most important thing is realising that whatever happens, whatever level of success you reach, keep making art and grow with it. If you can make a living out of it, great. But getting pleasure from it is what matters.

100% What can artists do to help save the world?
Do what they can to be kind, do good around them and carry on creating, because I do believe that makes the world a better place. I tend to think of the world as a power struggle between creative and destructive forces. So if you create more than you destroy, you're probably doing something good.


More like this