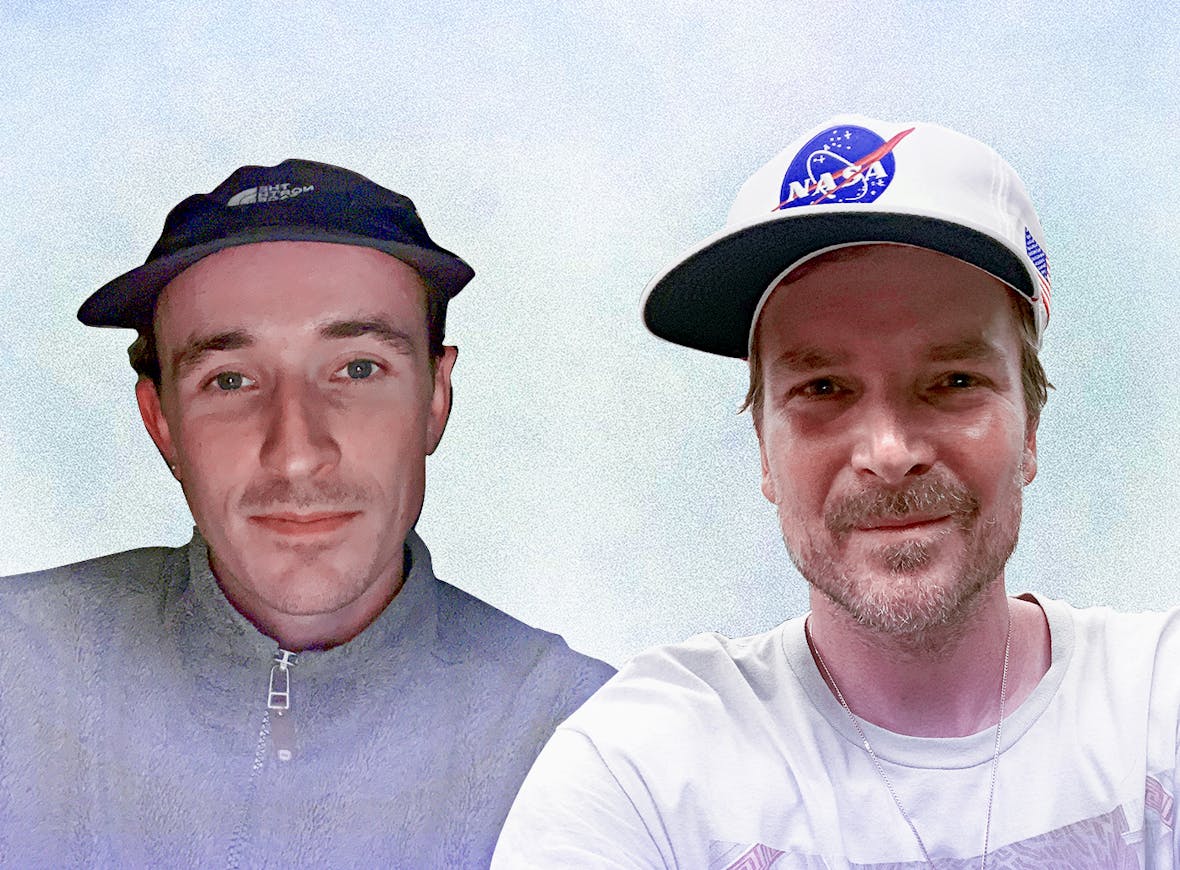 Chad Mus­ka and Ross From Friends in conversation
When UK music pro­duc­er Ross From Friends, real name Felix Clary Weather­all, first broke through he was part of what was known as the ​"lo-fi house scene": an online wave of musi­cians cap­tur­ing a sense of sweet rave eupho­ria on the cheap and cou­pling it with an aes­thet­ic col­lage of 90s ref­er­ences (hence the cheeky moniker).
With his more pol­ished releas­es, Weather­all has devel­oped and exper­i­ment­ed with his sound, and new EP Epiphany – released via Brain­feed­er – sees him explore psy­che­del­ic tex­tures with­in club-ready beats.
Felix also loves skate­board­ing, and so, it was his hon­our to score art­work cre­at­ed with sand and cement by the leg­endary Chad Mus­ka for the EP. Known to be a hip-hop fanat­ic when the Tony Hawk's Pro Skater com­put­er games blew up around the turn of the mil­len­ni­um, Mus­ka has also dab­bled in music him­self, pro­duc­ing artists such as Jeru the Dama­ja, Afri­ka Bam­baataa and Raek­won under his alias Muskabeatz.
In cel­e­bra­tion of the Epiphany EP, The Face jumped on a call between Chad and Felix to chat about DIY cul­ture, dance music and – of course – Tony Hawk's Pro Skater.
The Face: How did the col­lab­o­ra­tion come about?
Felix: I fol­lowed Chad on Insta­gram for a long time, just because I was famil­iar with his skat­ing and watch­ing all his old videos as a kid. And then you [Chad] start­ed post­ing all this art­work, and I was like ​"fuck this is fas­ci­nat­ing". I just loved how raw it was; espe­cial­ly the cement and stone work that you did that became the EP art­work. I spoke to Brain­feed­er and I was like: ​"This might sound real­ly weird, but do you reck­on Chad Mus­ka might be up for doing the art­work?" And then yeah, man, you were super up for it, which was real­ly cool!
Chad: As Felix was say­ing, I'm most­ly known for my skate­board­ing, but I have an equal amount of pas­sion for cre­at­ing art­work and design and all dif­fer­ent types of self-expres­sion. When they hit me up to use the art­work for the album, I was com­plete­ly hon­oured that some­body else was tak­ing notice in the art I was doing. I decid­ed to become more famil­iar with your music, and I've just been cre­at­ing art­work lis­ten­ing to your music this entire week­end. A lot of your tunes had already been on a playlist that I had been lis­ten­ing to. I think it was such a cool thing that you had made music, you've been inspired by my art to put it on the cov­er of this new 12″, and then in turn I've lis­tened to it and cre­at­ed new art­work. It's like a full ener­gy cycle.
The Face: So the art­work was a piece that you had made already and Felix used it for the EP.
Felix: That's right. I came across that spe­cif­ic piece on Chad's Insta­gram and was just like: ​"Fuck, that's right up my street." It just had that raw ener­gy, earthy and ground­ed. The pat­tern on it was so strik­ing as well, and I just felt like it matched the music I was mak­ing for that EP. That sort of use of mate­ri­als is bril­liant. When I look at the record, I can actu­al­ly feel the tex­ture almost. That's what I real­ly want­ed that EP to be as well – a real, vis­cer­al sort of thing, a sen­so­ry experience.
Chad: I hon­est­ly feel like the art real­ly con­nect­ed – it's so crazy. Lis­ten­ing to the tunes, and just look­ing at that visu­al, it's so weird how the two can com­ple­ment each oth­er in such a unique way. It's just a sim­ple image and com­bined with that sound it's say­ing some­thing with­out putting it into words. And I think that's what art is; that's what elec­tron­ic, tex­tur­al music is… it evokes an emo­tion and a feel­ing, opposed to telling you exact­ly what it is you're sup­posed to feel. Every­body can inter­pret that sit­u­a­tion in their own spe­cif­ic way.


The Face: Chad, what is your cre­ative process for inter­pret­ing sounds into an image?
Chad: As an artist, or as a musi­cian, [it's about] the abil­i­ty to say some­thing that is impos­si­ble to put into words. And that comes across in music. You look at it and it's a feel­ing, but when you try to describe that par­tic­u­lar feel­ing, it's impos­si­ble, because you can't put all those emo­tions and feel­ings into one sen­tence. So for me it's real­ly been a long process, an evo­lu­tion of many medi­ums: graf­fi­ti, skate­board­ing, music, ​'90s rave cul­ture, ear­ly hip-hop. All those things were part of my life grow­ing up, and they've all influ­enced and been con­nect­ed to each oth­er and con­tin­ue to evolve.
Felix: It's inter­est­ing that you men­tioned those things specif­i­cal­ly: graf­fi­ti, skate­board­ing, music, rave cul­ture; those were the big four things for me when I was grow­ing up as well. And old school hip-hop as well; I still make hip-hop beats now. And then see­ing your video parts – in my eyes, I feel like you just changed the way that peo­ple approach skate­board­ing, you changed the way that I approach skate­board­ing for sure. You made me realise it was a real cre­ative thing. There's this one part that real­ly stuck out to me. I can't remem­ber the name of the video but it was like a long shot with a Bue­na Vista Social Club song.
Chad: Shorty's Ful­fil The Dream video [1998].
Felix: It's one of the best skate parts I've ever seen. It's not about doing some mad shit or any­thing like that, it was just a plea­sure to watch because it was a new approach. And that was real­ly exciting.
Chad: Much love, man. It's an hon­our to know that these things that I've ded­i­cat­ed my life to have had an influ­ence on peo­ple; out­side of skate­board­ing even. It's always such a bless­ing. I'm very grate­ful for all those experiences.
Felix: Are you still mak­ing music? Do you still make beats or elec­tron­ic music or any­thing like that?
Chad: I spent a long time start­ing my own record label and pro­duc­ing these projects, but unfor­tu­nate­ly the time peri­od where I was get­ting heav­i­ly into it is when the death of CDs was hap­pen­ing, and it was like this mid­dle time peri­od where stream­ing and MP3s hadn't real­ly become. There were no finan­cial ben­e­fits in it. It was the era of Nap­ster and peo­ple steal­ing music. I was try­ing to get a dis­tri­b­u­tion deal but all the record stores were clos­ing at that time. I was invest­ing a lot of time and mon­ey into start­ing this label, and there wasn't real­ly a finan­cial ben­e­fit at that time. That was a bit dis­cour­ag­ing for me, because I'd spent so many years of ded­i­ca­tion try­ing to make this hap­pen, and so it kind of pushed me back into the skate world, and I stopped doing [music] for a long time.
But just as of, like, prob­a­bly a cou­ple years ago, I start­ed dab­bling in it again. I design footwear, but I also like to cre­ate videos and dif­fer­ent pro­mo­tion­al projects for the prod­ucts that I've designed and work with, and that pushed me to want to cre­ate musi­cal con­tent to score these lit­tle clips that I've been creating.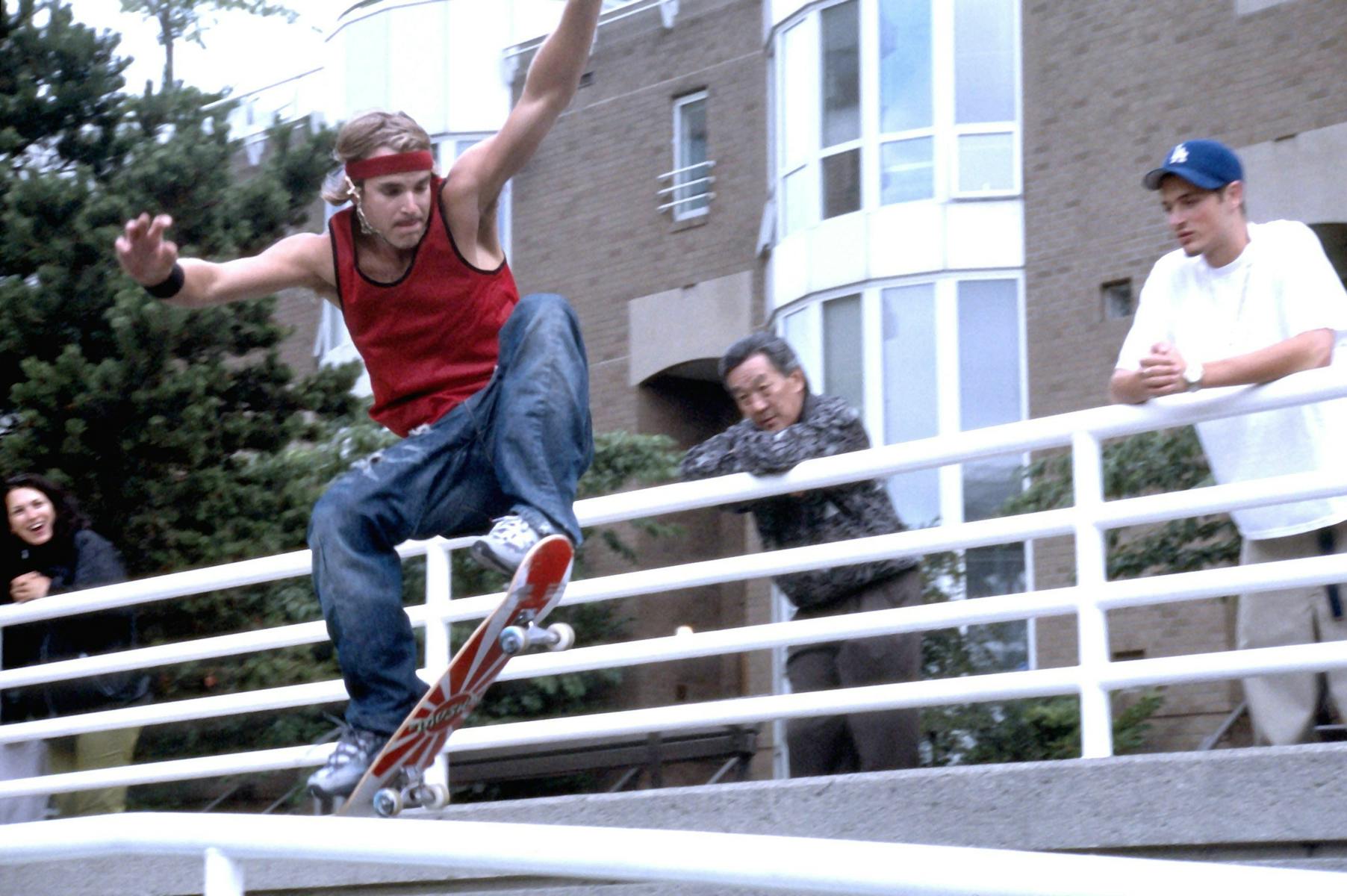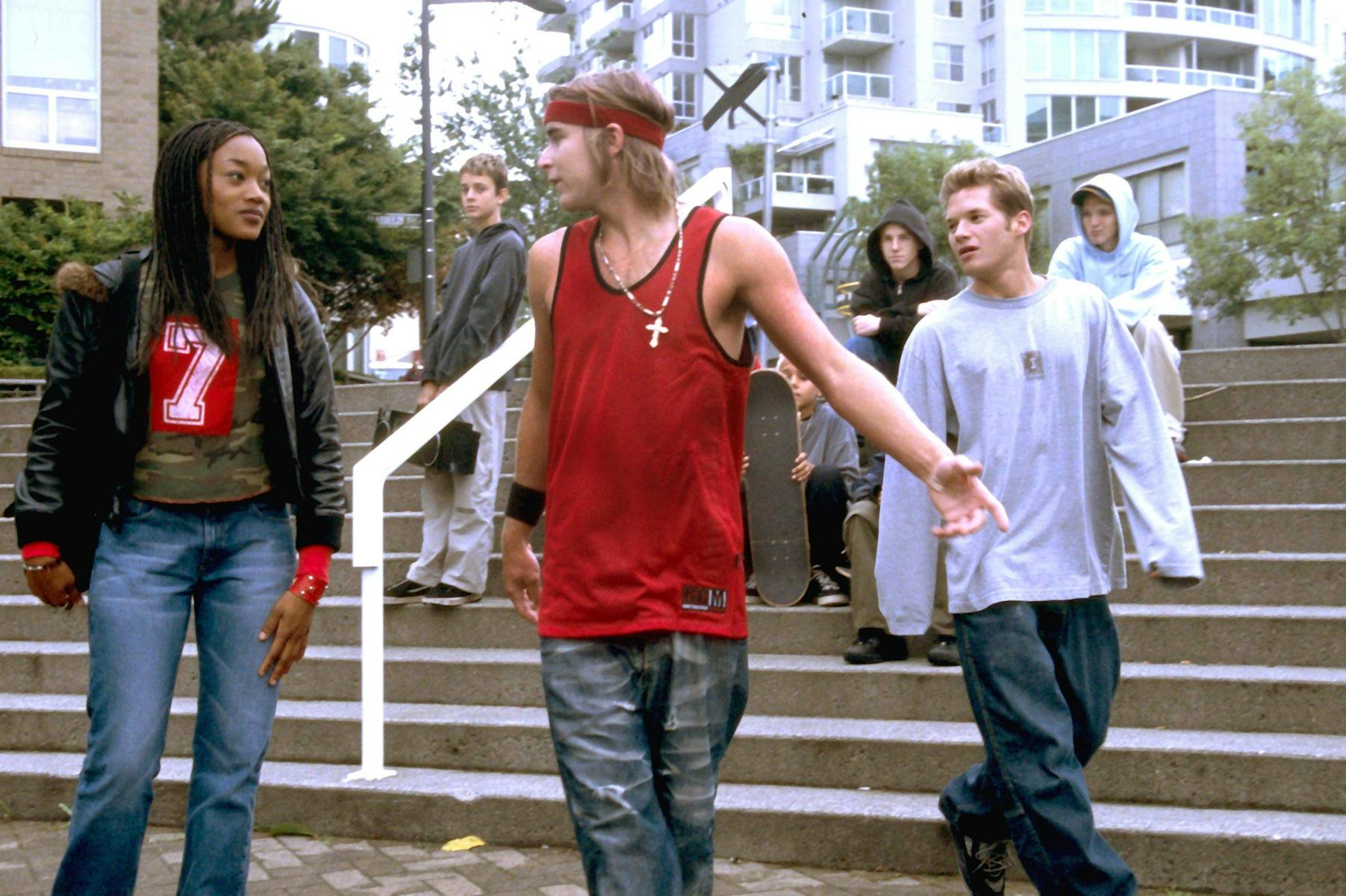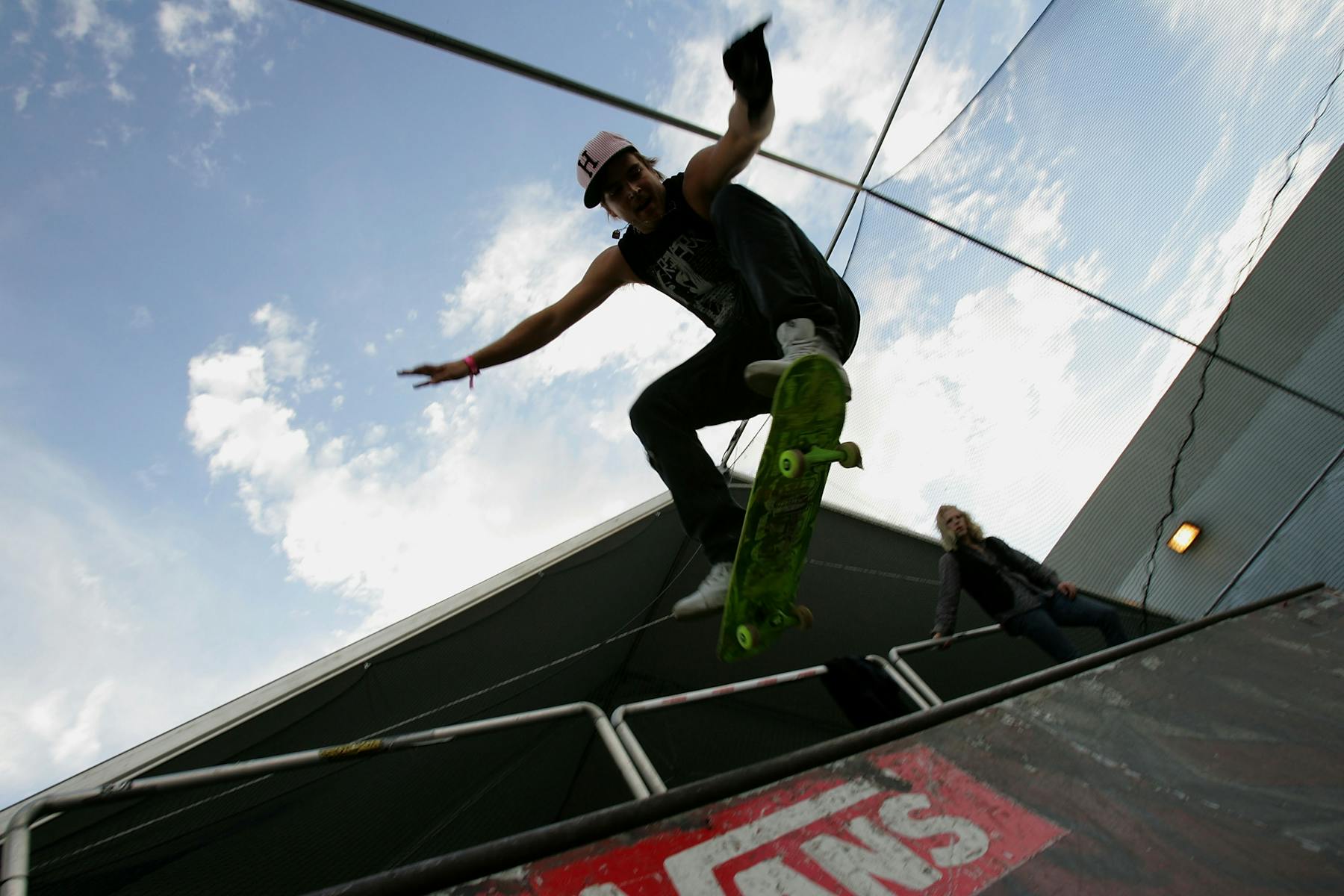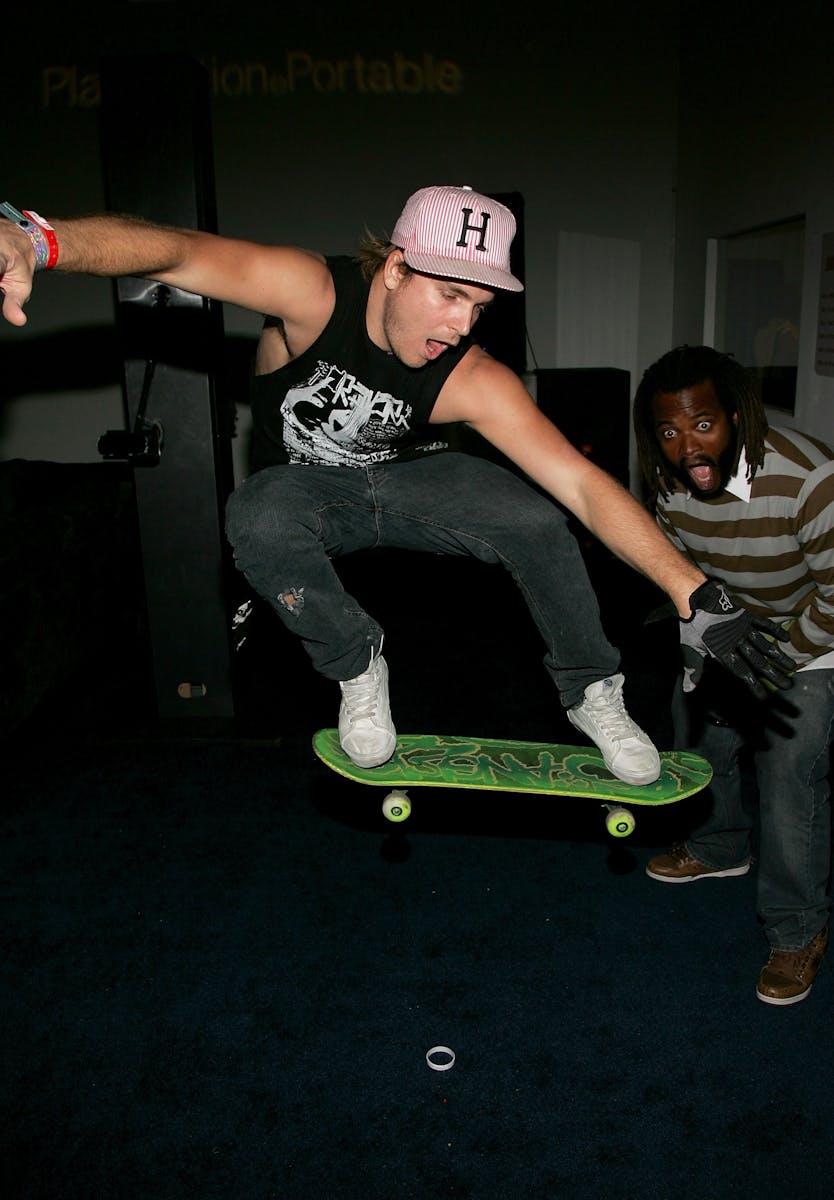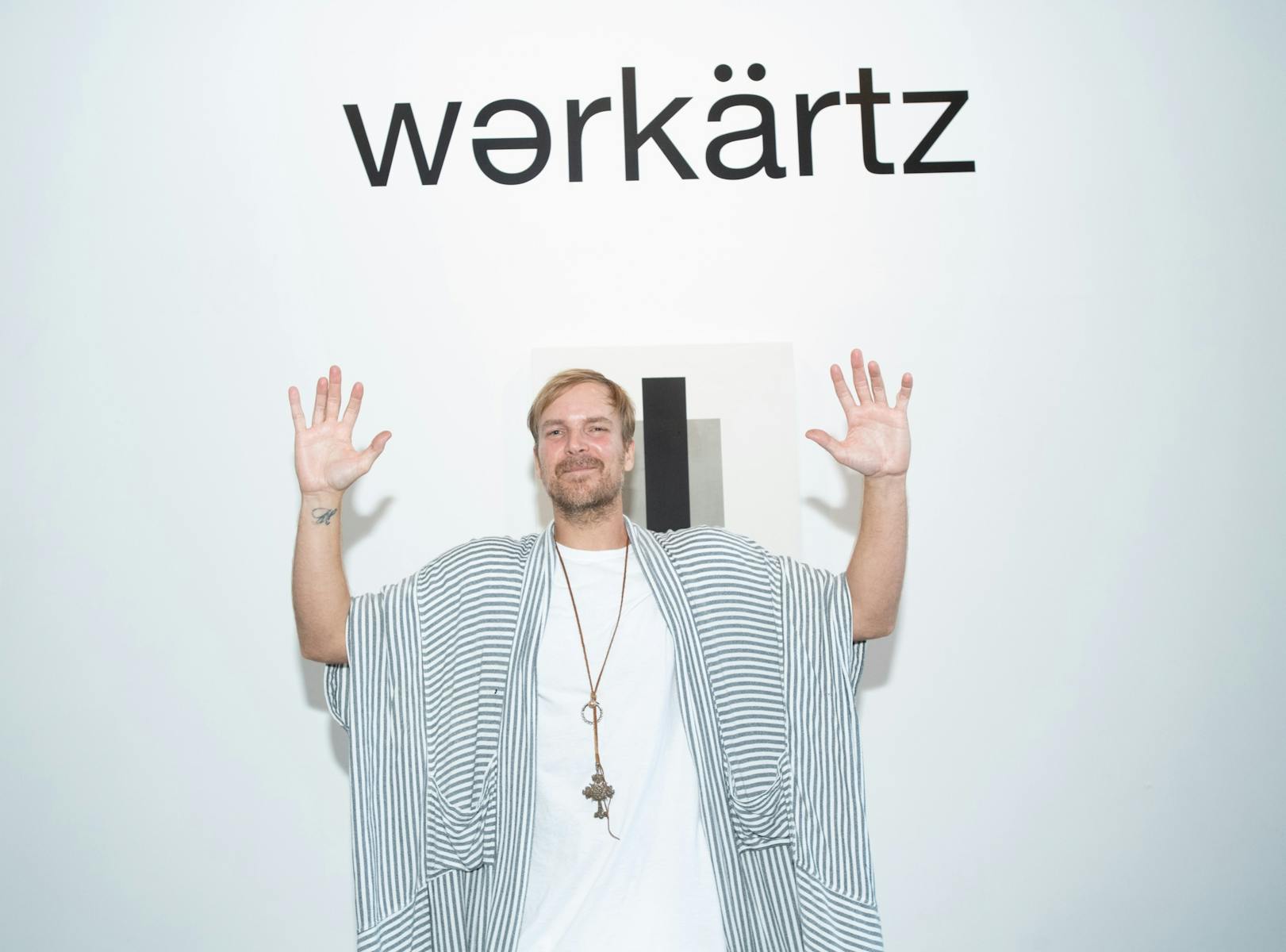 How does skate­board­ing influ­ence your cre­ative out­put for the two of you? Do you see any sim­i­lar­i­ties between cre­at­ing art and skating?
Chad: I think that skate­board­ing is a com­plete art form in itself. It's like per­for­mance art in a lot of ways because every­body does it in their own spe­cif­ic way. Speak­ing for myself, skate­board­ing has been the back­bone to every­thing cre­ative I do. It's giv­en me the con­fi­dence to be cre­ative, because I felt that if I stud­ied and prac­ticed real­ly hard to learn a trick, that basi­cal­ly taught me a life les­son: that I could apply that to any­thing and accom­plish it. Beyond just the action of rid­ing a skate­board, there's such a lifestyle and com­mu­ni­ty that breeds cre­ativ­i­ty and expres­sion. And it is through all those things that we men­tioned ear­li­er – through music, through fash­ion, through art, through just com­mu­ni­ty – there's so much there that has influ­enced every­thing that I do in life, even if it's subconscious.
Felix: I always feel like there are so many cre­ative peo­ple in skate­board­ing. If some­one skates they always tend to do some­thing else on the side, like music or fash­ion or what­ev­er. I feel like skate­board­ing is under­rat­ed as a cre­ative out­let – you jump on a skate­board and the world is com­plete­ly yours; you do what you want with it. It's con­sid­ered a sport, but I view it as an art form in its own right. It's anoth­er mode of cre­ative expres­sion, just like visu­al art or music. It makes absolute­ly per­fect sense that peo­ple who are into skate­board­ing would be mas­sive­ly into music and art and fashion.
His­tor­i­cal­ly, skate­board­ing has had more of a rela­tion­ship with punk rock and hip-hop, and not nec­es­sar­i­ly so much with dance music, but that seems to be start­ing to change. Why do you think that is?
Felix: I feel like there's a whole new sort of DIY aes­thet­ic, and that's some­thing that for me ties into skate­board­ing any­way. Peo­ple mak­ing this kind of thing from their bed­rooms; it's the new DIY music. I think back in the day when peo­ple start­ed to make dance music or elec­tron­ic music, it was most­ly peo­ple with huge stu­dios and big gear who prob­a­bly had to have mon­ey to start out with. Now you can be a bed­room pro­duc­er with your lap­top, and it feels like that's the same sort of idea that comes with skate­board­ing, in my mind.
Chad: I feel like punk rock and hip-hop were the voice of the DIY at that time. It was this attain­able lifestyle; a reflec­tion of the youth that was rebelling against pop cul­ture. And now we fast for­ward and see that hip-hop itself has changed so much, and now it's becom­ing the dri­ving force of pop cul­ture. And I think that that in turn, might flip the DIY com­mu­ni­ty and the under­ground, and the skaters – maybe push them away from some of the things that are more influ­en­tial in pop cul­ture, and go on to this ​"under­ground" move­ment. Although elec­tron­ic music is beyond under­ground at this point, obviously.
Elec­tron­ic music has to be the most pop­u­lar glob­al music that there is because it doesn't speak a lan­guage; it's not lim­it­ed to a geo­graph­i­cal loca­tion. It's music that any­body can feel no mat­ter what lan­guage you speak and what influ­ences are in your com­mu­ni­ty. You hear this music, and you can't help but move and dance, and it unites the world in a way where a lot of music can't. In a time where every­thing is becom­ing more and more divid­ed, elec­tron­ic music is some­thing that can unite peo­ple in such a cool way.
Felix: It's com­mu­ni­ties of peo­ple com­ing togeth­er, and danc­ing togeth­er, and just hav­ing fun all togeth­er. And that is such a human, raw thing to be able to express to one anoth­er with­out hav­ing to speak.
Chad: I think that's such a beau­ti­ful aspect of it. Not to be neg­a­tive about it, but we're see­ing this glo­ri­fi­ca­tion of the EDM scene, and it's becom­ing this machine that's out of con­trol, with DJs danc­ing on tables and shit. I don't know if there's any threat to the scene based on that.
Felix: The mas­sive EDM scene is an inter­est­ing thing… I'm almost quite hap­py it exists because it's anoth­er thing to be able to reject in a way. With­in dance music, as a gigan­tic sort of scene, you're able to see EDM music and be like, that's not some­thing that I real­ly want to be the face of dance music. I want to be vehe­ment­ly against that.
Chad: There are par­al­lels in skate­board­ing with that as well . Skate­board­ing is going into the Olympics in 2020, and all these com­mer­cial aspects of skate­board­ing from high fash­ion to main­stream McDonald's com­mer­cials and what­ev­er. You see that every­where, and part of me is like: ​"Oh my God, this sucks so bad, that's so lame". But then anoth­er part of me is like: ​"Well, at least there is expo­sure to this idea" and even if they're exposed to skate­board­ing through some­thing that's more com­mer­cialised, at some point, it may lead them to the truth. And I guess that could be asso­ci­at­ed with elec­tron­ic music as well too. There might be this crazy beast out of con­trol but life has a way of fil­ter­ing out what it needs to, and then maybe at some point it will leave peo­ple that tru­ly love the music and the scene and the culture.
Felix: That's very true, it does act as a good intro­duc­tion to that kind of world. And if you gar­ner a love for it and you want to dig deep­er, you find these pock­ets and scenes. My intro­duc­tion to skate­board­ing is prob­a­bly A Goofy Movie or some­thing like that. I wasn't imme­di­ate­ly watch­ing you skate. It will always come from a more pop­u­lar place and fil­ter down and you find your true inter­ests at some point, and what you real­ly love about that.


You were talk­ing ear­li­er about skate videos and the music in them. Do either of you have a favourite clip off the top of your head, or a song that you dis­cov­ered from a skate video, or a clip where you think the music went real­ly well with the skat­ing?
Felix: One that real­ly sticks out to me was a video from this Russ­ian skate brand that I came across on Vimeo, and they had this mad aes­thet­ic. So much over­lay­ing stuff and mad green screen things, and they had this track by this Russ­ian tech­no pro­duc­er called But­tech­no who was unheard of at this point. I was crazy about his music, and it was real­ly stag­ger­ing to see that in a skate video. Hear­ing real­ly odd tech­no with this Russ­ian skate brand… it was just worlds away from what I was used to watching.
Chad: The one that pops in my head is Mark Gon­za­les and his part in Blind Skateboard's Video Days where he's skat­ing to jazz. I think it was [John] Coltrane. At that time, I'd nev­er even thought that I liked jazz. I was real­ly young when I heard it, and I remem­ber lis­ten­ing to it and just being like: ​"Wow, I real­ly love jazz!"
What char­ac­ter did you used to play on Tony Hawk's Pro Skater?
Felix: [laughs] Oh Jesus. I'm gonna say Chad.
Chad: I won't be mad if it wasn't me.
Felix: It was a toss-up between Chad and Rod­ney Mullen when he was on there.
Chad: I rarely played the game even though I was in it, I've nev­er been a big video game per­son. But of course I picked myself when I did play.
Chad, you recent­ly drove around LA tak­ing over Eric Koston's ​"Do a Kick­flip!" chal­lenge. Felix, do you still skate, and if so how would you do in the challenge?
Felix: If the pres­sure was on, if Chad Mus­ka and Eric Kos­ton pulled up in a car and told me to do a kick­flip for a free board I'd be so ner­vous. I reck­on I'd just be like: ​"OK, this is it!" [laughs]. If that pres­sure was on I reck­on I could meet the chal­lenge for sure.
Chad? If Eric Kos­ton pulled up on you when you were skat­ing down the street would you land it?
Chad:[laughs] Let's hope I've still got it! I've put this body through so many injuries but I'm still going. I would have to do it. If I didn't land it it might be a bit embarrassing.
Chad, what do you like about Felix's music?
Chad: I think that you [Felix] killed it on this EP. The Rev­o­lu­tion is stuck in my head after this week­end. It's a jam man. I don't like to make com­par­isons that much, but I'm a super big huge fan of the Future Sound of Lon­don and Epiphany has some ele­ments in there that remind­ed me of some of my favourite tracks of theirs.
I'm just hyped that I was able to be exposed to your music again through this and it's an hon­our to be a part of such amaz­ing tracks. Thank you for mak­ing this col­lab­o­ra­tion hap­pen; it's such a cool thing for me to see my art­work expe­ri­enced in that way. It's some­thing I had nev­er thought of and I'm real­ly grate­ful for the opportunity.
Felix: That is over­whelm­ing; it's so crazy to hear that. Thank you so much. I real­ly appre­ci­ate that, and your art­work for it as well was absolute­ly beau­ti­ful. I'd love to be doing what you're doing. It excites me so much to hear your pas­sion and your love for just being cre­ative in any way. That real­ly inspires me. Thank you so much for this con­ver­sa­tion, it's been such an eye opener.


---