Davido: ​

"

All I'm focusing on now is reforming my country"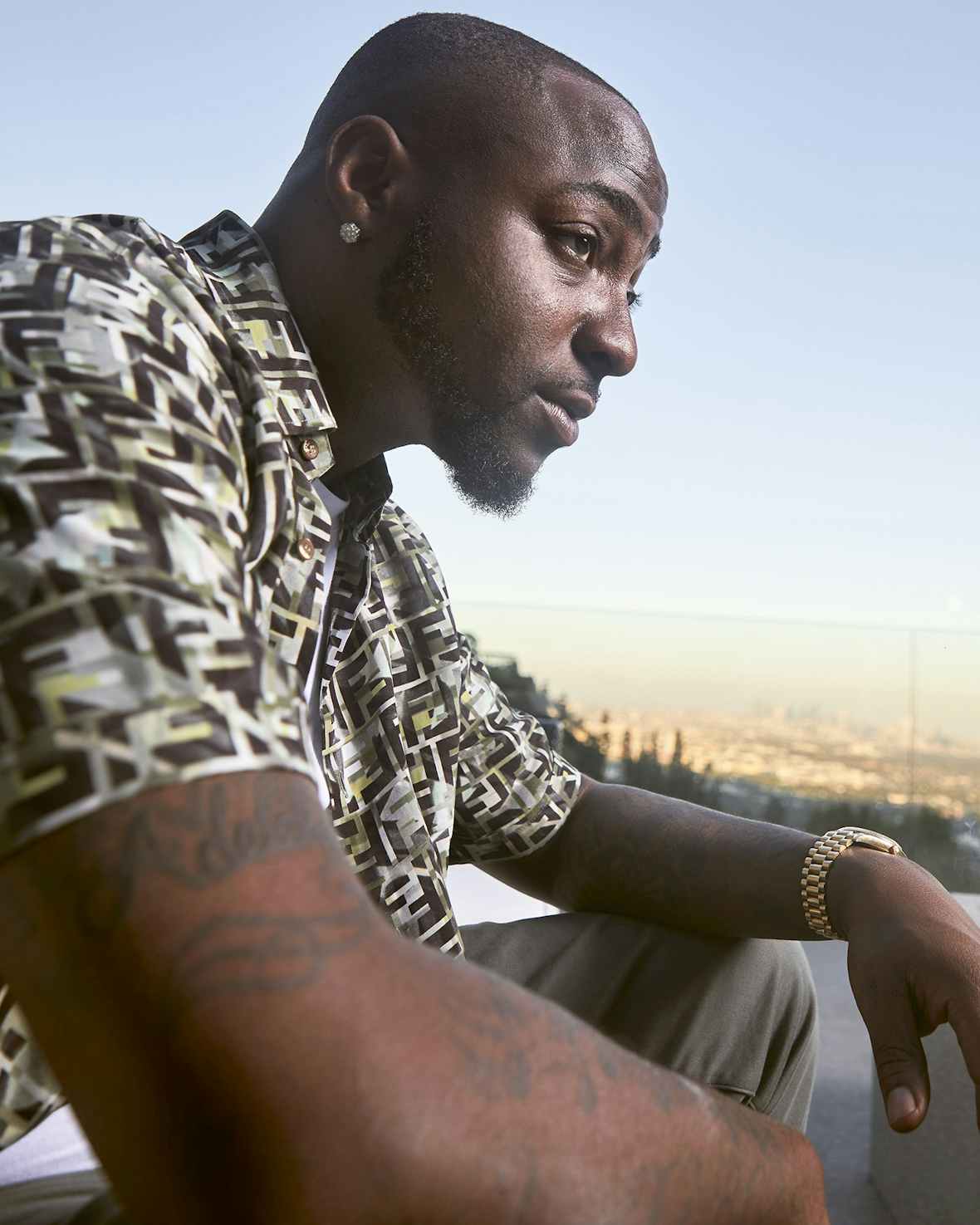 Having postponed his star-studded album A Better Time, the Afropop artist is throwing himself into #EndSARS – the biggest protest movement in recent Nigerian history.
Our interview with Davido was scheduled to discuss forthcoming new album, the much-delayed A Better Time, an eagerly-awaited follow up to 2019's international breakthrough A Good Time. But the American-born Nigerian superstar has other things on his mind. Including his own survival.
On Sunday 11th October, Davido was in Abuja, his hands raised to the air and his knees pressed to the asphalt of one of the many well-tended roads that crisscross Nigeria's capital city. Dressed in simple, loose-fitting black garb, and facing a row of police officers armed with assault rifles, David Adedeji Adeleke was many miles from the safety of his Lagos mansion.
In a few of the videos that surfaced online, the 27-year-old was seen shielding protesters behind him while pleading with the security forces. After an officer recognised Davido as one of the country's most popular musicians – one with a huge international profile – tensions were deflated.
Since early October, protesters across the world's most populous Black nation – increasingly joined by supporters in cities across the globe – have been demanding that the government scrap the notorious Federal Special Anti-Robbery Squad, or SARS as it is more commonly known. Over recent years, SARS, a tactical unit of the Nigerian police force tasked with fighting robberies, kidnappings and violent crime, has faced widespread allegations of extortion, unlawful arrests and extrajudicial killings.
Although SARS has been dissolved since the protests erupted, the clamour for wider reforms in the police force is undiminished. Many Nigerians believe a new police unit, Special Weapons and Tactics (SWAT), will essentially replace SARS as a new tool for oppression.
Indeed, the situation on the ground is getting more volatile and deadly. Five days after our interview with Davido, security forces opened fire at protesters in Lagos. Many protesters have shared footage and images of the violence inflicted by the forces. At time of writing, Amnesty International are reporting that at least 12 people were killed.
For all the ongoing unrest, during our Zoom call from Lagos, Davido doesn't sound like a man in any way shaken by the experience of using himself as a bargaining chip to calm irate protesters and police officers locked in conflict. Speaking in a determined tone, he spends a considerable time extolling the spirit of the #EndSARS protests.
"It was crazy and emotional, but also a proud moment for me because I didn't go there as Davido," he tells me. ​"I went there as a young Nigerian to march with my people on the streets of Abuja. It was all about letting our voices be heard and getting the Inspector General of Police's attention, as well as the Speaker of the House of Representatives," he says of the lower chambers of the Nigerian parliament, ​"and other people in government."
Davido's voice was heard. A day after protesting, he held talks with that Inspector General of Police, Mohammed Adamu. But it turned out to be a polarising incident. On social media many Nigerians questioned the wisdom of a pop star taking a frontline role in a debate as intricate as police reforms. It didn't help that leaked footage of the meeting appeared to show Davido claiming he hadn't actually joined an #EndSARS protest.
Davido, though, is undeterred by the criticism.
"If I don't talk, it'll be a problem. If I talk, it'll be a problem," he argues. ​"Everybody knows me, apart from these protests and the #EndSARS movement. I'm a leader where I am. I'm not going there for performances. How can I centre myself in something that's happening across Nigeria? I've also come out to say that personally I haven't had any situation with SARS," he adds, for the record, ​"so it can't be about me."
He takes a moment to consider his words. ​"The purpose of the protests is bigger than me being bashed on the internet. And as long as the goal is reached, I'm fine. Anyone that puts themself at the forefront of things would get bashed and has to be ready for it."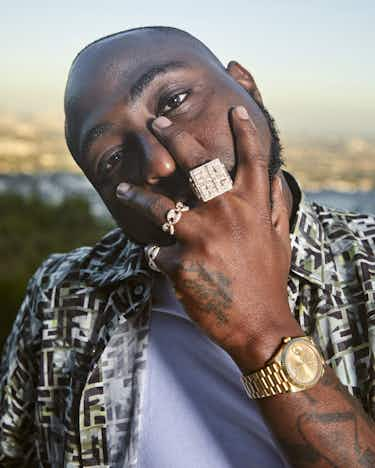 Whether or he likes it or not, Davido is strongly affiliated with the #EndSARS movement. His single FEM, released in September, has been recast as a protest anthem. The word ​"fem", which roughly translates as ​"shut up", is designed to silence haters. Youths across Nigeria have been belting out the upbeat tune at #EndSARS marches, as if to ease the physical and mental strain of revolting. When Babajide Sanwo-Olu, Governor of Lagos State, recently addressed a crowd of protesters to try and reassure them he'd take their message to the Nigerian president, they chanted Davido's lyrics back at him: ​"Small boy you don dey talk too much, FEM!"
Of course, it's foolish to depend on celebrities to lead the way toward a political revolution. But it's also reckless to dismiss the value of a cultural giant like Davido backing the #EndSARS movement. Over the last nine years, he's become one of Nigeria's (and, by extension, Afropop's) most successful artists. He has almost 18 million Instagram followers, and he's using his platform to spread the message far and wide.
Born in Atlanta, Georgia to exceedingly well-off parents (his late mother was a university lecturer, while his father is a well-known billionaire businessman), he attended the British International School in Lagos, before returning to the United States to attend college in Alabama. After dropping out, he pursued a music career in London and Nigeria. His first success came with 2011's Back When, which featured Nigerian rapper Naeto C and quickly became a club anthem. The following year, his cocky hit Dami Duro broke out nationally in Nigeria, teeing up his debut LP, Omo Baba Olowo, which was nominated for the ​"best album" category at two major Nigerian awards ceremonies.
In recent years, contemporary Afrobeats has enjoyed a huge surge in interest from Western audiences and, alongside Burna Boy and Wizkid, Davido sits at the top table of Nigeria's new generation of music stars.
In 2019 he began the year by headlining The O2, London's 20,000-capacity arena. His second album, A Good Time, followed. A slick, polished fusion of Afrobeat, dancehall and R&B, the album was a crossover hit, featuring major US artists such as Gunna, Chris Brown and Summer Walker alongside new-gen Nigerian artists like Naira Marley, Wulrd and Zlatan. The album's biggest tracks, Fall, If and Blow My Mind have 120 million Spotify plays between them.
Its follow up, A Better Time – which was initially teased for a July release but is now expected to drop within the coming weeks – was finished off earlier this year in Nigeria, after Davido cut his US tour short due to Covid-19. Like its predecessor, the album's tracklist boasts appearances from African artists – such as Mugeez (half of Ghanaian rap duo R2Bees), Sho Madjozi and Tiwa Savage – as well major US artists like Nas, Hit-Boy, Young Thug and Nicki Minaj. So Crazy, one of the album's highlights, features Lil Baby and sees Davido adopting a staccato flow to keep up with his fellow Atlanta-born artist.
"I've known Lil Baby for a while, and I think it's important I point this out: when you're collaborating with these people you need to make sure the relationship is good outside music," he says. ​"I feel like that's when you make the best music. Everybody I collaborated with on this album is basically a friend or a loved one. That level of friendship has to be for the music to blossom."
So does the love still extend to fellow Nigerian artist Burna Boy? Despite its recent use by protestors, FEM features a line in which Davido sings: ​"Tell Odogwu say we like to party". This is a somewhat passive-aggressive reference to Burna Boy's breakout single, Like To Party, and also to one of his more recent hits, Odogwu. The tension simmered earlier this year, with various suggestive social media posts, including Davido captioning a photo of himself and Wizkid – Burna Boy's old rival – as ​"the 2 greatest of all time". In return, Burna posted a response using a football metaphor, inferring that Davido's astronomical family wealth was behind his successes.
"Burna's my brother," Davido insists, attempting to squash any further speculation. ​"I've known him for over 10 years, even before we both blew up, so nobody can ever get our own relationship and what's going on between us. But FEM was just a moment for me to pass a message across. We are both musicians and it was just a chance to use that medium for the message. It was nothing personal, I didn't say anything bad."
Right now, Davido isn't concerned with petty feuds. Due to the urgency and significance of the #EndSARS movement, he's fully engaged in the fight for the soul of his nation – so much so that, as we wind up, he admits that there's further uncertainty about A Better Time​'s release date.
"All I'm focusing on now is reforming my country," Davido confirms. ​"We are not going to enjoy all this music if people are getting killed and are not happy."
"I'm just happy that FEM has been a tool for protest," he concludes, acknowledging that his sharp-tongued diss has been transformed into something much more important: a rallying cry and a satirical challenge to those in power. ​"That's something that I'm very elated and proud about."

More like this