As the pro­duc­er in the NYC trio Ratk­ing, Sport­ing Life cre­at­ed intense, psy­che­del­ic beats for MCs Wiki and Hak to bounce off – result­ing in some of the most unique rap music of this decade. He's embraced his exper­i­men­tal instincts through­out his solo career, and he's part of the fab­ric of New York's free-spir­it­ed under­ground music scene.
On 27th Sep­tem­ber, he releas­es the Black Dia­mond EP, which fea­tures Wiki, foot­work pro­duc­er Taso, Nick Hakim and lo-fi rap­per MIKE – check out the visu­als for the track Crux here. Sport­ing Life's Face mix blends tracks from the NYC with mate­r­i­al from acts like Kanye West, Pi'erre Bourne and Atlanta rap­per Young Nudy. Lis­ten to the play­er above and check out the track­list below.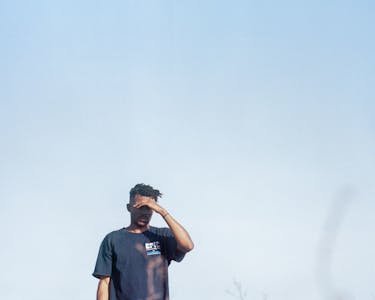 What's the vibe and direc­tion of your Face mix?
The col­lec­tion of songs include tracks I'm inspired by and lis­ten to a lot while I'm at my climb­ing gym. Yes­ter­day my friend Akai called what we we're mak­ing ​'Neo New York'. I liked that.

What are your hopes and fears for New York's music scene?
No hope, no fears, no hunger, no thirst. I just tune in to what inspires me and that cre­ates the real­i­ty of my scene. Ask not what the scene can do for you… ask what you are gonna do for the scene, you know what I'm saying?
Who would you most like to see on the cov­er of The Face?
James Mas­si­ah or Jadasea.
Which under­ground / upcom­ing artists on the scene should we should look out for?
Aye there's a lot! I've been lis­ten­ing to my friend Ade Hakim's project with his broth­er called Blood Broth­ers. I think Cam­den Malik is real­ly unique as well.
Pi'erre Bourne – Bal­lad
MIIKE – Plan­et
Galch­er Lust­werk – Life
MIKE – It's Like Basketball
First Cir­cle – Mor­gan 2
Cam­den Malik – Ther­mal Vision
Kanye West – 80 Degrees
Blood Broth­ers – Bruce
Sport­ing Life – Des­ti­na­tion Nowhere
STEPHA – you see me
Sport – Mem­o­ry of Falling
Sport­ing Life – Cold Girl Win­ter (instru­men­tal)
Young Nudy – Homies
---