Monthly mix roundup: Finnish footwork, wavey hip-hop and an NYC club special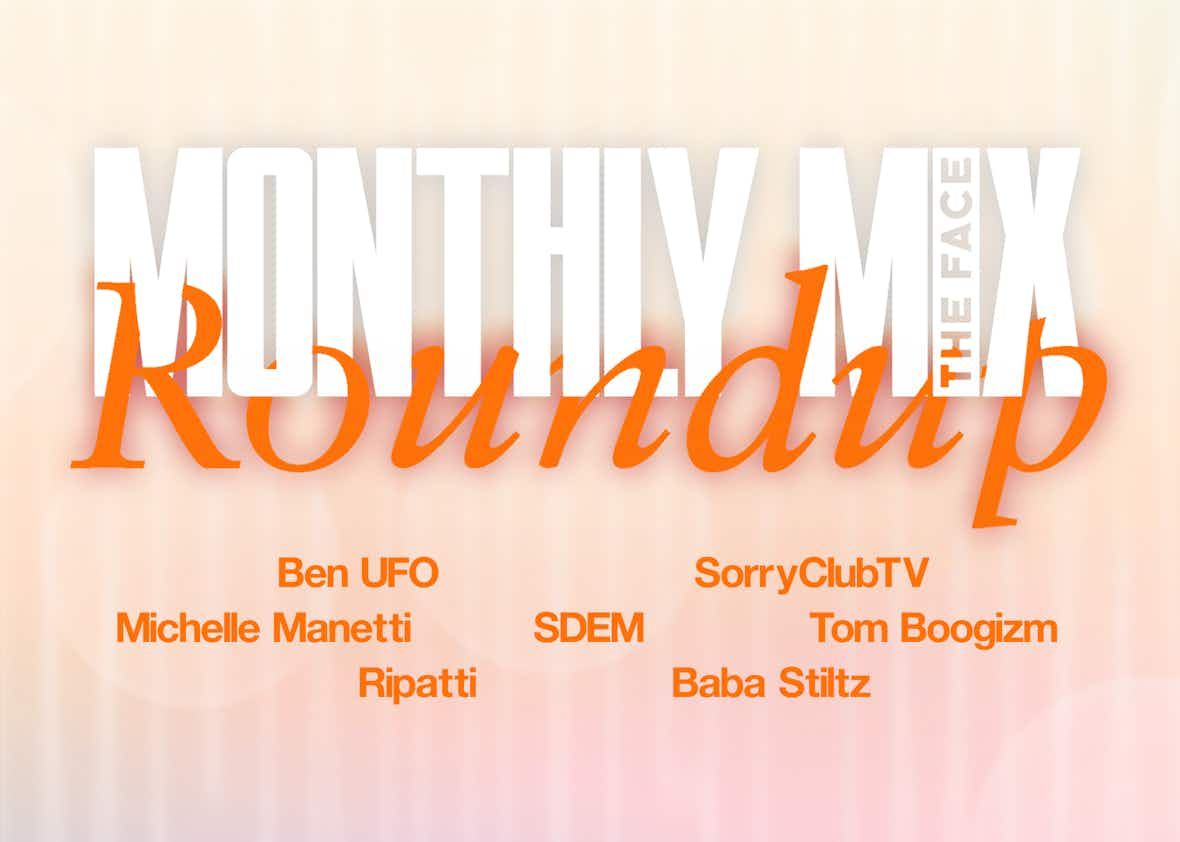 Chal Ravens' column includes Ben UFO's New Zealand DJ set alongside mixes by Ripatti, Baba Stiltz and a tribute to beloved New York venue SorryClubTV.
False alarm! Clubs are still closed, in the UK at least, and people are itching to dance. Whether you're standing up, sitting down or staying in, there's a mix here to suit: stomping body music from Michelle Manetti, new jack swing nostalgia from boxofbox and a live set (!) from Ben UFO himself, while Tom Boogizm shows us how to play every genre at once. Plus, Sasu Ripatti invents Finnish footwork, and we wind down with Baba Stiltz and a wonky beat tape from SDEM.
A couple of bonus tips before pressing play: bookmark this hour of glowing disco-pop and Balearic dance from ​'80s and ​'90s South Asia, put together by the duo behind reissue and edits label Naya Beat. Finally, keep an ear on Radio Alhara, which invited Delhi's Boxout​.fm to take the reins of its Palestine solidarity project Sonic Liberation Front, with sets from Indian artists Manaalina, Abhi Meer and station boss DJ MoCity.
Ben UFO live at Friendly Potential
Steppers old and new from the bossman UFO

There are several reasons to be annoyed about this mix. It was recorded in May at Club 121 in Wellington, New Zealand, while most of the world's dancefloors were still closed, by a DJ who had flown halfway around the world to be there. With the end of lockdown postponed once more in the UK, we wouldn't blame you for feeling bitter.

Once you get stuck in, none of that matters, of course. Nodding to his classic Sunday sets at FWD», Ben draws from garage, dubstep, jungle and all manner of steppers old and new, broken up with occasional flashes of sing-along exuberance (Sticky and Lady Stush on Dollar Sign!). But the real reason this is such a special mix is the sense of connection and community that runs through every selection and SoundCloud comment. Despite the distances between us, a generation of worldwide ravers can say that they've danced to Ben UFO – and we know that one day we'll do it again. It's a good feeling. No, you're crying.
SORRYMIX10: boxofbox - Sorry 2 Go - Party Pack Vol. 1 – 4
A six-hour fantasy of early ​'90s New York
Sometimes all it takes is a good story. ​"A beloved East Village hot spot from early ​'87 to the bitter end of 1992, downtown video nightclub SorryClubTV closed its doors nearly thirty years ago," reads the intro to this six-hour mix. Never heard of the club? Stick with the concept for six hours of sultry R&B, Linndrum-pop, pumping new jack swing and splashes of dreamy rave breaks. If our archivist is to be believed, this is a soundboard recording of the club's final night, recently unearthed in a shuttered record shop inside a New York subway station – but sceptics can give a knowing nod to boxofbox, AKA Durham and NYC-based DJ and bioengineer Johnathan Lyon.
Michelle Manetti – Origins Tapes 023
No-nonsense body music from a nightlife doyenne
An undisputed legend of the East London queer scene, Michelle Manetti is simply a powerhouse: DJ, producer, singer and nightlife doyenne with the sharpest undercut in the game. Her set for the Origins Sounds series gets straight to the meat, with punchy house, full-fat basslines and stomping body music from artists old and new (Paul Johnson, DJ Haus, Alinka, Parris) – the kind of no-nonsense bangers you'll hear her play at parties like Femme Fraiche and Adonis. The perfect pick-me-up, whether you thought you needed one or not.

Whacked beats from a low-profile Northerner
The contents of this column are always subtly influenced by meteorological conditions. Just like the weather, mixes are ambient and affective; they can change your mood in a flash. So here's one for overcast summer days, a mix of whacked beats and muggy dubs from SDEM, a low-profile artist from the north of England. It's ​"one for the old skool beat inspection heads," as he points out, containing ​"multiple inaccuracies". Underground UK oddities from John T Gast, Young Paint and Micachu bleed into wavey hip-hop from Mach-Hommy, Freddie Gibbs & Alchemist and Company Flow. It's as muddy as an English festival and twice as baked.
Ripatti for Resident Advisor
Finnish footwork now exists and it's hard AF
We've known him as the dub techno vanguard Vladislav Delay, as the micro-house hit machine Luomo, as a pioneer of clicks-and-cuts minimalism and a proponent of raw food and Arctic hiking. None of this is preparation for the Finnish producer's latest project, a glut of spasmodic, glitched-out footwork tunes under his own name, Ripatti. As if to underline the deeply personal soundworld he's dug for himself in recent years, this mix for RA comprises 28 untitled tracks from his own studio. There's plenty of sample spotting to be done across this frenetic session, which celebrates footwork at its most uncompromising and bizarre – think Jlin and RP Boo doing battle in a cement mixer.
Talk to any club kid from Manchester and they'll insist that Tom Boogizm is one of the greatest DJs in the land – a local hero who remains stubbornly underground, for whatever reason. Maybe that's about to change, because in the last couple of years he's been on a hot streak, dropping new music and collaborations on his $hotta Tapes label and the recently launched BodyTronixxx. If you can track down a sold-out cassette there's a wealth of material to get into, but for Boogizm novices, his Fact mix is a perfect starting point. Squeezing 50 tracks into 85 minutes, it's a slip ​'n' slide ride through dub, dancehall, techno, outsider pop, p‑funk, EBM, electro, Memphis rap and so much more (the full tracklist is on Fact, praise be).
Baba Stiltz – Radio 1's Wind Down
Woozy introspection from the Stockholm shape-shifter
Slowing all the way down for the final selection, it's Stockholm's Baba Stiltz, an artist with an ear for the unusual across any genre. His Wind Down session for Radio 1 offers up the kind of woozy introspection we've heard from his more downtempo material on Studio Barnhus, placing several of his own unreleased tracks in between drifting grandeur from post-rock pioneers Bark Psychosis, hypnagogic indie from returning hero Dean Blunt and scuffed breaks from Actress and Sampha.

More like this