Olivia Rodrigo knows what makes her happy now
She's the best pop star on the planet: a rage-soundtracking, youth-code cracking, confidence-power packing backdrop to a million teenage lives. And jaw-droppingly, brilliantly, excitingly, the 20-year-old is just getting started.
Taken from the new print issue of THE FACE. Shop the three limited edition Olivia Rodrigo covers here.
The last time I saw Olivia Rodrigo was at a London dinner she hosted with THE FACE. Dressed in a blood-red halterneck dress and chatting genially to all guests, there was no hint of the megawatt fame that comes from being one of the world's biggest pop stars.
She partied at Chiltern Firehouse until 4am that night, following a visit to Lucky Voice, one of the city's best and most appropriately garish karaoke establishments. Her songs of choice: Queen's Bohemian Rhapsody and Before He Cheats by Carrie Underwood.
Didn't fancy singing any of her own, then?
"Absolutely not," she says, slightly horrified, in the more familiar surroundings of her favourite West Hollywood coffee shop. ​"If I even saw someone doing karaoke to one of my songs [in front of me], I'd curl up into a ball and die."
Prior to all of this, in April 2021, during her first FACE interview, Olivia told me that ​"being angry, jealous, overly emotional or sad can often be framed as being bitchy or moany". At the time, her world was only just beginning to tilt on its axis. In January she'd released drivers license, the soaring ballad that accrued a previously unheard of 17 million Spotify streams in a single day – a number that has now hit more than 1.95 billion. ​"I decided to shine a light on those feelings, even though that was uncomfortable to talk about."
The discomfort paid off. Her debut album Sour went on to be streamed nearly 11 billion times; Olivia toured it around the world and won three Grammys (Best New Artist, Best Pop Vocal Album and Best Pop Solo Performance). Then, two years later, it was time for her to do it all again.

Enter: her rollicking follow-up album Guts, released in September. Of equally epic proportions as Sour, its distinctly alt-rock sound is bolstered by the simmering rage and frustration inherent to being a teenage girl. Where Sour functioned as a conduit through which to bask in the soul-crushing anguish of heartbreak, Guts is all about the potency of healing from it.
Debuting at number one in 14 countries, it's a project that's cemented Olivia as a prophet for her generation's malaise, a songwriter who's nailed the tyranny of turning 20, the age she is now, with startling clarity.
"It's so strange. I'm so happy and calm after putting out Guts," she says. ​"I thought I'd be anxious, checking what people are saying, how it's doing. But to put something out is just so cathartic and I feel really happy. Making the record is the thing that's in my control. Everything else isn't, so…"
This morning in Los Angeles, Olivia is sitting across from me scraping vigorously at a bowl of overnight oats, which are covered in maple syrup and jam. She's wearing no make-up, a grey knitted turtleneck, black pleated skirt and Dr. Martens Mary Janes. An array of silver rings is wrapped around most of her fingers, complemented by shiny black nail varnish. It's an optimistically autumnal outfit, given it's almost 30 degrees outside ("you guys, I'm dying!").
Today has been filled with wholesome activities – Olivia spent the morning ​"on my fitness grind" at the gym with her trainer. Right now, this is a welcome pause in her schedule. She's approached the massive global interest in Guts with ease and curiosity; several times throughout our interview, she turns questions back to me with genuine interest. (Perhaps she caught the bug while interviewing Jenna Ortega for the Wednesday star's winter 2022 FACE cover story: ​"Coming up with questions is so much harder than answering them," says Olivia, wide-eyed. ​"All power to you.")
And while Olivia has been lauded across the board as a voice of her generation, she's acutely aware that her experience of the world is only just beginning. Even if the last 20 months have passed at hyperspeed.
Post-Sour, it was clear she'd established herself as much more than a viral sensation. Olivia was invited to the White House by President Joe Biden in July 2021 as part of a campaign to encourage young people to get vaccinated. A quick year later, last summer, she performed at Glastonbury. Packing out the festival's Other Stage, I watched her invite Lily Allen on stage for a duet, dedicating the singer's 2009 song Fuck You to the US Supreme Court – and calling out the offending judges, one by one, by name – following the overturning of Roe v. Wade the day before.
If all of this feels far removed from the average young person's day-to-day life, well, that's because it is. But Olivia exhibits a refreshing lack of hubris about the whole thing, insisting the success of her musical career is simply a byproduct of the pleasure she derives from songwriting. She was well aware that she had big shoes to fill with Guts. But at least they were her own.
"I feel myself growing and understanding so much," she says. ​"Albums are such a marker of where you're at in your life. They're like little time capsules and it's so interesting to look back on when I was 17 writing Sour versus 19 writing Guts. I have more confidence, I'm more self-assured. I know who I am and what I want a little more. It seems that I get a little happier every year."
This sentiment is echoed by Olivia's good friend Joe Locke, star of Netflix's queer coming-of-age series Heartstopper, who accompanied her on that karaoke trip a few months back. The pair hit it off at the tail end of the Sour tour in July 2022, celebrating its success in London over chips and vanilla milkshakes at the Leicester Square McDonald's.
"Olivia has the wisdom of a person who's lived seven lifetimes, with the energy of someone just entering adulthood," he tells me. ​"Guts is the perfect next album – her songwriting has somehow gotten better, more clever, more mature. She's insanely amazing, and too humble for her own good."

Sure enough, the new album, Guts, sees Olivia treading more varied sonic and thematic territory. It's peppered with a conveyor belt filled with both mainstream and esoteric influences: from Bikini Kill to No Doubt, Carole King to Veruca Salt and the Beastie Boys.
"I think I only figured out the rock side of my voice towards the end of Sour," she says, ​"so I wanted to explore that more. And I just mostly love listening to songs written by women – there's something special and poignant about them that I gravitate towards. I love how Gwen Stefani can write a rock-ska song about feeling jealous and insecure that, like, her boyfriend is talking to other people. It's so cool."
This kind of balancing act is one that Olivia channels throughout Guts. On all-american bitch, one of her favourite songs and the album's opener, she talks about the paradoxical pressures thrust upon young women. She wrote it on pen and paper, unafraid to rip things up and start anew. The song, fittingly, throbs with angst.
Meanwhile, the album's second single bad idea right? touches on the twisted pleasure of going back to a toxic ex, just one last time; logical deals with the irrationality of love; and teenage dream laments the pitfalls of precociousness. At its heart, Guts luxuriates in making bad decisions, burning the candle at both ends and embracing a reckless, hedonistic lack of self-control.
"I played all the songs for my mom. She's very important and I have to get her approval on everything," says Olivia. When she played her the grudge, though, a melancholy track about struggling to find forgiveness in the midst of a particularly acrimonious break-up, something felt different.
"When we made it I was like, whatever – I thought it could be a bonus track. Then when my mom heard it, she was so moved that she bawled her eyes out, and she doesn't get that way with everything. She definitely has her criticisms, but watching her reaction to it made me see the song in a new way. She's the reason it's on the album."
Then there's vampire. The album's lead single, a track dripping with high drama and righteous anger at a deceitful ex-lover, also came with its share of doubts.
"I remember playing the song to a lot of my friends and they were like: '"Fame fucker?" Should you really say that?' And I got really in my head about whether the song was going to be relatable, whether it was about celebrity in a way that was inaccessible. It almost made me not want to put it out as a first single, but I stuck with my gut."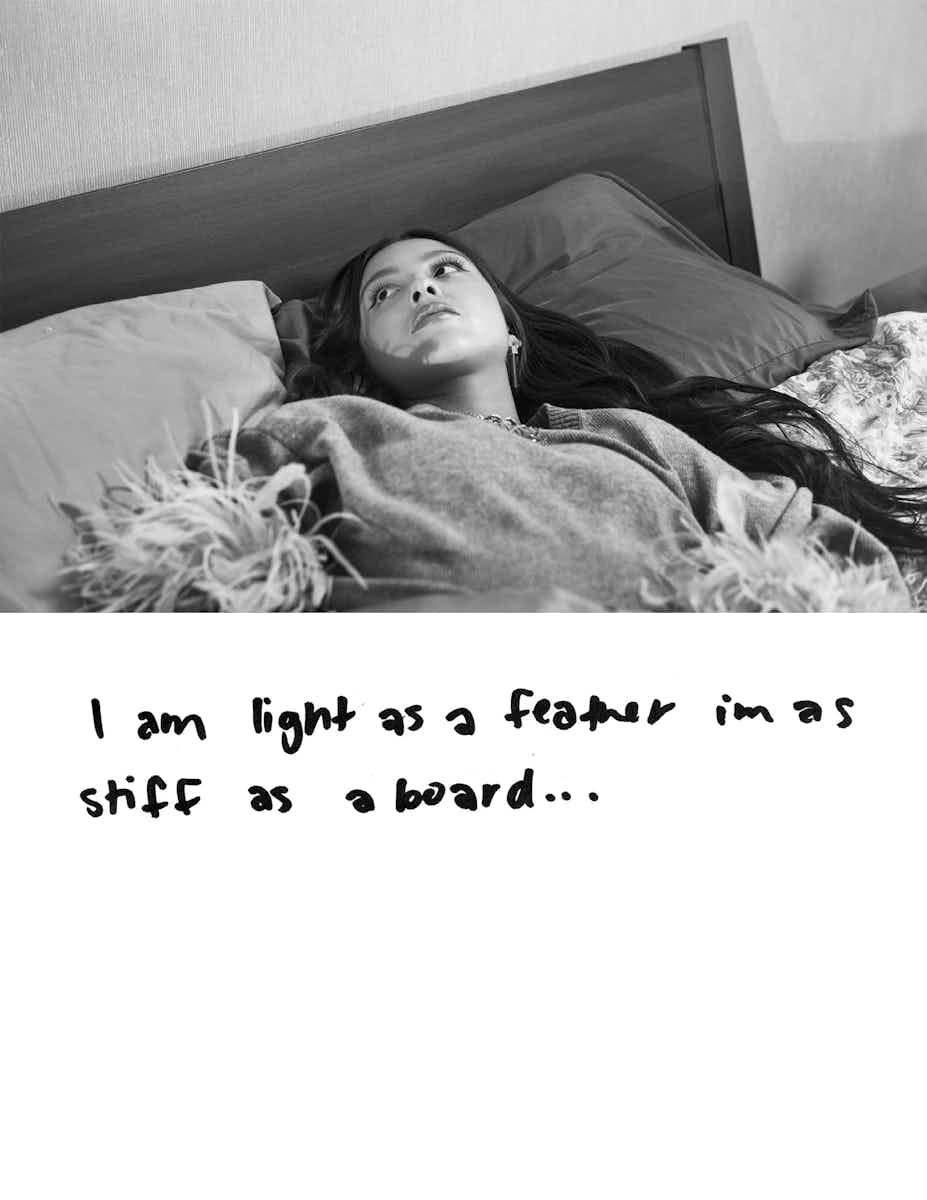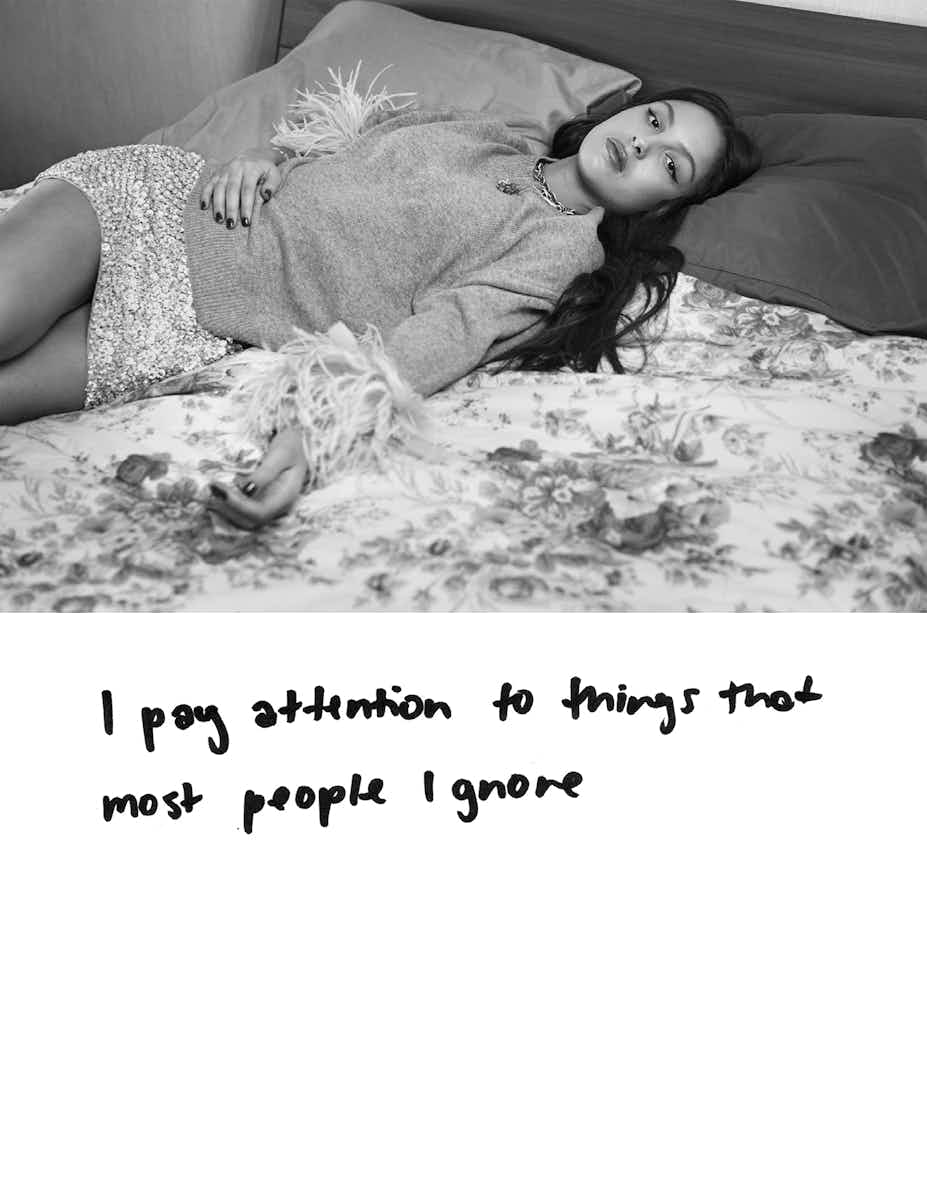 Even if Olivia's celebrity isn't particularly relatable, being drained – emotionally, mentally, socially – by a guy is clearly a universal experience. And that monumental line, ​"Bloodsucker, fame fucker /​Bleedin' me dry, like a goddamn vampire", is such a subversive, theatrical dig that relatability becomes moot. The most challenging part of putting together vampire, for Olivia and her longtime producer/co-writer Dan Nigro, with whom she has closely collaborated on both of her albums, was coming up with a clean version.
"It was the last thing we did before turning the album in," she says. ​"For a whole day, me and Dan tried to make it work. We came up with a few other options for fun, like ​'whale blubber', ​'bad lover', ​'garlic butter'. Bad ones." In the end, ​"dream crusher" won out. Probably for the best.
One of the album's greatest throughlines, and a cornerstone of the teenage female experience, is shame. The embarrassment that's part and parcel of loving, friendship, social media, even getting dressed in the morning. This wasn't necessarily intentional. Olivia didn't even pick up on it herself until she listened to the album all the way through.
"I think it's a normal thing that people experience in their adolescence. It's something I was working through and I think there's something beautiful about feeling shame. On songs like love is embarrassing or pretty isn't pretty, which are about insecurity, not fitting in, not knowing how to act, there's something so powerful about claiming ownership [over shame]. There's a lot of working through teenage awkwardness on Guts."
Social media, unsurprisingly, is a source of anxiety for Olivia, who quadruple-checks all her Instagram posts before sharing them with her 35 million followers, staring at her selfies until she's convinced her face looks weird. Does she have a finsta?
"I do," she says, a little shyly. ​"But nothing's on it. I just use it to stalk my crushes. I'm sooo good at finding stuff out about people on social media." Olivia's completely animated now, letting out an excited ​"oooh" as she leans in, as though sharing a bit of gossip. ​"It's one of my favourite pastimes."
Growing up in Temecula, around 85 miles southeast of LA, she was a homeschooled only child whose interest in acting saw her making a TV debut at 12. She got her big break only a year later in Disney's comedy series Bizaardvark , starring alongside Madison Hu, who's still her best friend. Then, in 2019, came High School Musical: The Musical: The Series, a meta reinterpretation of the classic 2006 musical movie, in which Olivia was cast in the lead role of Nini.
After being given the opportunity to write some of her own songs on the show, doing so for herself, outside the realm of television, felt attainable.
"Speaking of shame," she continues, ​"I love writing about all these vulnerable things. It's my favourite thing to do, and I've never had a hard time doing it, because no one ever made me feel ashamed for showing my feelings. Being such a young actor, I was always encouraged to be hyper-emotional and expressive. My parents were always great about that, which meant I was able to write emotionally, without ever being afraid to explore those parts of myself."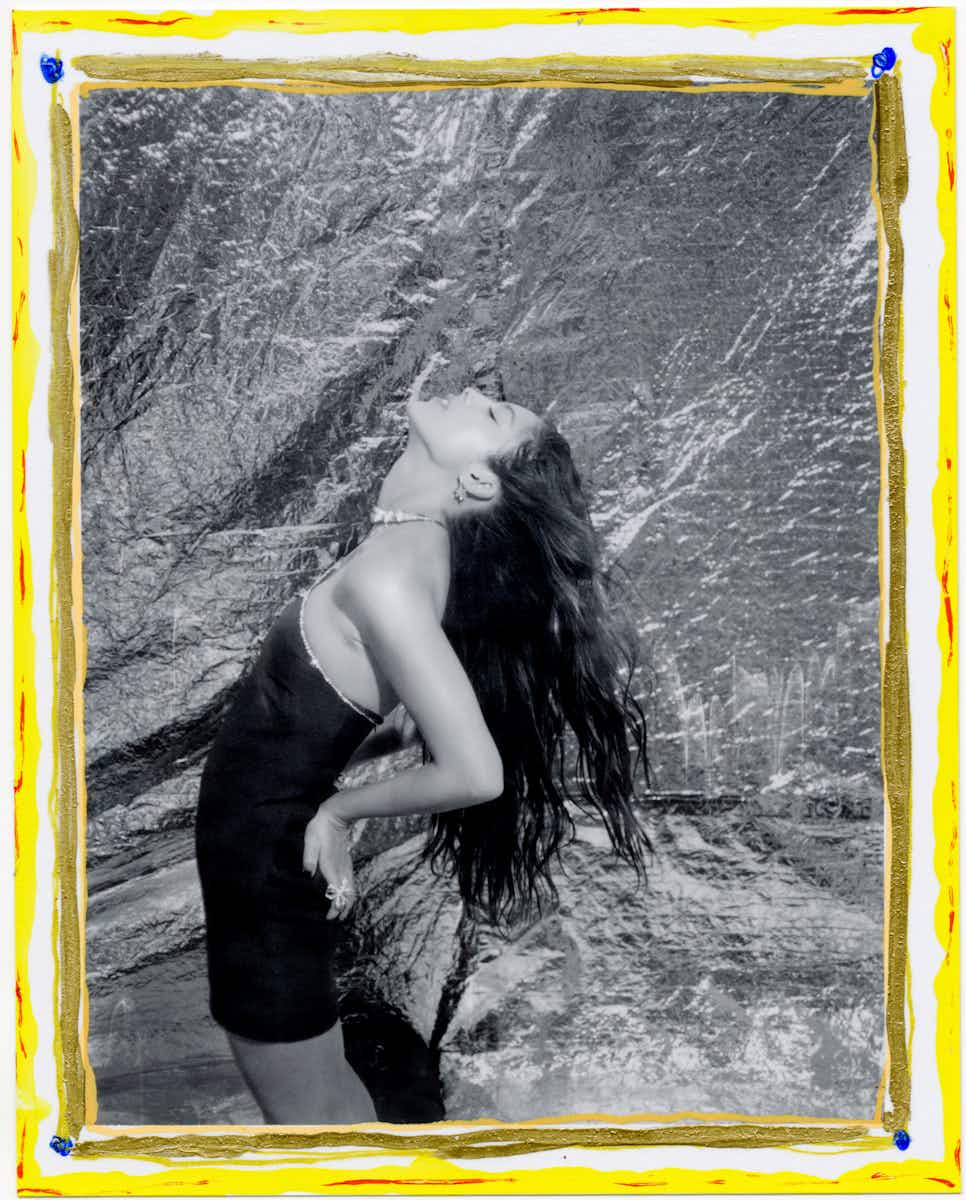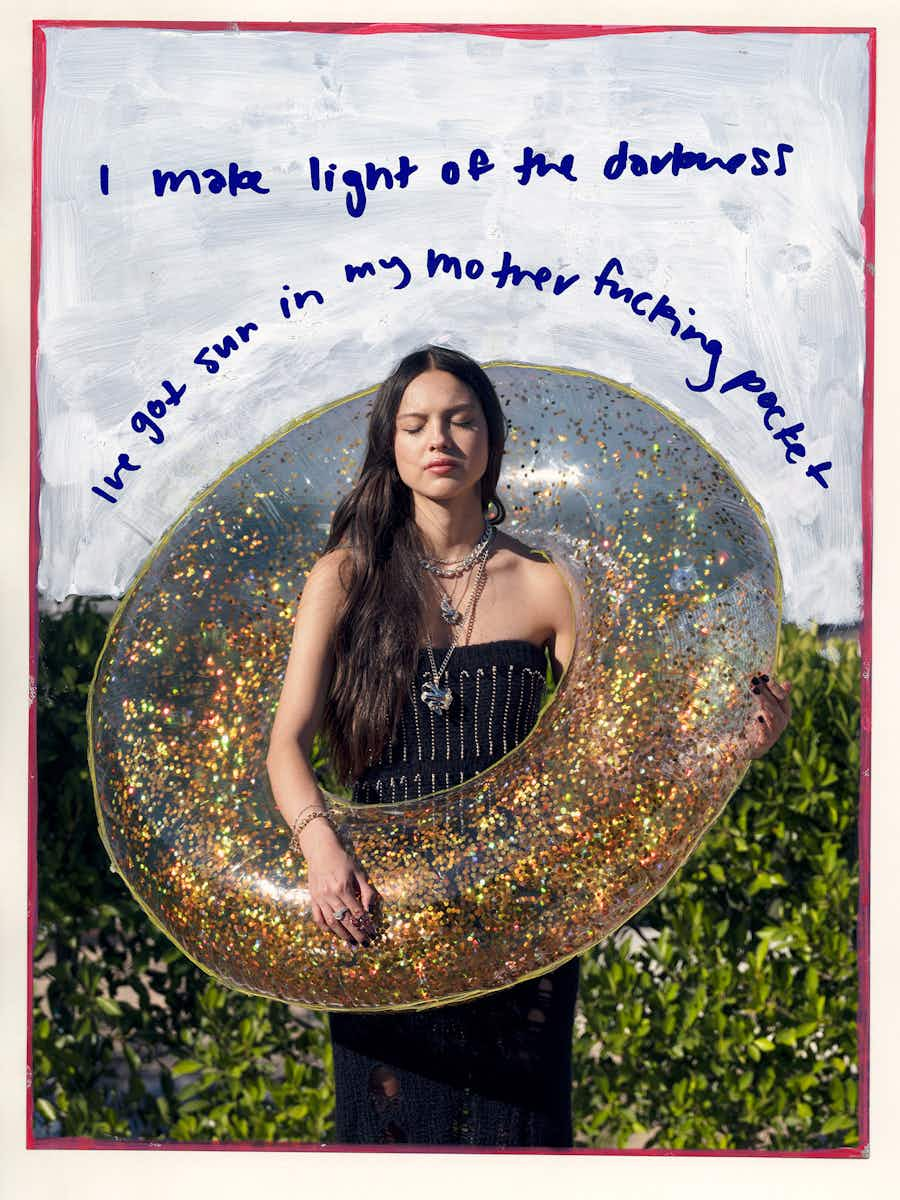 Still, for all the benefits Olivia has reaped from her time spent acting – professionalism, work ethic, getting a decent handle on being in the public eye – being a teenager hanging out with 40-year-old guys while shooting TV shows took its toll. ​"I talk about that in therapy," she says, before quickly changing the subject and imparting an anecdote that reflects more positively on her High School Musical experience.
"When we were filming one day, after drivers license came out, one of the grips, who I'd seen around but never really talked to, came up to me and was like: ​'It brings me back to my first heartbreak, Olivia, and you have no idea how special it is that I get to relive that because of you.' It was so touching and I got closer to him because of that."
Another, not quite as heartwarming but no less revelatory interaction: someone accosting Olivia in the street to tell her they'd had sex to Sour. ​"Guts, I'd be like, hmm, OK," she says, laughing hard. ​"But Sour is sad as fuck. It must've been really slow, depressing sex with fucking traitor blasting in the background."
Now, Olivia splits her time between LA and New York, having recently bought an apartment in Greenwich Village. She's not too far from Madison Hu, who's currently studying in the city at Columbia University. Hu, unsurprisingly, speaks highly of Olivia, the close friend who's kept her integrity intact regardless of how many streaming records she breaks. ​"The respect and admiration we have for each other is something I feel so lucky to be able to experience," she tells me. ​"Our friendship has taught me how to approach almost every other relationship I have and have had in my life."

Guts track logical was inspired by a conversation Hu and Olivia had over the phone. ​"I was talking about how love isn't logical, and she paused me to write a sentence down," Hu continues. ​"I'm very glad she did."
Olivia enjoys city life in New York, but most of her friends and family are in LA, where she spends the bulk of her time. She's a big cinema-goer, often slipping unnoticed into the crowd with a cap pulled down over her face before kicking back with some popcorn.
"I also watched The Bling Ring for the first time the other day. Sofia Coppola is so awesome," she says excitedly, almost levitating off her chair at a mention of Netflix's Beckham documentary. ​"Oh my god!" she gasps, ​"I am ob-sessed. I couldn't care less about football, I've never watched it, but I need a 10-part series. I was on the edge of my seat the whole time. His ​'90s haircut! So cute.
"And it's about a real love story, too. I want someone to love me like that. And I want to read Victoria Beckham's autobiography. God, I'm such a gossip. Gossip brings me joy – in moderation."
Daydreaming about the future brings Olivia joy, too. Sometimes, she pays a visit to her psychic with hopes of gleaning even a tiny morsel of what it might hold. ​"I take it all with a grain of salt," she acknowledges, ​"but I really love going to psychics. I hope my one is wrong, though, because she says that I'm not going to find a boyfriend until March. March! We'll see. I'm just going to do me until then."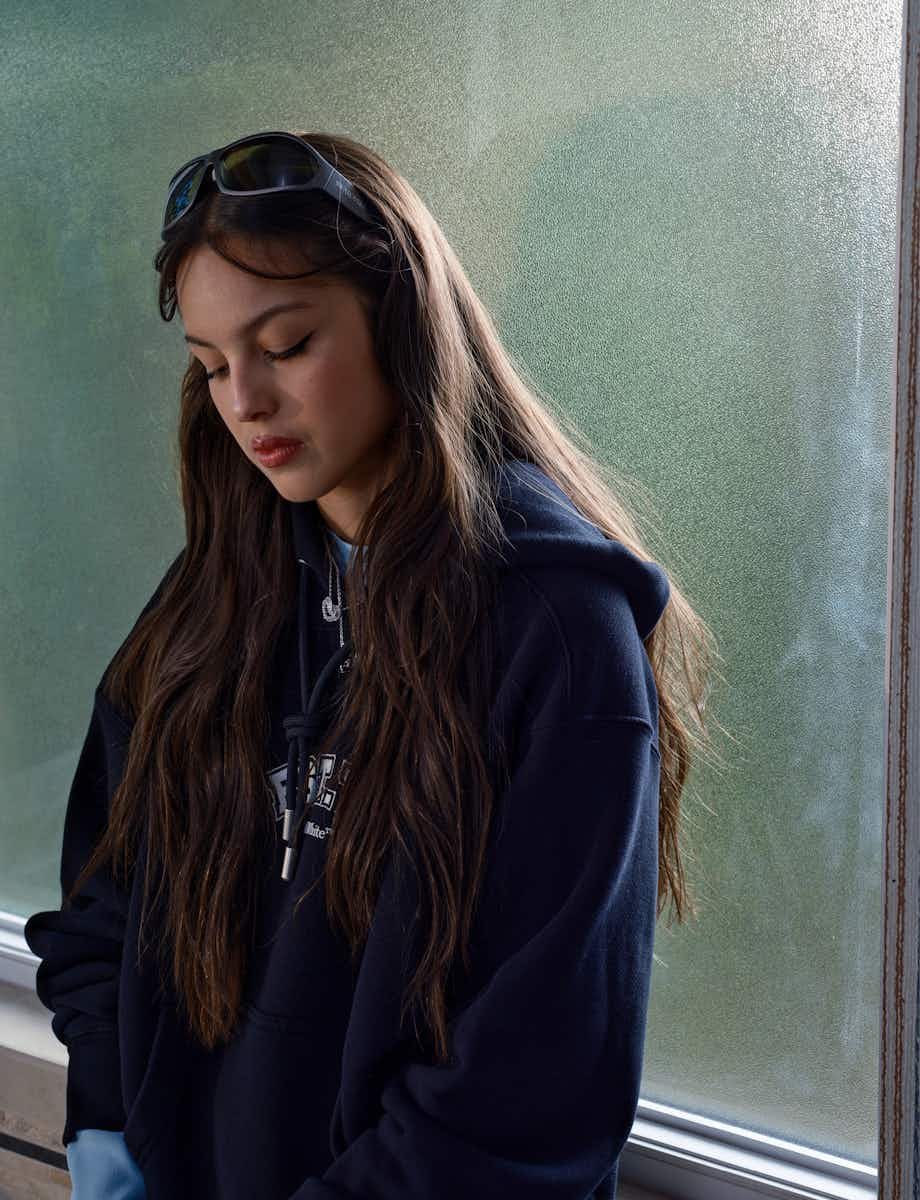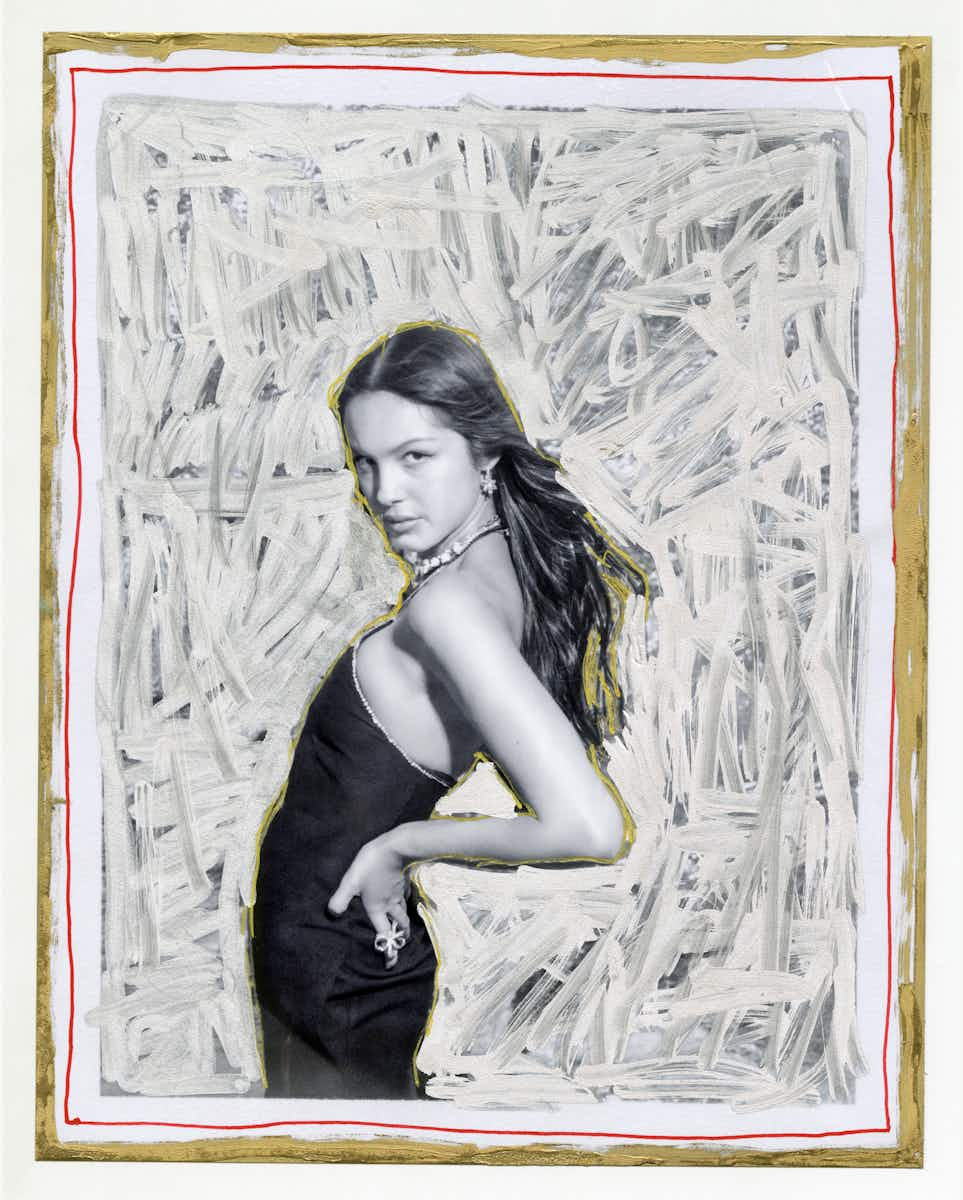 In a few days, Olivia will be heading back to London, the city that she's travelled to most outside the US, to hang out with friends. I warn her that the weather over here has been a little soggy this autumn. That's no bother: ​"I can get my little trench coat out! I'm so excited."
This will be a well-deserved break, given that in February Olivia embarks on a tour around Europe and North America: 75 dates, 54 cities, 15 countries. The support acts speak to the range of her age- and genre-defying appeal. There's ​'90s alt-rock legends The Breeders, FACE cover star PinkPantheress, day-glo singer-songwriter Remi Wolf and Olivia's friend Chappell Roan, whose new album, The Rise and Fall of a Midwest Princess, she reckons, is ​"one of the best pop albums this year".
"I wrote Guts with the tour in mind," she says about the run of arena shows, on which she'll be accompanied by the four-piece all-women rock band she performed with last time. ​"When I wrote Sour, I'd never played a show before, so it was an educational experience that I applied to the songwriting process [with Guts]. I'm really stoked to play bigger venues, to go places I've never been before. It's going to be a totally different ballgame."
Ultimately, for Olivia, this second-album cycle has been an exercise in self-fulfilment and introspection. Of fucking up and living to tell the tale. No one's ever good at being 20, of course, far less writing an album about it. But Olivia Rodrigo might have come closer than anyone.
"It's a normal part of growing up, making all these mistakes and indulging in things that you shouldn't, getting with people who're so wrong for you," she concludes.
"I used to have a lot of regret about the period of my life I wrote Guts about. But looking back, it was so necessary. I needed to get it out of my system. I know what makes me happy and content now. I know a lot more about myself than I think."
HAIR Clayton Hawkins at A Frame MAKE-UP Melissa Hernandez at The Wall Group MANICURIST Yoko Sakakura at A Frame PROP STYLIST James Rene PRODUCTION DoBeDo Represents LOCAL PRODUCTION Connect The Dots PHOTOGRAPHER'S ASSISTANTS Ruby Goldberg and Keith Kleiner DIGI TECH A.J. Wilson STYLIST'S ASSISTANTS Hollie Williamson and Emilia Fishburn PRODUCTION ASSISTANTS Juan Calvo, Mark Cheche and Mateo Calvo

More like this