Overmono are the UK's next massive dance duo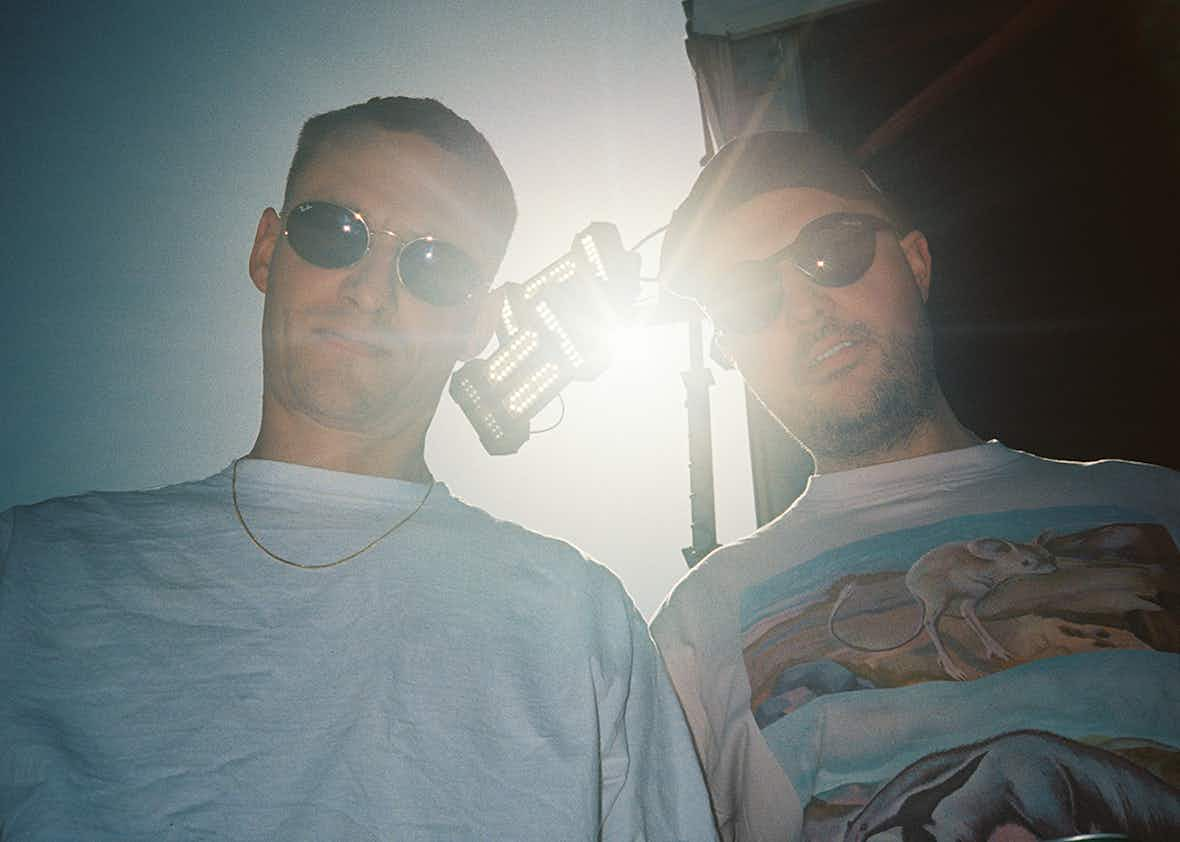 After rising up the ranks of the UK club circuit with hyper-emotional anthems, the Welsh brothers are having a crack at international stardom. THE FACE finds them enjoying piña coladas at Coachella and DJing in a Bristol roundabout.
As the Californian desert weather reaches its blistering peak, Coachella's most deep-pocketed punters flock to The Rose Garden, a VIP section where they can cool down with $18 Aperol spritzes and snap selfies among pristine flowers beds, music stars and people who generally have the air of being a bit famous. It's not hard to spot Overmono, two pasty Brits seeking refuge in the shade.
The Welsh brothers are on the cusp of becoming the UK's next Big Dance Duo, but ego hasn't got the better of them yet. Tom and Ed Russell are still buzzing about their Coachella debut yesterday. With an ever-evolving set based entirely on their own emotive, rave-inspired material, they packed out a big tent in the late afternoon. Even better, the crowd went for it when they dropped a new tune they've been chipping away at on the road.
As they were soundchecking for the Coachella set, they were greeted backstage by a good omen: a Doberman. The German dog breed is a recurring motif in Overmono's artwork and music videos. On the cover of their highly-anticipated debut album Good Lies, a Doberman stares optimistically towards the sky, tongue wagging from the side of its mouth.

​"It was an insanely tank doberman. It looked like a Doberman that had been to the fucking gym," Ed says of their four-legged visitor, who was wearing two collars that warned ​"Do Not Pet". With a fierce exterior but a gentle spirit, the Doberman can be read as a metaphor for Overmono's music – or, more generally, rave culture, which is often perceived as a dangerous nuisance despite the loved-up message at its core.
"[Dobermans are] always presented in a way which actually isn't their natural state: really aggressive," says Tom. ​"They're actually nice, playful and affectionate. Really, really beautiful dogs. Lovely temperament."
Overmono's music draws from the mulch of UK dance music history, fusing together elements of sugary garage, head-spinning electronica, hardcore and techno to create big room bangers that capture the euphoria of an MDMA rush. But, as evidenced by Good Lies' title track and the Tirzah-featuring single Is U, their music is also tinged with a feeling of melancholy, with ghostly vocals conjuring fading memories of simpler, more youthful days in the dance.

​"It's that feeling of, like, when you're really happy, you cry," says Ed of the music's bittersweet vibe. ​"Or if you get really bad news and you kind of have this weird midway laughing point – when emotions are really strong, I think everybody gets a bit confused." It's a formula that struck a chord with Givenchy creative director Matthew M. Williams, who reached out directly and commissioned them to soundtrack the brand's AW23 women's show at Paris Fashion Week in March.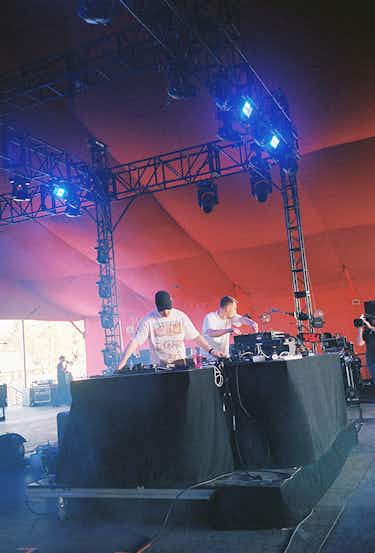 With Good Lies dropping on 12th May, this year Overmono are pursuing breakthrough international success. This string of US and Canada dates was preceded by a tour of Australia and New Zealand. Between the two Coachella sets, they warmed up for UK dance music's original Tom and Ed duo, The Chemical Brothers, in Santa Barbara and Seattle.
"I never want to take it for granted," says Tom. ​"I just feel incredibly lucky to be having these experiences, coming out to the desert, somewhere that's so completely like nowhere else I've been before."
Ed, too, refuses to whinge about the superstar lifestyle, especially after sailing down the 450-metre water ride stationed by their Coachella accommodation. ​"We got a piña colada and sat in the lazy river before we had to go and get our flight," he says over Zoom, now home from tour. ​"It was fucking lush!"
Long before they developed a taste for such luxury, Tom and Ed earned their stripes as experimental DJ/​producers during the early-mid 2010s, when labels like Hessle Audio, Perc Trax and Bristol's Livity Sound were encouraging producers to splice genres and tweak the techno format. Tom made tough-as-nails techno under a few aliases, most successfully as Truss, while Ed mastered the art of fusing explosive breaks and rowdy rave vocal samples under the moniker Tessela. He put out his first Tessela EP in 2011, and scored an underground club hit with his 2013 belter Hackney Parrot, released via the Russell brothers' own label Poly Kicks.
Tom and Ed dropped one collaborative track in 2012 as TR\\ER, but it wasn't until a retreat to a rural cottage in Abergavenny, Wales in 2015 that they started crafting a sweeter, arguably more accessible sound. The following year, they dropped the first Overmono EP Arla via XL Recordings, the label Ed had sent demos to when he was 15-years-old, which will also release Good Lies.
But the story of Overmono really starts somewhere back in the early ​'90s, when Tom and Ed were growing up in Monmouth, a small town not far from the Welsh-English border. Distant from any city with an established clubbing scene, Tom still managed to get his hands on bootleg rave tapes. He also spent evenings recording Radio 1's Essential mixes, and he'd pinch the compilation CDs that were glued to covers of DJ Mag.
Tom soon graduated to throwing raves with his mates in an abandoned quarry and woods nearby. Hearing the muffled kick drums pumping from his big brother's bedroom, Ed, who is 10 years his junior, was desperate to get involved. He started mixing around the age of 10 and tagged along to Tom's rave adventures. Did he cramp his big brother's style? ​"No, no. Honestly, everyone was happy to have Ed around," Tom insists. ​"He seemed like he was massively into it. He bought his own turntables and nicked my records. Obviously, [he had] an appetite for it."
When Tom moved to Peckham, a wide-eyed Ed would make regular trips to experience London's nightlife, armed with a fake ID that didn't always do the trick. ​"I used to be tiny. When I was 14, I looked like I was about eight. And I ended up getting into a lot of trouble at the time," he says, recalling the time he impulsively snatched his dodgy driver's licence from the hand of an unconvinced bouncer and legged it down the street.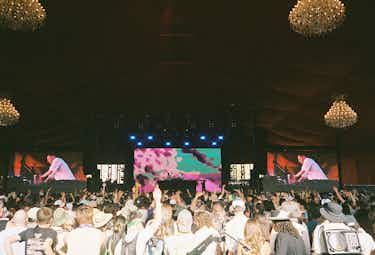 Ed eventually moved to London, and the brothers ended up living five minutes away from each other. But during the pandemic, Tom relocated to Devon and Ed moved to Bristol (their soft Welsh accents seem to have been preserved with a chirpy West Country lilt). Ed loves being in Bristol and praises its tight-knit music scene for feeling more genuine than London's music industry, where hard-nosed careerists sometimes suck the fun out of it all.
To gear up for the release of Good Lies, Overmono play a surprise gig in Bristol's notorious Bear Pit on Coronation day, announcing their 3pm DJ set on Instagram with just a few hours' notice. The Bear Pit is an urban space inside a roundabout that joins the trendy Stokes Croft area with the debilitated Broadmead shopping centre. On any given Saturday it attracts crusties, skaters and the city's homeless community.
A few hundred Overmono fans show up. Most of them look under 25, although some more seasoned Stokes Croft types sit further back, sipping Thatchers, rolling spliffs and nodding approvingly. Aside from a few ironic cardboard crowns and Union Jack paper cups, the Coronation isn't observed. Tom and Ed drop a bunch of crowd-pleasers, including Hackney Parrot and a remix of Functions on the Low, but it's the Overmono singles that get the biggest reaction.
There's a moment when three teenage ravers climb onto a raised, off-bounds section of the Bear Pit behind Overmono's DJ booth, going in for a group hug as the crowd cheers them on. It's a far cry from the The Rose Garden – instead of the Coachella Valley mountains, the backdrop is a closed-down Debenhams, and the sky is grey, not blue. But it's perfect.


More like this