Josey Rebelle is a hero of the UK music scene. The Tot­ten­ham born-and-bred selec­tor grew up on soul and reg­gae, lat­er becom­ing a ded­i­cat­ed junglist. She played Boil­er Room's first ever broad­cast and she was a res­i­dent DJ at the leg­endary, sore­ly-missed Shored­itch club Plas­tic Peo­ple. These days, the inclu­sion of Rebelle's name on a club fly­er or fes­ti­val poster is a reli­able indi­ca­tor of cred­i­bil­i­ty, and she recent­ly resumed her much-loved week­ly Sun­day show on Rinse FM – where she fluc­tu­ates between house, tech­no, jun­gle, jazz, hip-hop and exper­i­men­tal mate­r­i­al while chip­ping in with a bit of unpre­ten­tious, self-dep­re­cat­ing chat.
For the first ever Face mix, Josey Rebelle makes a few nods to the magazine's his­to­ry. Else­where, she drops a clas­sic from old school hip-hop duo Lon­don Pos­see, blends in some John Coltrane and show­cas­es con­tem­po­rary tracks includ­ing a moody tech­no banger from Cope­ha­gen-via-Glas­gow DJ/​producer Sol­id Blake and M.E.S.H's abra­sive remix of Tunisian artist Deena Abdelwahed.
Lis­ten to the mix in the play­er above, and check out the track­list along­side a Q&A with Josey Rebelle.

Do you recall The Face from the first time around, and if so, what do you remem­ber about it?
Def­i­nite­ly – I remem­ber it being a mag­a­zine that had that prop­er punk spir­it: it didn't give a fuck but it also had that cheeky and care­free vibe, like every issue was stick­ing its mid­dle fin­ger up at you while wink­ing. The fea­tures were sick, the design was sick. I'm real­ly excit­ed that it's back, the world needs it.

What makes you feel hap­py when you're DJing in the club?
The same thing that makes me hap­py when I'm DJing at home or on radio: play­ing music I love out loud in the dark. Good sound and an open-mind­ed crowd in the club are def­i­nite­ly impor­tant too. But music first, always.
What's the vibe and direc­tion of your Face mix?
When I think of The Face, I think of a bold, raw spir­it and I've tried to cap­ture some of that ener­gy. This mix is very dif­fer­ent to my stan­dard club sets. I've gone all round the hous­es with gen­res and eras – there's also a lit­tle nod to the first ever issue of The Face which fea­tured The Spe­cials and Pub­lic Image – but I feel like there's a com­mon thread between these sounds regard­less of when they were made.
Sad­ly that com­mon thread also extends to oth­er less pos­i­tive things. While I was putting this mix togeth­er one over­whelm­ing feel­ing I had is that we seem to be going back­wards when it comes to race and prej­u­dice against mar­gin­alised groups. In many ways, it feels like lit­tle has changed since 1980 when the mag­a­zine first launched.
Are there any new or under­ground DJs on the scene we should keep an eye out for?

There are shit loads of sick new DJs com­ing through at the moment. Two of my cur­rent favourites are Danielle and Fauzia. Danielle has worked in a record shop for the last ten years and her knowl­edge and selec­tion is unbeat­able while Fauzia brings a very raw ener­gy to her sets which is very London.
What do we need to do to sup­port the Lon­don music scene and keep it special?

A lot of the big­ger clubs have a severe lack of imag­i­na­tion (or will) when it comes to DJ line-ups that are any­thing but the usu­al high-pro­file sus­pects (over­whelm­ing­ly white, over­whelm­ing­ly male) but the beau­ty is that there will always be, in par­al­lel, an under­ground of peo­ple doing excit­ing, for­ward-think­ing things moti­vat­ed by love and a desire to per­fect their craft rather than rak­ing in mon­ey. We need to sup­port those pro­mot­ers, clubs, artists, record labels, radio sta­tions etc so they can thrive and keep going.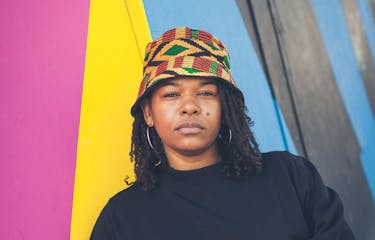 Track­list:
Cul­ross Close – Frac­tured
Lin­ton Kwe­si John­son – Di Great Insohreckshan
The Spe­cials – Nite Klub (Intro)
Lon­don Posse – How's Life In London
Pub­lic Image Ltd. – Fod­der­stompf
Ramp – Try, Try, Try
Marc Mac – Bru­da Fela
My Girl­friend – Modal
De Bons En Pierre – Frog Stoemp
Duke – M Lap
Deena Abdel­wa­hed – Tawa (M.E.S.H Remix)
John Coltrane Quar­tet – A Love Supreme, Part I – Acknowl­edge­ment (Vocal Over­dub

3

)
Han­na – Wick­er Park
Steve Spacek – Time Is Run­ning Out
S

2

– Nasty
SC-

164

–

002

 – 

003

Sol­id Blake – Yagharek

DJ

Di'jital – Enti­ty (The Getdown)
Night­wave – Psy­chic Ton­ic (Jerome Hill Remix)
Drex­ciya – Dev­il Ray Cove

ESG

– Erase You
Aswad – Hey Jah Children
Brown Sug­ar – Black Pride
---