Josey Rebelle is a hero of the UK music scene. The Tottenham born-and-bred selector grew up on soul and reggae, later becoming a dedicated junglist. She played Boiler Room's first ever broadcast and she was a resident DJ at the legendary, sorely-missed Shoreditch club Plastic People. These days, the inclusion of Rebelle's name on a club flyer or festival poster is a reliable indicator of credibility, and she recently resumed her much-loved weekly Sunday show on Rinse FM – where she fluctuates between house, techno, jungle, jazz, hip-hop and experimental material while chipping in with a bit of unpretentious, self-deprecating chat.
For the first ever Face mix, Josey Rebelle makes a few nods to the magazine's history. Elsewhere, she drops a classic from old school hip-hop duo London Possee, blends in some John Coltrane and showcases contemporary tracks including a moody techno banger from Copehagen-via-Glasgow DJ/​producer Solid Blake and M.E.S.H's abrasive remix of Tunisian artist Deena Abdelwahed.
Listen to the mix in the player above, and check out the tracklist alongside a Q&A with Josey Rebelle.

Do you recall The Face from the first time around, and if so, what do you remember about it?
Definitely – I remember it being a magazine that had that proper punk spirit: it didn't give a fuck but it also had that cheeky and carefree vibe, like every issue was sticking its middle finger up at you while winking. The features were sick, the design was sick. I'm really excited that it's back, the world needs it.

What makes you feel happy when you're DJing in the club?
The same thing that makes me happy when I'm DJing at home or on radio: playing music I love out loud in the dark. Good sound and an open-minded crowd in the club are definitely important too. But music first, always.
What's the vibe and direction of your Face mix?
When I think of The Face, I think of a bold, raw spirit and I've tried to capture some of that energy. This mix is very different to my standard club sets. I've gone all round the houses with genres and eras – there's also a little nod to the first ever issue of The Face which featured The Specials and Public Image – but I feel like there's a common thread between these sounds regardless of when they were made.
Sadly that common thread also extends to other less positive things. While I was putting this mix together one overwhelming feeling I had is that we seem to be going backwards when it comes to race and prejudice against marginalised groups. In many ways, it feels like little has changed since 1980 when the magazine first launched.
Are there any new or underground DJs on the scene we should keep an eye out for?

There are shit loads of sick new DJs coming through at the moment. Two of my current favourites are Danielle and Fauzia. Danielle has worked in a record shop for the last ten years and her knowledge and selection is unbeatable while Fauzia brings a very raw energy to her sets which is very London.
What do we need to do to support the London music scene and keep it special?

A lot of the bigger clubs have a severe lack of imagination (or will) when it comes to DJ line-ups that are anything but the usual high-profile suspects (overwhelmingly white, overwhelmingly male) but the beauty is that there will always be, in parallel, an underground of people doing exciting, forward-thinking things motivated by love and a desire to perfect their craft rather than raking in money. We need to support those promoters, clubs, artists, record labels, radio stations etc so they can thrive and keep going.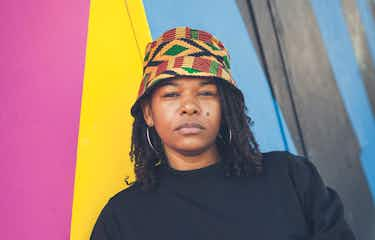 Tracklist:
Culross Close – Fractured
Linton Kwesi Johnson – Di Great Insohreckshan
The Specials – Nite Klub (Intro)
London Posse – How's Life In London
Public Image Ltd. – Fodderstompf
Ramp – Try, Try, Try
Marc Mac – Bruda Fela
My Girlfriend – Modal
De Bons En Pierre – Frog Stoemp
Duke – M Lap
Deena Abdelwahed – Tawa (M.E.S.H Remix)
John Coltrane Quartet – A Love Supreme, Part I – Acknowledgement (Vocal Overdub 3)
Hanna – Wicker Park
Steve Spacek – Time Is Running Out
S2 – Nasty
SC-164 – 002 – 003
Solid Blake – Yagharek
DJ Di'jital – Entity (The Getdown)
Nightwave – Psychic Tonic (Jerome Hill Remix)
Drexciya – Devil Ray Cove
ESG – Erase You
Aswad – Hey Jah Children
Brown Sugar – Black Pride

More like this