The 10 sexiest lingerie movie moments of all time
Nolwenn, the brains behind @lingerieinmovies, gives us a rundown of the most legendary lingerie cinema has ever seen. Expect lace, garters, Margot Robbie, Patricia Arquette, and then some.

Corporate lawyer by day and @lingerieinmovies Instagram account admin by night, Nolwenn gets her kicks – and some well-deserved downtime – by unearthing cinema's greatest lingerie moments.
Nolwenn has a knack for spotting the sultriest, most charming bits from our favourite films and TV shows, from Euphoria​'s Kat Hernandez (Barbie Ferreira) and her penchant for a leather choker or two, to Jennifer Garner's endearing thong-discovery in 13 Going on 30.
"I don't consider myself an expert in cinema, I just love discovering films," the 26-year-old says. ​"I started collecting lingerie in my late teens, which made me more aware of different brands and trends – most movies, from blockbusters to indie films, feature it in some capacity.
At first, Nolwennn considered making an Instagram account to document her own extensive lingerie collection, ​"but I shied away from that and decided that lingerie in movies deserved its own spotlight," she adds. Having started the account in 2017, it started gaining traction two years later, when Nolwenn committed to posting more regularly and inviting followers to join her #lingeriemovieclub.
By bridging the gap between her love for lingerie and cinema, Nolwenn has brought together a singular community of eagle-eyed enthusiasts who can appreciate the ways in which lingerie can empower its wearer. ​"Whether it's a lace bra or a risqué leather bodysuit, there are so many styles to choose from, so many characters," she says. ​"You can use lingerie as a fashion statement or keep it hidden, to accentuate your figure in all the right spots and create a sense of mystery."
According to Nolwenn, the cinematography, actress, storyline and, most importantly, the design of said lingerie, are intrinsic to bringing a sexy scene to life. ​"I like to go beyond the strictly ​'underwear' definition and feature showgirls or historical costume," she continues. ​"There's a very blurred line between fashion and lingerie."
Below, we asked Nolwenn to curate cinema's greatest lingerie landmarks – from Margot Robbie wearing La Perla in The Wolf of Wall Street to Natalie Portman's cult pink wig and matching undies moment in Closer, in no particular order. Dig in.

Marie-France Pisier in Trans-Europ-Express (1966)
"Featuring typical elements of the Nouvelle Vague movement, this movie deserves to be rediscovered for its stunning visuals, narrative deconstruction and most importantly, its heavy dose of sadomasochism and bondage – featuring the beautiful Marie-France Pisier in a timeless corset and lingerie look."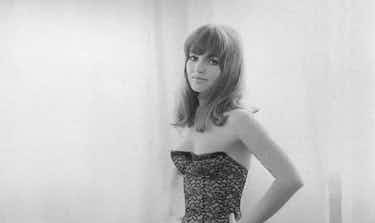 Pam Grier in Coffy (1973)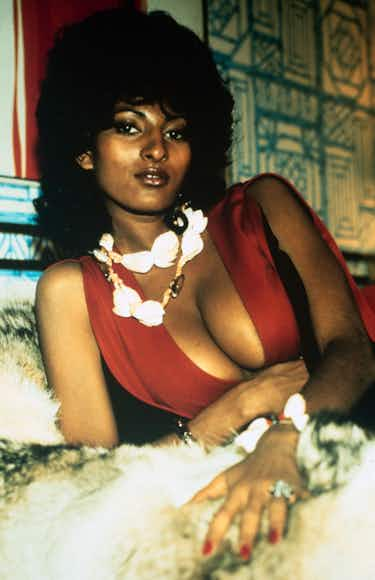 "Considered to be one of the first female action stars, Pam Grier turns heads in this revenge-based movie about exploitation. Nurse by day, warrior by night, she takes on the bad guys one by one with her long red nails and dazzling cleavage."
Patricia Arquette in True Romance (1993)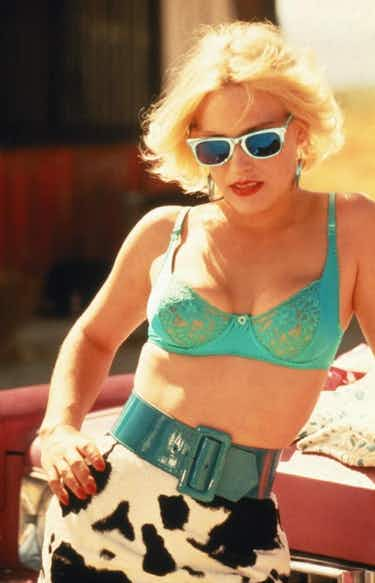 "Patricia Arquette embodies a naïvely romantic escort girl finding her inner fighter in this movie written by Quentin Tarantino and directed by Tony Scott. Her turquoise blue bra and matching sunglasses are now solidly grounded into pop culture, having even been recreated as a Halloween look in Euphoria."

Vivian Wu in The Pillow Book (1996)
"Rooted in Japanese culture, this obscure film might seem impenetrable for some but is visually sumptuous and full of languid sensuality for those who like unconventional filmmaking. The superimposition of lingerie and calligraphy turns out to be marvellous."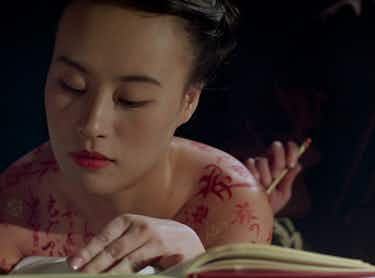 Lucy Liu in Payback (1999)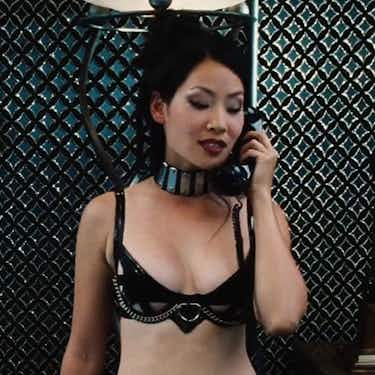 "This action-filled, gritty and violent ​'90s thriller features Mel Gibson as a merciless, blood-shedding anti-hero. The appearance of Lucy Liu as a dominatrix clad in leather and fishnet pantyhose is what takes this movie from good to great."
Audrey Tautou in Amélie (2001)
"Amélie is an innocent, lonely girl who finds love in her quest to help those around her. Her lingerie reflects the whole mood of the movie: a breeze of fresh air with a pure and cute lace-edged white slip."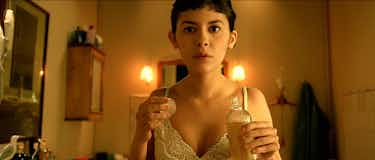 Natalie Portman in Closer (2004)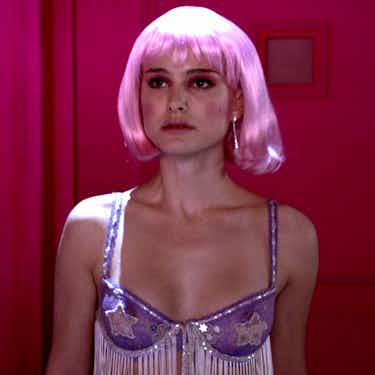 "This star-studded drama tells the story of four people fascinated by the game of seduction. Natalie Portman's character, Alice, is a vulnerable stripper. With her pink wig, glittery lip gloss and lilac underwear, she dances to seduce Clive Owen – both actors won Golden Globes for their roles."
Margot Robbie in The Wolf of Wall Street (2013)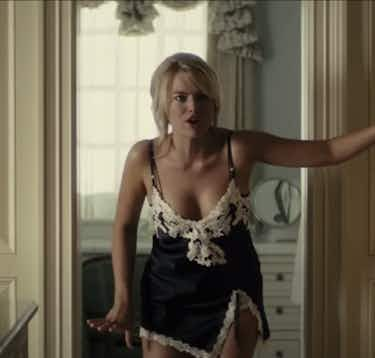 "Margot Robbie and Leonardo DiCaprio's on-screen chemistry was one of the many ingredients for success in this movie. The luxury underwear and nightgown by La Perla worn by the actress stole the show, showcasing the timeless appeal of beautiful lingerie."
Samantha Robinson in The Love Witch (2016)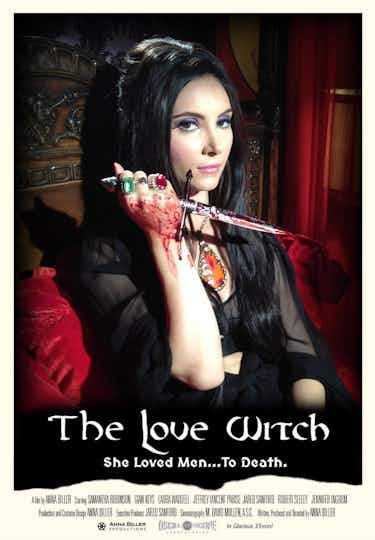 "This movie is an homage to the cheesiness of ​'60s and ​'70s low-budget horror movies, as seen through the feminist gaze of director Anna Biller. The costumes are camp perfection and feature so many sultry lingerie looks."
Julia Fox in Uncut Gems (2019)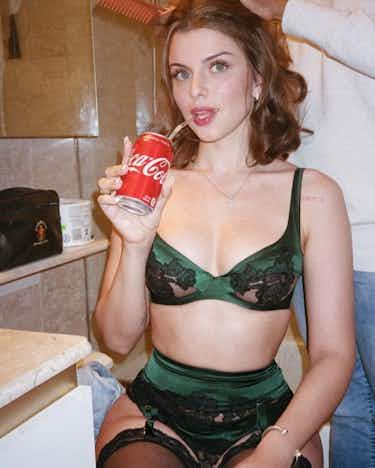 "As a previous figure of New York City's nightlife, Julia Fox's breakout role in Uncut Gems was a turning point for the actress. She plays Adam Sandler's employee and lover in the movie, full of chaotic energy. The scene where she's sexting and taking selfies in Agent Provocateur silk lingerie with matching stockings almost broke the internet, and rightly so."

More like this