All the goods from Paris Fashion Week SS24

Hooray, it's the final pit stop! Starting off with Vaquera, Hodakova, Saint Laurent, Courrèges, Marni (and ending with a long, long lie-in).
No creative director? No problem. For Lanvin's design team, it was a starry-eyed trip back in time for the house's SS24 collection. The team dug through their advertising archives to find inspiration from legendary fashion snapper Guy Bourdain's signature surrealist angles and high contrast colours. As for the silhouettes, inspiration came from the 1920s and ​'30s, when Lanvin cemented the house's signature codes: ultra clean lines contrasted with intricate hand embroidery, plus the careful clash of femininity and masculinity that Lanvin became famous for.
The looks in Lanvin's latest offering is a real celebration of the house's roots, but by no means nostalgic. Drop-hemmed dresses edged with tulle and lattice instead of the traditional tassels, classic leather extended up to the elbows and sharp tailoring with ultra modern details feel wonderfully sensual. We might be living an entire century later than the actual roaring ​'20s, but Lanvin's iteration is just as chic.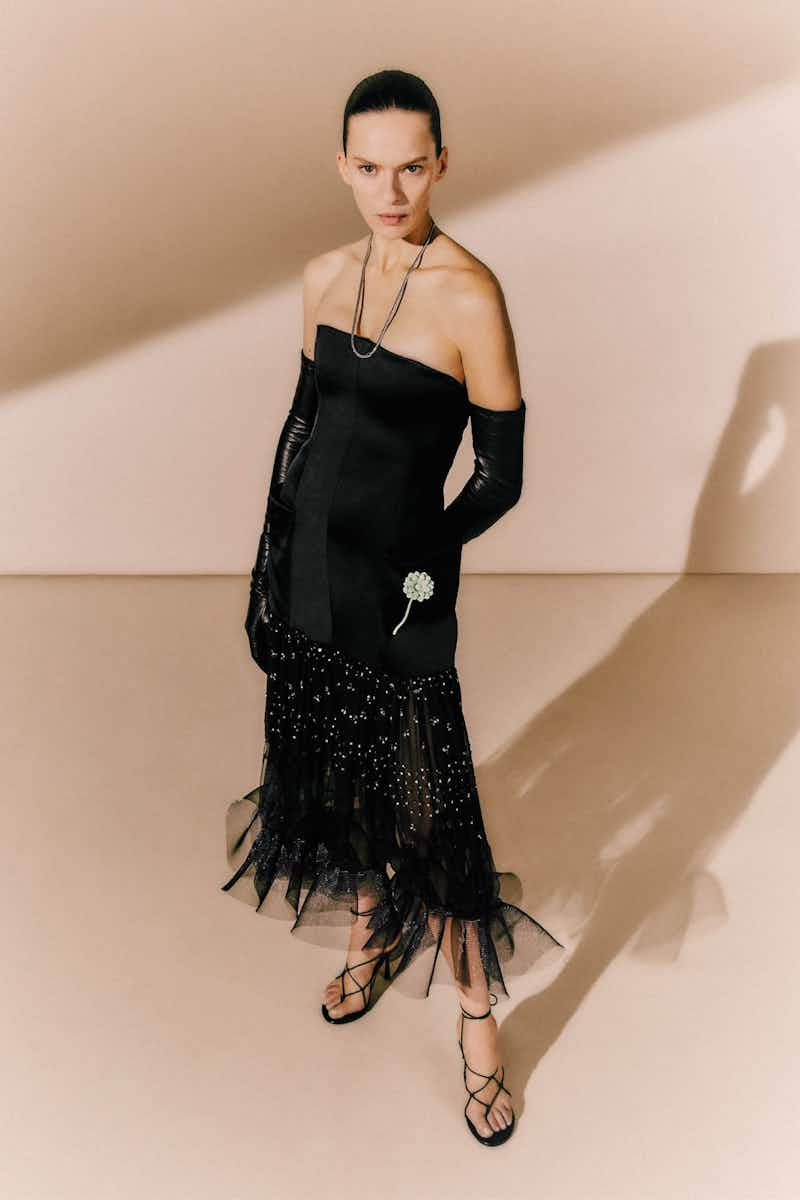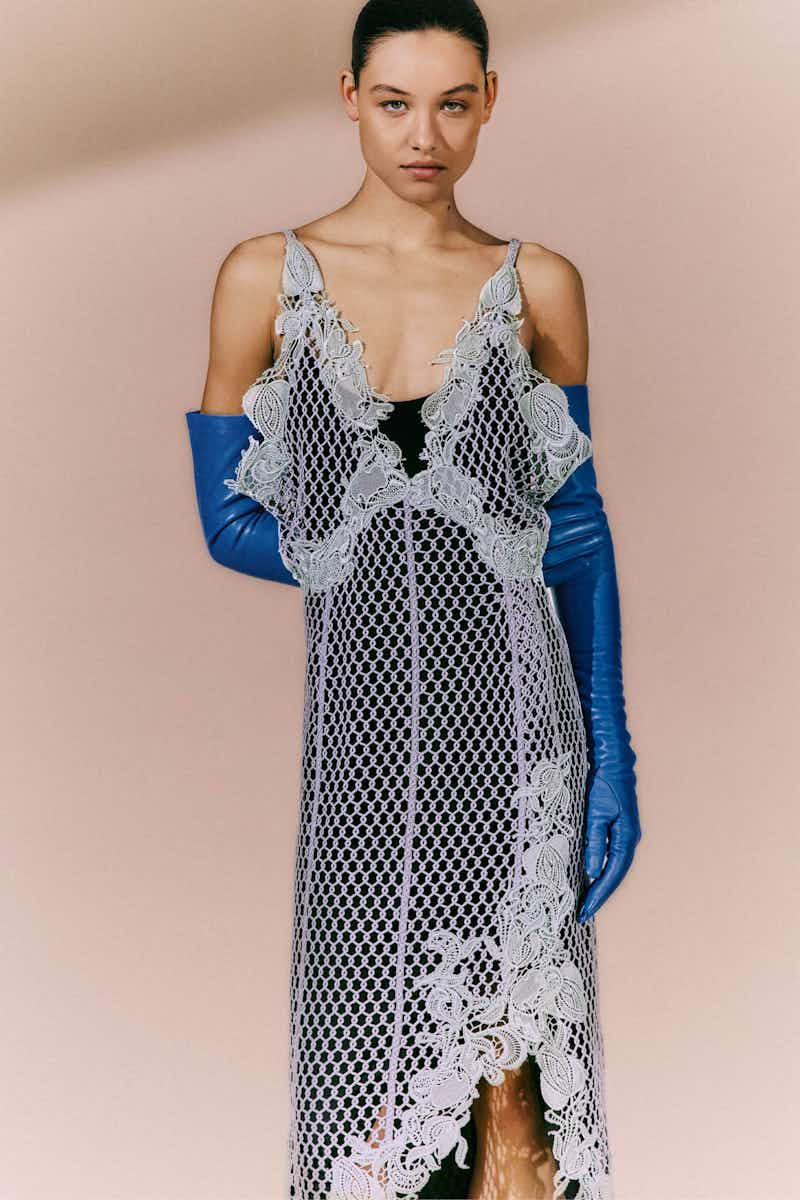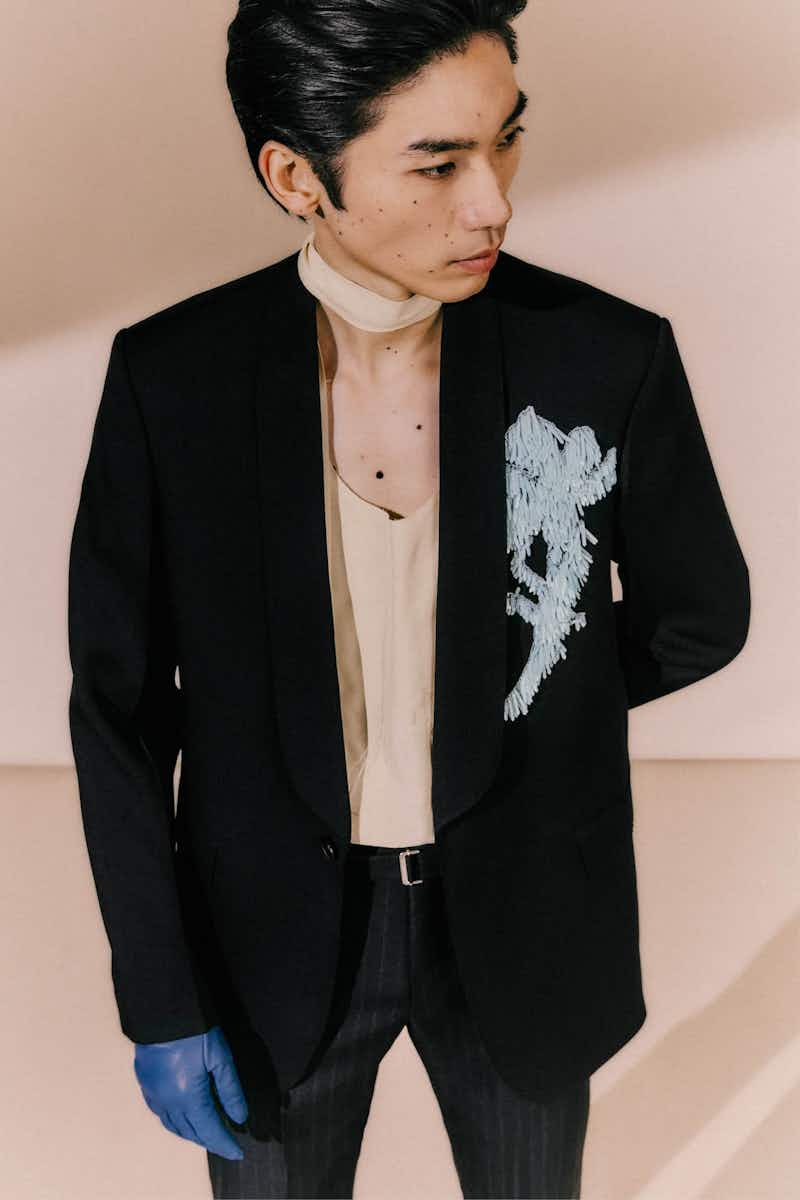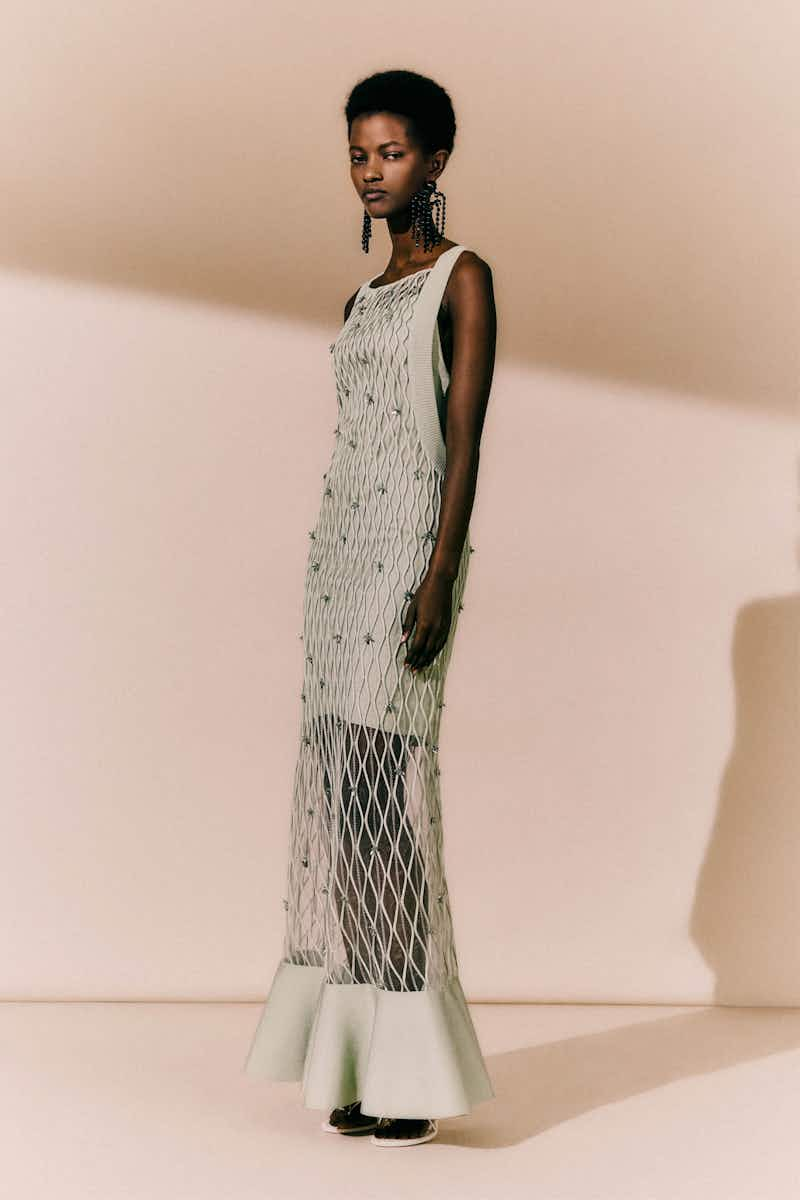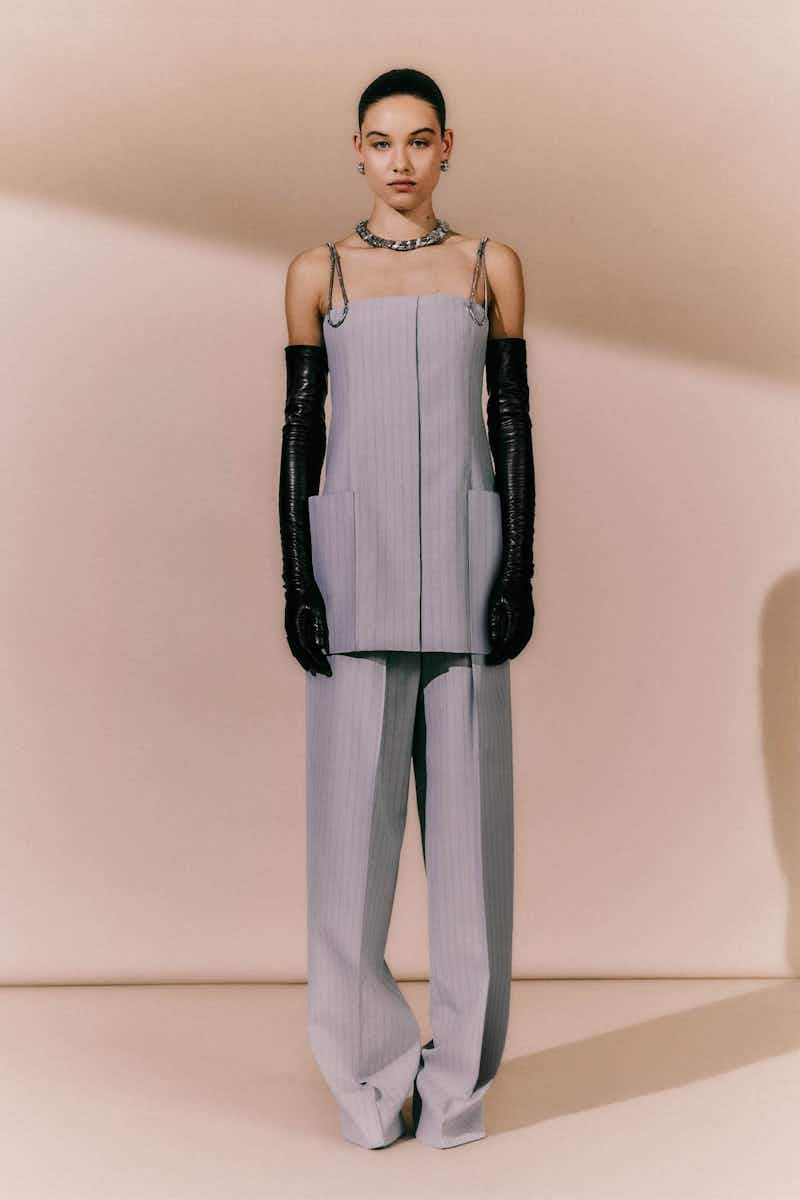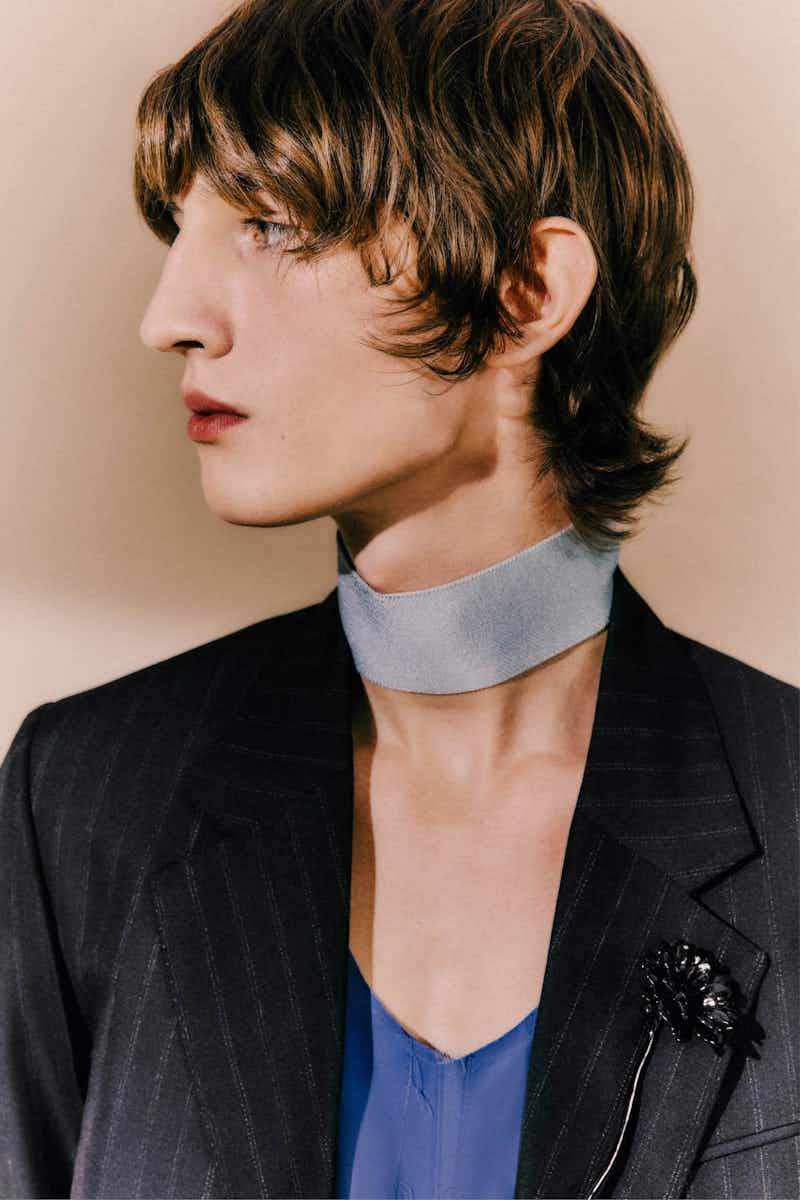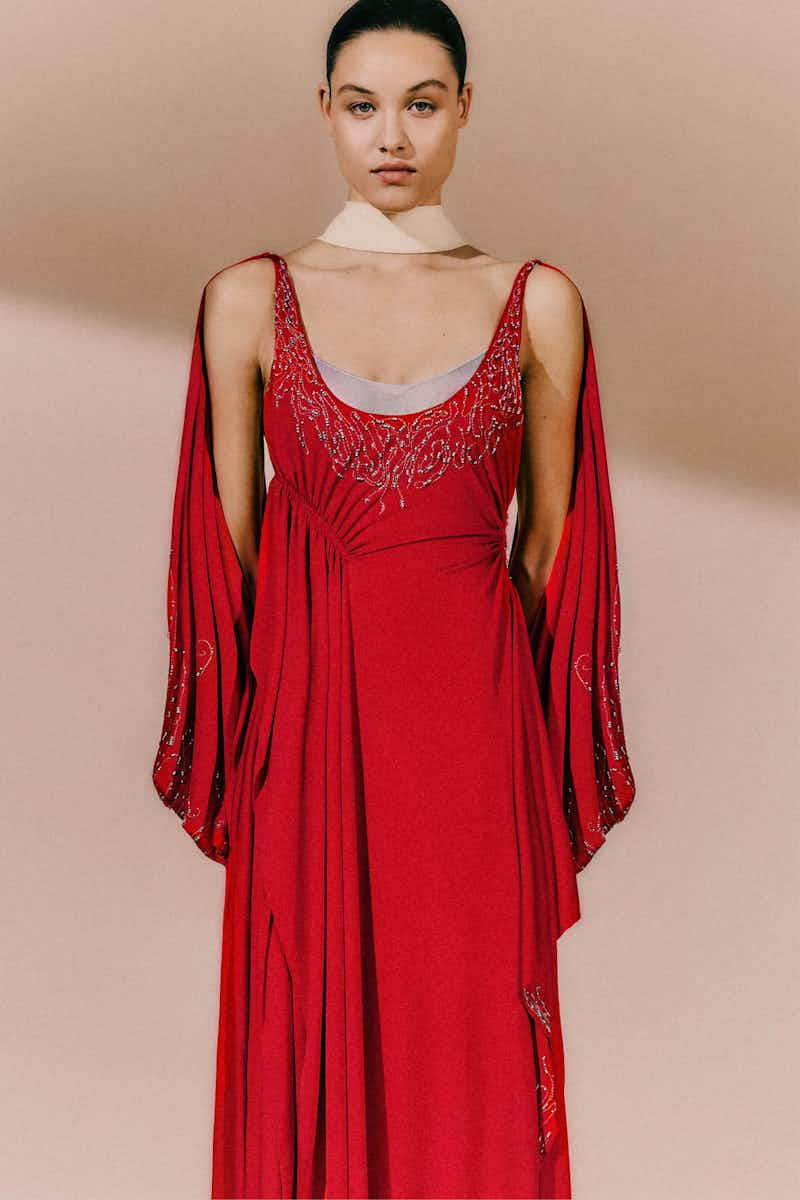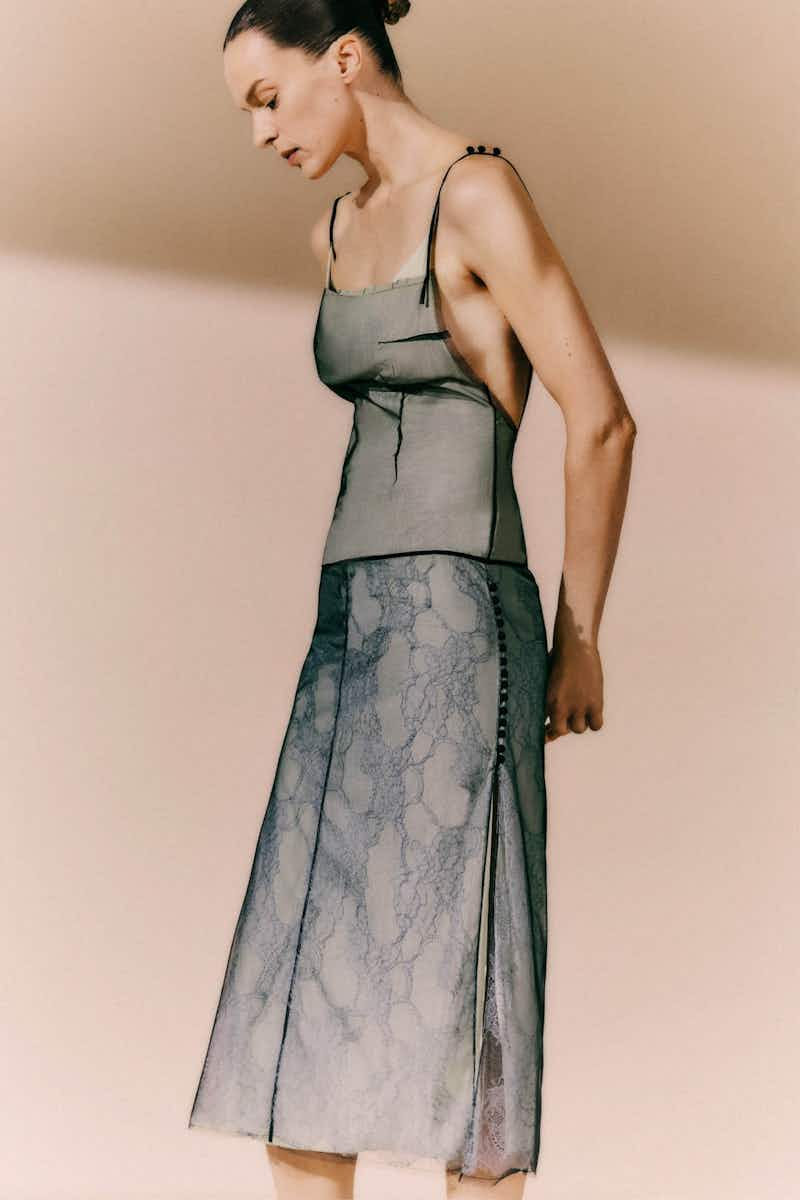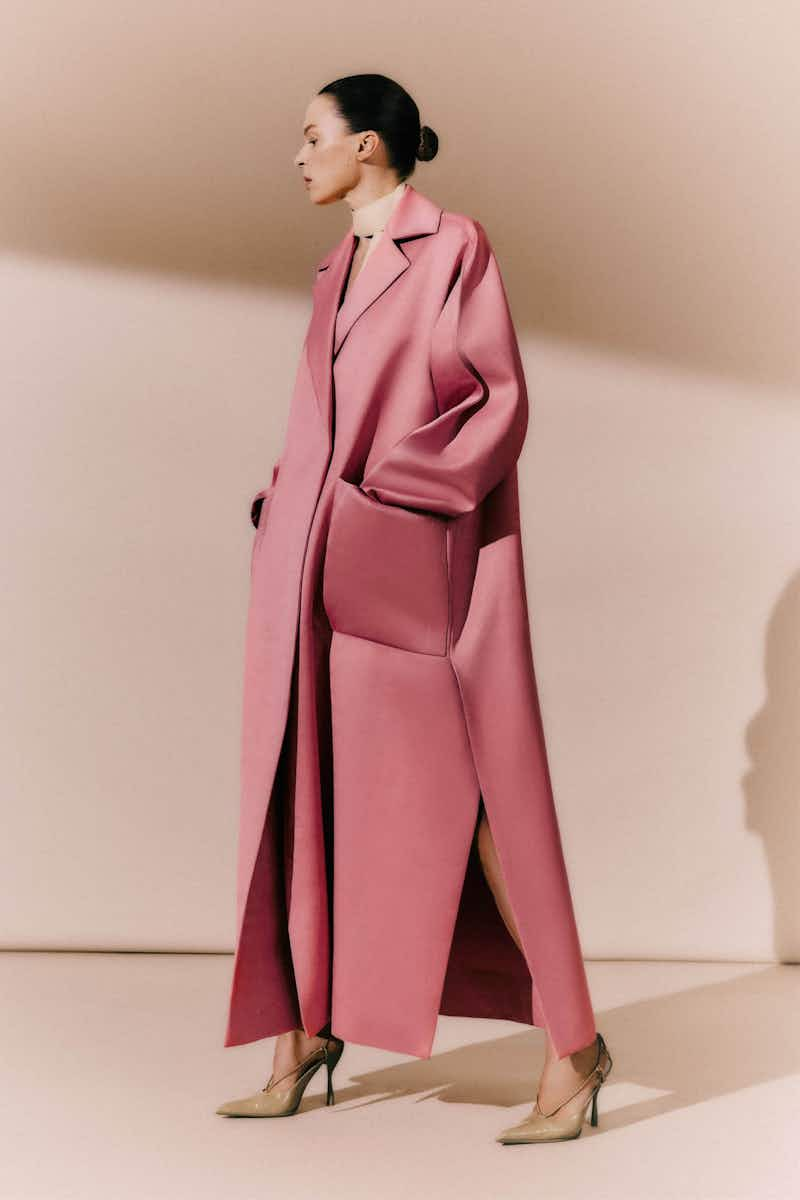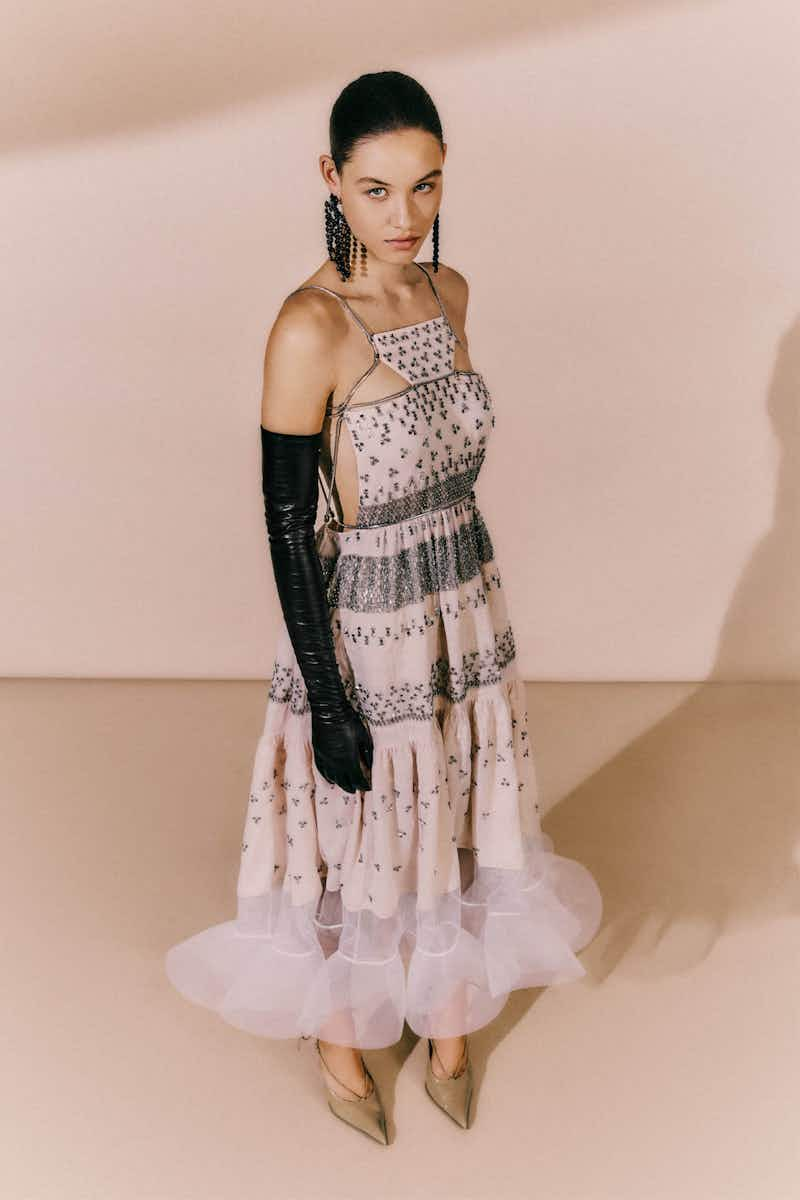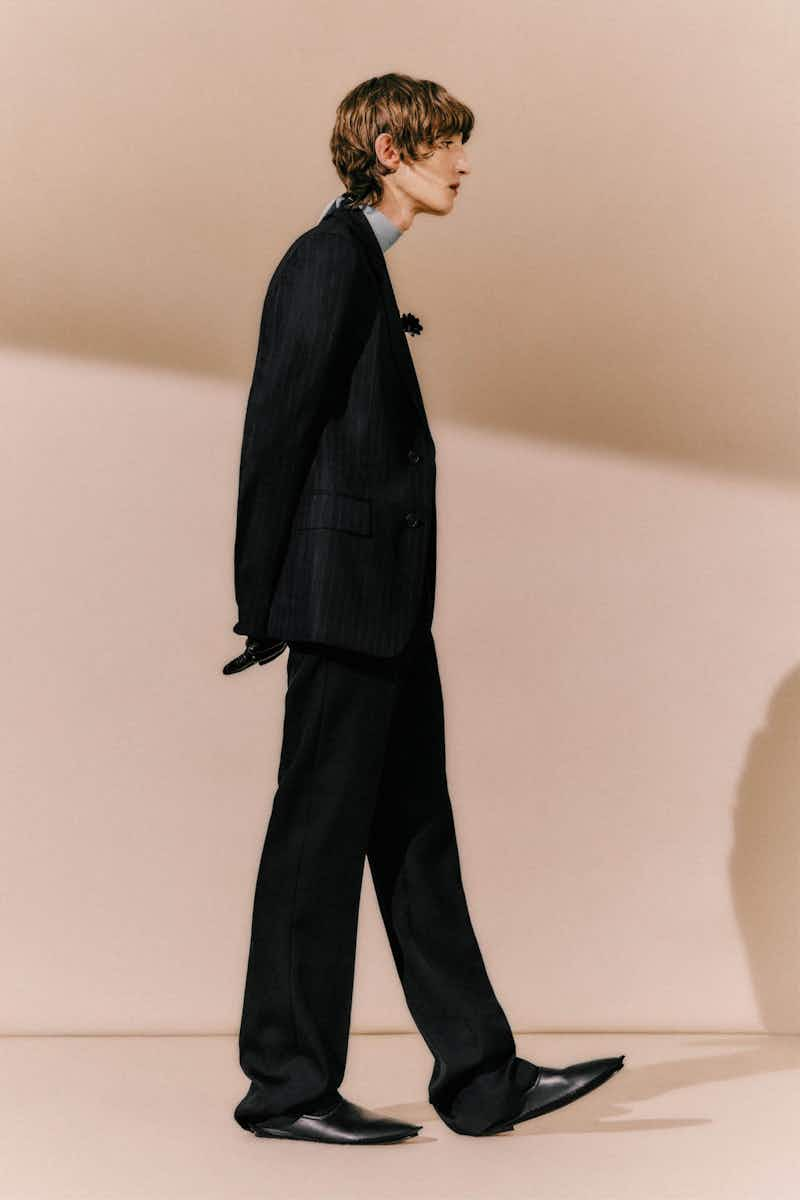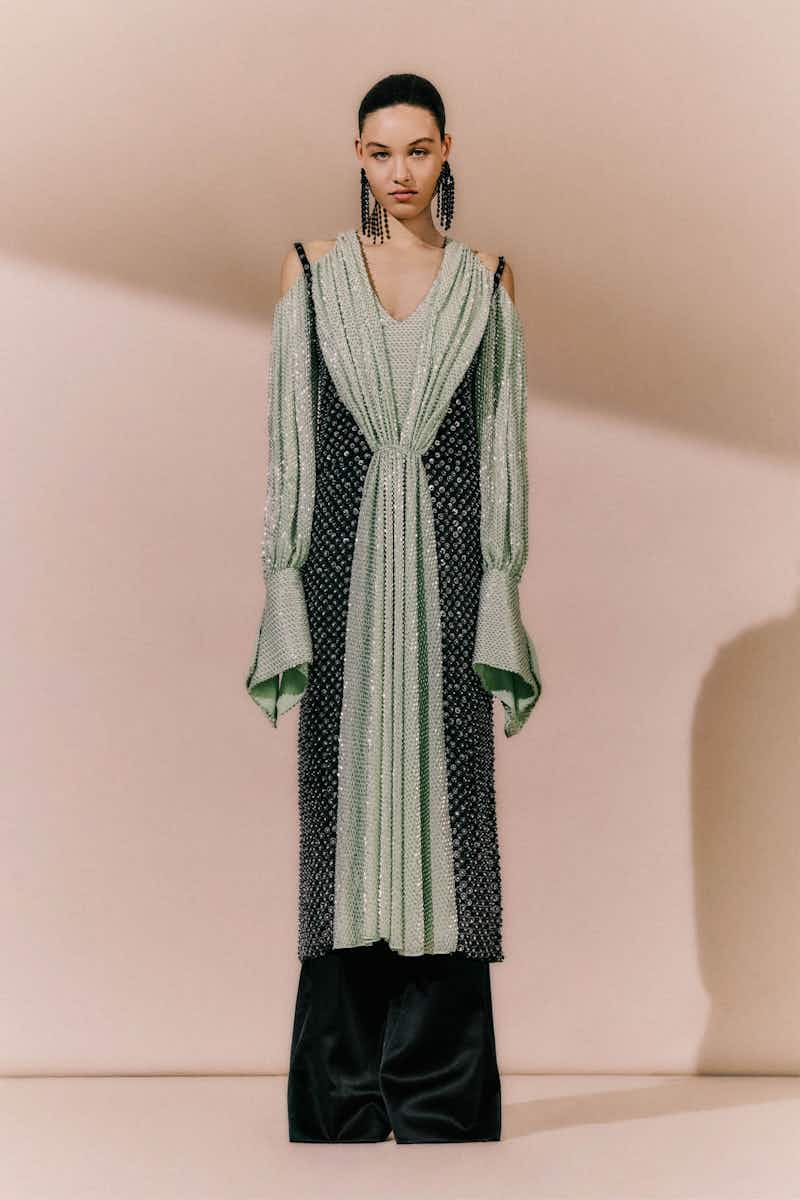 What?

We bet you never thought the outfit you cobbled together in the changing rooms after a school swimming lesson would feature on the Paris runway, but here we are. At Miu Miu's SS24 show, these mismatched looks were topped off with wet hair and glasses. If last season channelled the aesthetic of the frazzled English woman, this season was all about the frazzled English schoolboy.

Who was there?
Miu Miu muses Mia Goth, Emma Corrin and Zaya Wade, who all walked last season, sat on the front row along with Emma Chamberlain and Sydney Sweeney.

Who walked?

Photographer Petra Collins walked the runway in a shimmery 1920s-style drop waist black dress, while Troye Sivan, hair slicked back, wore a polo shirt and silk short combo. Gigi Hadid and Amelia Gray took to the catwalk, too.

What was it like?

Brilliantly unconventional. The opening looks were a uniform of haphazard blazers, polo shirts worn over regular shirts, boyish silk shorts and flip flops accessorised with fluorescent blister plasters. It felt like a tribute to the creative fashion accidents we might make when we're in a rush. According to the show notes, this irregular styling was about the ​"embracing of unique characters, the joy of life."

The micro-mini skirt also returned, but this time it was flouncy and multi-layered rather than pleated. Belts were thick and slung low around hips. Drop waist sequin dresses brought the glamour and models carried overstuffed handbags with high heels and towels peeking out from the top. The leather bandana tops paired with low-rise midi skirts are sure to make their way into fashion editorials and Insta posts. Cracked gold garments shimmered like foil or armour. The overall impression, though, was one of chaotic ease. Miuccia Prada seemed to be saying, ​"Hey, modern life is busy, so embrace the style mistakes you might make when you get dressed in a rush. You just might set a new trend."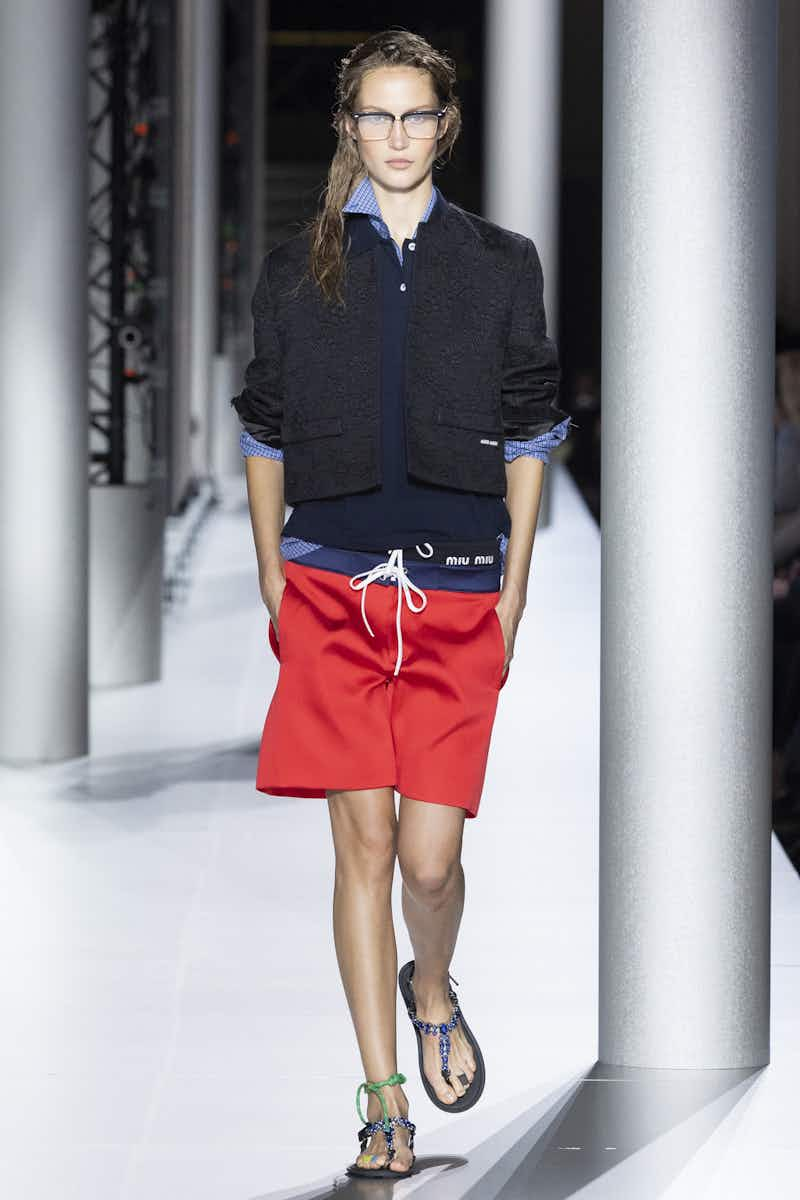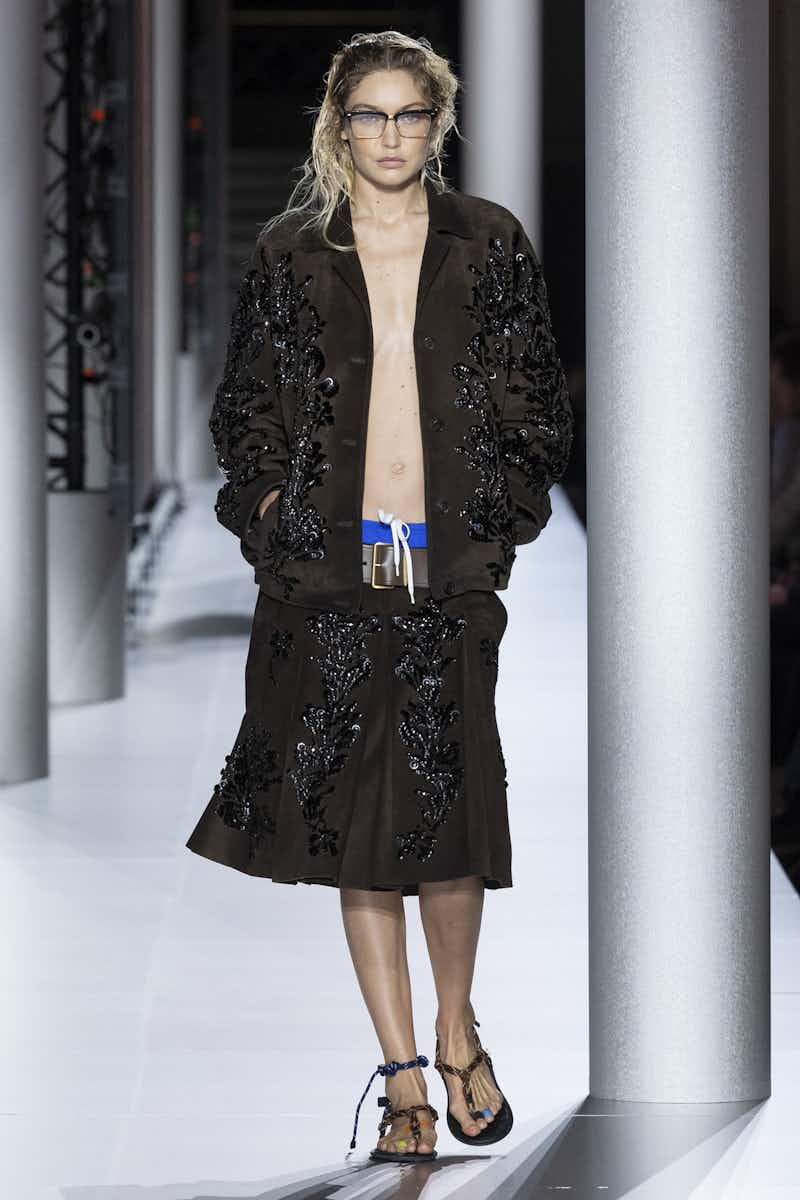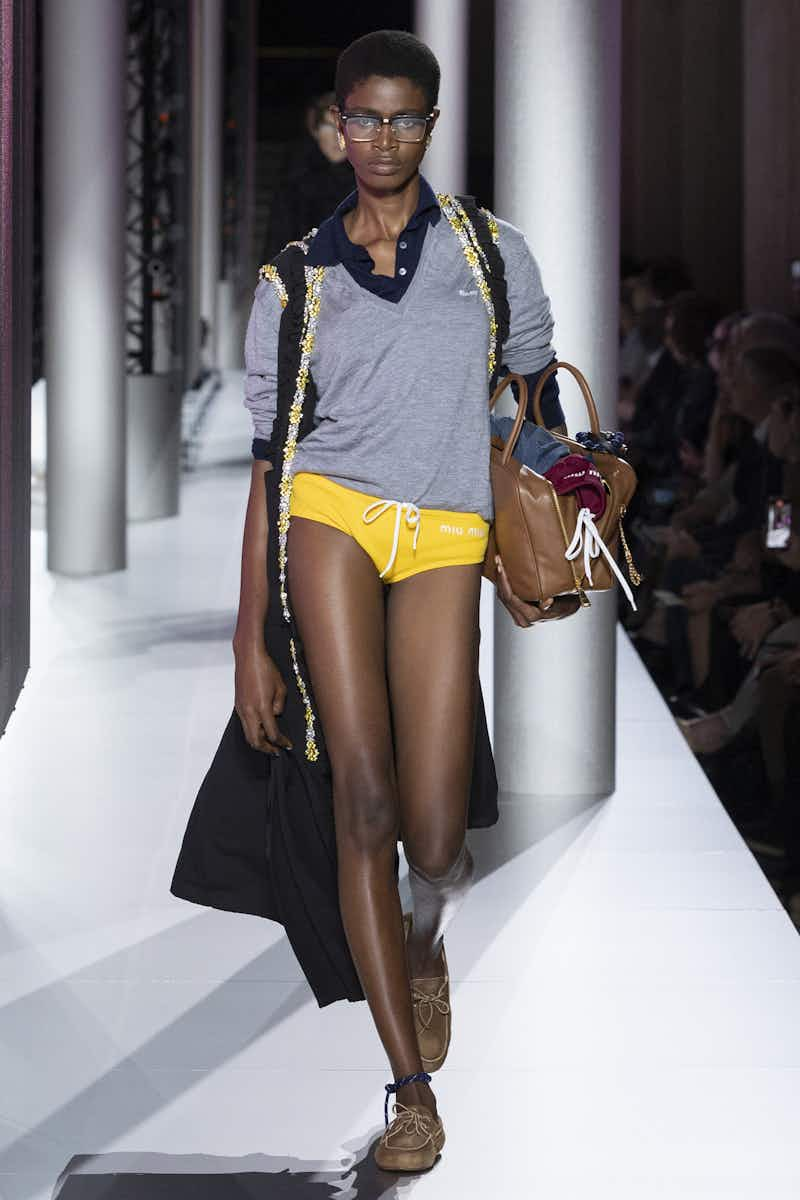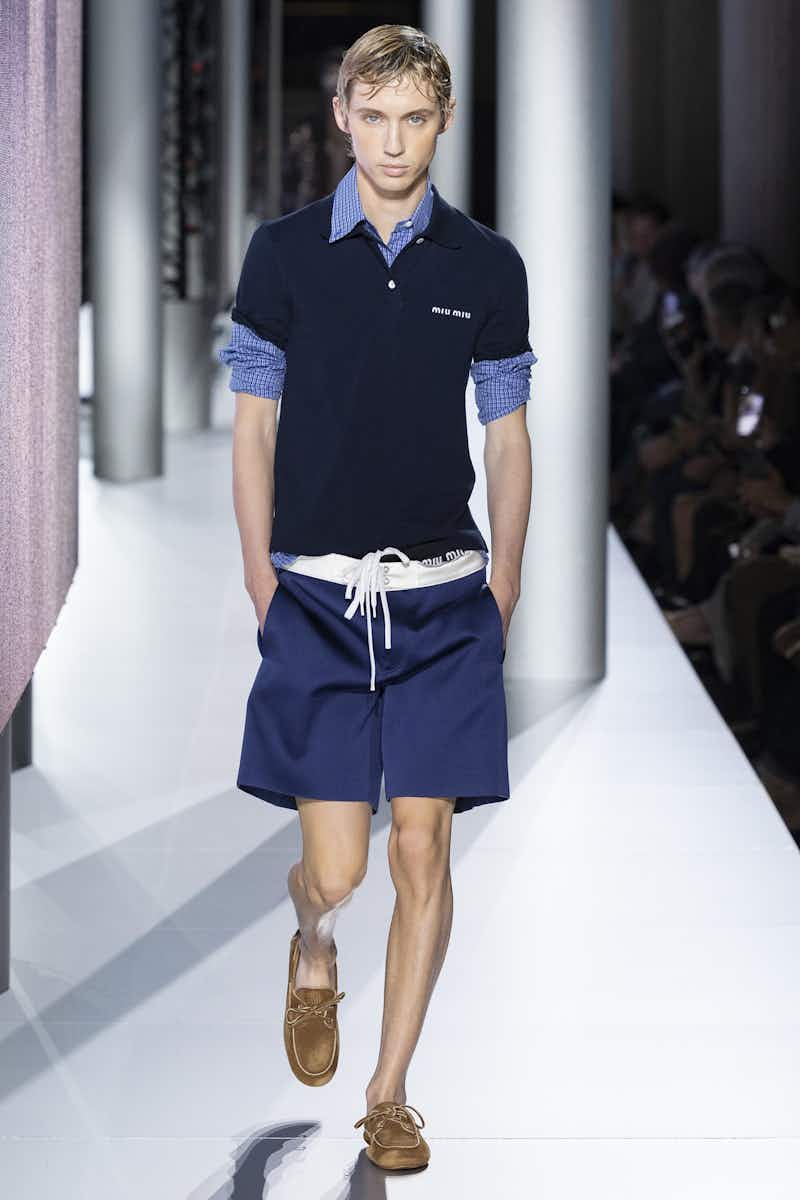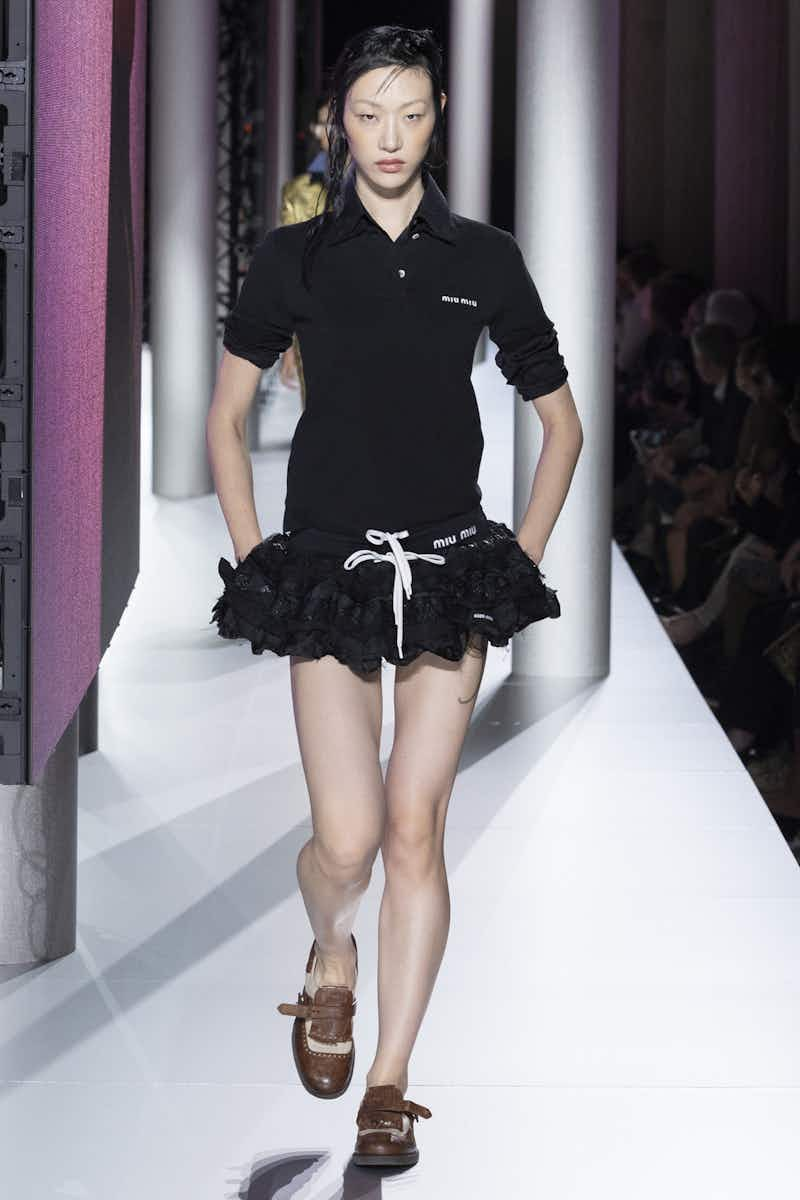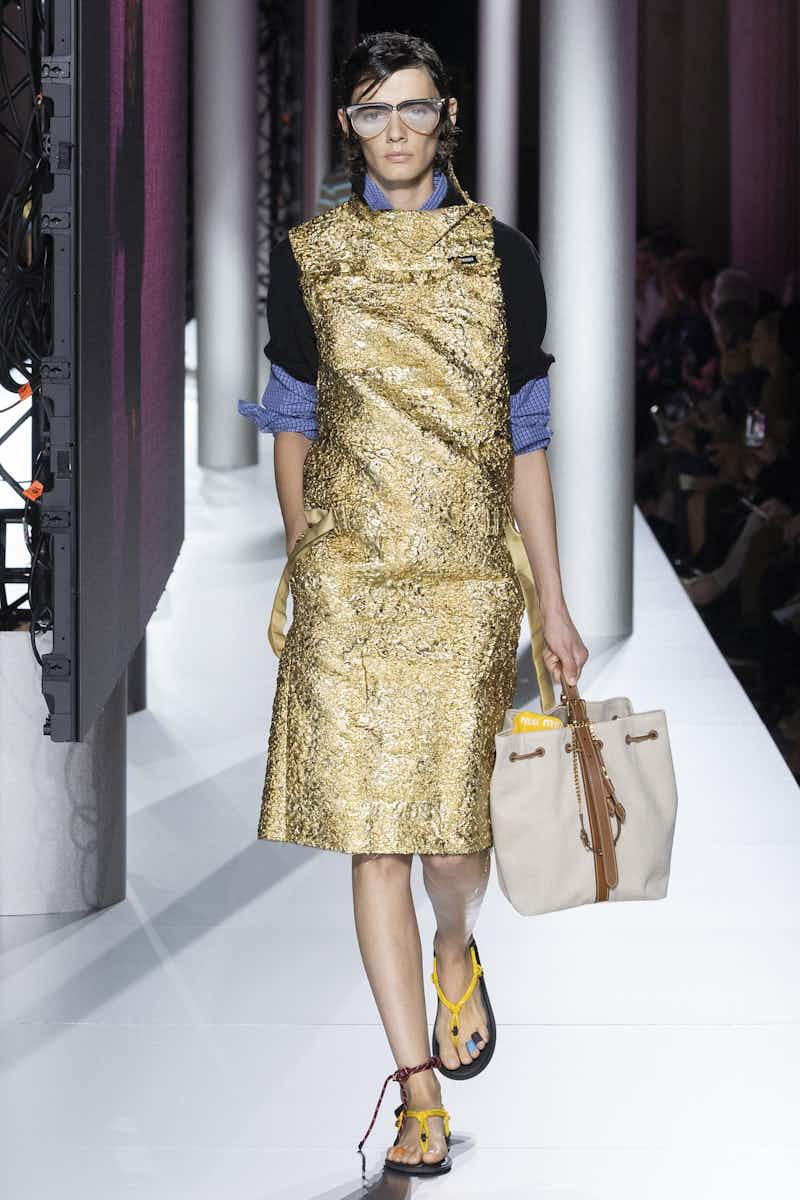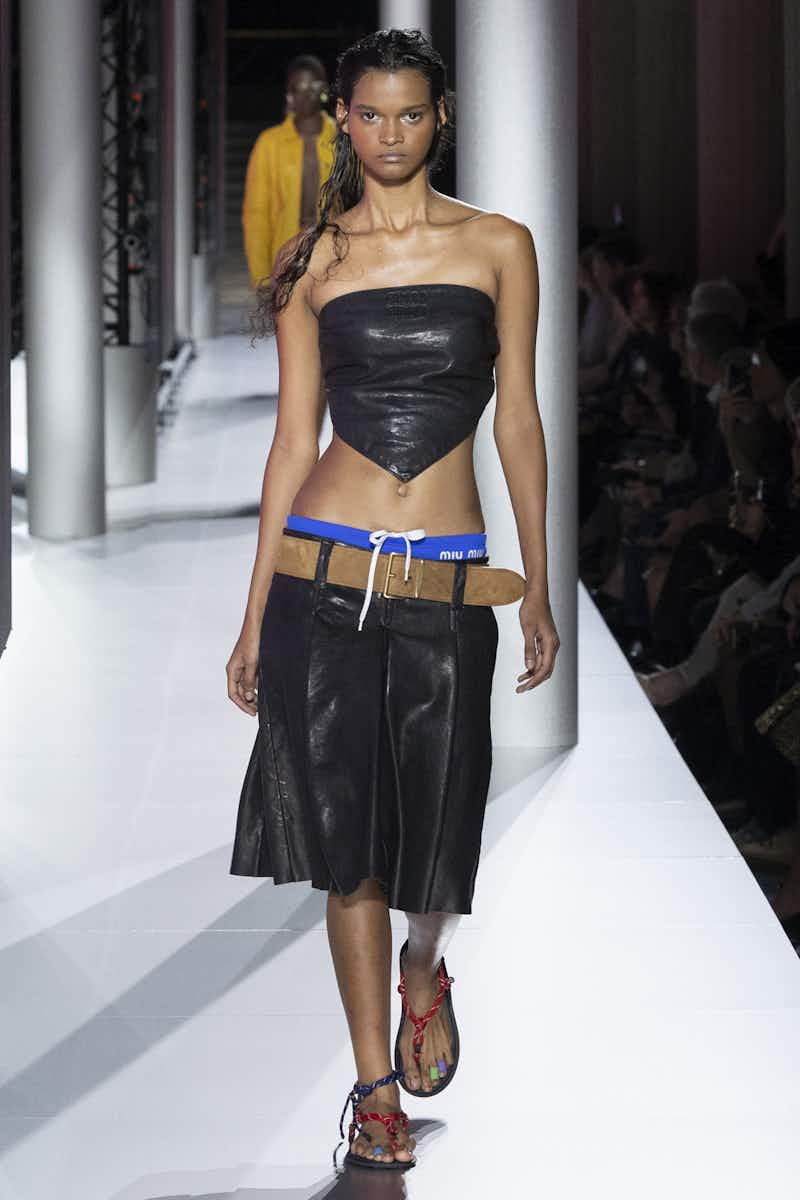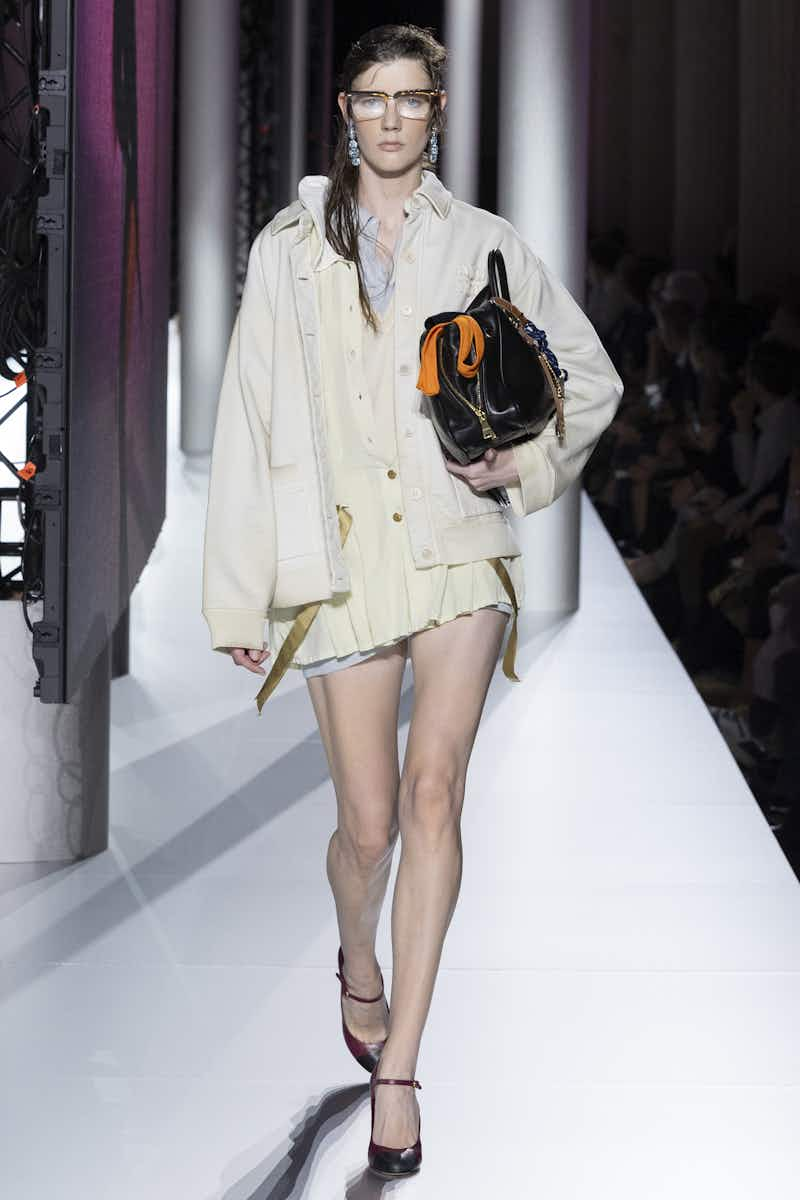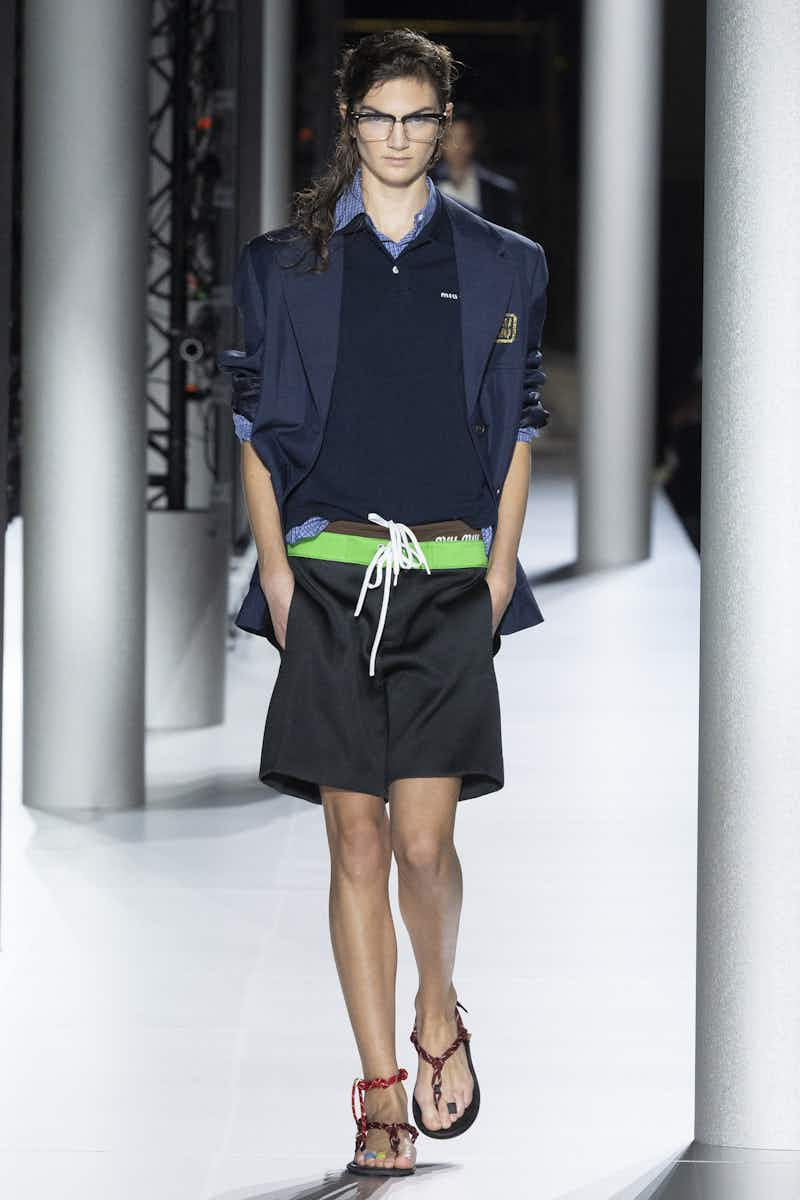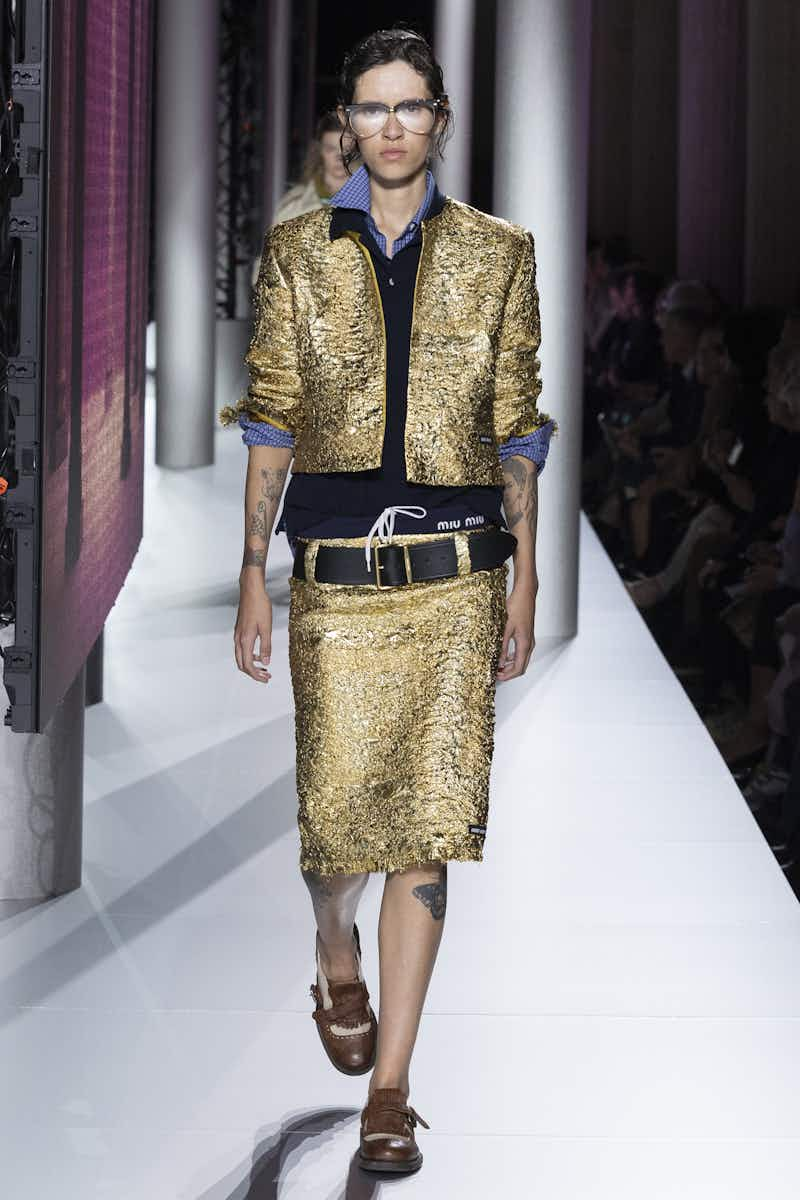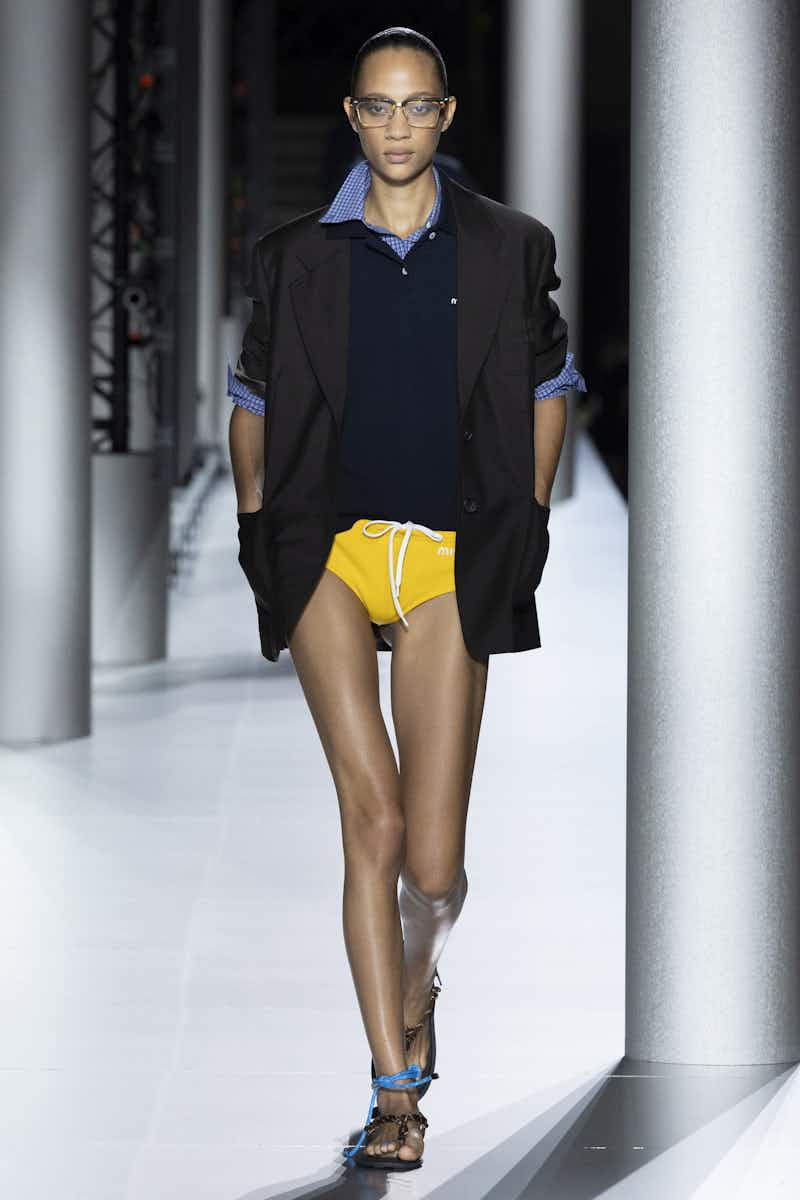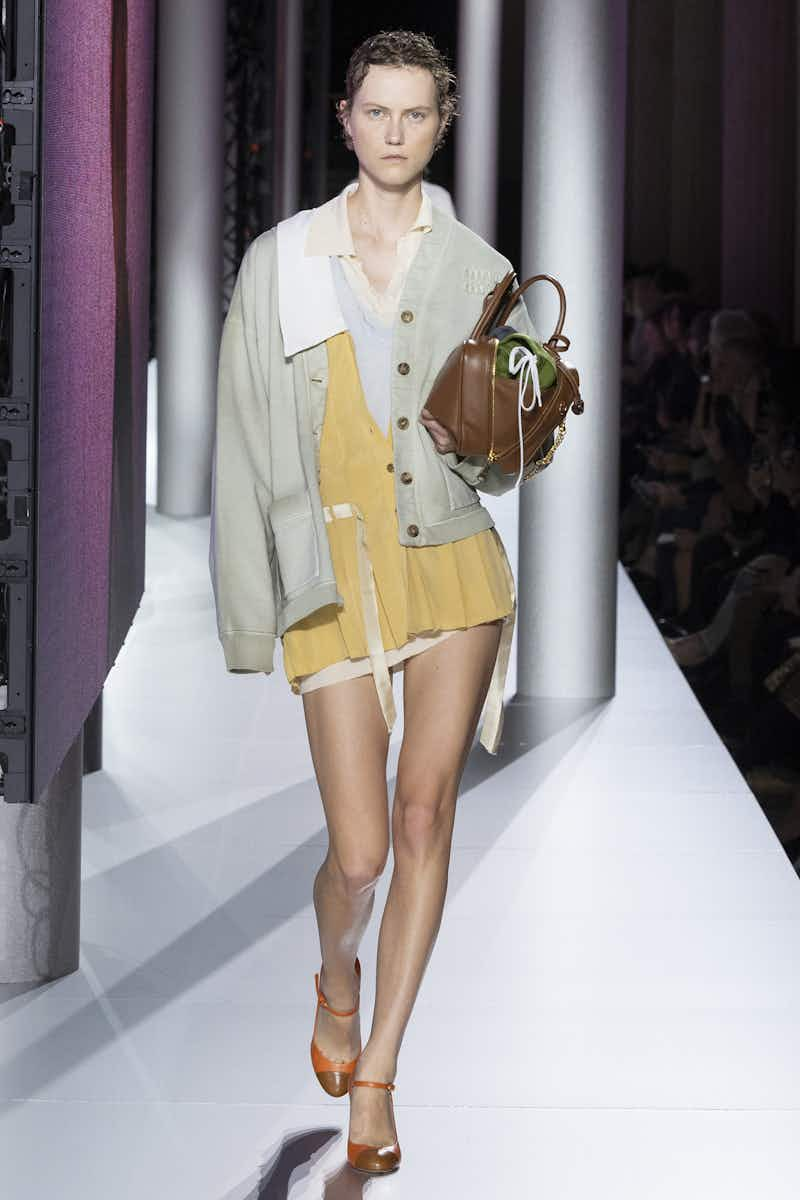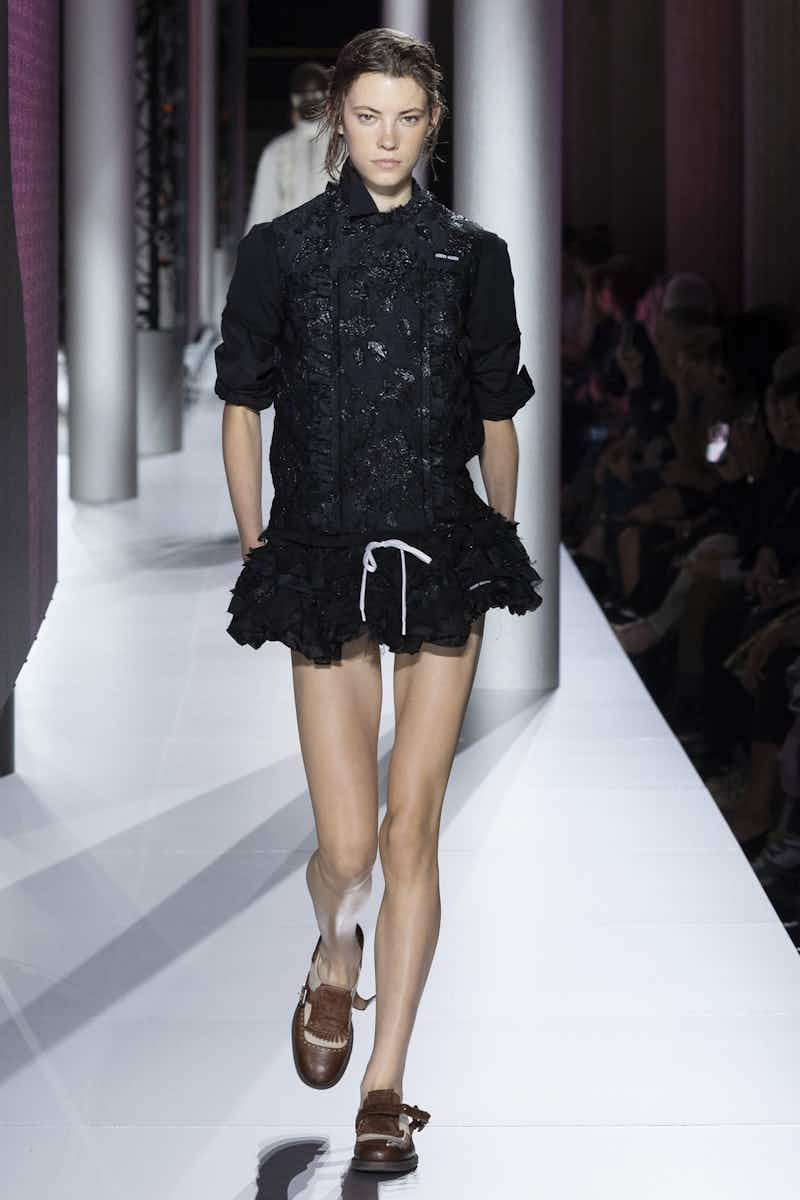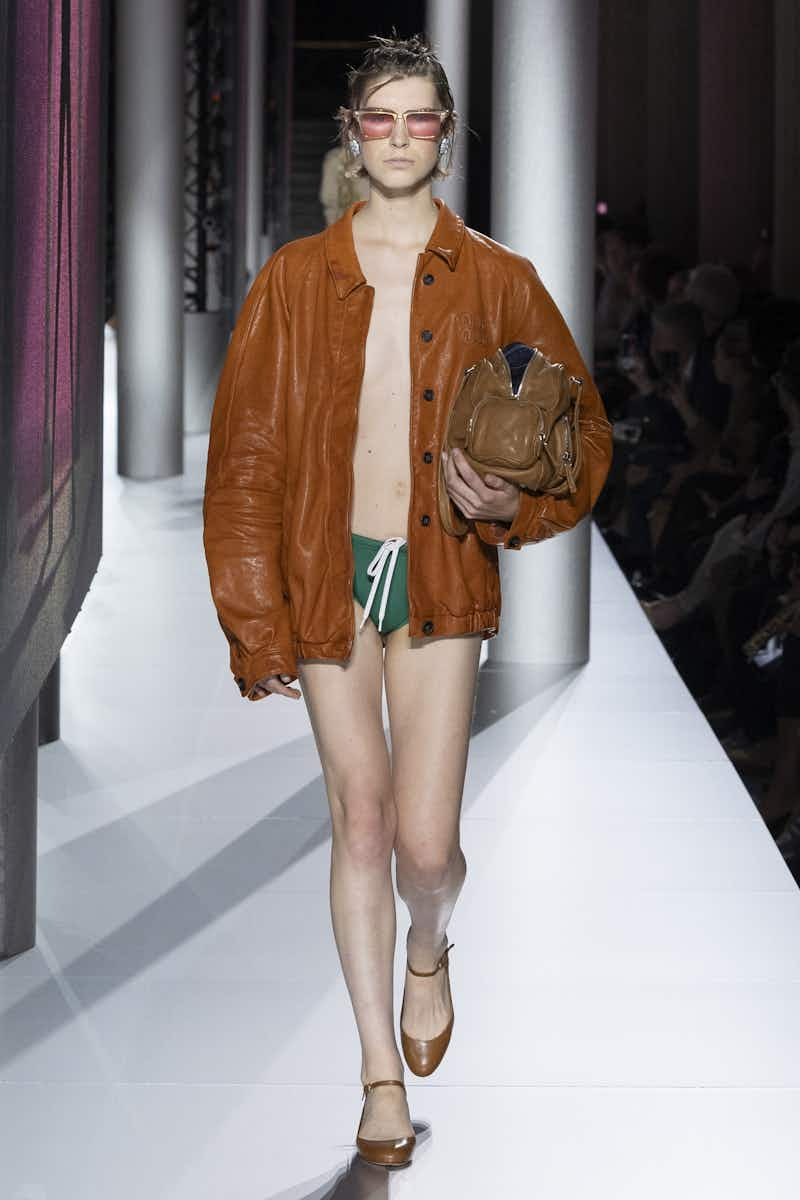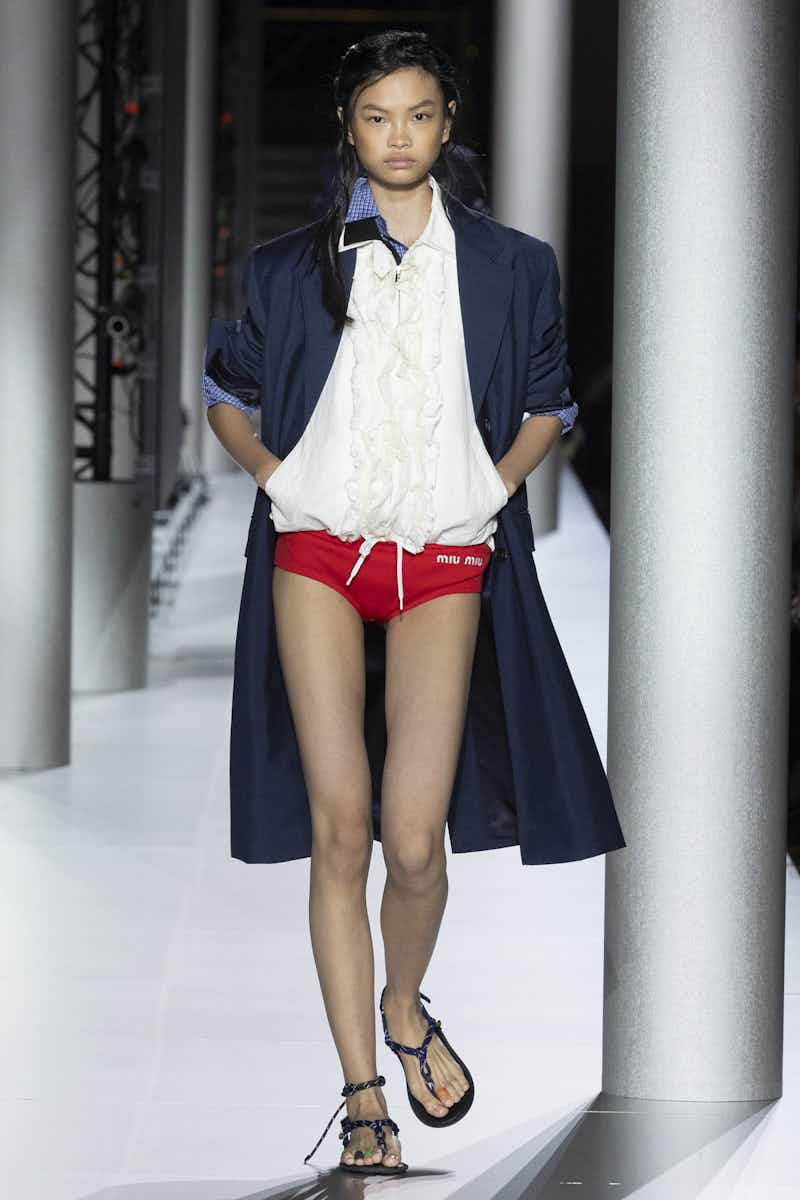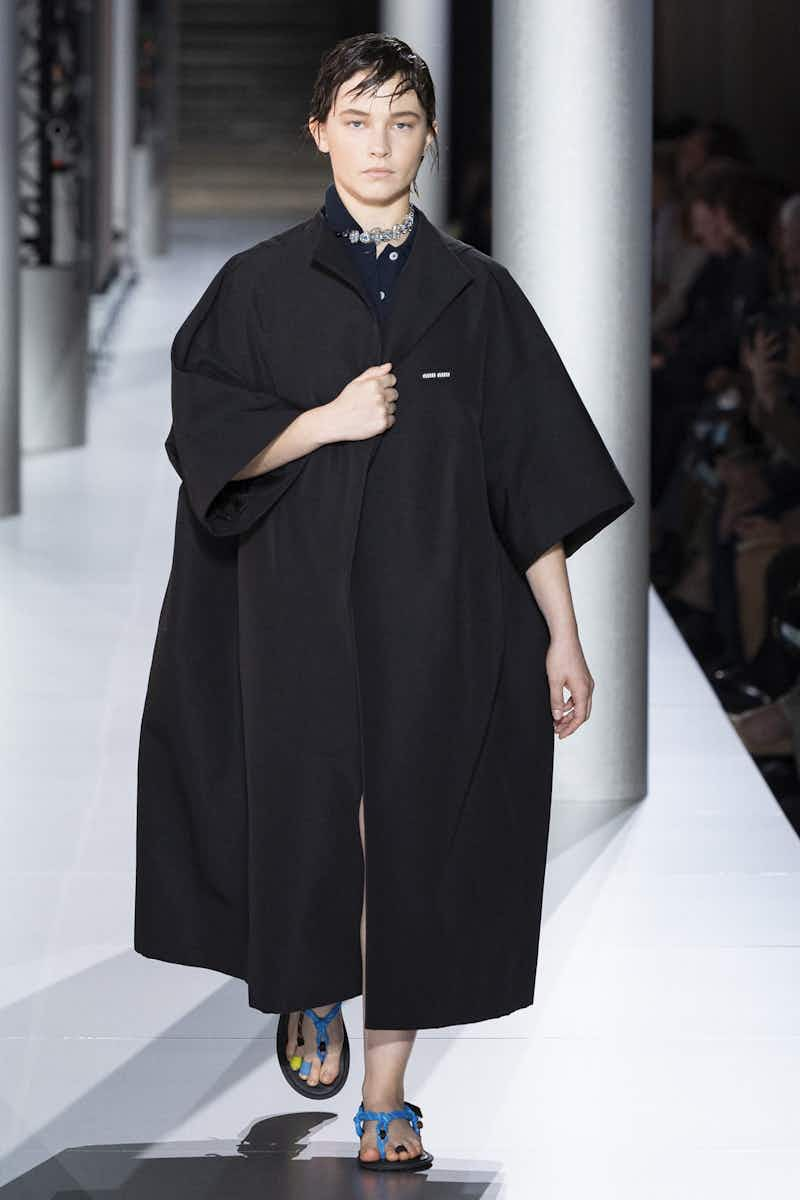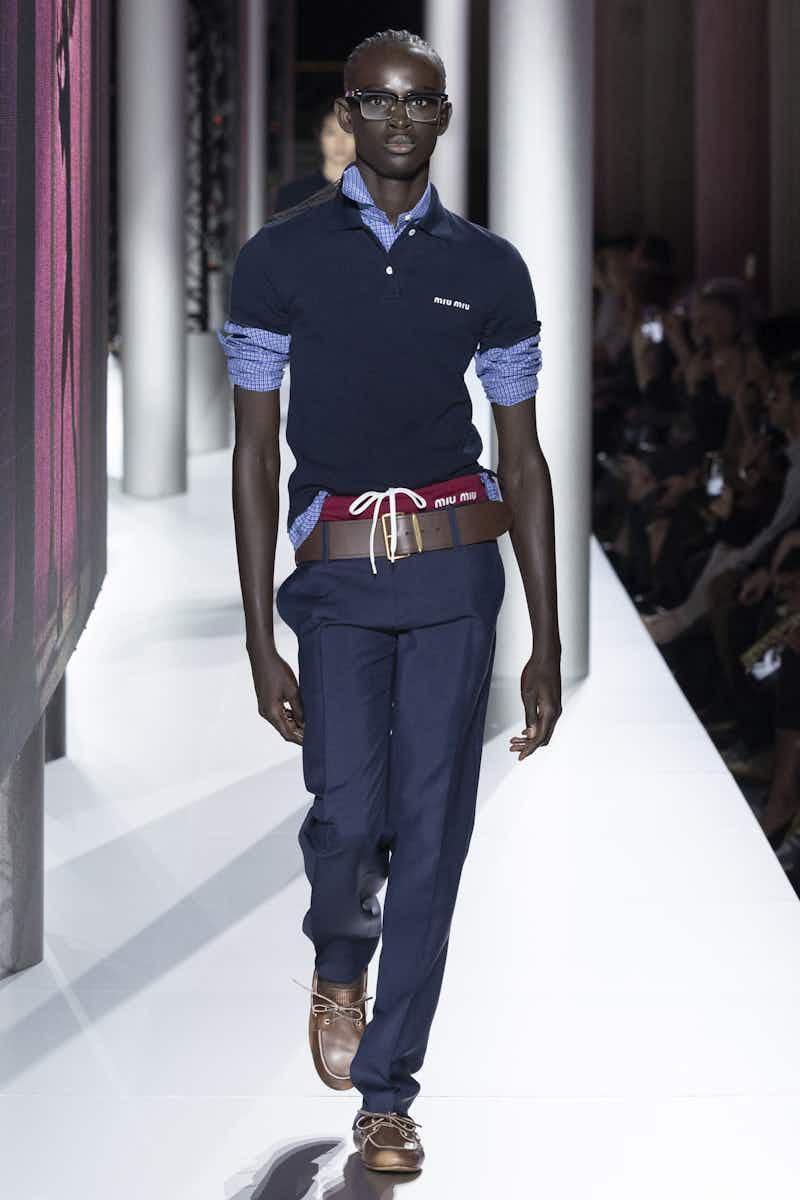 What?

The latest collection from twin sisters Laura and Deanna Fanning, inspired by the delicate construction of antique lingerie.

What was it like?

Soft and sensual to start with. Floaty silk pieces were worn with ballet-inspired sneakers ​'while puffy skirts and blouses came with zip detail trousers and bomber jackets. Beach-ready slip-on mesh shoes and zip-up stripe jerseys brought in a scrappy, sporty element. Striped sweaters looked as though they had been put on upside down, and crazy, colourful patchwork coats and dresses were rendered in faux fur and towelling fabric. Coats, dresses and blouses had been crumpled and creased like models had rushed out the door without time to do the ironing. The result? An artful dishevelment that felt playful yet poised. ​"We really want the brand to feel real and authentic, but we also believe in a vision and a dream," Deanna explained. ​"When you lose that in fashion, it can be very sad."

The beauty highlight?

Stripes were everywhere, even seen on models' hair, which had been dyed with a striking striped effect.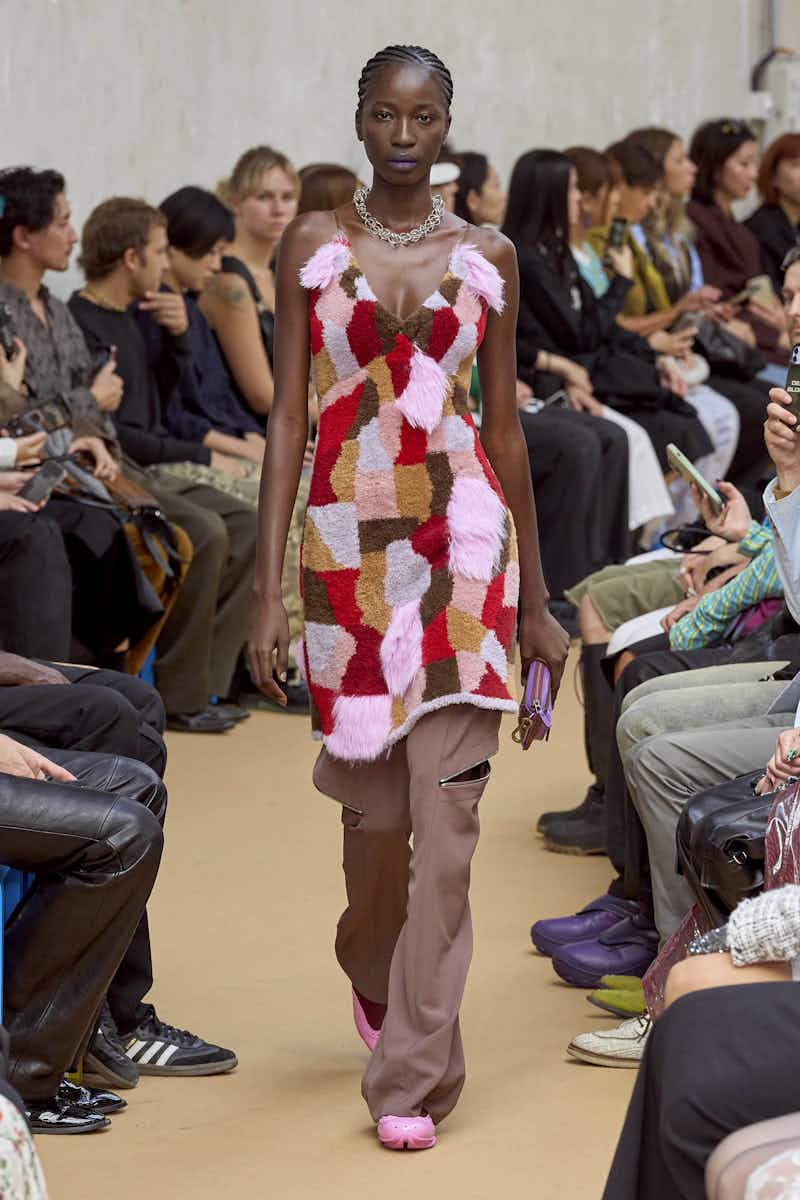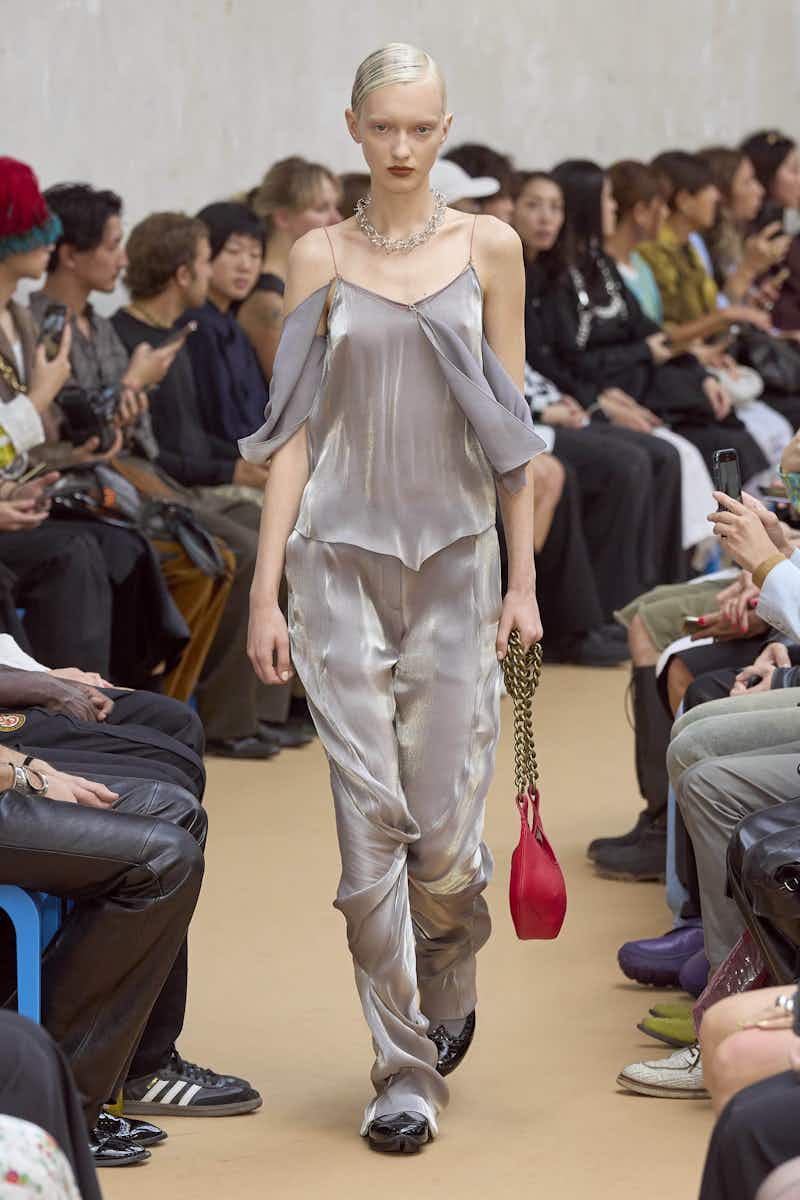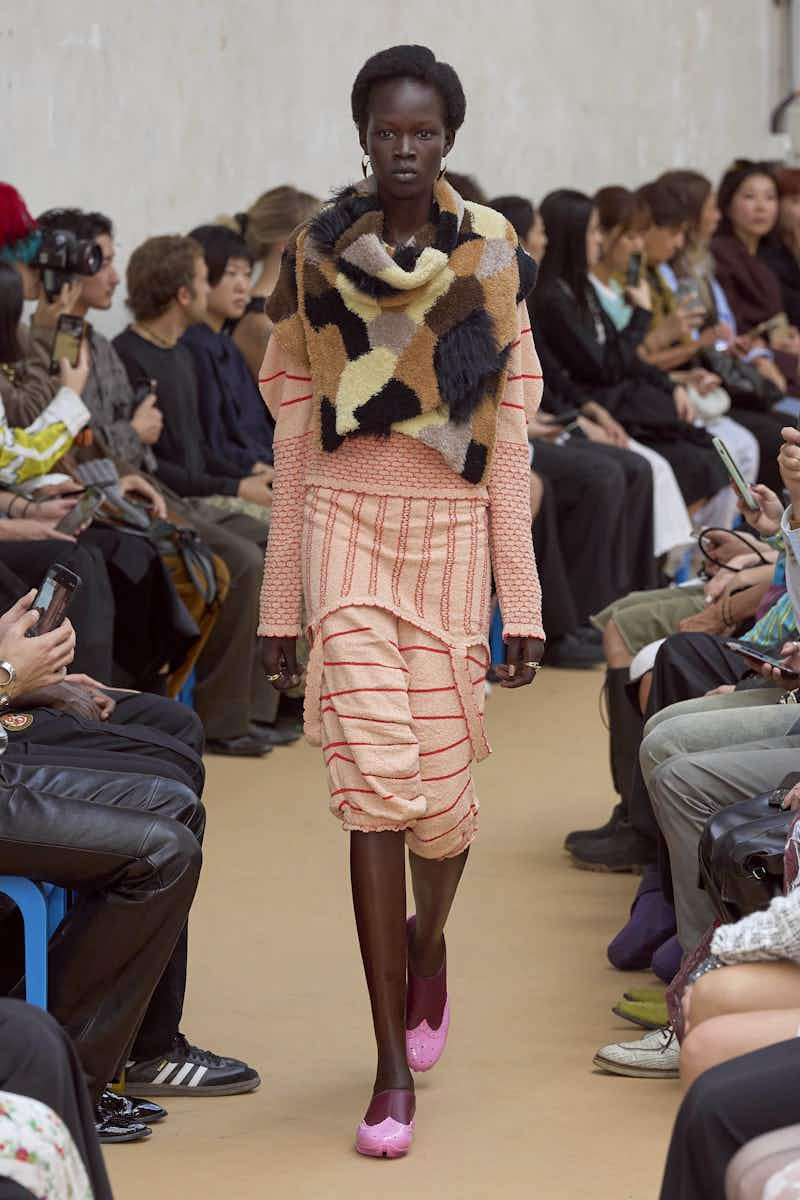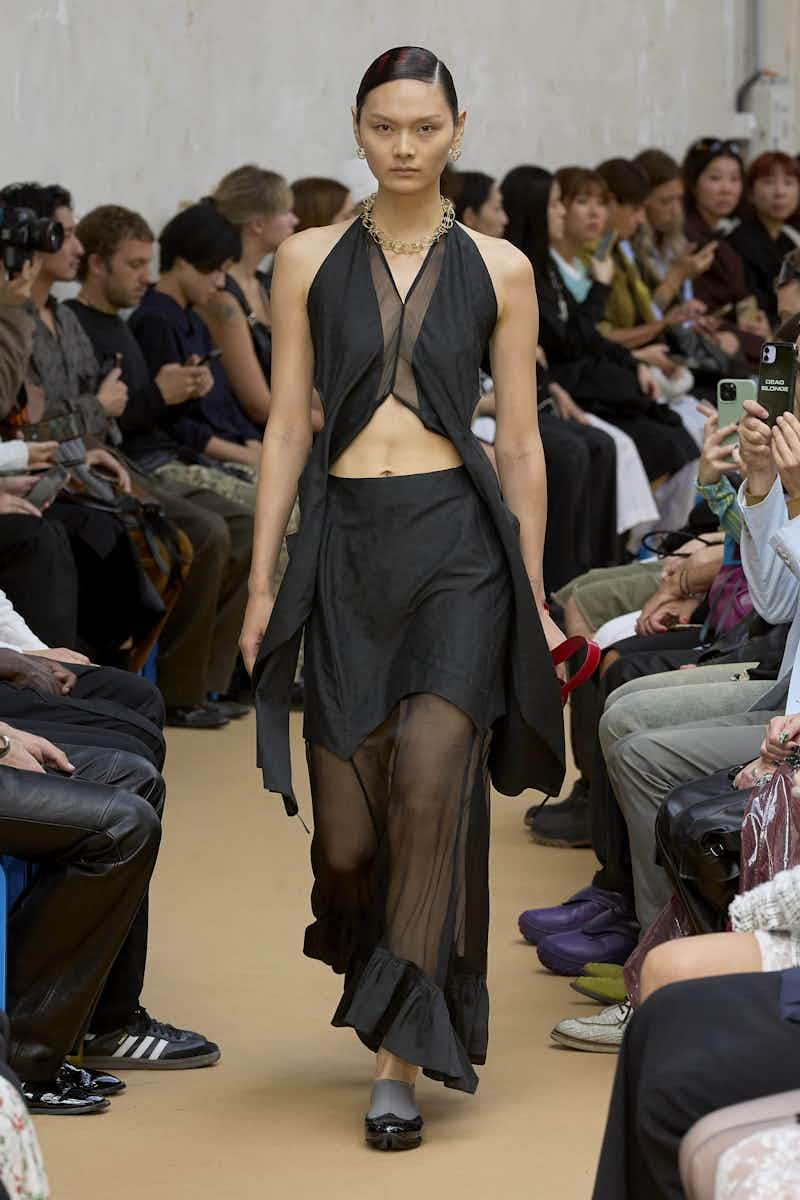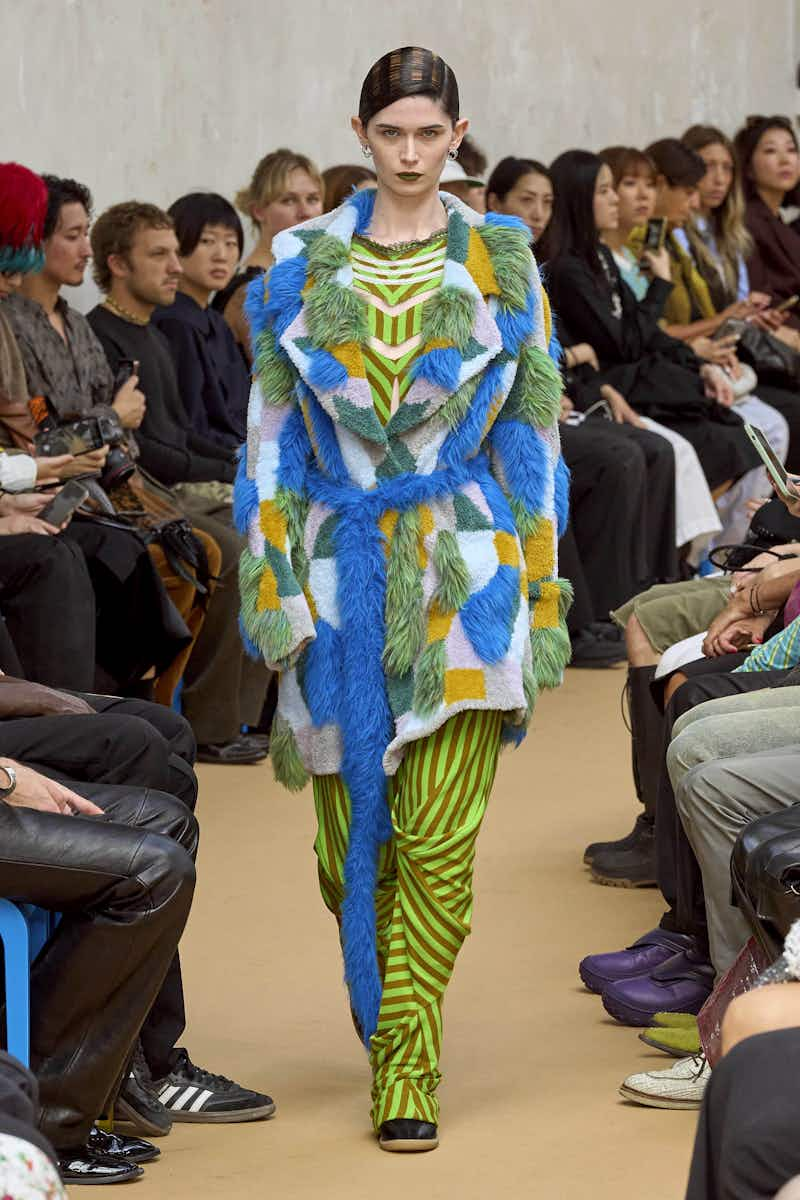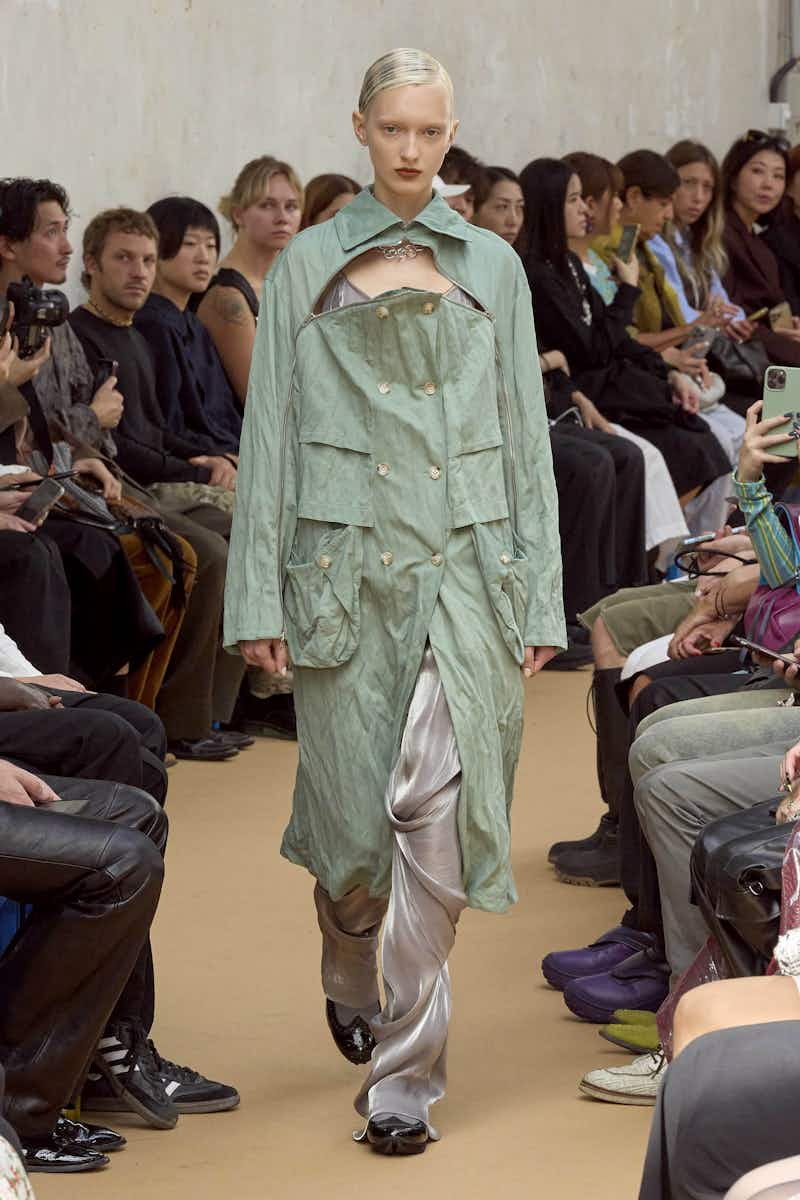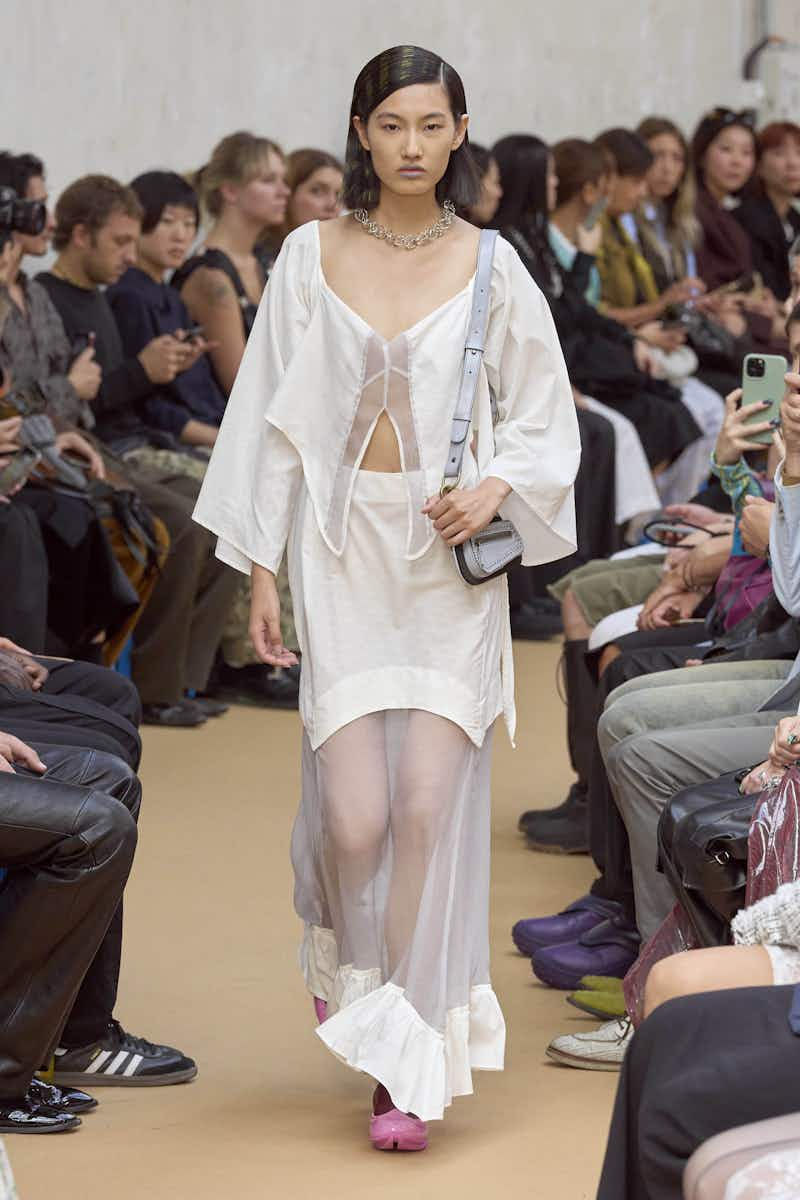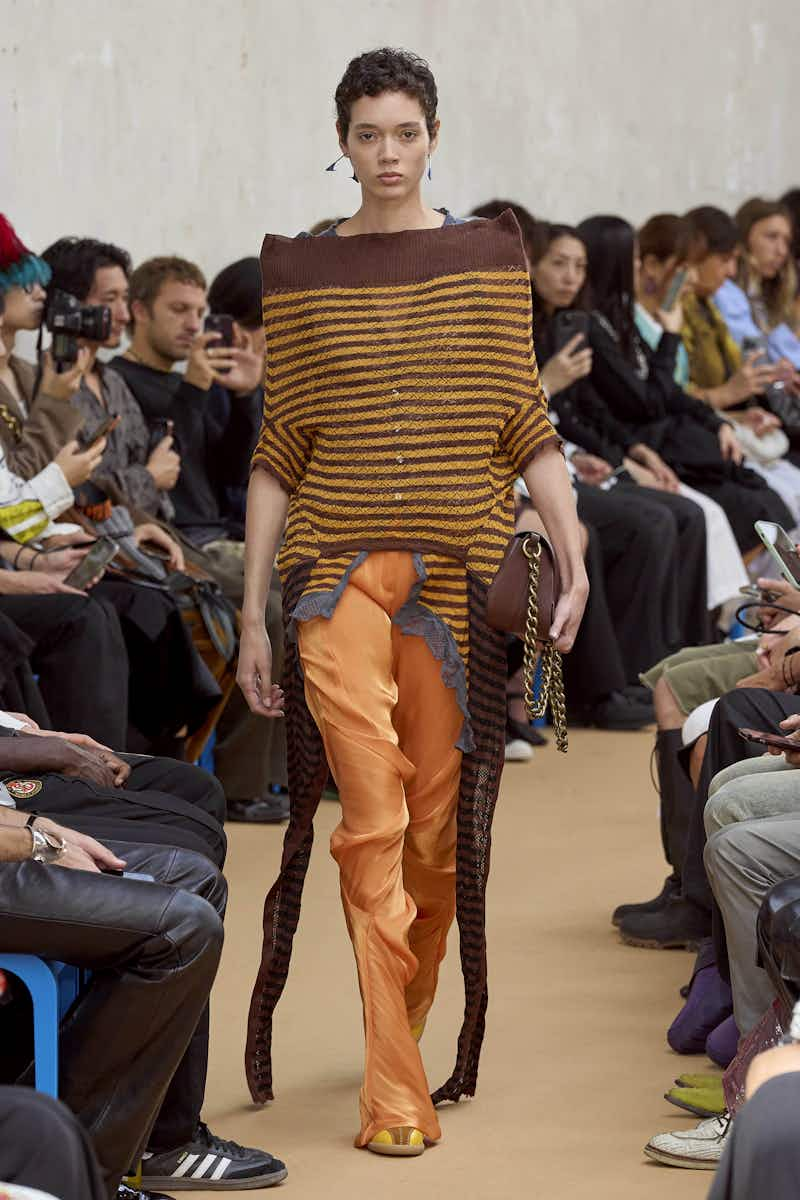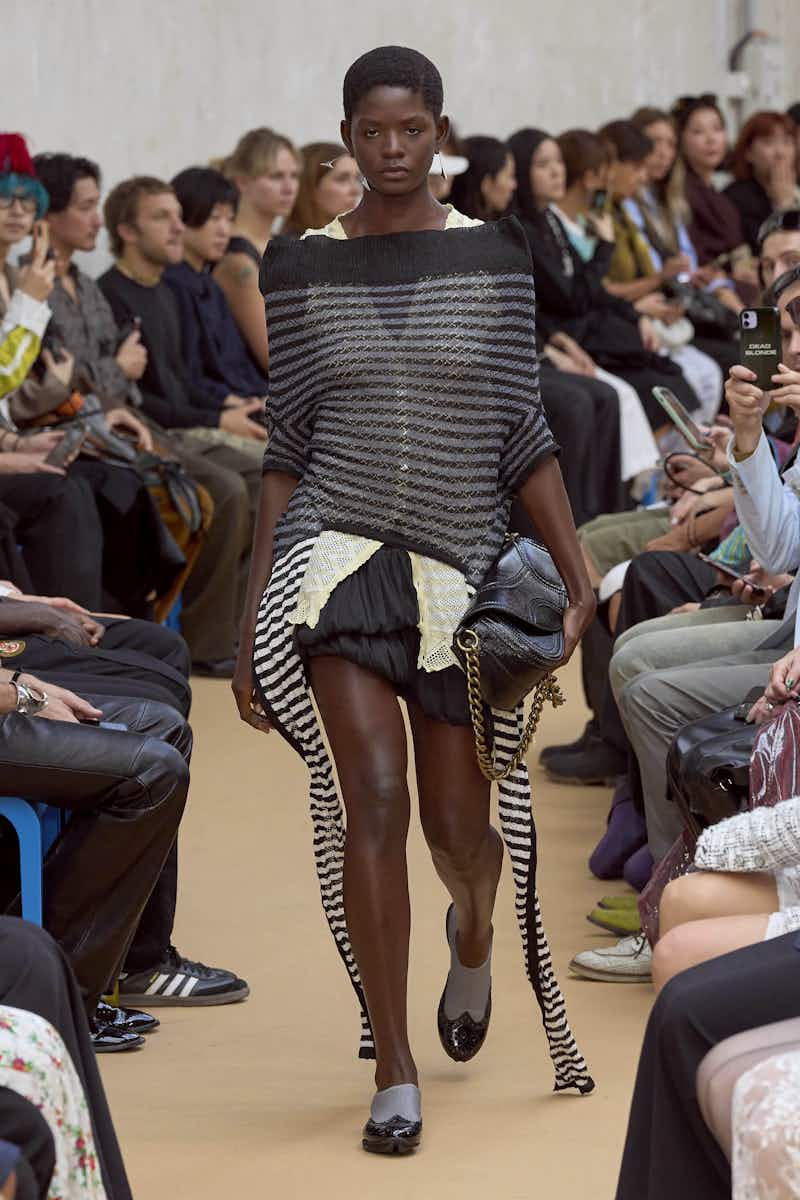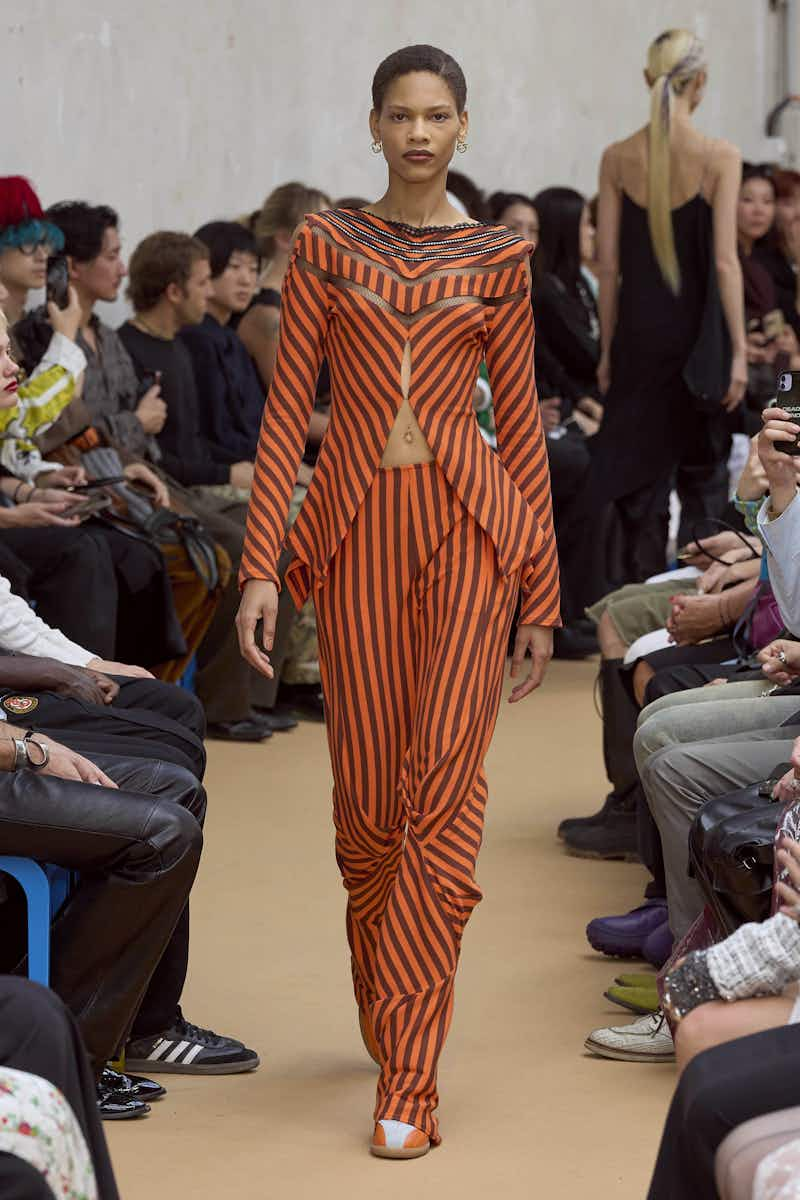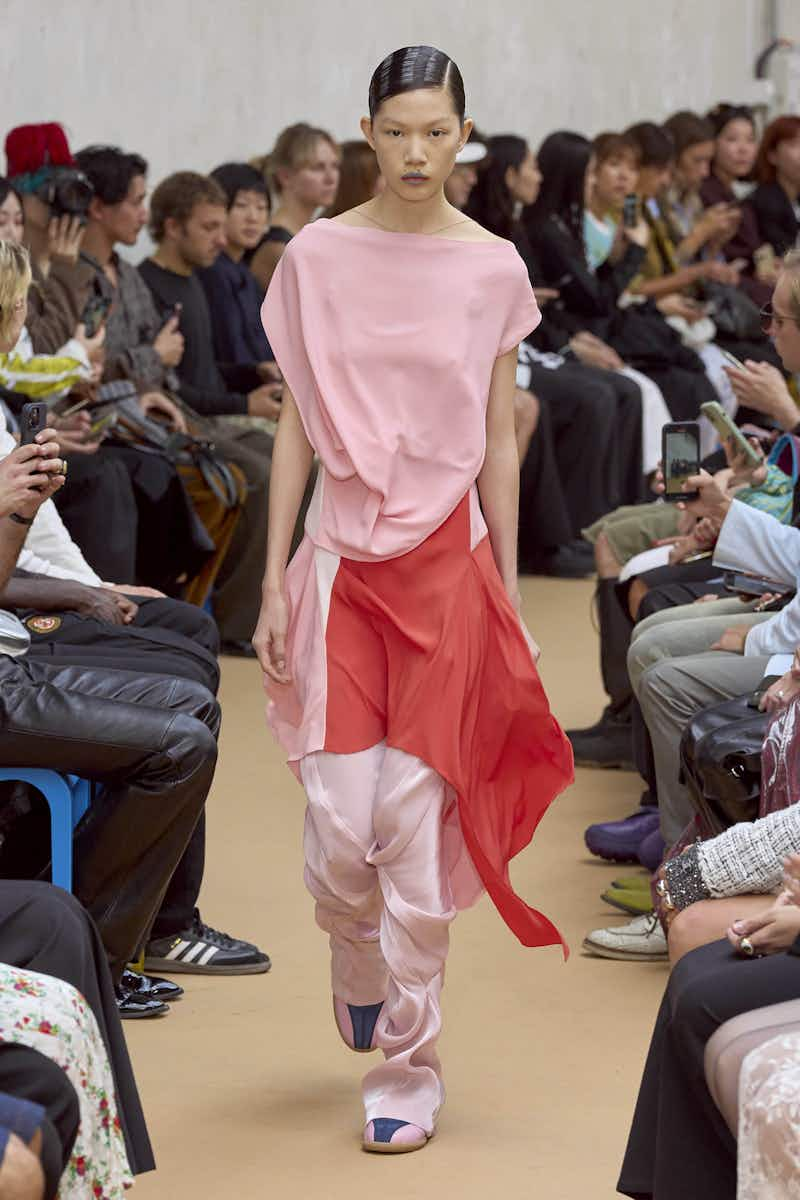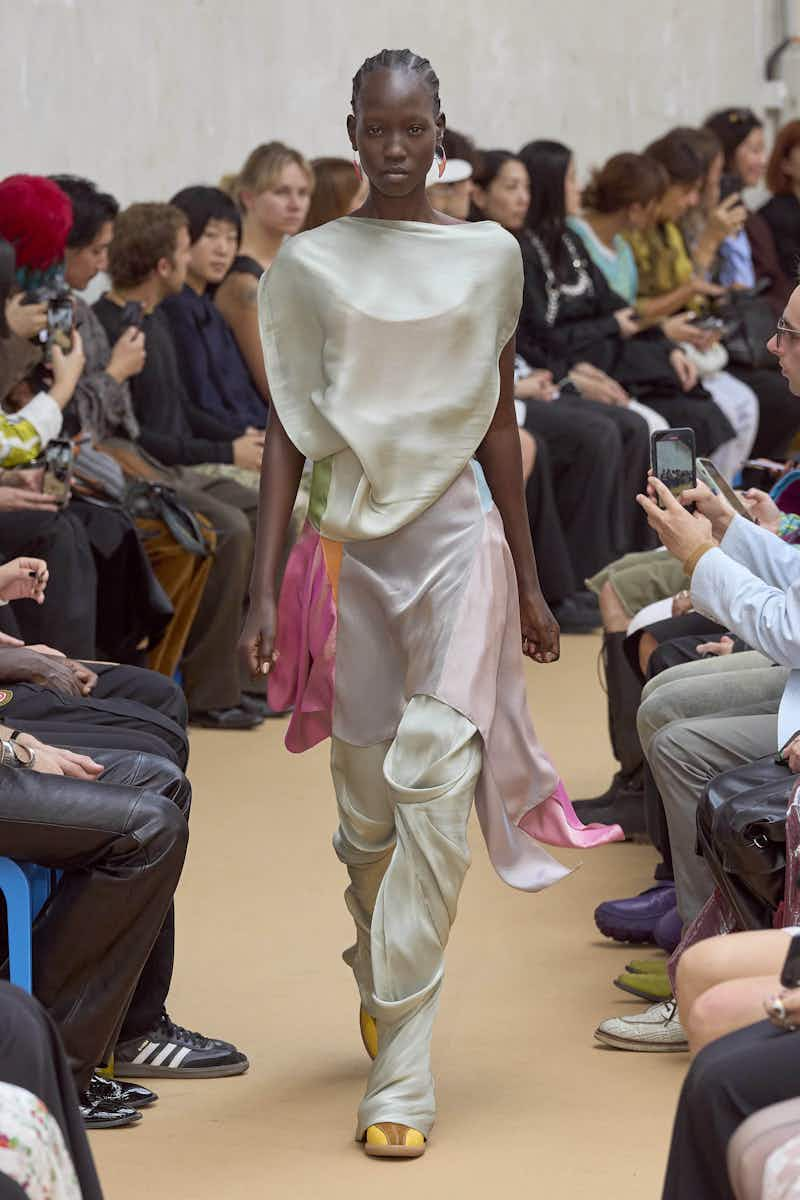 What?

Every fashion show tells a story, but some narratives are played out more theatrically than others. This season, John Galliano reintroduced the story of his star-crossed lovers Count and Hen, characters who first appeared at Margiela's Cinema Inferno couture show last year. This time, he told the tale of their parents' transatlantic crossing and the generational adaptations of an inherited wardrobe. It was a fictional fantasy rooted in surprisingly wearable garments with a DIY spirit.

Where?

In the foyer of Maison Margiela's HQ, where an image of a transatlantic ship towering over the roofs of a 20th-century English port city was projected onto the walls.

What was it like?

Models stomped, waded and walked idiosyncratically down the runway, clutching themselves or with their heads down, scowling. The collection highlighted the storytelling qualities of clothes, how they take on new lives and meanings when they get passed down through generations. Fashion week can feel like a constant stream of newness, but this was an ode to the classic simplicity of our parents' and grandparents' clothes.

The show kicked off with voluminous black tailored coats, worn with oversized white shirt collars and Tabi brogues. These soon gave way to certain Galliano-isms, such as 1950s cropped ball gowns and eccentric wonky hats. A DIY fashion school spirit came through bin bag dresses, lampshade hats and exposed stitching, balanced with smart tailoring and coquettish knee-high socks. Each model became a character, adding a fresh dimension to each look and proving that storytelling can help strike a balance between commerciality and creativity.

In a word?

Theatrical.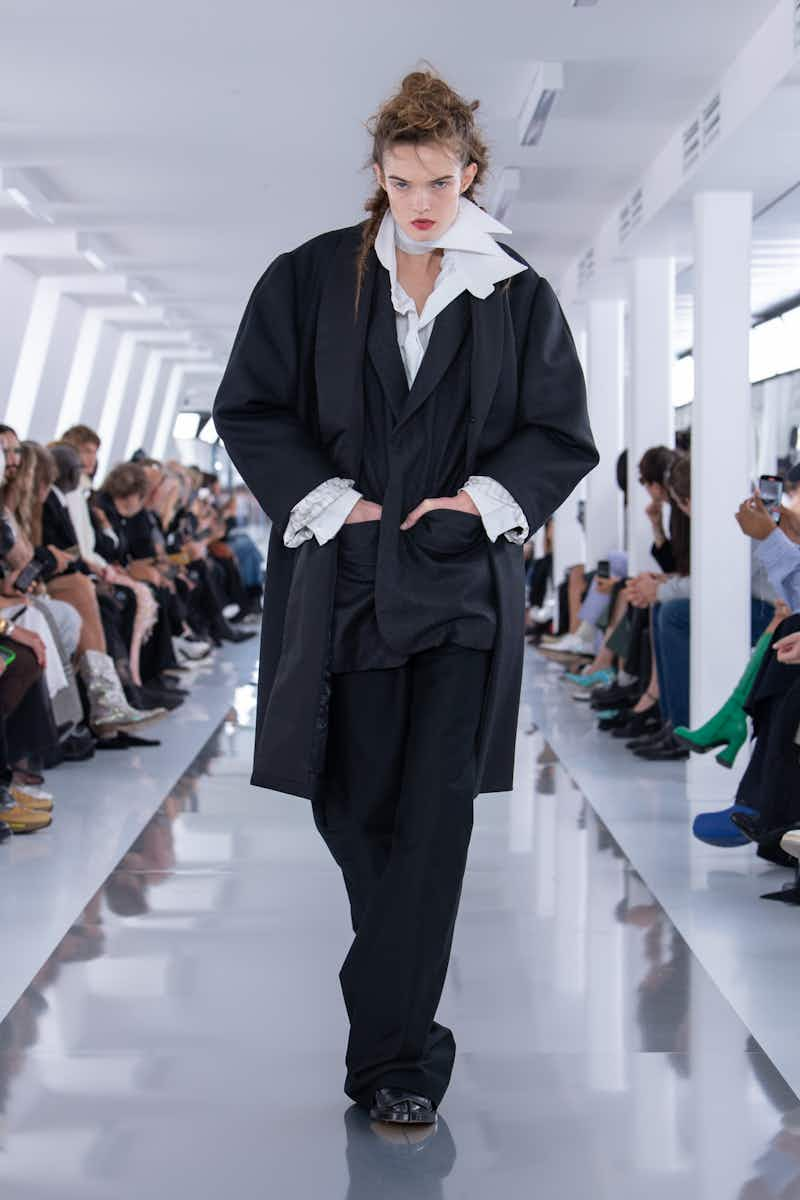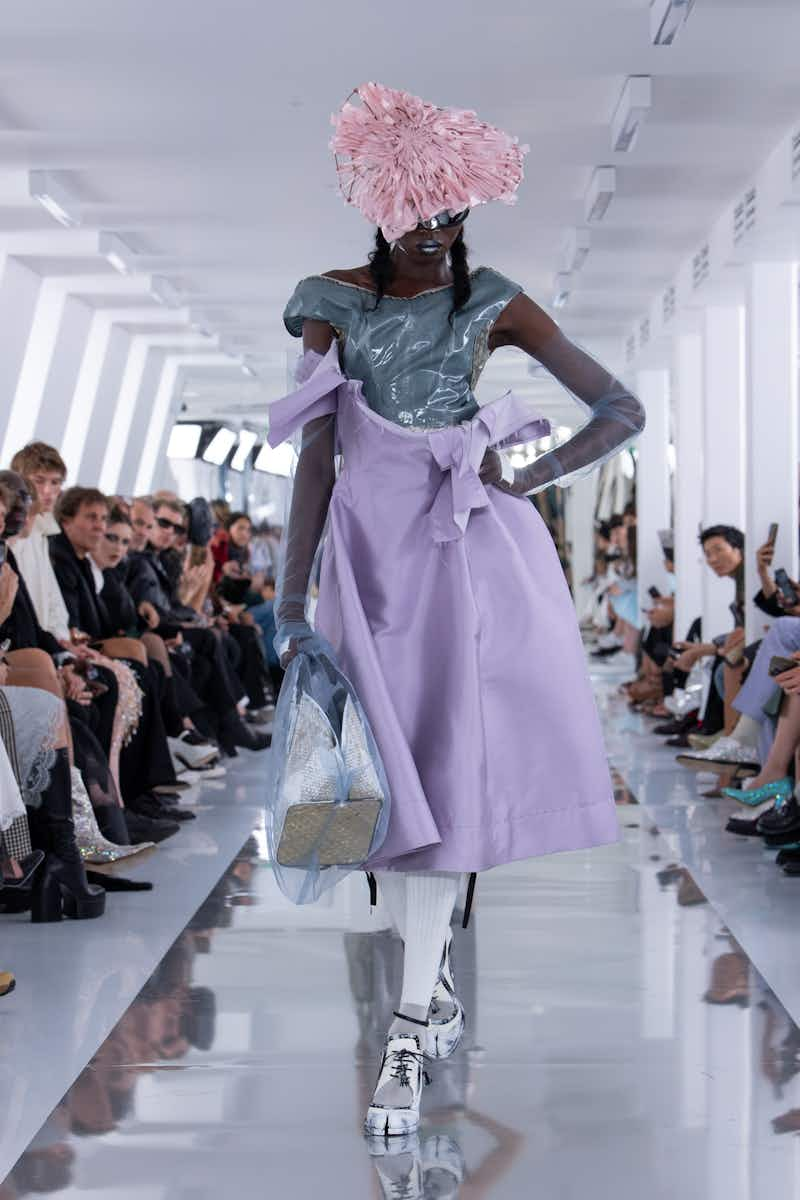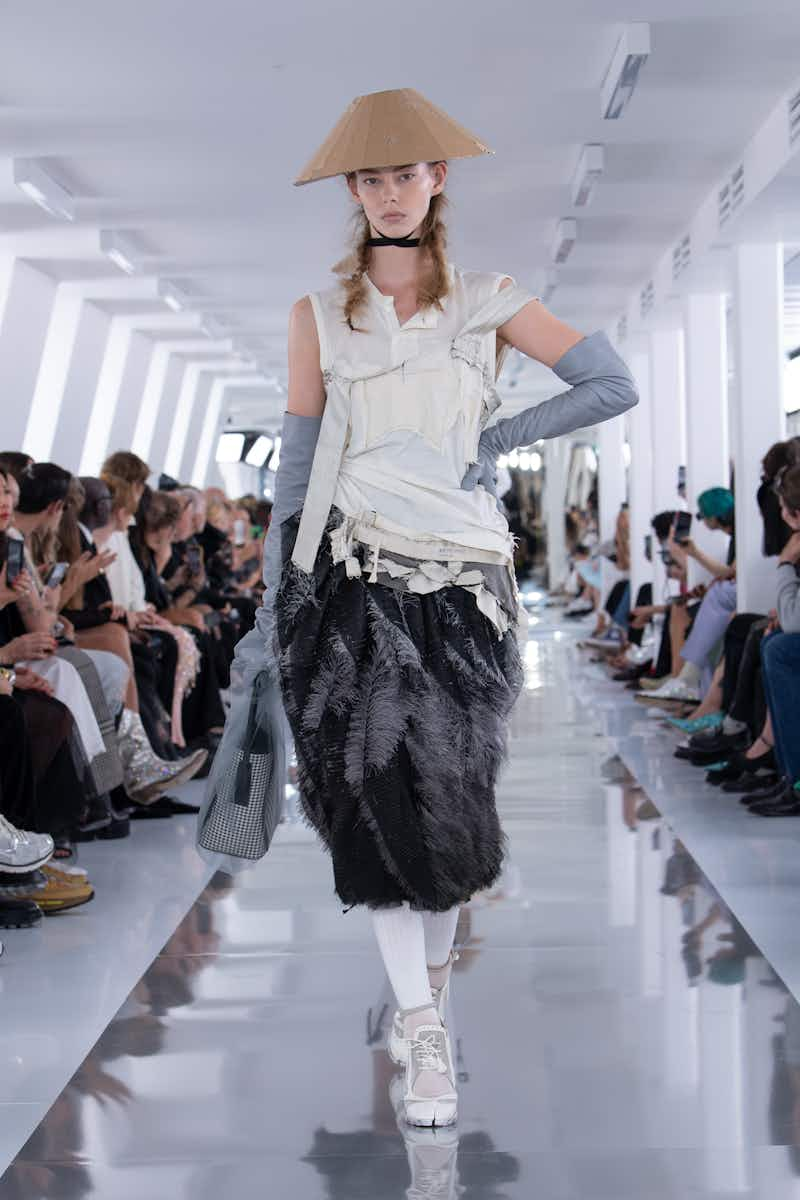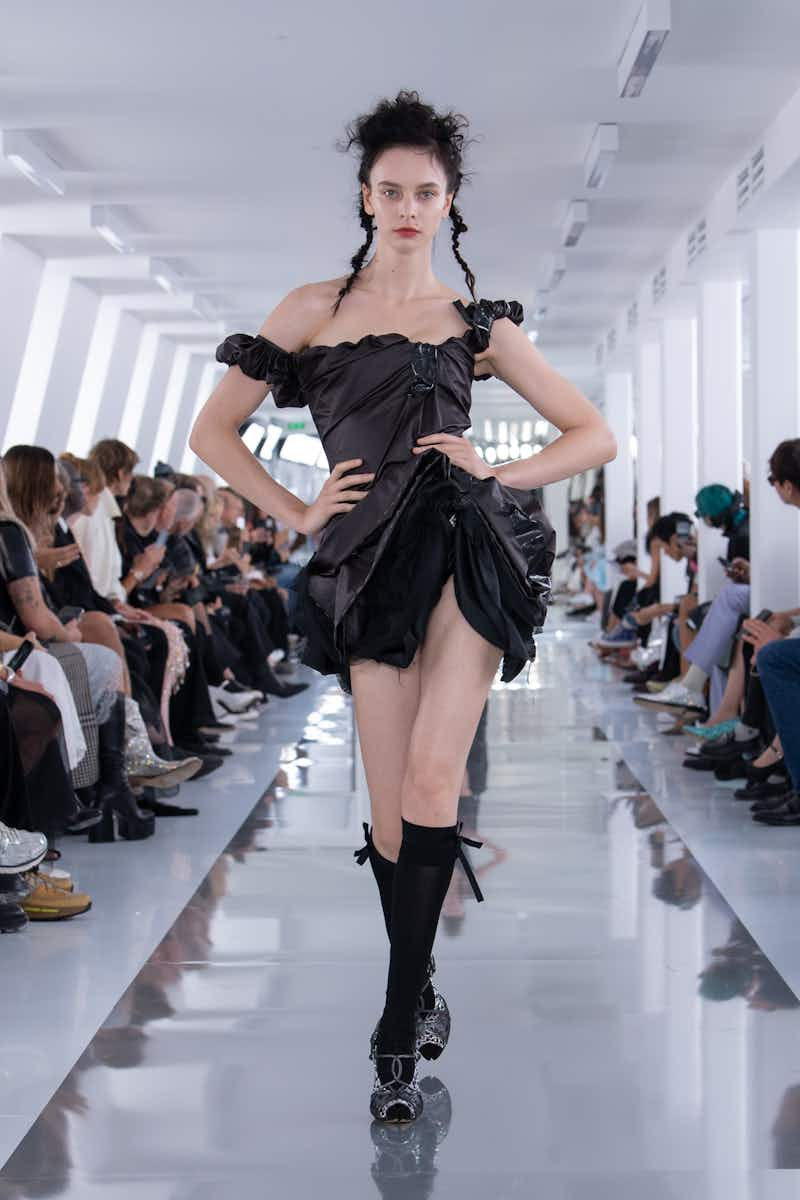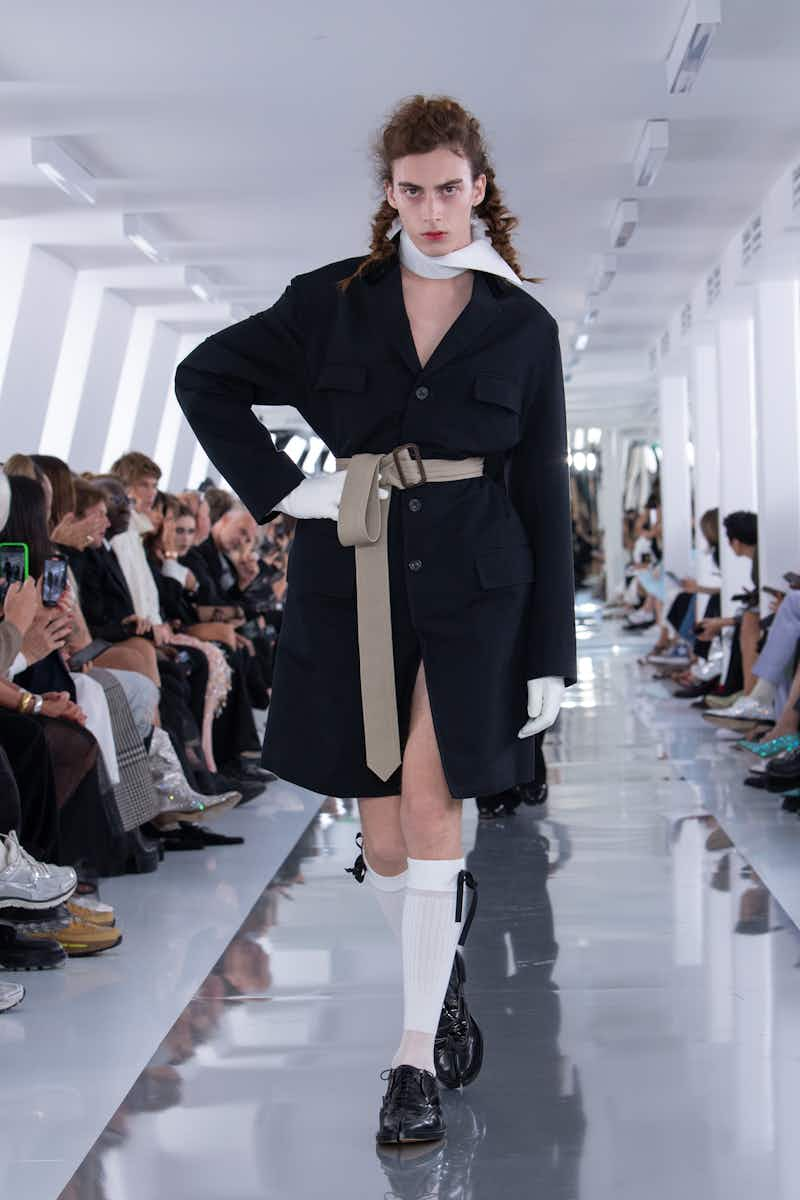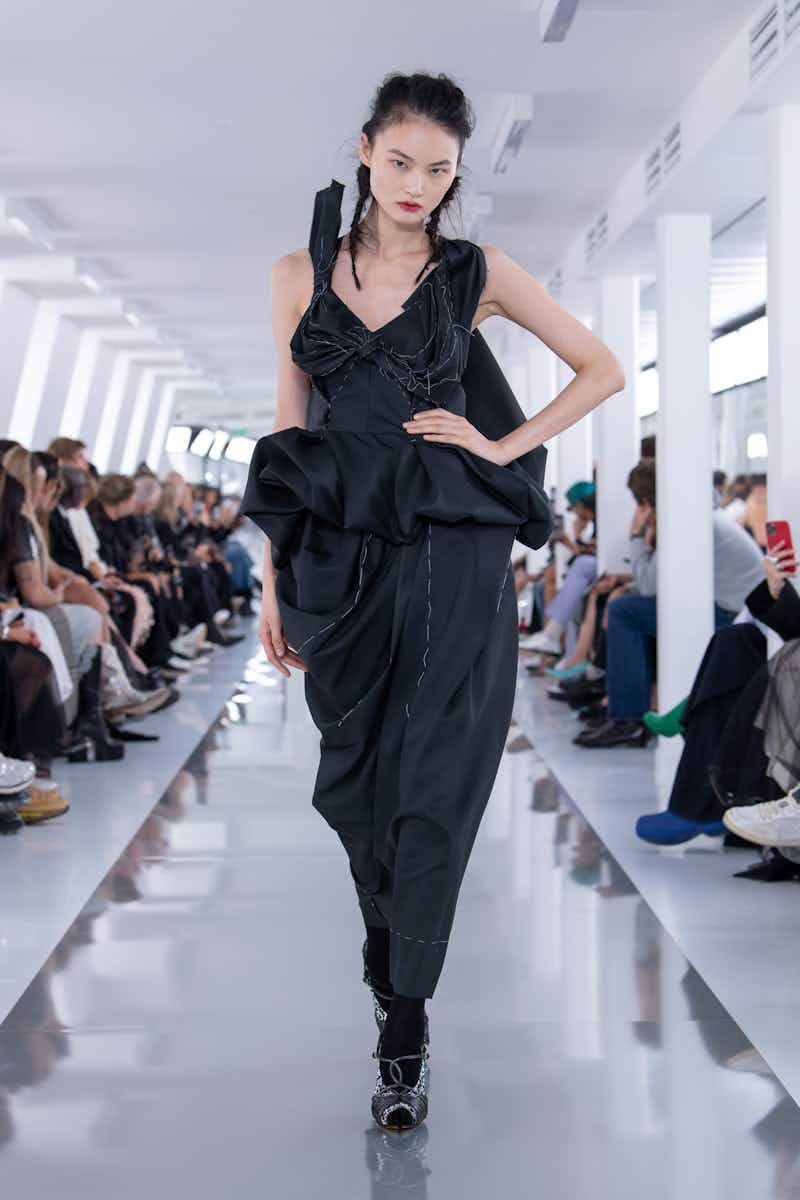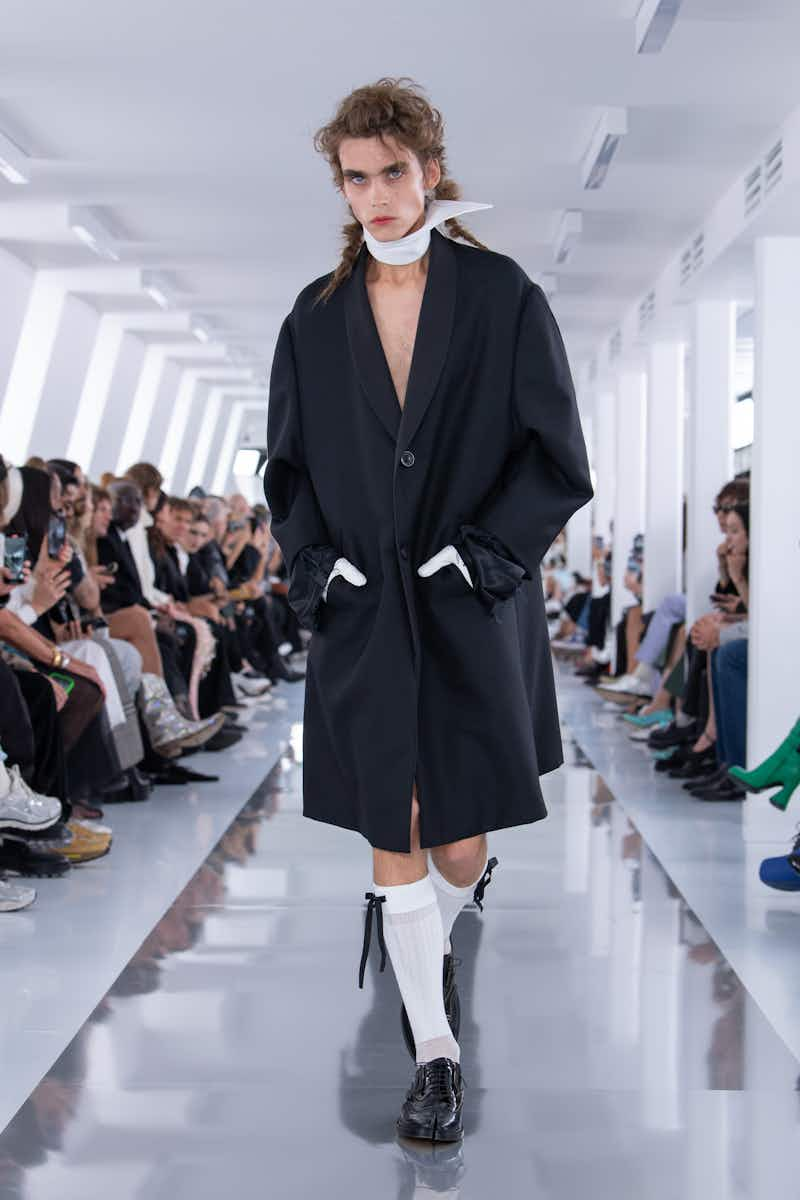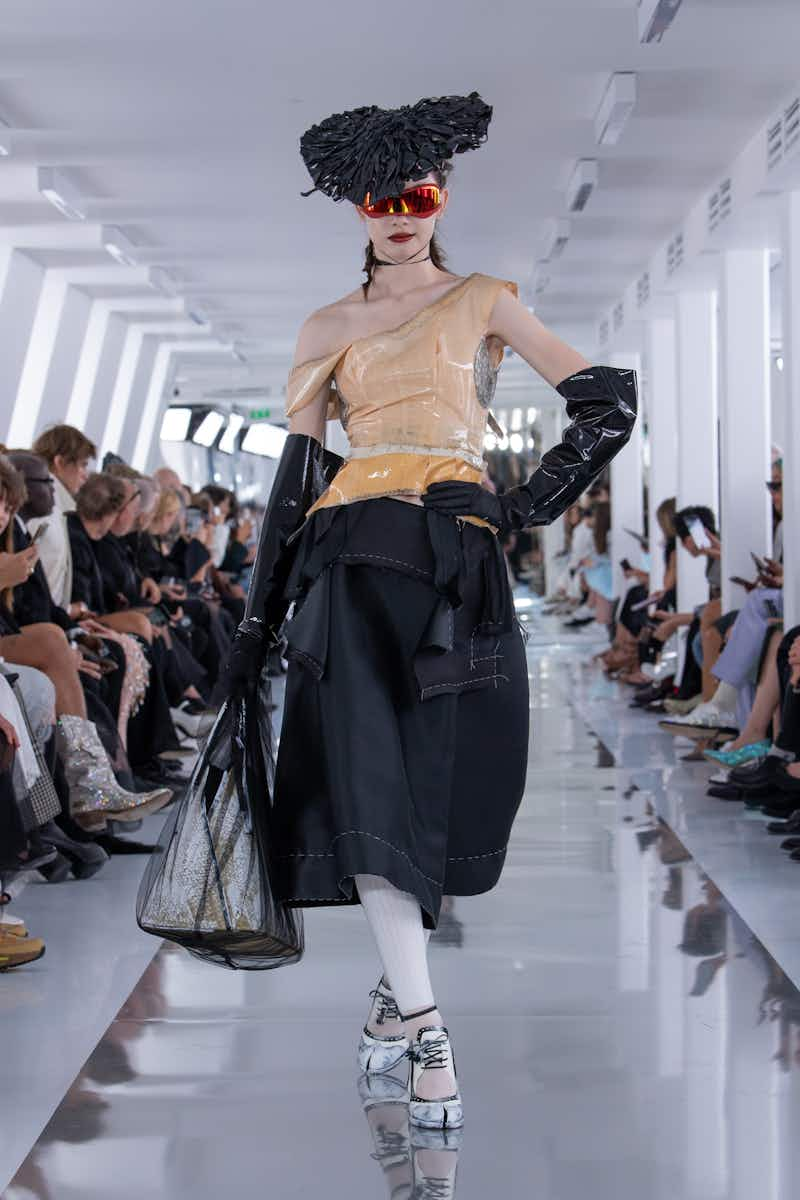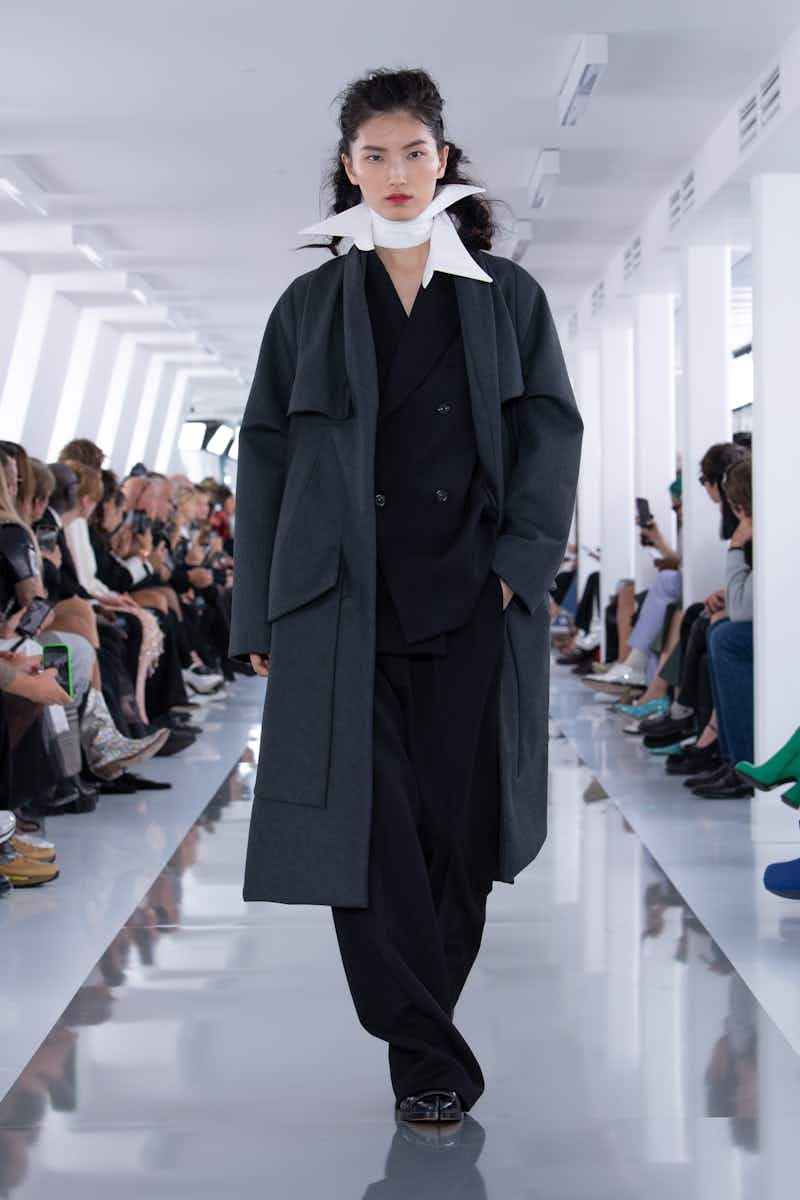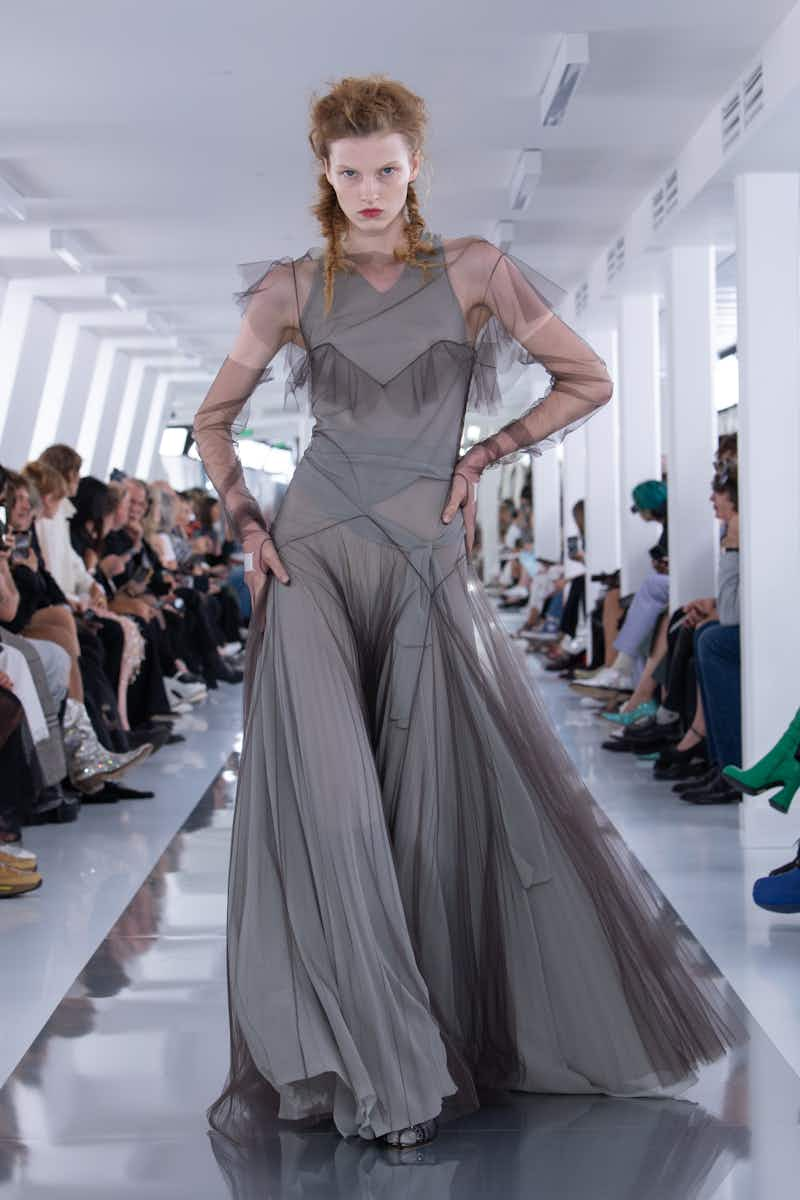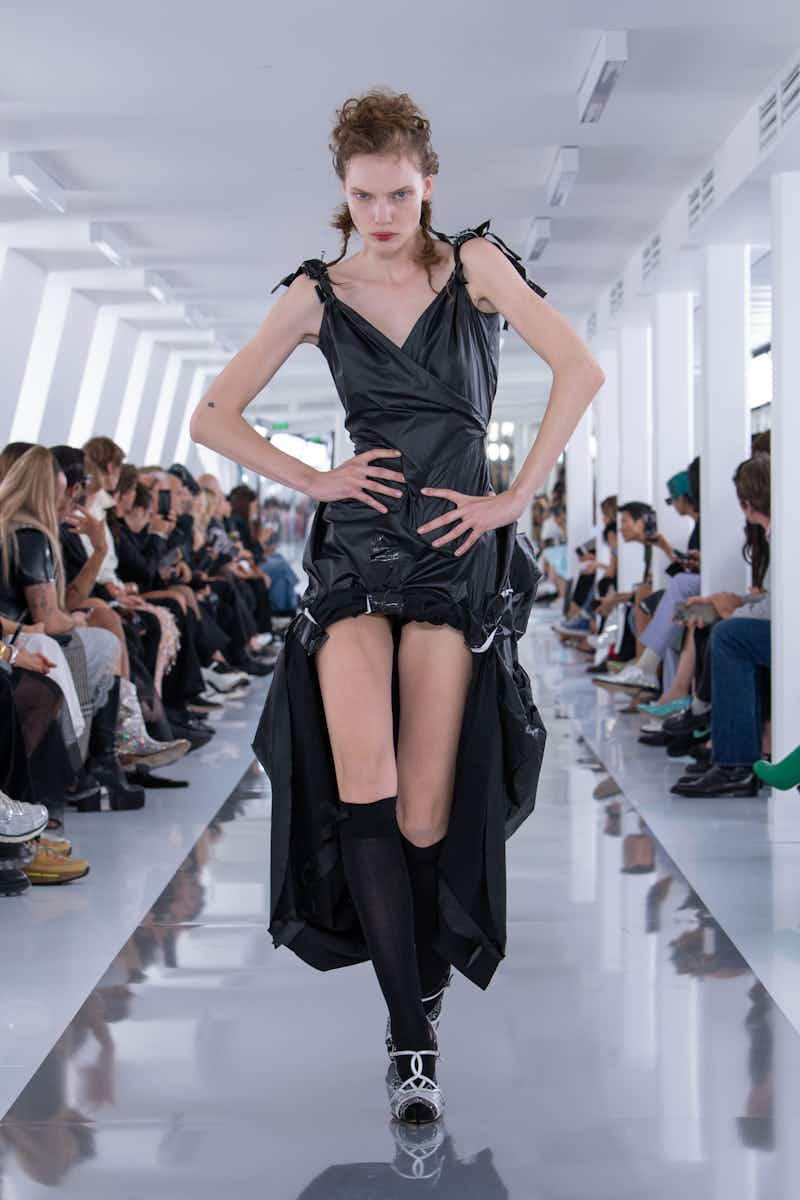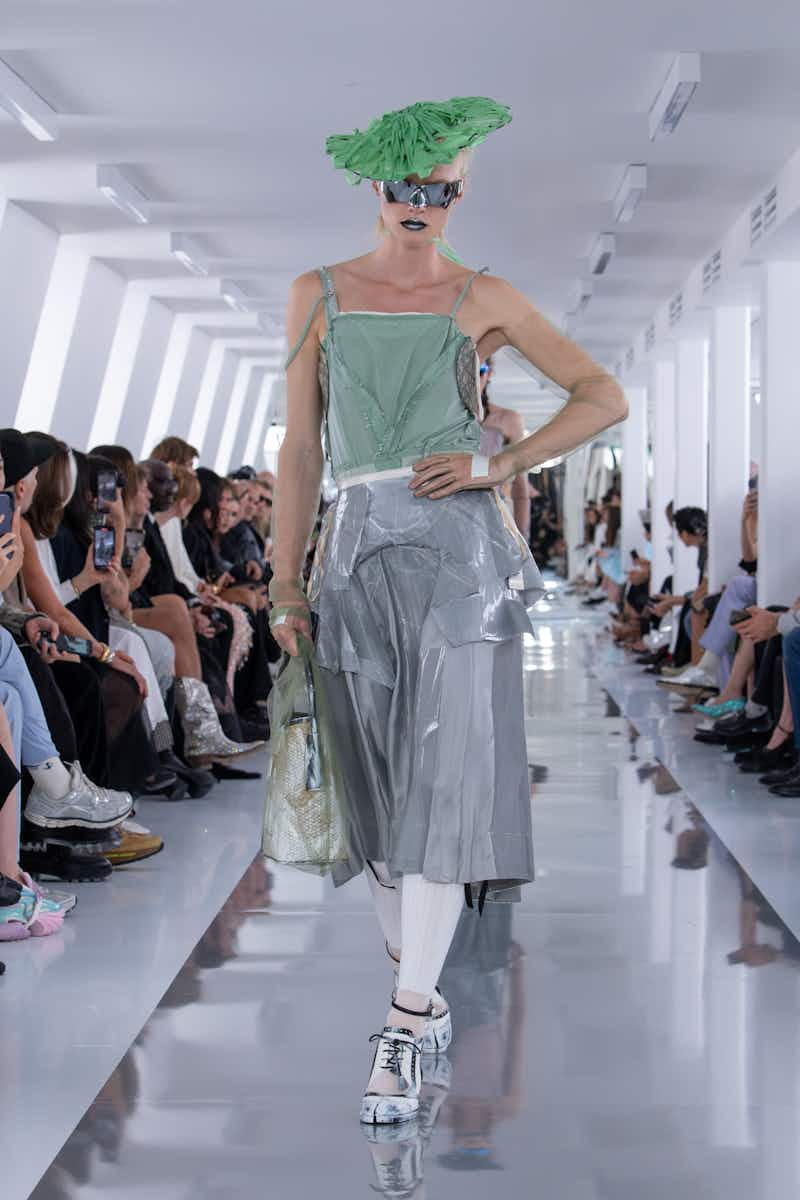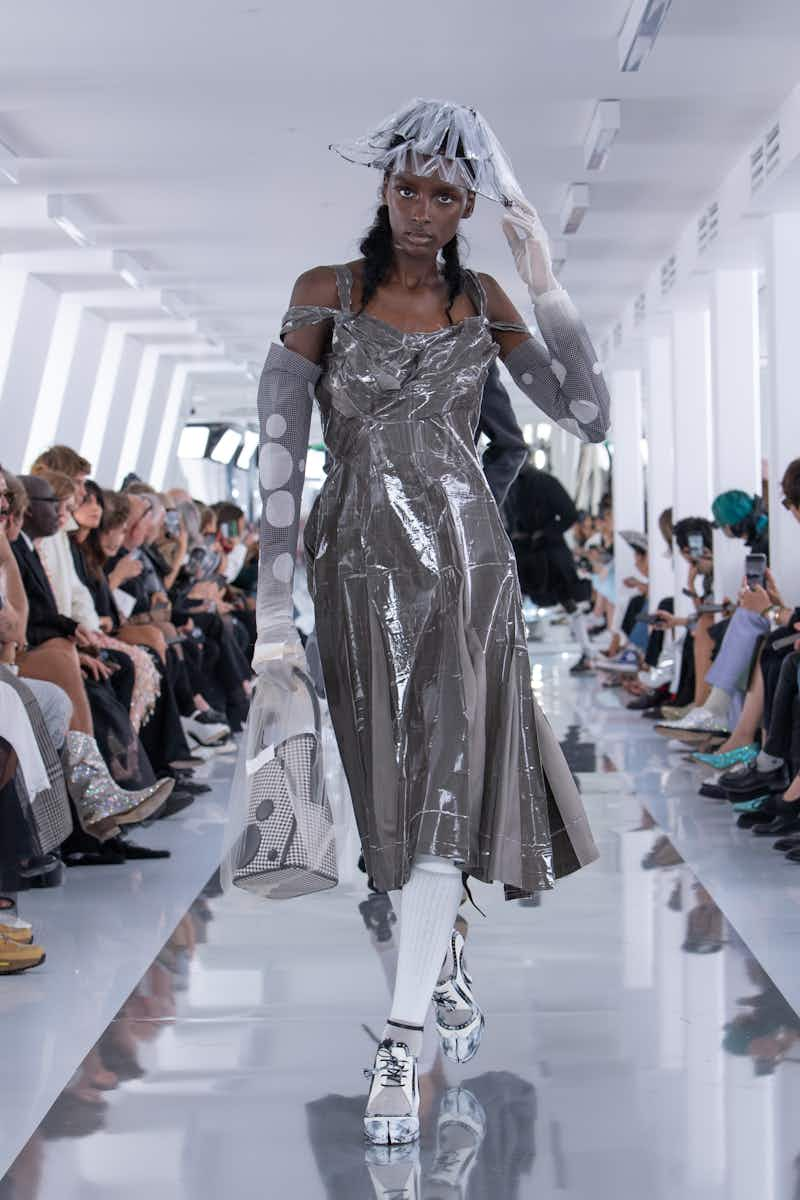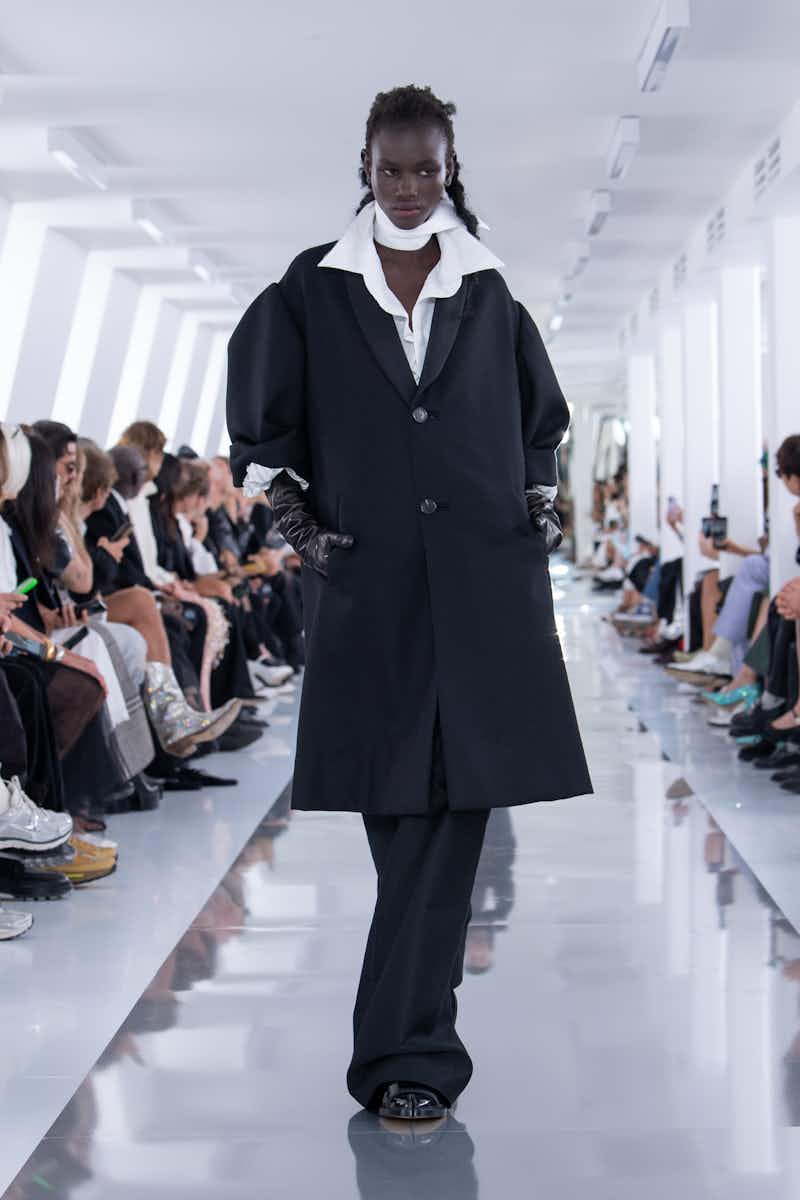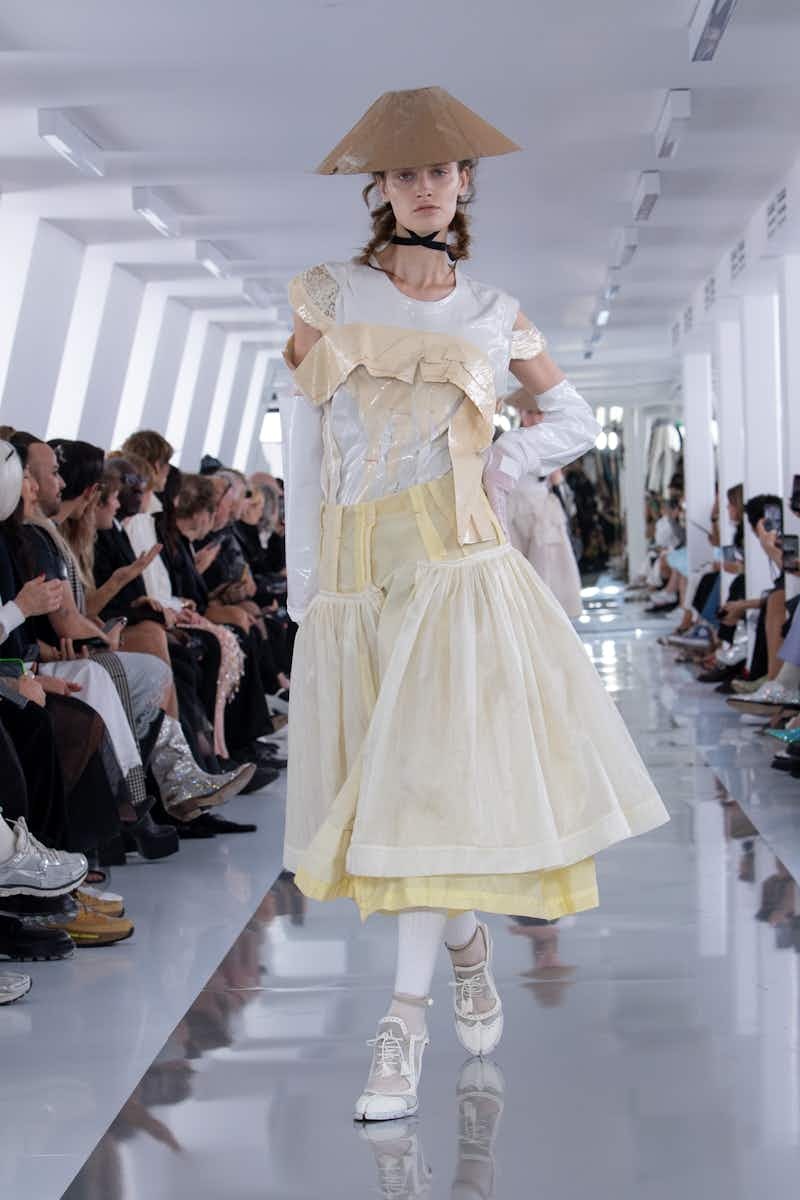 What?
An aquarium of inventive under the sea silhouettes that got whoops and cheers from the crowd – no small feat on the penultimate day of fashion week when everyone's knackered.
Where?

Beneath the Louvre, inside Les Salles du Carrousel, large industrial fans created a theatrical wind tunnel so that chiffon trailed behind models like tentacles under the sea.

Who walked?

The star-studded cast included Paris Hilton, Angela Bassett and Helena Christensen, as well as top models Paloma Elsesser, Anok Yai and Fan Bingbing. Dark lighting left people in suspense, waiting to see who might next emerge out from the deep.

What was it like?

When Mugler's H&M collab sold out online in just eight minutes, it boosted their legendary corsets and bodysuits into the true mainstream, but it also prompted a change in direction. When people asked creative director Casey Cadwallader why he had reproduced his best-selling designs – mesh bodysuits, corseted tops, sculptural minidresses – at a more accessible price point, he wanted to answer, ​"I'm done with these. These have been my best things so far, but I'm going to pivot this way afterwards." And, this season, pivot he did, pushing the boundaries of Mugler's design DNA to explore his childhood fascination with marine biology, presenting a collection inspired by the enthralling world of life in the ocean.

Deep sea creatures may look ugly, but Cadwallader reimagined underwater slugs and molluscs as things of pure beauty. Sheer spiky tops bristled like sea urchins and jackets were splashed with ombre and polka dots inspired by undersea slugs. Long trains of chiffon rippled like tentacles in the sea and showstopping sequin bodysuits featured extensions that sprayed out from the body like plankton. But it didn't feel costume‑y. Instead, it captured the pure joy that comes from taking a deep dive into our childhood interests and coming up victorious.

In a song?

Under The Sea from The Little Mermaid

In a word?

Spectacular.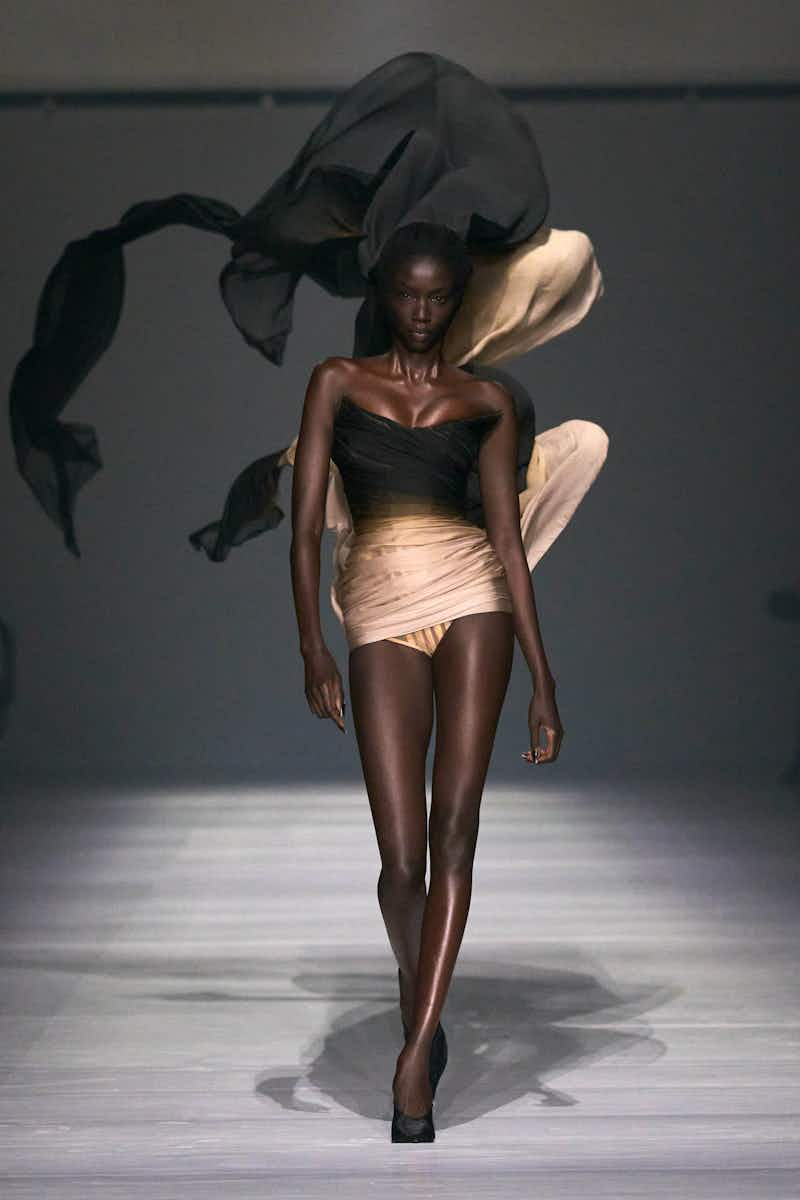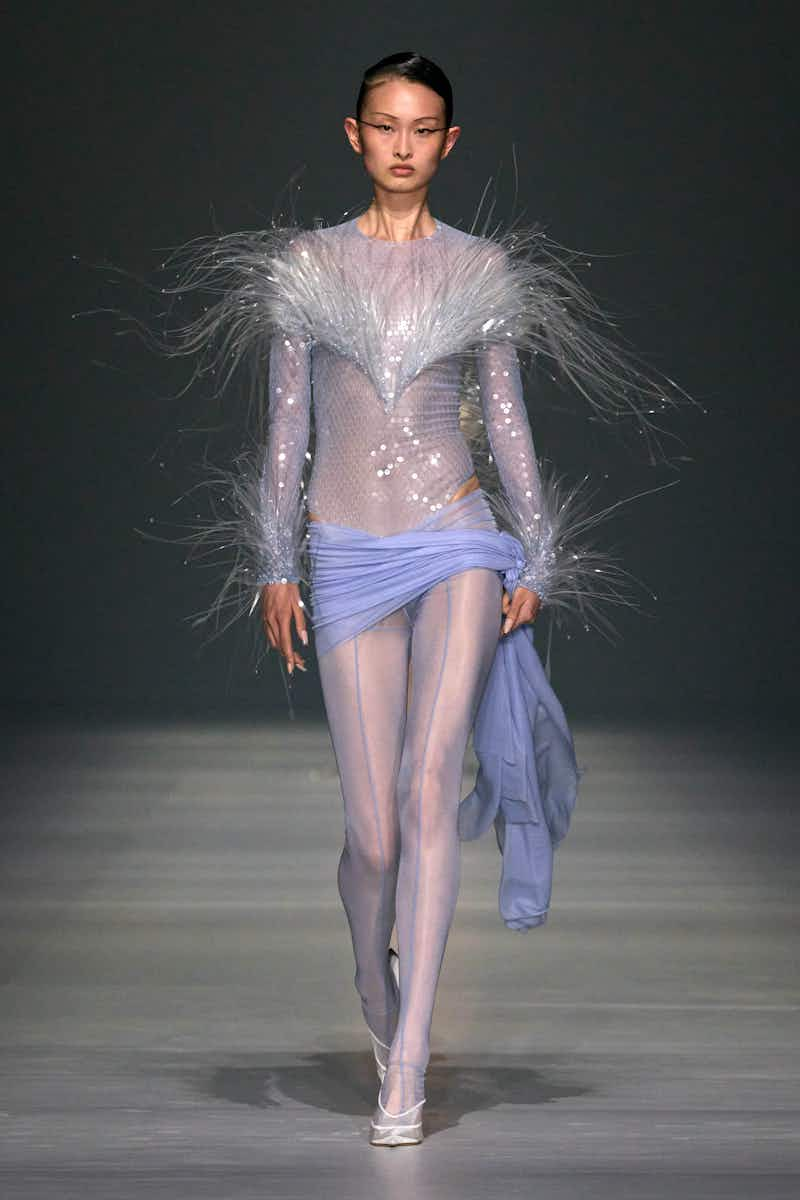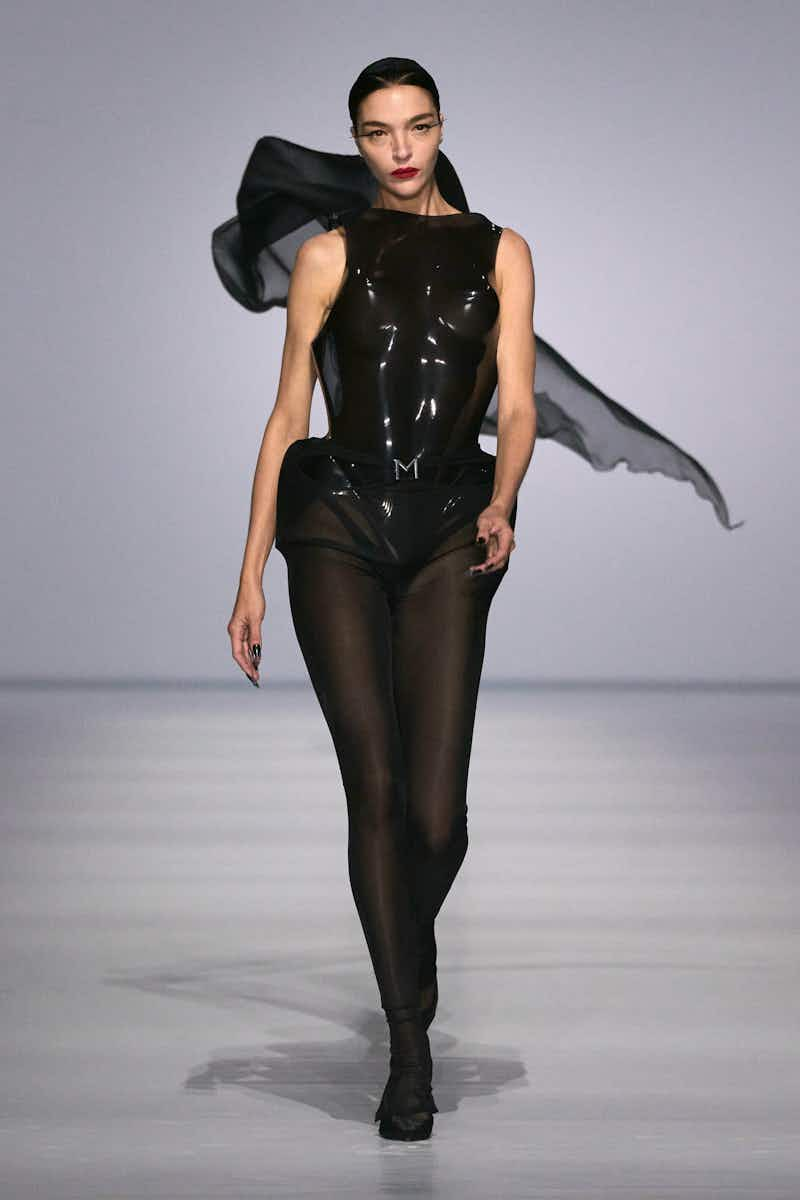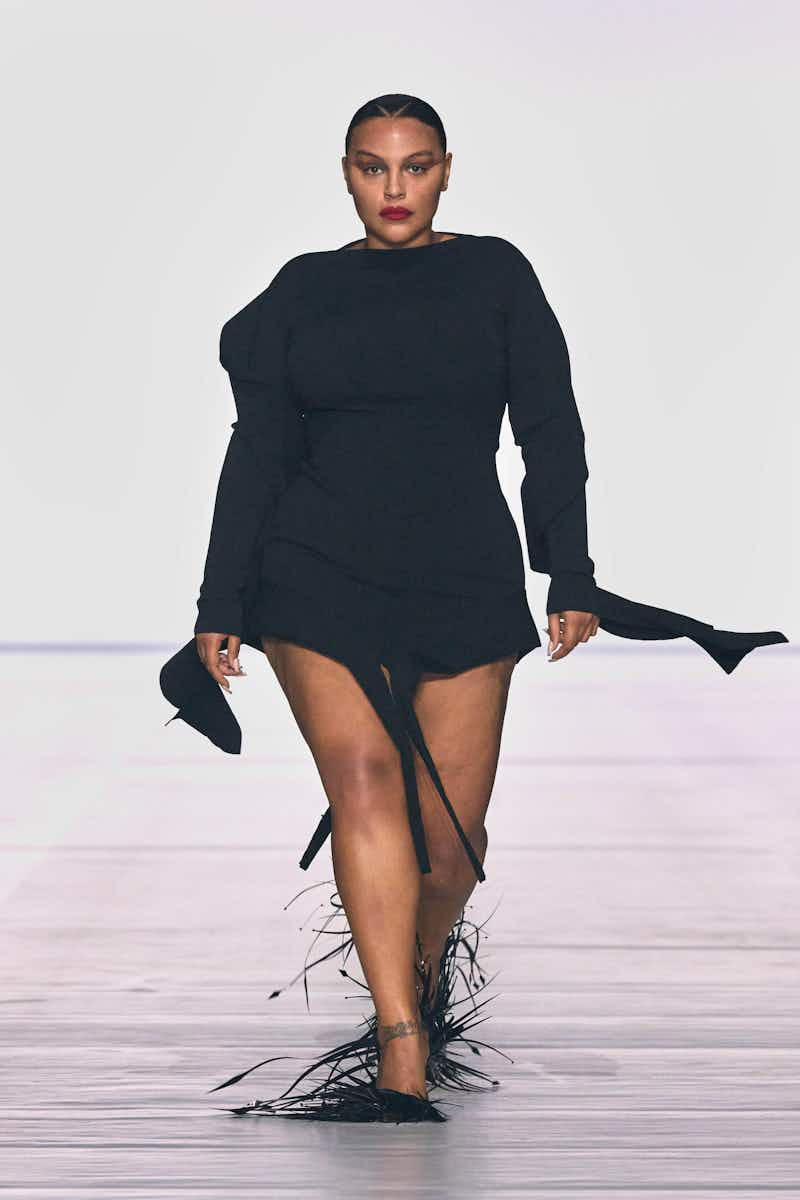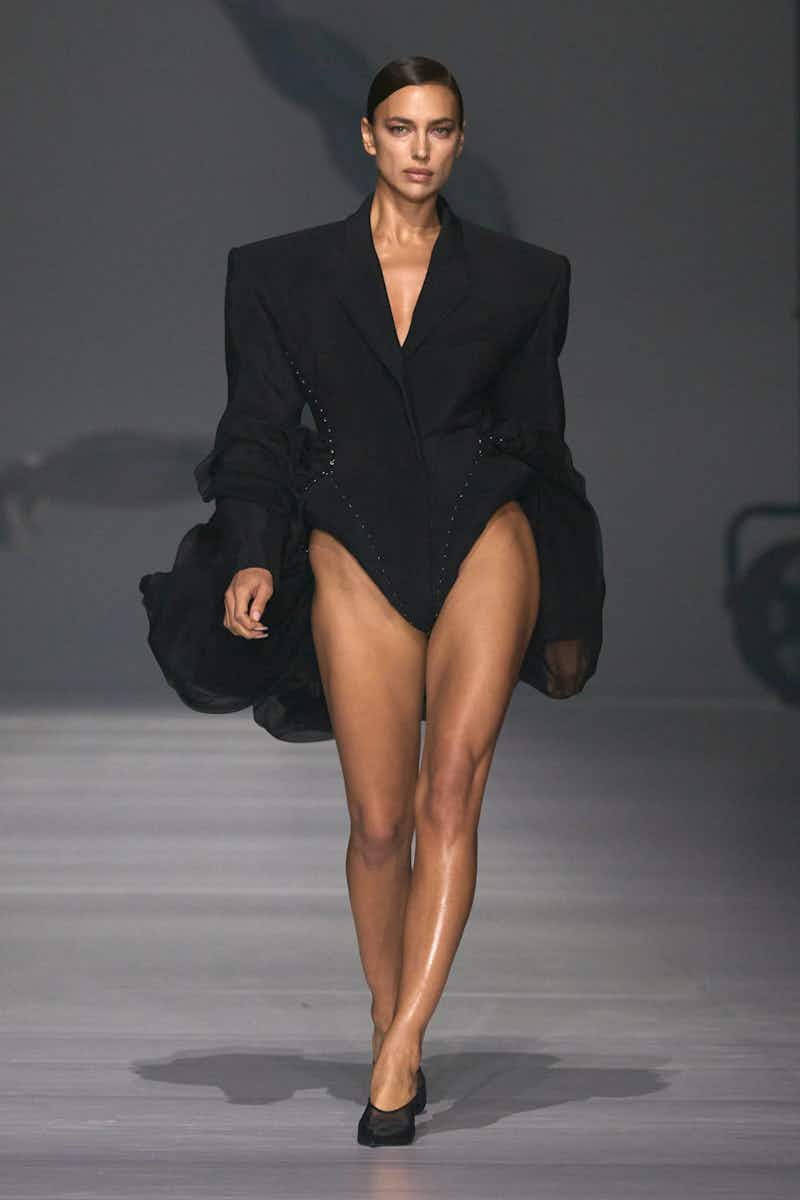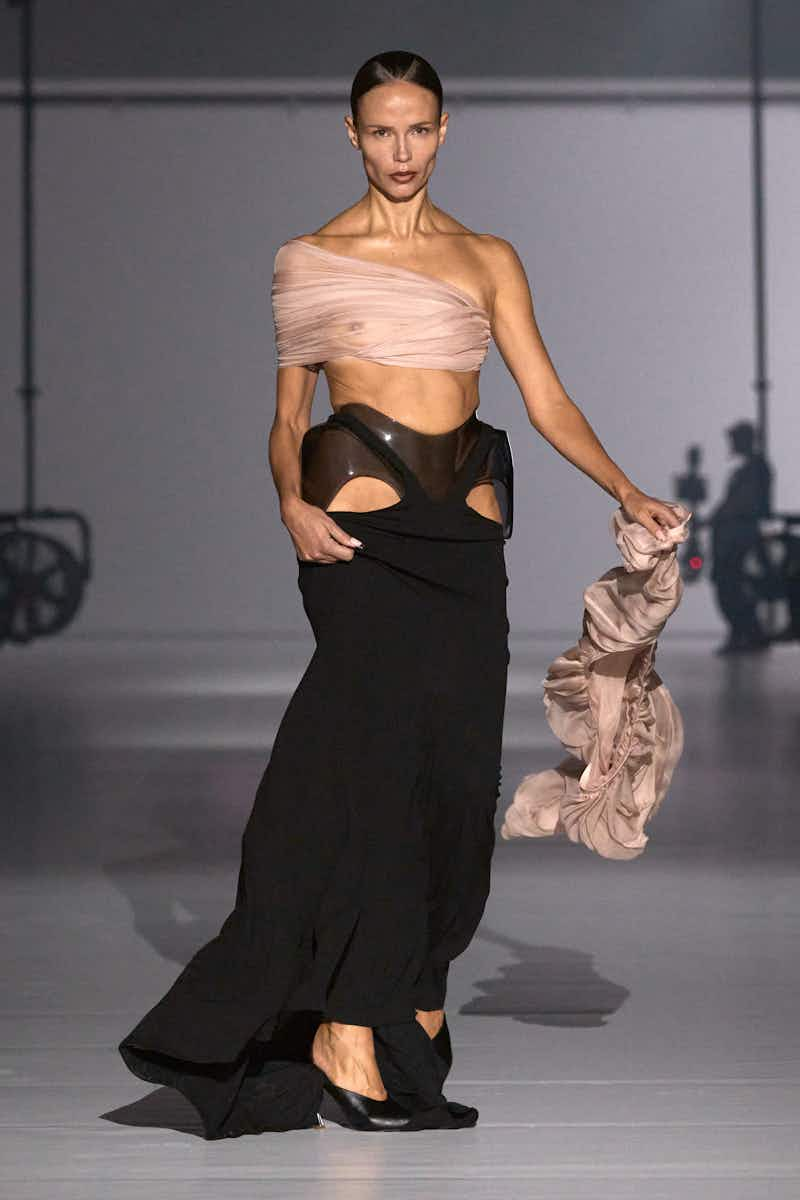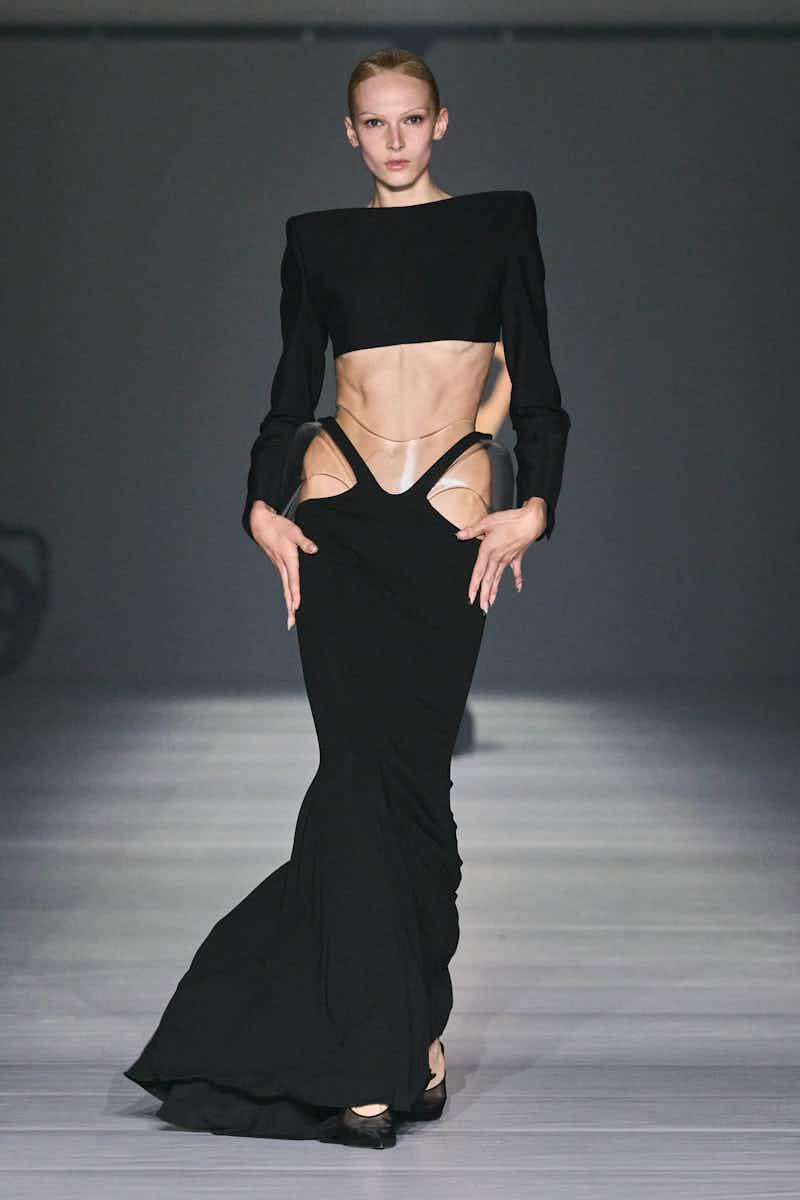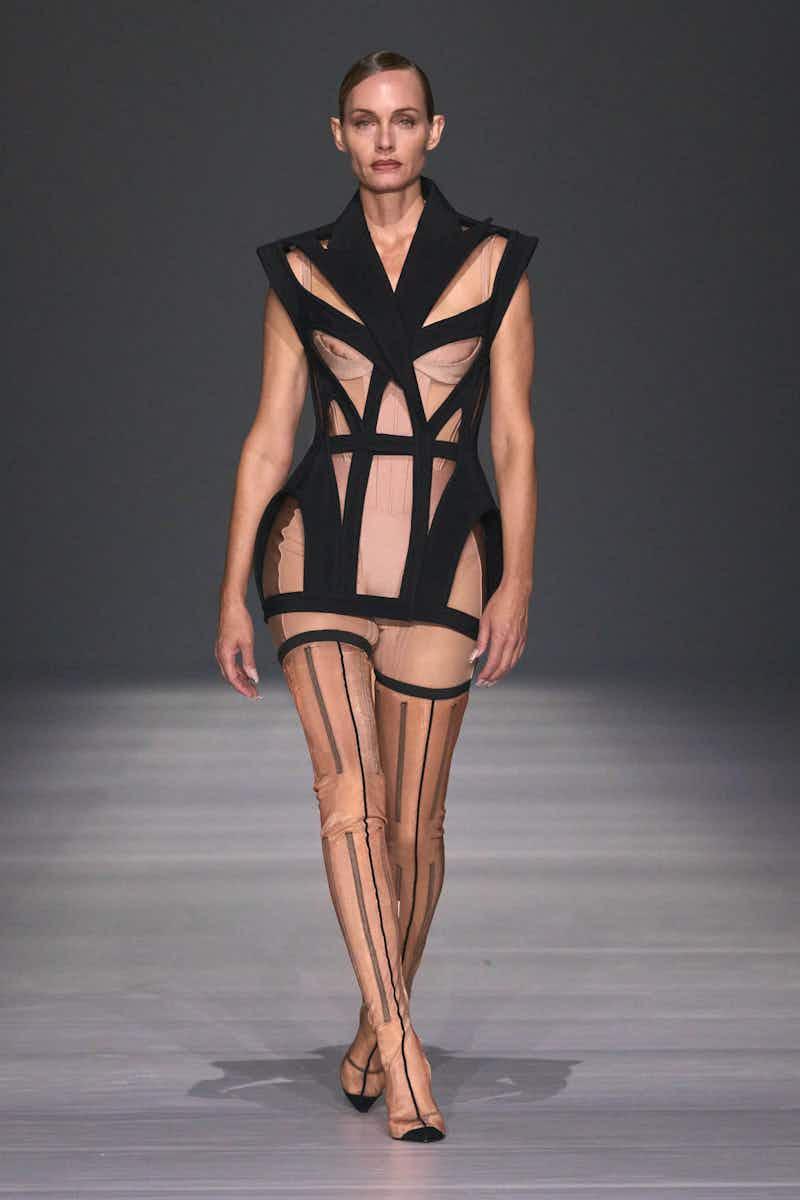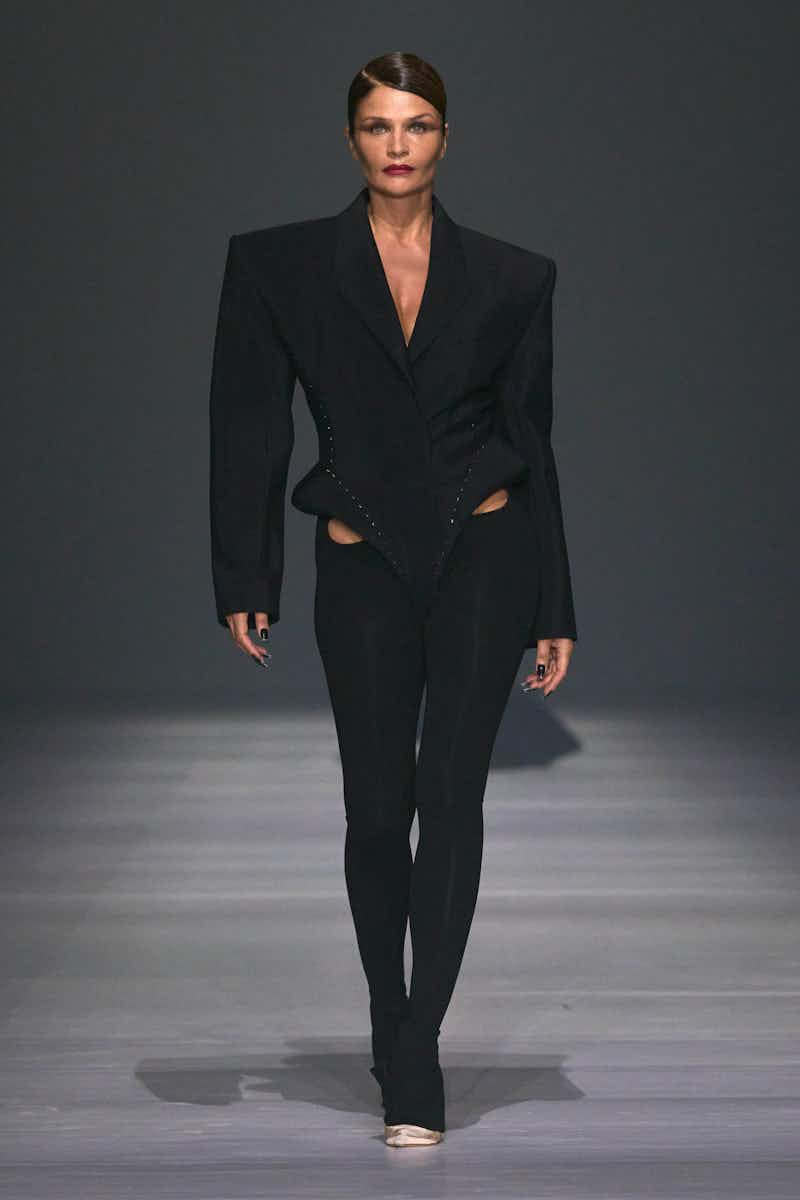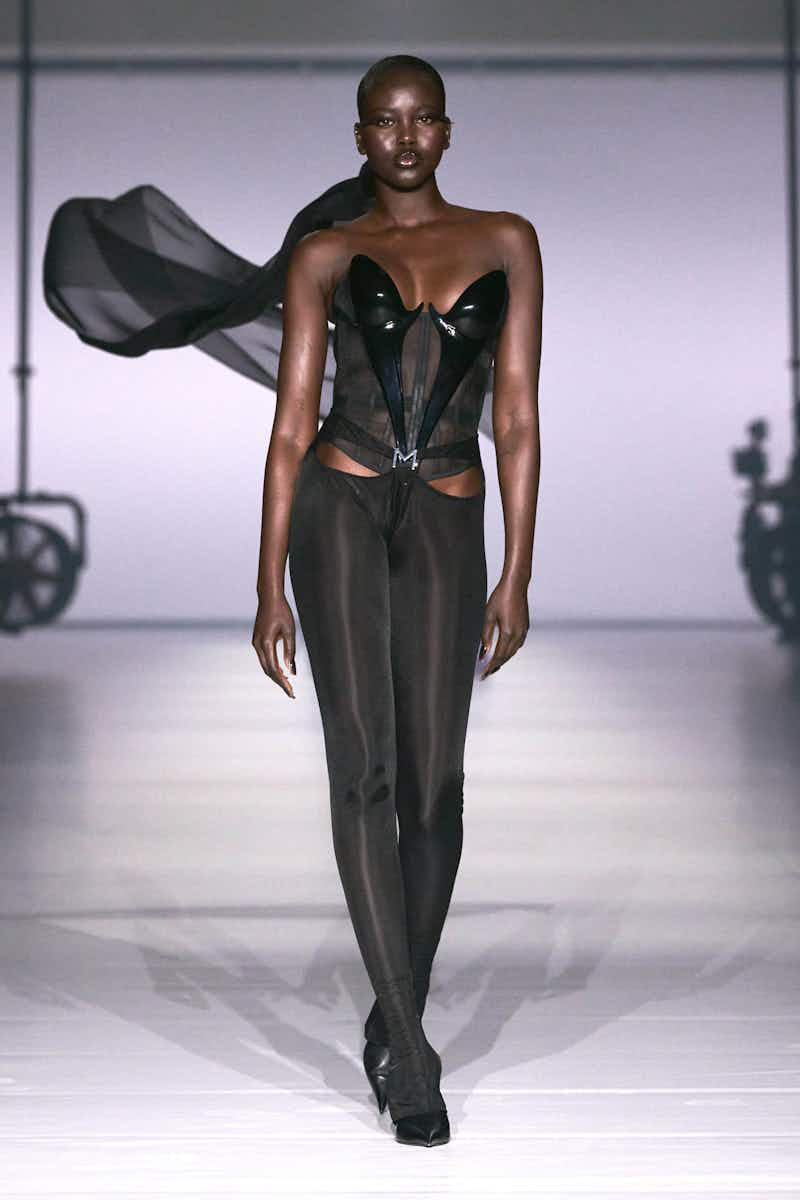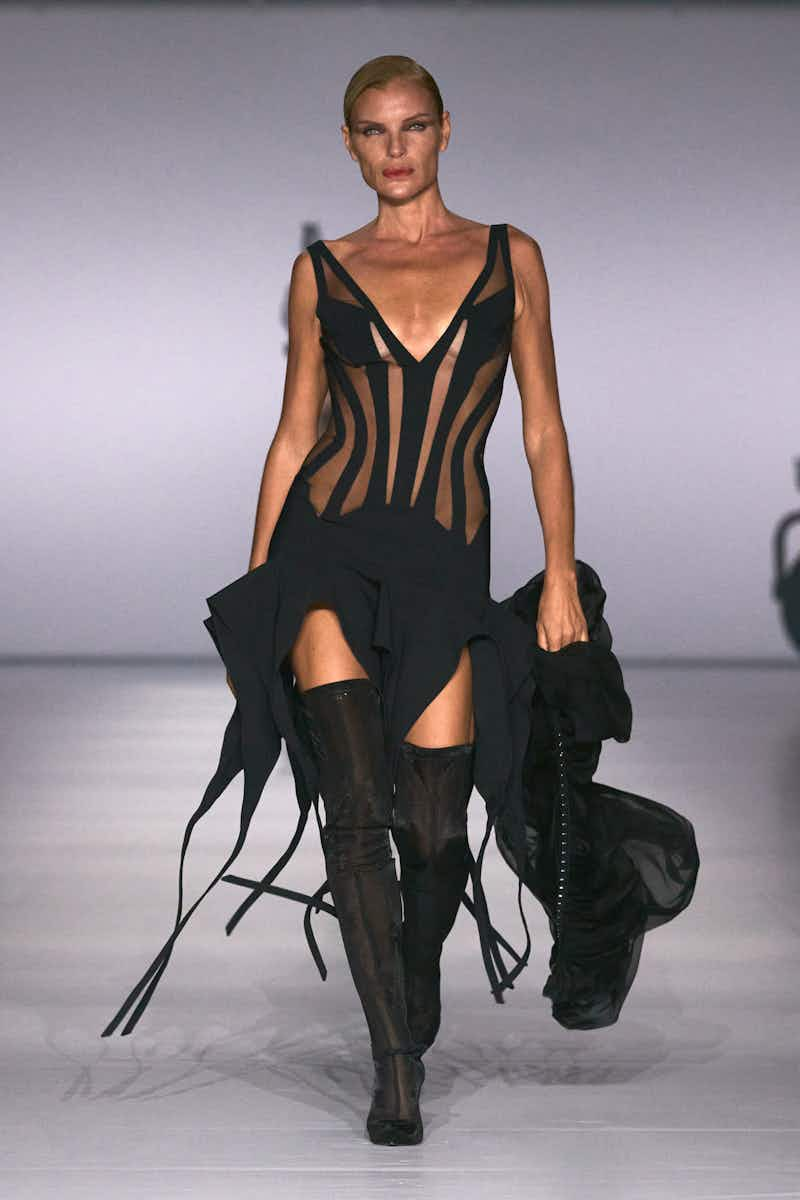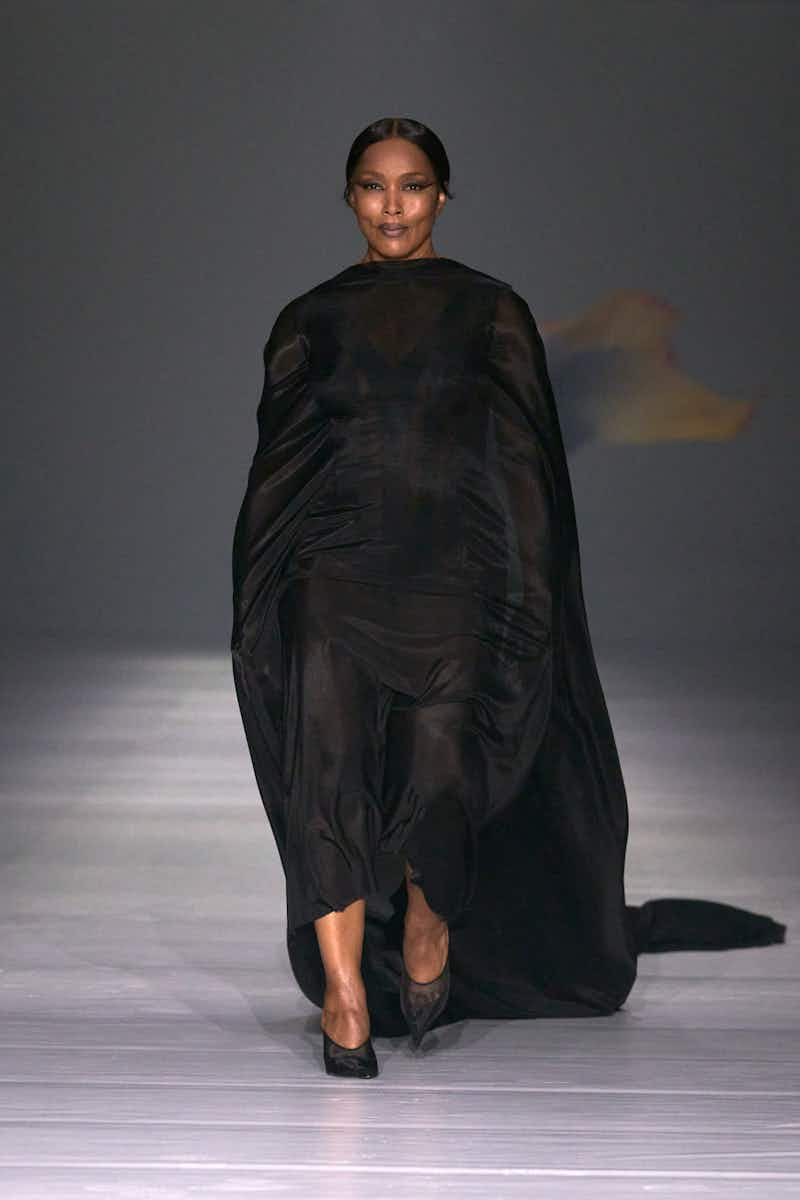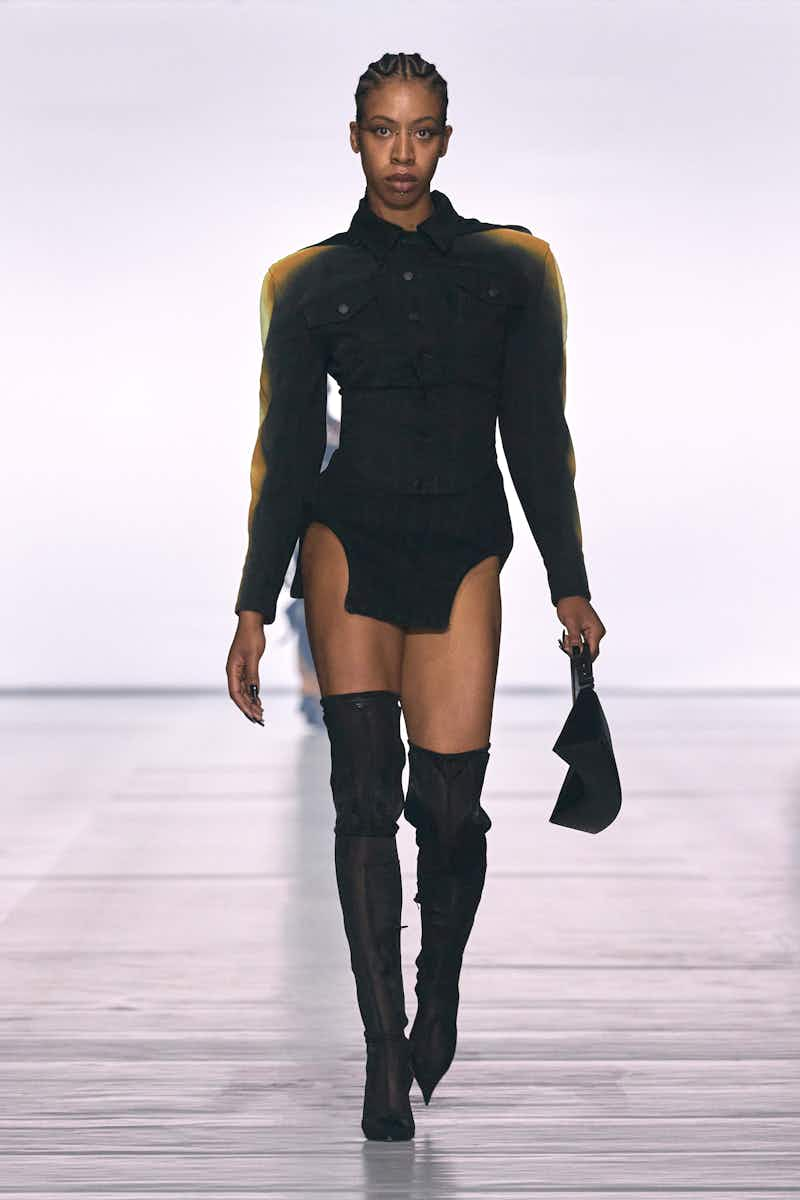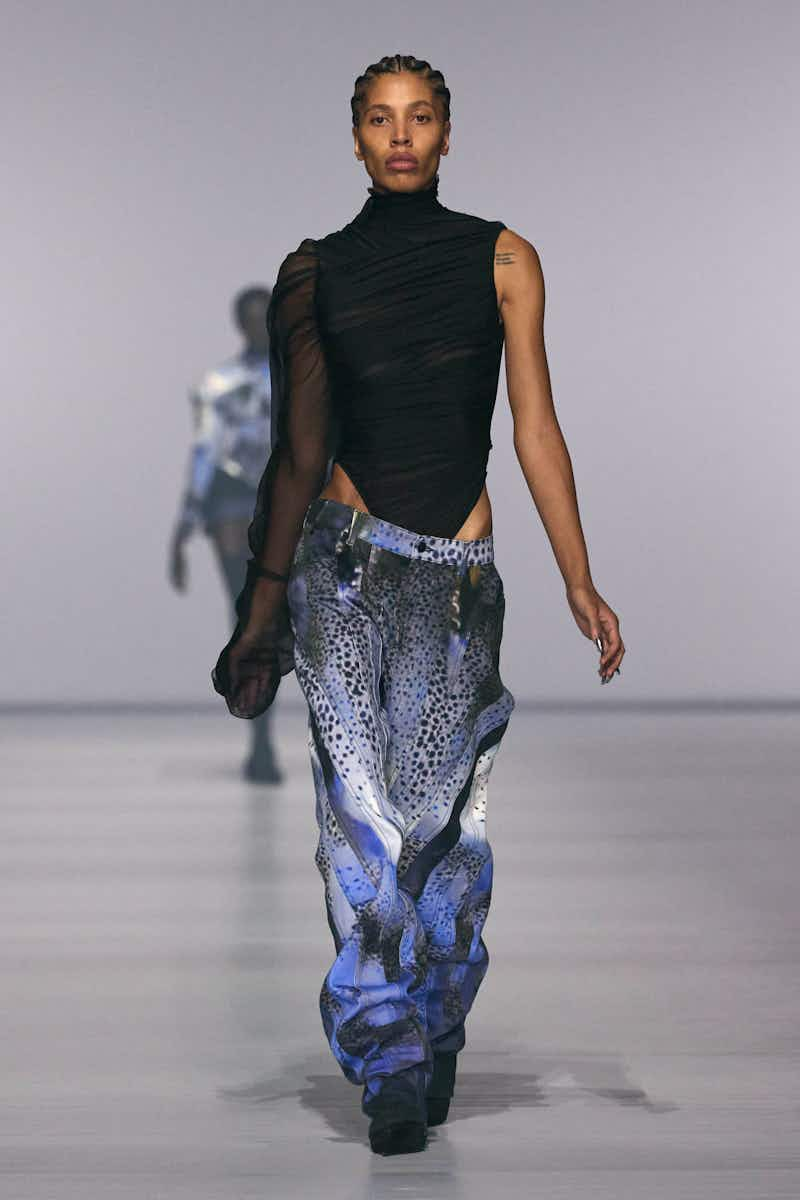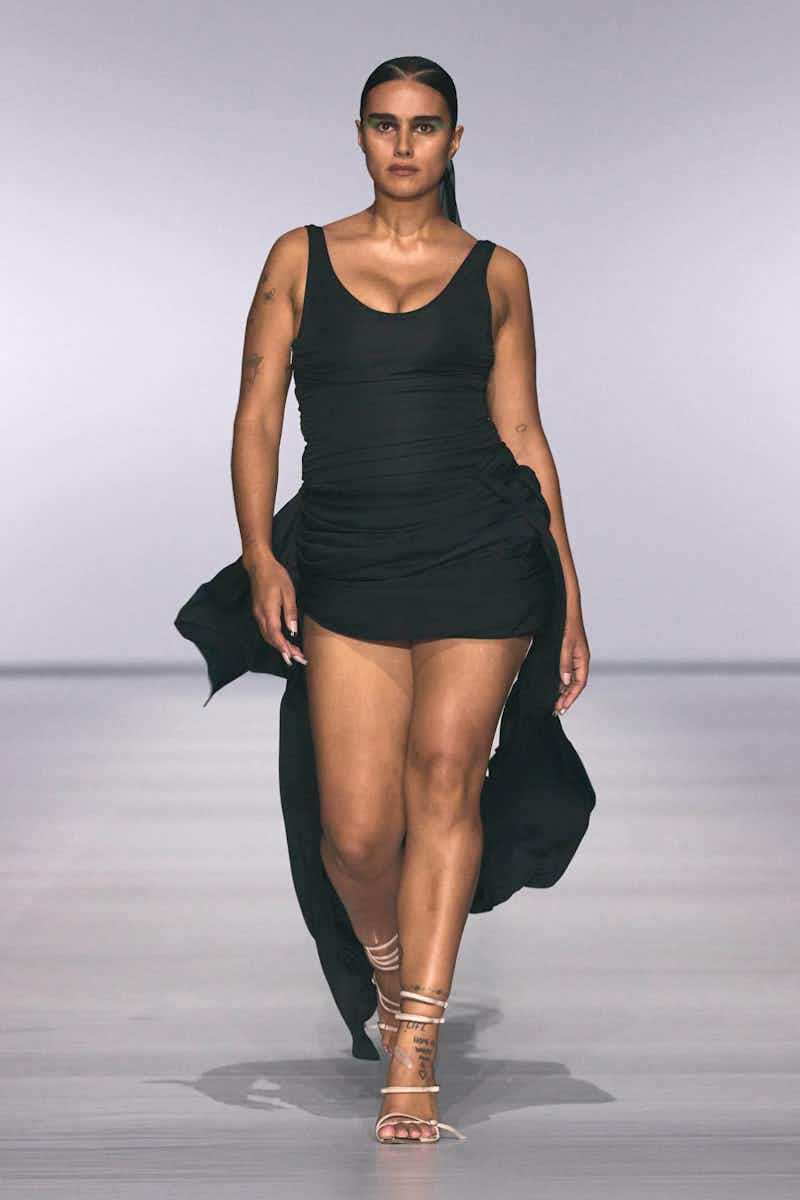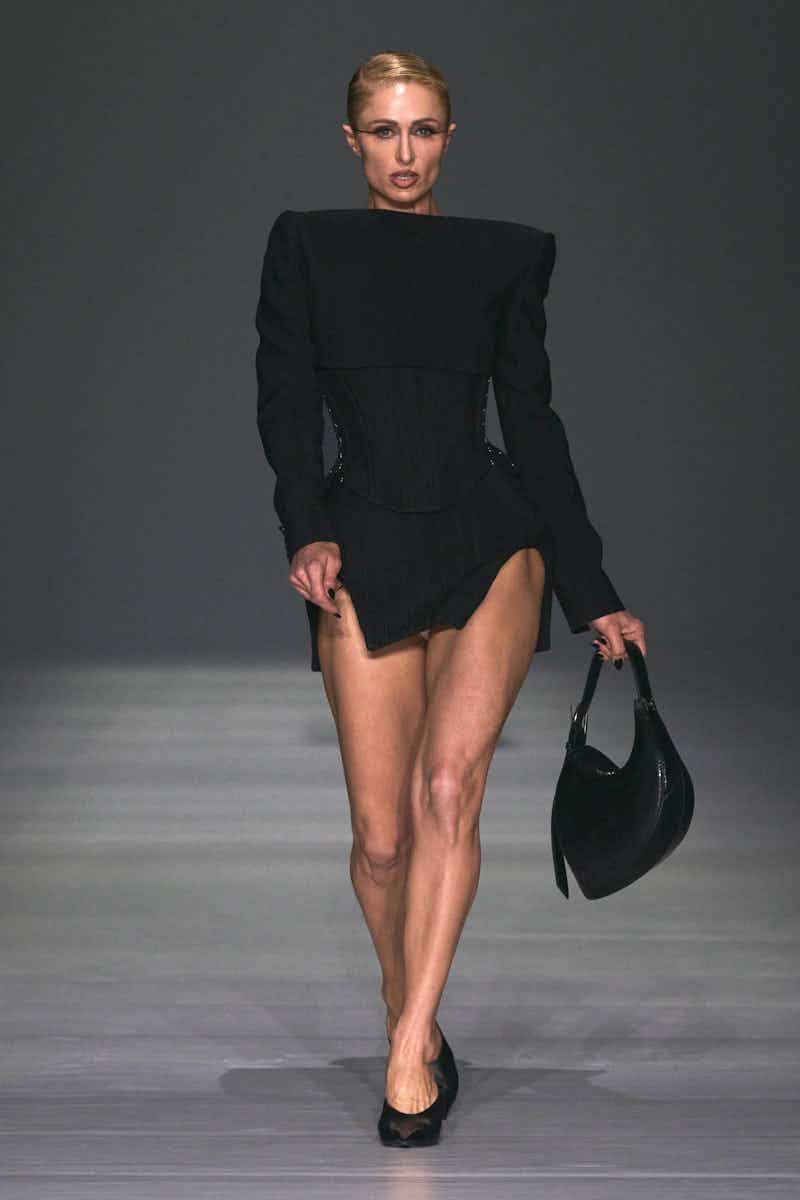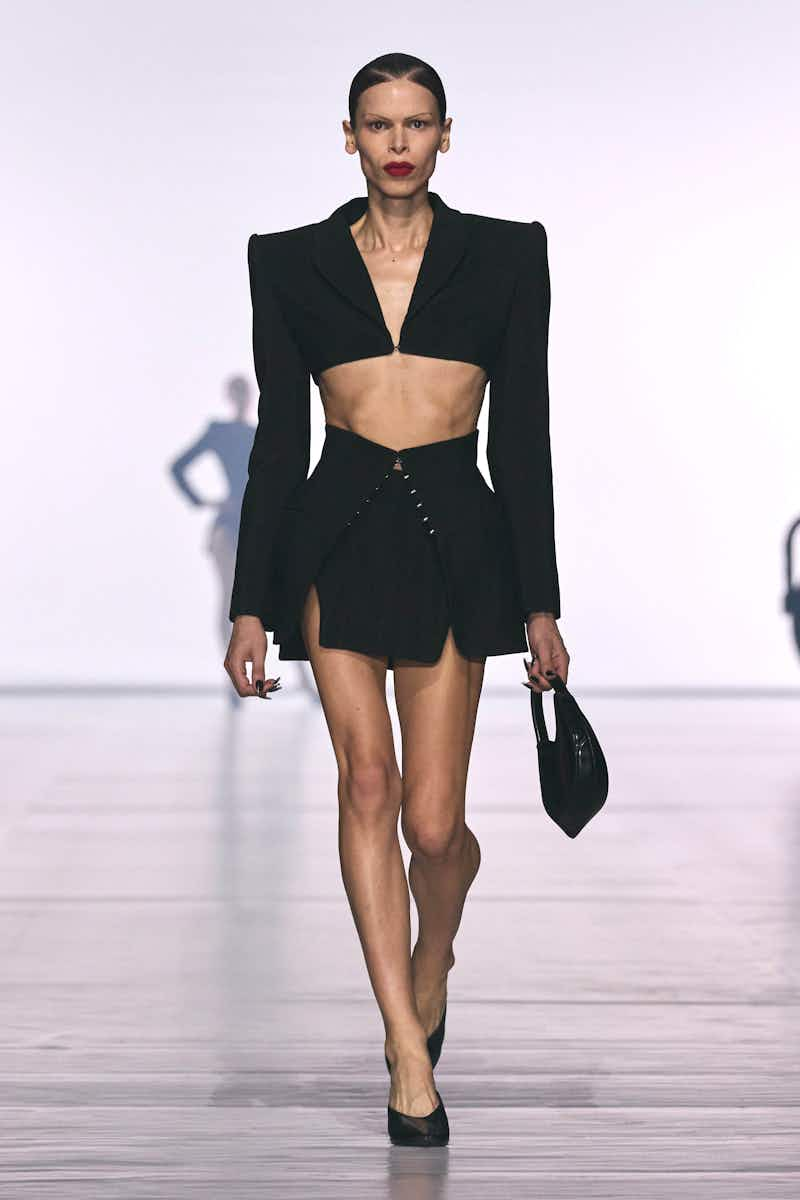 What?

A weird and wonderful celebration of travel, lightness and taking flight.

Where?

At 103 Avenue de Champs-Élysées, a building still under construction that's set to become Paris' new Louis Vuitton space. For the show, it was covered in orange forensic-style recycled polyethylene and the runway was custom-built by American designer James Chinlund to look like the inside of a hot air balloon. This building itself was originally constructed as a hotel to welcome international guests visiting the 1900 world's fair.

Who was there?

Zendaya, who fanned herself in the October heat, joined by Pharrell, Emma Chamberlain, Chloe Grace Moretz and Jaden Smith on the front row.

What were the clothes like?

For his latest collection, Nicolas Ghesquière drew inspiration from travel. Louis Vuitton started in the mid 19th-century as a luggage brand, after all. The clothes were summery and light, with the first few looks featuring long flowing skirts worn with silk shirts and bomber jackets. For the most part, waists were low and chunky hip-slung belts cinched double-layer mousseline skirts, leather trousers and jeans. Thick pleated miniskirts in leather and satin were worn with balletcore white tights and roomy double-breasted jackets. Elsewhere, there were draped off-the-shoulder tops worn with ultra-high waisted trousers, held up by braces. There was a weird and wonderful curiosity here, one that evokes a desire to take flight, broaden our horizons and explore far away shores.
Favourite piece?

The criss-cross, hip-slung leather belts.

In a word?
Wanderlust.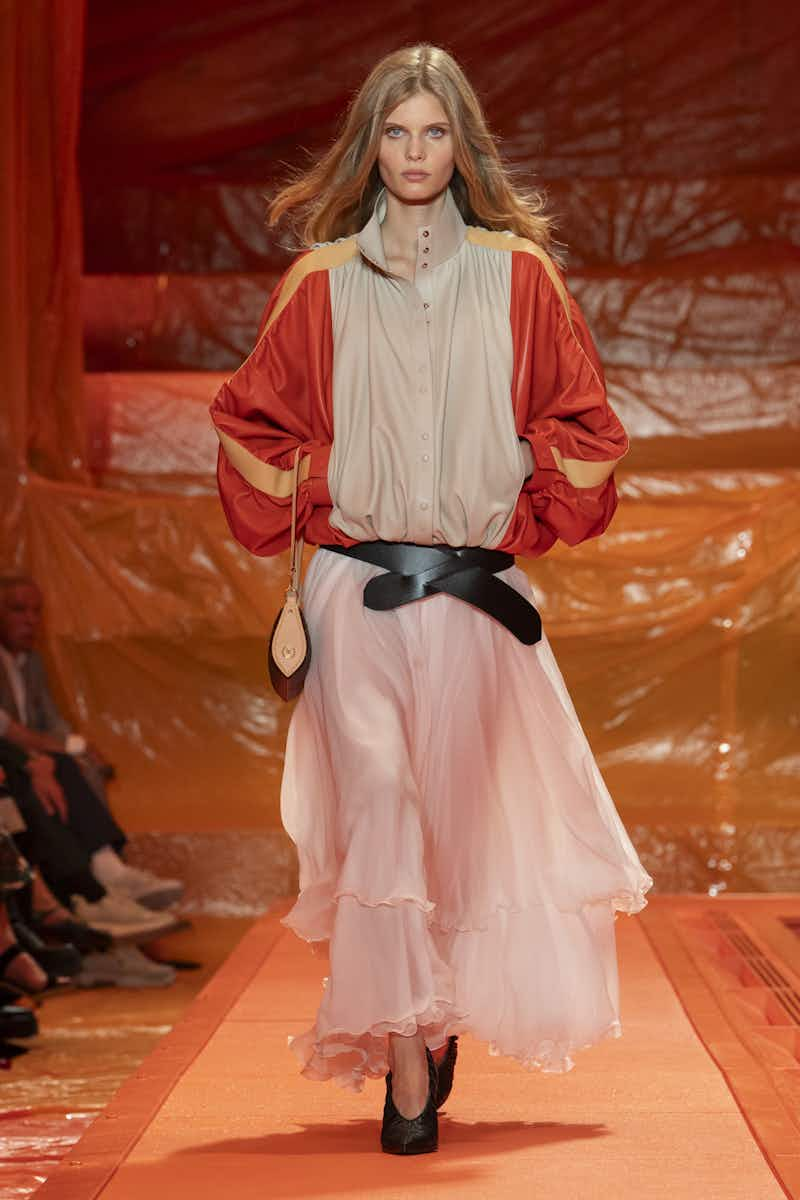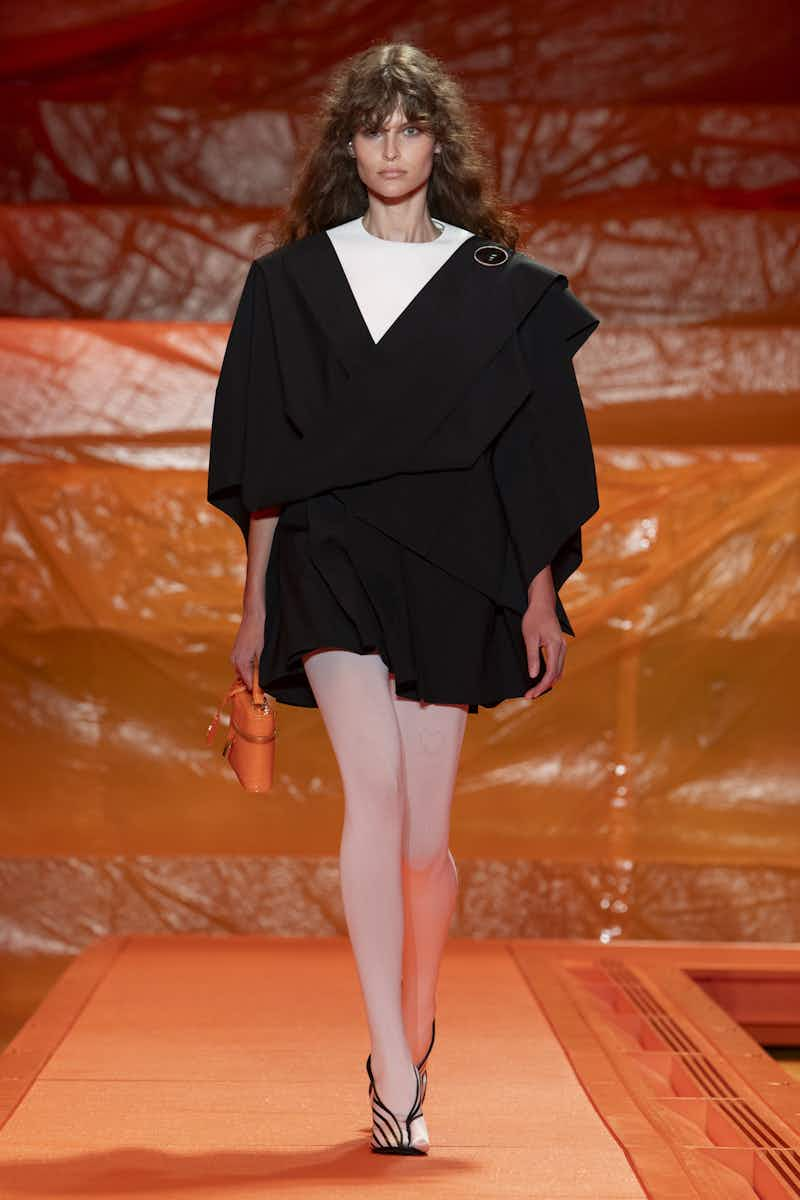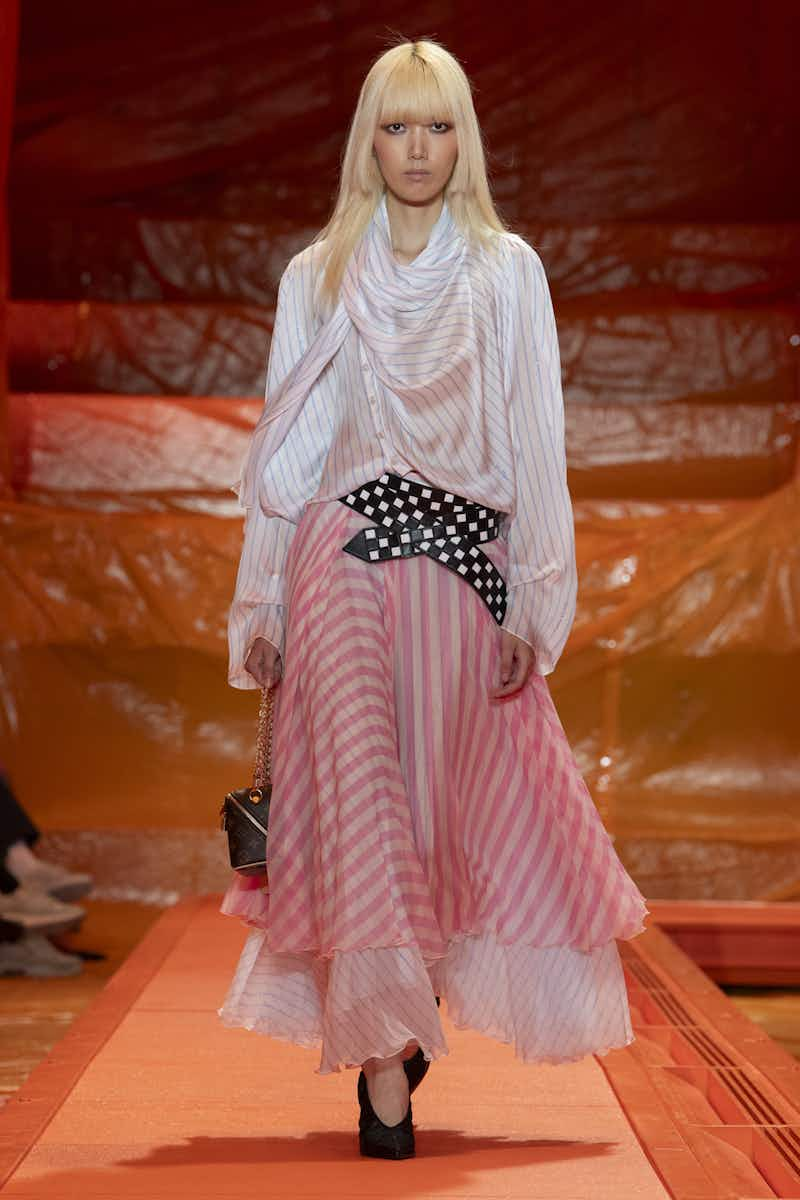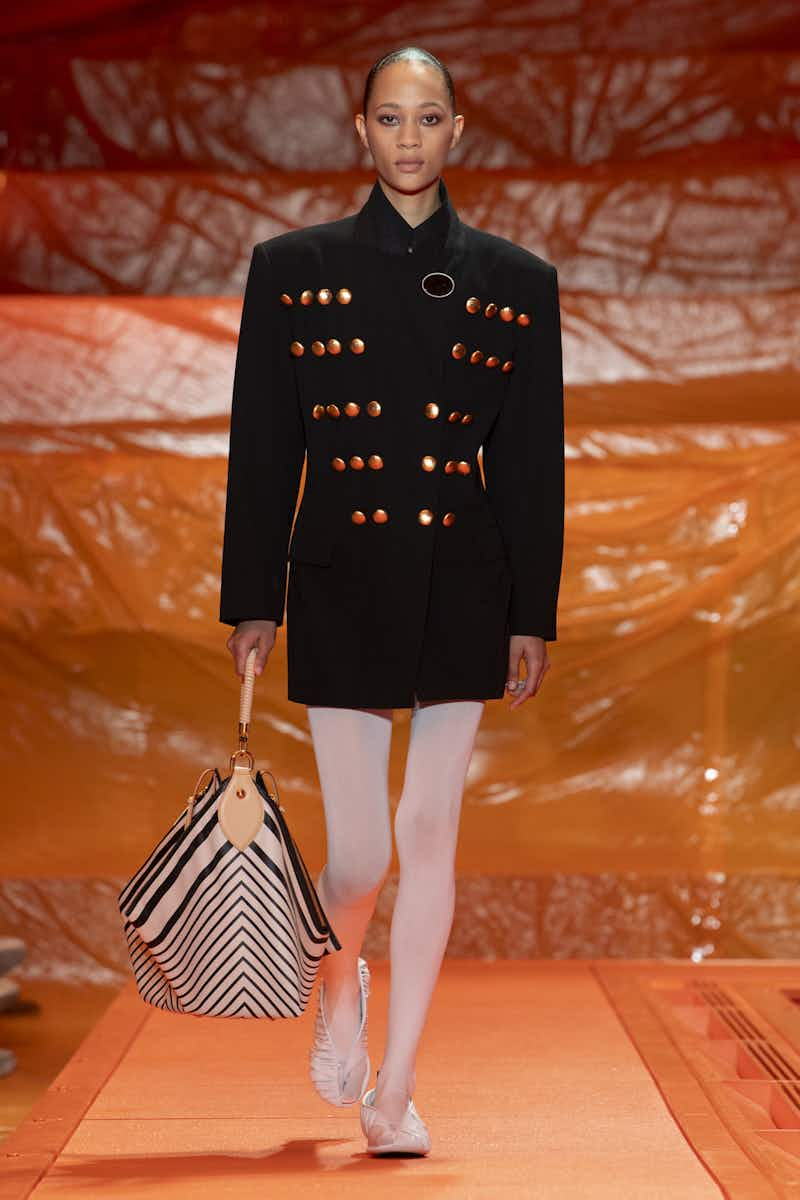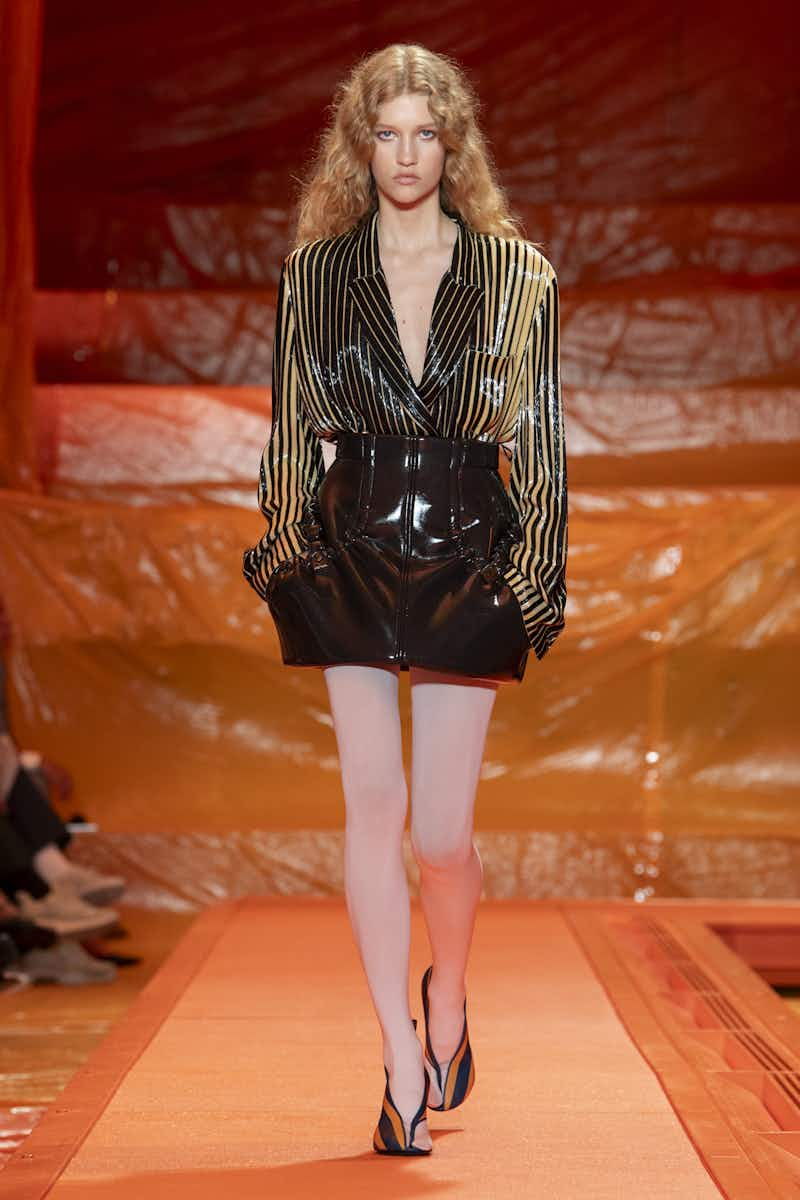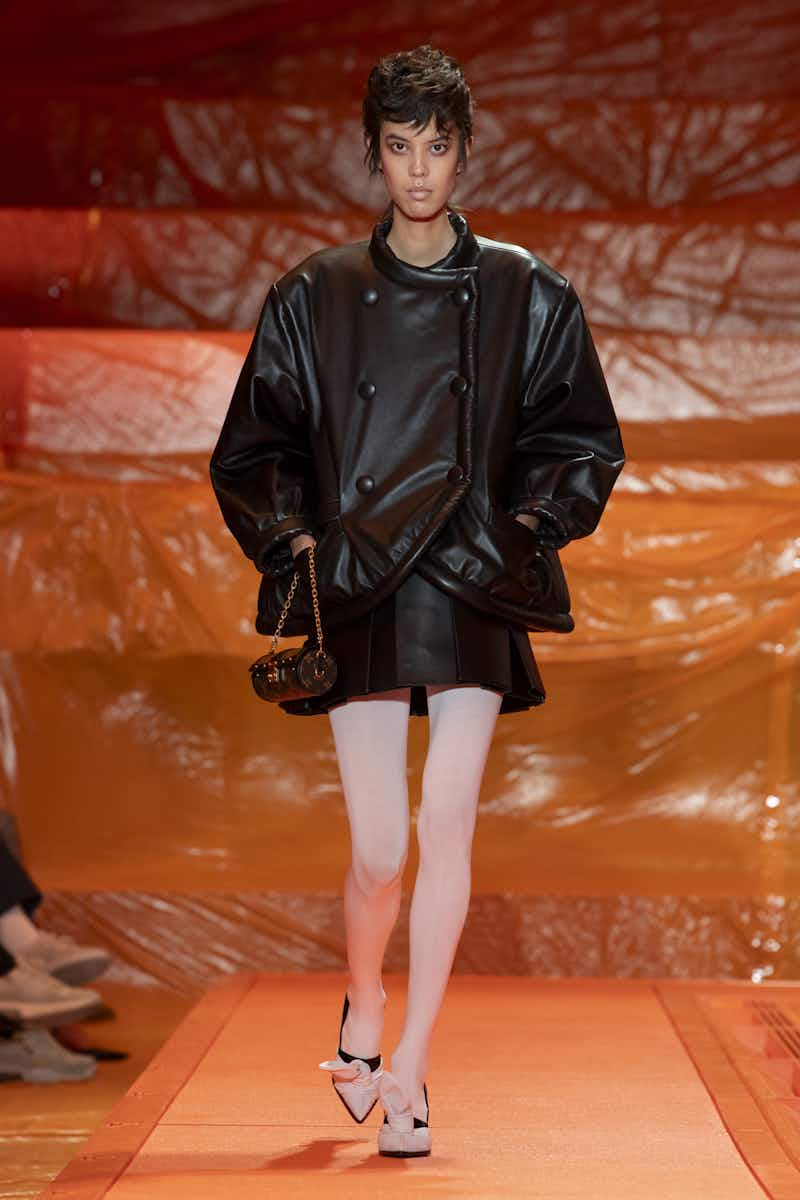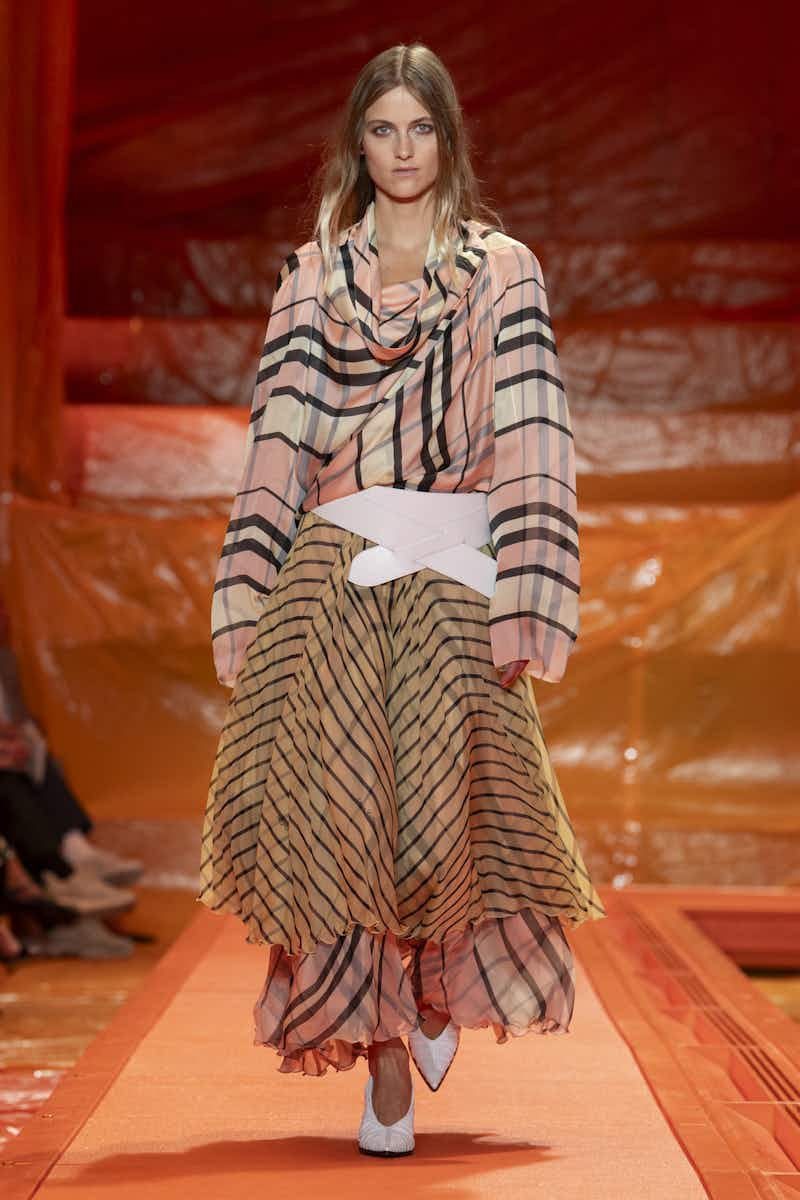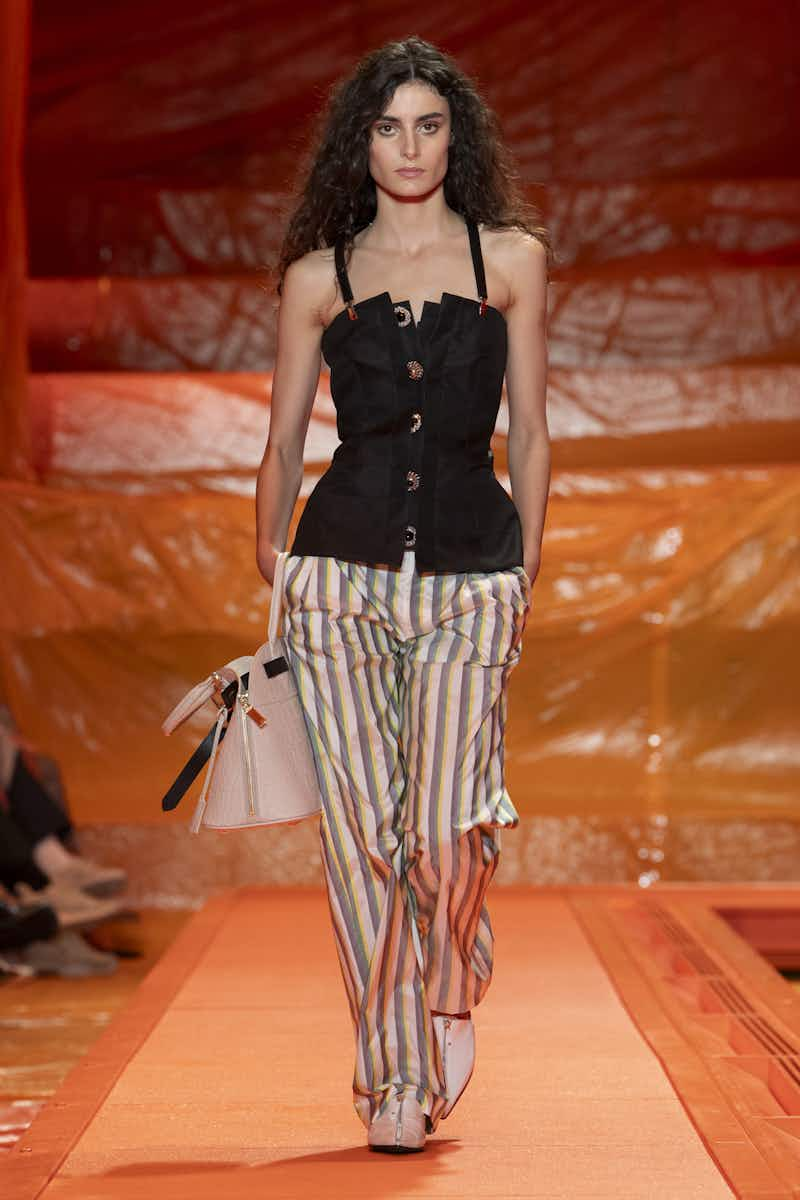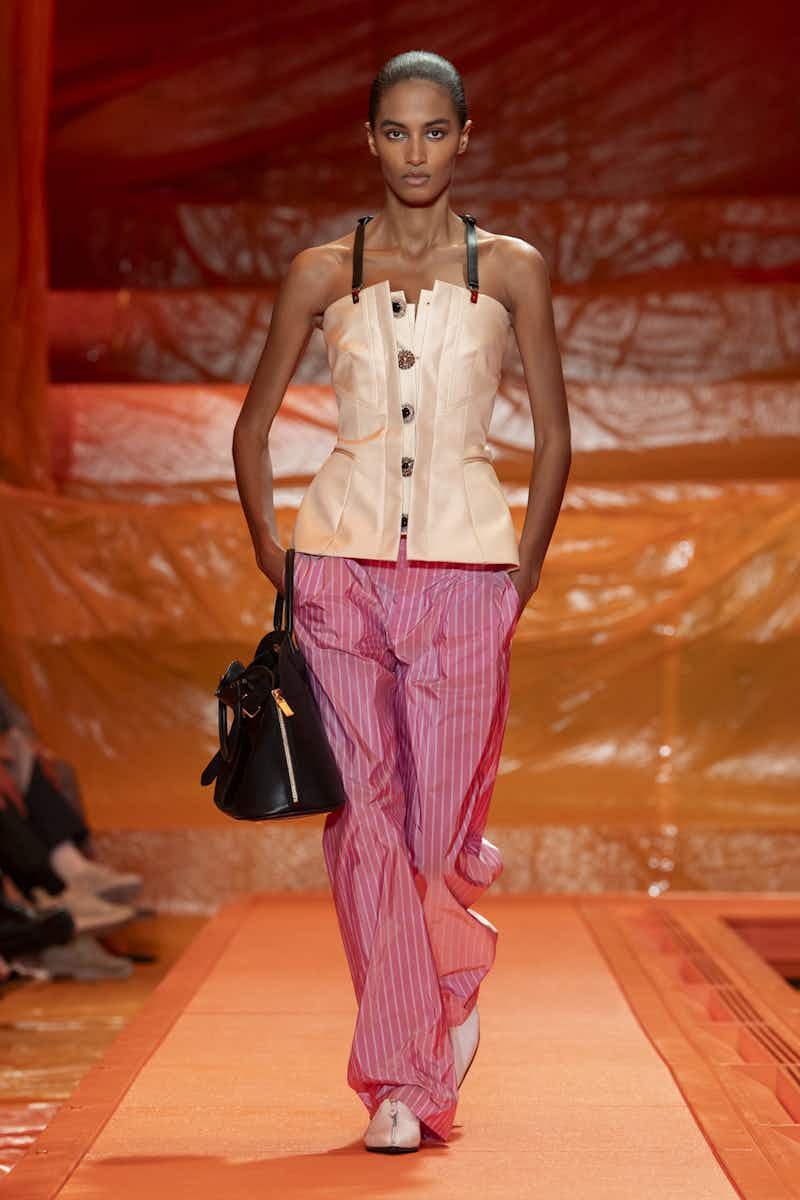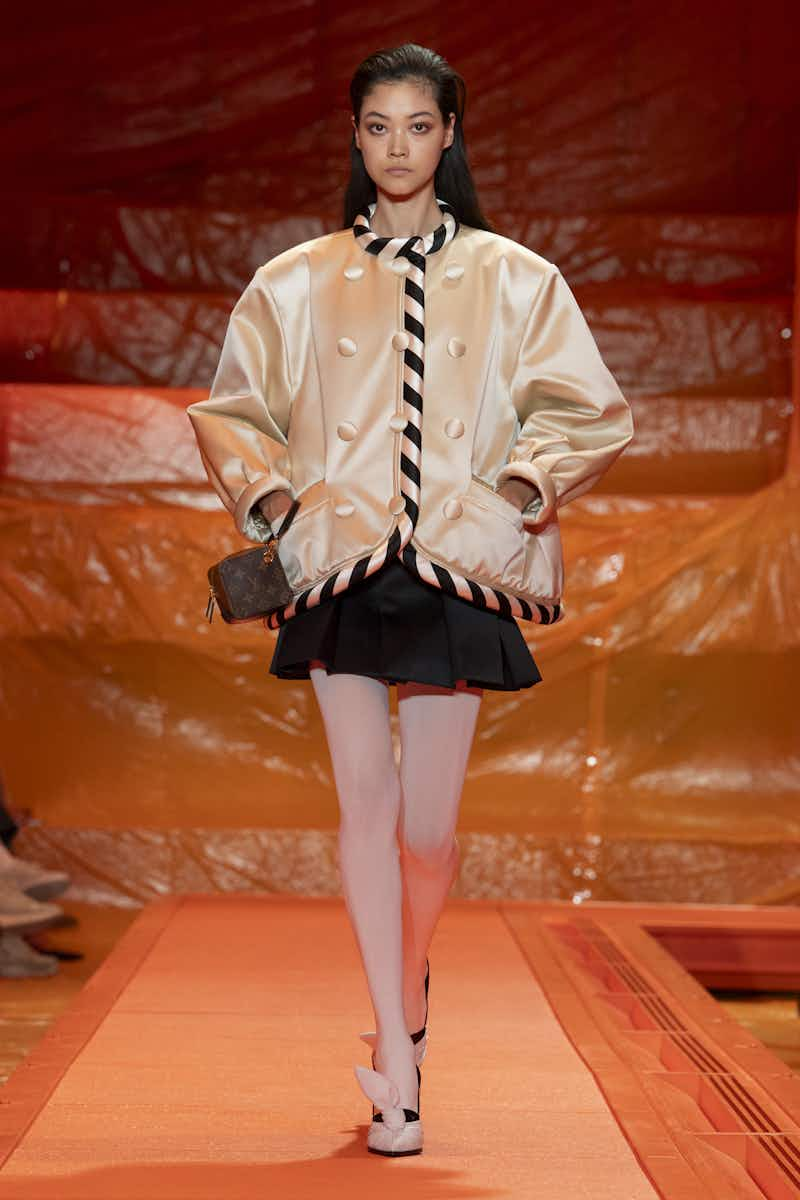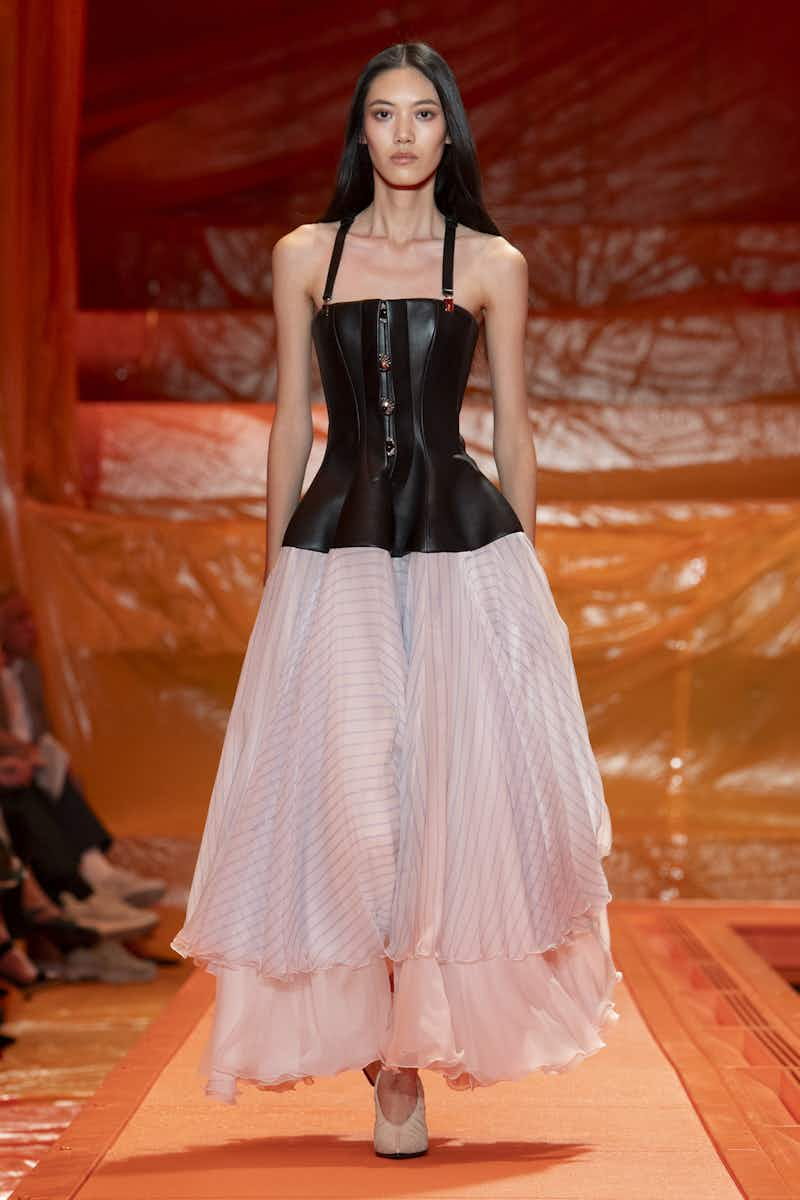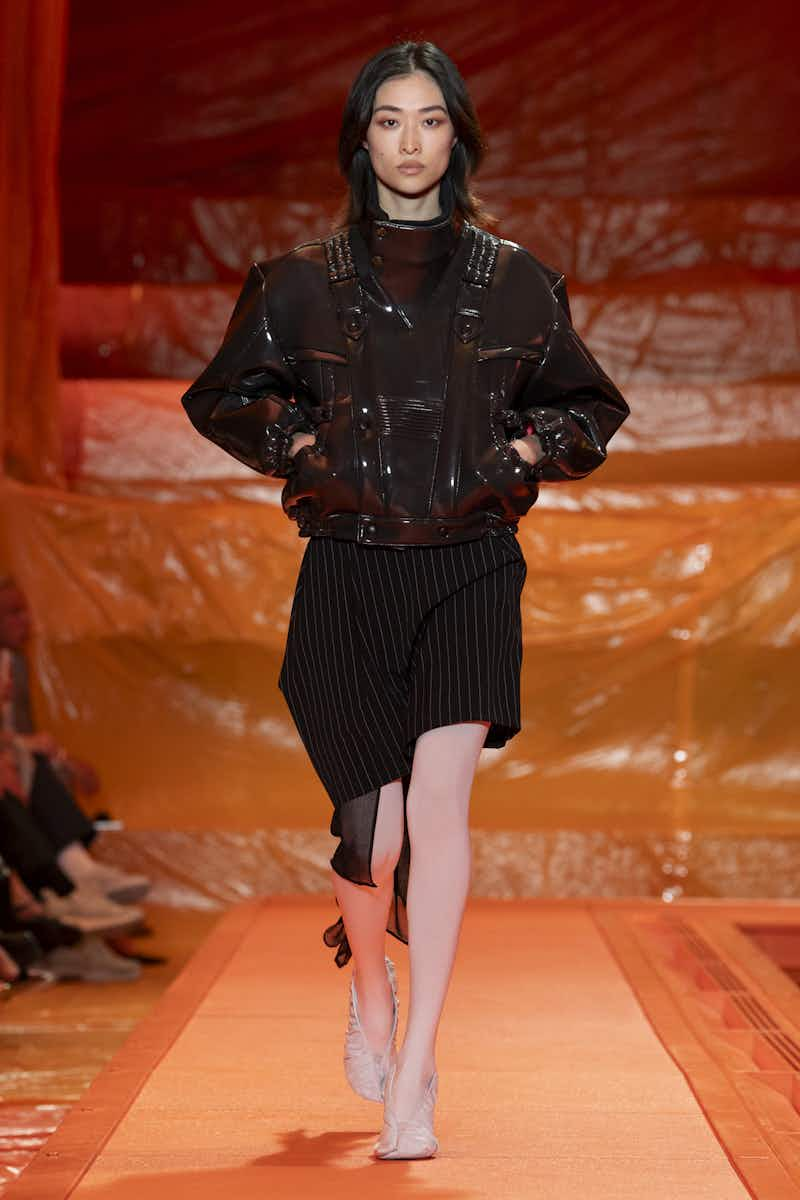 What?

Glenn Martens works his twisted denim magic to craft a collection inspired by the architecture of his Belgian hometown Bruges.

What was it like?

Paris may claim the title of the world's fashion capital, but Belgium has produced some of the most celebrated fashion designers, from Martin Margiela to Raf Simons and, of course, the Antwerp Six. Glenn Martens grew up in Bruges, where he initially studied interior architecture, and this season he turned back to his hometown, drawing from its towering Gothic buildings as inspiration. The show opened with an imposing oversized hooded trench, featuring undone hook-and-eye details. Life-size snake necklaces curled across chests like breastplates. Shirts were intentionally scrunched up and logo T‑shirts came cropped and wildly twisted, paired with high-slit denim skirts. Hooded denim jackets engulfed the body while figure accentuating graphic dresses elongated silhouettes. There was a slow, almost funereal motion to the models' walks, giving guests time to take in the details. ​"I really kind of envisioned it as Gothic towers in the middle of the Belgian fields," Martens explained.

Stand-out piece?

The life-size snake sculptures worn like necklaces.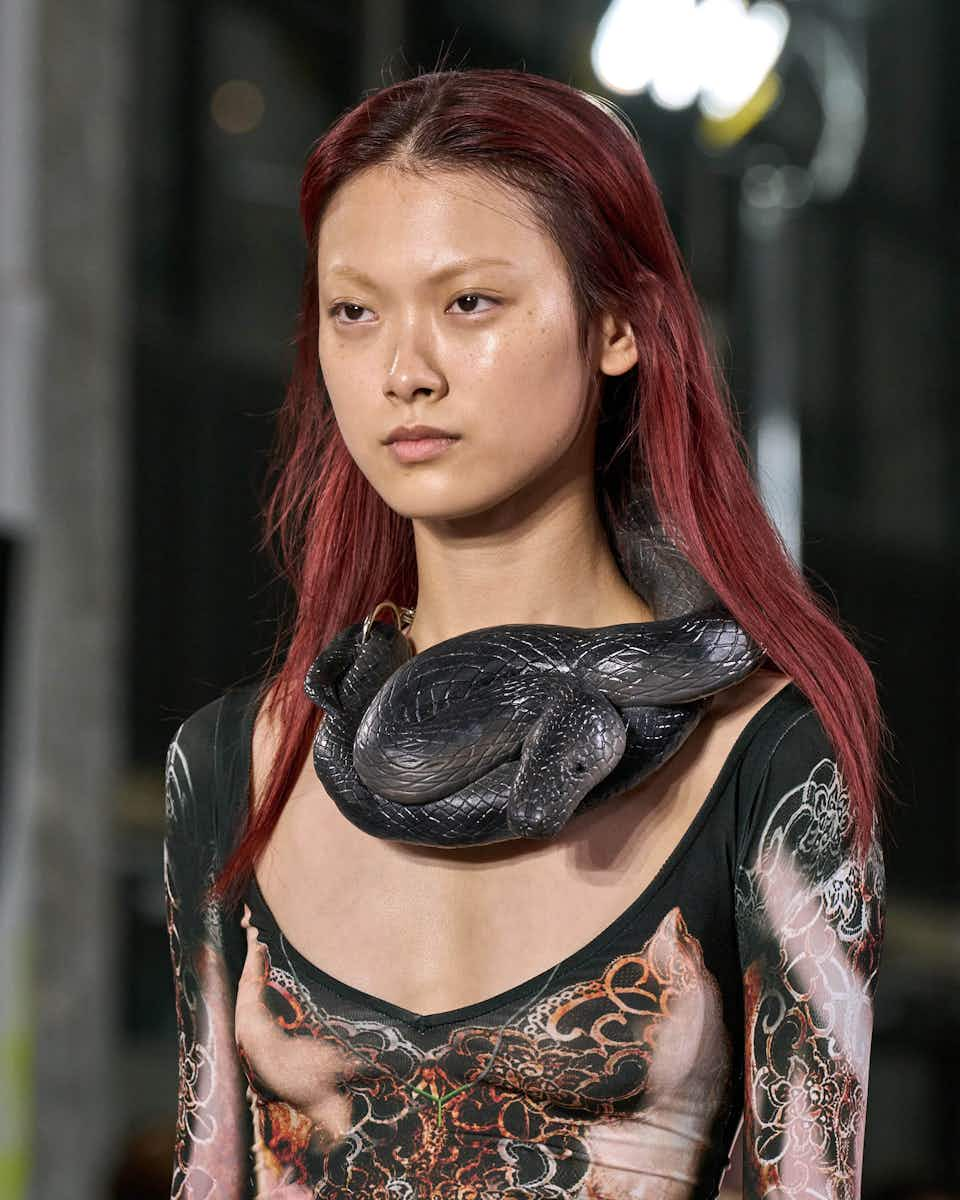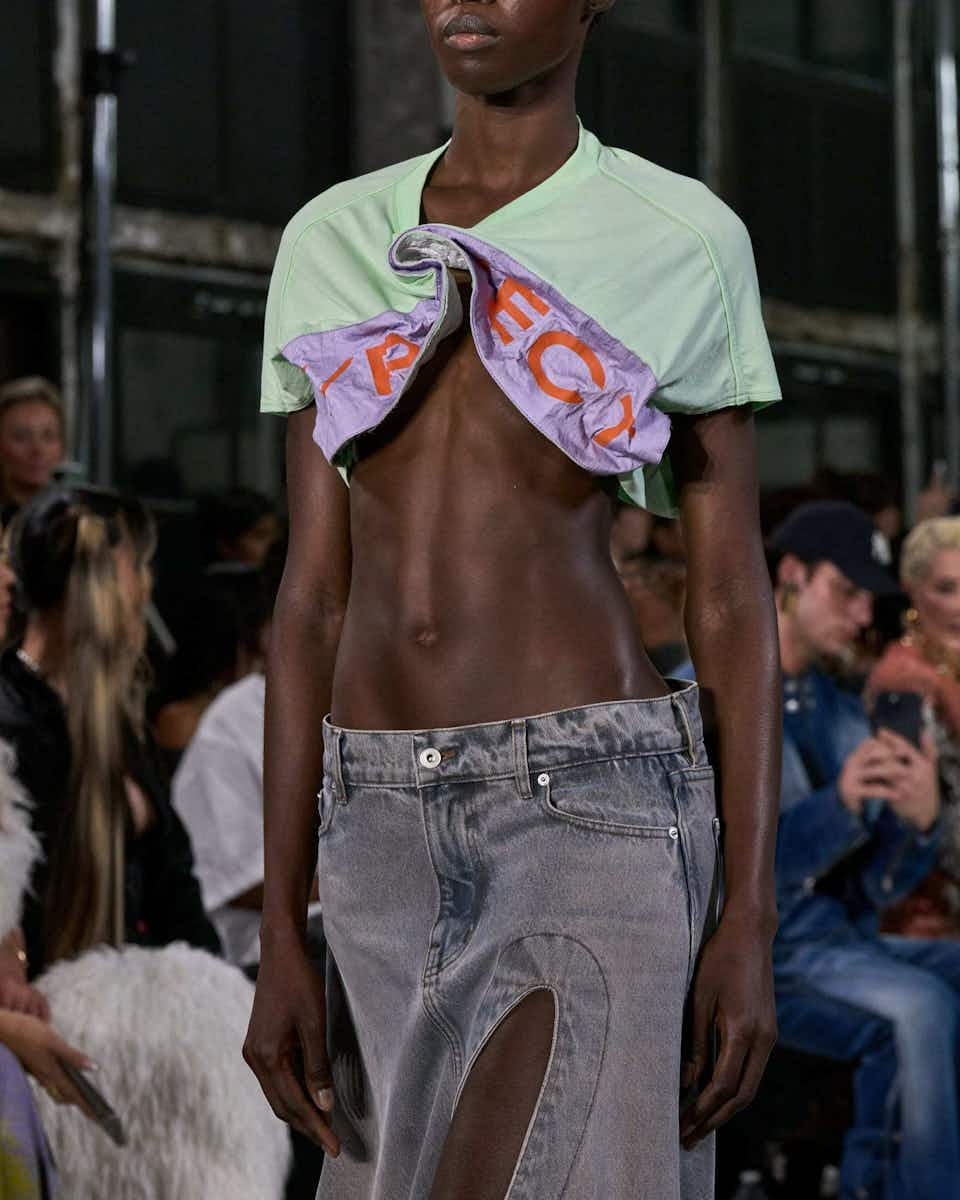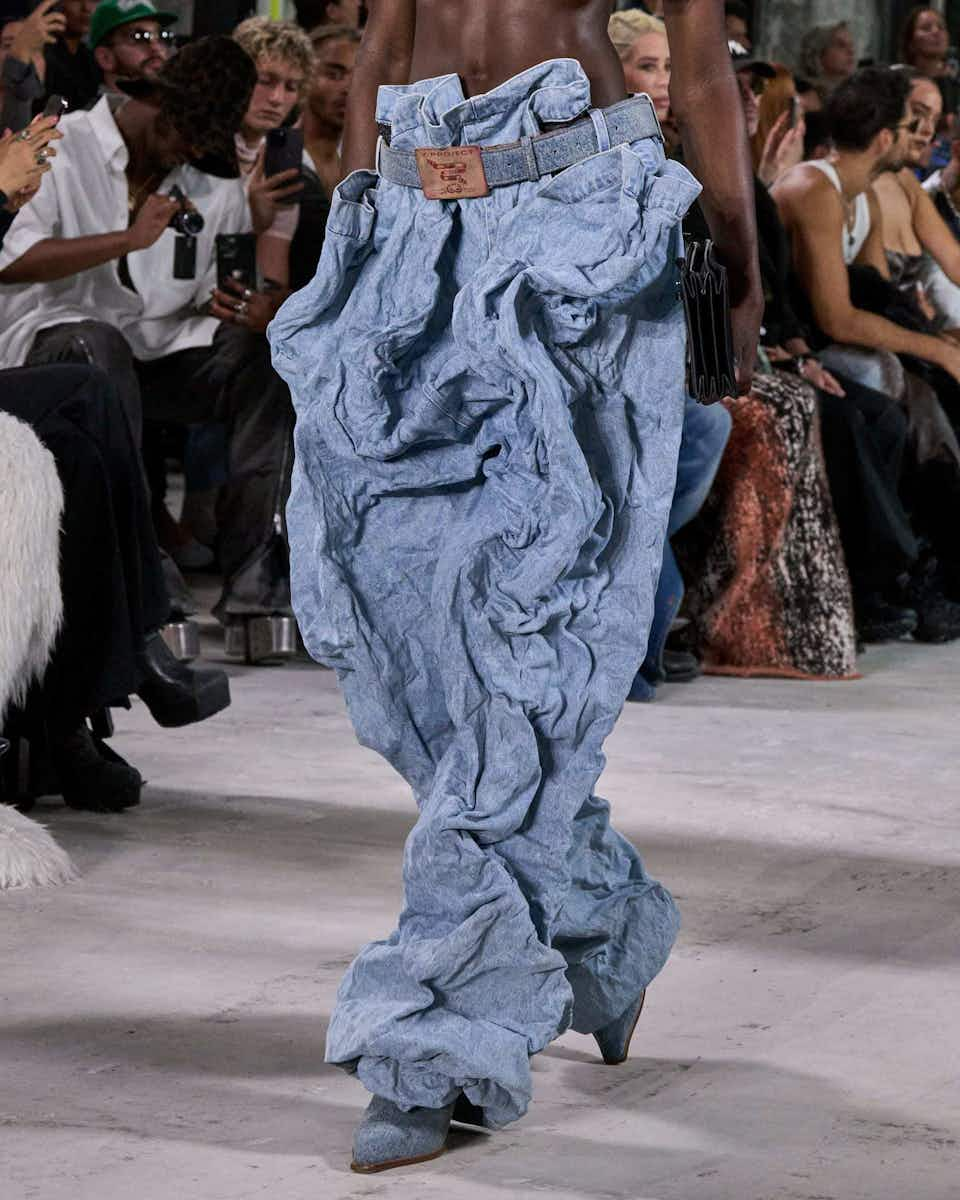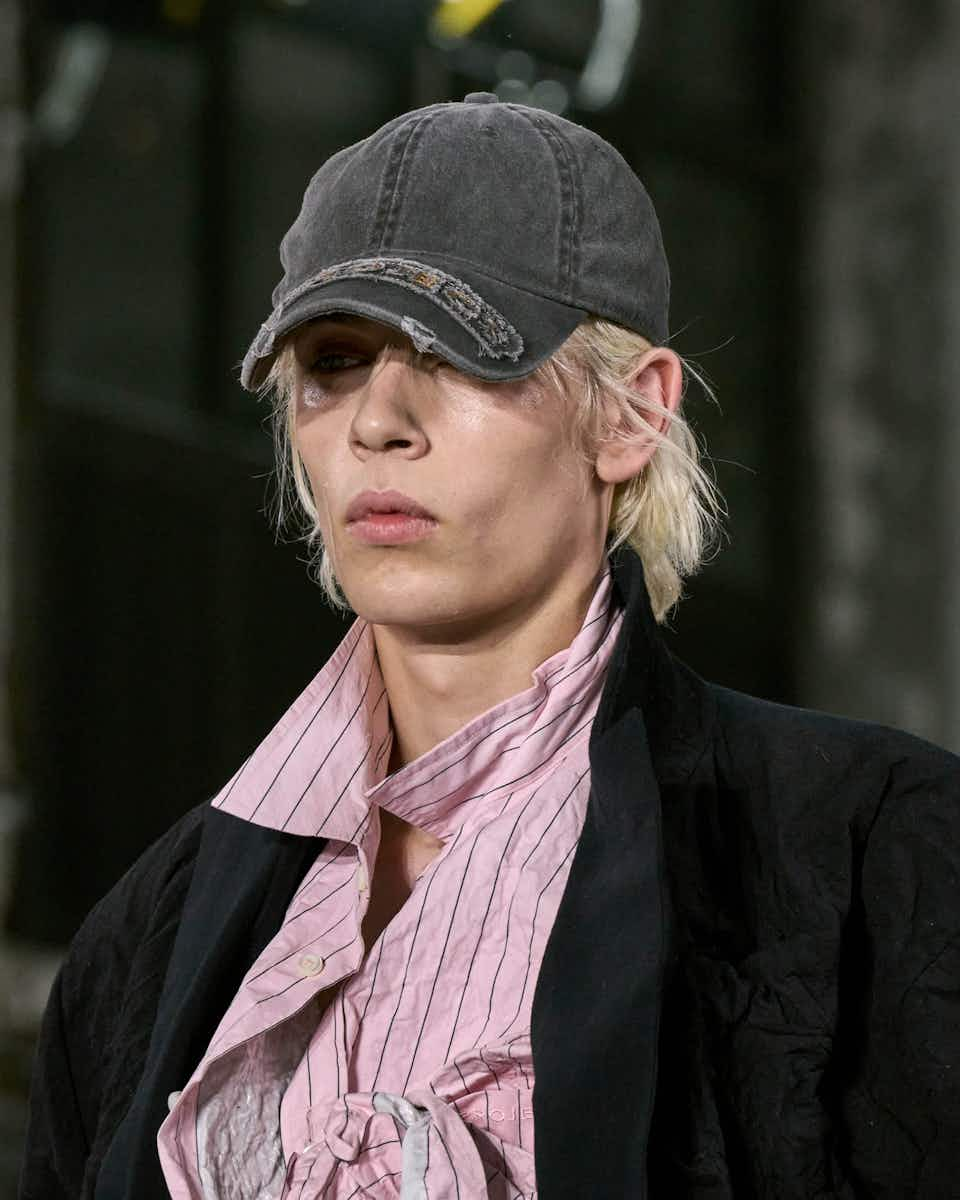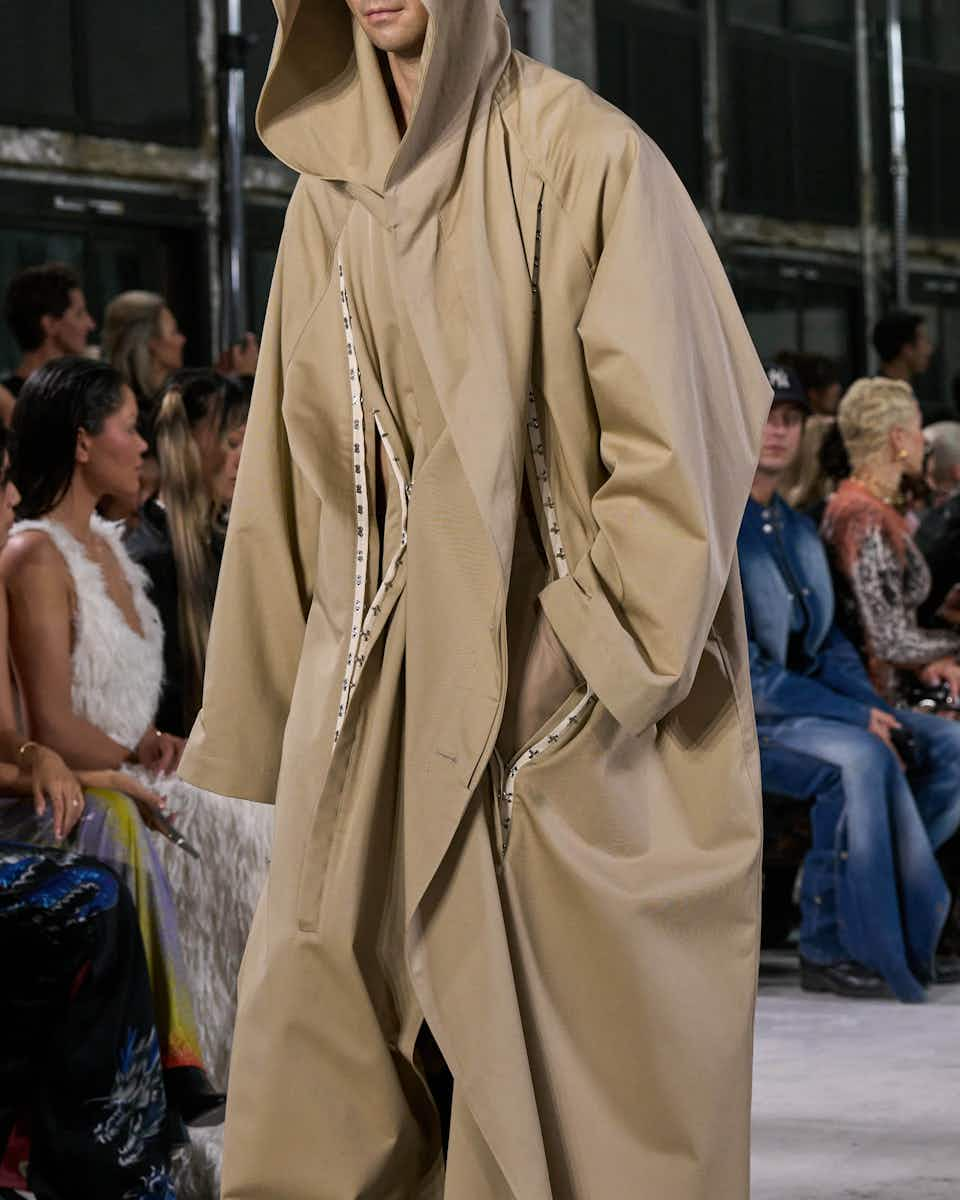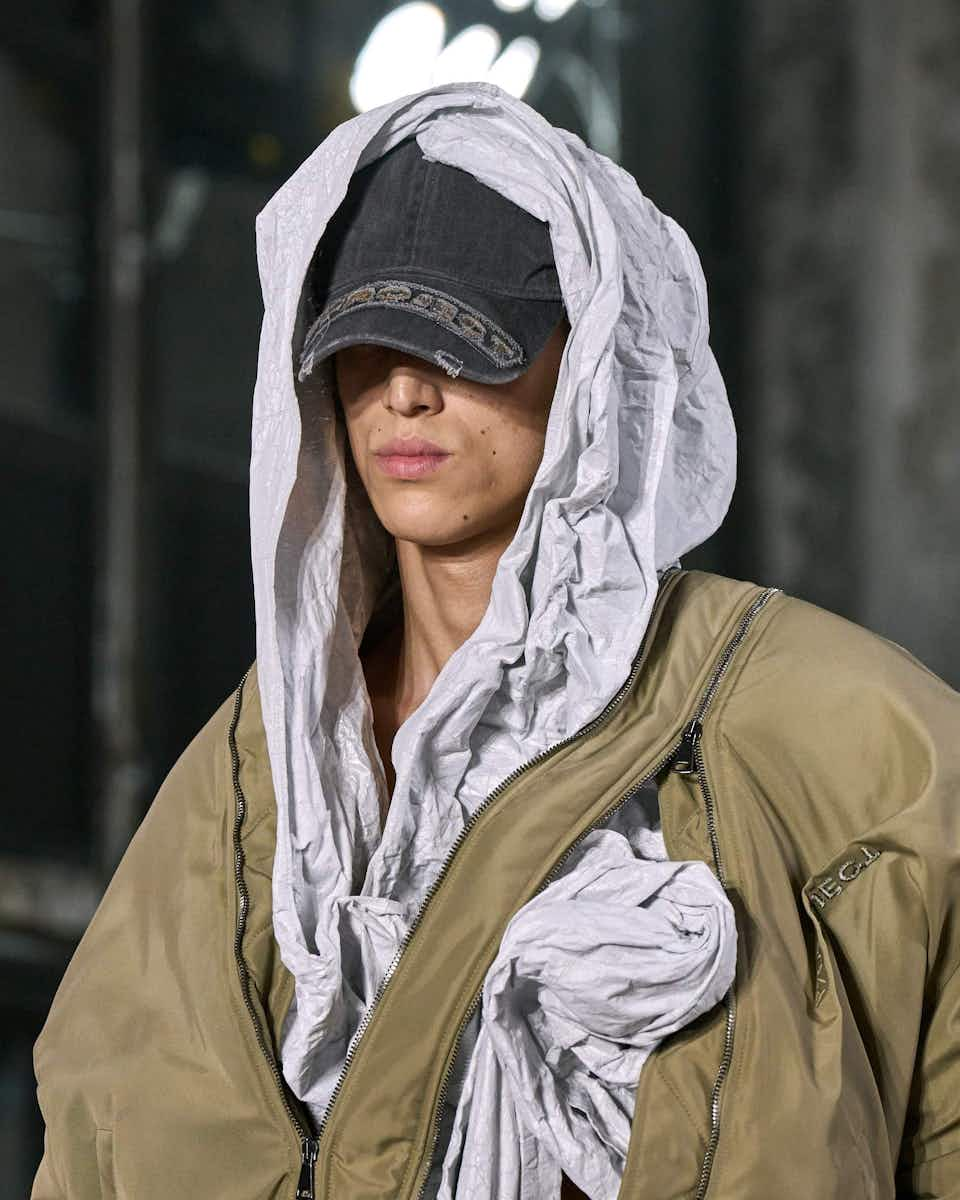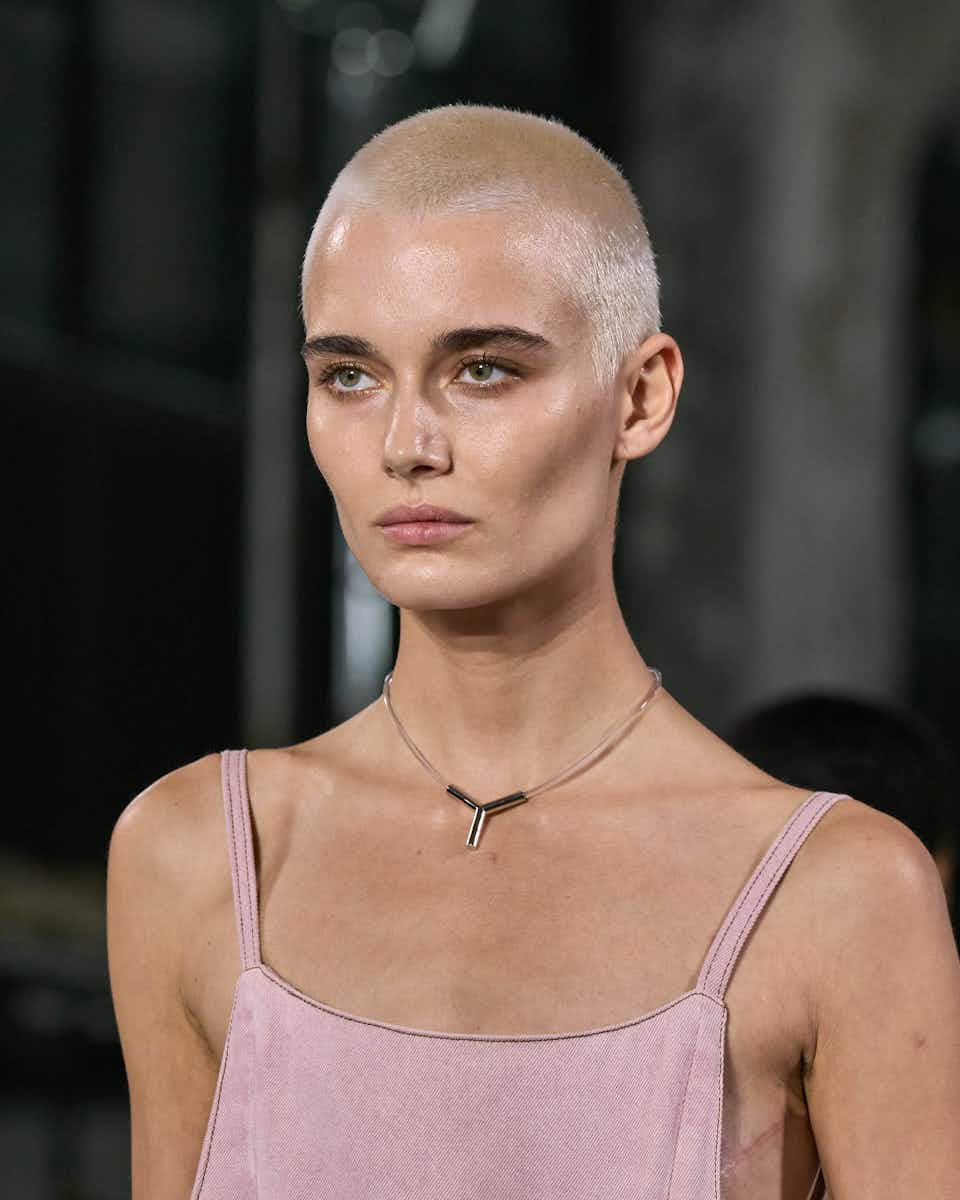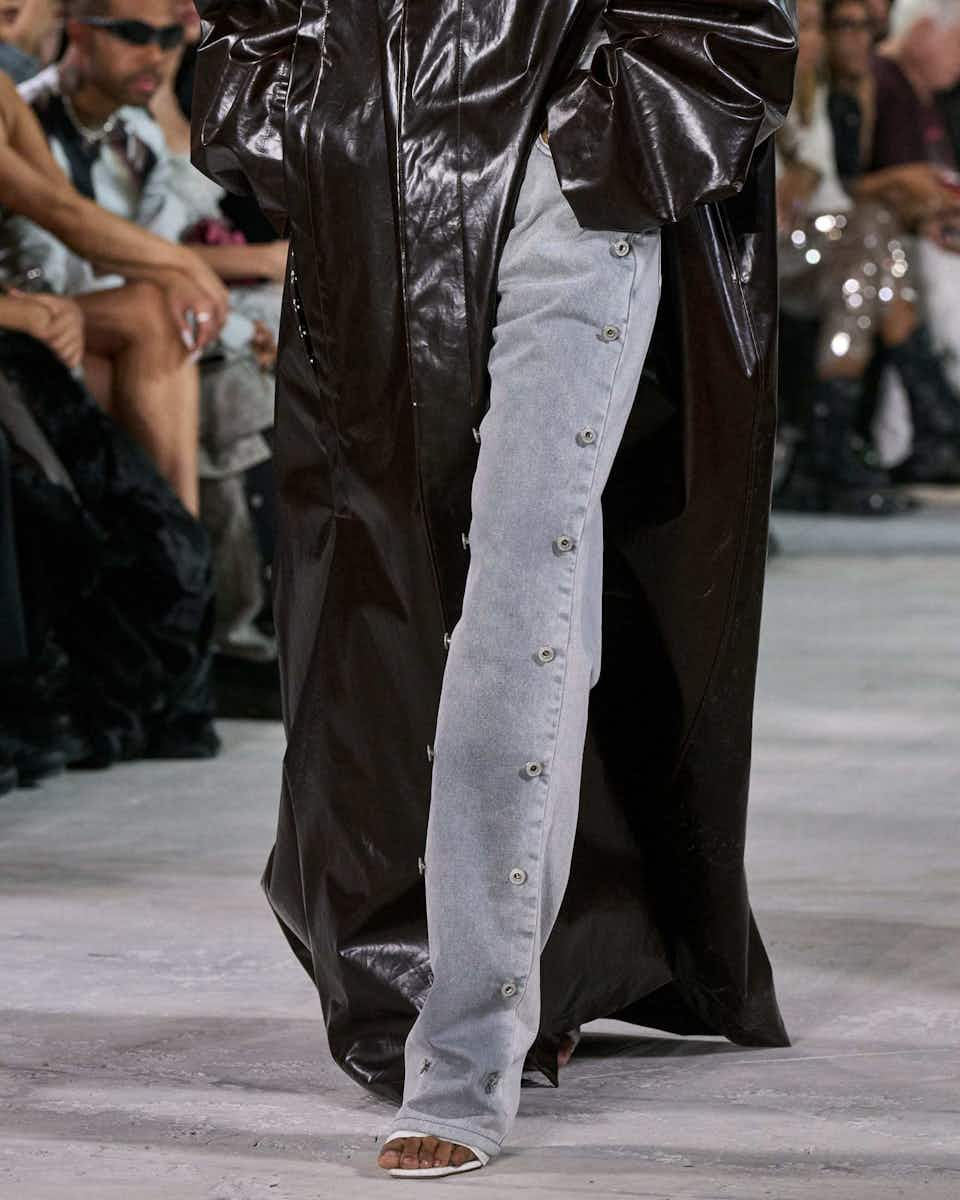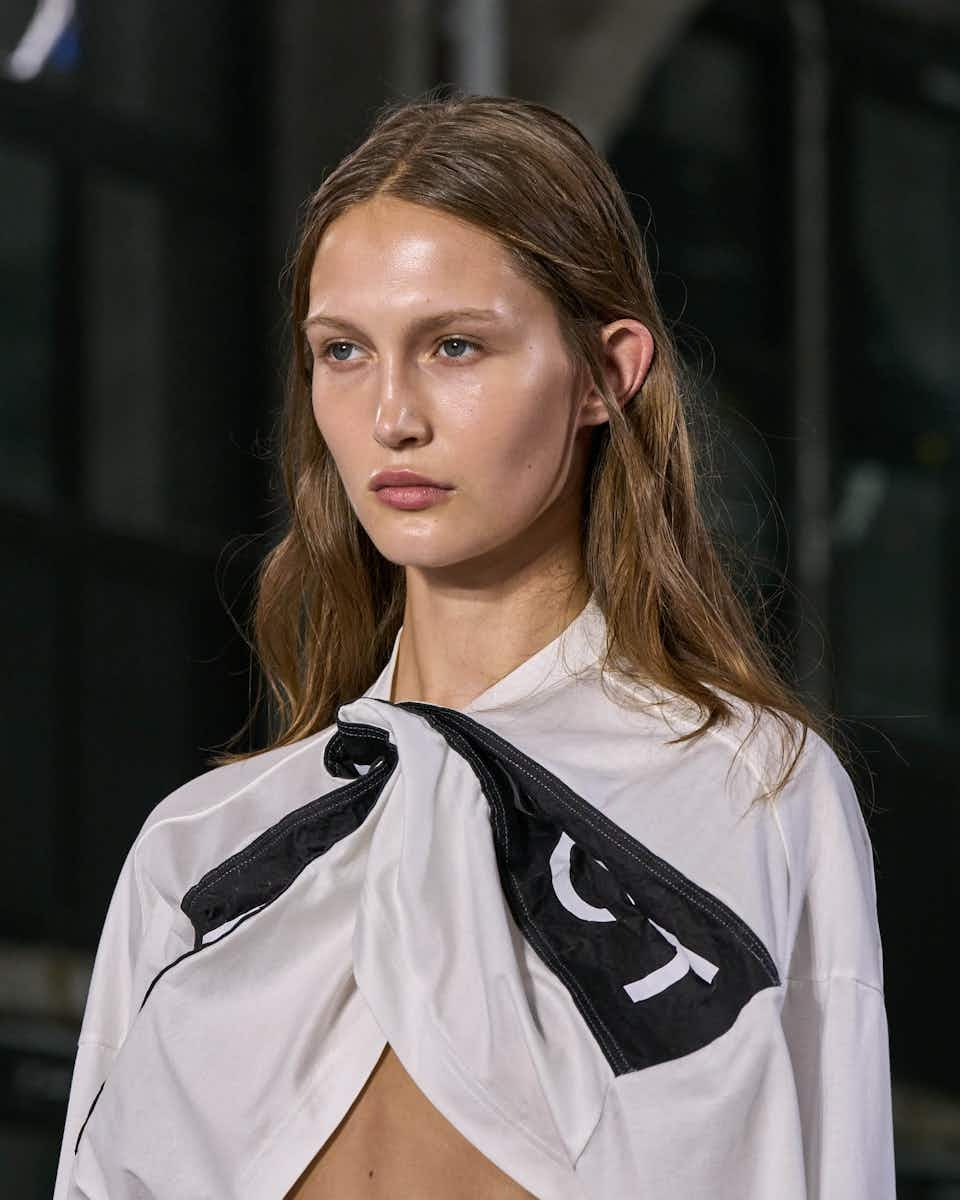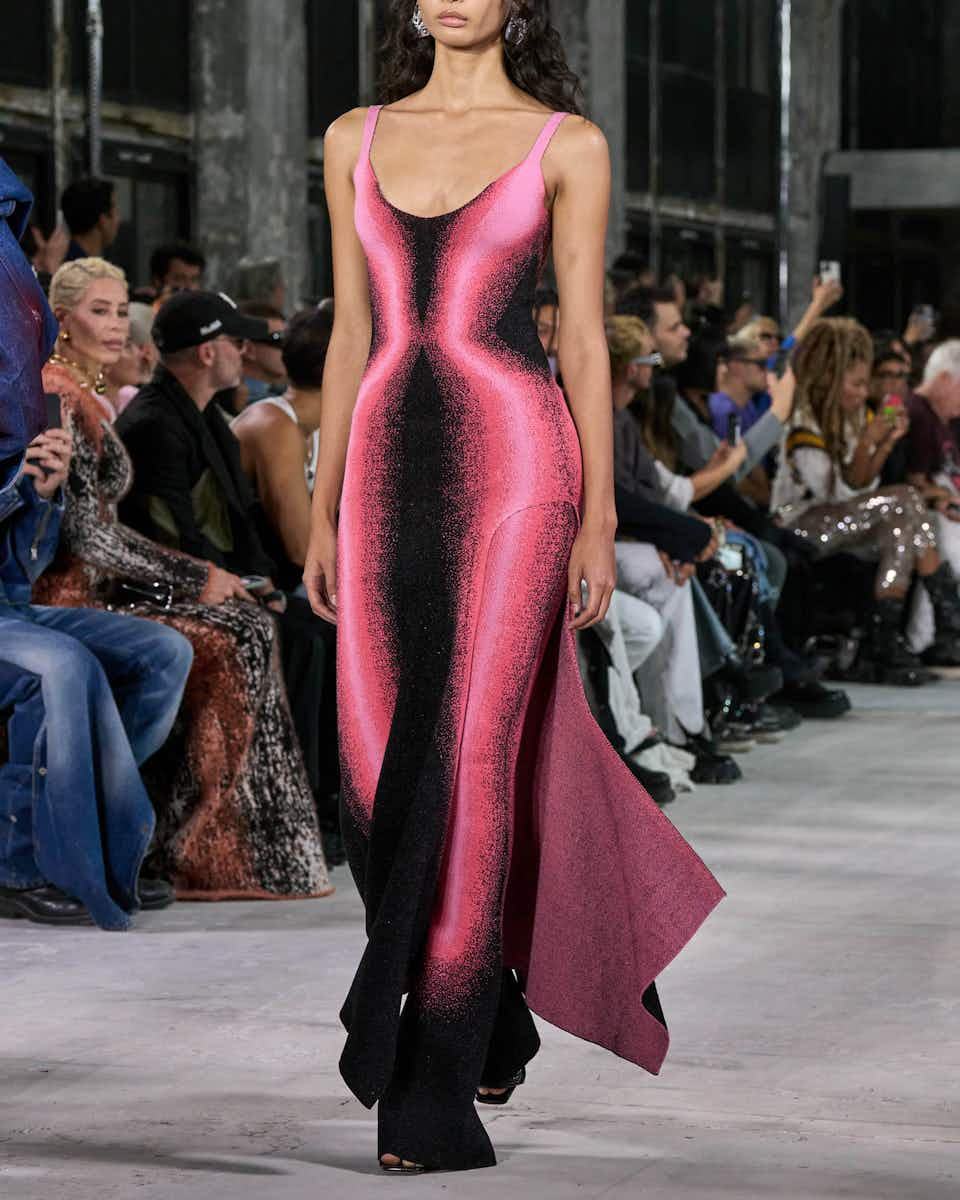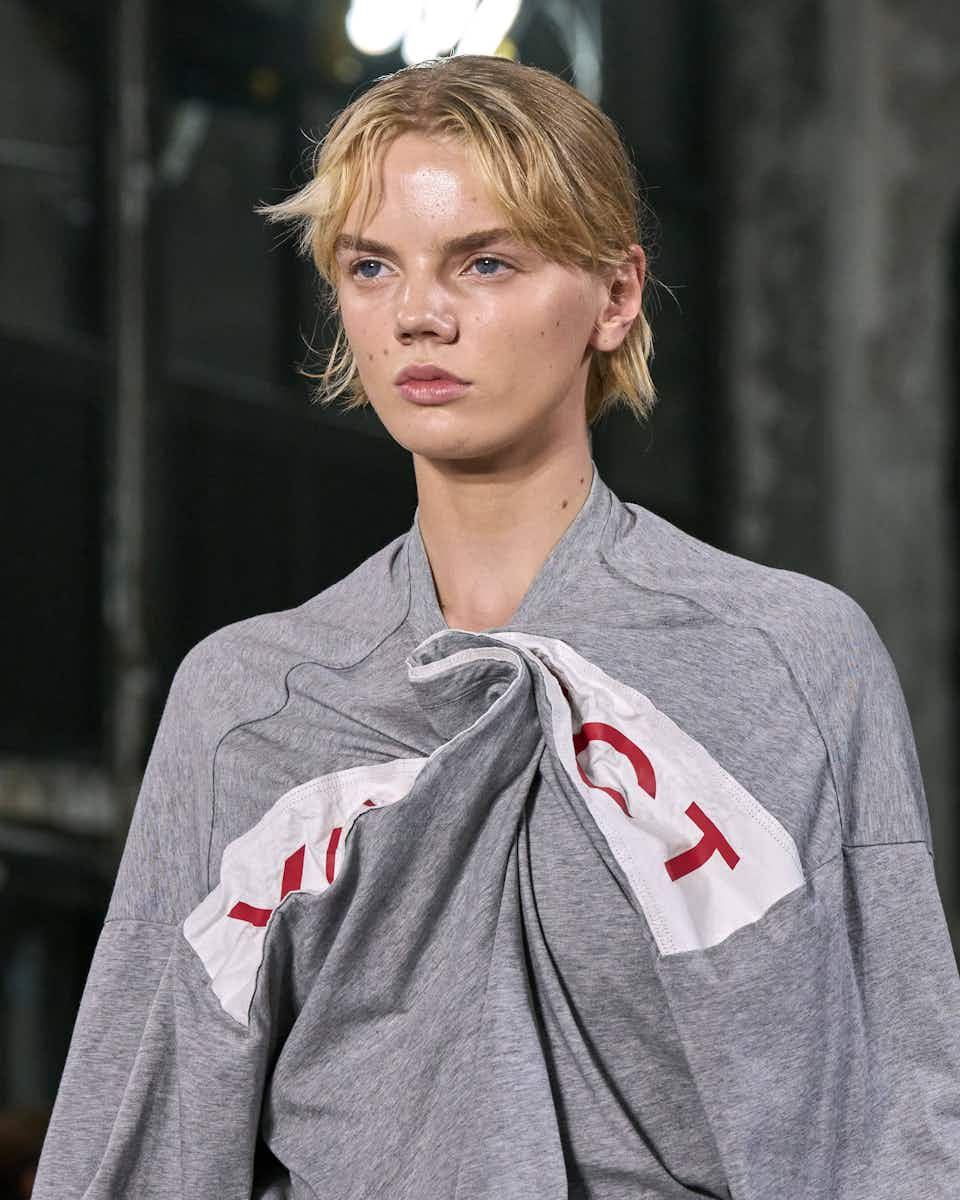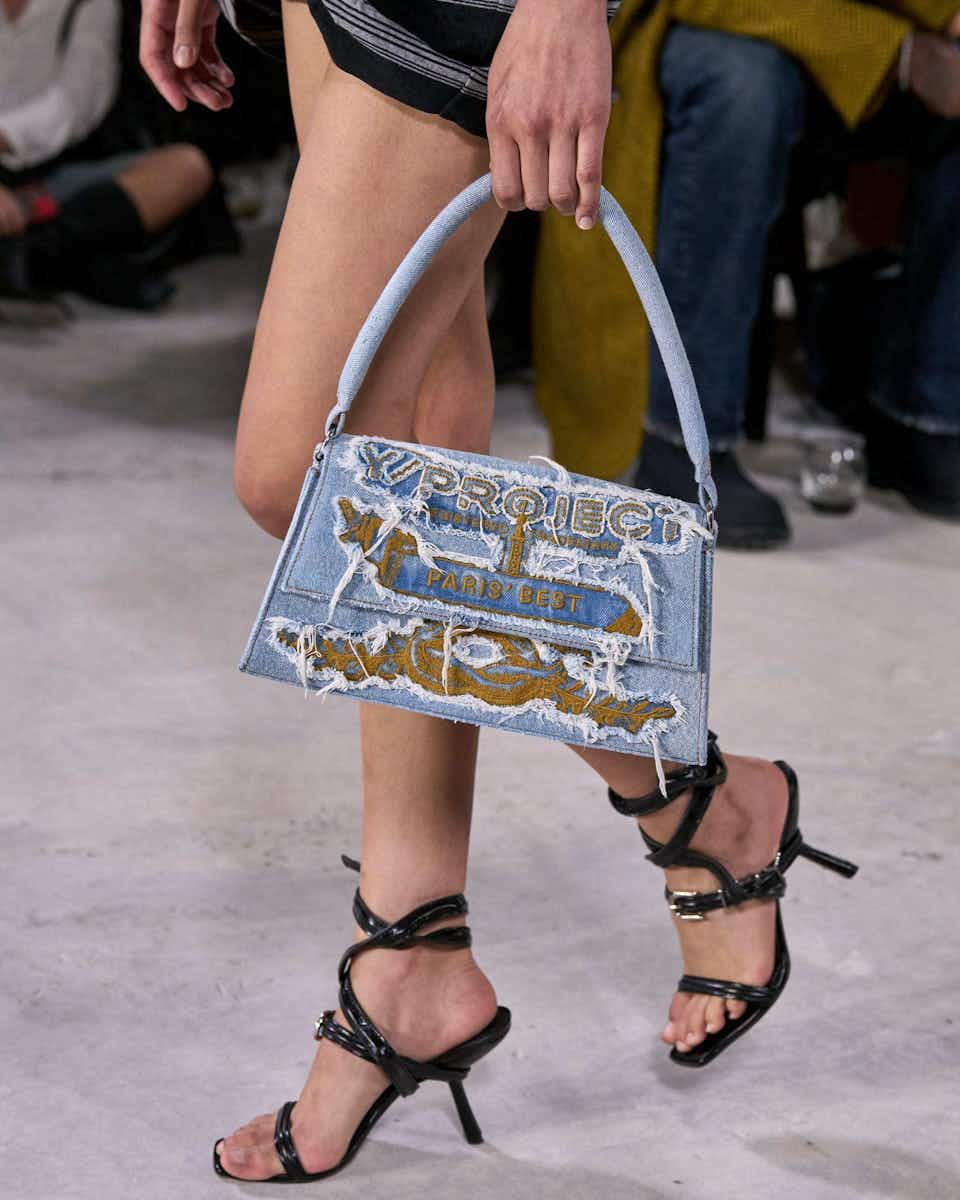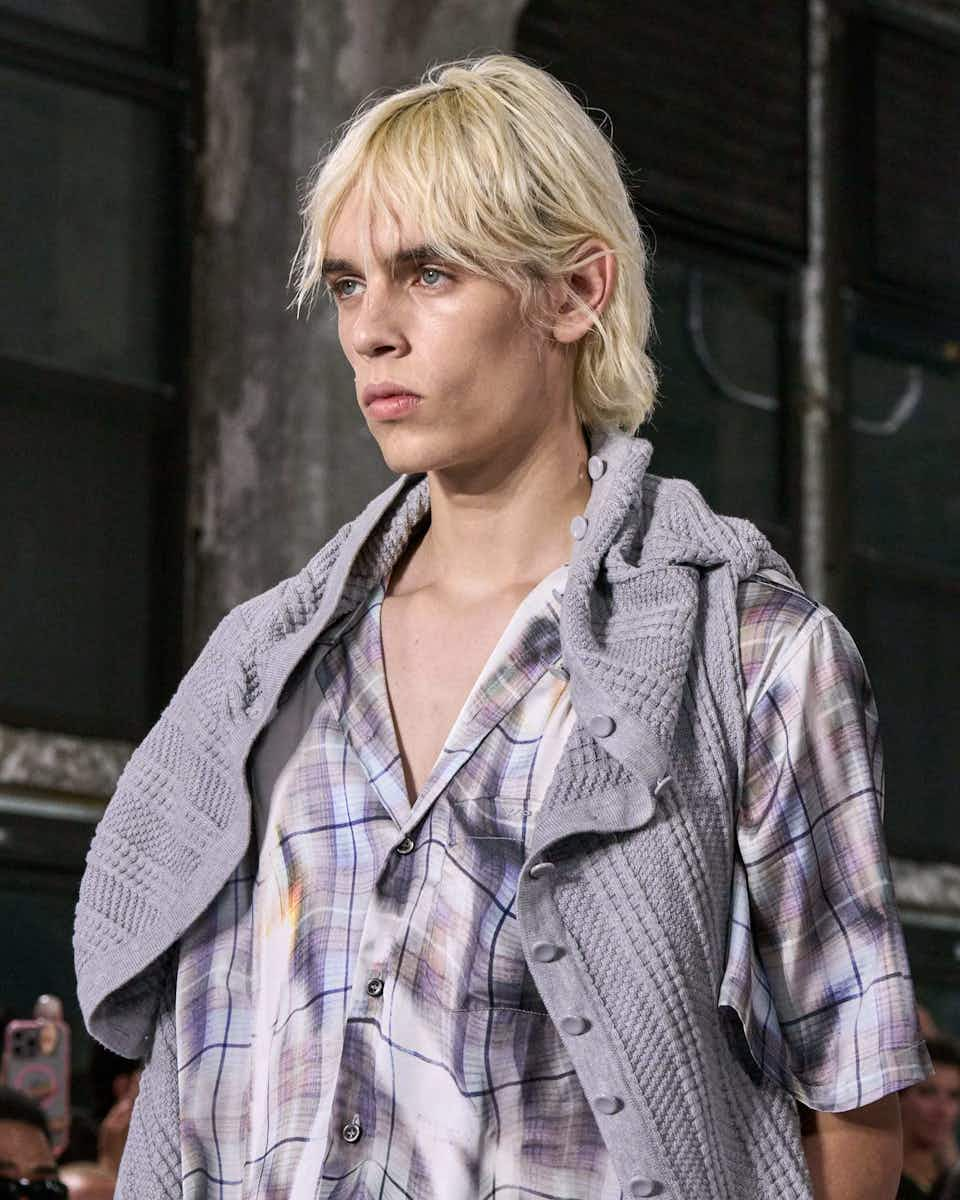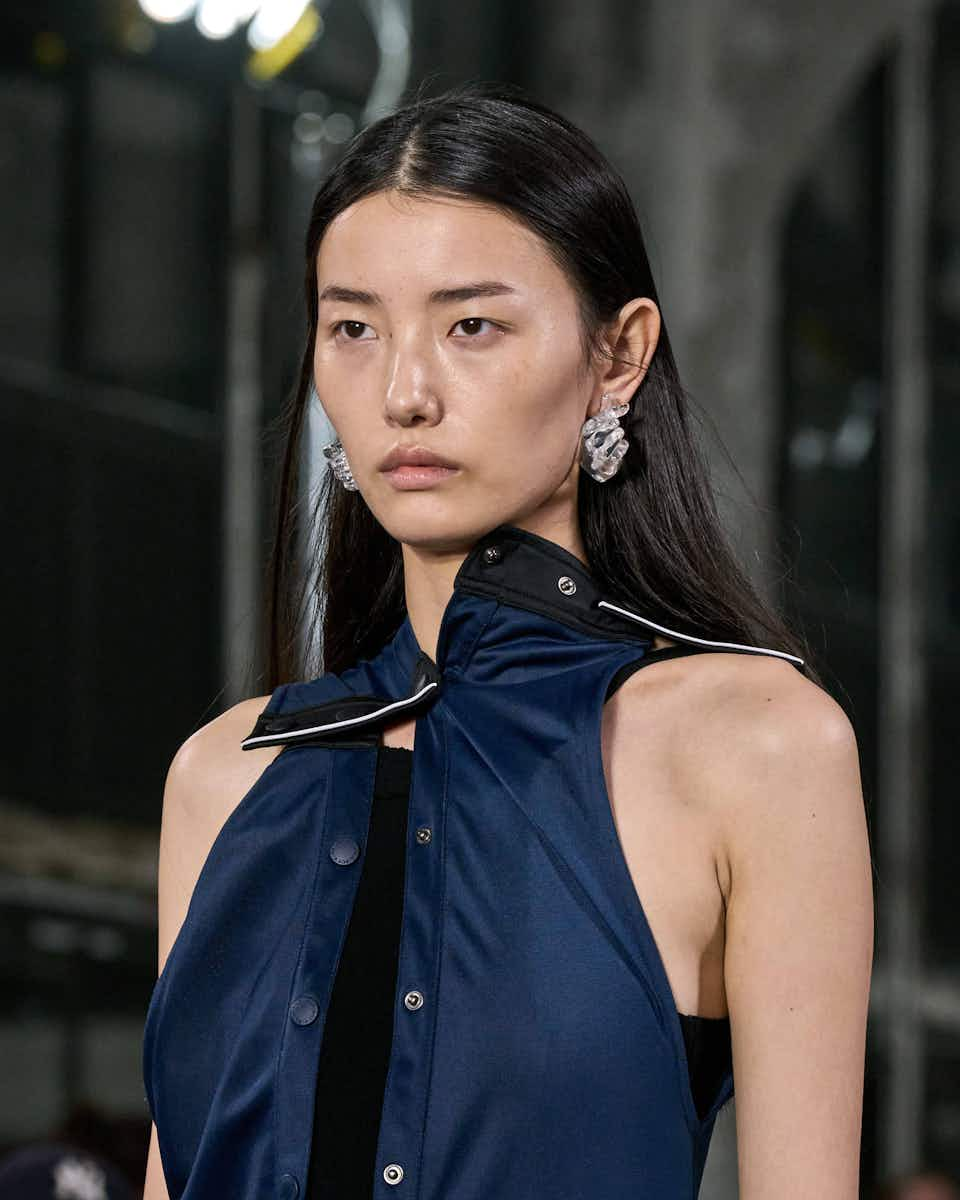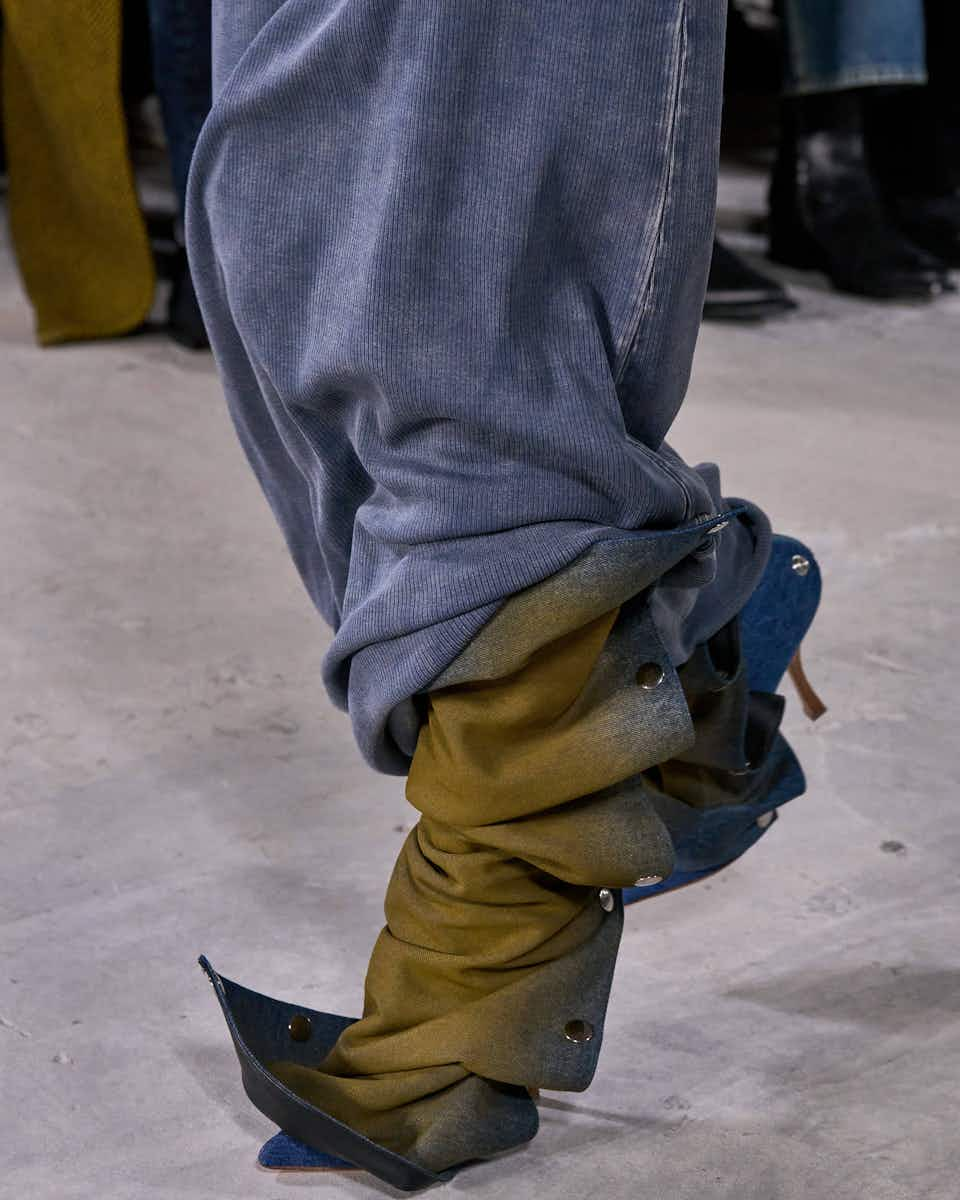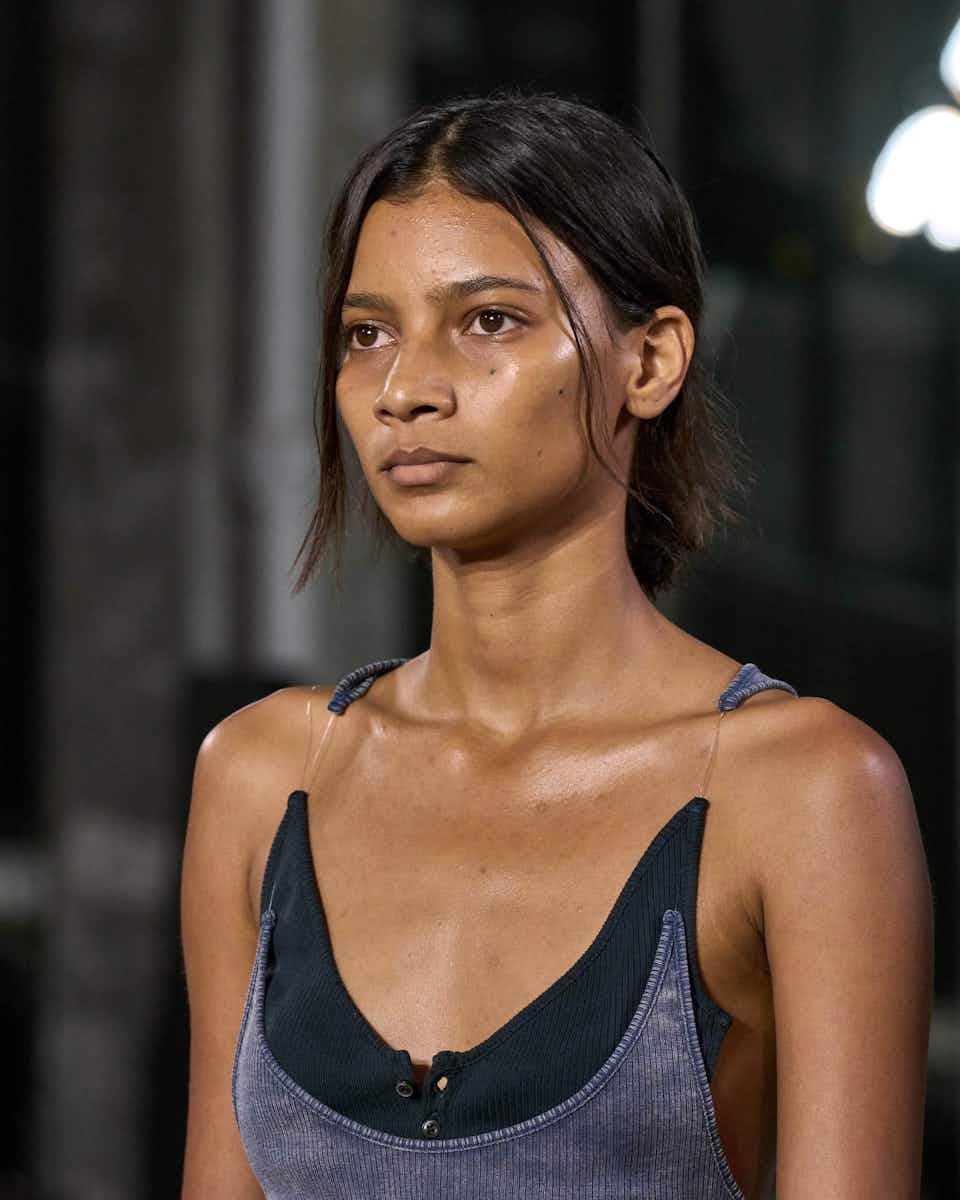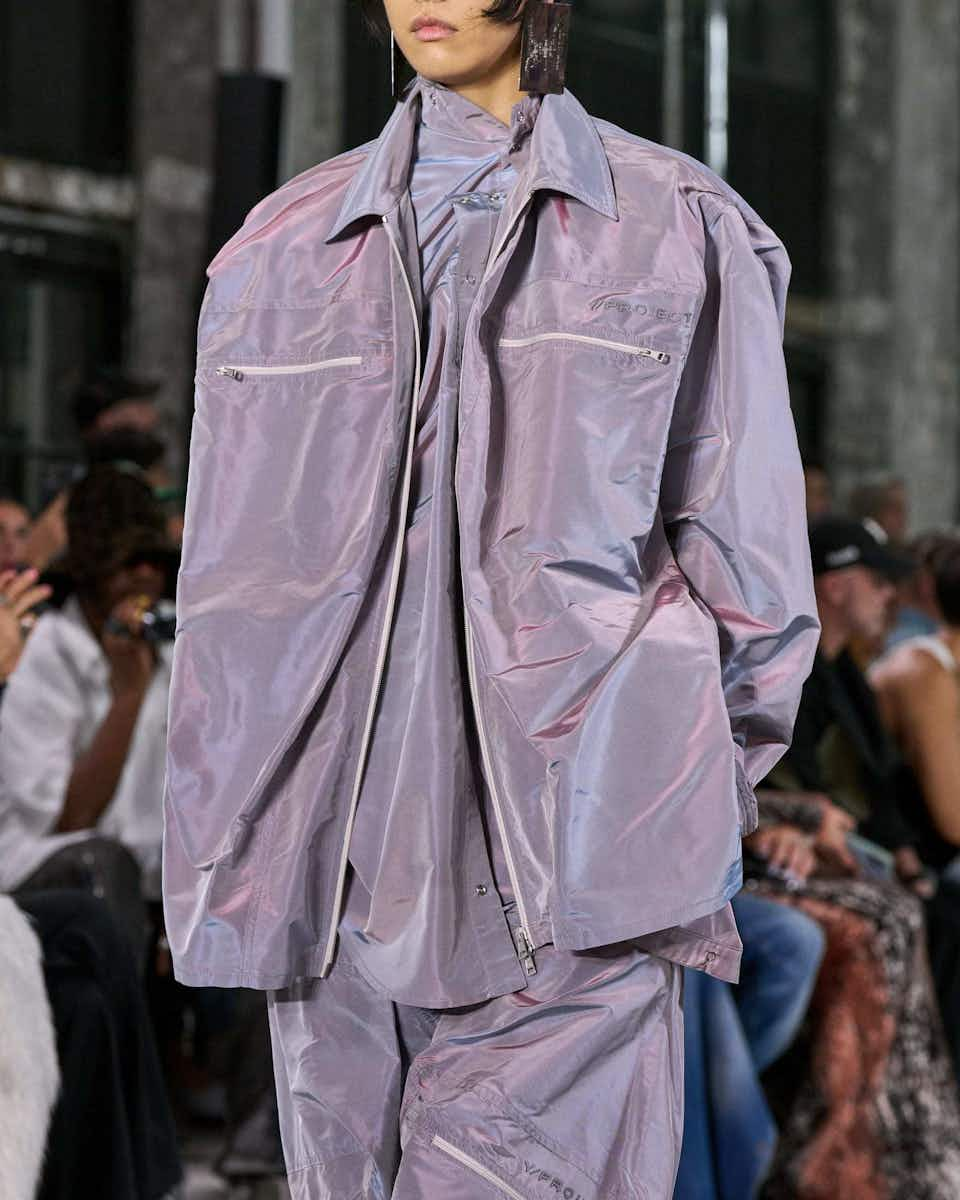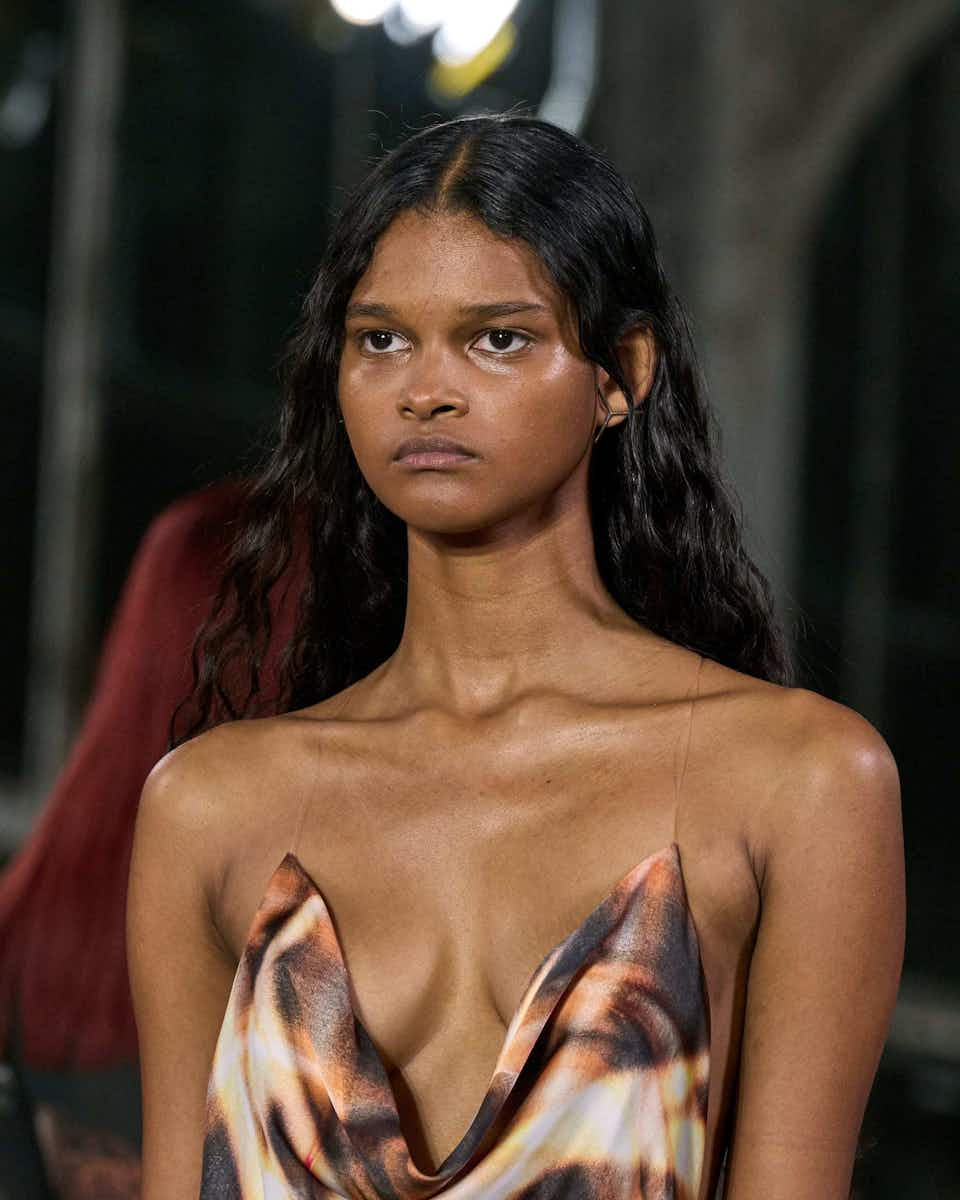 What?

Casablanca's debut appearance on the womenswear schedule. The sunset-hued collection, titled Day of Victory, was shown on the 63rd anniversary of Nigeria's independence from Britain.

So, what did it give?
Sleek and sporty, Casablanca's SS24 collection was influenced by time that Charaf Tajer and his team recently spent in Lagos getting inspired by the city's energy. From this starting point, they introduced sunset hued garments evoking dynamic summer days. These gave way to sport silhouettes like second skin tops and skintight leggings and jumpsuits. Some models carried motorcycle helmets to accessorise their hoodies and moto jackets while others held beach towels under their arms. Denim co-ords and sporty bomber jackets depicted tennis players using a colourful Post-Impressionist style and intricate beading was woven into vest tops and mini skirts. These are clothes to take you from the tennis court, to the beach, to bars to drink rum cocktails and take in the sunset.

Any stand-out pieces?
The ombre yellow suit that was layered with organza and shimmered as it caught the light.

In a song?

Rosalía's Motomami.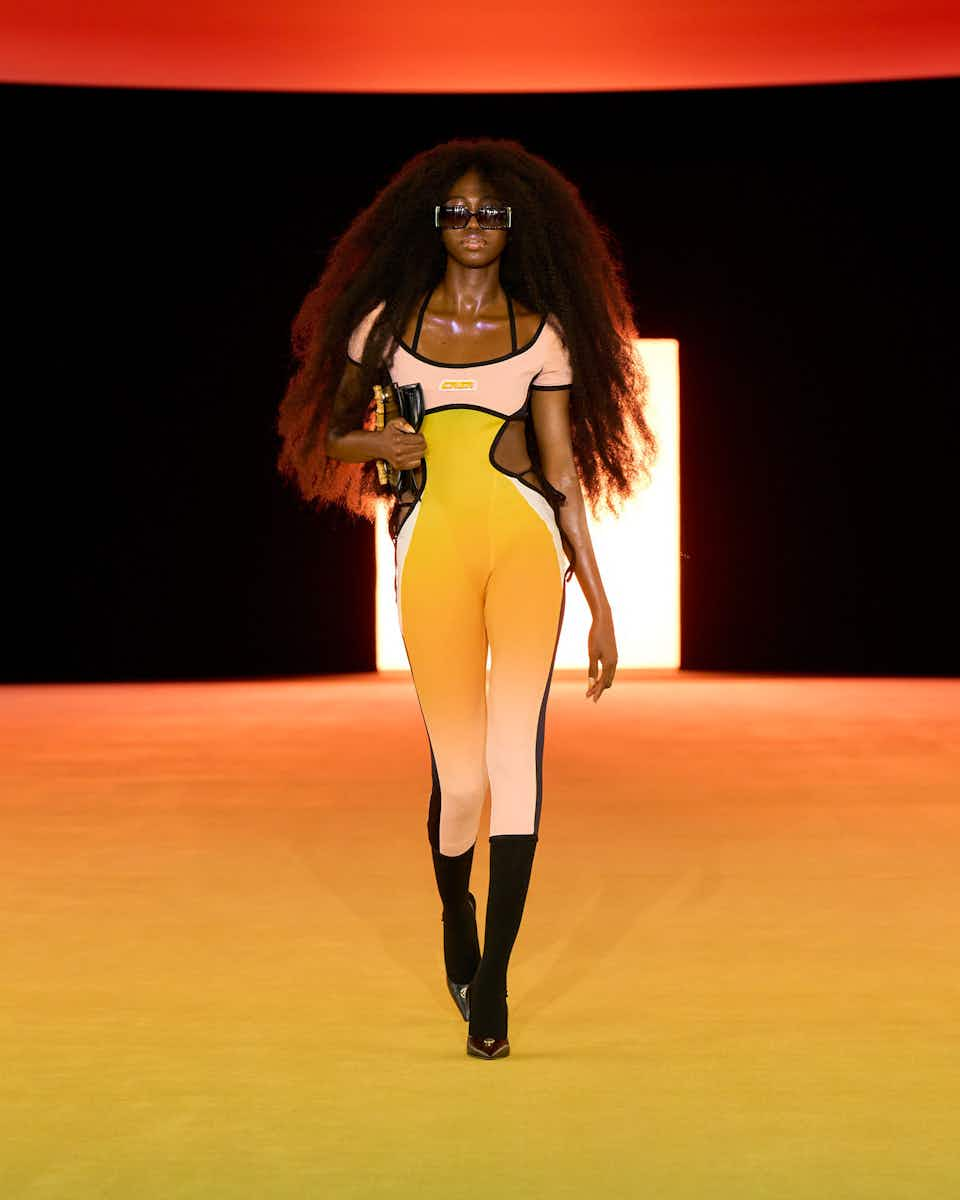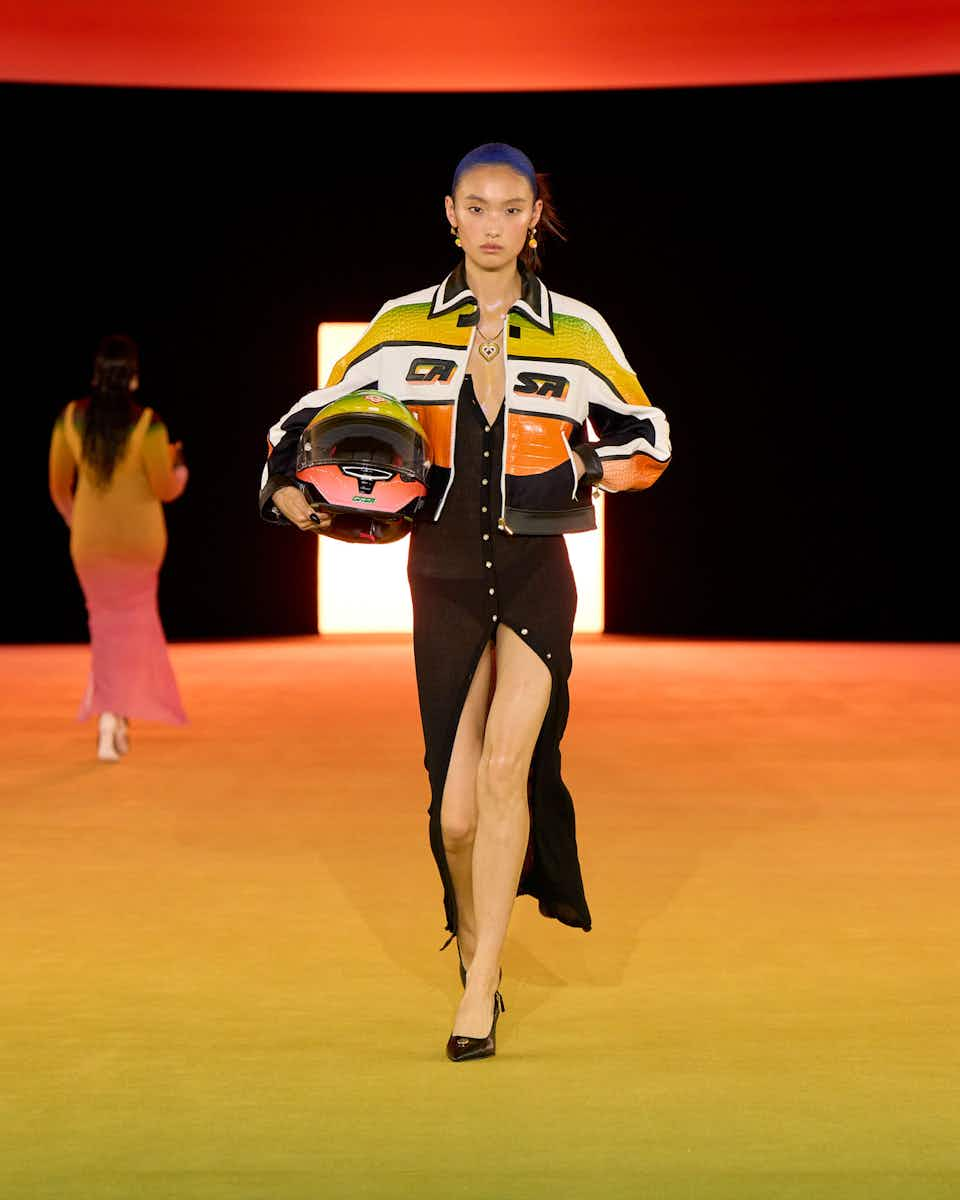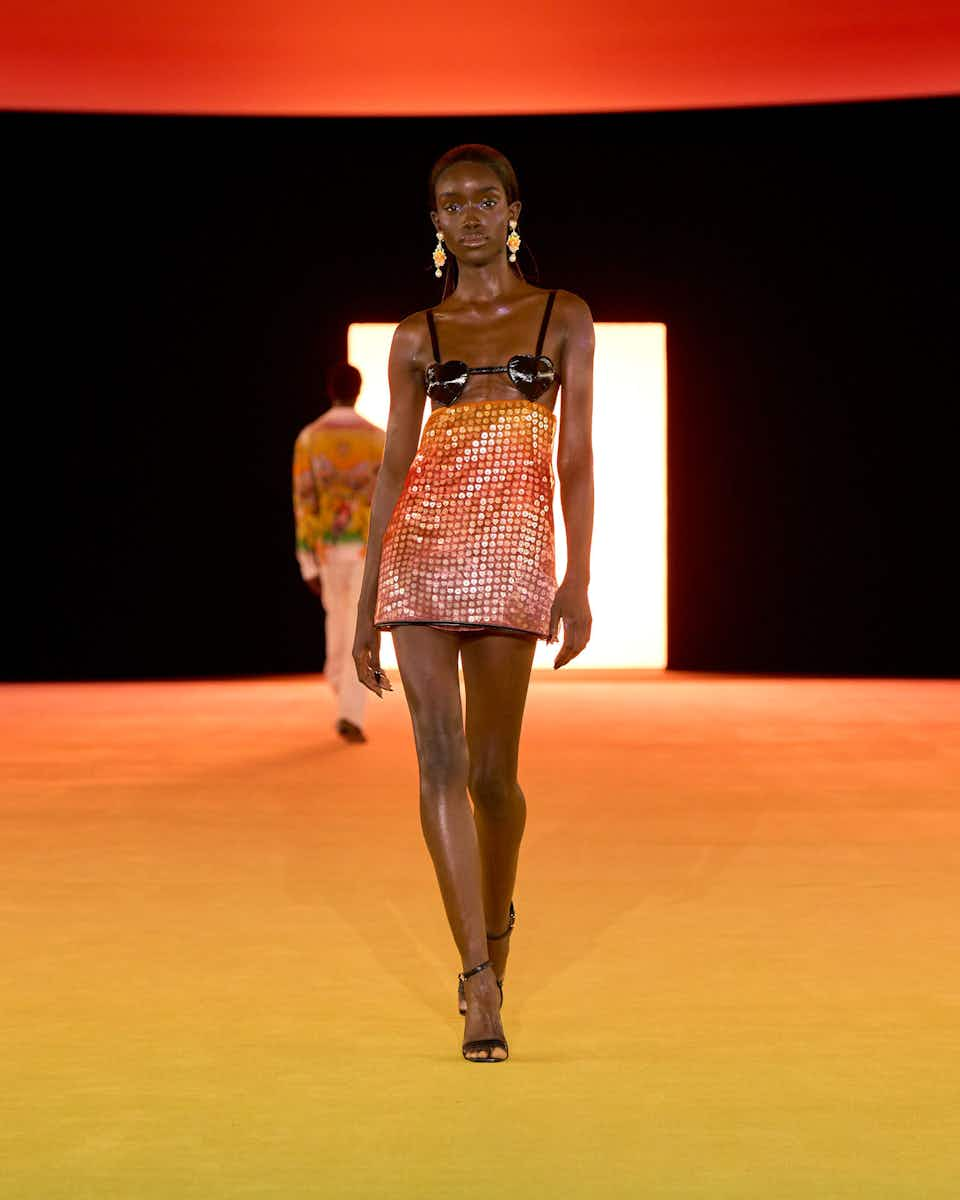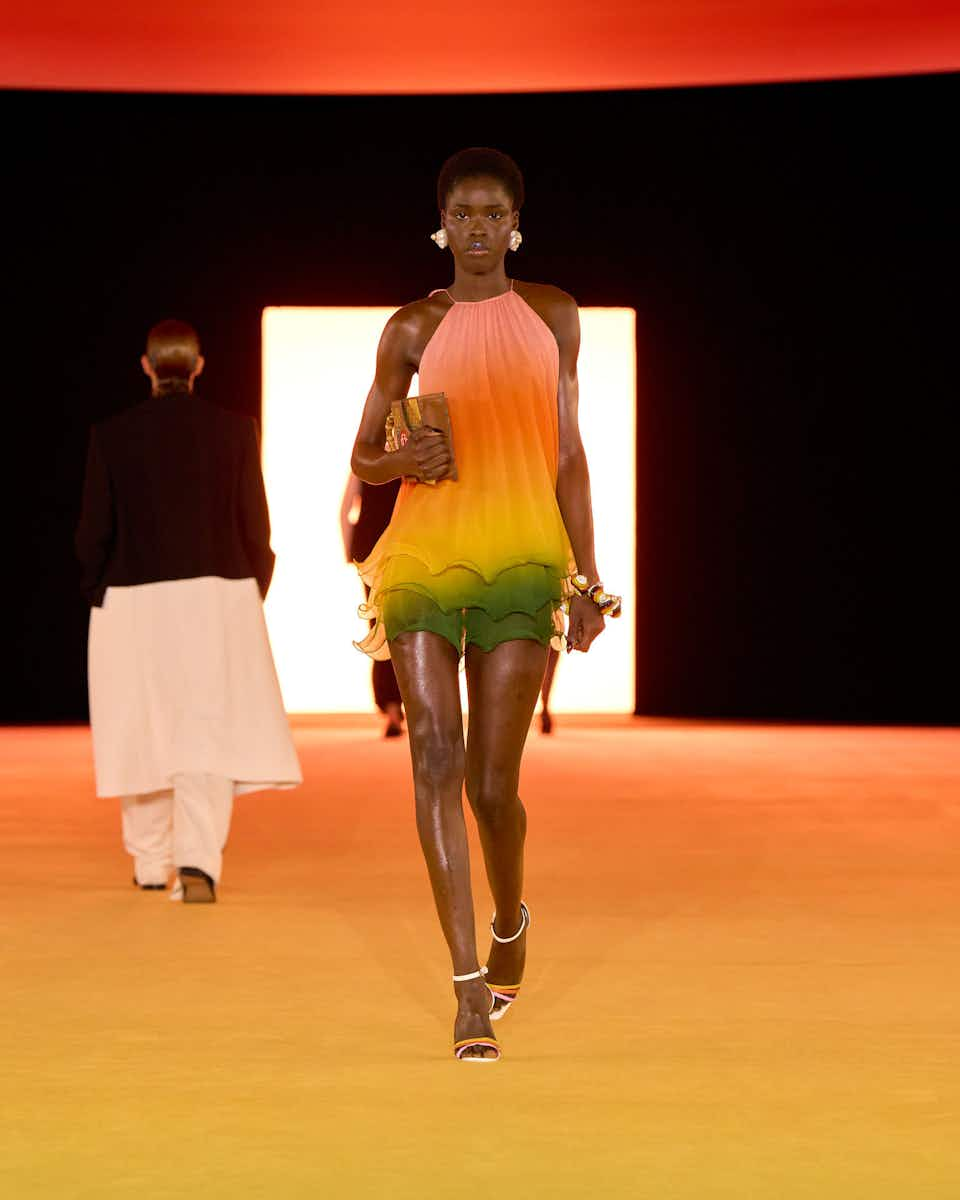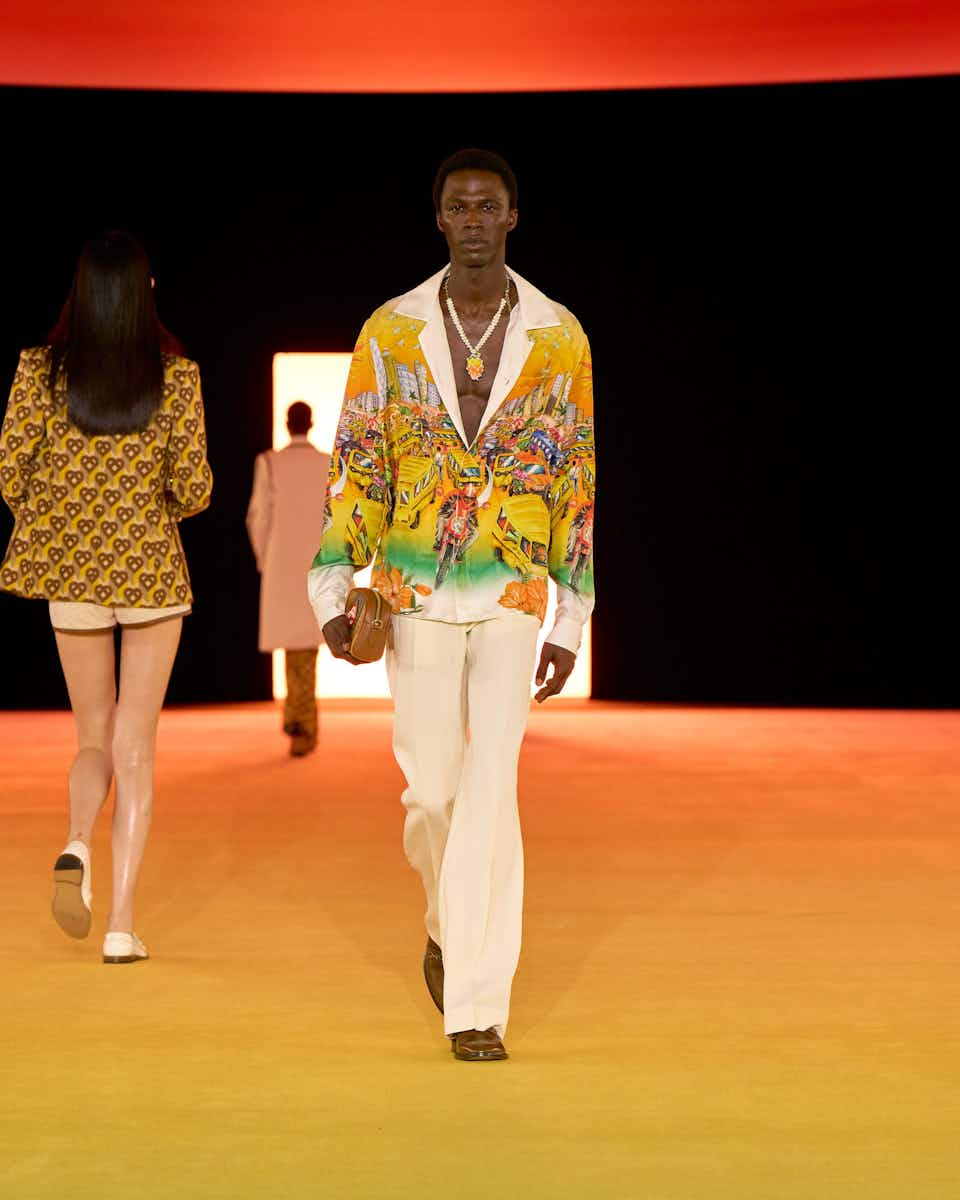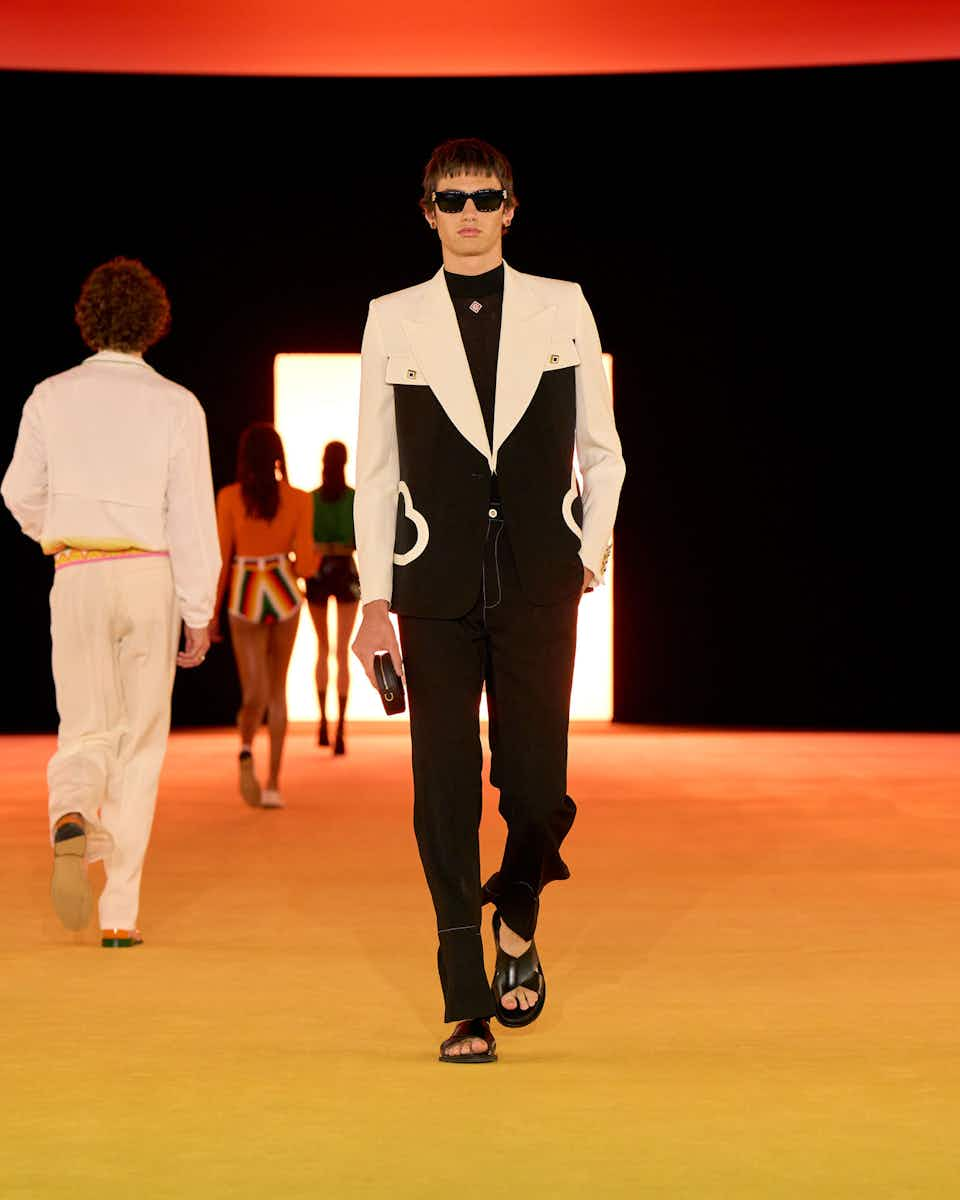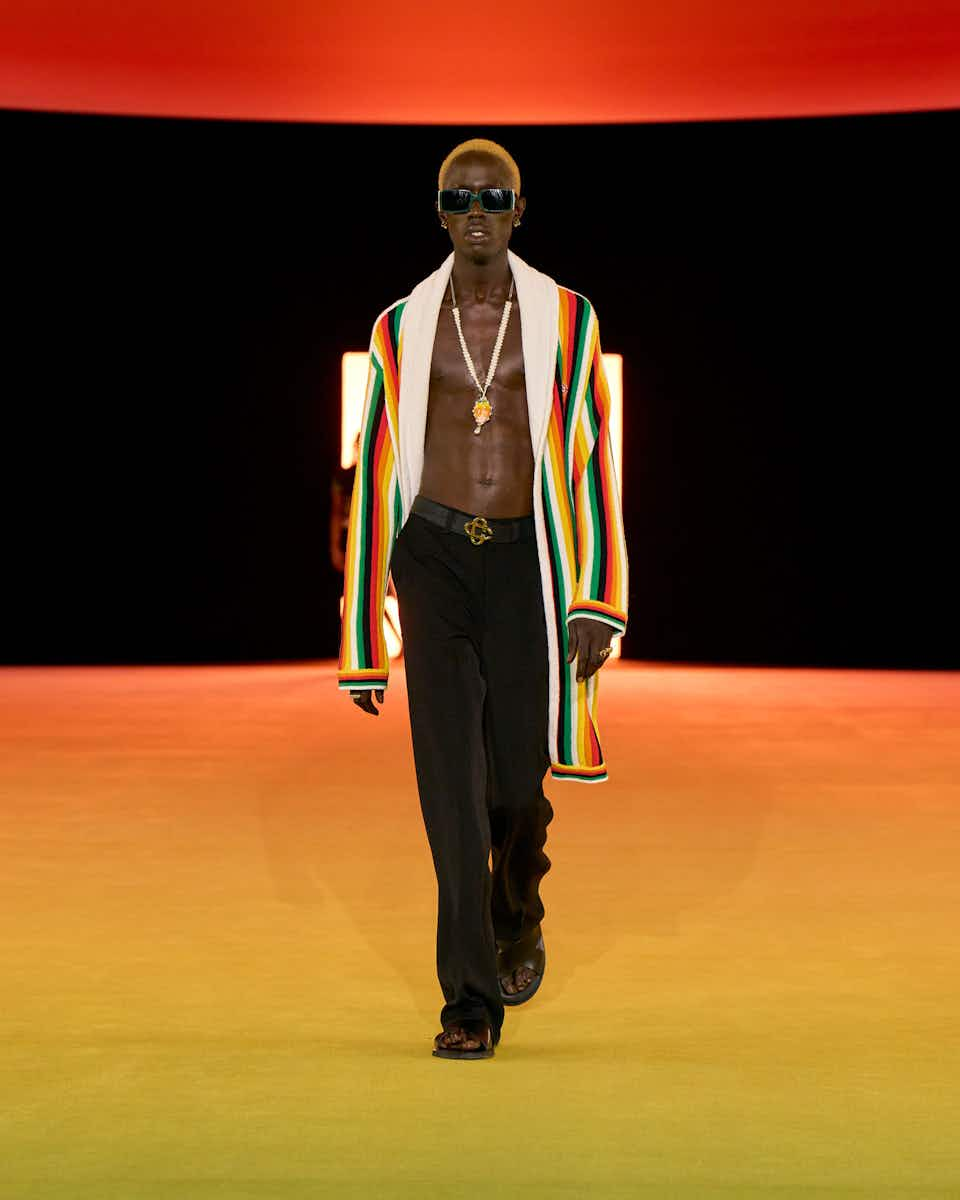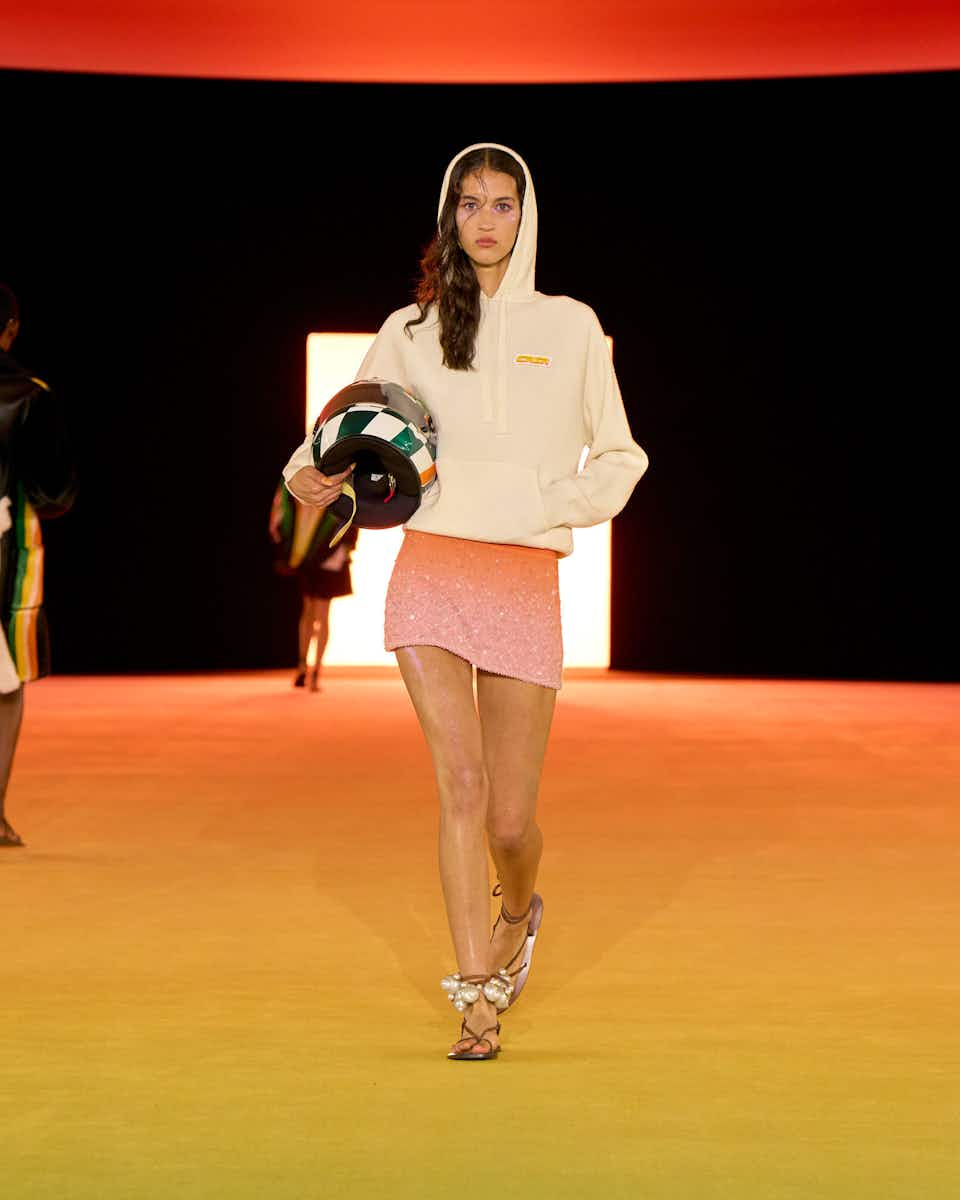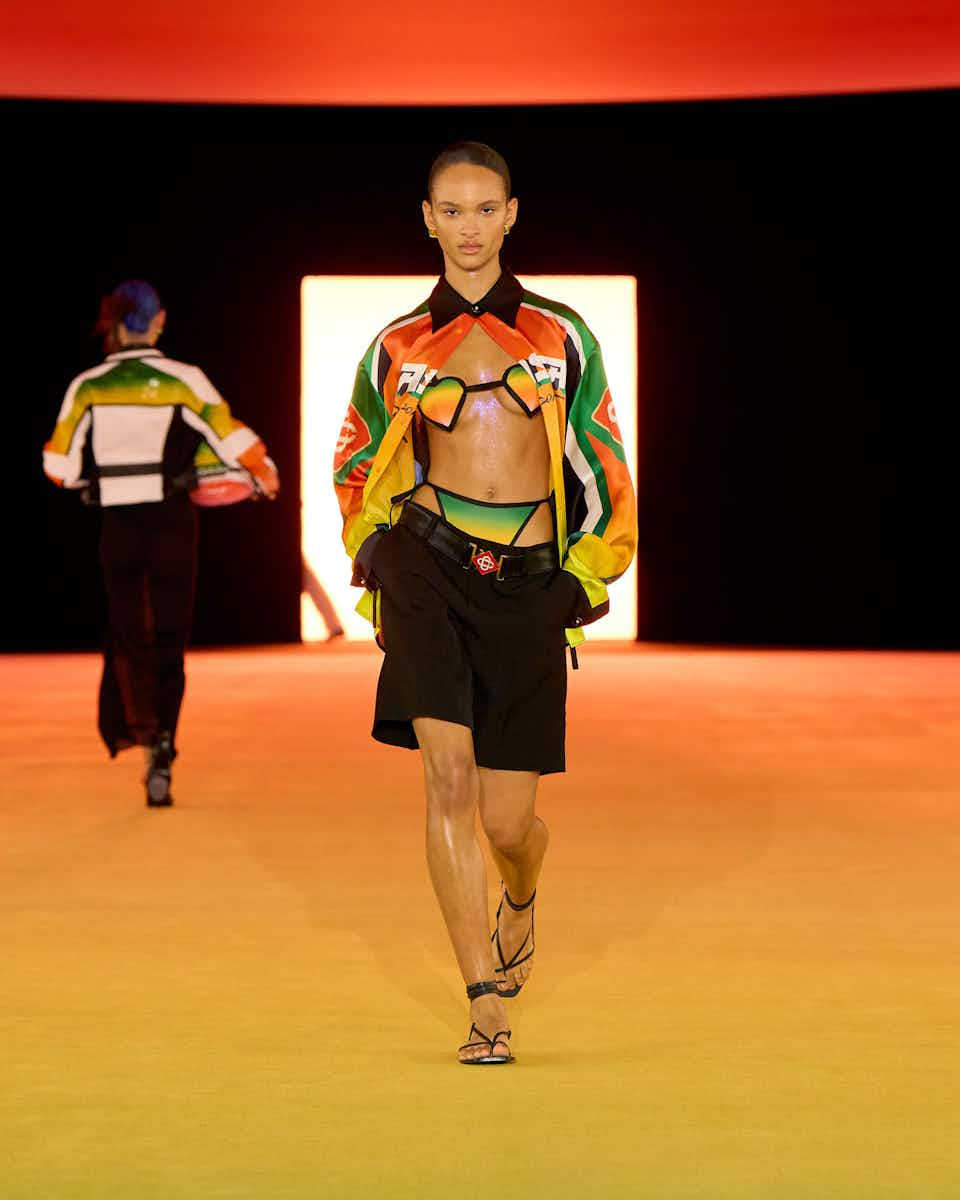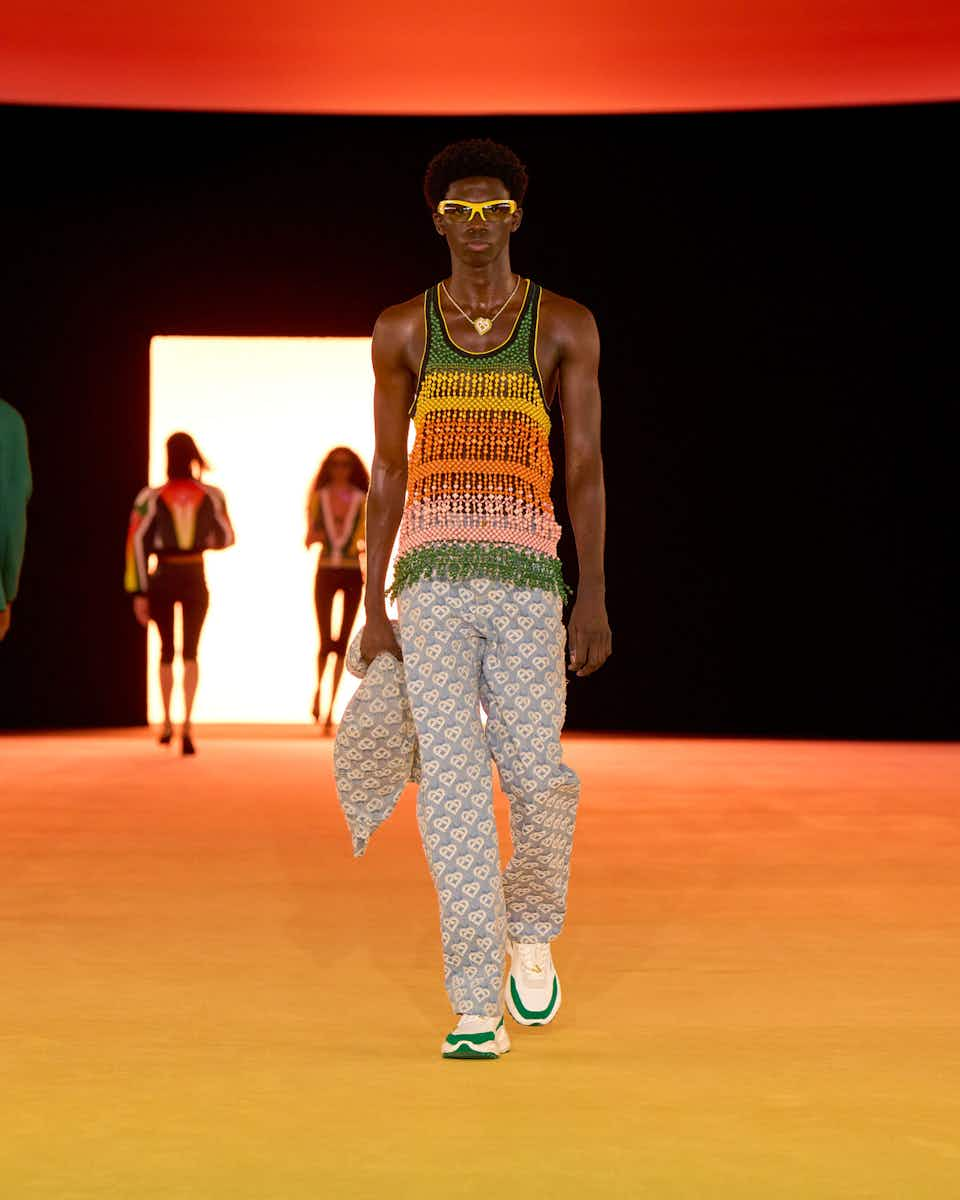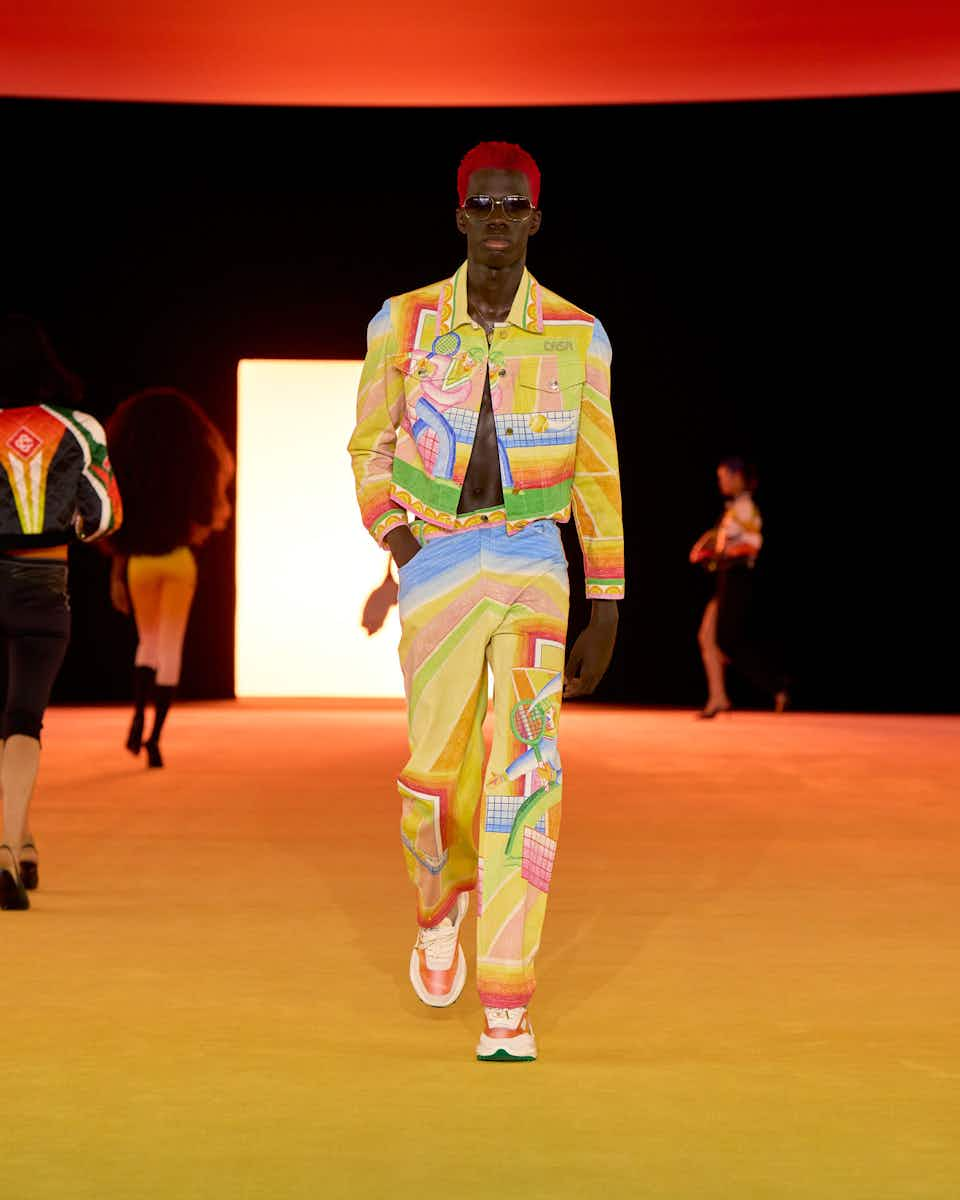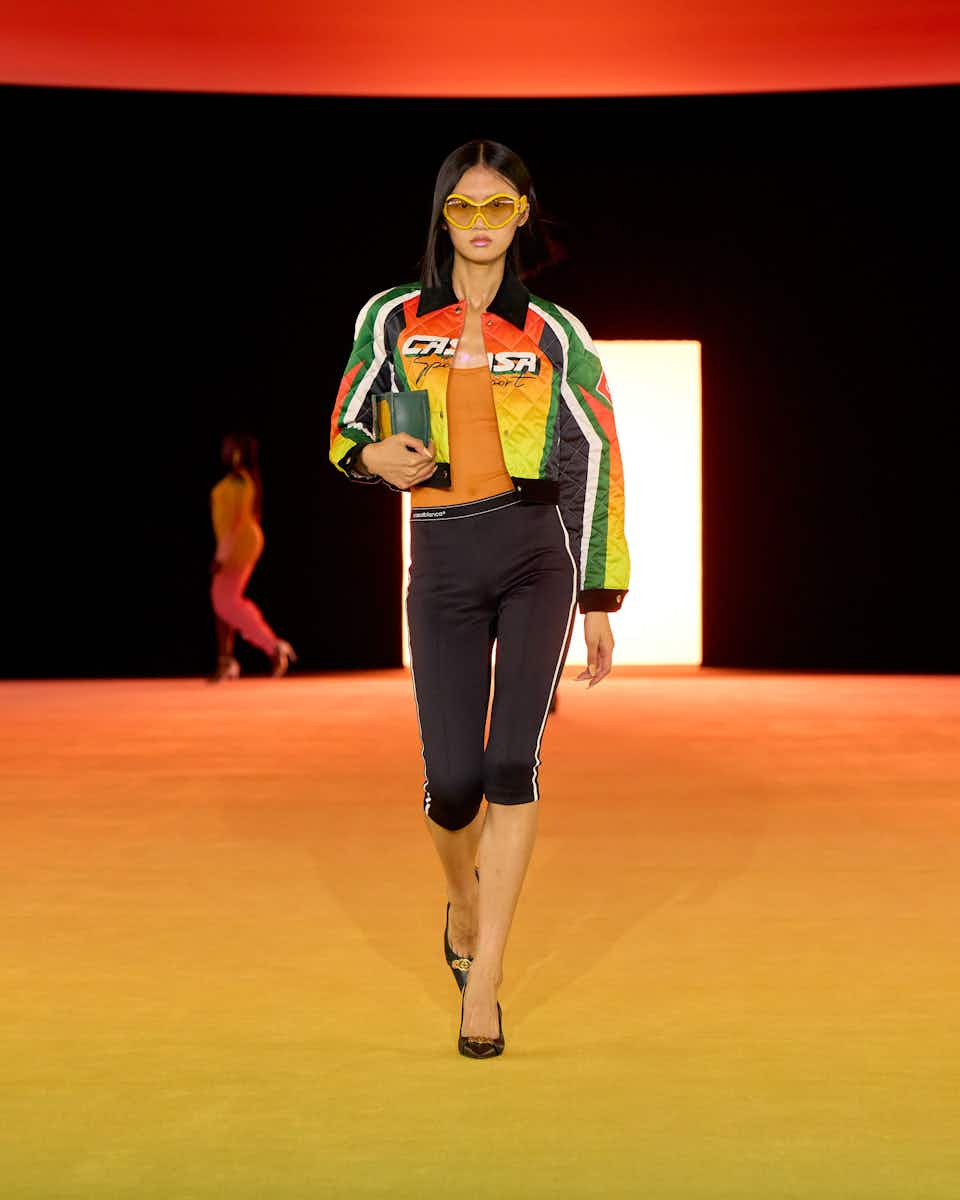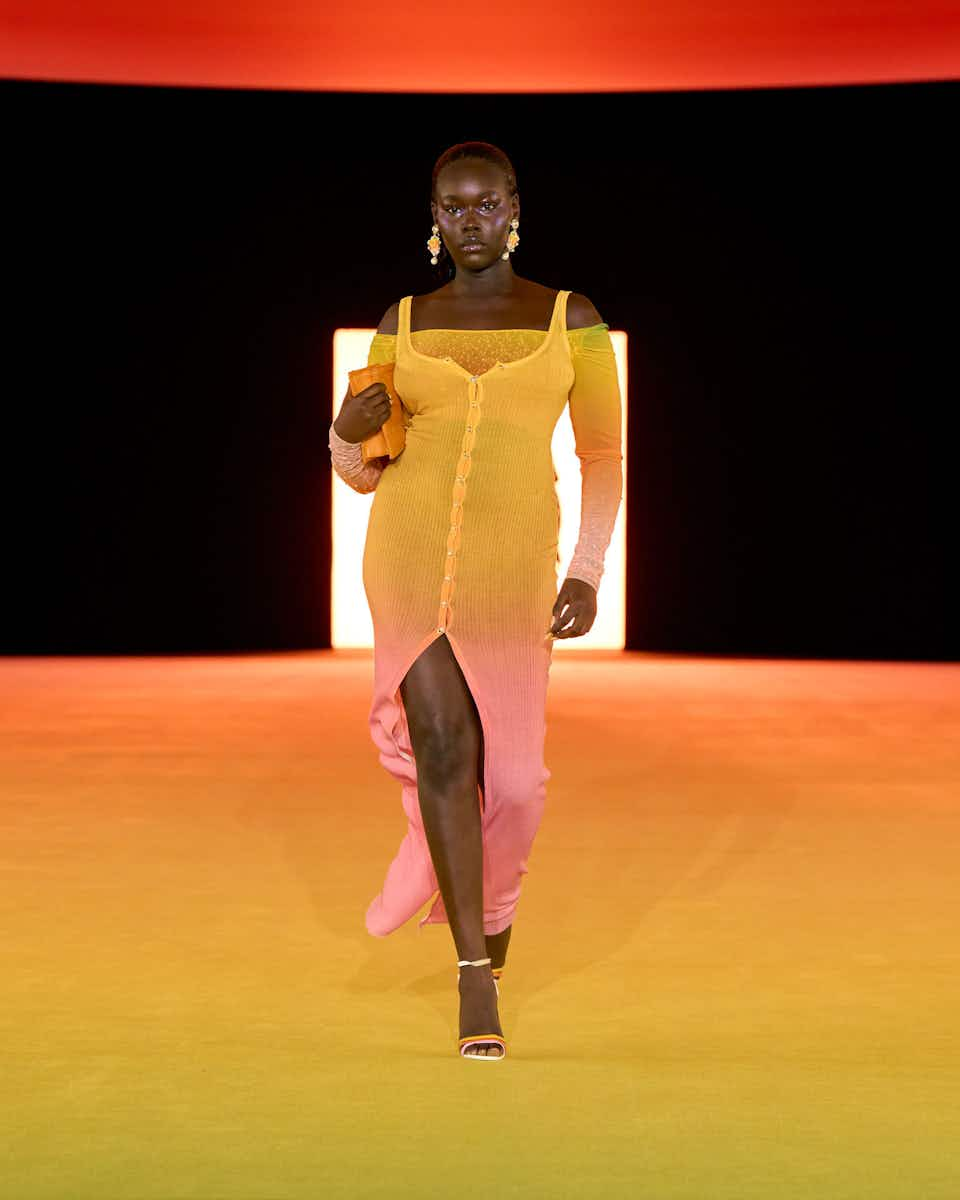 What?
Pier Paolo Piccioli's celebration of choice – a pushback against the regressive politics of Italy's current right-wing government.

Where?
At École des Beaux-Arts with FKA Twigs and her dancers performing in the centre as models walked around them, passing classical nude sculptures of women.

Who was there?

It was a real A‑list affair with Cher, Paris Hilton, Florence Pugh, Andrew Garfield, Penn Badgley and Maude Apatow sat front and centre.

What was the show like?

Sometimes getting dressed as a woman can feel political. Such was the case at Valentino's SS24 show where creative director Pier Paolo Piccioli directly referred to a victim blaming controversy that recently shook Italian political discourse. Last month, Italy's right-wing Prime Minister, Giorgia Meloni – who herself opposes quotas to get more women into parliament and business – seemed to defend her partner who suggested that women could avoid rape by not getting too drunk.

Pier Paolo's collection was a response to this victim blaming rhetoric and the fear that Meloni's far-right party, Brothers of Italy, could potentially rollback rights for women. ​"We have to keep women's freedom to express themselves, to express their bodies in a very free way," the designer said. ​"I think that feminism is the freedom of women to be who they are. Even to expose the body, and say no." This was translated in body exposing cut-outs in the form of delicate embroidered mini dresses crafted in the shape of flowers or baroque embroidery. These appeared alongside denim, trouser suits and crisp white shirts and blazers, clothes that rooted the more ethereal offerings in the everyday.
Other notable moments?

Following her athletically choreographed dance routine, FKA Twigs performed a new song, which got an approving look from Cher on the front row – we're manifesting that collab.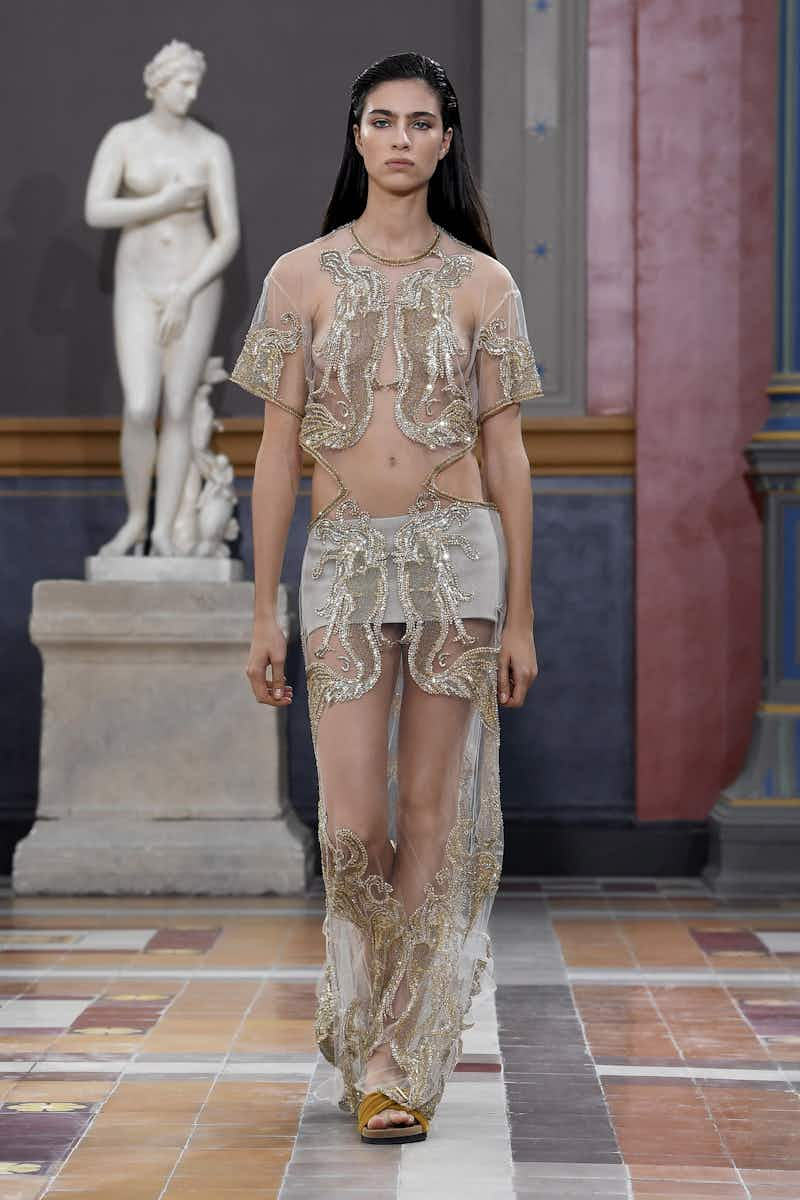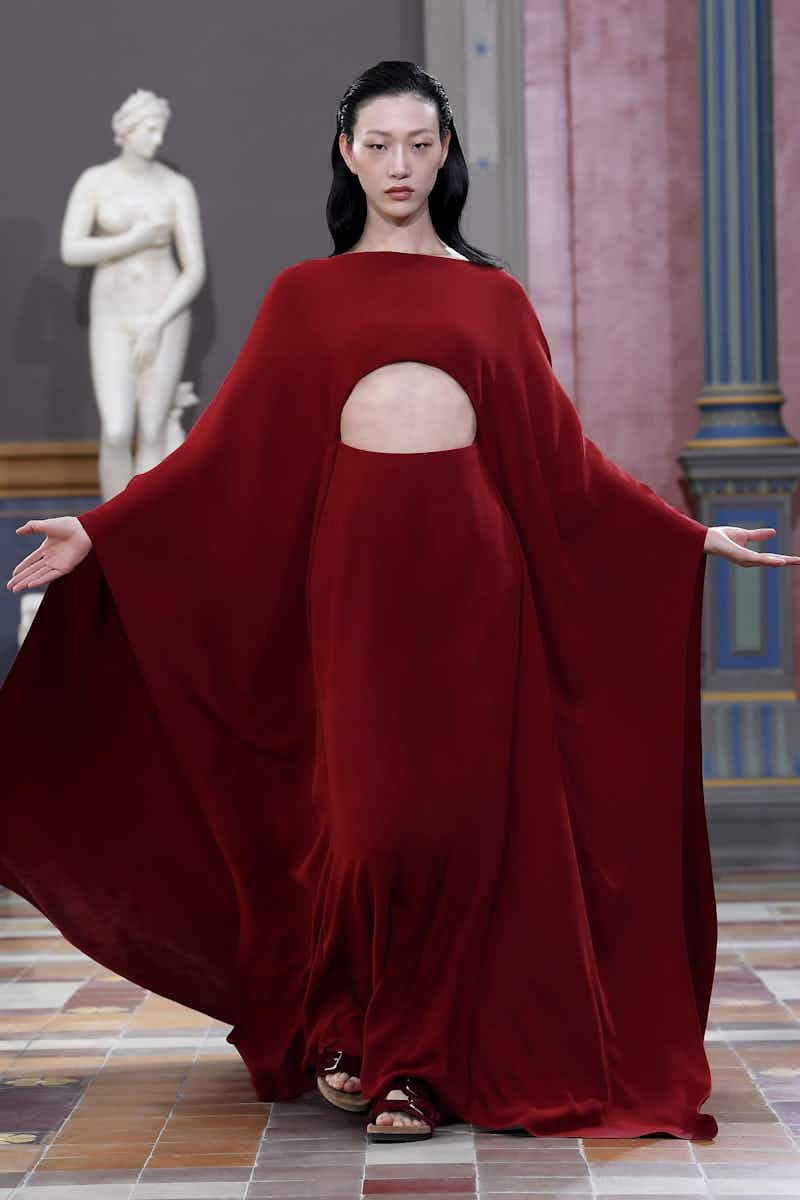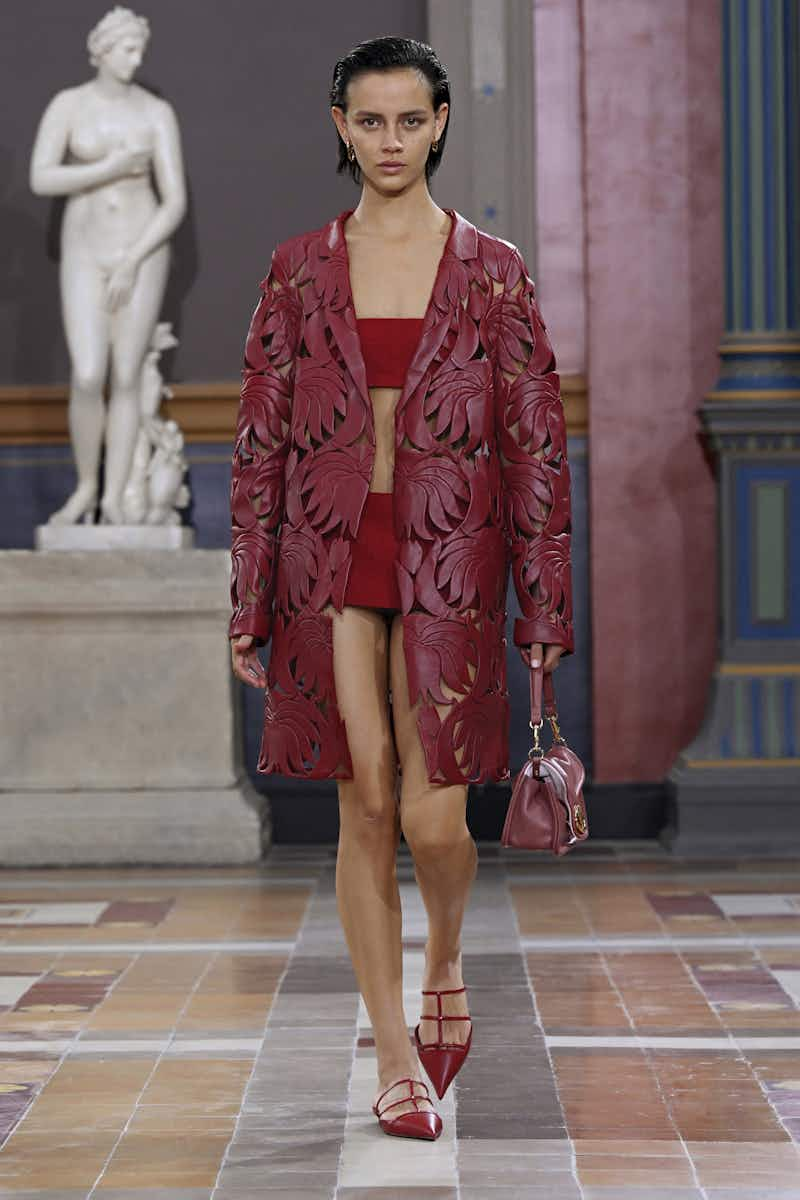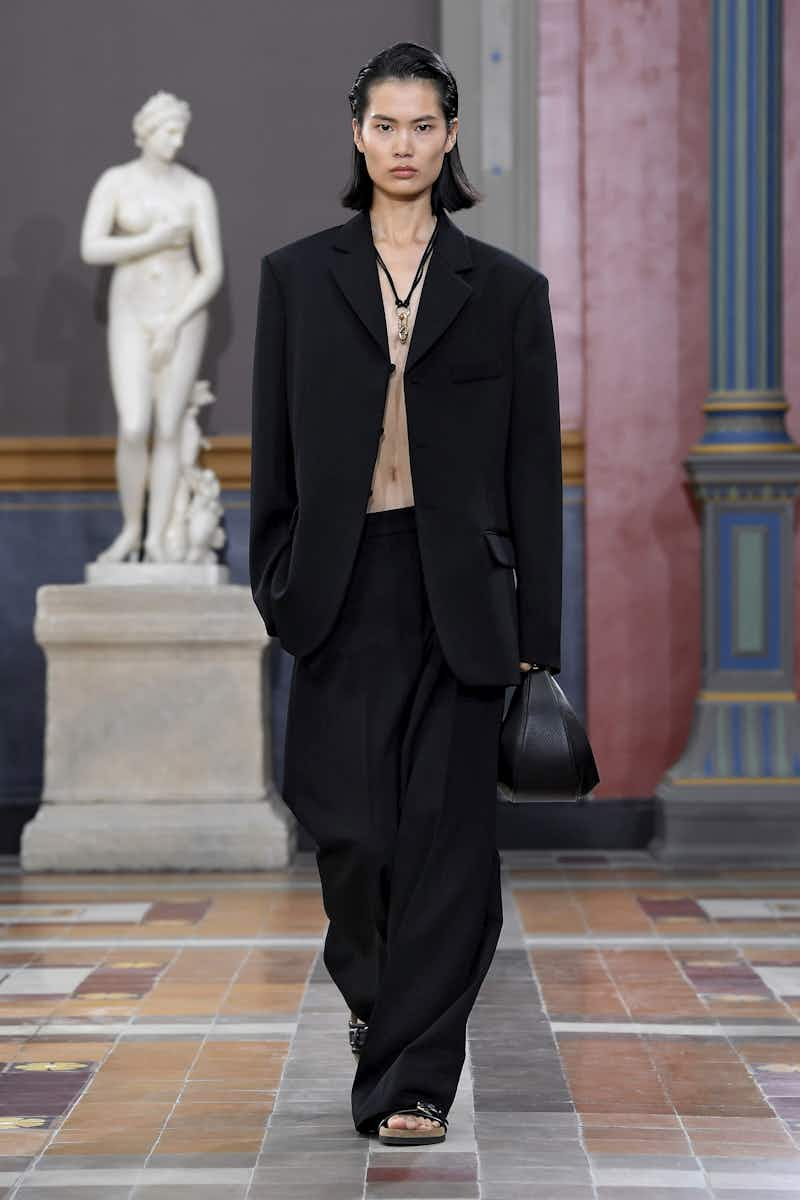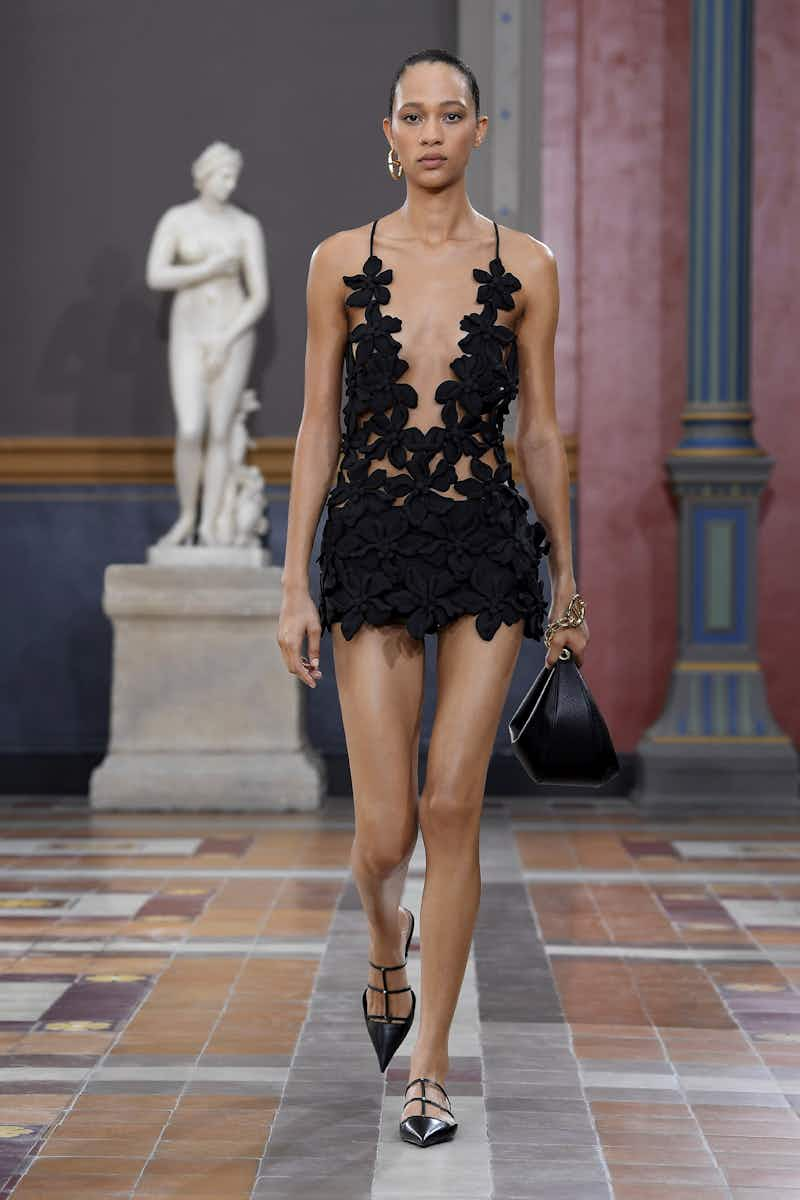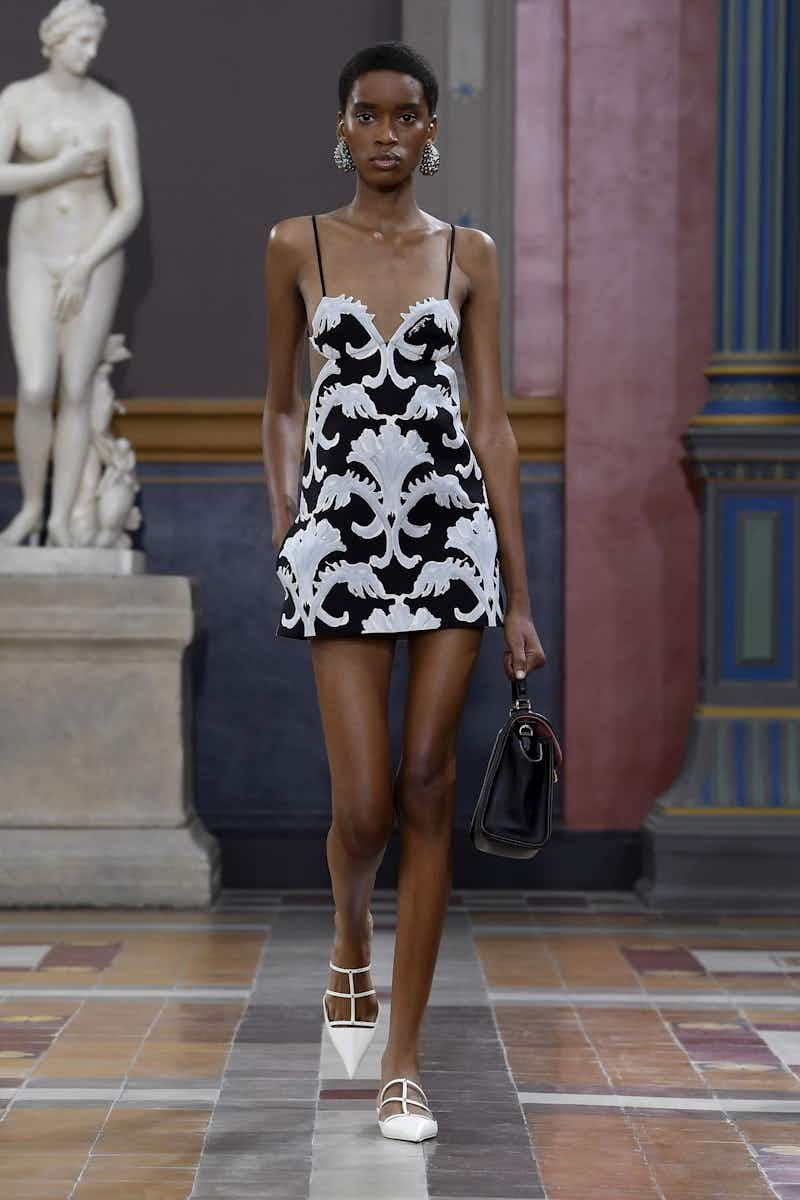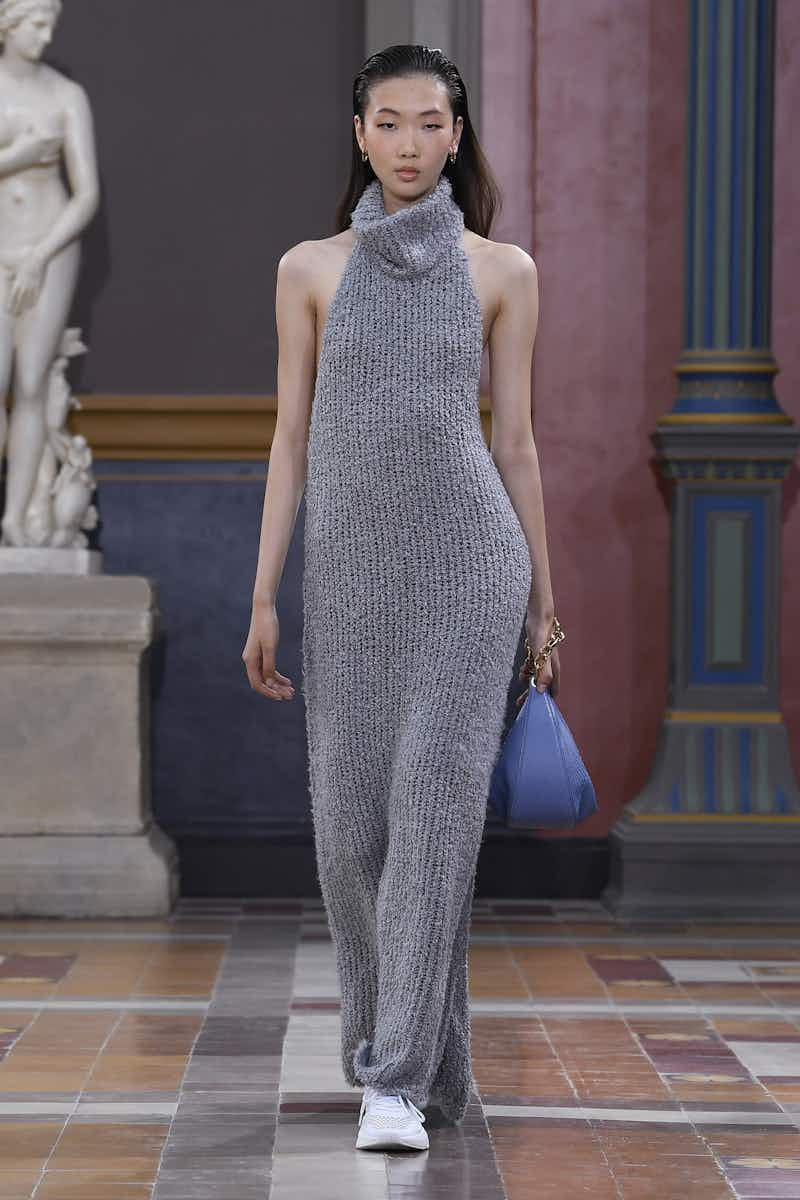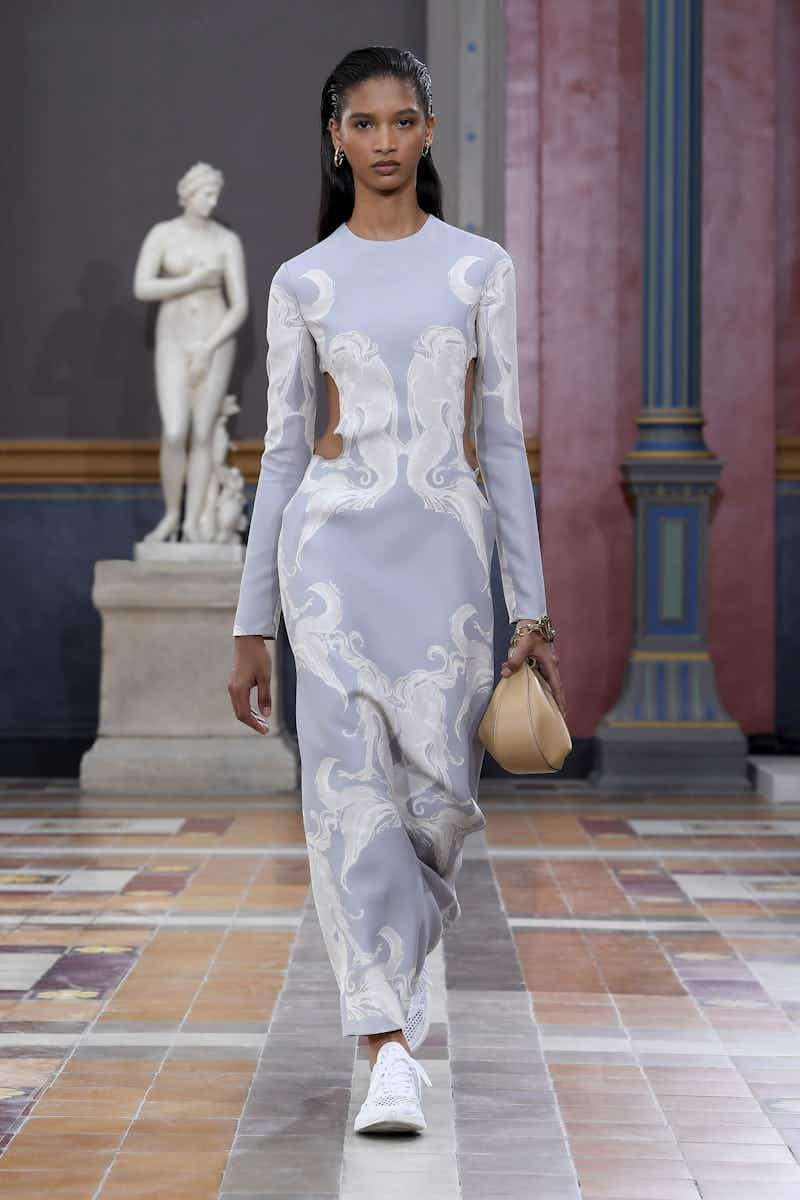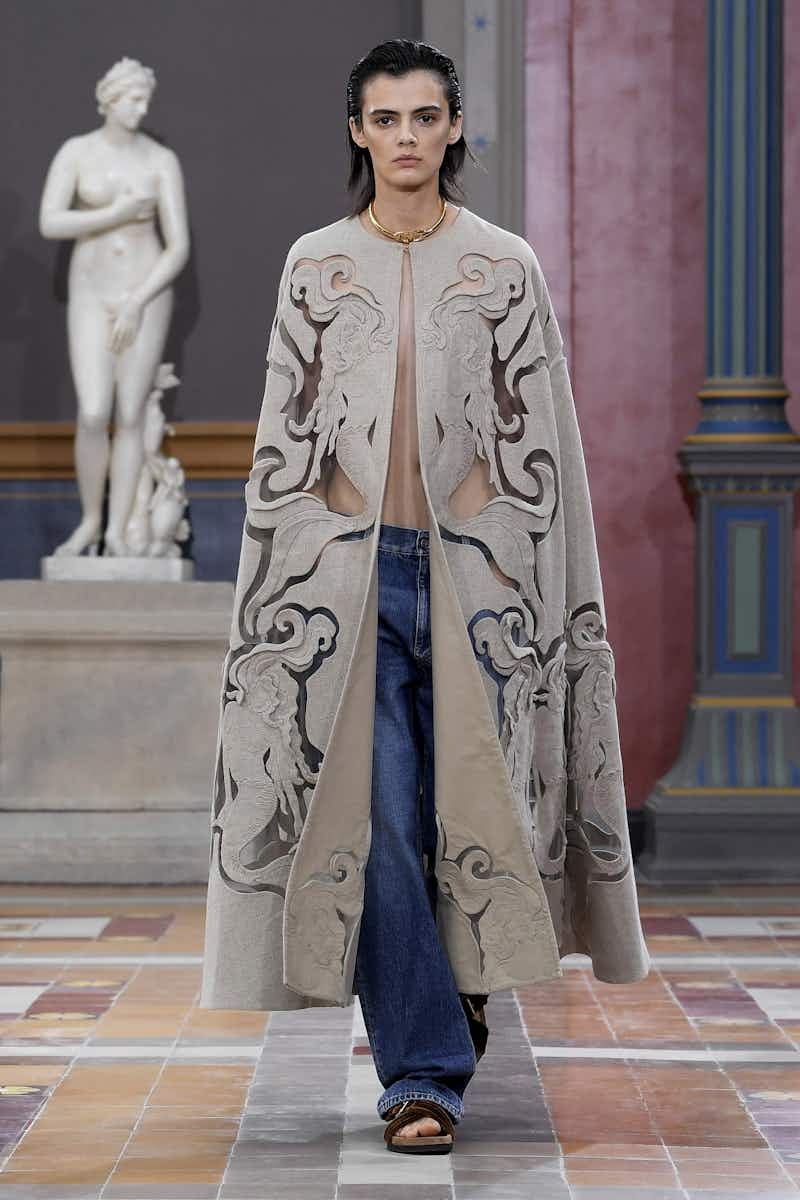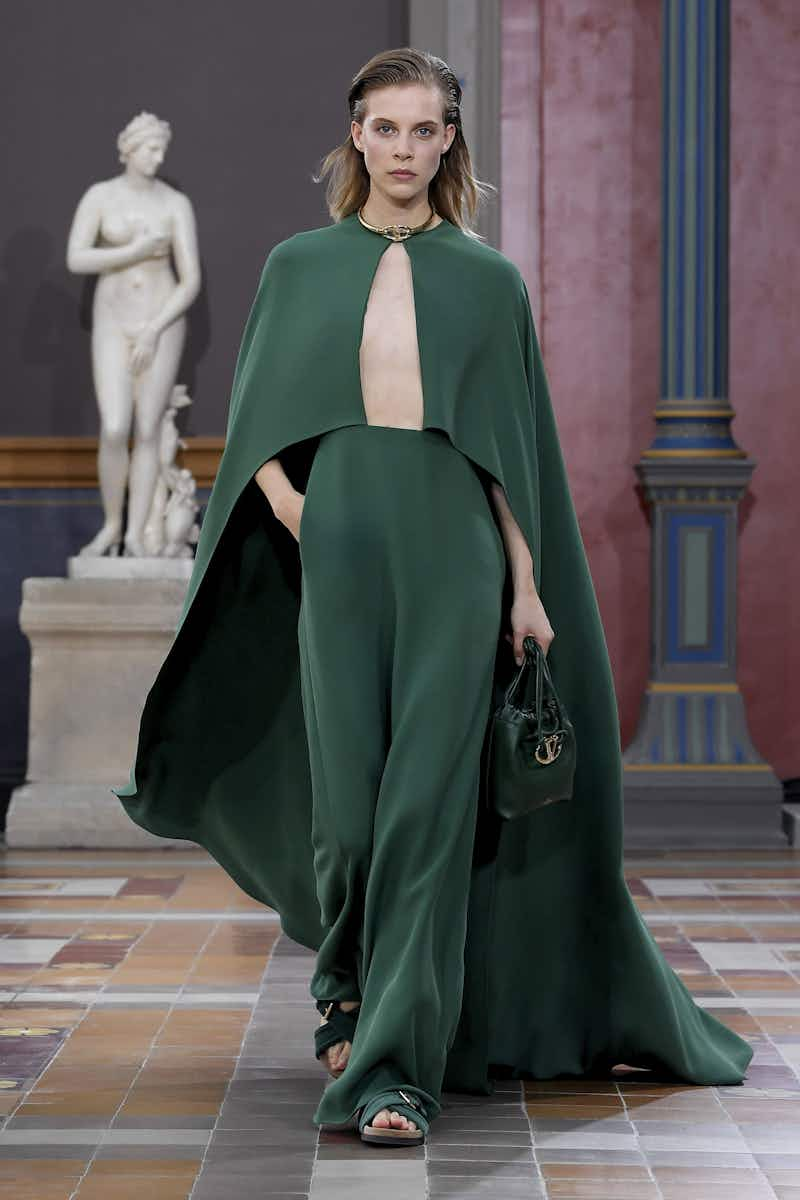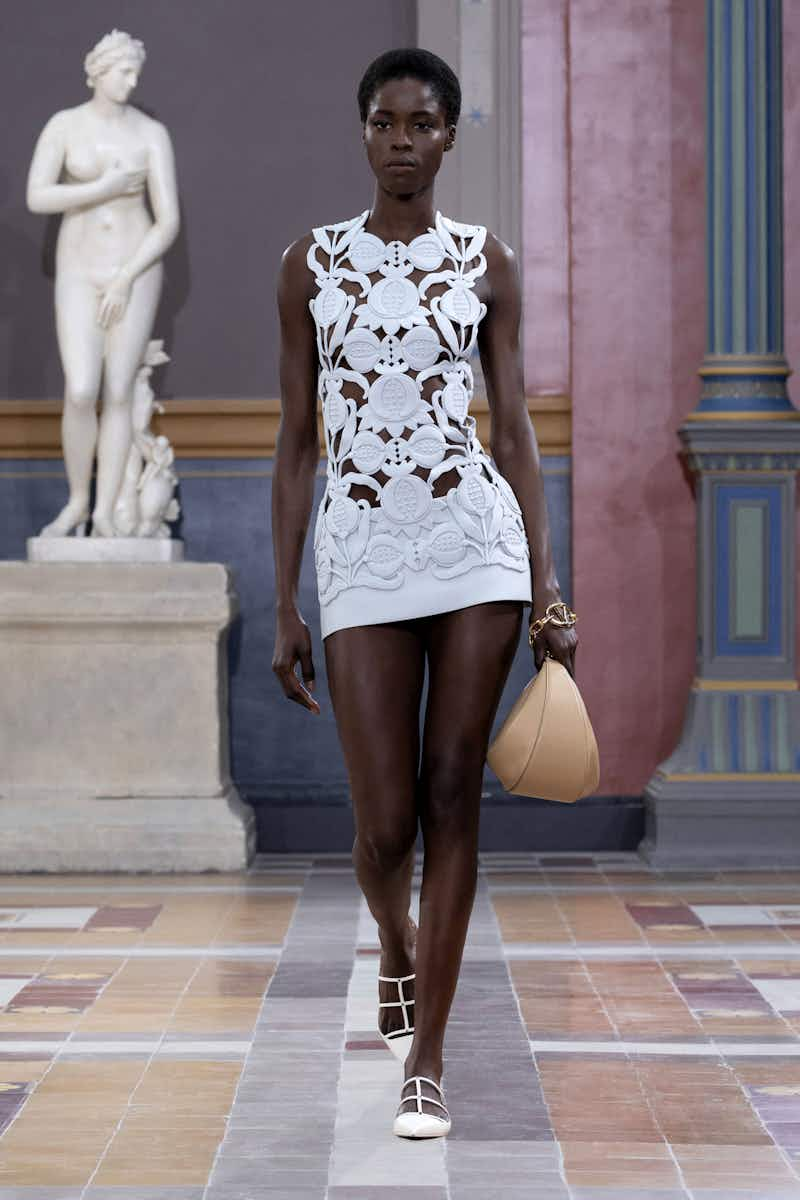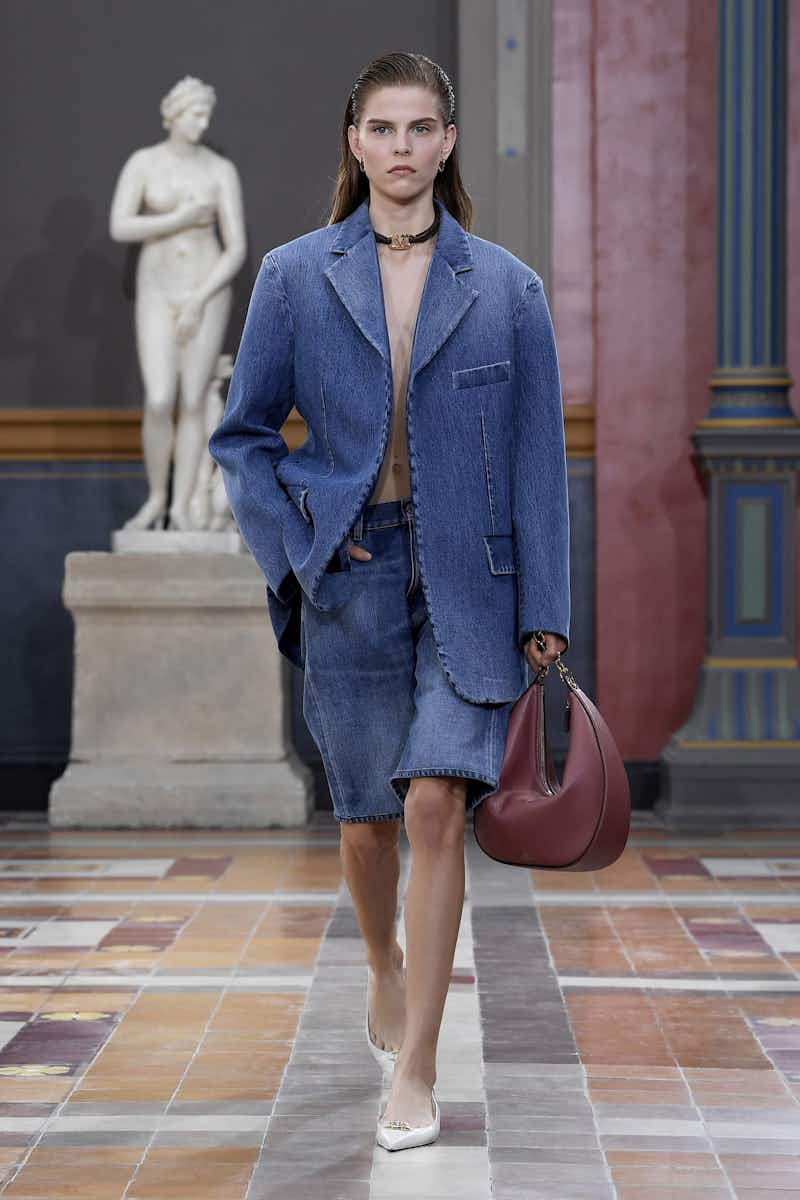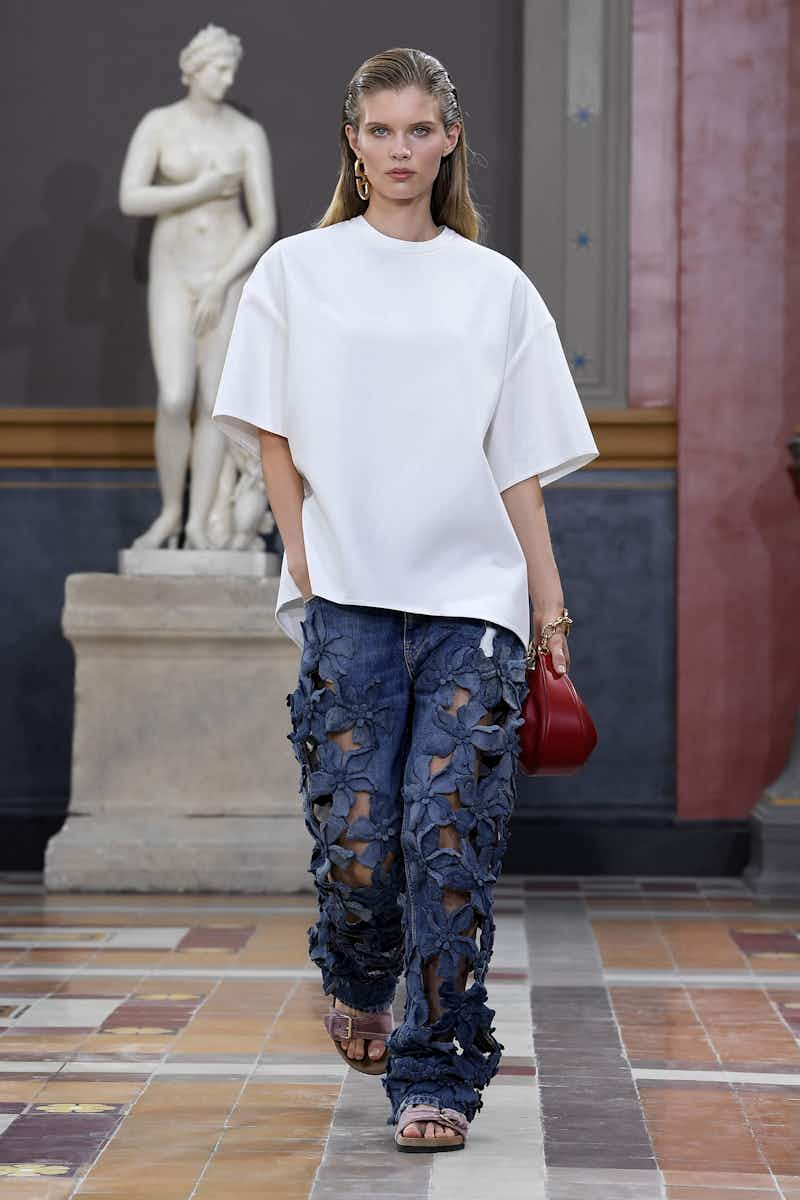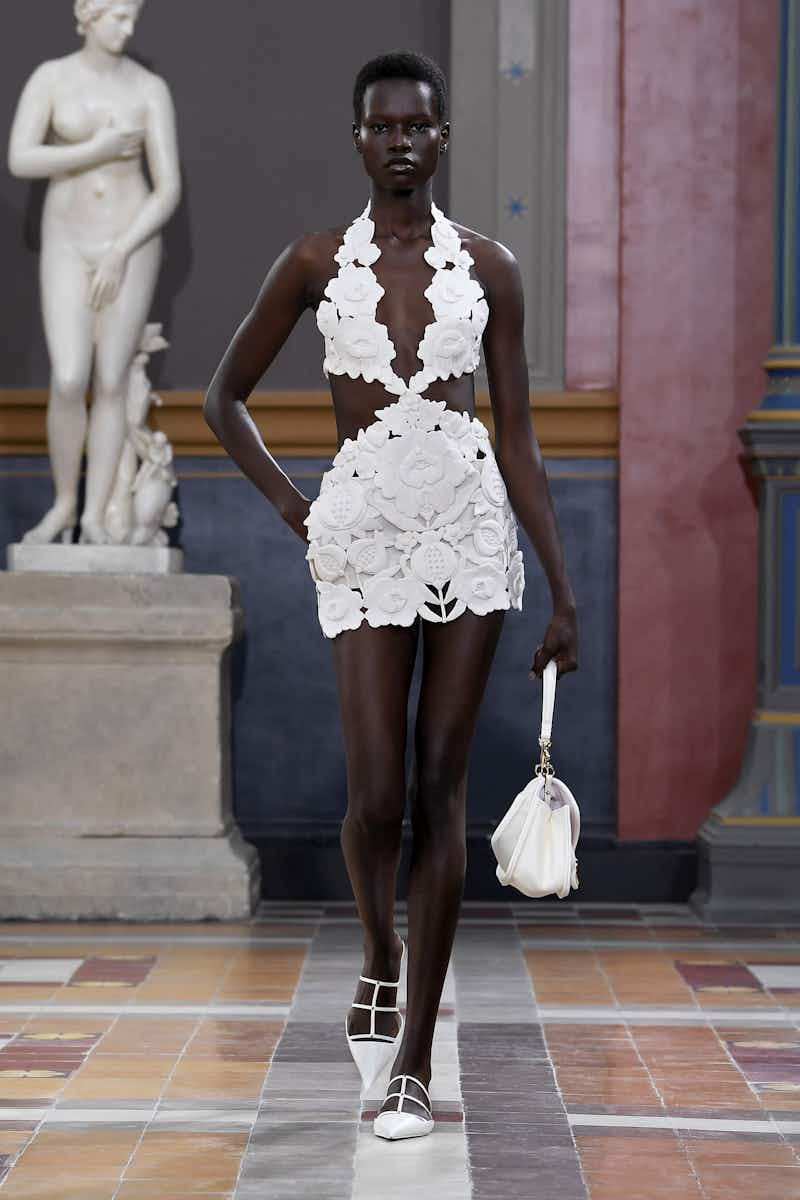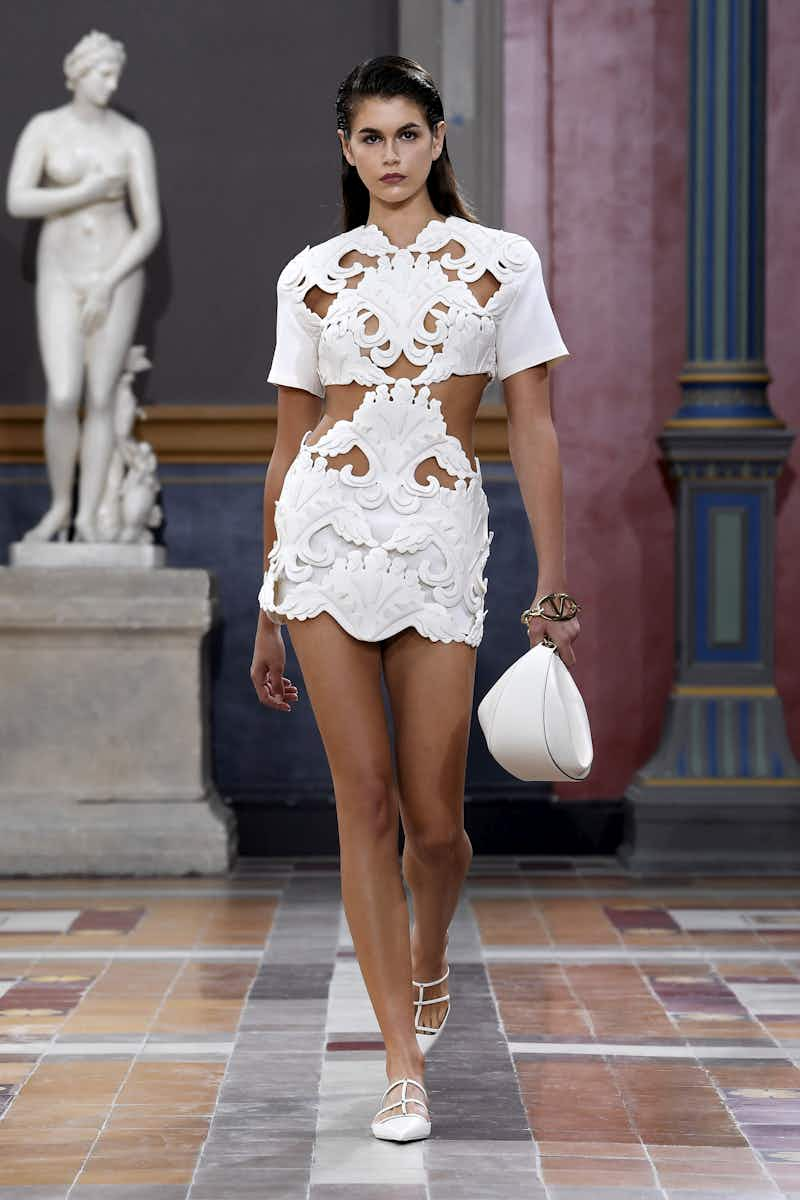 What?
A proper family affair with Demna's mum and husband joining his ex-fashion tutor Linda Loppa, fashion critics Cathy Horyn and Diana Pernet, and performer Amanda Lepore on the runway.

Who was there?
A stacked roster of stars: from it-girls Paris Hilton and Emily Ratajkowski to SS24 front row regulars Charli XCX and Erykah Badu who also joined Offset, Usher and Kris Jenner.

What went down?
It's almost a year since the Balenciaga child ad scandal shook the brand to its core. Since then, Demna has taken a more restrained approach, and this season was no different. The collection restated Demna's most enduring codes: enormous coats and blazers with David Byrne sized shoulders, slouchy hoodies and sweatpants, a spattering of floral evening gowns. There were humongous biker jackets, technical trench coats and ultra-wide leg denim pants. Some models clutched passports with boarding passes to Geneva – where Demna lives – tucked into them. Demna described it as ​"my most personal and my most favourite collection because it was about me; it was about my story."
Why should I care?
This was Balenciaga's most inclusive show to date, featuring curve models, Paloma Elsesser and French singer-songwriter Yseult. They both made history as the first ever plus-size models to walk in a Balenciaga runway show – about time!

Of note?
The supermarket grocery totes rendered in leather – if you thought the 30p plastic bag charge was pricey, just wait to see how much these go on sale for.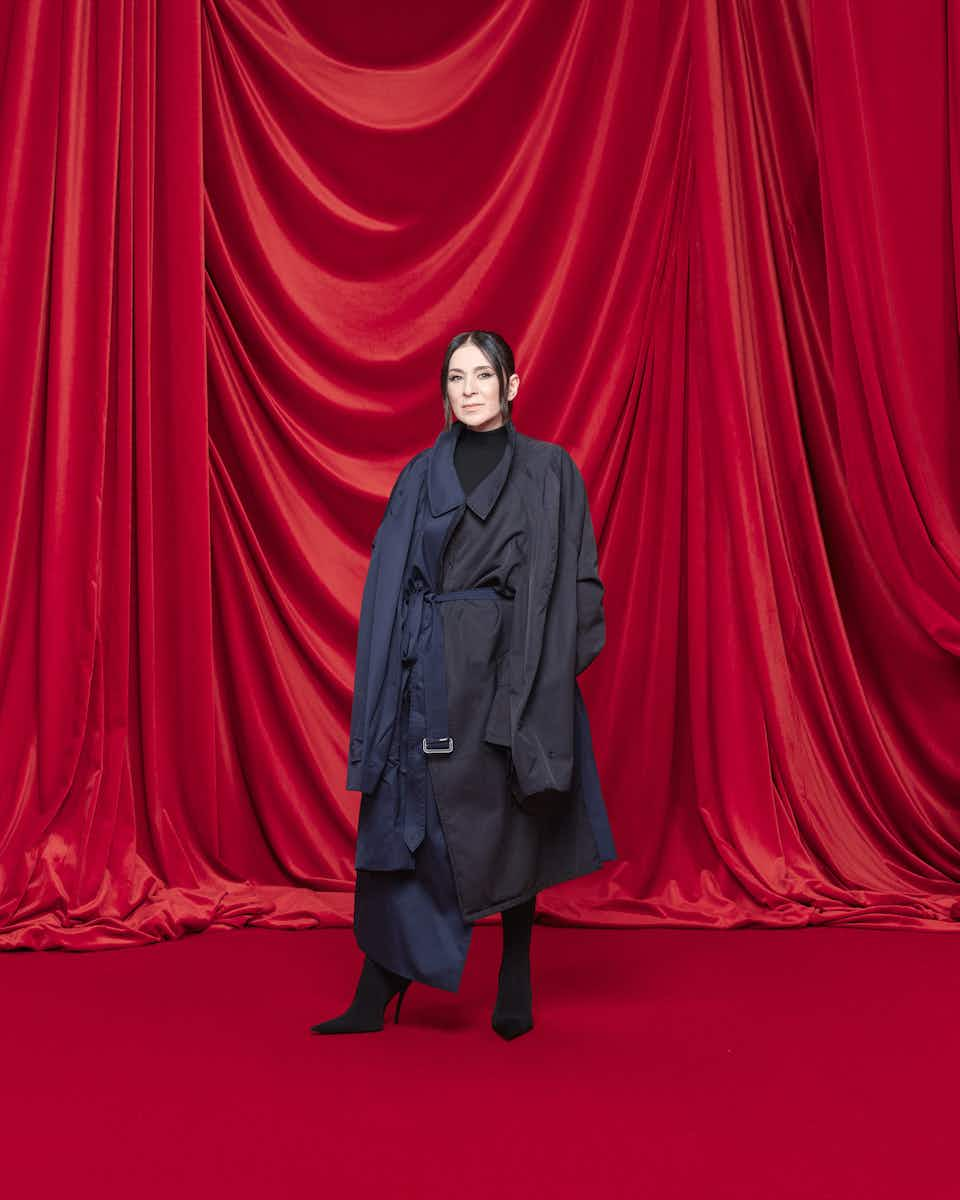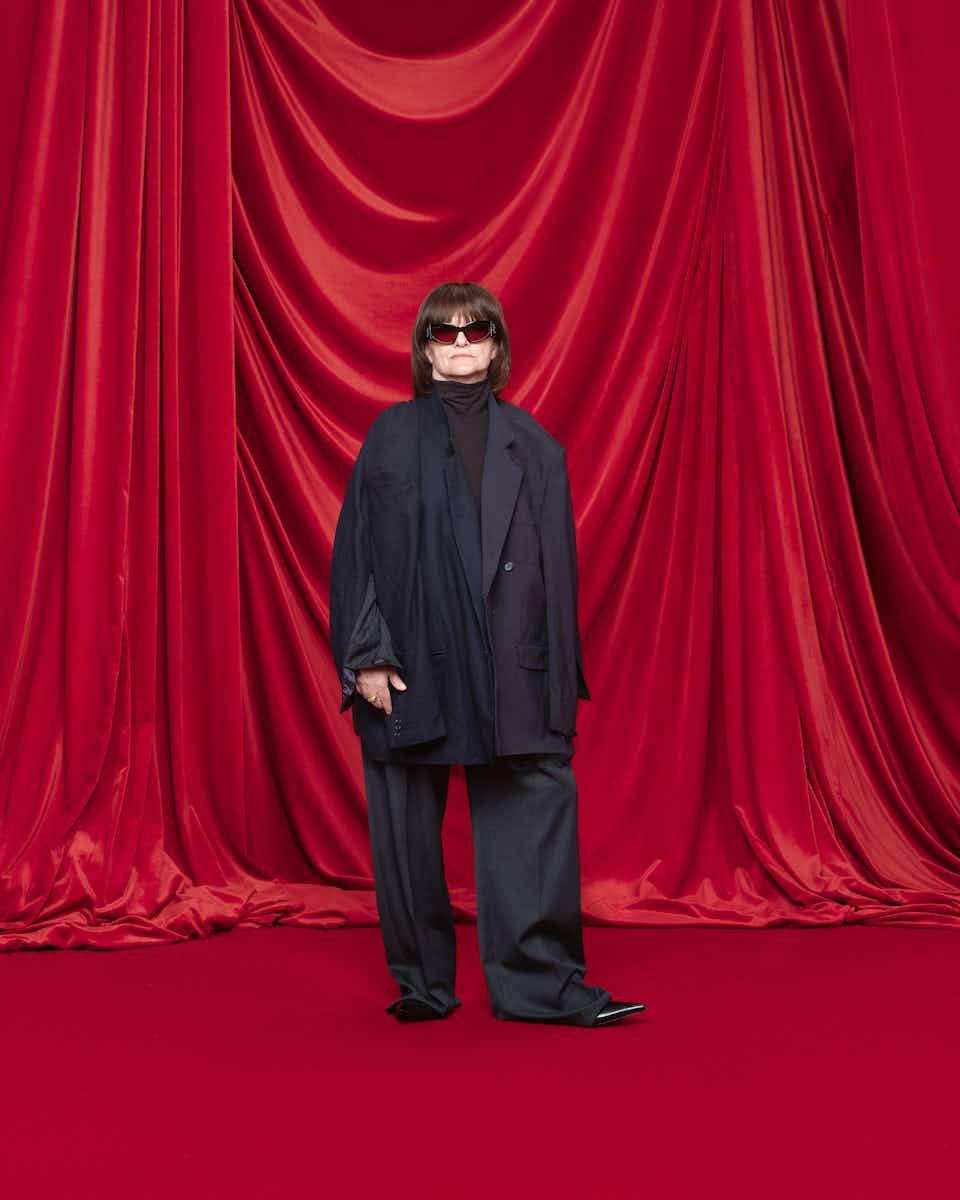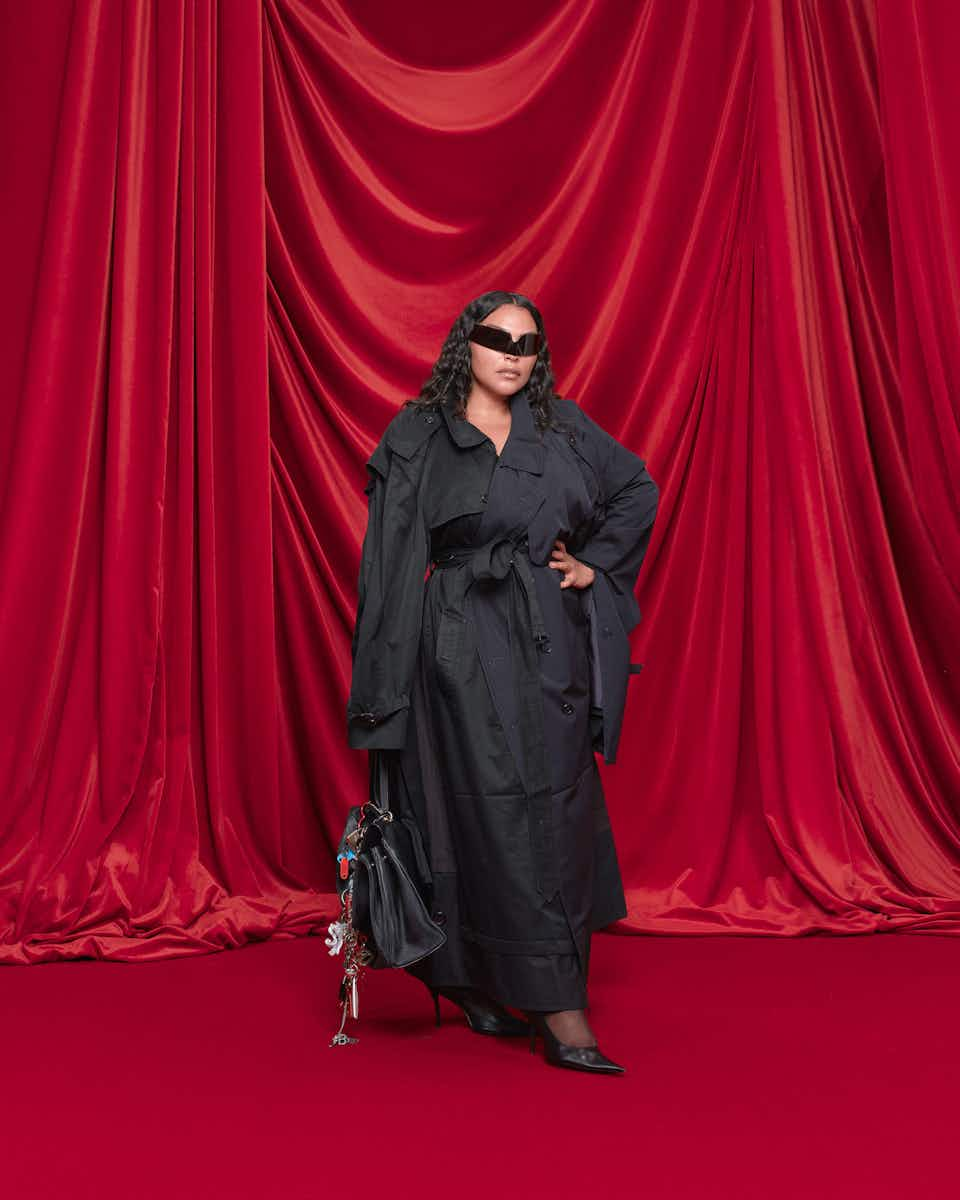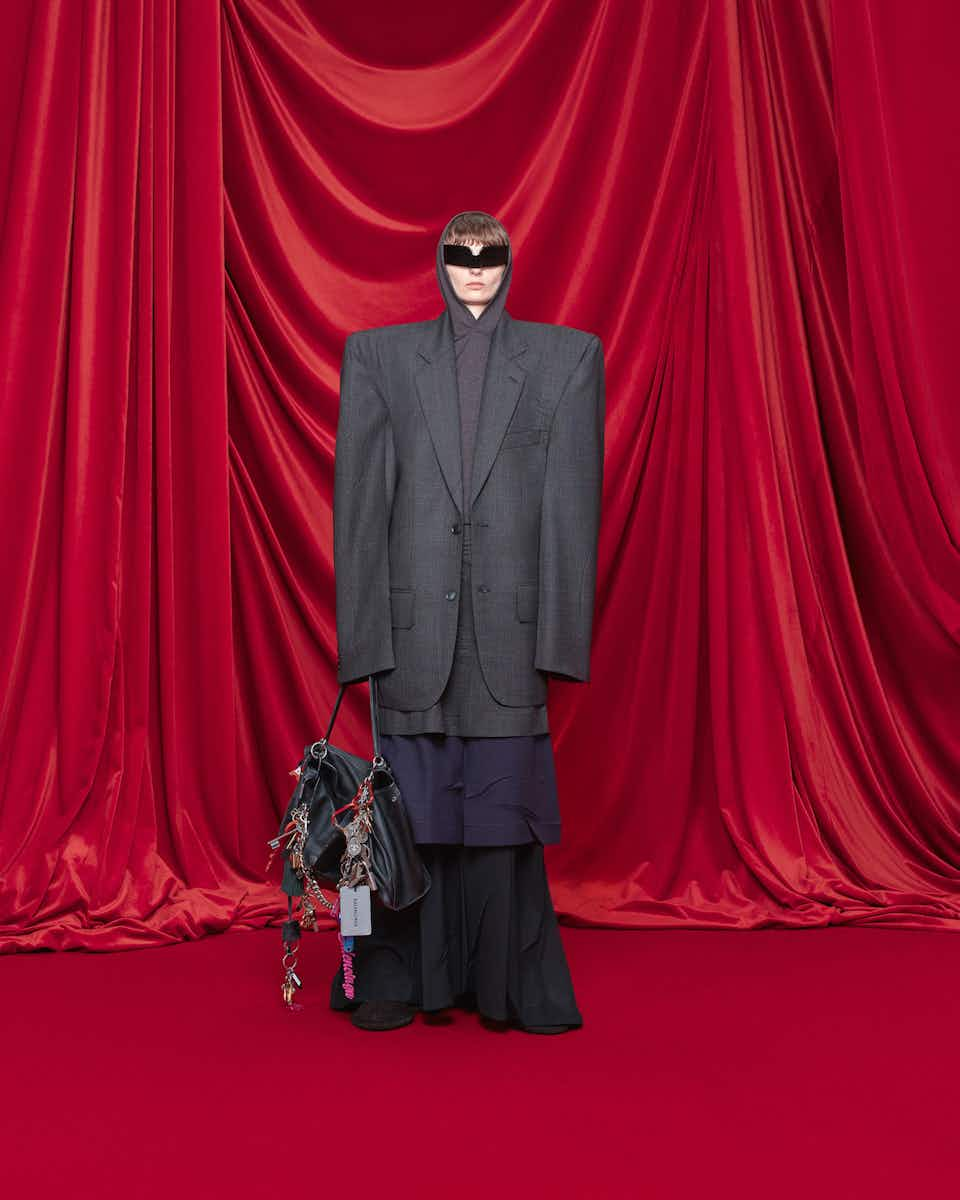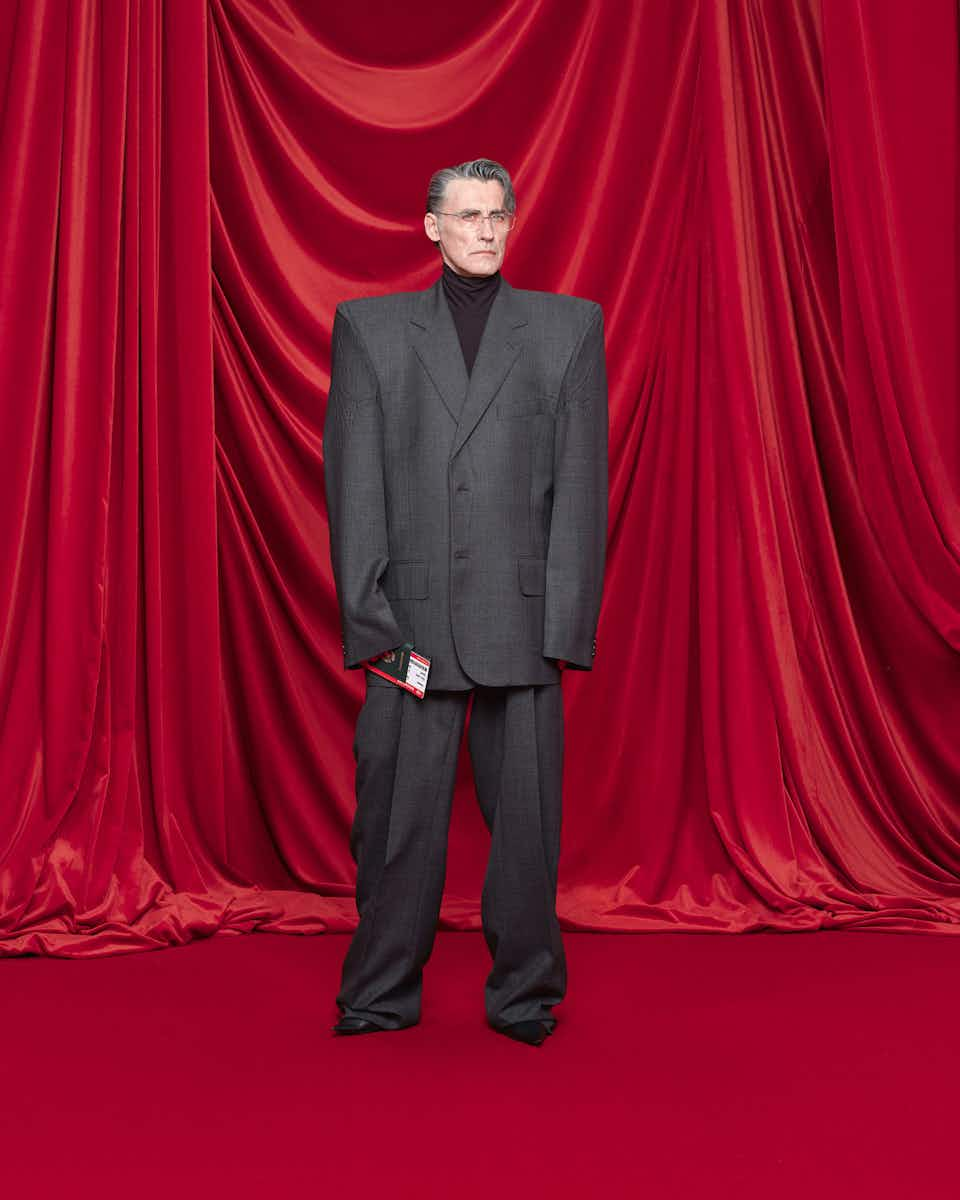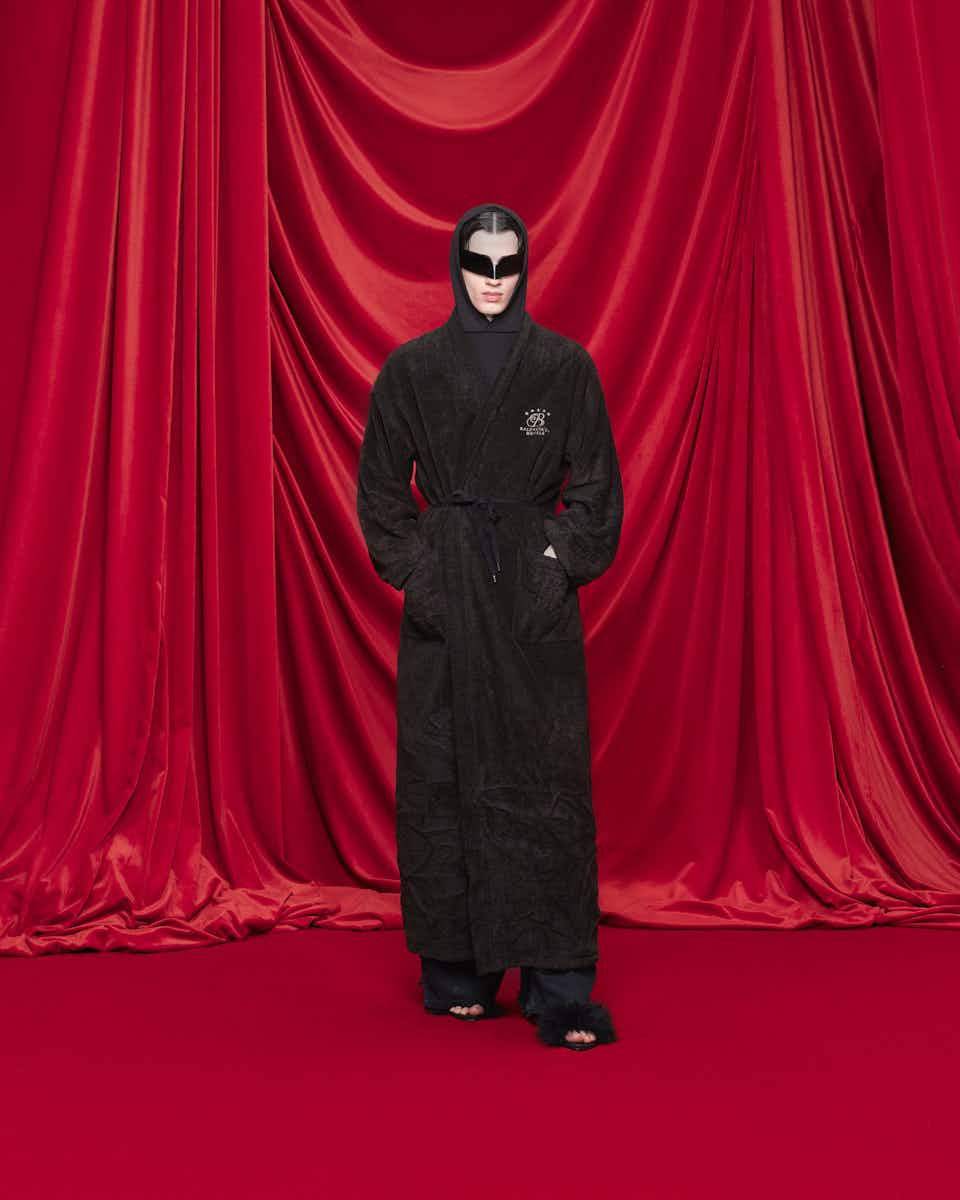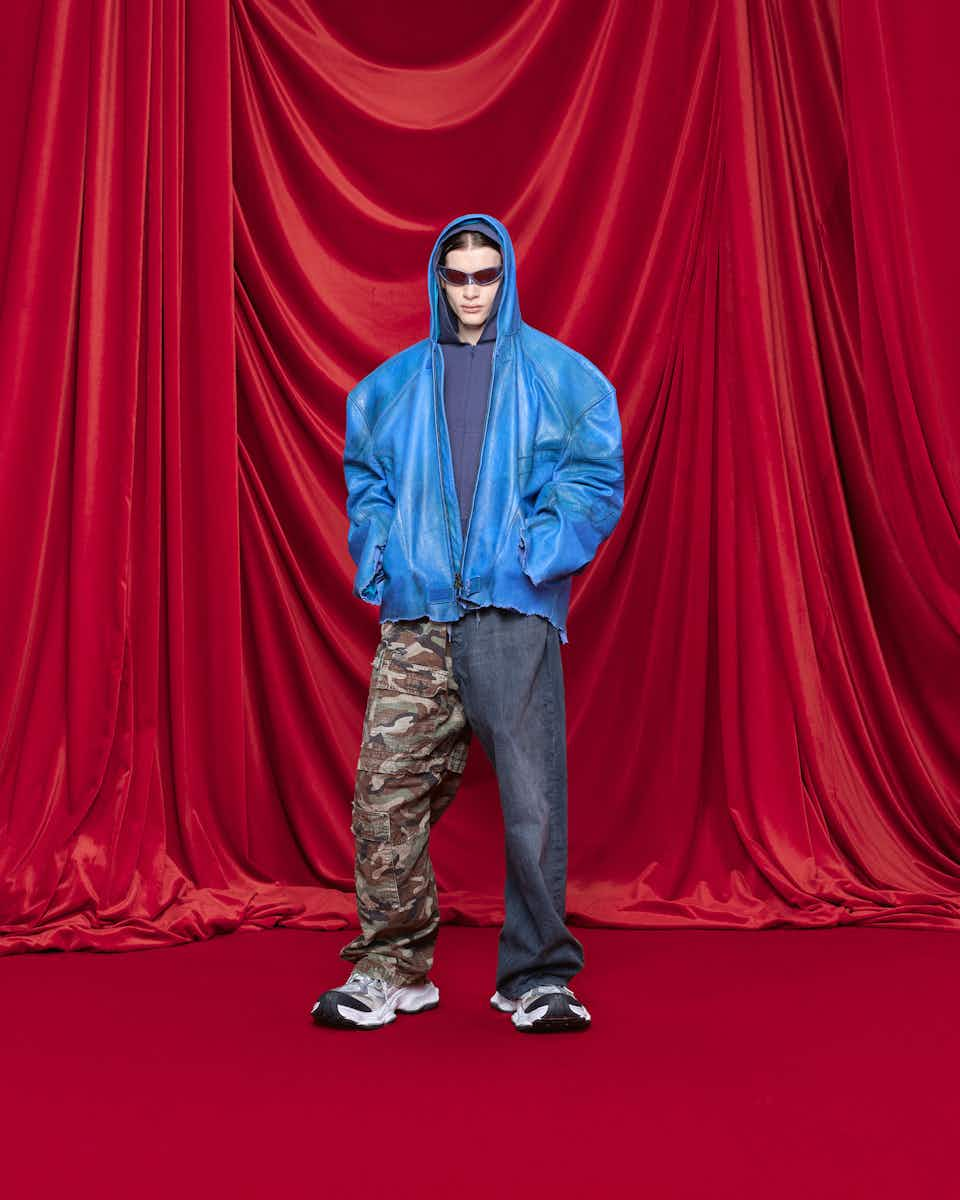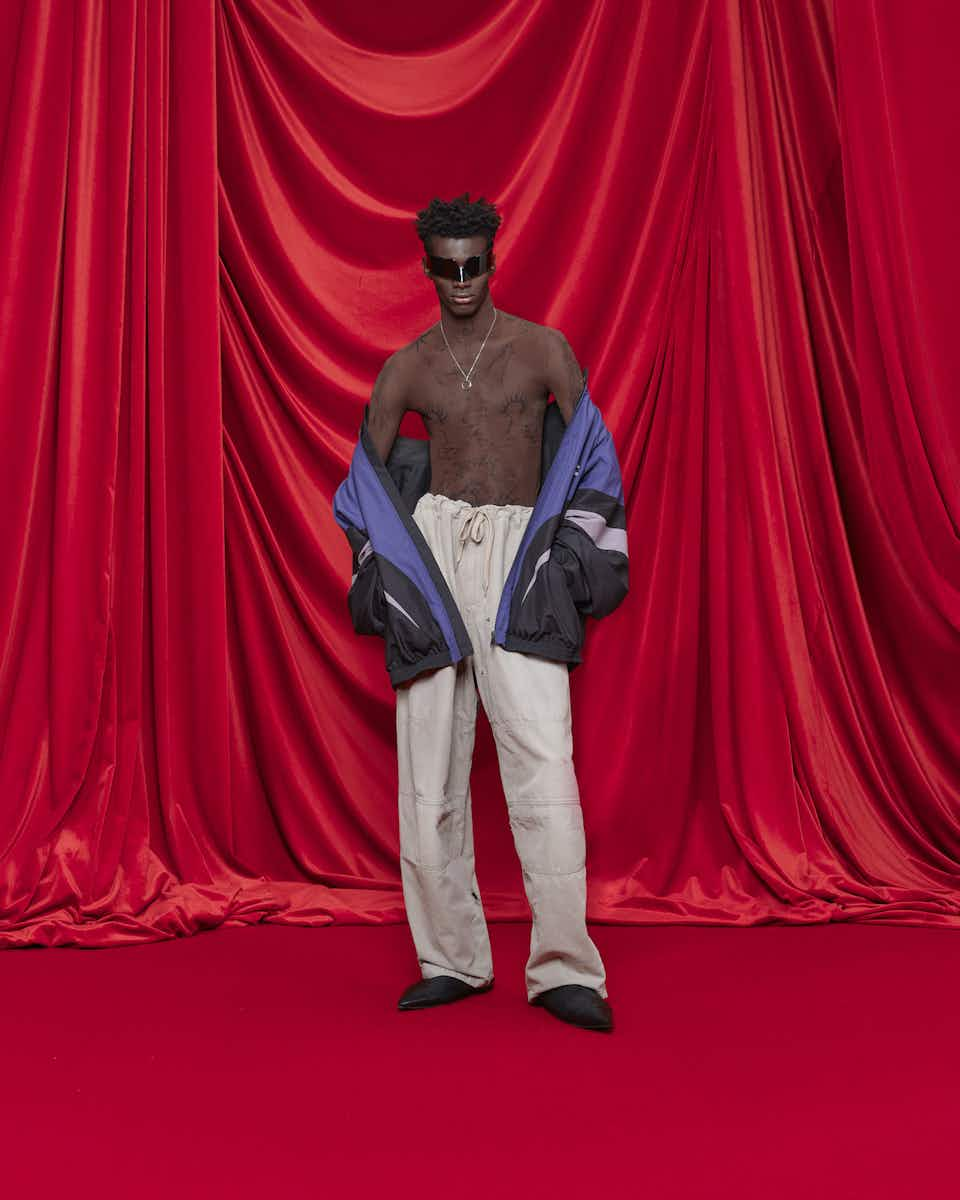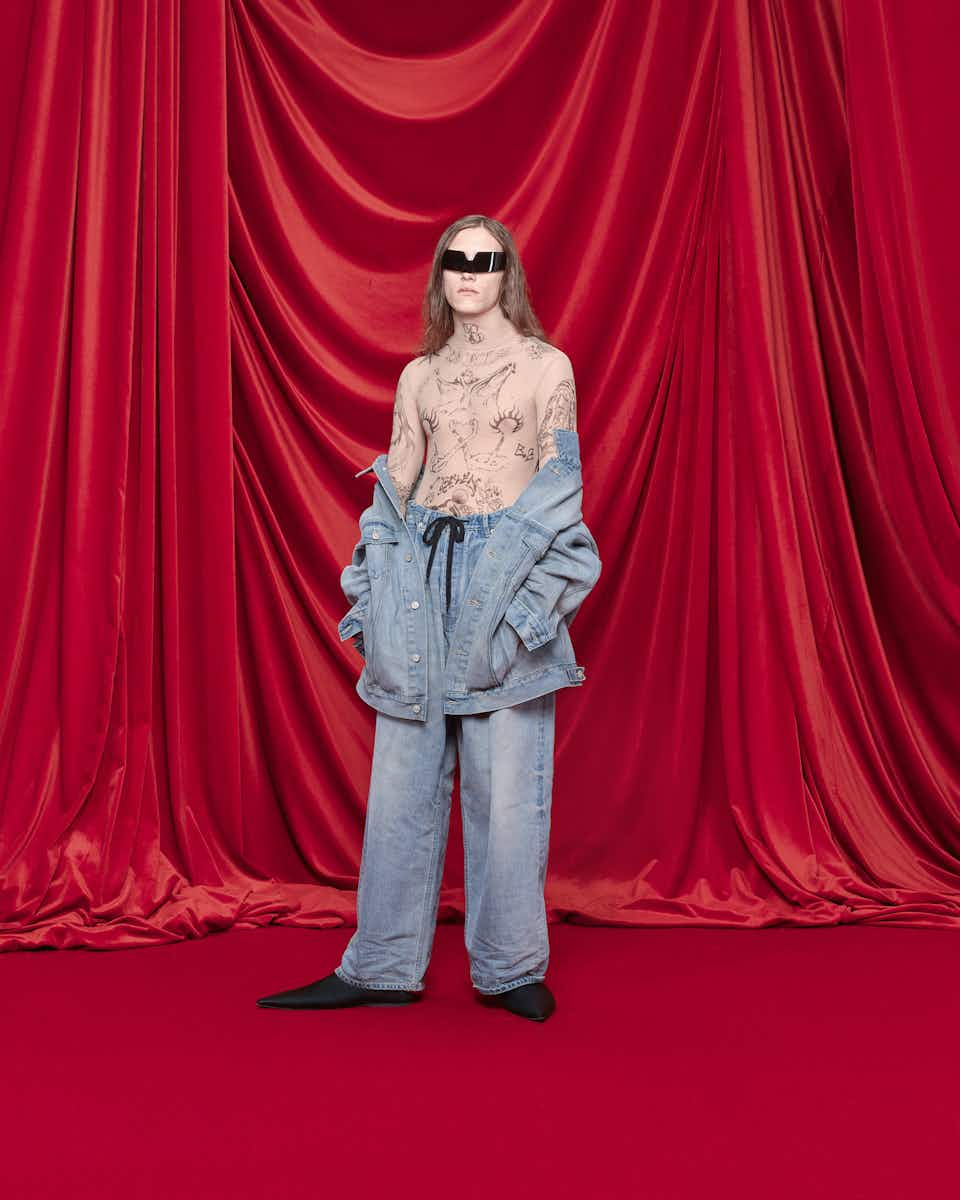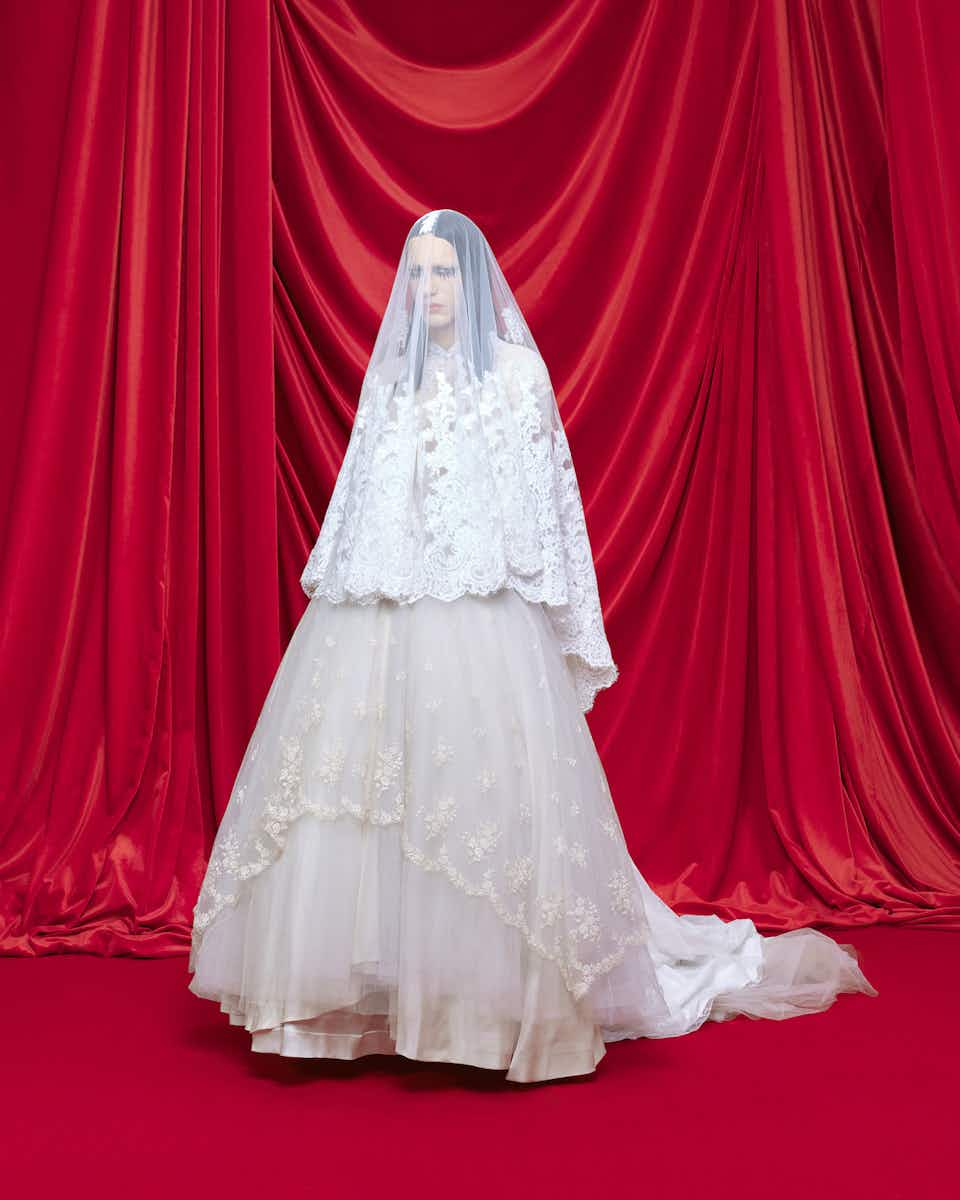 What?
Sarah Burton's swan song at Alexander McQueen. After starting out as an intern in 1996 while still studying at Central Saint Martins, Burton went on to work with Lee as head of womenswear in 2000 before taking the helm as creative director in 2010 – grab the tissues, this one's a tearjerker.

Why should I care?
Following Lee Alexander McQueen's untimely death in 2010, Sarah Burton was faced with what seemed like an insurmountable task. McQueen's theatrical runway shows and boundary-pushing designs mean many consider him a genius to this day; his suicide sent shockwaves through the fashion world and, on an emotional level, the house's survival seemed to hang in the balance. But Burton stepped up and very soon she was on a global stage, designing Kate Middleton's wedding dress for the 2012 royal wedding. Burton brought a feminine touch to the house, adding an ease and fluidity to McQueen's design language. Last month, she announced her surprise departure from the brand and her last runway show was a deeply moving tribute to the divine feminine, dedicated to her friend, Lee Alexander McQueen.

What were the clothes like?
Kaia Gerber opened the show in a short black tailored dress with an opening at the bodice, directly referencing McQueen's 1996 collection The Hunger. Romance is often at the heart of a McQueen collection under Burton's hand. This season was a tribute to ​"female anatomy, Queen Elizabeth I, the blood rose, and Magdalena Abakanowicz, a transgressive and powerful artist". The result is a story of England and feminine power told through clothes that find beauty in motion.

A golden thread ran through the collection, literally, as skirts and dresses were finished with iridescent embroidery that bounced as it caught the light. There was red thread, too, splashed across tailored garments like arteries. A crystal-encrusted bodysuit is sure to make its way into a pop star's tour wardrobe. Meanwhile, red rose motifs found new definition through sculptural, flowering dresses folded like petals – or vulvas.

Naomi Campbell wiped tears from her eyes as she closed the show in a dress made from shimmering silver thread. Then Sarah Burton walked the full loop of the runway to applause, whistles and a standing ovation as David Bowie's Heroes played. She stopped to hug friends and supporters on the front row, including Cate Blanchett, Elle Fanning, Cathy Horyn and Anna Wintour.

Any standout pieces?
An ecru slip dress embroidered with red thread, depicting detailed anatomical nature drawings and a godlike hand.

In a word:
Emotional.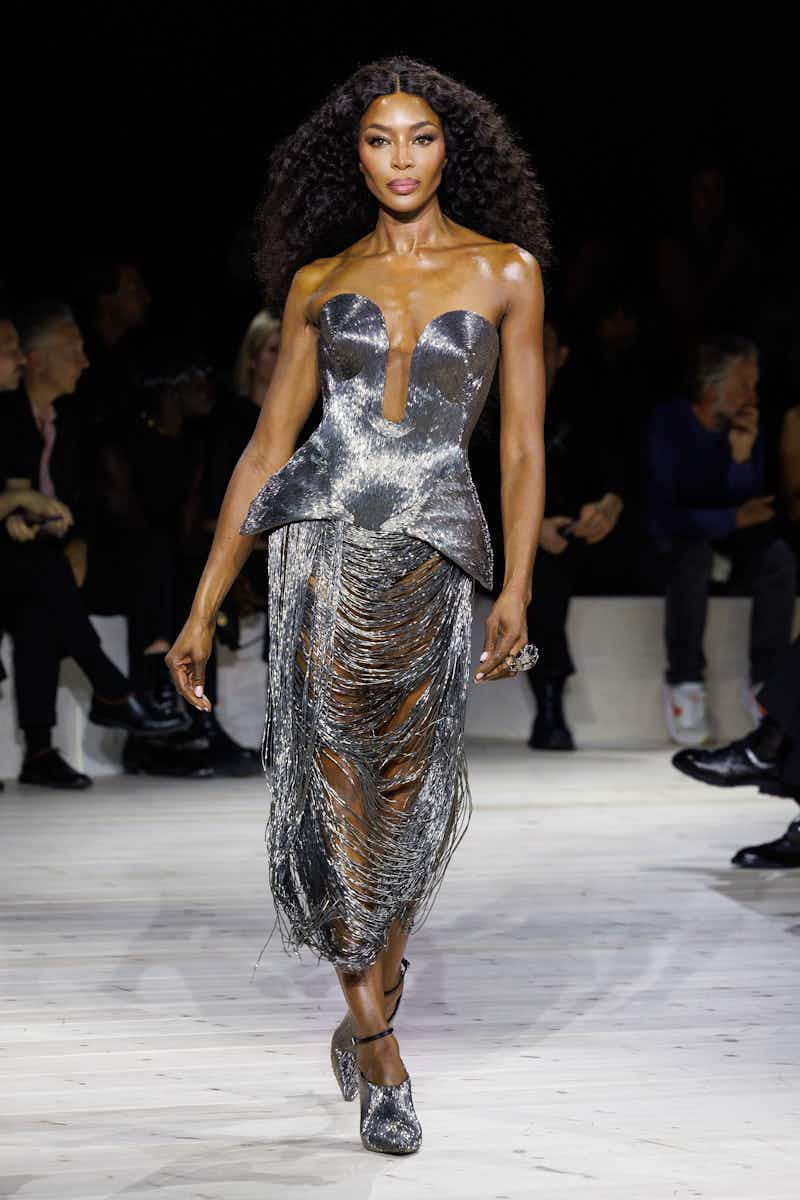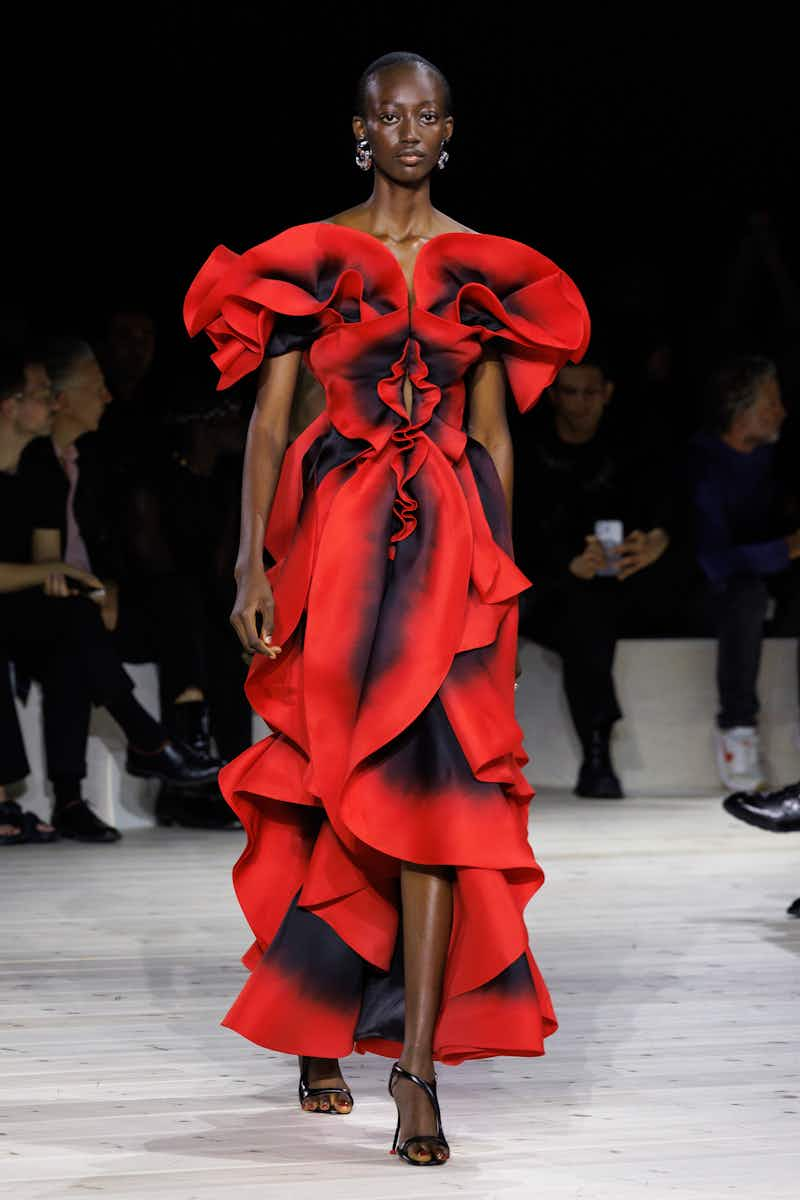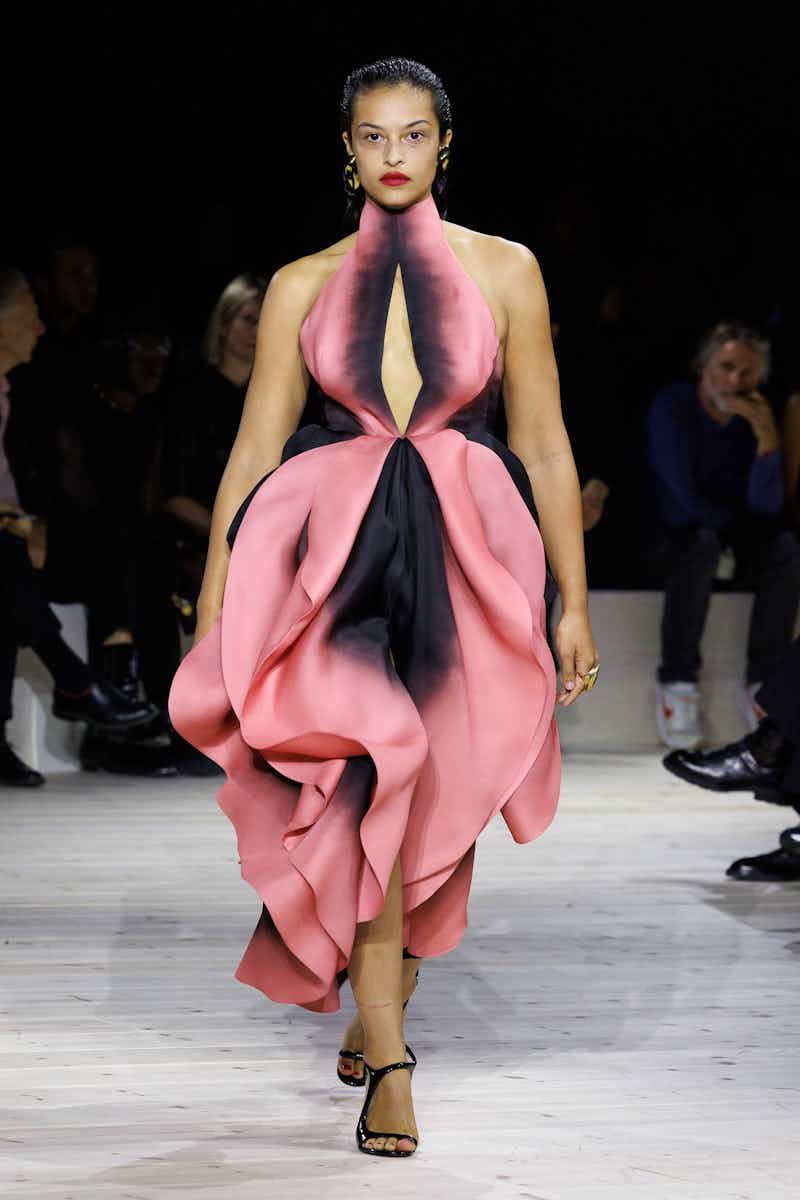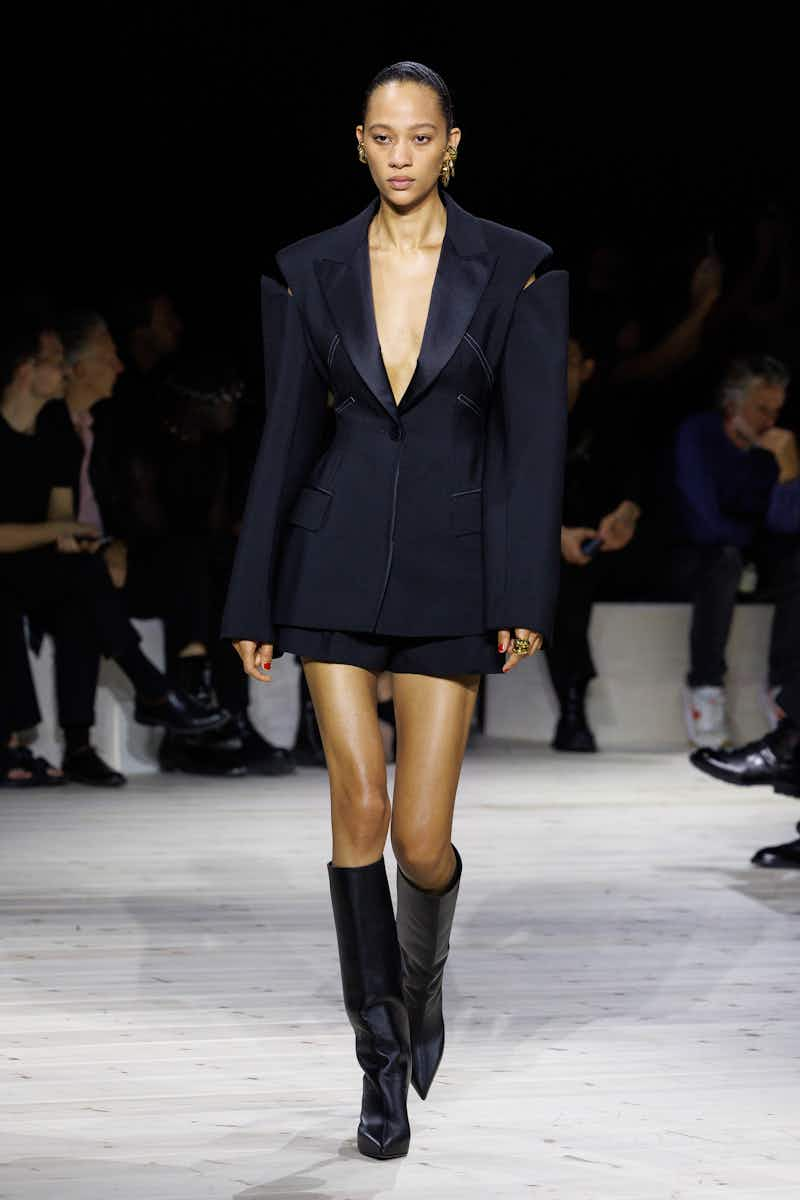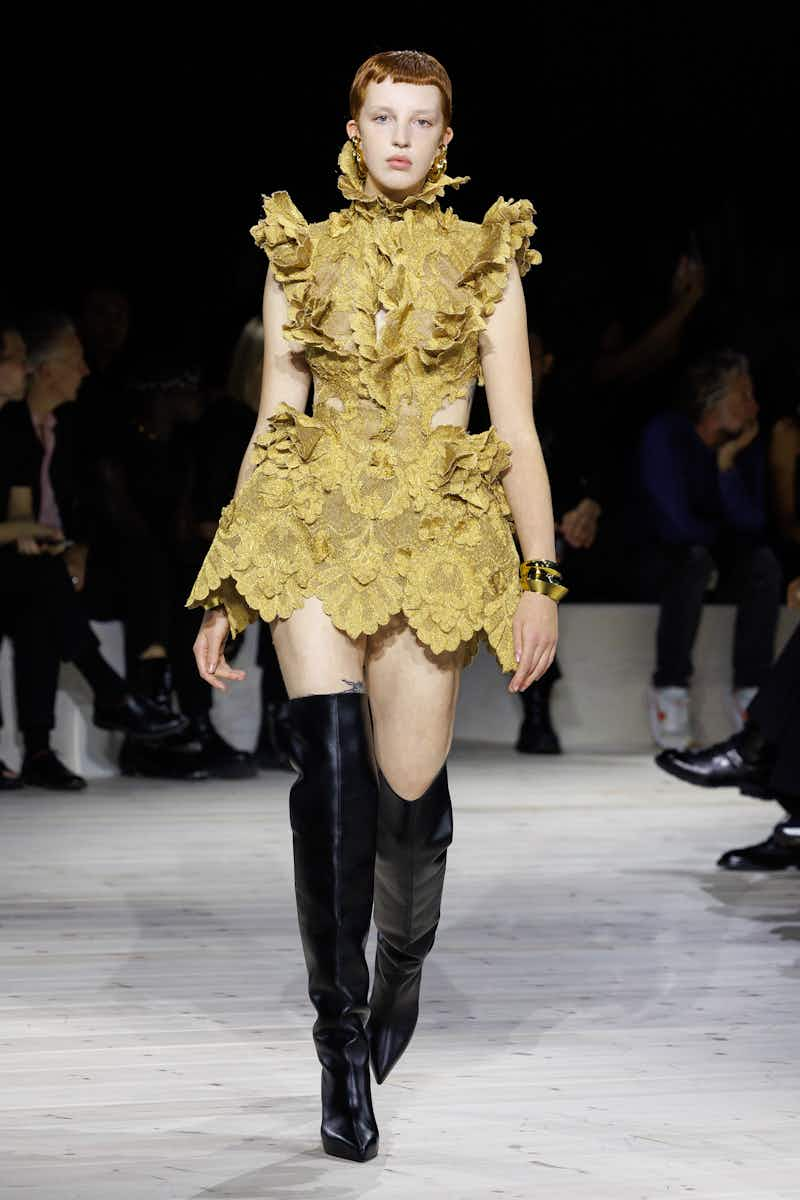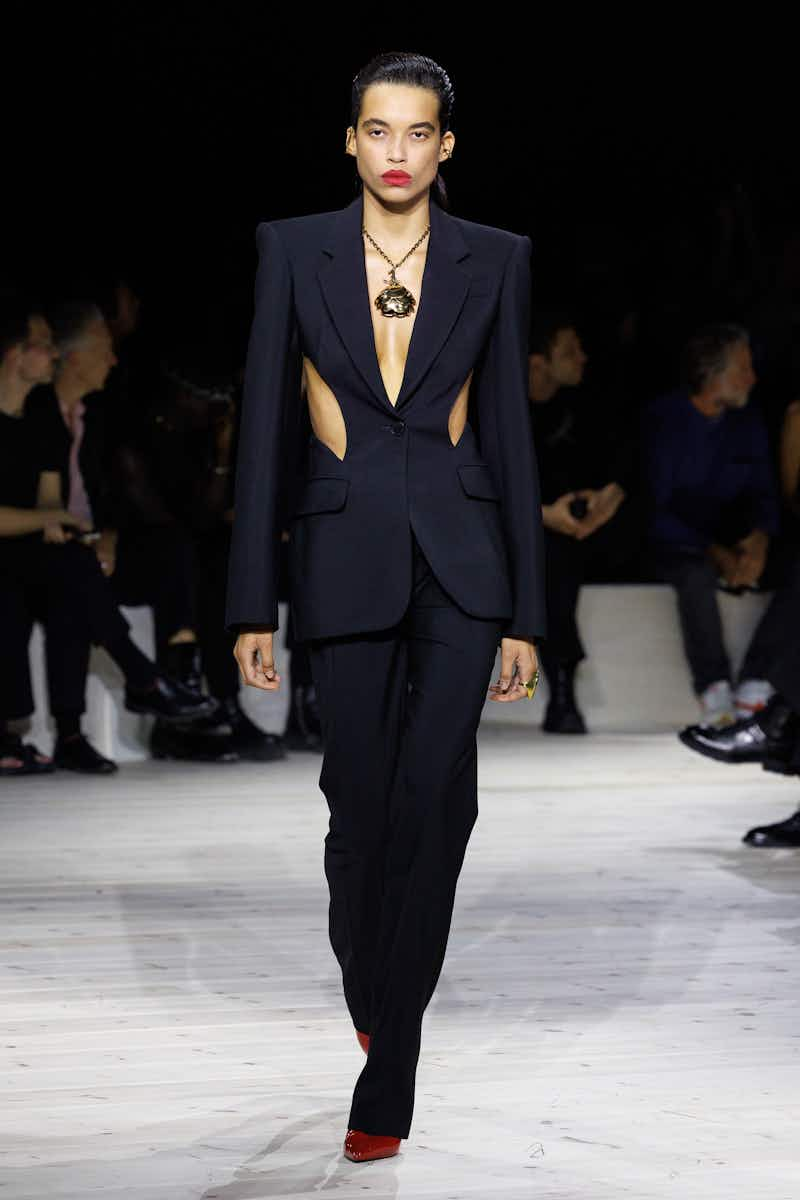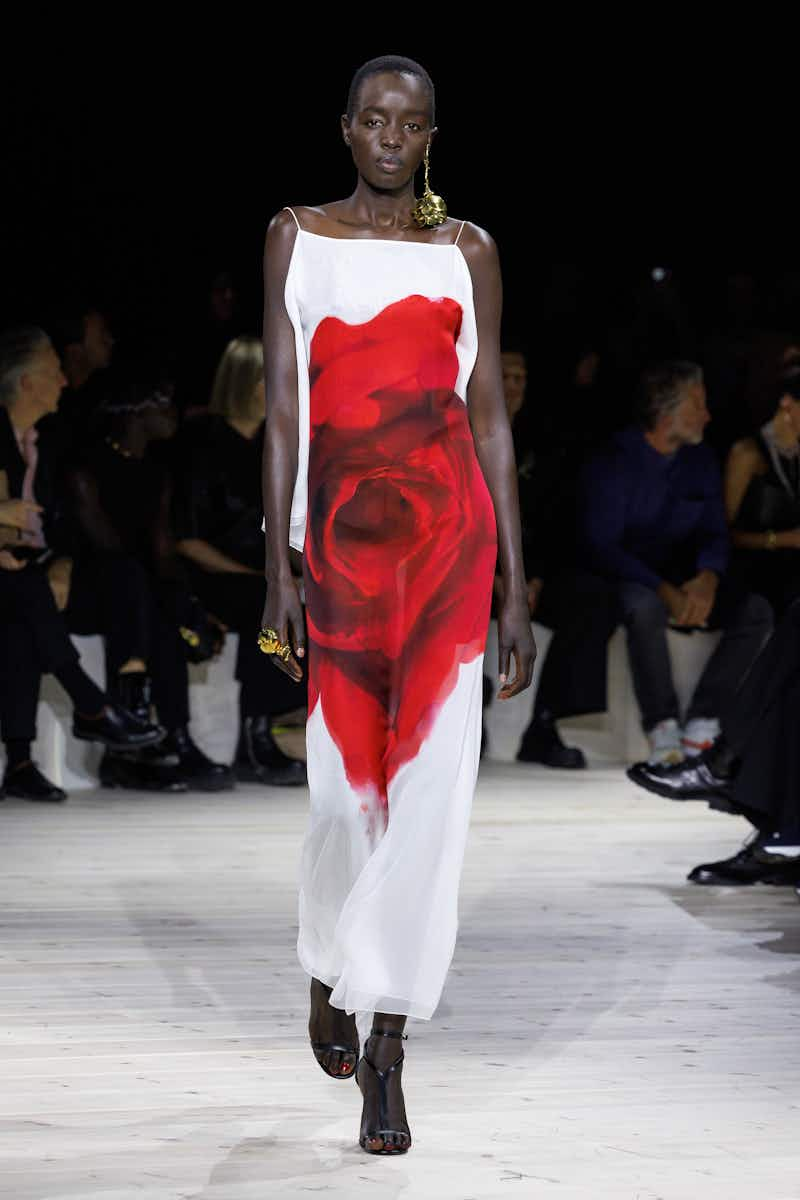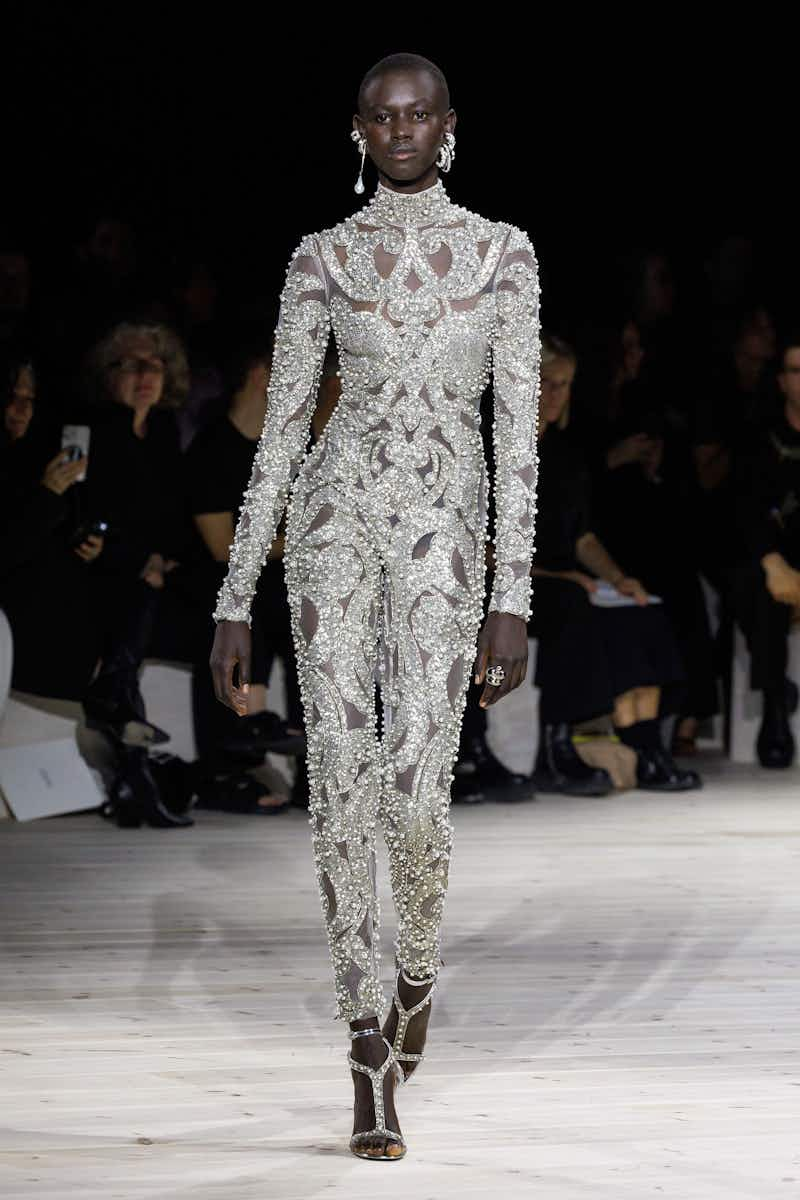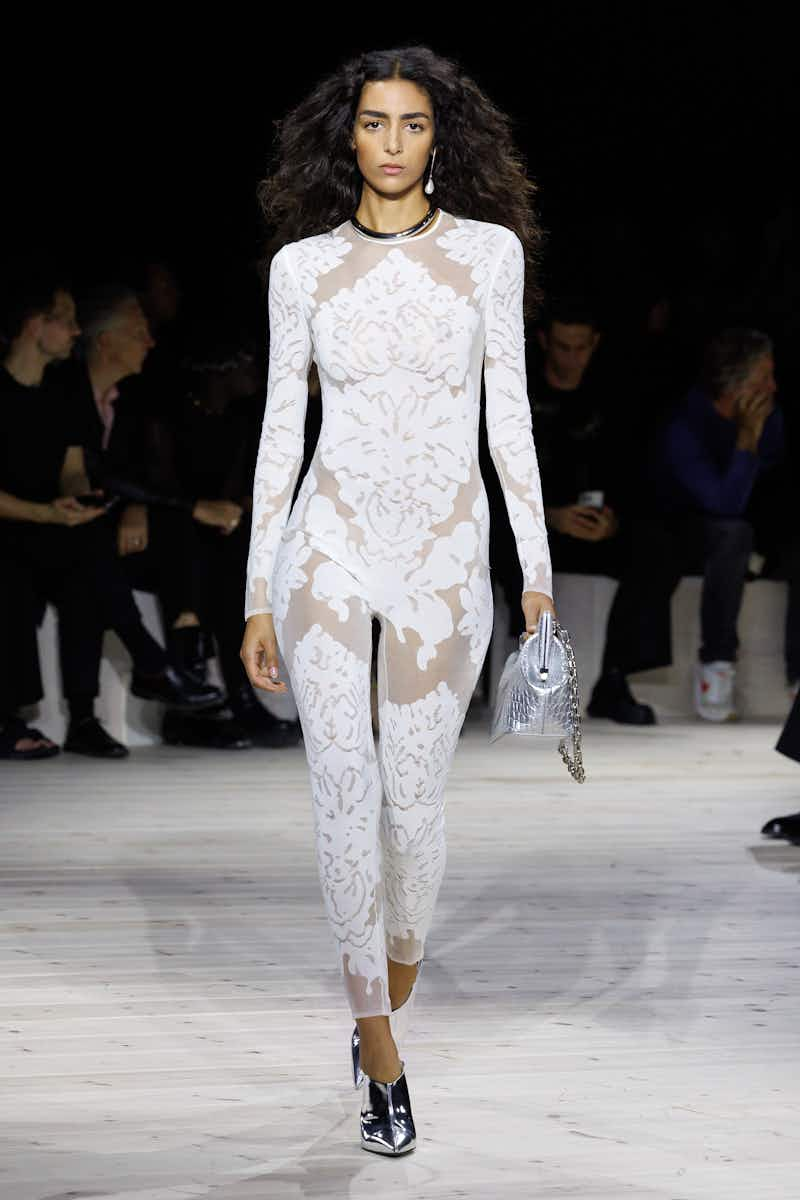 Andreas Kronthaler for Vivienne Westwood
What went down?
A heartfelt tribute to Queen Viv's rebellious personal style in the second collection since her passing nine months ago. Her widow, Andreas Kronthaler, who has managed the label's design sector for decades, archived her closet, photographing and numbering each look. Then he put them in a hat and picked out 34 – coincidentally the number of years he'd known Vivienne. The looks appeared on the runway in the order he picked them out in, creating a clashing mishmash that worked because of the house codes that ran through it all.

Who was there?
Pamela Anderson sat on the carefully curated front row, along with photographer Ellen von Unwerth and model Anna Cleveland.

What were the clothes like?
It felt like a greatest hits romp through Vivienne Westwood history: the plaid, the platforms, the punk of it all. But don't call it a retrospective – according to Andreas, it's a survey. There was ripped knitwear, capes, satin trousers and angular New Romantic tailoring. The opening look riffed on a rumpled suit from 2004 that Westwood wore day-to-day for almost two decades. Black sunglasses and red lipstick stains atop a ghostly hooded cape that covered the model's face spooked the front row. The showstopper came in the form of a yellow crocheted gown and sky-high platforms worn by Amelia Gray and matrimonial crinoline gowns, like the one Westwood once wore to the opera, closed the show in style as seen on Irina Shayk and Westwood's granddaughter Cora Corré. Overall, the collection was a fitting celebration of the designer's broad intellectual curiosity and a testament to her radical personal style.

Of note?
The towering platforms, like that pair Naomi took a tumble in back in ​'93.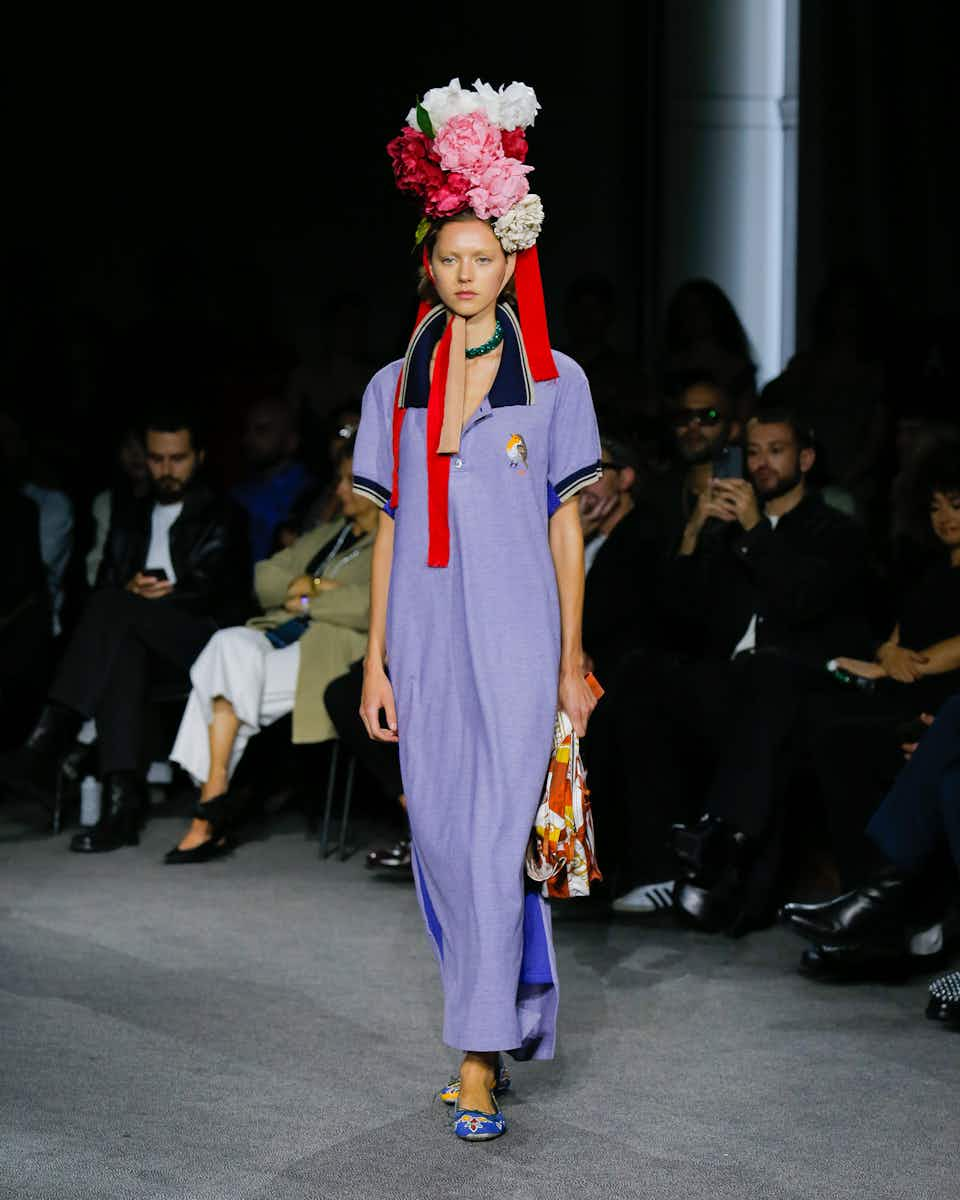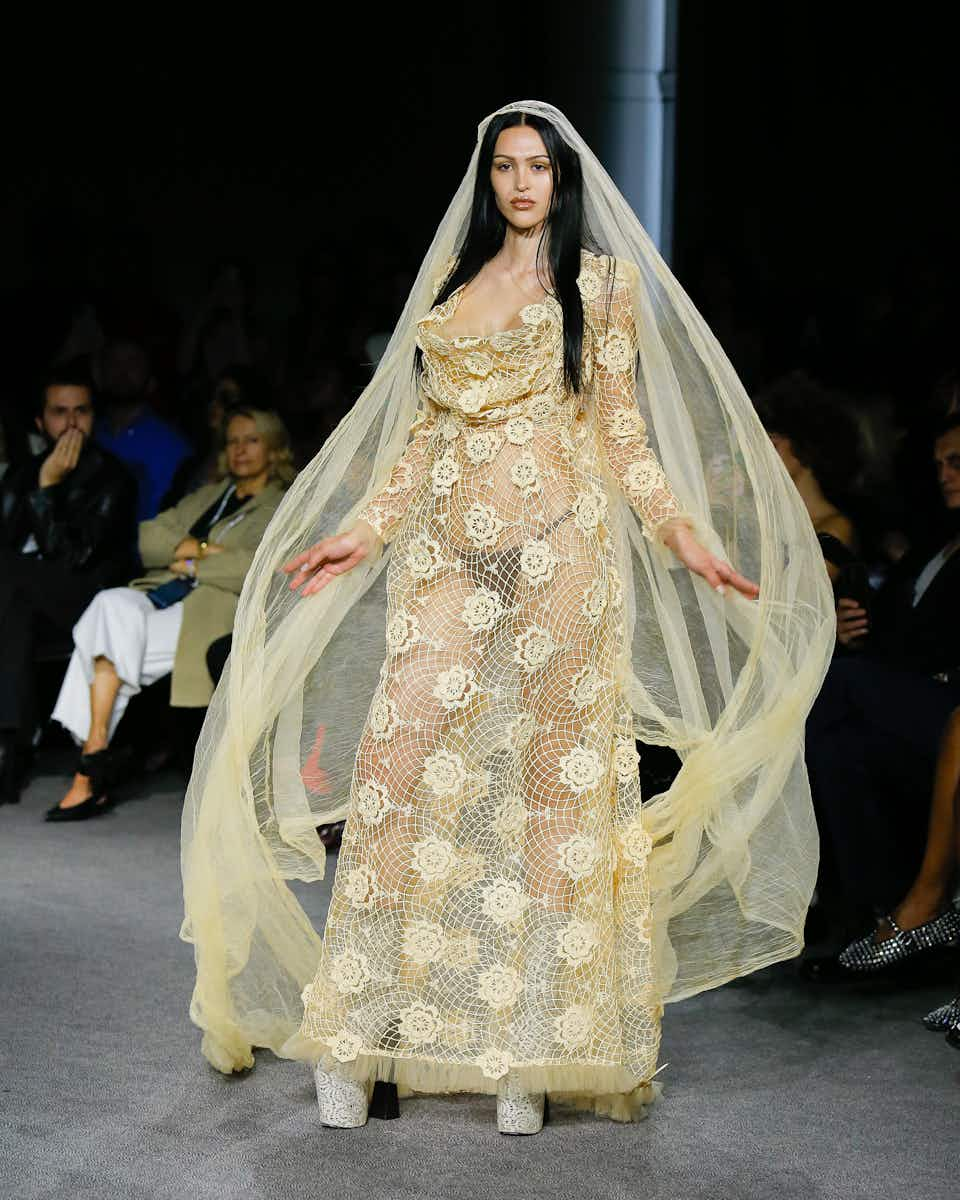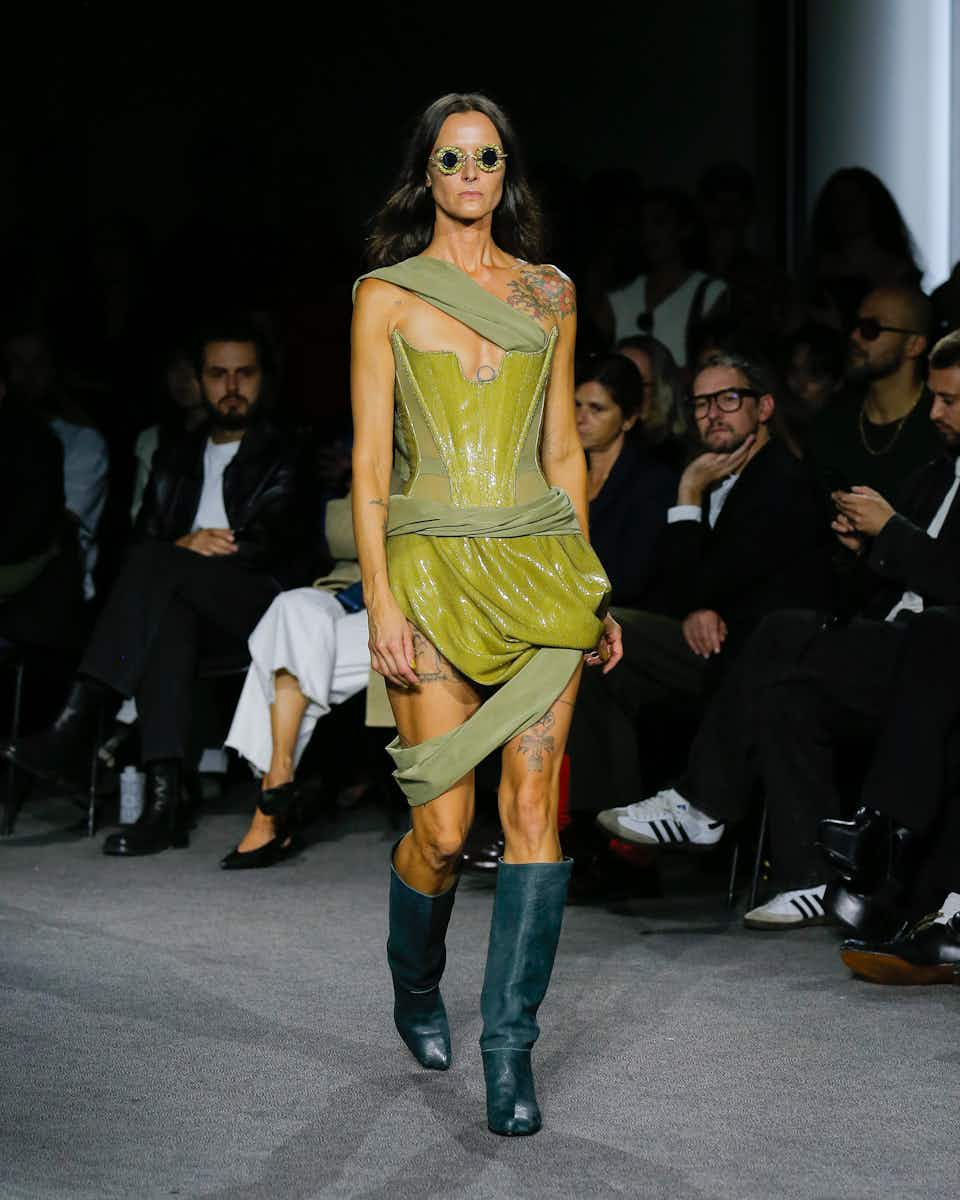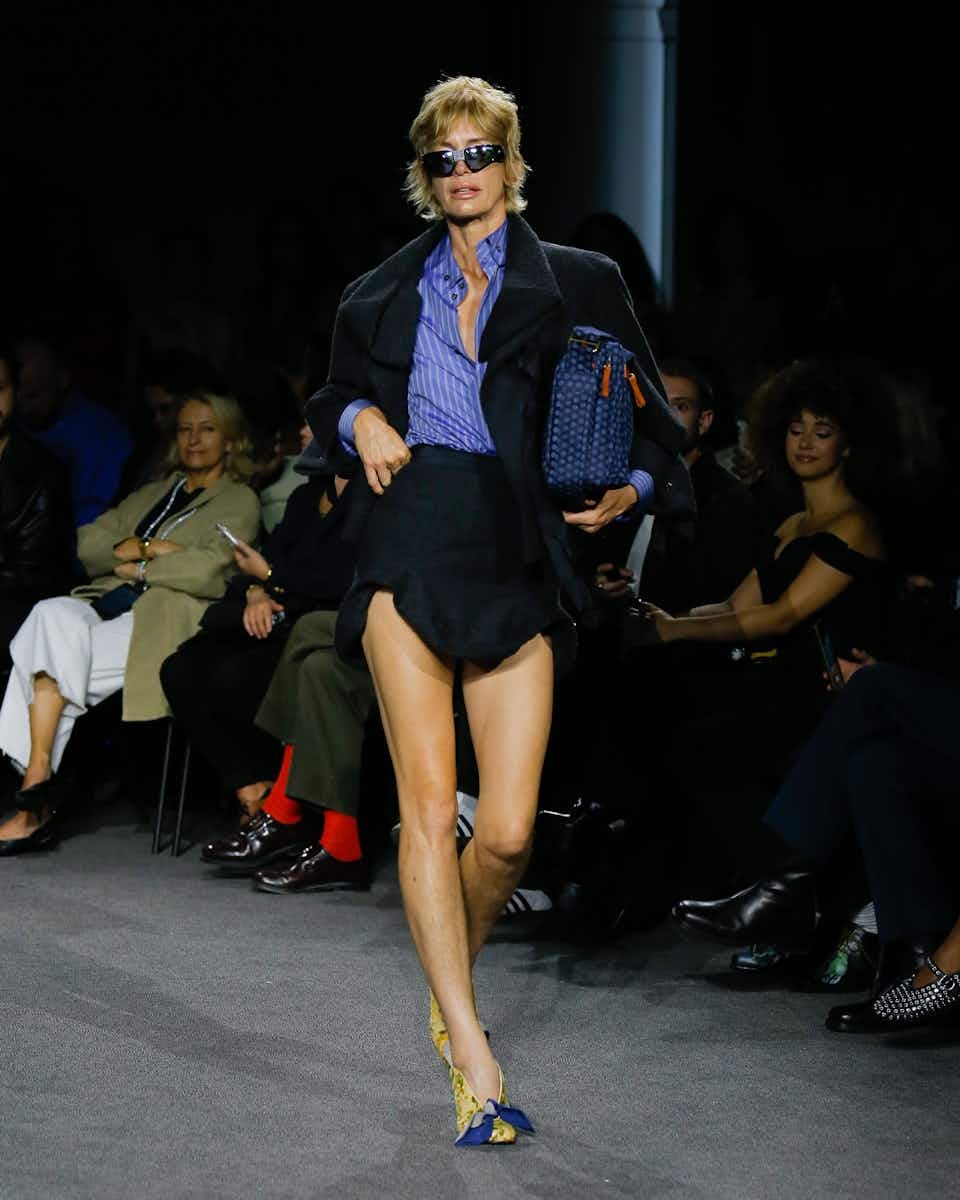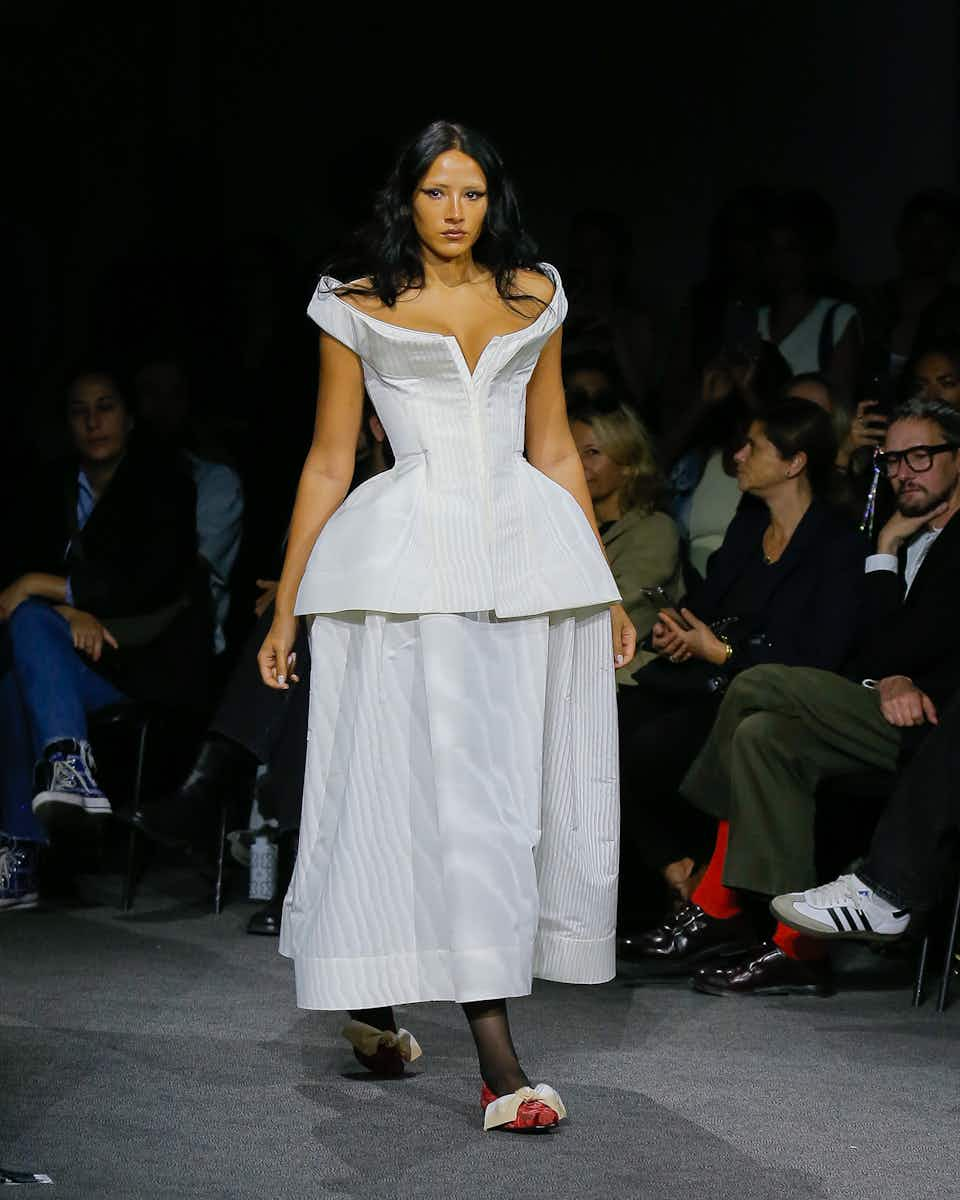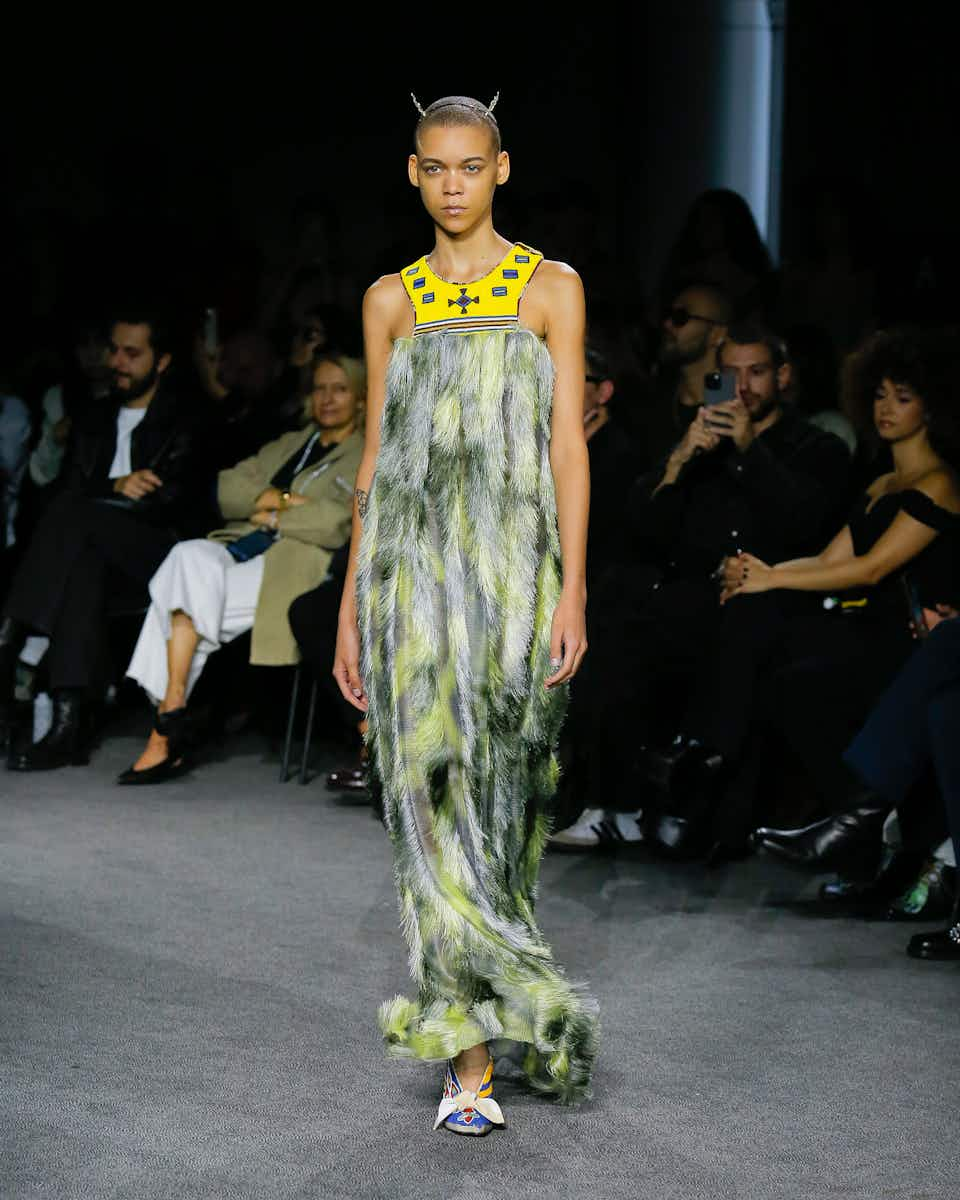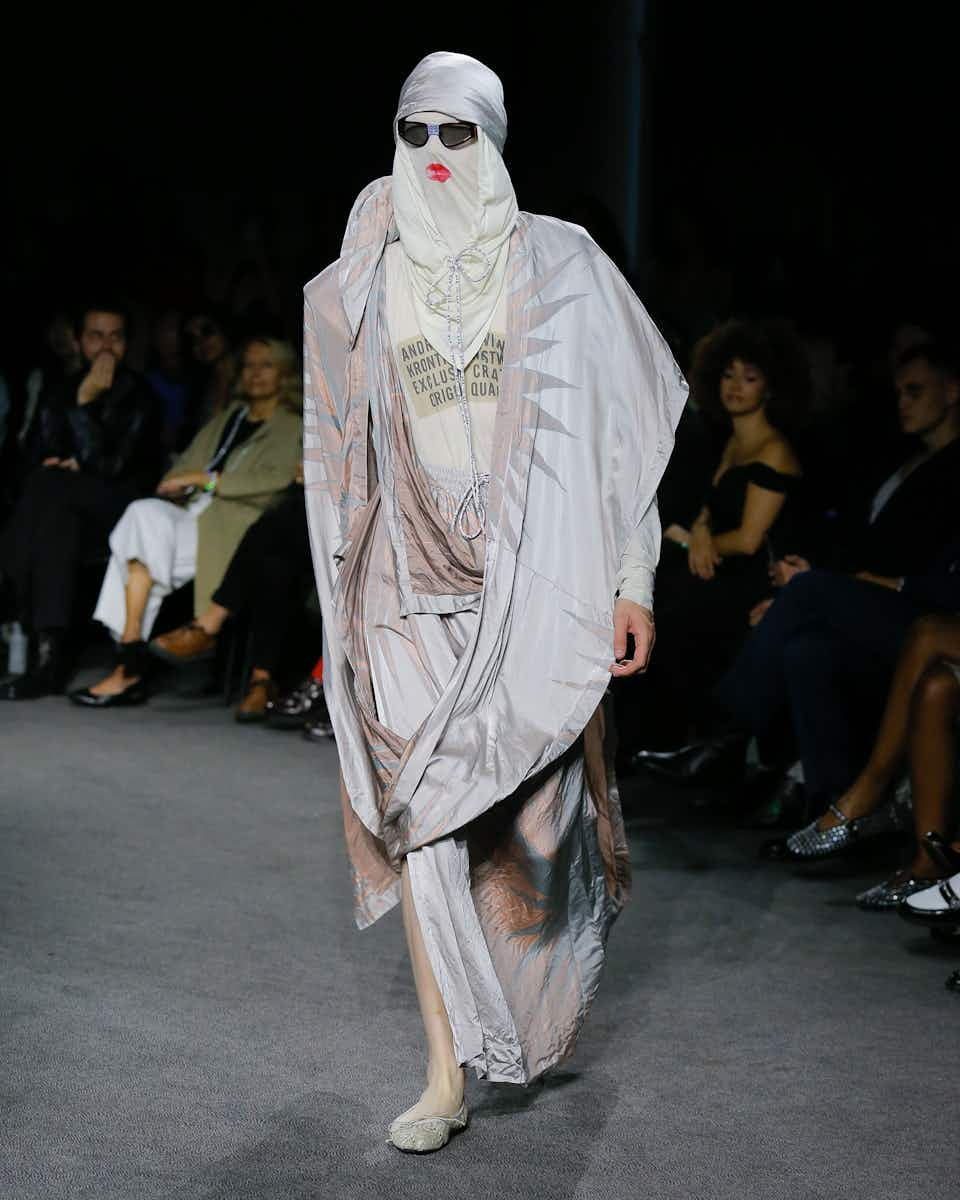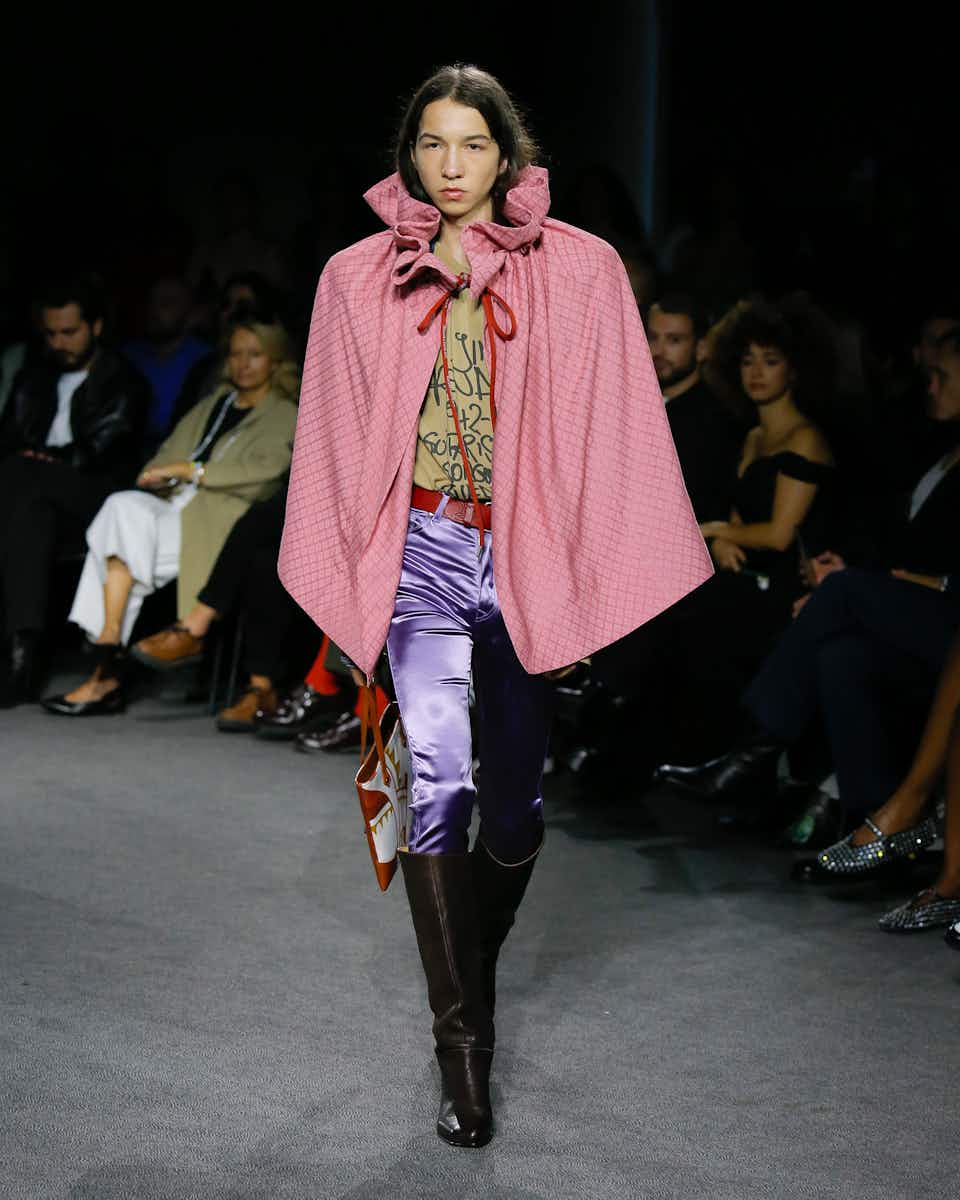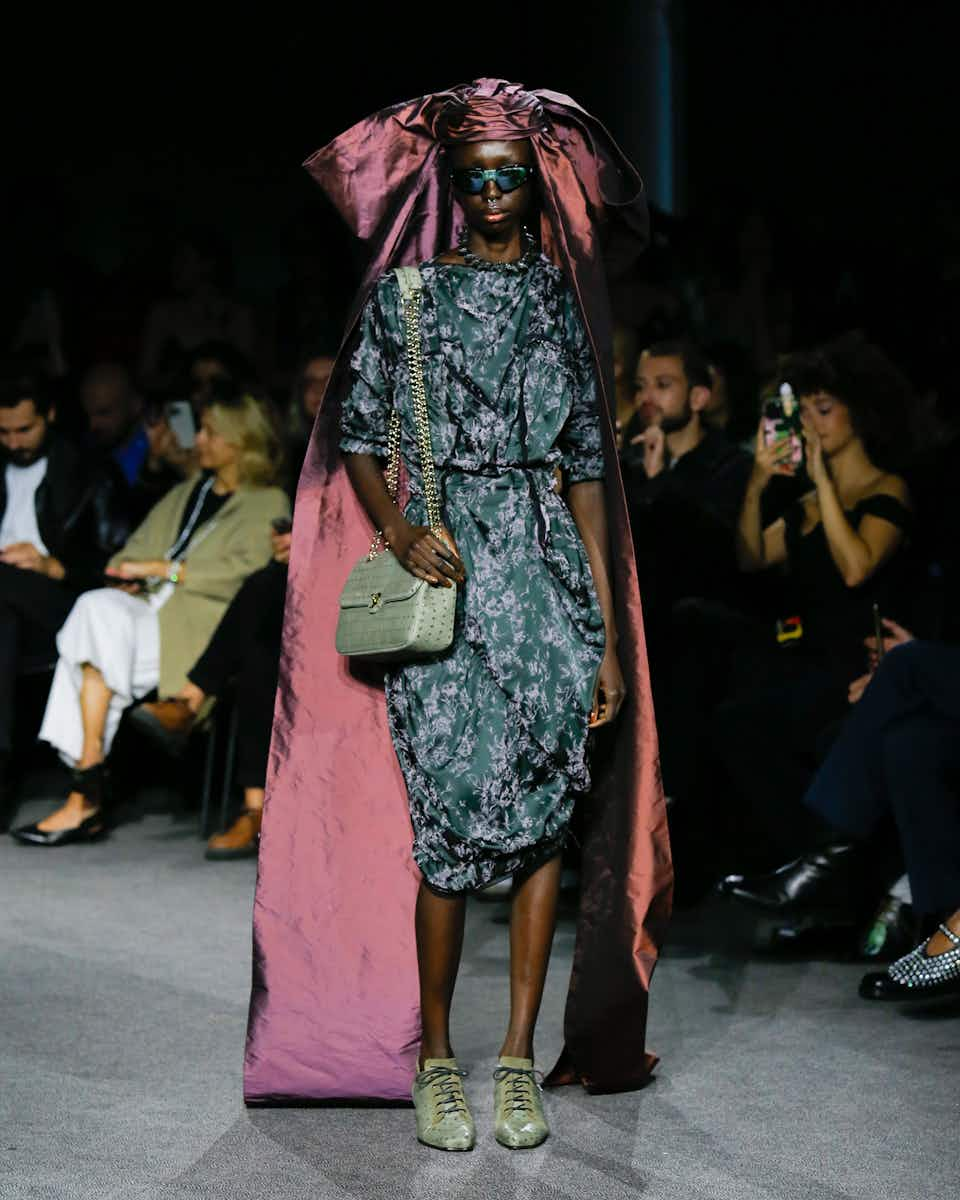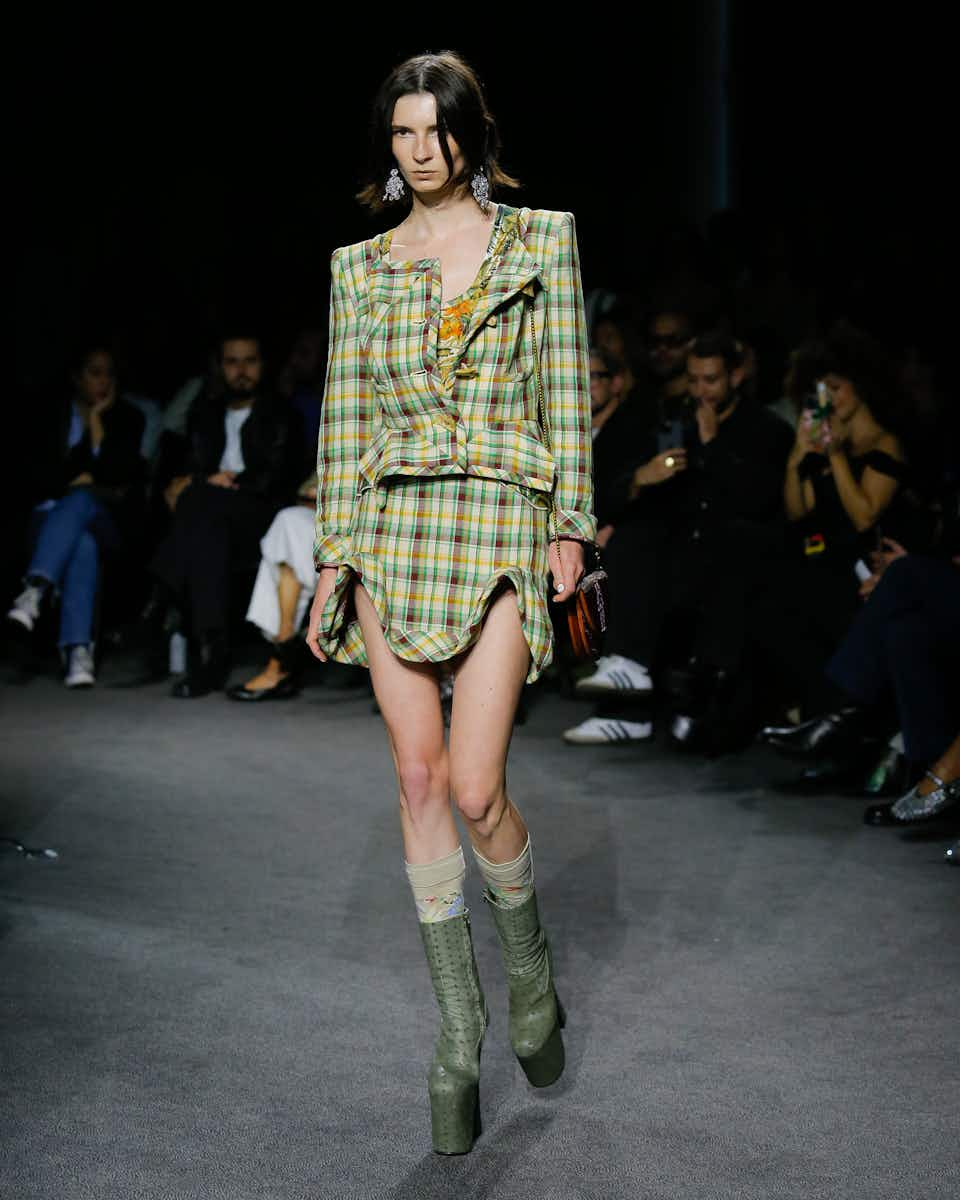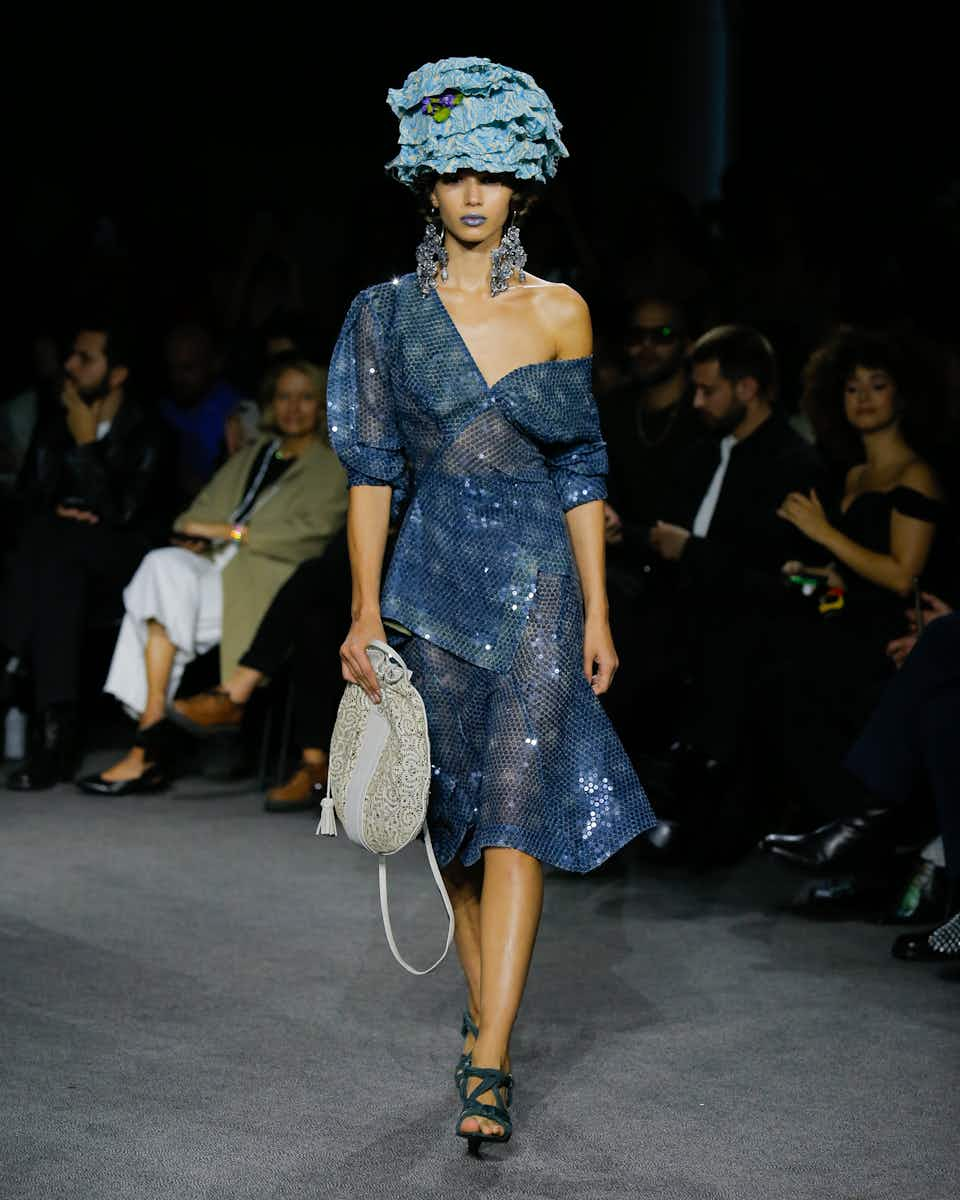 What?
This was Coperni without the spray-on dress or Boston Dynamics robo-dogs. Instead, Sébastien Meyer and Arnaud Vaillant presented a stripped back, tech-focused collection exploring the interaction between clothing and sound.

Where?
It was fittingly situated in the basement of IRCAM, an institute next to the Pompidou Centre dedicated to the research of music and sound.

Who was there?
A mixed bag of famous faces: Charli XCX (again!), Em Rata, Maisie Williams and experimental musician Eartheater all sat on the front row. The show itself featured a surprise appearance from Naomi Campbell.

Why should we care?
Because Meyer and Vaillant combined fashion and sound in truly interesting and innovative ways. A leather jacket and mens' sleeveless T‑shirt came with small speakers from Transparent embedded inside them. Tech start-up Humane debuted their AI pins, which ​"enable contextual and ambient computer interactions". A white satin dress with lace detailing was covered in 3D printed flowers that were generated through bouncing particles on a plate subject to sound vibrations. Wired headphones were attached to silver Discman Swipe bags, reviving a relic from the Y2K era.

Sound references were also translated through patterns and motifs, like a skirt in metallic herringbone that mimicked the casing of an old-school microphone. Or the insertion of triangles, the smallest orchestral instrument, into the back of jackets and the waistlines of evening dresses. Brass sections were referenced through structural trumpet shaped bodice dresses. The overall impression was retro-futurist. It asked ​"what if?" questions about sound and clothes in an exploratory way, and that exploration was music to our ears.

And what was the soundtrack like?
The show opened with a blast of abstract sound, then insulated panels in the ceiling and walls began to move, rotating to bounce sound waves in different directions to change the way they reached the audience's ears. The soundtrack, composed during a residency at IRCAM, included the percussion of clothing, from zippers being zipped to knitwear being stretched.

Any standout pieces?
Dig out your old CDs, Coperni's Discman Swipe bag is bringing them back, baby!

In a song?
David Bowie's Sound and Vision.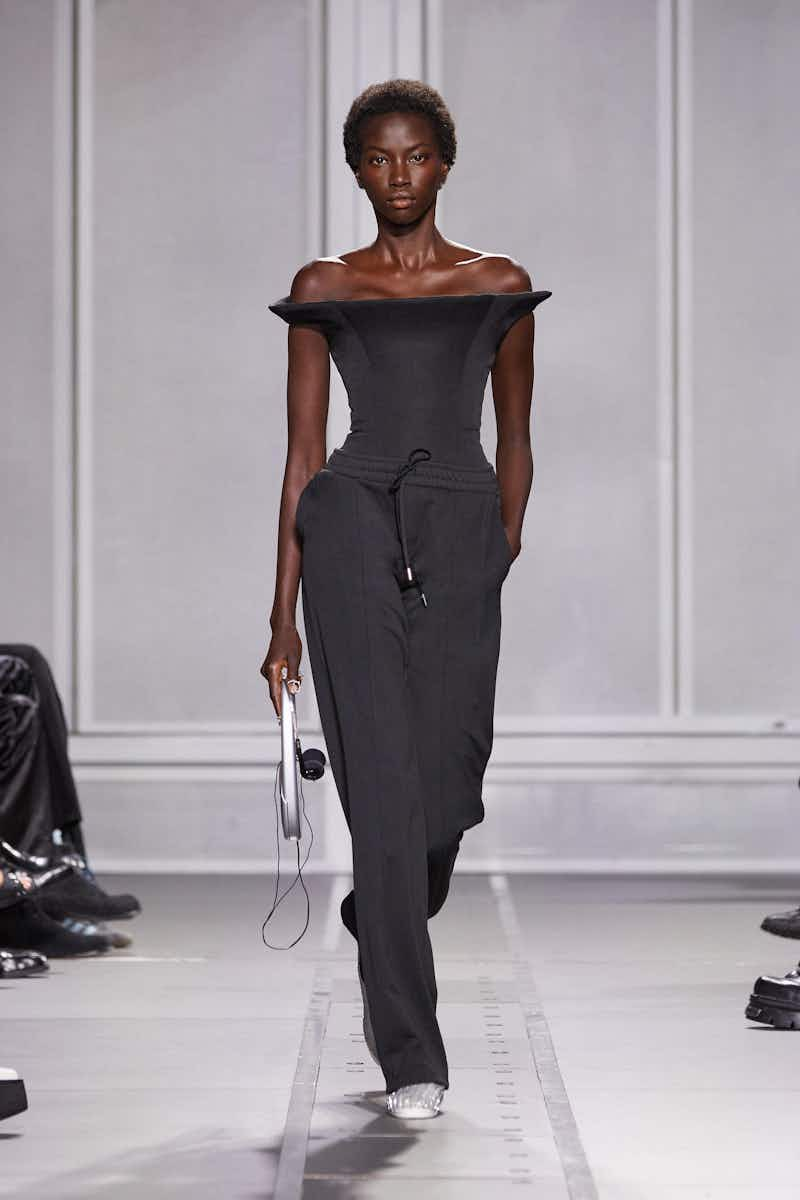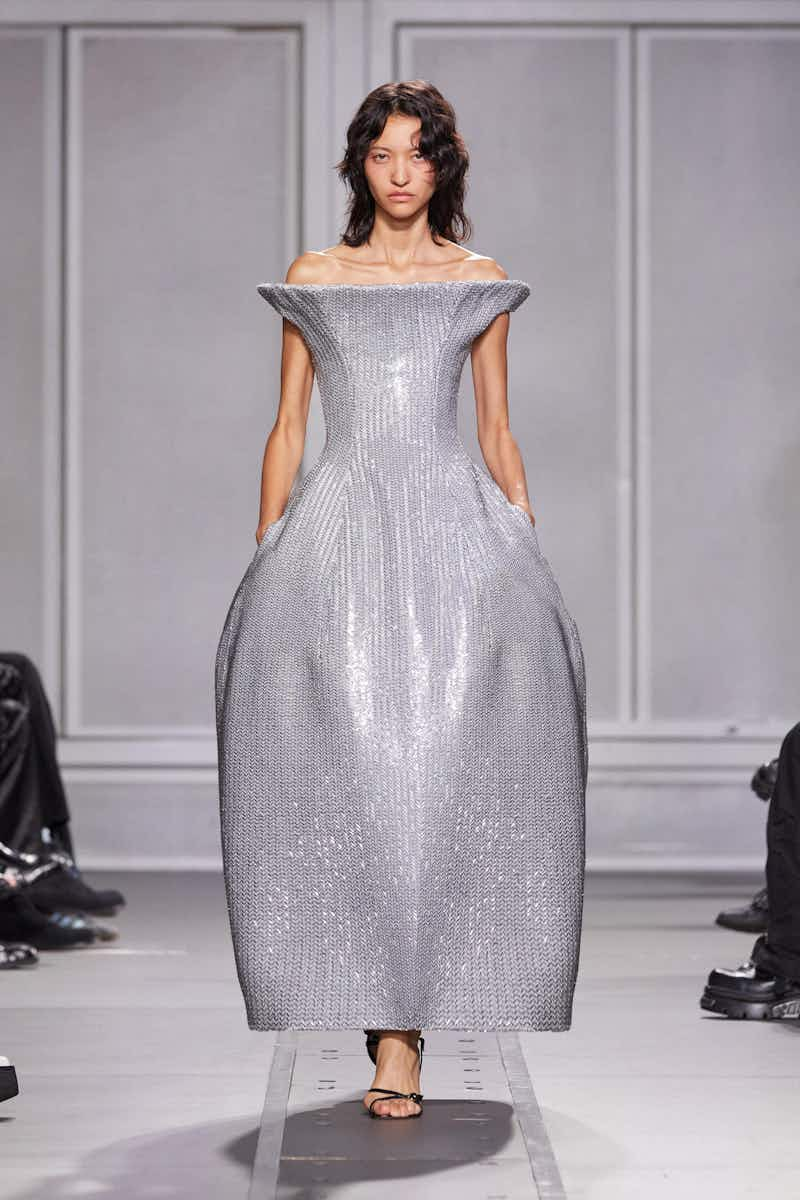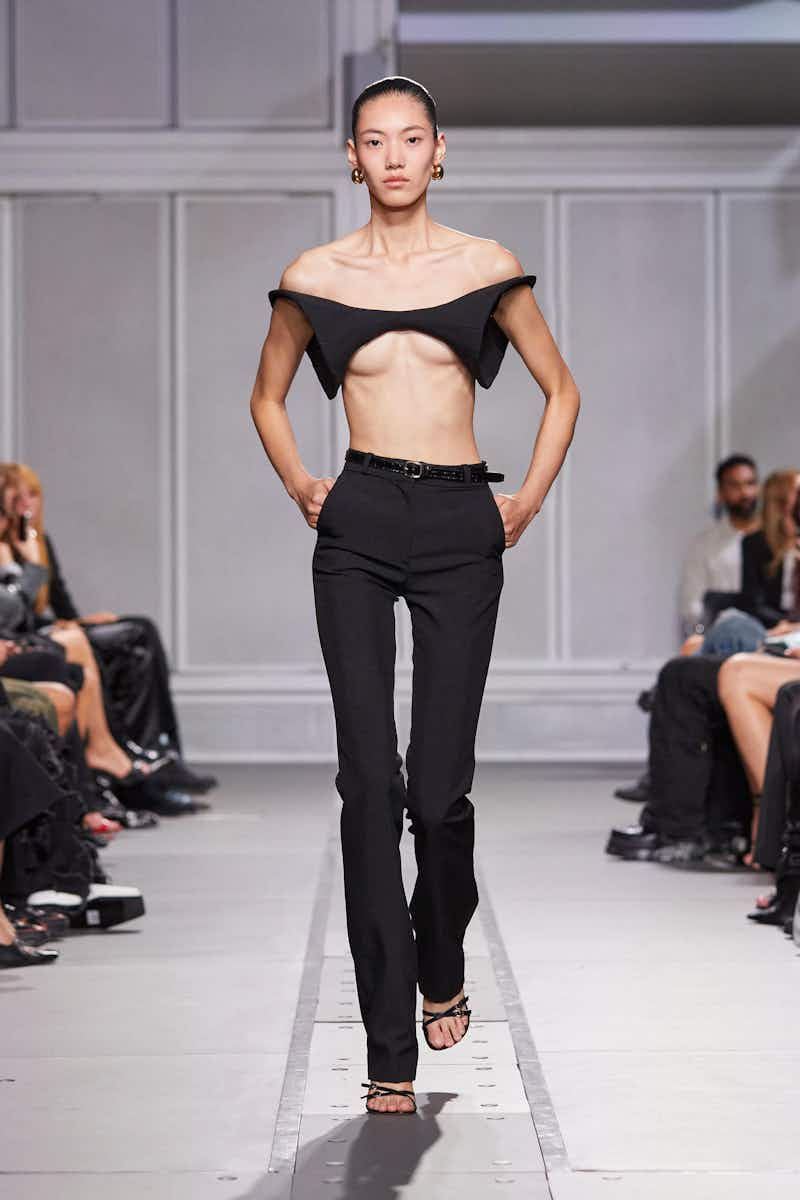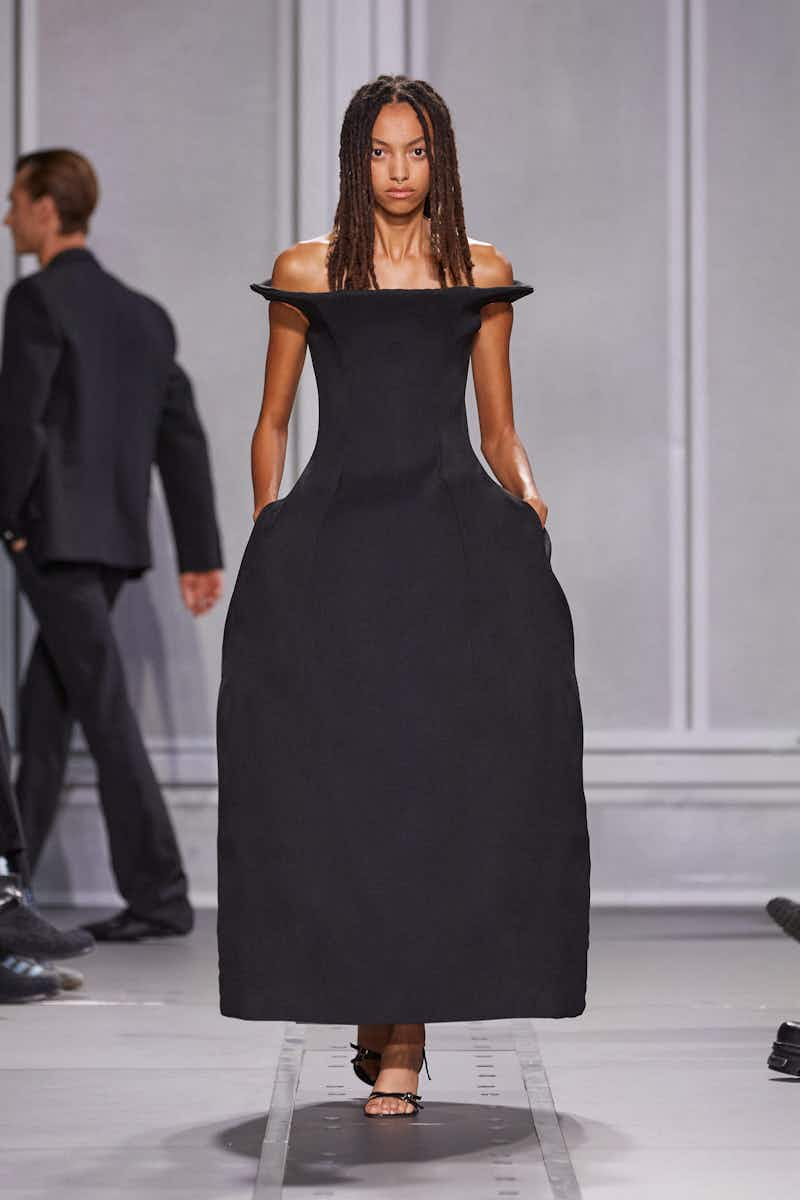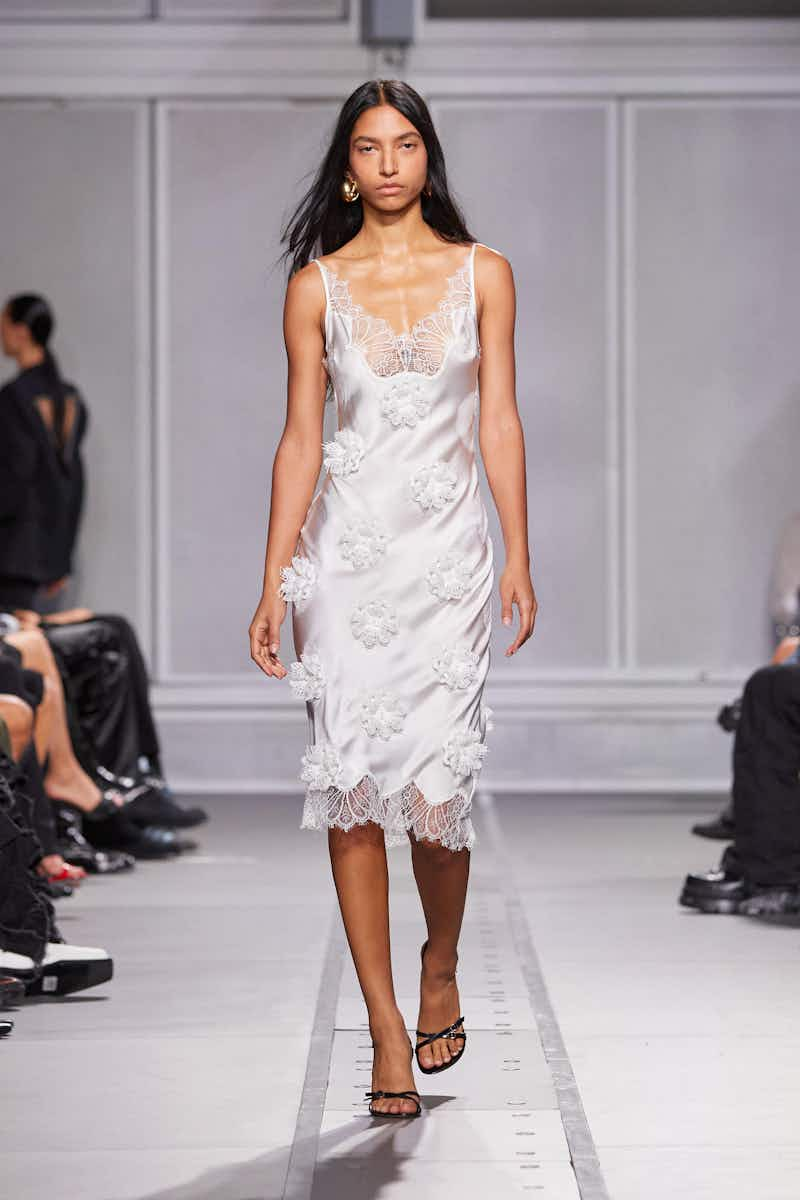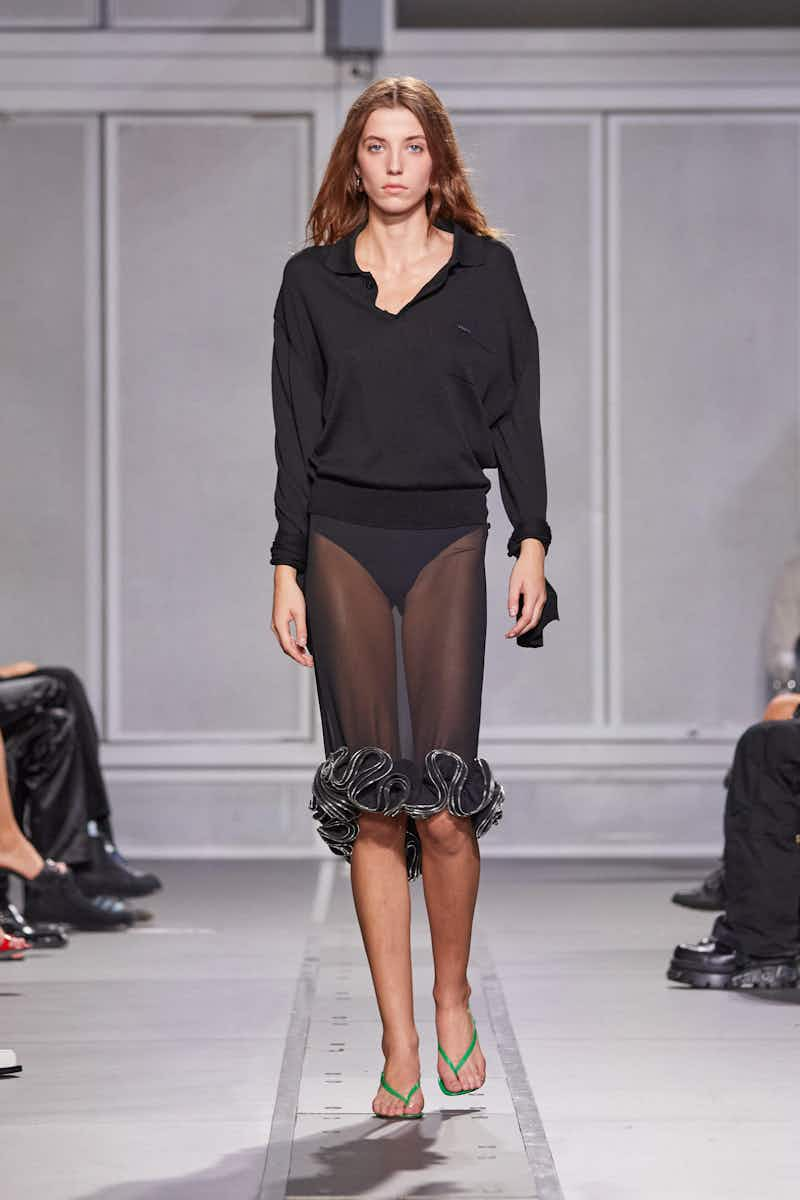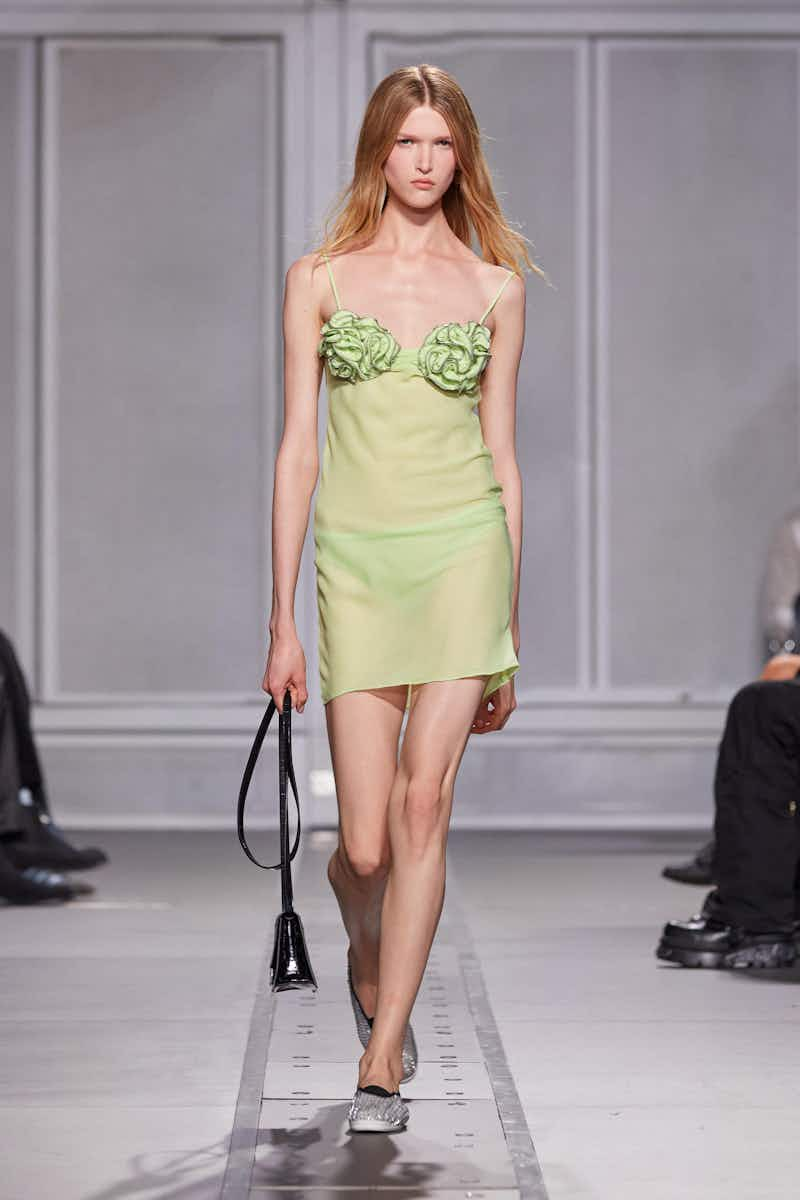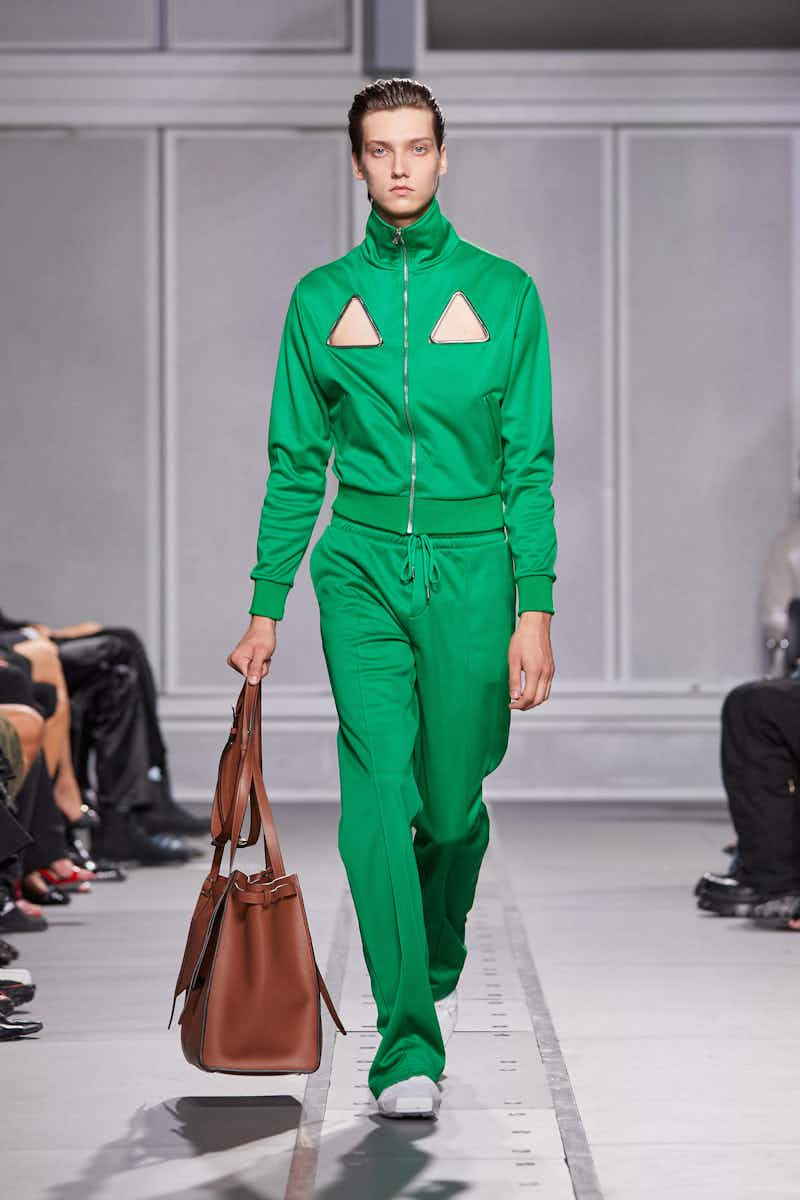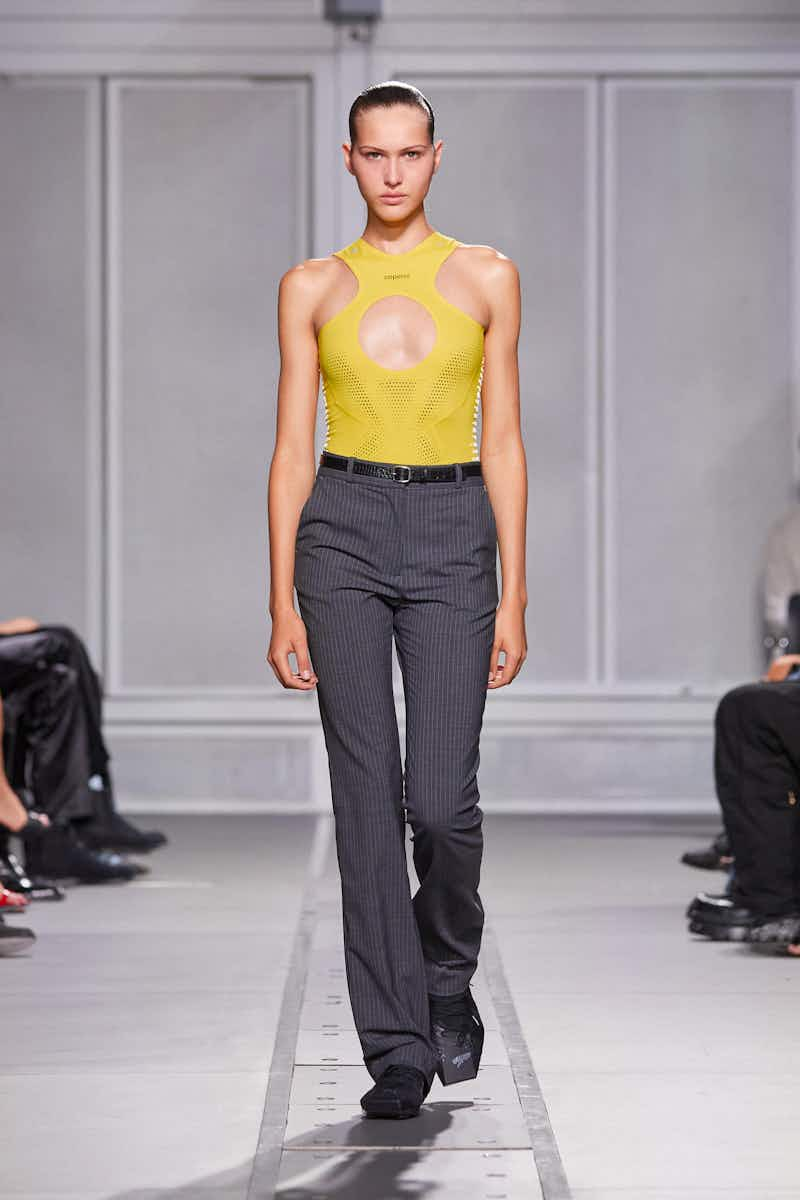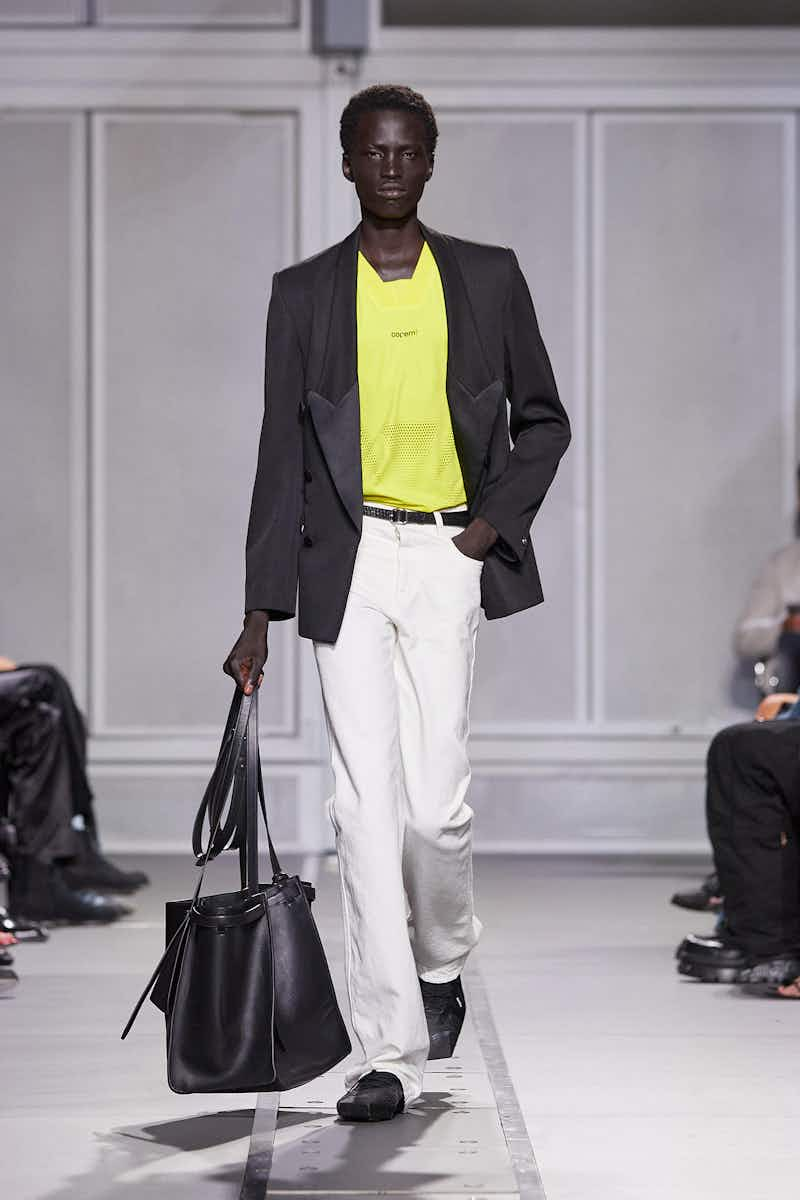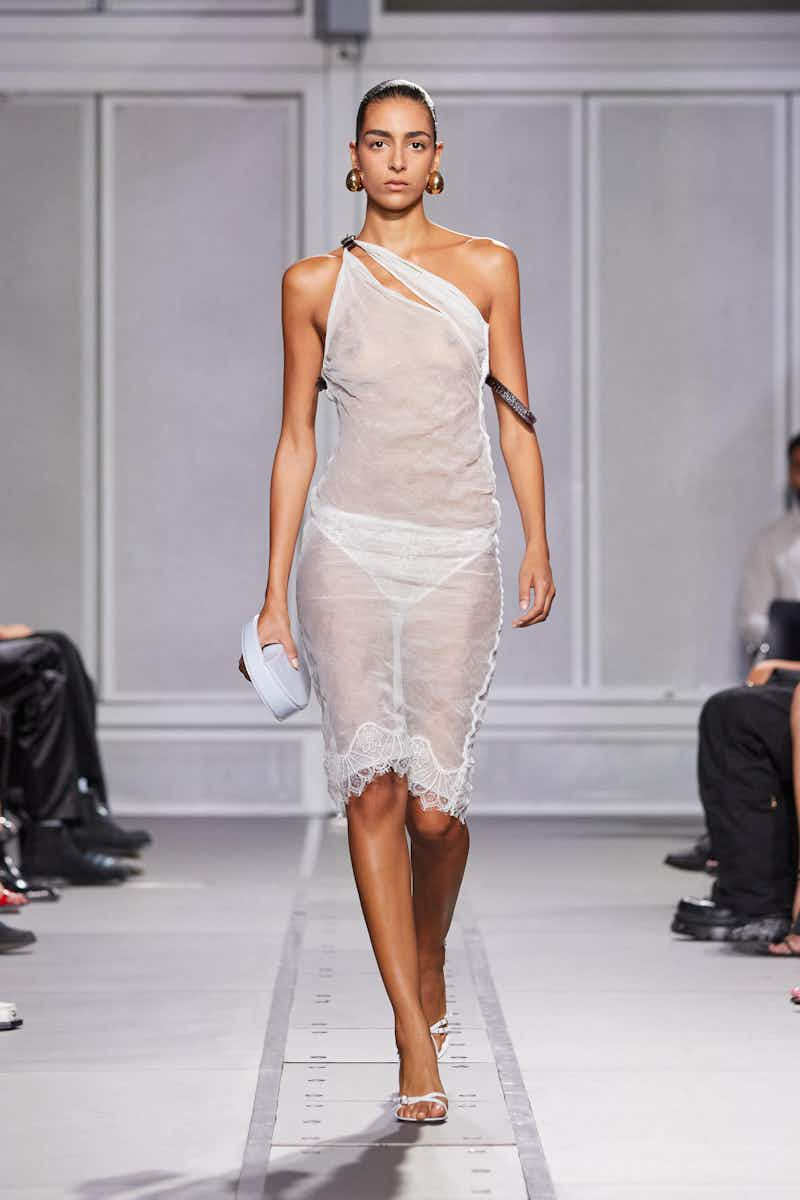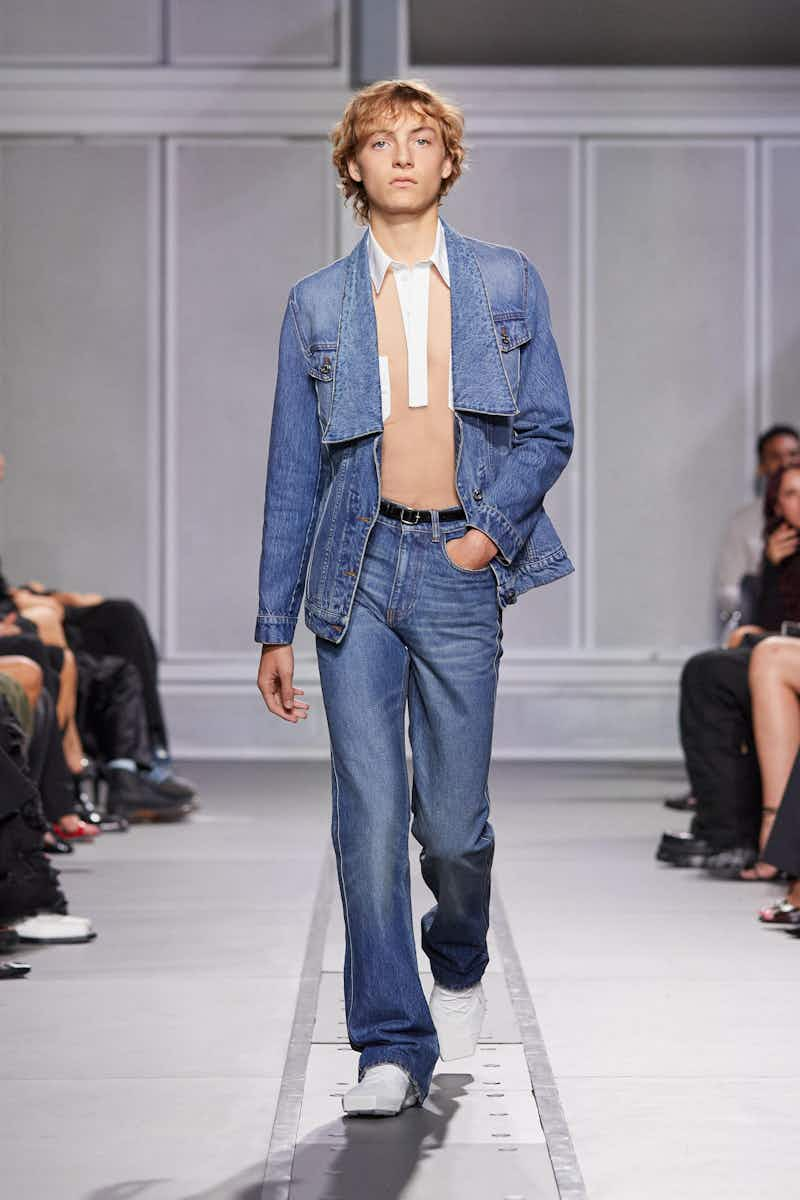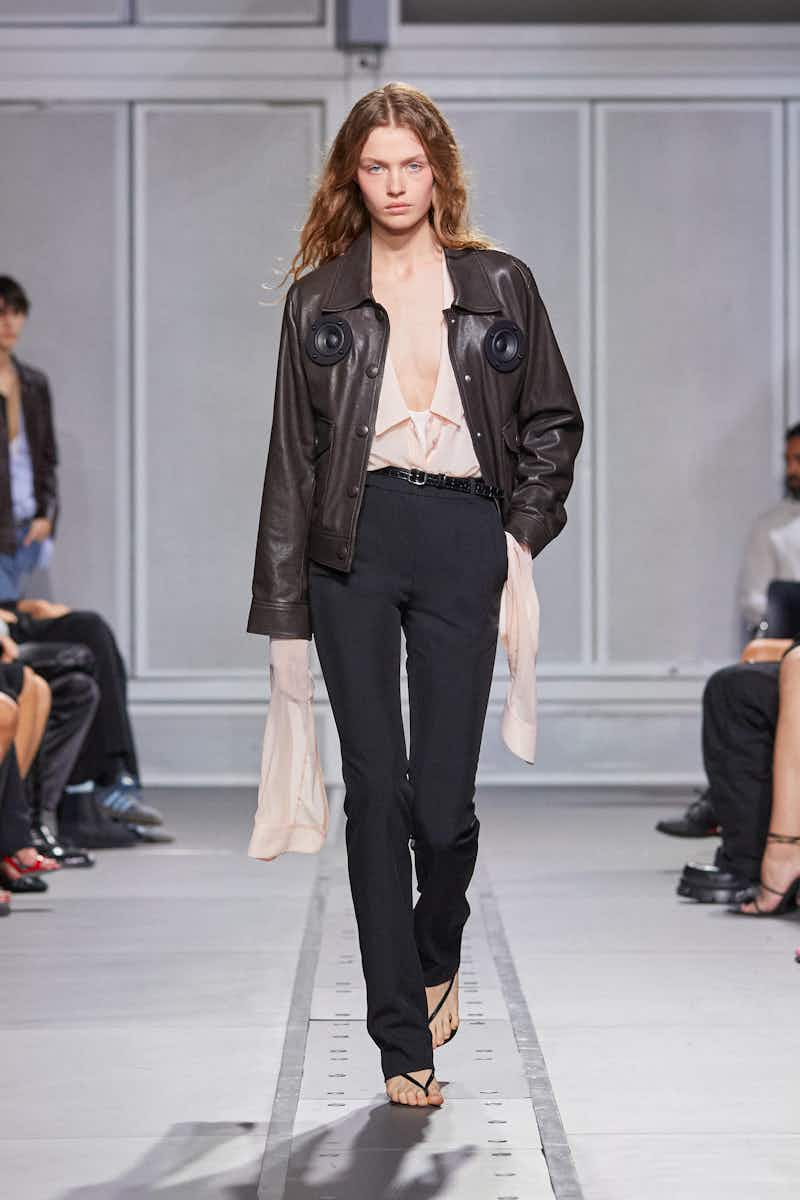 What?
Once again, creative director Jonathan Anderson playfully revels in the new possibilities that can spring from garments we take for granted.

Where?
In a bright white room erected in the courtyard of the 14th century fortress, the Château De Vincennes on the outskirts of the 12th arrondissement – it's bloody miles away, but we made it there in time.

Who was there?
THE FACE cover star Taylor Russell sat on the front row wearing the label's AW23 heavy metal (actual metal) jacket, meaning she was unable to free her arms to give us a hug. She was joined by Troye Sivan, Luca Guadagnino, Robyn, Charli XCX, Kit Connor and Hari Nef. The perfect finishing touch to this all-star FROW came when Kris Jenner strutted in, kitted out in a leather Loewe dress and futuristic shades.

What went down?
Does the divisive low-rise pants trend make you viscerally recoil? If it does, then boy, do we have some good news for you: the pendulum might be about to swing the other way. That's if Jonathan Anderson has a say in it, anyway. The Northern Irish designer is the master of a weird and wacky silhouette – just look at his recent JW Anderson show where hunched over hoodies were literally made out of plasticine. This season at Loewe, Anderson yanked trousers up to dizzying new heights, with tit-grazing waistlines that reached halfway up the ribcage. He first introduced this silhouette at the Loewe men's show in June, but the women's pants were pulled up even higher. So, if you're looking for a trick to make your legs appear longer, then voilà!

The collection was all about ordinary, everyday clothes with a subversive twist. Take the two opening chunky knit cardigans, for instance. Instead of being predictably twee, they were blown up into humorous proportions, cocooning the body and restricting arm movement, drawn together with giant shiny gold buttons. Leather trench coats were pinned up on one side while leather T‑shirts and shorts combos riffed on the glitchy garments from the SS23 collection.

Elsewhere, wildly detailed shimmering floral breast pieces hovered above those high-rise trousers we were just telling you about. As always, humour was key, without feeling gimmicky.

In a hyphenated word?
Off-kilter.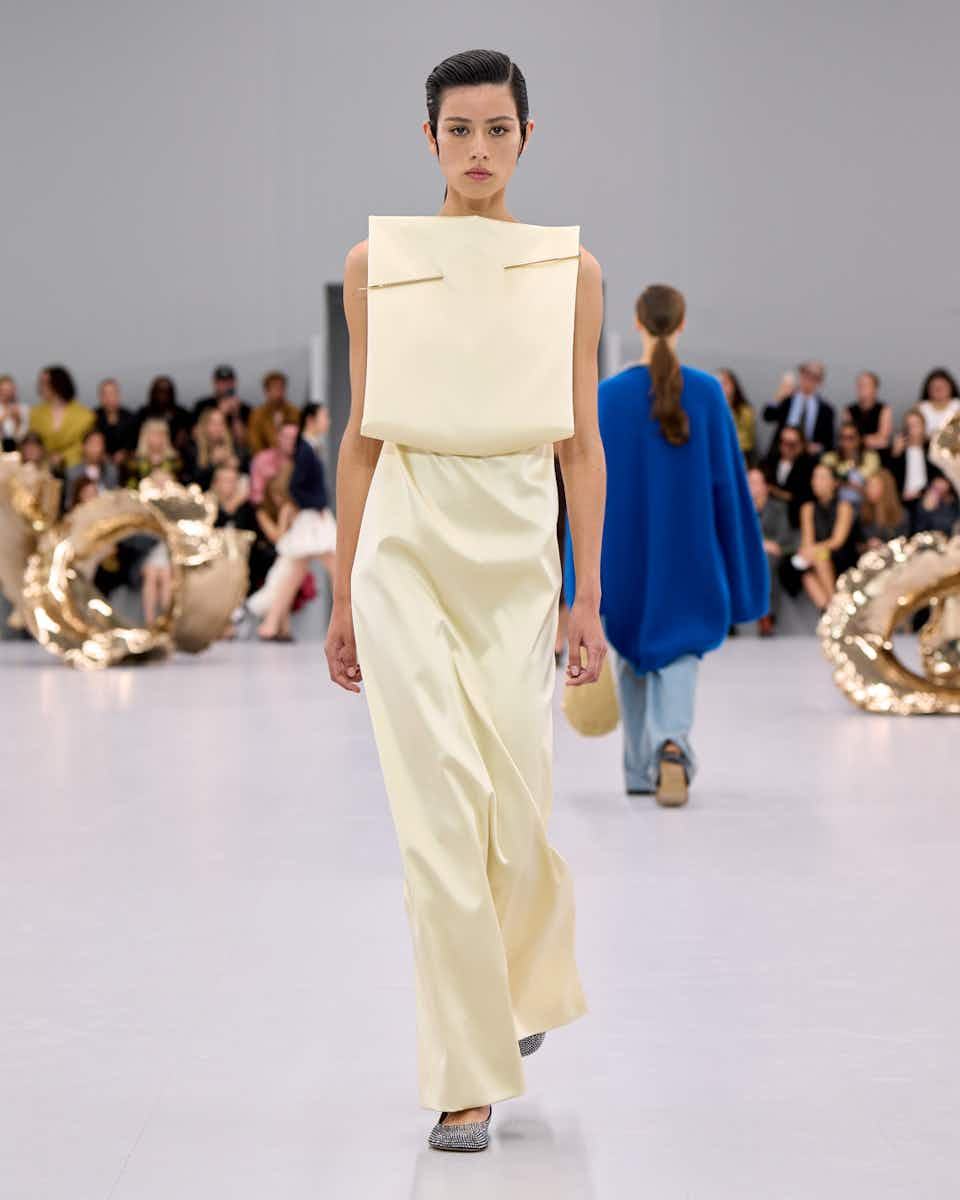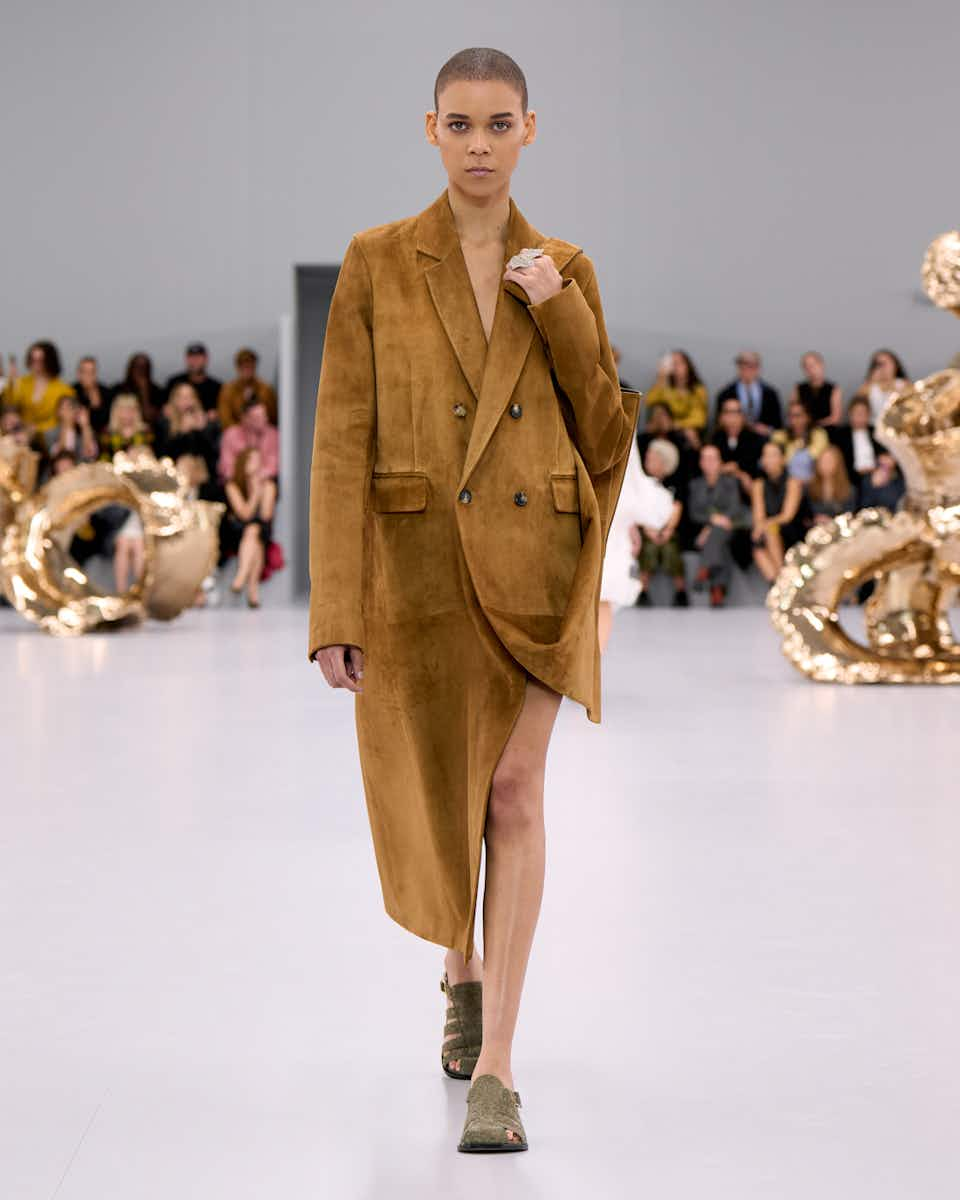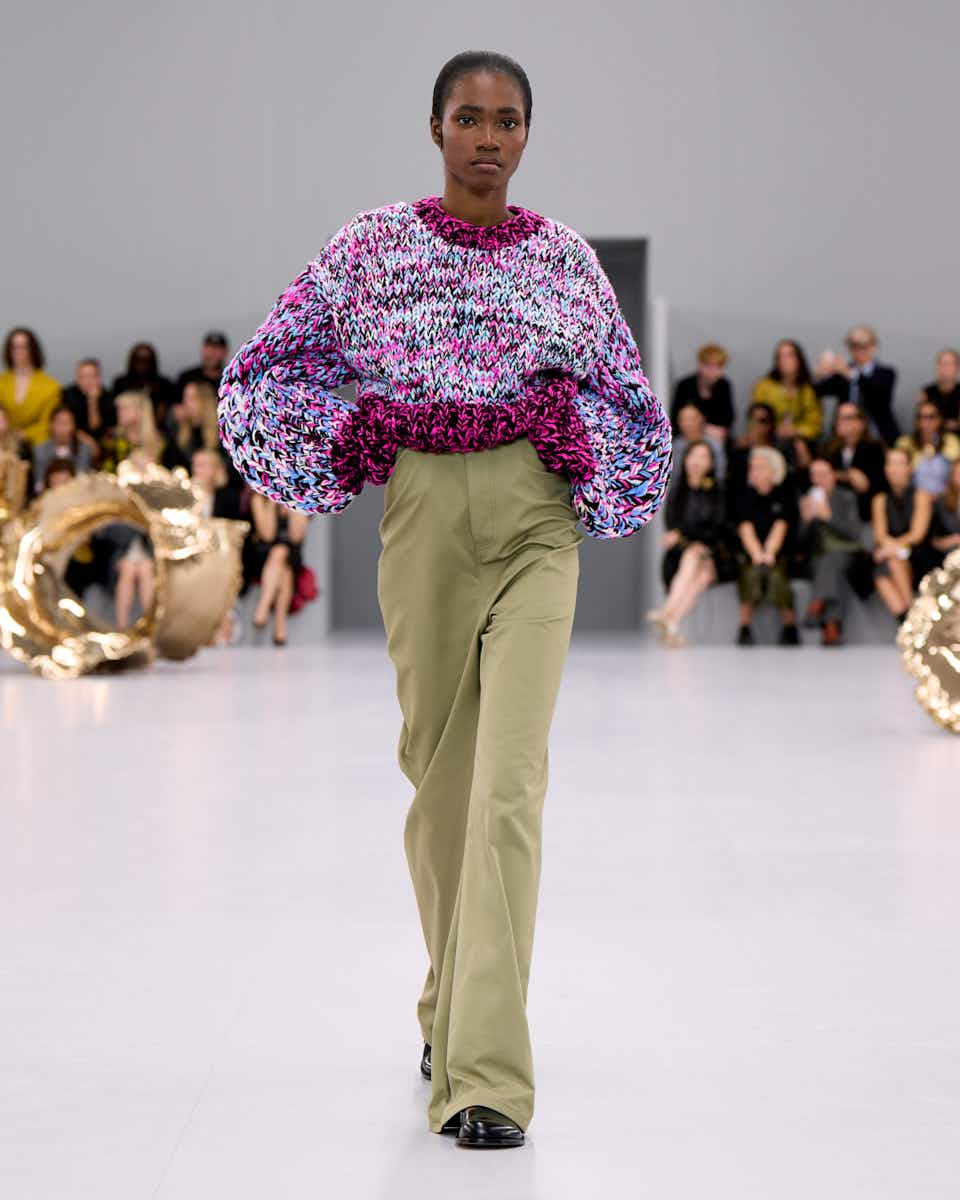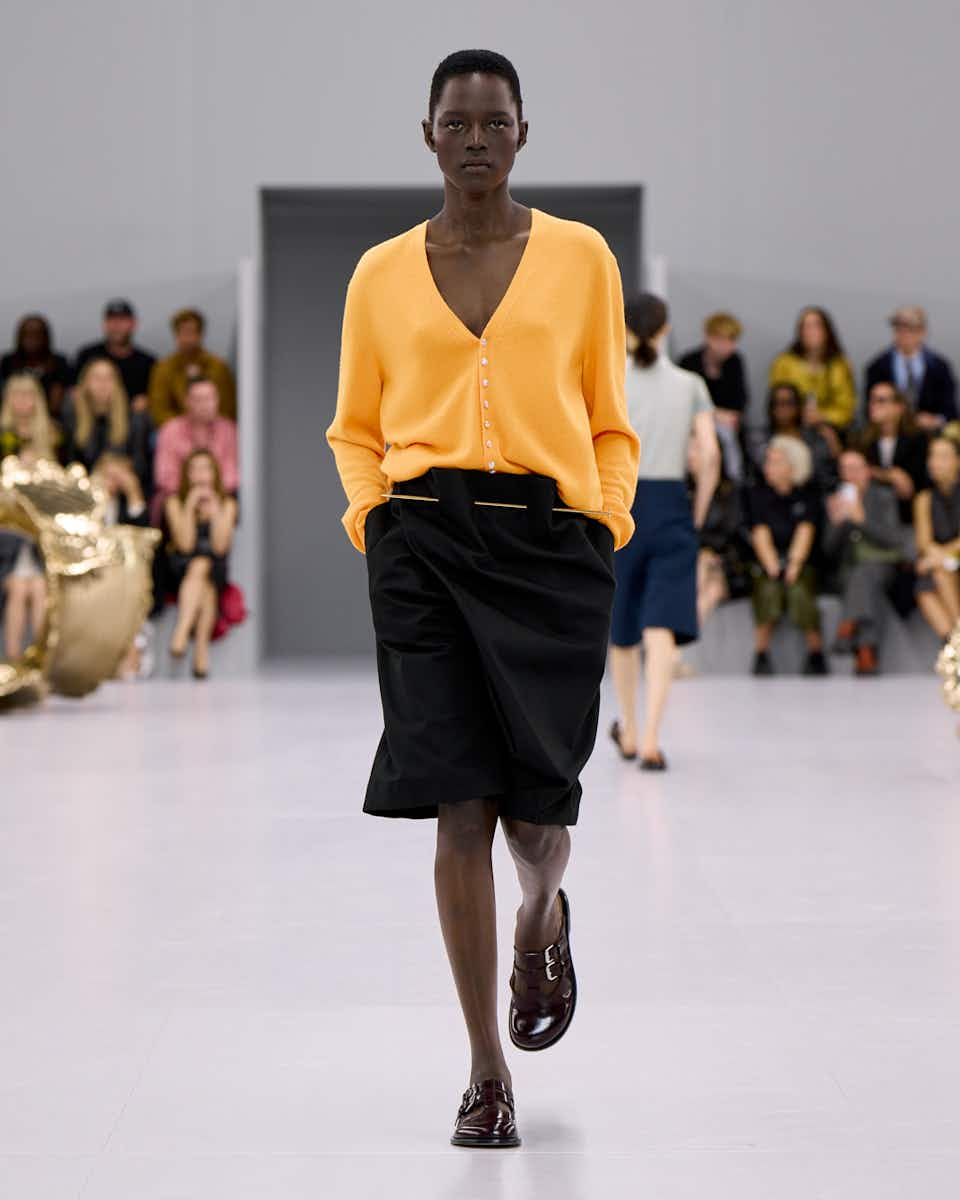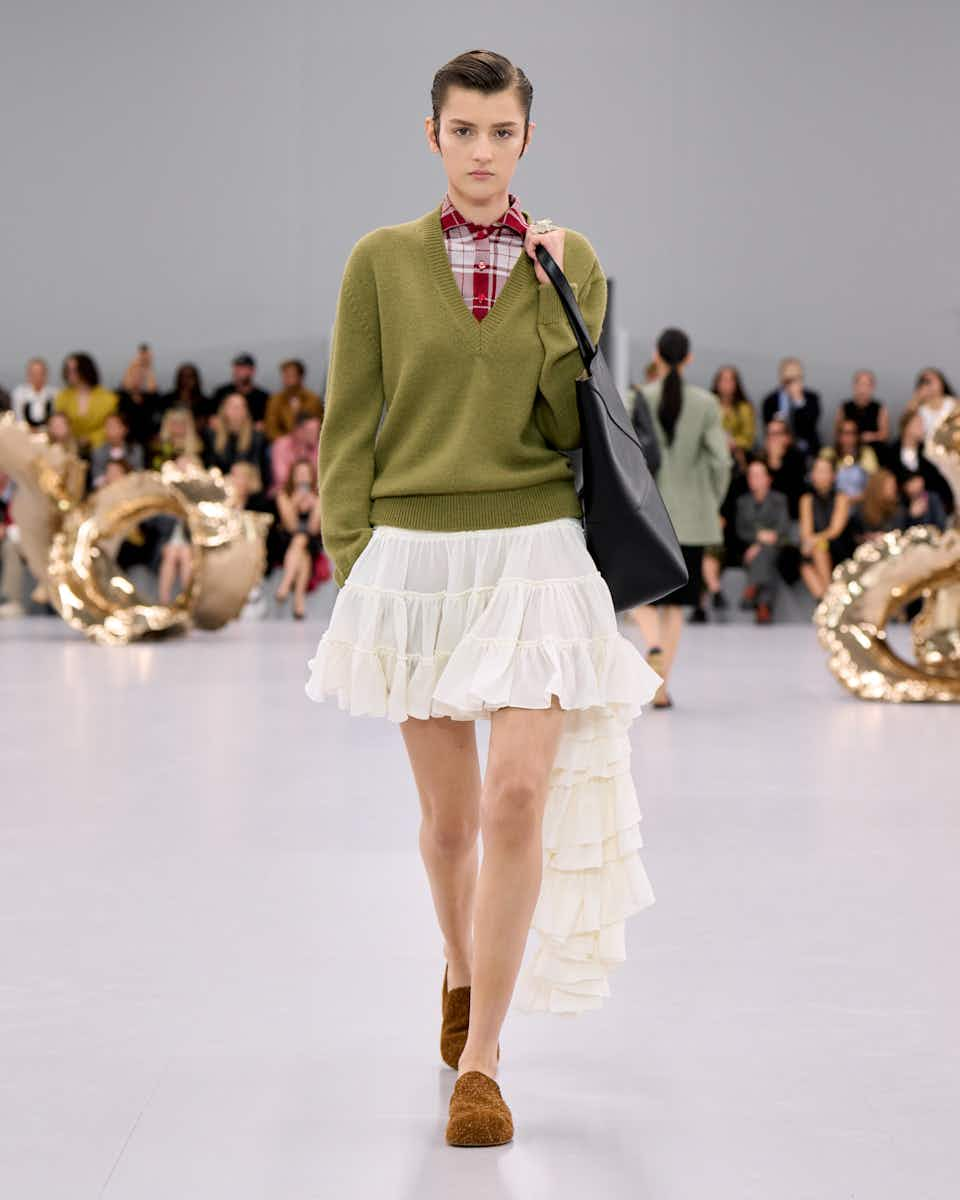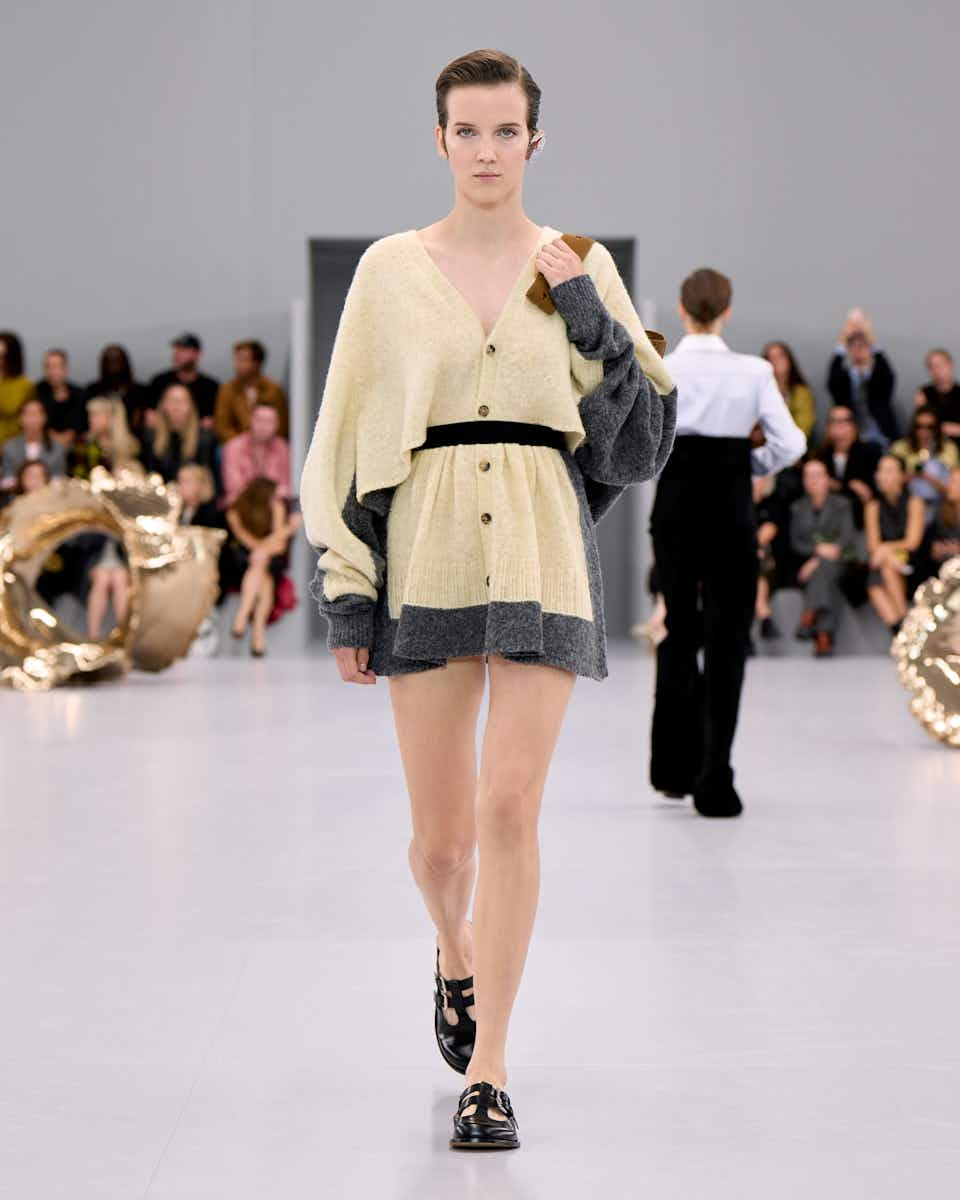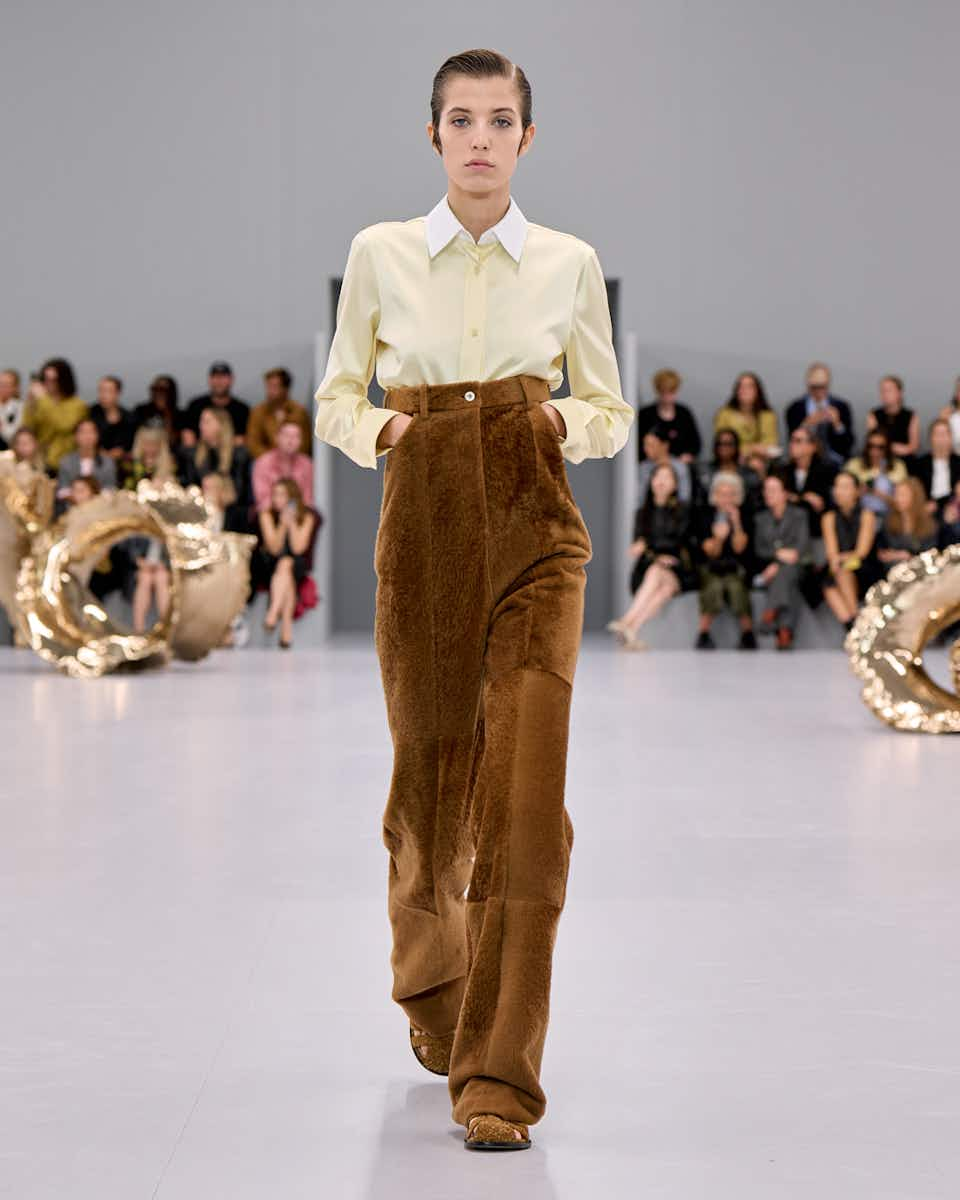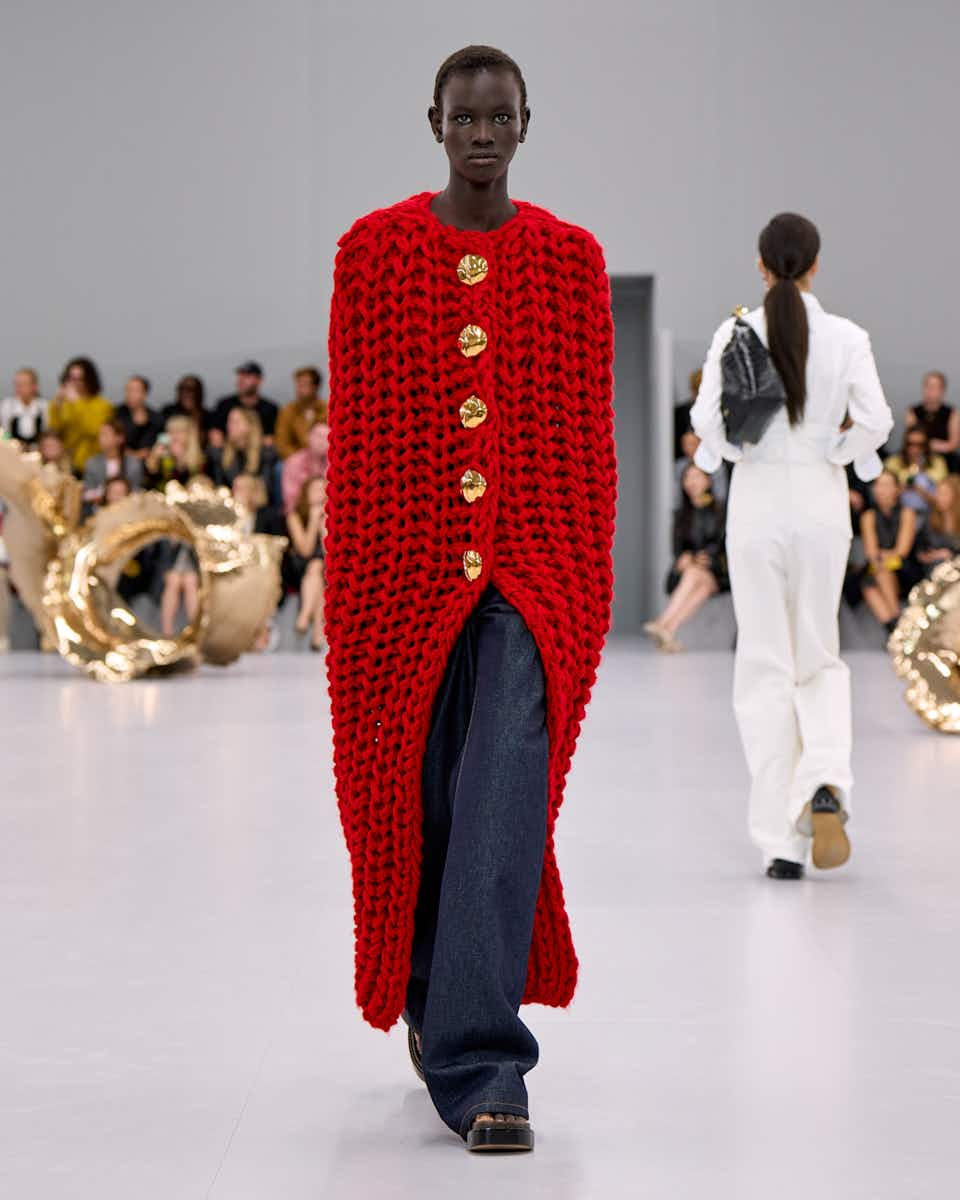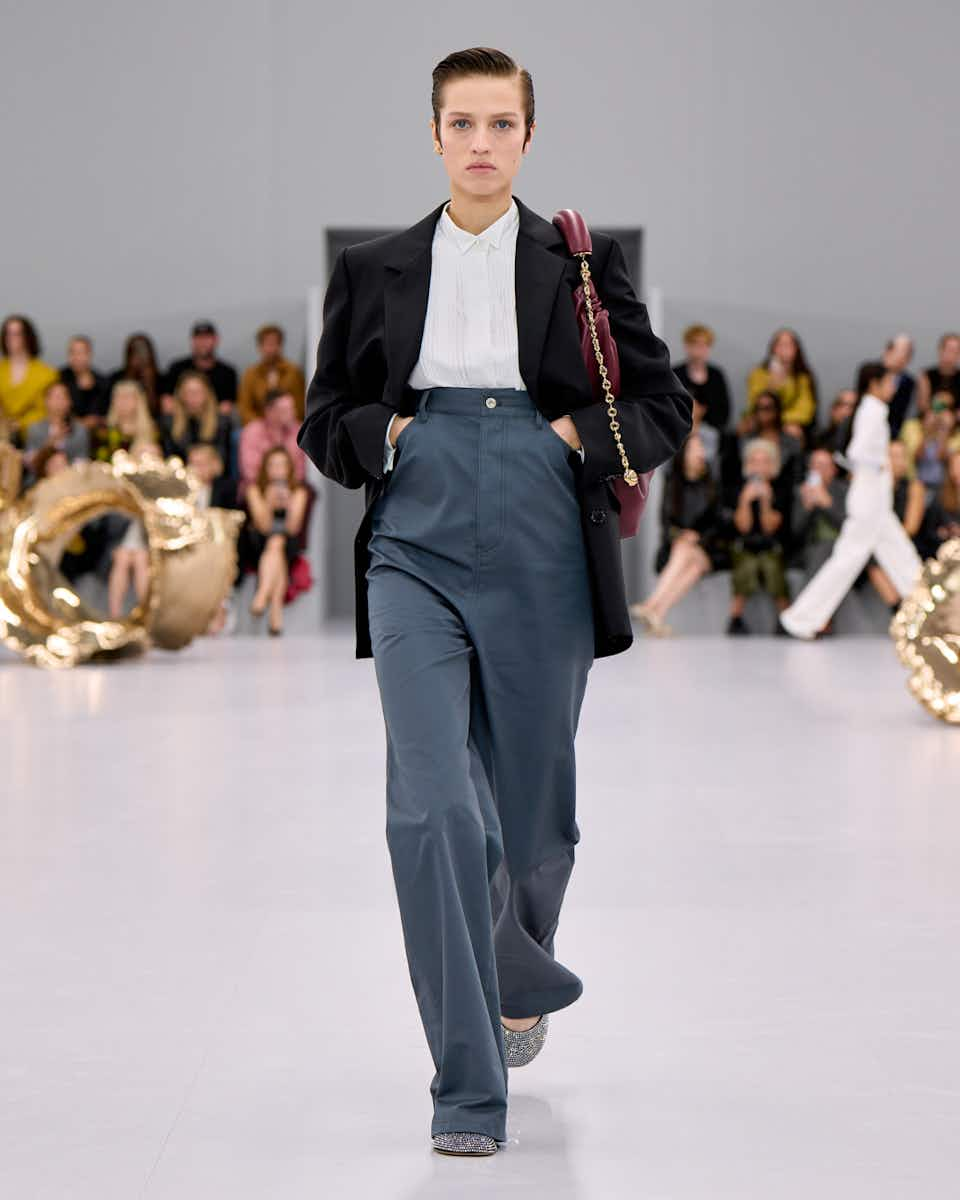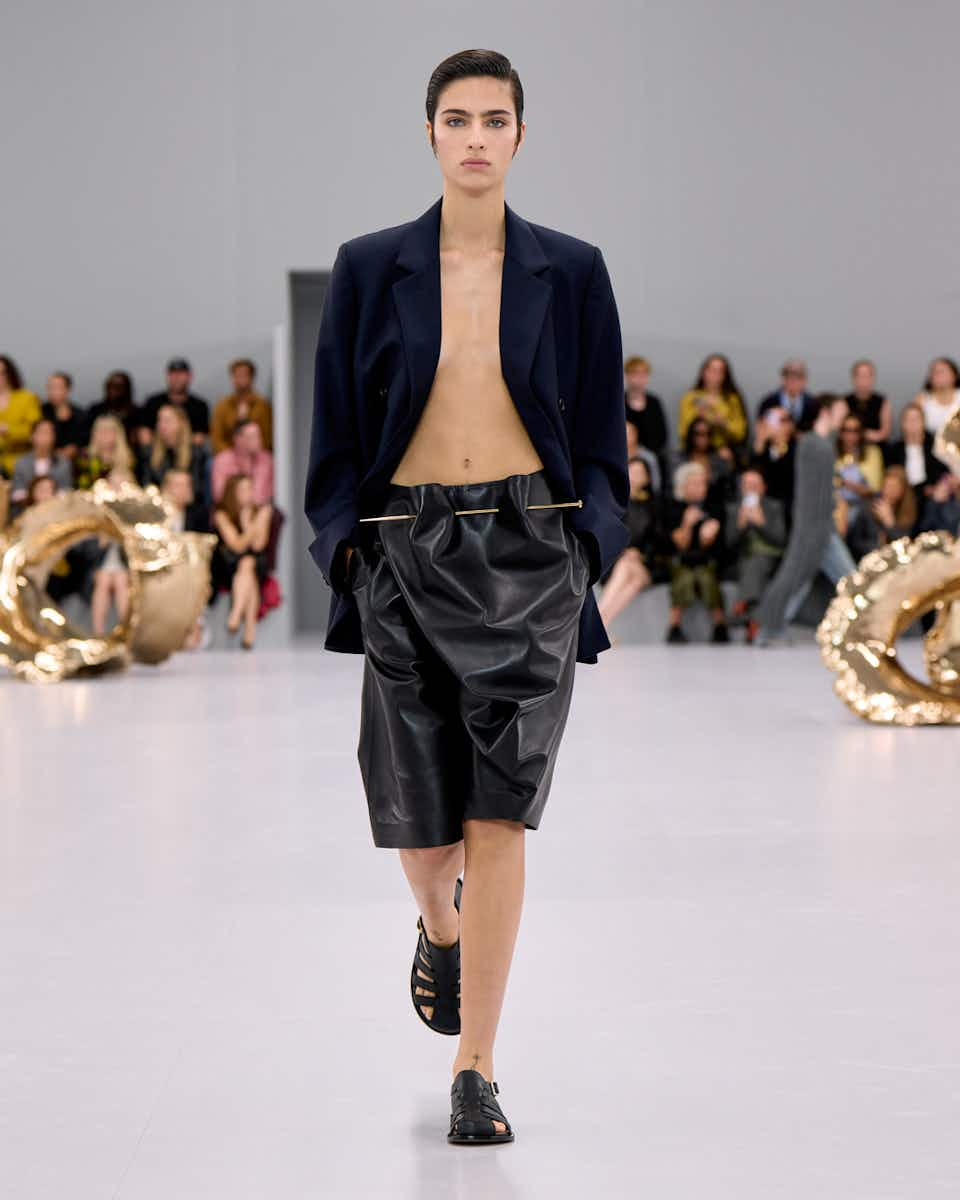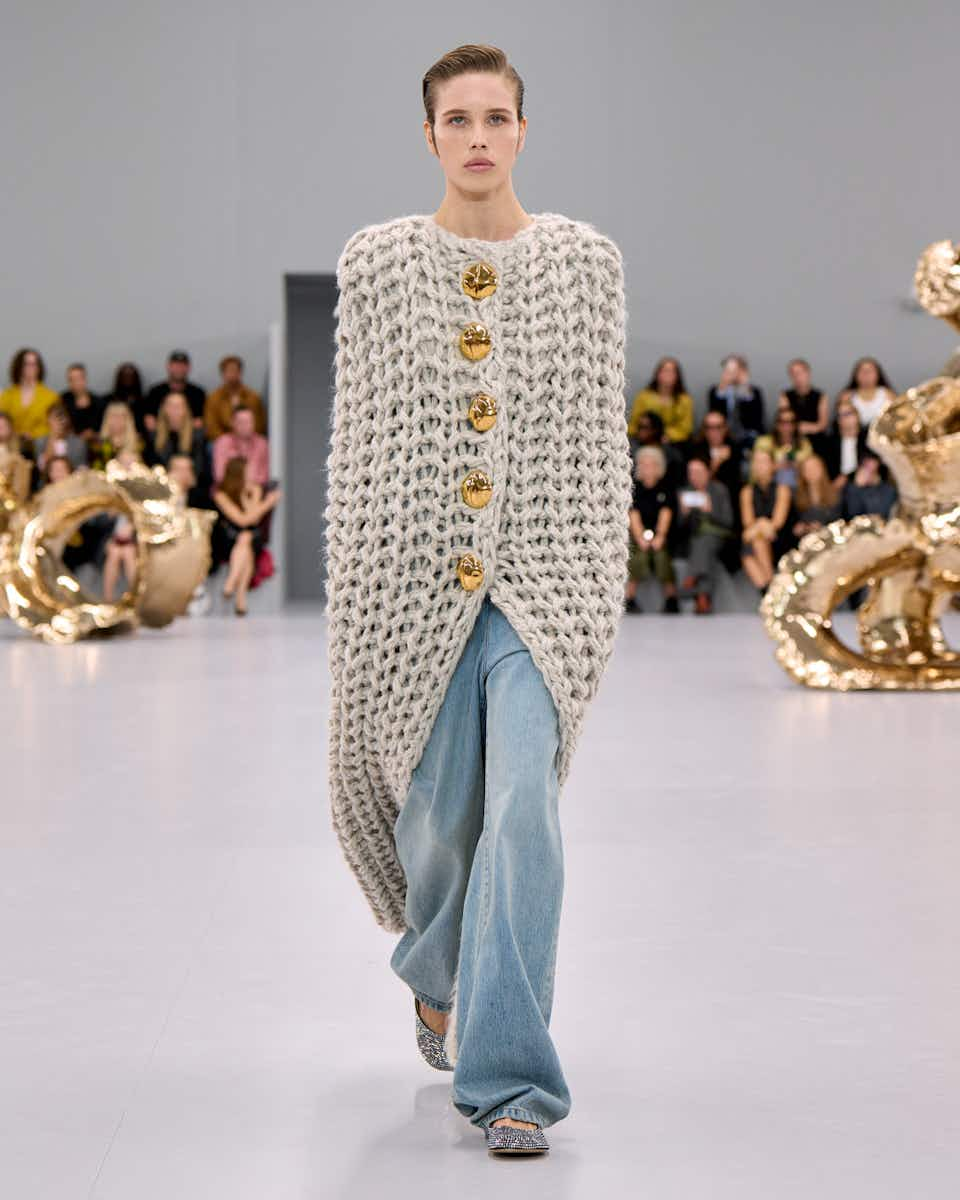 What?
If clichés are to be believed, then there are few things as beautiful as Paris at night. Isabel Marant tapped into this sense of celestial wonder with a collection inspired by ornamental art nouveau and the poetry of after dark hours.

Where?
A return to the opulent gardens of the Palais Royal, bathed in hazy midnight blue light. The ethereal soundtrack was composed by Kazu Makino and performed by her rock band, Blonde Redhead.
So, what were the clothes like?
The collection took on a lightness, ushering in night time slip dresses with intricate lace collars while bringing back last season's practically-minded focus on outerwear. Fluid parachute parkas and low-rise pocketed cargo pants brought a gorpcore element to the more ethereal femme moments. The leather pieces were equally multifaceted, with art nouveau curves configured in cropped jackets and matching hot-pants in fiery red or tan. Denim shirts and jeans were embroidered with gold thread constellations, while disco pants and skin tight jumpsuits were made for an indie sleaze night on the town. Meanwhile, wedge clogs grounded proceedings, giving way to lace-up boots for the boys. All this was drenched in a nightclub blue glow, tempting guests with the promise of Paris by night.
In a few words?
After dark magic.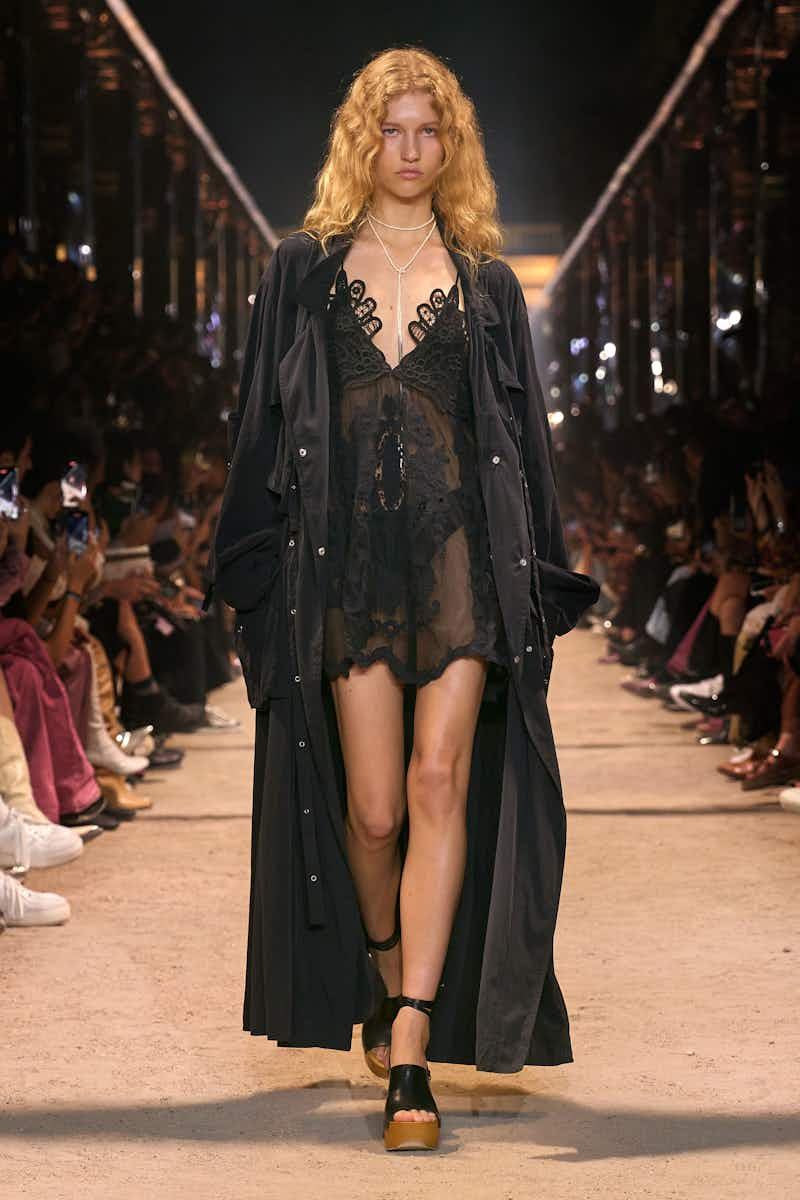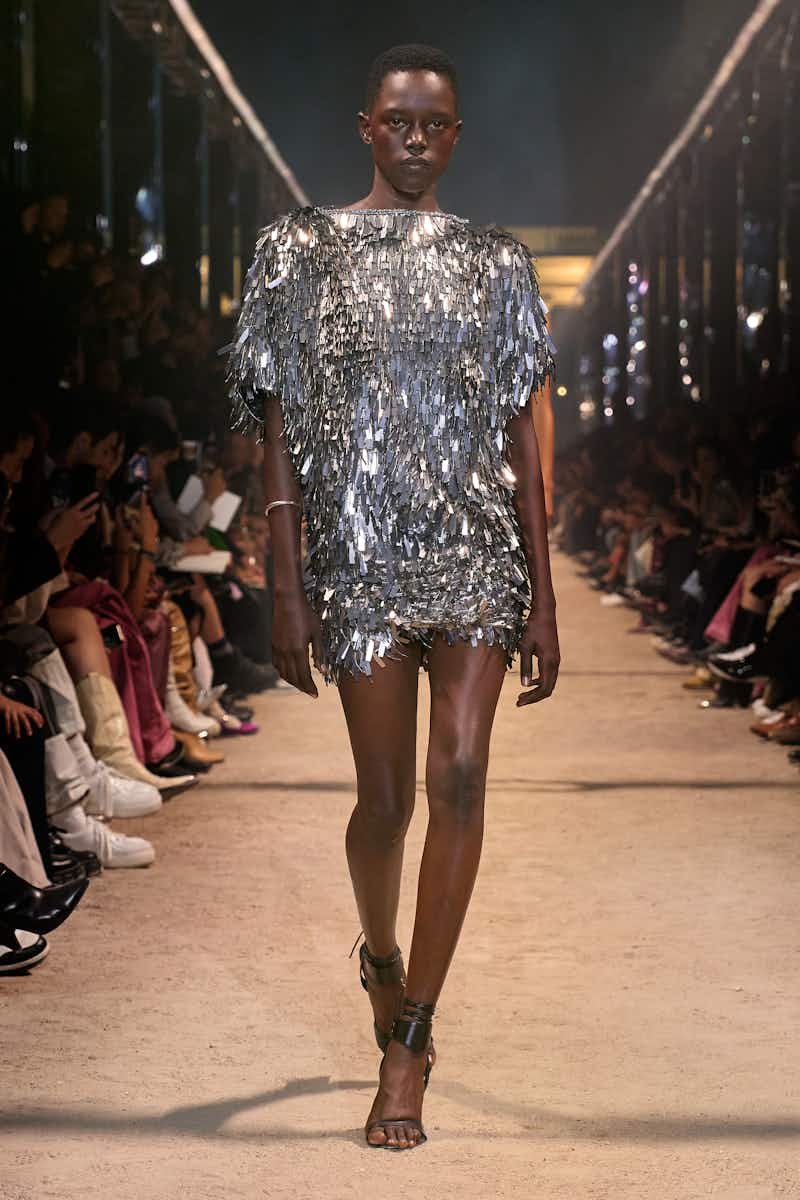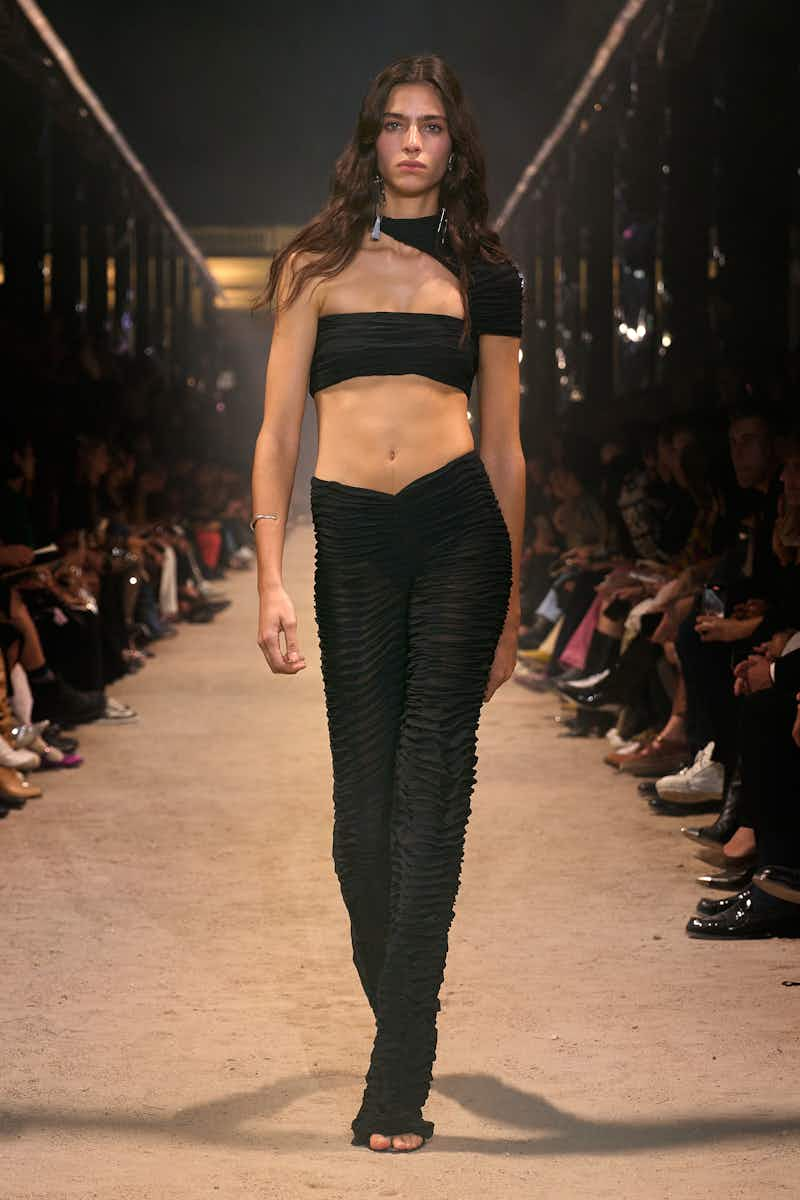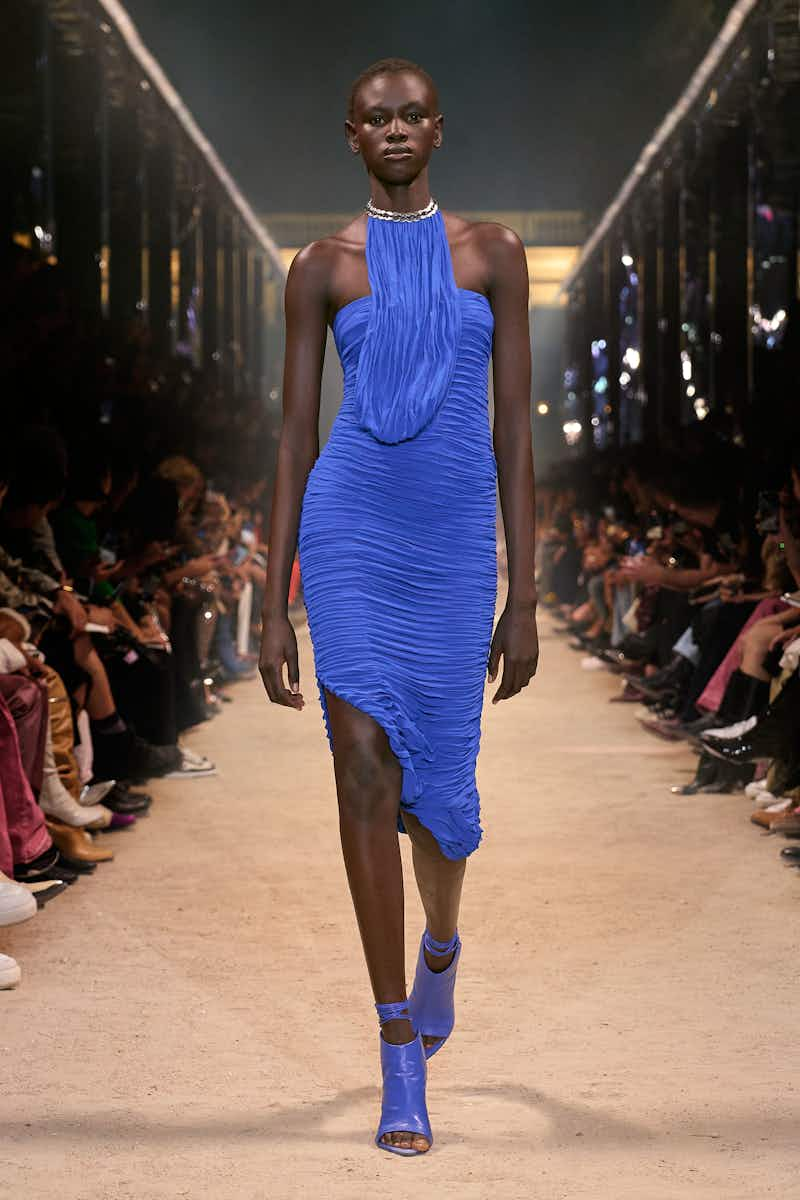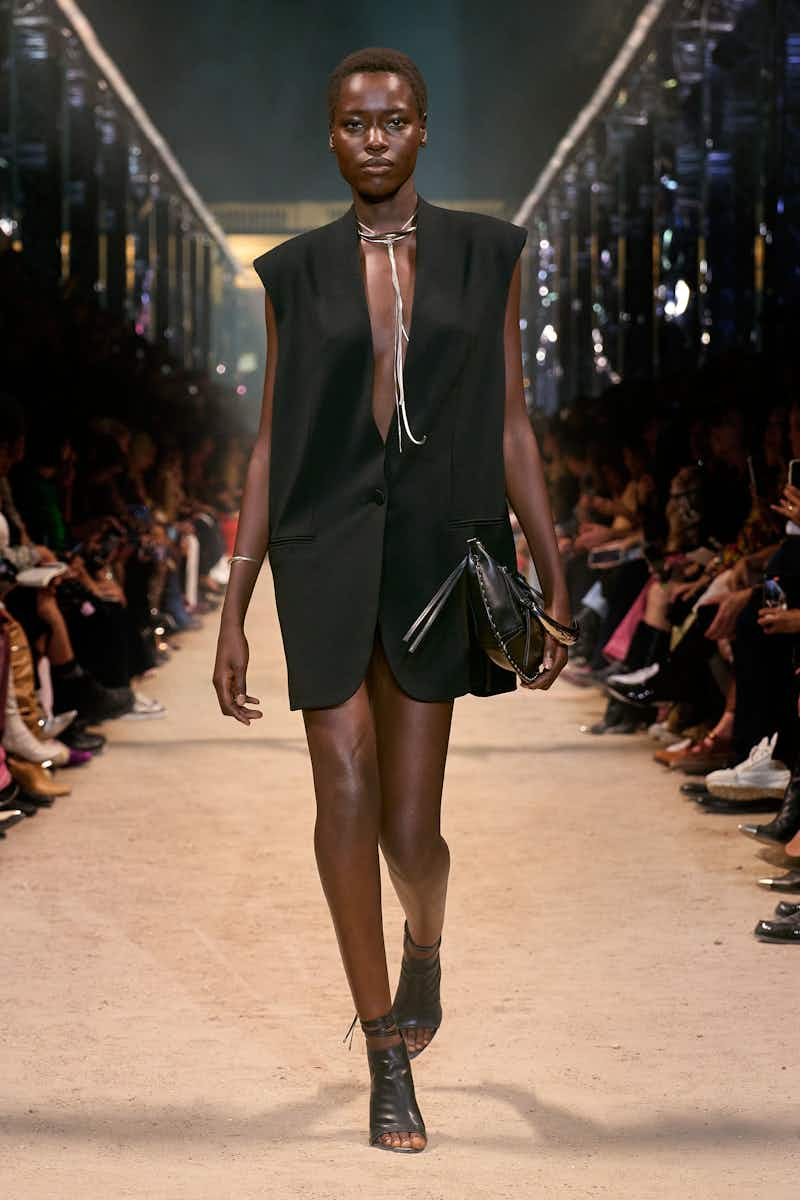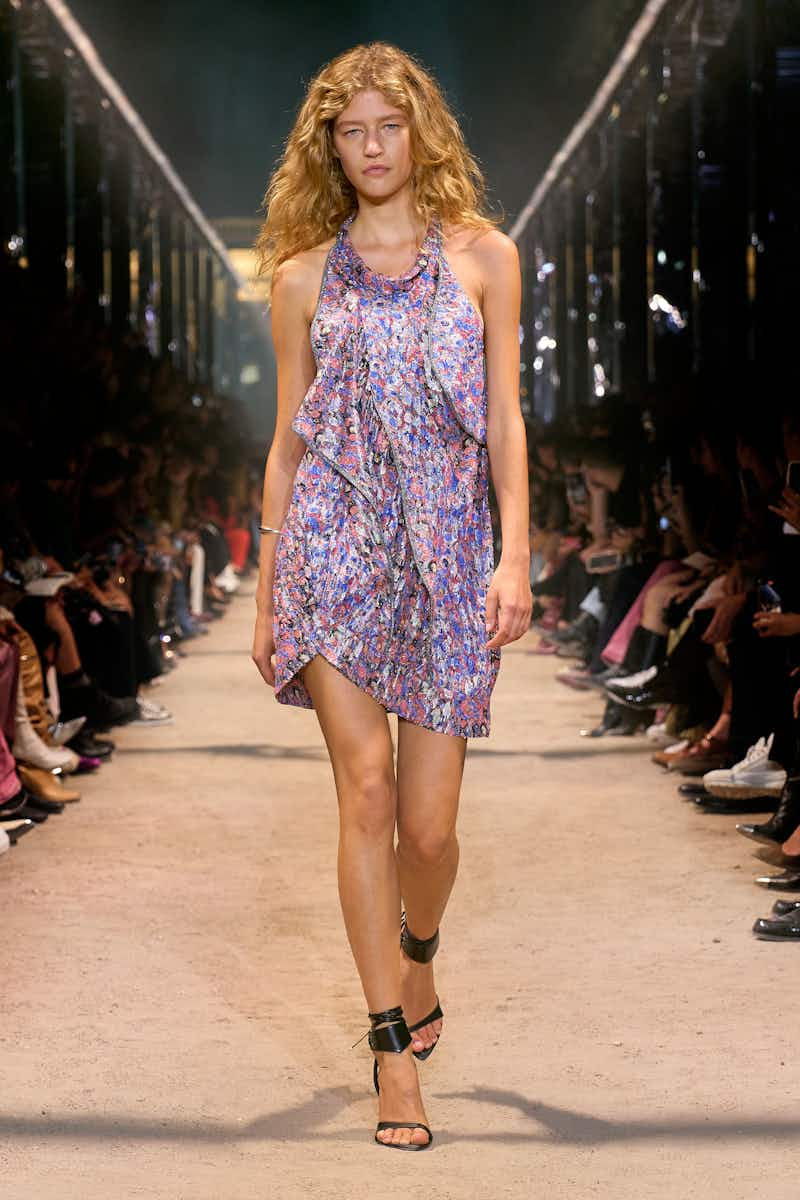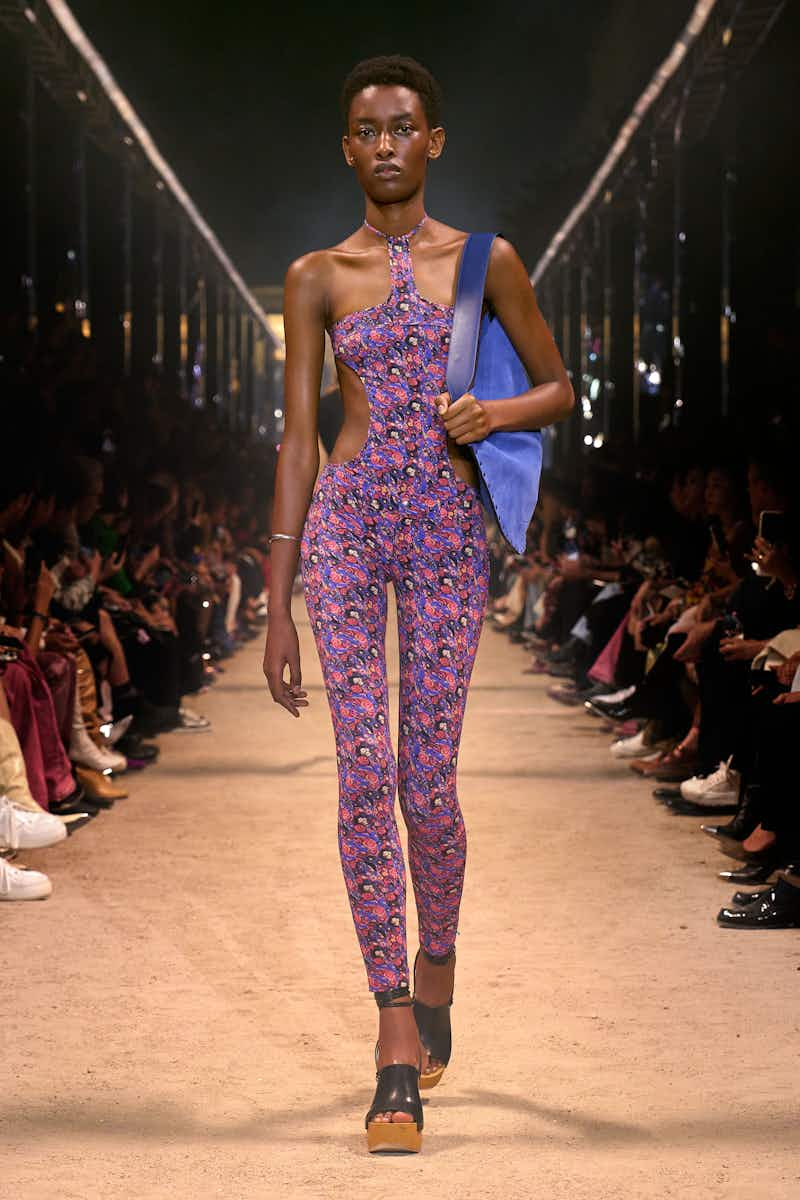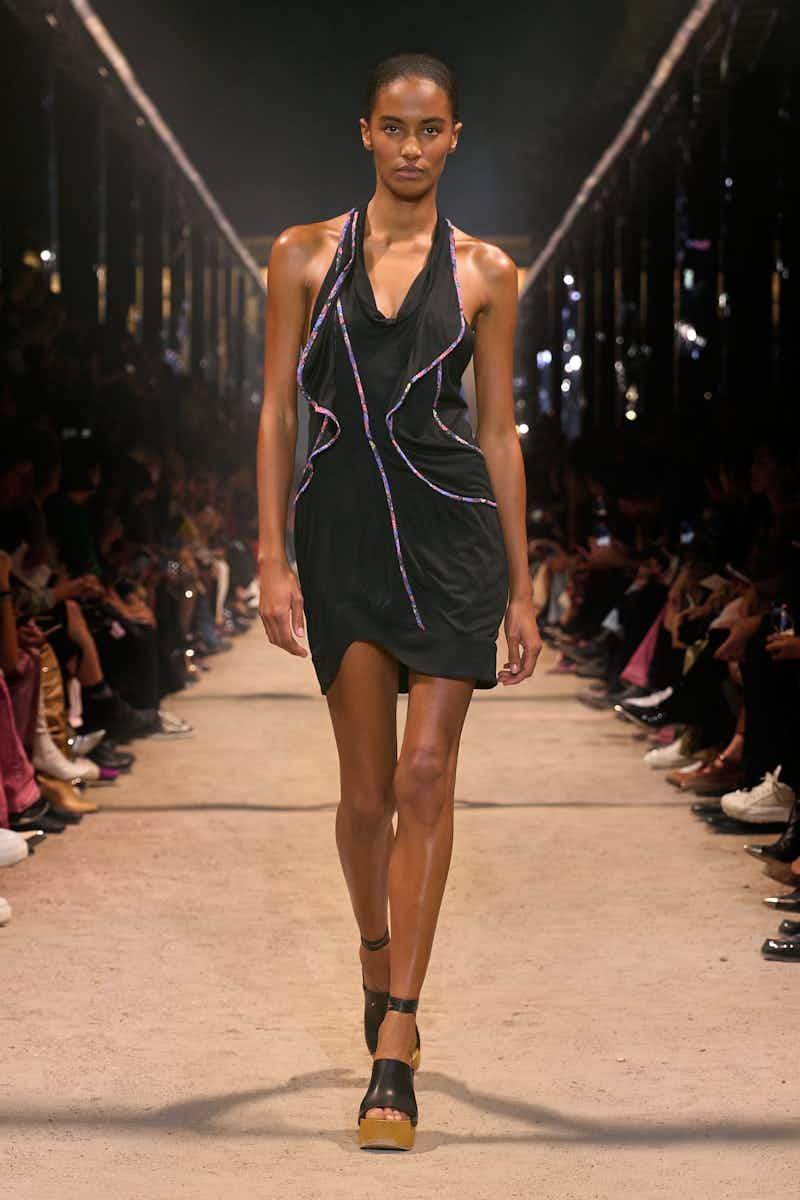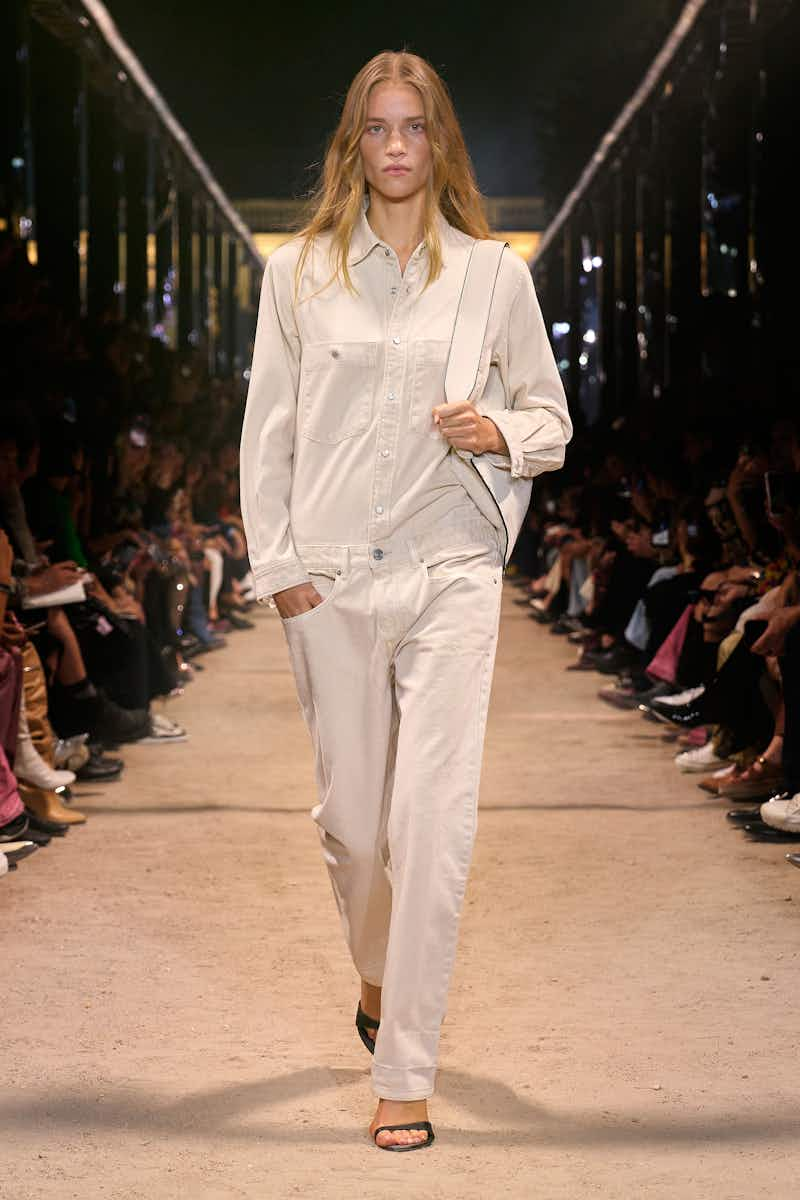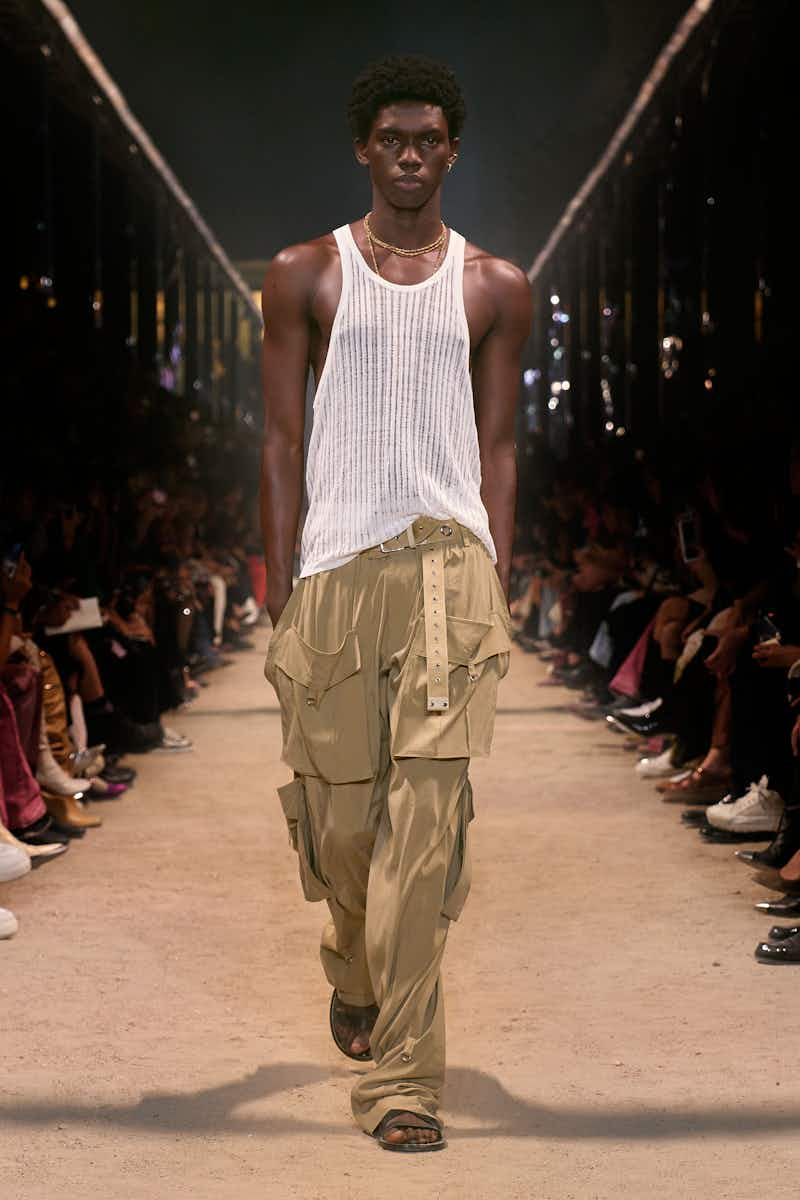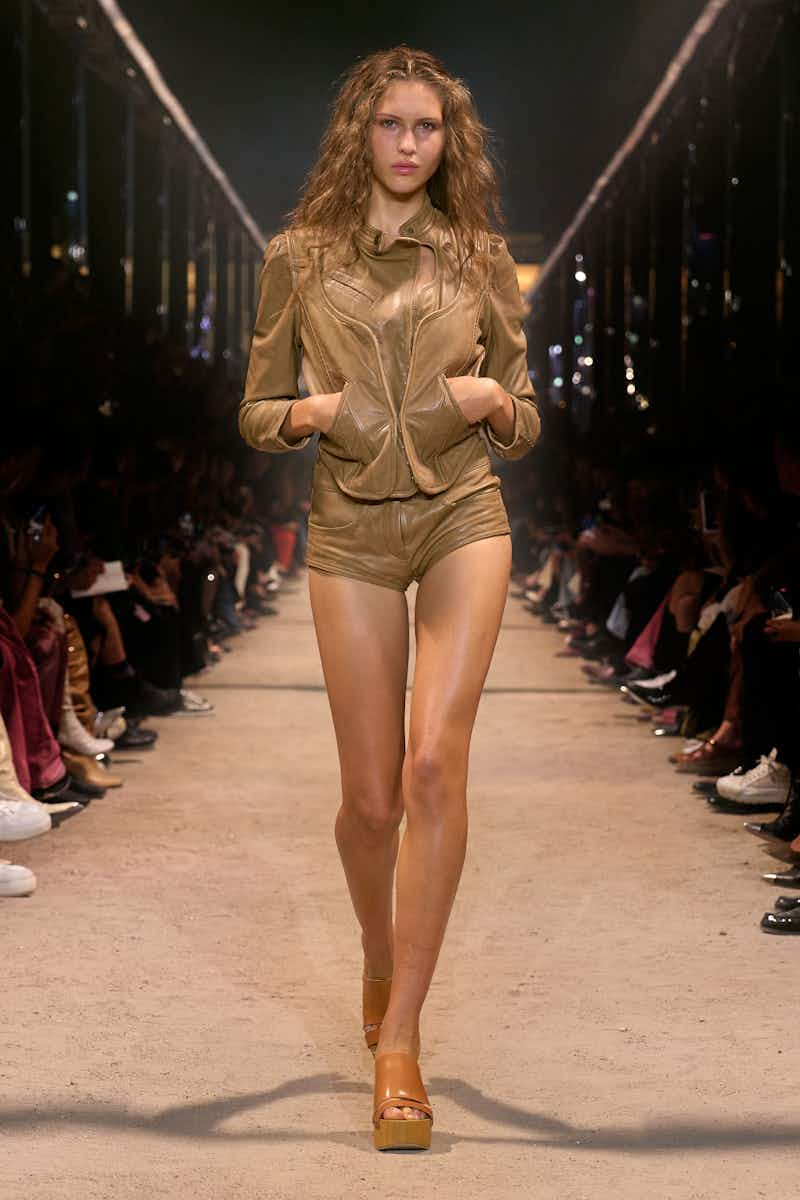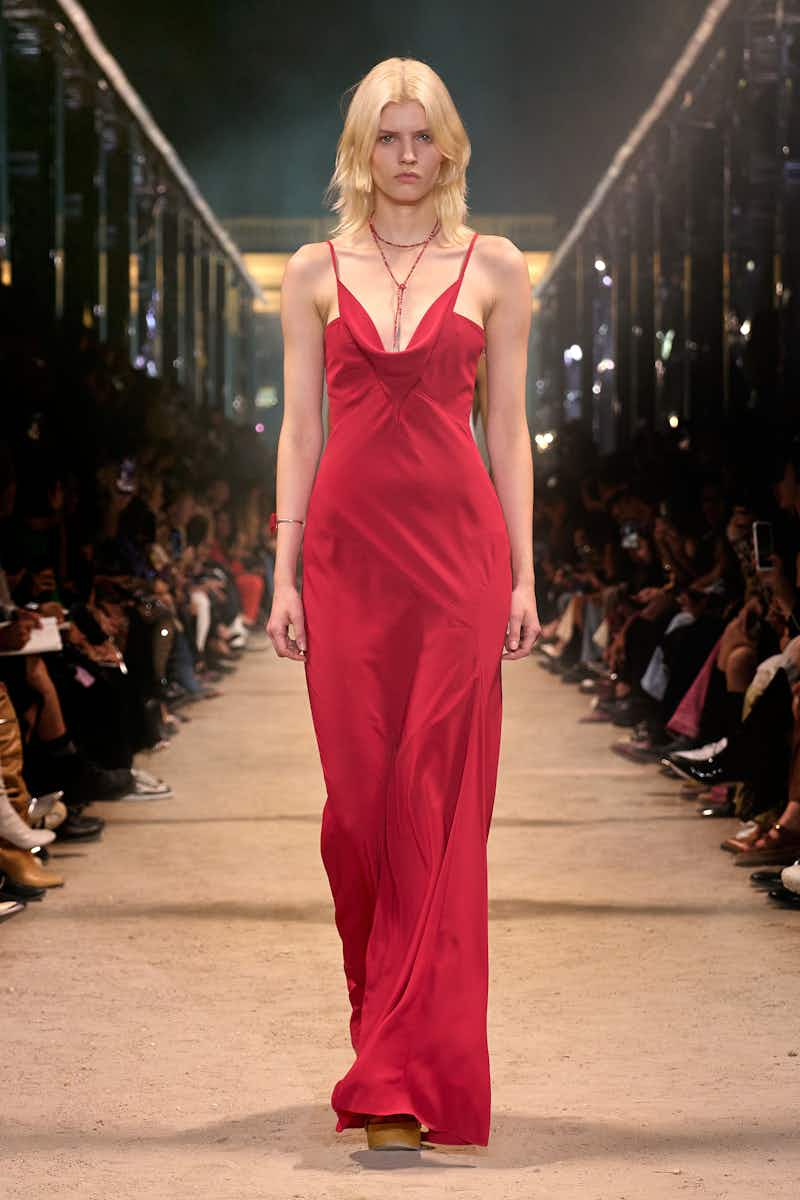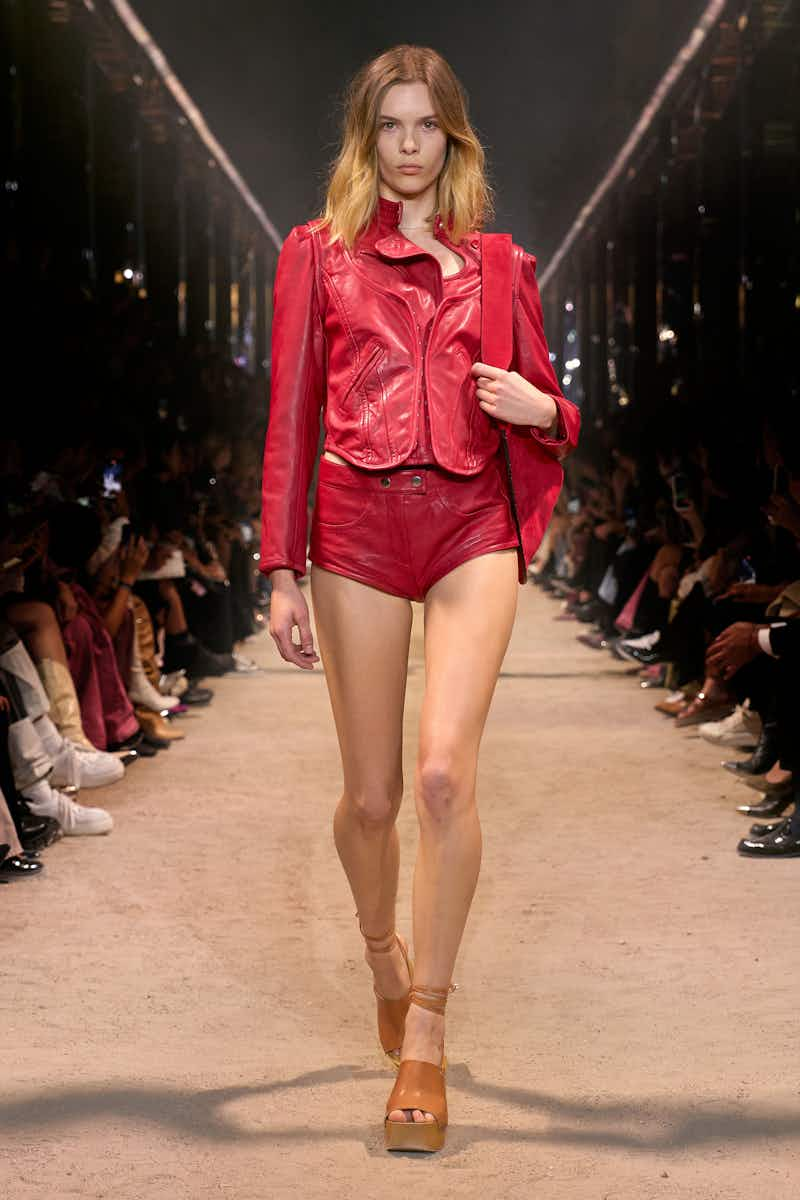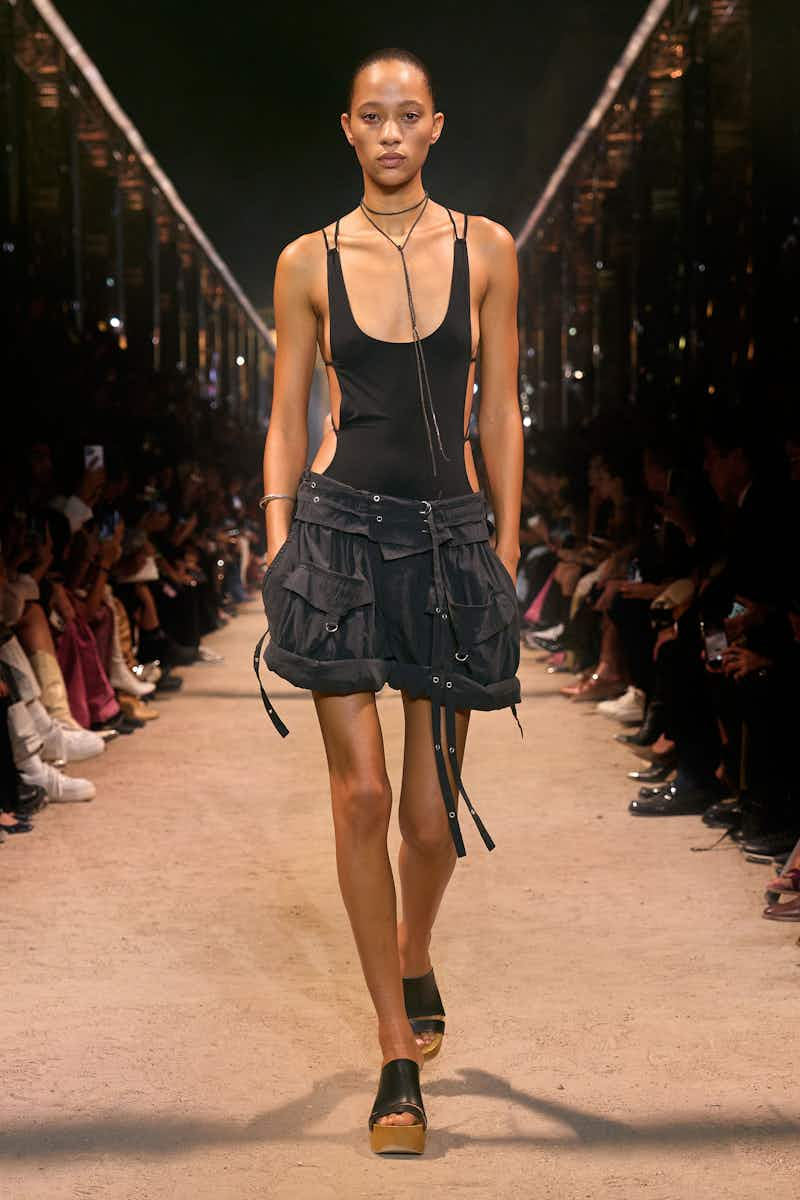 What?
A love letter to classic elegance, inspired by the polished wardrobe of OG Givenchy muse, Audrey Hepburn.

Where?
Situated in the courtyards of École Militaire, once again. The show took place in a stark white cube designed by architect Gabriel Calatrava, so all the focus was on the clothes.

What went down?
Wide tailored coats came in wool and satin, layered over diaphanous chiffon dresses, forming silhouettes that balanced the macho and the feminine. Dresses were mid-length and demure while sheer chiffon skirts with side slits were gathered at the waist. At other points, the collection incorporated black leather in dresses, shirts and skirts. Conversation starting evening-wear encompassed mid-century elegance, complete with romantic opera gloves à la Holly Golightly in Breakfast at Tiffany's, sans cigarette holder. Following on from last season's train of thought, the offering paid homage to Givenchy's rich history, reinterpreting codes that are so timeless they still feel modern, much like the wardrobe of Audrey Hepburn herself.
A talking point?
Pointed stilettos were encased in mesh socks, covering the entire shoe with the heel poking through – we'll give you a tenner if you can get home from a night out without laddering them!

In a word?
Refined.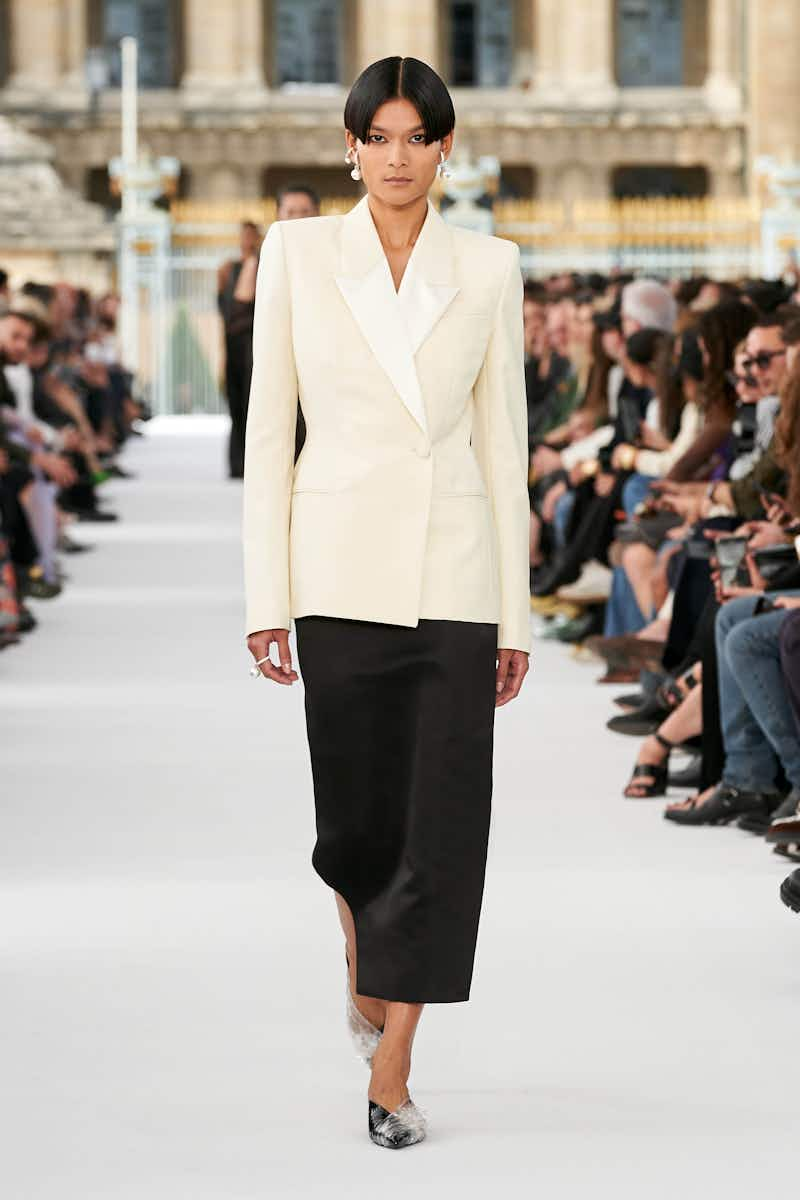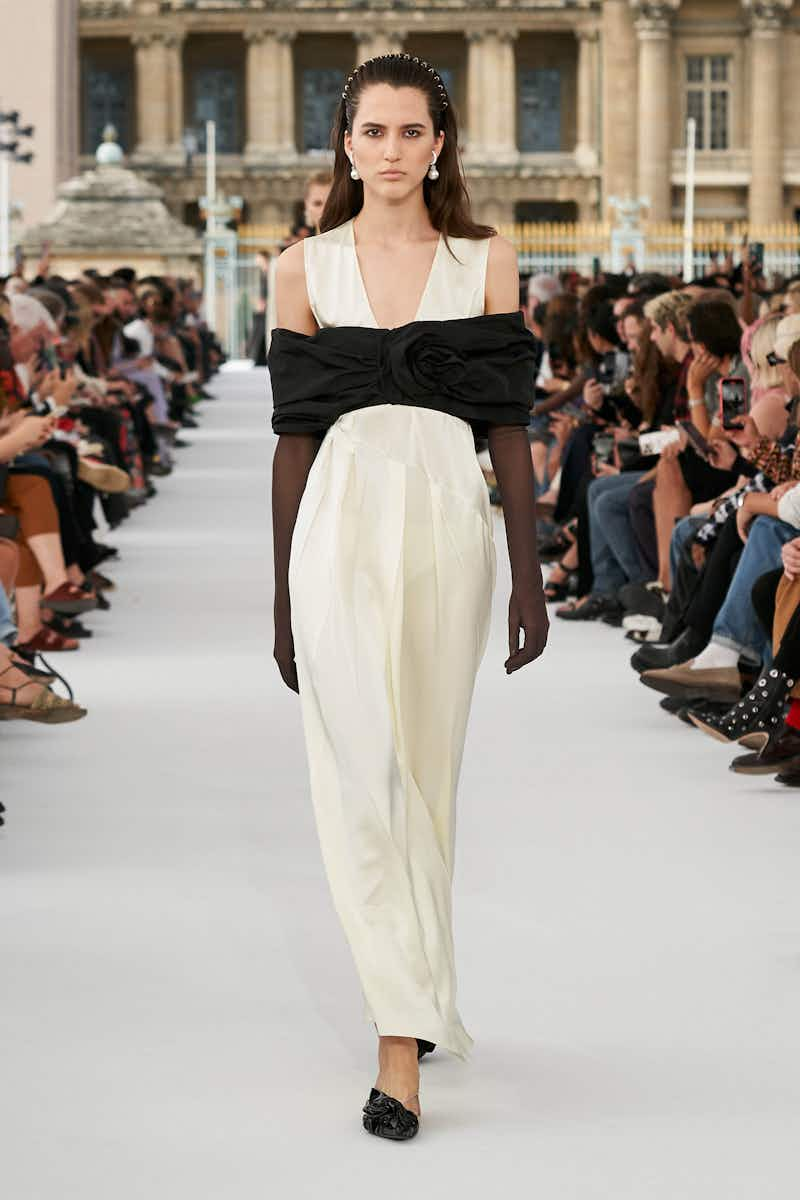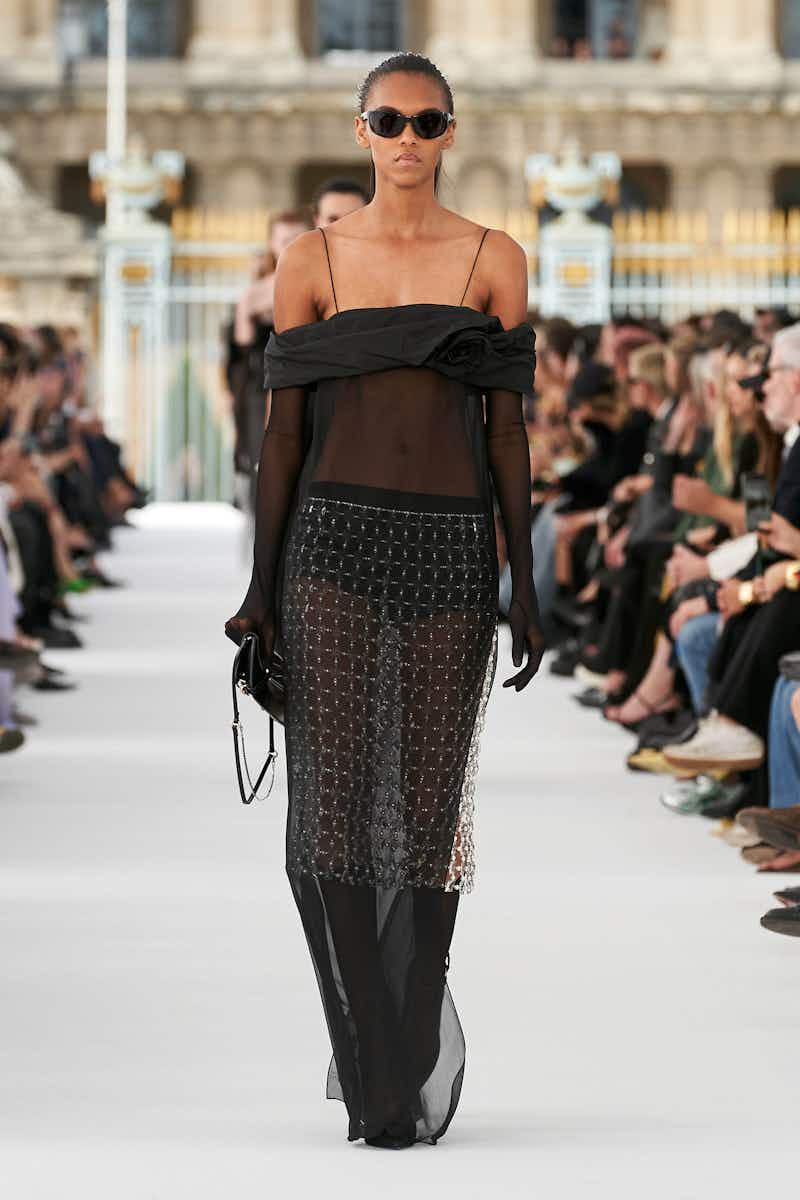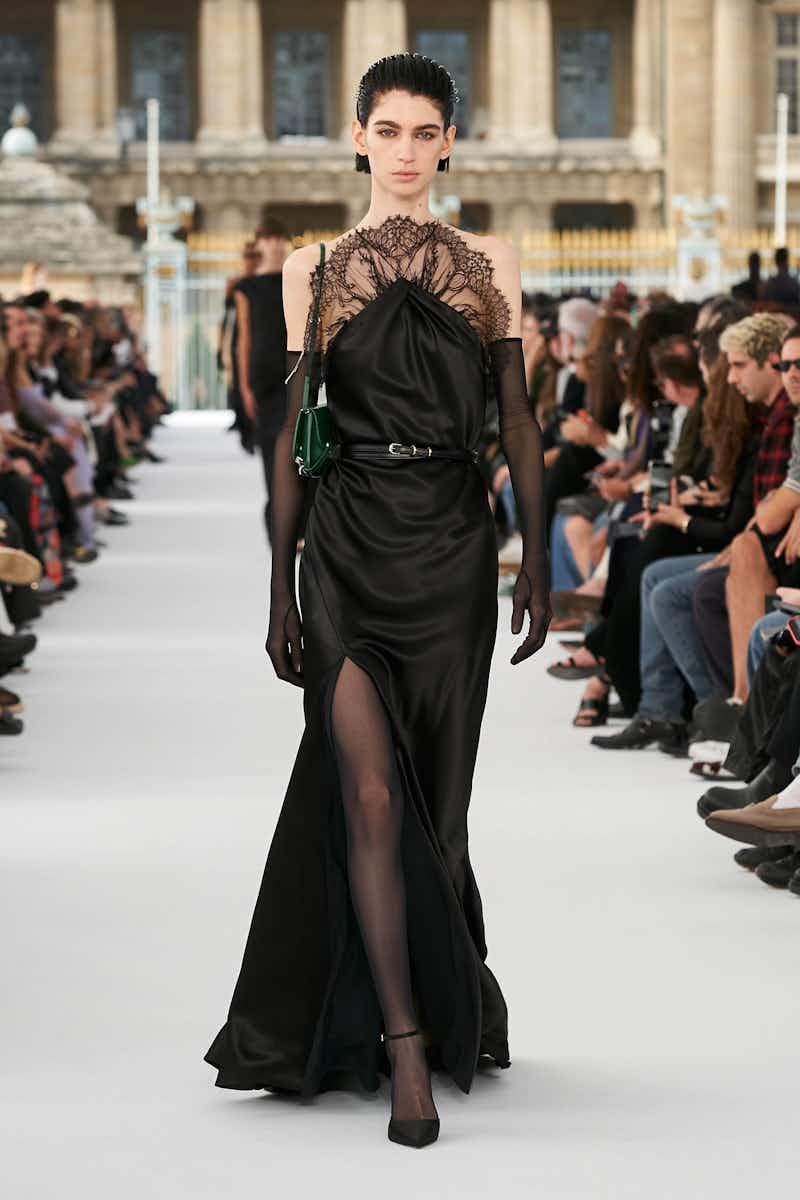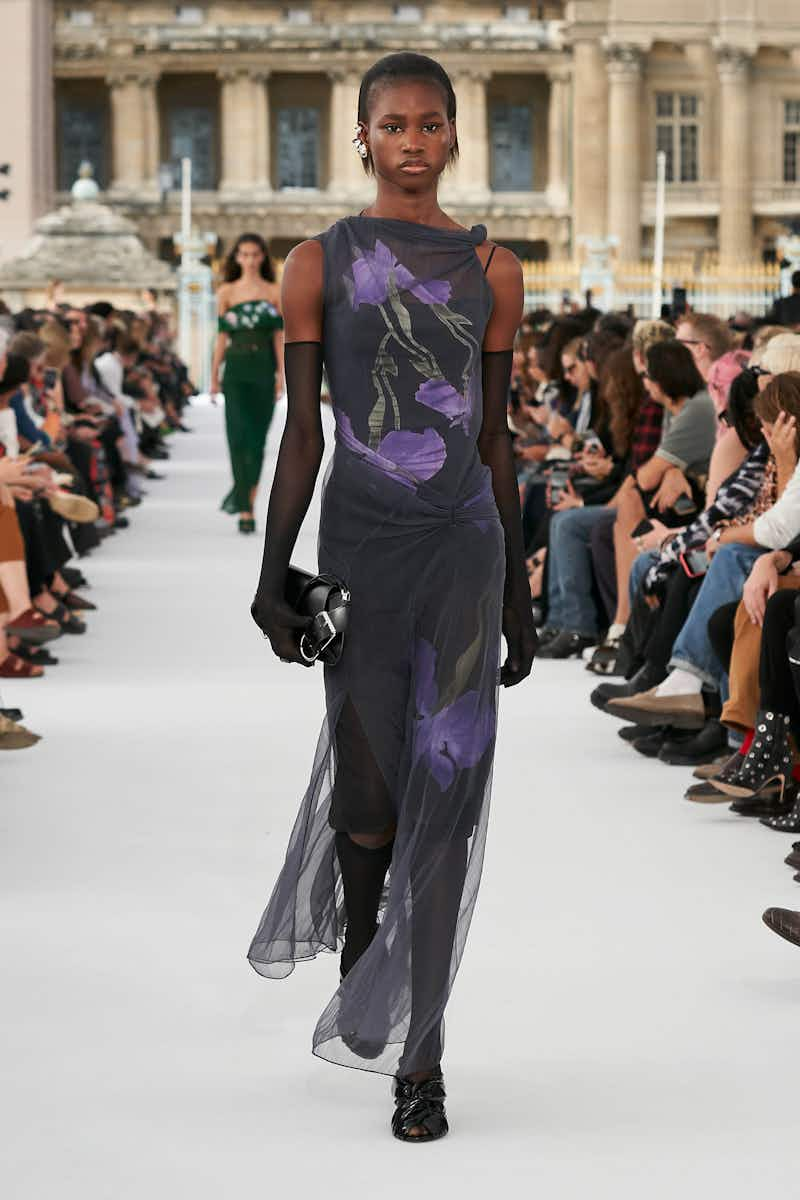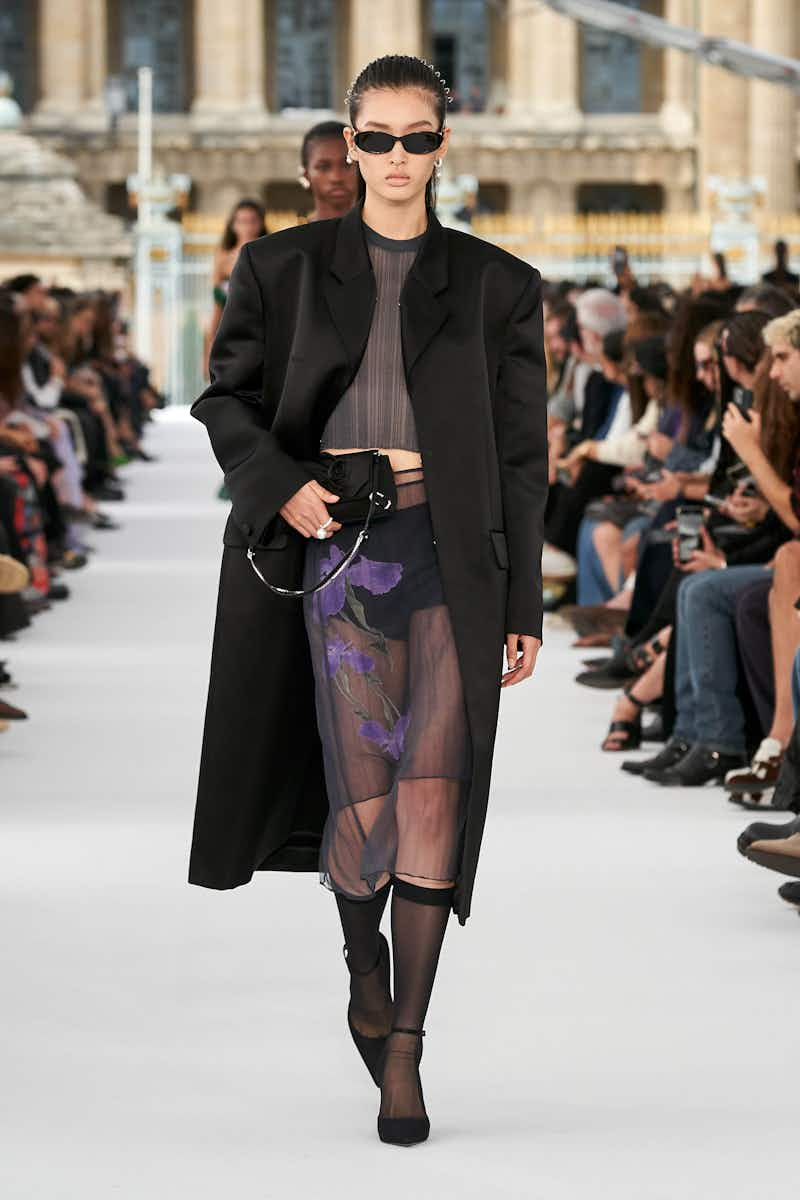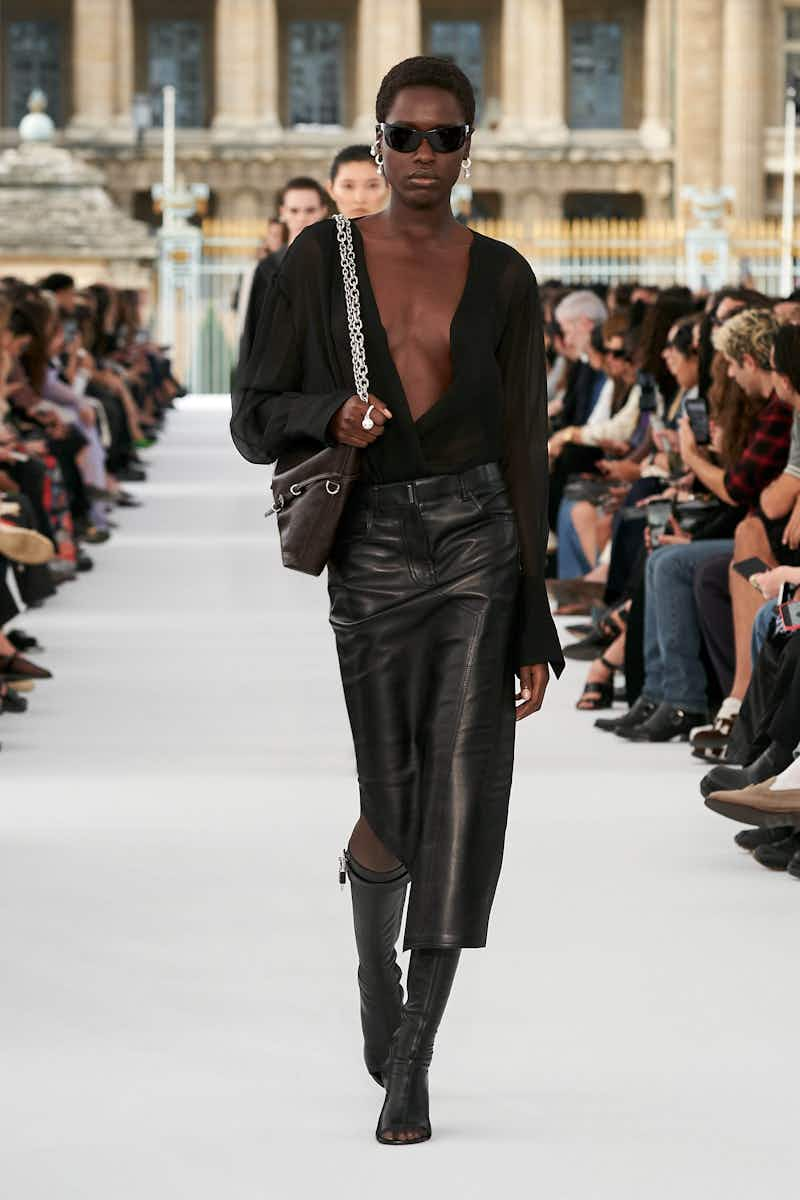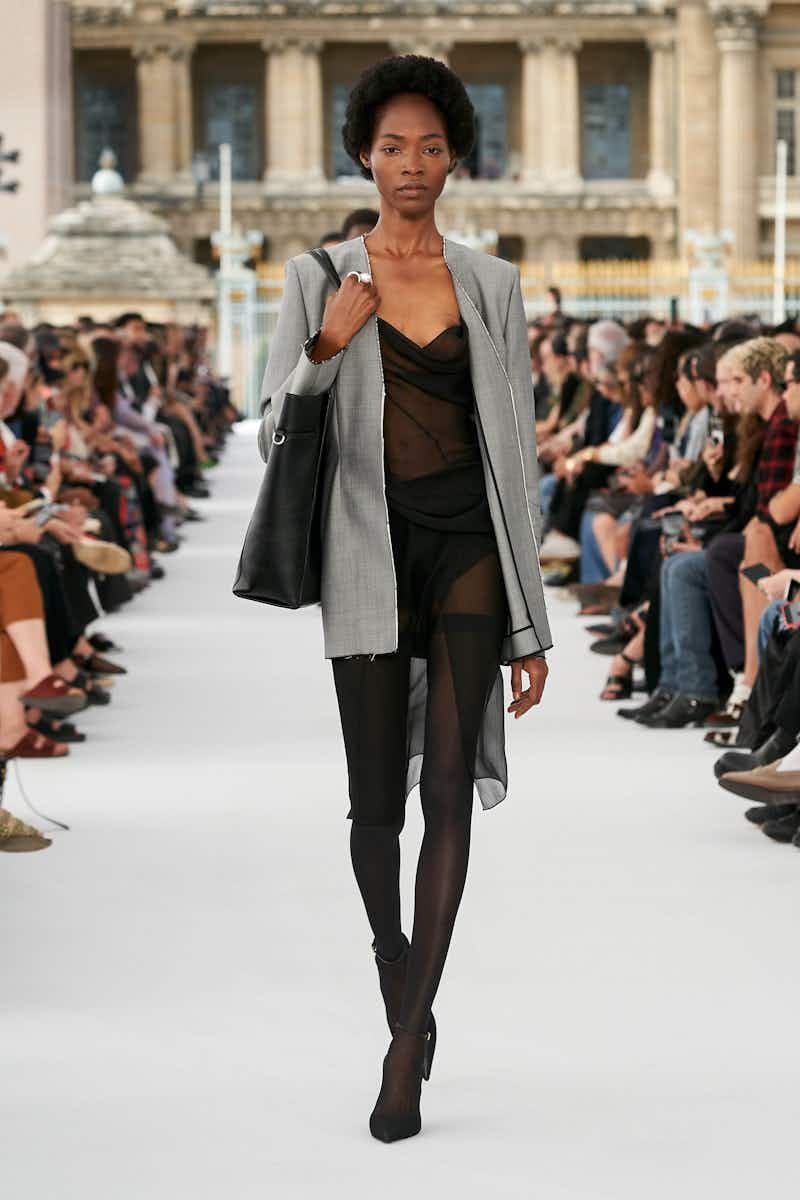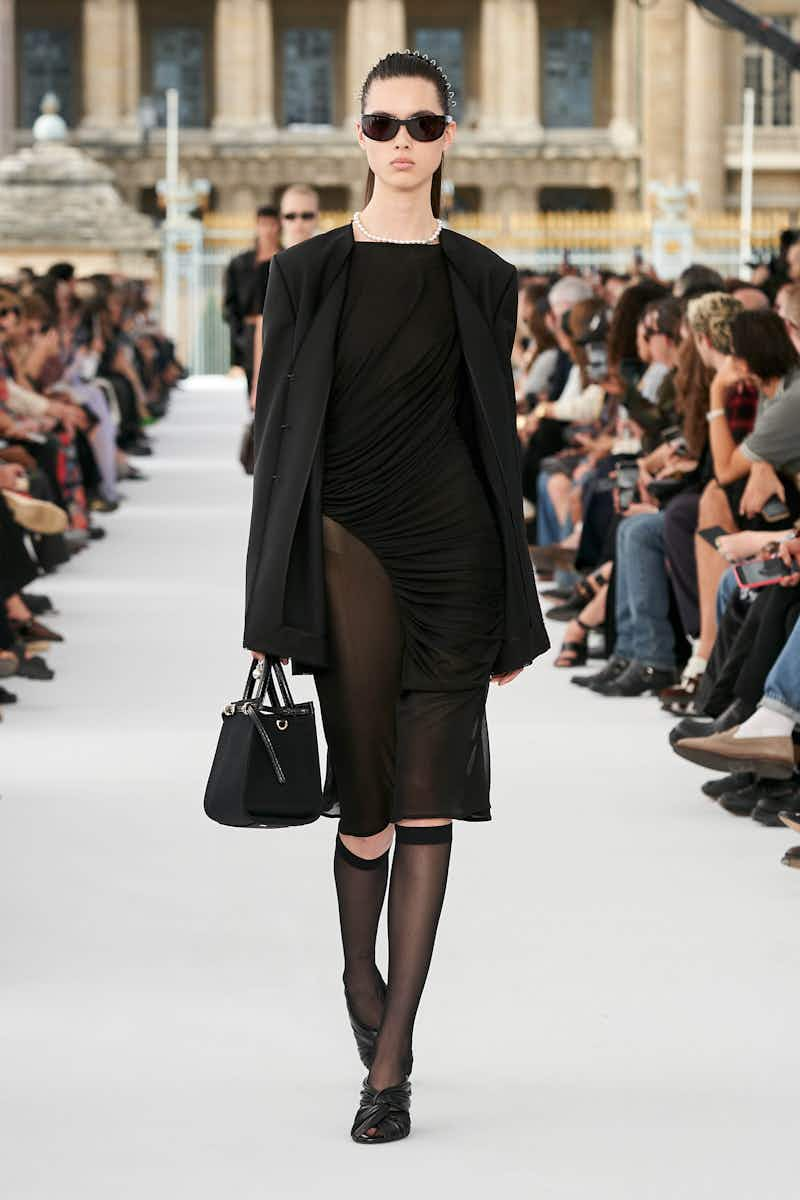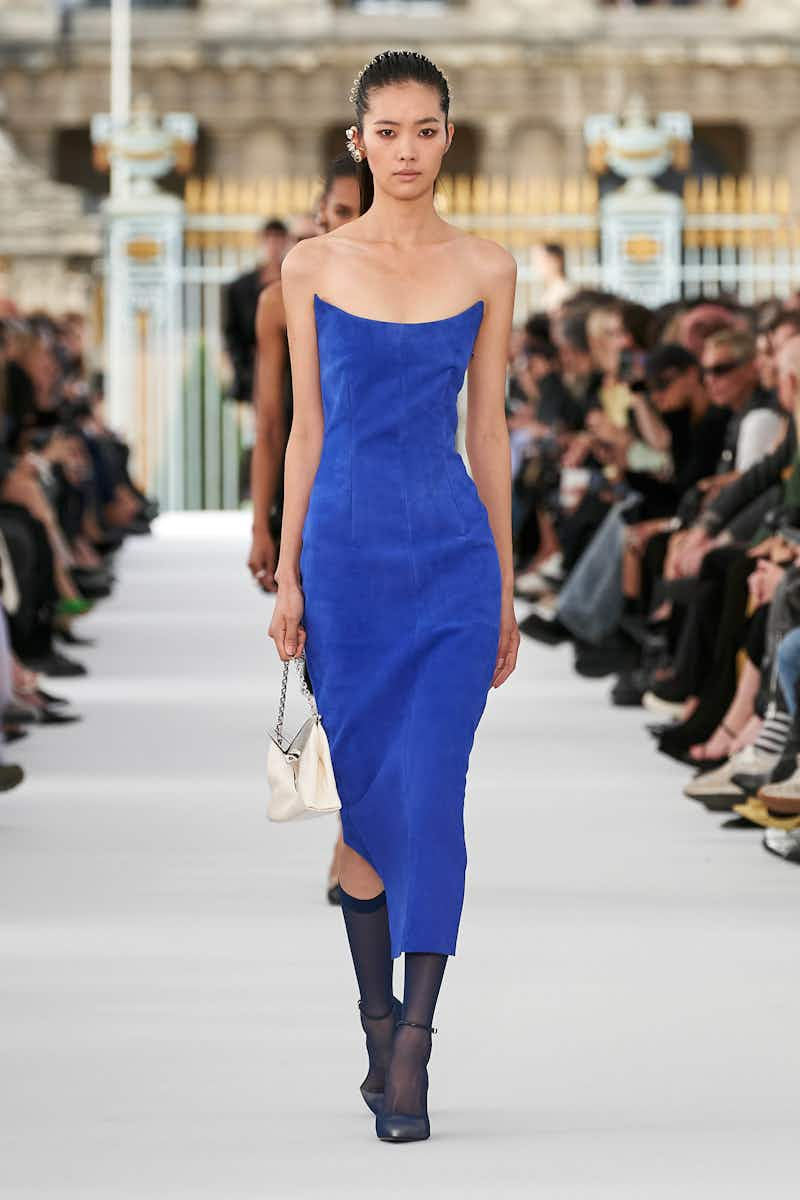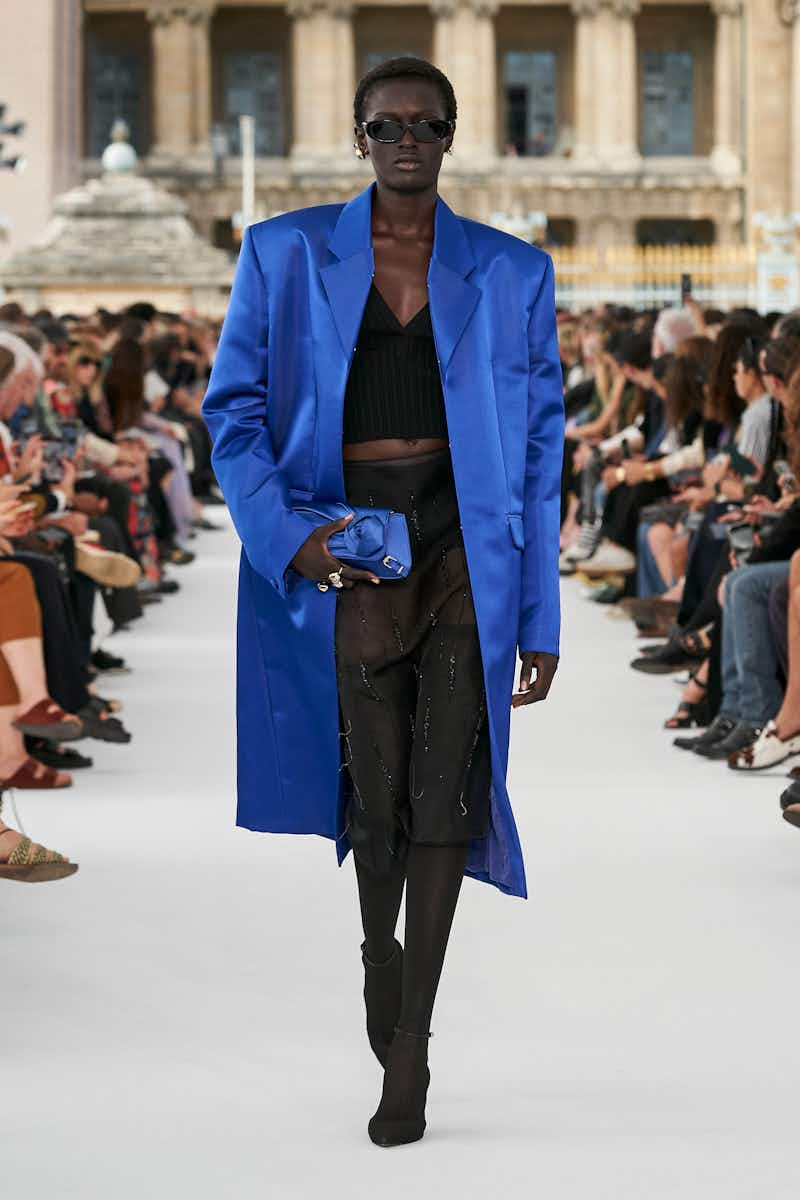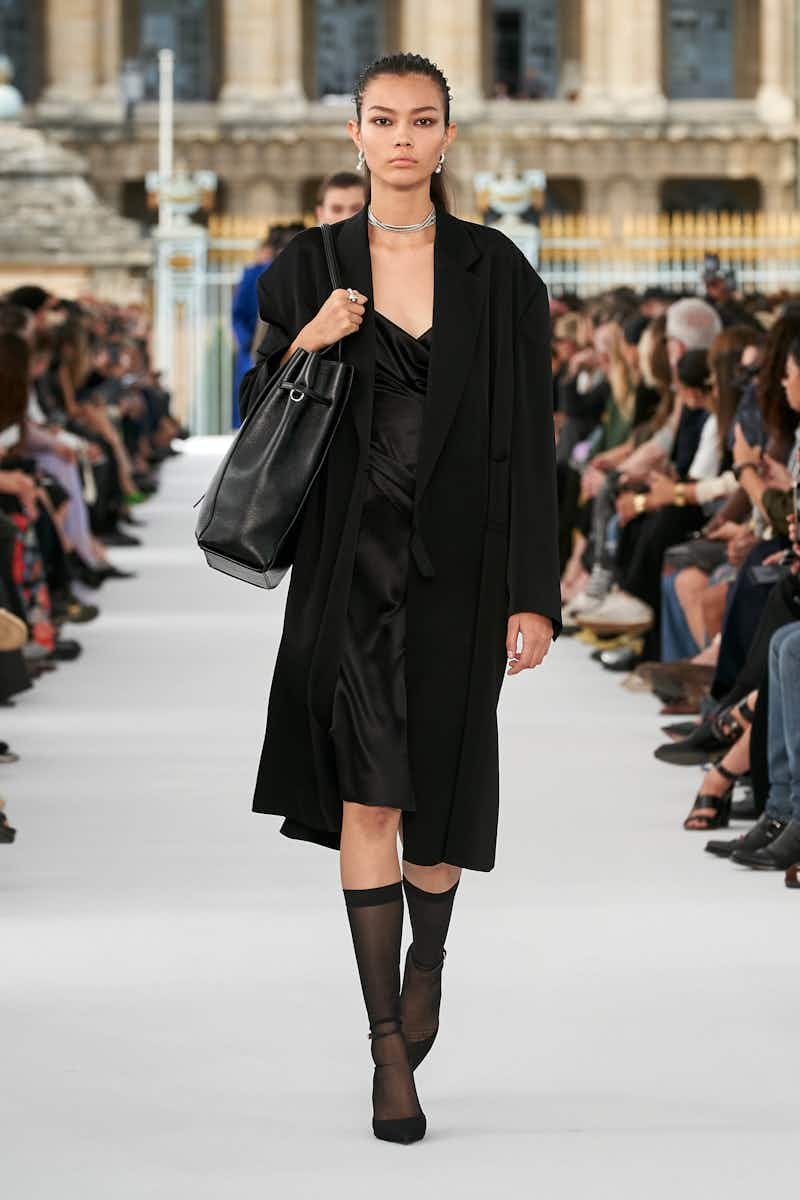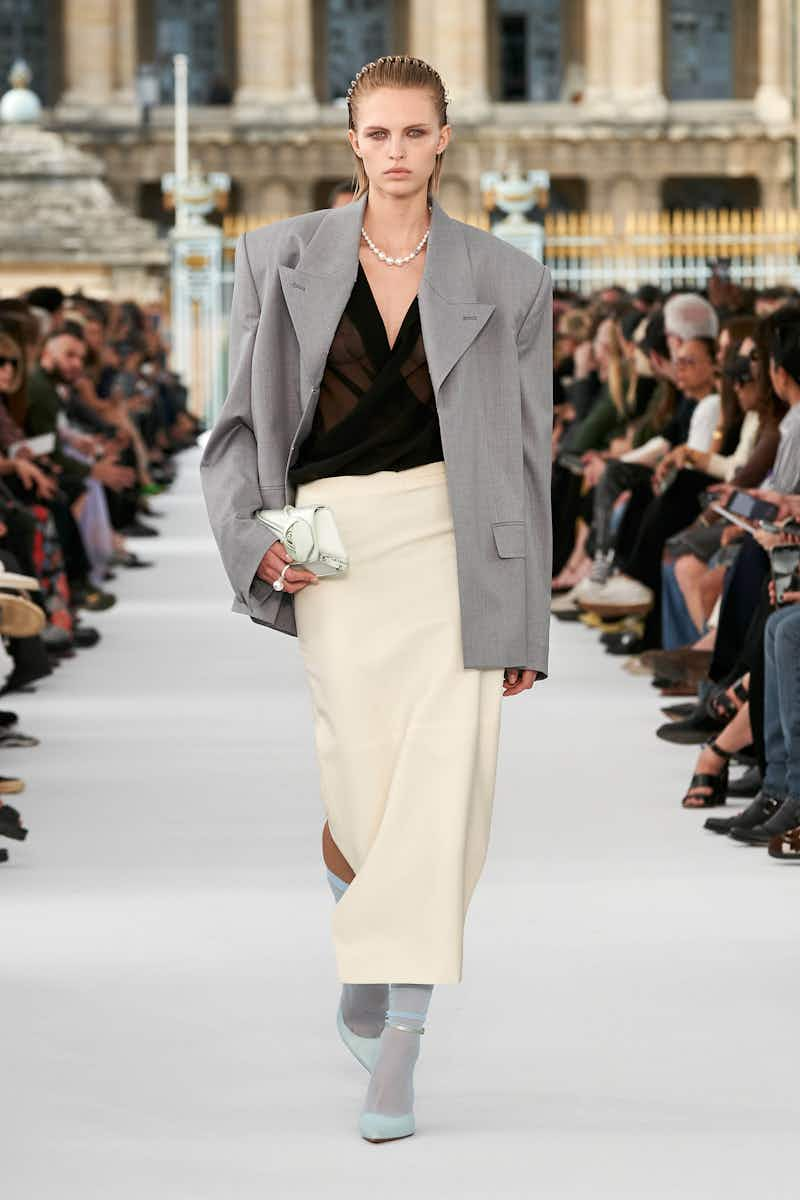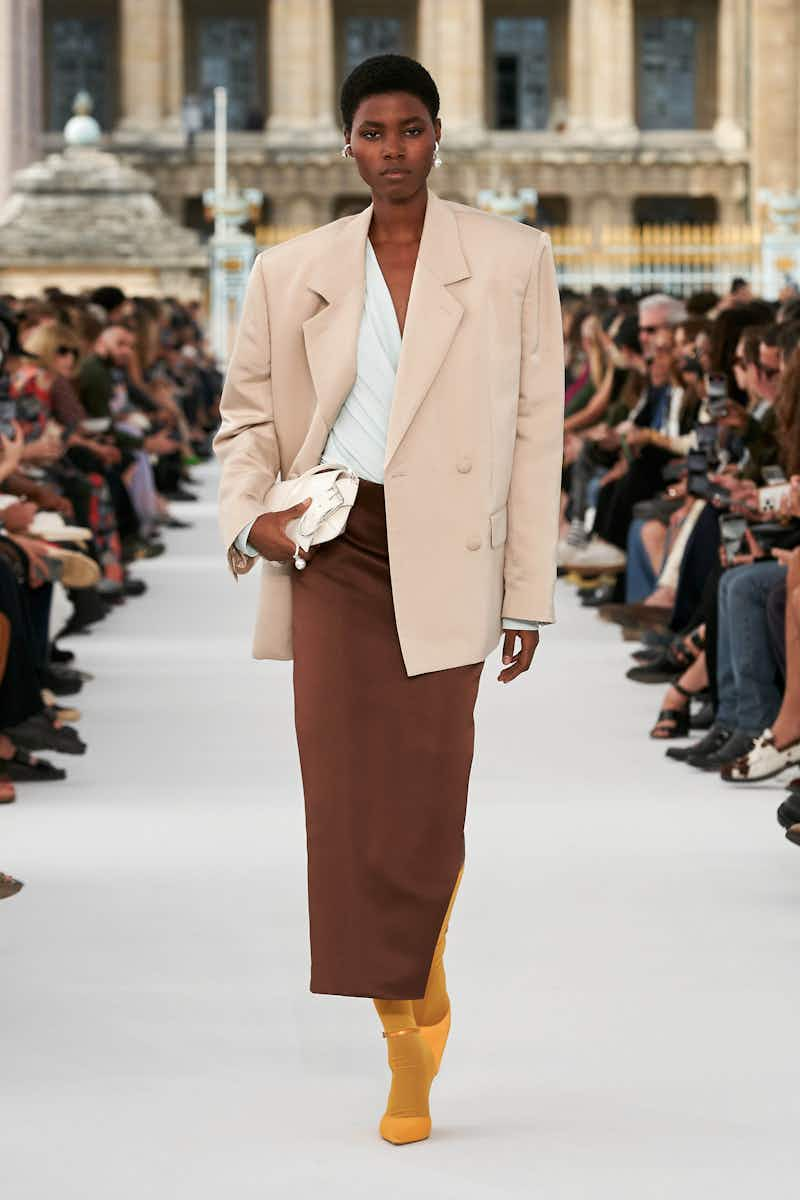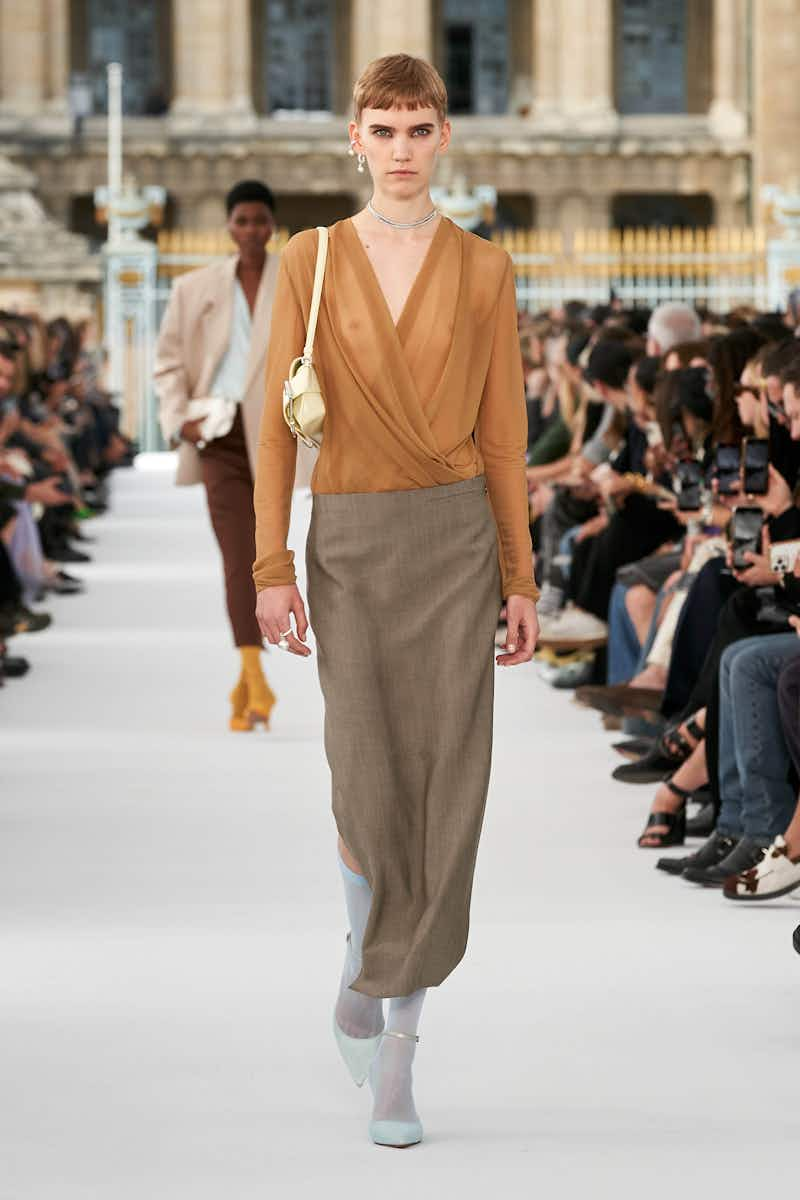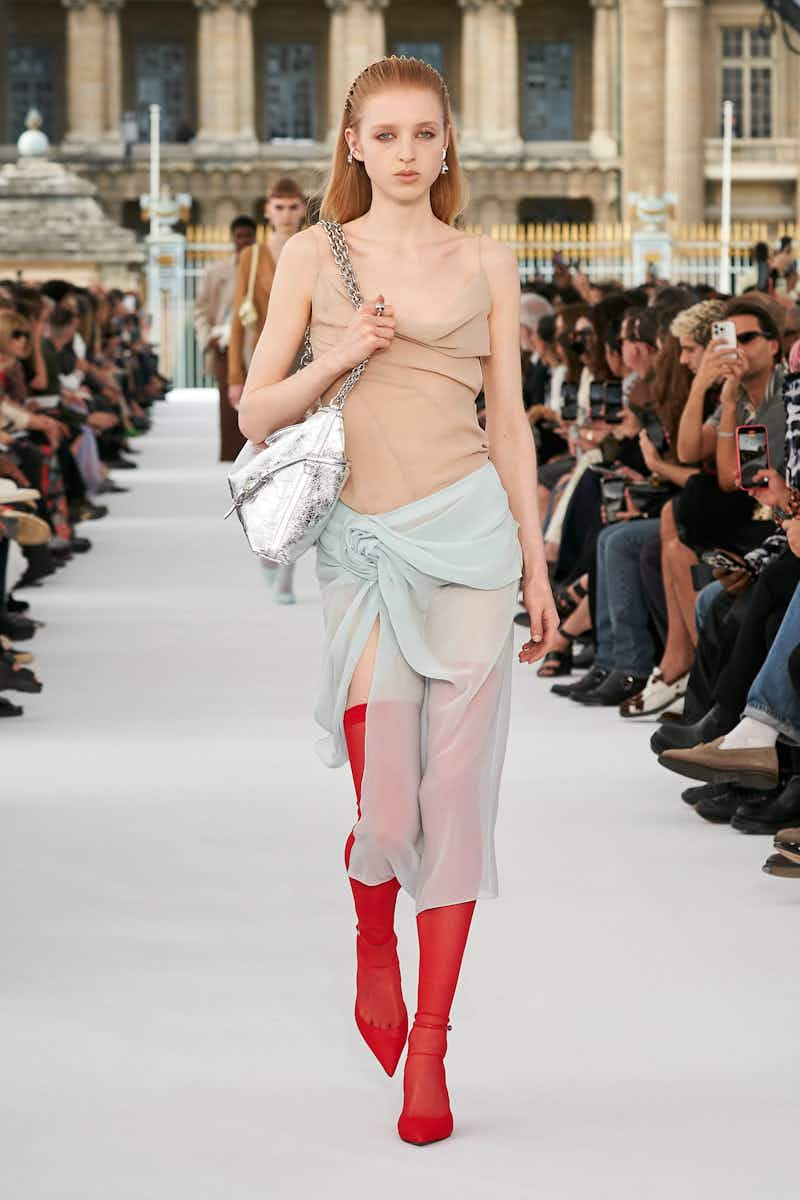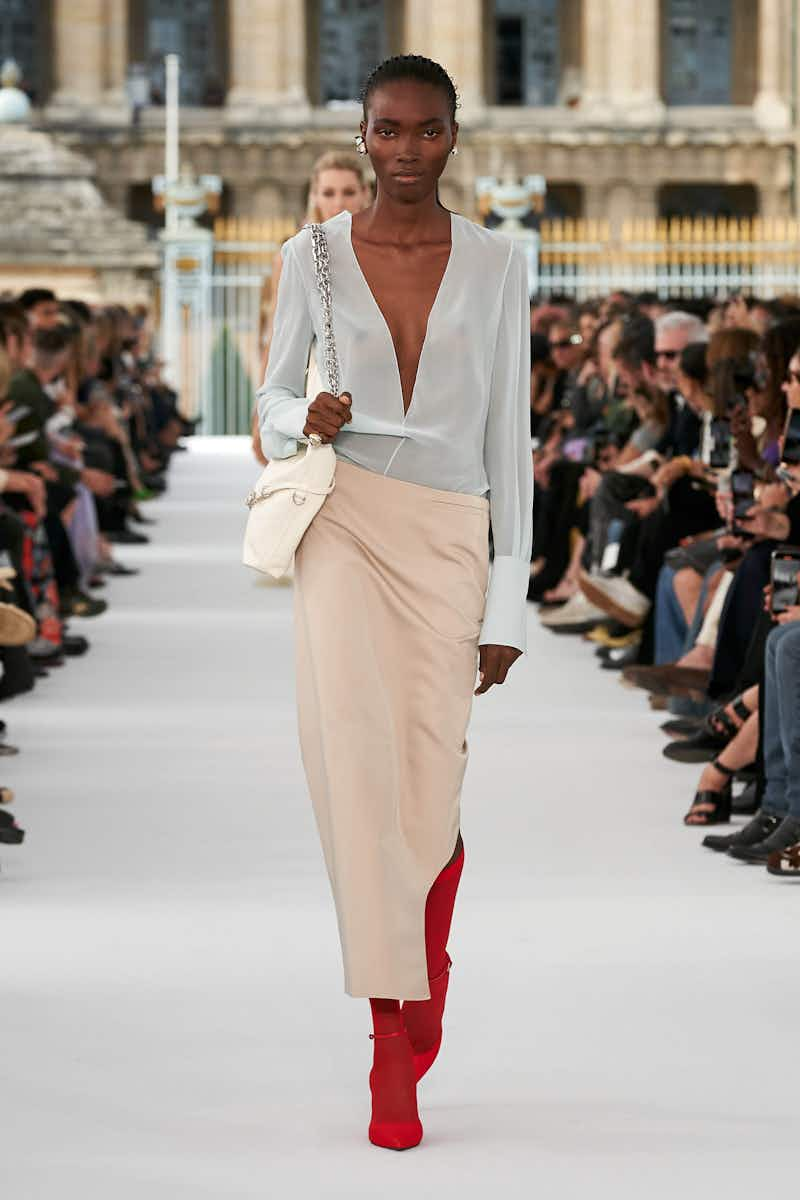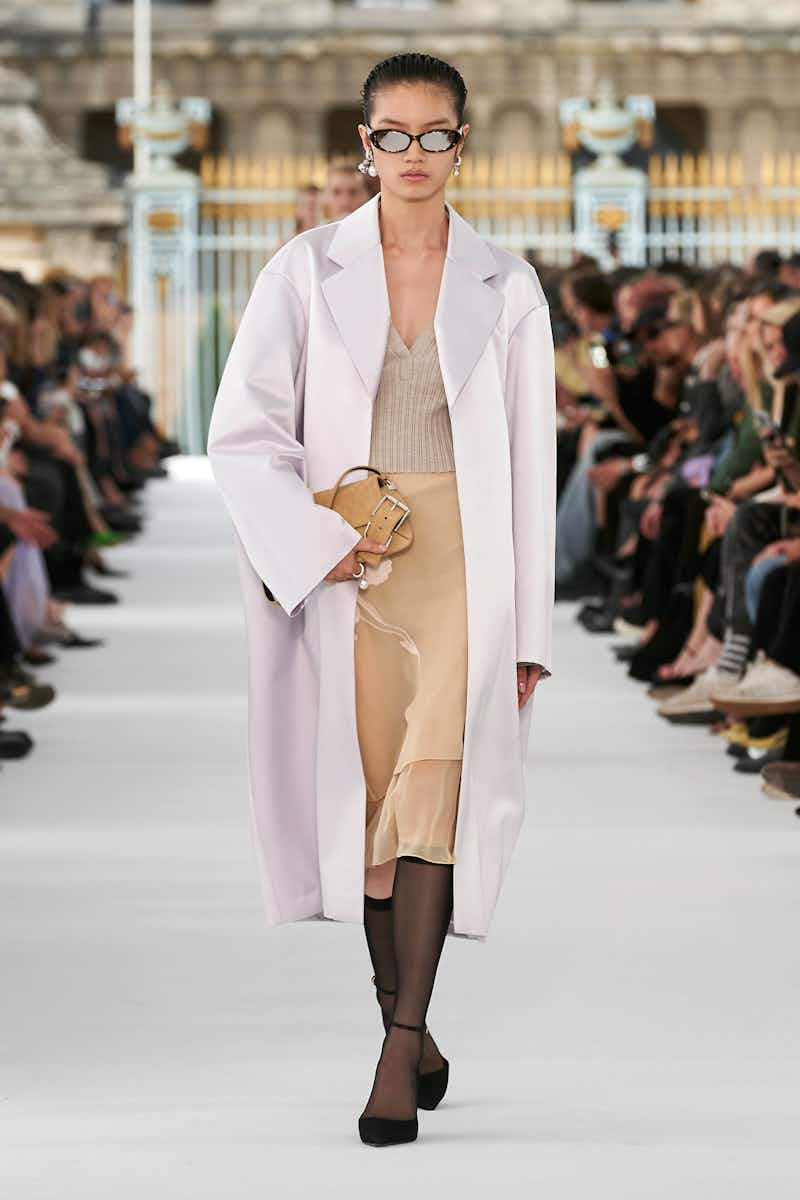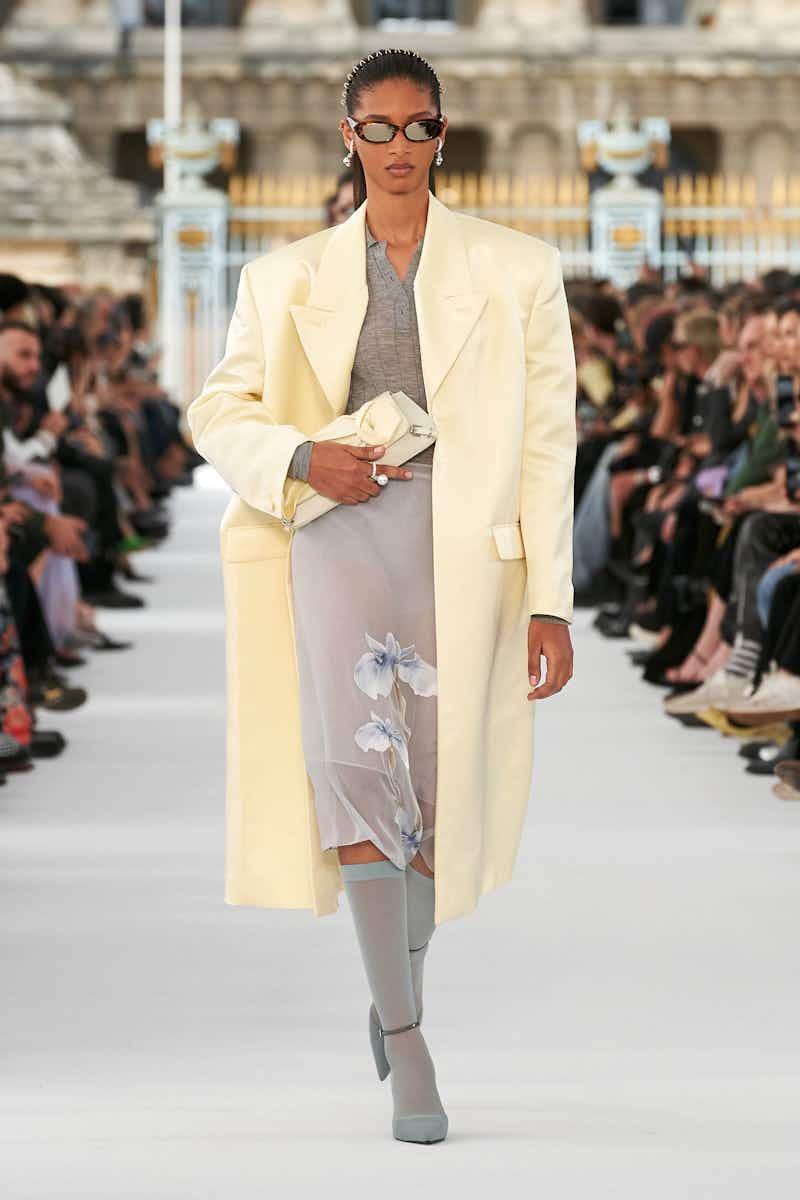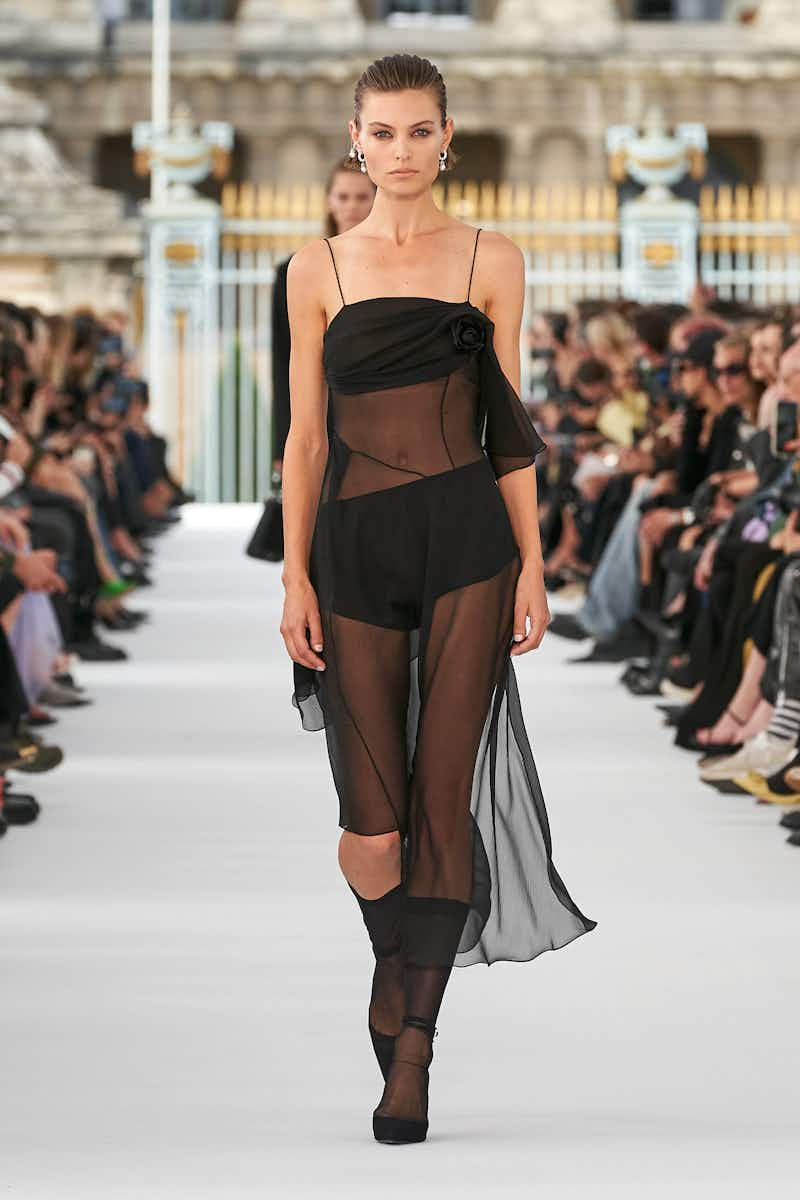 What went down?
Listening to the right music can shift a bad mood, especially when you see it live. So much so that when Rick Owens, whose nickname is literally The Lord of Darkness, was at a Björk concert earlier this year, he thought, ​"Oh this is positive" and felt ​"kind of dumb for being so gloomy all the time". So, is Rick in his happy, upbeat, colourful era? Not quite, although models did emerge from a fuchsia pink fog like goths in Barbieland. Suffice to say the clothes themselves held onto their signature darkness, with the first long, draped black gowns in jersey and leather setting the tone.
There were jutting Count Dracula shoulders, too, and contact lenses that turned the whites of the eyes black. Faces were shrouded beneath organza head coverings as though models had emerged into an apocalyptic world where they needed protecting from pollution or disease. It's not quite giving joy, but the upbeat Diana Ross anthem, I Still Believe, that played throughout hinted at Rick's newfound pursuit of positivity. Lovely stuff.

Who was there?
Jared Leto, Honey Dijon and Offset all attended the event. Oh, and Erykah Badu arrived late, so watched the show standing and sparked up a joint half way through. Big mood.

Stand-out moment?
The stilt-like orthopaedic footwear strapped to models' legs as they teetered down the steps of the Palais de Tokyo.
In a song?
Björk's Human Behaviour.

In a phrase?
From darkness comes the light.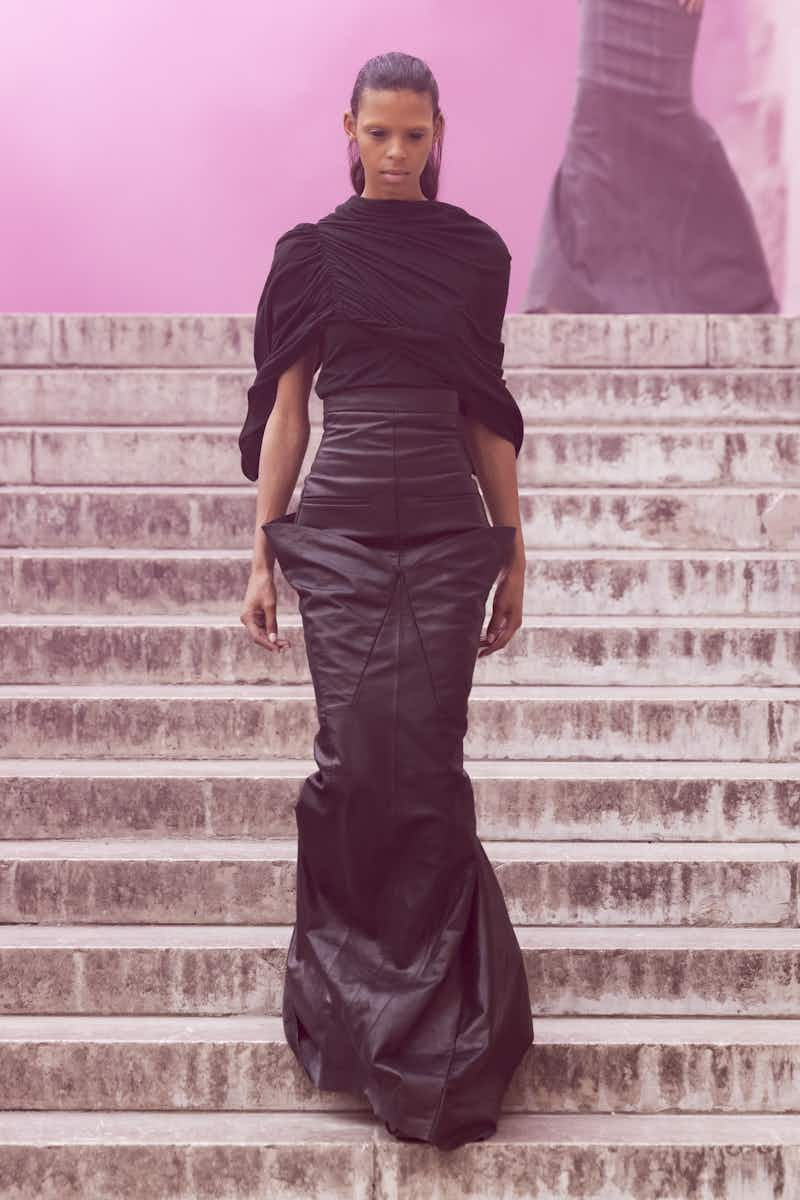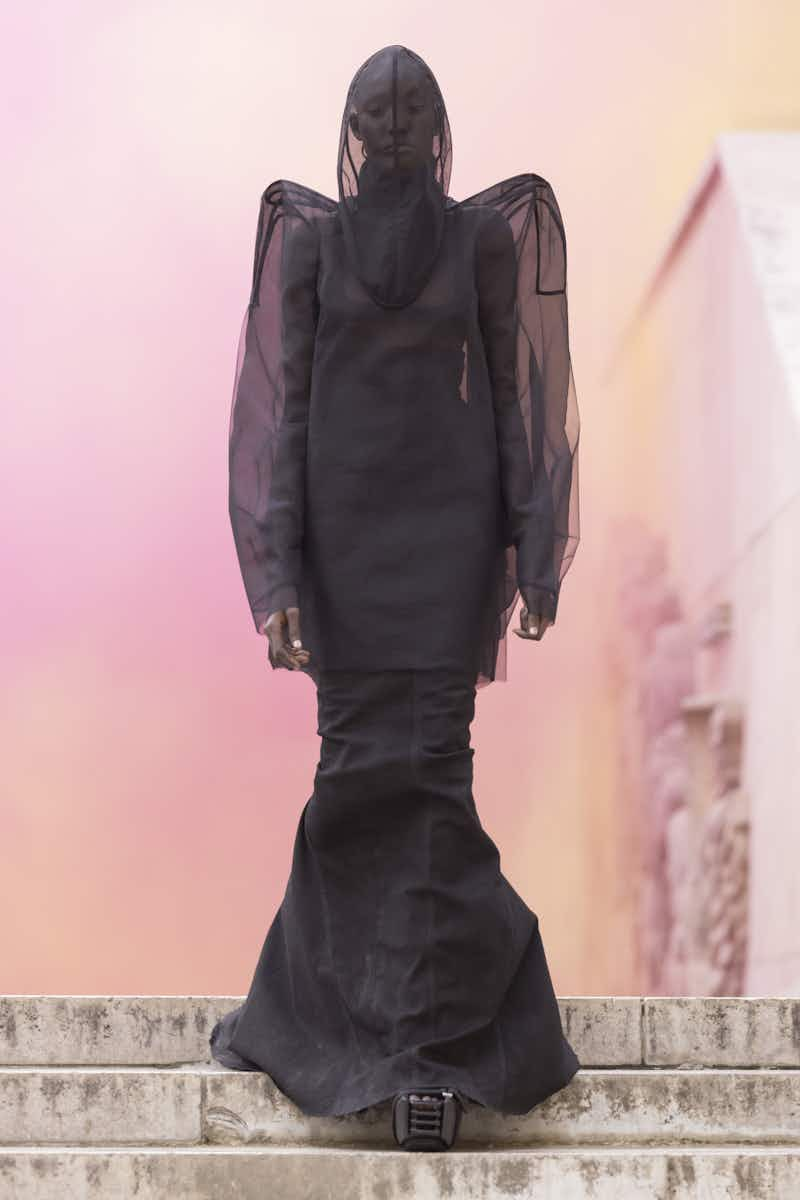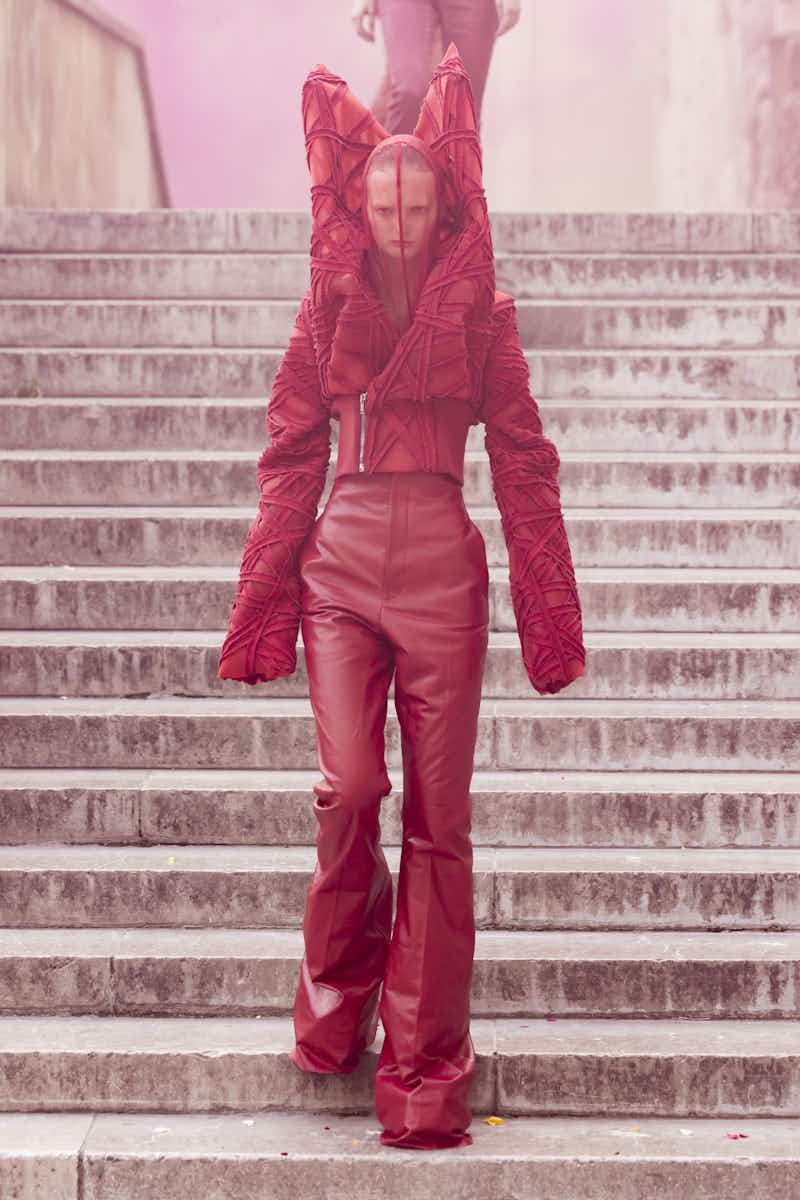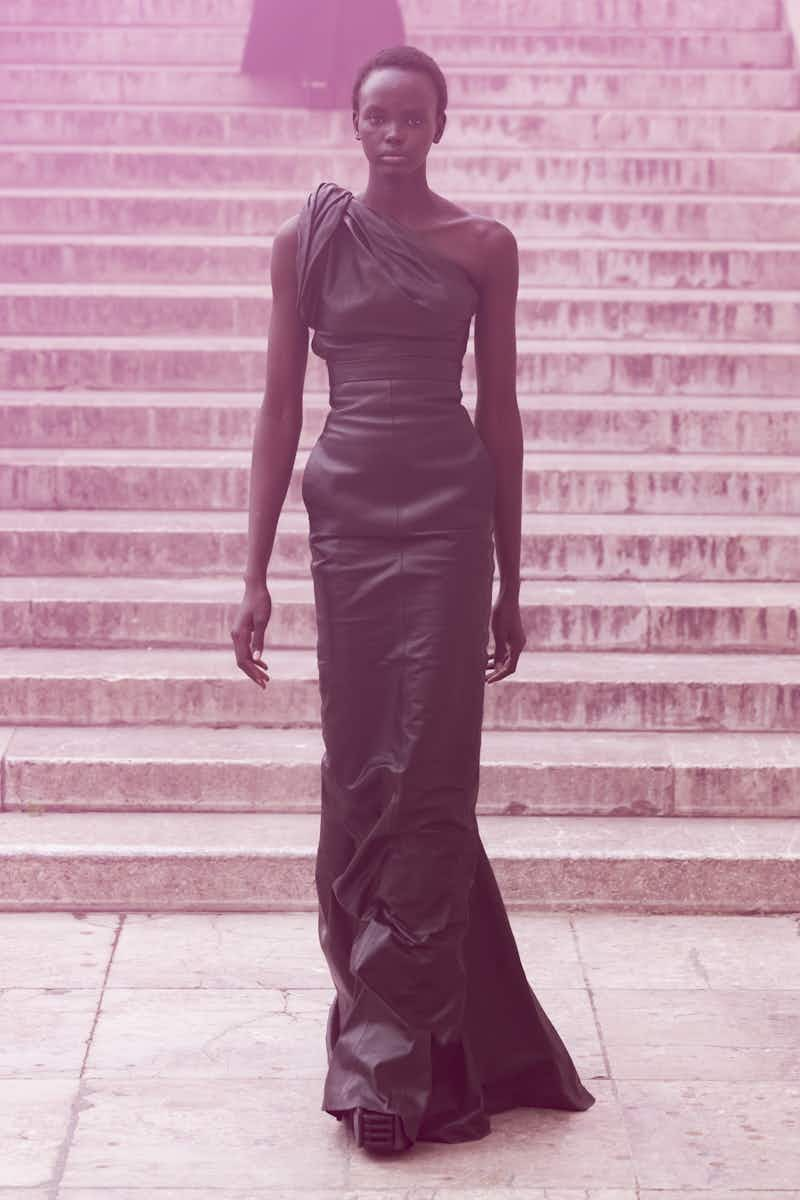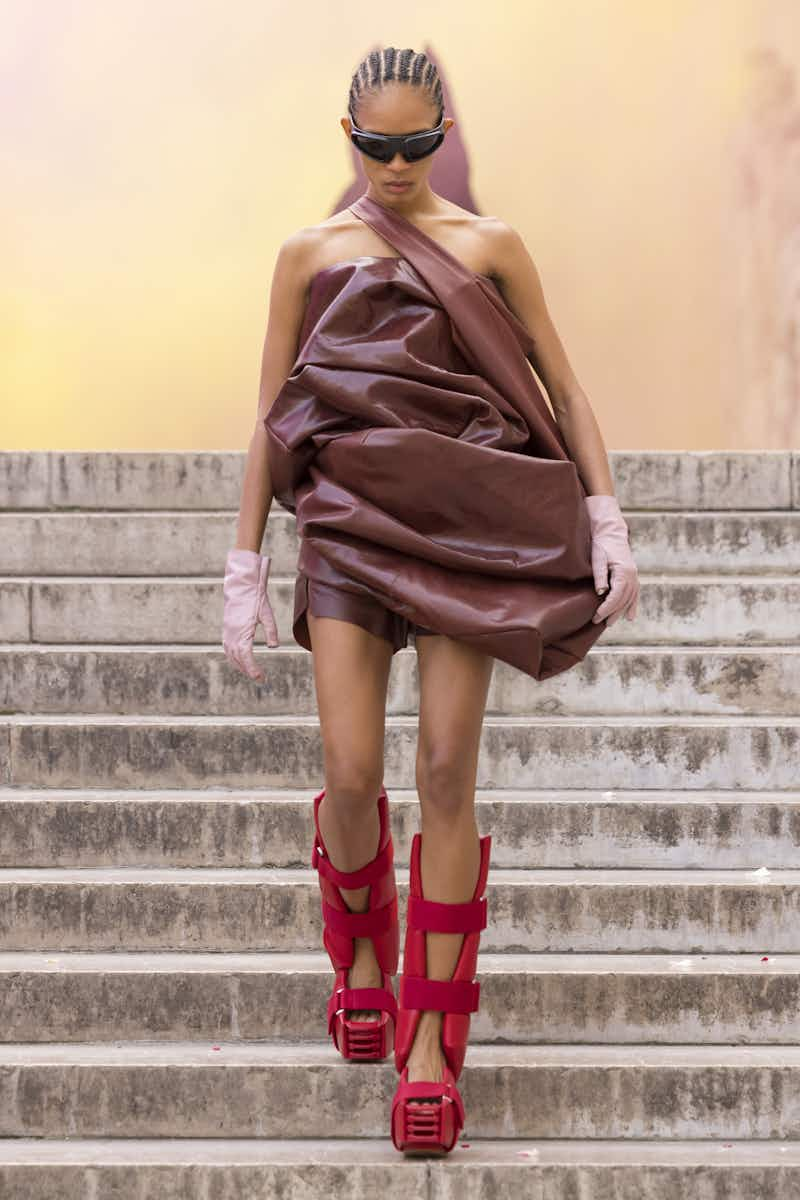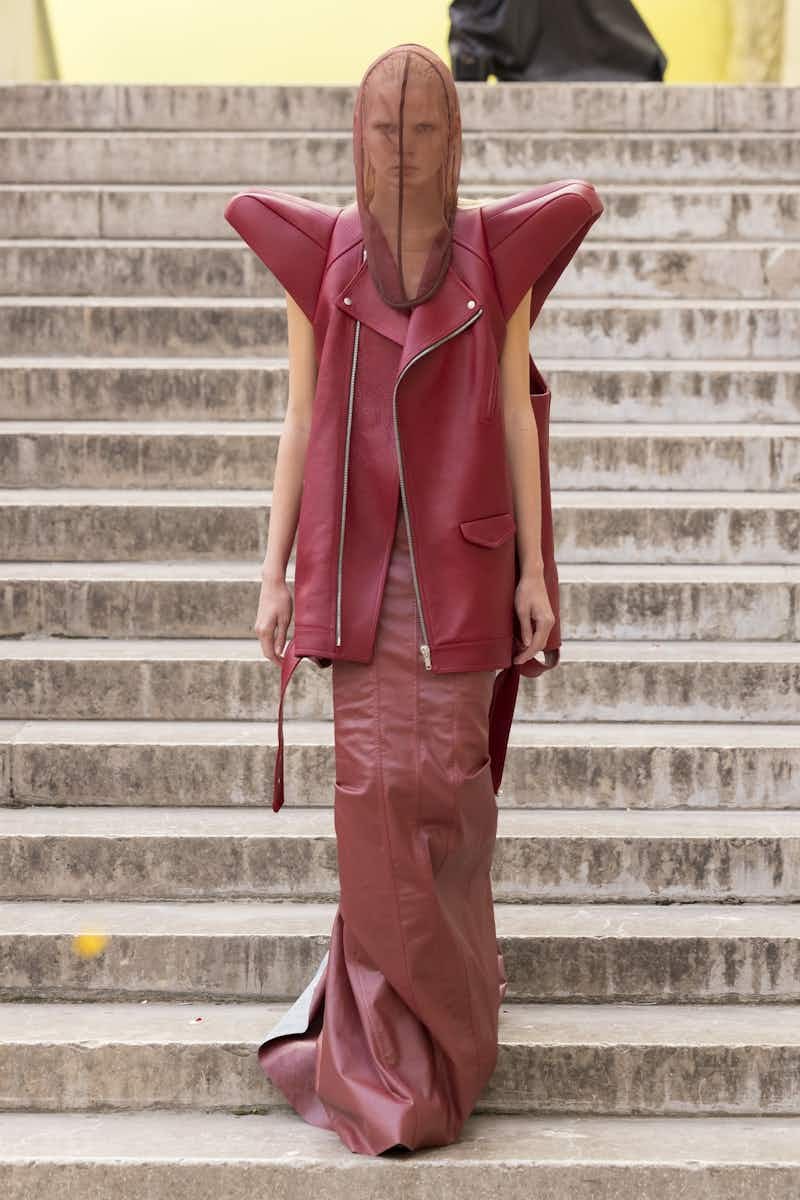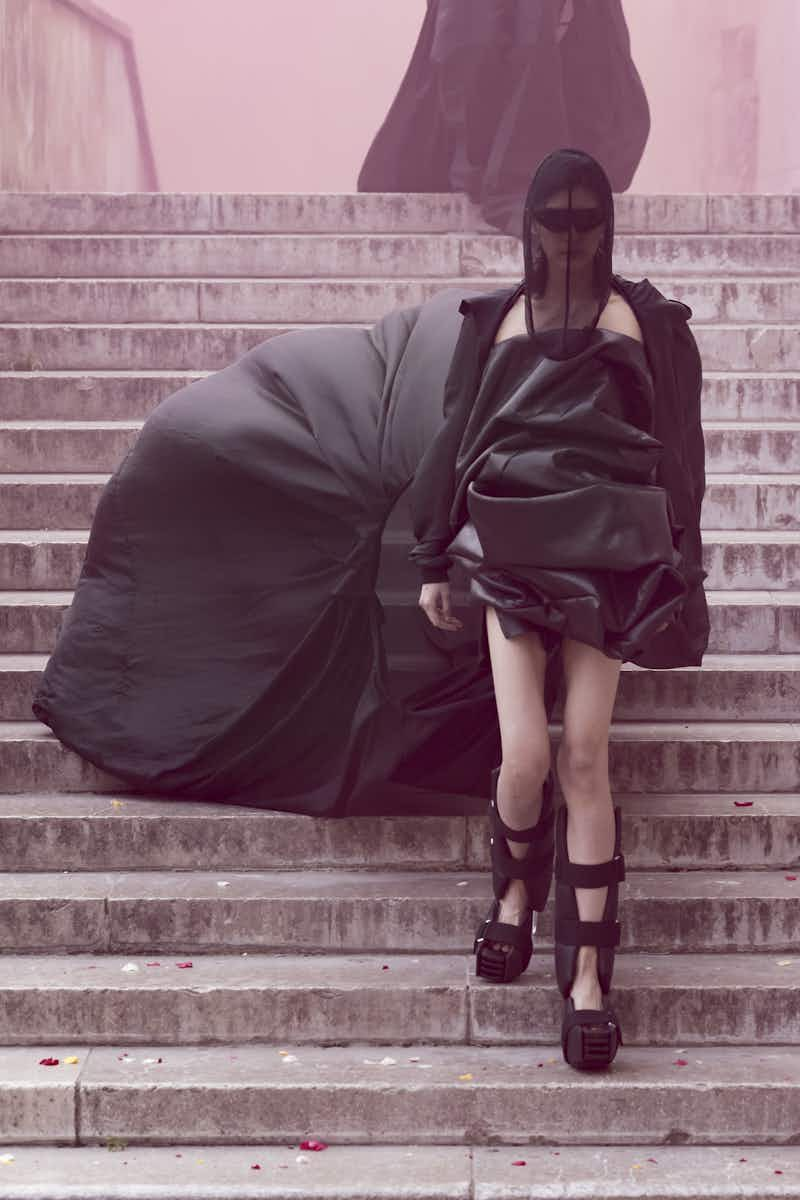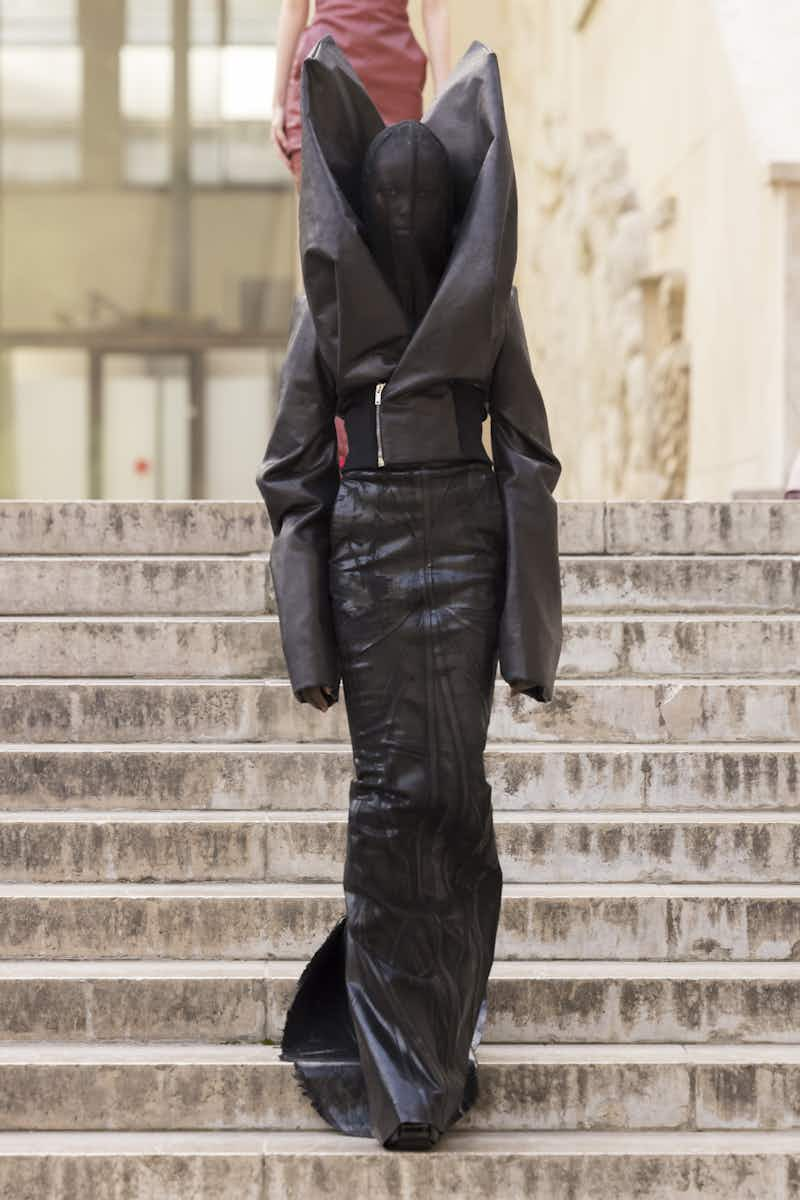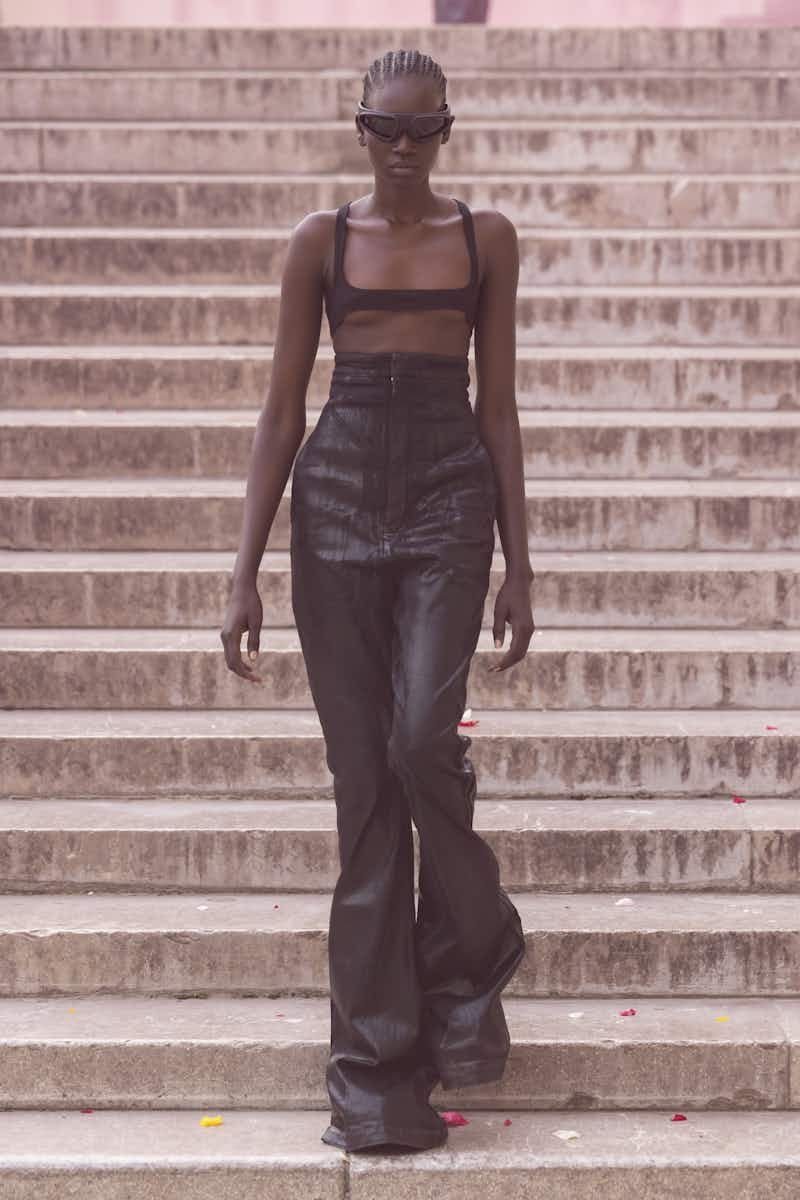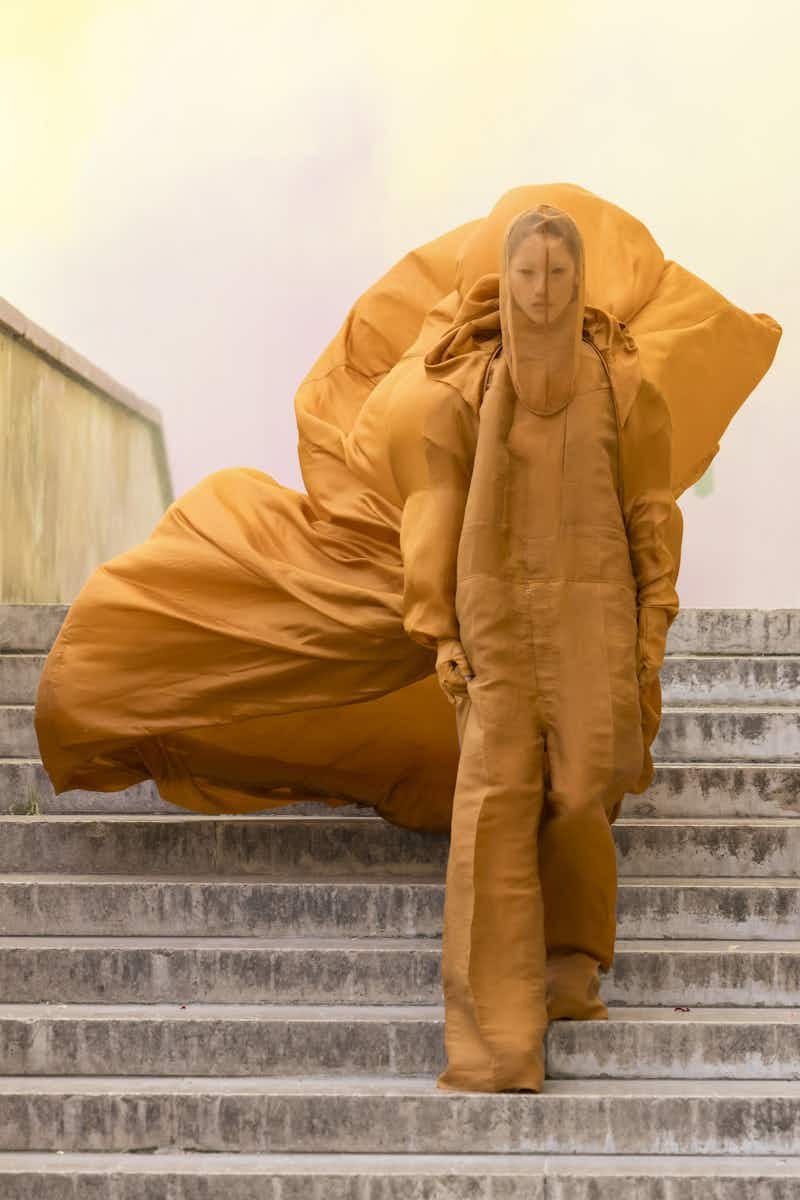 What?
A hot It girl wardrobe channelling ​"after hours liberation".

Where?
In a soft-furnished lounge at L'Observatoire de Paris illuminated by a deconstructed disco ball. The cream furnishings were designed by Austrian artist Lukas Gschwandtner, with music provided by Bristolian electronic duo Giant Swan.

Who was there?
Besties Kylie Jenner and Rosalía sat together for the second time this season. Kylie was decked out in a fiery, figure-hugging dress in a shade of red that punctuated the collection.

What were the clothes like?
This season, Acne Studios kicked off proceedings with industrial denim covered in white paint and crackled, clay-like treatments. This experimentation with durability continued in the leather pieces that were crinkled, moulded and pulled around the body. Skirts jutted out from the waist, appearing to levitate. Artist and photographer Katerina Jebb collaborated to incorporate objects traditionally codified as women's essentials, like oversized false eyelashes that were imprinted on a jersey sleeveless top. Meanwhile, vivid blues, greens and reds offset the dominant palette of industrial whites and greys and bags were metal studded, reminiscent of miniature disco balls or metal grating from a construction site.

In a few words:
Decisively dishevelled and disco-ready.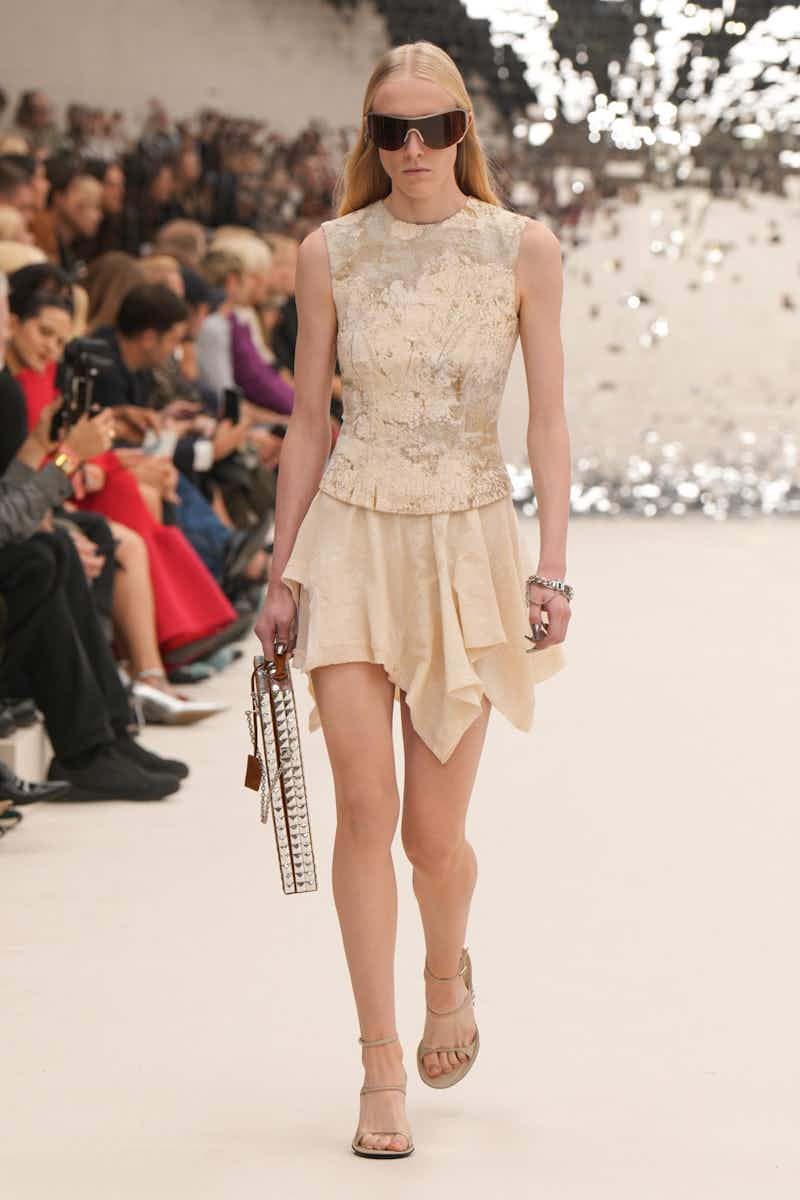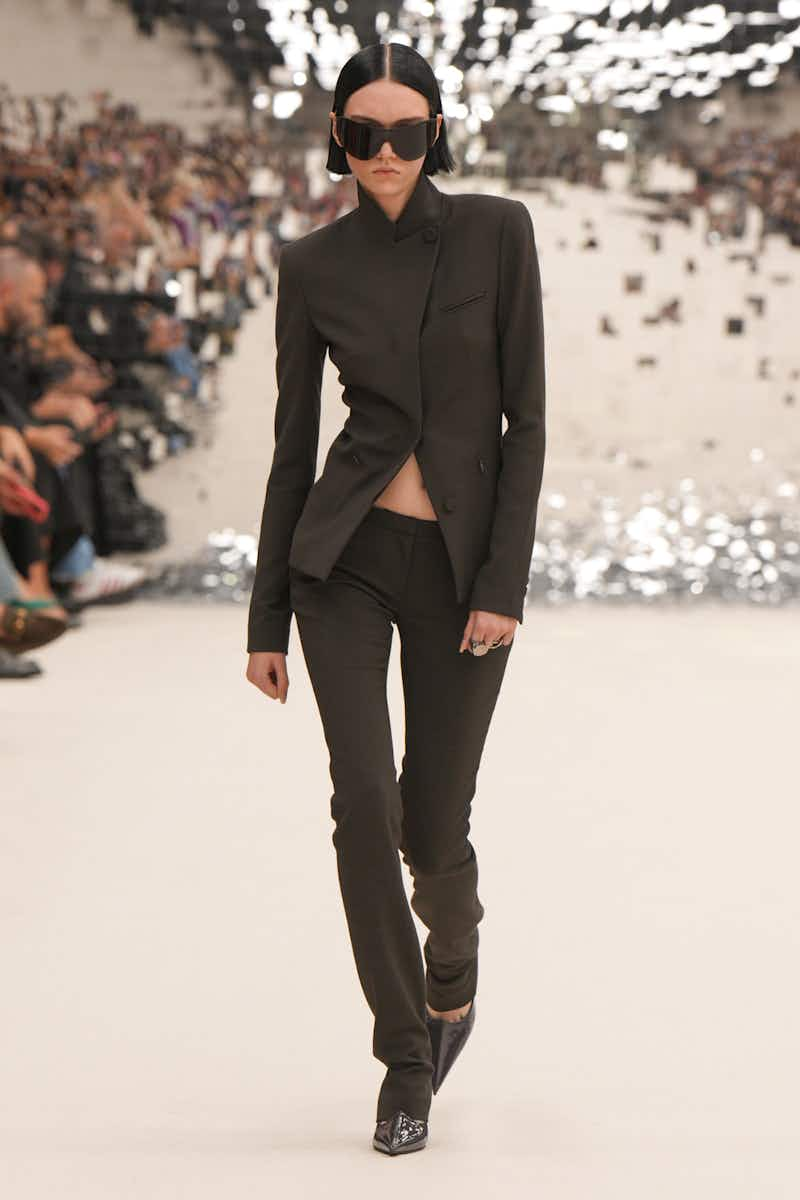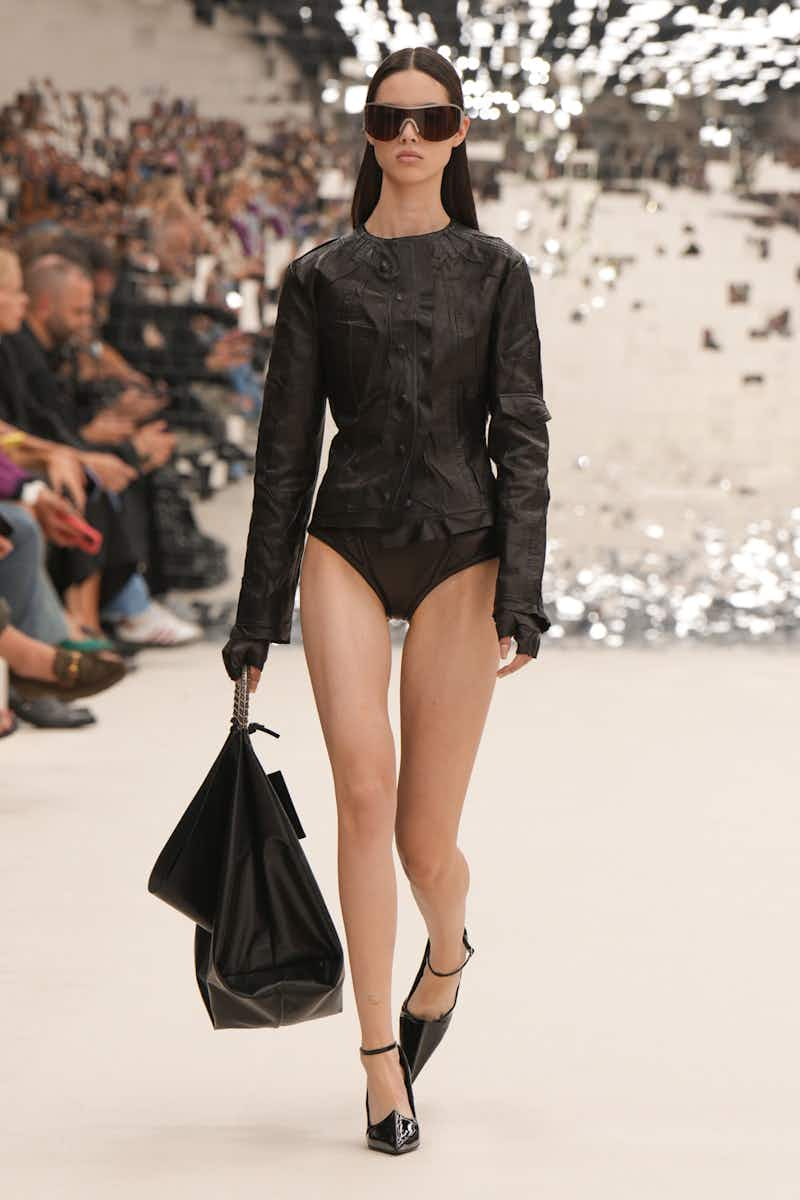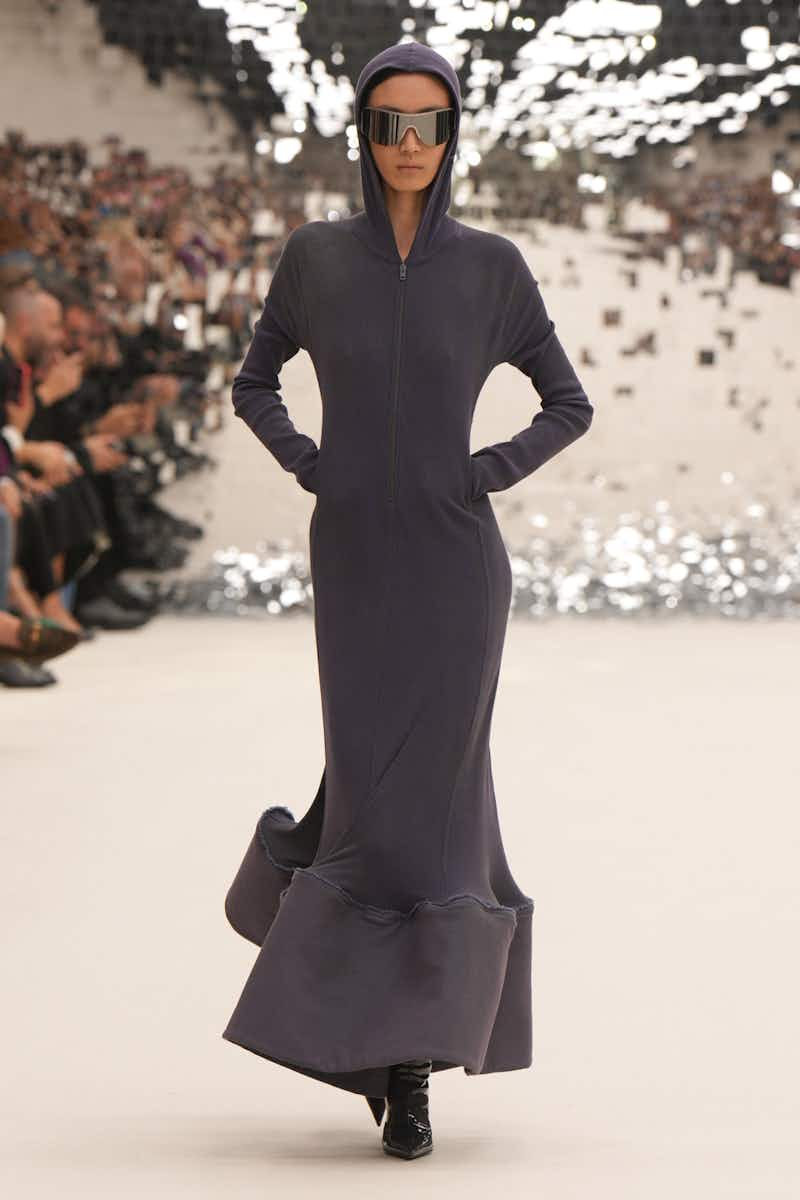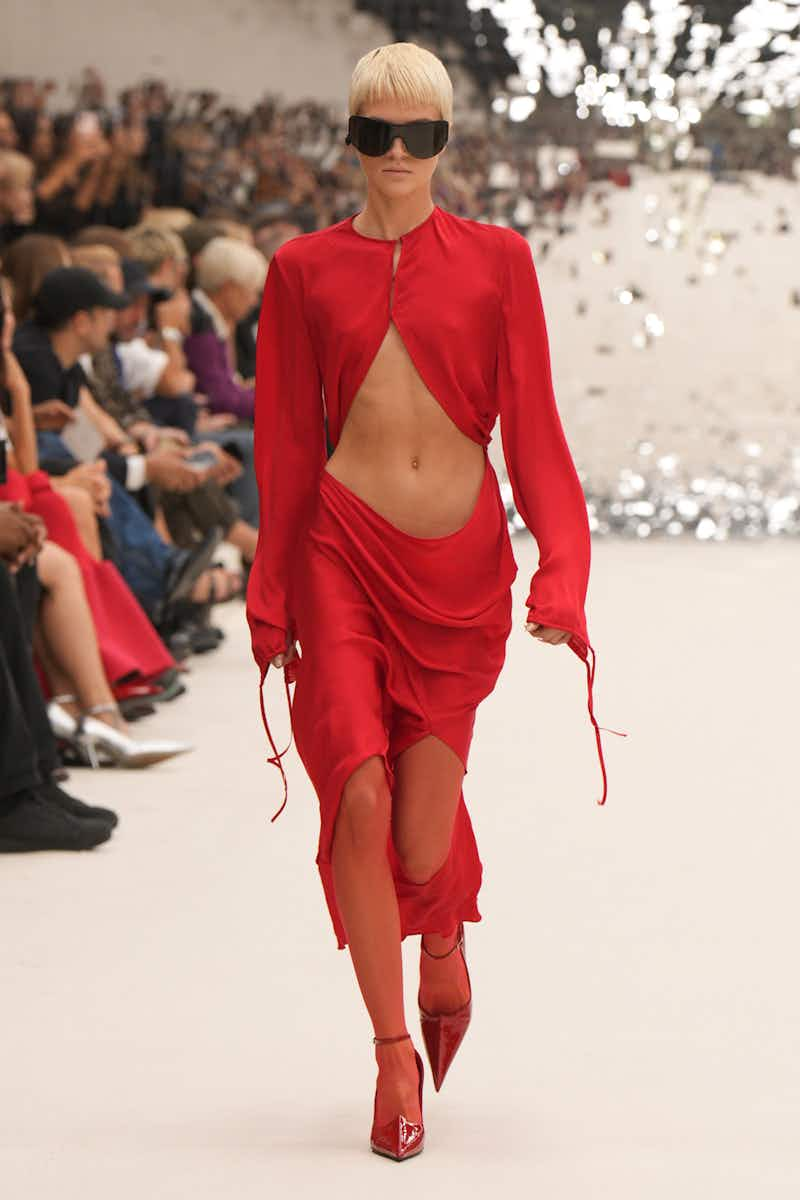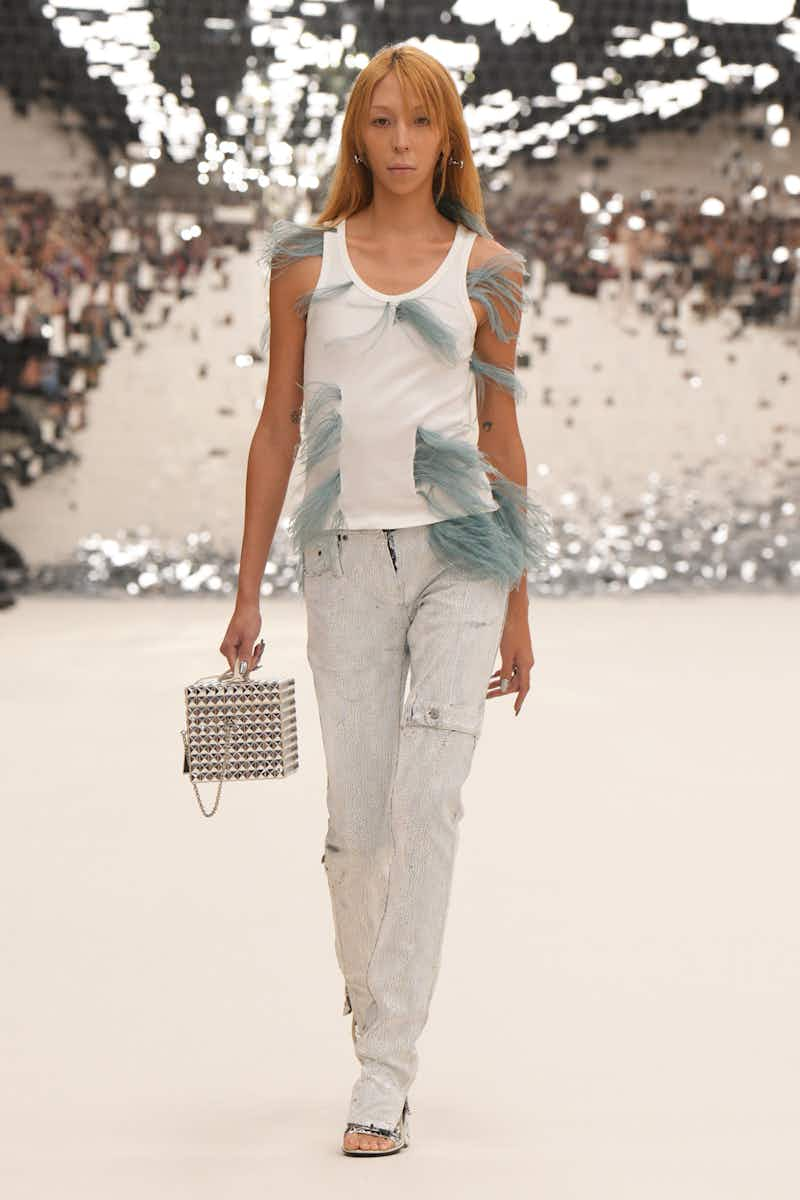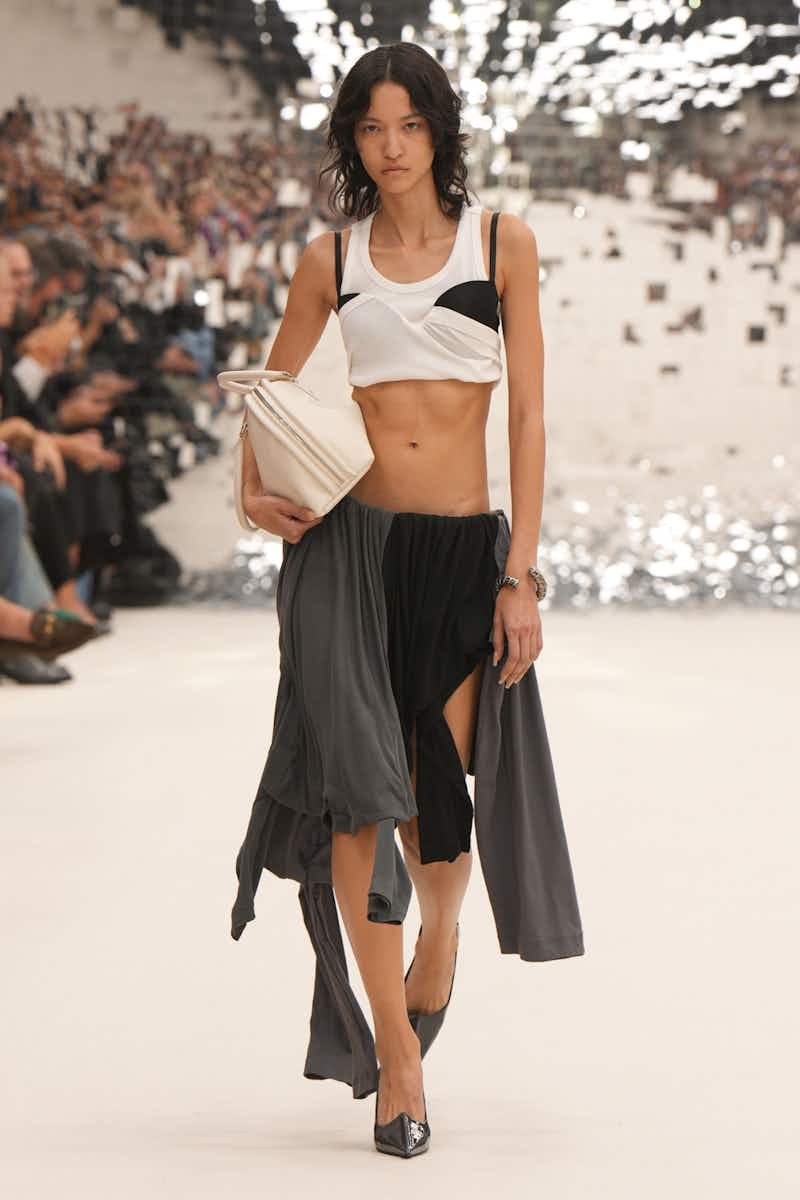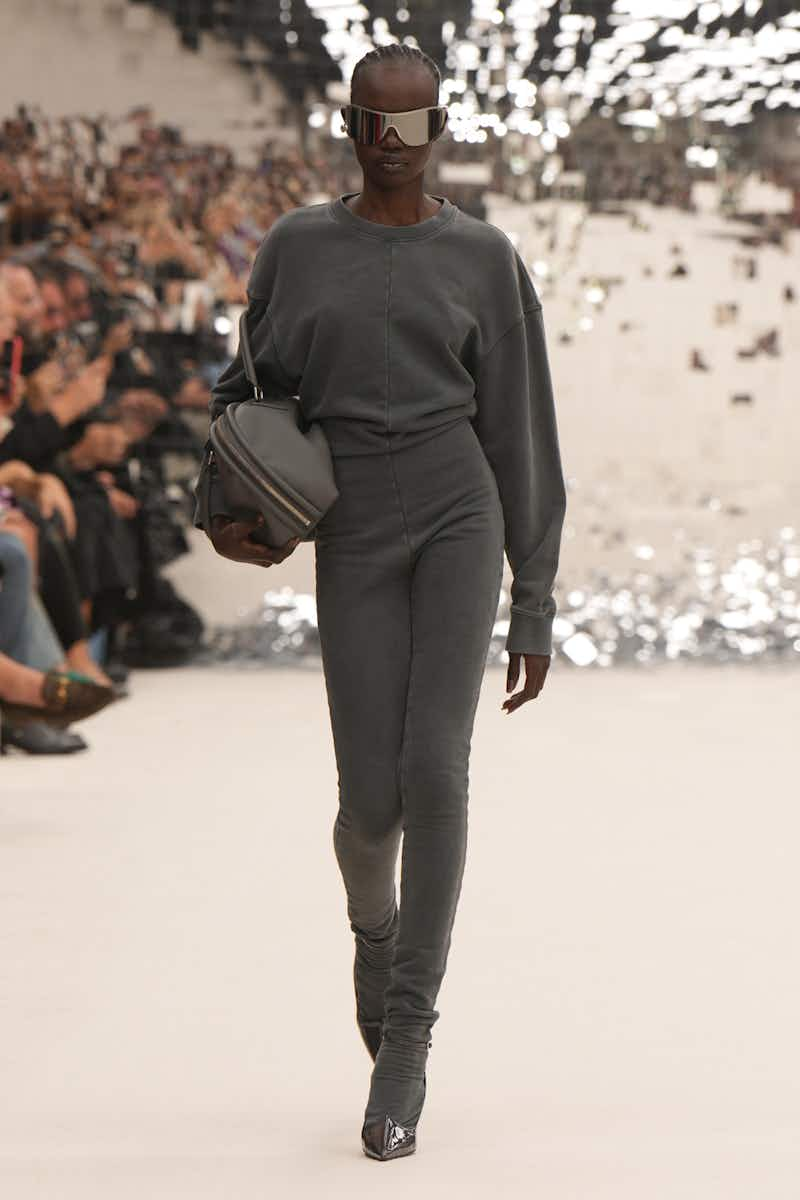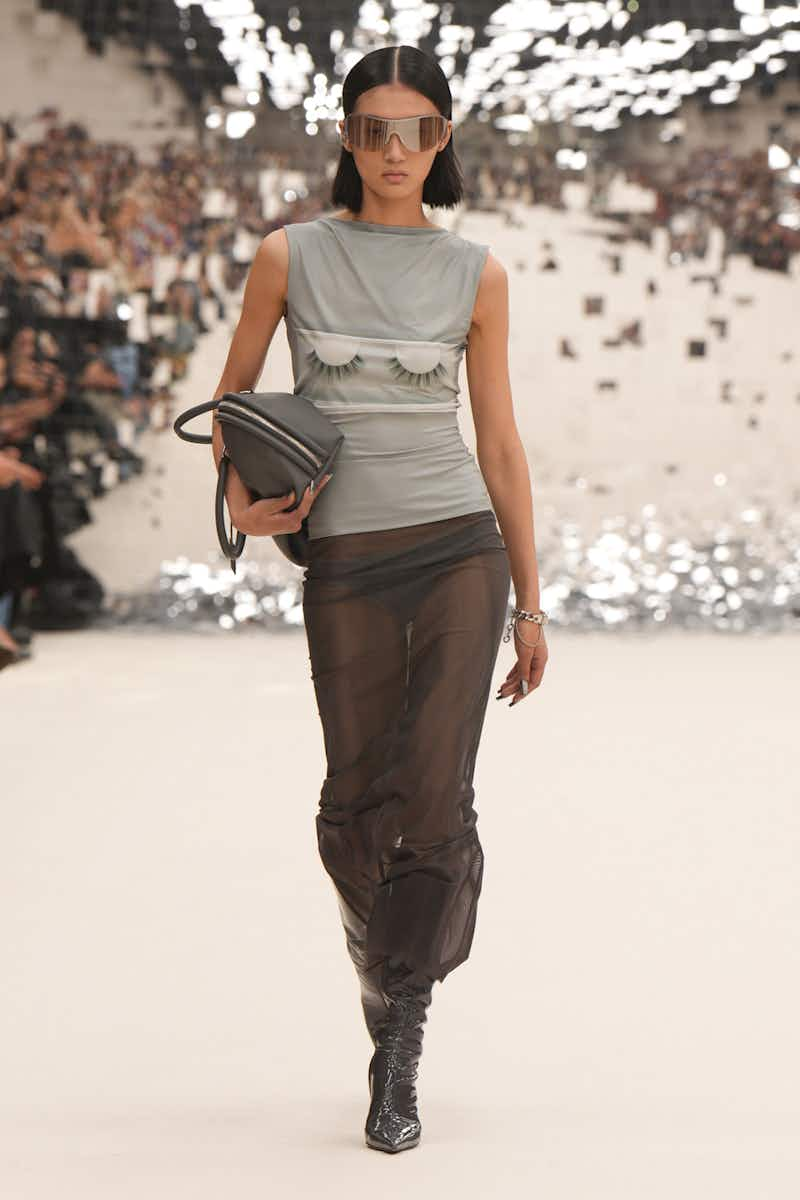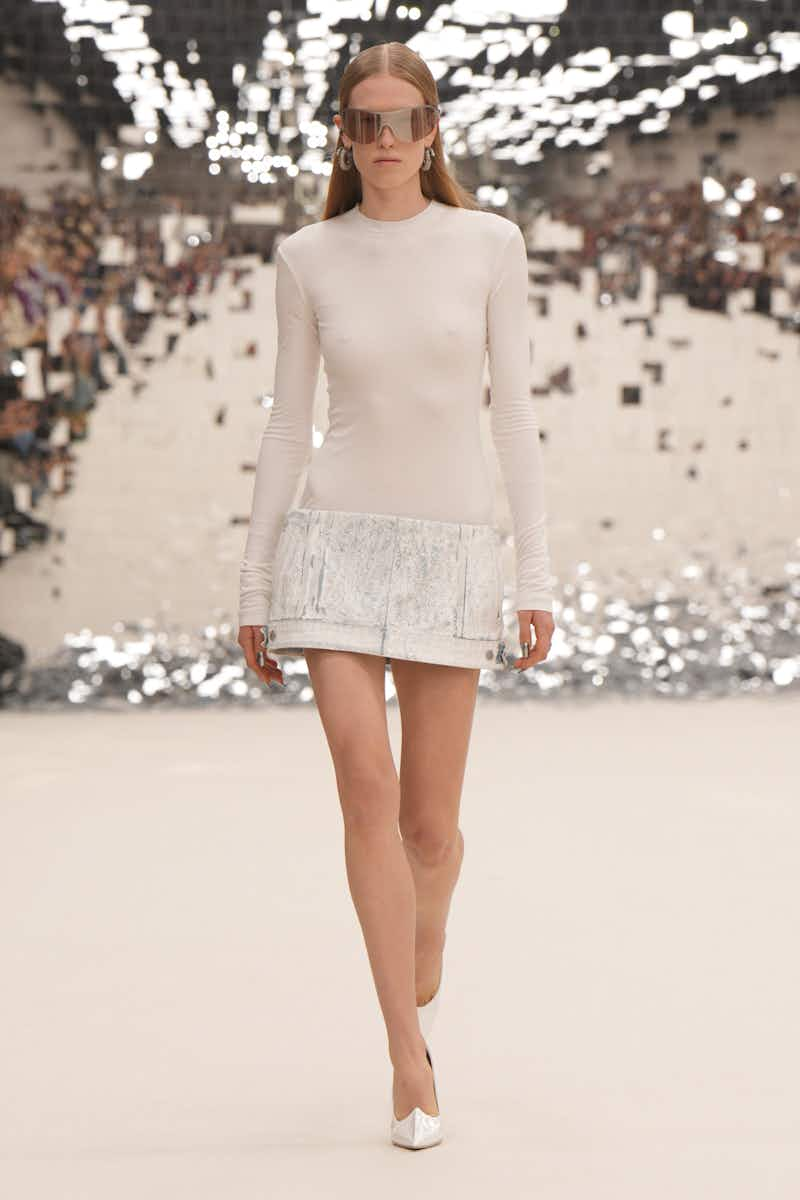 What?
In the lead up to the show, creative director Francesco Risso and his team were ​"squatting" in the loft of luxury goods corporation OTB's headquarters. They turned the space into a Marni-fied children's playground, hand painting walls and floors with skies, shooting stars and comets. And so, armed with a youthful lust for life, Risso's SS24 show fantastical floral dresses, contrast check and geometric structured suiting.
Where?
Guests perched on inflatable seating while models walked through the gardens and resplendent golden rooms of Hôtel Pozzo di Borgo, an 18th-century residence that once belonged to Karl Lagerfeld. A series of small live orchestras, wearing surgical white vinyl lab coats, performed tracks by Dev Hynes.
What were the clothes like?
Smart, elegant, and very playful. The collection took inspiration from Risso's adolescent memories of Paris, like the afternoons he spent with a friend, obsessively spying on Lagerfeld as he to'd and fro'd from his apartment. Or the time he met a beautiful woman at a party who disappeared as soon as she arrived, leaving behind a waft of perfume. This nostalgia, steeped in romance, was most poignantly felt through dresses made from collaged images of flowers sourced from antique botanical almanacks.
Elsewhere, billowing cotton skirts in structured checks stuck out like tutus, while ribbed sweaters paired with suede maxi skirts highlighted the outlines of the body. Rattling dresses made from discarded tin cans were balanced out with miniscule sheer strappy dresses and cropped mohair sweaters that provided a softer moment – a skilled equilibrium between fantasy and clothes that people will actually want to wear.
Best bit?
The ASMR moment as models rattled past in dresses made from discarded tin cans moulded into flowers.
In a song?
Peter Sarstedt's Where Do You Go To (My Lovely).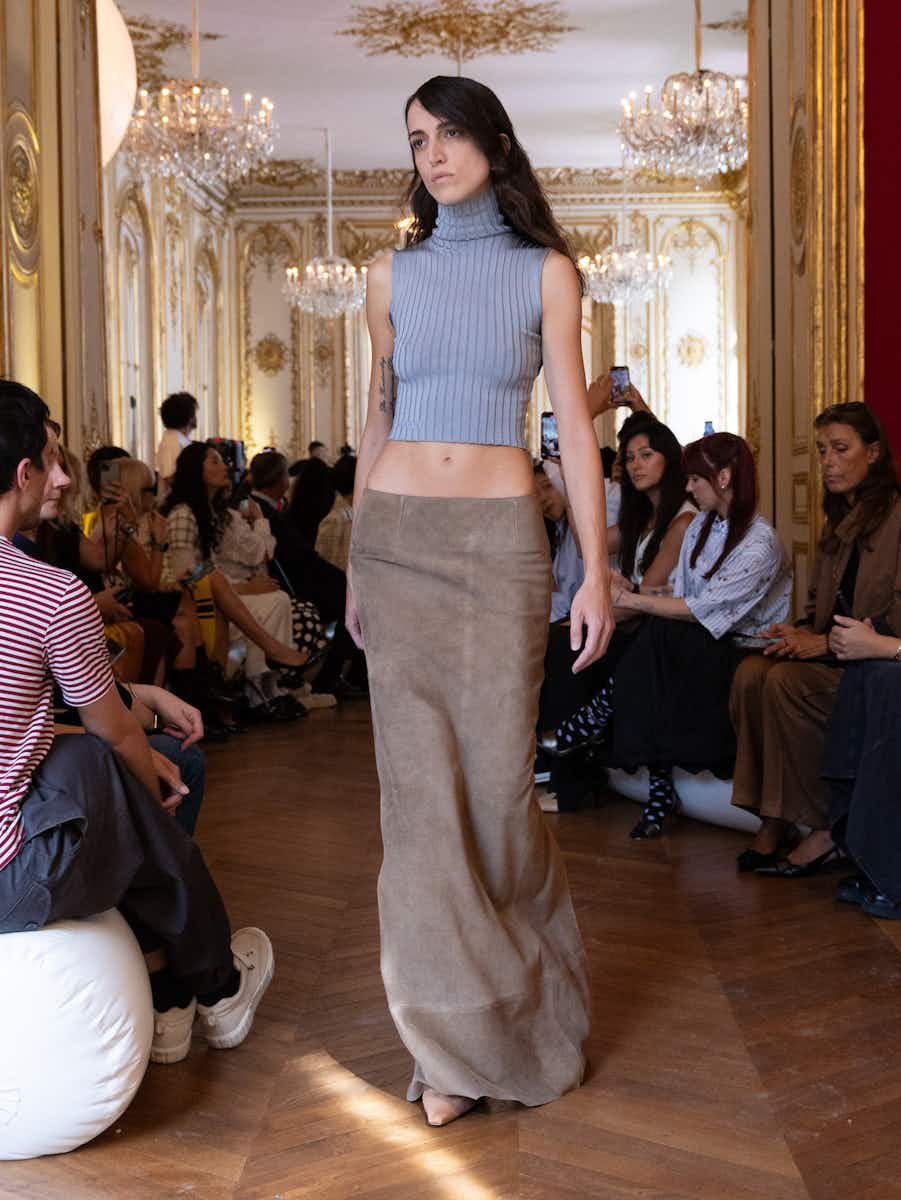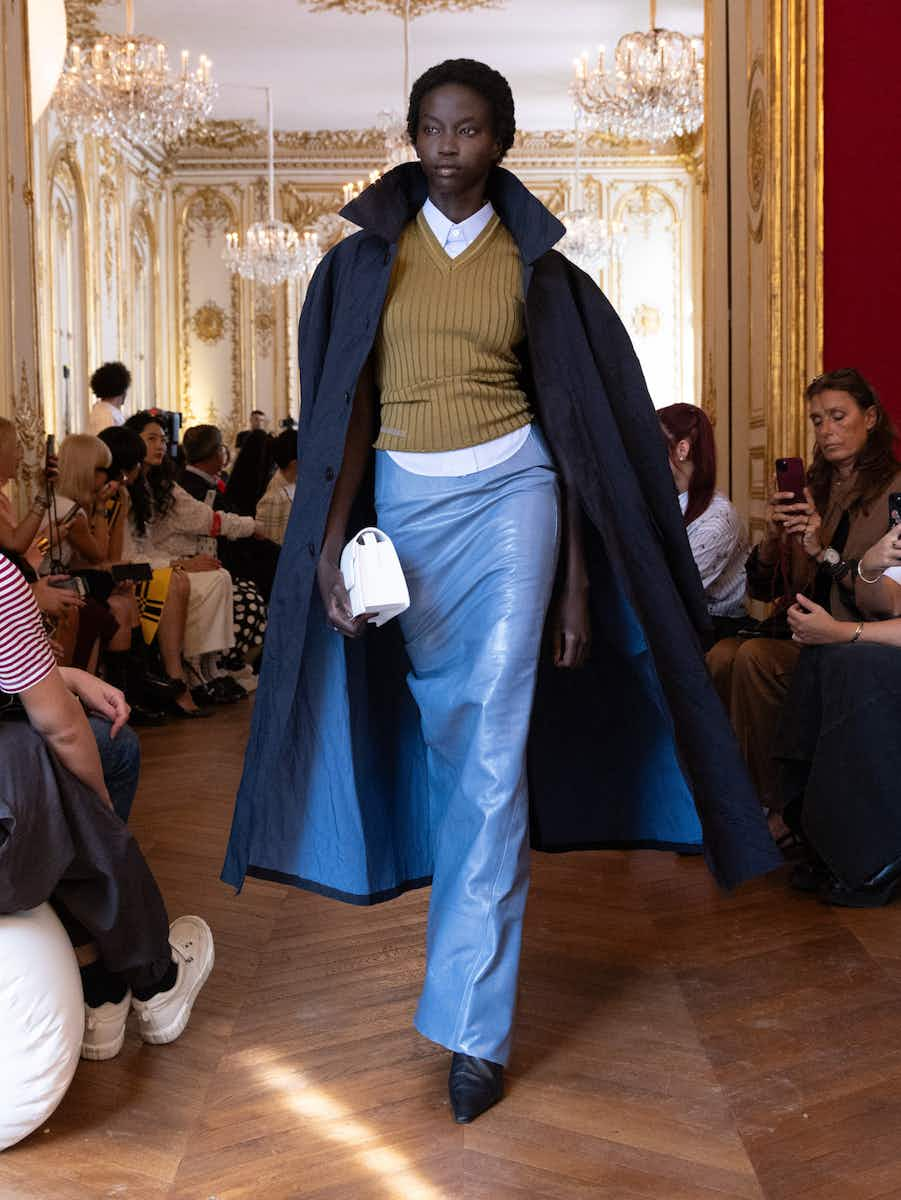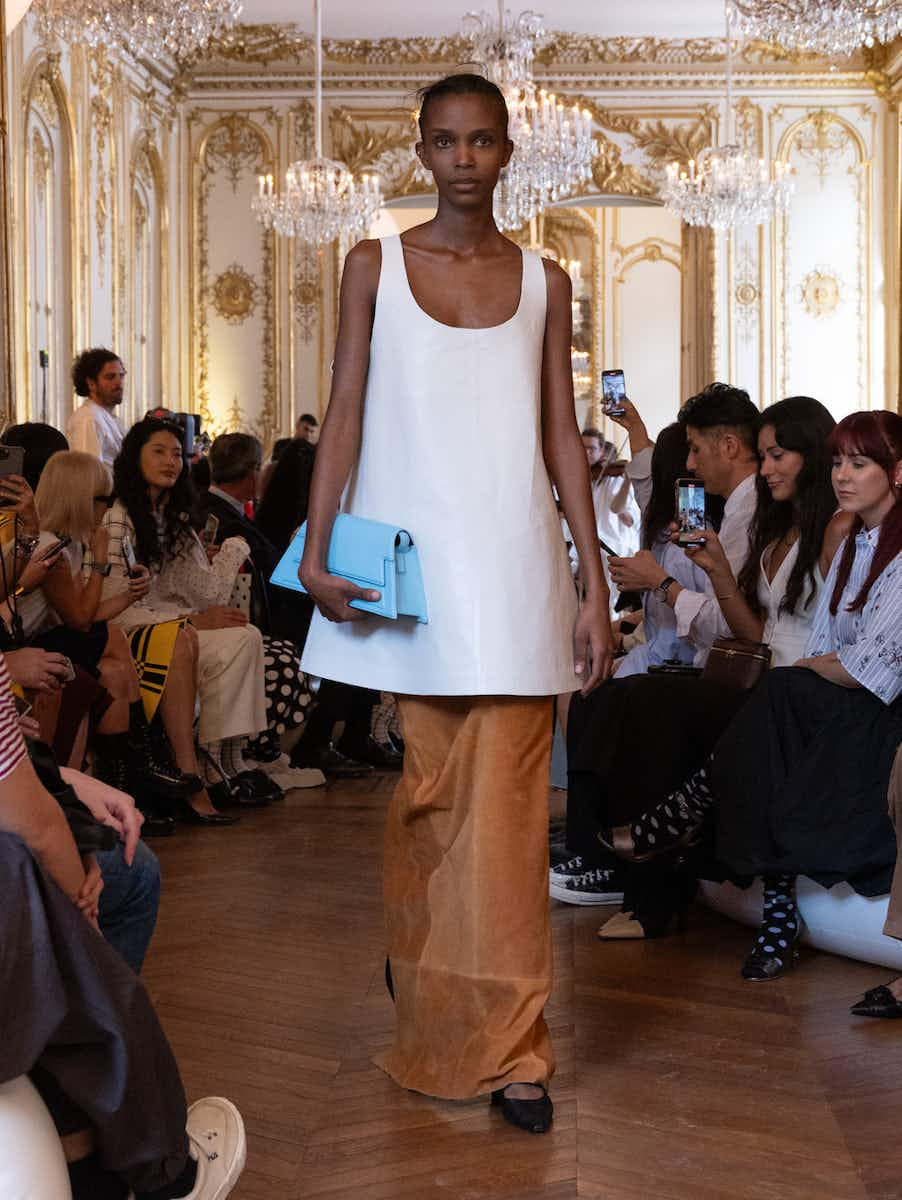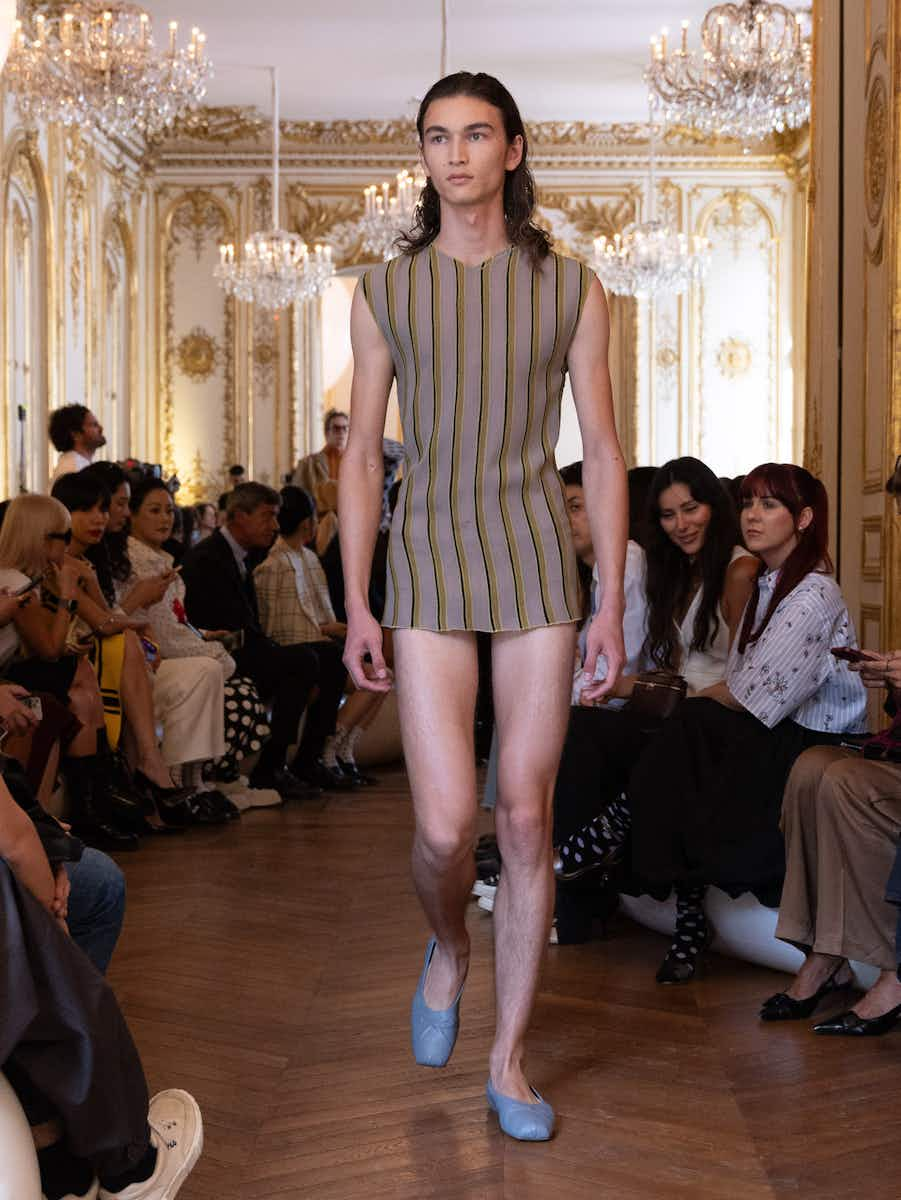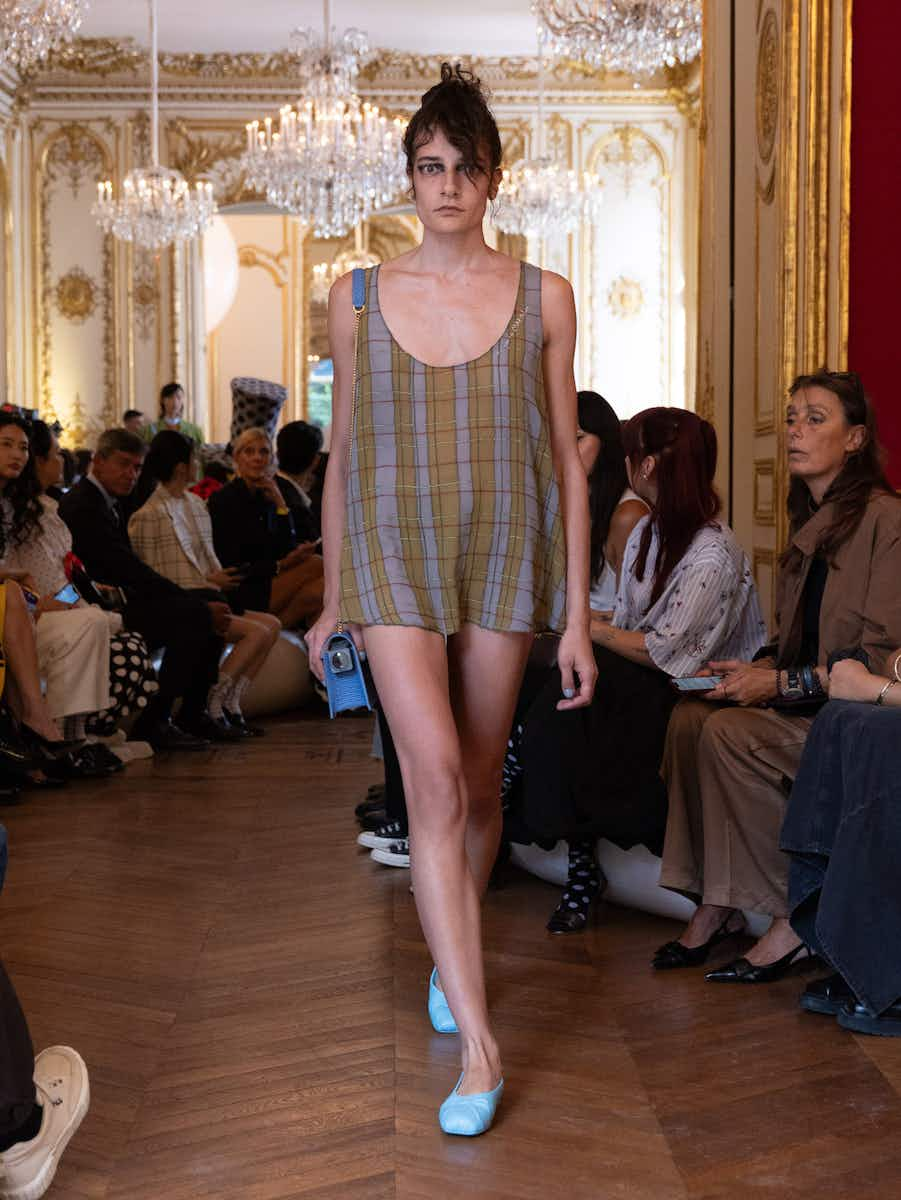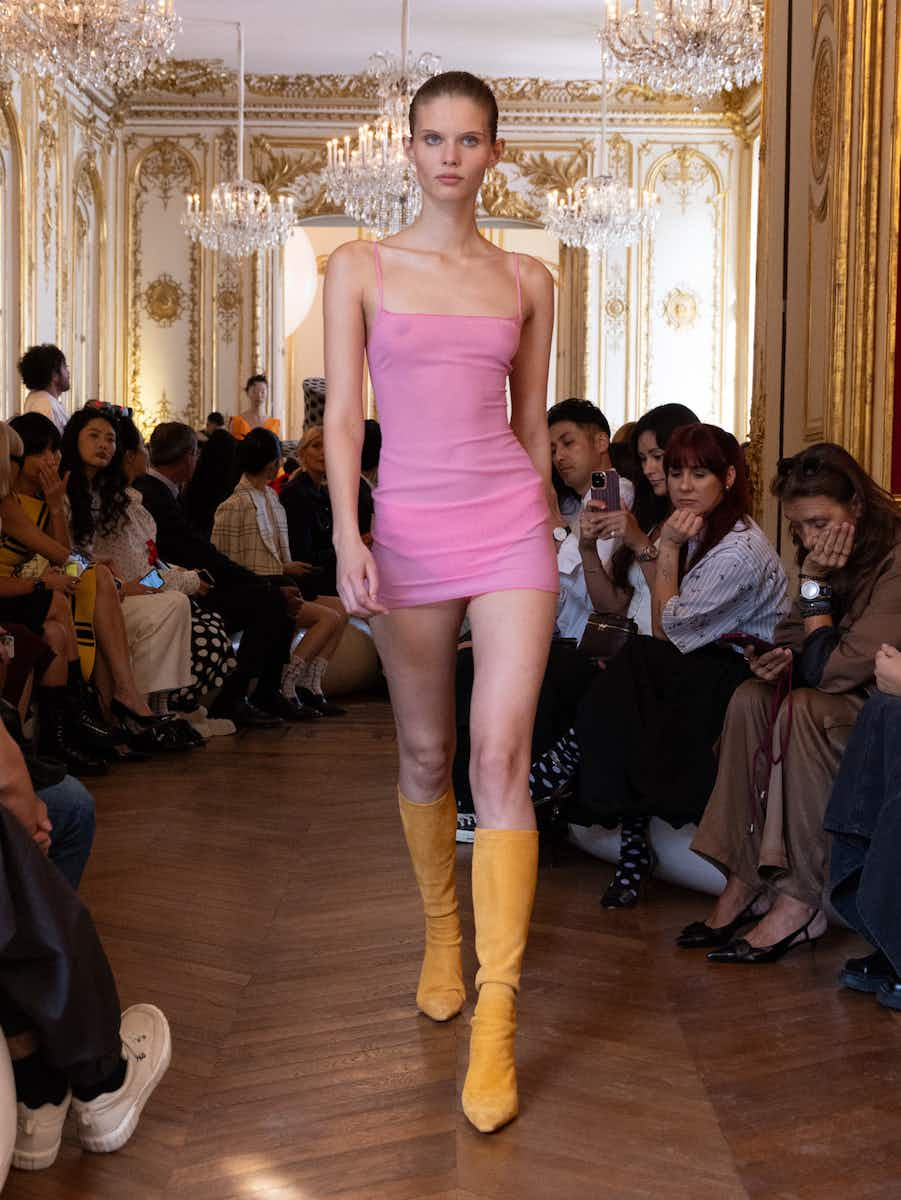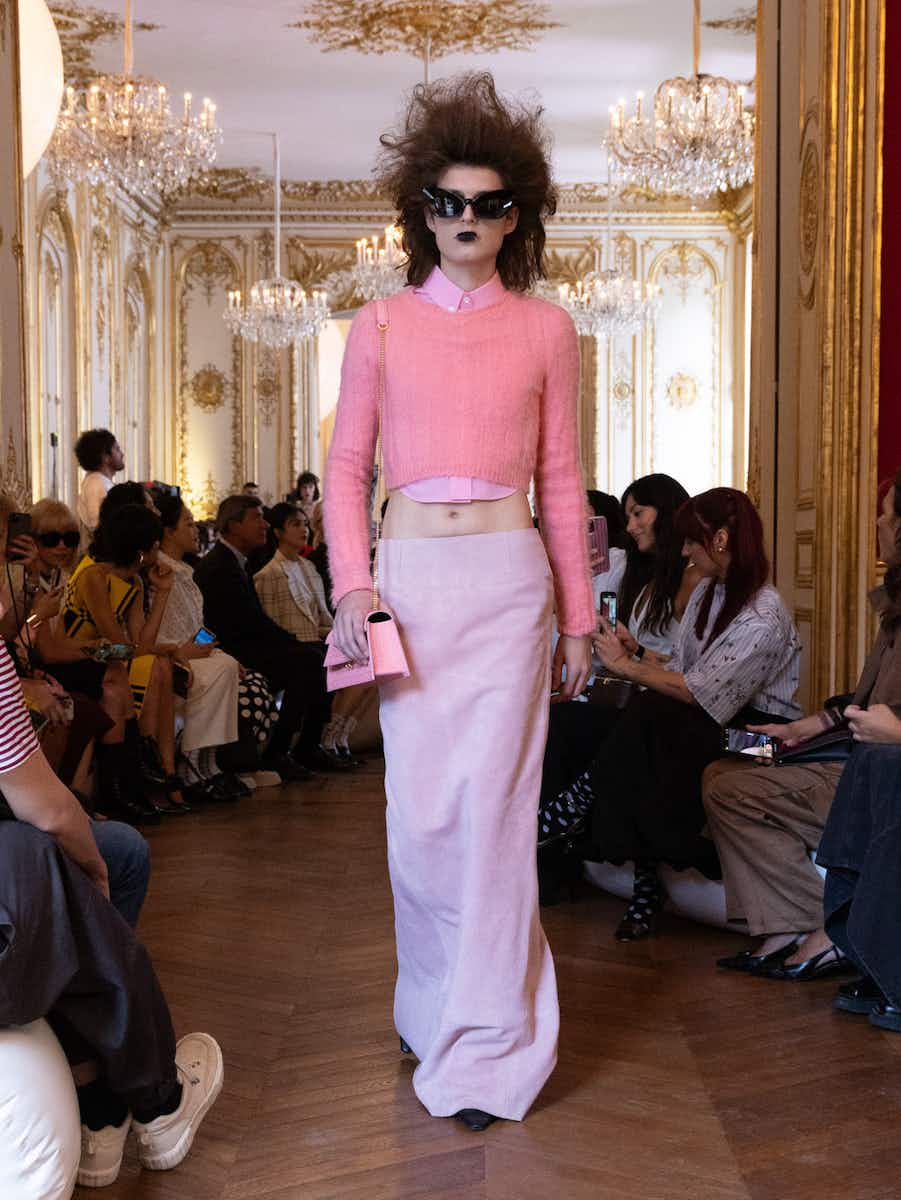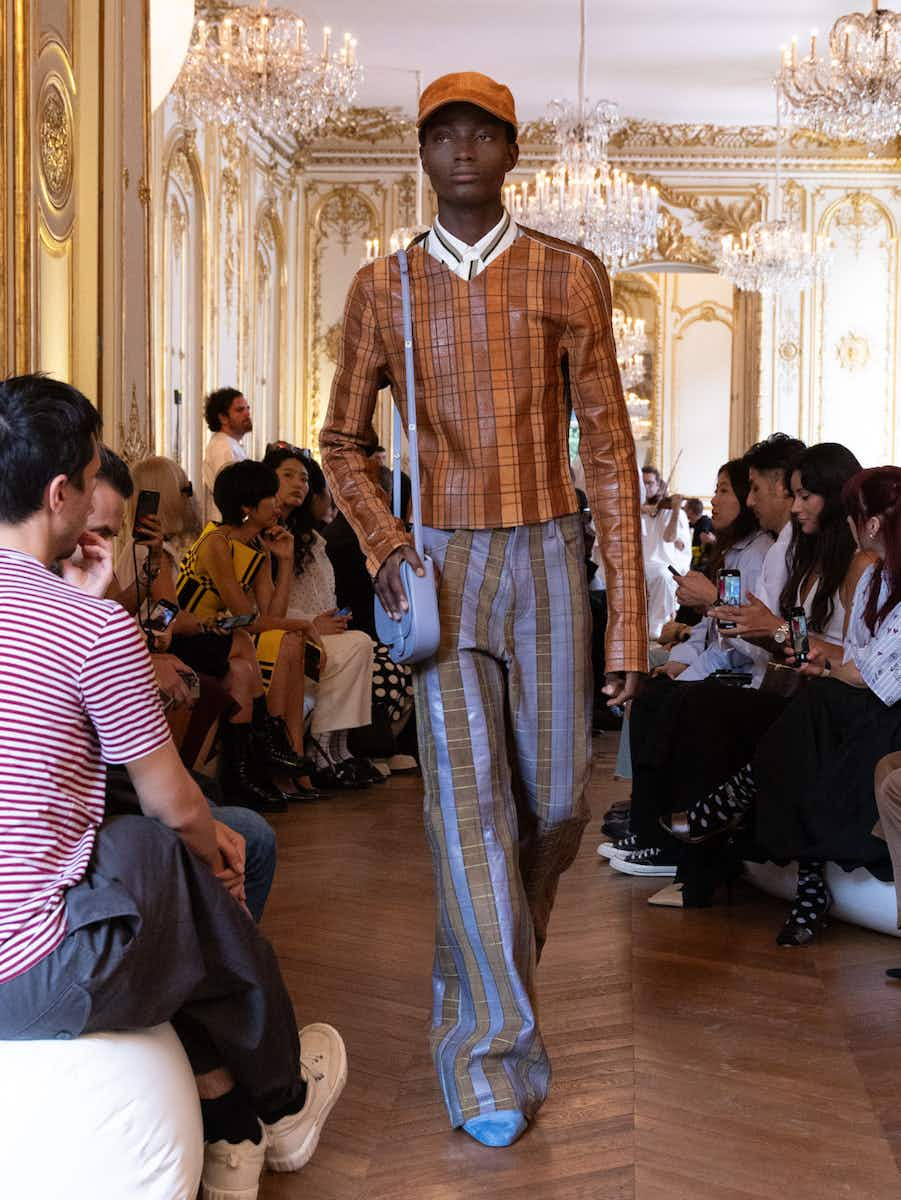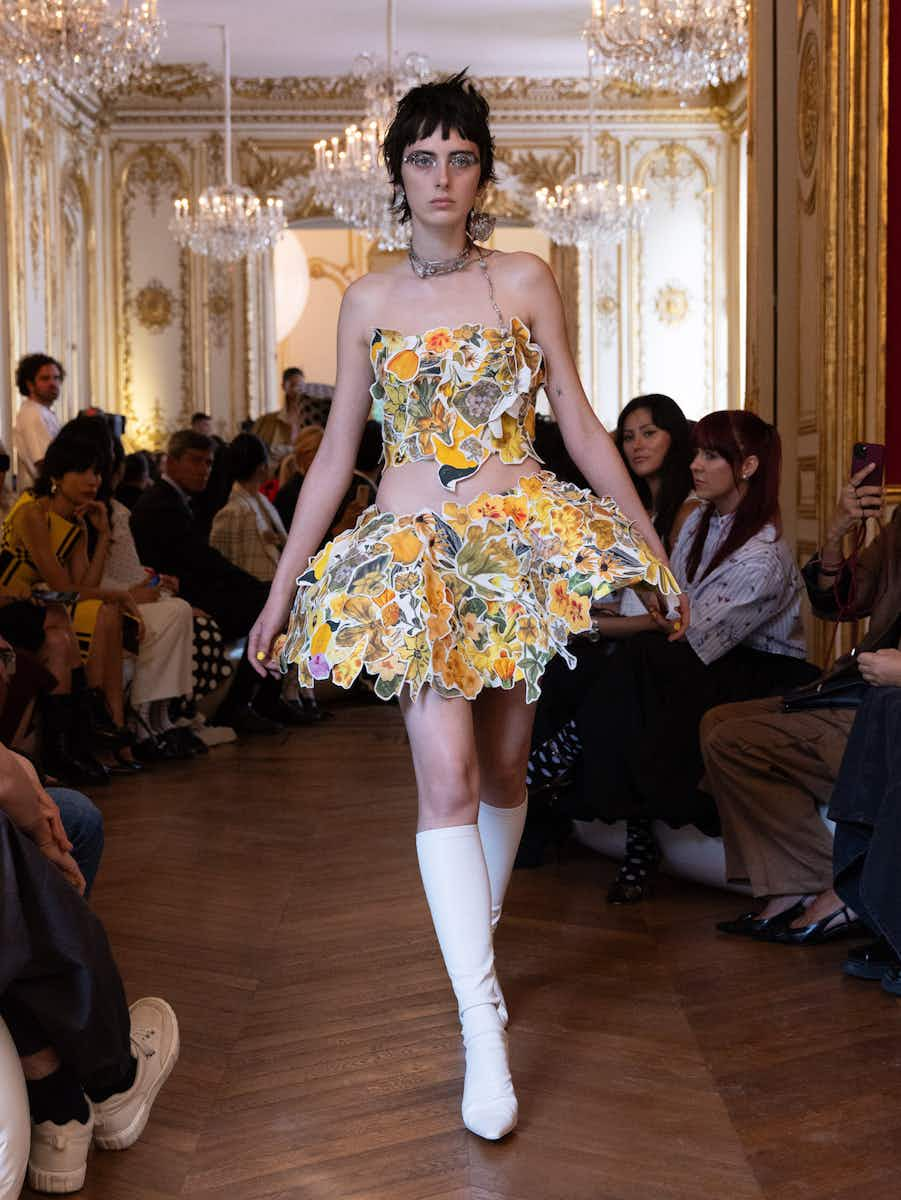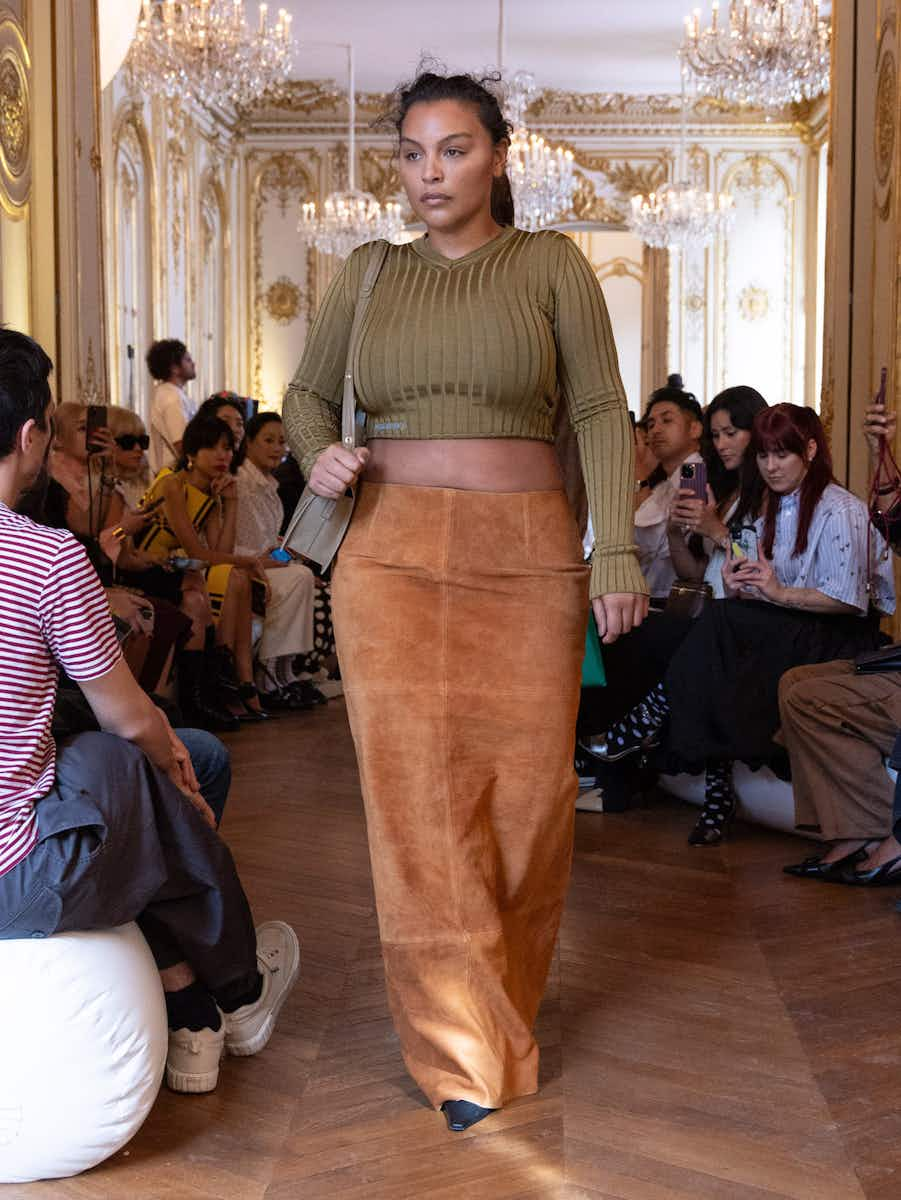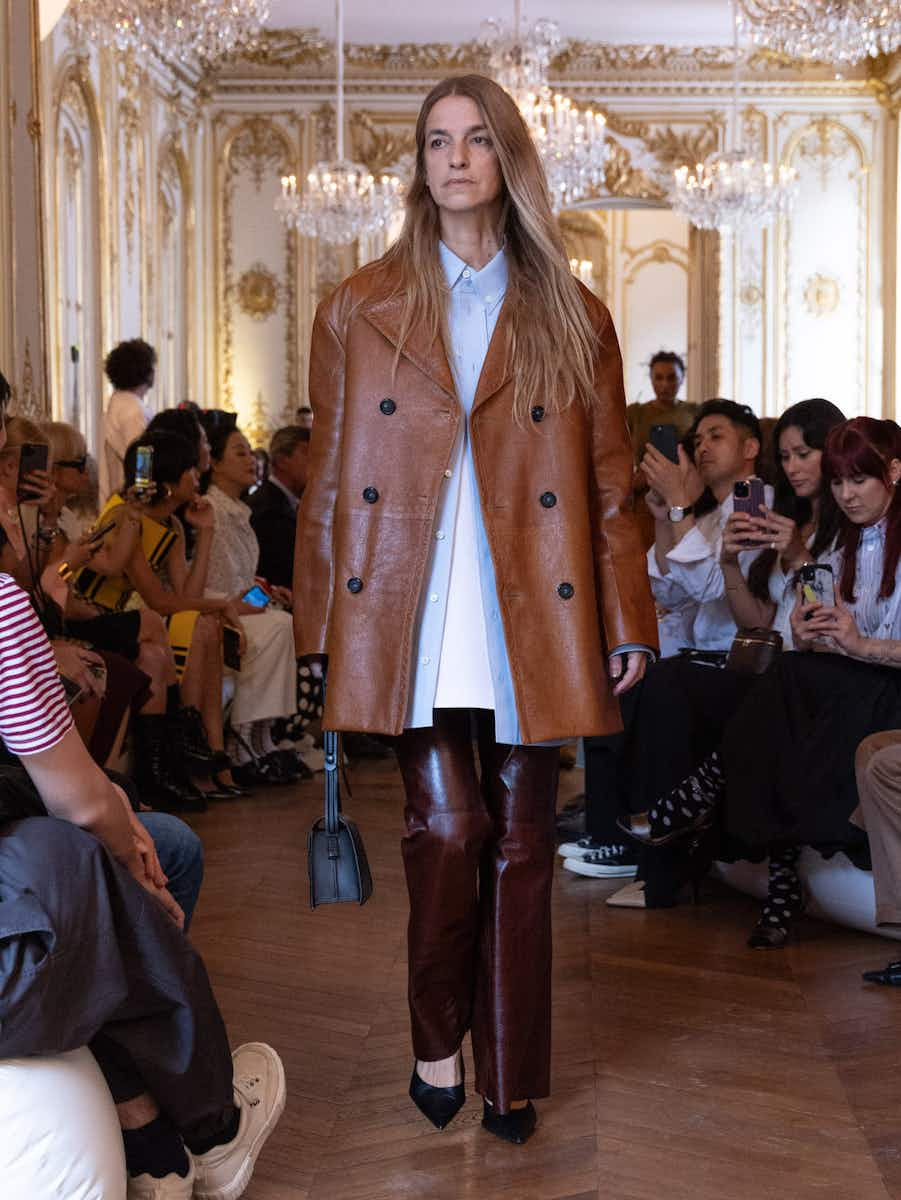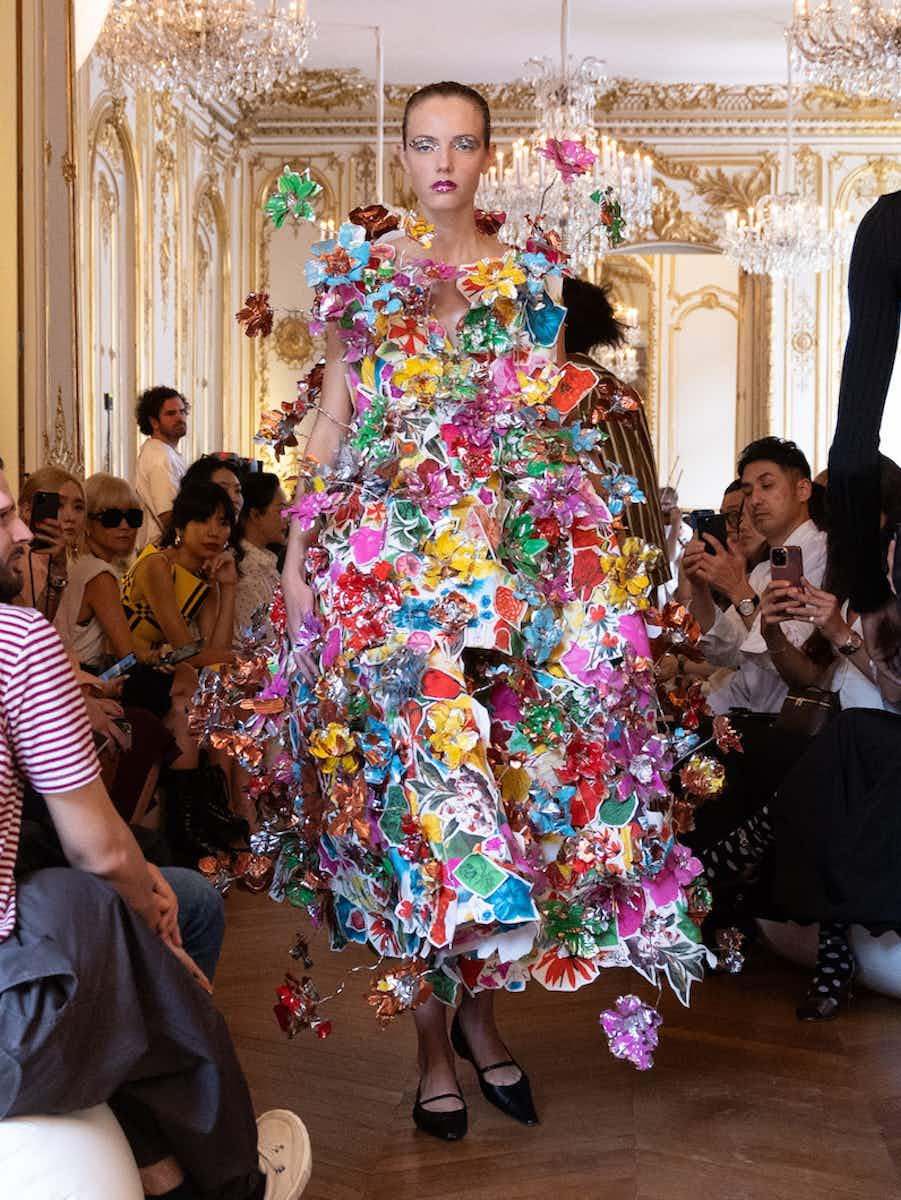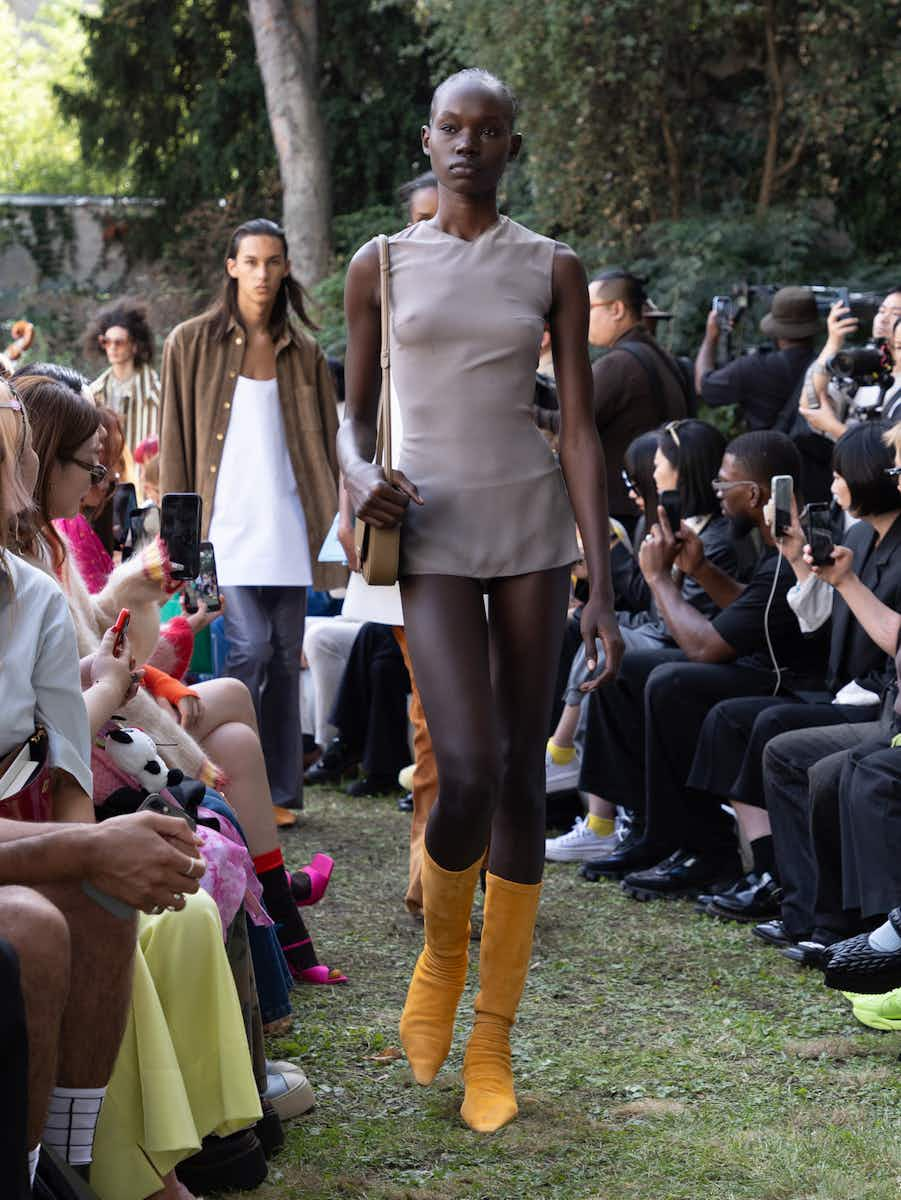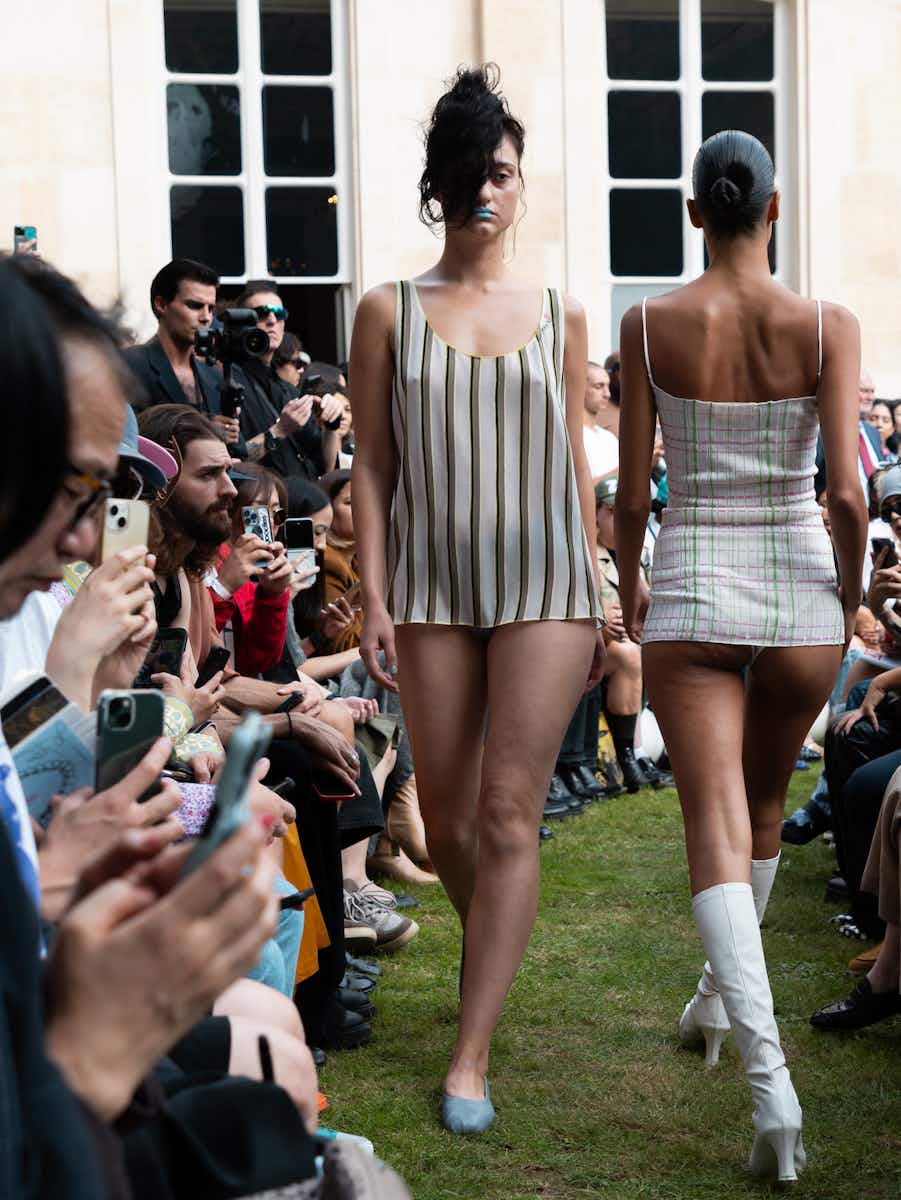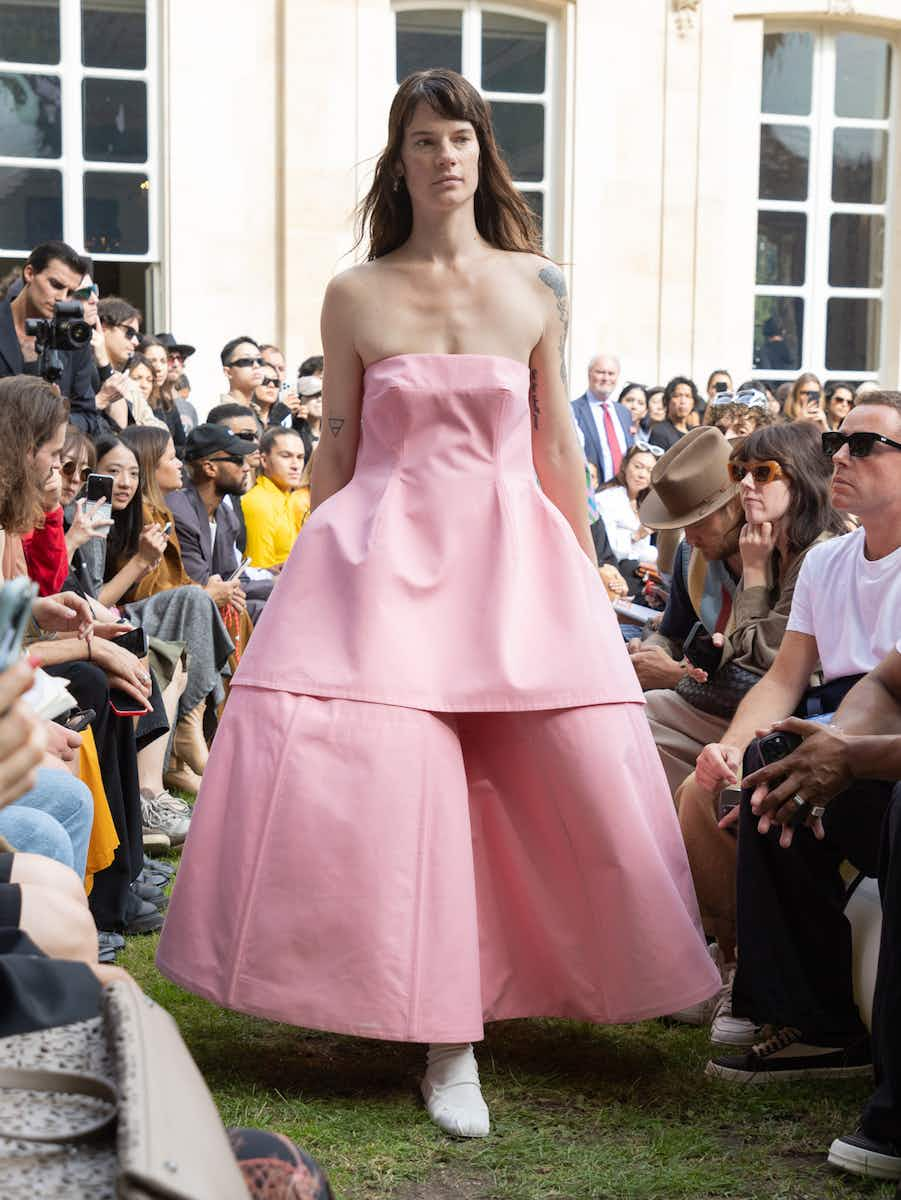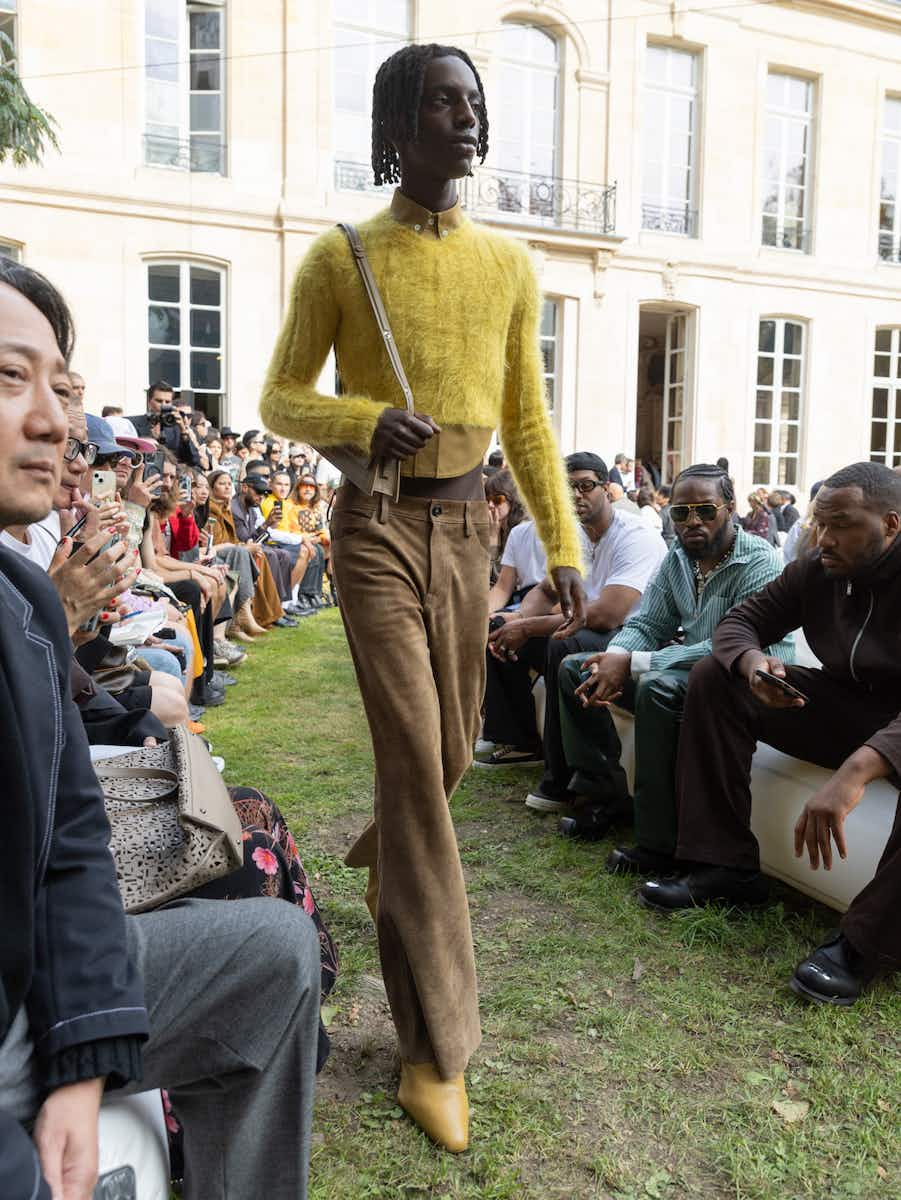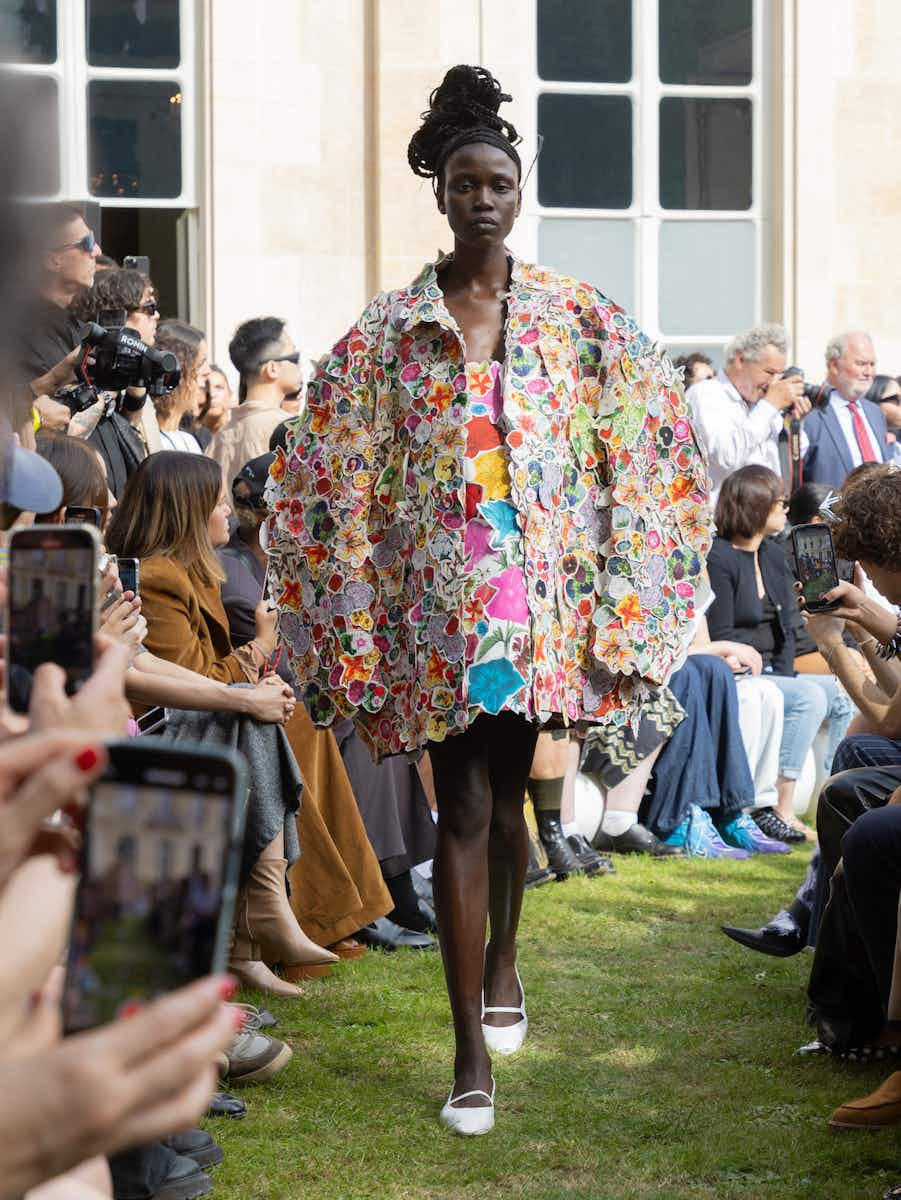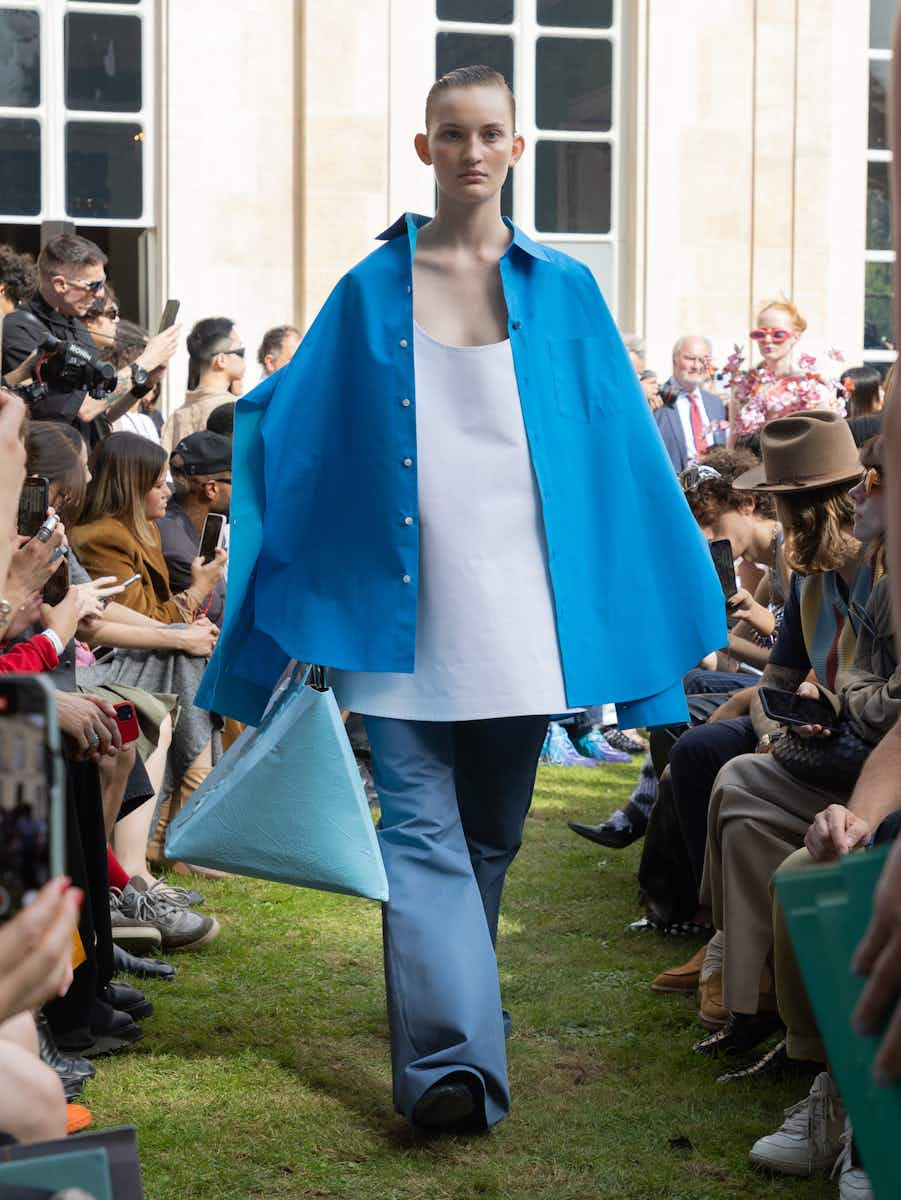 What?
Nicolas Di Felice's desert road trip treading new ground with a sleek, retrofuturist collection of sharp tailoring, twisted shirting and big biker energy.
Where?
An overblown Courrèges logo towered over the entrance of a giant cylindrical silo. Inside, the runway cracked beneath models' feet as though they were taking the first brave steps onto a new planet, shattering the moon-like surface beneath their stiletto heels.
What were the clothes like?
Oh so slick. Di Felice's collection envisioned a dressed-up desert trip by way of the moon. The result was a sleek contrast of twisted shirt dresses and spliced biker pants, oversized Harrington vests and slinky structured mini dresses. Practically-minded skirts and dresses came with deep pockets and leather boots rose to the top of thighs as protection when breaking new terrain. Long-sleeved tops were finished off with flared sleeves and oval-shaped cut-outs that exposed the navel. The showstopper came in the form of a glittering silver cape that closed the collection with a bombastic blast from the future.
Stand-out piece?
Biker pants came with buckles all the way up the sides. Strap in.
The vibe in a nutshell?
Imagine what Mad Max would be like if nothing bad happened and everyone wore slinky mini dresses and sliced biker pants.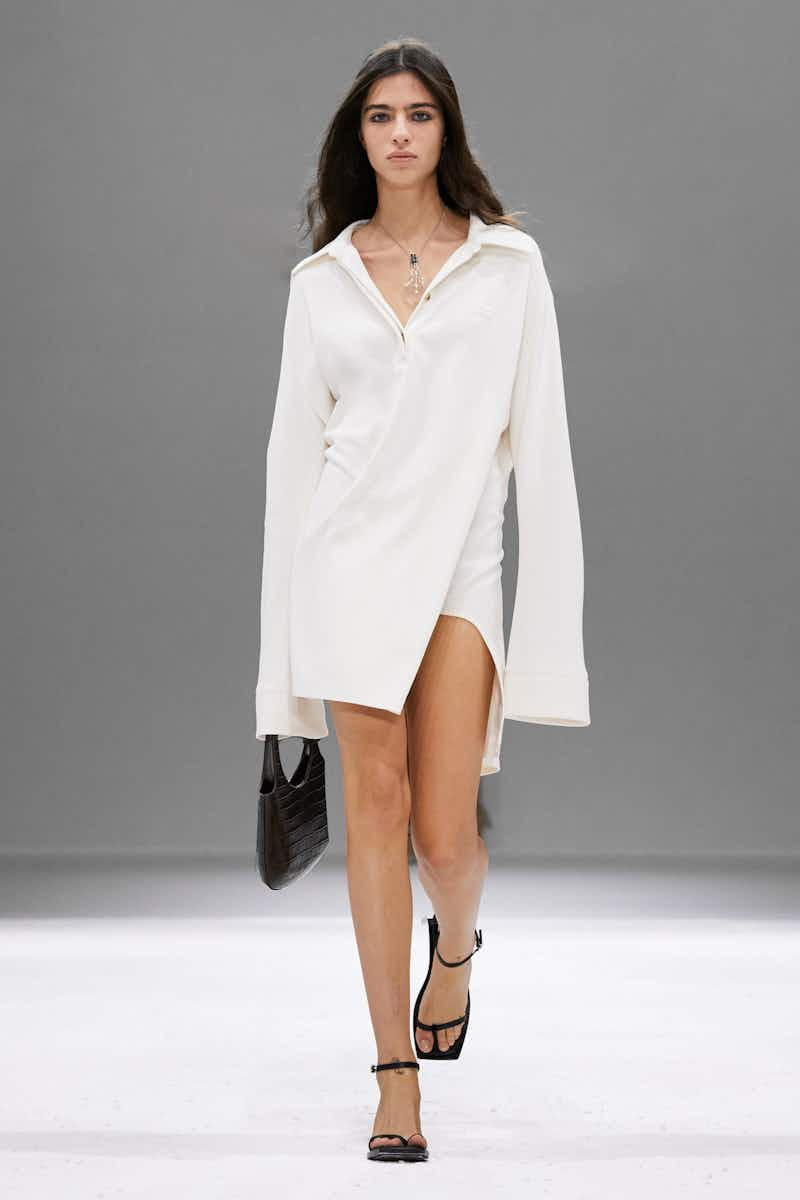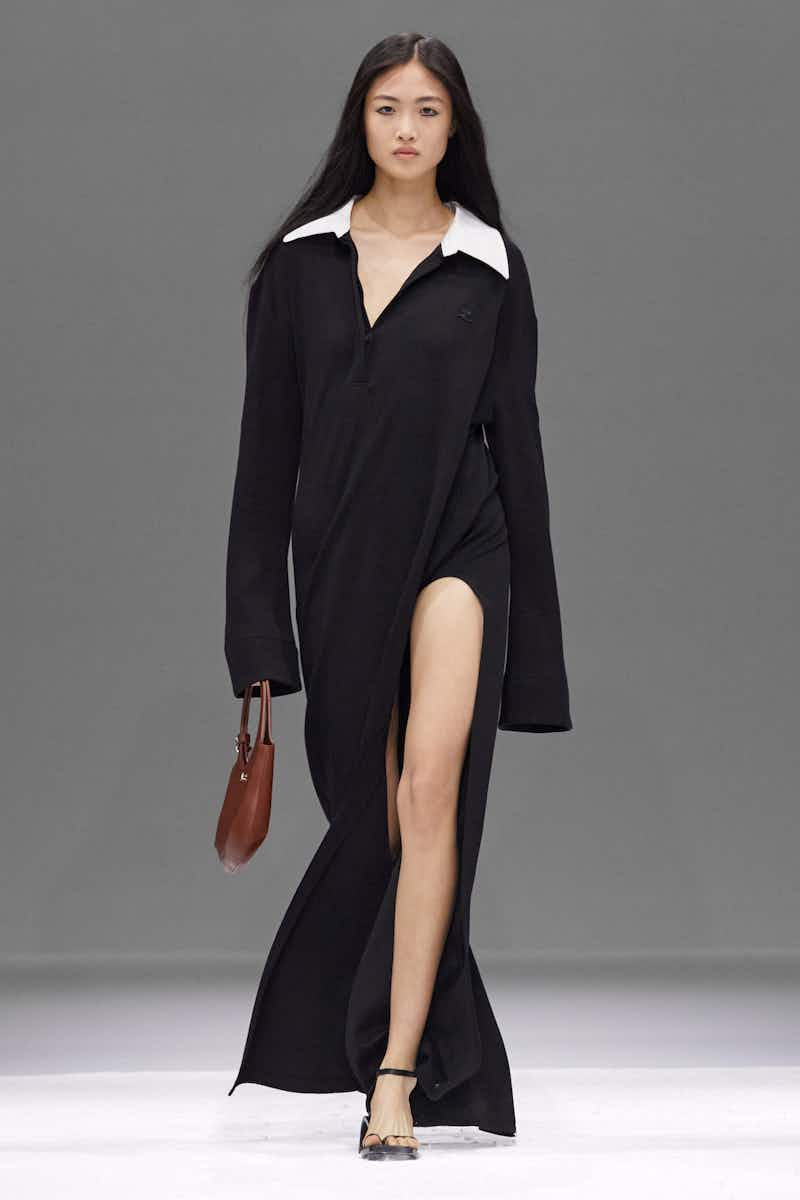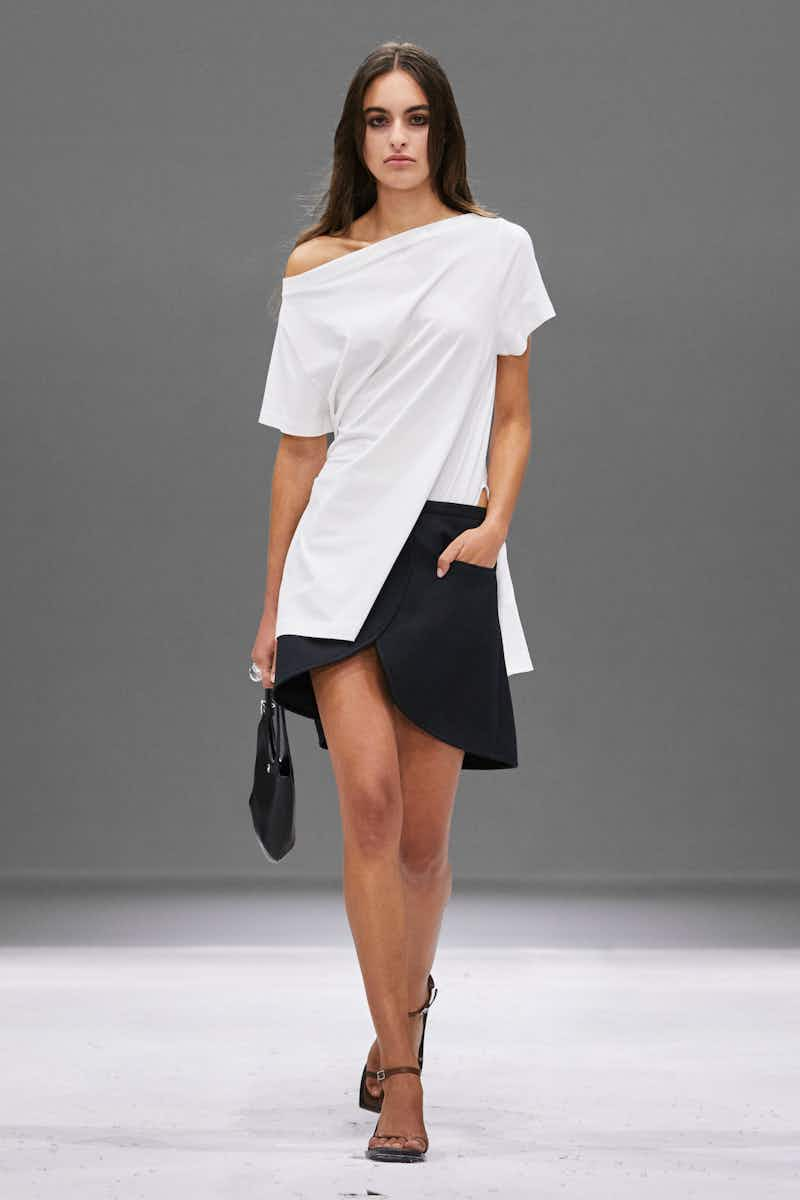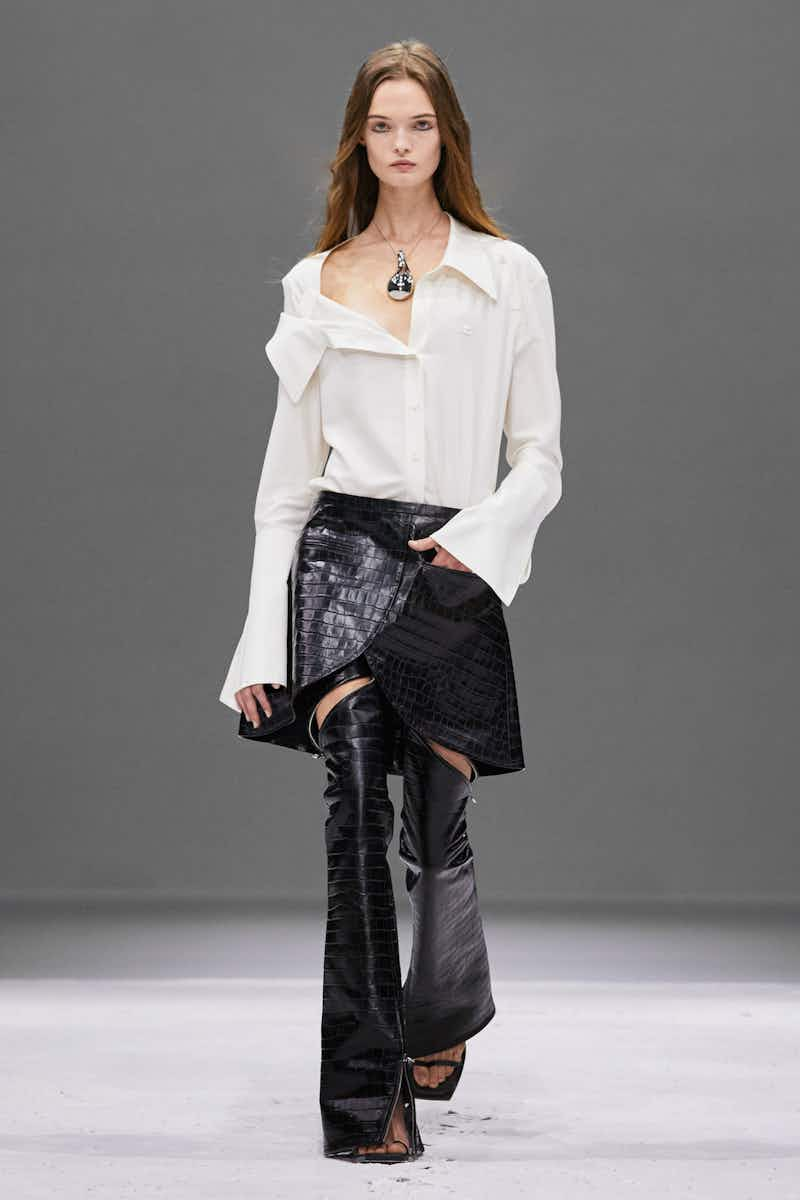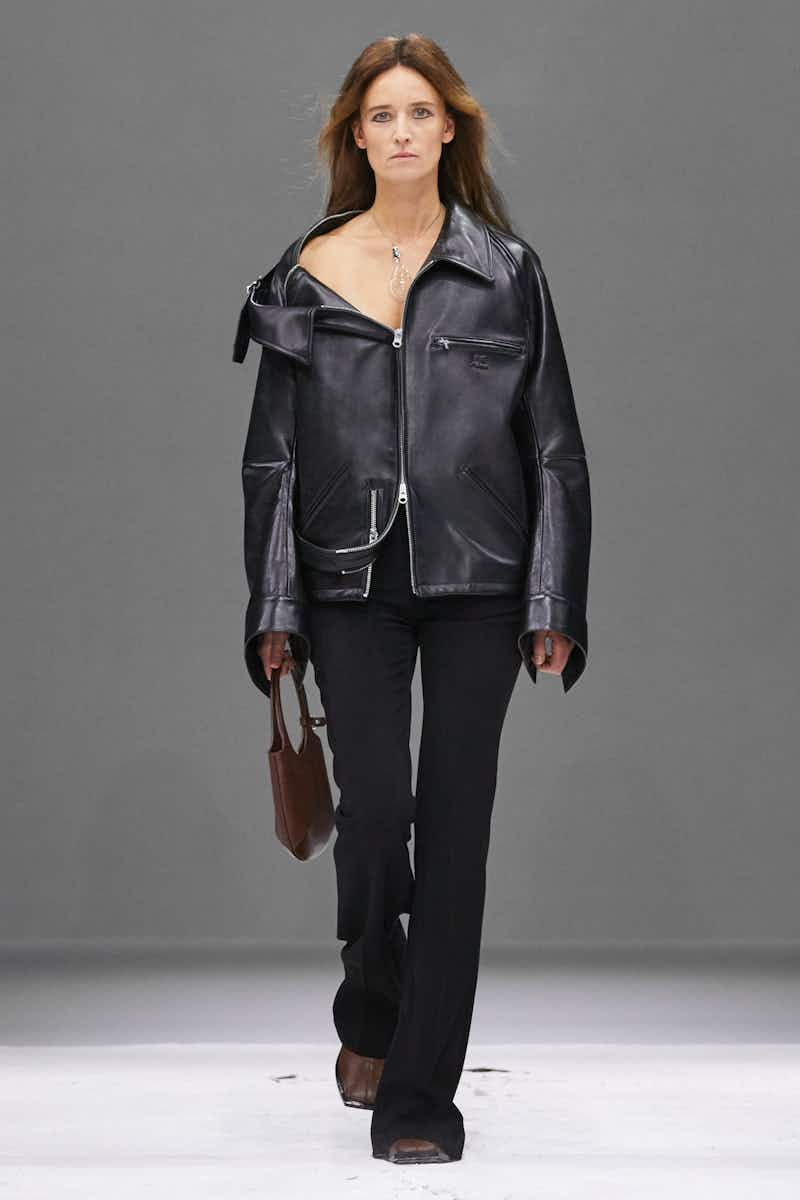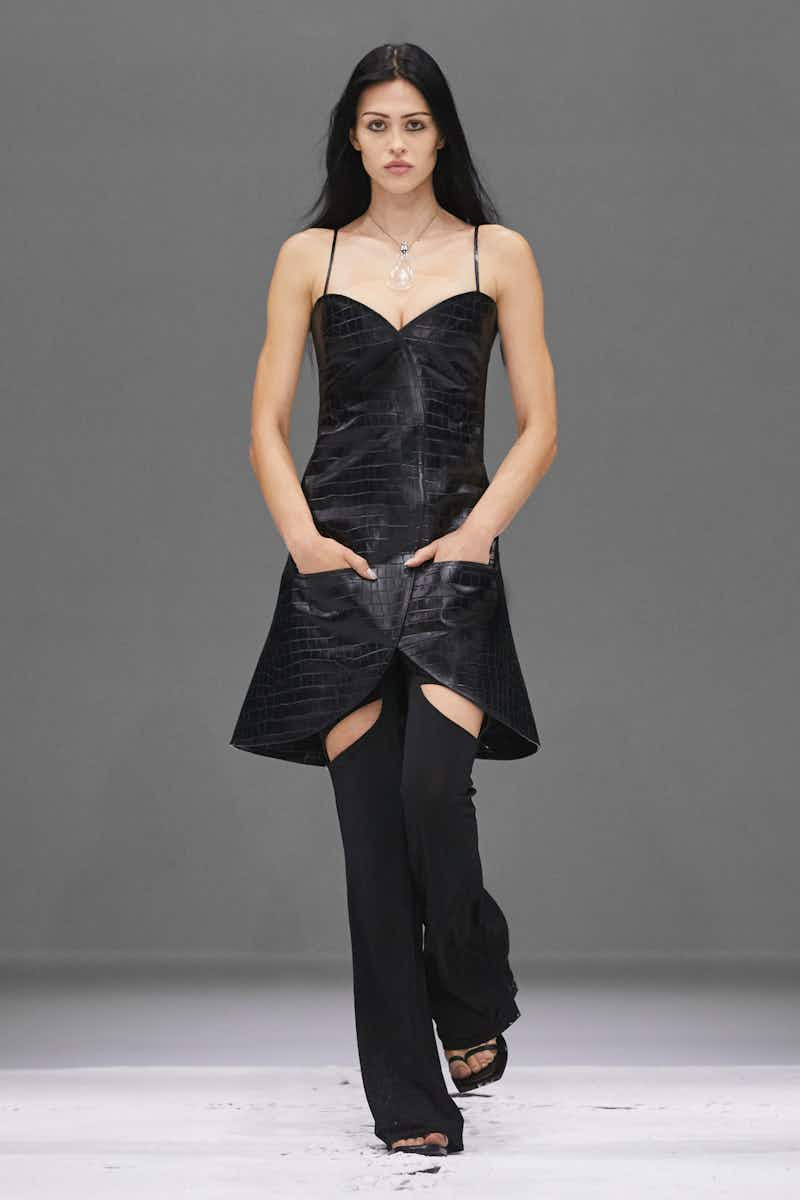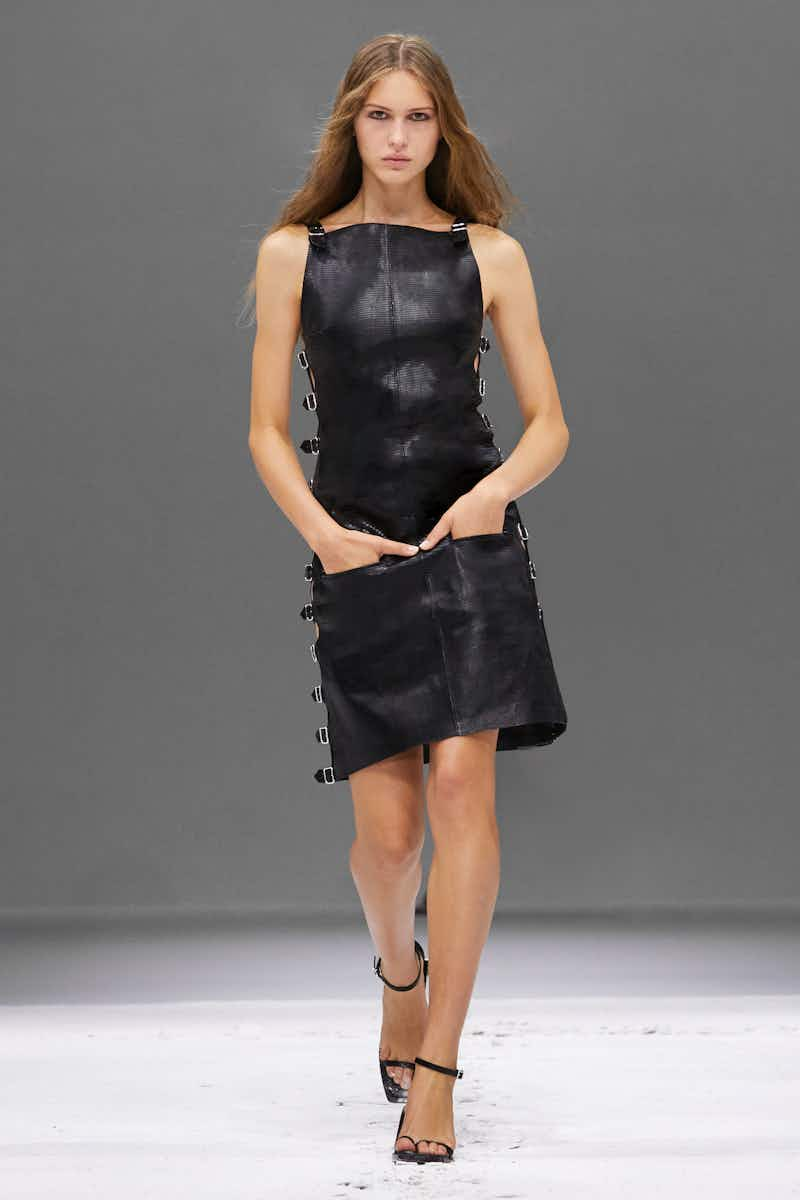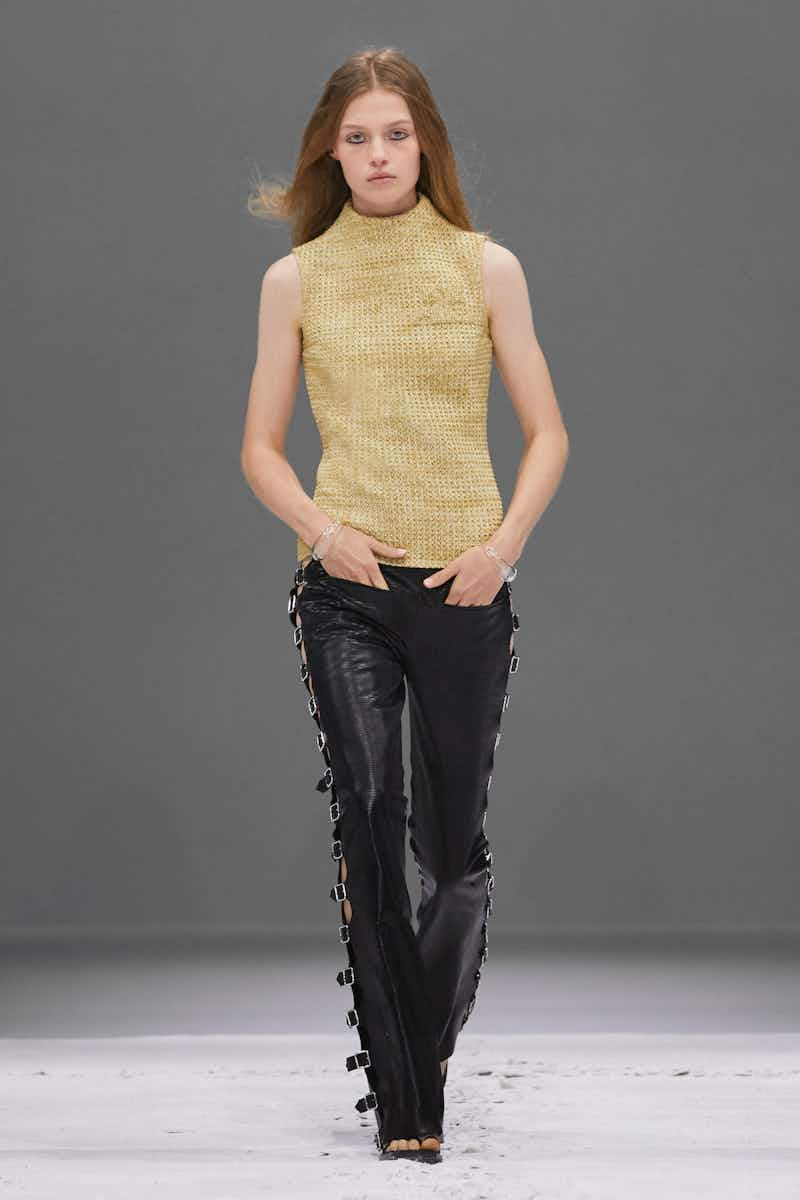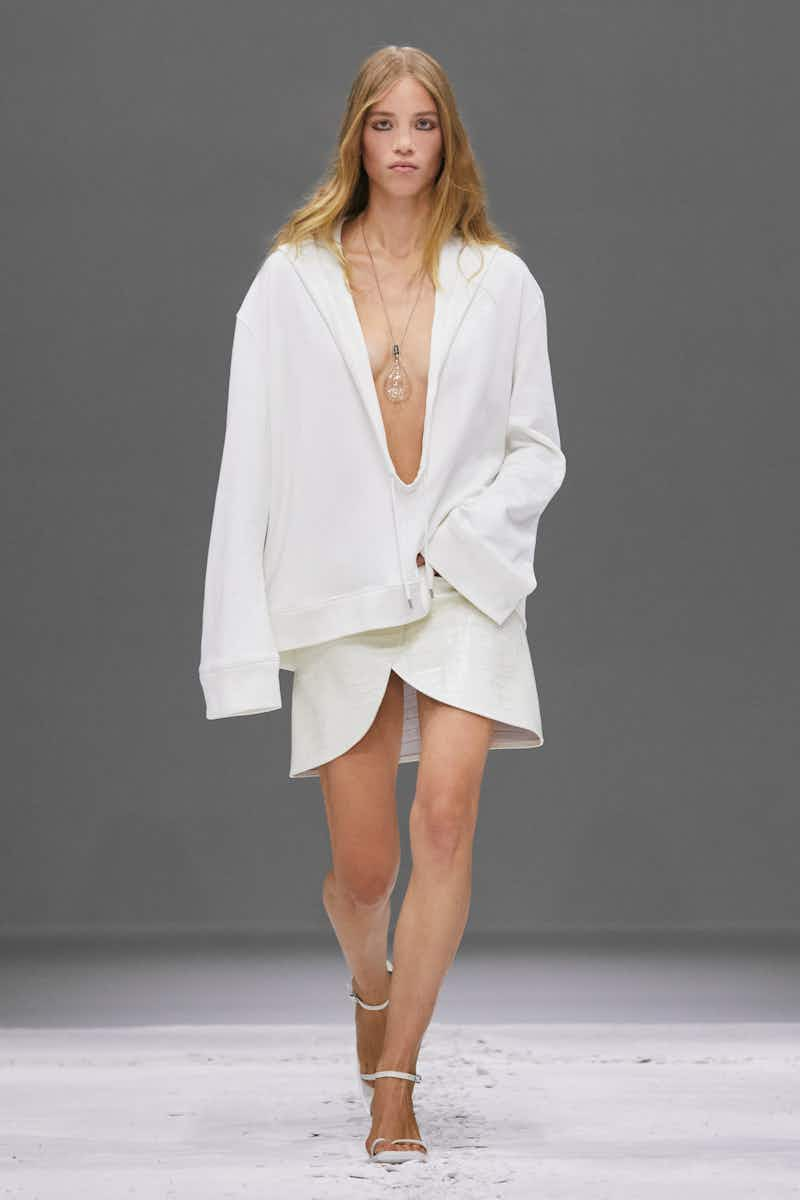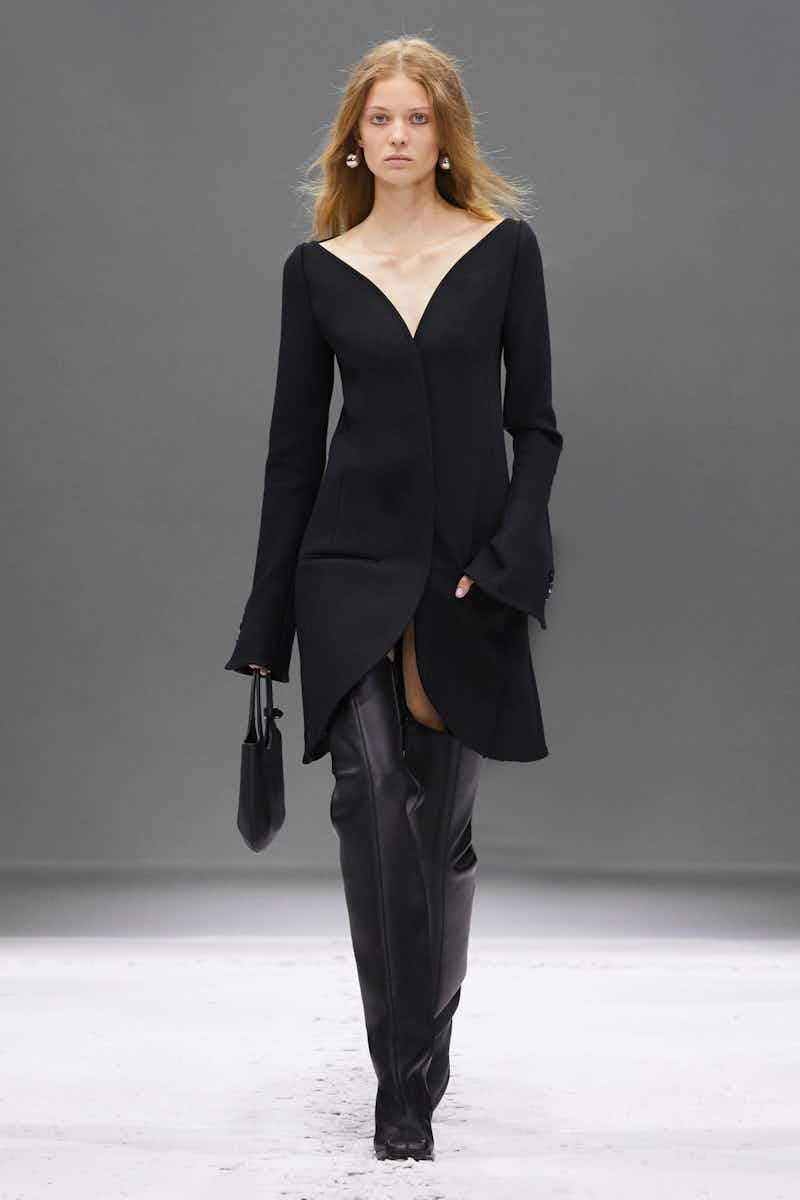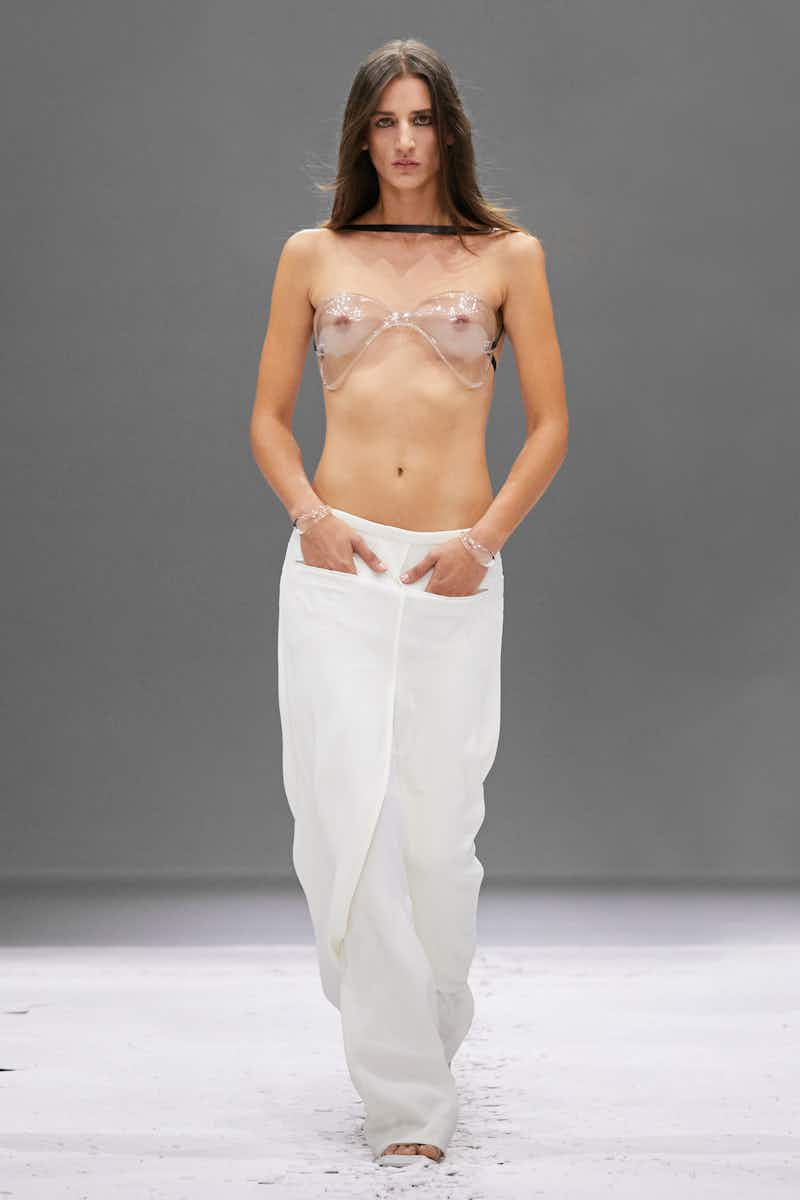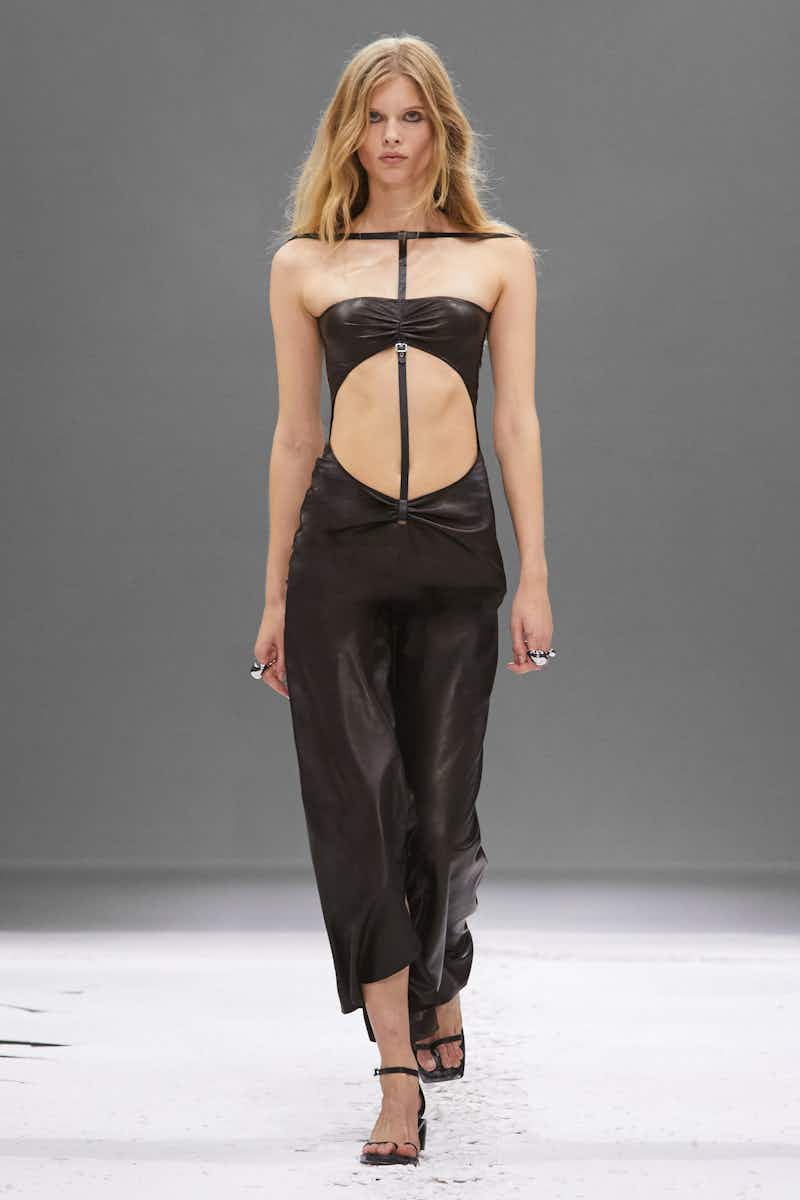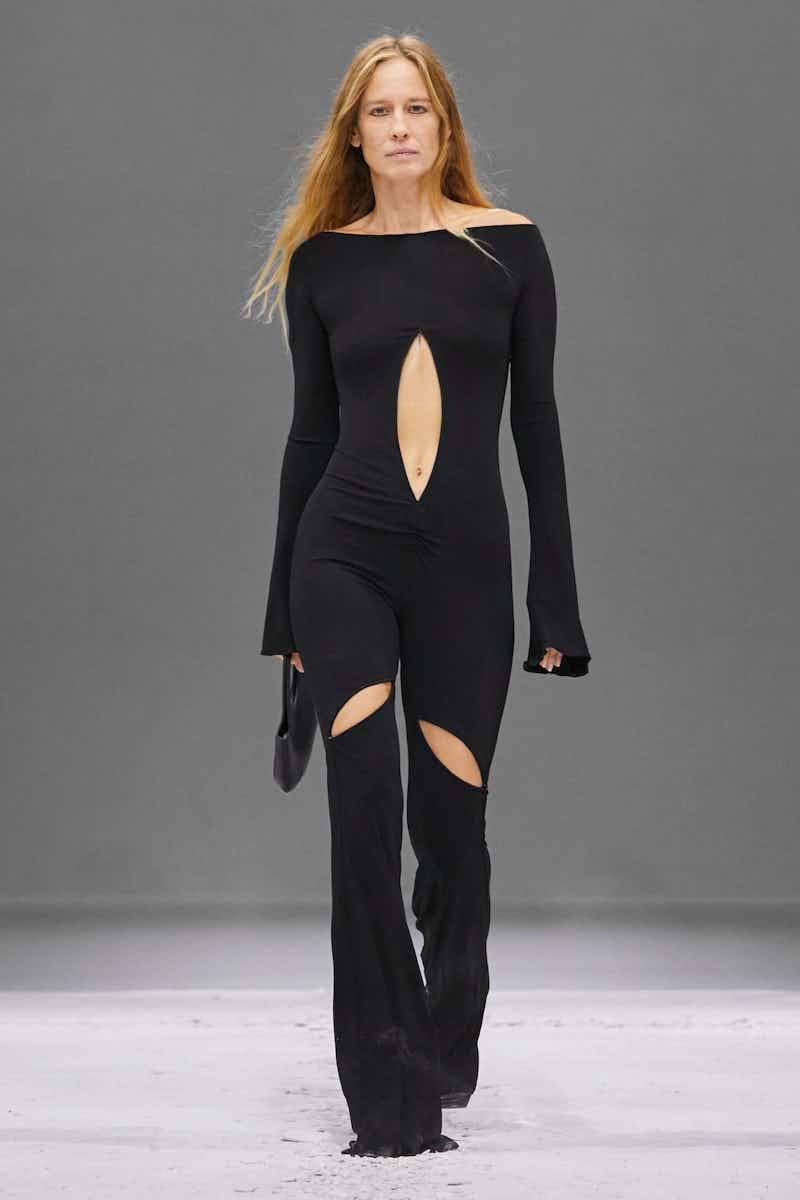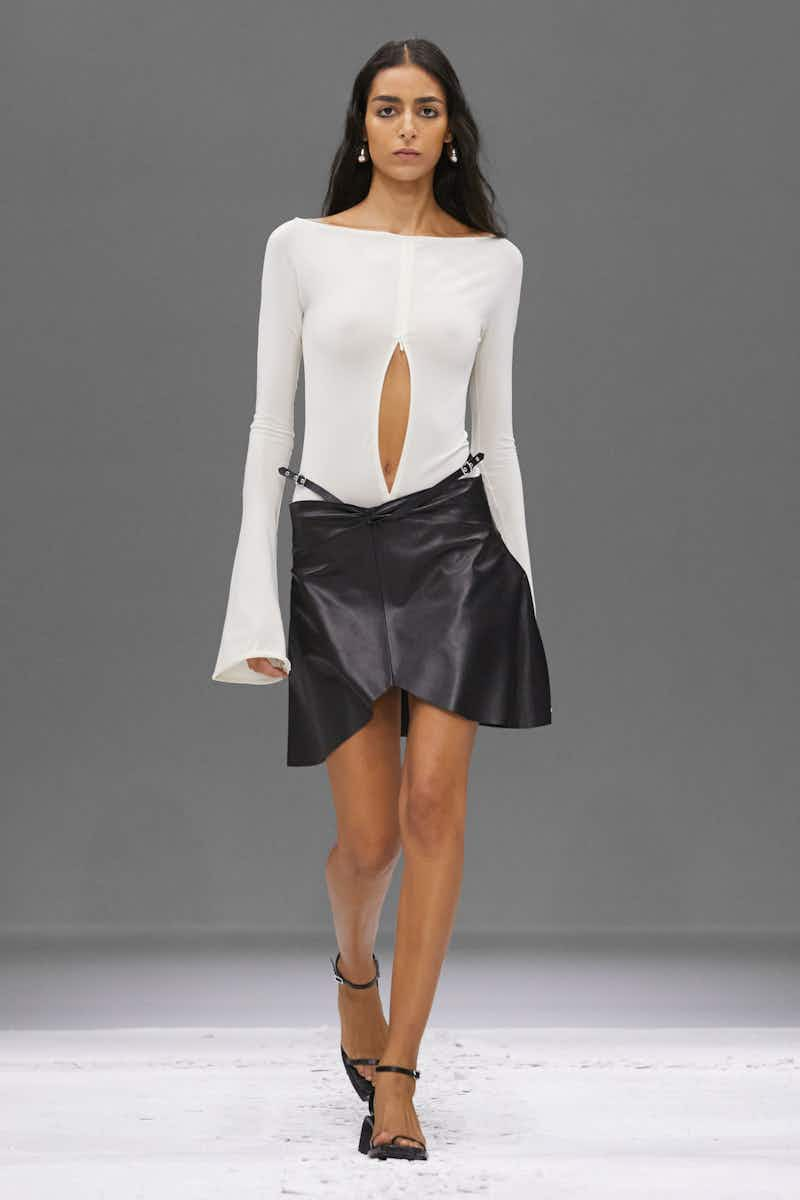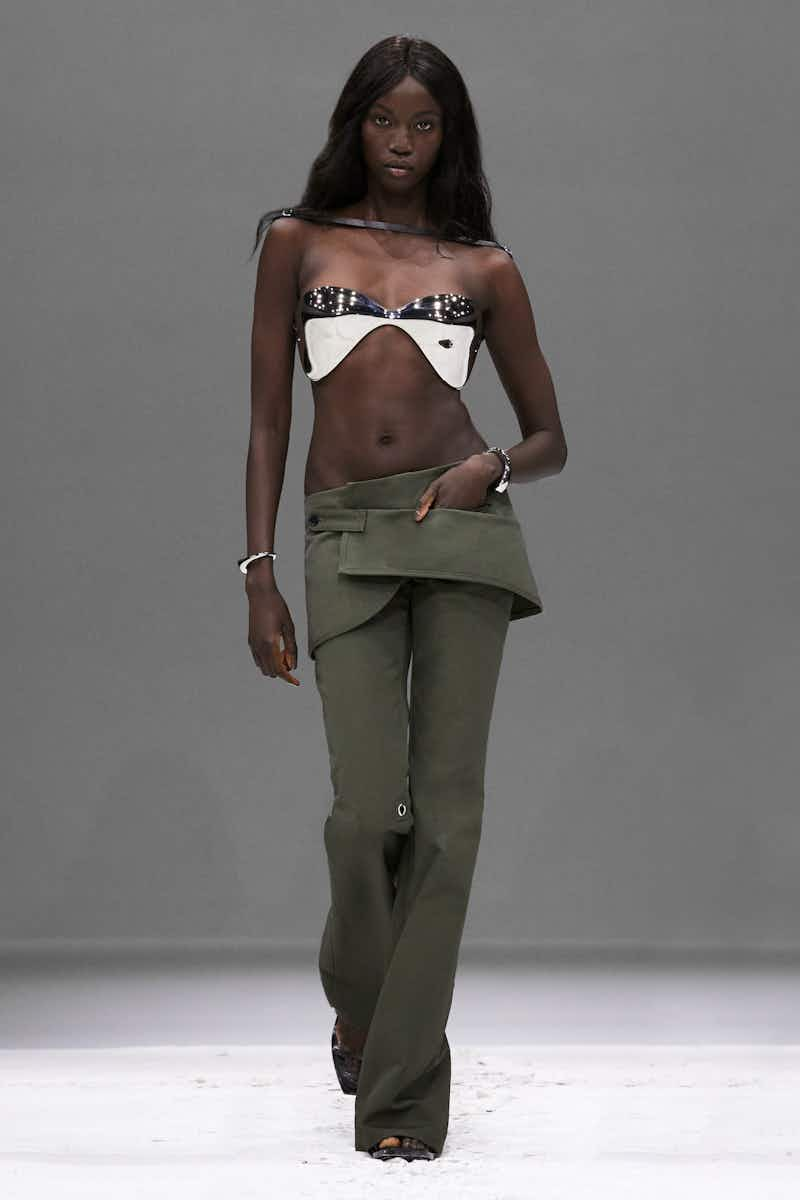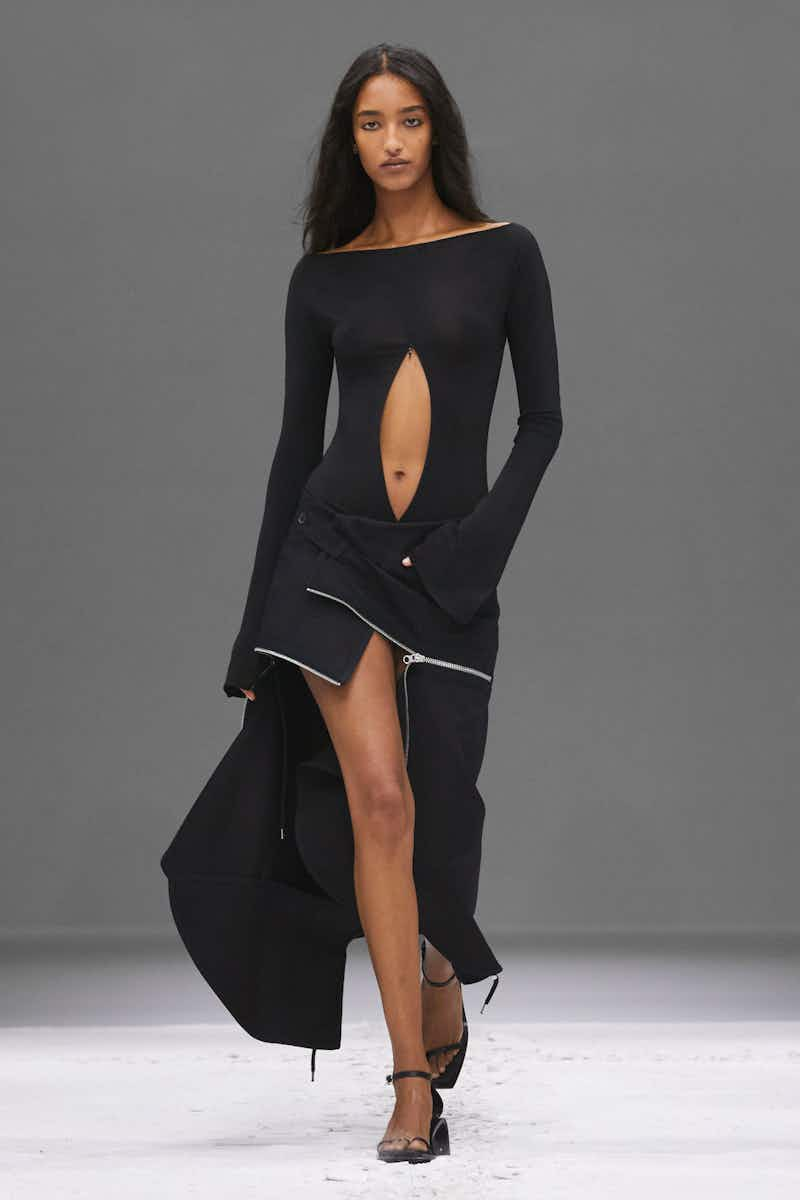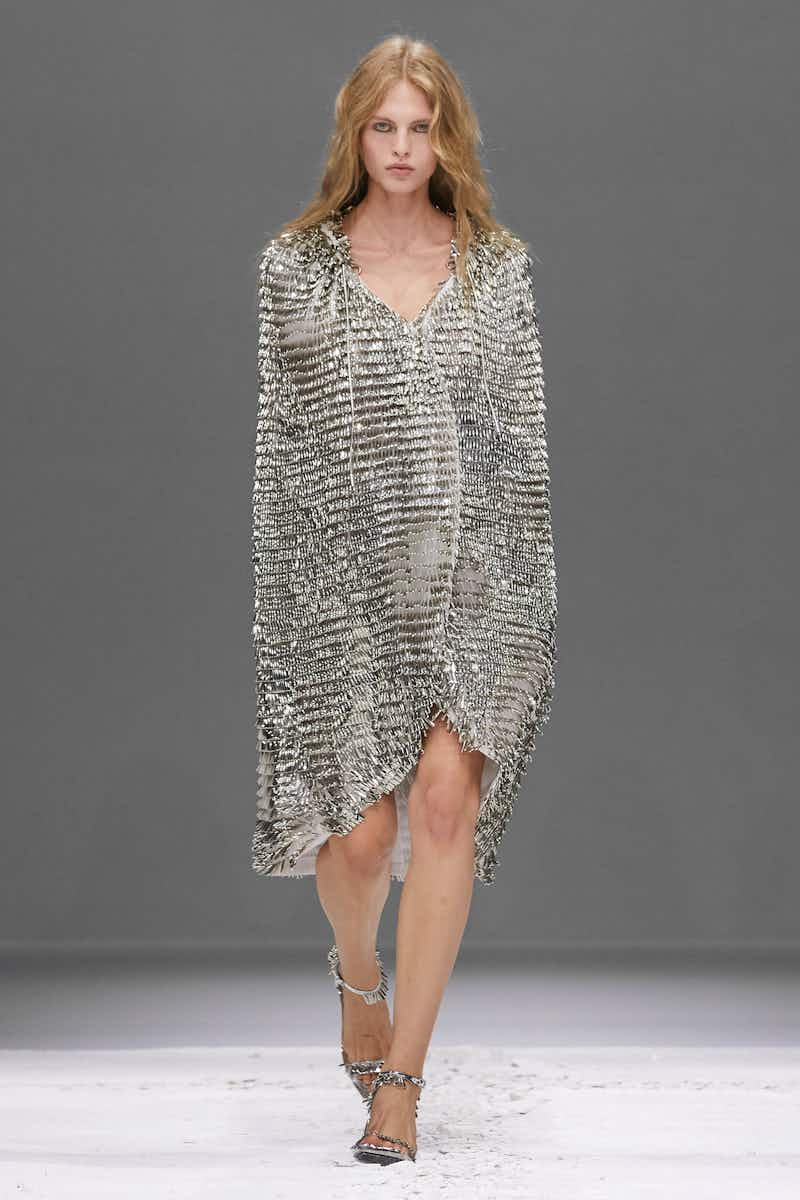 What?
A stripped-back collection that drew inspiration from pioneering pilot Amelia Earheart, as well as Yves Saint Laurent's early years spent in parts of North Africa. After the show, DJ and attendee Honey Dijon described the collection to THE FACE as ​"modern, safari, lesbian, chic!". Sums it up pretty well, we reckon.
Who was there?
A gamut of stars across fashion, film, art and music, from Kate Moss and David Cronenberg to Mia Khalifa, Steve Lacey and our very own Issue 15 cover star Lourdes Leon.
What were the clothes like?
When Amelia Eartheart made her groundbreaking solo flight across the Atlantic, she planned to touch down in Paris, but mechanical difficulties led her to land in Derry, Ireland instead. Just the other night, however, Anthony Vacerello planted her right in front of the Eiffel Tower – or at least the likeness he created – dressing models in aviator shades, leather gloves and flight-ready jumpsuits. Everything, except the mousseline evening wear, was rendered in cotton. It was Vacerello's blank canvas, a dramatic change of course from last season's high adrenaline power suits. Like several brands this season, Vacarello dialled it right back. Call it a response to quiet luxury or a natural pendulum swing away from chasing virality, but ostentation is out. With that said, models wore giant gold earrings and sculptural heels along with their cargo skirts and workwear shirts, so the collection was far from being devoid of glamour.
In a few words:
La Parisienne goes utilitarian(ne).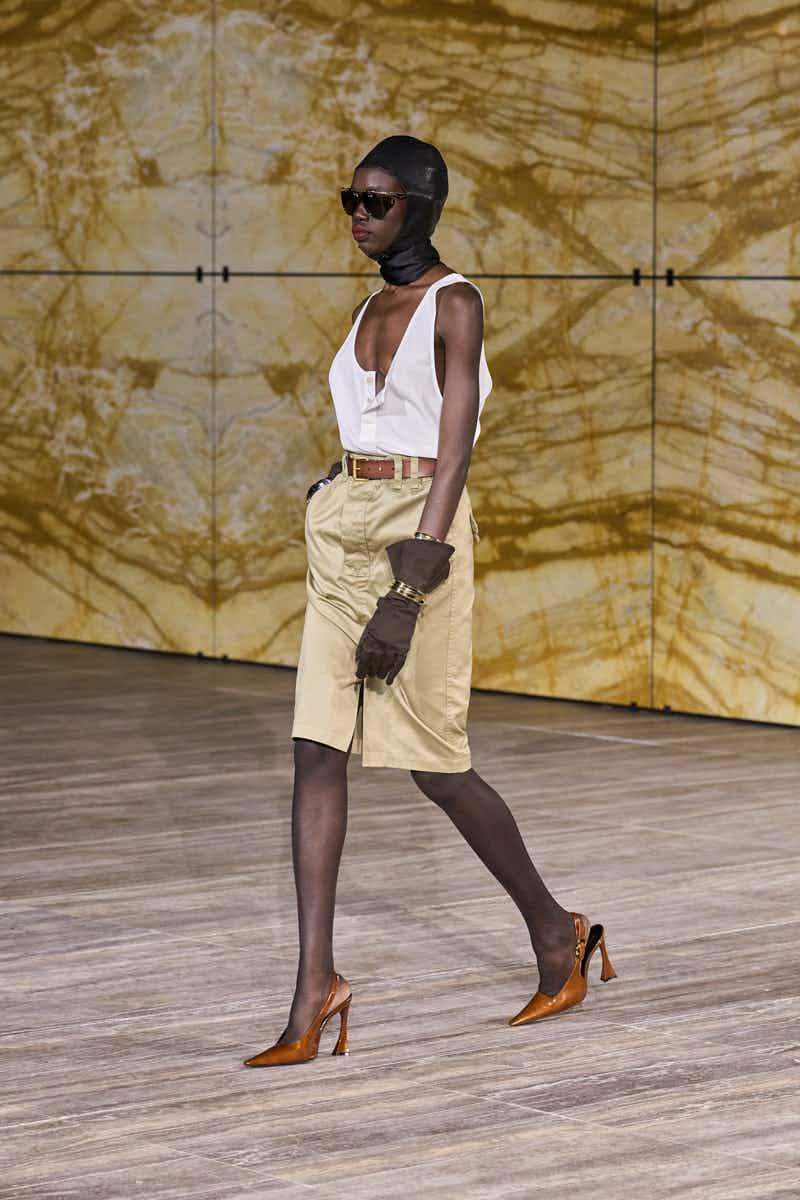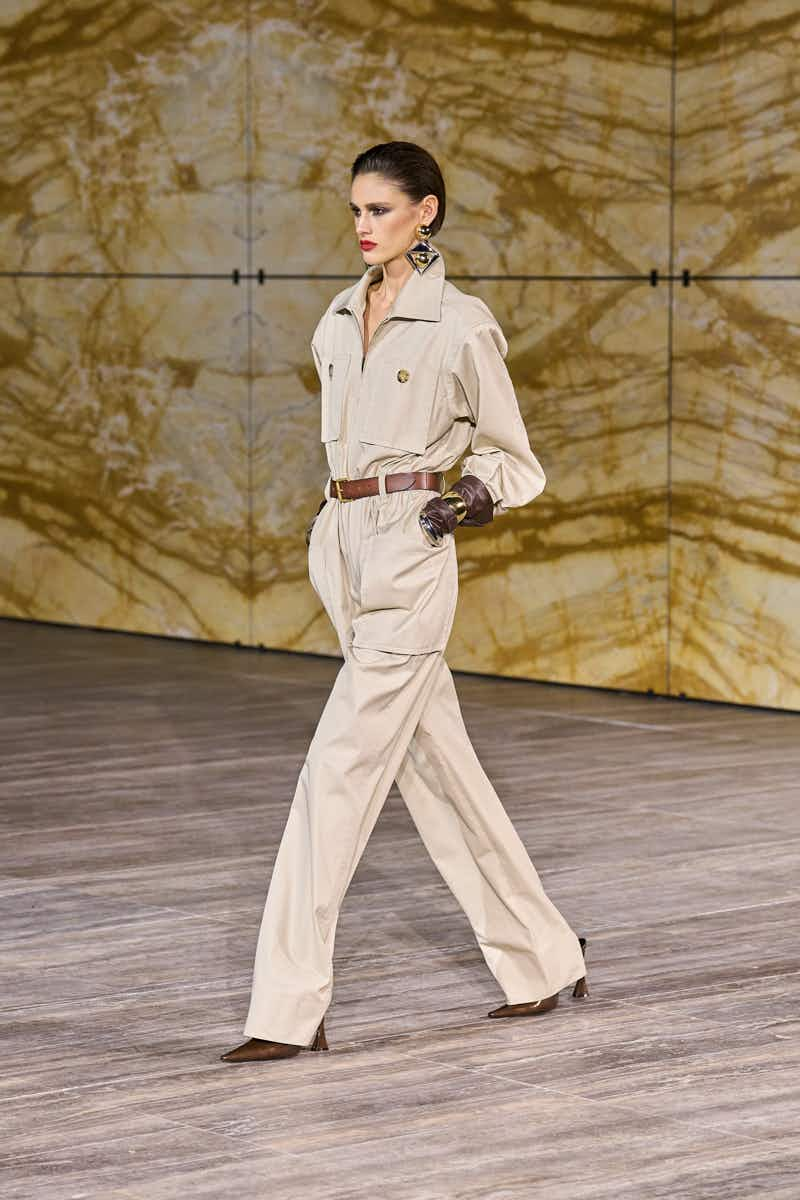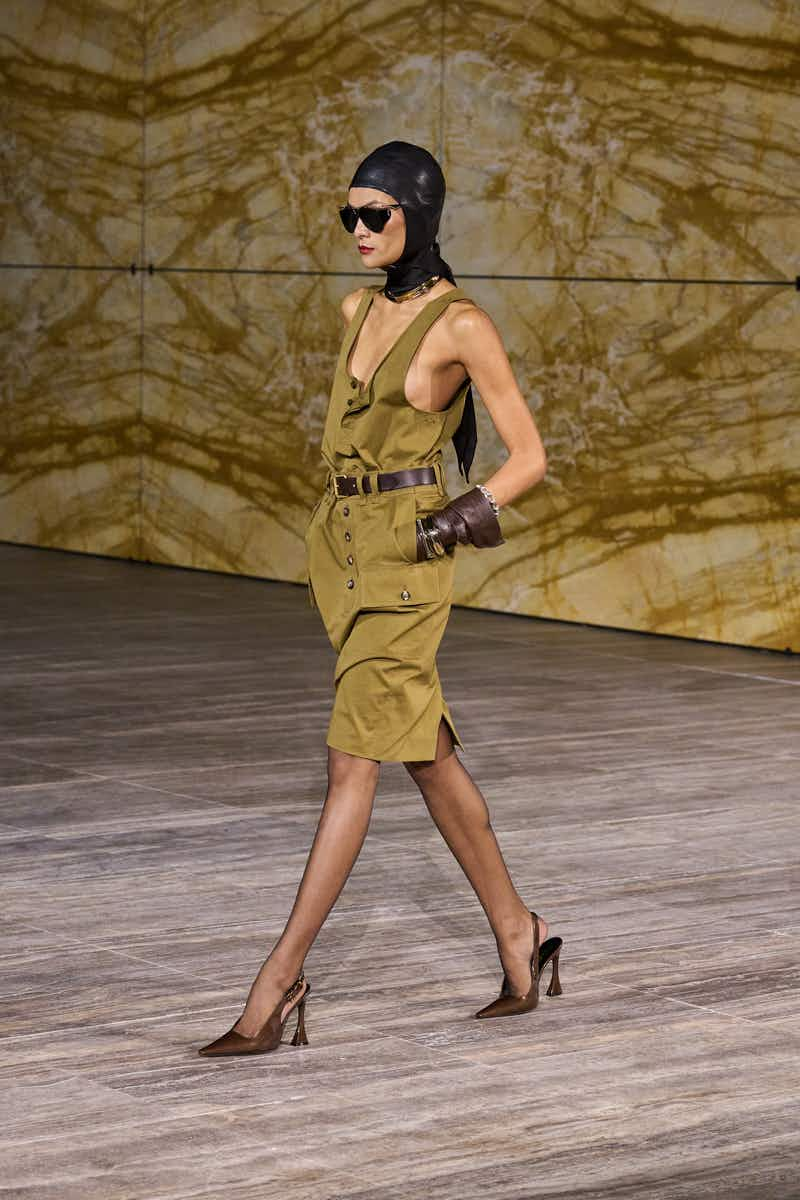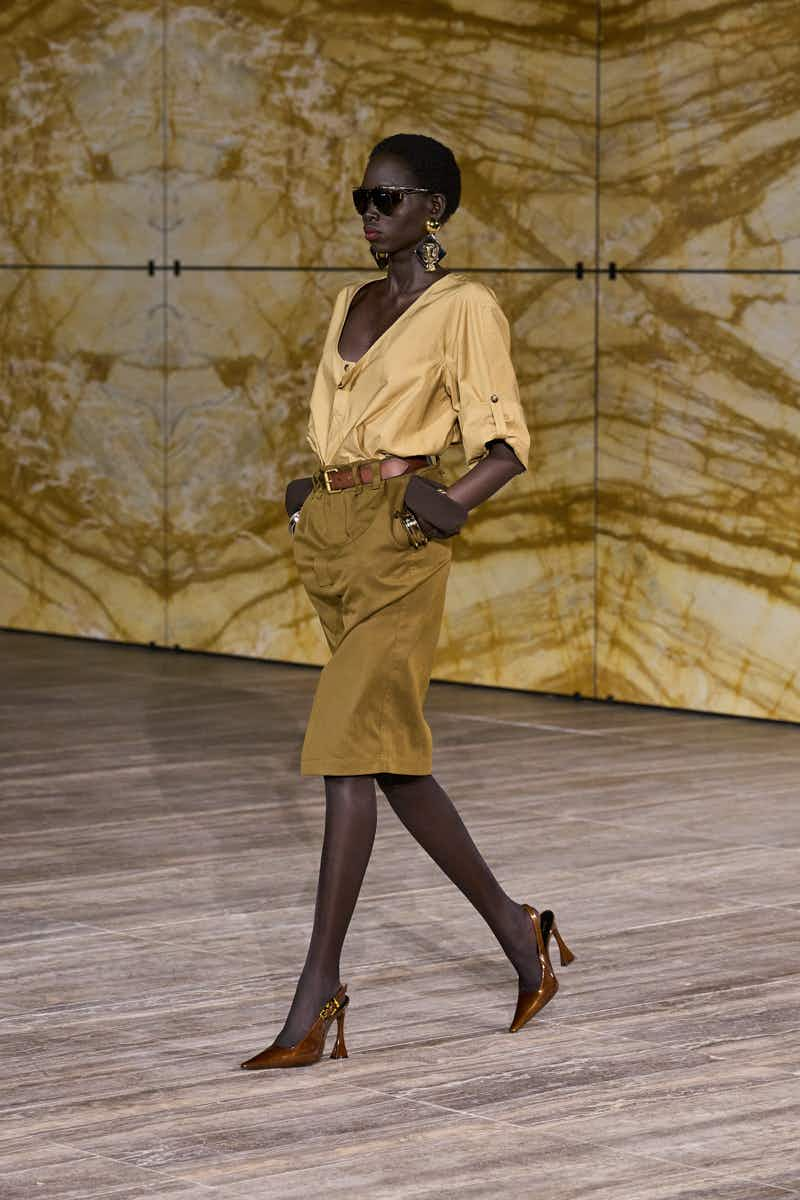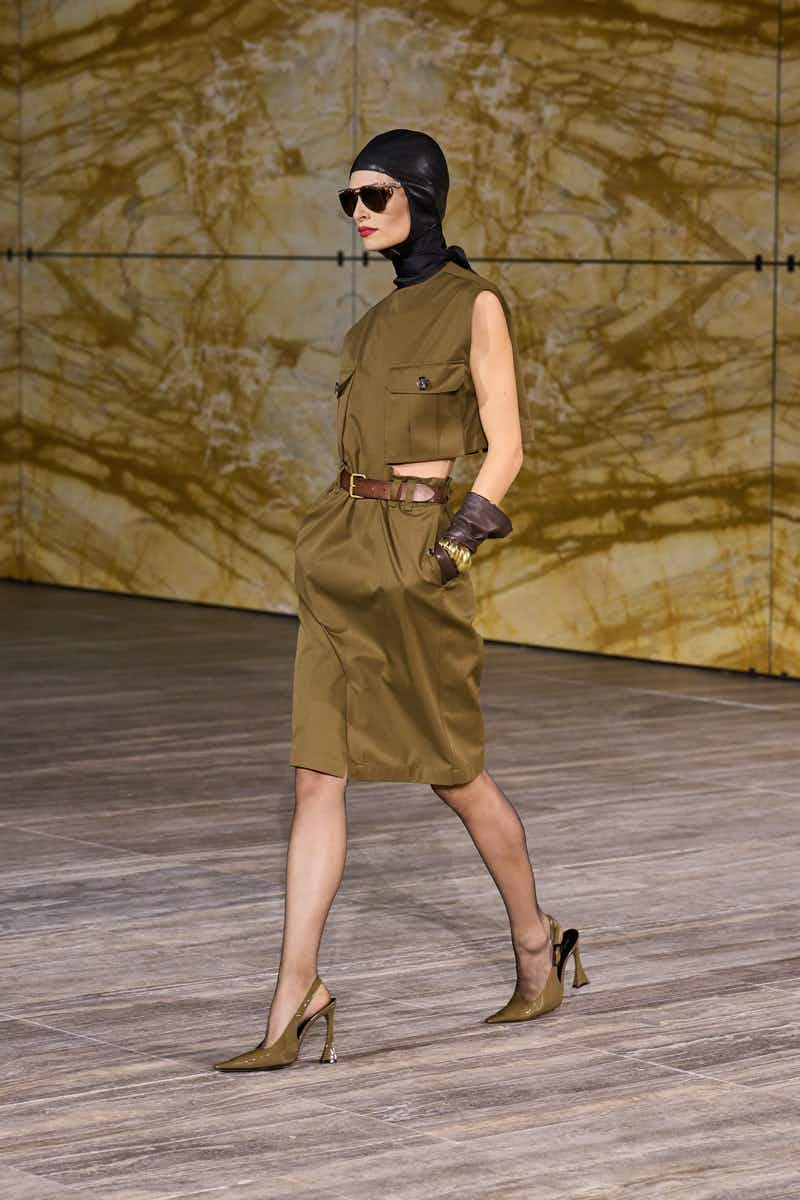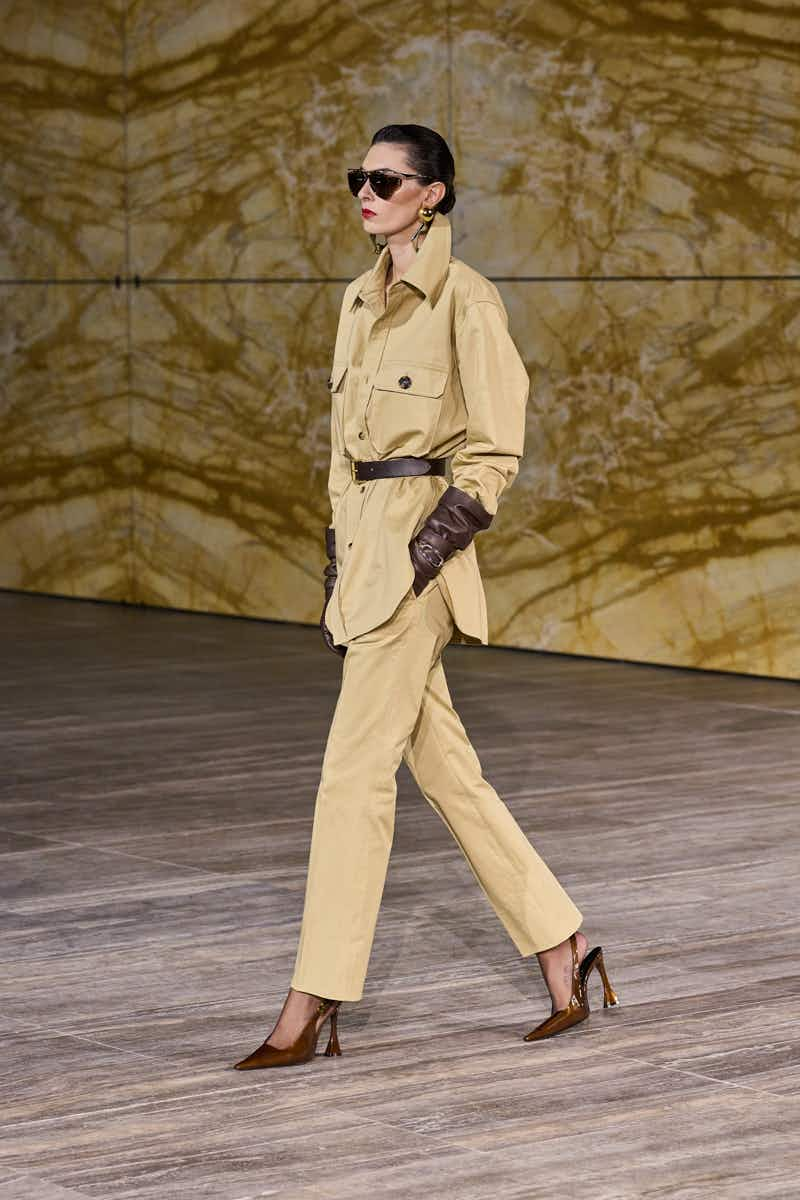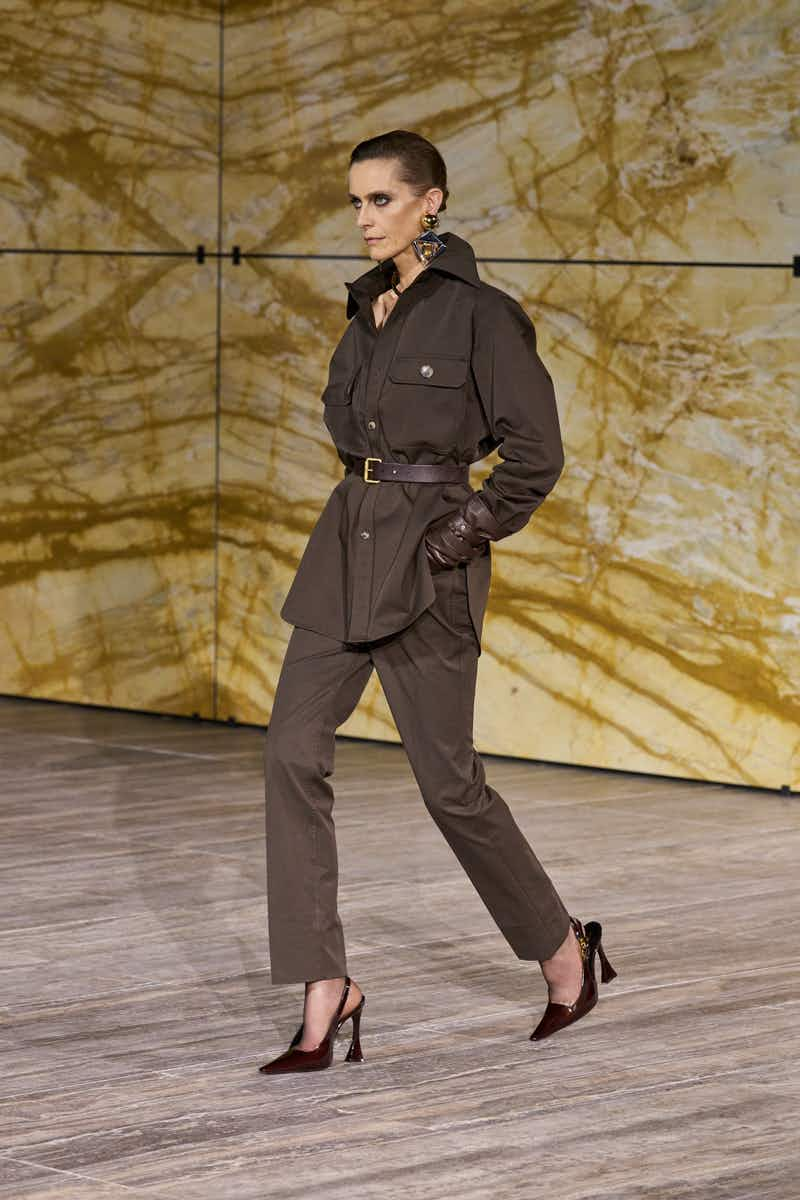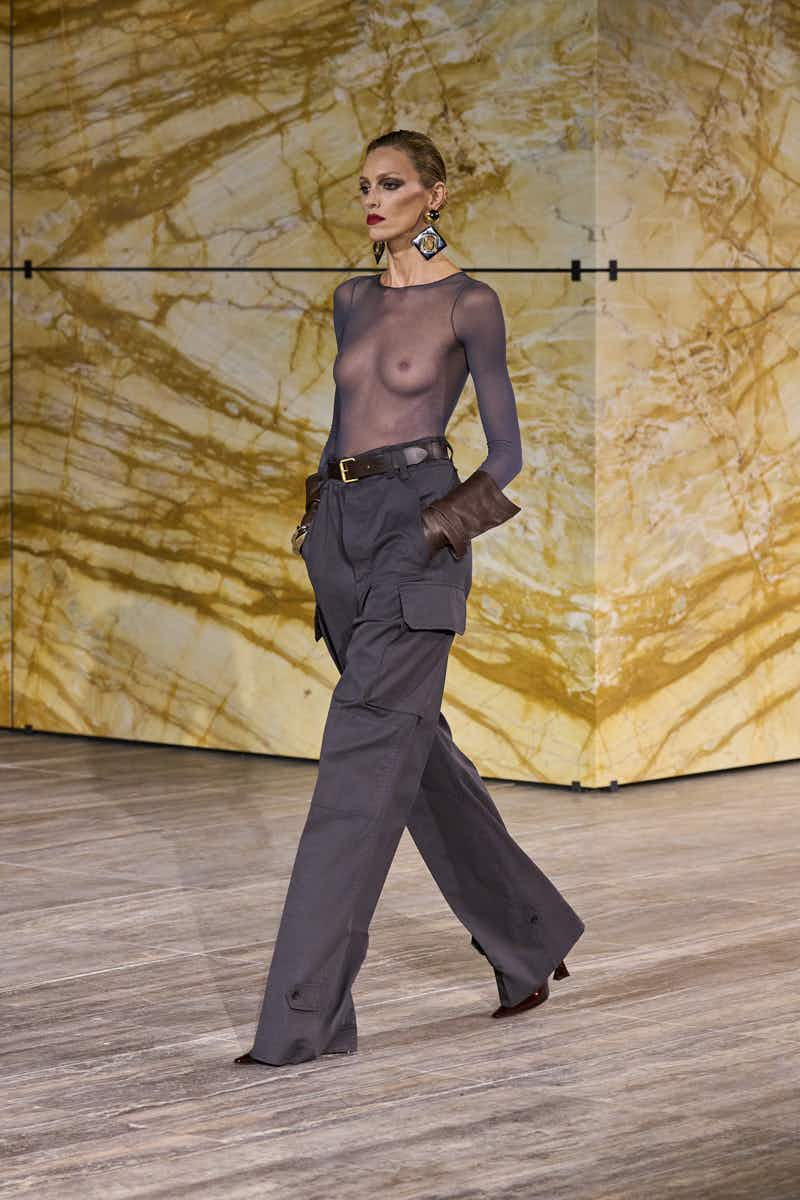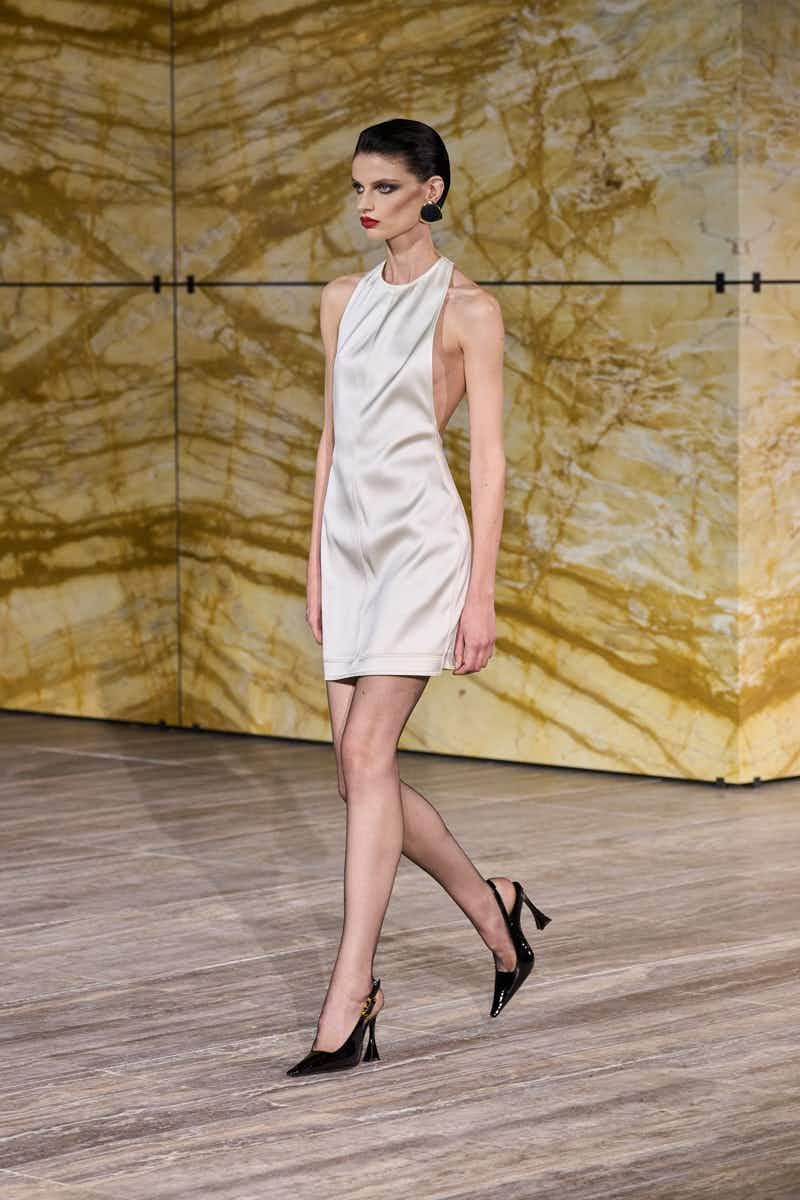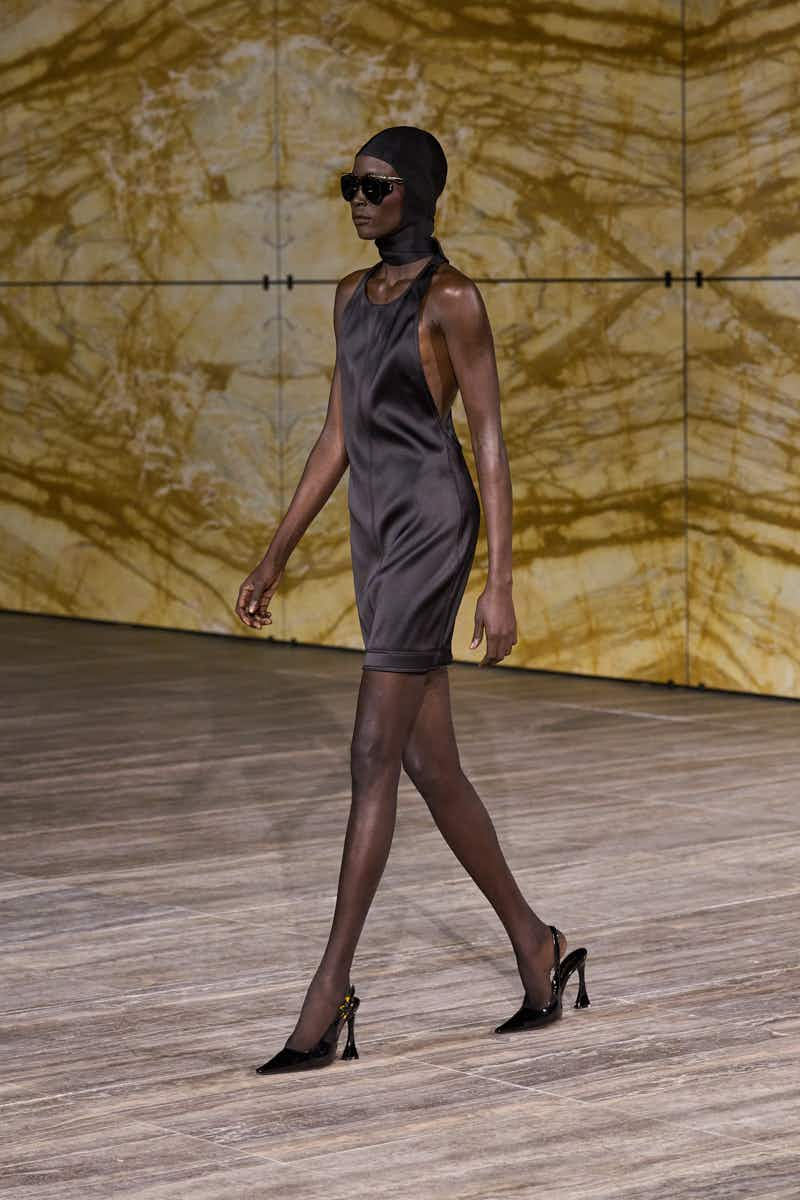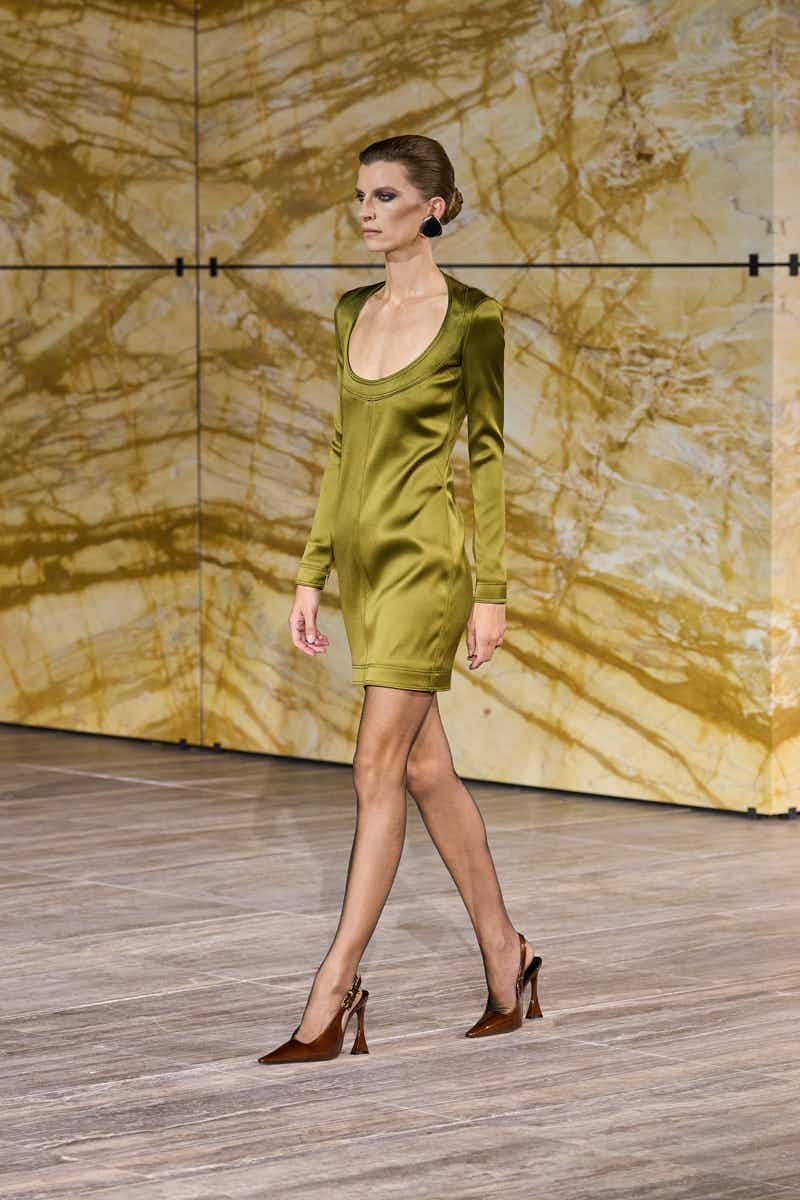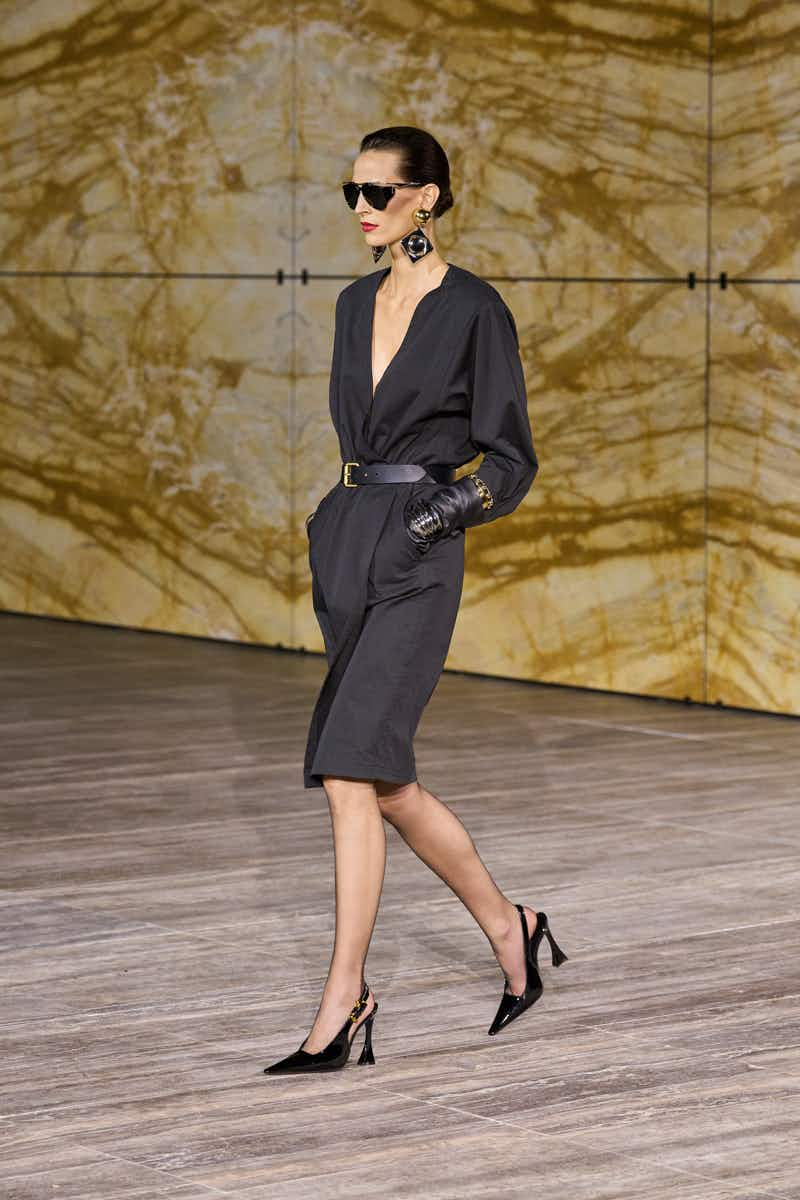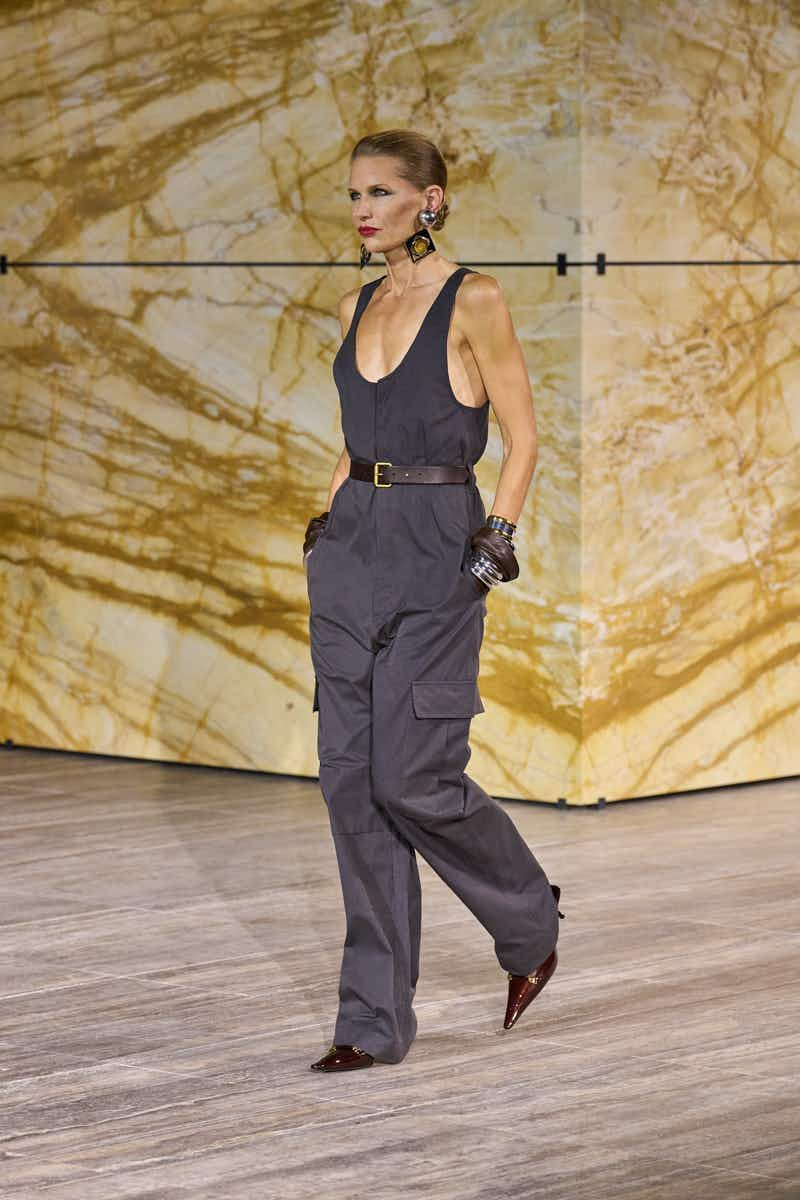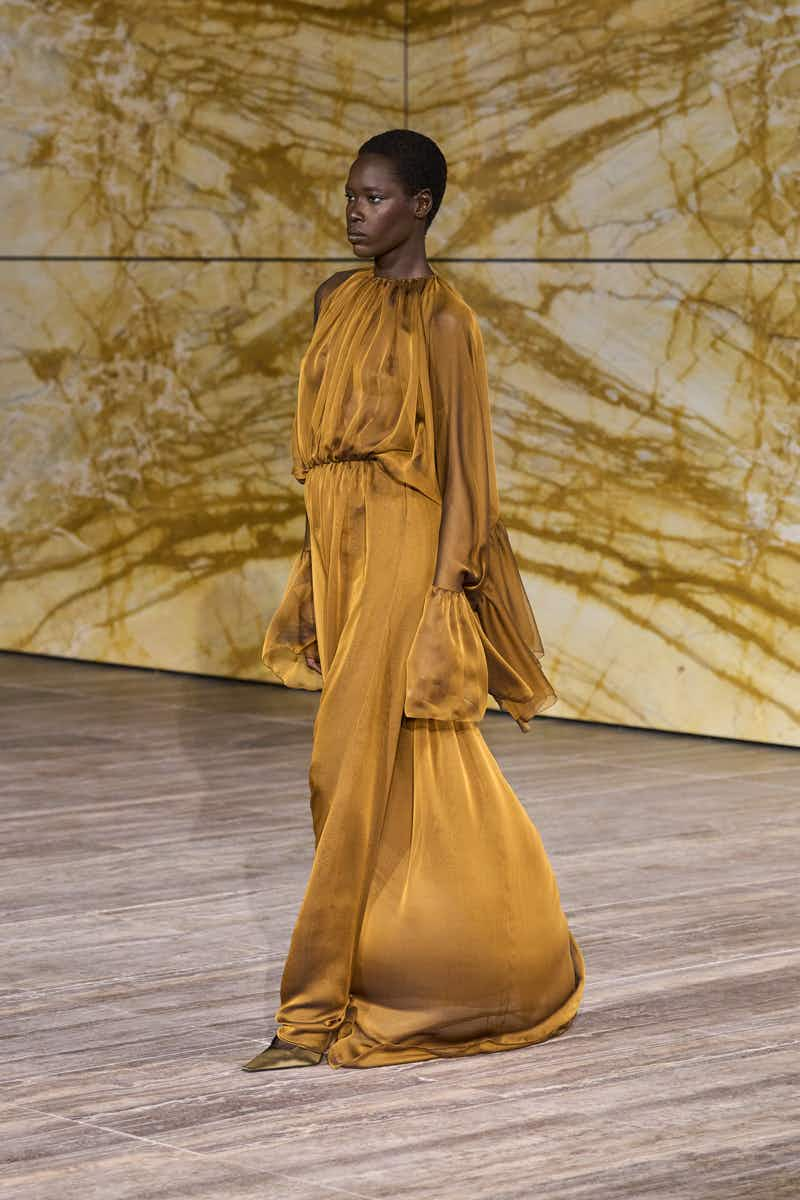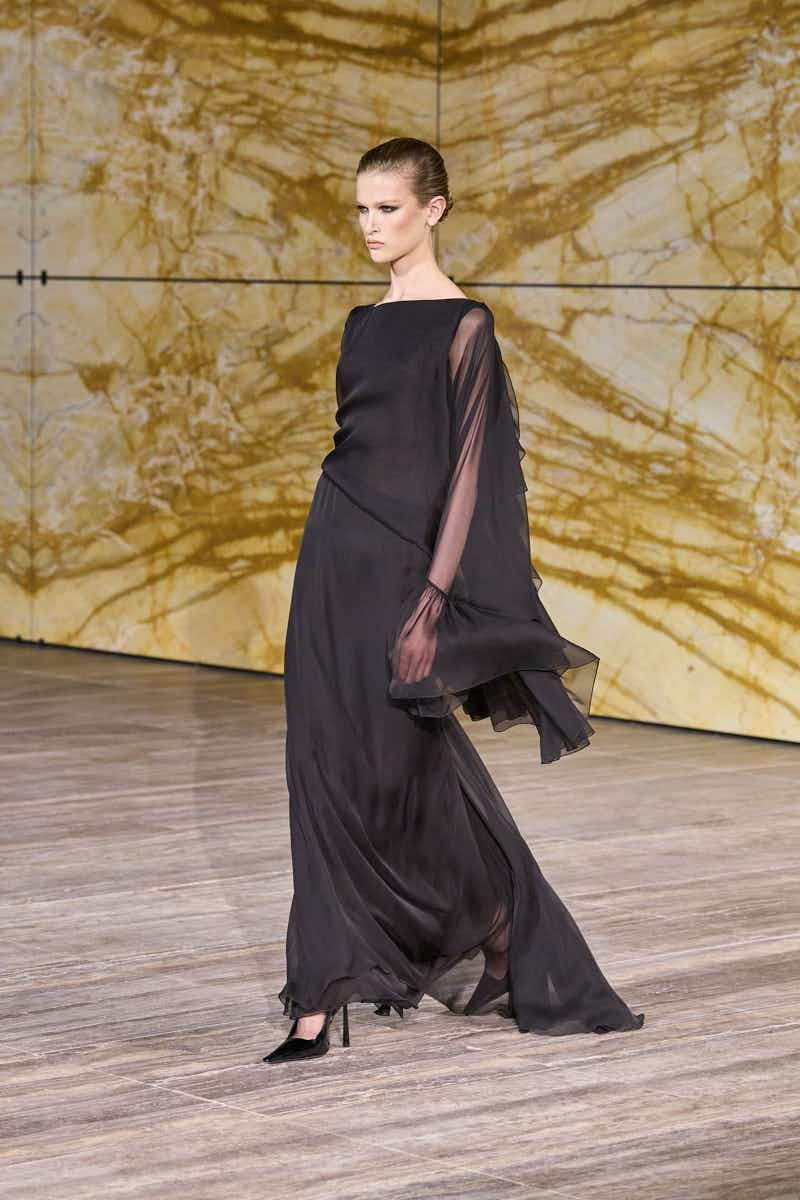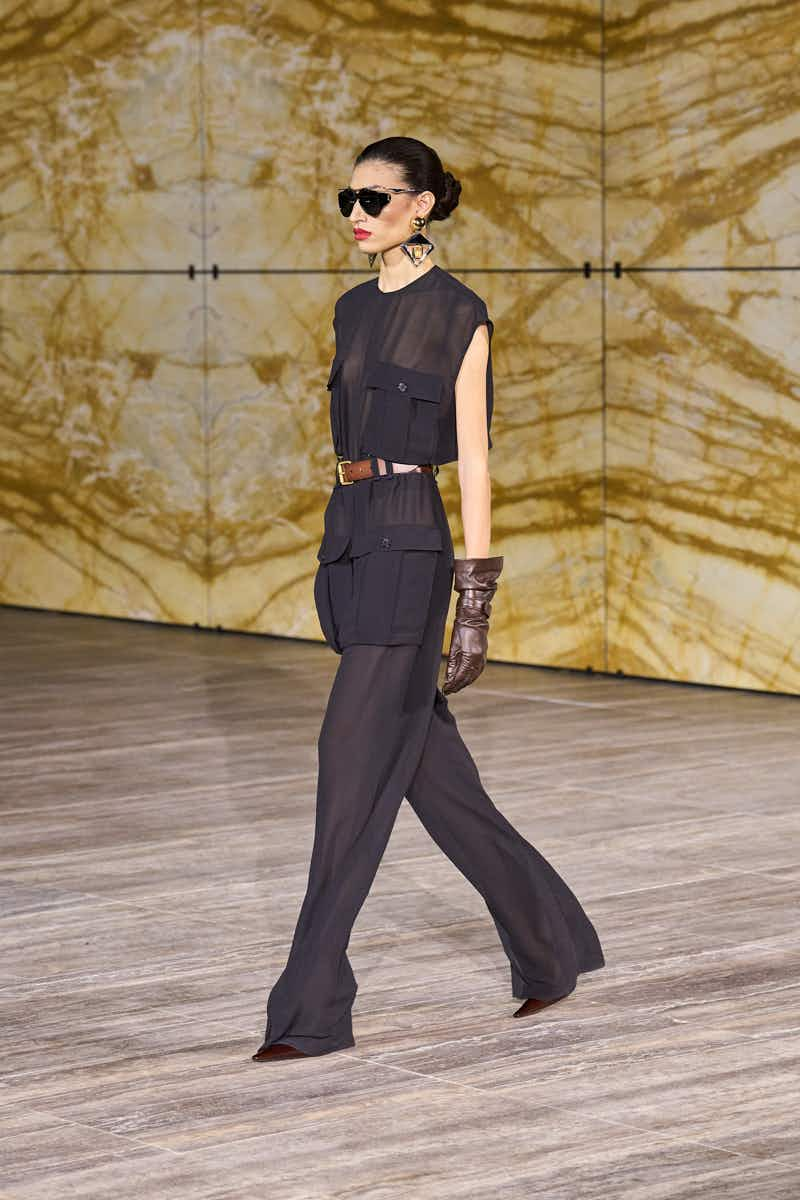 What went down?
The show opened with a performance of legendary choreographer Pina Bausch's Seasons March, reinterpreted by NYC-based choreographer Sharleen Chidiac. It explored the tension between desire and disgust and the search for authenticity.
Where?
At the Theatre Tour Eiffel in the heart of Paris' seventh arrondissement.
What were the clothes like?
So far, the SS24 shows seem to be urging us to stop working from home and get back in the office, stat. And, to be fair, all this sexy office wear makes going to work look pretty enticing. At Hodokova, there were crisp shirts, pinstripe pants and smart suit dresses. Models were dressed like they'd handed in their notice then raided every office drawer for free pens, as over 2,000 pens in total were attached to ears or made into garments. Models wore Bayonetta glasses, like those recently popularised by model-influencer Gabbriette while Y2K exposed thongs sexed up the whole offering. Anyone who's ever splashed out on a Moleskine knows that notebooks can be accessories in their own right and here, black leather notebooks were clutched like handbags.
Shoes were crafted from vintage watch wristbands and dresses were made from waistbands and belts, like a scorned yet resourceful ex-wife cutting up her ex's 9 – 5 wardrobe. Later things took a more delicate turn, as dresses had dried flowers sewn in, representing beauty that ages. Then there was the clingfilm dress that closed the show – now, that's surely going to get you a disciplinary meeting with HR. Office wear might evoke images of grey uniformity, but the Hodakova woman is creatively rewriting the rules before popping the pen back in place behind her ear.
In a line?
Step into my office.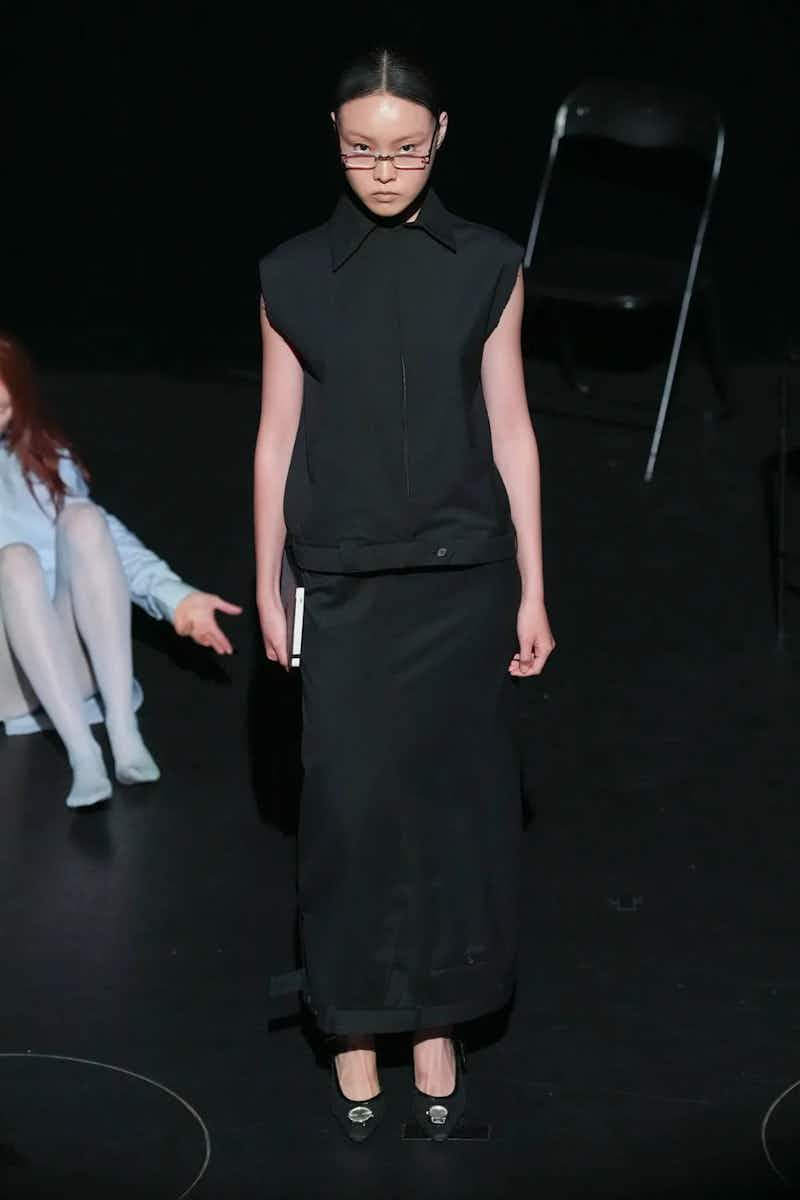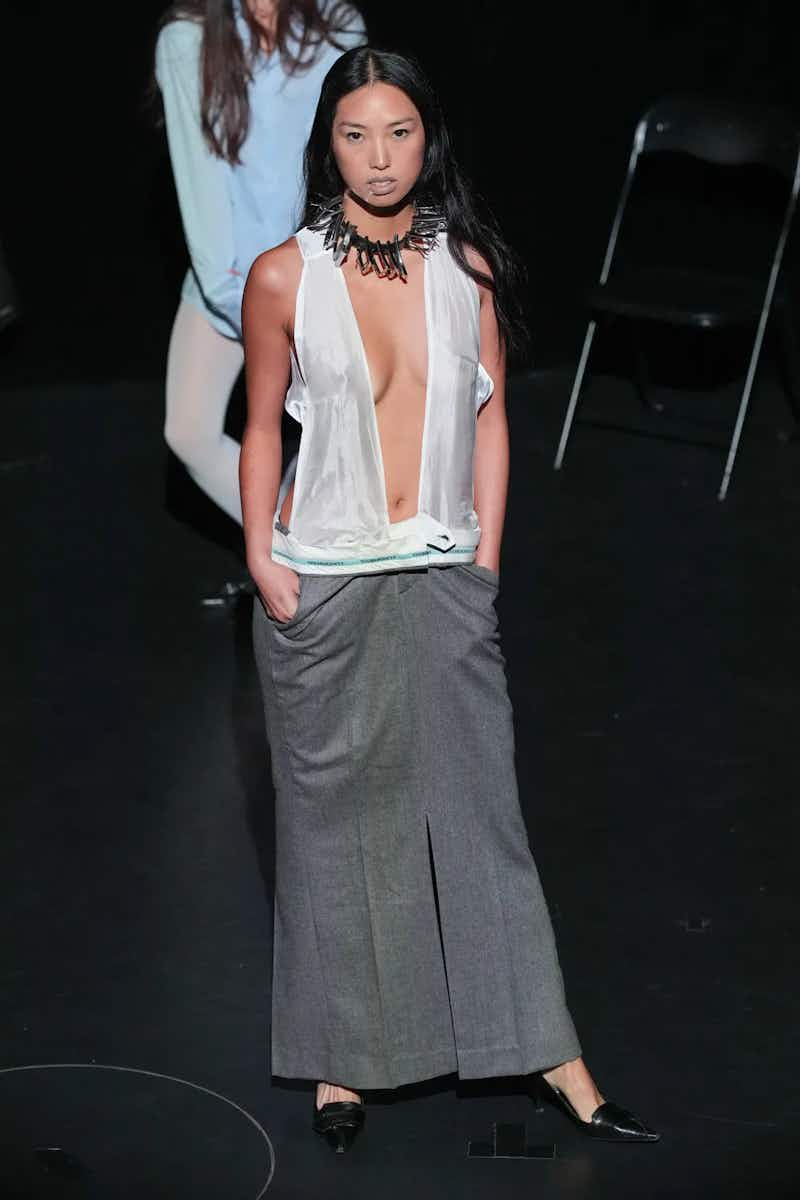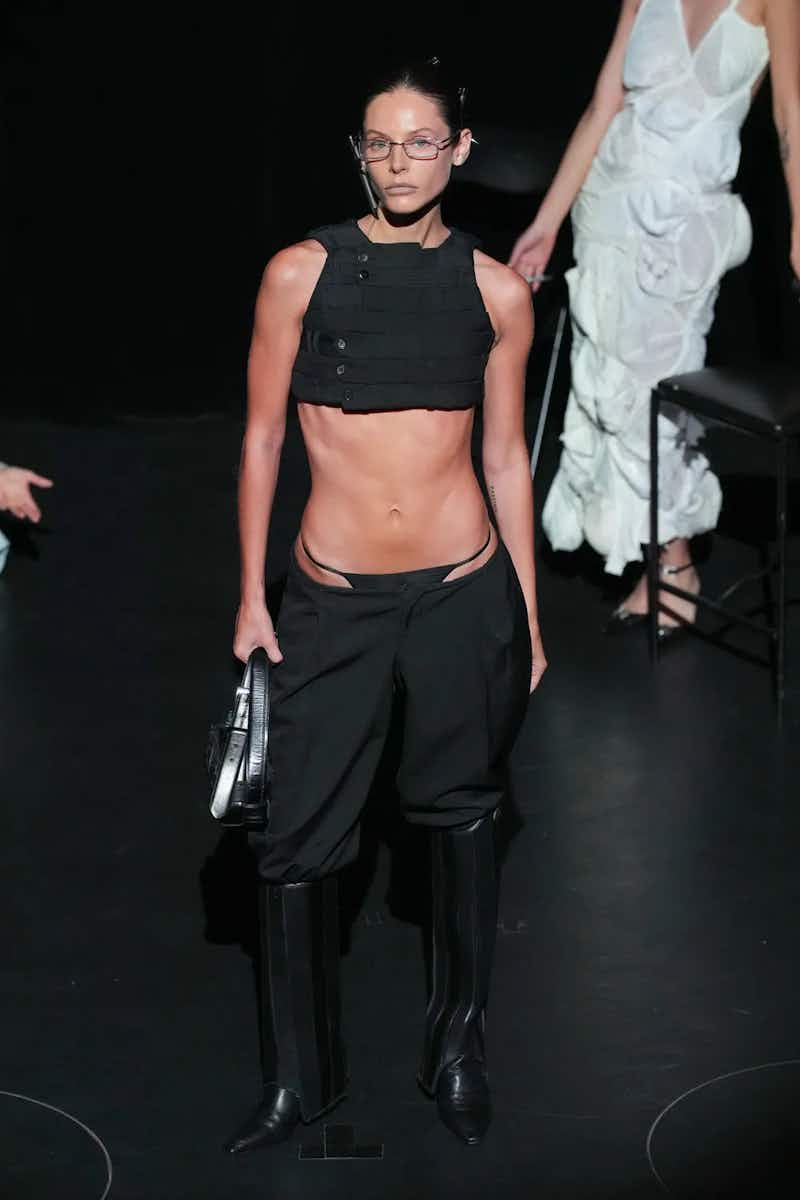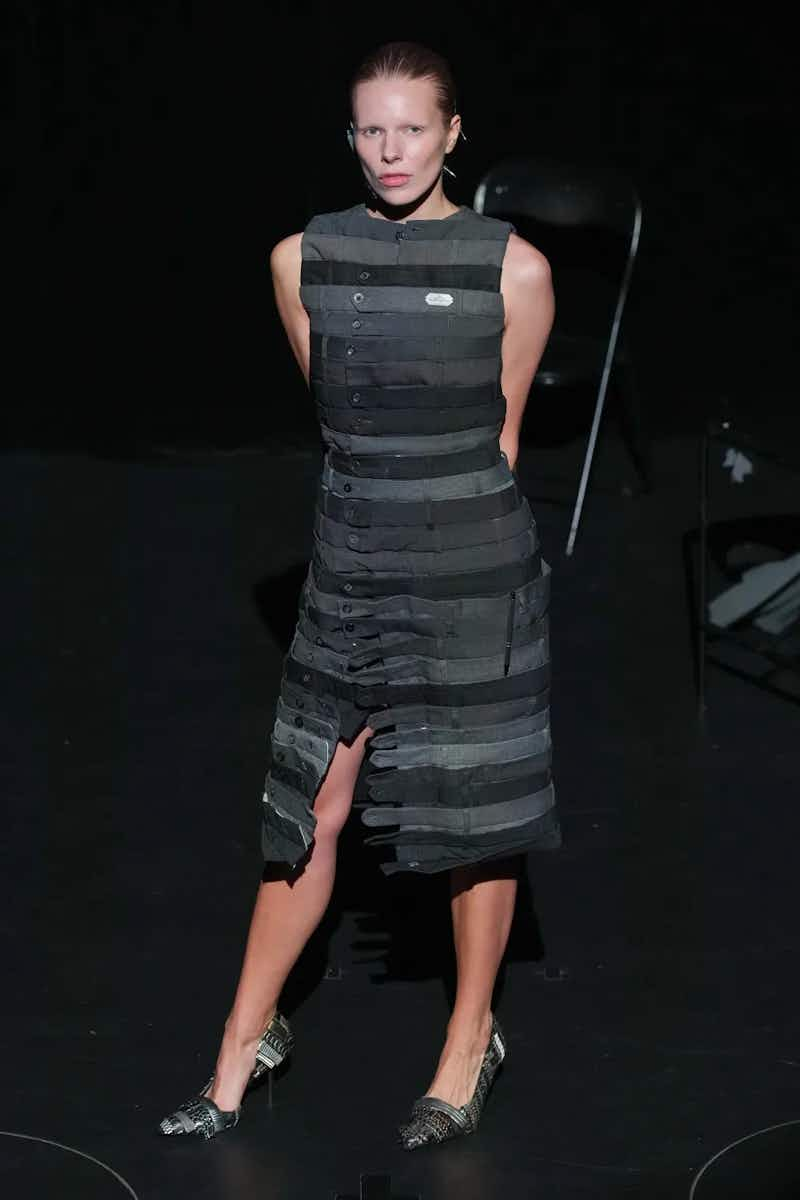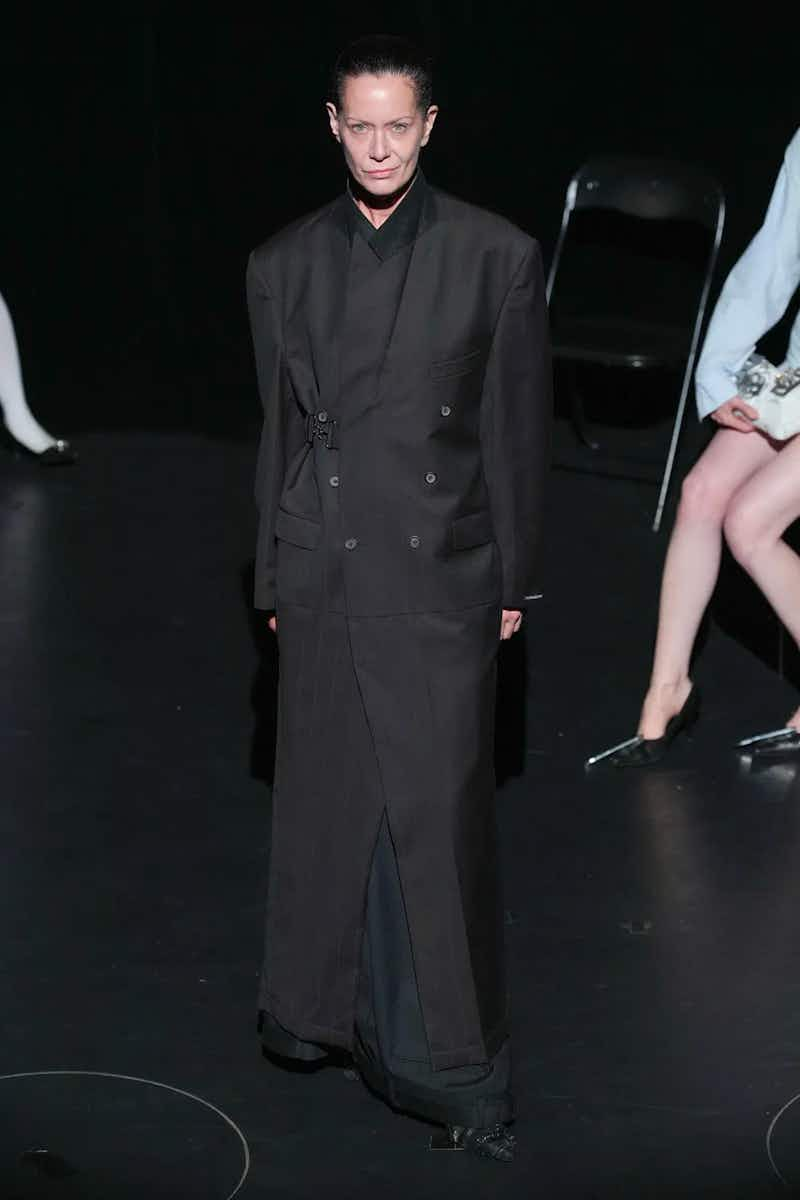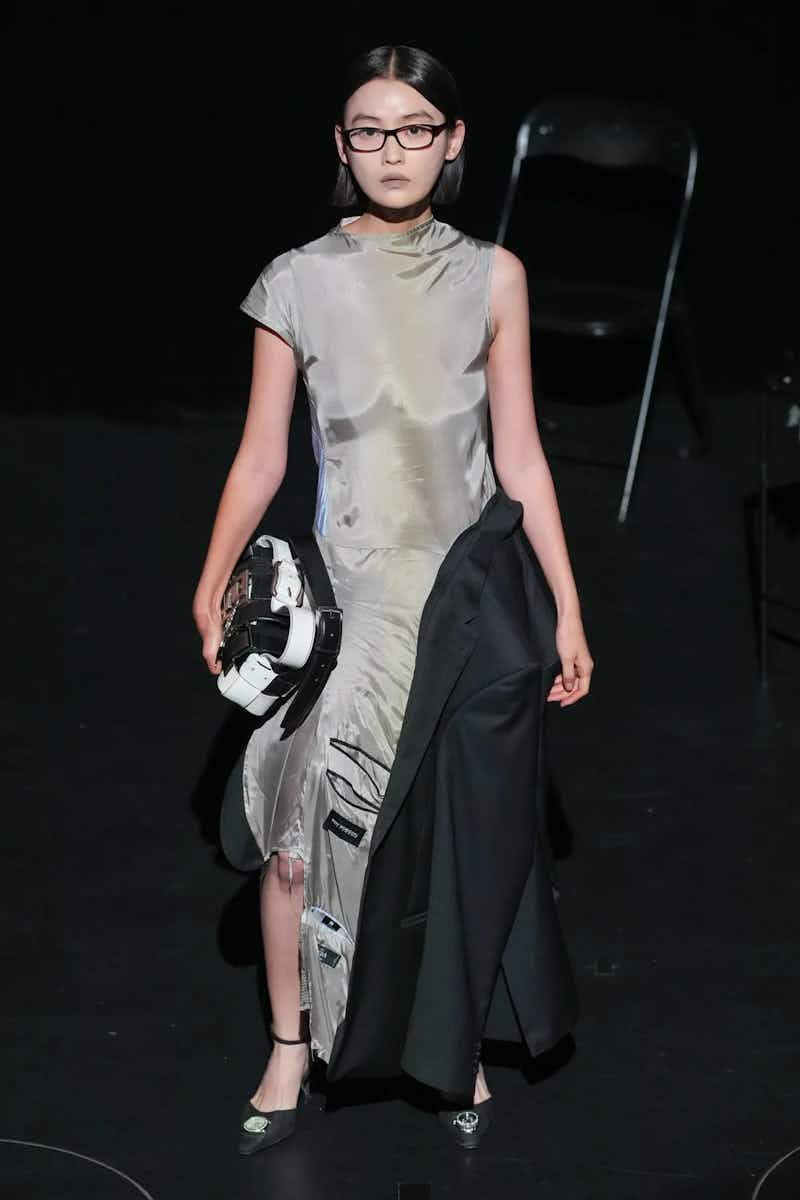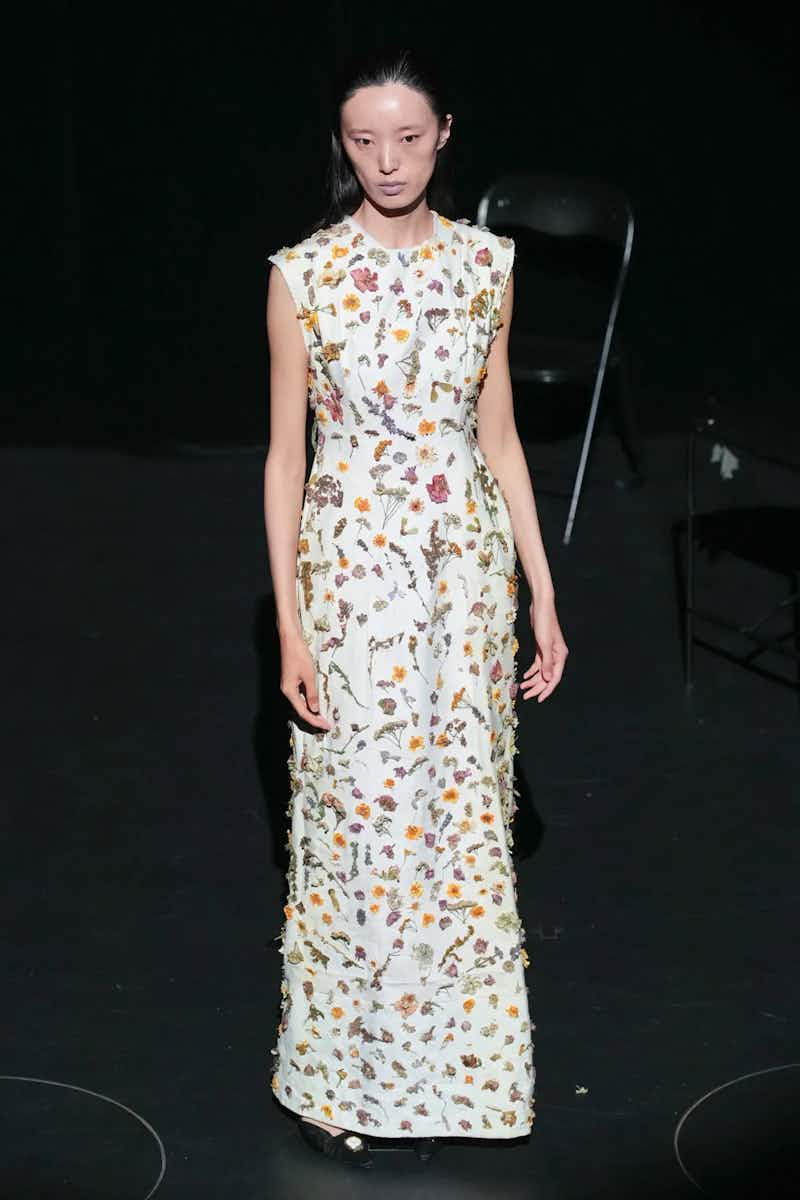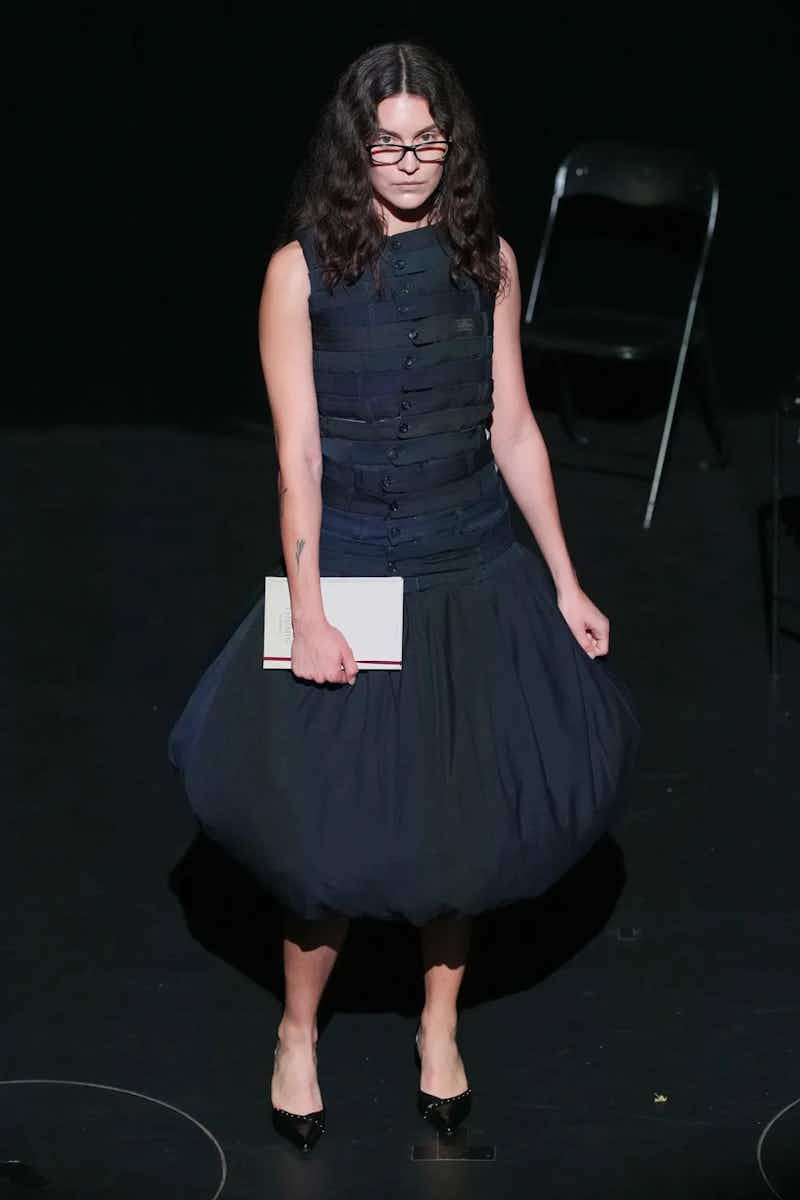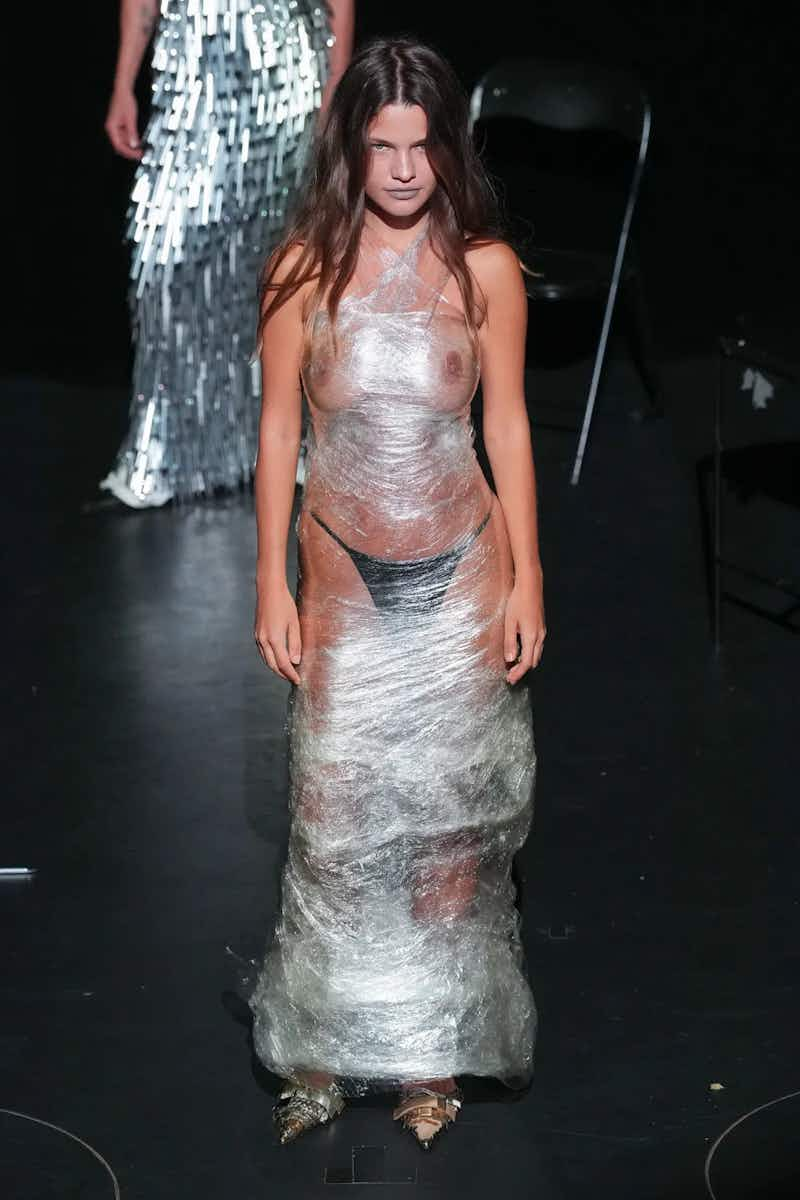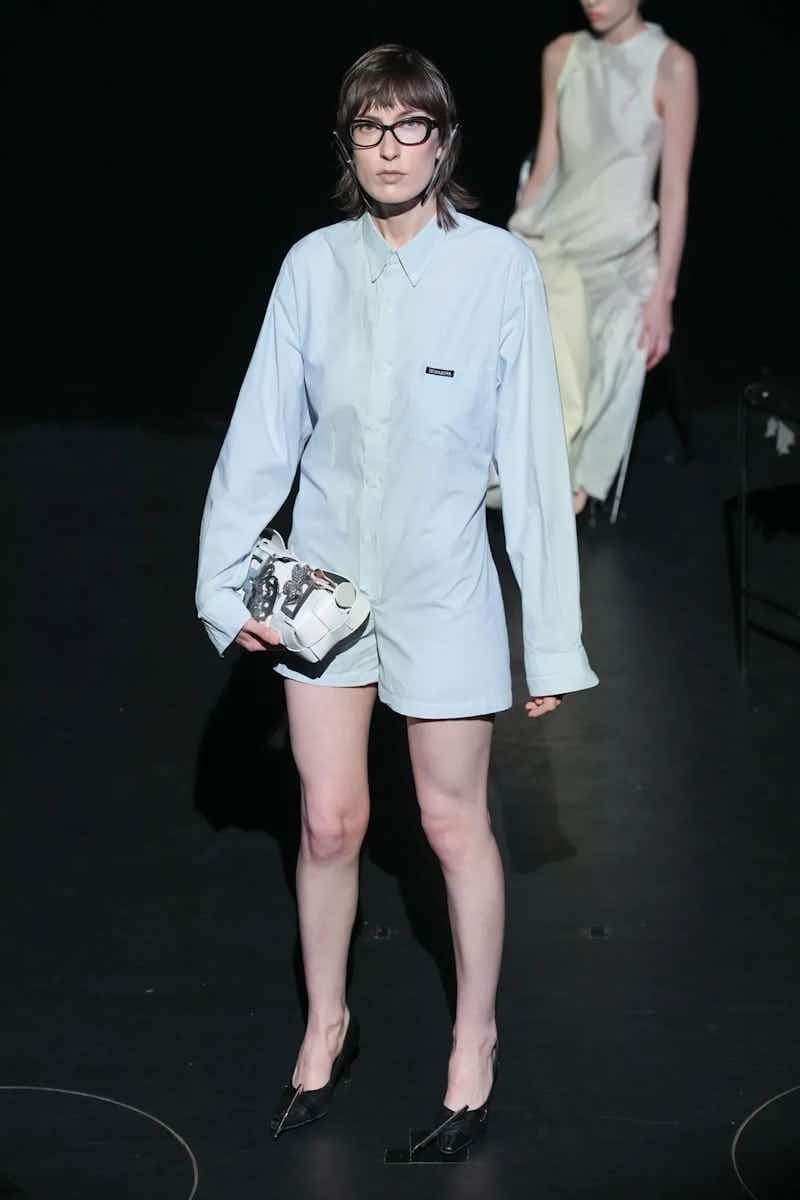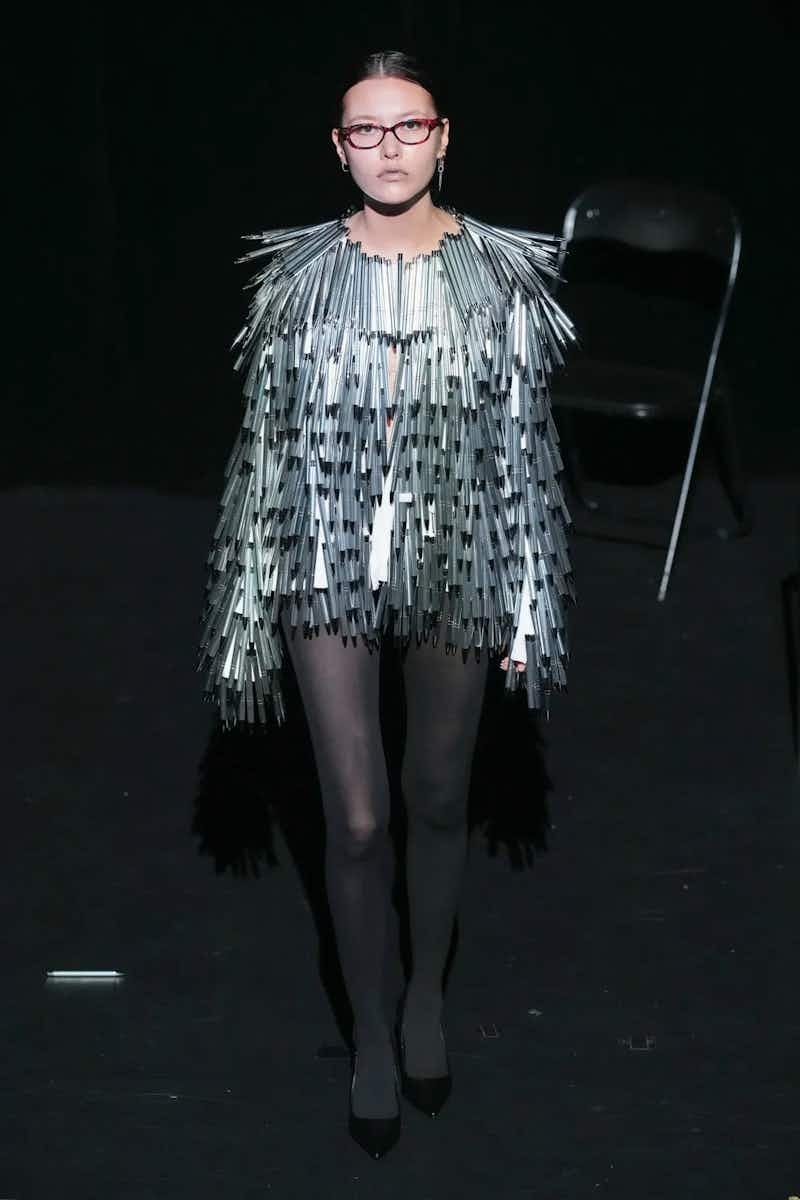 What went down?
Andy Warhol once prophetically remarked that ​"in the future, everyone will be famous for 15 minutes." This was the notion that spurred on Vaquera's fast-paced underground show where models stormed furiously down the runway to the sound of screams and industrial techno. Models were dressed like paparazzi-dodging, incognito celebrities in bug-eyed sunglasses and baseball caps. But, the collection asked, aren't we all potential celebs now? When everyone has an iPhone, you could be just mere minutes away from viral fame, willingly or unwillingly. Best wear sunnies at all times, just in case.
What were the clothes like?
Big sunglasses. Fur stoles. Fishnet bodysuits. Clothes for celebrities who complain about fame but really they love it. Styled by THE FACE's US Fashion Director-at-Large Emma Wyman, the collection took inspiration from the problematic heyday of ​'90s and ​'00s paparazzi culture, with models stomping down the runway, clutching bags across their bodies with their gaze hidden by their hair, baseball caps or those shades we mentioned earlier. Editors stood at the side of the runway, holding iPhone cameras in the air like fans crowding a red carpet event. A trench coat and a comically oversized shirt and tie seemed to riff on burnt out businessmen barging their way to the office. There were sailor hats, school ties and a skirt made from sunglasses, too. These are audacious clothes made for living conspicuously, whether the camera's turned on or not.
A highlight?
The giant poofy fur dress that looked like ​'50s couture set free into the feral fox-ridden city streets.
In a song?
Lady Gaga – Paparazzi.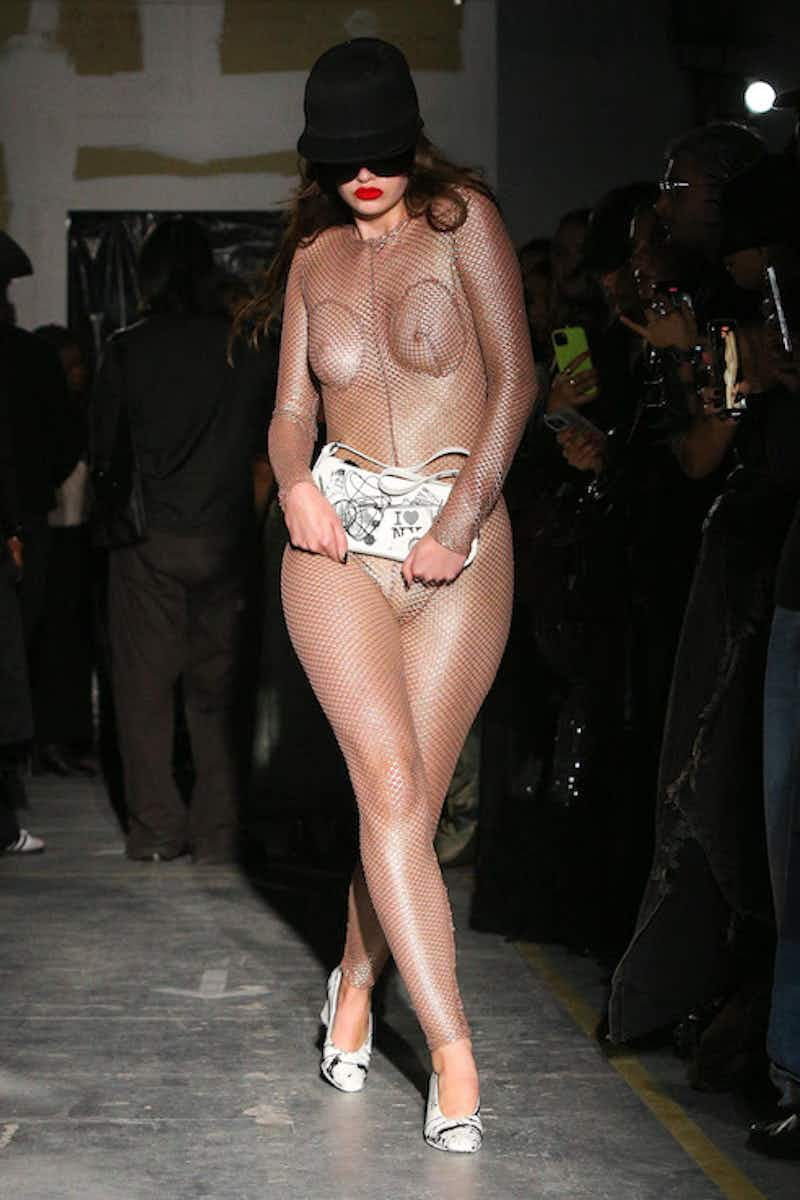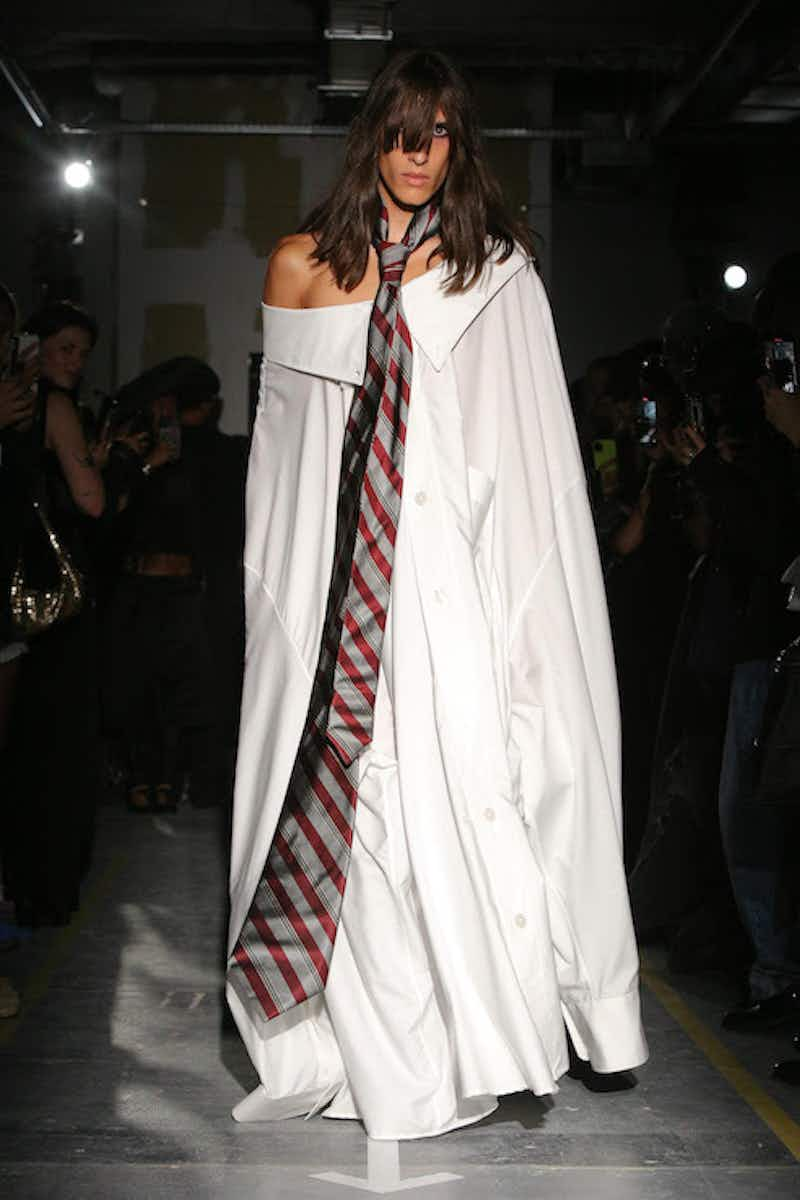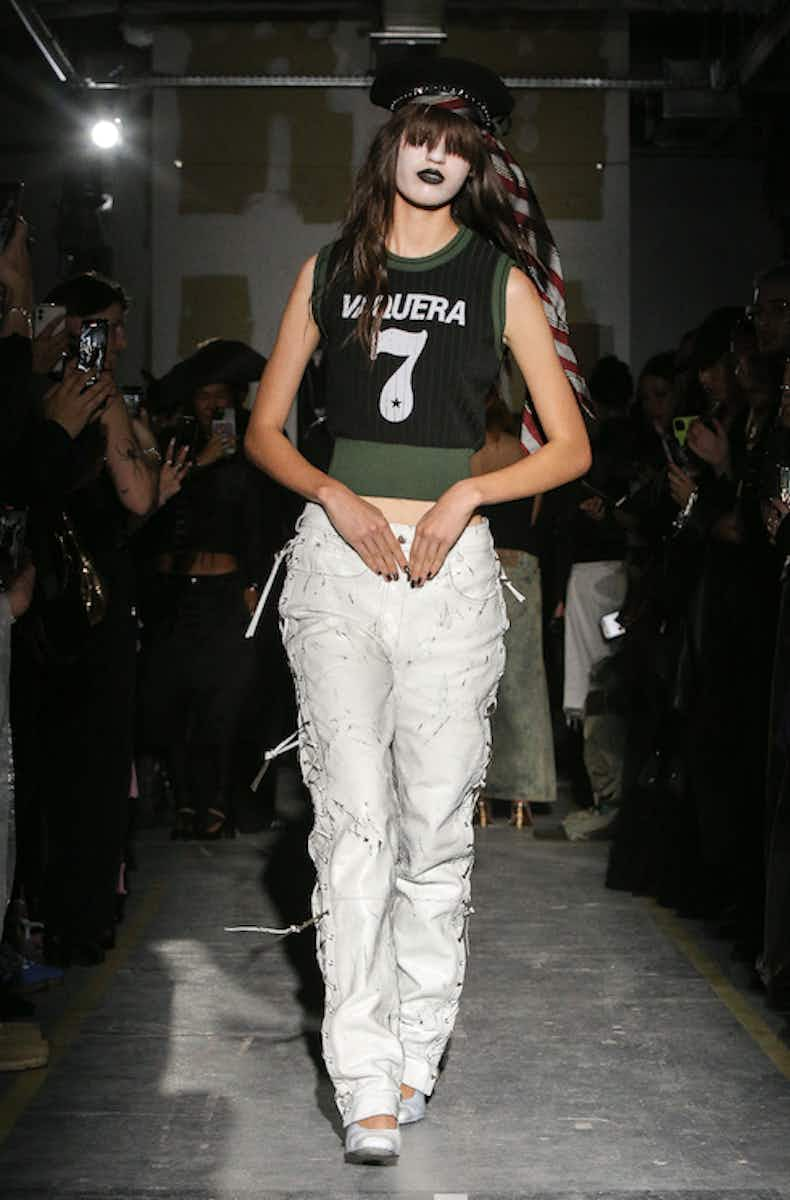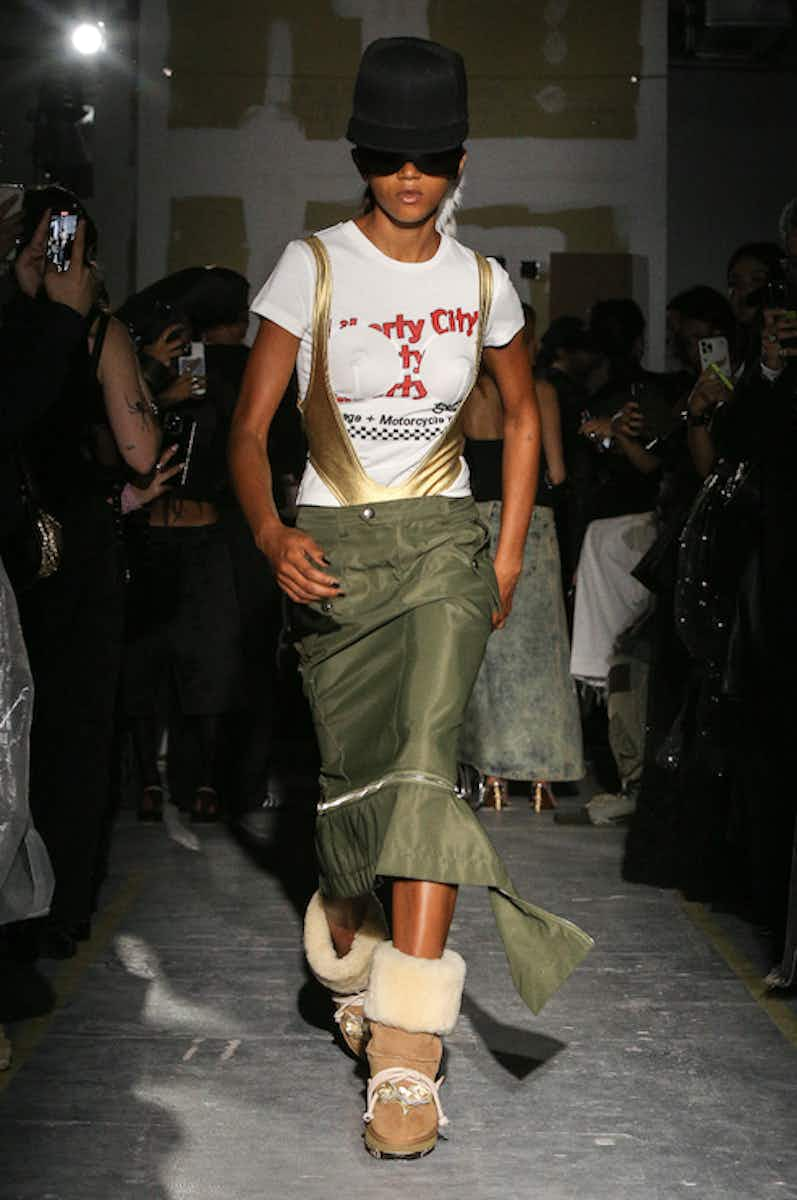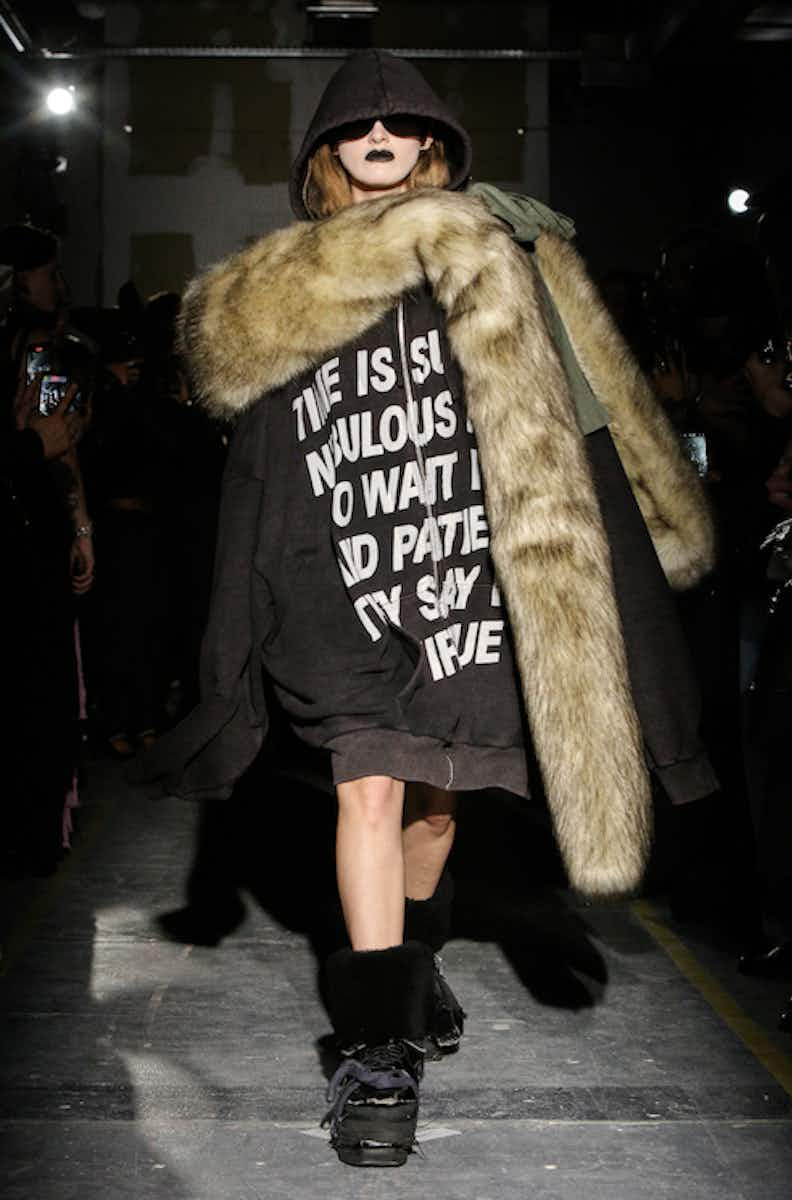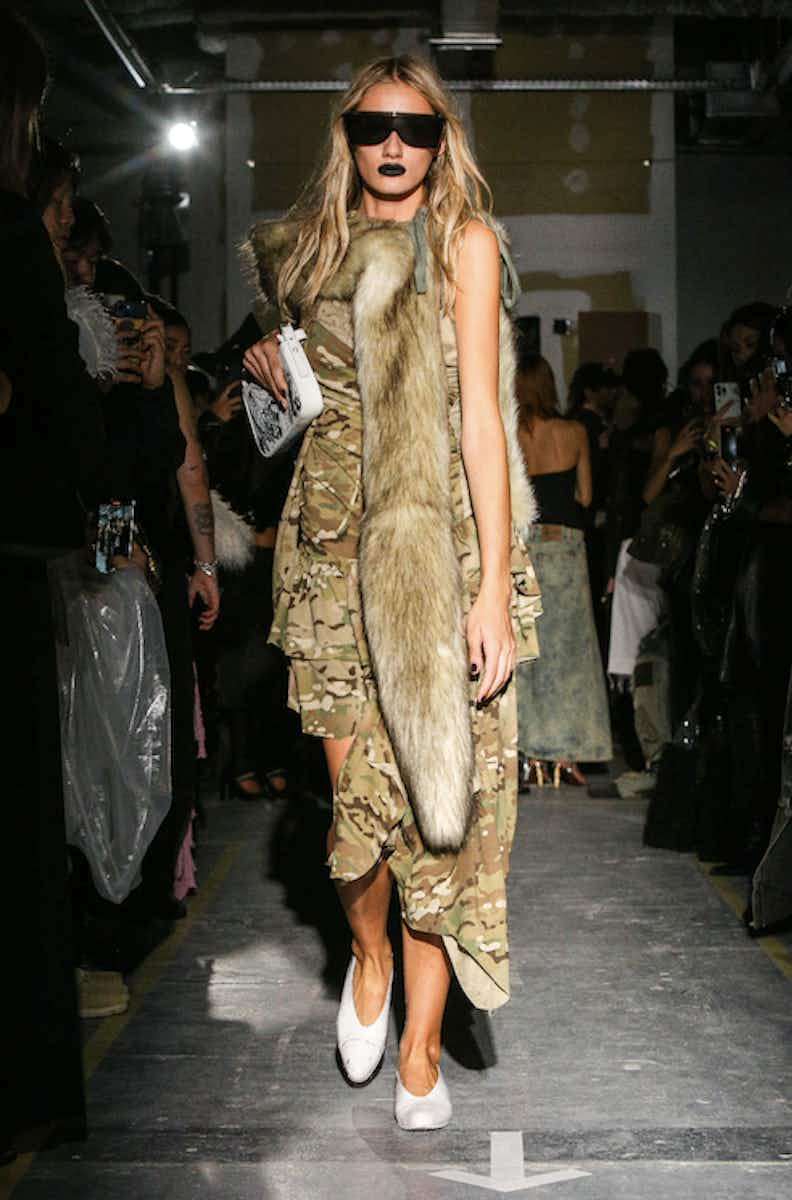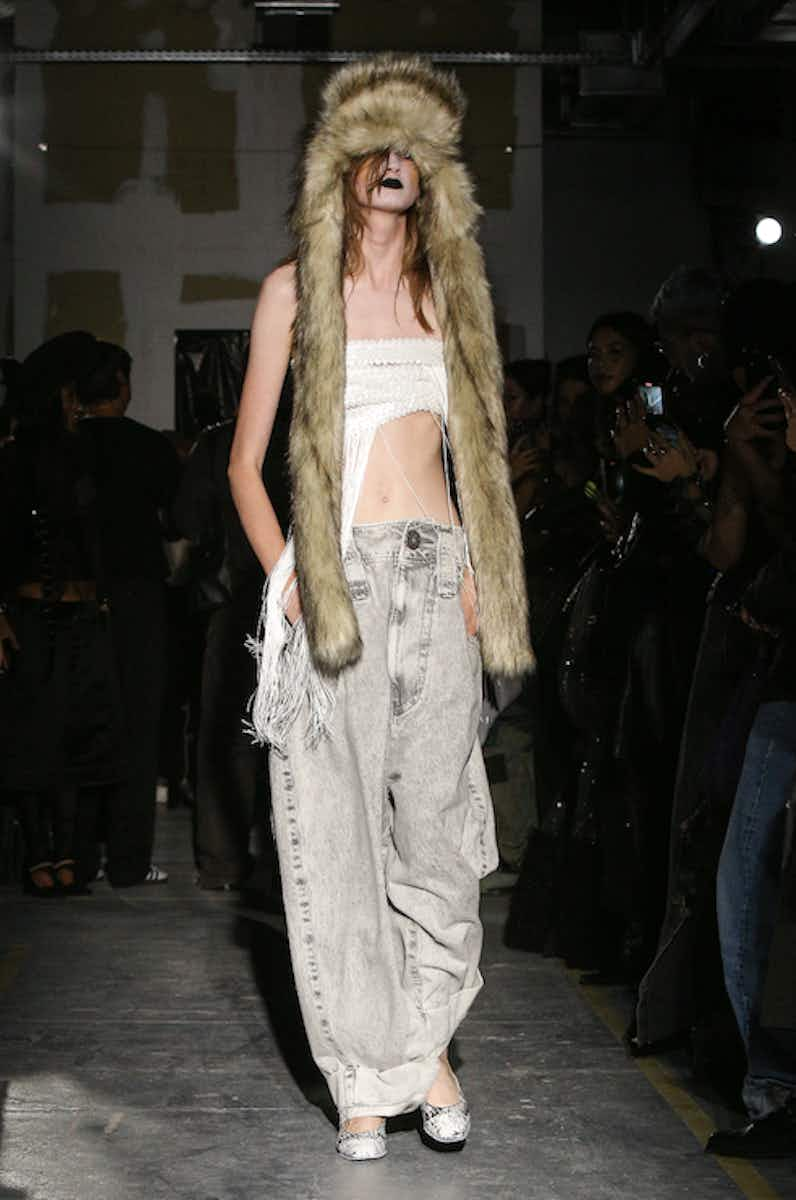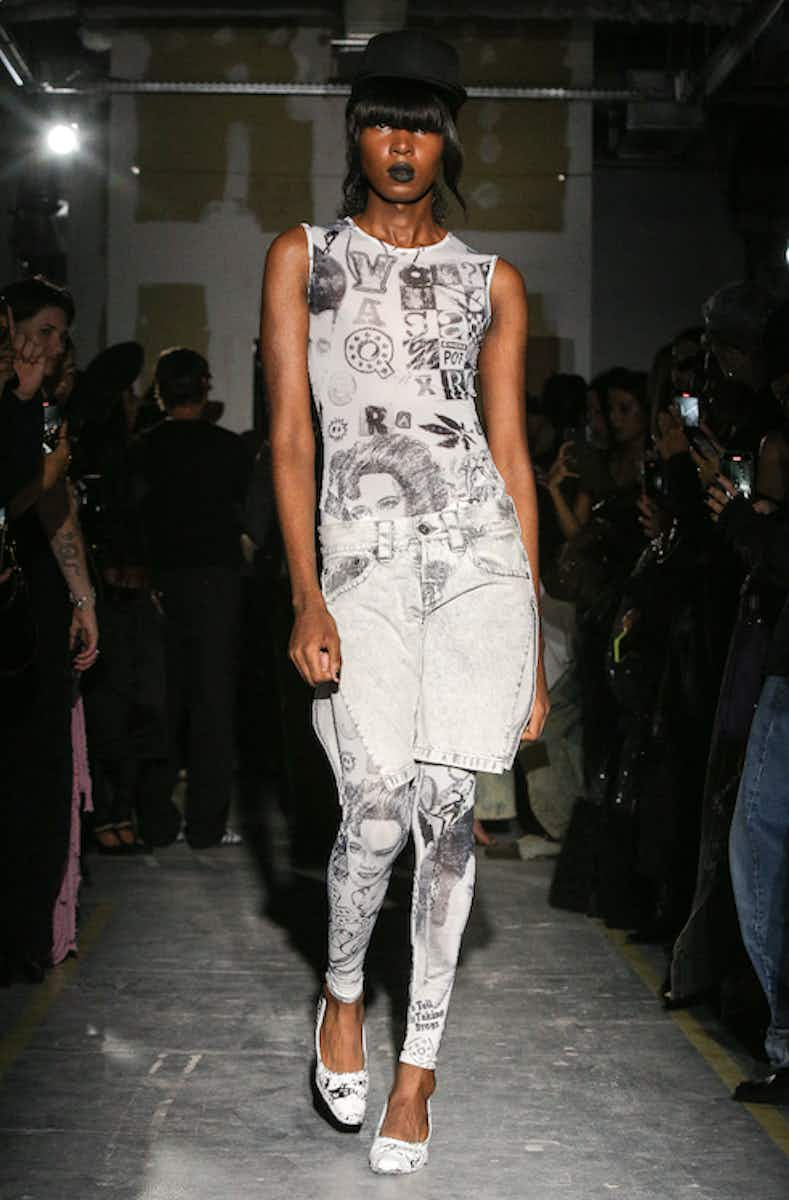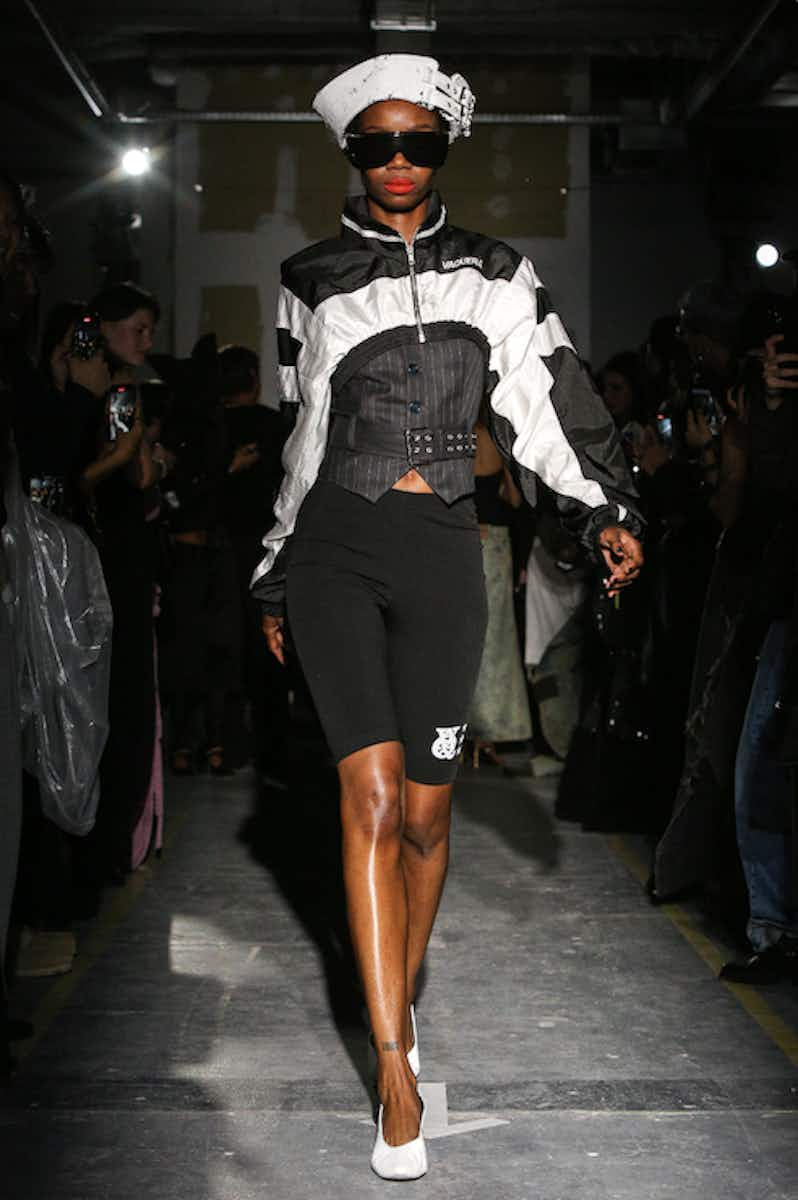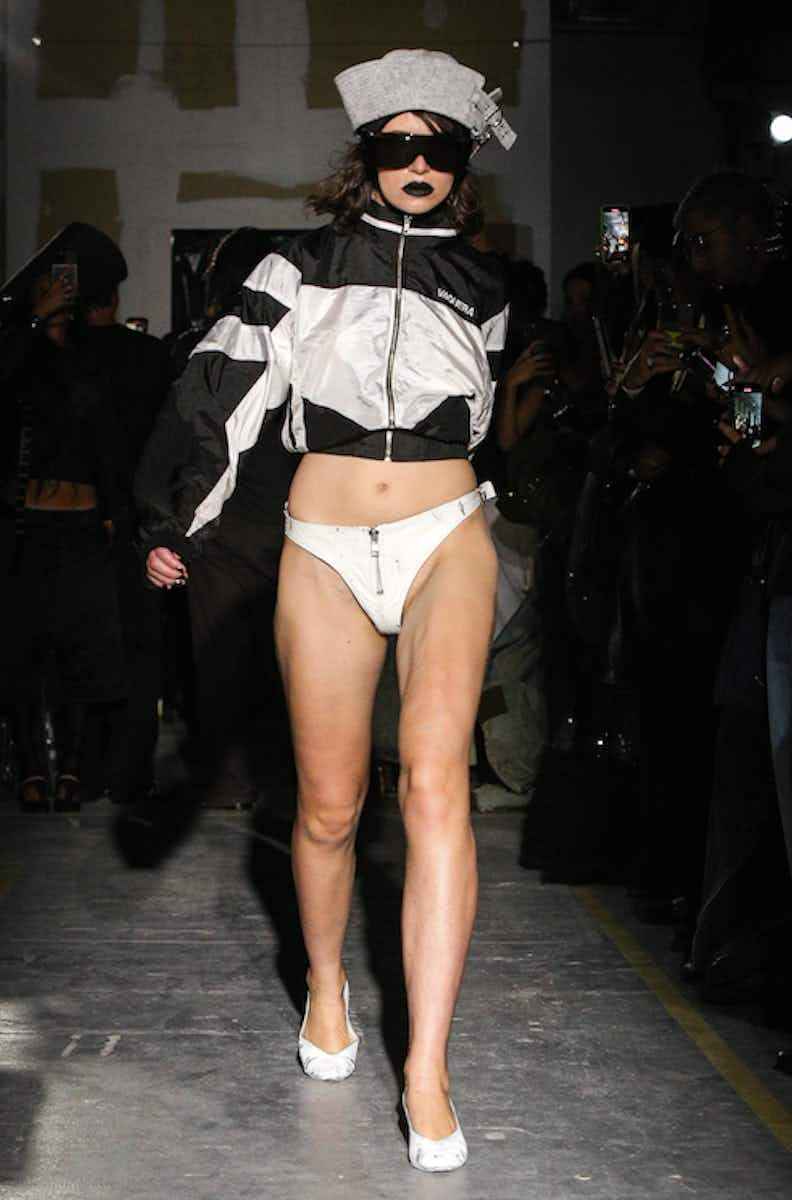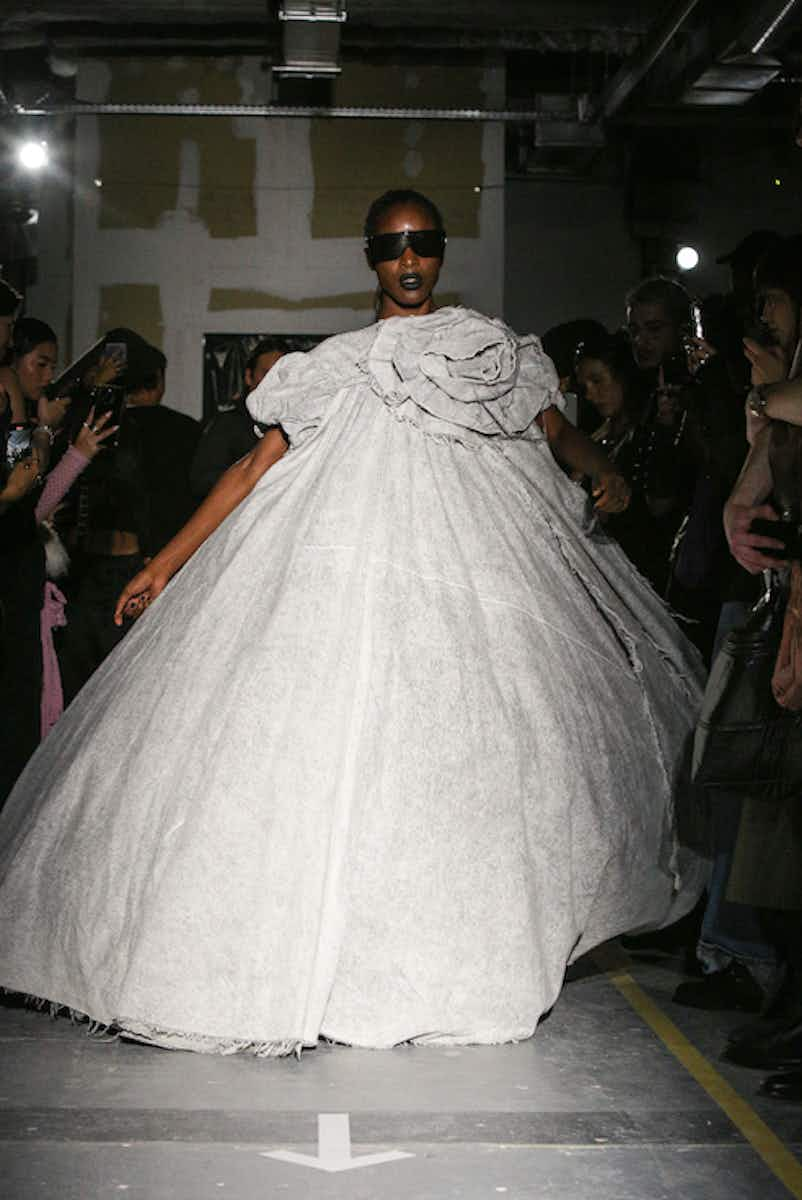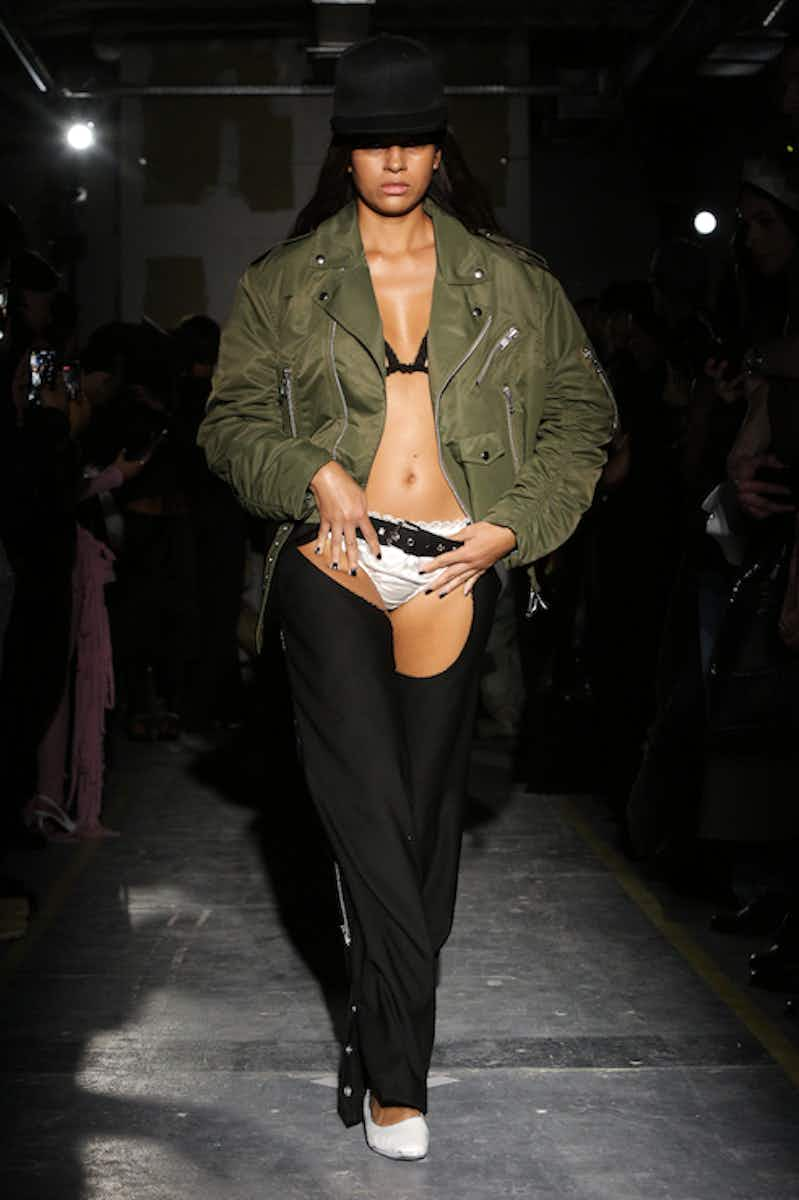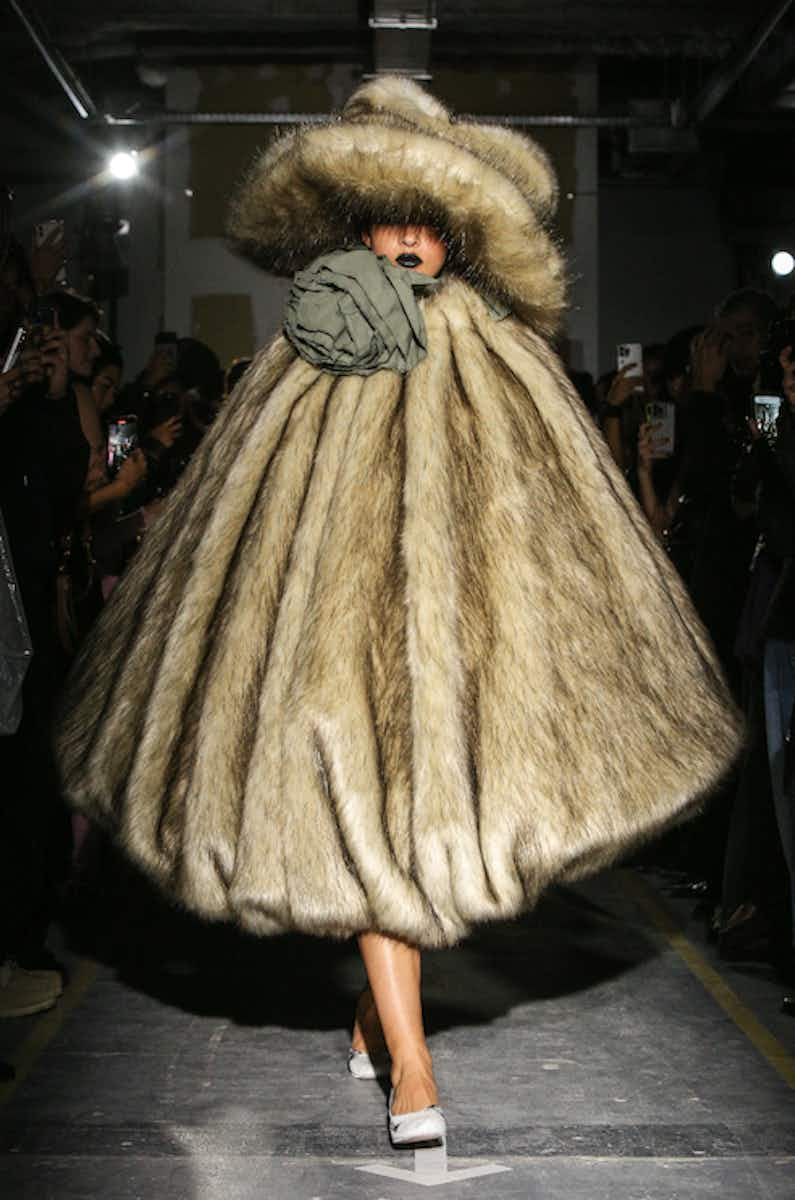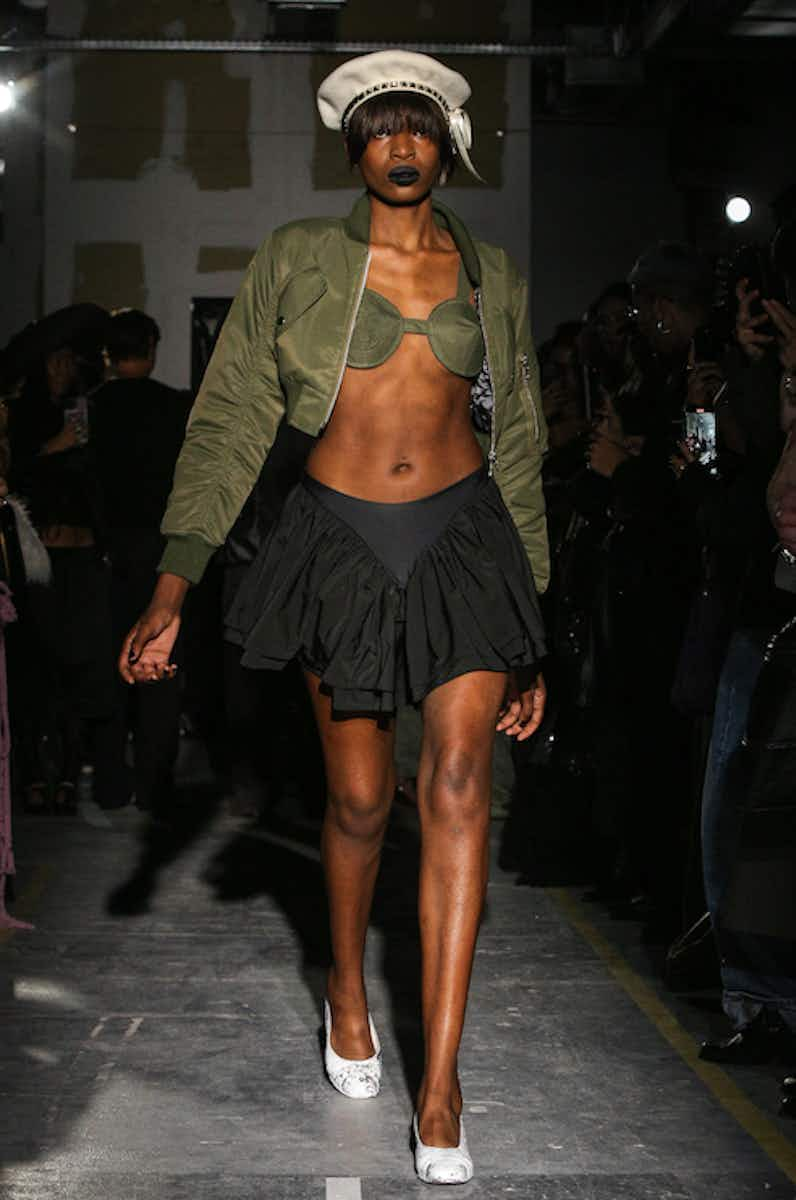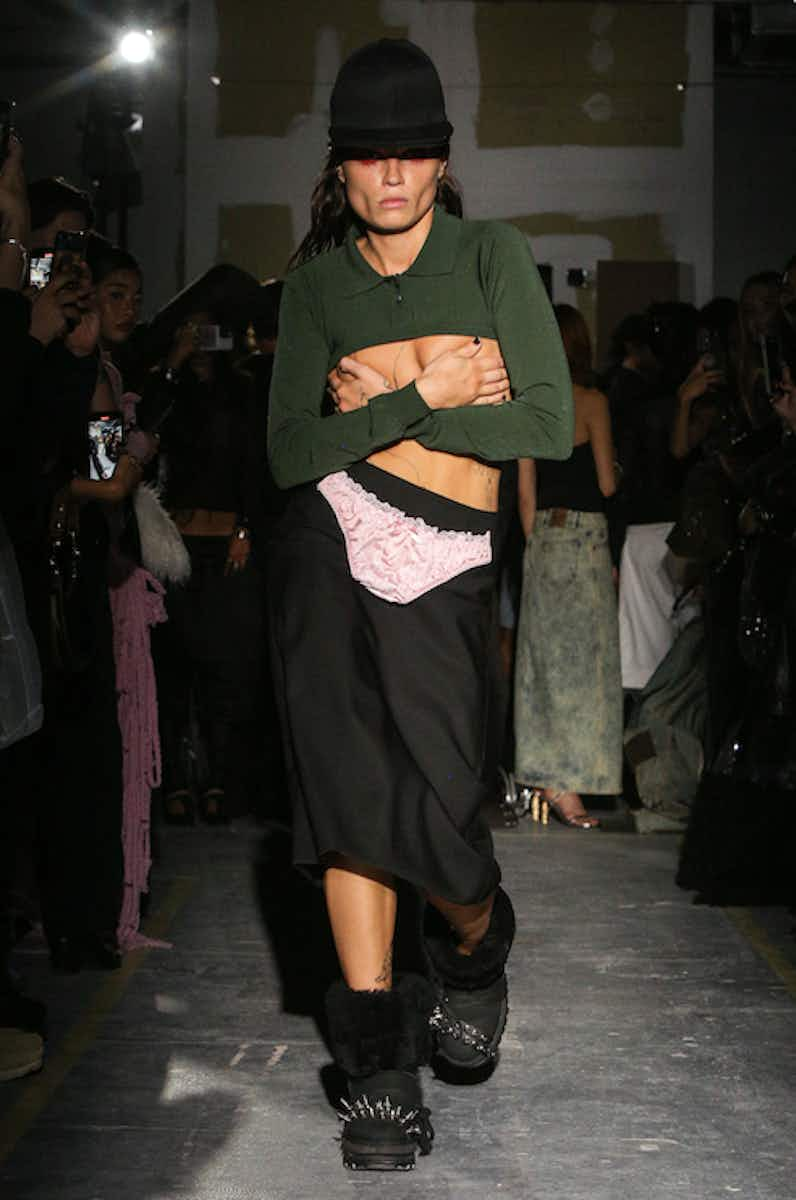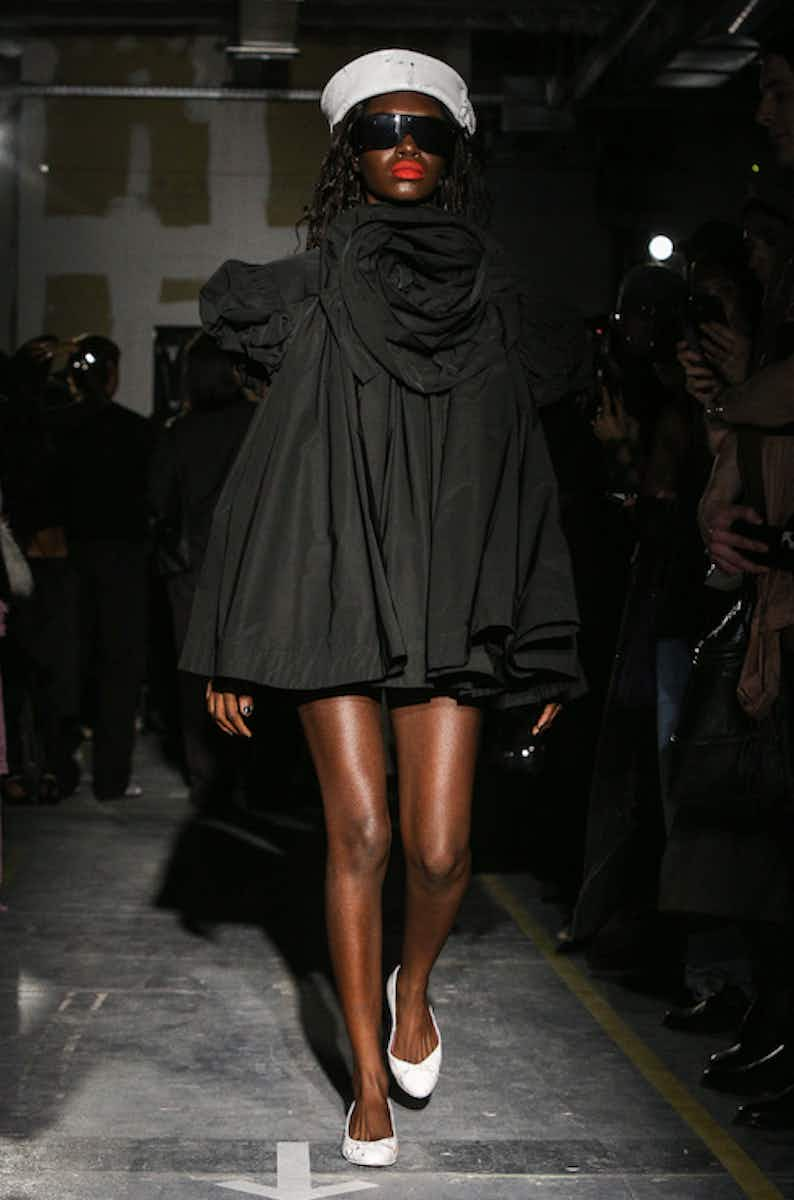 In Paris, amidst the hot new styles storming the catwalks, Lotus were busy swinging open the doors of its brand-new flagship store. And where better placed than in the centre of the city's ​"Golden Triangle", home to only the finest of luxury goods? Now, as we've come to expect, Lotus aren't ones to come quietly (have you seen the size of those engines?), so following the launches of its swanky stores in London, Munich and Oslo, Lotus Paris turbo-charges the car-buying experience with a mega line-up of its current cars: the Eletre hyper-SUV, Emira sports car, Evija hypercar and Emeya hyper-GT. Then, on the first floor, a fully-dedicated space to its heritage, that will rotate Lotus' classic road and race cars from its 75-year history. Down in the basement is a shiny VIP lounge and, in a nod to the future, a VR configurator to aid customers with their next big purchase, and even a tool to help them personalise their latest four-wheeled digs.

More like this