Watch Charles Jeffrey LOVERBOY's nighttime escapades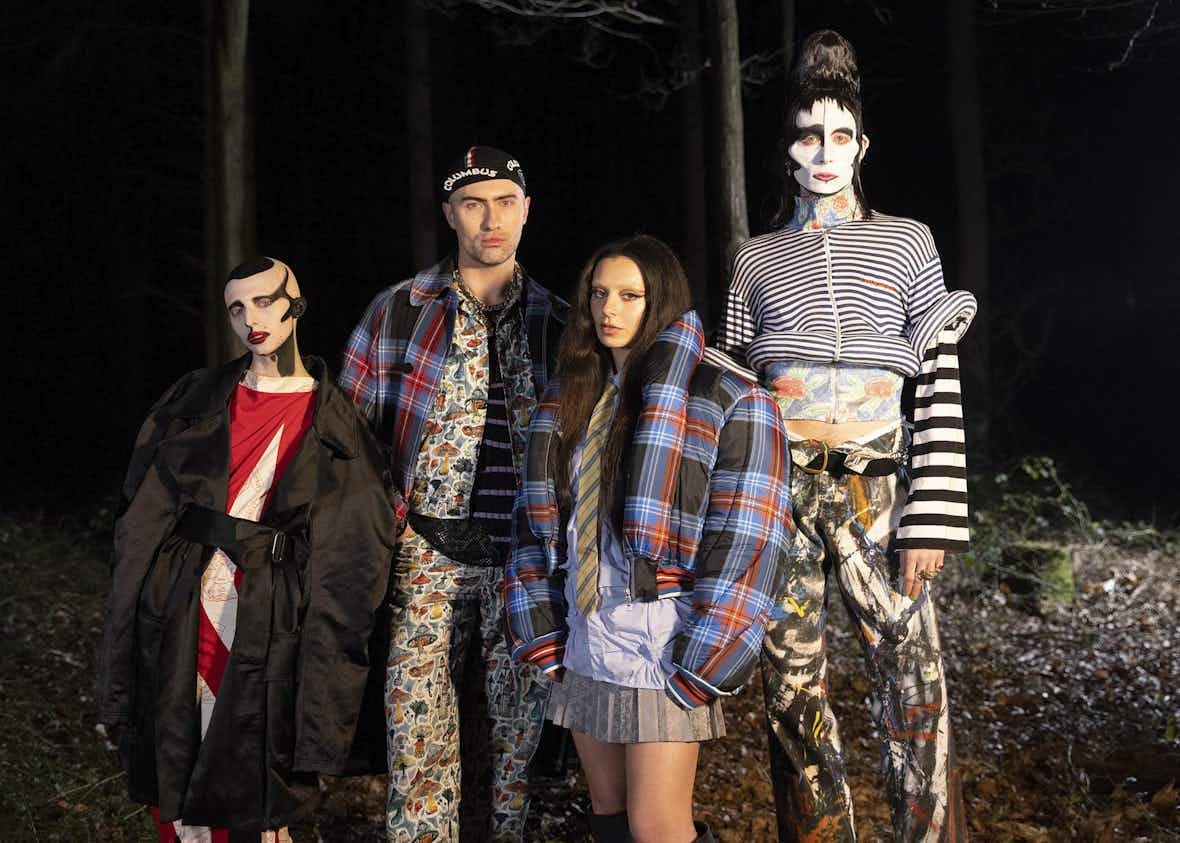 Spotlighting Night Mode on the new Samsung Galaxy S22 Series, Jeffrey and his cast of spectacularly dressed revellers conjured up a rural rave that demanded documentation.
Charles Jeffrey LOVERBOY is synonymous with nightlife. The fashion label was launched in 2014 by Scottish designer Charles Jeffrey, while he was completing his MA in fashion design Central St Martins.
At the same time, the 31-year-old set up the wildly popular LOVERBOY club night in Dalston, East London, a hub of music, performance and queerdom that mirrored the joyful and theatrical nature of his exquisitely rendered designs.
As Jeffrey has steered his business from strength to strength, a sense of occasion, indelibly linked to its dancefloor origins, has remained inherent to the LOVERBOY brand.
Who better, then, to harness the power of Samsung's breakthrough Nightography technology – a feature of its newly launched Galaxy S22 phone series – that enables users to shoot videos at night in unprecedented detail?
Timed to coincide with the phones' release, the two brands have joined forces for a nocturnal film, shot by oneiric filmmaker Matilda Finn. The atmospheric short plunges viewers into a surreal world of spectacularly dressed nightwalkers (including Charli XCX), caught frolicking on a farm, surrounded by sheep: a party that demands documentation.
The film's zombie-raver protagonists sport Jeffrey's AW22 collection, a vivid ode to music and the bodily sensations it causes. First showcased in a special happening at London's Somerset House in February, the runway displayed metallic-heavy fabrics, neon and sequins, alongside Jeffrey's signature tartans and other eye-popping patterns in looks defined by bold shapes and tactile textures.
In celebration of the film's release, we caught up with Jeffrey to find out more about its making, the ideas behind his new collection and his plans for the future of LOVERBOY – not to mention his key criteria for a great night out.

Hi Charles! How did the collaboration with Samsung come about?

Samsung approached us through the British Fashion Council at the end of last year. They wanted to work with LOVERBOY to put on a big show or event. I was very flattered, although I had just decided to take a backfoot from shows. Initially, it was about aligning our brands and figuring out a really amazing concoction that told our story, while showcasing the new Samsung technology, and we came up with the film. There was a lot of back-and-forth, which I'm not used to – I had to learn to trust people and let go – but I'm really pleased with the end result.
What were your reference points for the film?

It's directed by the amazing Matilda Finn, who just made the Gasoline video for The Weeknd. Her portfolio is quite melancholic and romantic, which complemented the darker element of LOVERBOY, even though we're very joyful. The British Samsung team has created a portfolio of content that has a slightly comedic element to it, which lends itself quite nicely to what we do as a brand, too. We wanted to do something that felt ethereal and cinematic, something that would take us outside of that DIY space that we usually swim in – that's my aim for LOVERBOY generally. I also wanted to incorporate a rural element that touched base with my Scottish heritage. That's how we arrived at the film's farm setting.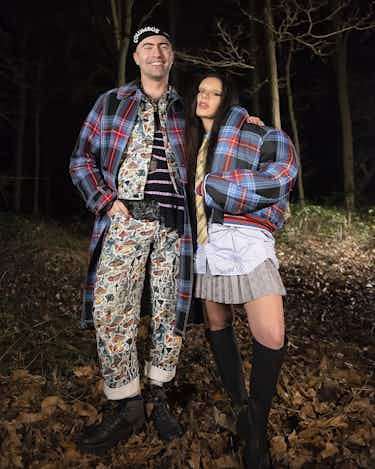 Why did you decide to take a break from showing?

We did a really big activation in September of last year. I thought: ​"Let's come back with a bang: we've not done a show in two years!" It was what we were used to doing, we are known for doing – these immersive, three-dimensional shows. I wanted there to be a really constructed narrative, and a huge party: the whole shebang. But afterwards, it didn't feel right. With everything going on in the world, it felt like there were a lot of disparities at play.
What do you want to focus on instead?

At the moment, I'm questioning what fashion's role is. I'm really interested in the creative process that happens within garments, the making and craftsmanship, and all of these other lateral things that have orbited LOVERBOY for a while: music, queerdom, community. We're still going to do seasons to support the business, but we want to create products in a more sustainable way. I want to figure out a new way of communicating all of these values so that it's not just an industry-focused thing. For the latest collection, for instance, I worked with a couple of different composers and spoken-word artists to create a body of music that sits alongside it. We'll be using that as a vehicle to paint a picture of what the brand is doing – what the storytelling is – and use that to showcase the clothing.
Tell us about the new collection.
It's called The Art of Noise and I wanted it to explore music in three paradigms. The physical – looking at the shapes of instruments in the work of cubist artists, and sculptors, like Picasso, Georges Braques and Claes Oldenburg. The cultural – looking specifically at the No Wave movement of the late ​'70s, early ​'80s in New York. And then the emotional side of music – how it affects the body, what we feel or see when we listen to it, the Theta state of mind.
We staged a late-'70s happening in Somerset House in February and had two musicians play on each day we shot. It was a lot calmer, a lot more controlled, and we've got so much content we can use for the rollout of the product for when it gets into stores. We want to have a constant episodic conversation with the community, not just a show then silence until the collection arrives in stores.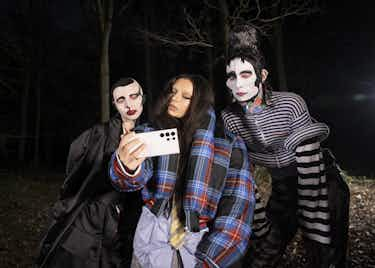 The happening took place during London Fashion Week, even though you weren't presenting a runway show there. What's your favourite thing about London Fashion Week as an event?
London Fashion Week is this amazing incubator for young talent. You don't really get that anywhere else. In other cities, it's about the old guard giving a new person a job at a brand. Here, the British Fashion Council has so many programmes to help people with merchandising, manufacturing or developing their collections. It's always such a highlight to see people build their businesses up – I've loved seeing people like Steven Stokey-Daley, Conner Ives, Bradley Sharpe and Chet Lowe coming through and finding their way. I'm always messaging new designers saying: ​"Well done, if you ever need a factory, let me know." Craig [Green] did that for me, and we still produce our knitted ears beanie, which is one of our biggest sellers, at the same factory he introduced me to.
Finally, what are your key criteria for a great night out?

Back in the day, when we were going out all the time, I'd say the perfect mix was a good group of people, great music, and a really great venue for dancing that isn't too crammed. Then in terms of dressing up, I'd say wear layers so that if you get too sweaty, you've got something else underneath. I've gone out a couple of times wearing a leather jacket on skin, and it's destroyed my makeup! Oh, and if you've got a full face of makeup, hair spray on the face is a very good setter, although it's probably not good for your skin. And then, of course, using Night Mode on the Samsung S22 to capture it!

For more information about the new Samsung Galaxy S22 series visit sam​sung​.com