Dom Sebastian wants you to eat your five a day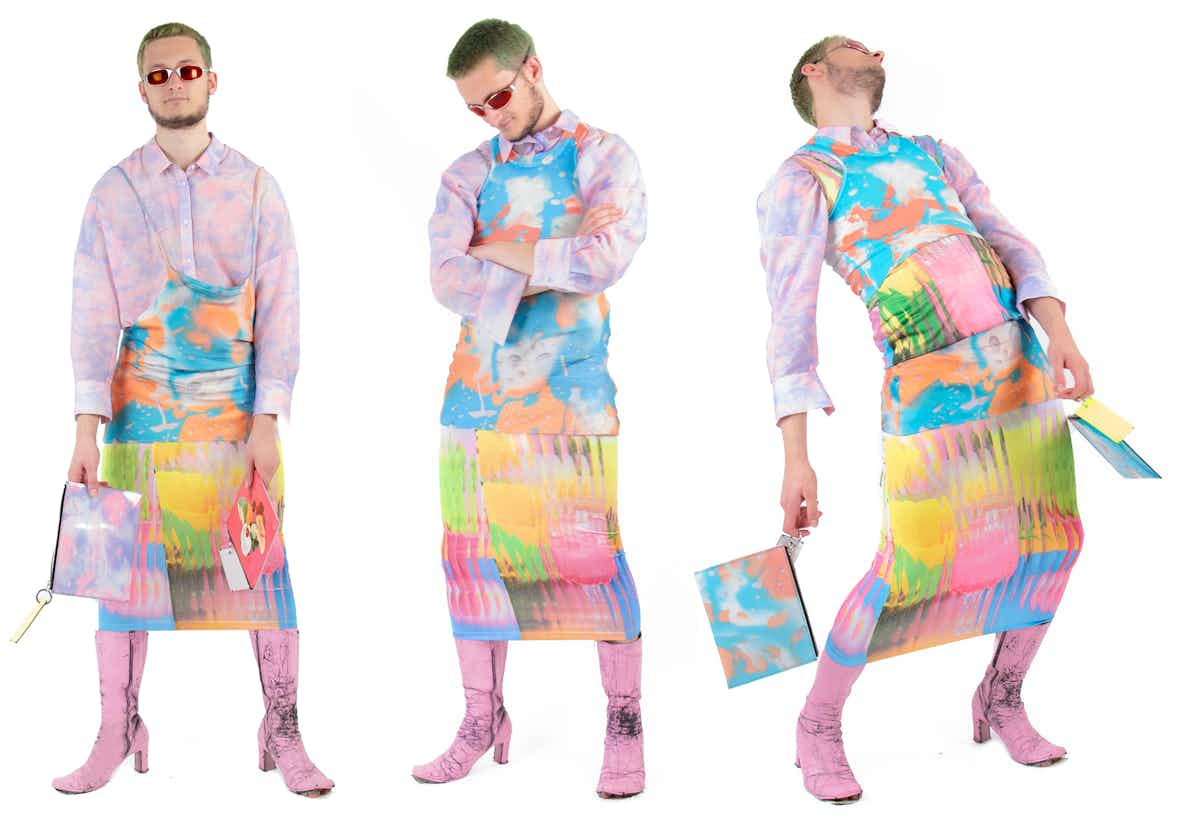 The Kanye-approved designer-slash-artist squirts the sweet and cool spirit of summer into Bimba y Lola's #thisisHOT collection.
London-based designer Dom Sebastian's visual universe is one of extremes. ​"I love to see an idea stretched to its limits or a pre-existing concept subverted," he says. ​"I really like things that cross the line, or go too far."
The Central Saint Martins graduate is inspired by mid-2000s horror cinema ("there's almost a campiness to it that I like"), mid-century furniture and glassware, the New French Extremity movement and early internet devices. Said influences play out as prints combined with unexpected textiles, graphics and photography. Think: tops crafted from silk georgette, layered with photos and hand-drawn typography, with names like ​"Radiant Very Spiky Top" or ​"Chaos Sun Hell Print Bodice". Fitting.
His distinctive aesthetic has already caught the eye of London concept store 50m, at which Sebastian's label is now stocked, and he's in conversation with stores in New York and Japan.
In the meantime, however, Spanish label Bimba y Lola has tapped Sebastian reinterpret their #thisisHOT SS20 collection. The dreamy, sun-soaked collaboration sees tropical fruits stamped across towels, swimming cossies and clutches, with his signature splash-dash, slimy plastic textures are worked into the fabrics. Capturing ​"the sweetness of juice, the coolness of ice, the feeling of water splashing the body", it's the perfect antidote for a locked-up summer.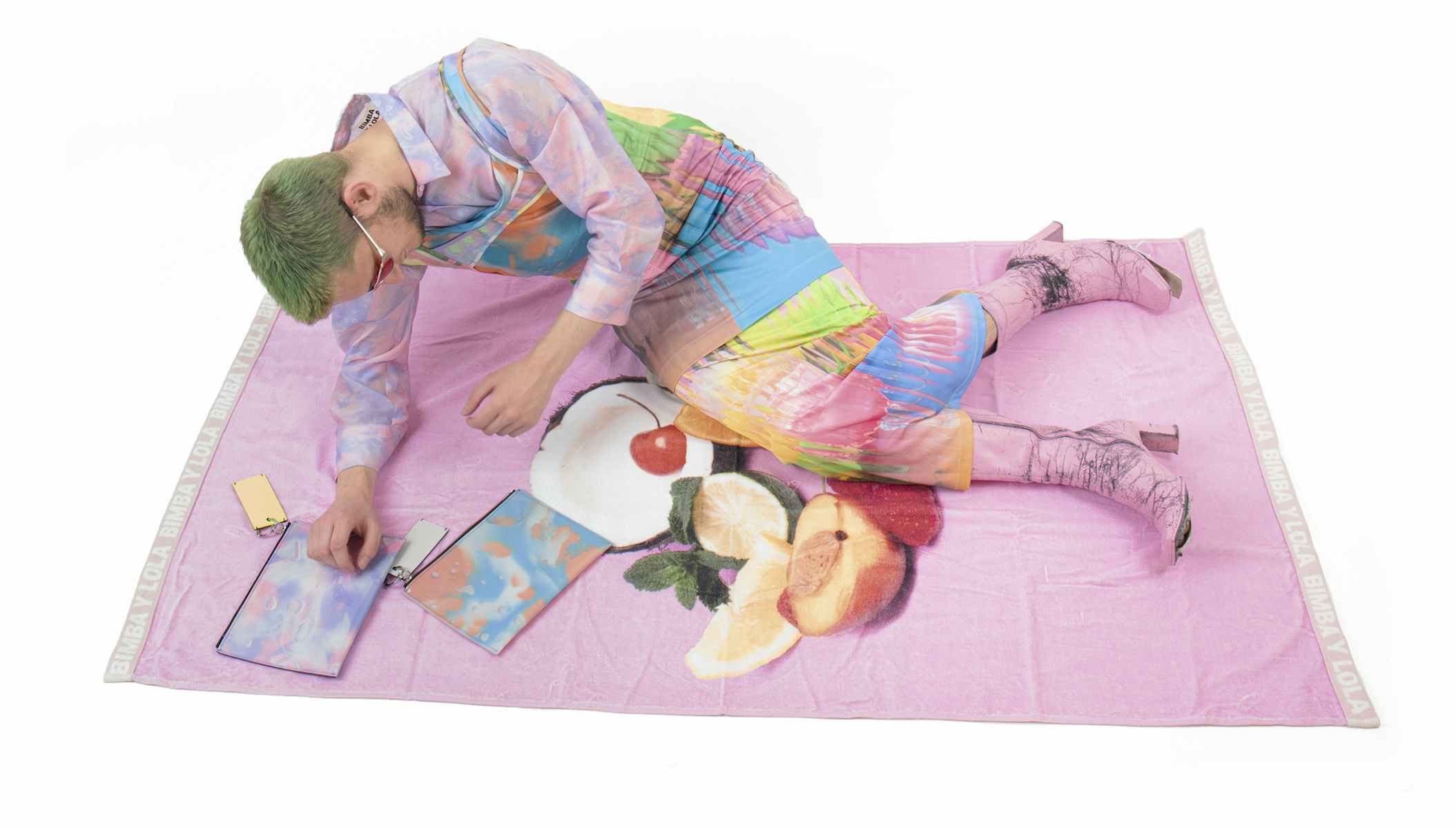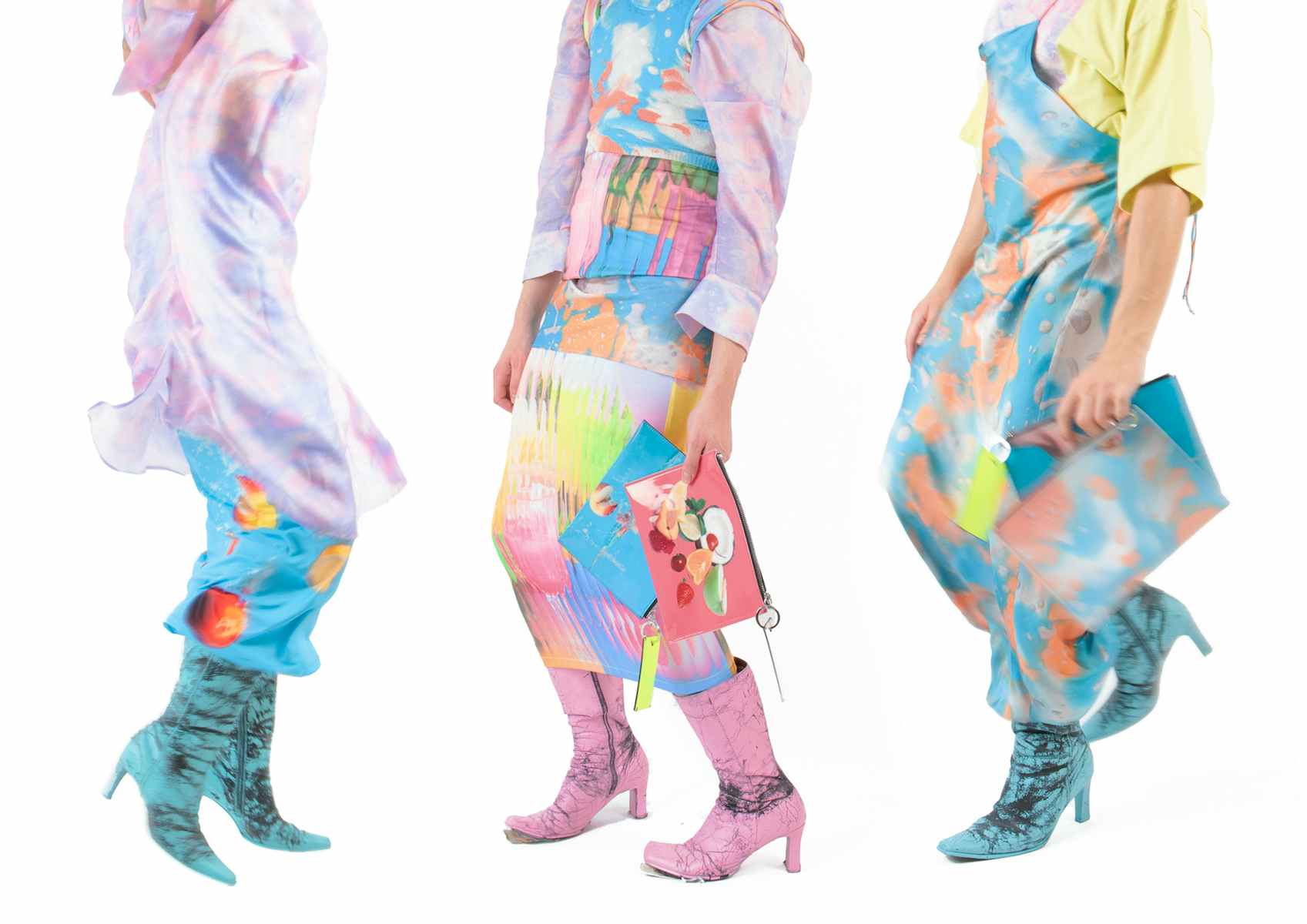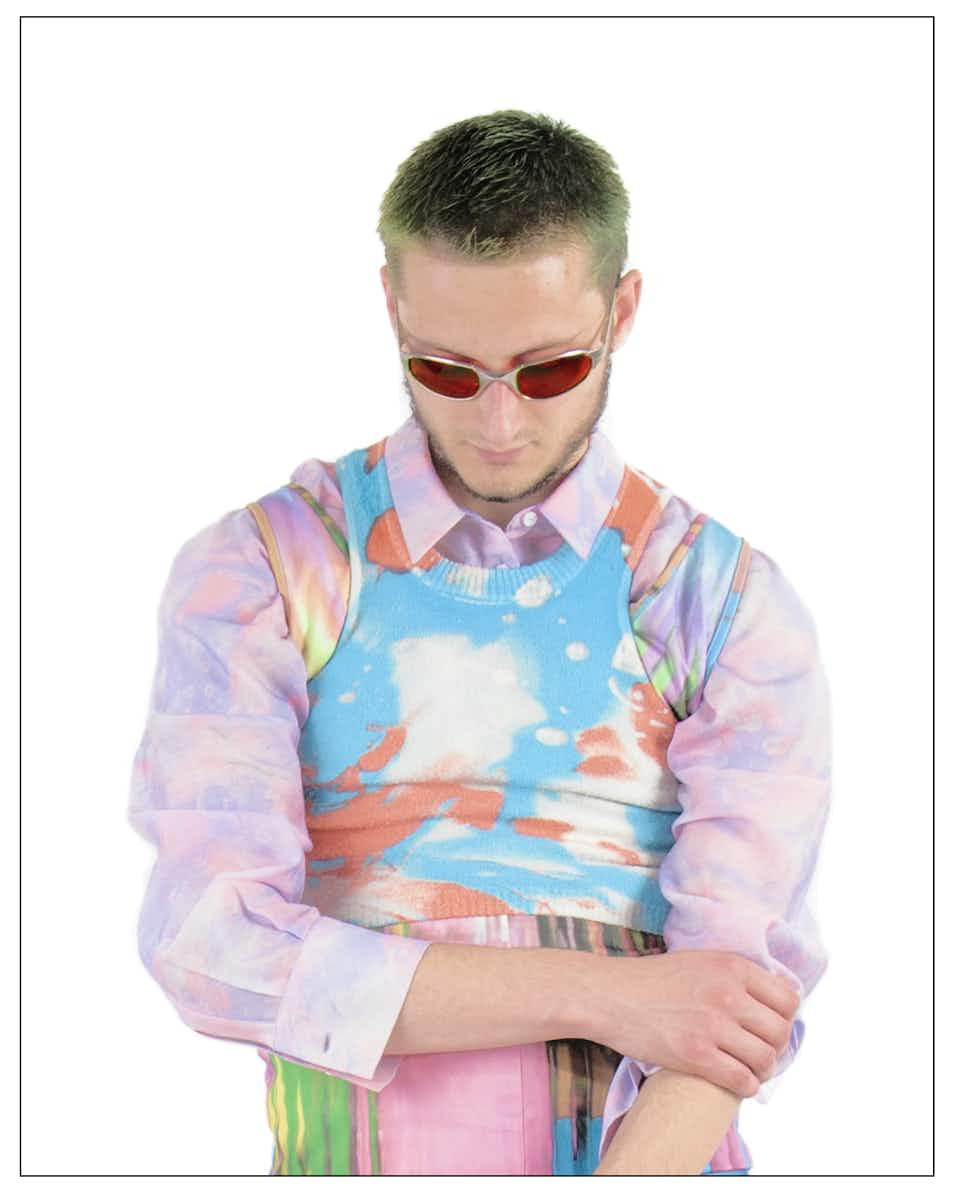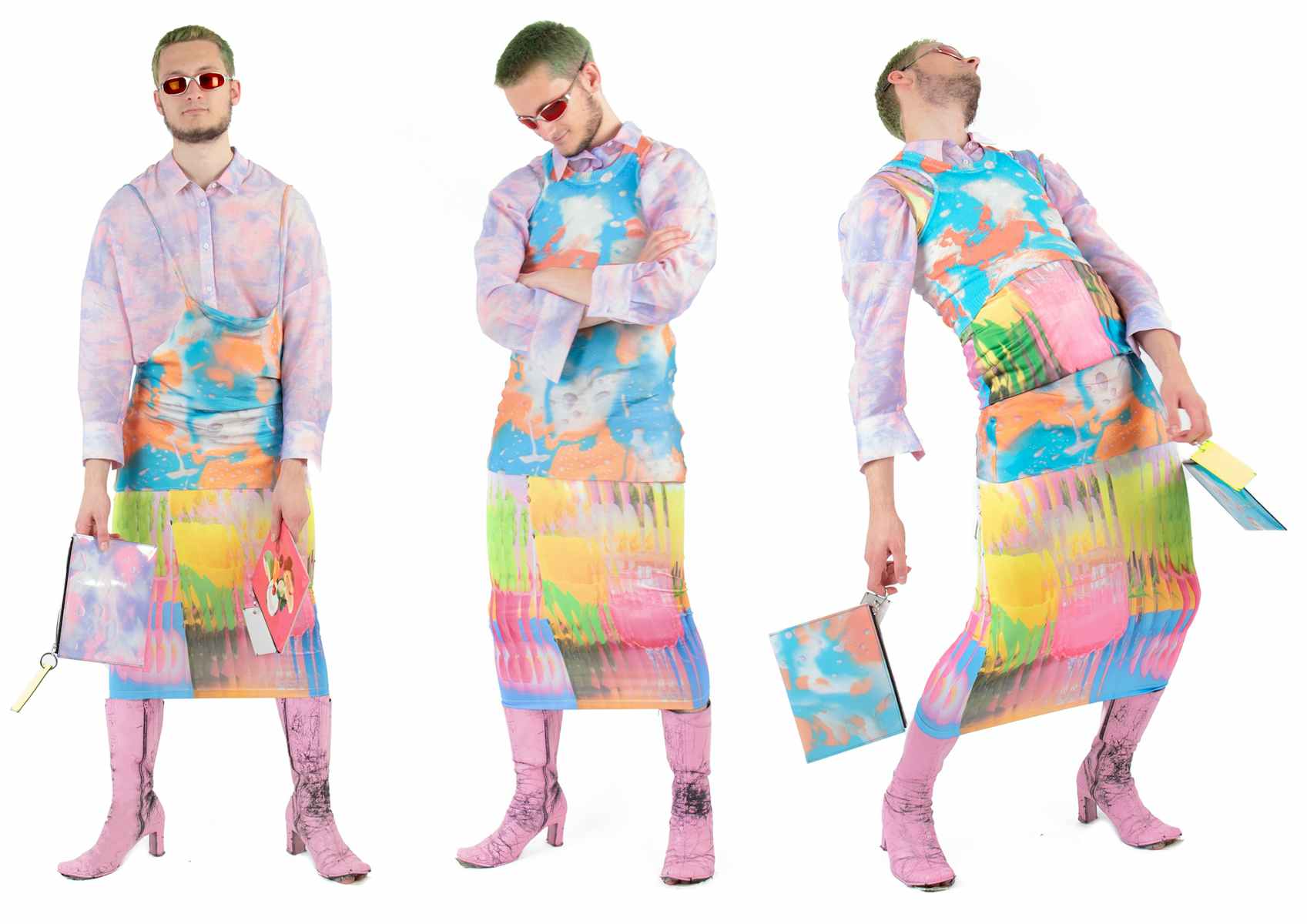 How did you hook up with Bimba y Lola?
It was around spring 2019, from what I remember they saw my graduate collection Gel Futures and were intrigued. I studied printed textiles at Central Saint Martins and had been experimenting a lot between textile design and fashion, photographic stuff and graphics, and it was a good chance to continue experimenting through all of those areas, but in a new direction.
What was the starting point for the collection?
The inspiration was really to create a refreshing sensory stimulation, through the textiles, I'm trying to achieve a feeling of heightened senses, so when you look at, or wear the prints, you feel stimulated. It's also kind of an imaginary place, like a surreal mixture between an indoor pool, beach and bar that would serve these weird fluorescent drinks you can see in my photos. I was trying to capture this sensual tactility in the prints – to capture and evoke this mixture of the senses; summer warmth, the sweetness of juice, the coolness of ice, the feeling of water splashing the body… and have this refreshing feeling come through in the imagery.
What's your favourite fruit?
Visually: green grapes.
Texturally: raspberries.
Taste: nectarines.
Sound: apples or melons.
Scent: oranges.

The collaboration sees you reimagine Bimba y Lola's #thisisHOT SS20 collection. For you, what's ​"HOT"?
It's kind of that little boost of dopamine you get from seeing a clear blue sky in the morning, the sun, the warmth… that feeling of calmness. The feeling of jumping into or being submerged in water. A ​"summer feeling" – refreshing, tropical, hot as well as chilled. A mixture of elements that would add up to create this atmosphere.
When I was developing all of the prints, I wanted to try out some ​"refreshing" new ideas with water. It started with a more intense colour scheme, very flame-like, but then started to go in a more pastel direction, so I just went in head first and created a full on pastel universe.
What are your top three HOT pop culture moments?
Ok these are all 2000's moments. I grew up in that era, though, so I guess it makes sense.
1. Hilary Duff performing With Love on the Today Show in 2007: this performance is a scream, I love the dancing. You may know it from the infamous gif…
2. Avril Lavigne Hot – every year it ends up on my annual most listened to songs playlist . And the video really goes well with the song; it's a great music video, the energy it has. They really did that with the editing.
3. That Kylie performance when she appears on that big CD, that was a moment.
Who do you want to see wearing this collection?
I can't choose one, maybe Arca, Sophie, M.I.A. or Grimes. Or retrospectively anyone in a Clubland Era music video.
Where are you wearing it? (Once the lockdown fully lifts…)
Either South Korea, a charity shop, or a club.

More like this