How Manchester's youth are carving their own style in 2022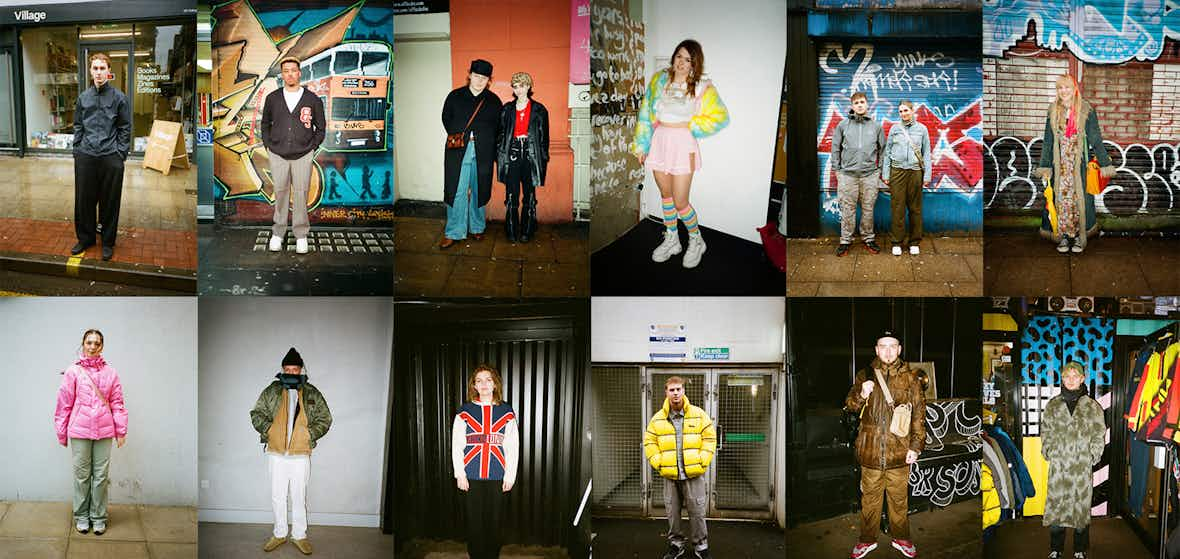 Manchester's Northern Quarter has been in a tug-of-war for some time. It's Big Biz on one side, independent spirit on the other. But out of this has come an exciting city style, with brands like Donkwear and Drama Call making noise across the country.

In the heart of Manchester's Northern Quarter sits The Koffee Pot, a large and colourful cafe that serves all things fry-up and American-style pancakes.
One side of the cafe's wall is exposed brick, the other decorated with murals, and the large front windows are punctuated with neon signs. Outside, a queue's forming that extends from underneath the cafe's awning and into the pitter-patter of a cold and rainy Saturday morning.
We're here to piece together the fashion of the city through its recent developments and sense of place, and find out what young Mancunians are wearing. Clothes, fashion and young design are extensions of the city's own, historic idiosyncrasies, and the best way to understand them is to set out on foot. Over the past few years, this area of Manchester has been targeted by gentrification, big business and fast fashion. Closures of much-loved independent shops and rises in rent have made it a markedly different place to what it was, say, five years ago.
As a de rigeur destination for hangover cures, it's not surprising that everyone in The Koffee Pot is dressed comfortably. Tracksuits are, after all, a sartorial cure for sore heads. But this is Manchester, and there's a go-to tracksuit brand that defines a community for the city: Drama Call.
Something of an enigma within Manchester, Drama Call makes full tracksuits, printed tees, trucker hats and beanies, all printed with their seemingly inescapable logo, as well as graphics that embody a Los Angeles-Manchester mash-up.

In late 2021, the brand shot local hero rapper Aitch and producer Nyge, collabs amplifying the fact that the brand's reach isn't just a story about the city per se but also about a presence embedded deep in music culture, especially hip-hop and grime. Head to any of Manchester's Habitat nights, which cater to future beat, trap, amapiano, UKG and dancehall heads, and Drama Call is everywhere.
There are little to no interviews out there with the people behind the brand. Instead, Drama Call's popularity relies on their word-of-mouth guerilla marketing, building traction by kitting out musicians, artists and mates-with-clout. It's a simple but effective method and has been utilised successfully by brands like the London-based Corteiz, whose organic growth has recently exploded in popularity.
As we leave The Koffee Pot, the pitter-patter has turned into a dull pelting. So we cross the road with some speed, heading to a near neighbour, Village Books.
A new addition to the NQ, Village Books takes the bookshop baton from recently closed Magma, an independent book and magazine store that existed, 200 feet down the road, for close to 20 years. The opening of Village Books, though, is a celebration, as it continues to strengthen the extent of independent stores that line Oldham Street, and helps keep at bay the looming threat of commercial development.
Recent developments within the NQ has created a tug-of-war within the city. Once hailed as the city's independent saving grace, full of free-spirited shops, bars and pubs that are owned and frequented by locals, the area is rapidly changing as tenancies end and venues and shop fronts are snapped up with pace and tenacity by outside influences.
Fighting against this, though, are a wealth of independent businesses that are utilising their creative talents to carry the soul and community of Manchester with them. While the NQ has its faults, this is a community hellbent on defending itself against outside development. There's still a reason why a Pret Subscription would make little sense here.
Several stores down the road is Gone Fishing Vintage, an independent clothing store and online shop that grew out of a bedroom hobby of reselling clothes. Sebastian Dixon, the shop's owner, ruminates over threats the NQ faces. ​"It has a DIY spirit which you can see in the creative output," he says. ​"But in terms of independent property and tenancy, it's being threatened by chains and mini-monopolies of bars."
As well as stocking Paninaro-inspired clothes from Italy, flashes of techwear and streetwear, Gone Fishing Vintage hosts a rail that includes collaborations between the store and Donkwear, a label originally from Bolton that made a name for itself with creative upcycling. Donkwear's neon-infused and eccentrically queer clothing has been worn by Mowalola and perfectly represents the raw and slightly gritty DIY nature that embodies Manchester's youth scene.
Donkwear's spirit is a 3M-lined middle-finger to the fast-fashion world, with the label having fought battles against global design appropriation from wholesales and vintage chains across the UK. It demonstrates the precarious position young designers are in, not just in a geographic sense, but from creative poaching.

"Ryan Vintage, one of the best vintage shops in Manchester, is now a Turtle Bay," says Madi Marcantonatos, one half of Donkwear. ​"Now, you're more likely to find an overpriced plant shop in the NQ than a quirky independent shop." In response to this, many young people are moving slightly further afield in search of cheaper drinks and honest spaces. The Derby Arms in Cheetham Hill, explains Marcantonatos, ​"is a genuinely safe space for all the weird and wonderful folk pushed out of the NQ".
While young people are forced away from the cultural hub of the NQ, this makes something as simple as owning an independent shop or brand an emblem of resistance to change – and therefore a political act. Still, while some independent businesses are caught in a precarious position, some are managing to thrive.
Flicking through the stock at Gone Fishing Vintage, Dixon picks off the rails a 1980's Japanese-release C.P. Company jacket off and pores over the detail. ​"This is the sort of stuff you rarely see these days. There are a lot of brands that screenprint T‑shirts and think it's fashion. Fashion is pattern cutting, garment dying, experimenting with materials." Dixon zones in on another brand with a deep-set history in Manchester's fashion world: Sampaix Studios.
Jared Knight, the founder of Sampaix, likes to move in the background, and has stories relating to many of the bigger outlets in Manchester right now. ​"There was this studio on Chapel Street in 2015, right at the beginning," he says. ​"So many ideas came through that place. The first-ever Drama Call sample sale happened there. London's Unknown passed through. It was a hub."
Sampaix's output is minimal with extreme attention to detail. There's no explicit drop model, no consistent releases. Sampaix releases when it feels ready, and when they're comfortable. One of their defining features is a sort of external frill that runs down the length of pants and shorts. When I ask Knight what the point of the frills is, he laughs.
"You know, the frills are there just to make things difficult. When you know about design, you know how hard it is to stretch a fabric without distressing it, and how to deal with shrinkages and dyes. We put the frill in just to make it harder – as a design test for us." As Knight talks down the phone, it becomes obvious that he's an expert in his field, a designer's designer.

Continuing down the road and turning the corner onto Thomas Street, you arrive at Oi Polloi, an institution established in 2002. Steve Sanderson, one of the founders, describes the shop as ​"an excuse to collect and put things together. It was a reaction against big retailers. In a way, it's kind of anti-fashion."
"We were lucky to grow up at a pivotal time," he adds. ​"It was the ​'80s – a big decade, that. Oi Polloi is a continuation of that working class, going out, music, clothing thing. That's all that fucking mattered."
Sanderson positions Oi Polloi as a natural extension of Manchester's culturally-charged Eighties renaissance: Factory Records, Happy Mondays, White Doves, blue ones, too. Oi Polloi is an embodiment of Manchester's low-key, not arsed, post-industrial graft and play. This is the way the outside world tends to view Manchester, a city that's culturally as big as the egos of its rockstars and the salaries of its football players.
Manchester is often viewed in relation to London, in the context of the North vs South debate, as the would-be capital of the Northern Powerhouse. But these framings miss the impact of Manchester's global exports. Ryan Kimberley, a fashion design student at University of Manchester, points out that even ​"Virgil Abloh took a massive amount of inspiration from Peter Saville" – Factory Records' in-house graphic designer, who designed the cover of Joy Divison's Unknown Pleasures, and art directed for Yohji Yamamoto – ​"who, in 2004, was given a role as a Creative Director for the City of Manchester.
"It's pertinent," says Kimberley, ​"to note that one of the most influential characters in modern fashion took influence from a Manchester man."
It would be impossible to talk about Peter Saville's influence on Abloh without referencing the late designer's appreciation for a young Manchester designer. In late 2020, Abloh was spotted wearing a distinct pair of shoes on his feet: Clints' TRL Footprints. Clints exploded like a flash of colour onto the scene in early 2020 with a silhouette that mobilised opinions from Manchester to New York.

The TRL Footprints sat in the creative stages from 2018. When it was finally released, it embodied the creative spirit behind Nike's ​'90's ACG line with refreshing editorials and imagery that did the same. Clints' DIY ethic put the young designer in line with the work of pioneers like Peter Fogg and Tinker Hatfield, making a distinct footprint in a footwear world that's grown stale with uninspiring colourways and a factory line of repetitive re-releases.
Since then, Clints has continued to surprise and push boundaries in terms of collaborations – the brand just announced a collab with Patta – and in terms of design, teasing a glass table that highlights the brand's most distinct feature: the tread of the TRL that spells ​"CLINTS".
Speaking with Jared Knight of Sampaix, he describes Clints' table as ​"the street Rick Owens," before ruminating over the underconfidence that designers from Manchester sometimes internalise. ​"Being from a ​'second city', young people here don't always back themselves. They don't realise that what they're doing can compete with the likes of Paris and New York. Clints sets a level that inspires people."
And it's true: the output of Clints sets the bar higher and higher with every release.

The extent of Manchester's cultural exports doesn't stop here.
Adsum, a New York-based brand that's known for minimalism, recently released an Oasis-referencing T‑shirt that marked a departure from their previous reluctance to extensively utilise large graphics. It sold out instantly. And then there's an assortment of American collectors like Chris Black who reference Manchester band T‑shirts as their favourite items of clothing. Manchester's cultural heritage is a global export. Mancophile isn't a word, but it ought to be.
Around the corner from Oi Polloi lies Afflecks (formerly Afflecks Palace). It's a three-story maze that exists as the last bastion of alternative subcultures, housing everything from Pokémon card shops to K‑Pop to tarot, tattoos and Thai massages. Afflecks was one of the NQ's first independent developments in 1982, catalysing a movement of young entrepreneurs with wild aspirations. It stands proudly on the side of Oldham Street, loved, adored and fondly mocked, refusing to sell out on its eclectic ethos.
Inside Afflecks Palace, we bump into two teens, both 17. Naomi is wearing a leather jacket that's punctuated with spots of red and adorned with glimmers of metal. ​"I like goth stuff," she declares. Next to her stands Henry who, ahead of his first year at Salford University, where he will be studying Fashion Image Making and Styling, has been ​"researching different time periods of fashion and isolating interesting elements".
"When I'm [home] in Sunderland, everyone looks at me differently," explains Naomi, who has travelled to Manchester for the weekend. ​"But here, it's normal for other subcultures to be around." Henry, who is dressed in straight-fitting double denim, brown leather boots and a small shoulder bag with a thin strap of the same shade, asserts that ​"Afflecks Palace is a small but diverse area. What it offers can help you define your style in better ways than the expanse of social media."

This same charge runs true not just for Afflecks, but for Manchester in general. It's not huge, but it isn't tiny, and within those dimensions, it offers an accessible and direct culture. Manchester, as the cultural capital of the North, draws people in because it enables opportunity. There's a locality to it that feels like a small city – it isn't as bewildering as London to first-time visitors – while maintaining a sense of the unexplored.
The rain persists, and as we emerge from the allure of Afflecks' maze, the day has skipped dusk and turned straight to night. There's a sea of people that float in every direction like loud and boisterous waves, and for a moment I consider a swift one at bar and club Soup.
At night, the Northern Quarter becomes something else entirely, and somewhere in the chaos of it, it feels welcoming. The pints are (mostly) still on the nice side of a fiver and, after spending enough time here, someone on the bar might give you a bit of discount anyway.
So, in the knowledge that it's never just a swift one, I grab a bottle from Ad Hoc and head home, leaving the Northern Quarter to forget the overbearing shadows of change, and revel in the tumultuous excess that unites the country.

More like this