Everything going down at London Fashion Week Men's AW20

Jordan Luca, Paria Farzaneh, Bethany Williams, Robyn Lynch, Nicholas Daley, Charles Jeffrey, Stefan Cooke, Wales Bonner, Art School, Martine Rose.
ART SCHOOL AW20
Titled ​"Fearless Love", Art School's AW20 collection, was a post-apocalyptic feast. Smoke machines, zombie-like struts and the eerie sounds of composer Phillip Glass and, for its finale, FKA Twigs' Cellophane, had models of varying shapes, heights and ages dragging their bare feet against the cold cement floor, drunkenly, towards ​"the light". Having created a genderless world, design duo Tom Barratt and Eden Loweth positioned the artist smock at its centre – a unisex article of workwear free from gender constraints, while brittle beads were embroidered onto heavy eveningwear dresses. A rigid corset exposed the wearer's chest, while tough vinyl was used on a buttoned-up jacket, swiftly followed by a fluid black cape-dress. A second collaboration with artist Richard Porter gave way to detailed sculptures worn on the body – a connection to the British landscape by way of rocks, driftwood, rope, fossils and small stones. Typically gloomy, Art School's show symbolised optimism in these harsh times. Banding together, the monochrome-wearing army symbolised the liberal efforts of the young political pundits of today – striving for a future with fewer boundaries, whether in gender, sexuality or the garments we throw on our backs. And after the after show? The after party that included a live VR experience in collaboration with CommuneEAST.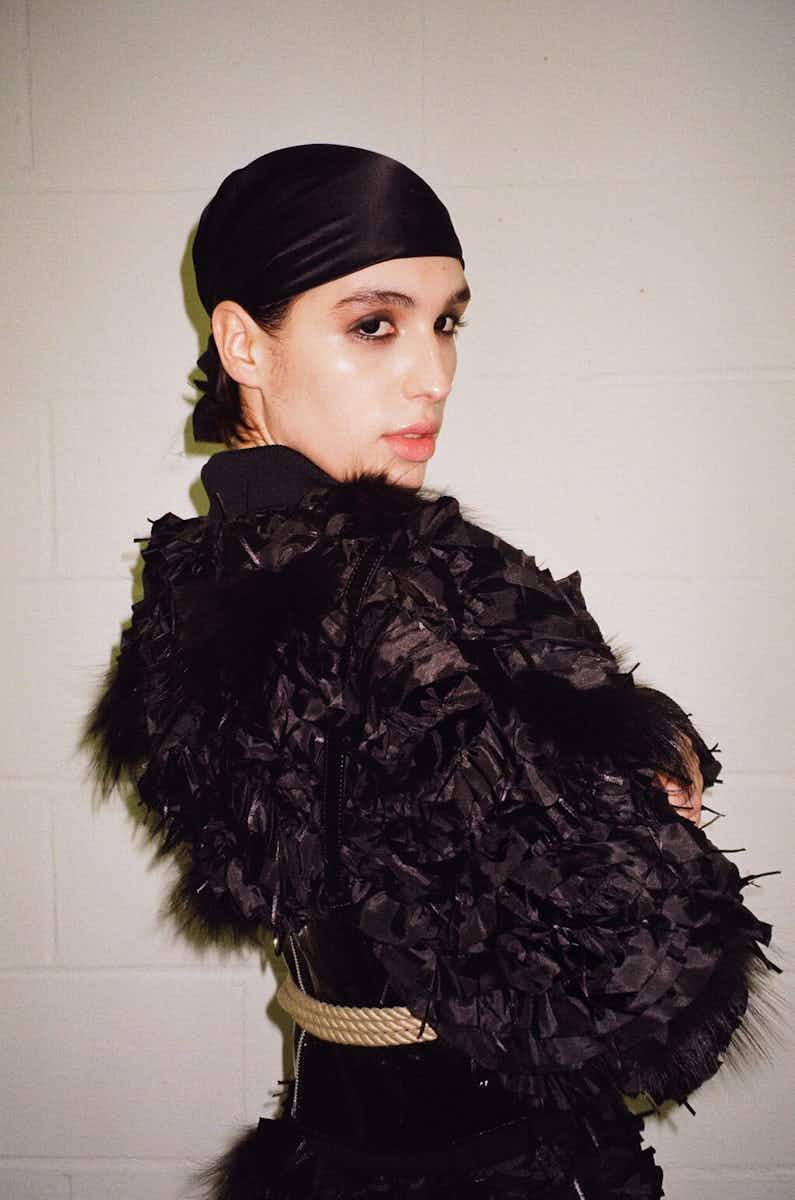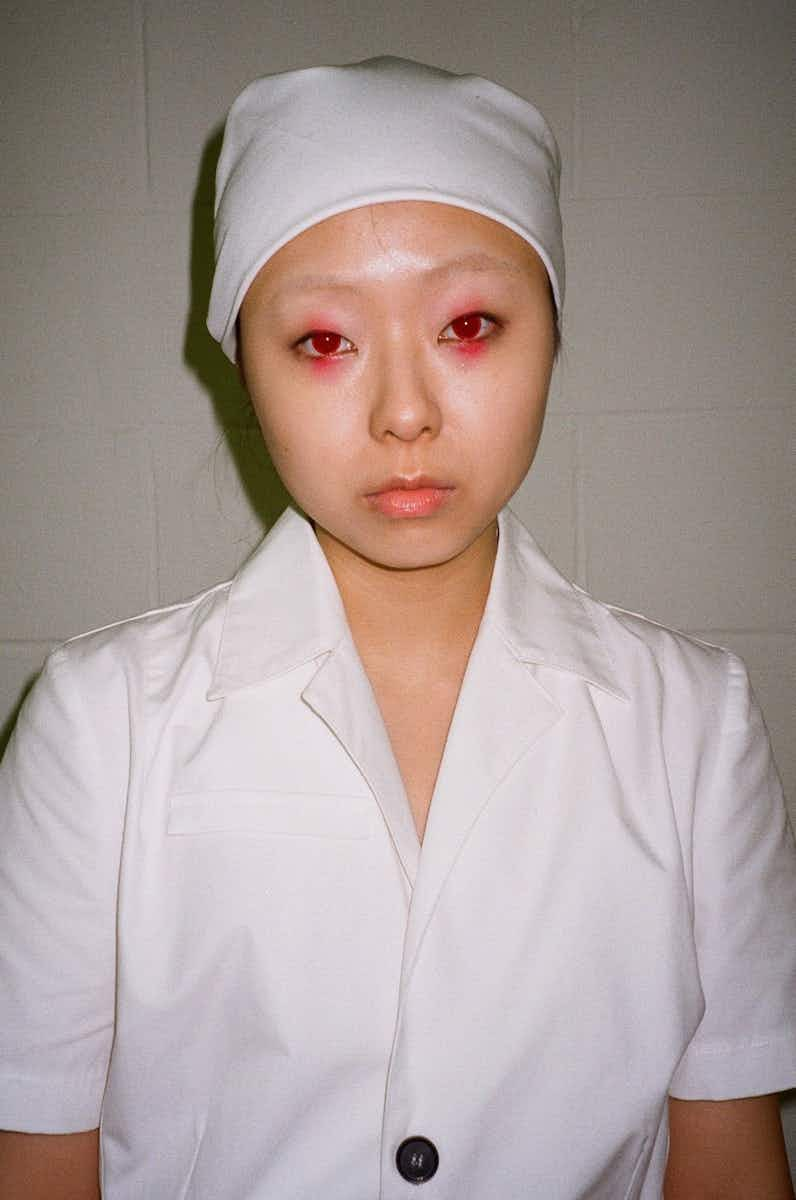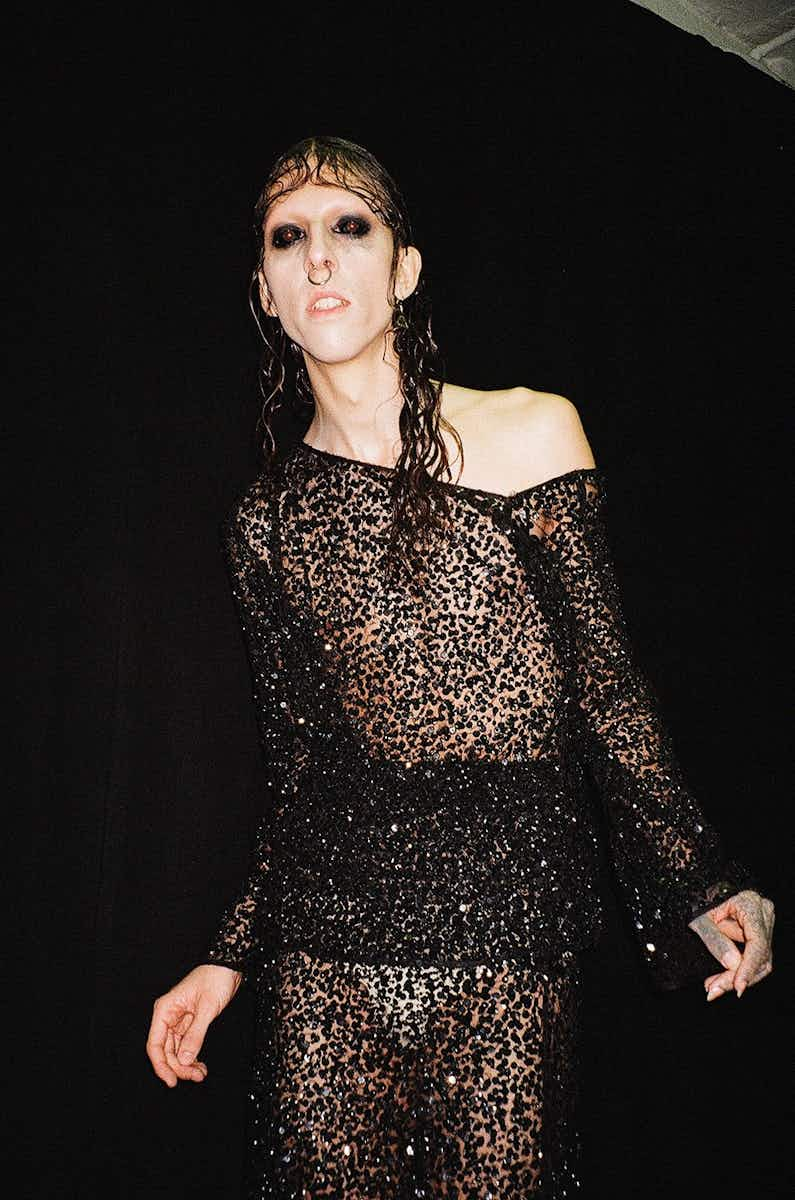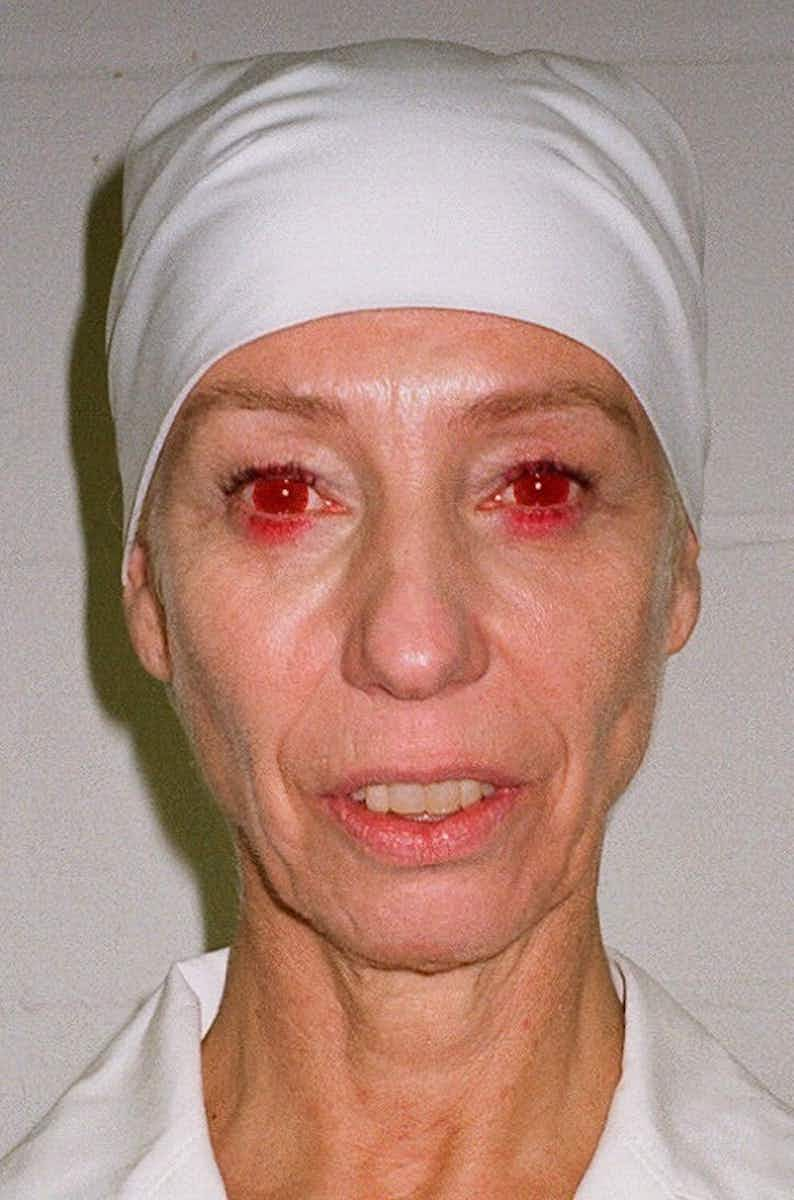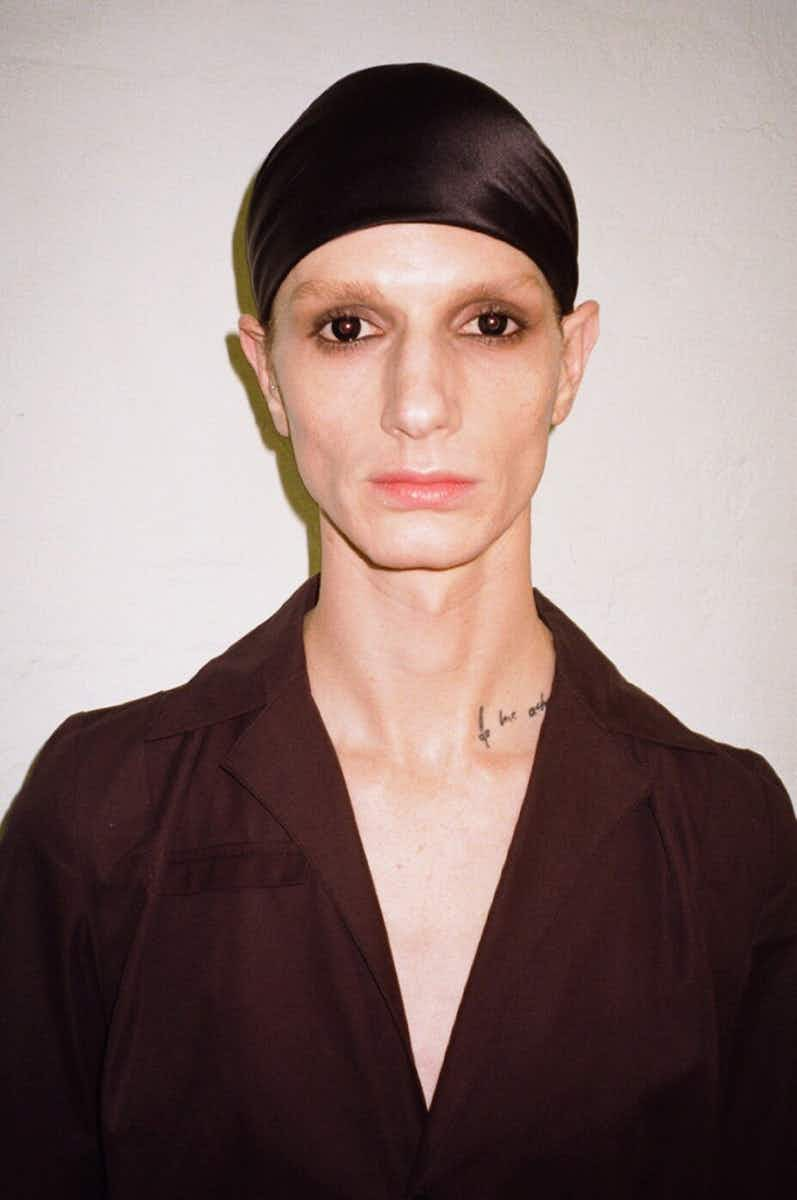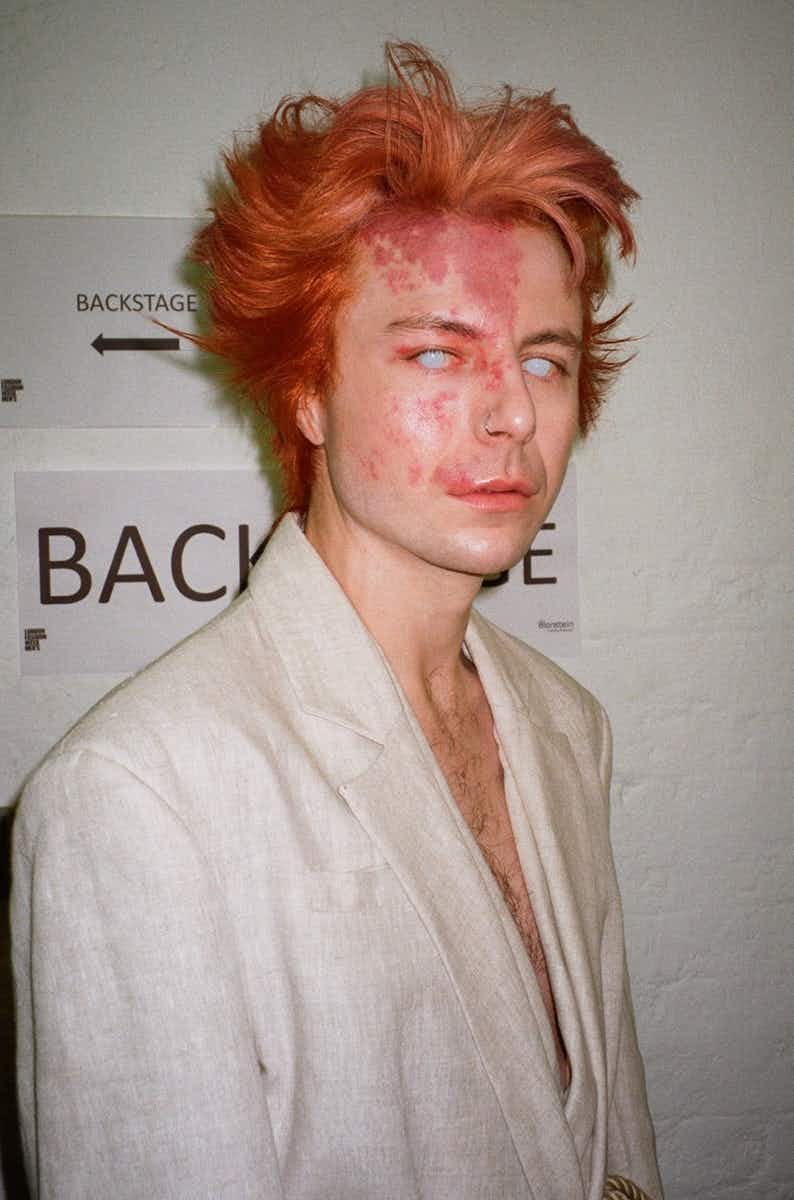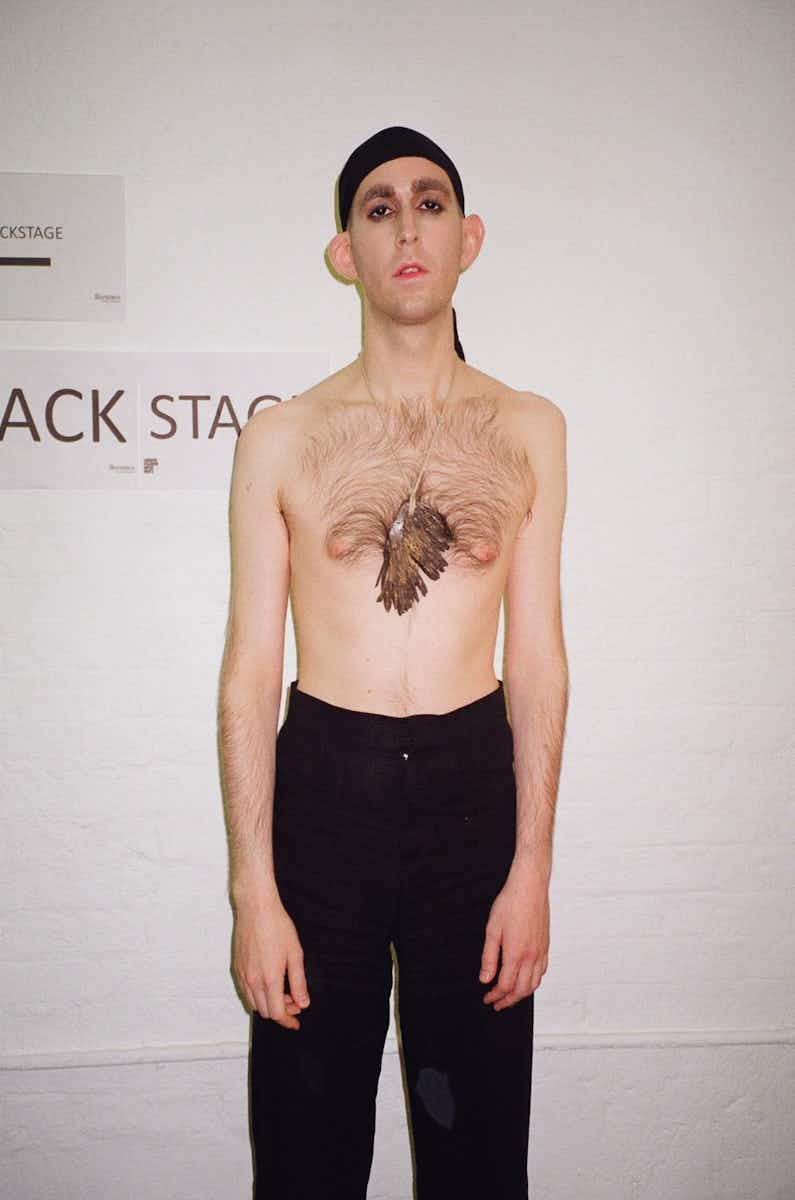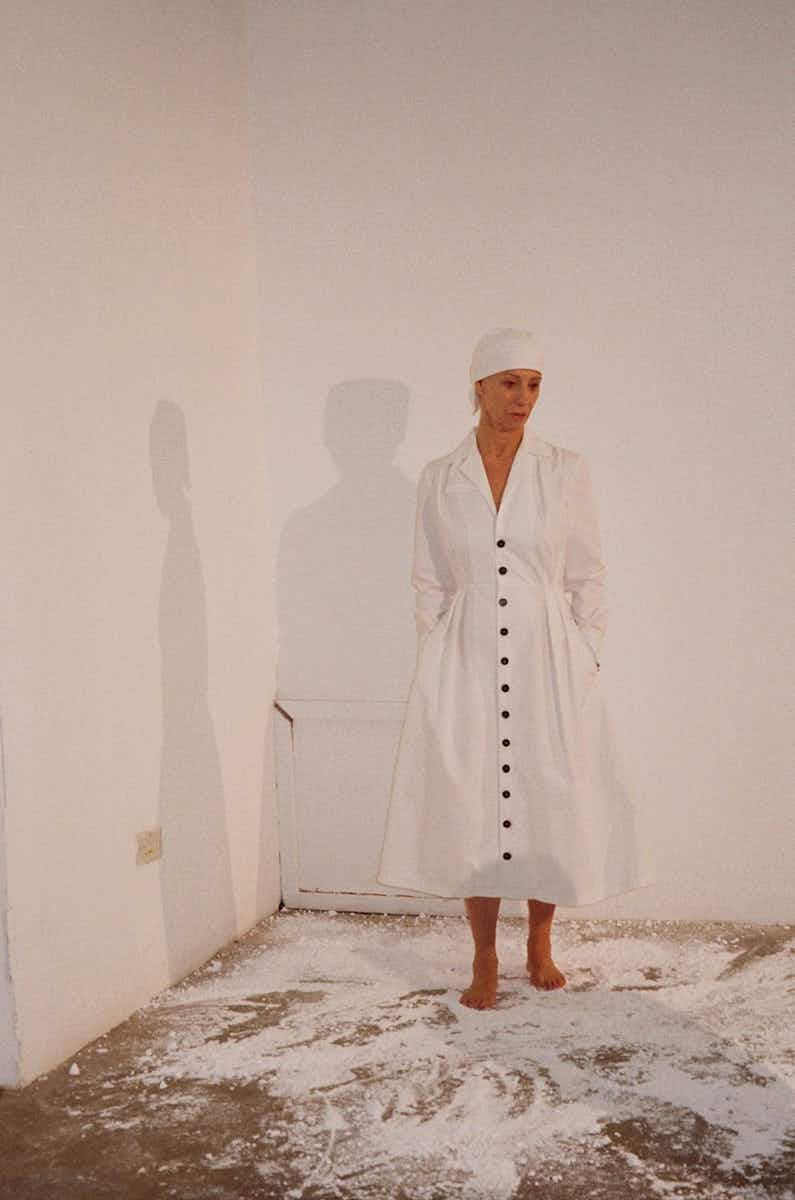 WALES BONNER AW20
This season Grace Wales Bonner transported her guests to ​"Lover's Rock". The title of the collection references both a body of work by photographer John Goto and a particular style of reggae that emerged in the late ​'70s. Goto's reportage photography from the same era documented young British African-Caribbeans – and their anti-conservative, rebellious way of dress – at Lewisham Youth Centre.
What about the clothes?
Inspired by the characters in Goto's portraits, Wales Bonner dressed her models in ​'60s Saville Row style tailoring, a navy pea coat with big brass buttons, oversized-checkered suits, deconstructed blazers (with the lining worn on the outside), a teddy-bear shearling jacket in chocolate brown and sherbet lemon and a series of silk shirts that reinterpret the work of abstract painter Frank Bowling.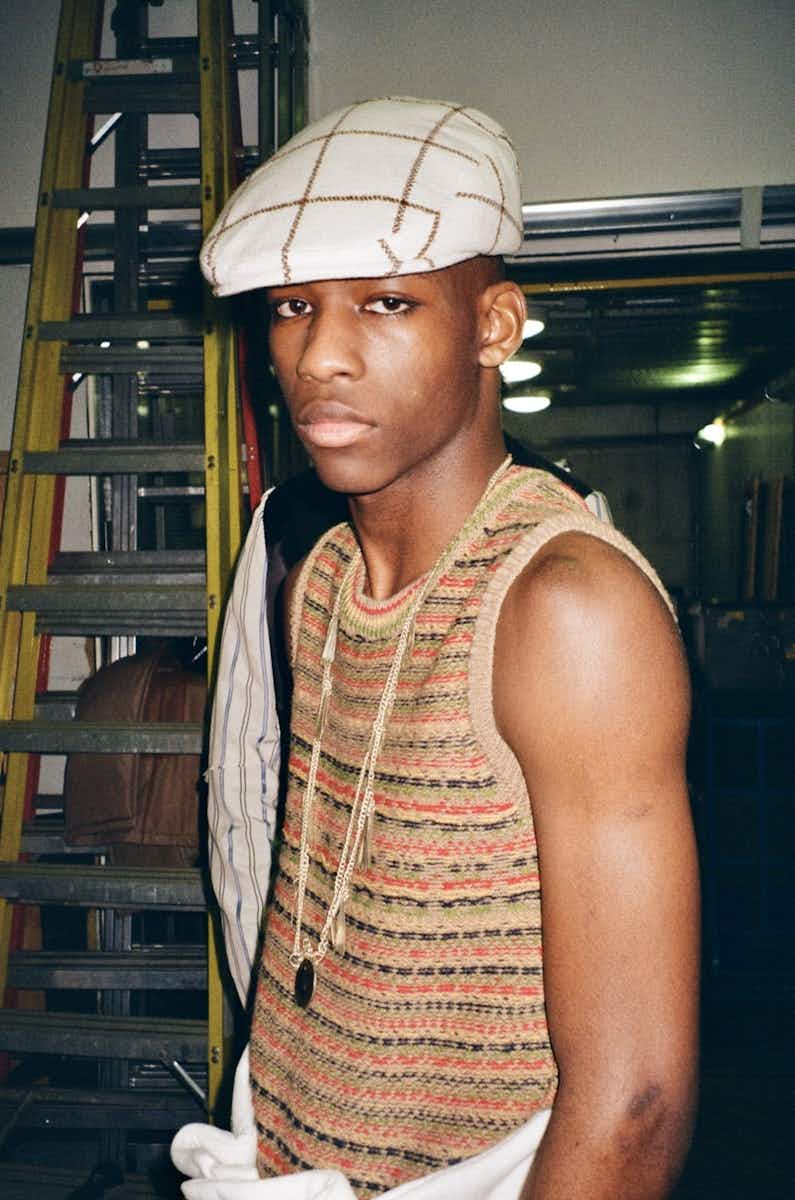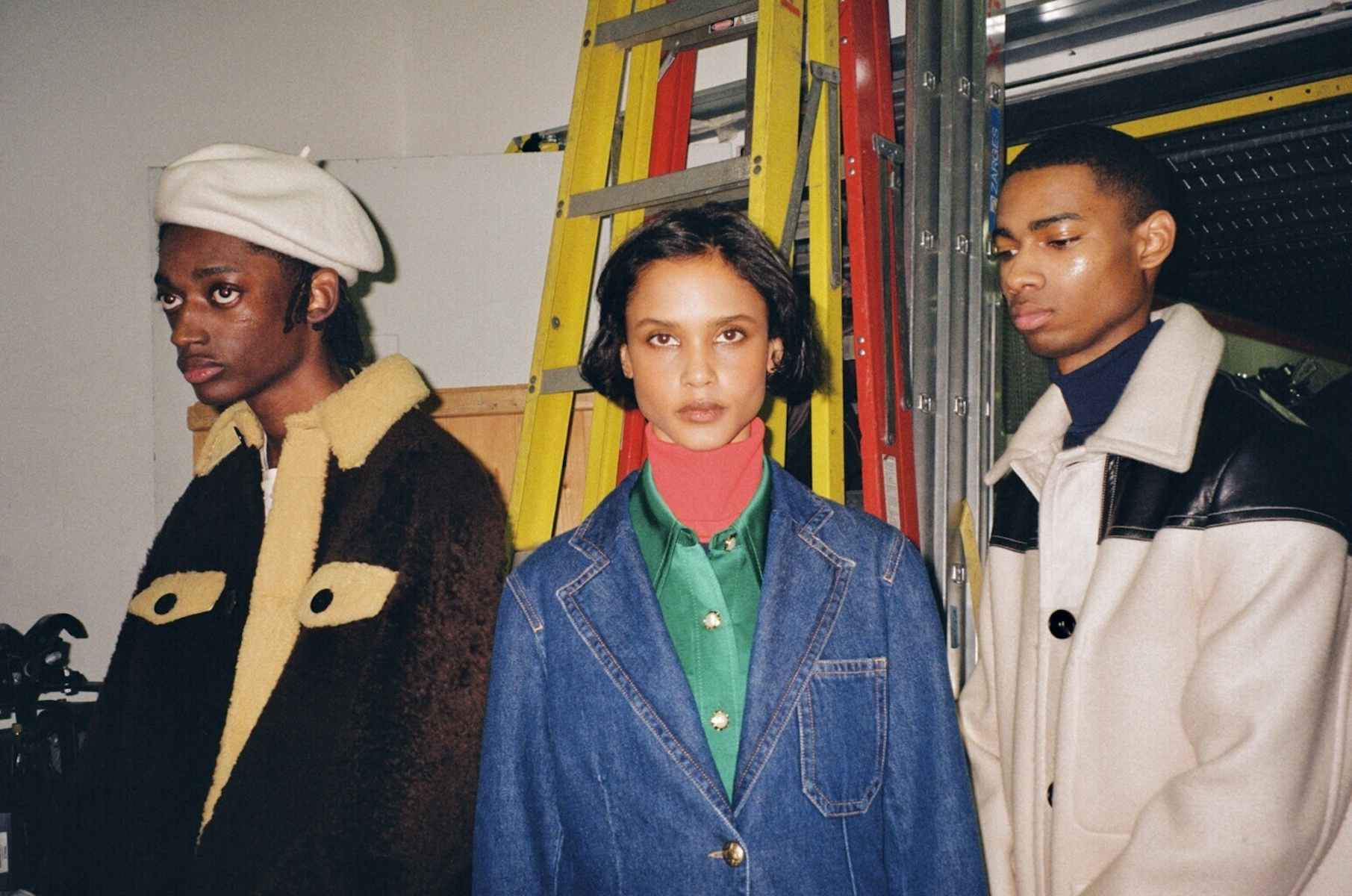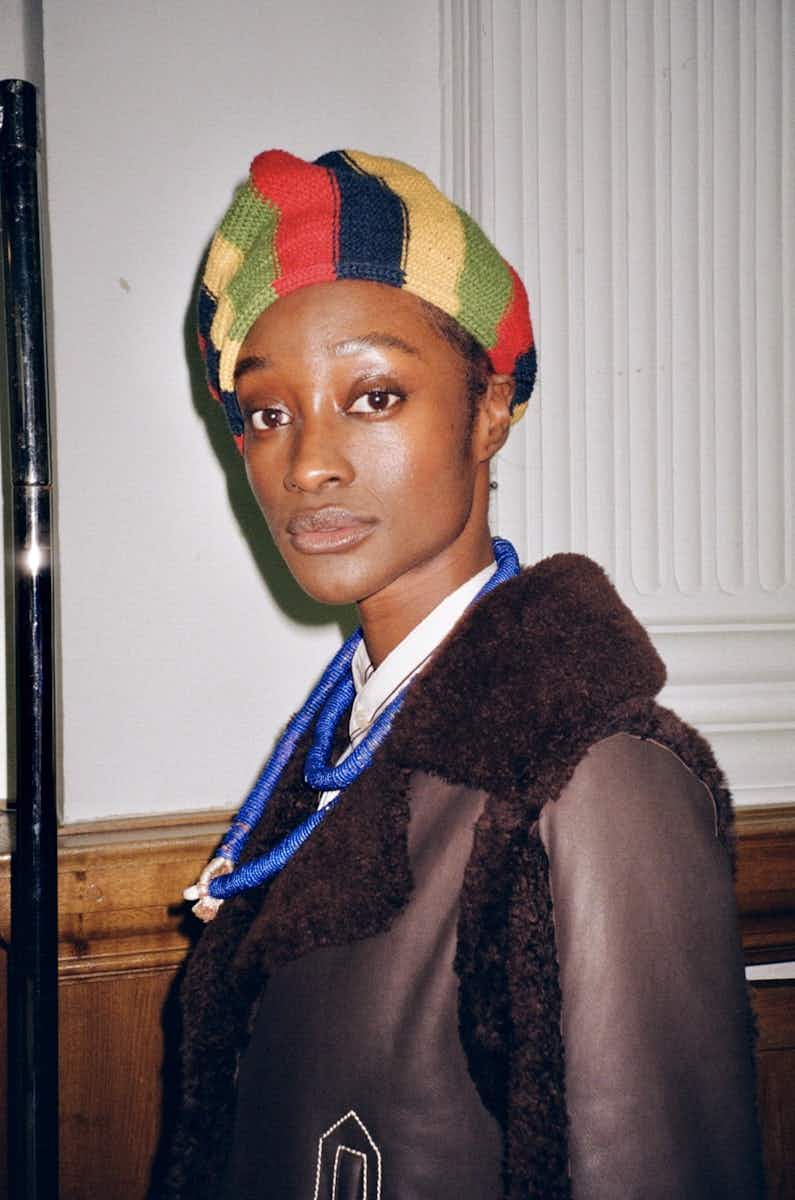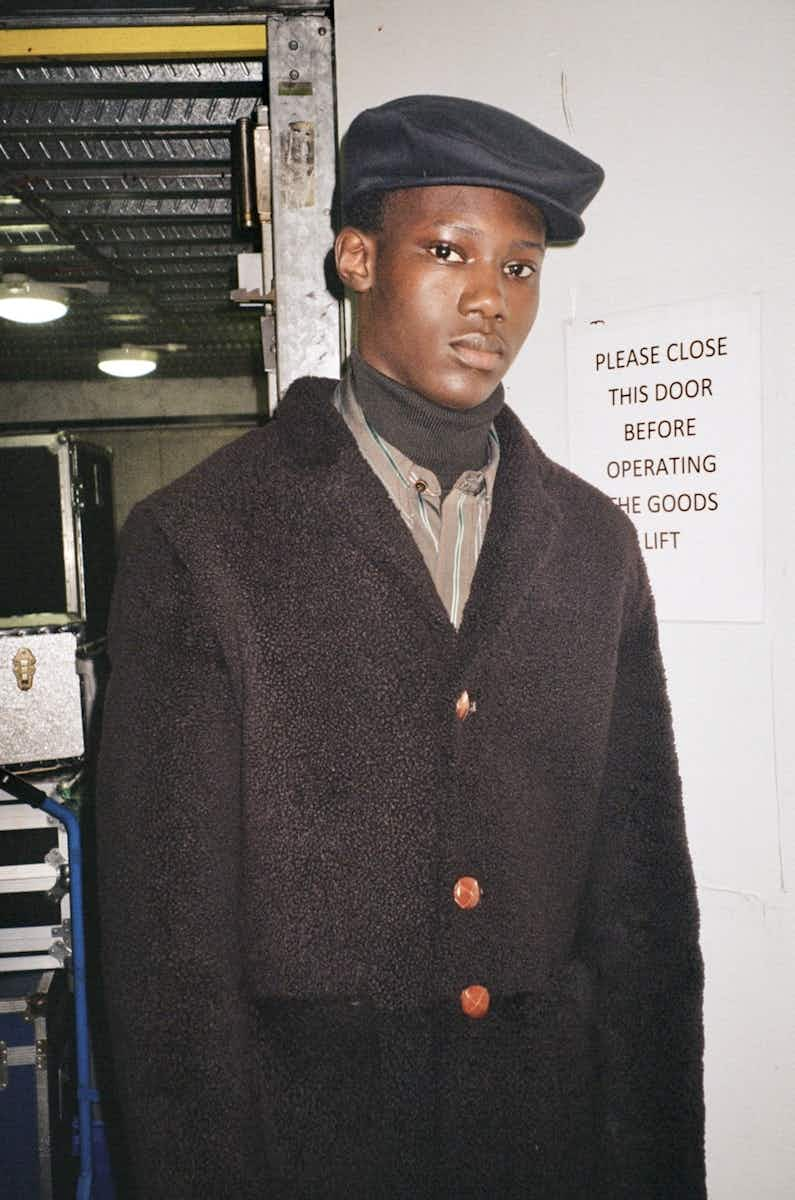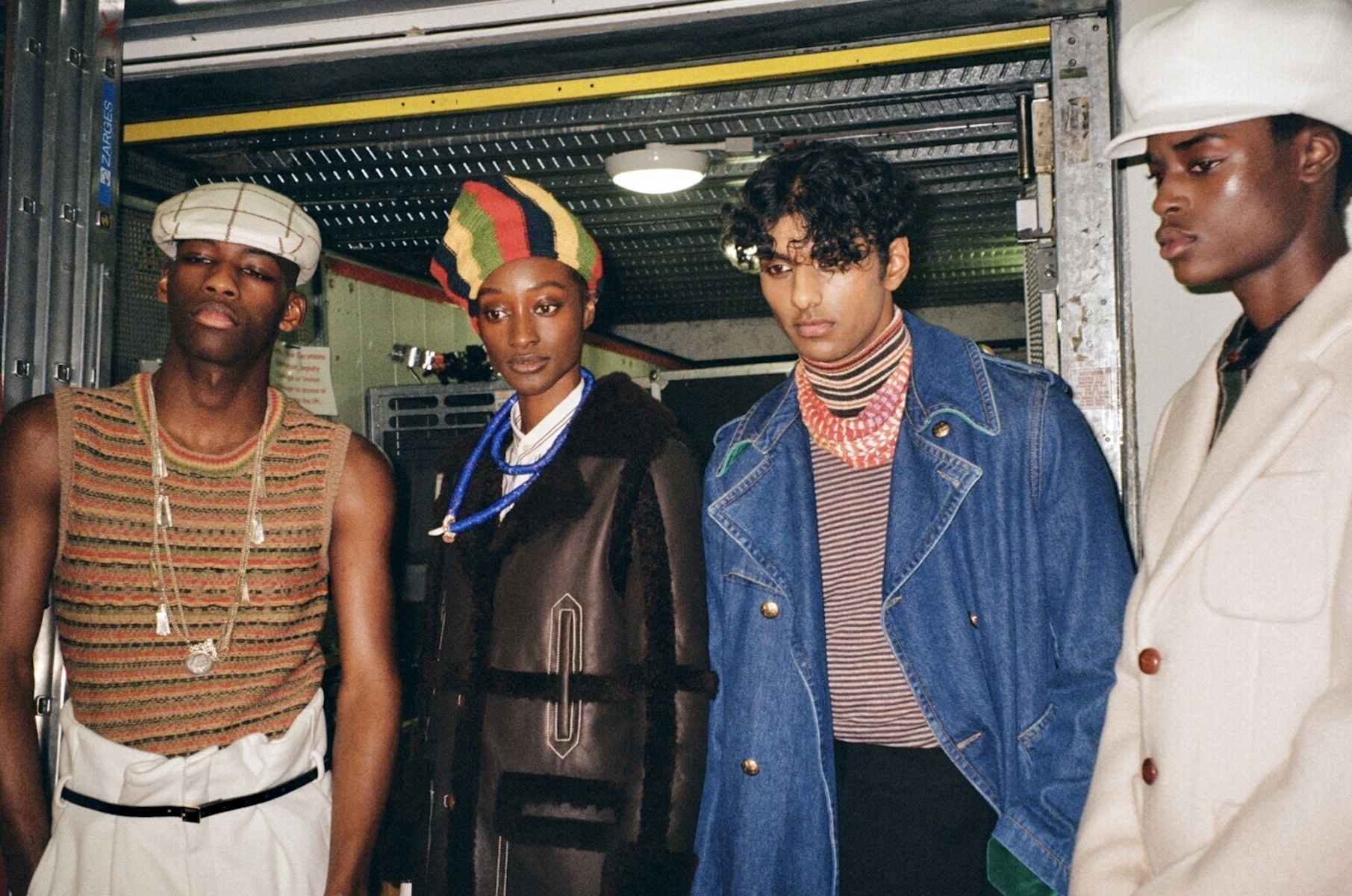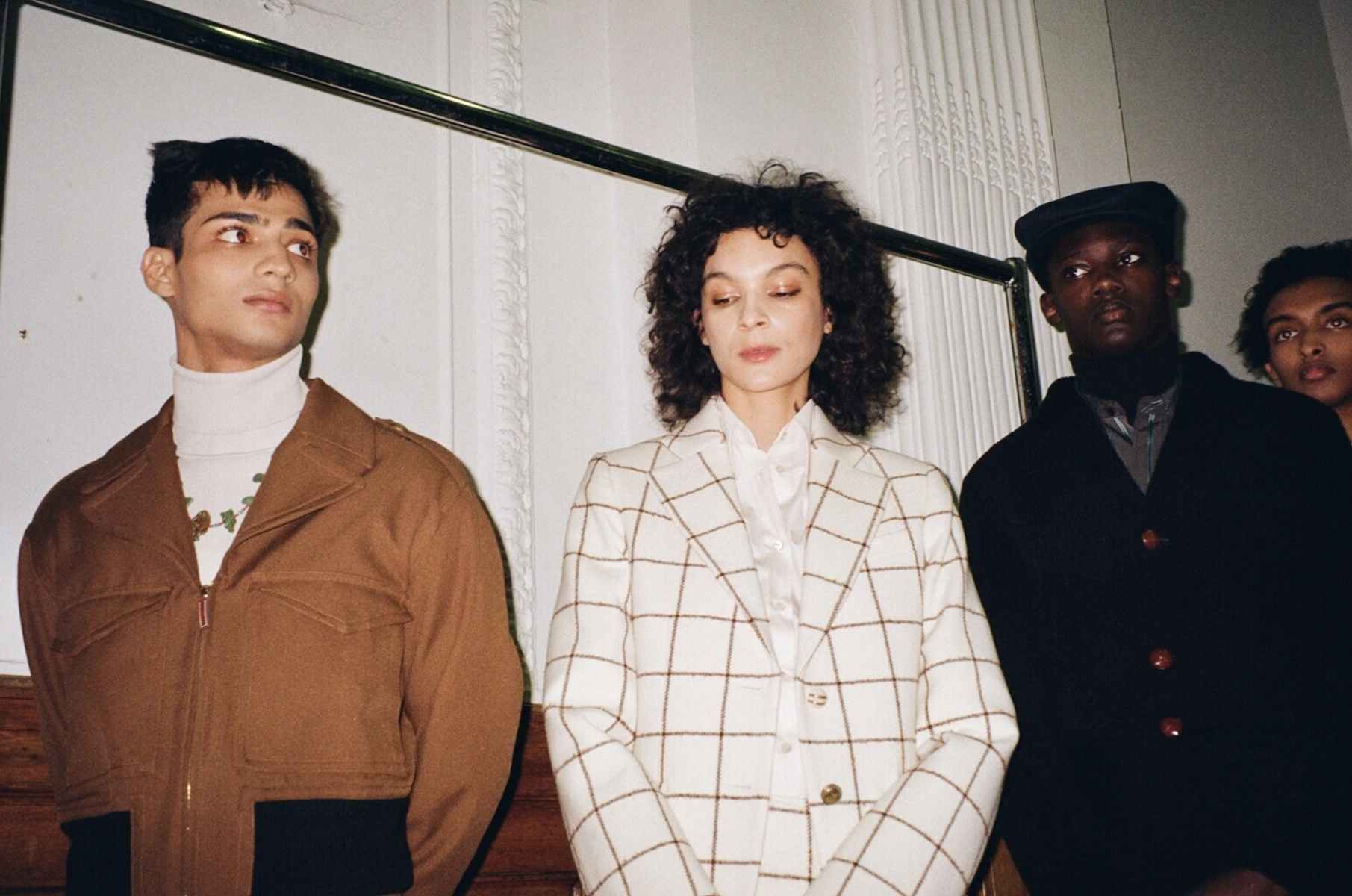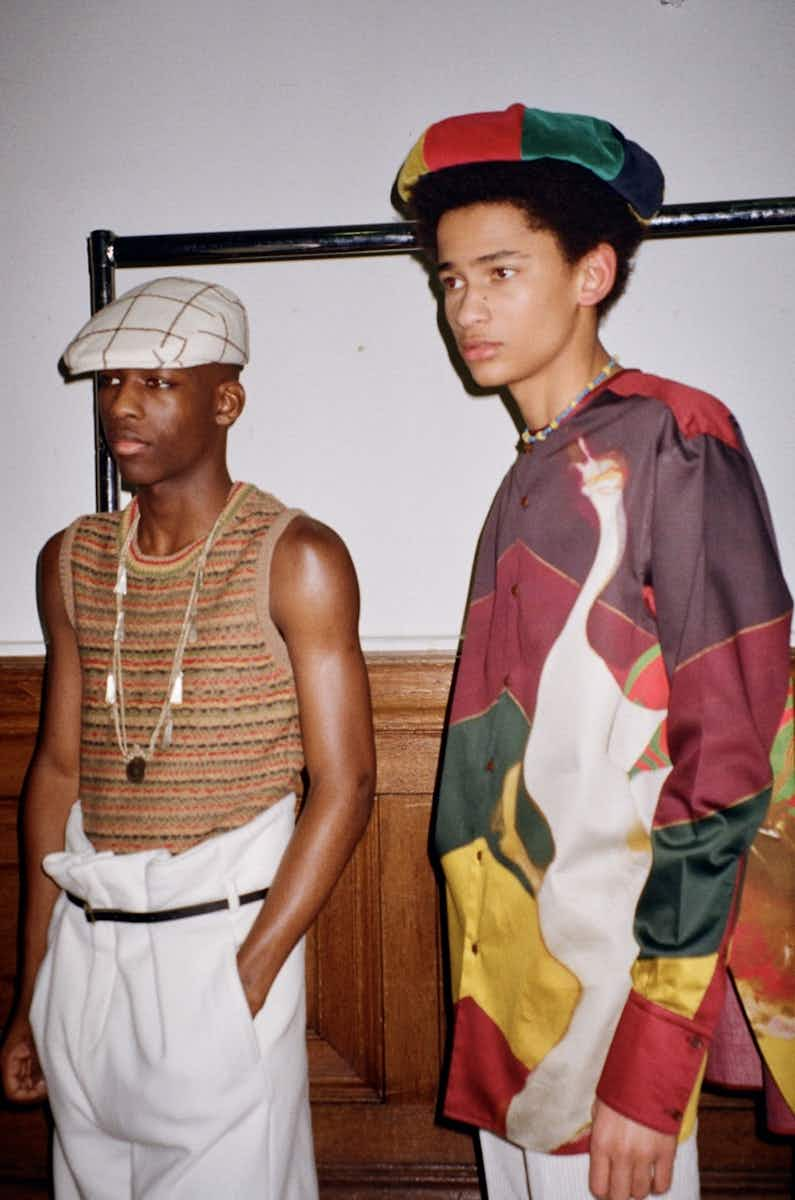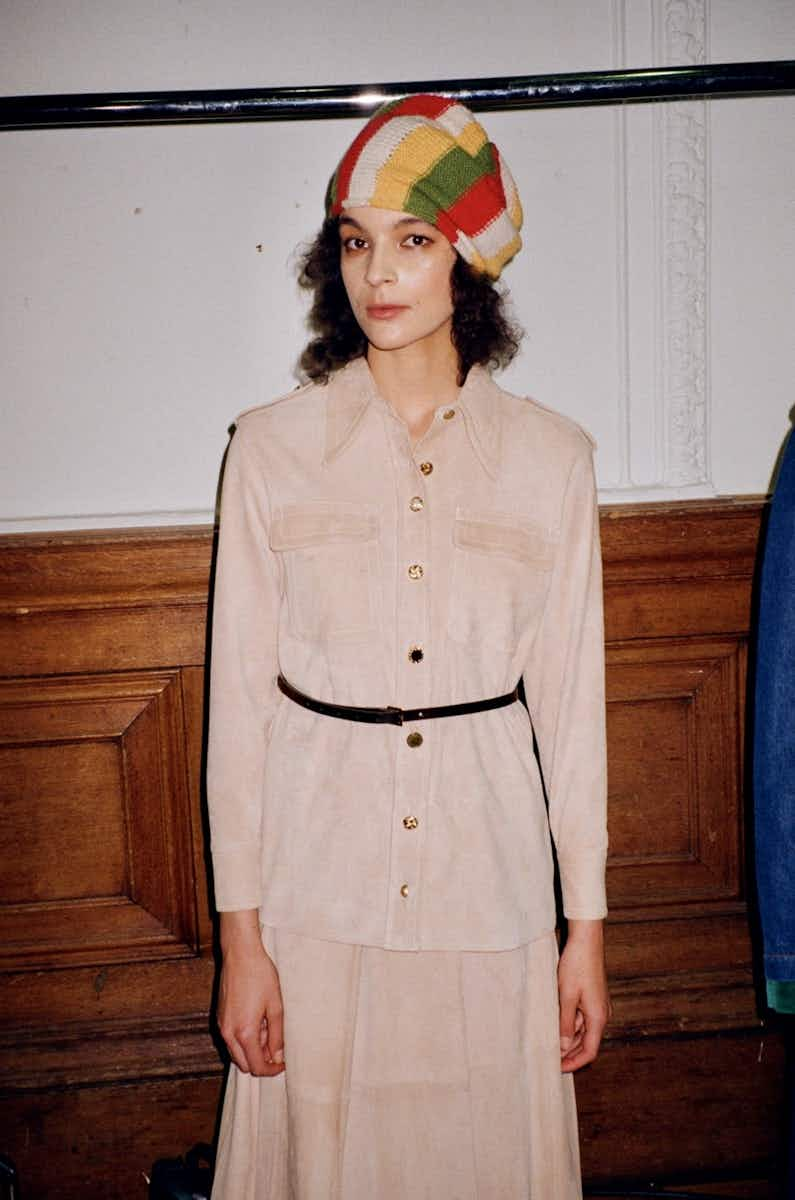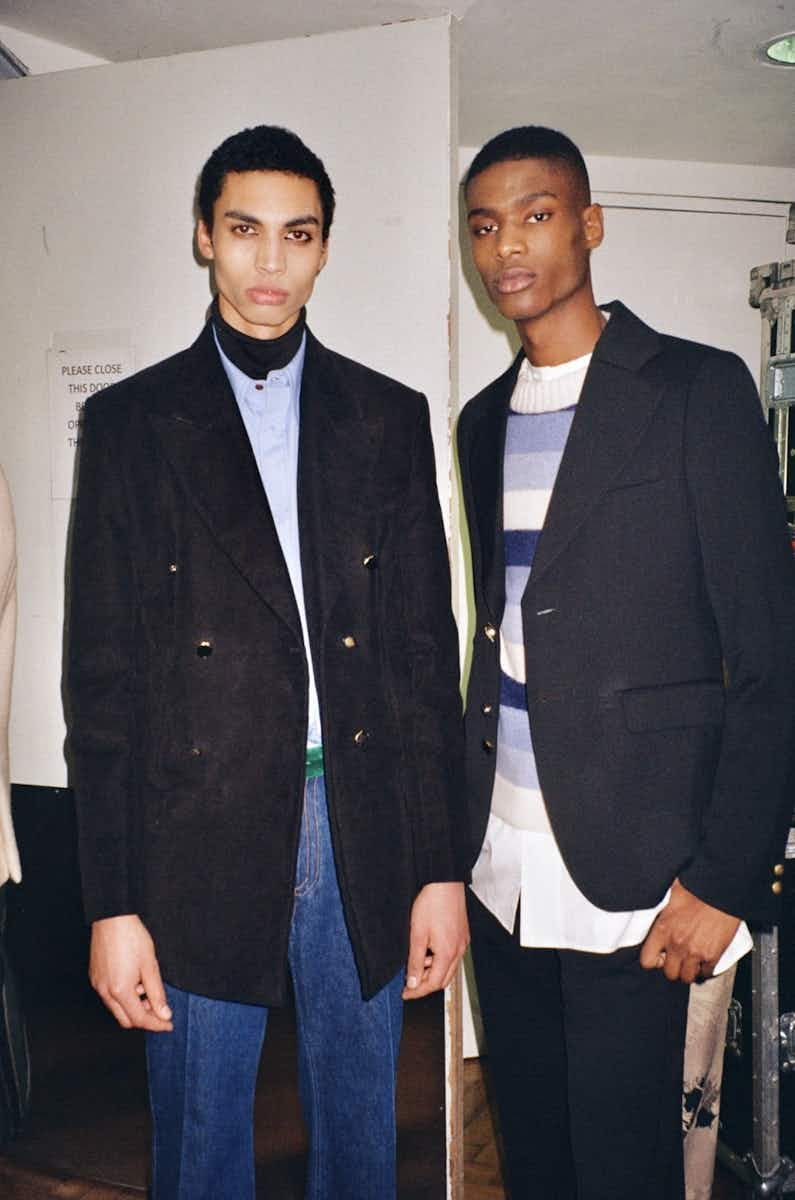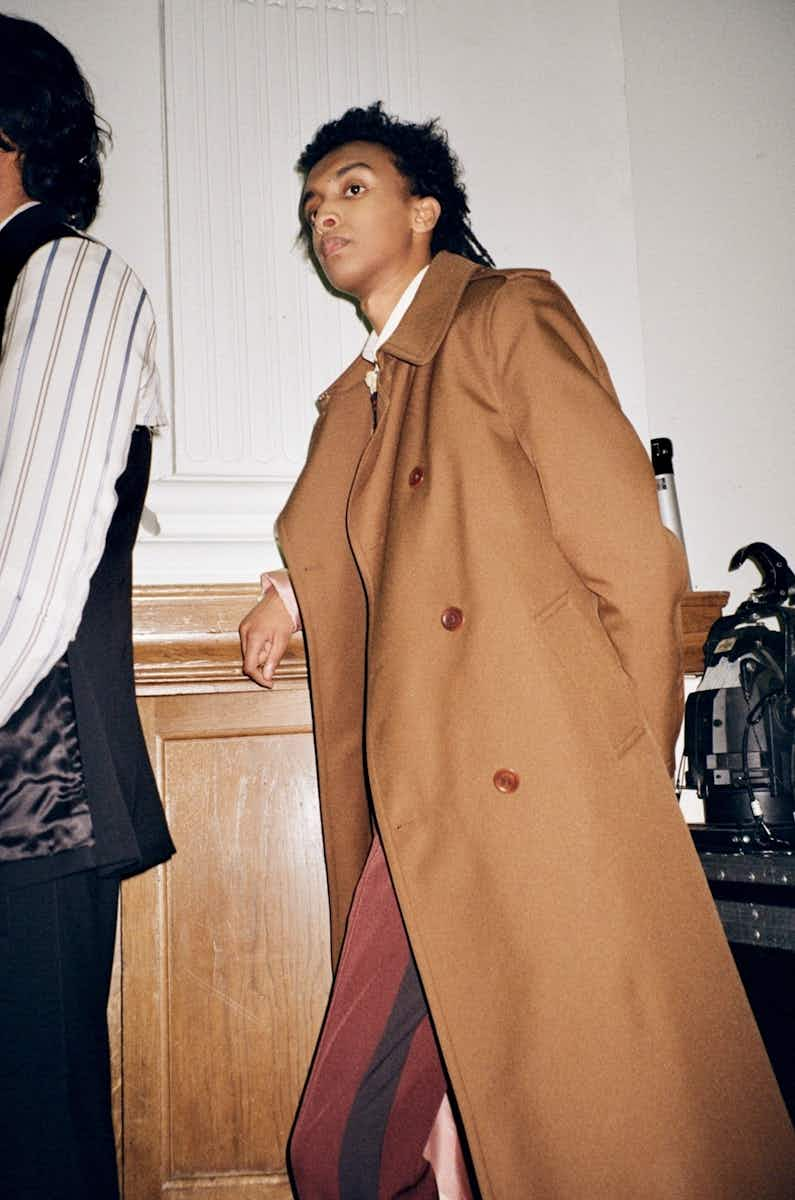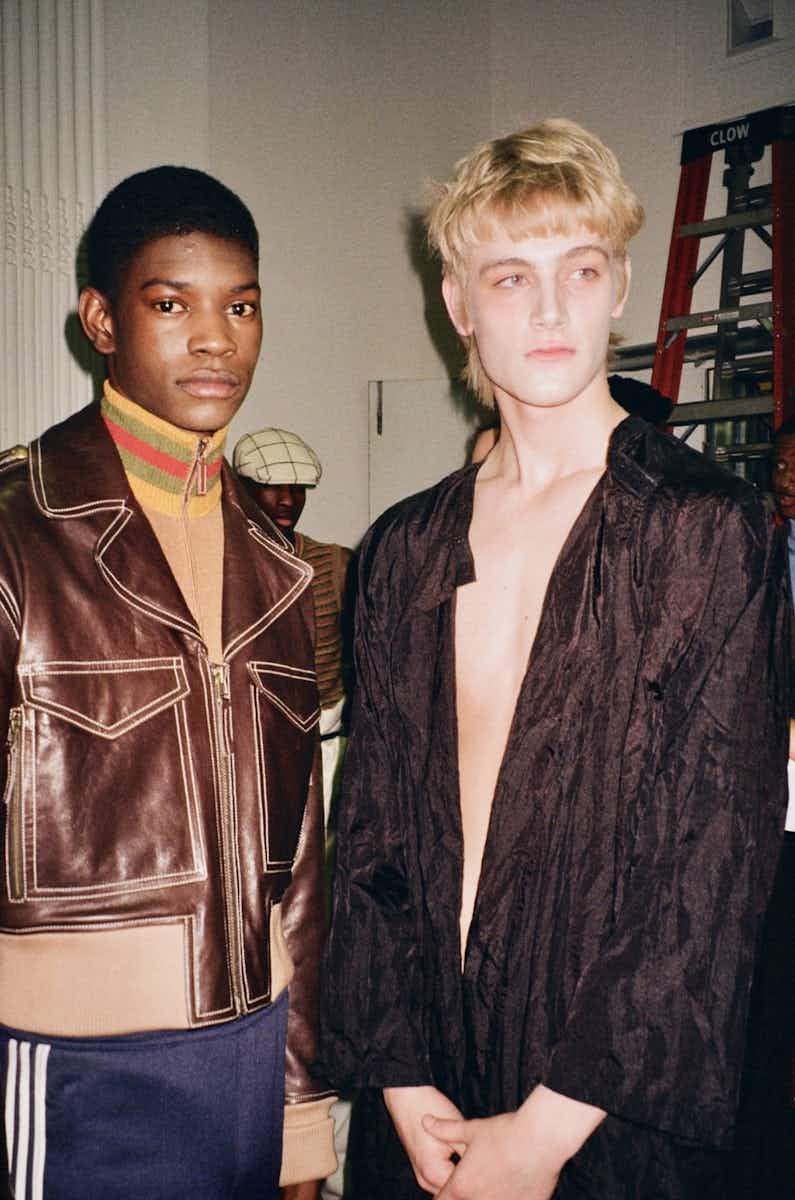 Of note:
Velour adidas tracksuits in ruby red, ochre and emerald green that nod to the Caribbean roots of the ​"Lover's Rock" community.
What did it sound like?
The tender sweet sound of an original Jamie XX composition reverberated around South West London's Lindley Hall thanks to Notting Hill style sound systems. Dancewme is a tribute to a sound that's heavily inspired British dance music, dub and jungle, while the speaker set up payed homage to the sound system culture pioneered at underground blues parties in rented flats in West London in the ​'70s.


Listen now:

The sound of Wales Bonner AW20
STEFAN COOKE AW20
"It's about dawn, dusk, the end of the night" said Jake Burt backstage of his and partner Cooke's second Stefan Cooke collection since their turn at Fashion East. The empty orchestra chairs in the venue represented the moment after a performance, and one handbag was brandished with the collection title: ​"The End". But the clothes themselves spelled some new beginnings for the duo.
Alongside the usual cutout knits, the concertina layers peeking from under the knitwear had an update, while a collaboration with denim brand Lee saw Cooke and Burt move into new dyeing techniques to create indigo swirls on jeans and jackets. Studs and rivets made stripes and patterns across denim full looks, while the occasional celestial print played into the theme of darkness before dawn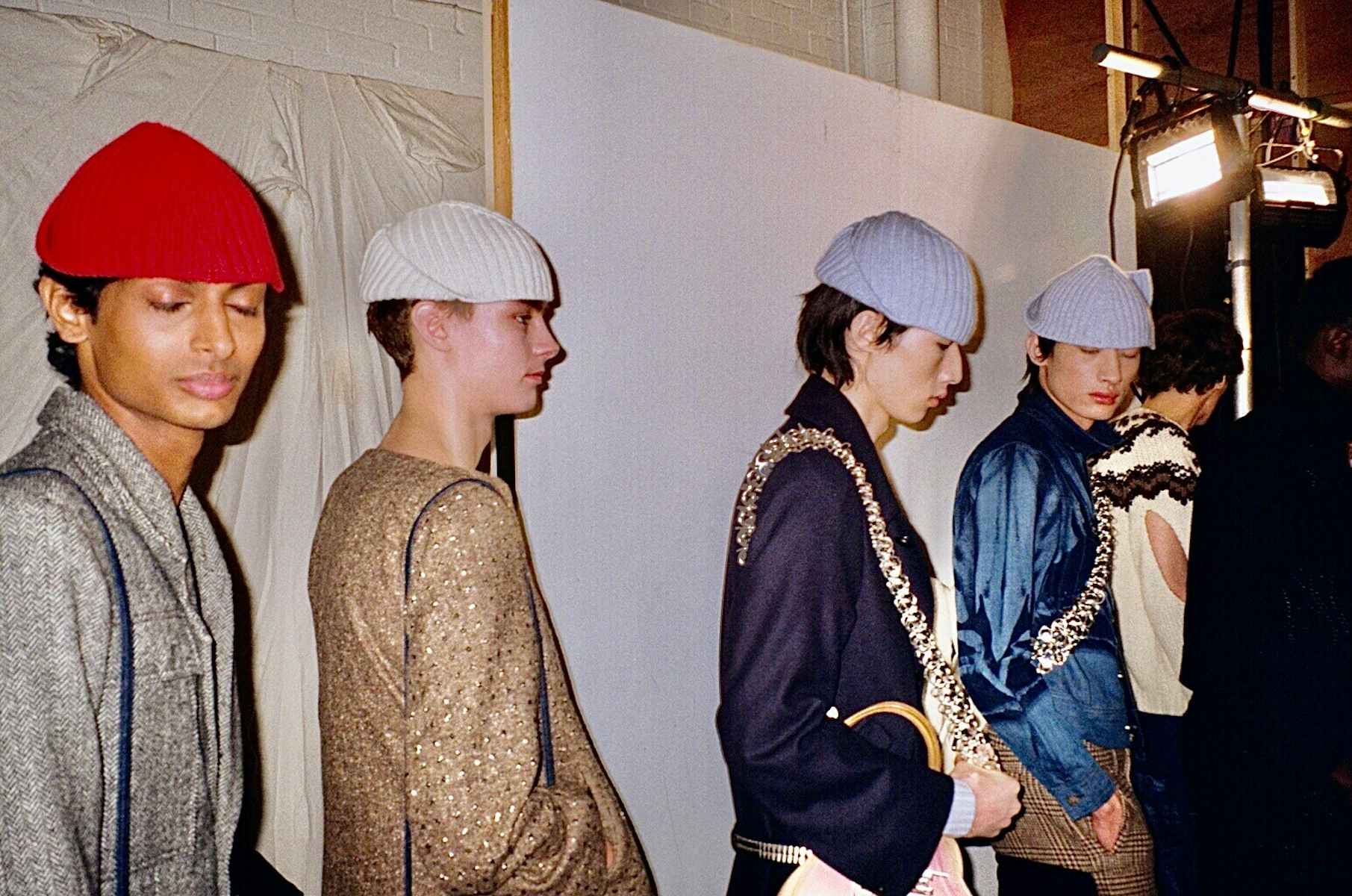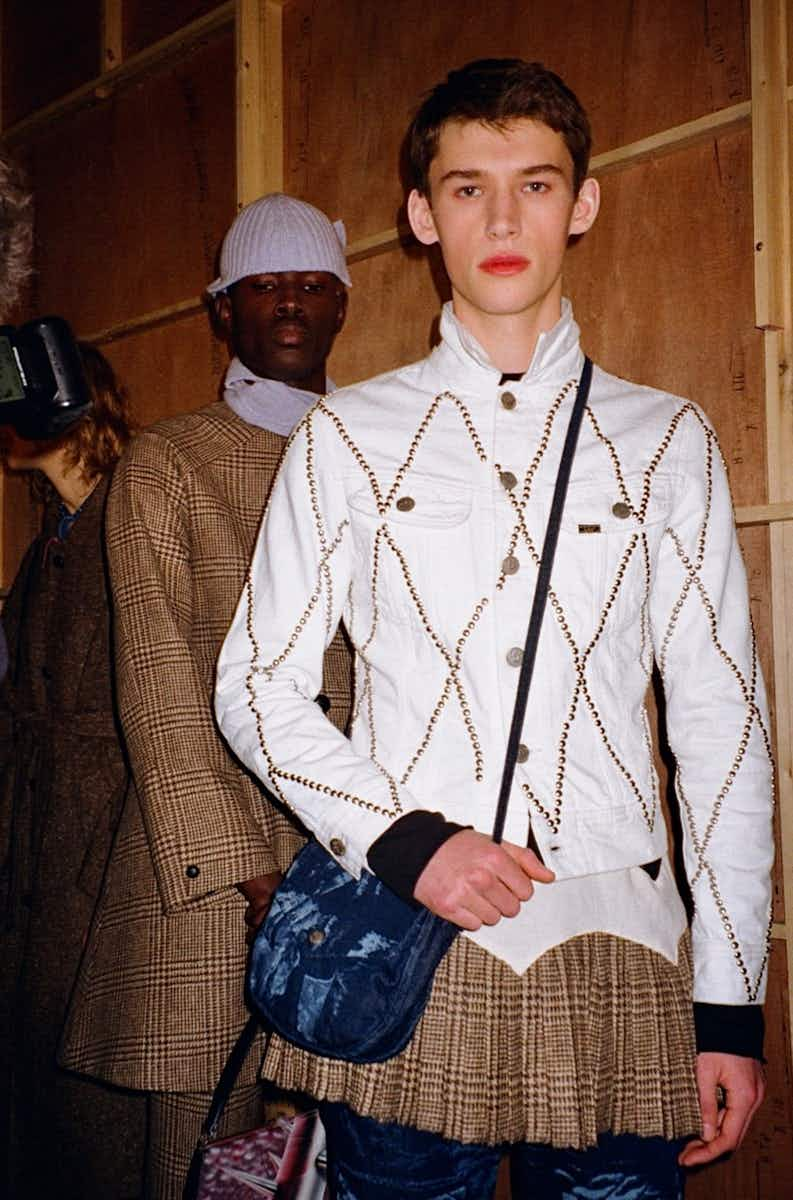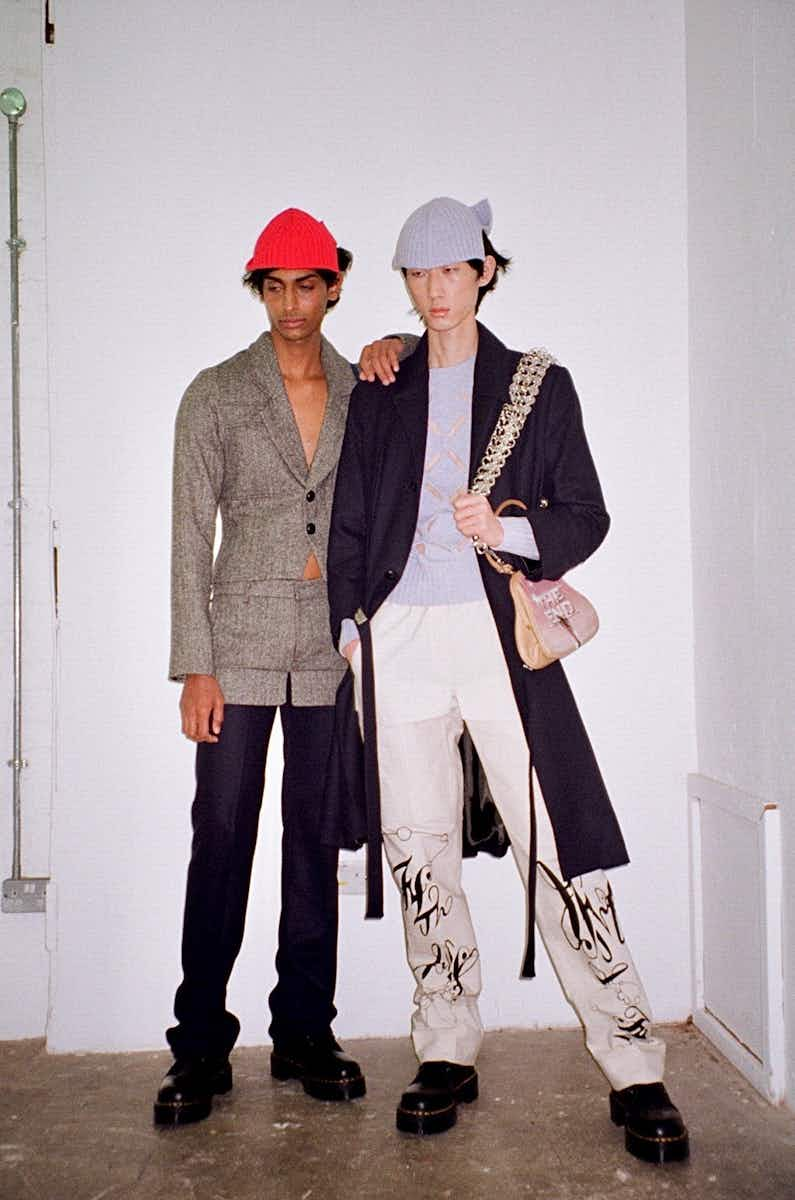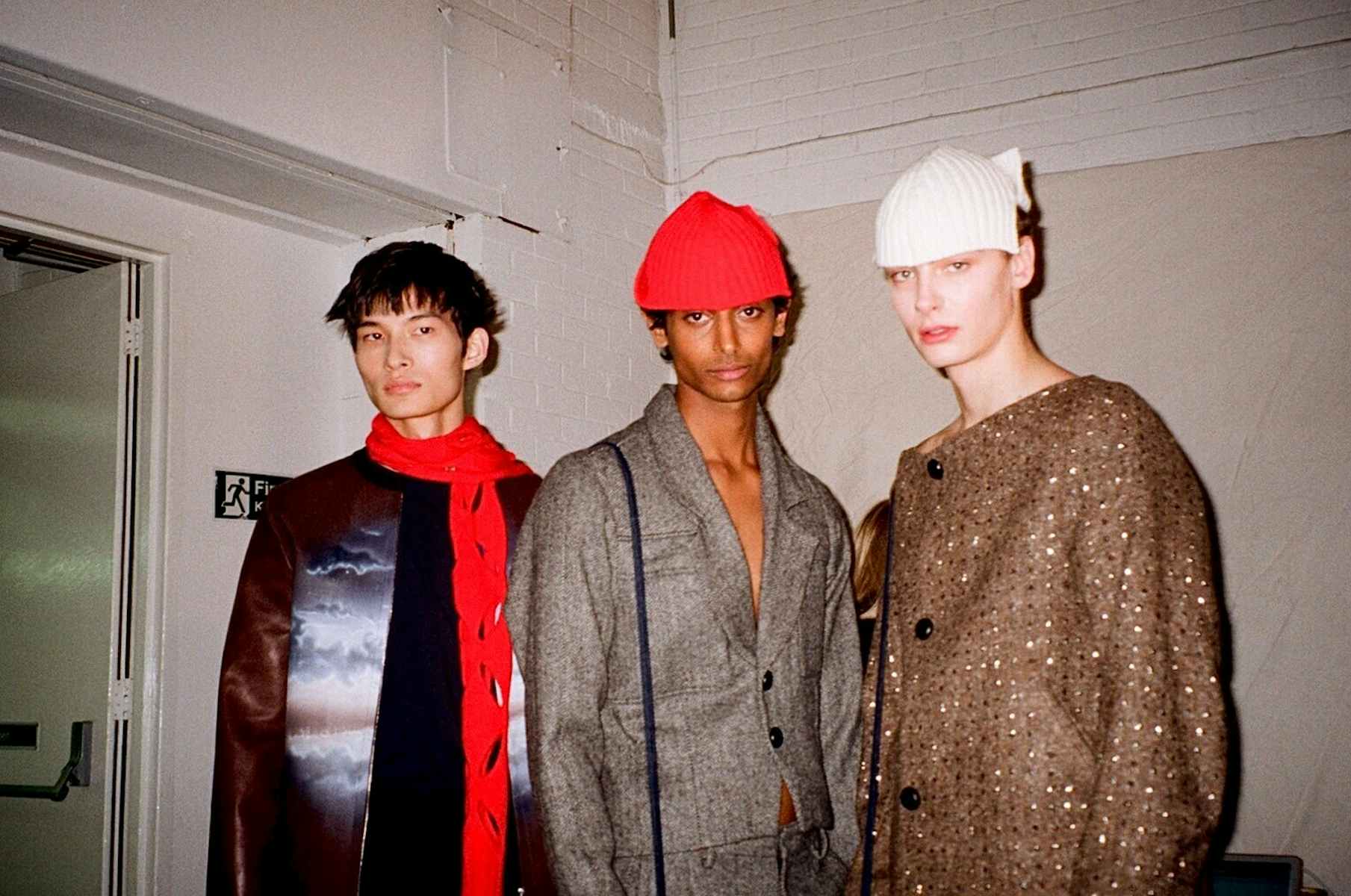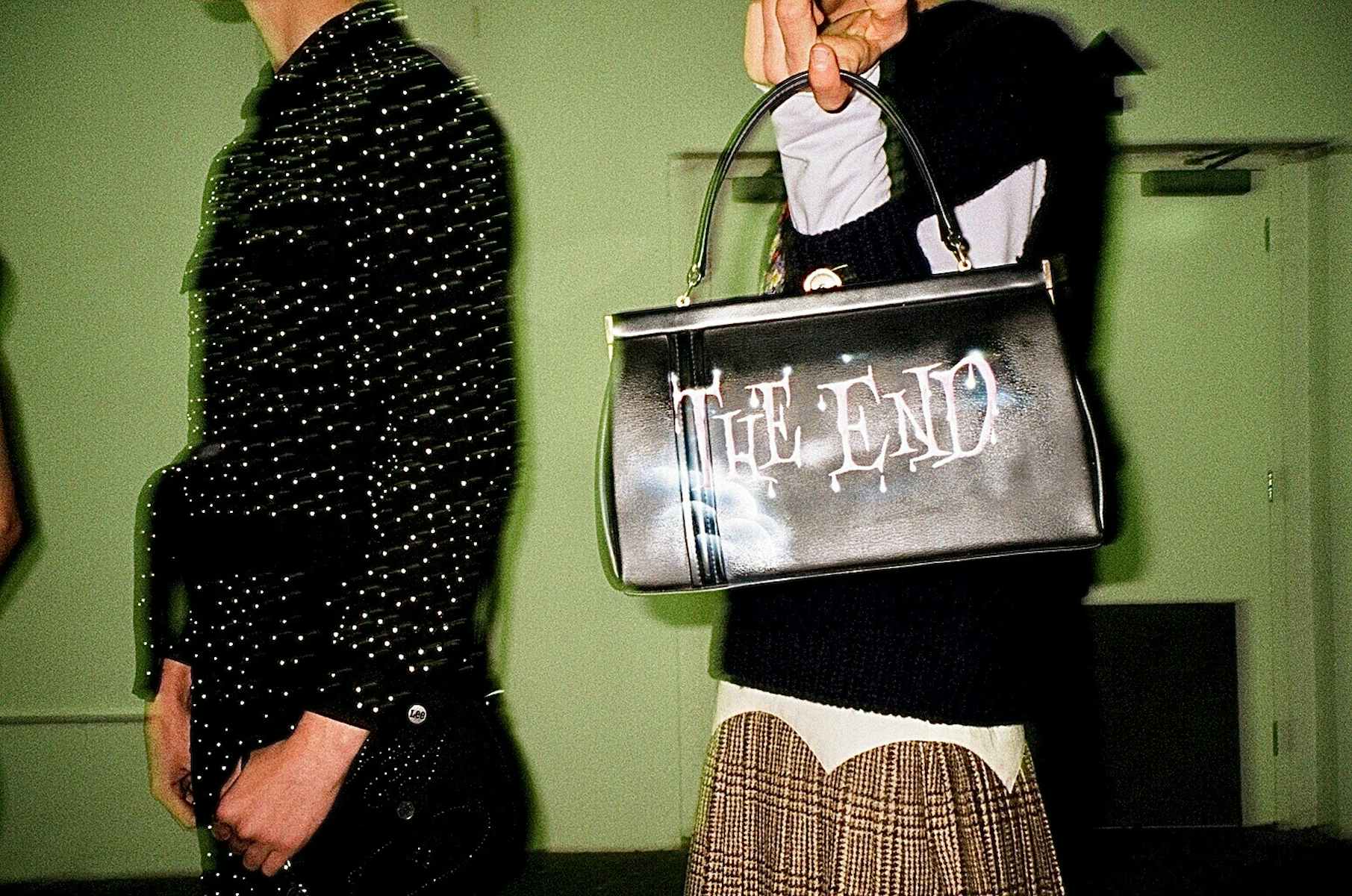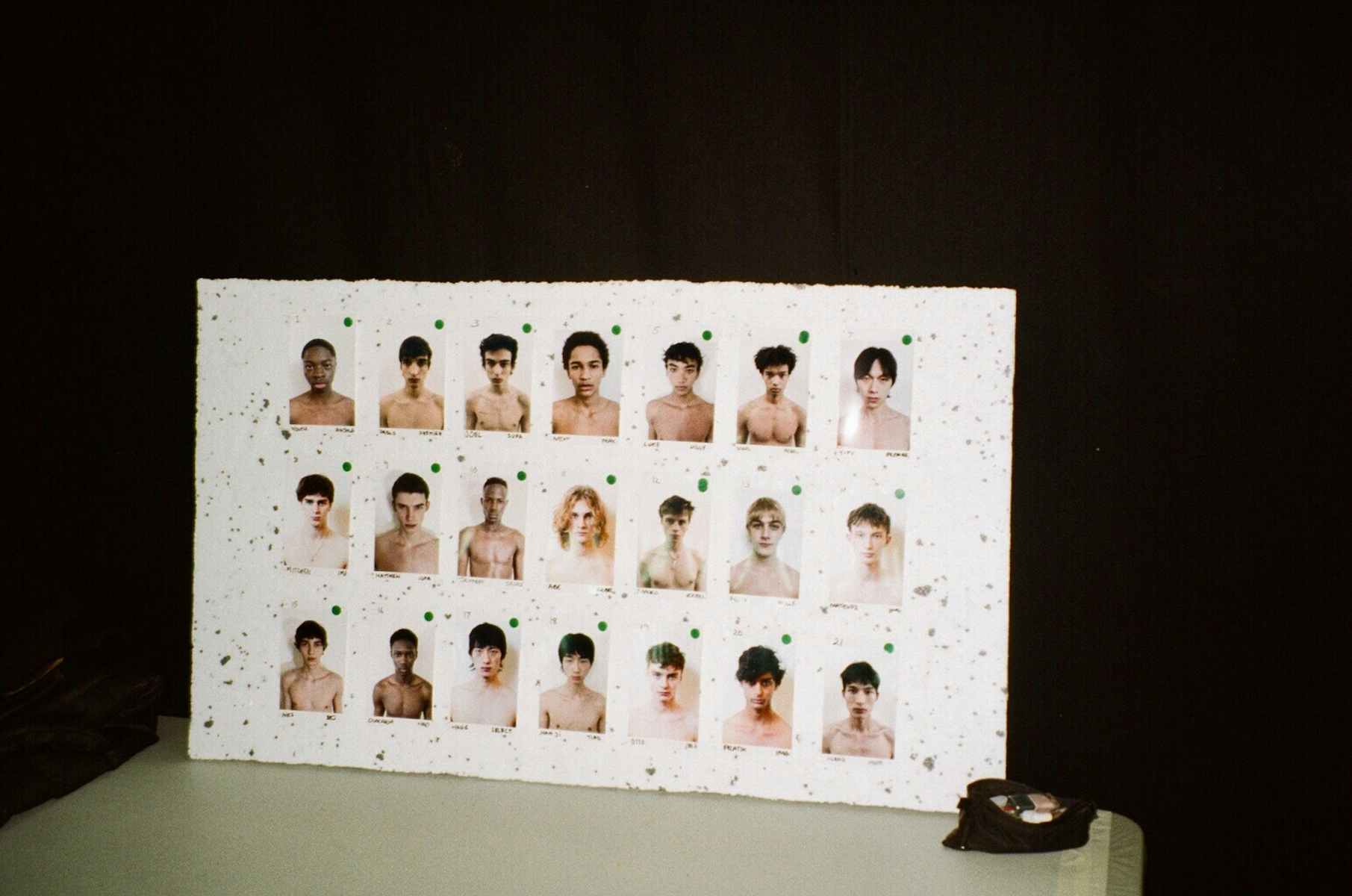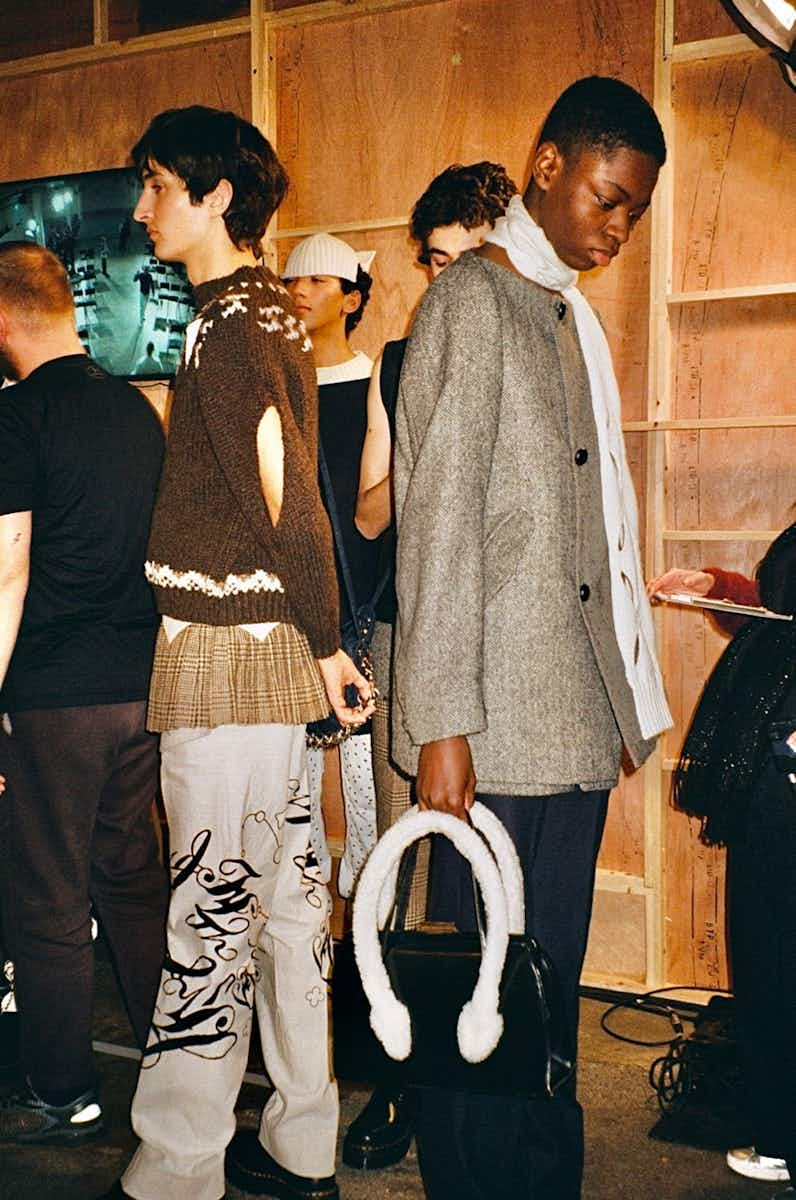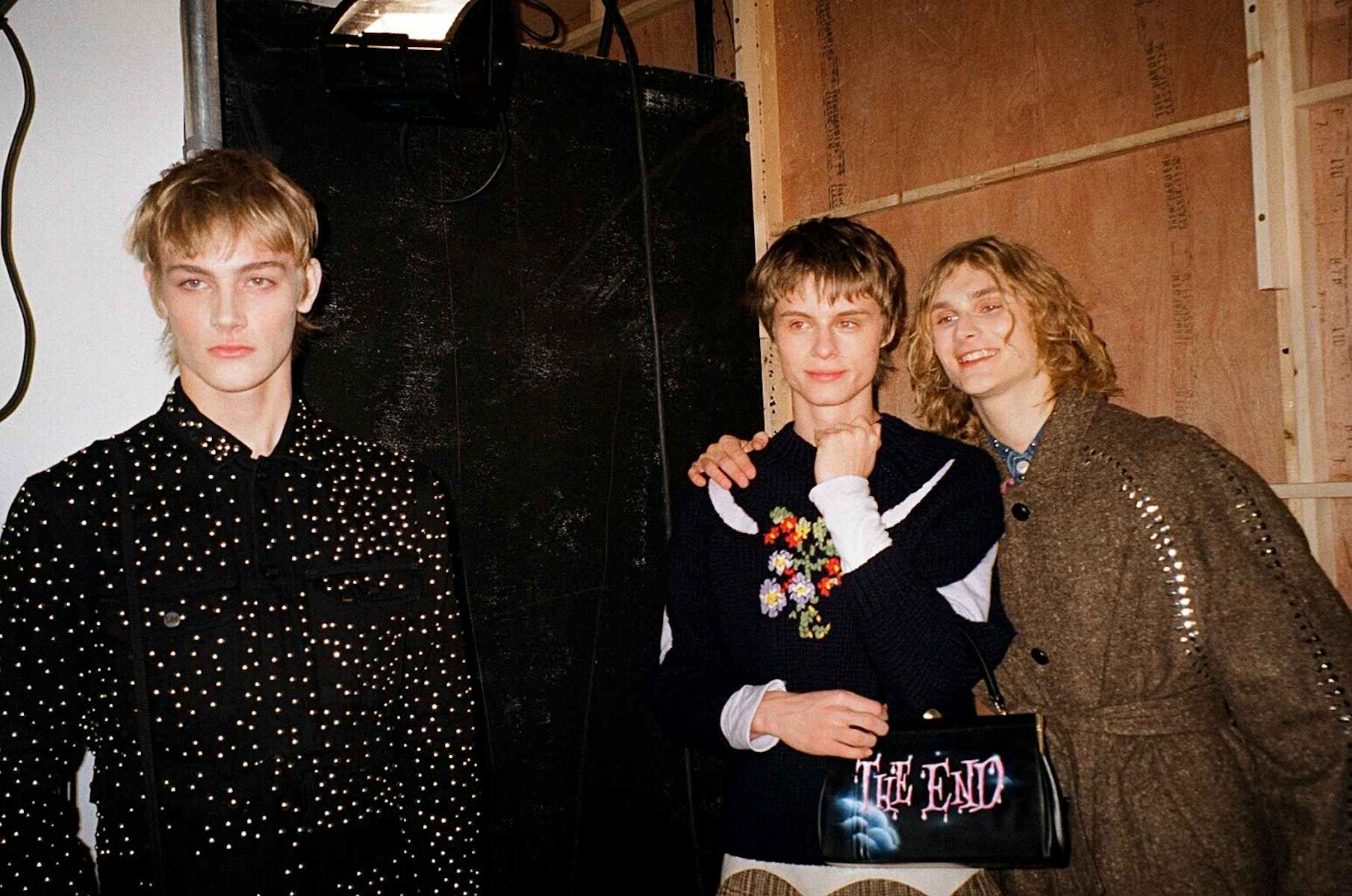 What about the accessories?
Always upcycled, the bags were a highlight and no two felt the same. Studded and chainmail bag straps were slung over shoulders, while fuzzy contrasting handles were added to dark leather totes. Knitted bobcaps and large laser cut scarves (with the Cooke signature cutaways) featured.
This one stole the show:

What did it sound like?
Placebo's Pure Morning was the standout track during the middle portion of the show.

PER GÖTESSON AW20
Inspired by the collaged decor of queer ​'60s playwright Joe Orton's home, Per Gotesson explored ideas of community this season. Alongside his signature denim and 3D modelled garments, the collection saw more developed layering and splicing of decorative elements and new fabrics. Collaged ​'70s images created in collaboration with artist Patrick Waugh were printed across jackets, vests and trousers. Aprons were aplenty – backless and form fitting, with a standout look in surprising red crushed velvet. The trousers, as always, were a highlight. Either wrapped snug asymmetrically around the hips or 3D designed with panelling, volume or dangling straps.

What did the accessories look like?
A crown of thorns made of pencils on the final look had phones raised. While jewellery designed by Gotesson's partner Husam El Odeh turned the everyday into something beautiful, crafting necklaces and embellishments from spoons or coins.
What did the set look like?
A living room reminiscent of Joe Orton's was constructed at the back of the show space. Leading up to it were pristine urinals and sinks, strewn down the runway, along with multicoloured roses. A small romantic water feature constructed of porcelain statues and books stood at the end of the runway. Despite some slight malfunctions (and an on hand mopping queue for leaky water), the picture was ornate and beautiful. Plus, Götesson's LCF students were invited to make a mark on the display.
Of note:
Collage artist, and Founder of BOYOzine, Patrick Waugh's collages. He's selected his six favourites here: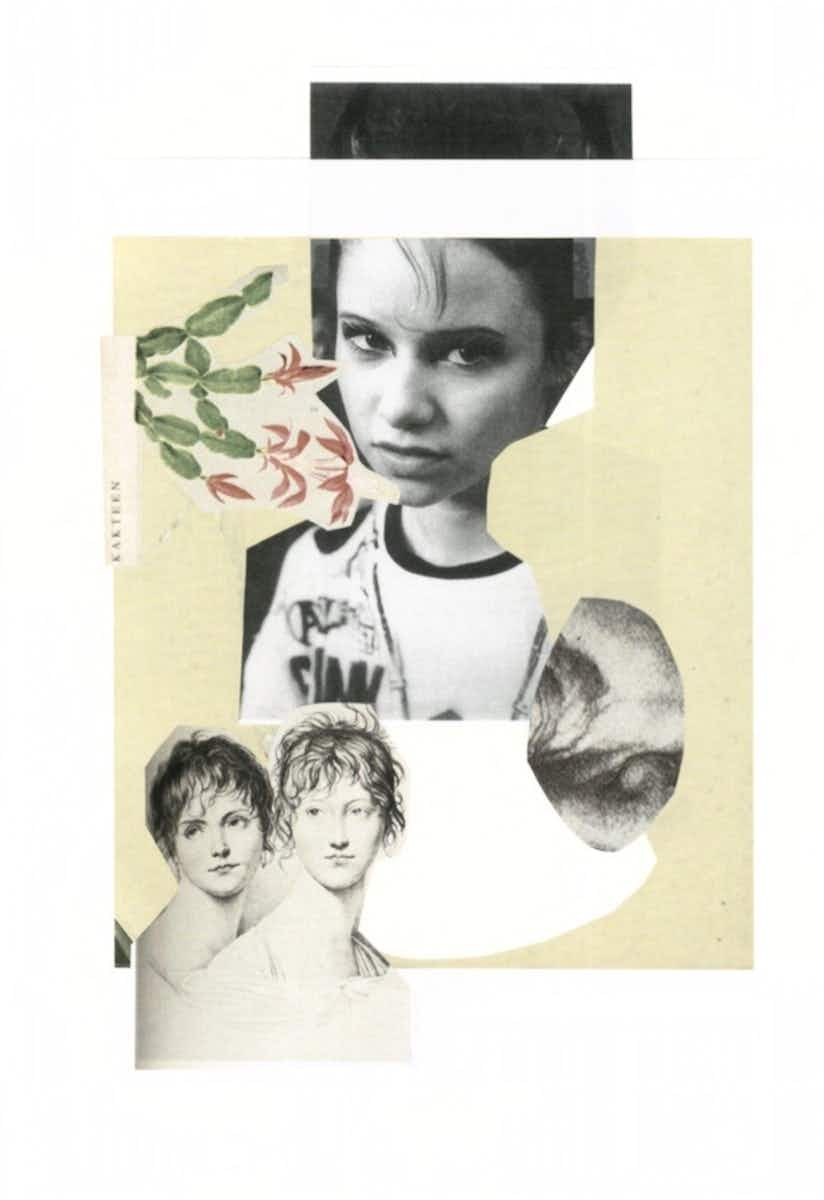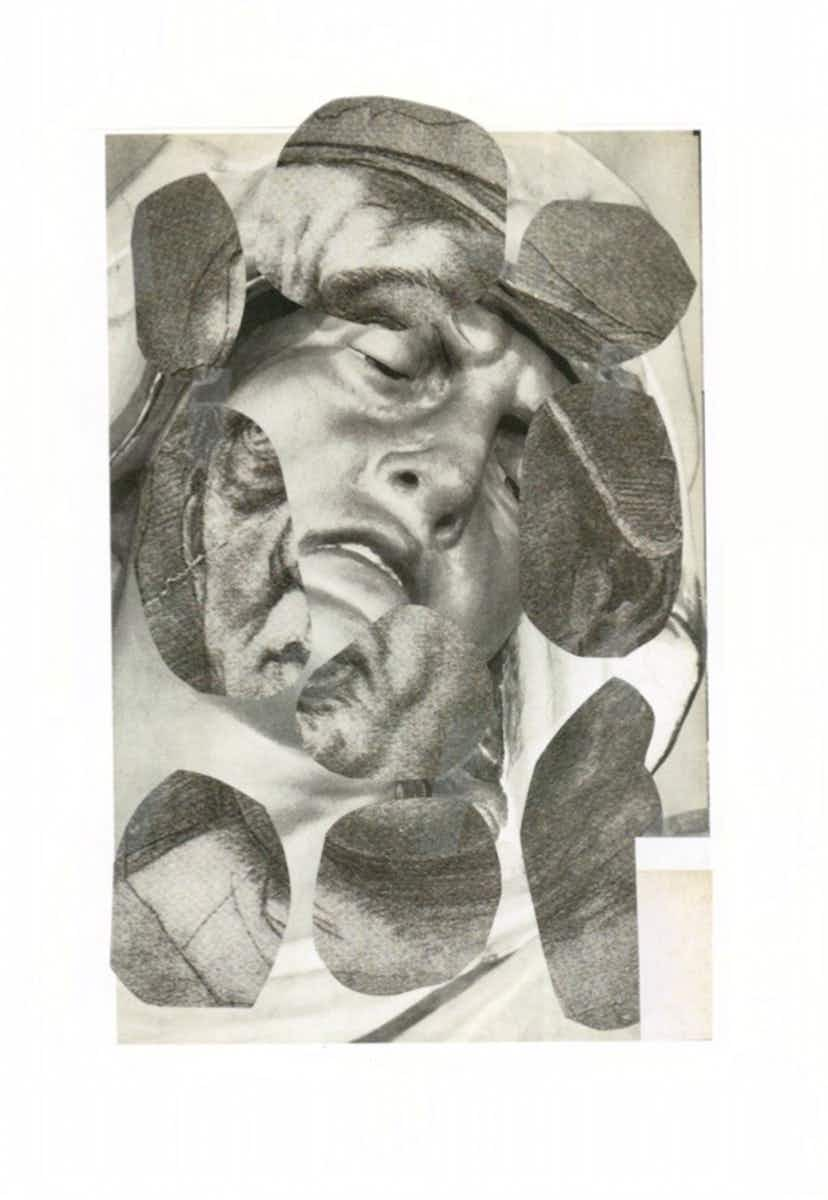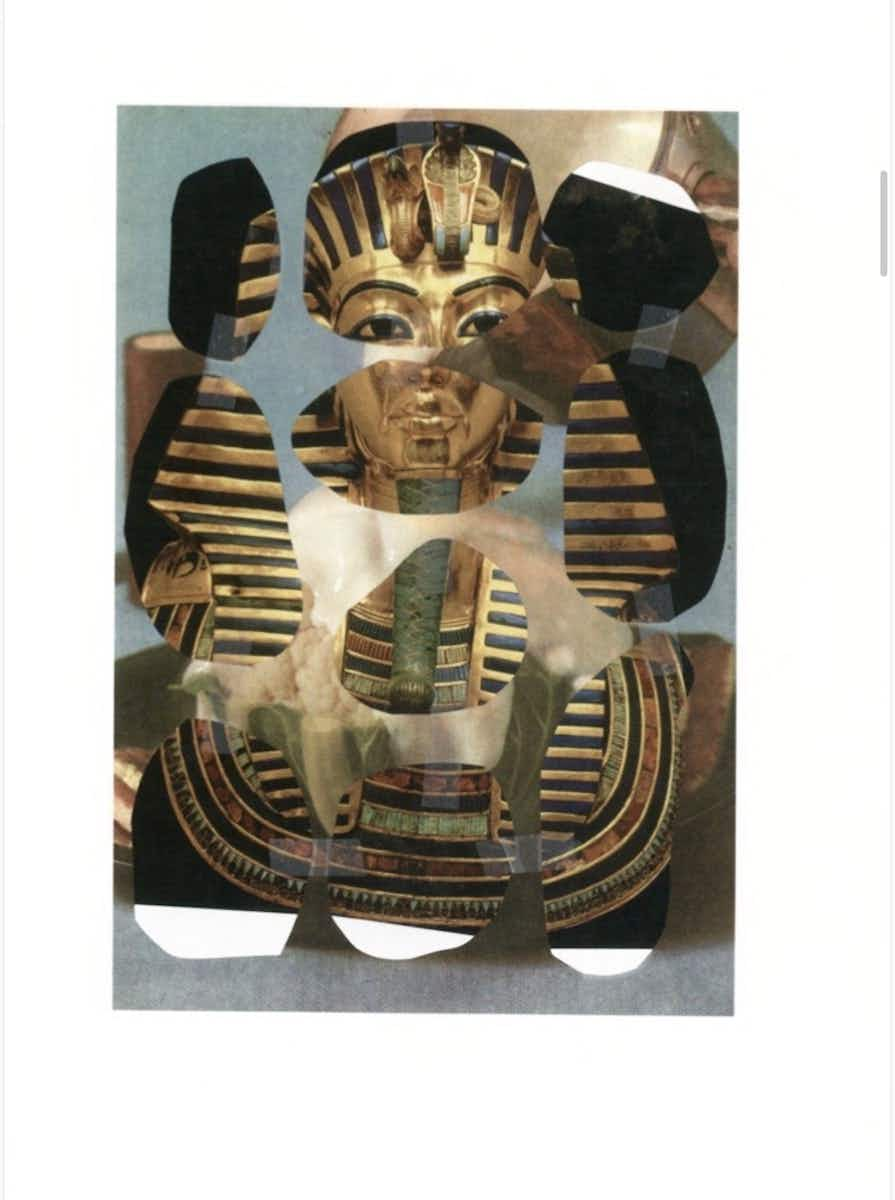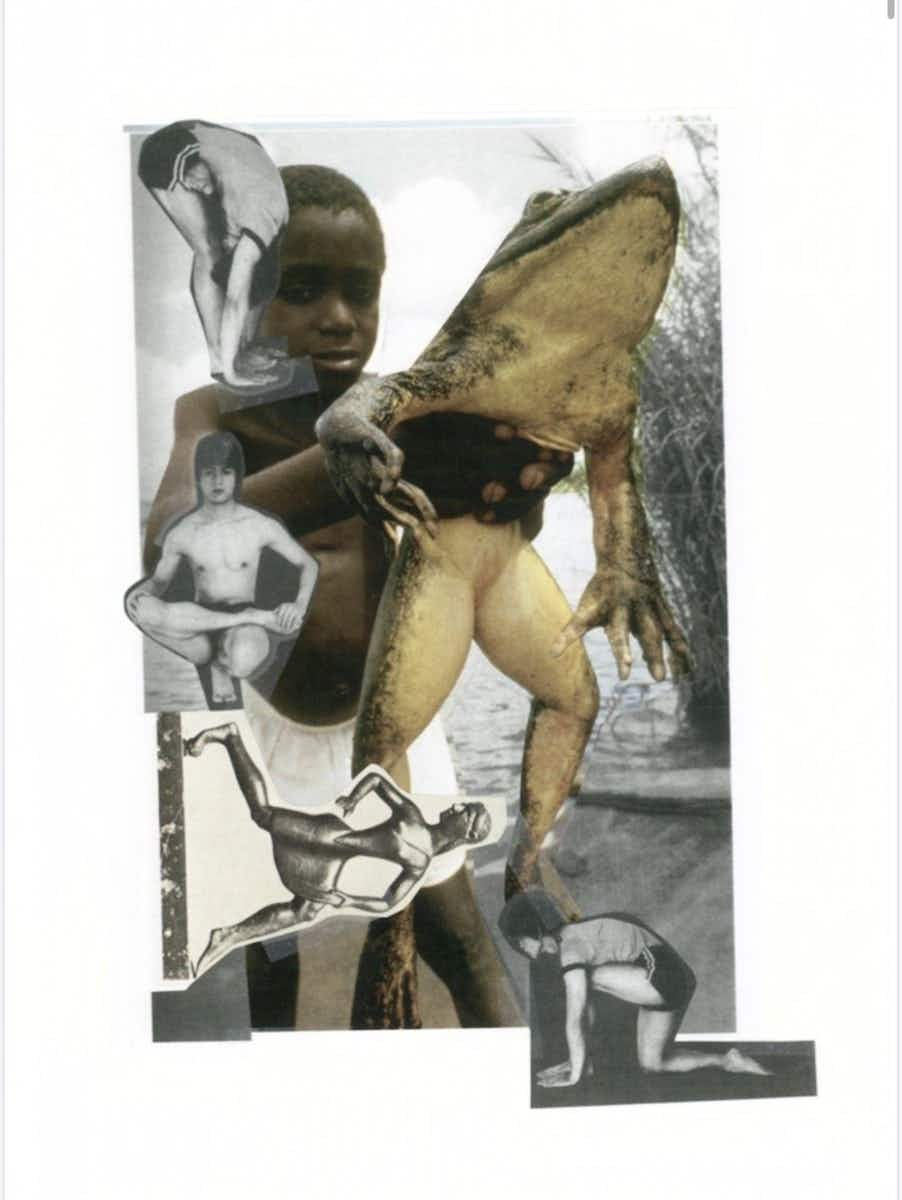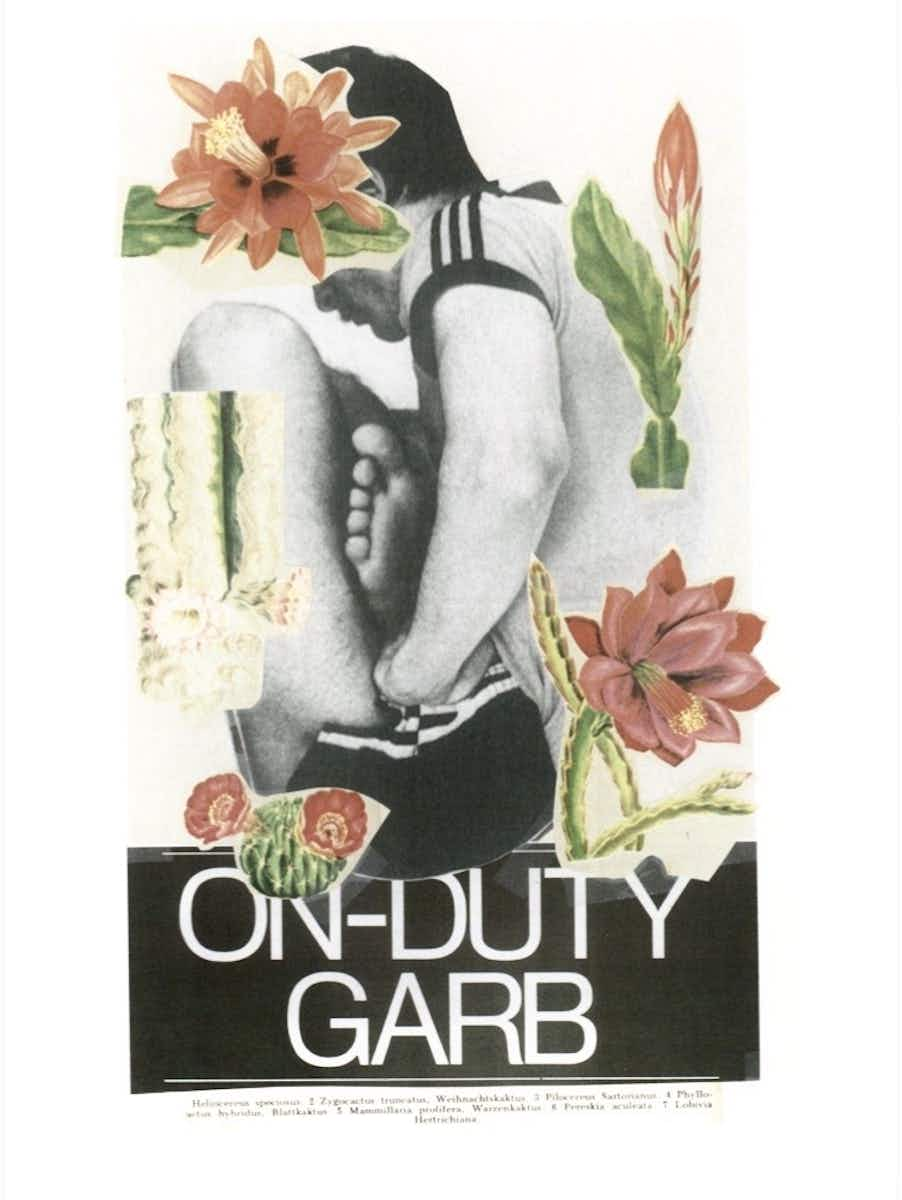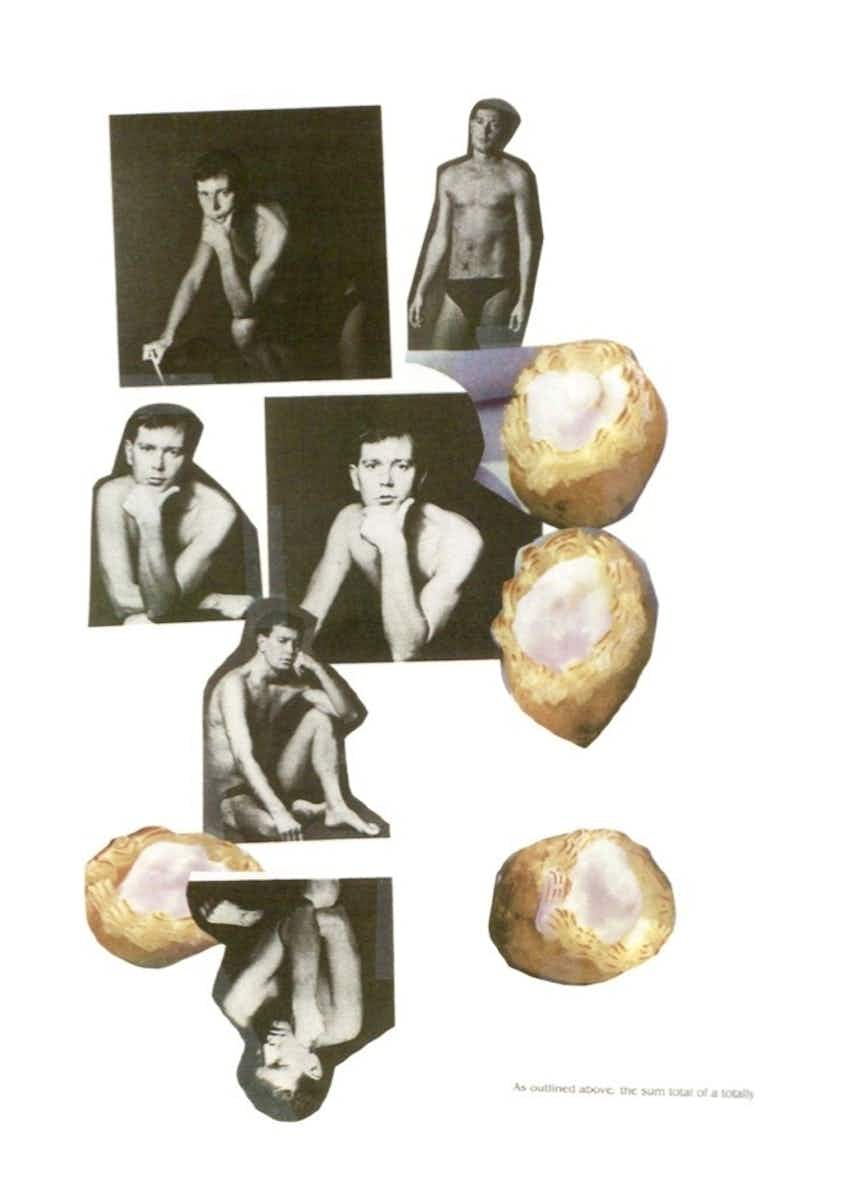 Taking place at Battersea Arts Centre – a grand Grade II listed building which operates as a theatre performance space – the show was a ceremony of sorts. Charles Jeffrey's trusty LOVERBOY tribe walked around a mystical tree with a disco ball above it and CDs hanging from its branches. The eerie sounds of an organ marked the start of the show, before a woman ran away, screaming.
Cue: intoxicating techno beats belting through the speakers to mark the first exit. Like something out of Ari Aster's 2019 folk horror Midsommar, models circled the runway, each taking a moment to salute the holy tree.
What about the clothes?

An equestrian theme dominated the first few looks of the show – dramatic trench coats, oversized shoulders and baby blue blazers with cinched in waists were paired with sharp white shirts and ties in the ever-present LOVERBOY tartan. Dresses bearing folk patterns came next, before a dishevelled Baroque-style dress appeared on a model with pencil-thin eyebrows, a Rococo-style powdered face and a frothy pink candy-floss ​'do.
Nearing the end, Charles' beloved club kid returned — block coloured logo jumpers and rugby tops were worn with neatly tailored PE school shorts, the tops bearing the LOVERBOY logo synonymous with the designer's early beginnings at his Vogue Fabrics Dalston club night. The clothes were a signal to the pagan theme in the show and Jeffrey's now elevated aesthetic, while the distressed fabrics and loosely tailored suits were a nod to his rebellious roots.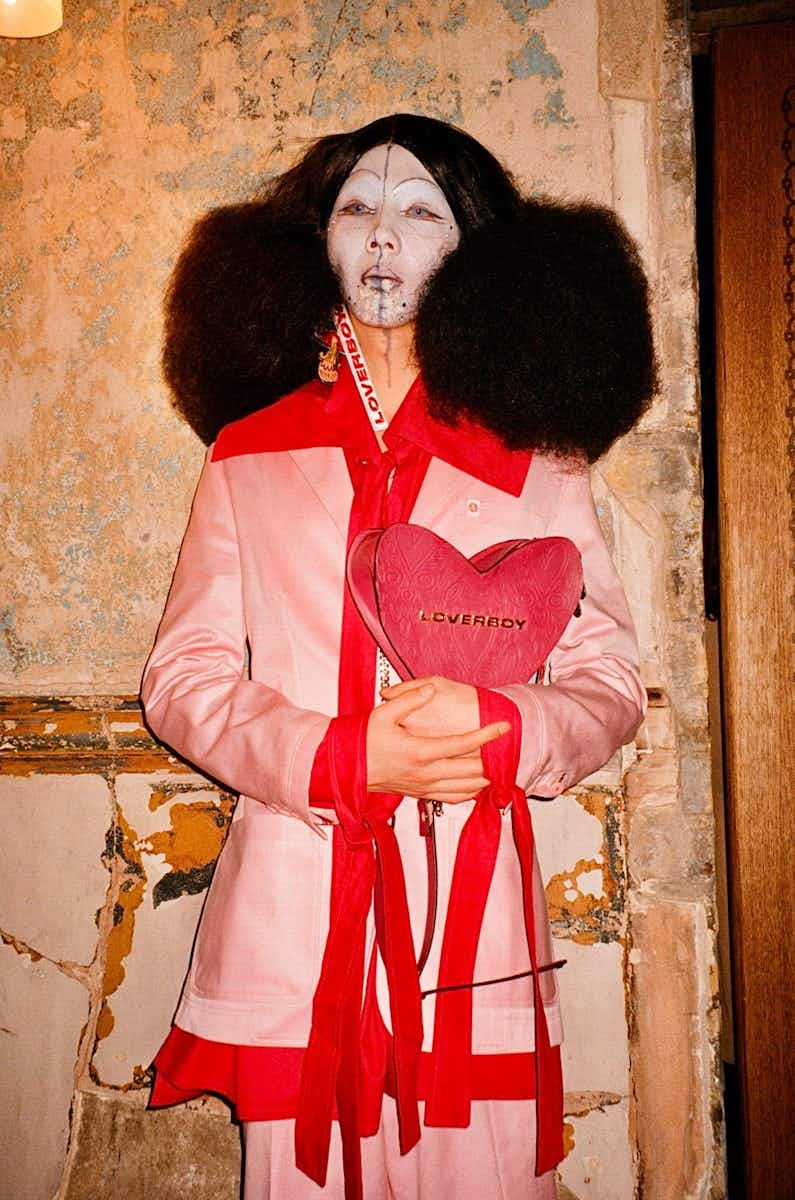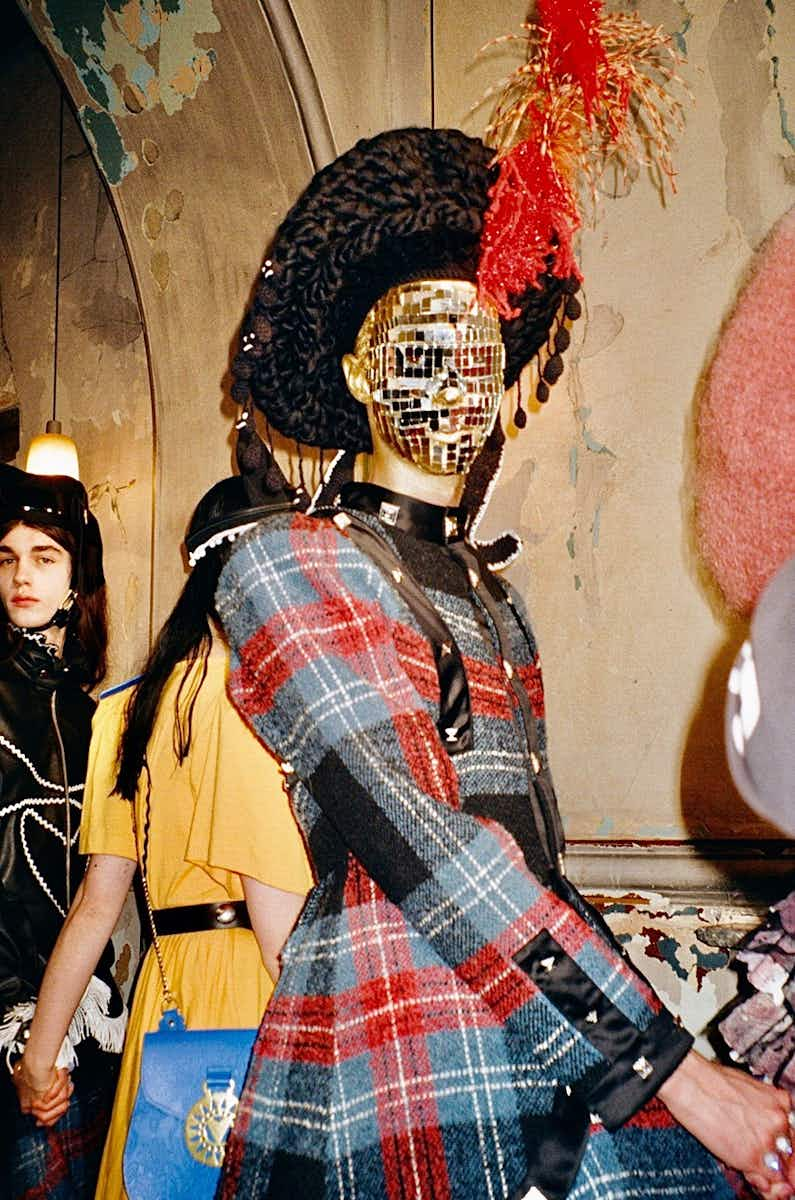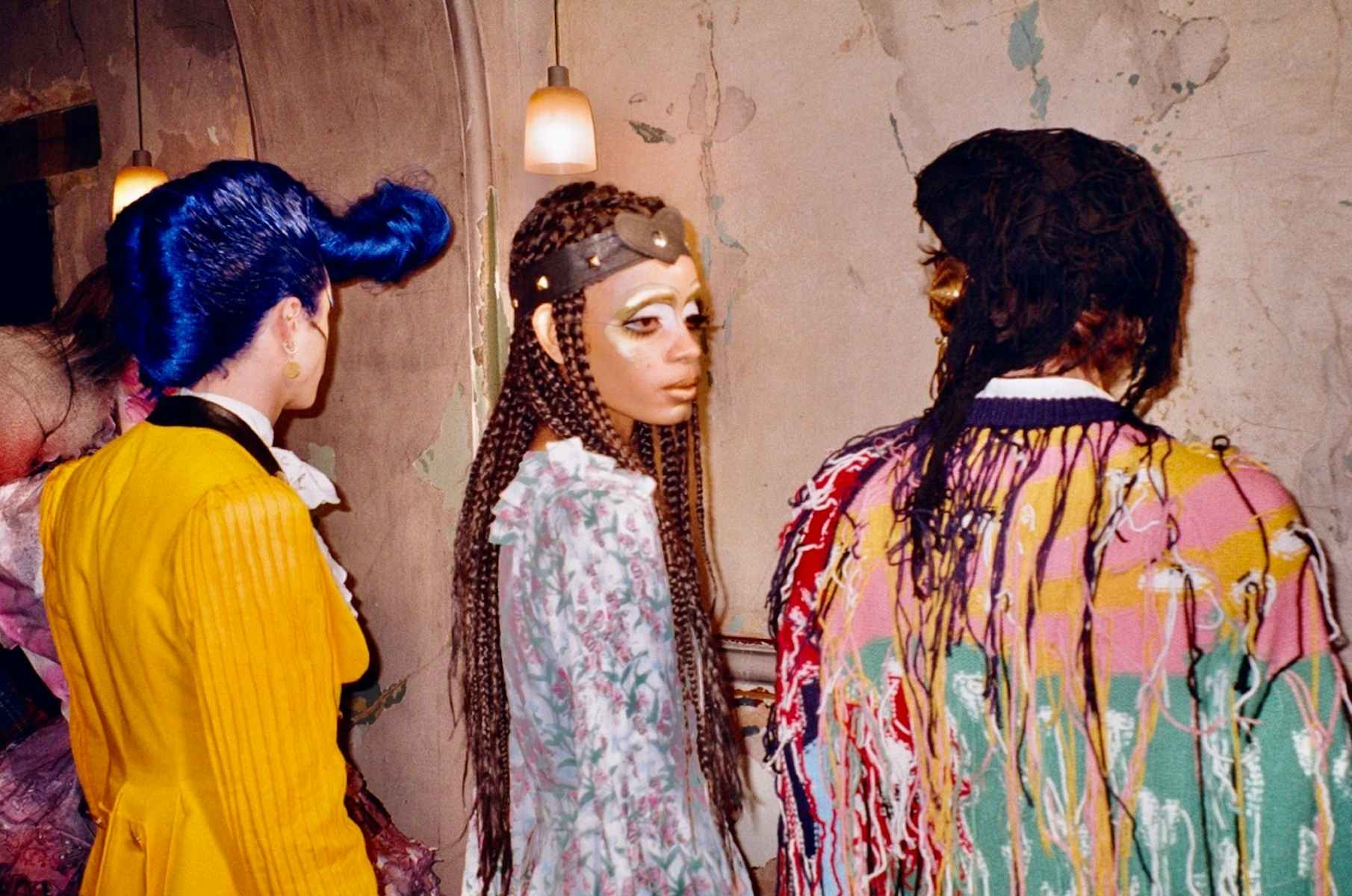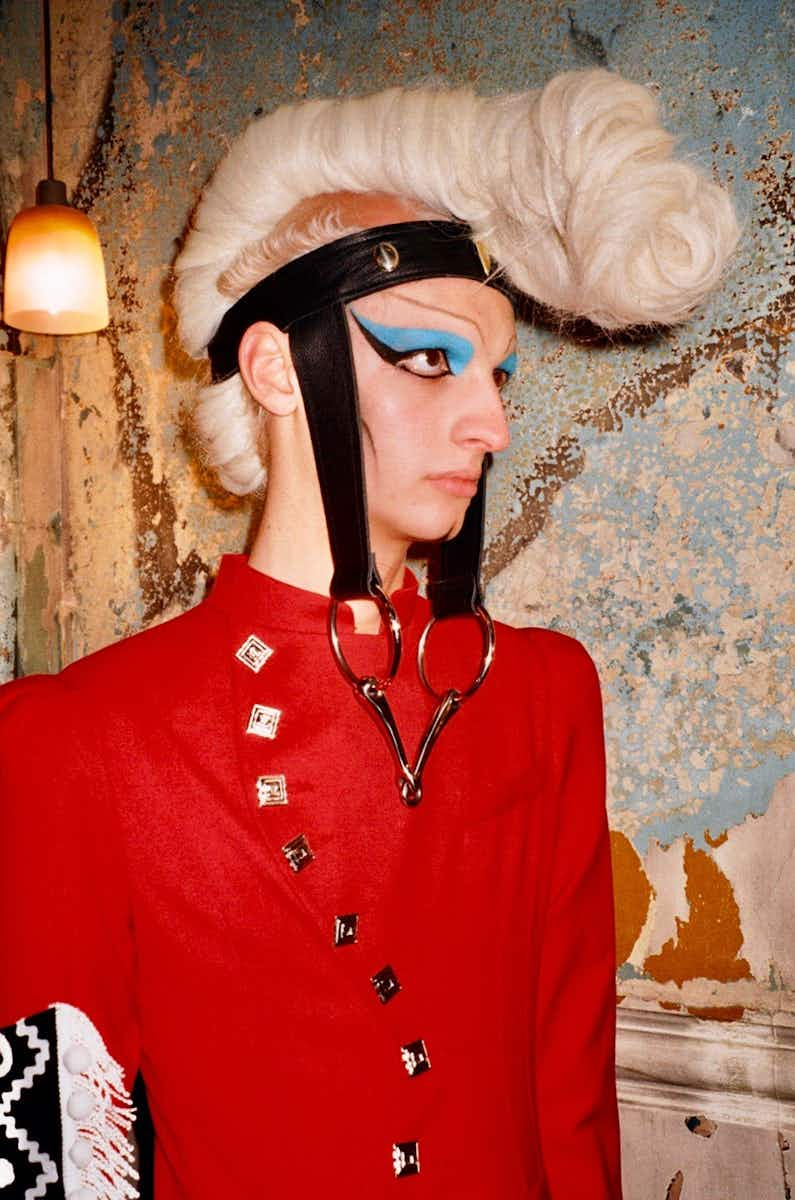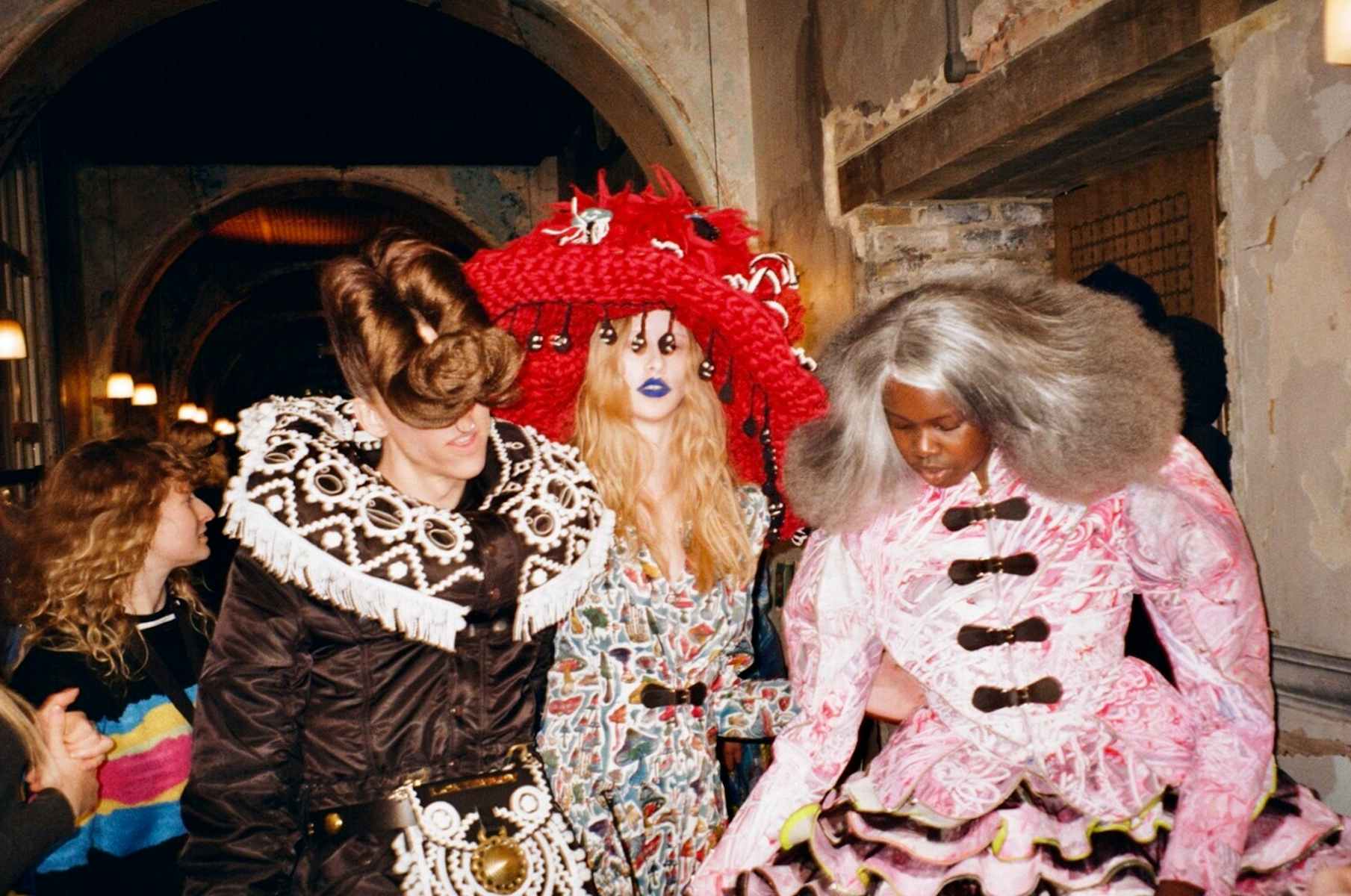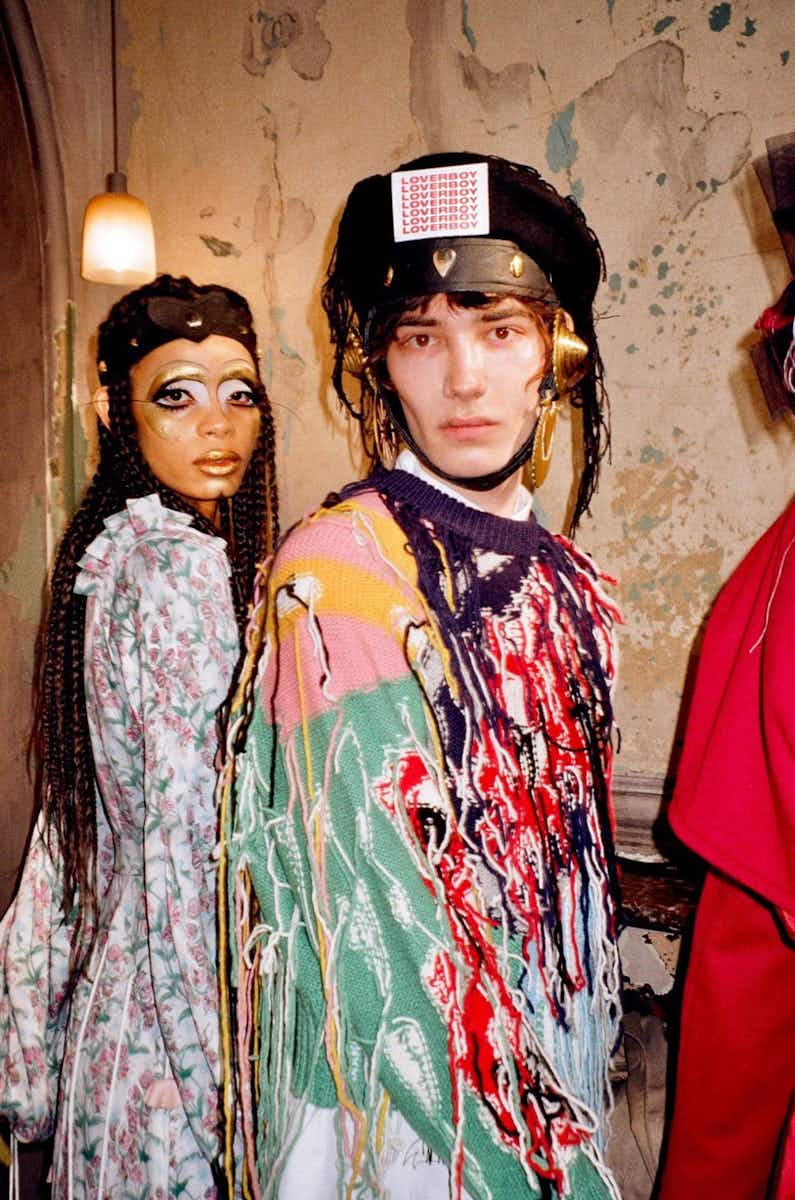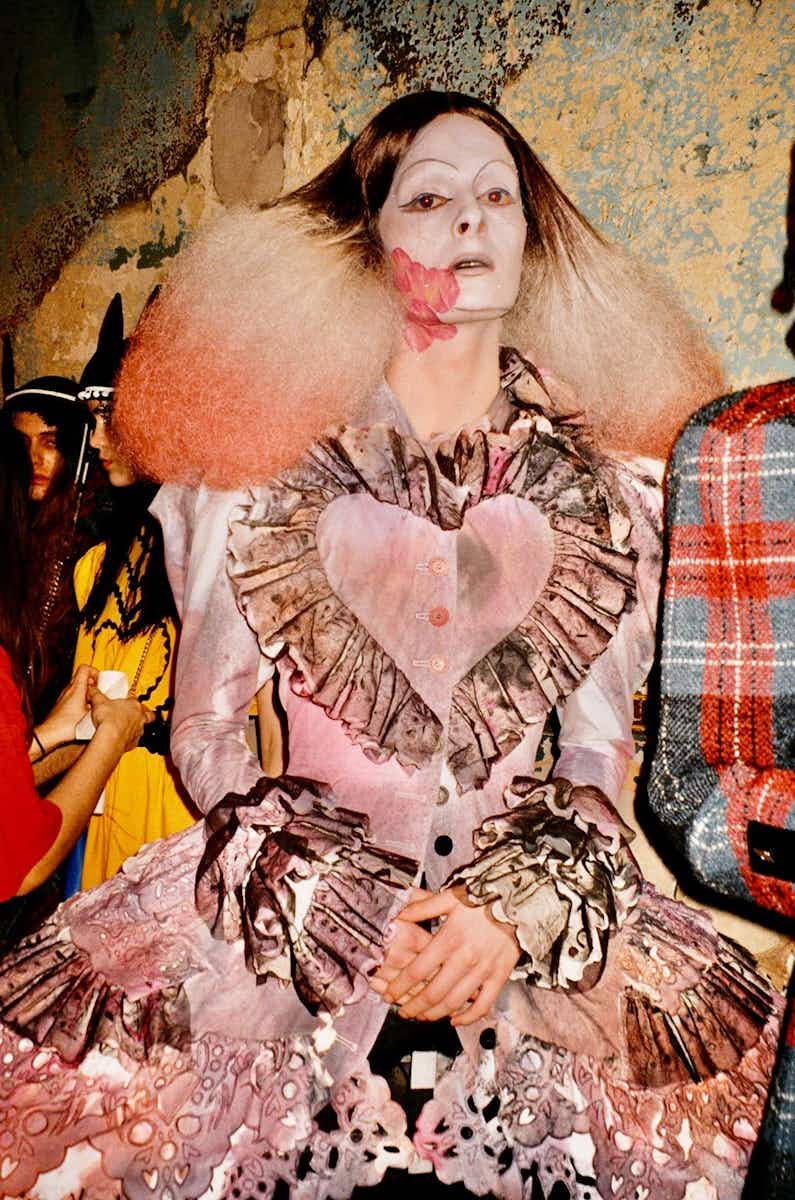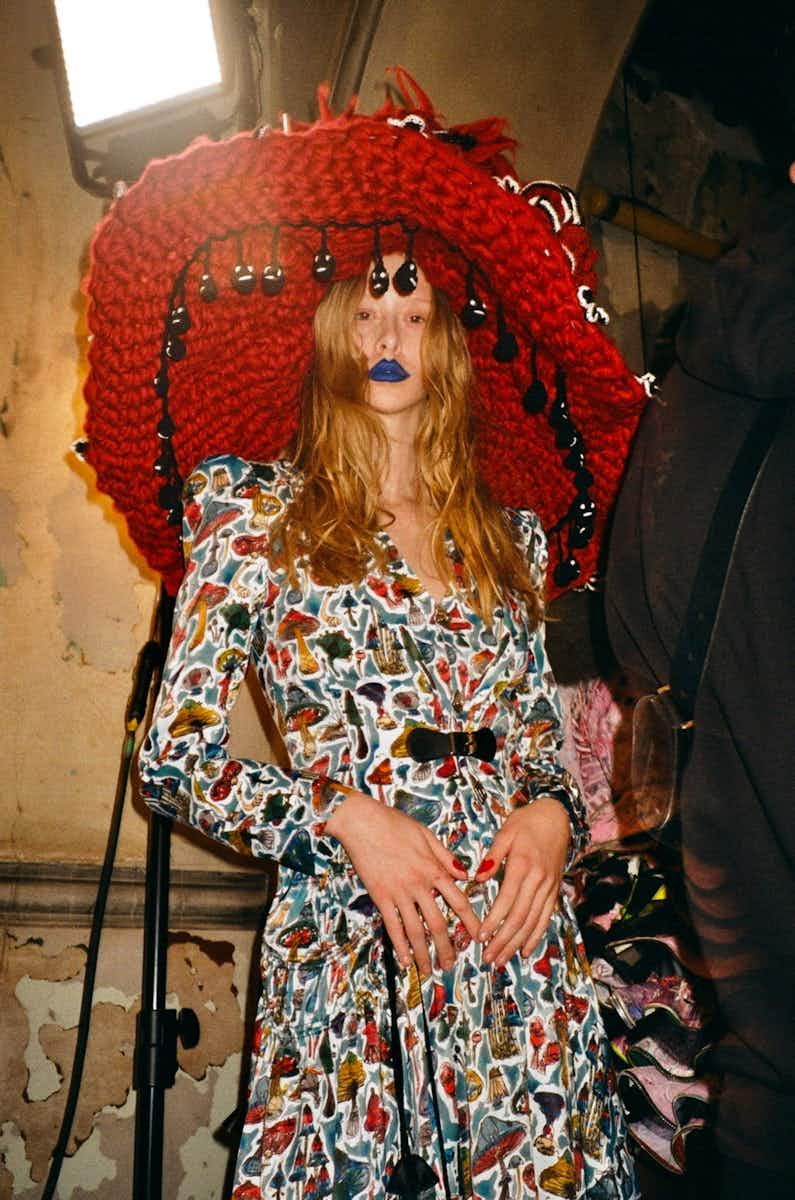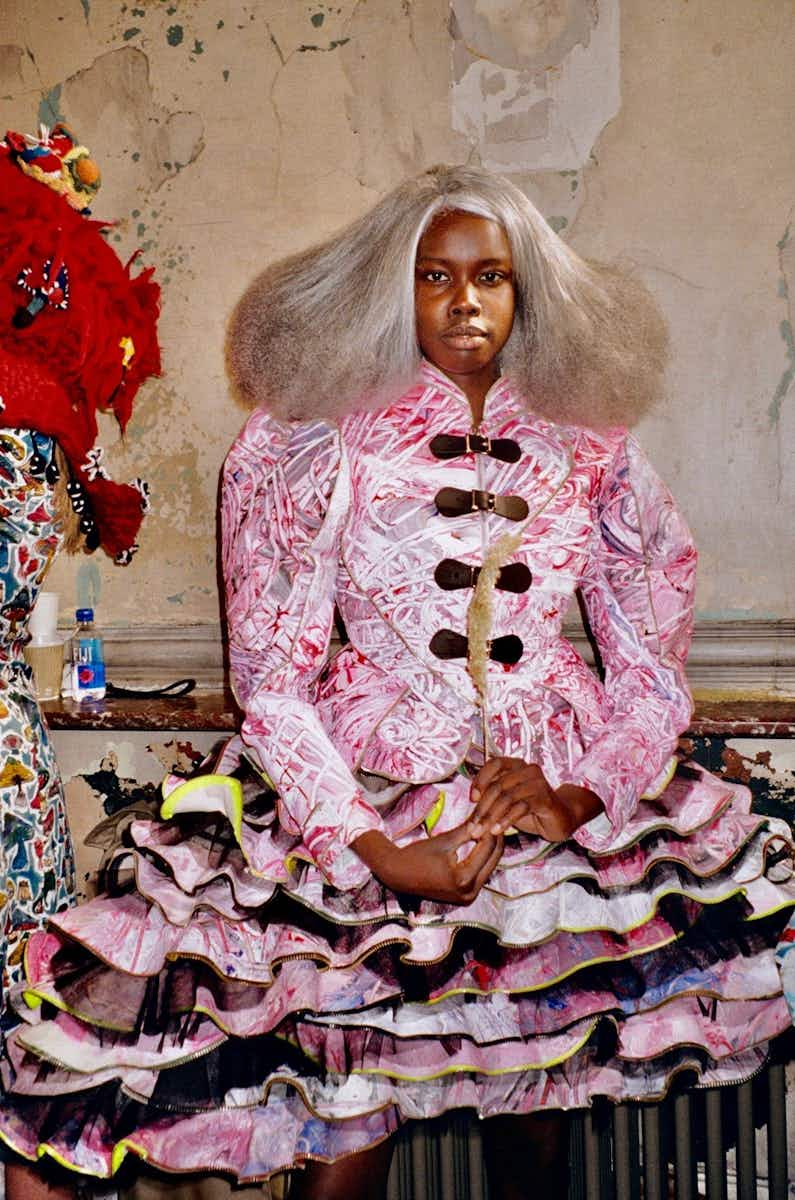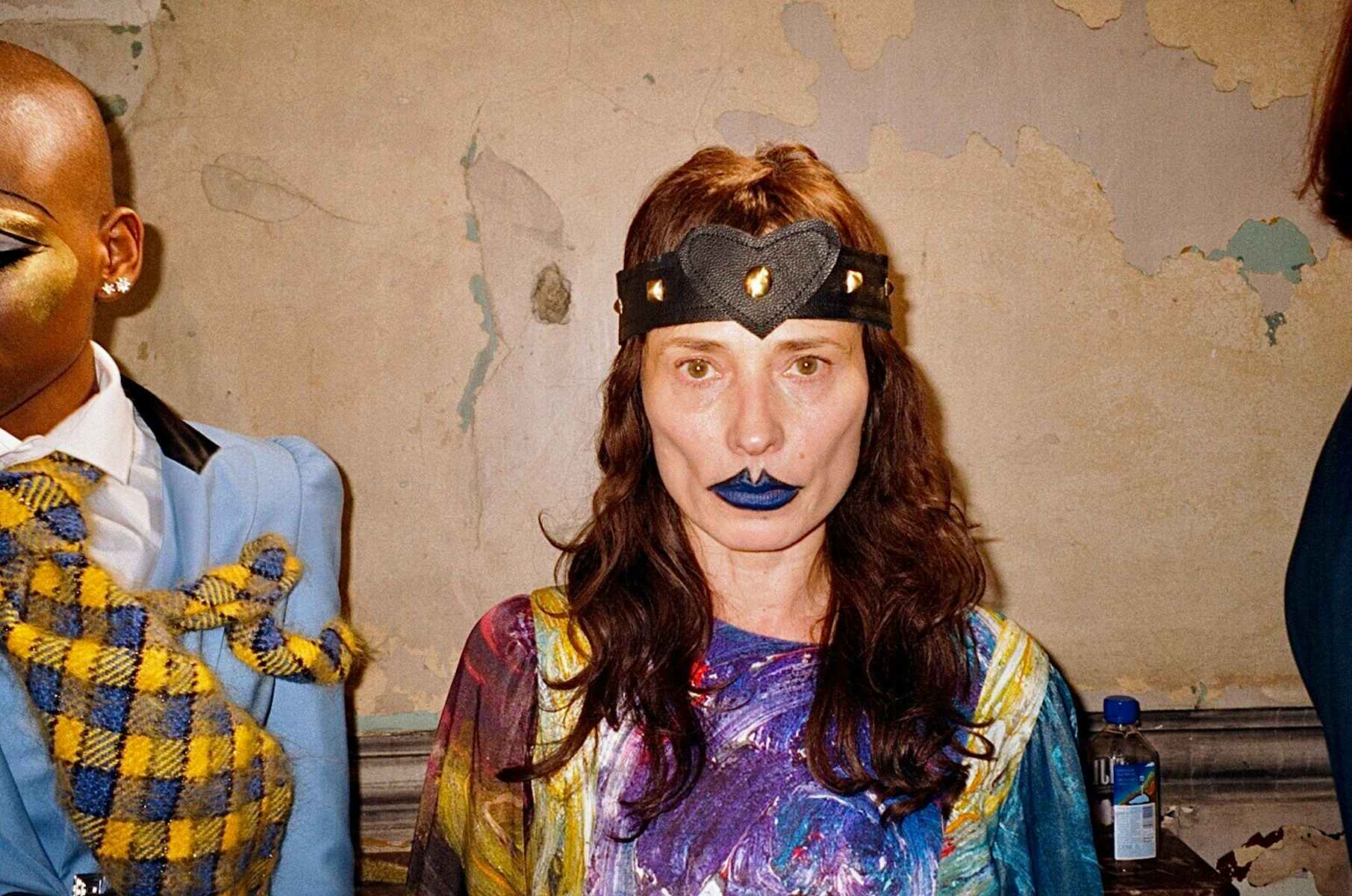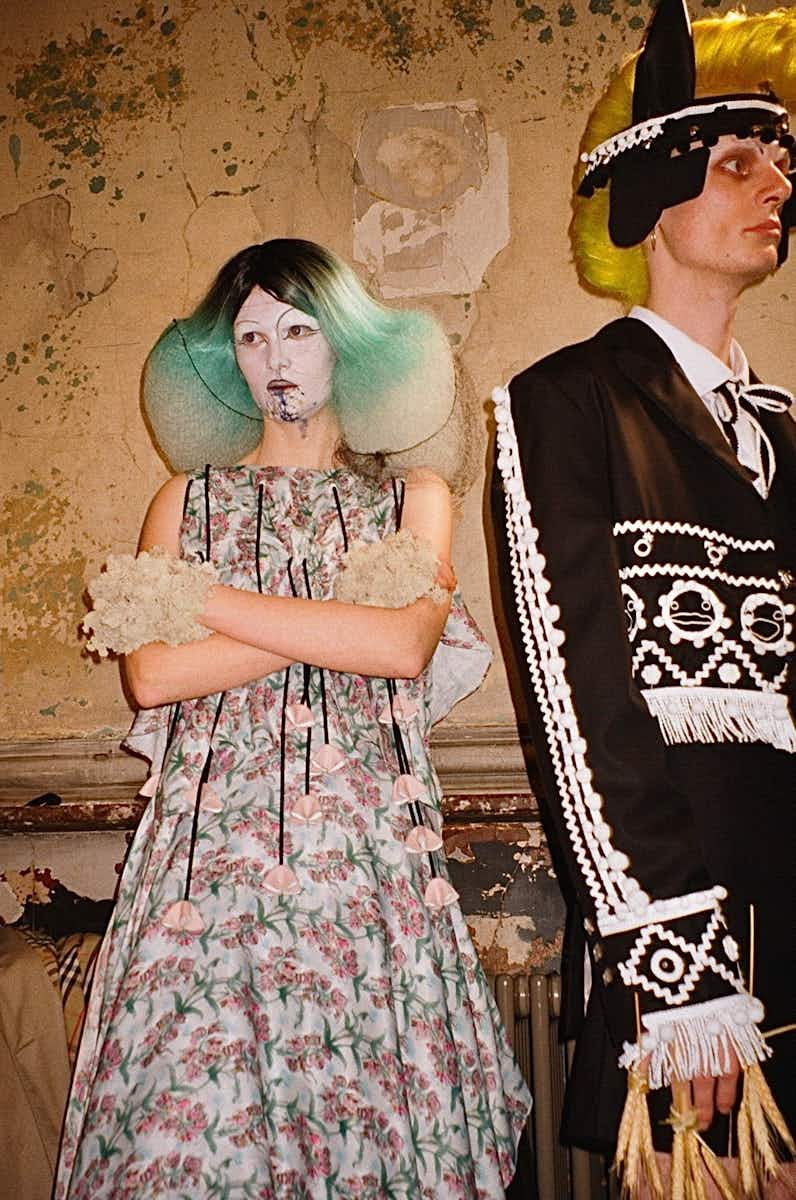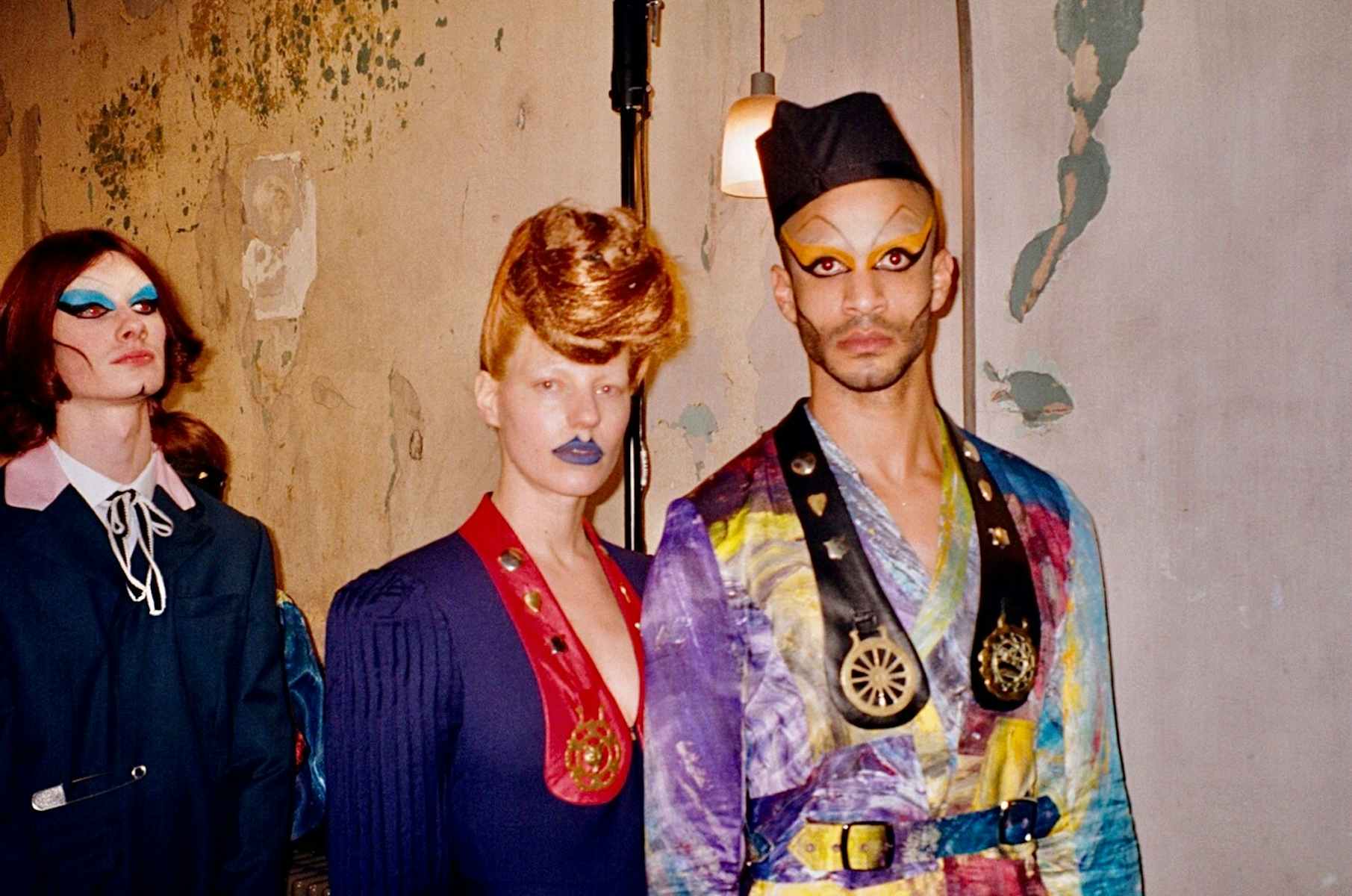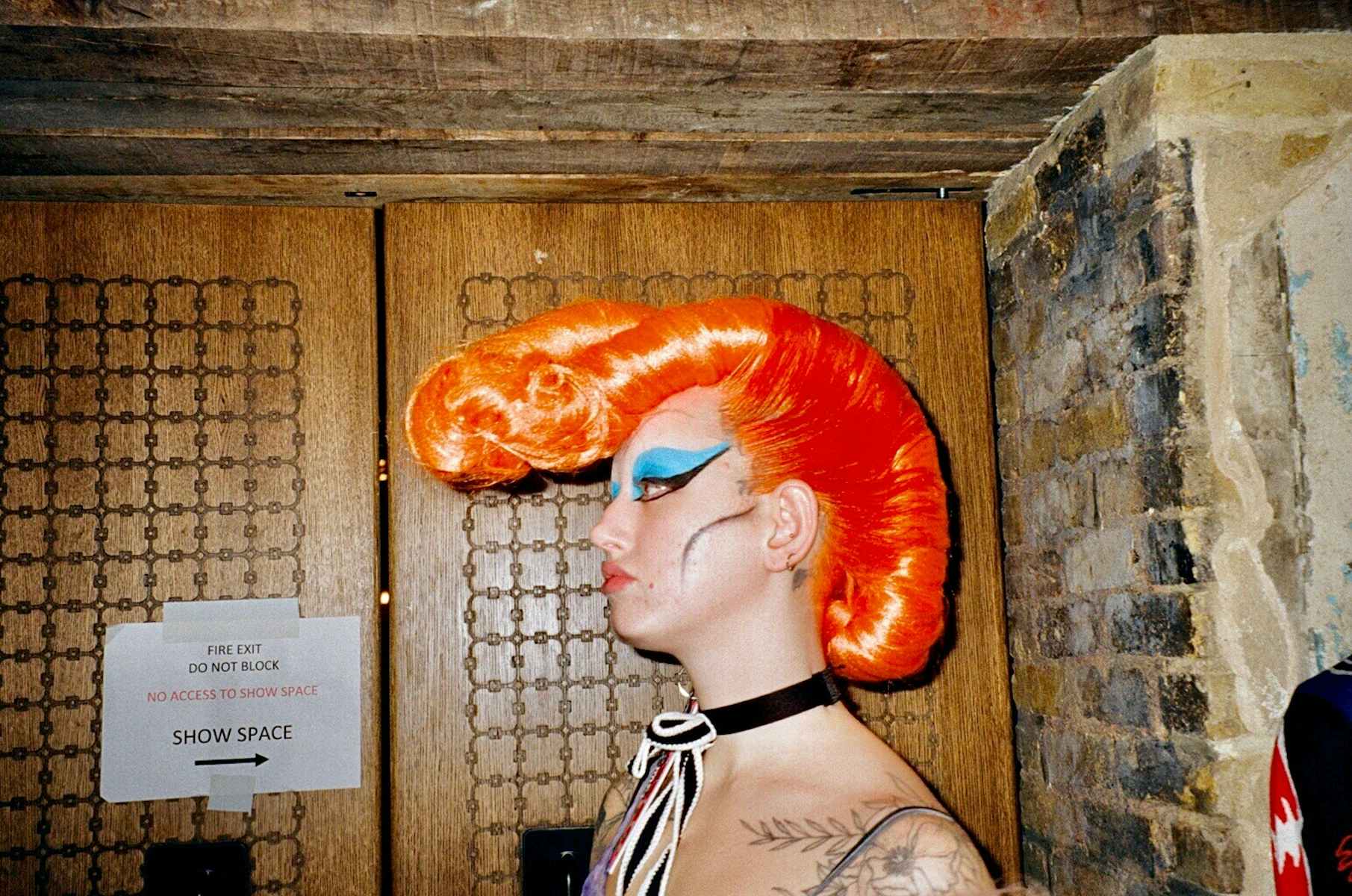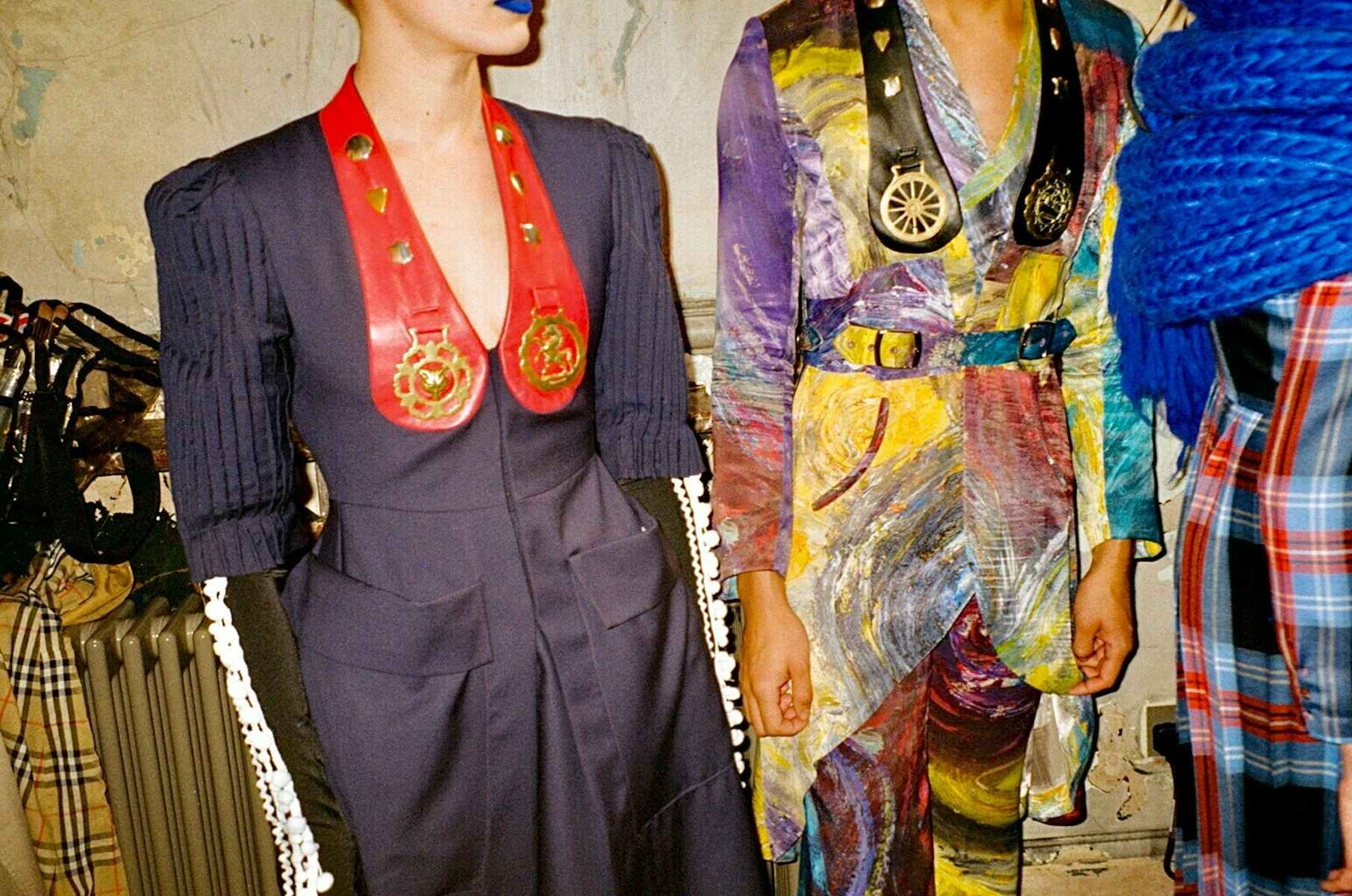 What did it sound like?
The soundtrack was techno straight out of a sweaty Berlin nightclub.

Listen now:

The sound of Charles Jeffrey AW20
Where was the show?
In the 1,200 capacity hall at EartH, a music and arts venue created in the formerly derelict Savoy Cinema in Dalston, by the people behind Village Underground. The building was originally built in 1936.
How did it sound?
Special. Daley collaborated with jazz artists Rago Foot, Wu-Lu and South London duo Kwake Bass to create a live score, performed during the show. The music was fluid and uplifting, particularly when the designer joined the models on stage to dance in the finale.
Where'd everyone go next?
The crowd was split. Many editors and buyers dashed to their cars to cross London the Charles Jeffrey Loverboy show across town in Battersea. While the rest of the showgoers stayed put for the afterparty, thrown in collaboration with Adidas and soundtracked by the likes of Deep Medi's Mala.
ROBYN LYNCH AW20
After two successful seasons under Fashion East, Dublin-born Robyn Lynch has gone out on her own this season. Previously based in Ireland during her Fashion East run, the designer has just relocated to London ahead of her first standalone presentation. But, never fear, the Irish influence on her clothes remains as potent as ever – this time focusing on parts of her country that time forgot, like sparsely populated island Inis Orr.

What about the clothes?
AW20 sees a darker palette of navy, grey and black than we are used to from Lynch. But her signature layering remains: modern and traditional textures were spliced, with sculpted Arran knits and linen over elasticated waistbands and nylon windbreakers. Looking back to pre-internet times, the most prominent motif was a green and blue striped print, splashed across sleeves, scarves and trousers inspired by Aertel – the Irish teletext channel.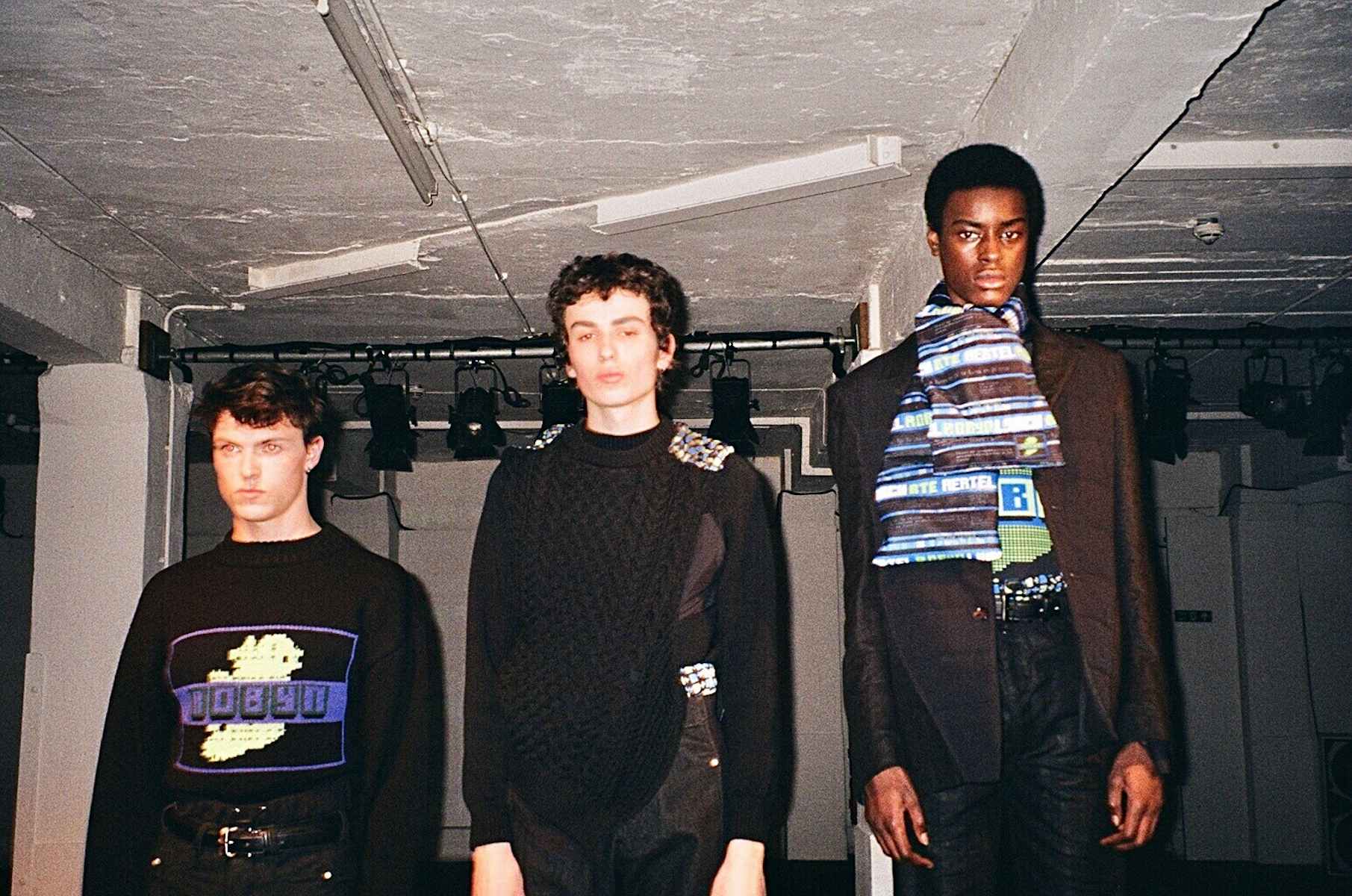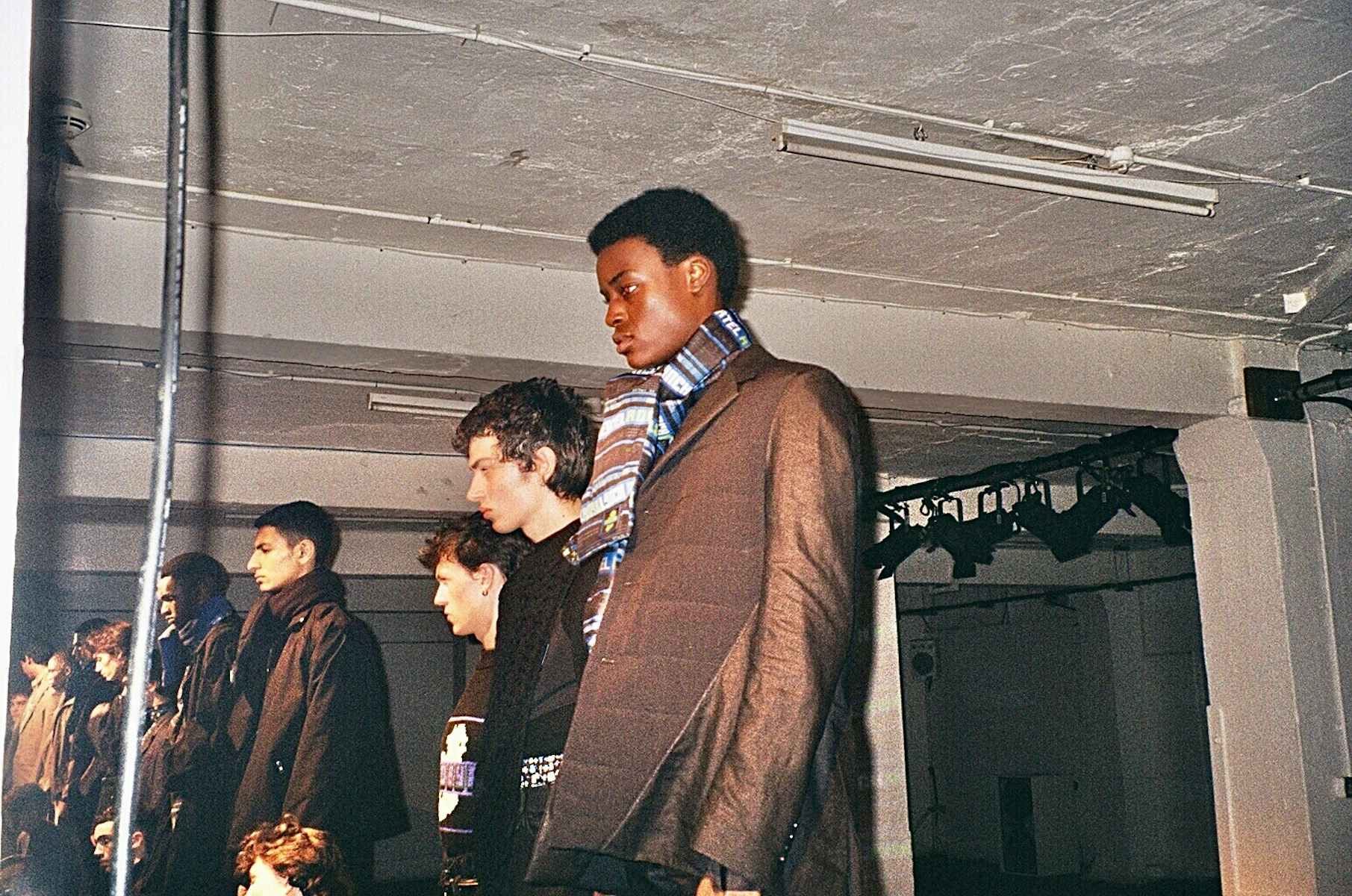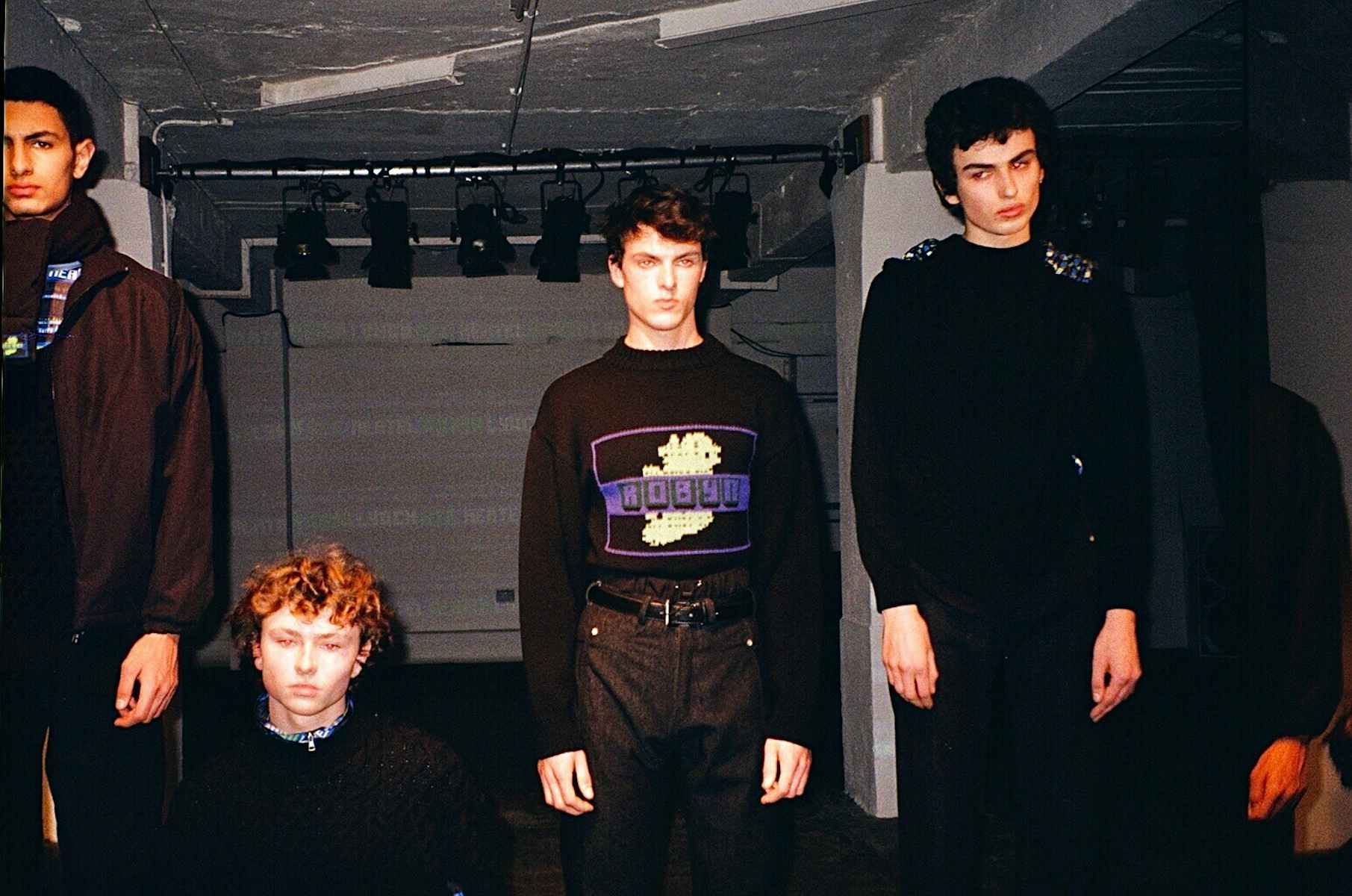 What did it sound like?
Three of the models held traditional Irish instruments, from an accordion to Irish bagpipes and a bodhran drum, which they played during breaks in the techno soundtrack. The only other interruption? Continuing the pre-internet refs, a deafening dial-up noise every few minutes that reminded anyone over 25 of their first PC.


Listen now:

The sound of Robyn Lynch AW20
BETHANY WILLIAMS AW20
Marking the start of an ongoing collaboration with The Magpie Project, a charity based in Newham, east London, which supports women and children under the age of five in temporary accommodation, Bethany Williams' sustainable AW20 collection was a celebration of ​"motherhood, childhood, sisterhood and the family we choose". The start of the show saw a series of illustrations of mothers and their children projected on a screen – in collaboration with animator Melissa Kitty Jaram – that would later be seen in the collection.
What about the clothes?

Primary colour, painted trousers featuring Jaram's illustrations were teamed with miniature tops, printed outerwear pieces were served in outsized proportions that cocooned the wearer's silhouette, tunic tops were belted and tied at the back and two-piece ensembles were knitted from wool in earthy tones. Notably – given Williams' ongoing commitment to sustainability – everything in the collection was crafted from organic or recycled materials – from old blankets and bedding and scraps of used tents, to offcuts of toy ribbon. This season Williams' blank canvas was painted with optimistic strokes that signal the prospect of future change.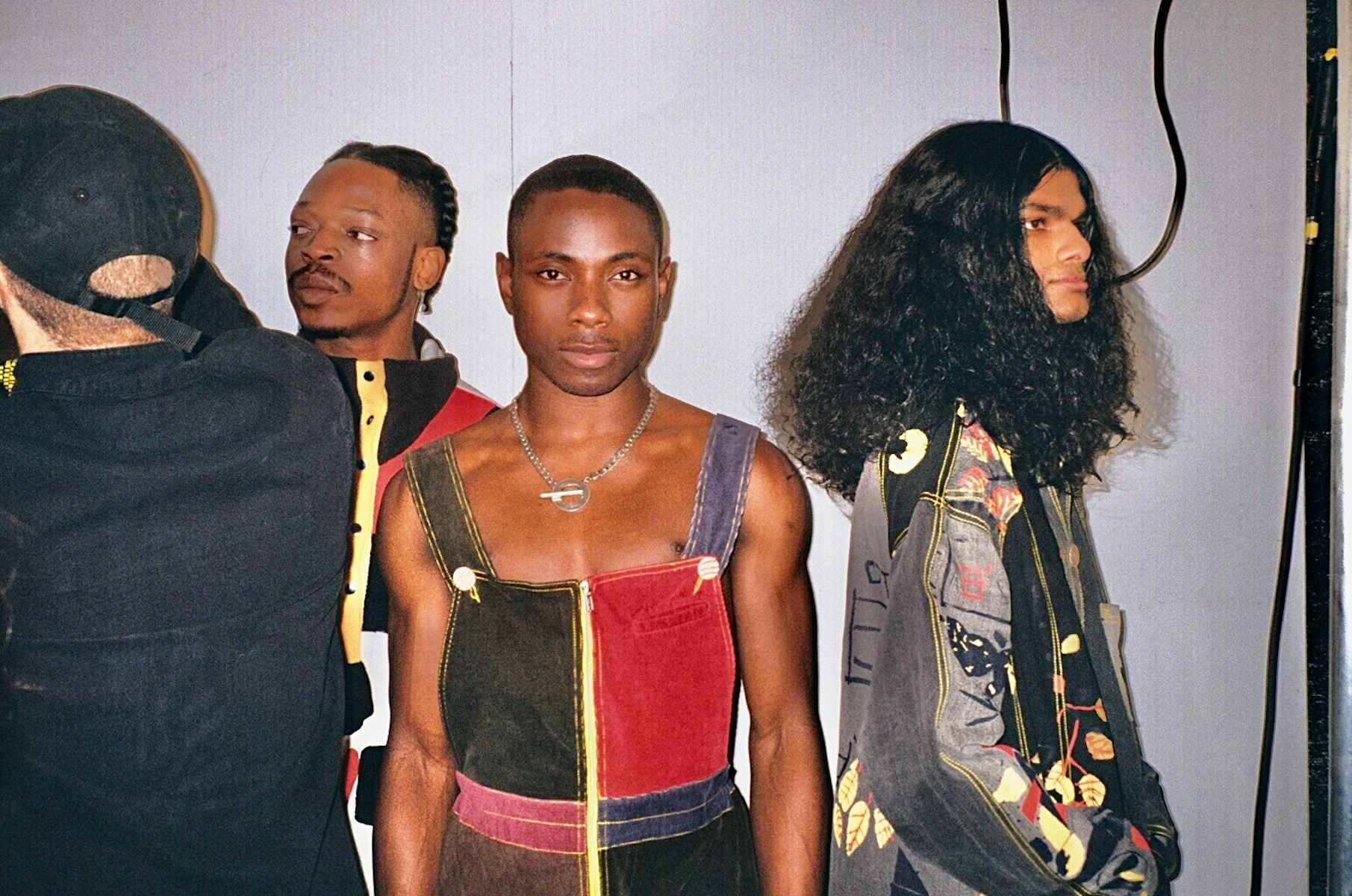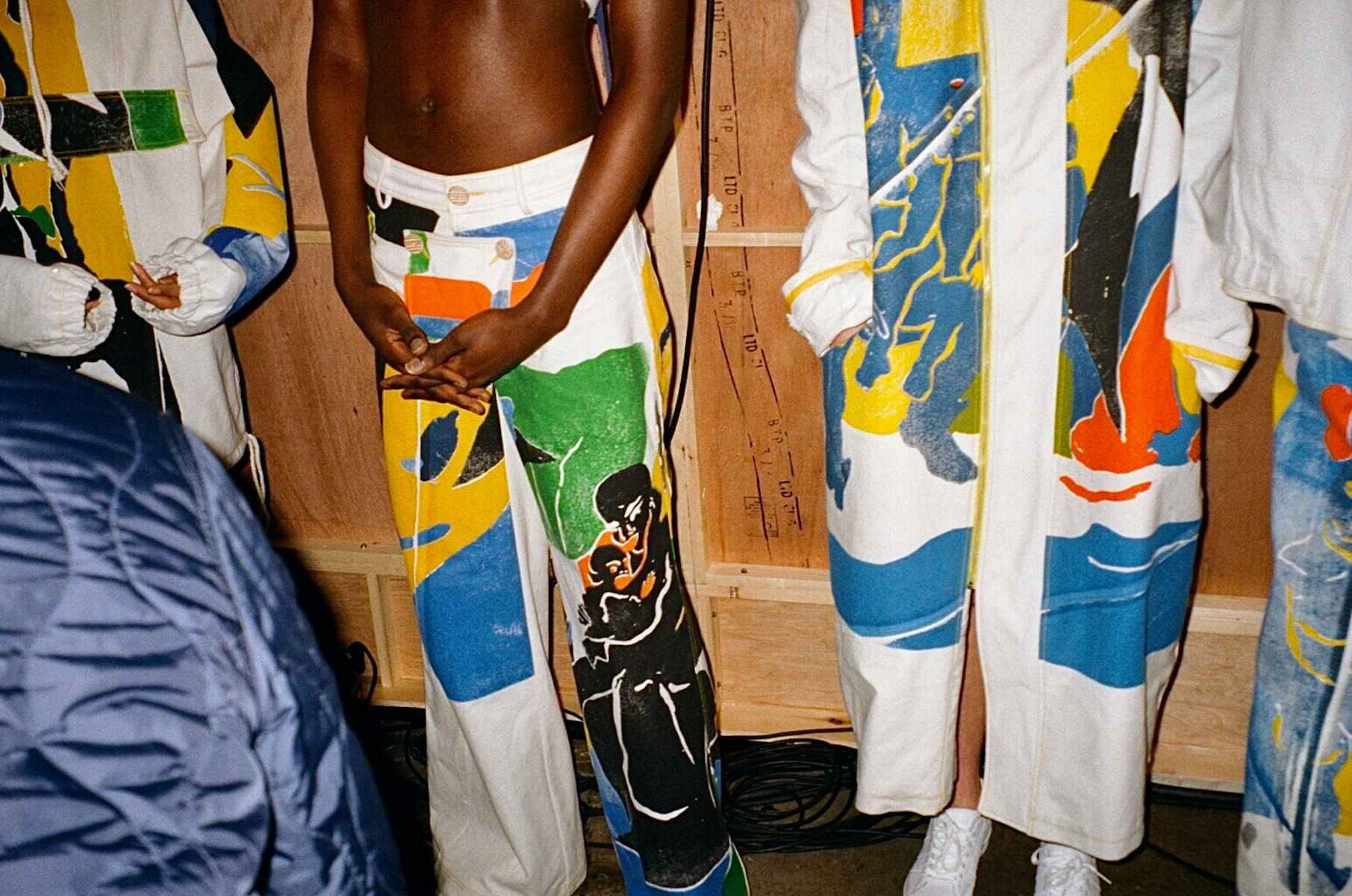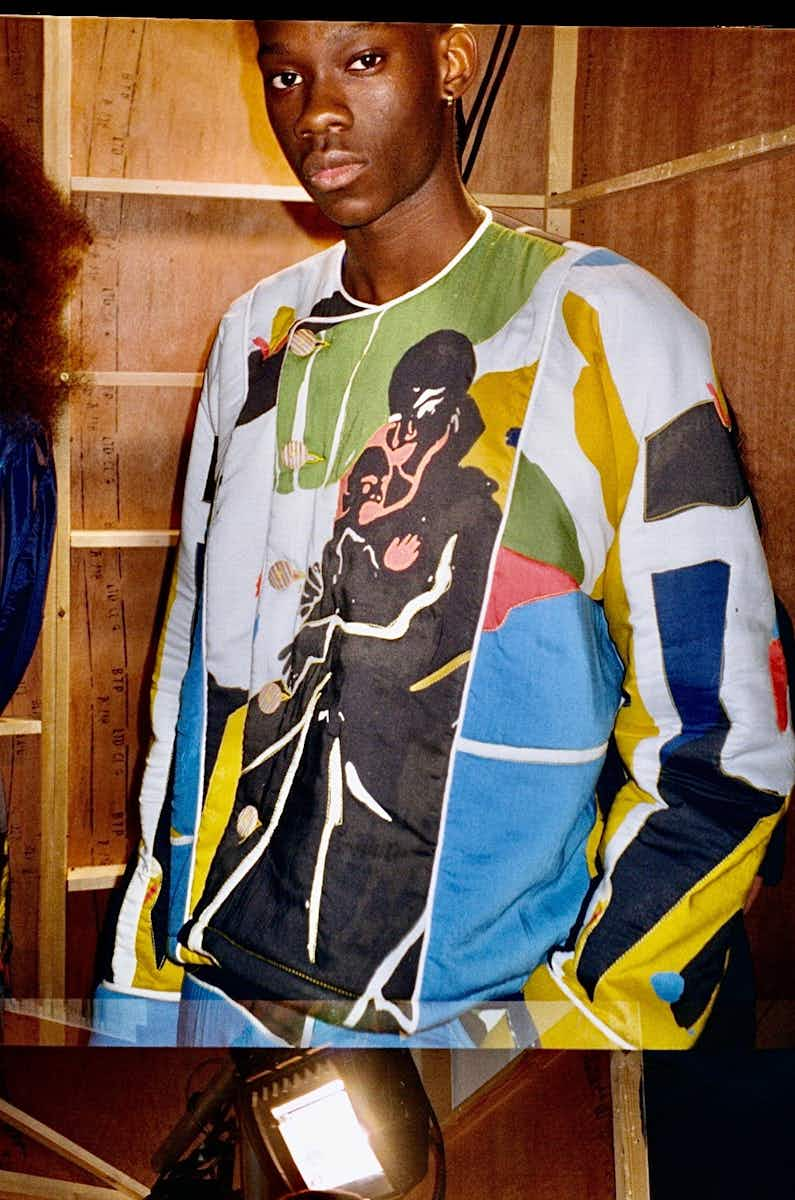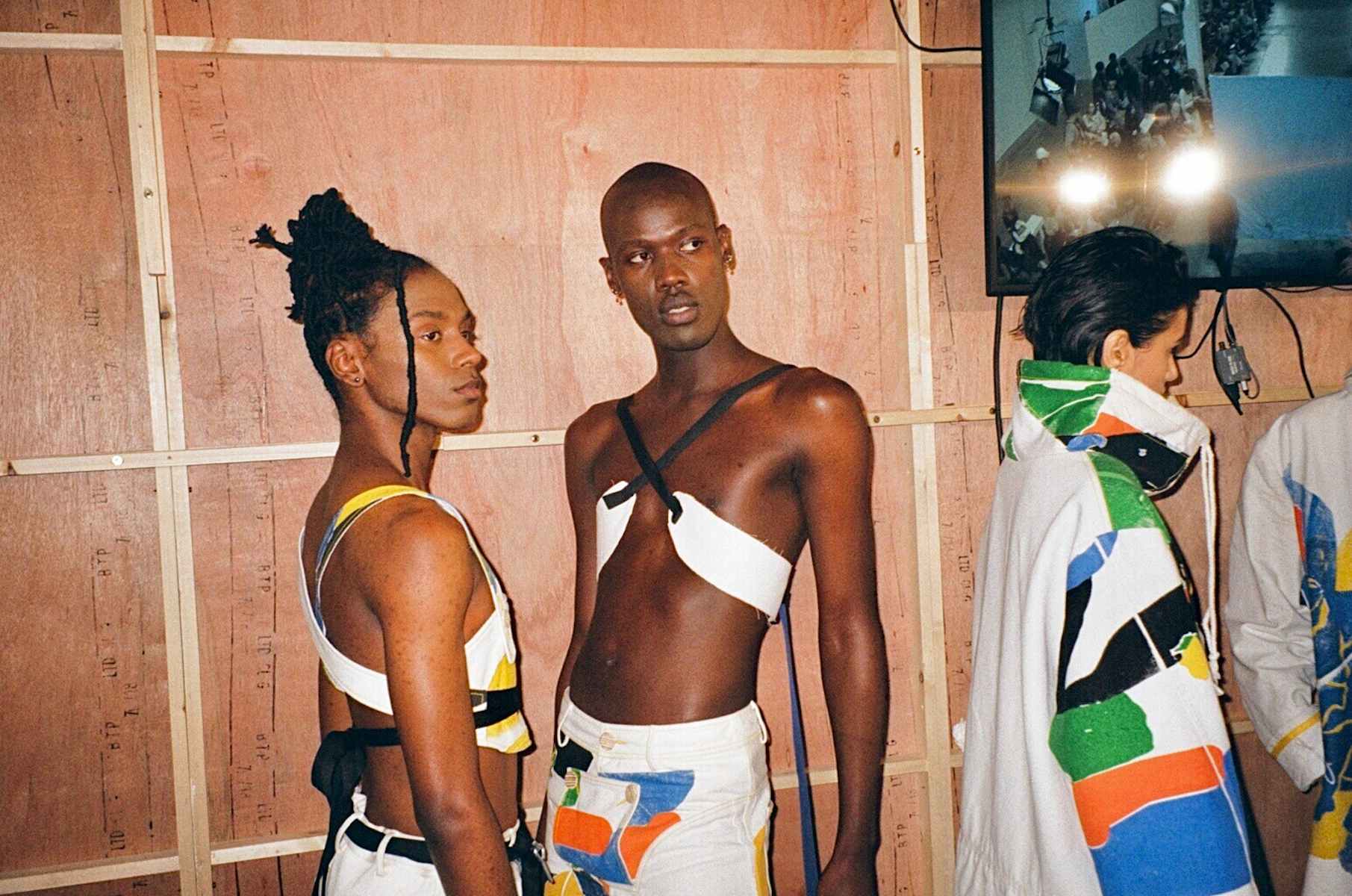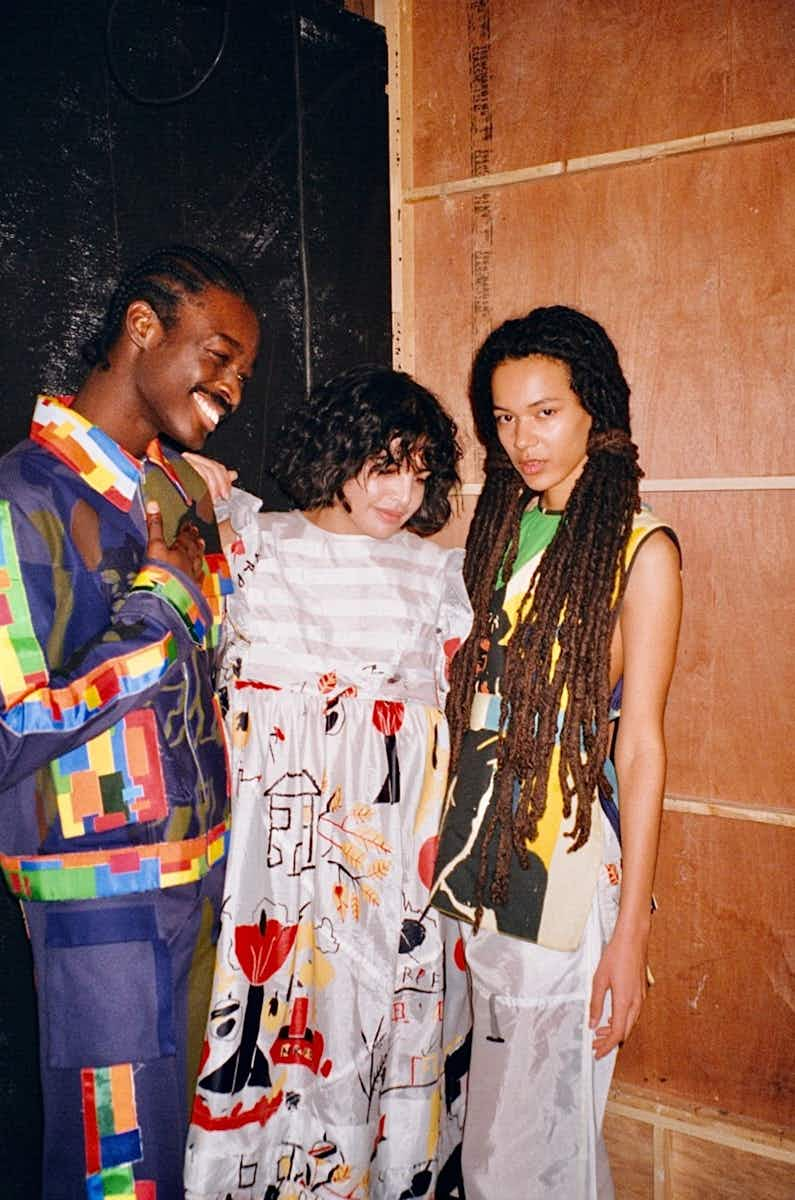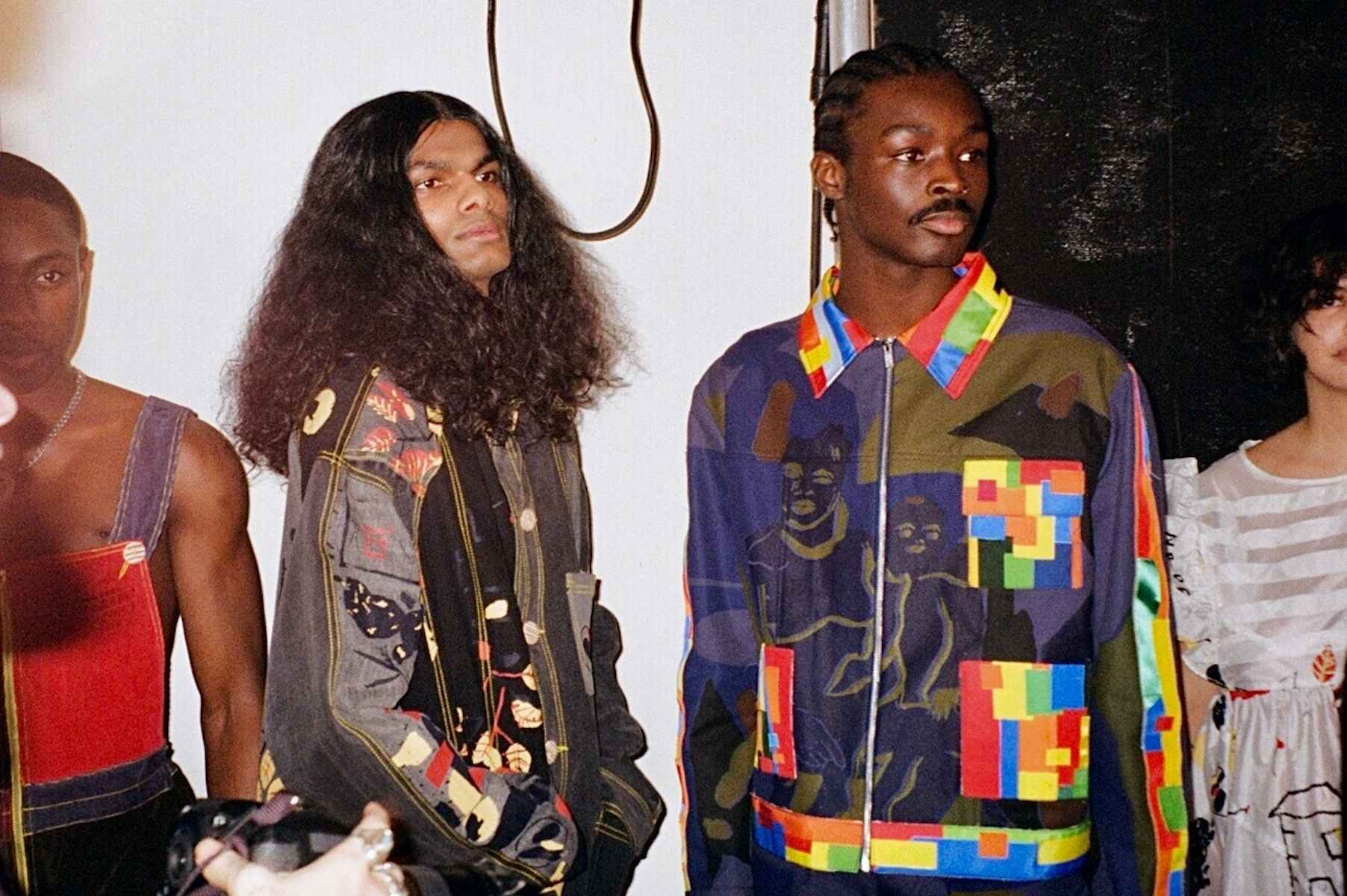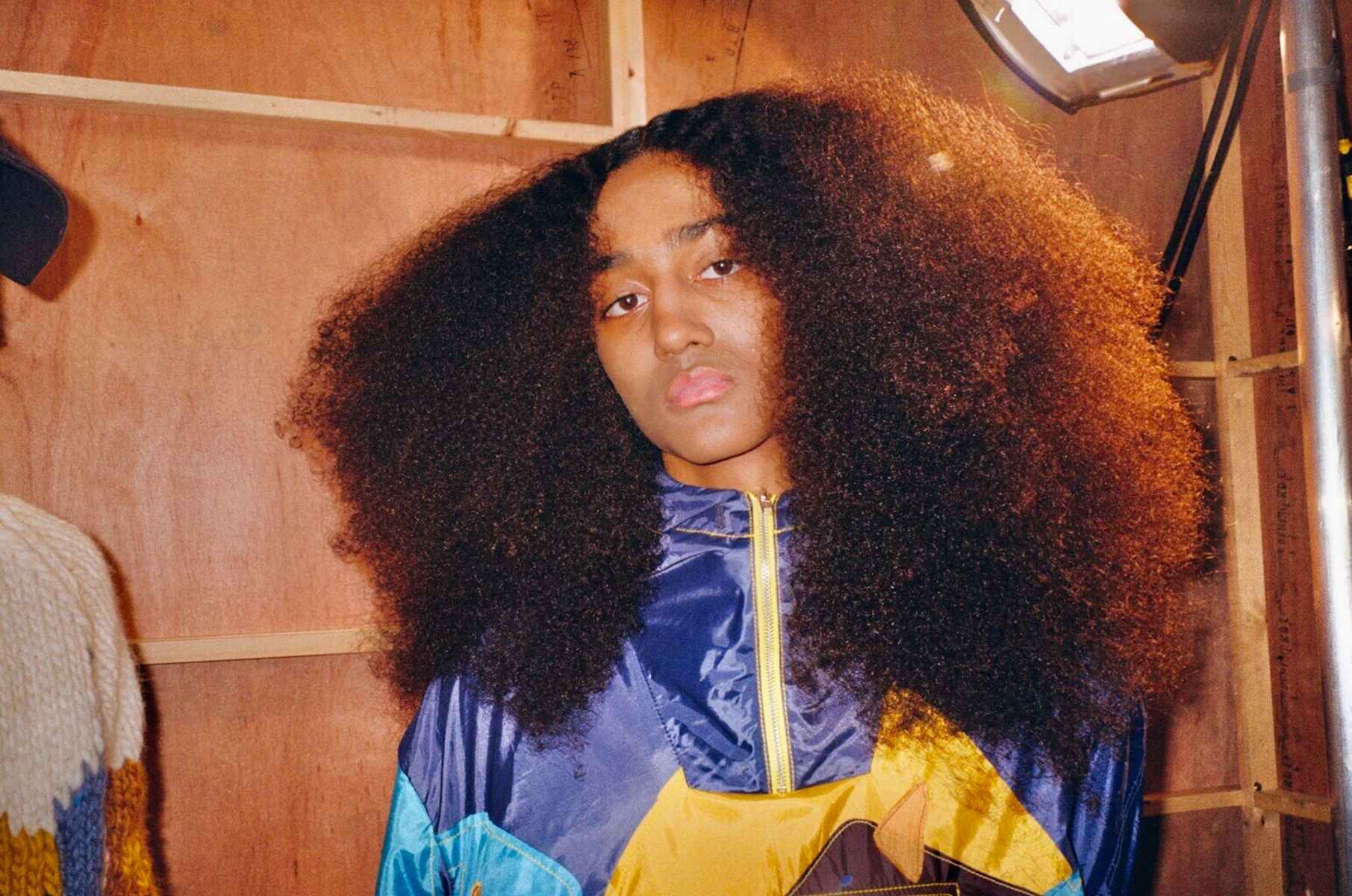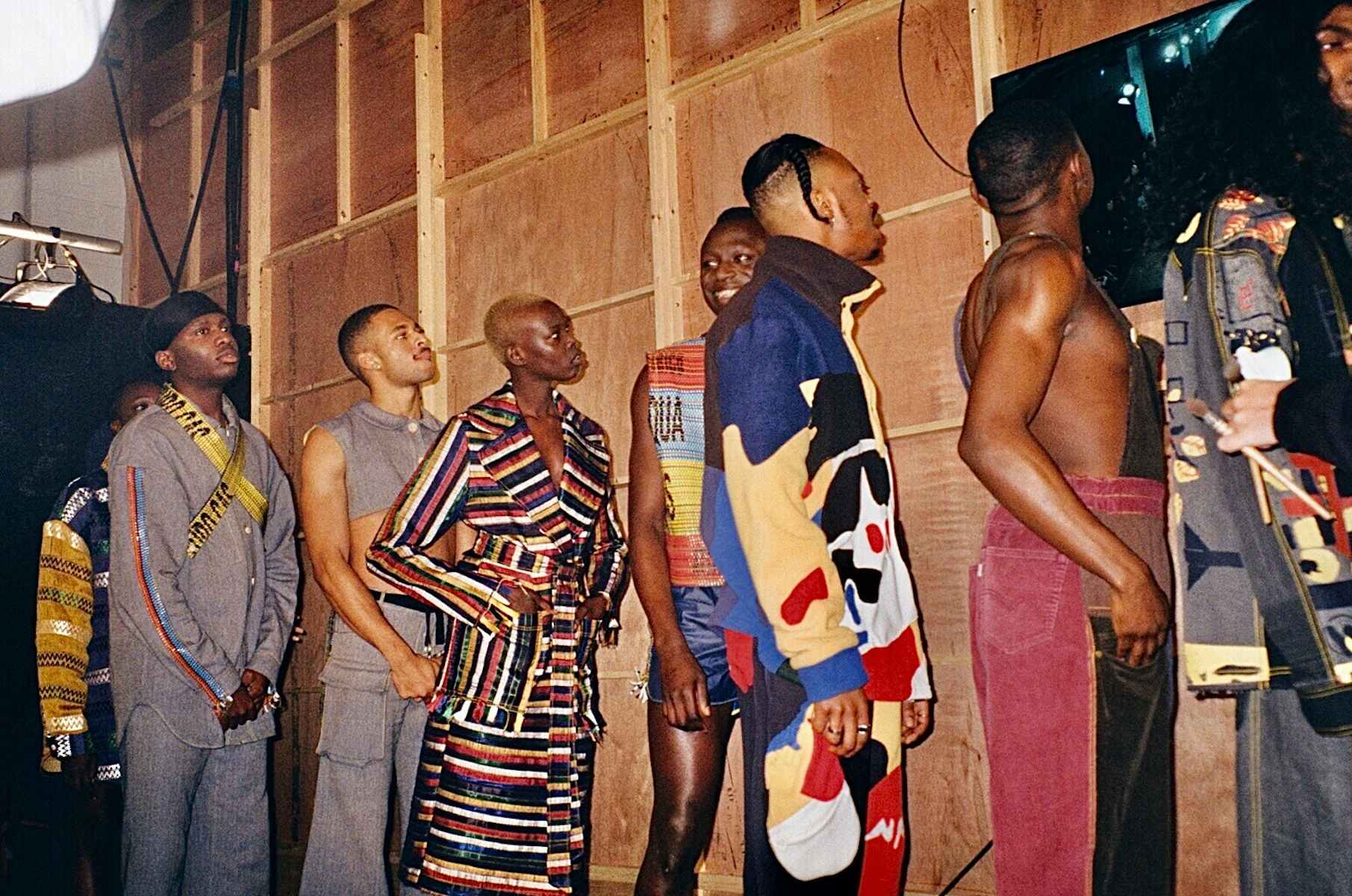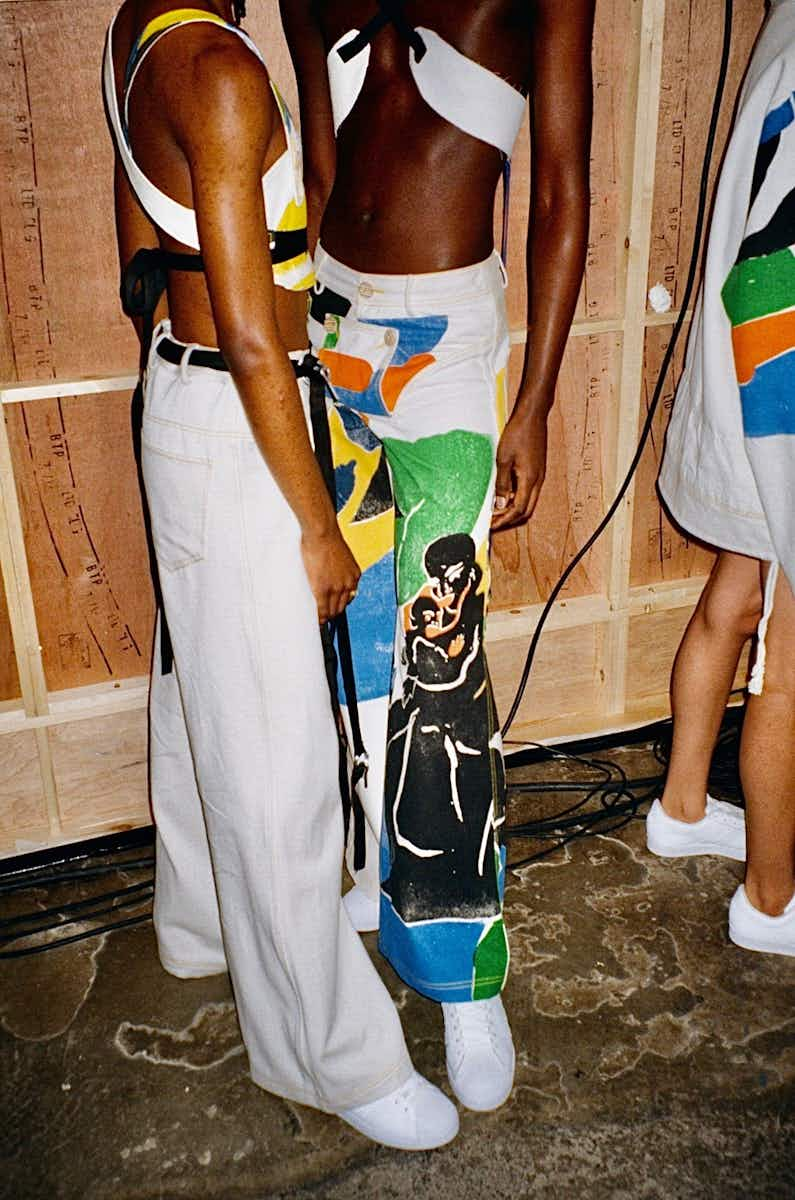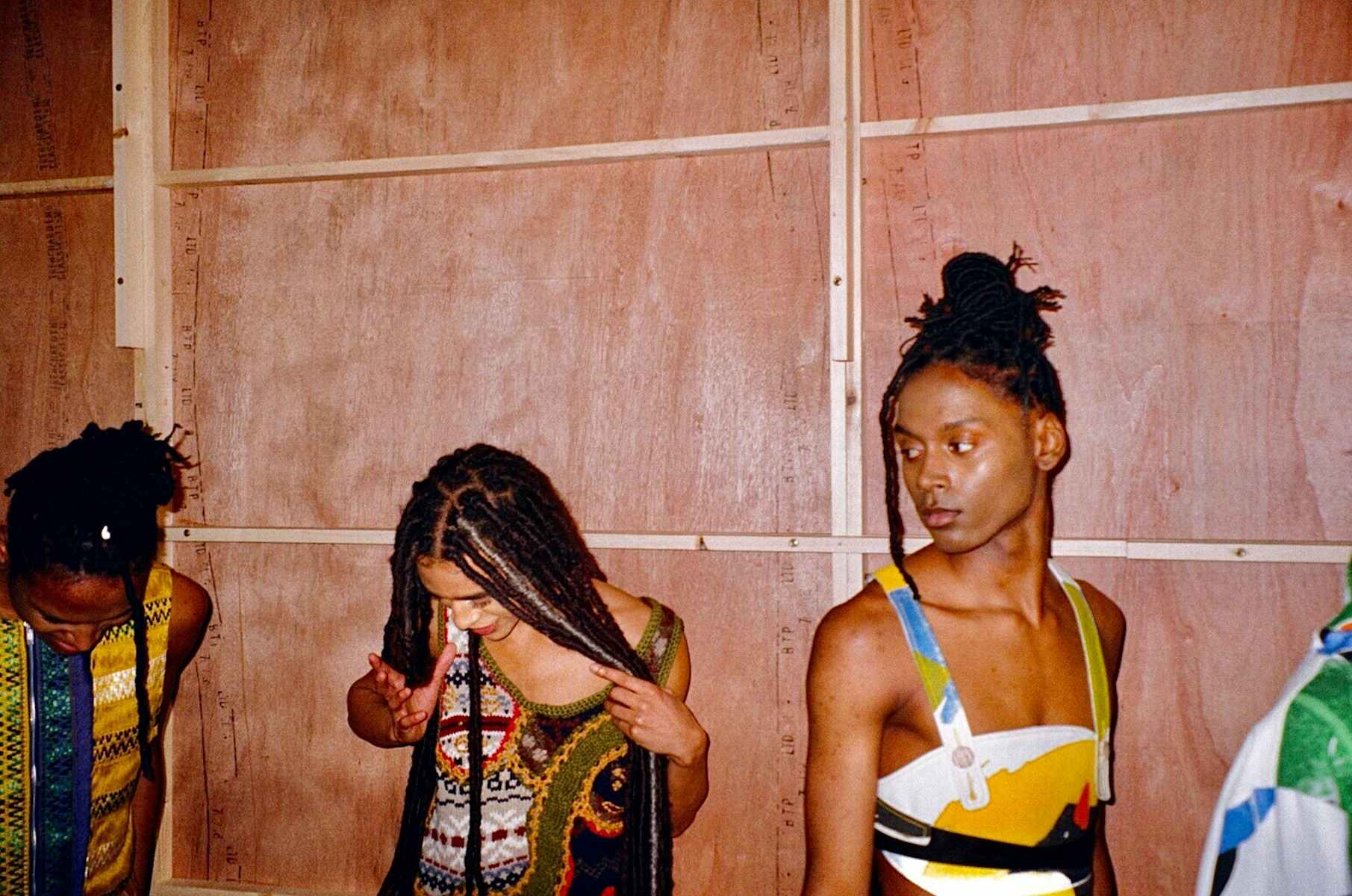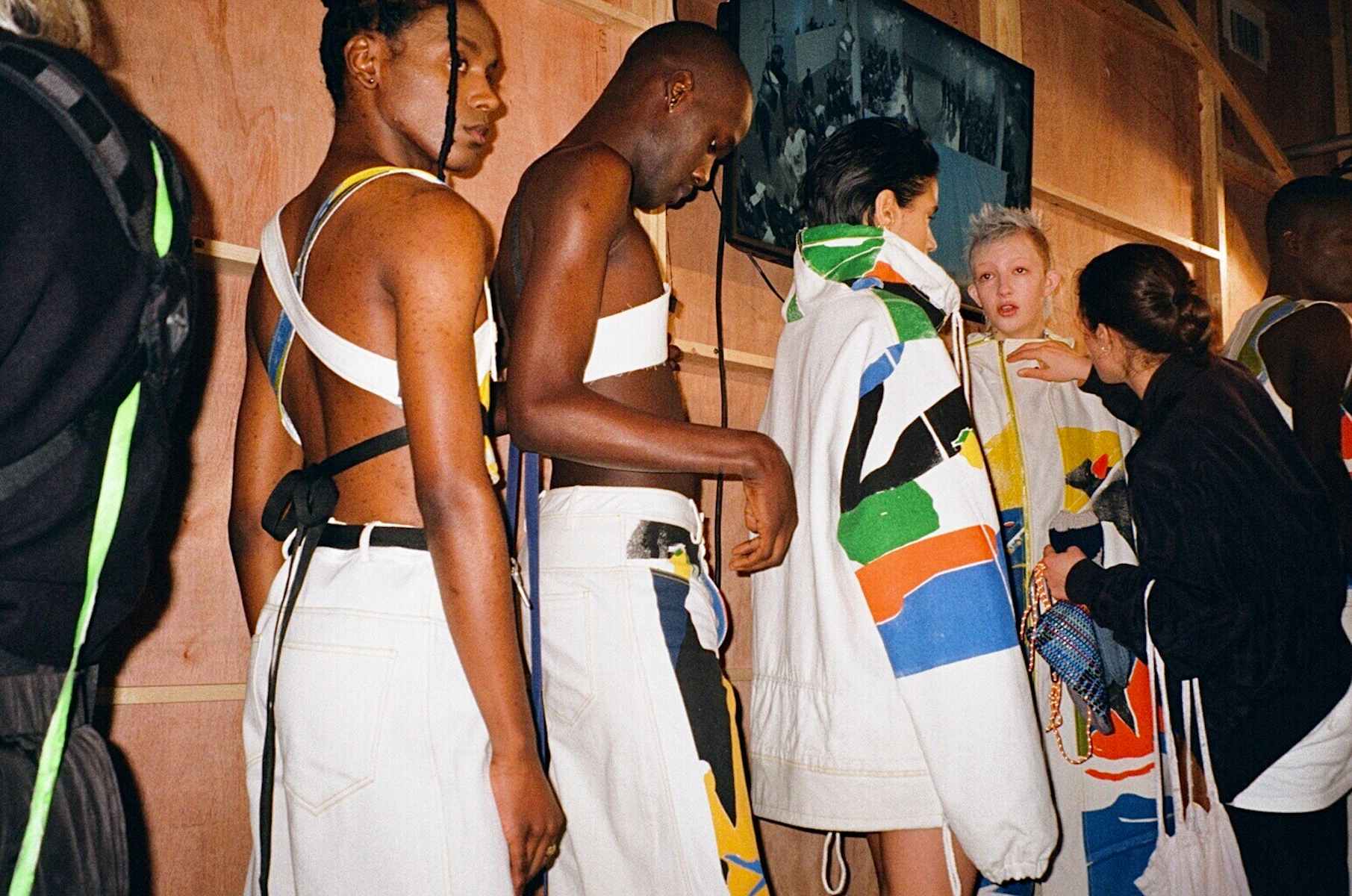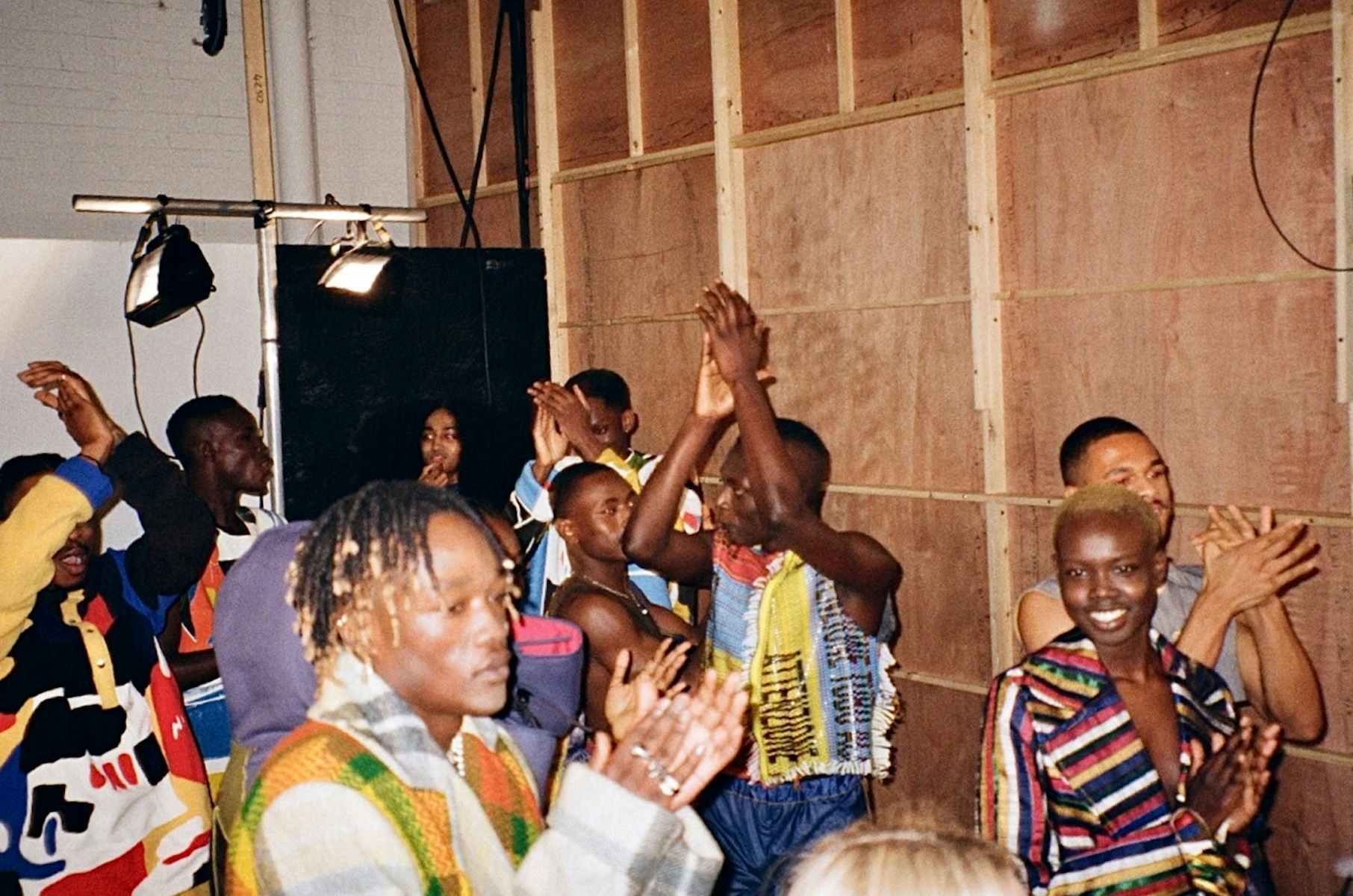 What did it sound like?
A voiceover composed and read by poet Eno Mfon, followed by an artfully mixed soundscape by none other than Benji B.
Listen now:

The sound of Bethany Williams AW20
PARIA FARZANEH AW20
Paria continued to explore her intersectional British-Iranian heritage for AW20, this time taking her guests to a school hall in East London to experience a traditional Iranian wedding ceremony. Guests were offered Iranian pastries upon entry before being seated – men on the left and women on the right. The curtains on stage opened to reveal a bride in a white lace dress and a groom dressed in Farzaneh's signature print. The clothes that followed included padded jackets worn with hiking boots, sweatshirts with exaggerated high necks that concealed the face, protective anoraks and printed cargo pants with red piped edges that nodded to combat uniforms.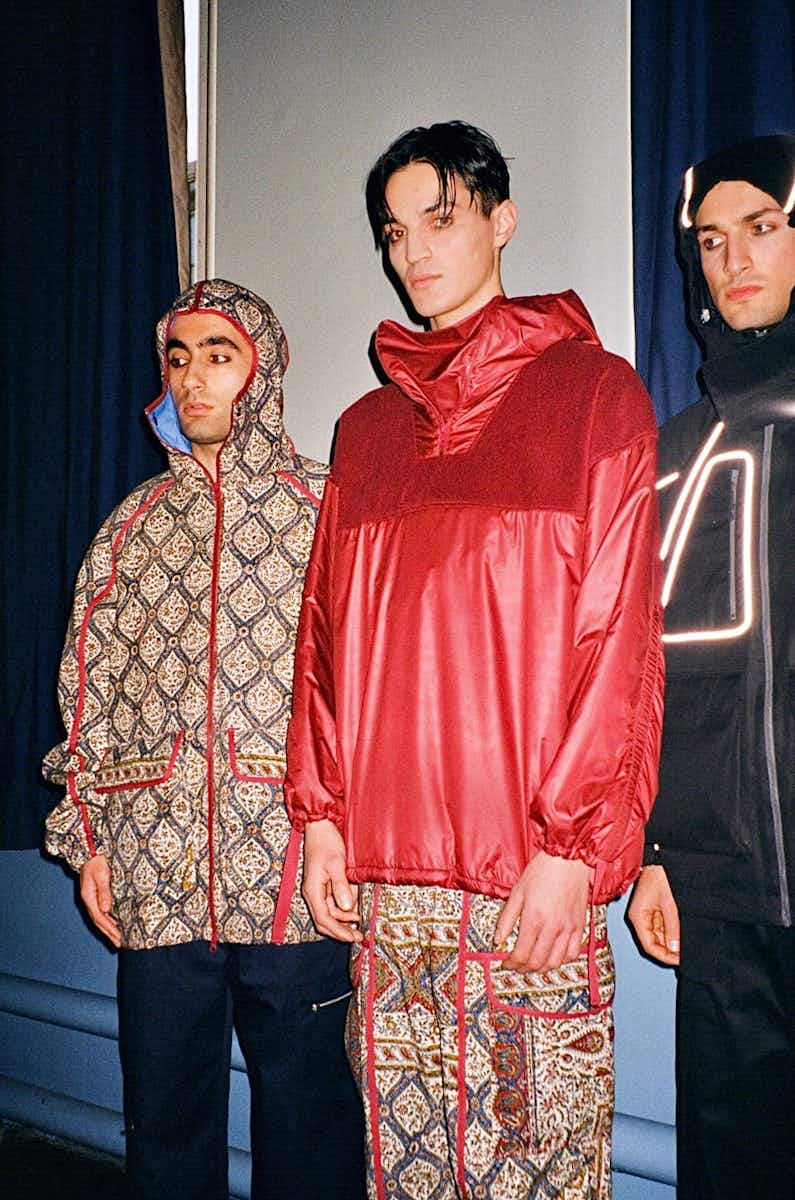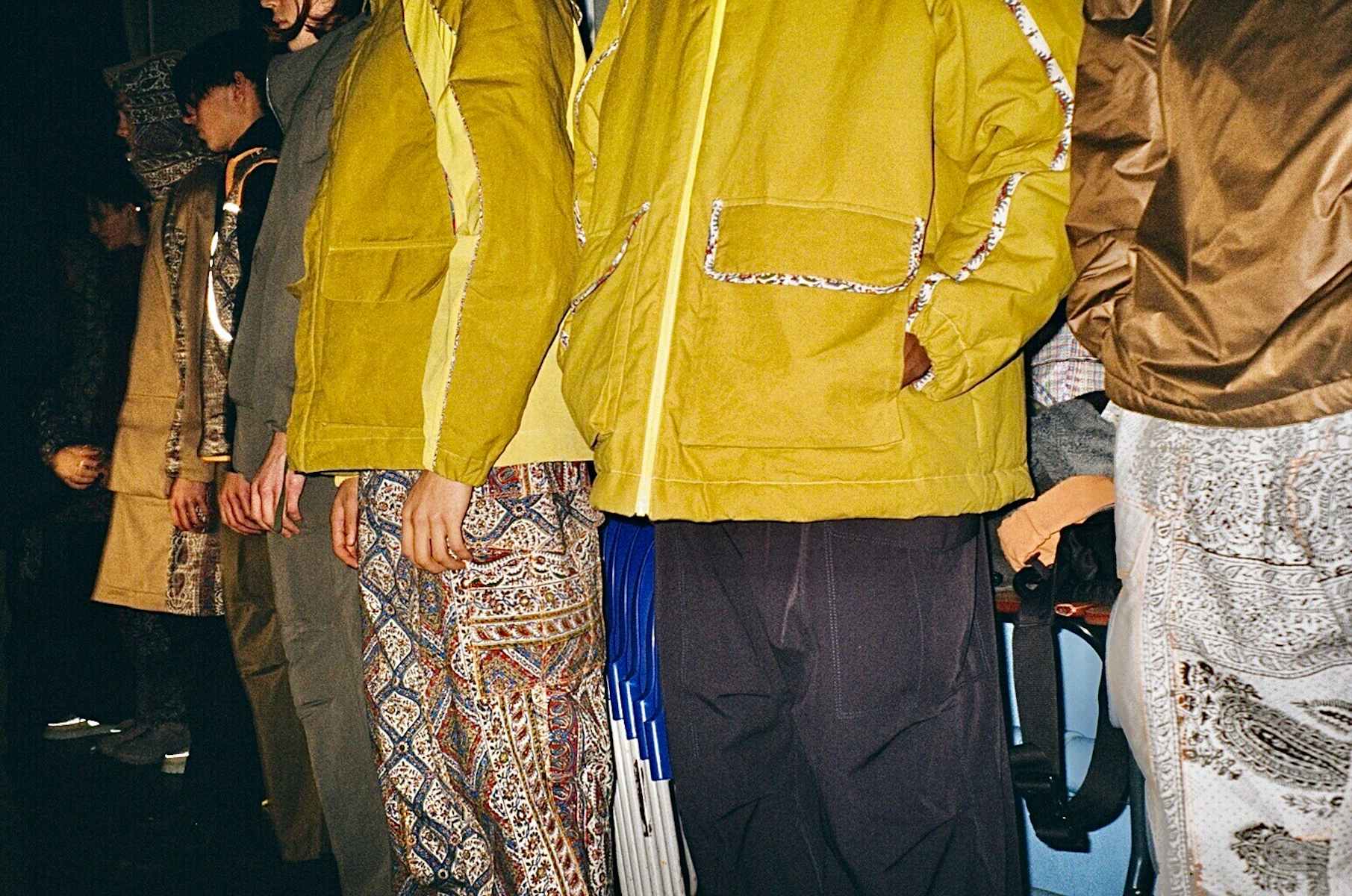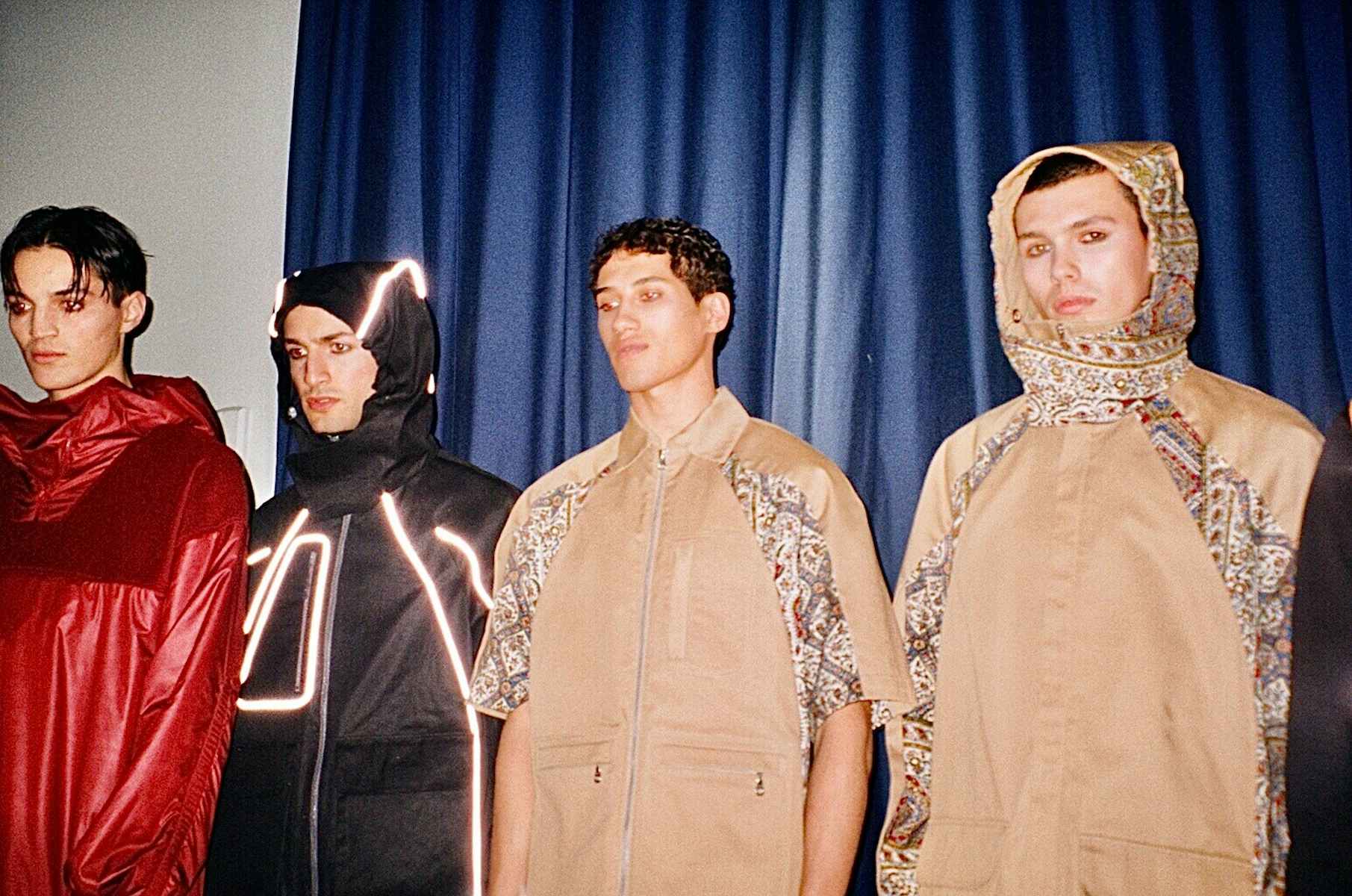 JORDAN LUCA AW20
Kicking off London Fashion Week Men's this season was Jordan Bowen and Luca Marchetto's eponymous label: Jordan Luca. Presented at Shoreditch Town Hall in a candle-lit courtroom, the duo's AW20 collection fused historic references with futuristic techwear elements from hooded outerwear, to streamlined trousers decorated with multiple zips and straps. Meanwhile, acid-bright prints permeated through the collection: neon-orange graffitied tracksuit bottoms, electric-yellow photo-print trousers and a reoccurring highlighter-pink print featuring faces from the Jordan Luca family.
What did the designer say?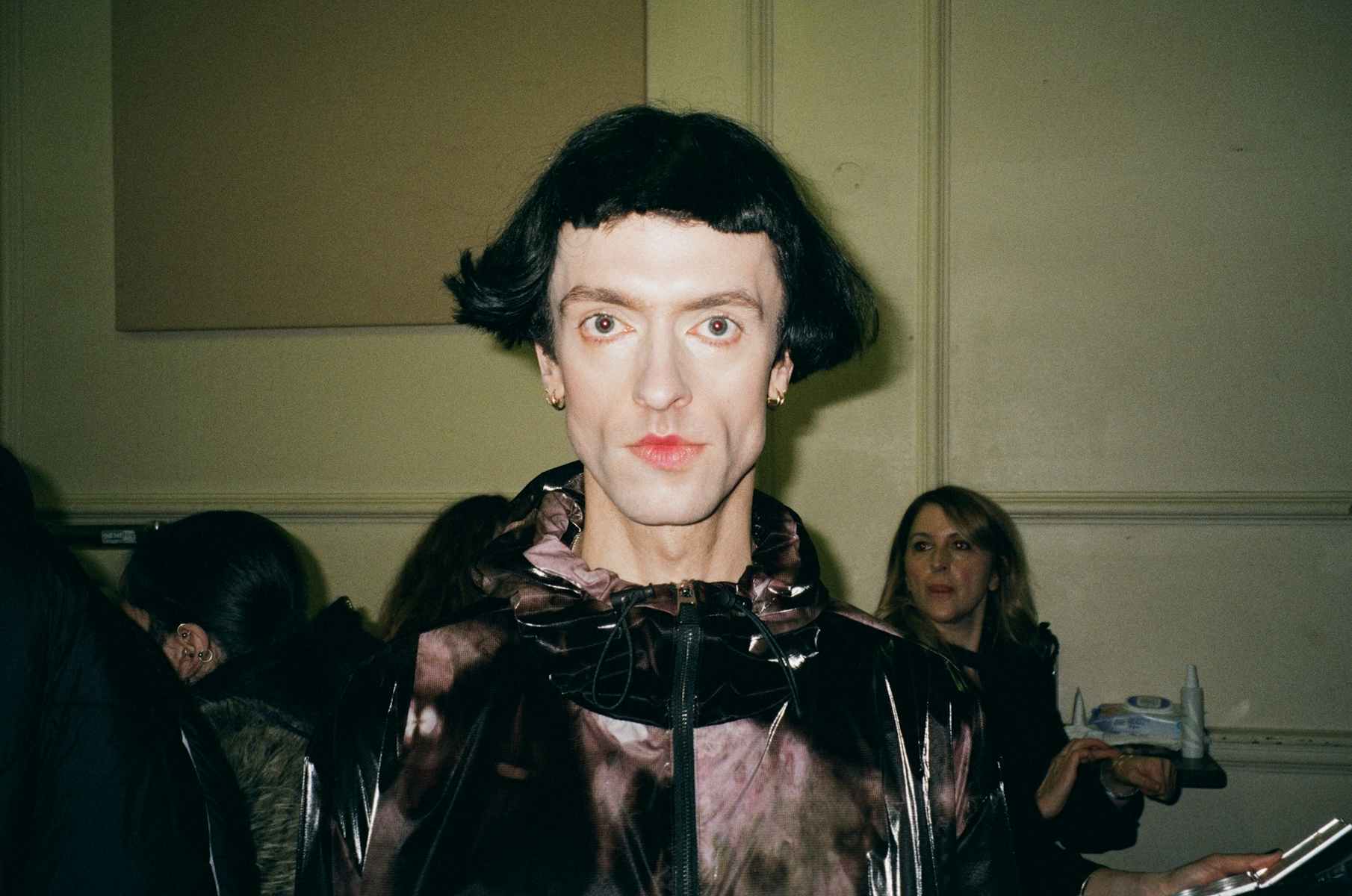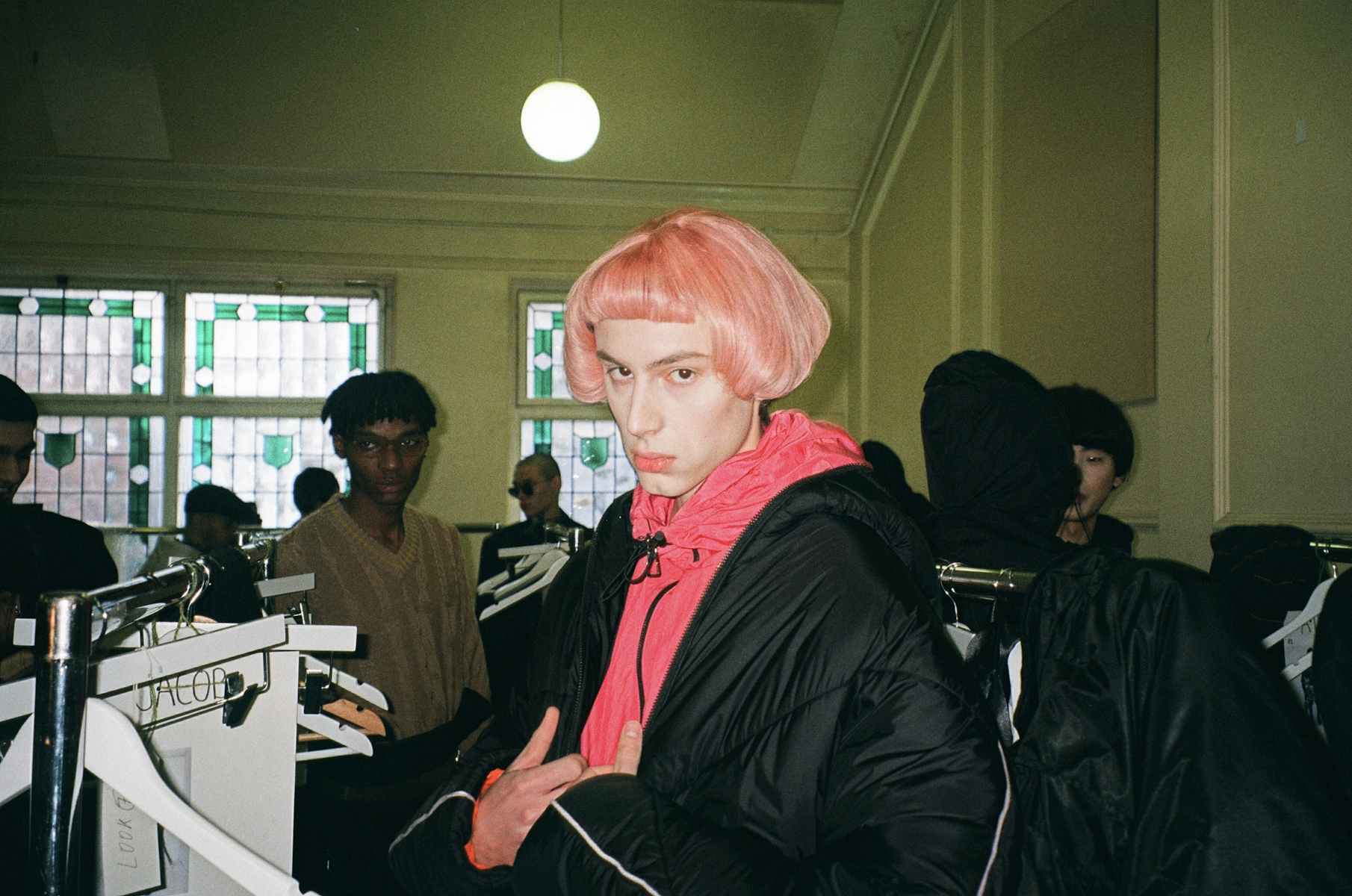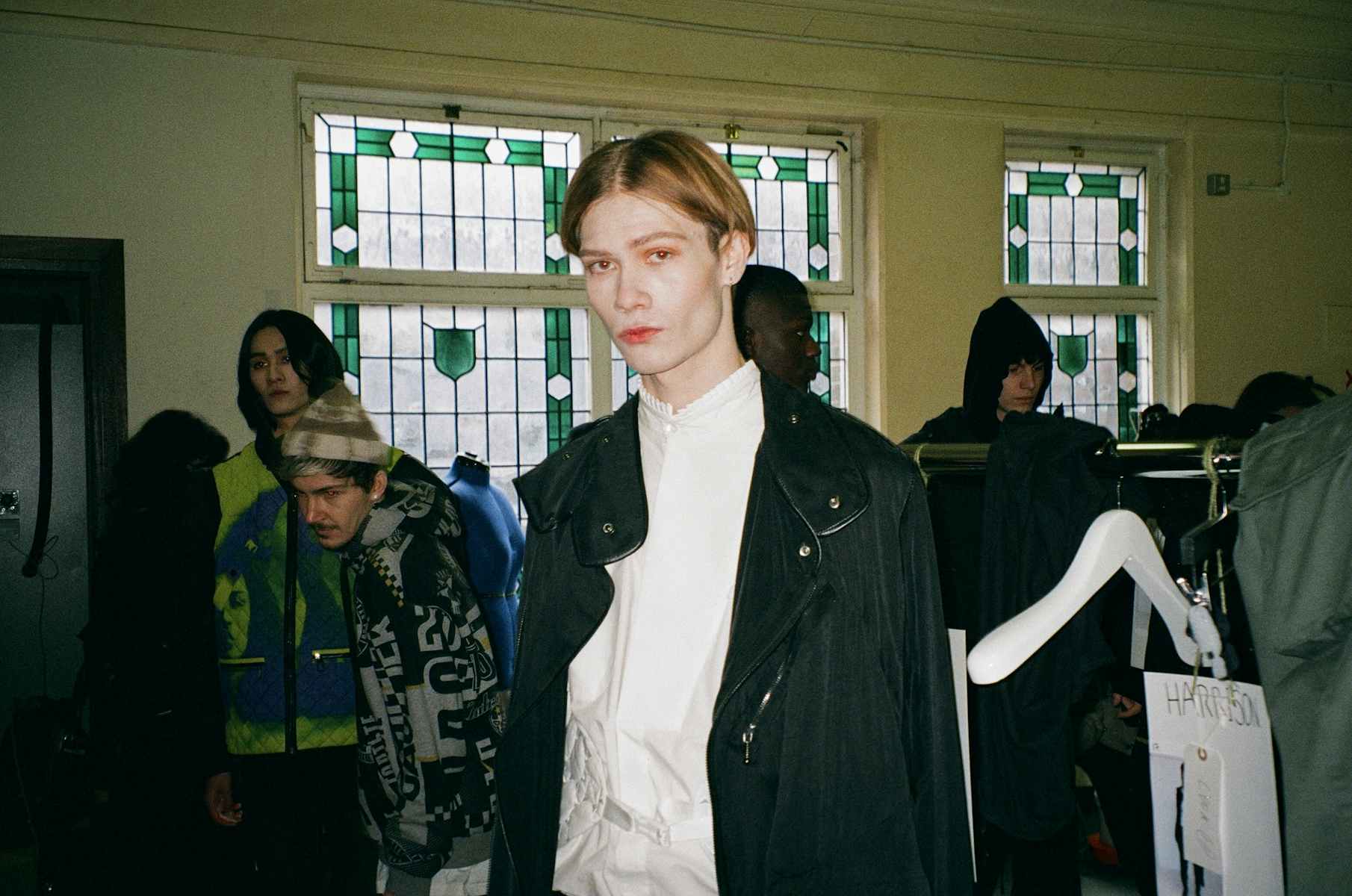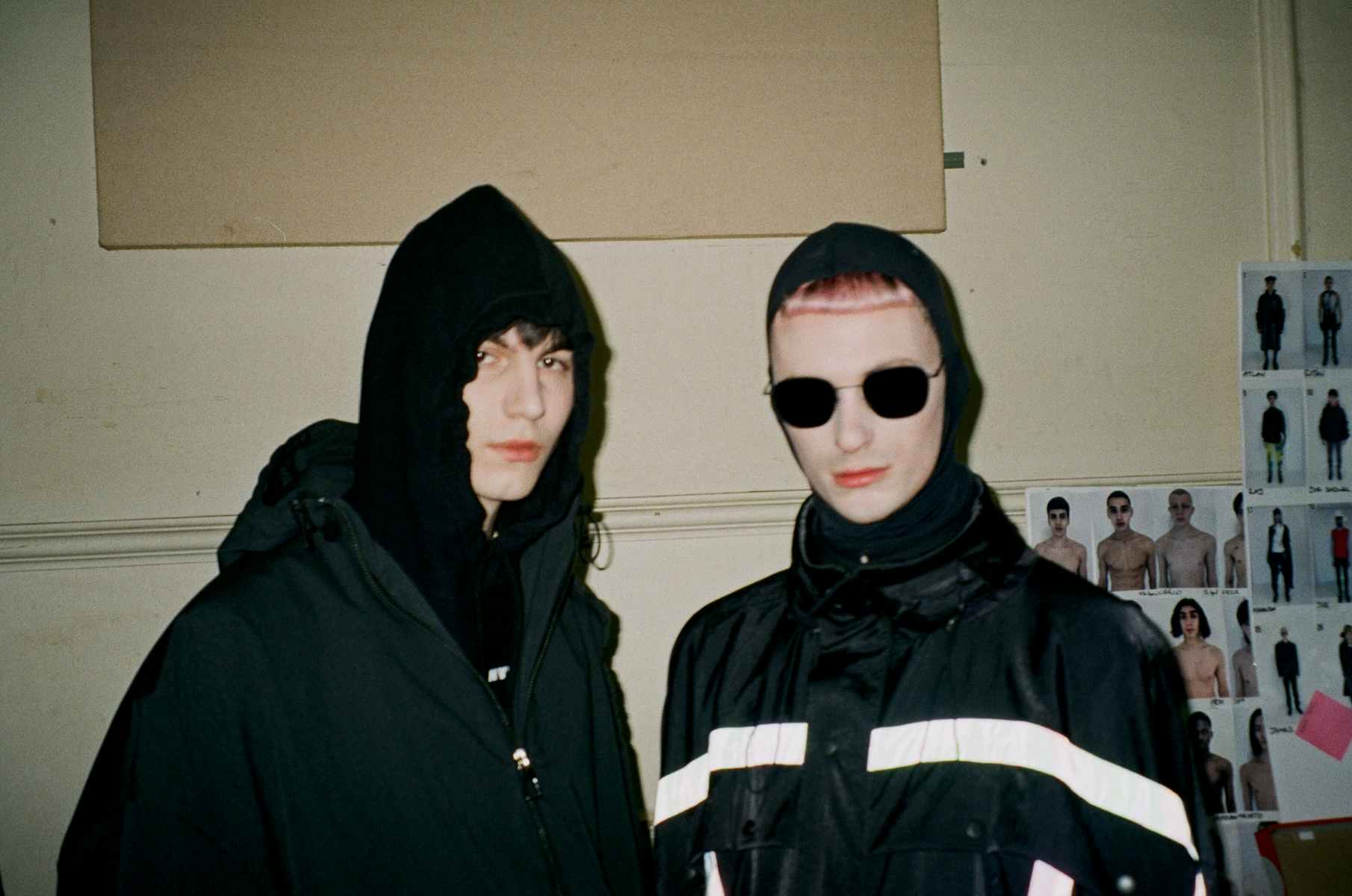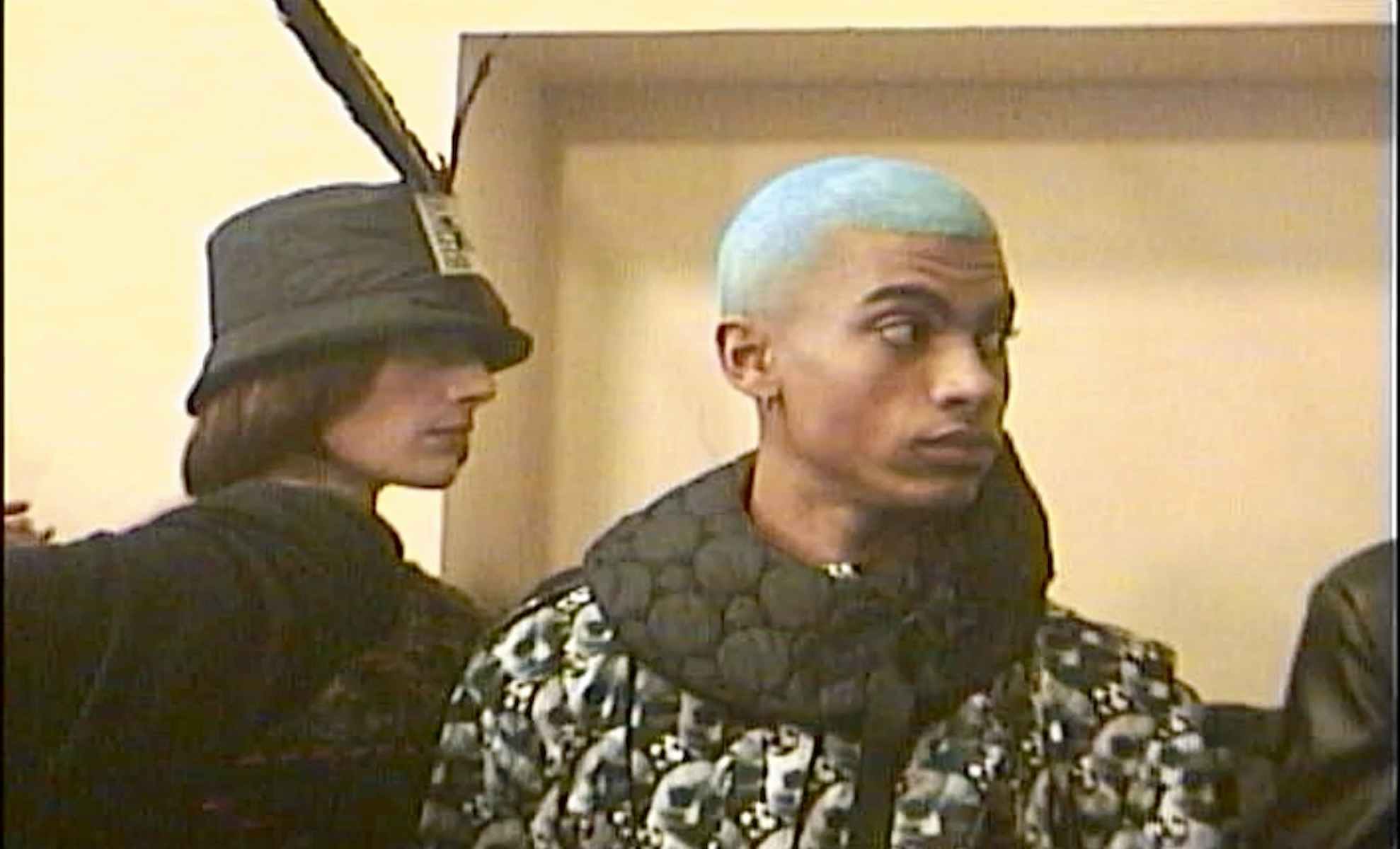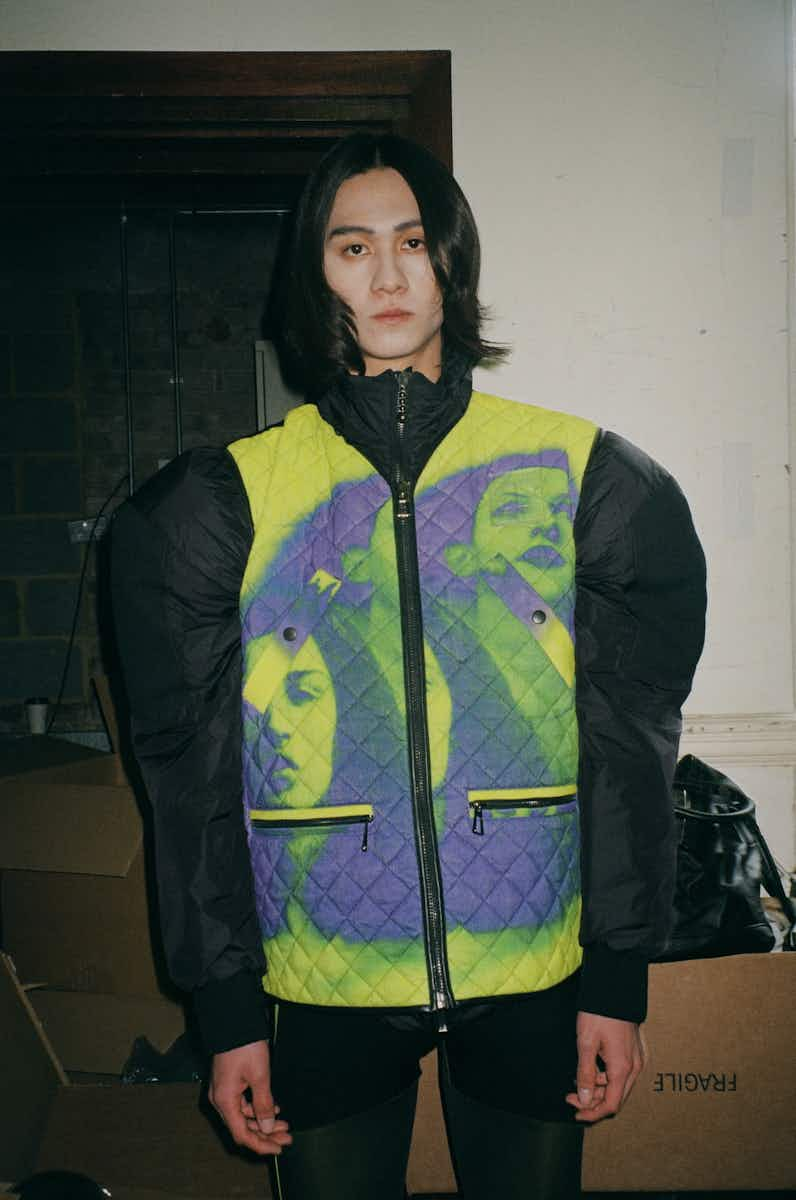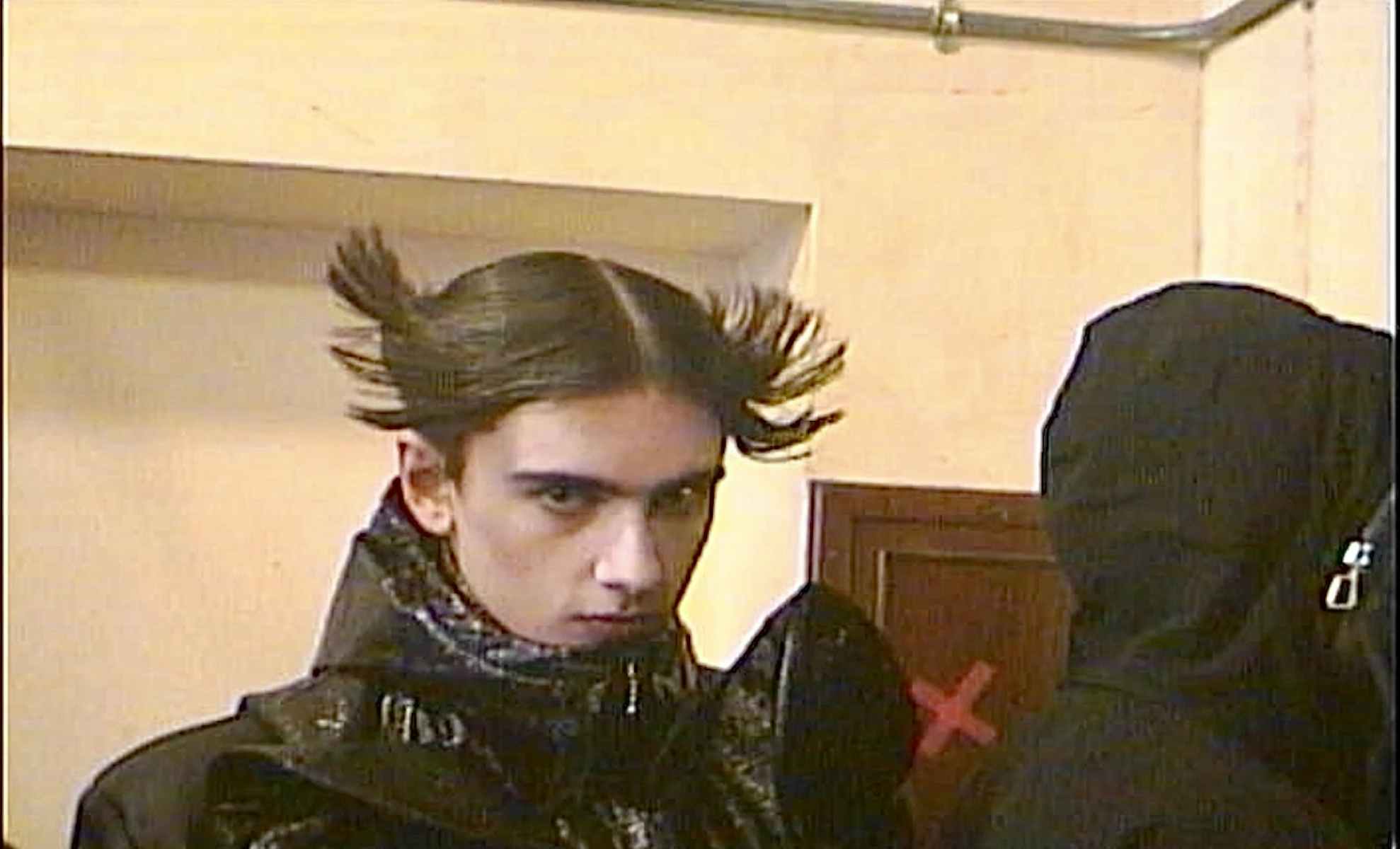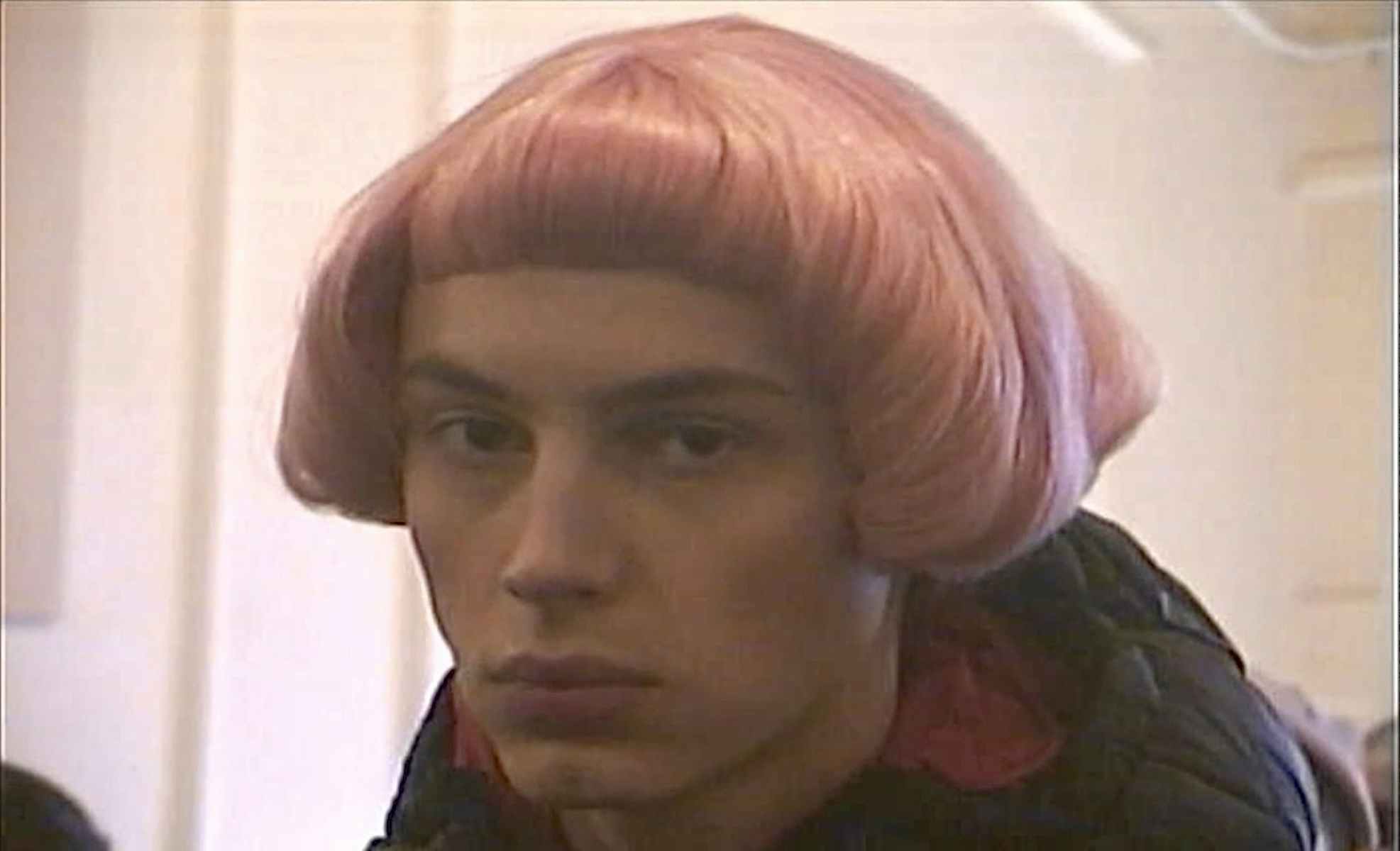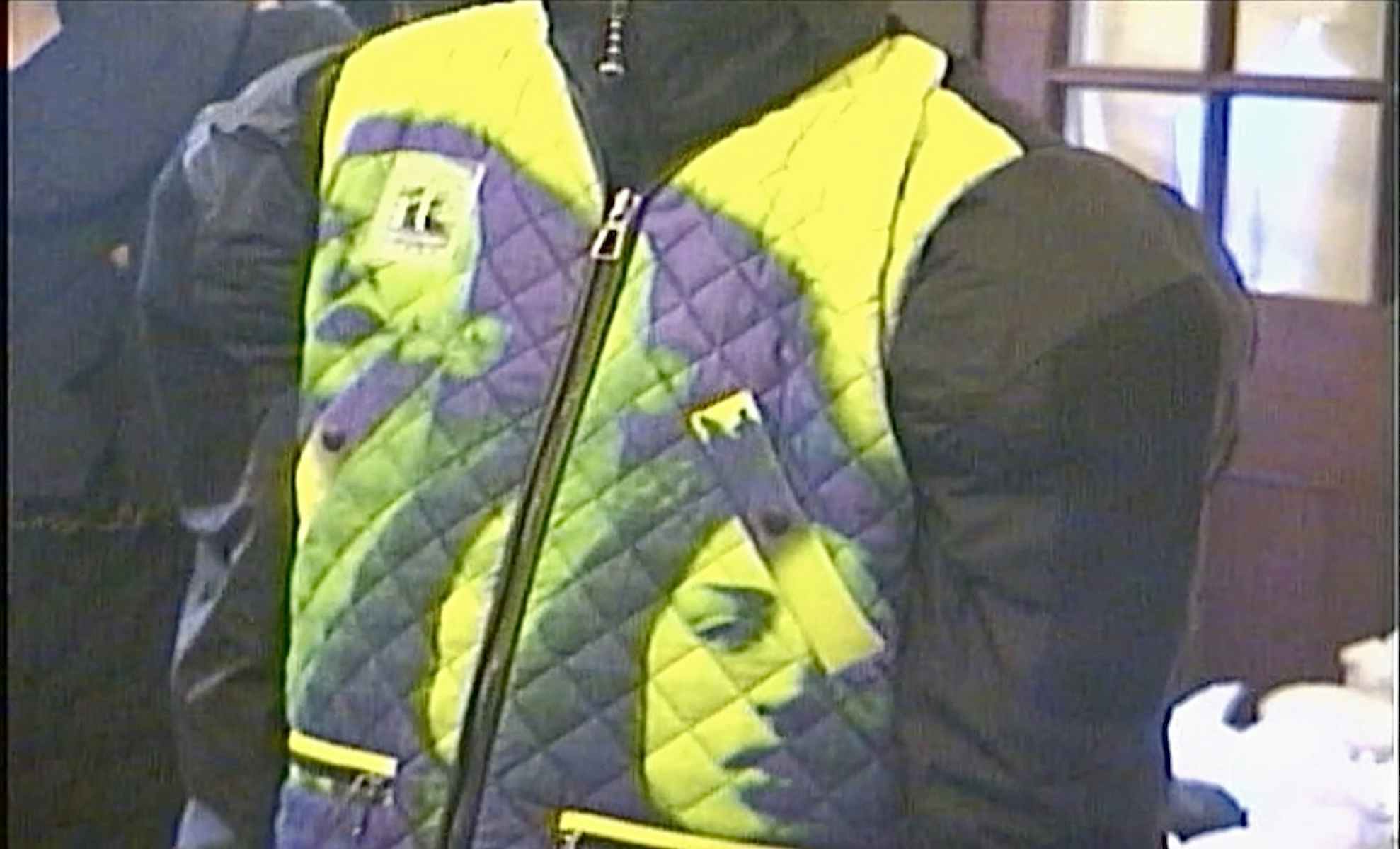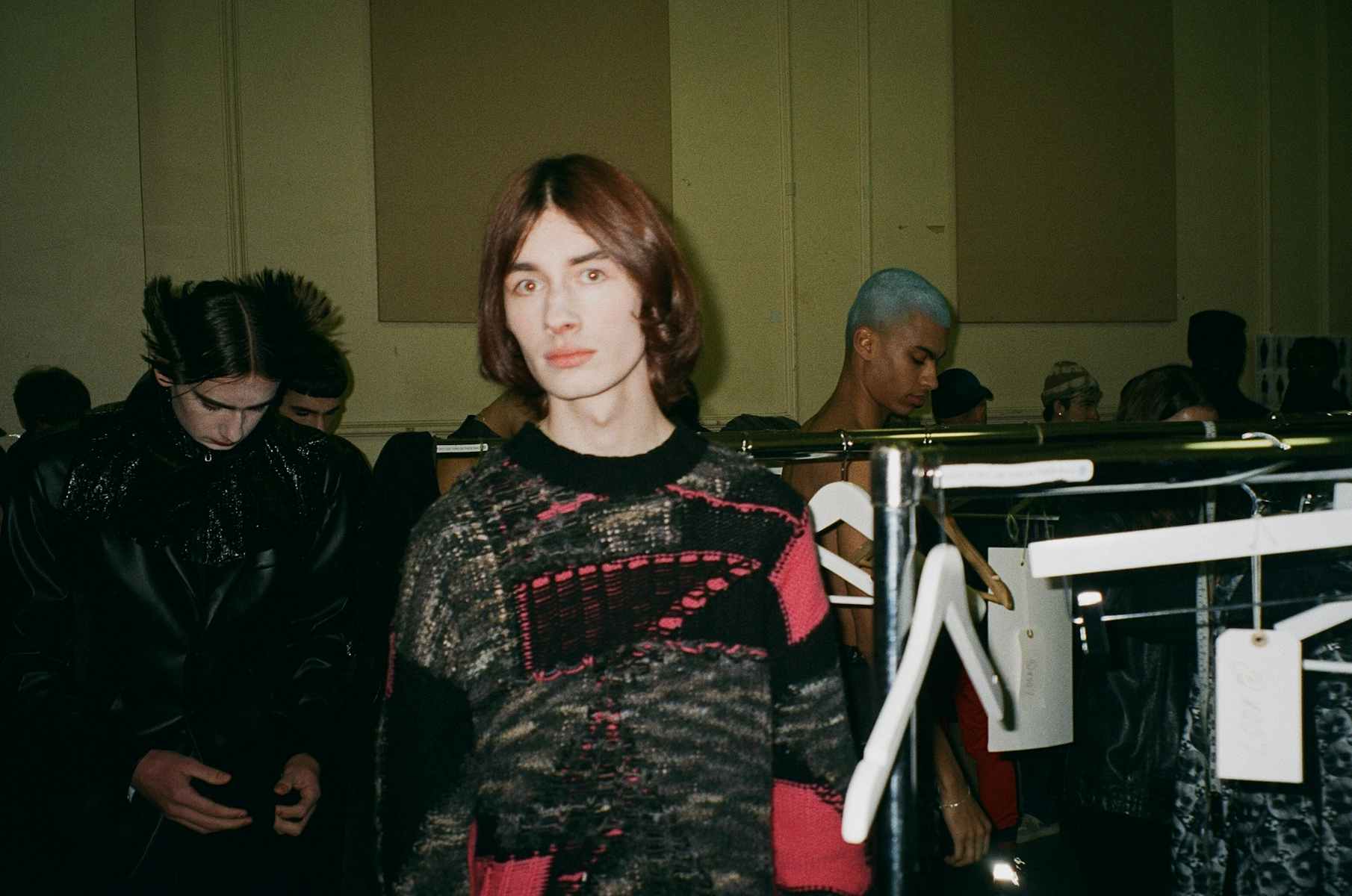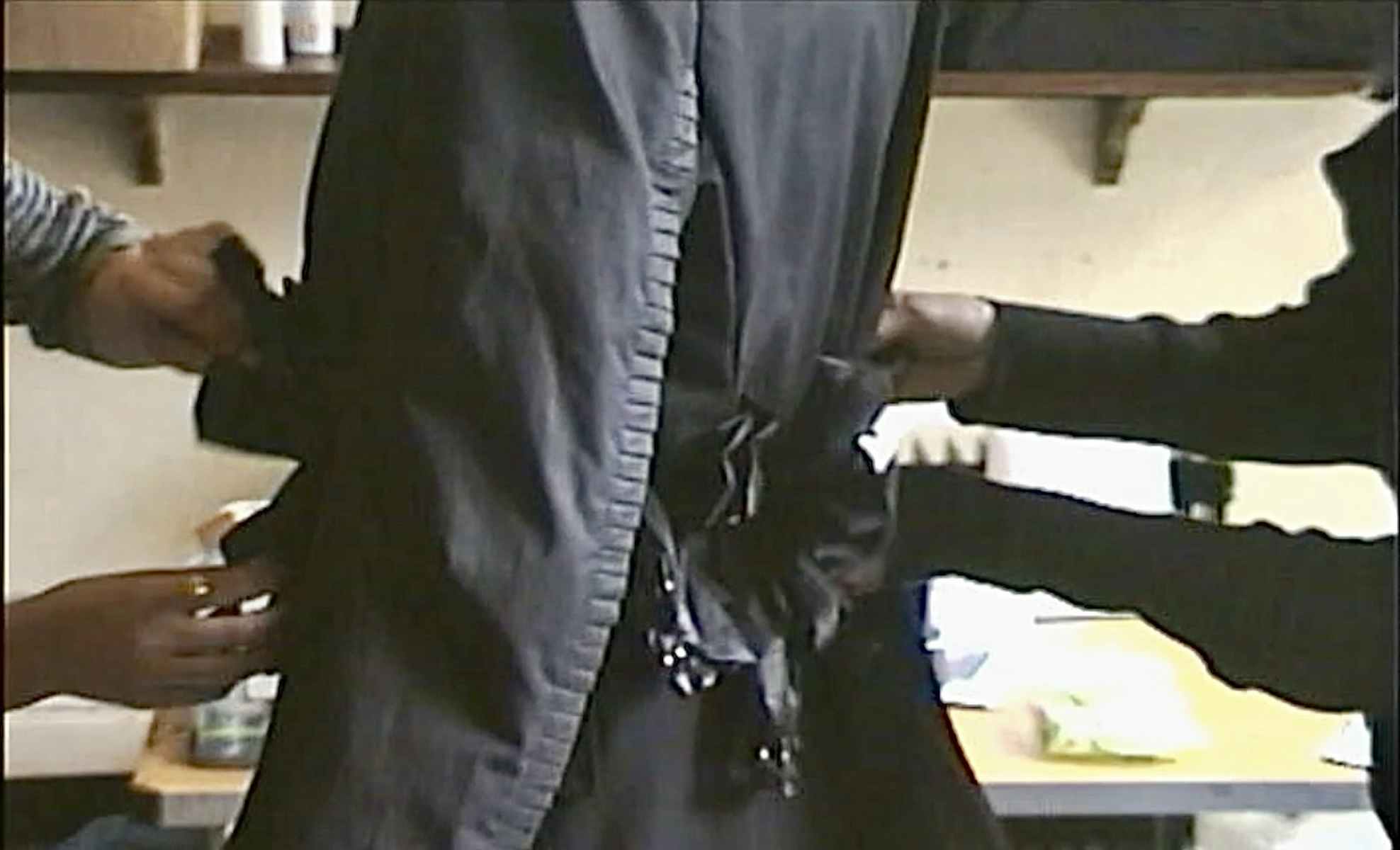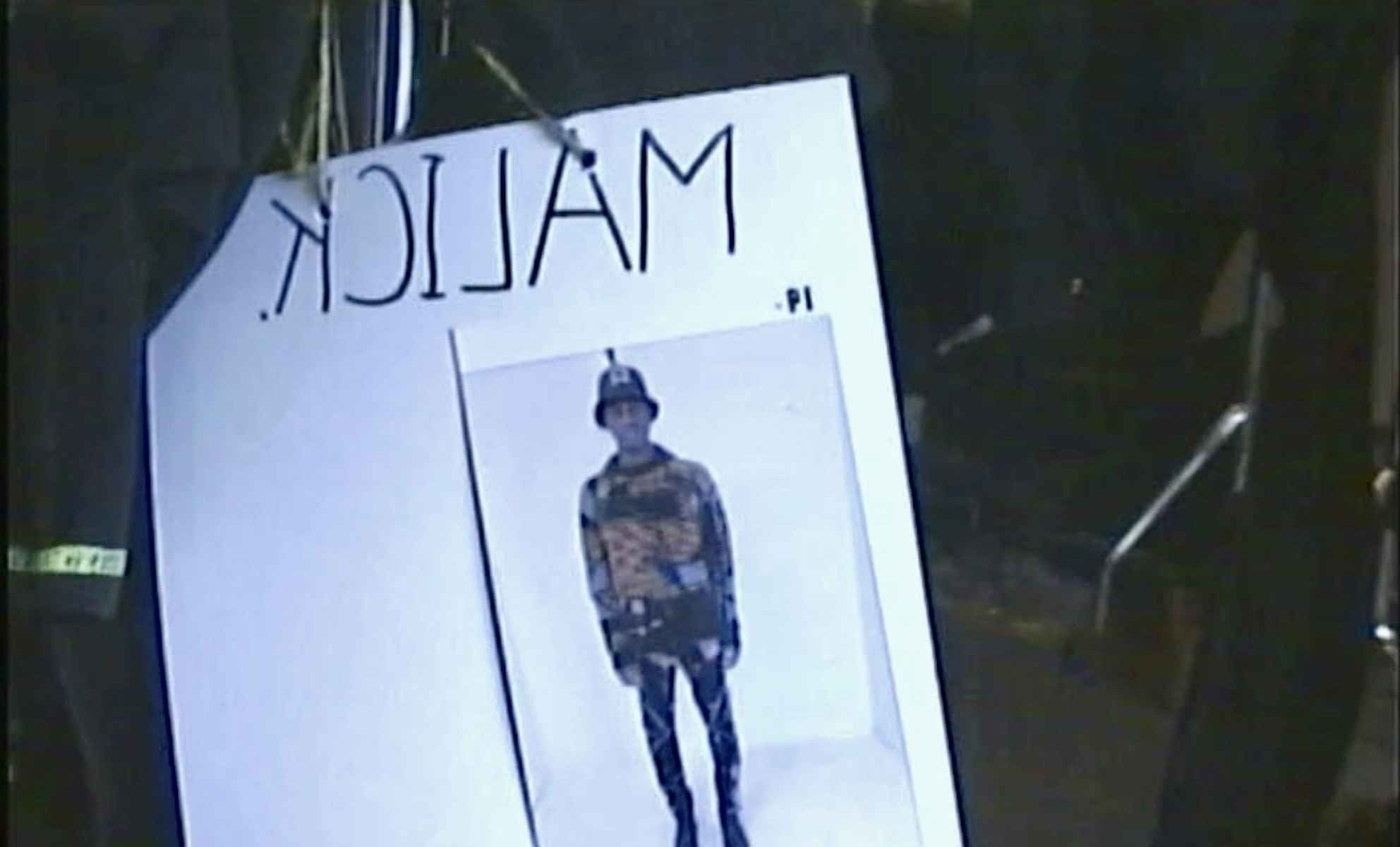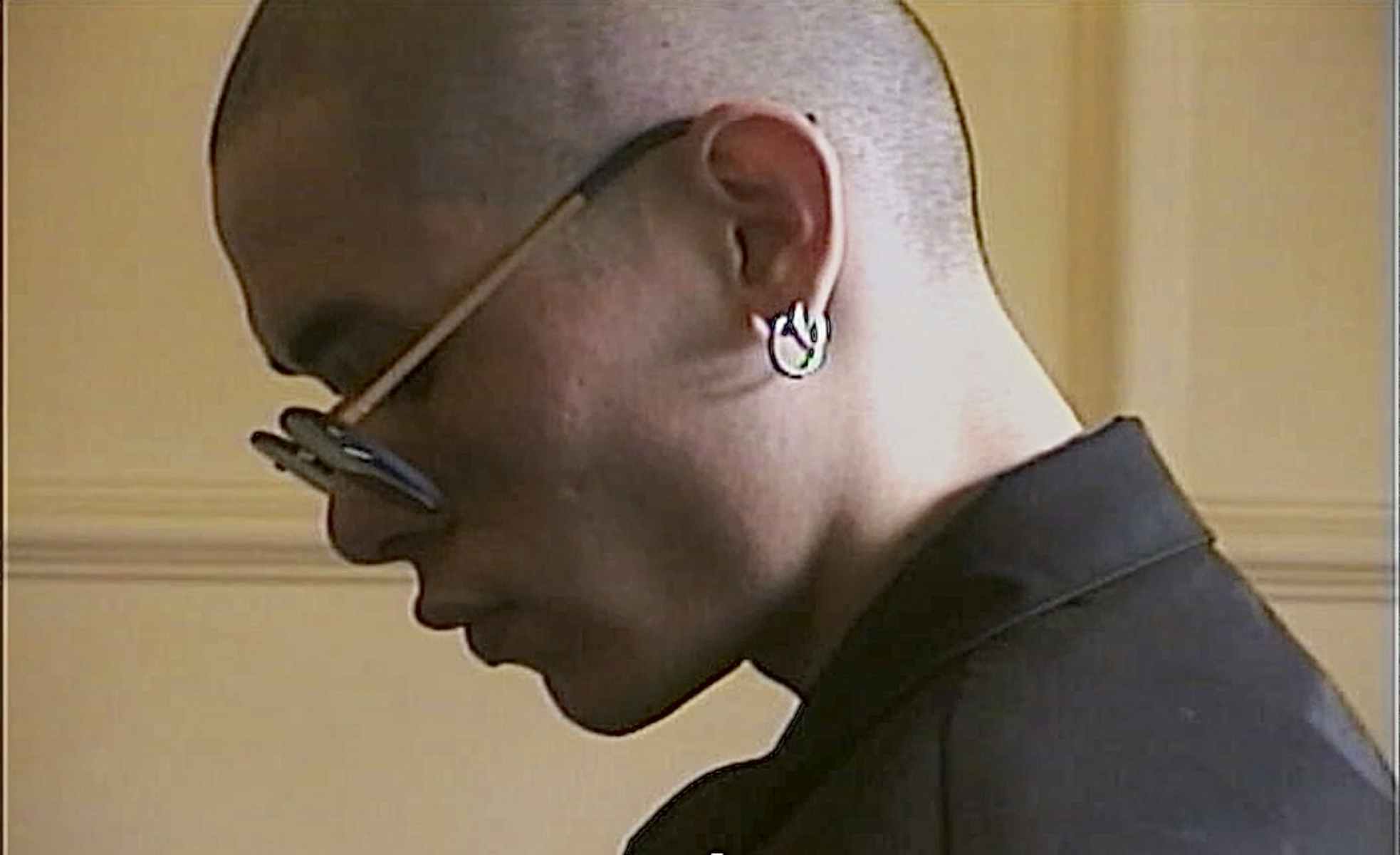 What did it sound like?
A pumping techno soundtrack that incorporated Profondo Rosso by Goblin, the soundtrack to ​'70s Italian horror film Deep Red.


Listen now:

The sound of Jordan Luca AW20

More like this