Fashion is mad for making spoof telly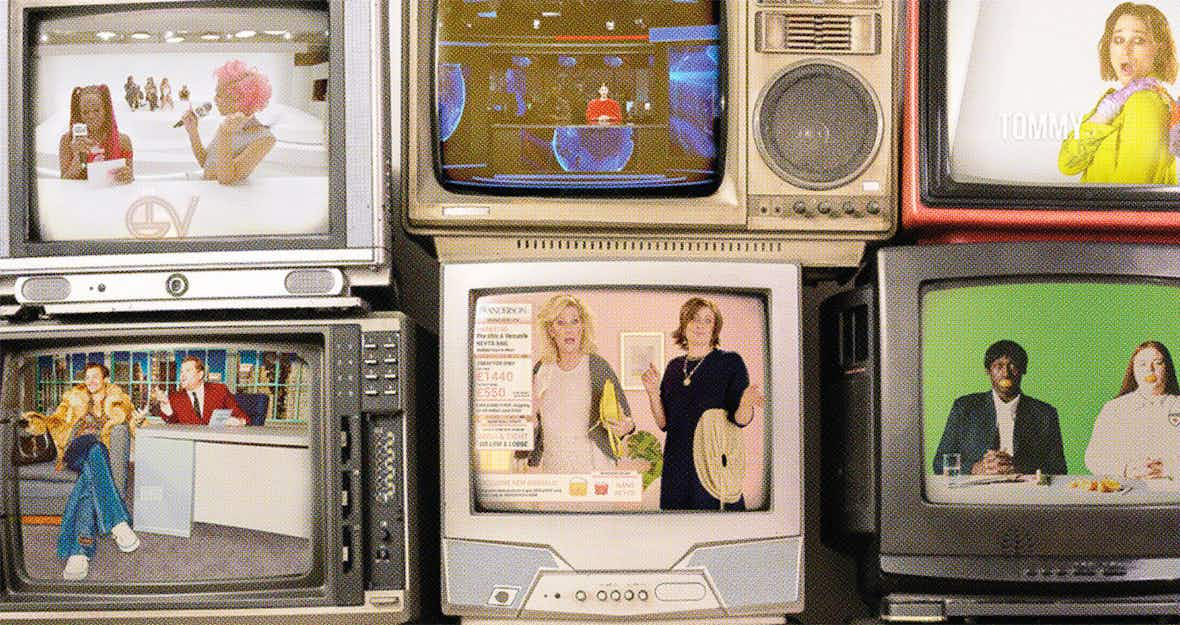 Martine Rose and Nike's recent MRSTV sports channel – featuring Ruby Wax – follows a TV Guide listing of inside-the-box spoofs from Gucci, Telfar, JW Anderson, Balenciaga and Collina Strada. Why is fashion enjoying so much screen time?

Retune your set, lockdown your aerial: MRSTV is the new sports channel fronted by a host of all-star presenters – Ruby Wax, Amelia Dimoldenberg, Troy the Magician, Lil Cortado and Rachel Yankey – and complete with a striking line-up of features. Turn up the volume for trivial talent show Top of Shots, a juicy segment on half-time orange segments, and a new clip focusing on the world of Subbuteo.
Fine, fine. As Radio Times anoraks will have noticed, MRSTV is, of course, not a real channel. A shame, really, considering Soccer AM was recently given the boot. Instead, it was a campaign by Martine Rose and Nike, broadcast across Instagram last month, as part of the brand's latest collaboration. No show went untuned when it comes to TV tropes – Rose also transmitted an ad for an ersatz Daz called Eraze, a teleshopping feature captained by England defender Leah Williamson, not to mention a sex chat service for ​"game talk" only.

While it might be the best example we've laid our peepers on, MRSTV is far from the first case of spoof fashion telly. Recently, there's been an entire TV Guide​'s worth. Last year, as part of her NYFW presentation, Collina Strada parodied the first episode of The Hills – which sees Lauren Conrad begin her internship at Teen Vogue – by following actress Tommy Dorfmann for The Collinas, trying to make it in the world of sustainable fashion at Strada.

It's TV gold. At one point Dorfmann, who ​"wants to make the world a better place but look hot doing it", whips out a ​"pastrami sammie" which a colleague assumes must be soy. ​"No, it's pig, babe," she quips, before getting rinsed for bringing in a disposable cup.

​"It felt like the last time I could get away with a video instead of a show and be relevant during the pandemic," says Hillary Taymour, Collina Strada's creative director. ​"I grew up watching The OC and The Hills and I'm a fan of Desperate Housewives and thought it would be fun." Too right: it was sharply written, keenly directed satire that runs for nearly half an actual episode.
In 2021, Gucci's The Beloved Show saw the slightly less beloved James Corden play himself for a mock chat show with guest and ​"best friend" Harry Styles. The camera then cuts to the pair struggling backstage to put a sentence together, making cringe-inducing small talk that reveals the whole pal-thing was a total act… except, in real life, they are besties – meta or what? Six other episodes followed featuring Serena Williams, Dakota Johnson and Awkwafina, each horsing around with their own bit. Horsebit style, if you will.

Want to catch up on the news? Balenciaga's models, complete with uncannily pronounced cheekbones, read headlines about the climate crisis and political happenings for the house's dystopian SS20 campaign. Or, if you'd like to watch and wear a TV channel at the same time, tune into Oaf TV, Lazy Oaf's otherworldly show and matching capsule collection.

And if teleshopping is more your bag, JW Anderson's JWA-TV launched in 2019. It featured cabaret artist Justin Vivian Bond presenting a super, souped-up take on a home-shopping channel, complete with the designer's latest collection of purses. You can trace this vibe back to Steven Meisel's classic 2012 shoot and accompanying short for Vogue Italia, seeing QVC turned into IVC complete with chintzy elevator music.

But what do QVC think of it all? Well, sadly, while they're quite happy chatting our ears off until the wee hours, they didn't seem to be sold.
"This is not something a QVC spokesperson would take part in," they told us. Perhaps they're wary that the fashion world is hot on their heels.

So why are so many fashion brands channelling terrestrial telly? Well, partly it's because we love all things retro, and TV is starting to feel a bit, well, retro. According to the number crunchers at Ofcom, a staggering 90% of 18 – 24 year-olds have switched from actual television, such as Freeview, Sky and Virgin Media, to streaming services. In fact, one in five British households are signed up to the ​"big three" streaming services, Netflix, Amazon Prime and Disney+.

The TV channels that started in the last few years, too, are at best rubbish (London Live) and at worst repellent (GB News). But everything through to mid-noughties TV feels nice and nostalgic, something we Y2K-obsessed lot still love.

​"People love nostalgia, they always will," Taymour thinks. ​"You love to be reminded of the good times and it's a safe space to build a community and following for a brand. TV campaigns are fun and full of hype and we will continue to keep seeing it."
In our increasingly scary world, our favourite shows of the past are a toasty comfort blanket for us to retreat to. For creatives working on campaigns, meanwhile, few things offer as many kitsch visuals as spoof TV. Mock-serious news broadcasts, shopping slots and gauche gameshows are all fair game for moodboards and make for the kind of goofy, snackable content we all love to gobble up.

Plus, spoof telly allows fashion brands to present themselves in a less elevated way, bringing themselves back down to earth with something positively silly. Much of the laughter, too, is directed at themselves, both as a brand and the fashion industry at large. As Taymour notes, her campaign ​"basically made fun of myself the whole time" by teasing Collina Strada's own sustainable credentials. JWA-TV​'s episodes, meanwhile, playfully price a bag at only £1440 and again mock the fashion world's vapid, privileged reputation. ​"Good families in the UK have coats of arms [like JW's] but here in America we just have arms and coats!" Bond quips back, before a tin of ​"happy pills" spill from her purse.

Over on MRSTV​'s showreel, two guest experts explain in a neat bit of metadrama that the ​"resale will skyrocket" if they get this marketing campaign right. It repeats the in-jokes of the Palace and Gucci puppets, who are seen greedily calculating the profits they'll make in a fake BTS clip aired after the campaign video.
Which takes us to our next segment. All this spoof telly can be a vehicle for actually selling stuff, like Telfar TV, set up in late-2021 by Telfar and The Umma Chroma collective, and arguably the best and most comprehensive fashion channel yet. While most brands keep parody broadcasts to a single campaign, Telfar's legit platform cycles through videos submitted by its community and is on air on the internet 24/​7. ​"We launched a TV Channel without any content – because we are tired of being content for other channels," the website FAQ says.

Babak Radboy of Telfar tells us a bit more. ​"We want to find a way out of the existing communications platforms the same way we left the fashion system. It's an infrastructure project and it's not just about our brand," he says. And has he noticed a trend of phoney TV? ​"I dunno. We mind our business."

Started in late 2021 and available both online and on Smart TV apps, Telfar TV has since been used to sell the brand's exclusive ​"drips" (small-scale drops). It was also the inspiration for a live Telfar TV: The Movie The Fashion Show presentation at New York Fashion Week in 2022, featuring UGC content, a gameshow pastiche and an actual runway show in the context of a commercial break. ​"Right now we are building a soundstage and a team so we can also exit the existing production system," Radboy notes.
While it might be way more than a cheap ad, using fake TV as a channel to promote new products, as Telfar have with their drips, is pretty switched-on.

On that note, let's channel-hop to TikTok. See, while most teleshopping videos are spoofs, the social media platform has actually monetised the phenomenon thanks to TikTok Shop, allowing its users to sell clothes through live presentations and in-feed videos, mixing E‑com with entertainment. While it's yet to take off here, selling via livestreams is a $40bn business in China, meaning that future success could well be in store.

UK start-up FINDS is banking on this, currently tapping buzzy influencers to sign up to its streaming circular fashion app (a little like a Depop and TikTok lovechild). ​"We've seen the huge success of livestream in China, and social platforms like TikTok launching this feature is just further proof of the move to video for shopping," says Head of Marketing Sophie Rose-Woods.

FINDS has found a sweet spot between new-age tech and golden-era TV. ​"The nostalgic, kitsch retro aesthetic of teleshopping is part of the continued wave of fashion brands and designers drawing on vintage, archive creative references," Rose-Woods says. "[But] we've built our video-first shopping app with our Gen Z audience in mind. Teleshopping worked because people could see what they were getting before they bought it, and hear more about the product, its benefits, and so on. Livestream shopping is part of this, but in a less naff way!"

While teresetial elly is in decline, Telfar's Radboy is feeling pretty content with what's on the box. ​"TV is perfect the way it is," he thinks. But surely it could be better with a buyable teleshopping feature in the style of JW, taking a pair of jeans from TV box to bum? Or Anna Wintour demonstrating how to make snazzy packed lunches on This Morning? A reprisal of How to Look Good Naked, perhaps?
If the spoof telly trend tells us anything, it's that fashion is at its best when it loosens up – and that nostalgia isn't going anywhere anytime soon. On that note, where's the bloody remote gone?


More like this