With his brand Hood By Air, Raul Lopez made clothes so otherworldly they challenged existing luxury fashion houses to start chasing the future. Now the future is here and so is Lopez: his character and energy rocketing his second label, Luar, skywards.

Taken from the new print issue of THE FACE. Order your copy here.
All eyes are on Raul Lopez, a designer who radiates pure Brooklyn. Speaking to him is like catching up with a close sister over frozen margaritas on a block where everyone knows his name. He has tales coming from every angle and an undeniable affinity for the city that raised him.
Luar's collections carry the street-smart wit and boldness Lopez developed at Hood By Air, the New York fashion brand he co-founded with Shayne Oliver in 2006. But since parting ways in 2017 (he's still best friends with Oliver), Luar has become his own story: a third-generation Dominican growing up in the Williamsburg neighbourhood of Los Sures as a closeted gay man, tearing up NYC's club scene in the mid-'00s with his mostly-queer chosen family and flicking the finger at anyone who didn't believe in him.

After seven shows at New York Fashion Week, each better than the one before, last November Lopez won the award for American Accessories Designer of the Year from the CFDA for his Ana bag, which we've seen swinging from the arms of Dua Lipa, Julia Fox and Troye Sivan. Next up: the June finals for the LVMH Prize, where he's competing to win a £265,000 endowment for his brand. Luar might be his first name backwards, but Raul's vision is all forwards, baby.
Hello, Raul! Firstly, congrats on winning the CFDA Award and also for being an LVMH finalist. You must be feeling good?
Yeah, it's pretty amazing. We see these accolades as being recognised as a designer [who's] doing my own thing. People believing in my story is nice.

Your mum was a seamstress, right?
My mom was a seamstress! She came from the countryside to New York and really tore it up. She would switch her hair, like, every four or five months. She'd go Sinéad O'Connor – shave her head then the next day have a wig on. Everyone knew my mom as the fashion girl. Make-up, hair, accessories, the outfit… even in the daytime. She's still one of my biggest inspirations.
All great designers start with their mother…
Right! She'd be like: ​"You can't let your husband catch you slipping." It was very that. I mean, it's worked: they've been together for about 500 years and they're still going! It was pretty amazing to see the effort that she would put in, even to go to work.
When you were growing up in Brooklyn in the ​'80s and ​'90s, we're guessing it was very different. Presumably the locals weren't carrying tote bags and wearing denim shirts?
Two blocks from me is where the Domino Sugar Refinery was, and it's probably one of the most gentrified blocks in Williamsburg now. It's where all the tech girls and tech boys hang out. But back then, that's where all the trans prostitutes and women were hanging out, waiting for the workers to come out – and they were in full looks! I mean, fringe leather jackets, thigh-high boots, hair, makeup, earrings, all these leather looks. We weren't allowed to go down there, but I was sneaking out. This is, like, 3pm! They were ready. It was a crazy melting pot of fashion, but it just worked so well in the neighbourhood. And then you had the Hasidic Jews, the Italians, Puerto Ricans…
Luar is so New York, both then and now. It channels all those bold, fascinating characters from way back who made the city what it was.
Yes, 100 per cent. I think it's my job to, in a weird way, tell their story through my story, and [talk about] how these people actually played a major part in the Luar vision. It would only be right to incorporate them into my stories. They were the pinnacle of fashion for me, because that's all I would see. There were so many different figures walking around. Sometimes I sit outside my bougie coffee shop and see one or two people walking by that I saw growing up. And I'm like: damn, you were iconic and you have no idea how fab you were. I think that's my purpose: to share the stories of these individuals who helped shape the brand and me.
I read that you did your first design when you were only 12. It was a white T‑shirt with denim sleeves?
Oh my God! I mean, it's still kind of the same thing [I do now]! She loves the blocking and mixing fabrics that shouldn't be together. There was a pair of black Girbaud jeans and I cut the legs off, and I had this white Hanes T‑shirt. I was trying to figure out how to be a chameleon and fit into all these different scenes. [The kids at school] didn't get it, but they got it, you know? I'd have on some Jordans, Timberlands or Nikes, which they could relate to. And then I would have on some punk shirt that I bought from the thrift.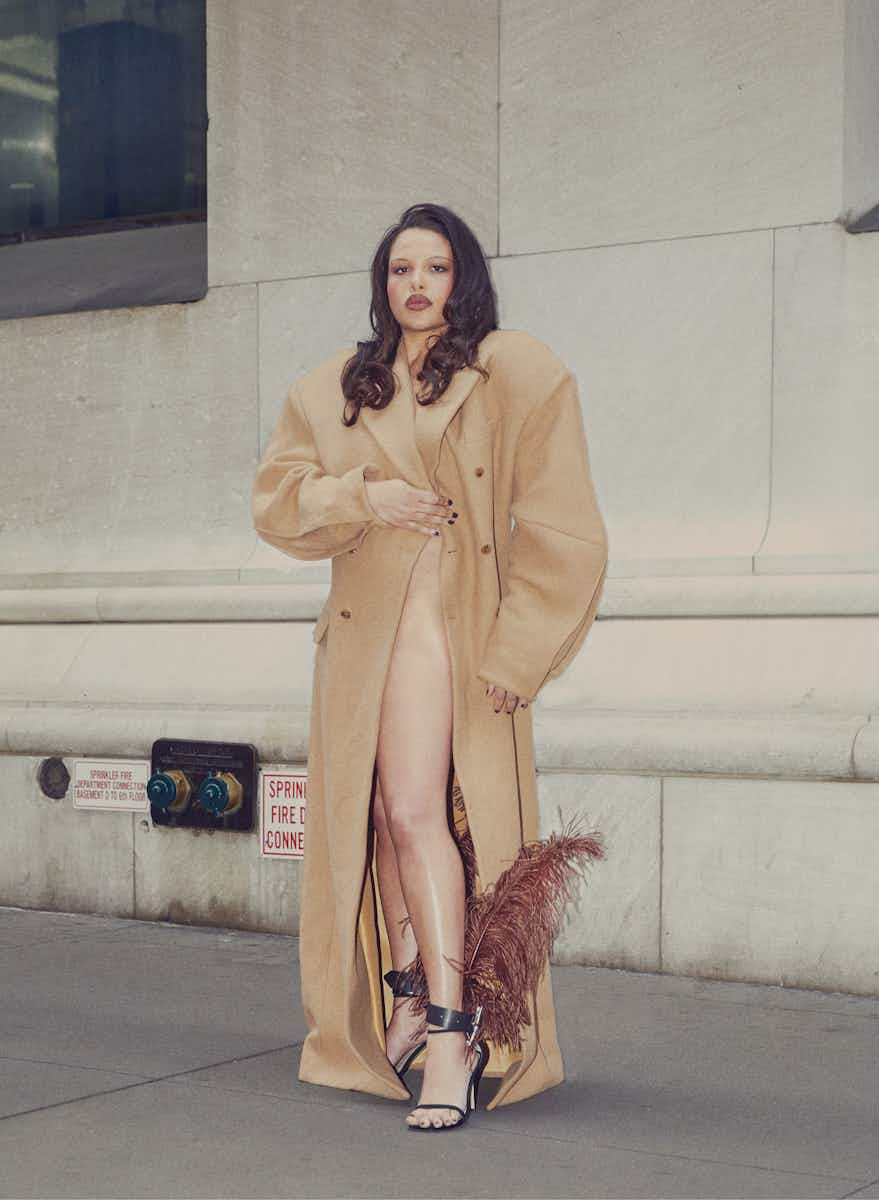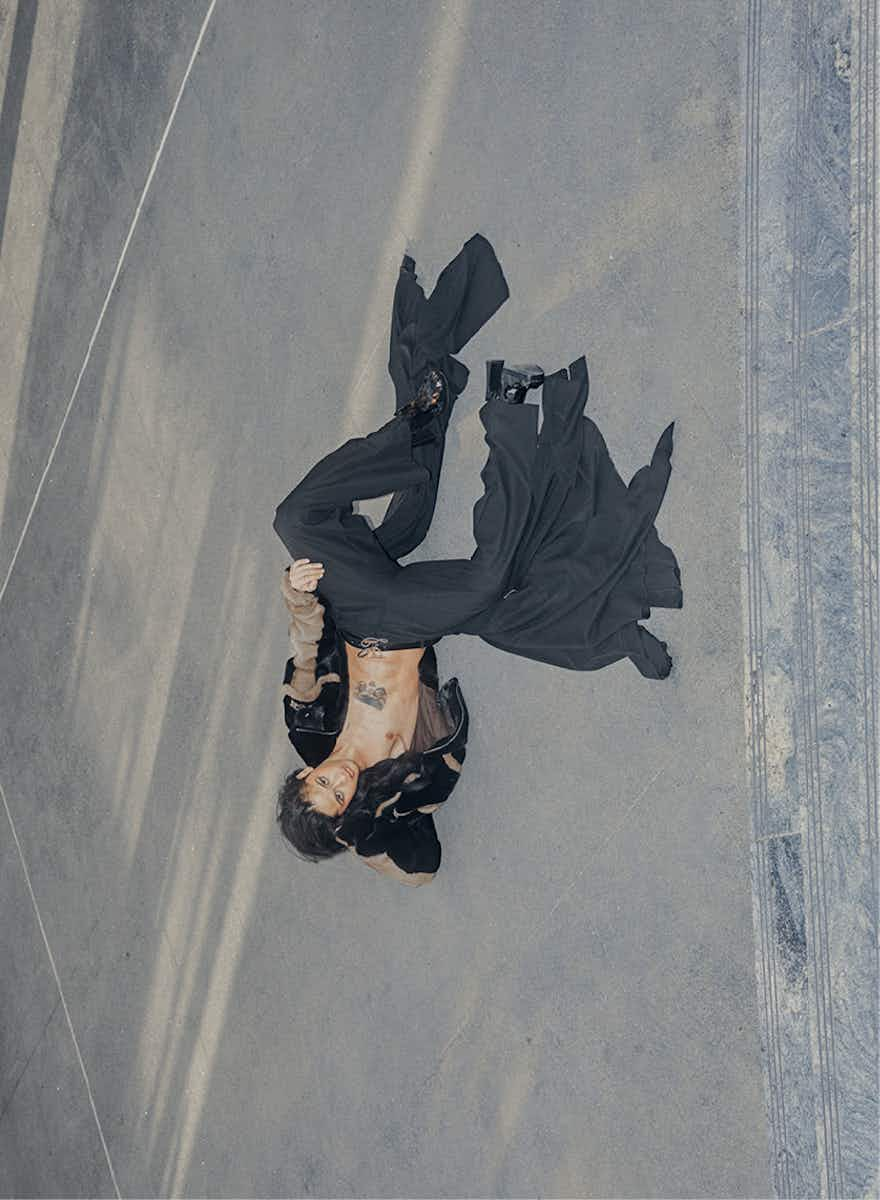 How did your family react to you wanting to go into fashion? As someone who also comes from an immigrant background, I know it's not always easy.
Totally. They want us to be white-collar, blue-collar, be a lawyer. Latinos are very machista, especially Dominicans. My dad didn't want me to be gay, or go to a fashion school, because it was deemed gay. And I get it now I've grown up: it was a different era and they didn't understand it. It was a very difficult time in my life, because I was finding myself sexually and really loving fashion, but I couldn't do either. So it was like a double torment where I was driving myself crazy: I had to hide both of them. I couldn't buy magazines, so I was ripping pages out of my textbooks, from my history classes or whatever, and then compiling them in files under my bed.
Do you think those challenges helped push you to do this?

Yeah, they helped me to push myself even harder. I was this anarchist flicking the finger to my parents, sneaking myself into Parsons [School of Design] and FIT [Fashion Institute of Technology], asking people to scan me in. Apart from my mom's sewing at home, that was my training. And also the streets, watching people and what they were wearing, which is still my process – that was my school. Even now I go to the library three times a week, and I'm still chasing people around, taking pictures of them.
Your parents must be so proud of you now, though, right?
Well, winning these accolades is like a form of a diploma and graduation. All my awards, anything I get, are in my parents' house. I'm going to continuously send it all to them, on purpose, just filling up their walls!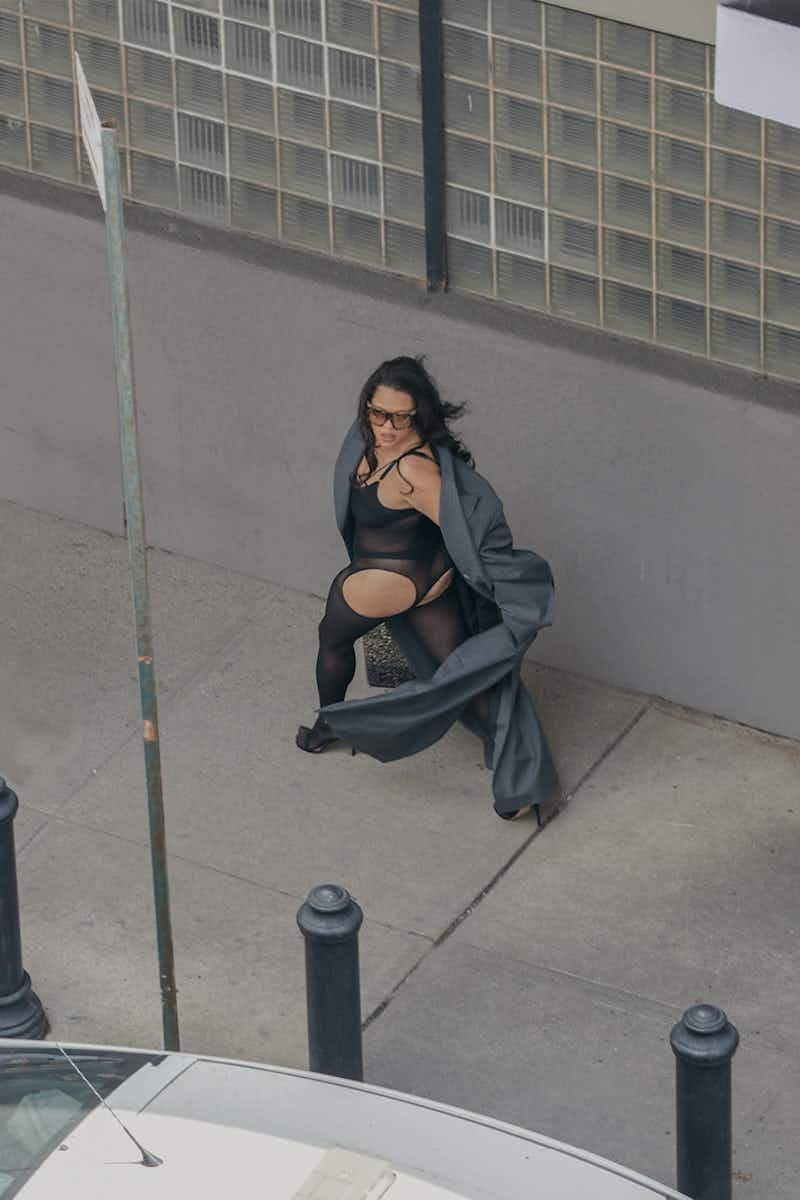 Before Luar, of course, there was Hood By Air. That brand was so ahead of its time, not least in how you and Shayne cast your shows, including Black and Latino men and women, trans people, art kids, drug dealers and locals from your Brooklyn neighbourhood. It felt like an instinctive move coming long before today's box-ticking exercises.
You know, sometimes I get a little pissed off because I wish people understood that. We have been pushing this notion and narrative on them for years. From HBA casting and Luar casting, this is not checking off boxes. We were the only ones using dudes from the projects, drug dealers, escorts, trans women, queerdos, artists – because that's who we were. We were hanging out with these people and we loved their aesthetic. But no one really was into it.
There is an undeniable authenticity.
I always tell [other fashion brands I work with], I have my house dolls [Luar models] and then we have house guests. The dolls are my family, my girls, my kids. This is my community. I don't give a fuck what you identify as or what the fuck you look like: this is your house. When the guests come in here, they need to respect my kids and respect my world. And if you want to be part of it, you're welcome. It's like the YMCA, girl – you can come in but keep it cute and keep it mute. Don't do too much. If you want to hang out with my kids, hang out with them, but respect them.
Nightlife is such a huge part of Luar. You can see it in the sex appeal, the movement, how the models walk so confidently. Can you tell us about your party years?
Shayne and I really wanted to shake things up and make people uncomfortable, because we weren't wanted in any scene. Not the skaters, the art girls, the fashion girls… So we carved this name for ourselves. My hair was pressed really long, Naomi-style, and I'd wear a coochie dress, kitten heels and [carry] a Louis Vuitton Speedy. But if I was crazy, Shayne was even crazier! New York was at its pinnacle for parties in that era. We started doing these parties that were called Banjee In The Basement. Everyone was coming and we started building this world, this whole culture of dance music. We were partying from Monday to Monday. Sweetie, when people talk about painting the town red, we were definitely painting the town red! It was a family. We were party monsters.
Having grown up with Shayne, were you nervous about going it alone?
It was more the scare of having to prove myself again, starting from zero. I knew it was going to take a while to build my brand and identity, to carve its own lane. When I left Hood by Air,
I was feeling bad because it was at its pinnacle, and I left my friend. But I didn't want to not do what I really wanted to do.
And look at you now. How did you celebrate winning the CFDA Award?
I got in the car, went to Popeyes and bought a bucket of chicken with the model I was with. Then I called some friends over, had some really good wine at home and took myself to bed.
And now you're gearing up for the LVMH final…
I'm excited! They've been super supportive and so sweet. I'm looking forward to June. But you know, I'm kind of scared. There are so many great talents in it. I'm just grateful to be there, and it's so nice that they have acknowledged me and have me be part of this amazing process.

HAIR Edward Lampley MAKE-UP Jezz Hill at The Wall Group NAIL ARTIST Elina Ogawa CASTING Conan at All Over Casting TALENT Hector at Crawford Models and Alva at IMG PRODUCTION Fresh Produce EXECUTIVE PRODUCER Izzy Cohan PRODUCER Terumi Murao PHOTOGRAPHER ASSISTANTS Winter Browne and Mallory Idoni STYLIST ASSISTANT Simone Thompson HAIR ASSISTANTS Kat Cabrera and Sol Rodriguez MAKE-UP ASSISTANT Jessica Paillant NAIL ARTIST ASSISTANT Reiho Ryuko PRODUCTION ASSISTANTS Ryan Collins and Sam Bellipani THANKS TO Guillaume Boucher and Keyla Exclusa

More like this