Everything going down at Paris Fashion Week Men's AW20
Sankuanz, Off-White, JW Anderson, Y-Project, Valentino, Raf Simons, Rick Owens, Louis Vuitton, Berluti, GmbH, Dior, Vetements, Balmain, Loewe, Sacai, Jacquemus, Lanvin, Craig Green, Ludovic De Saint Sernin, Acne Studios and Alyx.
ALYX AW20
If Thursday is the new Friday, Matthew Williams' AW20 Alyx collection is designed for the flirty twenty-somethings jumping from desk to dancefloor come 6pm. Returning to Le Centorial, Paris' financial offices, looks were kept characteristically understated but sexy – always sexy. Eveningwear came in the shape of razor-sharp blazers, buttoned-up shirts paired with supple leather trousers, not-so-understated leopard print trousers that merged into shoes, a buoyant blush pink two-piece suit and a number of twisted halterneck cuts. Bella Hadid channeled her inner Le Smoking in a thin black tie while a model with a padded jacket hung from the crook of her arm ushered in the mid-week panic: it's time to leave the club. You've got work tomorrow.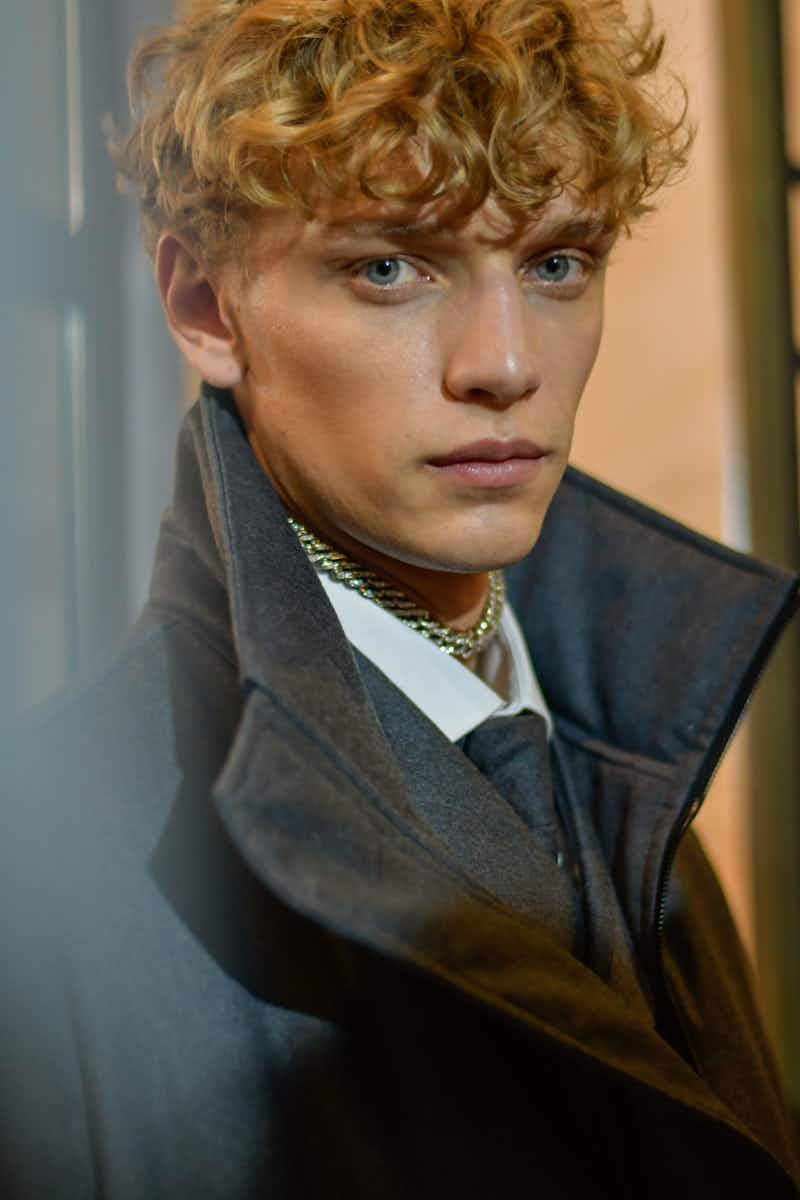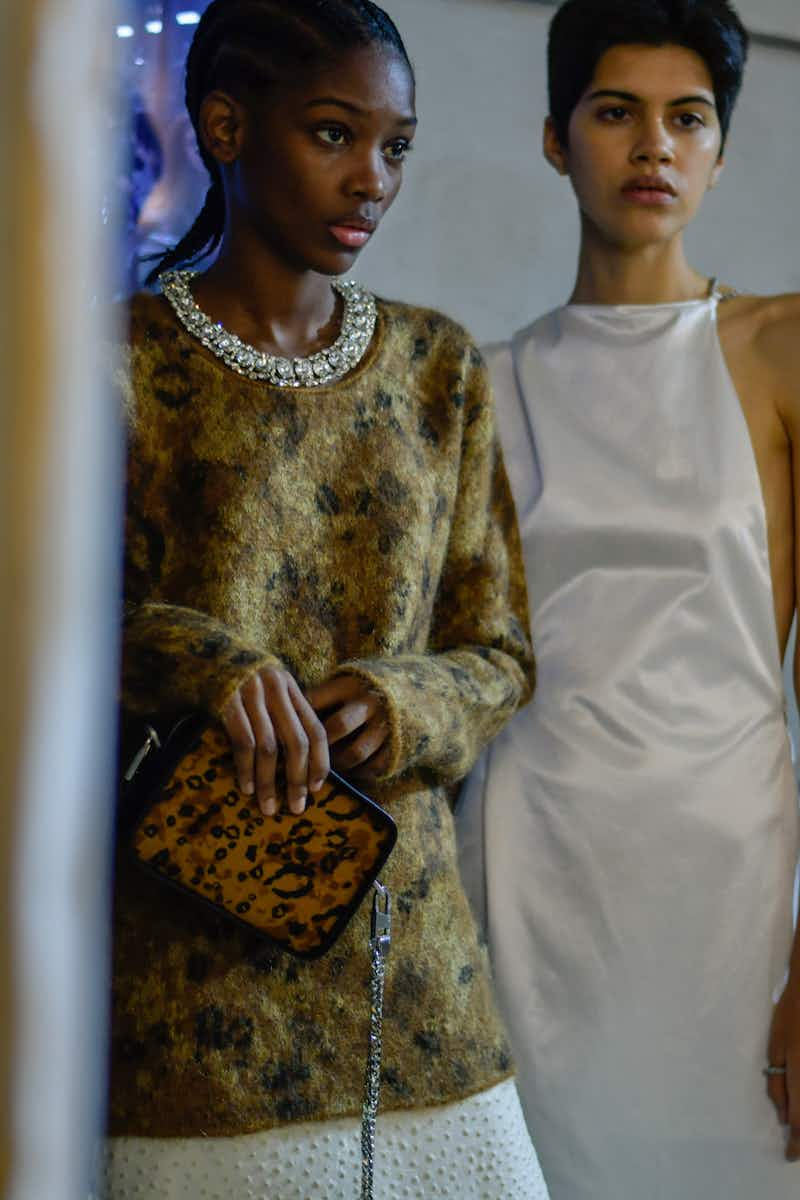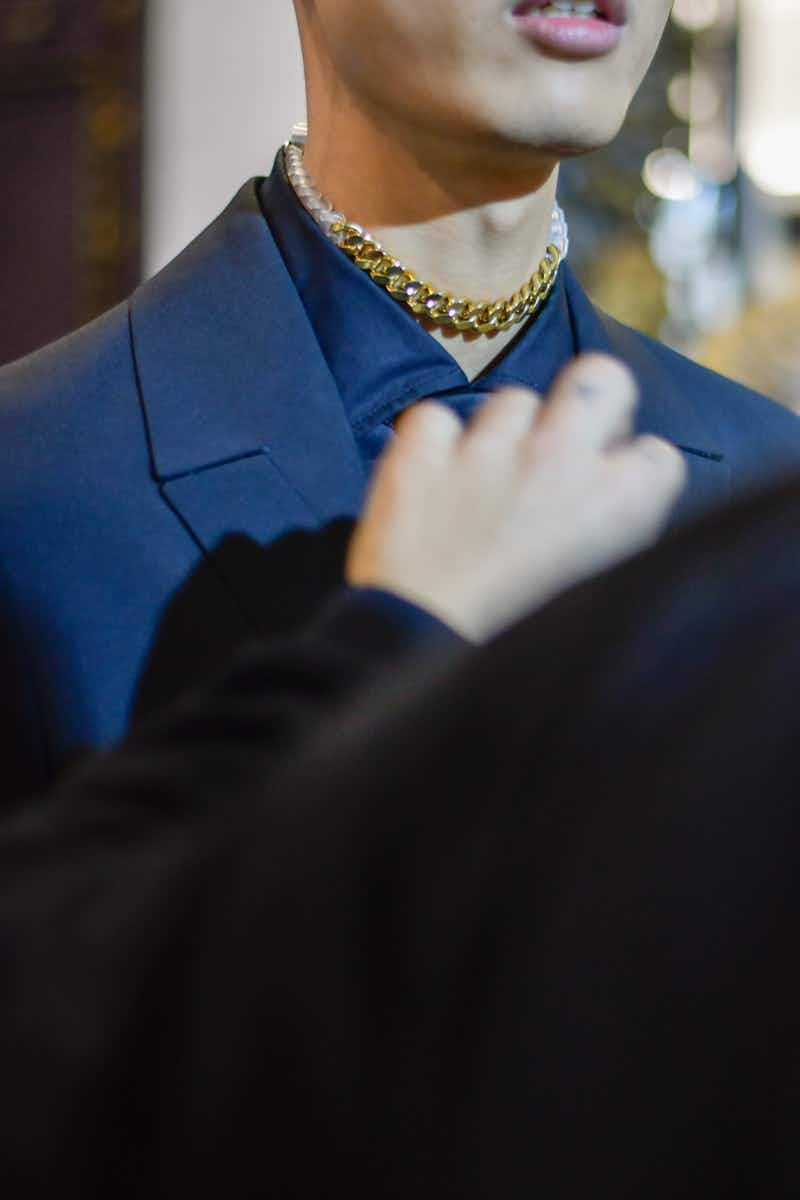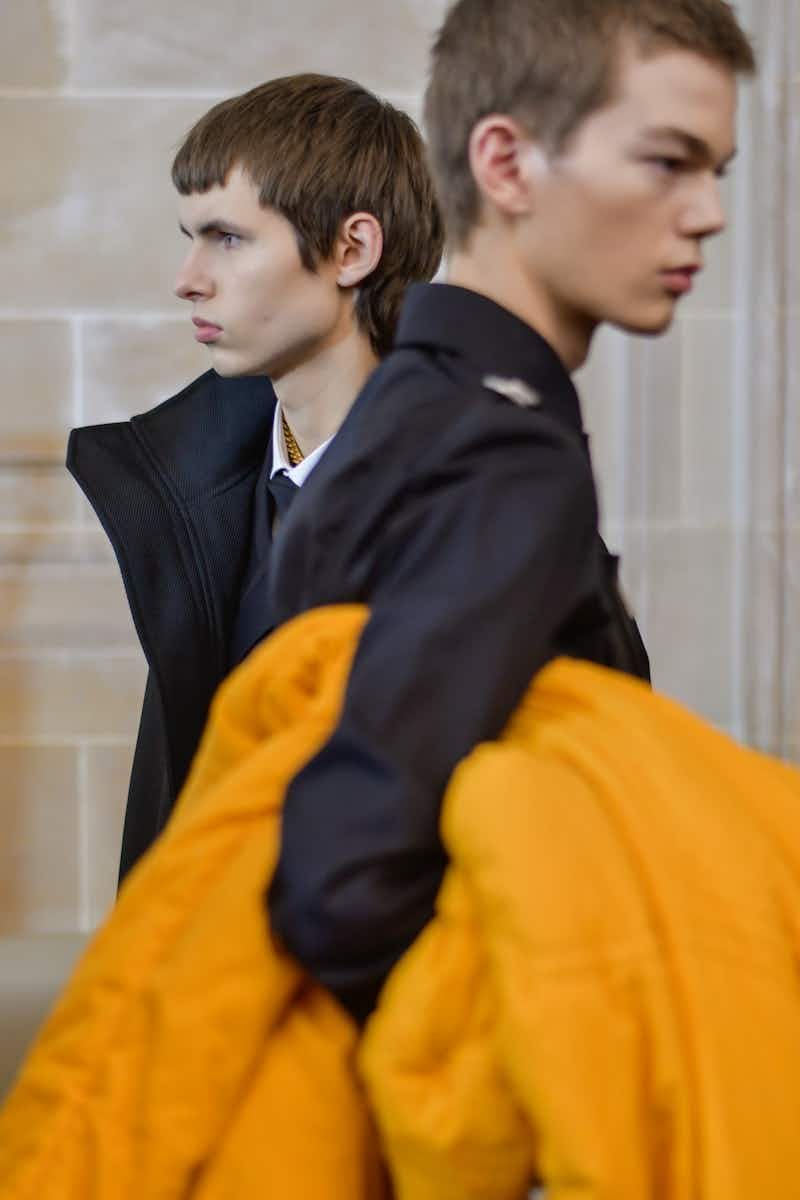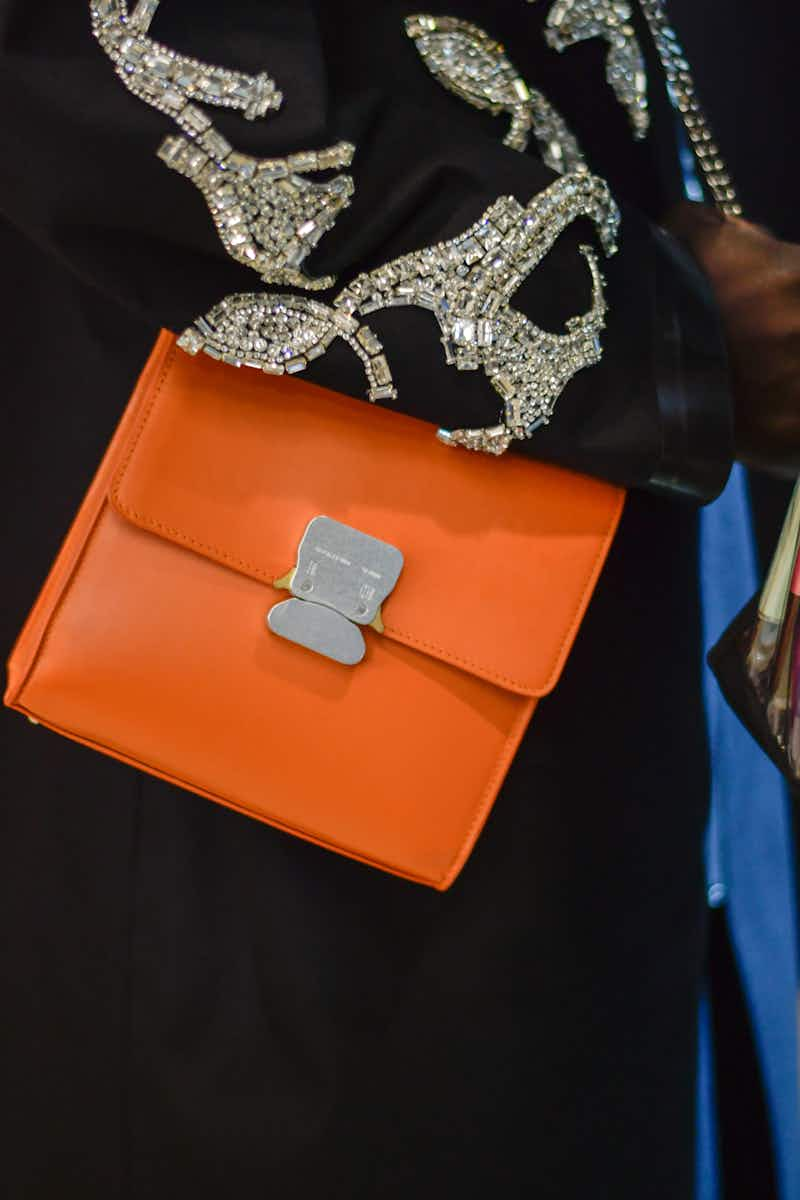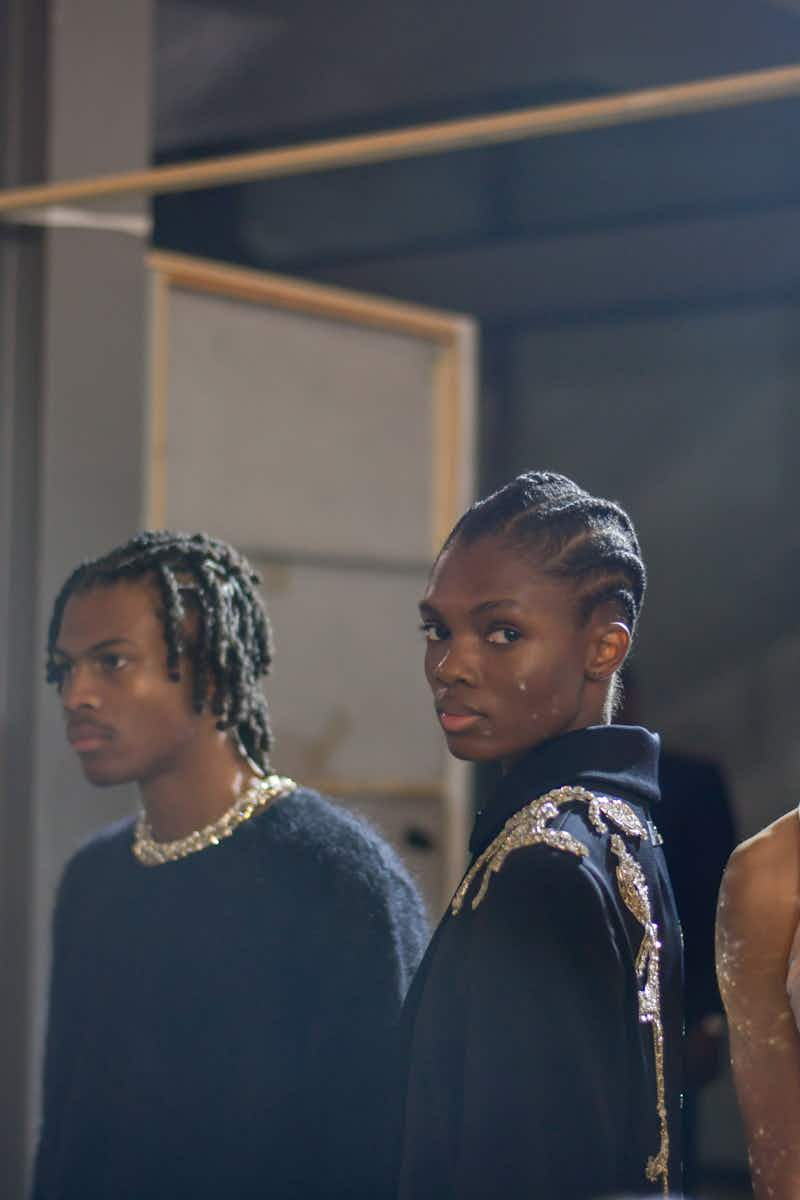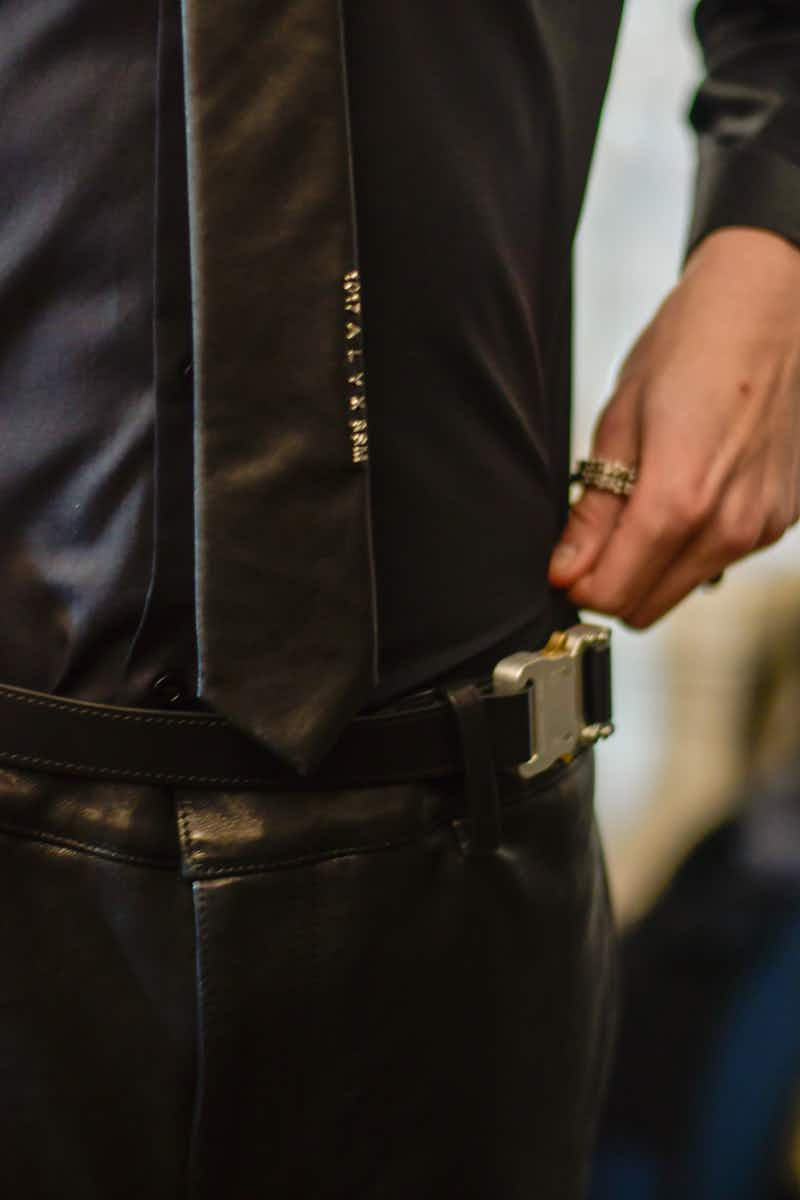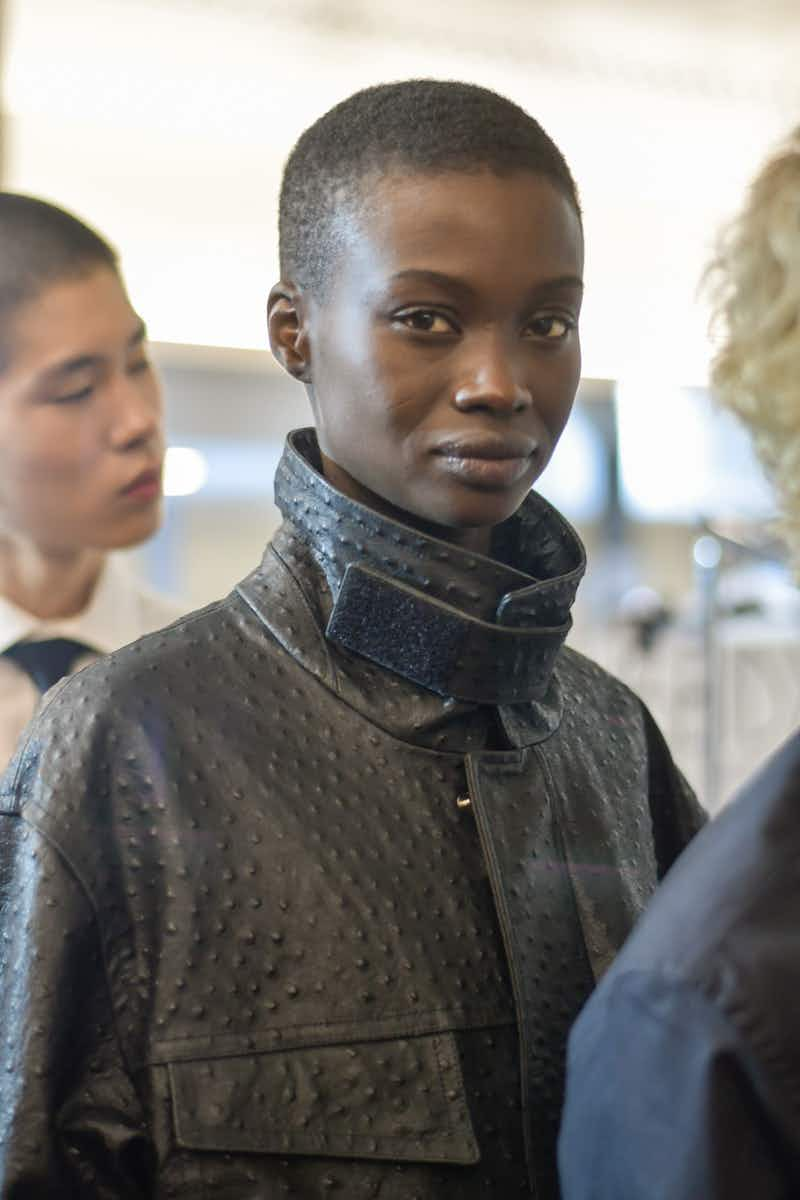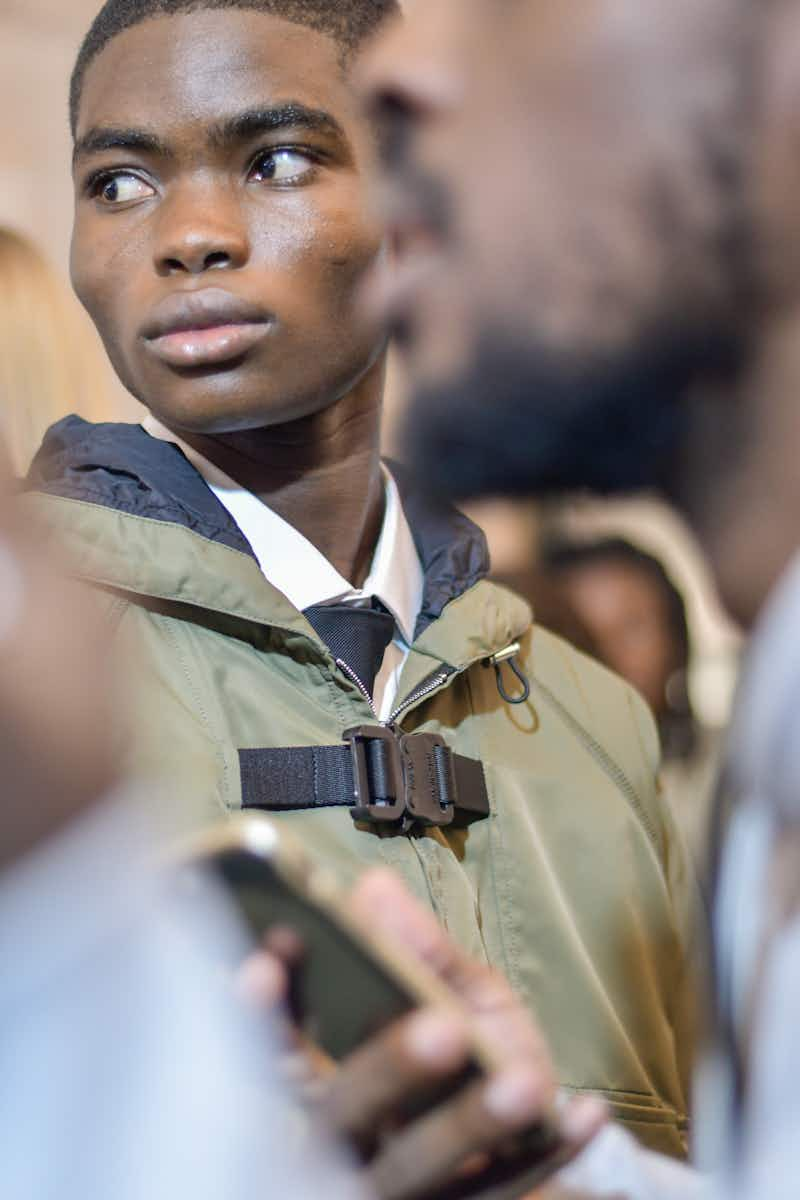 ACNE STUDIOS AW20
Fun fact: before Acne Studios became ​"Ambition to Create Novel Expression", ACNE was a tongue-in-cheek acronym for Associated Computer Nerd Enterprises. Yesterday, their 1996 ​"compu-nerd beginnings" returned in a show that explored the possibilities of using artificial intelligence to source design inspiration. Past looks were generated into neural networks and systems in order to make intentional mistakes: tailored jackets cut with curves at the front and overly voluminous padded leather jackets and shirts (a result of the system's interpretation), while the Swedish house's signature boot-cut silhouette made a welcome return. The palette was muted with punches of occasional colour, and vigorously patterned knits, crisp cut overcoats and plenty of sexy leather were woven into a freeing co-ed collection.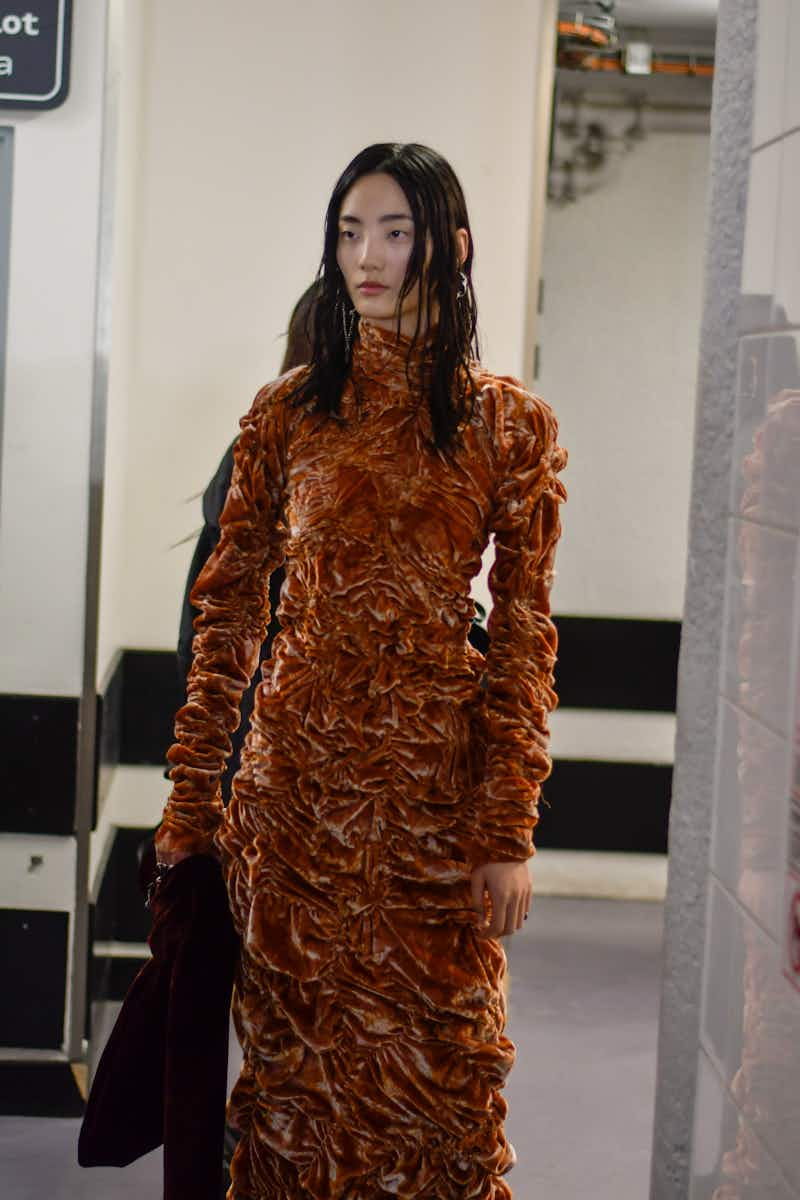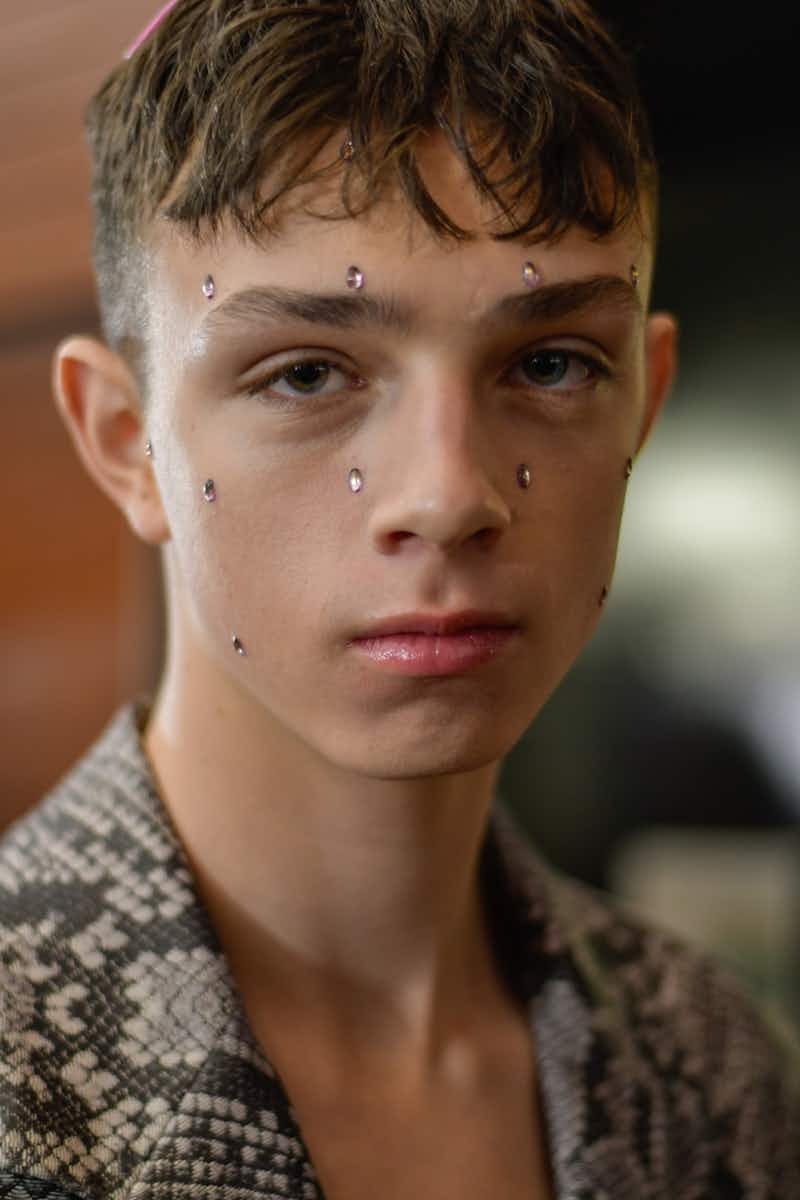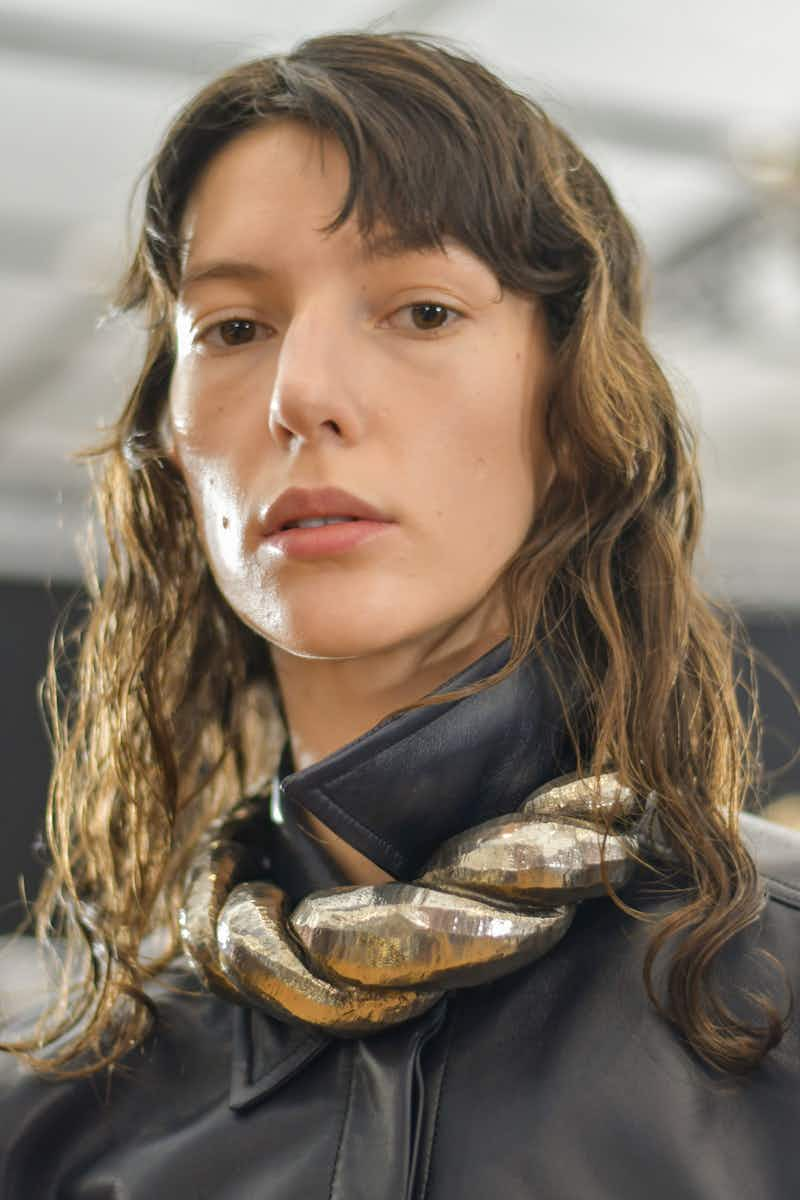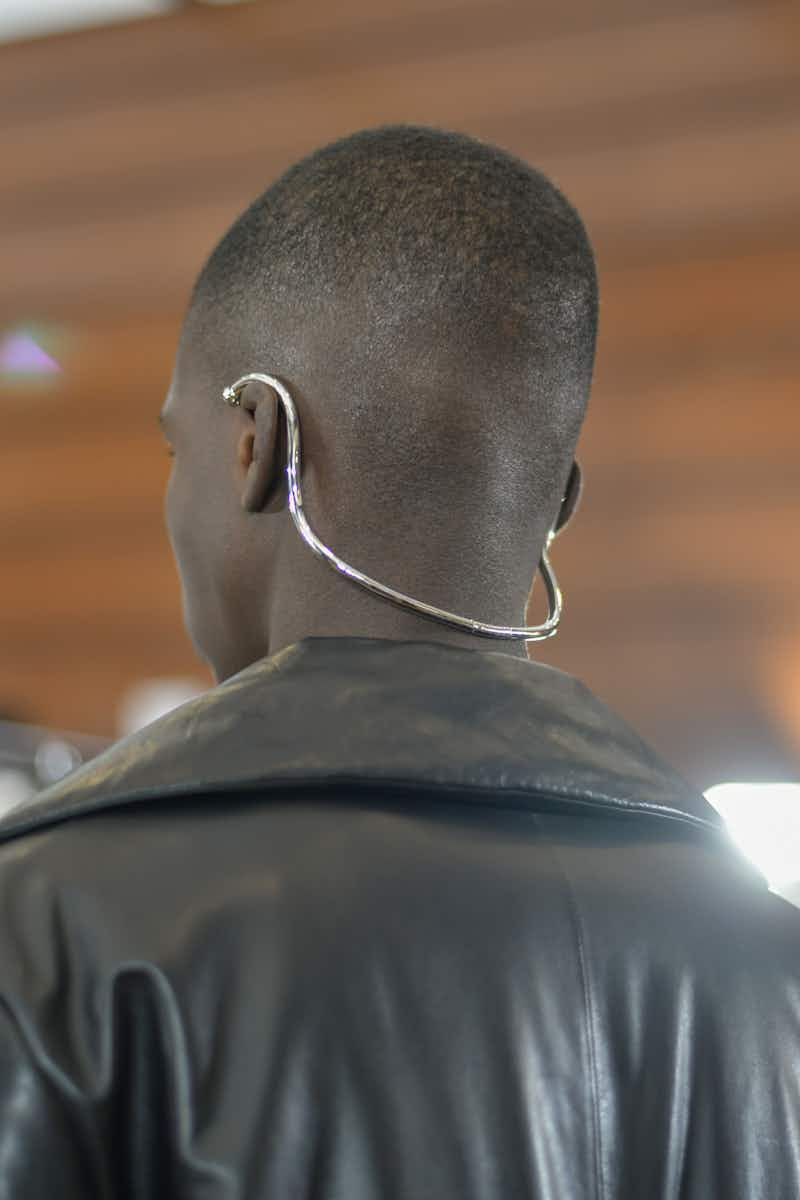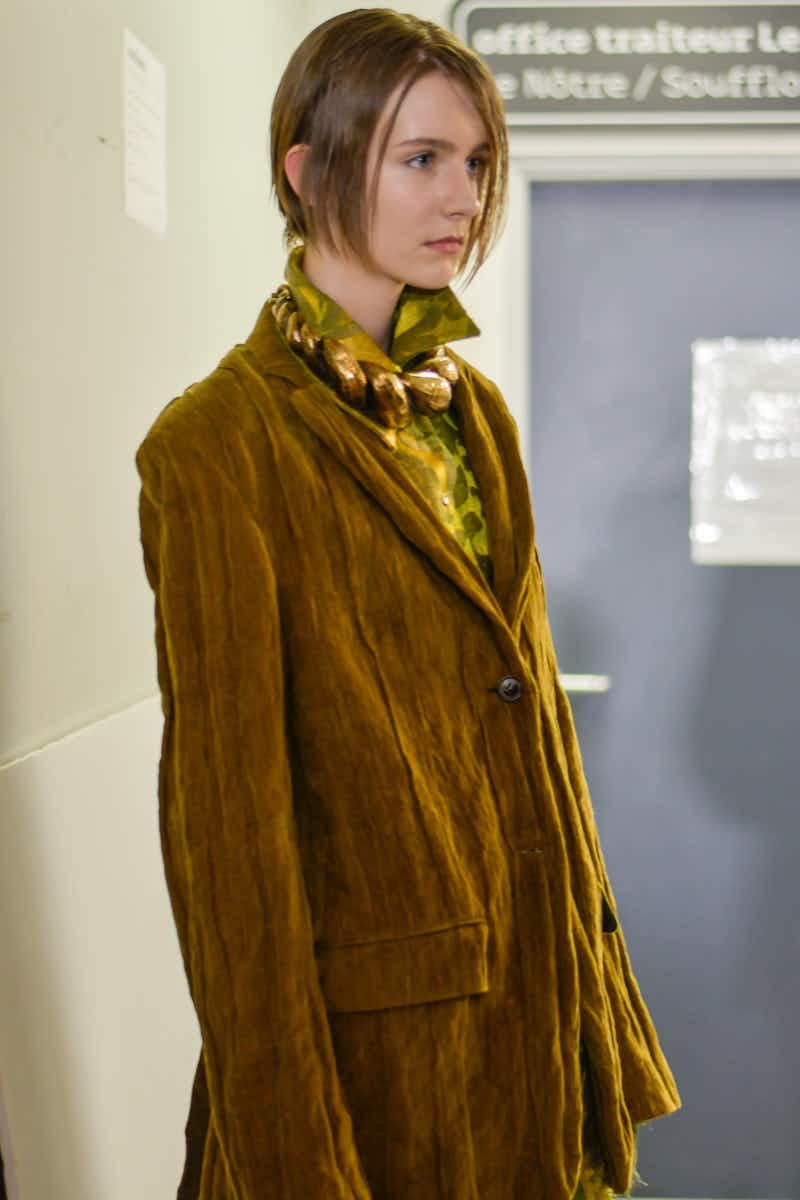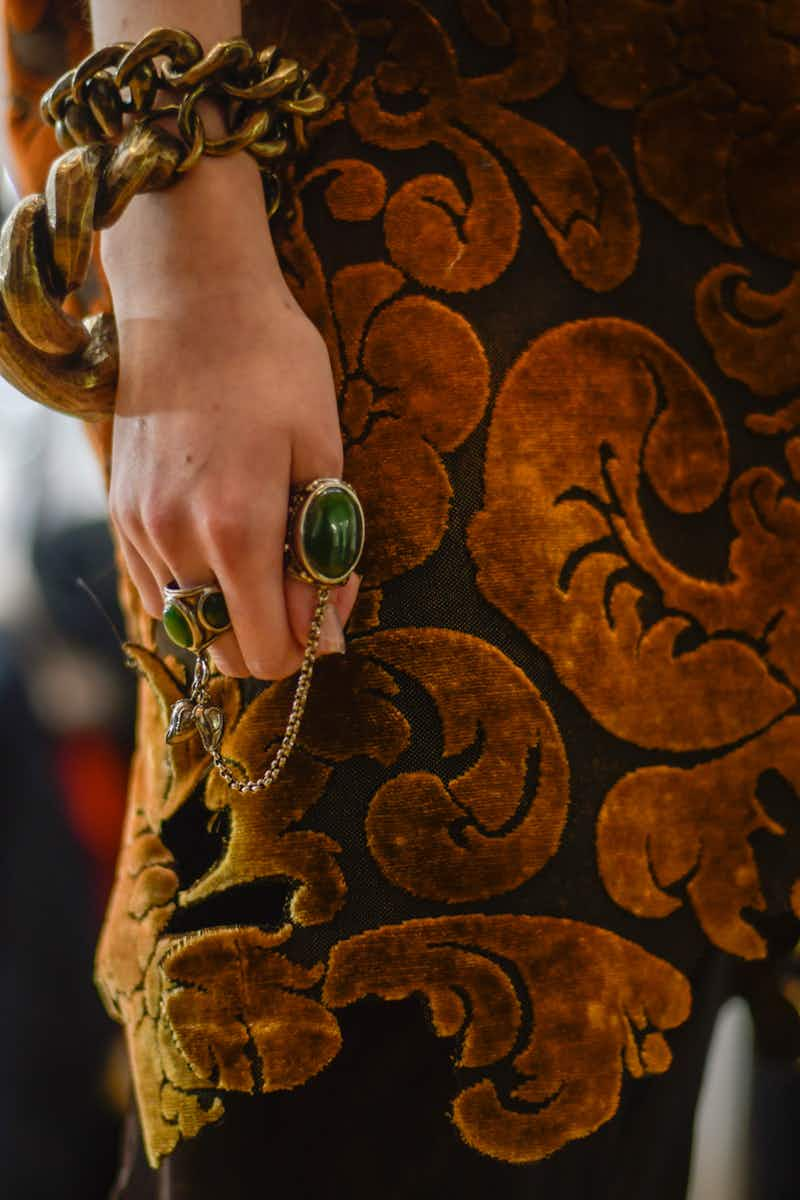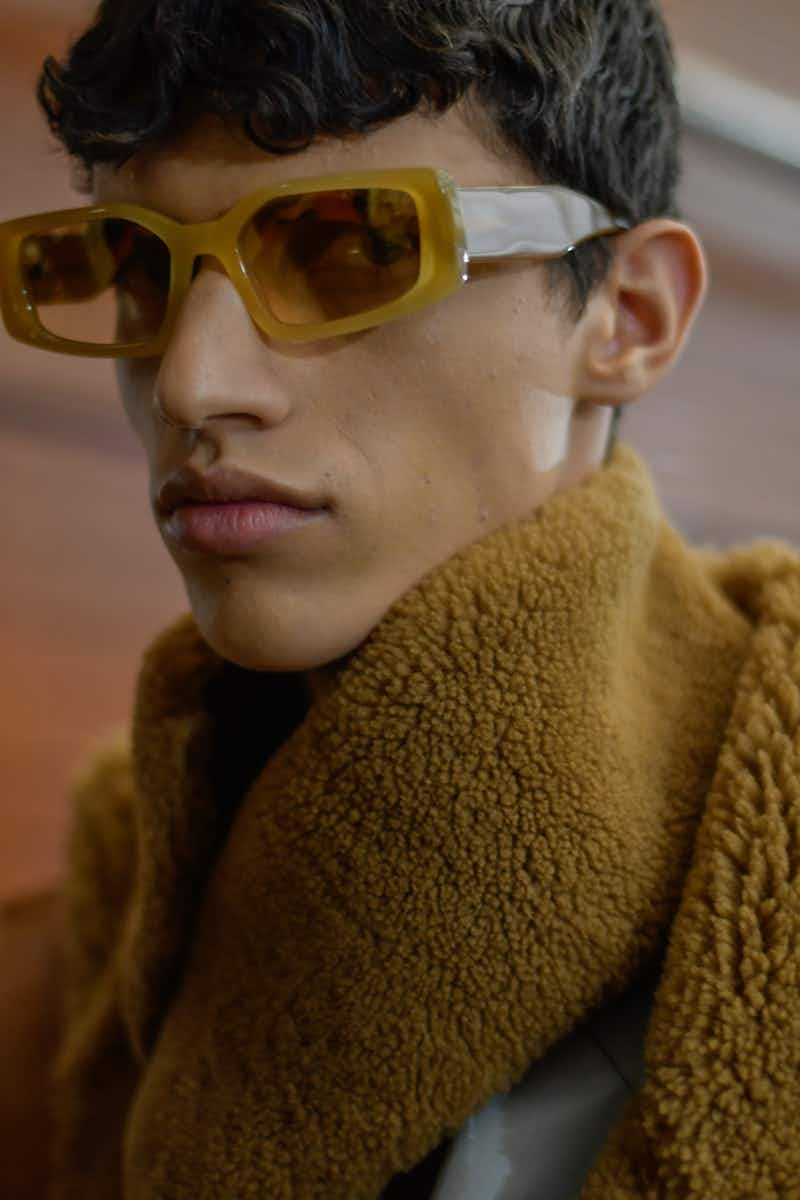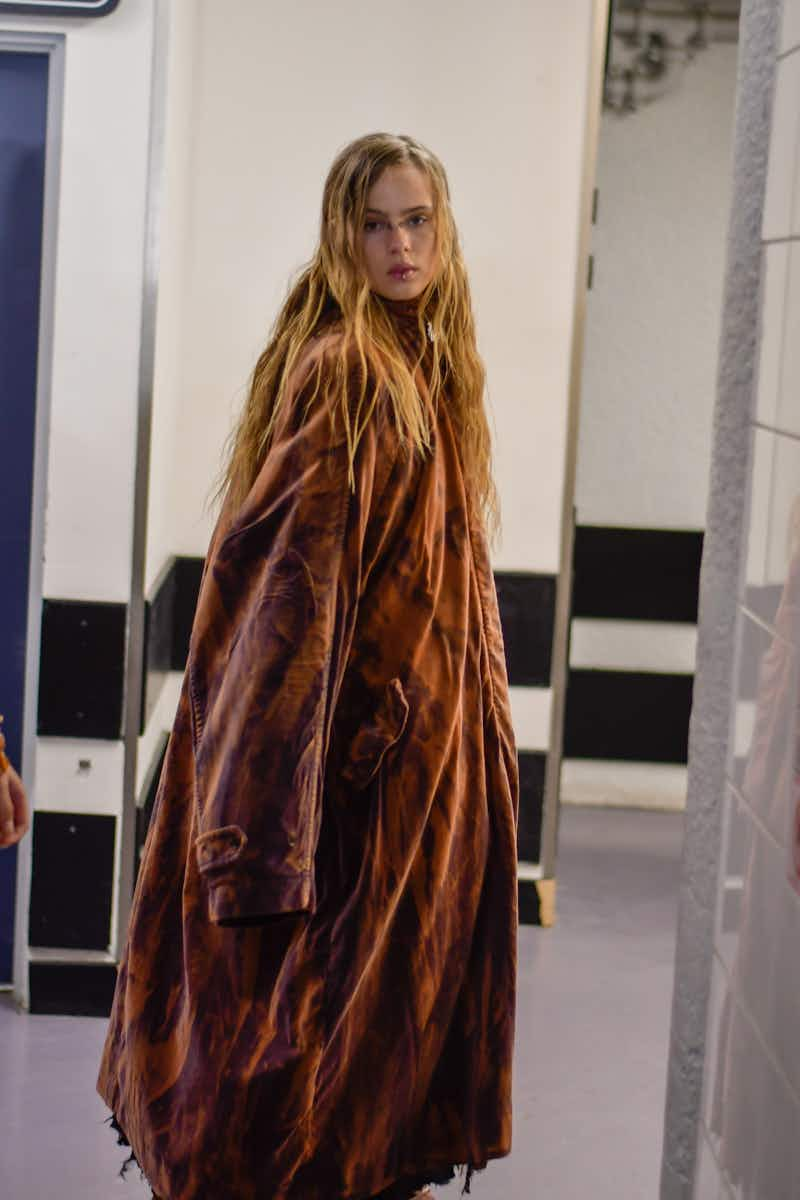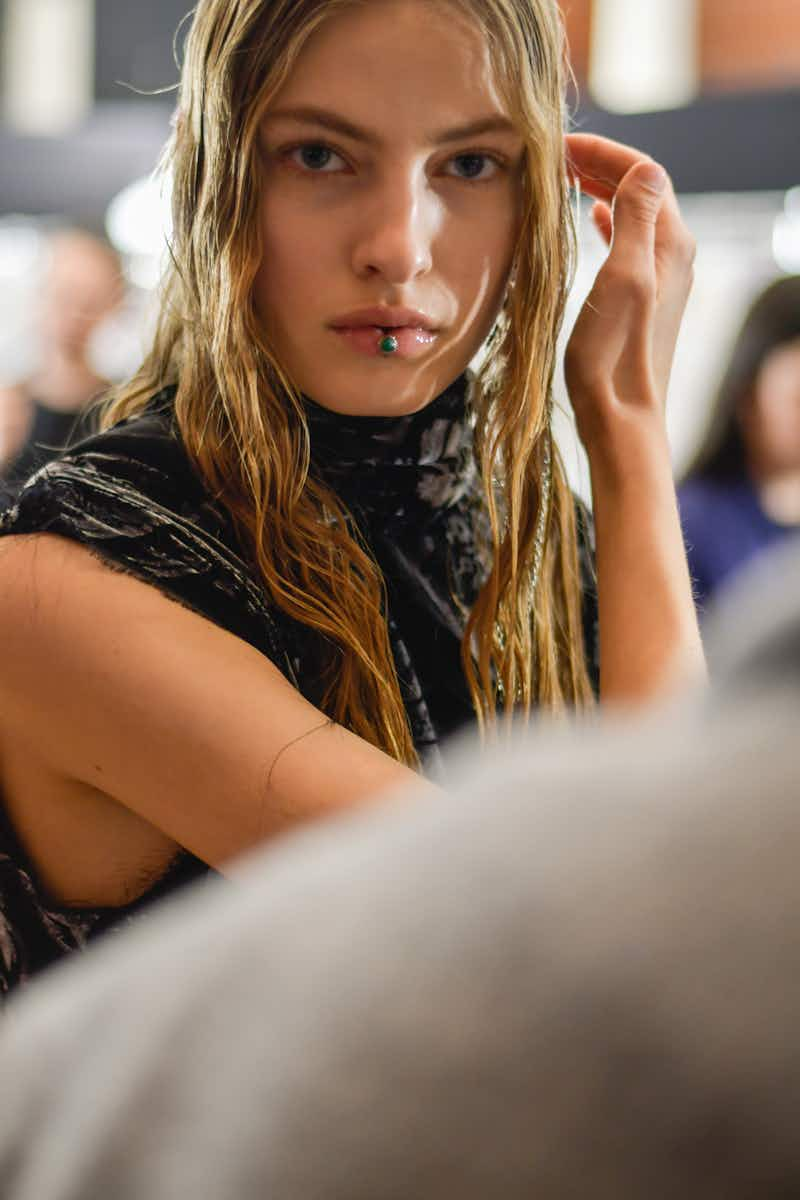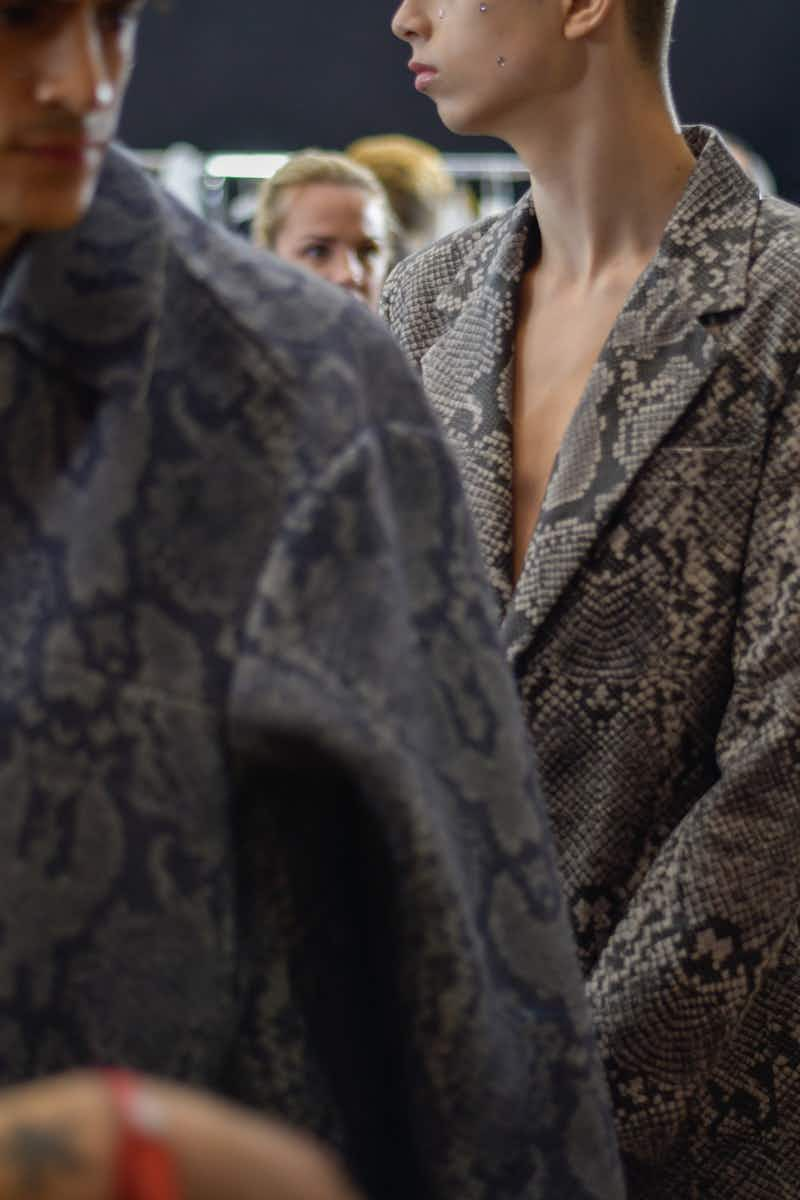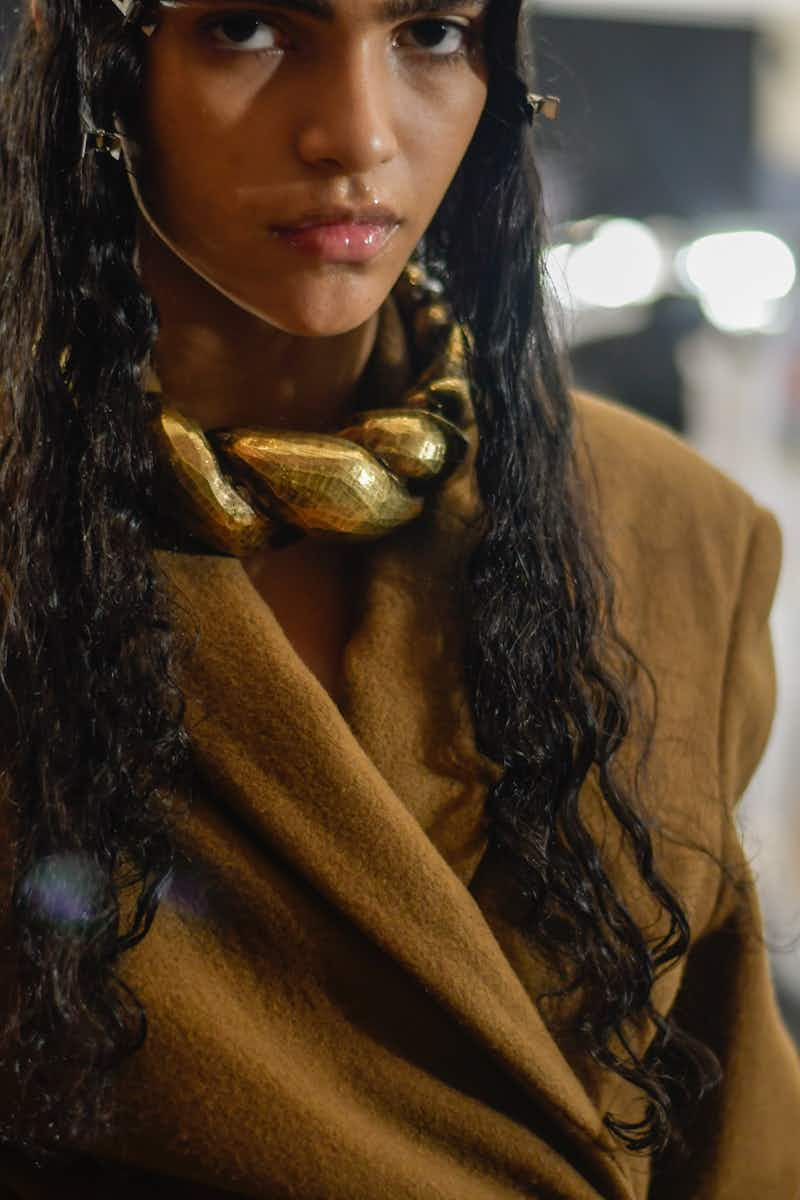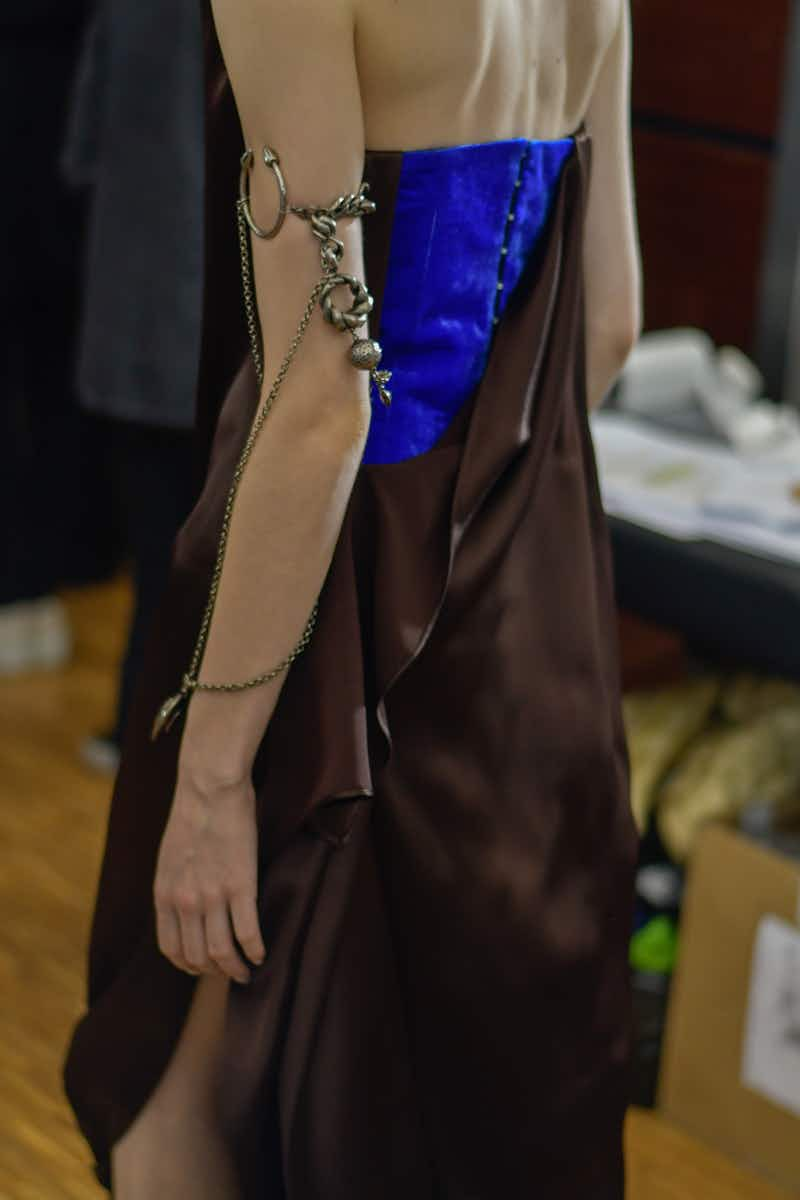 LUDOVIC DE SAINT SERNIN AW20
Diamanté spider's web tops, leather briefs, silk boxers, kinky transparent trenches, super sparkly rope knot belts, asymmetric tops, glittery men's handbags and pooled pants all got the seal of applause approval from Amanda Lear, Rick Owens, Olivier Rousteing and Detox at the Palais de Tokyo today at Ludovic De Saint Sernin's AW20 show.
What did it sound like?
The show opened to the sound of Hannah Diamond's Love Goes On.

Listen now:

The Sound of Ludovic De Saint Sernin AW20
LANVIN AW20
Baggy trousers with a subtle sheen, beige-denim jeans with a dip-dyed hem, polka-dot knitwear, a halter-neck dress worn with long leather gloves (by Bella Hadid), zingy pinstripe suits and ever-so-slightly-cropped leather jackets. Lanvin's AW20 collection was as much about eclectic styling as it was about bold – and eye-catching – details. That, and big fat trainers with equally-as-fat laces to boot.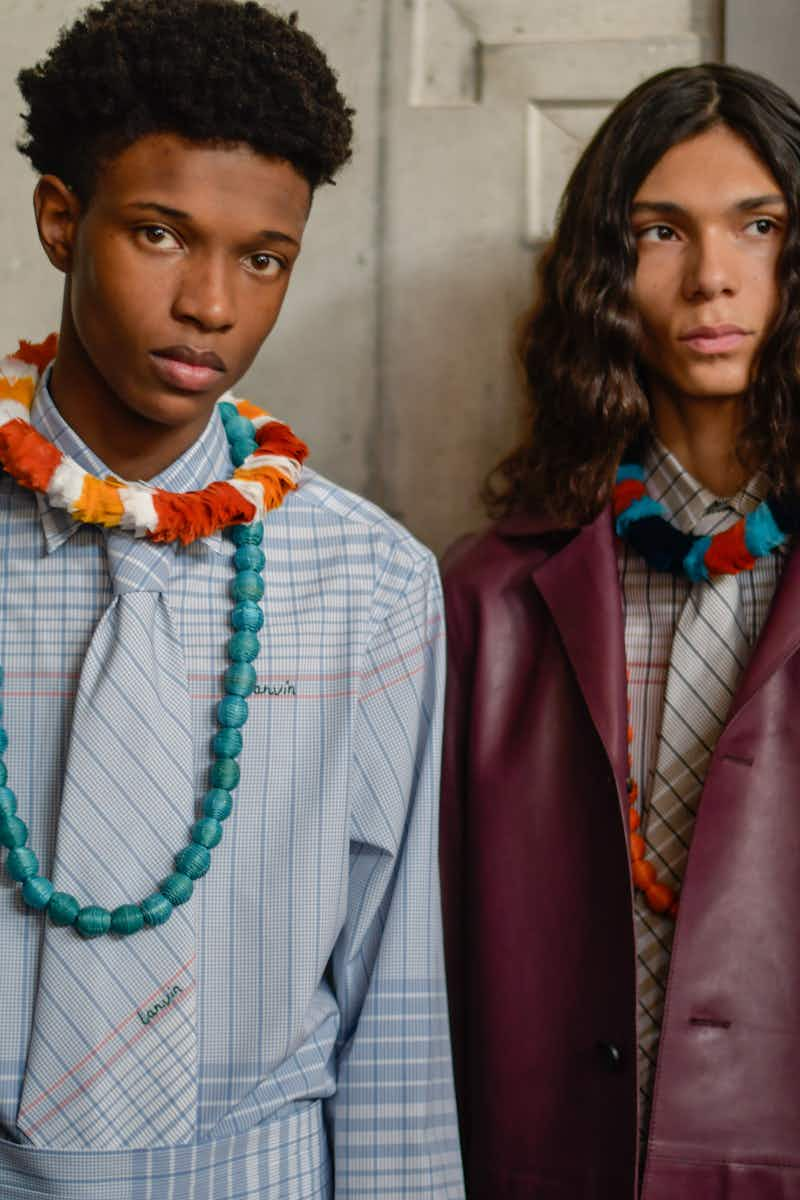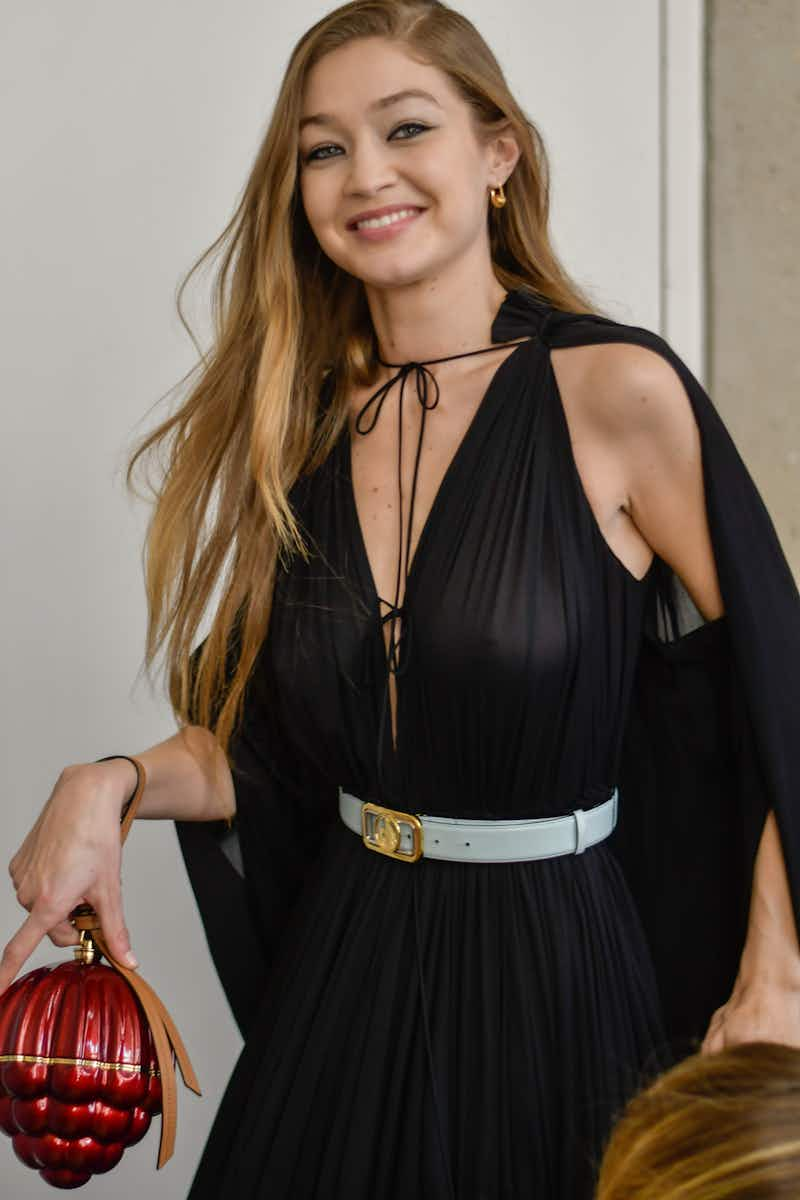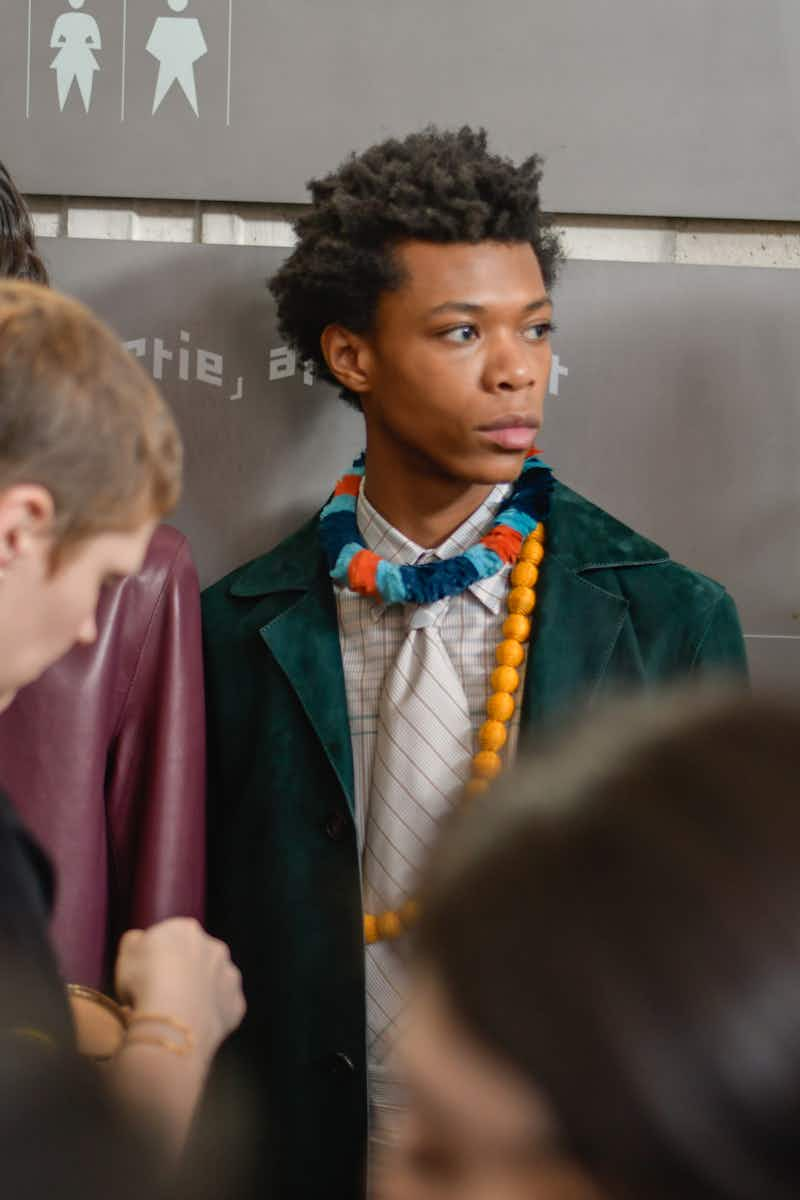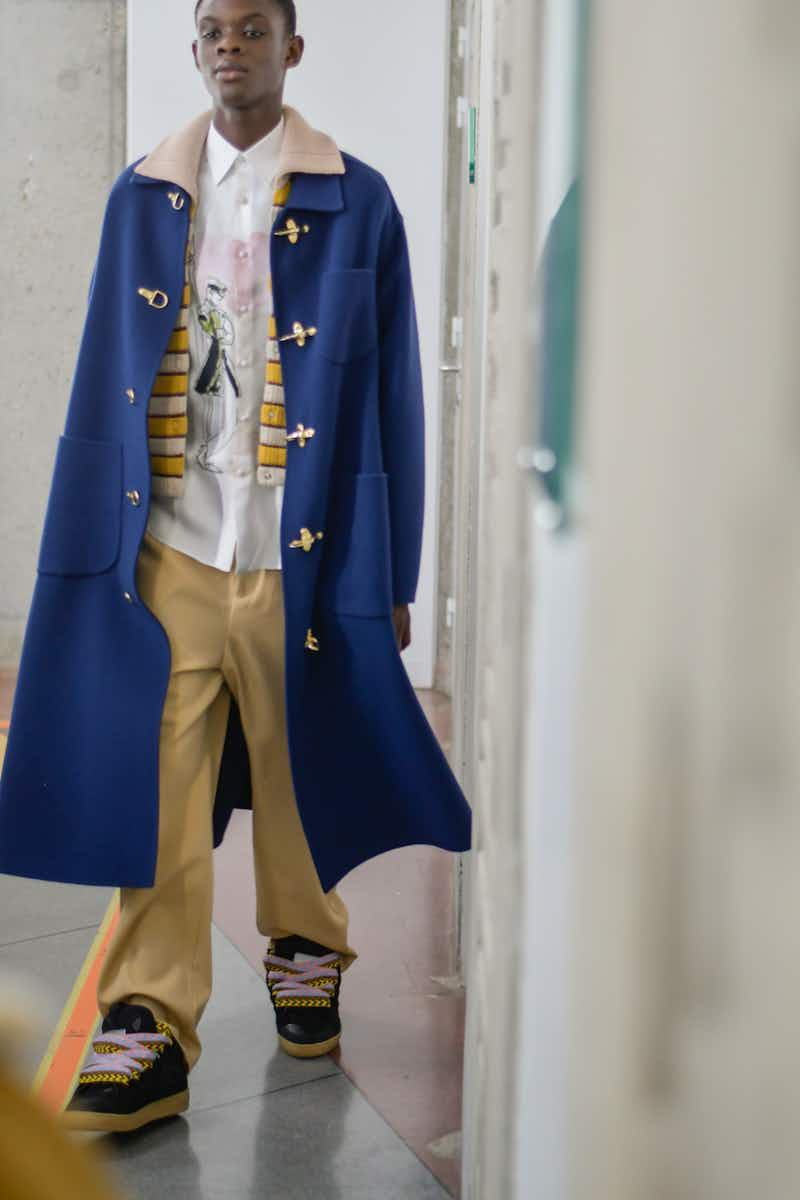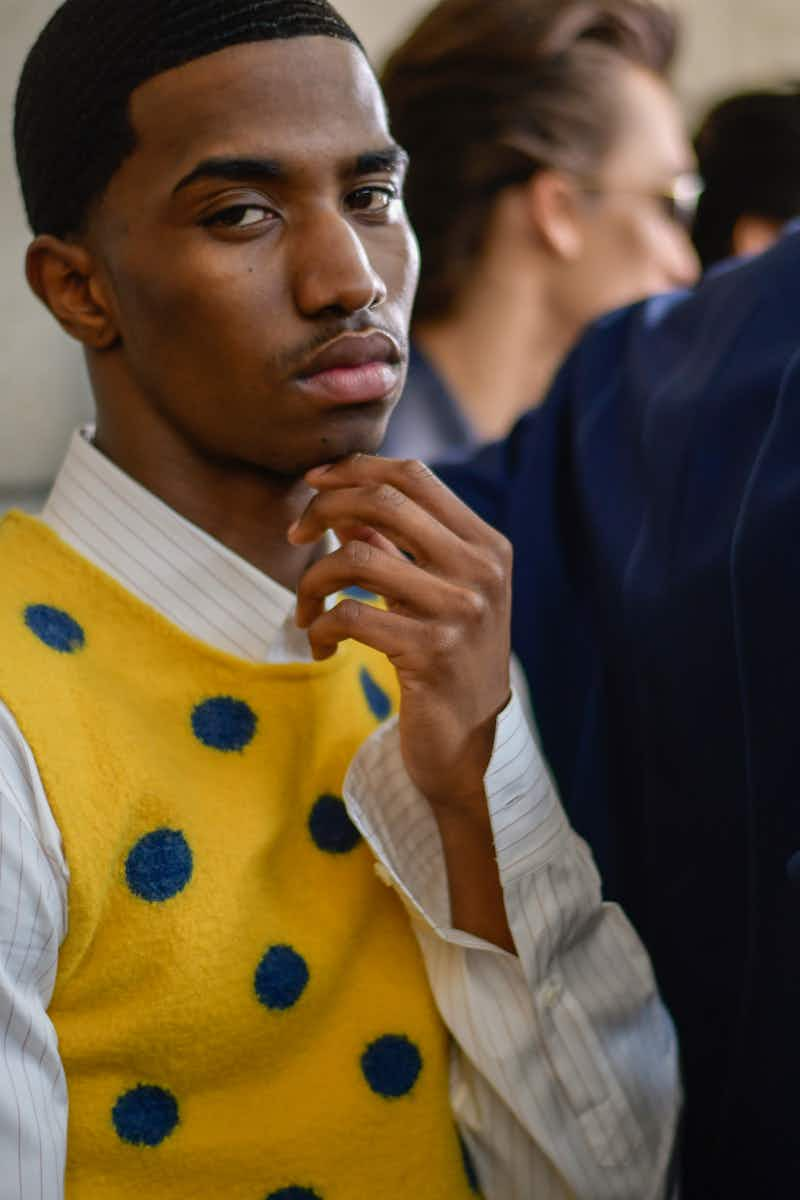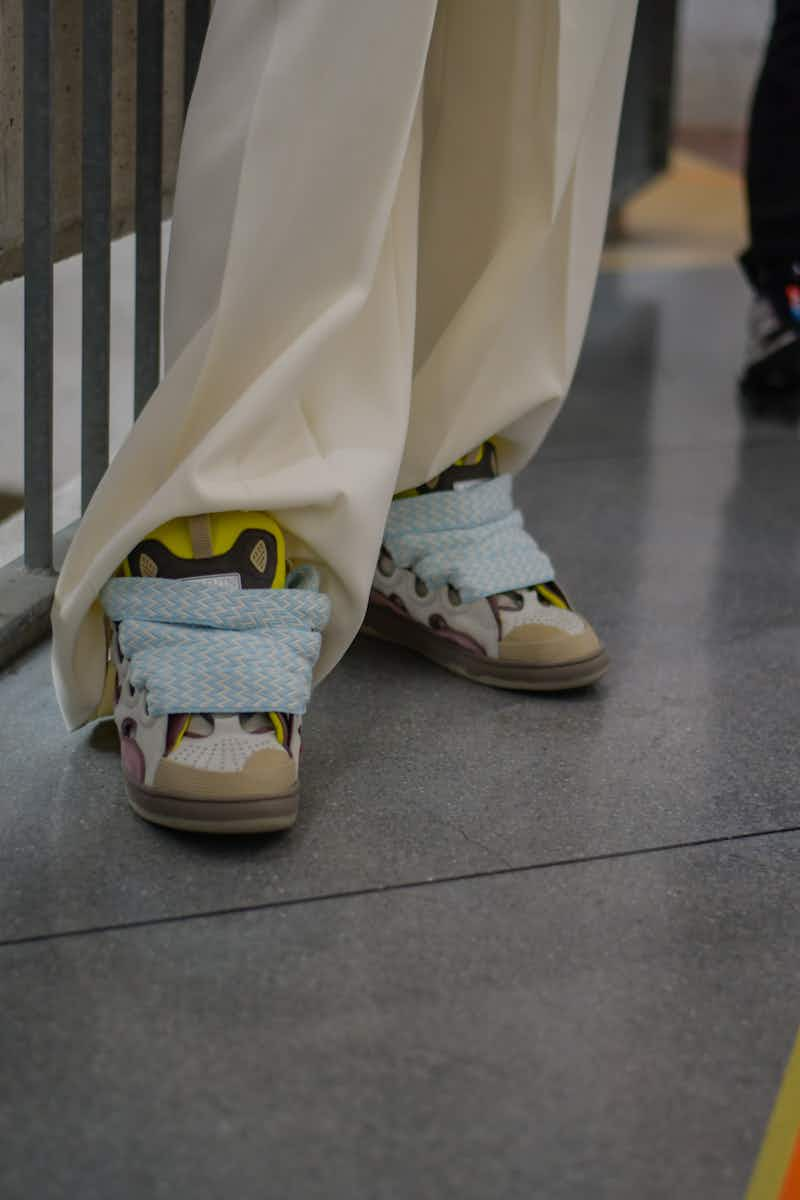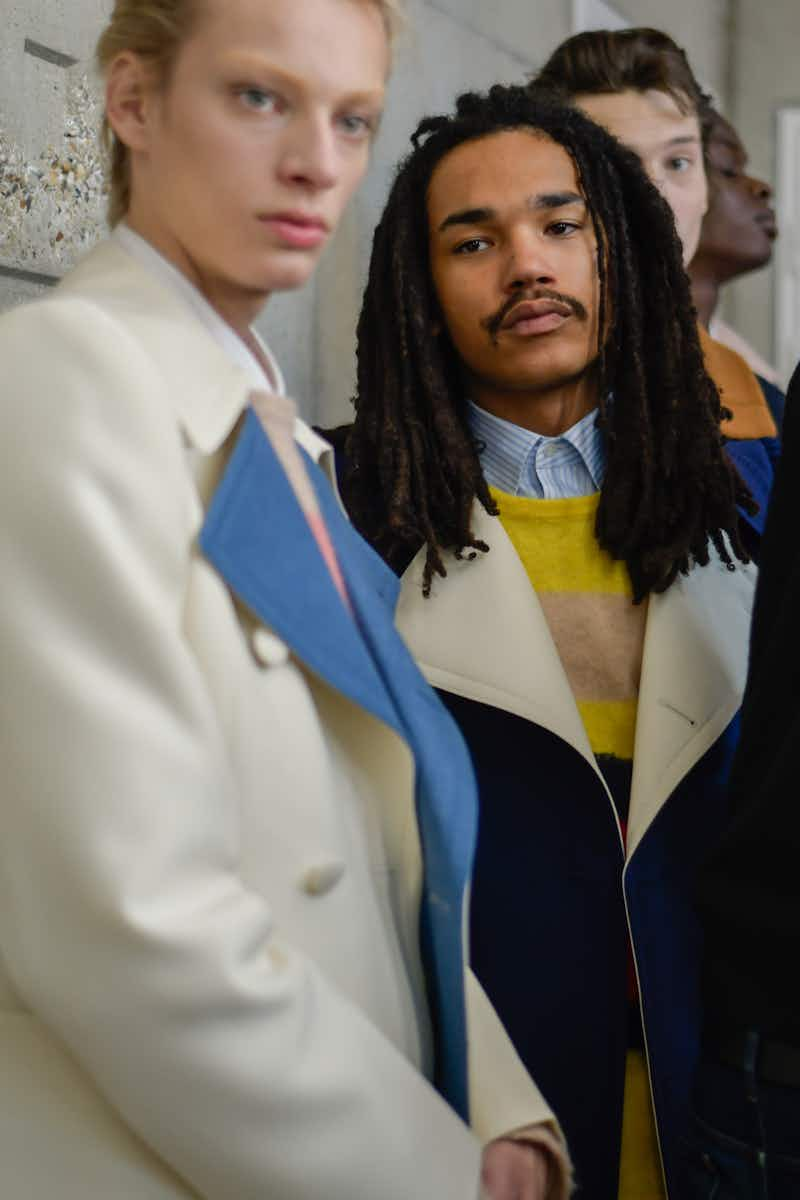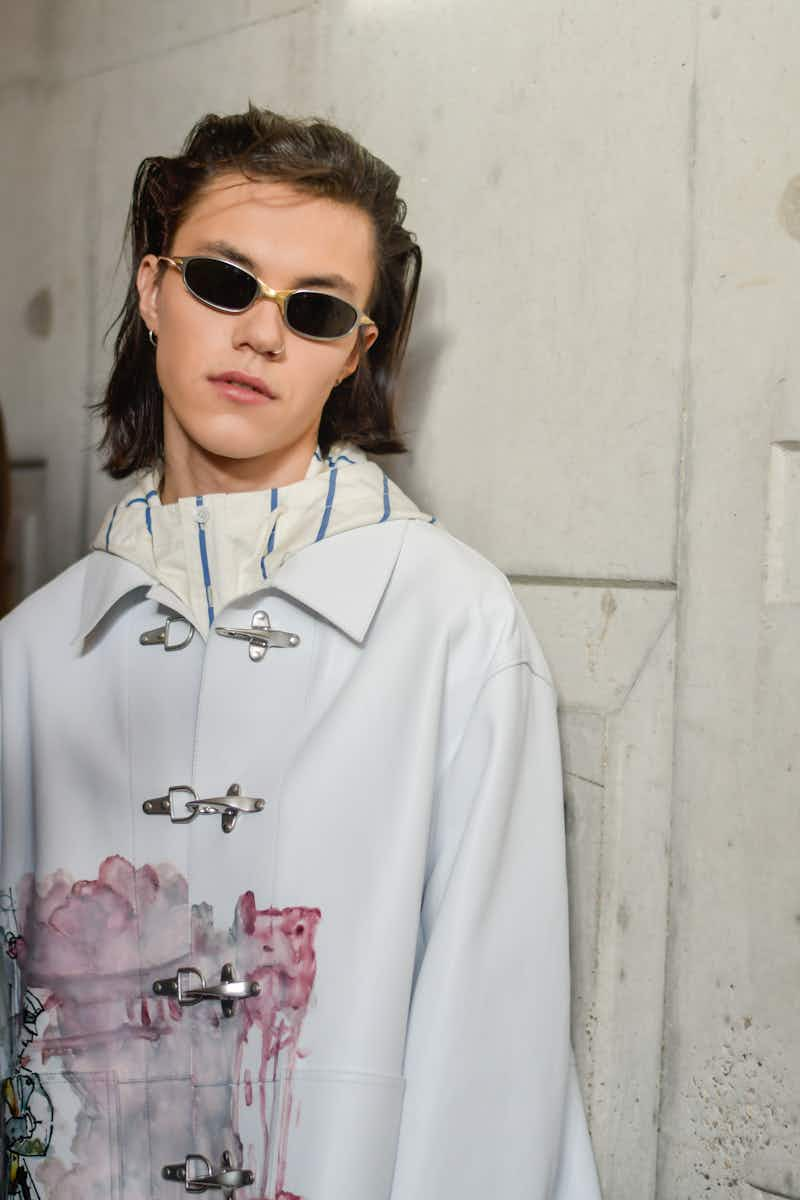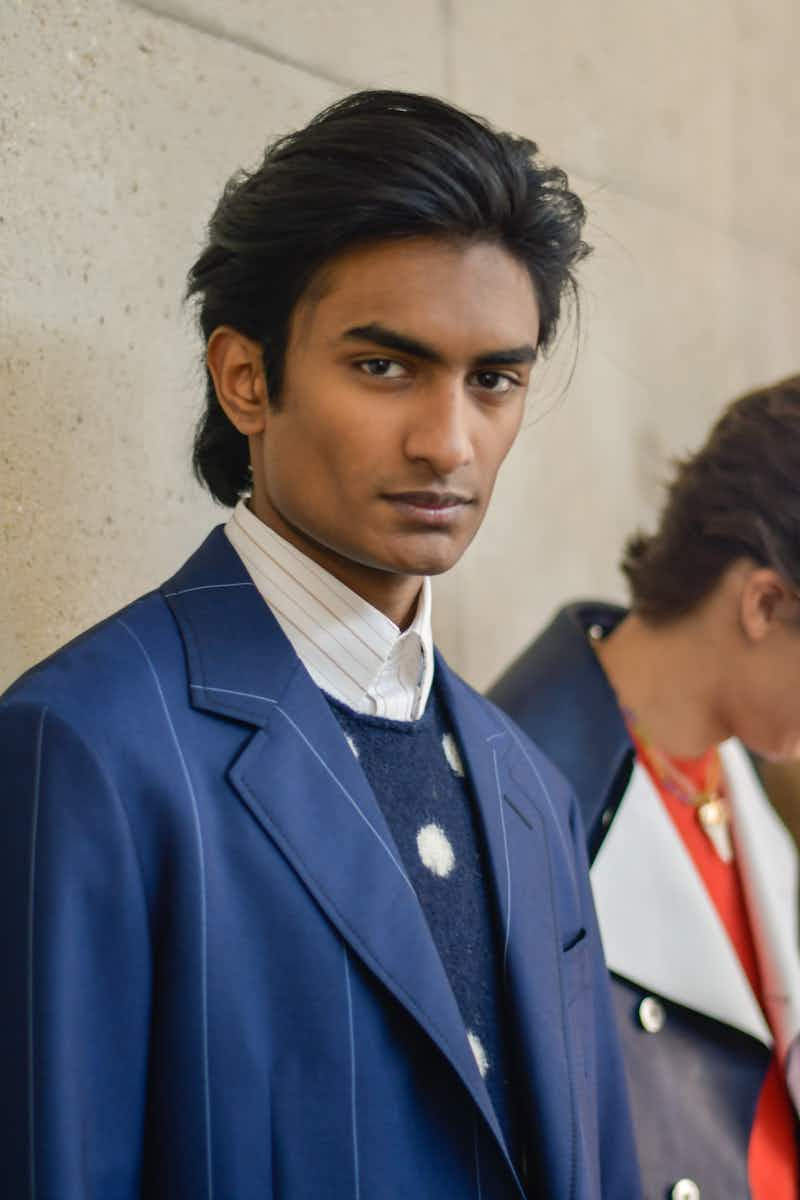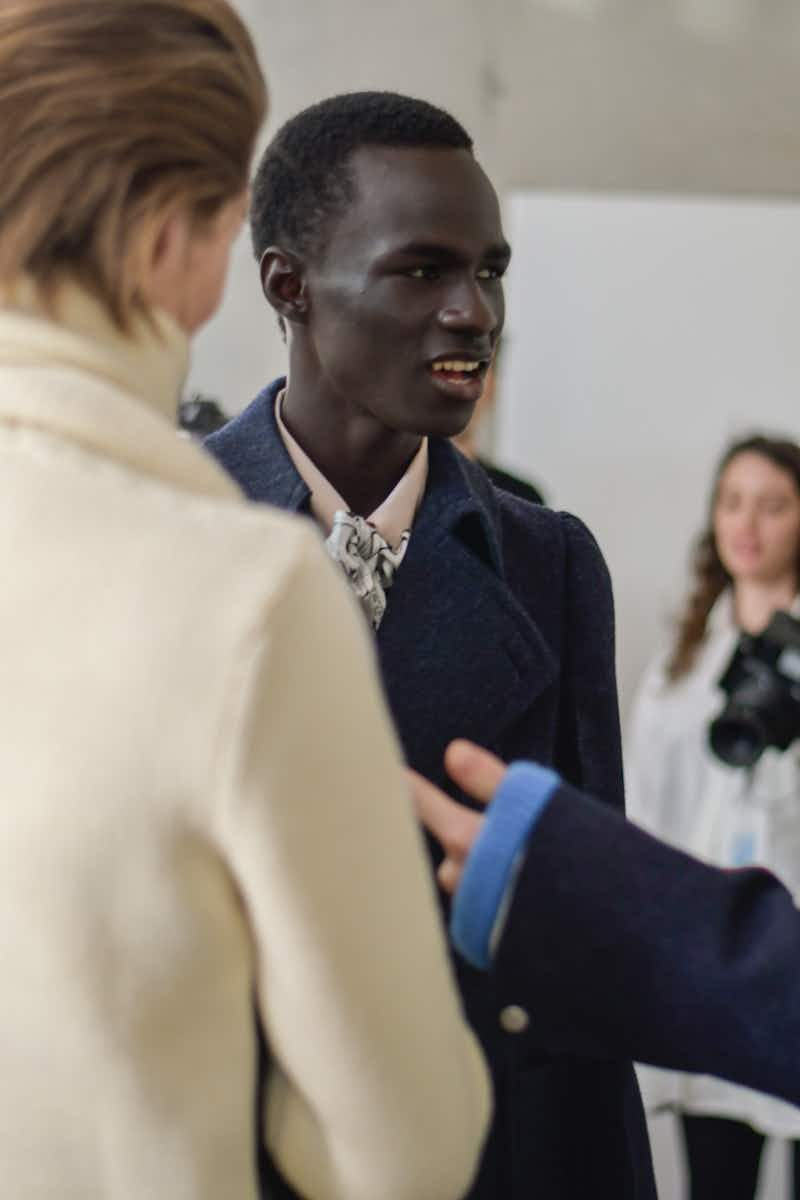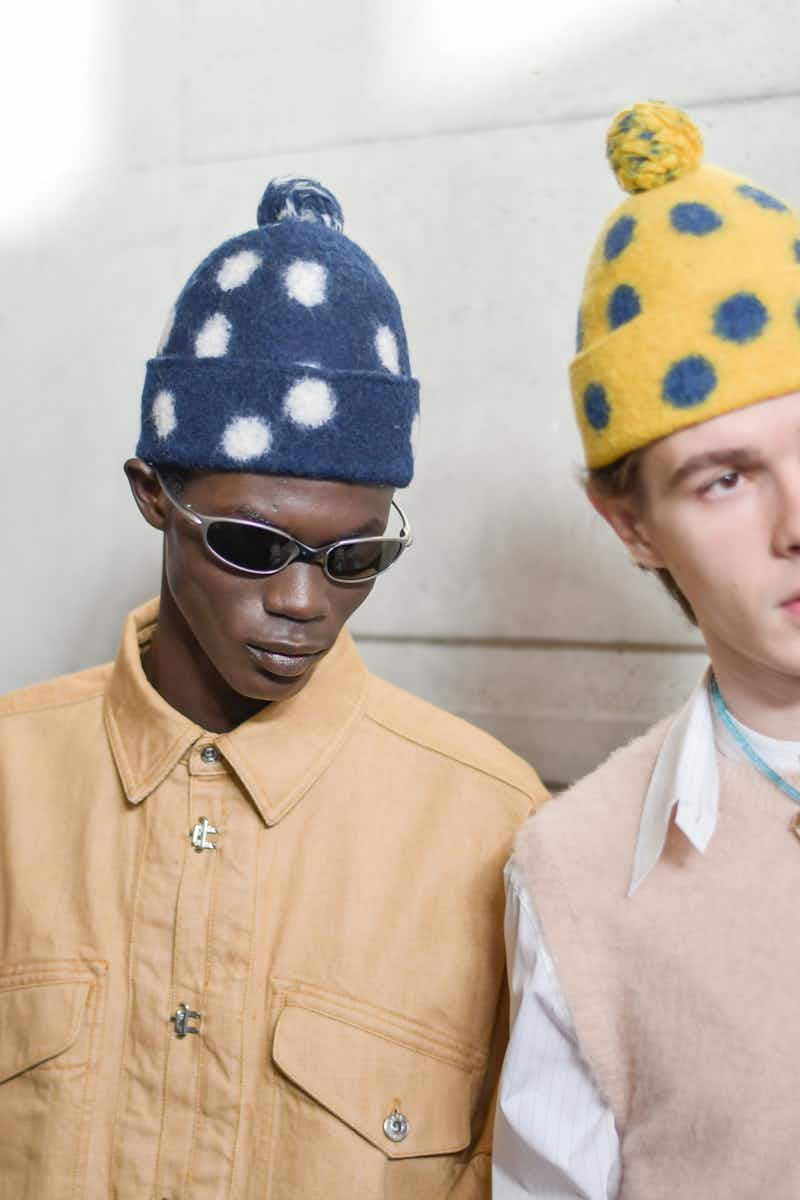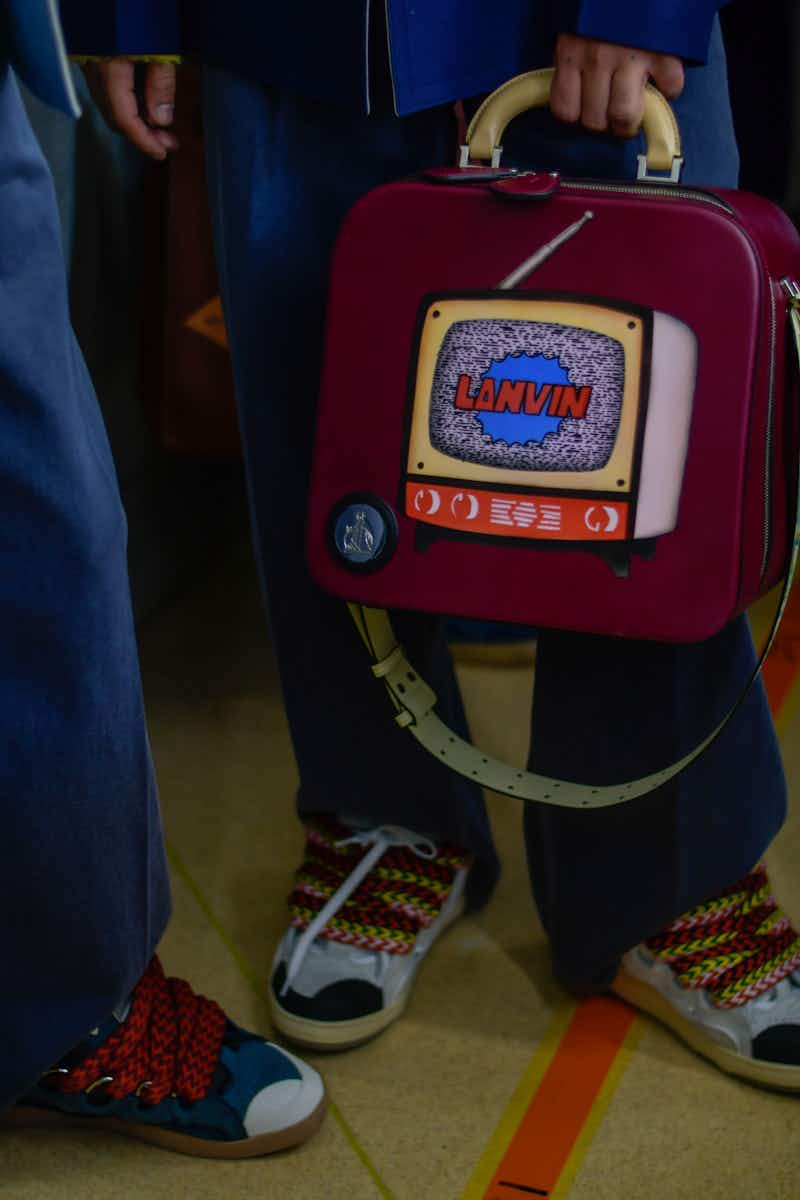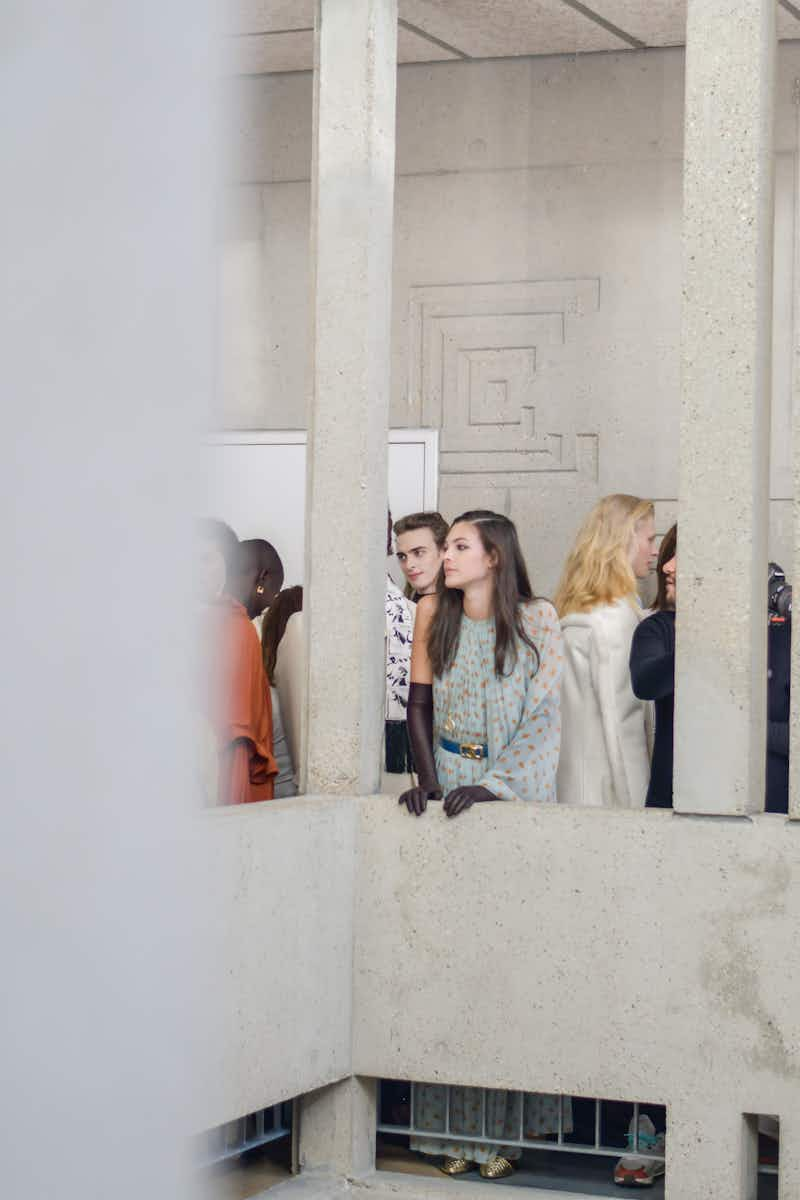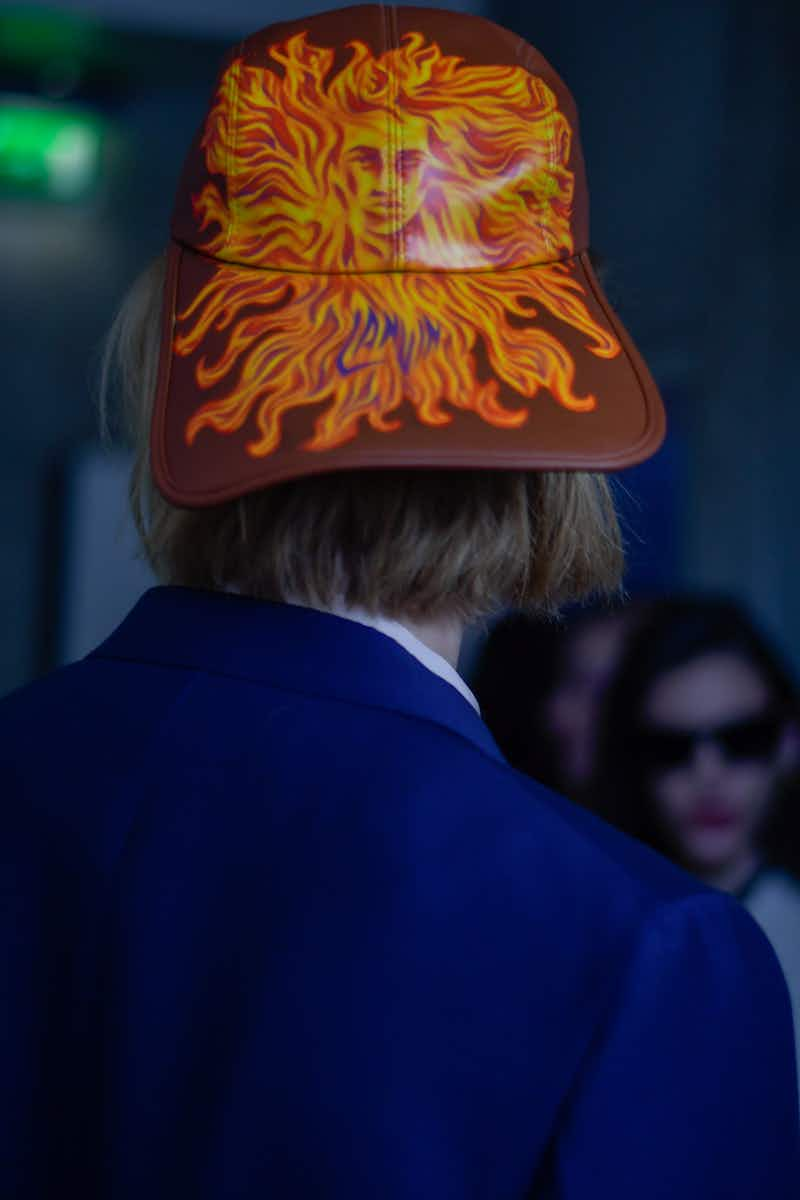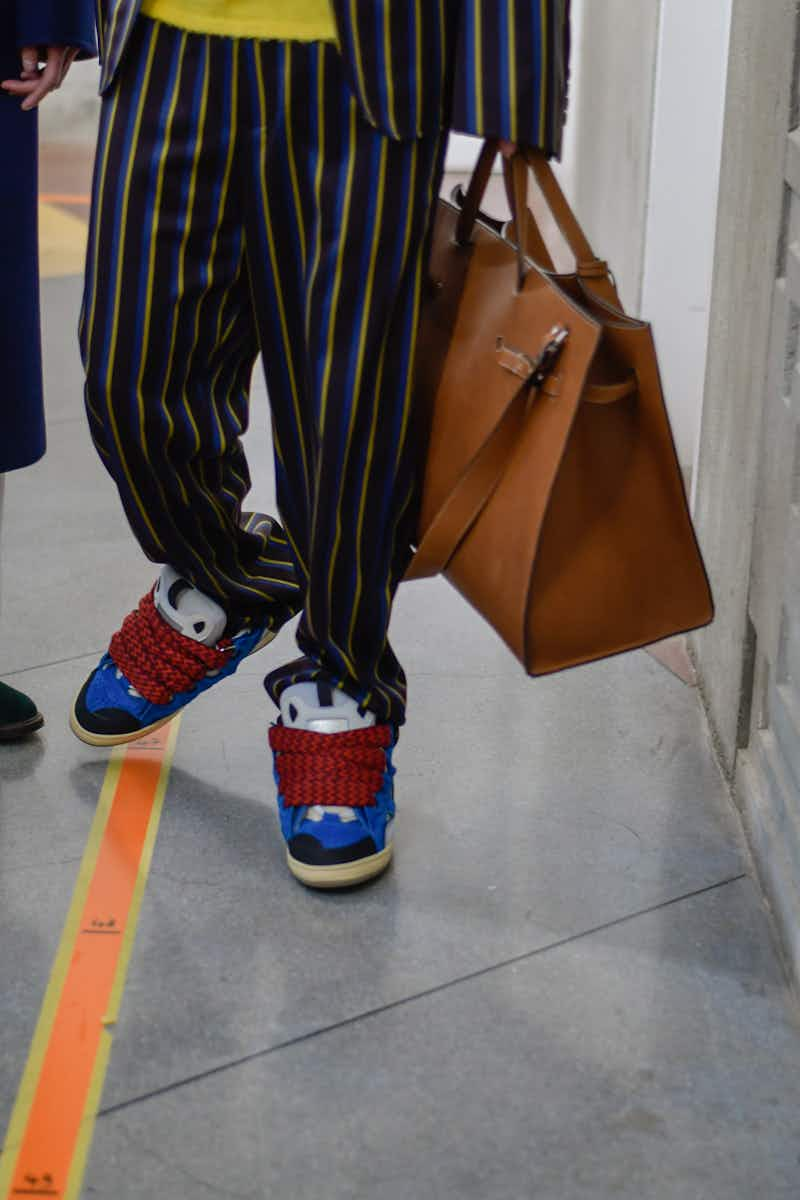 Leather parka, chocolate bomber, quilted suits, Pierre Hardy boots. Trousers were cuffed and buckled, leather bags had drawstring tops and rollnecks came super slouchy. The whole effect was typically lovely Hermés and a coat for everyone came in the shape of a banging black leather parka. Stand out pieces included a leather aviator jacket lined with plush shearling, a pinstripe suit with an ever-so-slightly quilted finish, a series of herringbone chevron knits and a reoccurring psychedelic swirl-print that appeared on shirts and parkas alike. Rich in texture, craftsmanship and creativity – Hermés is ever the blueprint for a wardrobe that oozes laid-back sophistication.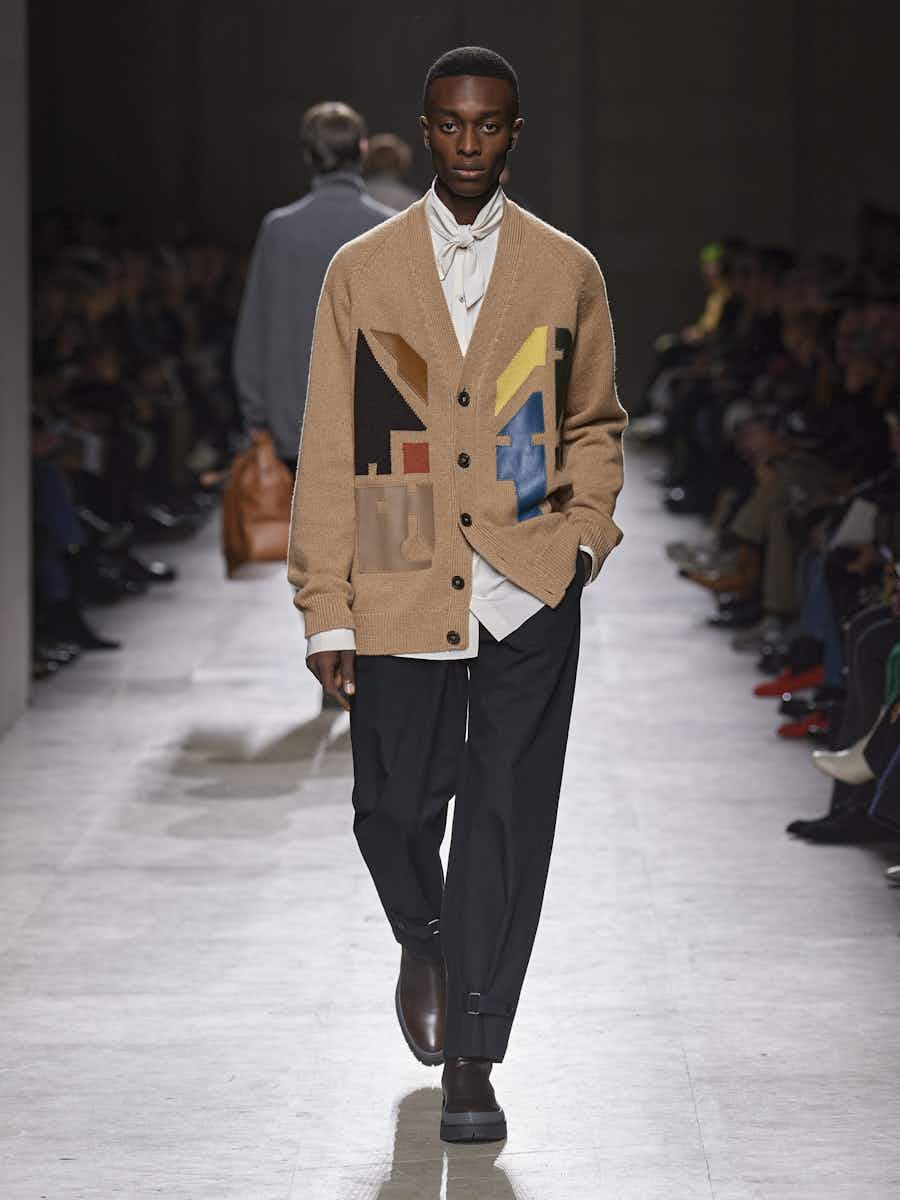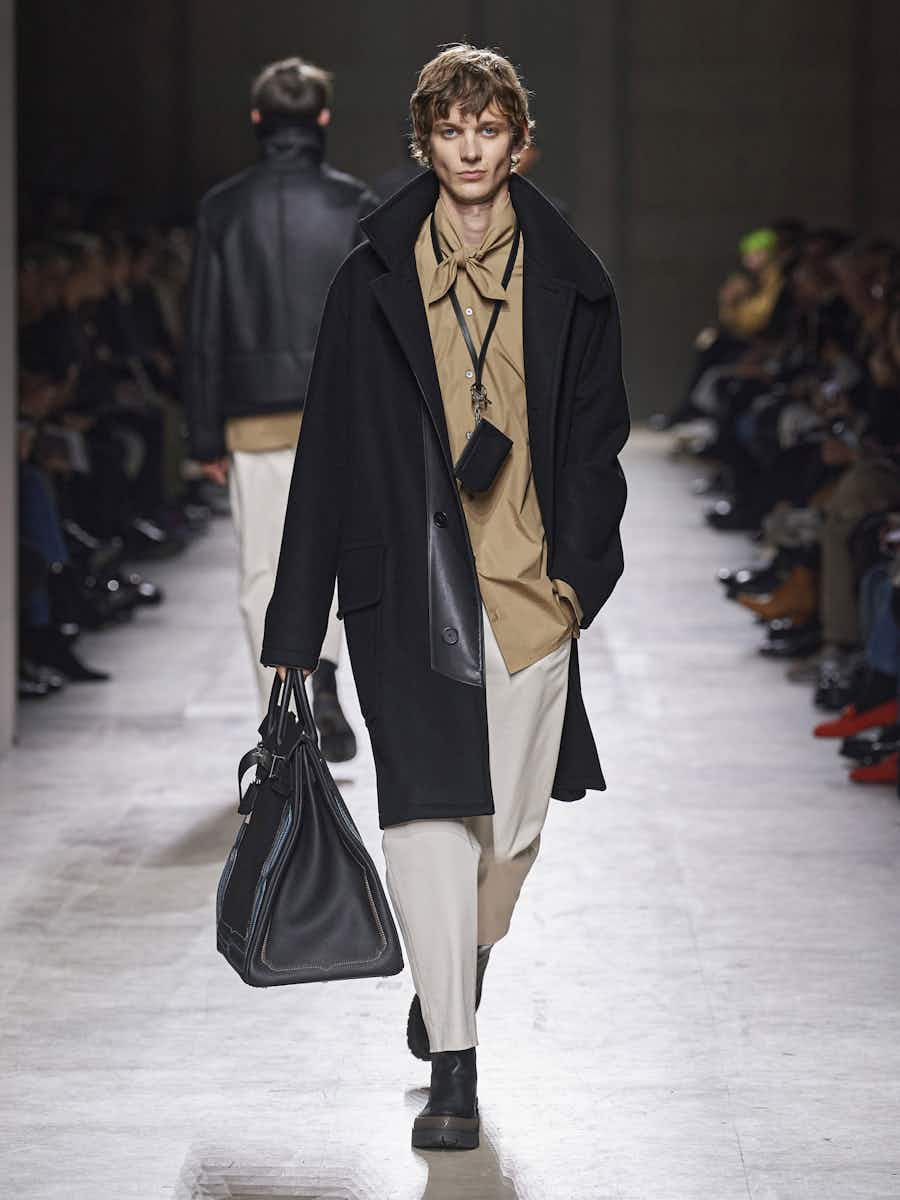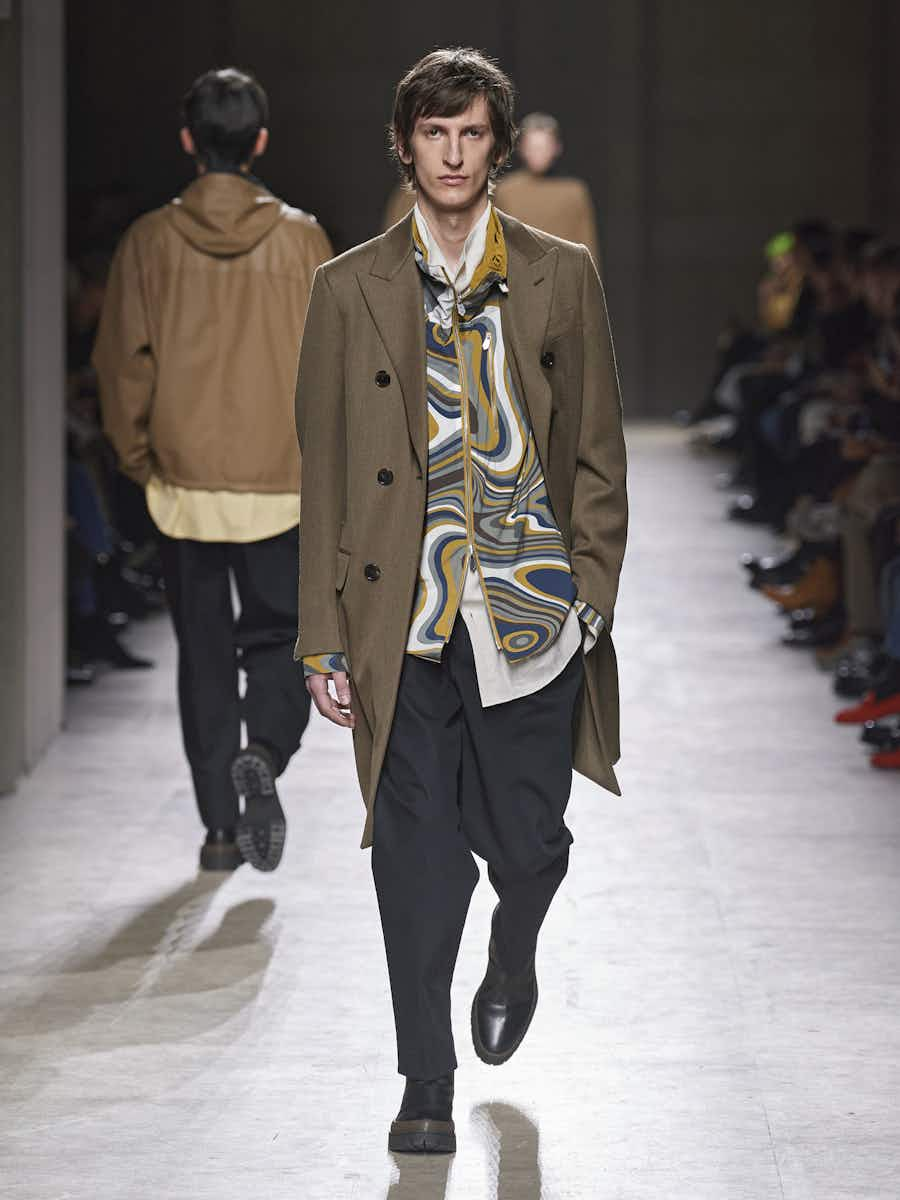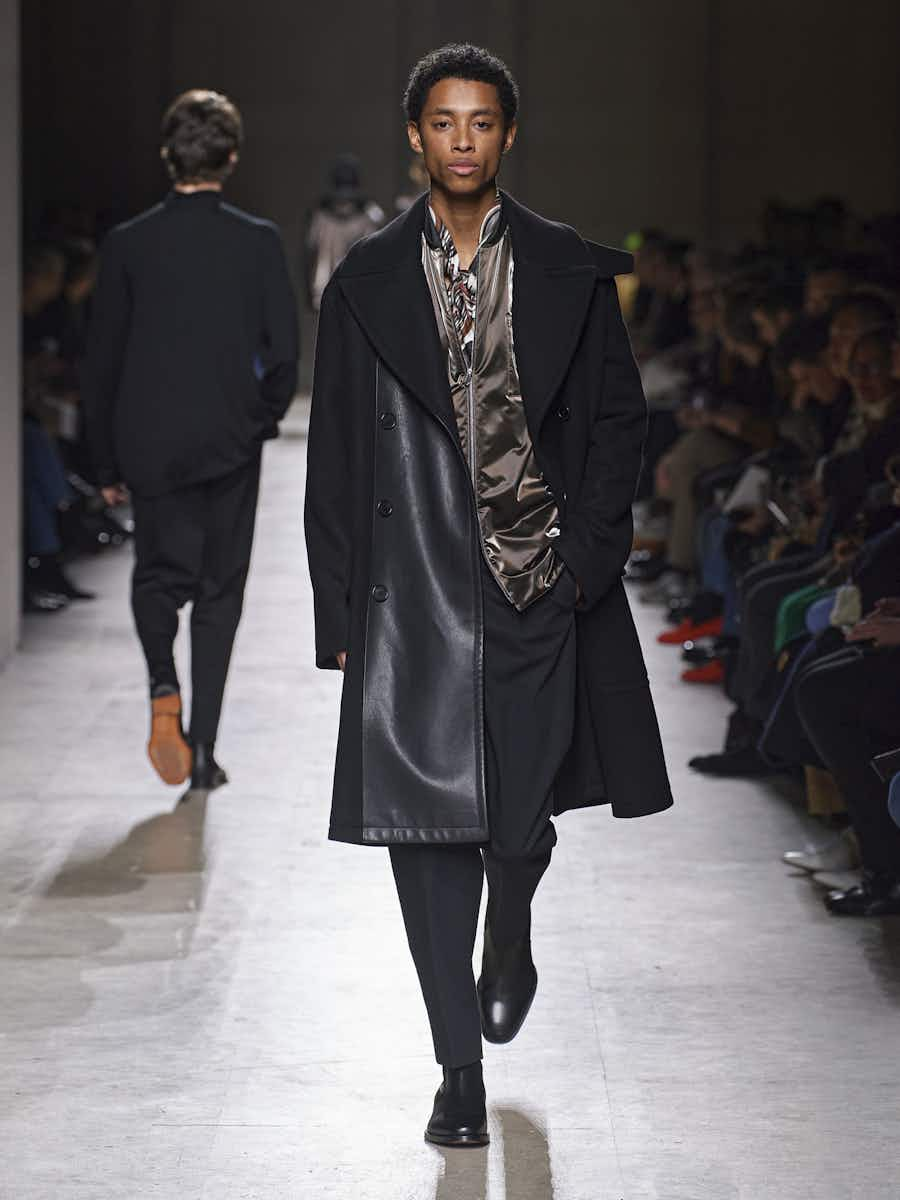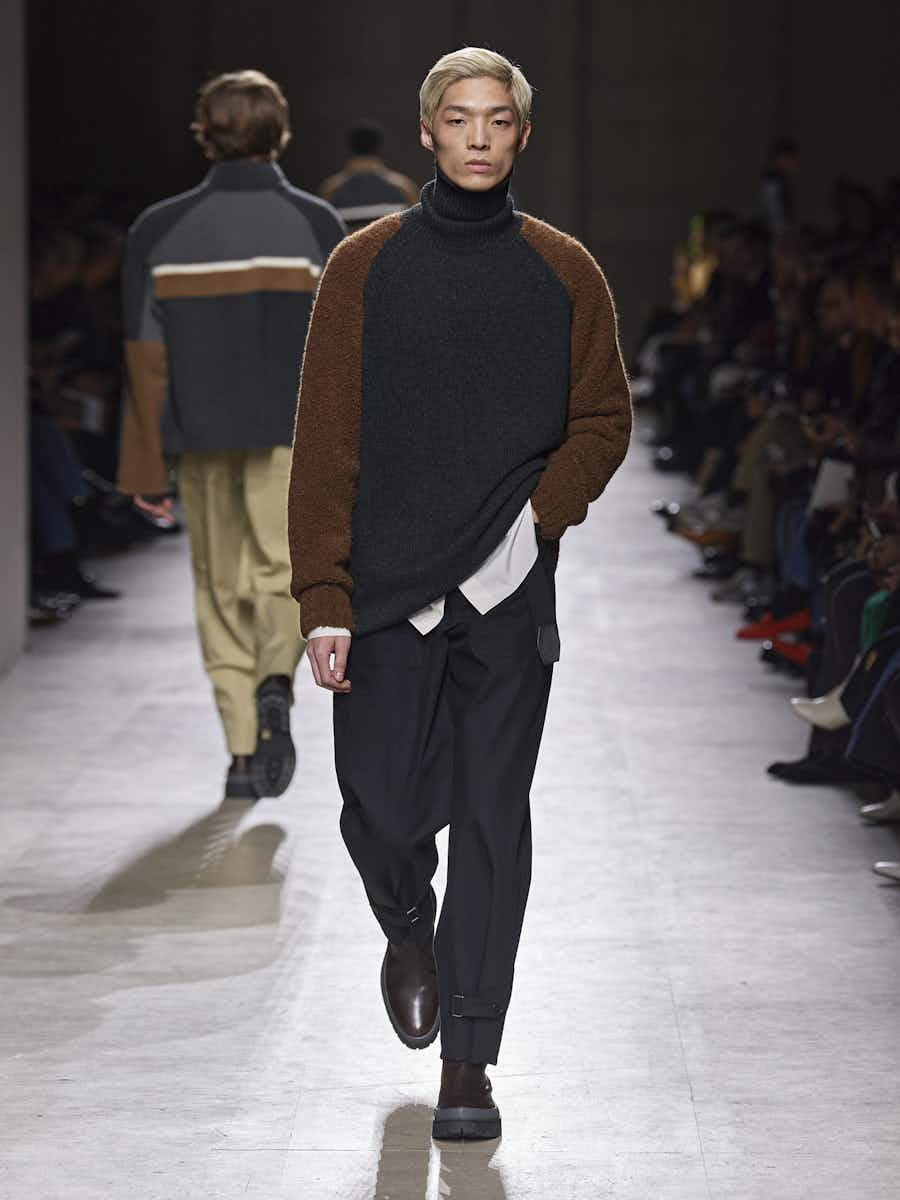 Photography: Filippo Fior
Taking place in Paris' La Défense arena (where Celine Dion will be belting out ballads this summer), Jacquemus put on a co-ed show that threw back to 1997 when the designer was happily seven years old. Again playing with nostalgia for his blissful south of France childhood, he sent out boys and girls (including Laétitia Casta, Adut and both the Hadids) in a mostly sand-beige-cream collection with the odd dash of lilac and hot pink thrown in for good measure. The tonal regularity made you focus on the designer's shapes and silhouettes: figure-hugging and bust-enhancing for women and sporty and broadening for the men. Both lines were sexy (off-the-shoulder dresses and pre-unzipped trousers suggested steamy action). It being a ​'90s throwback, there were ravey elements seen in the parachute pants and bucket hats, as well as hip-hop references via flap-down dungarees. Look out for the comedy little frog print too – presumably a flashback to Jacquemus' cartoon heyday.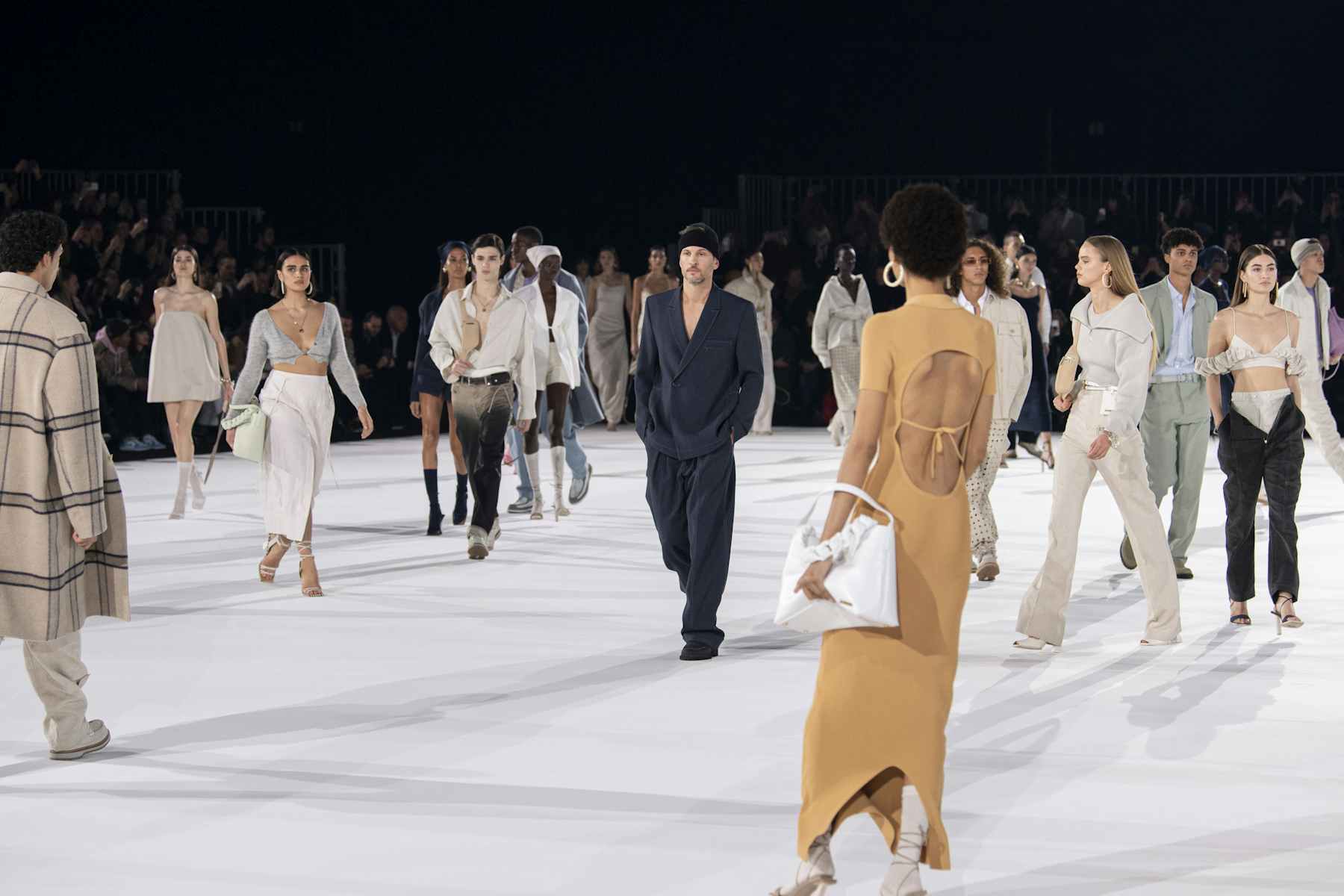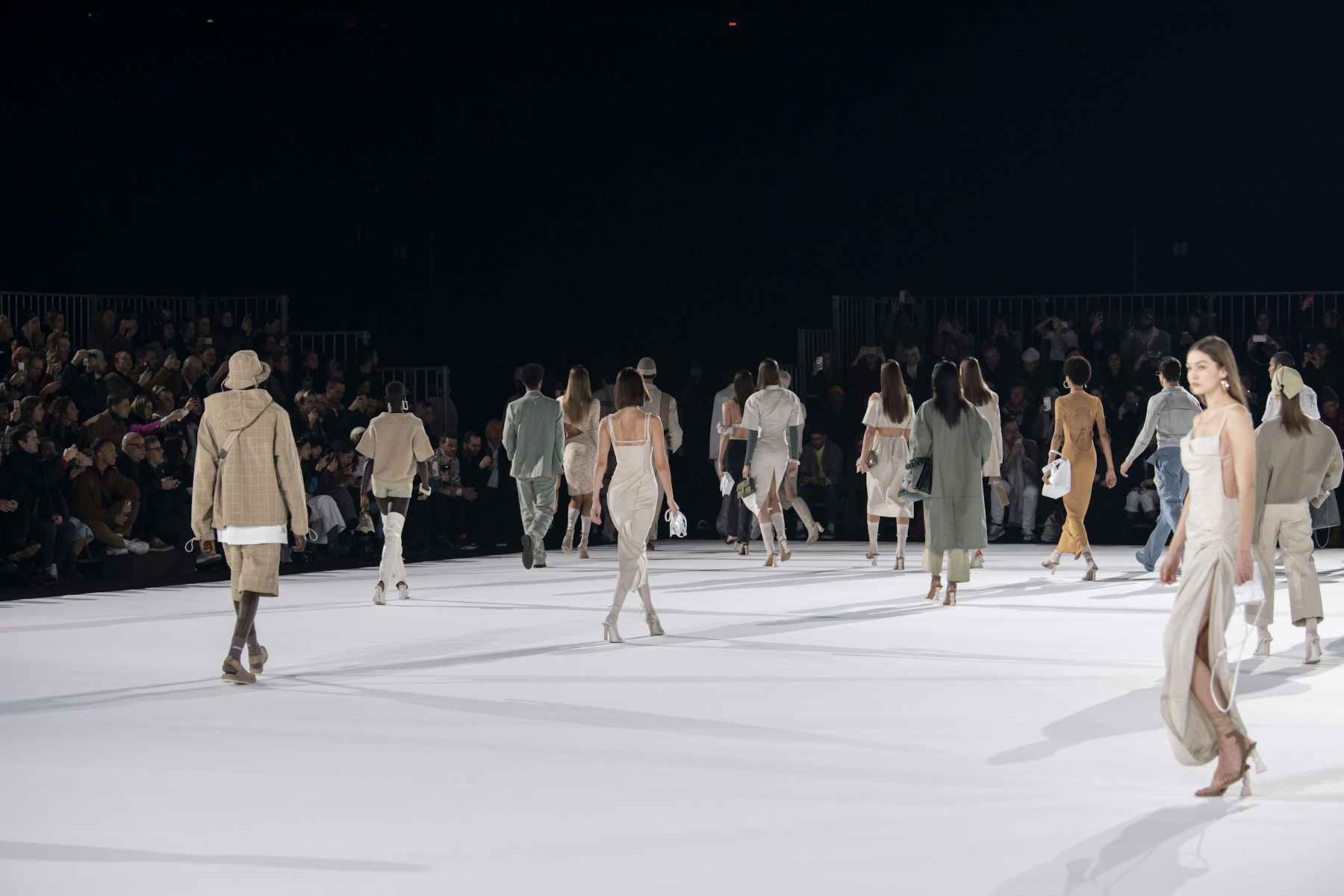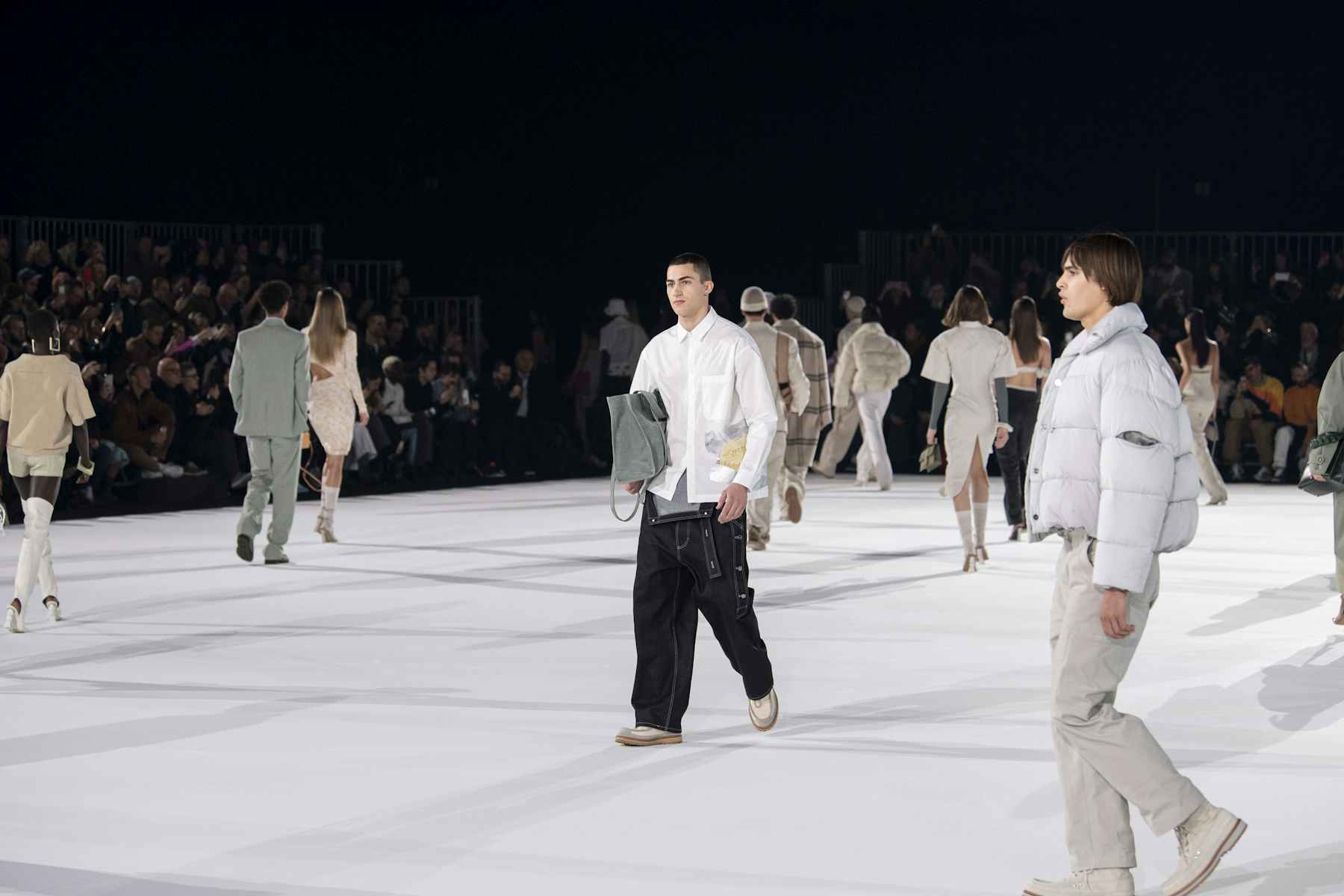 Images courtesy of Jacquemus.
SACAI AW20
Chitose Abe is a master of innovation. For AW20, the designer looked to another master, the words of Albert Einstein: ​"I believe in intuitions and inspirations. I sometimes feel that I am right. I do not know that I am." Abe's own intuition results in all manner of hybrid pieces. Coats were delivered half-pea-coat-half-trench. A dress came in two parts: one half pleated, silk leopard print, the other khaki, utility style. There was tartan, leopard-print overalls, a denim-jacket-cum-pencil-skirt, an Albert Einstein T‑shirt and a new Nike Vaporwaffle – the next sneaker in the Nike x sacai catalogue.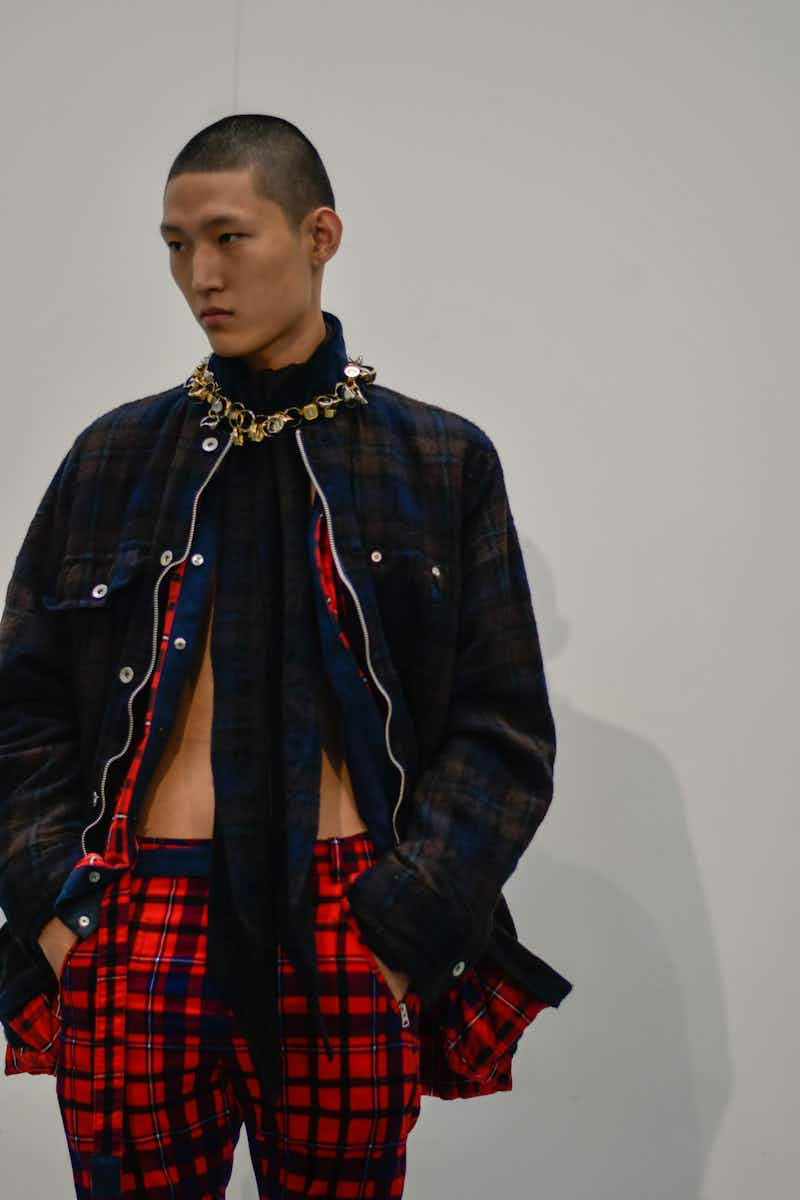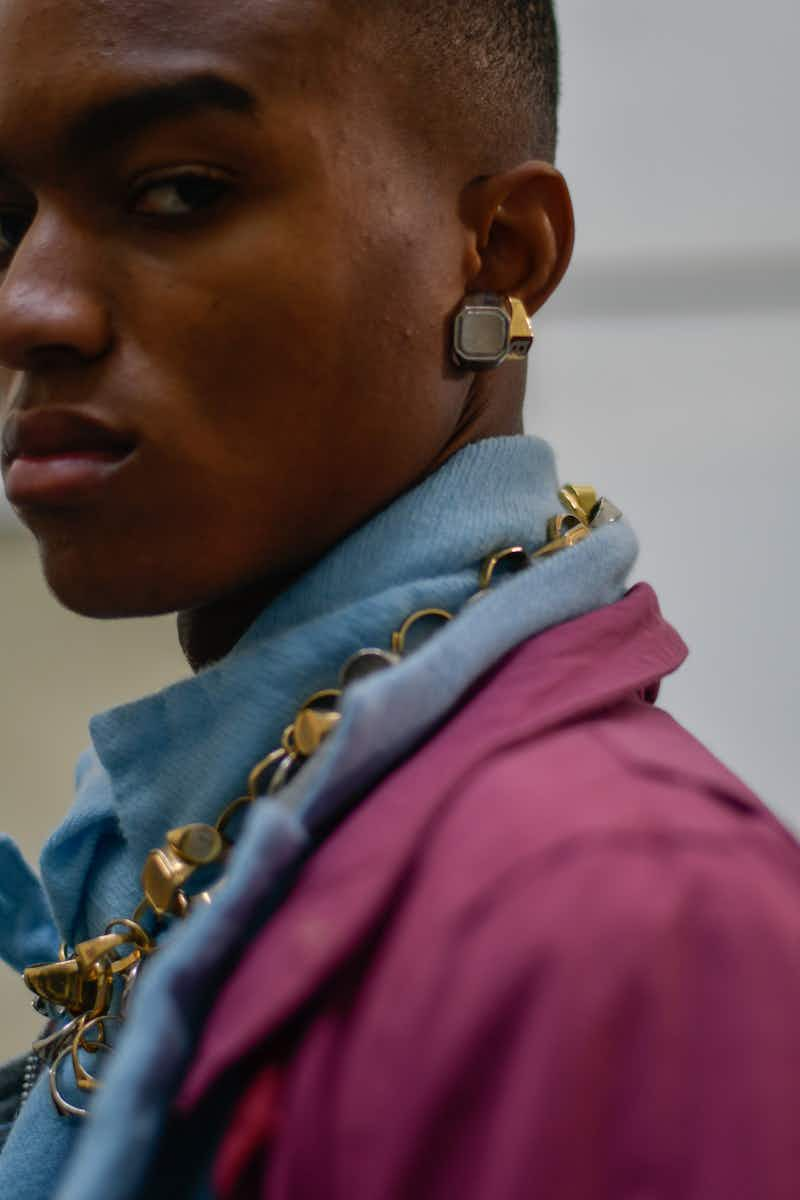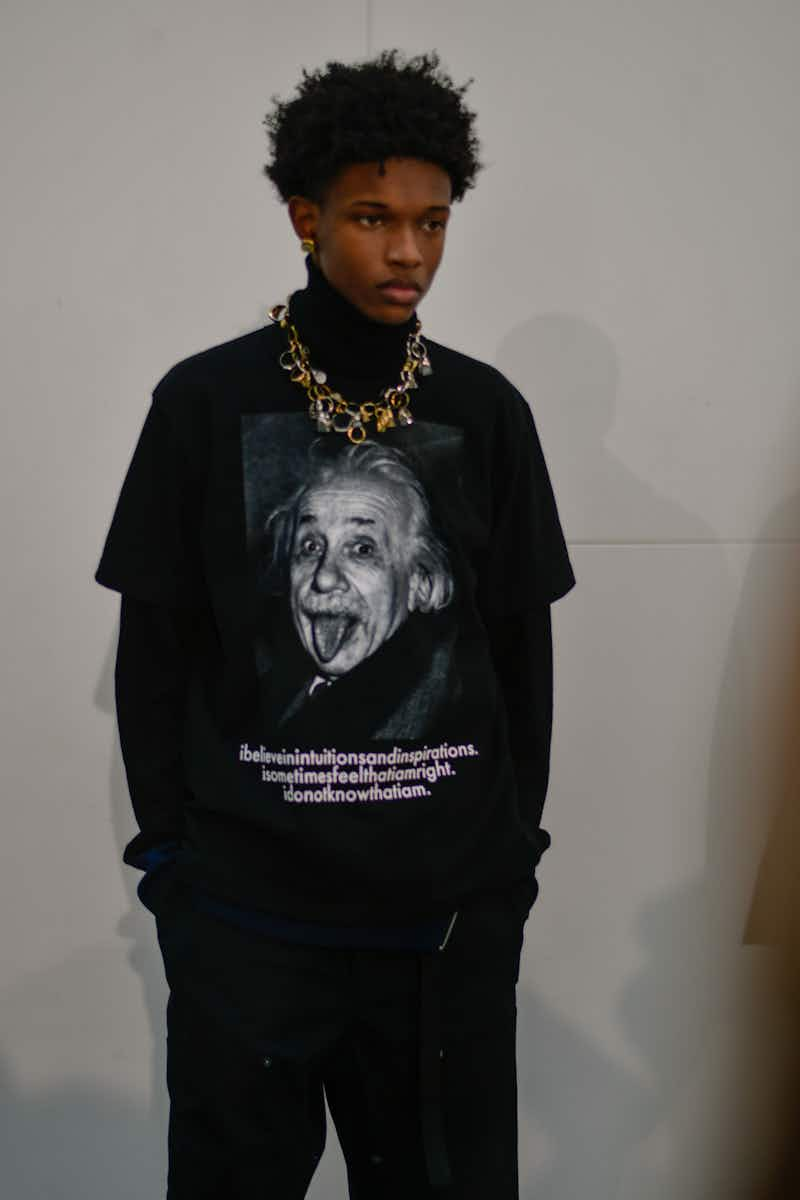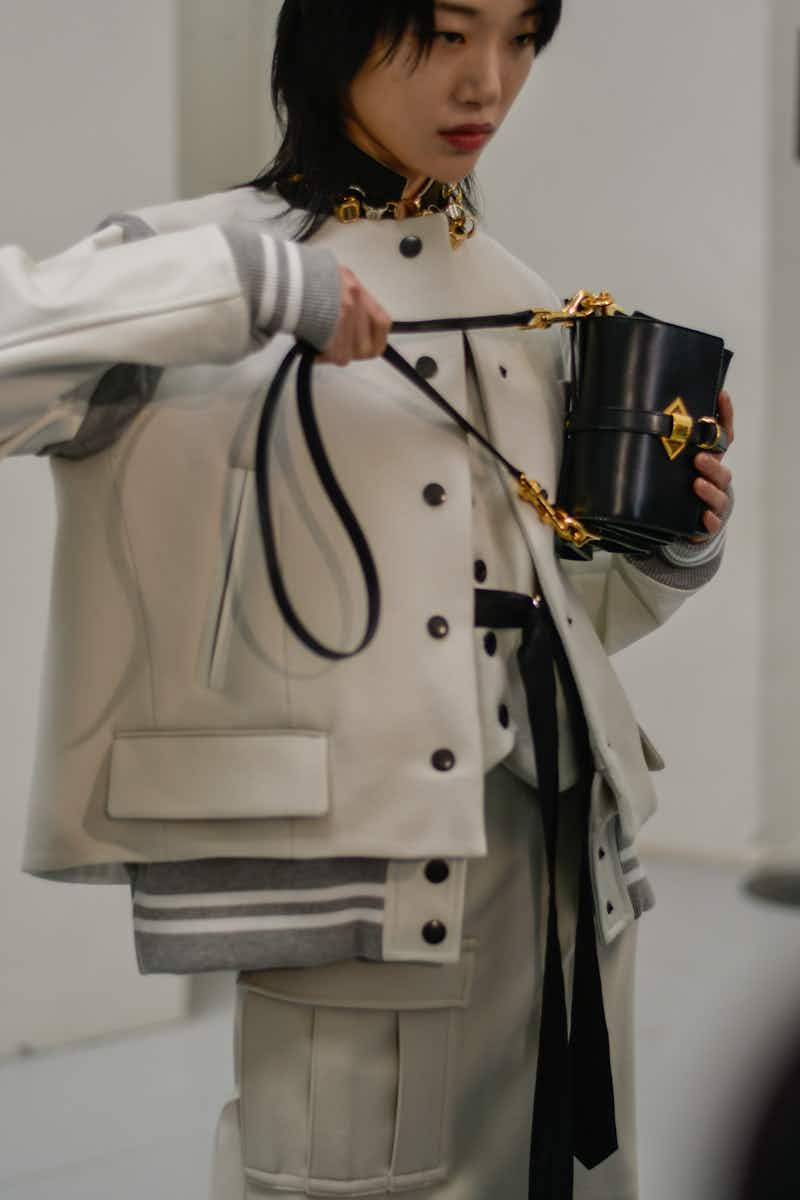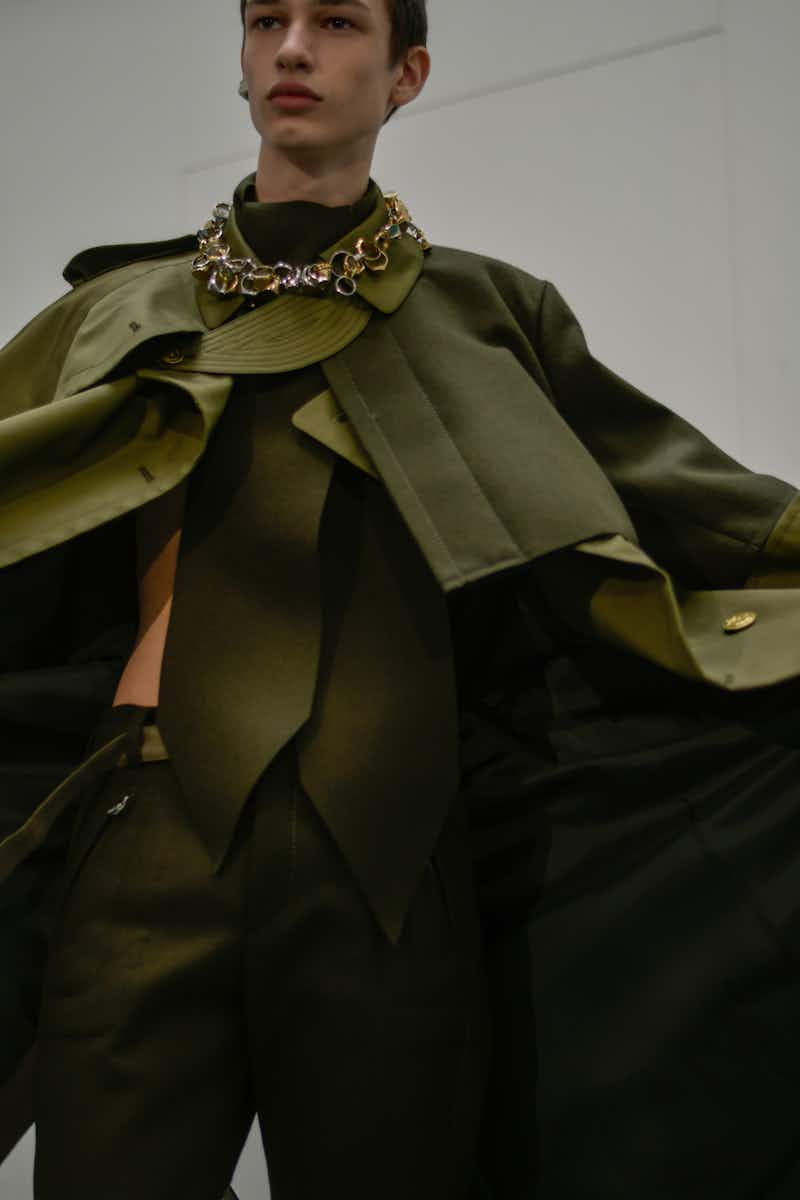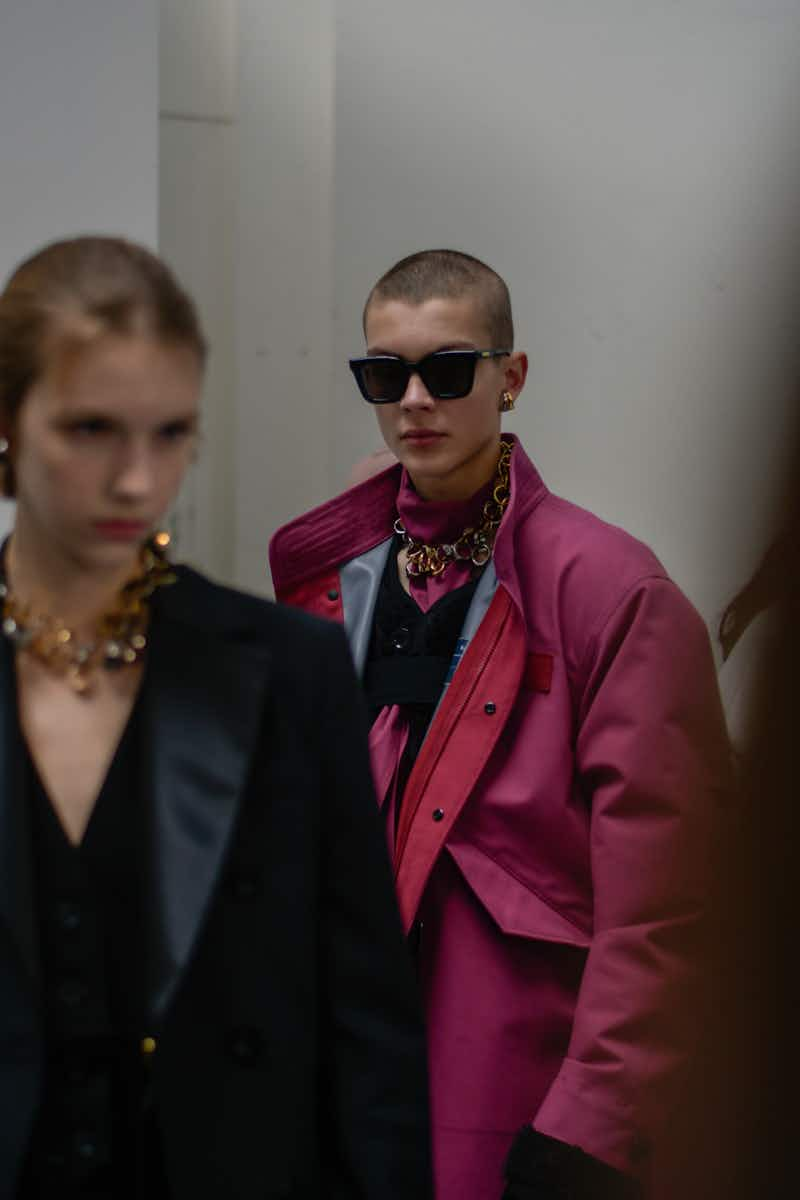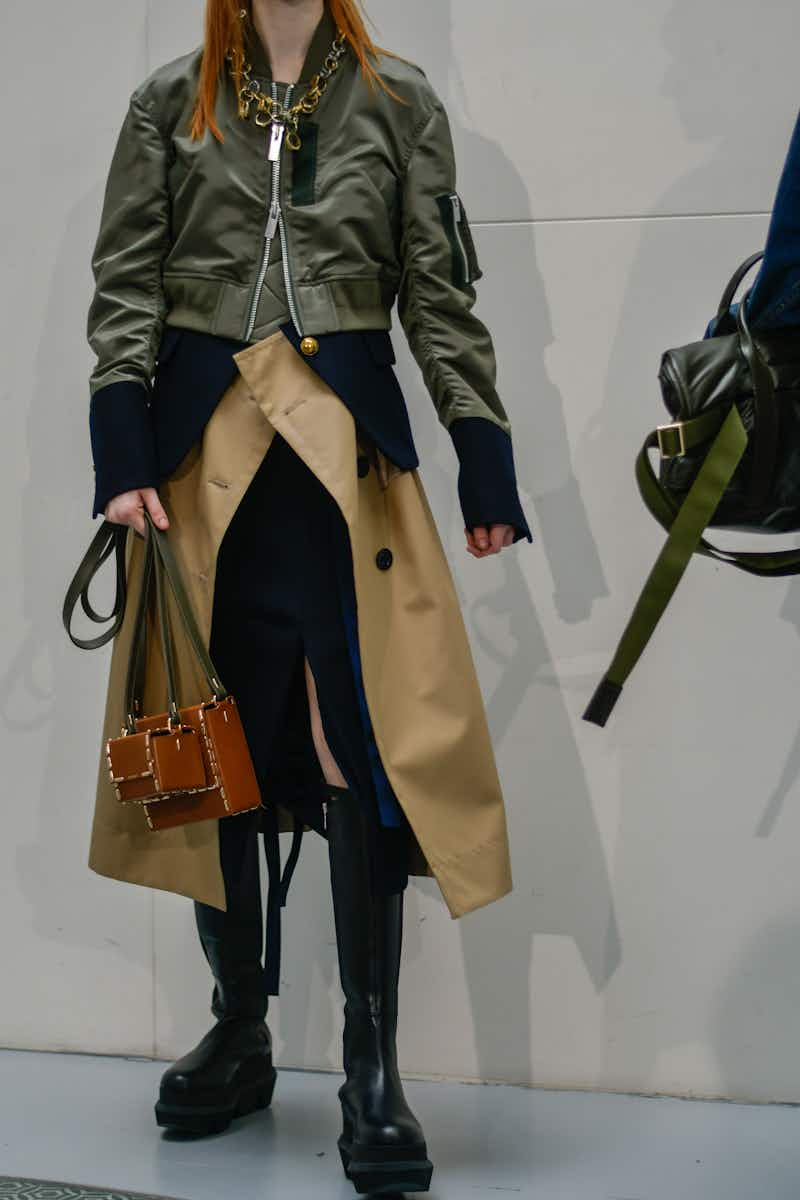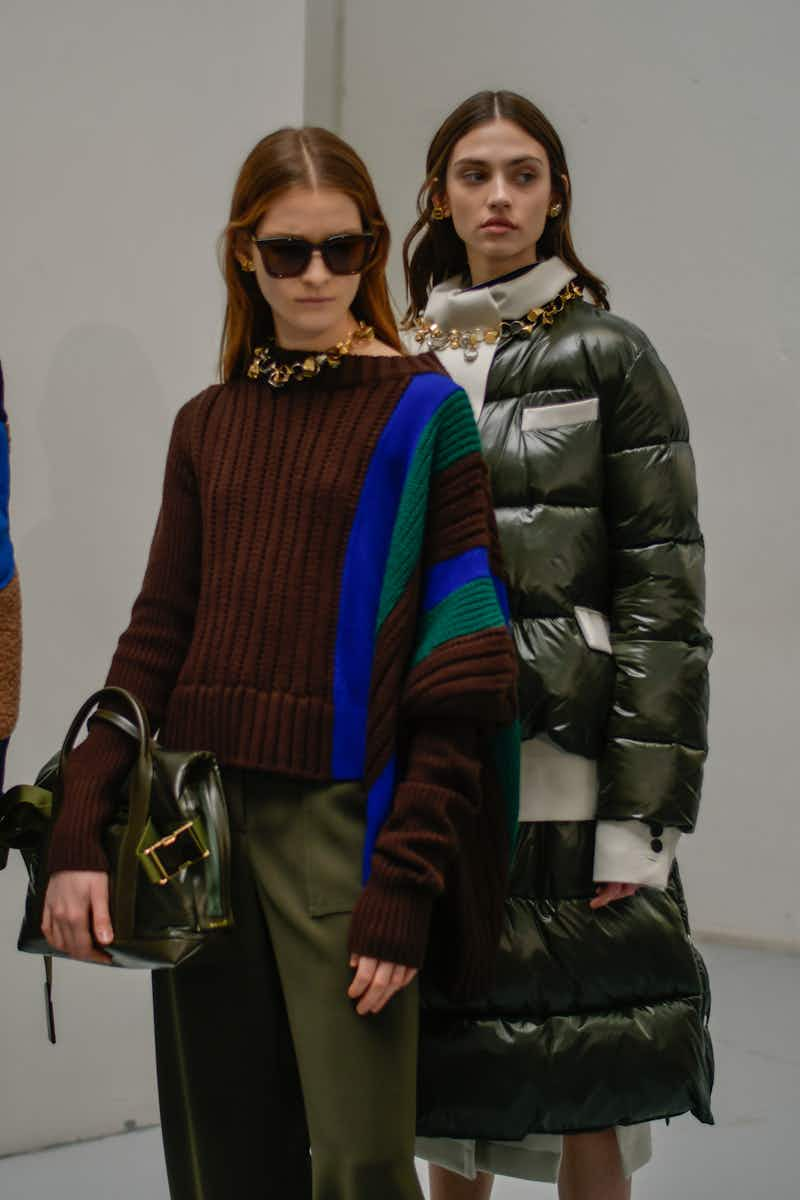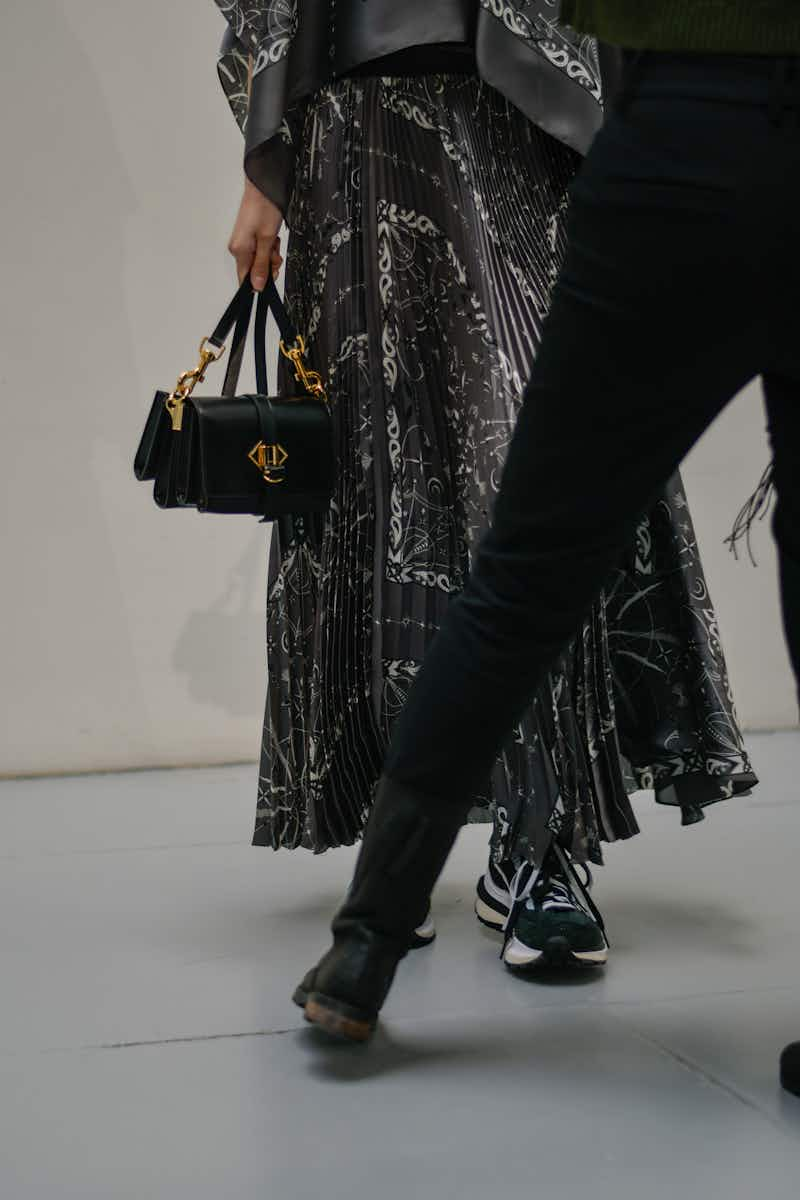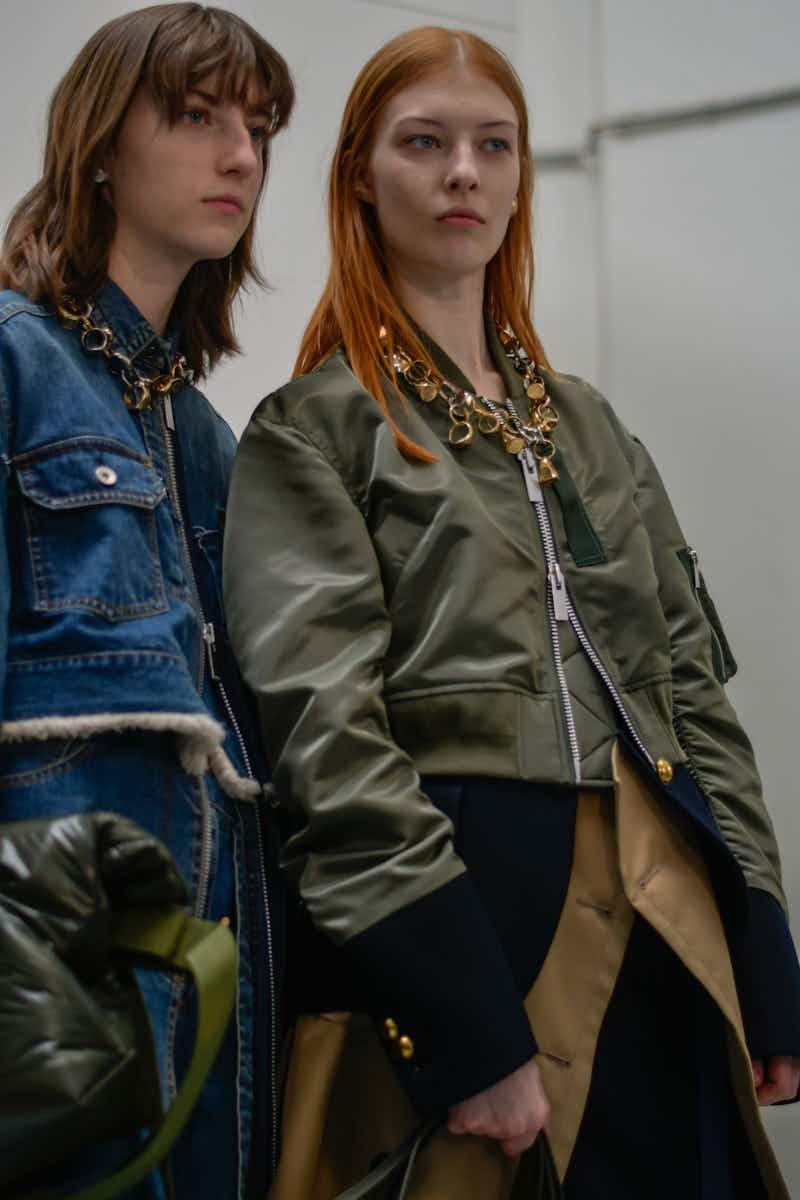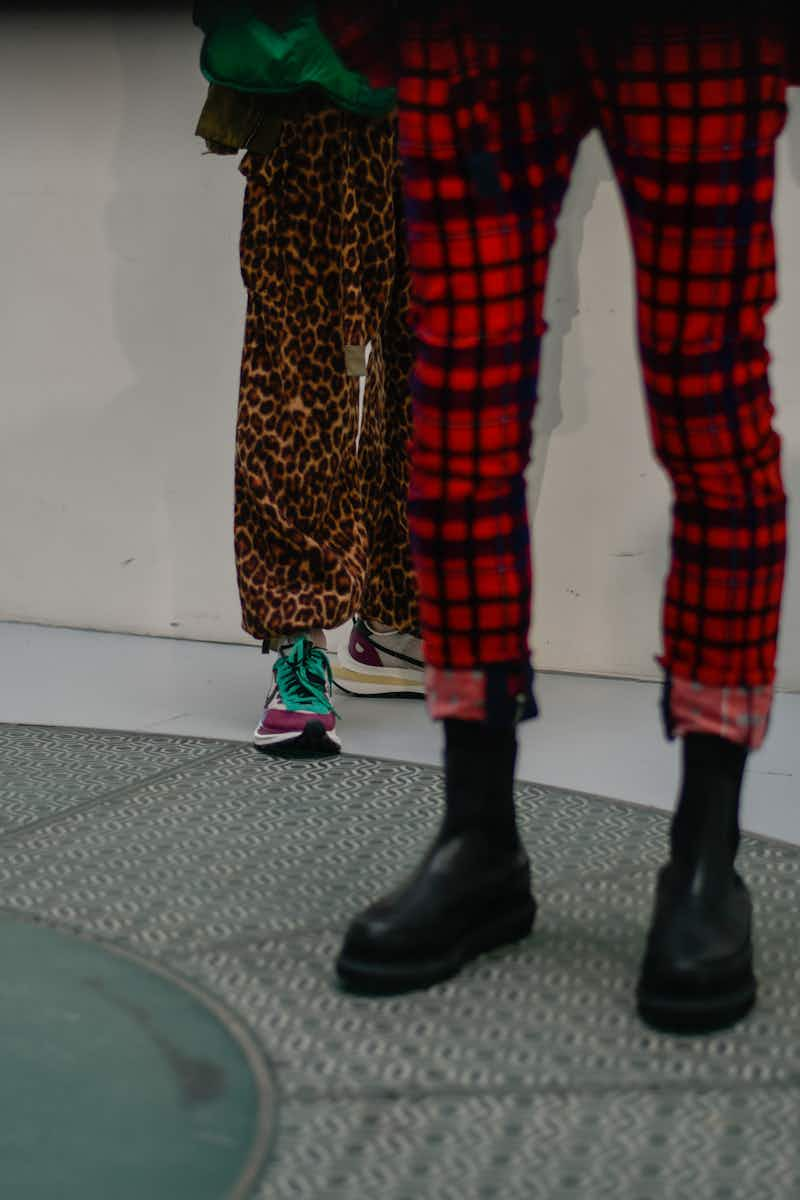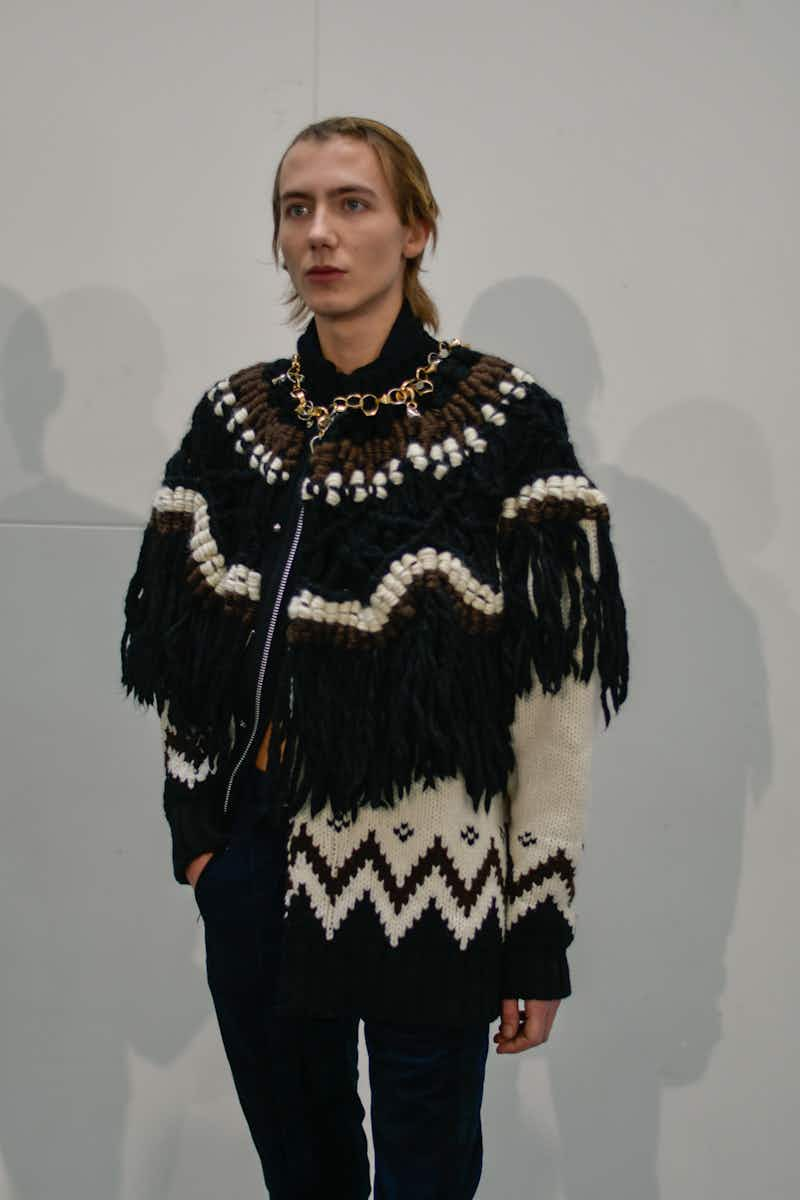 LOEWE AW20
Not many shows open with an apron, but Loewe did. Not a butcher's stripe mind you – but a frontal ball gown for some slip-on glamour. Models walked a treacly-varnished wooden Fire Island style path in the basement of Paris' UNESCO building. Arts and crafts were once again front and centre with felt hats, peach feathery collars, appliqué jewels and chain belt-skirts. There were plenty of DIY-style embellishments with badges and pins (seen too of course in the Judy Blame tribute at Dior Men). Other things of note: knitted printed pyjamas, patent, Ugg-style boots, leather culottes, big cream and navy coats with internal scarves and signature elephant bags – that Loewe stans get their ears in a big flap for – updated by way of heavy embellishment.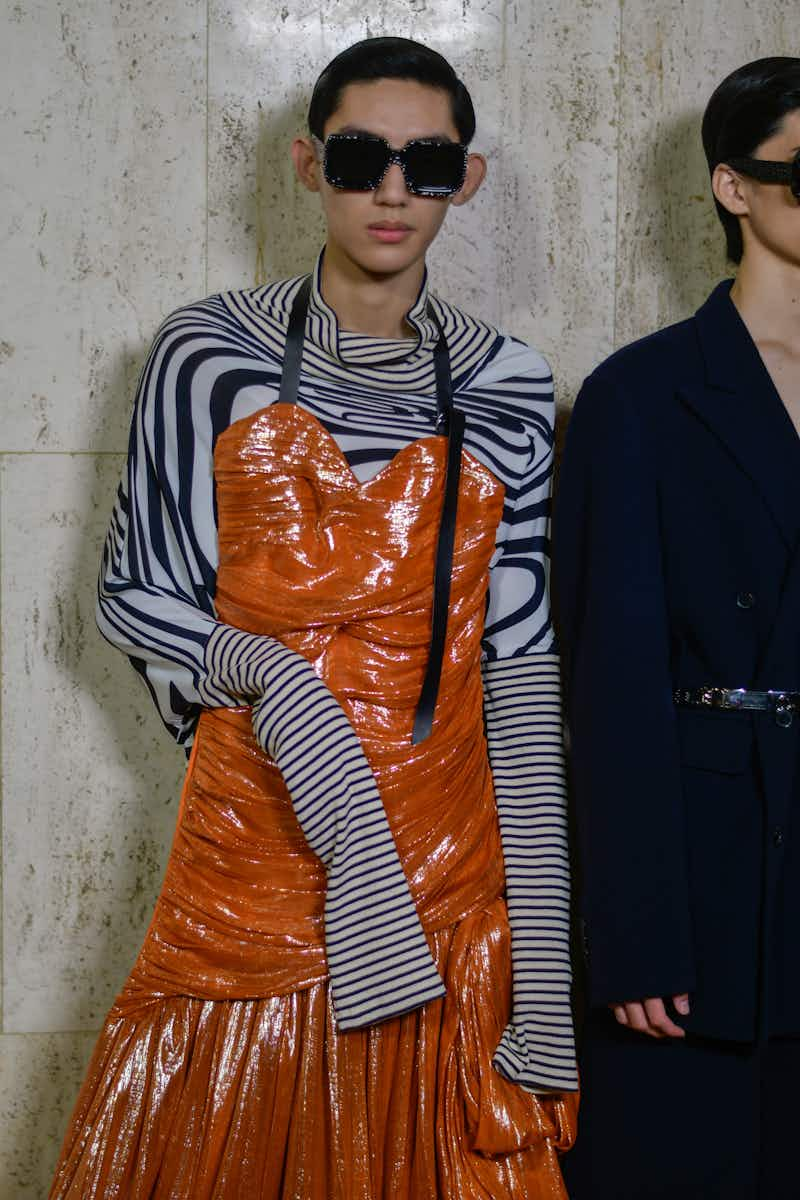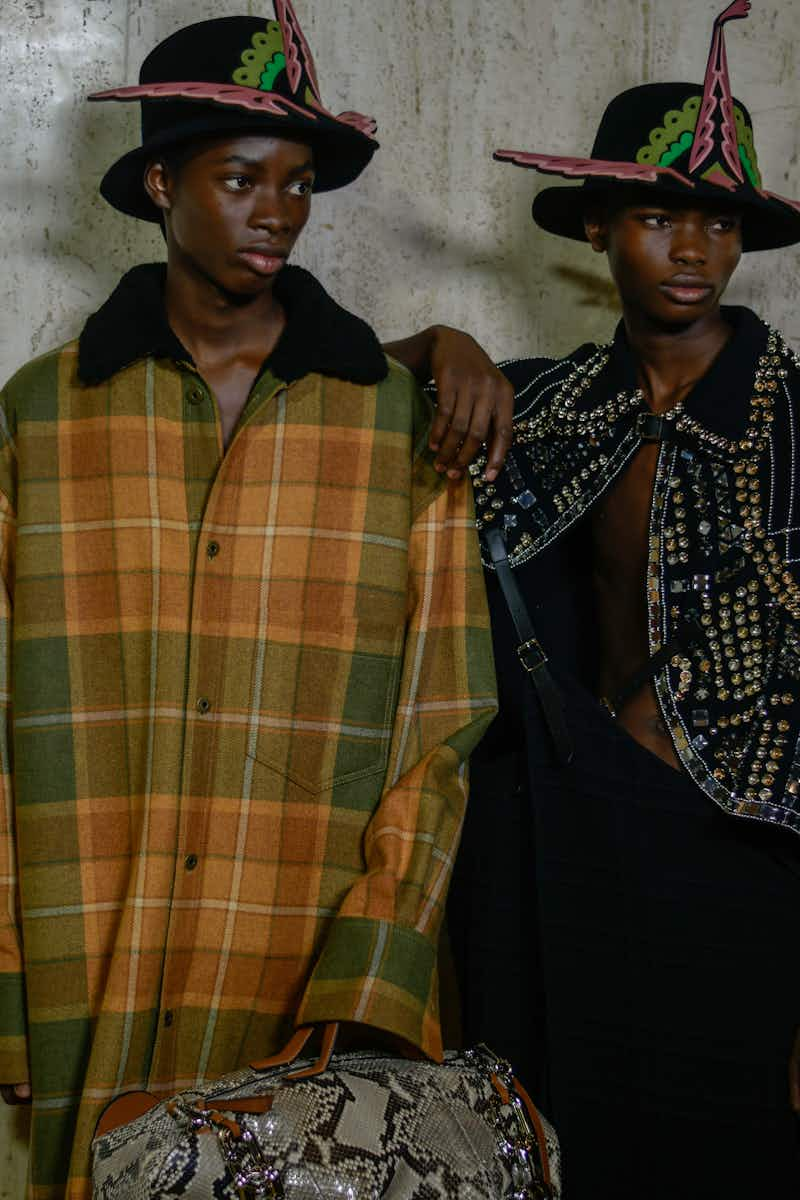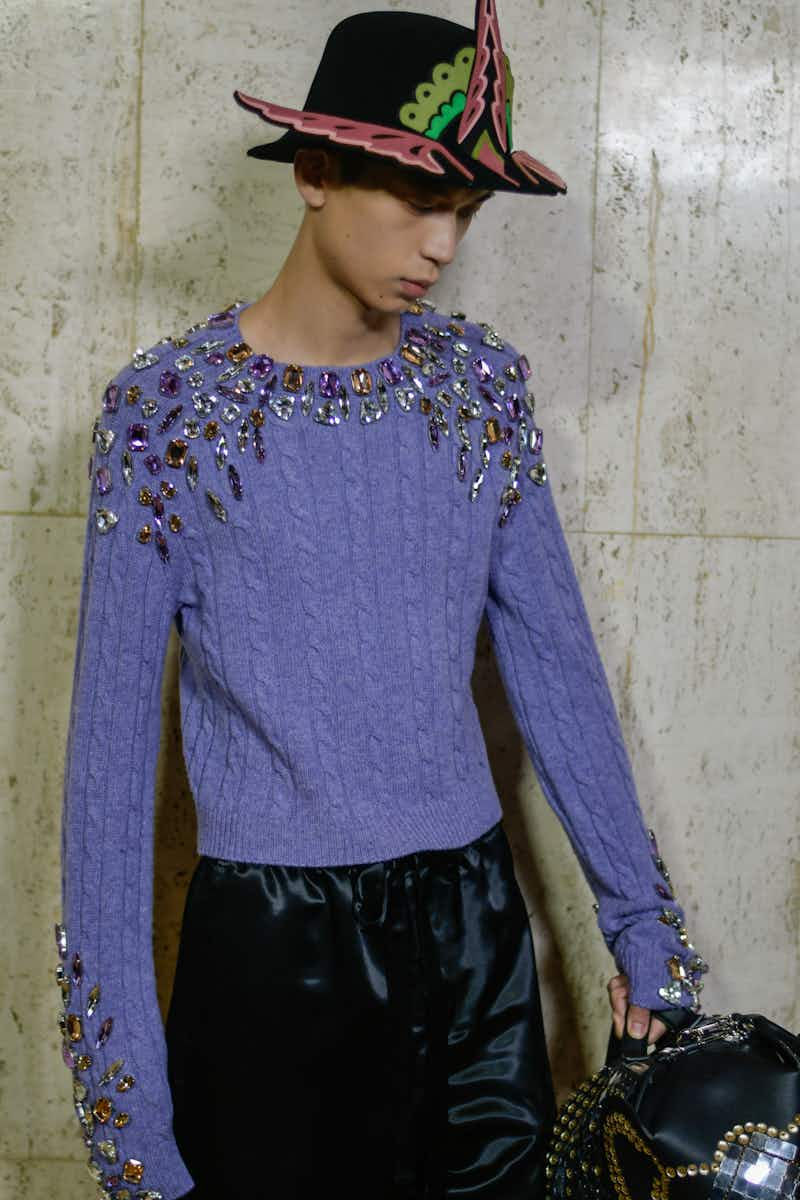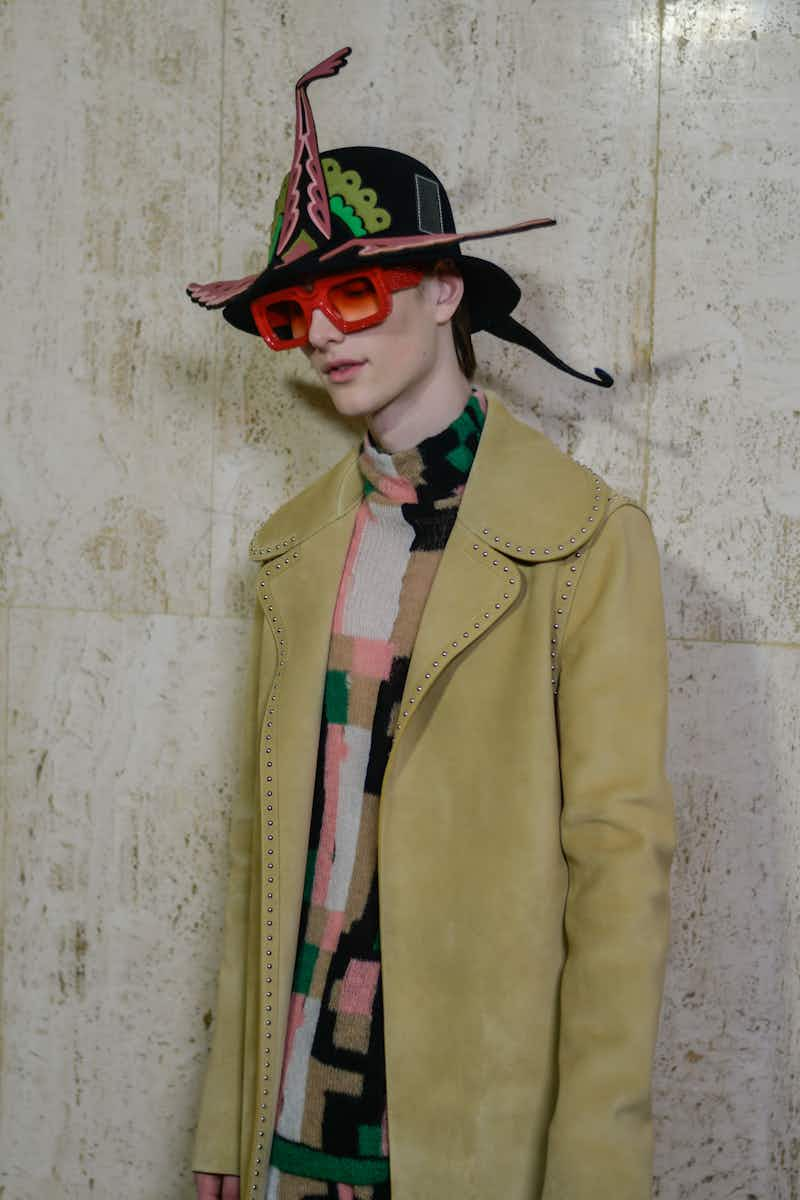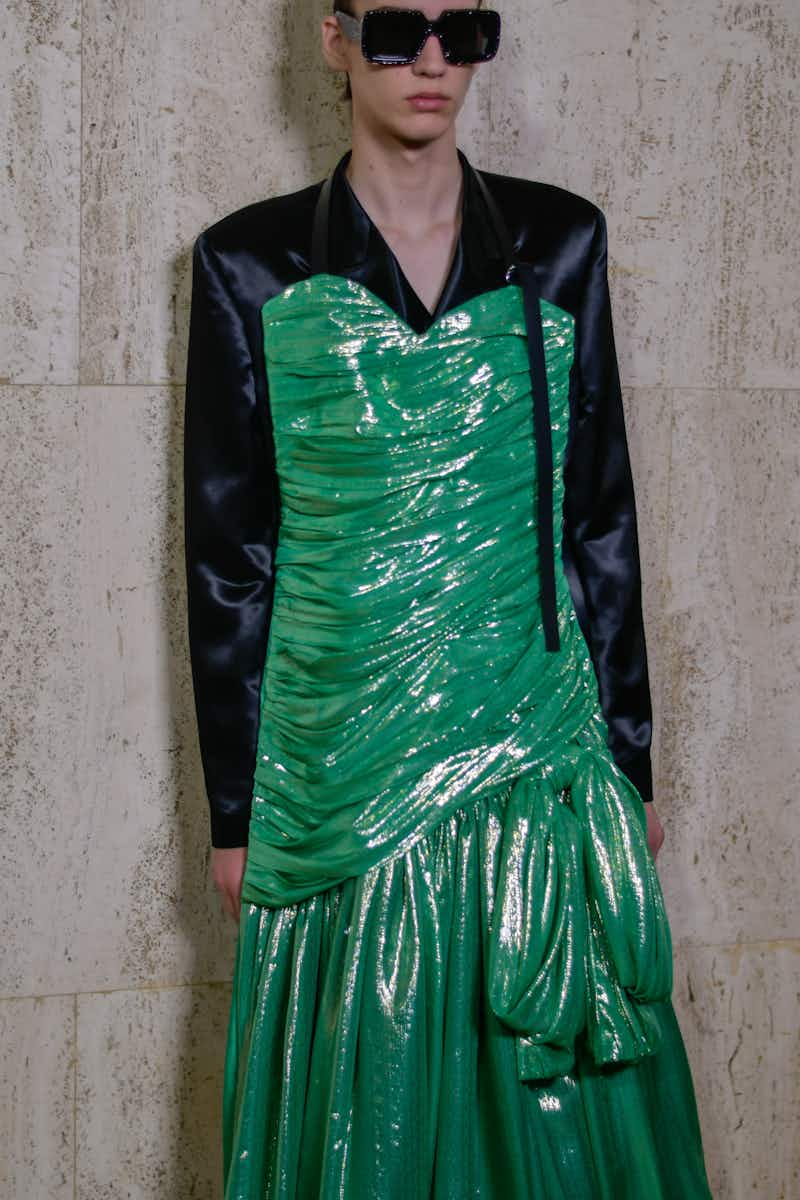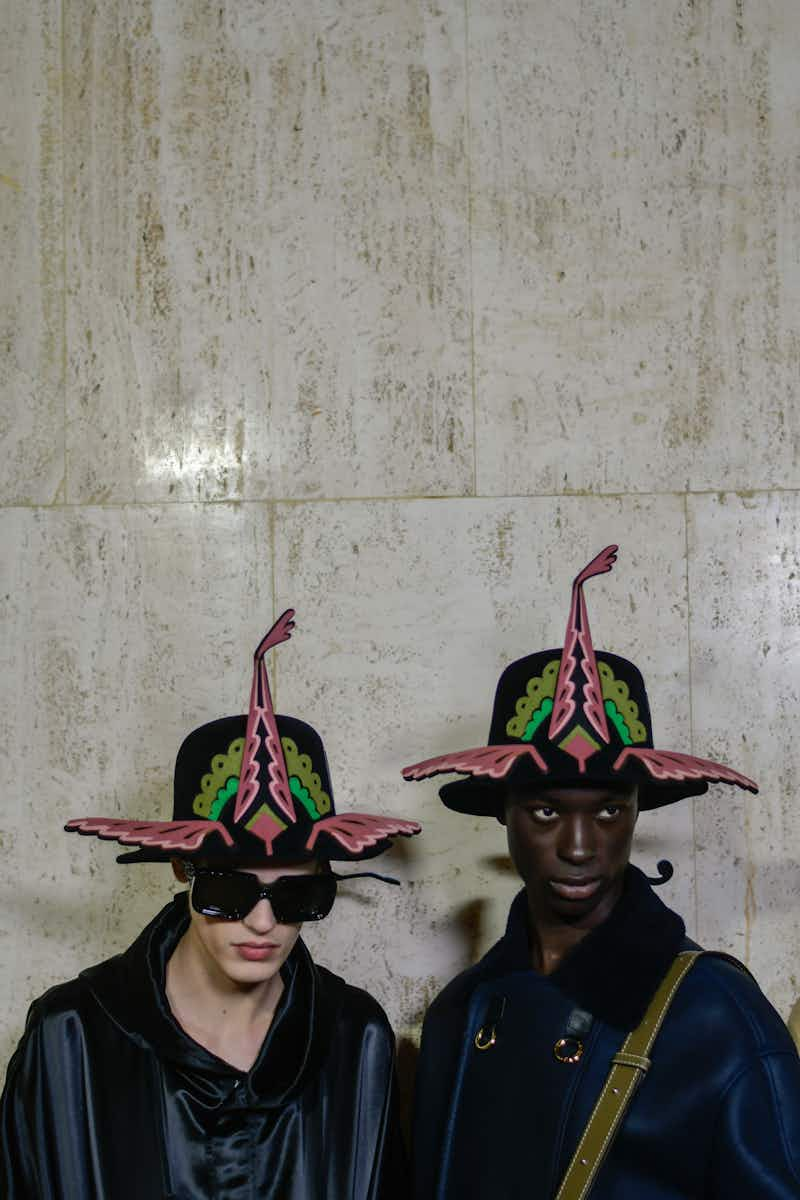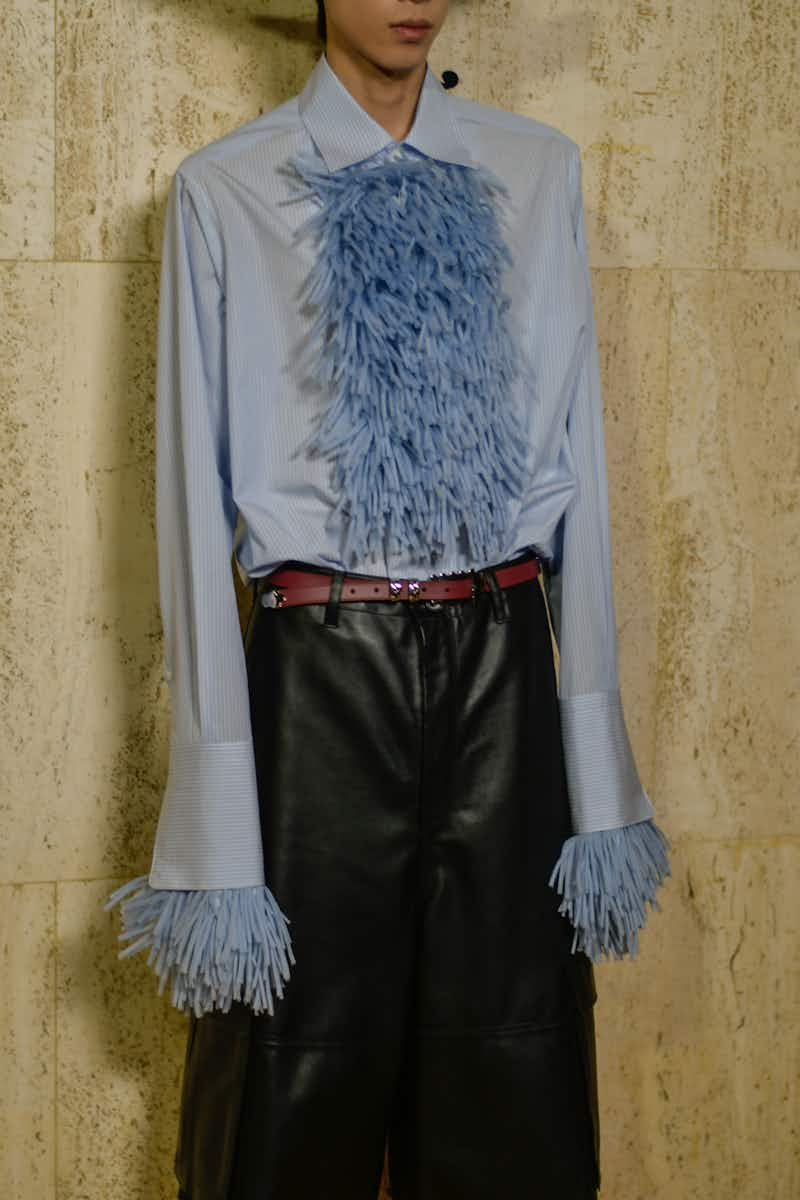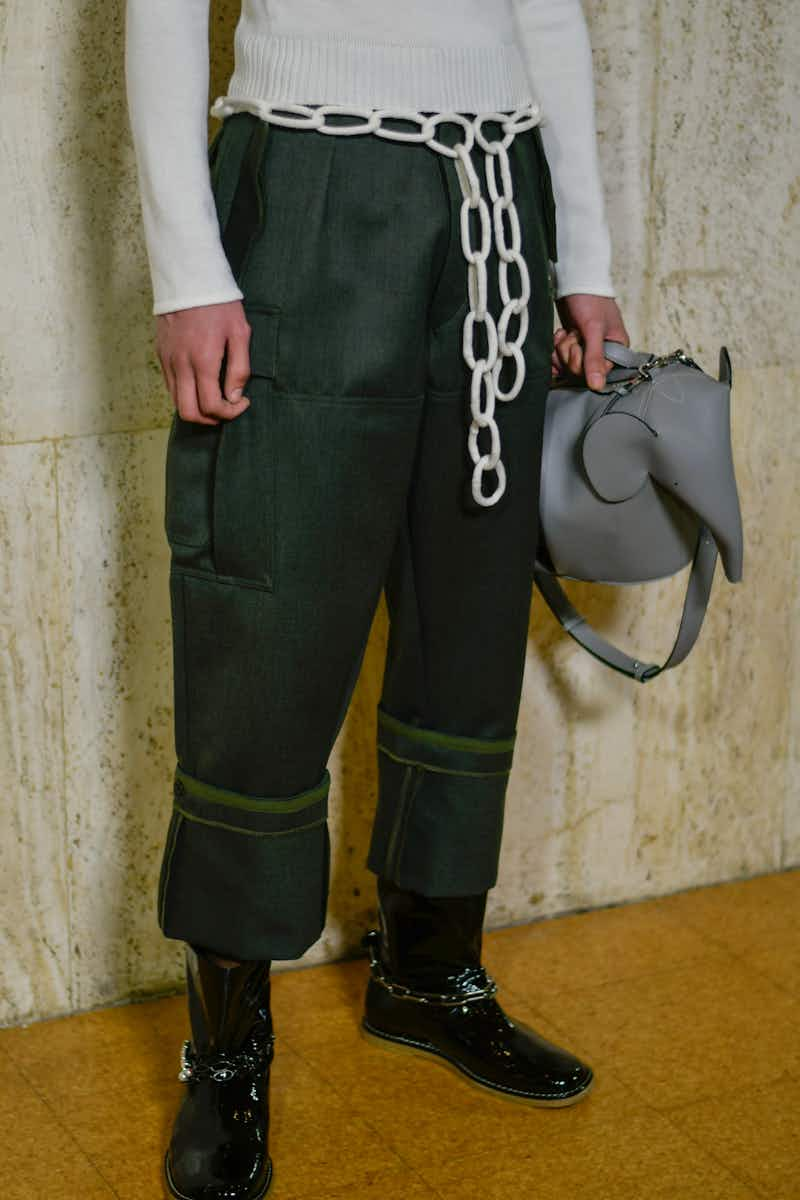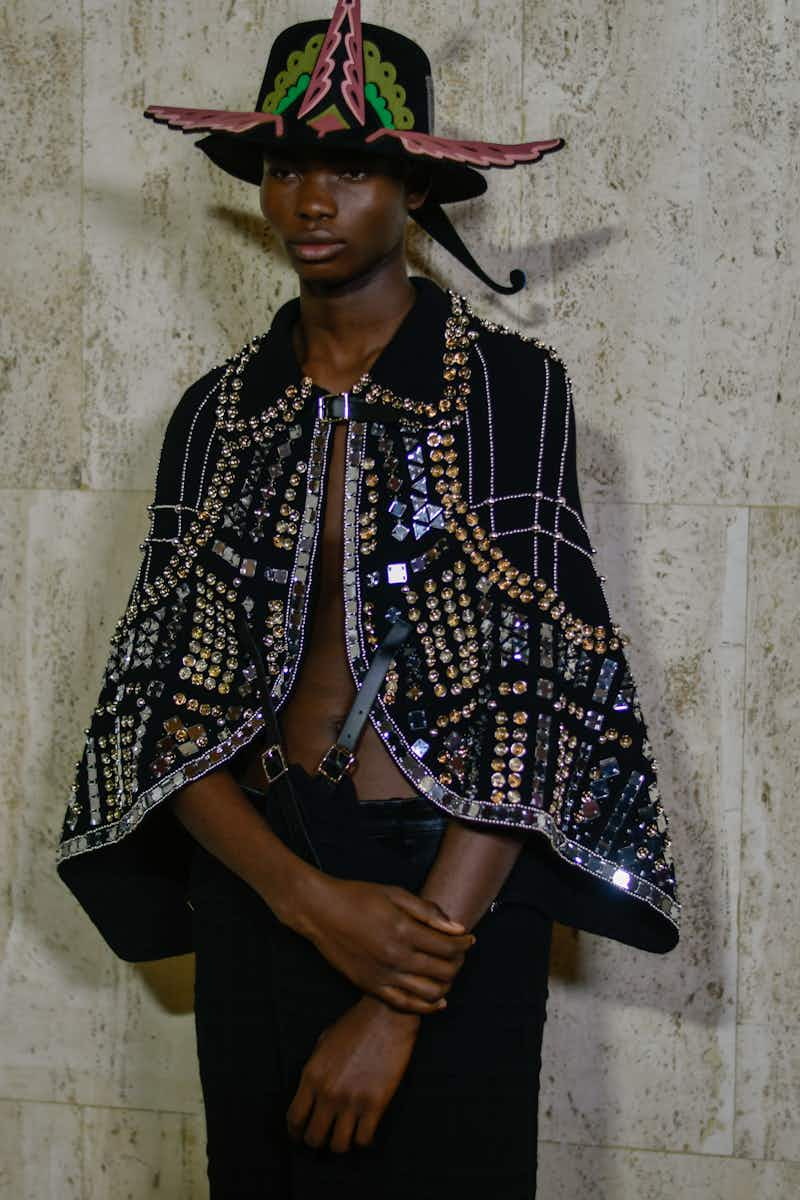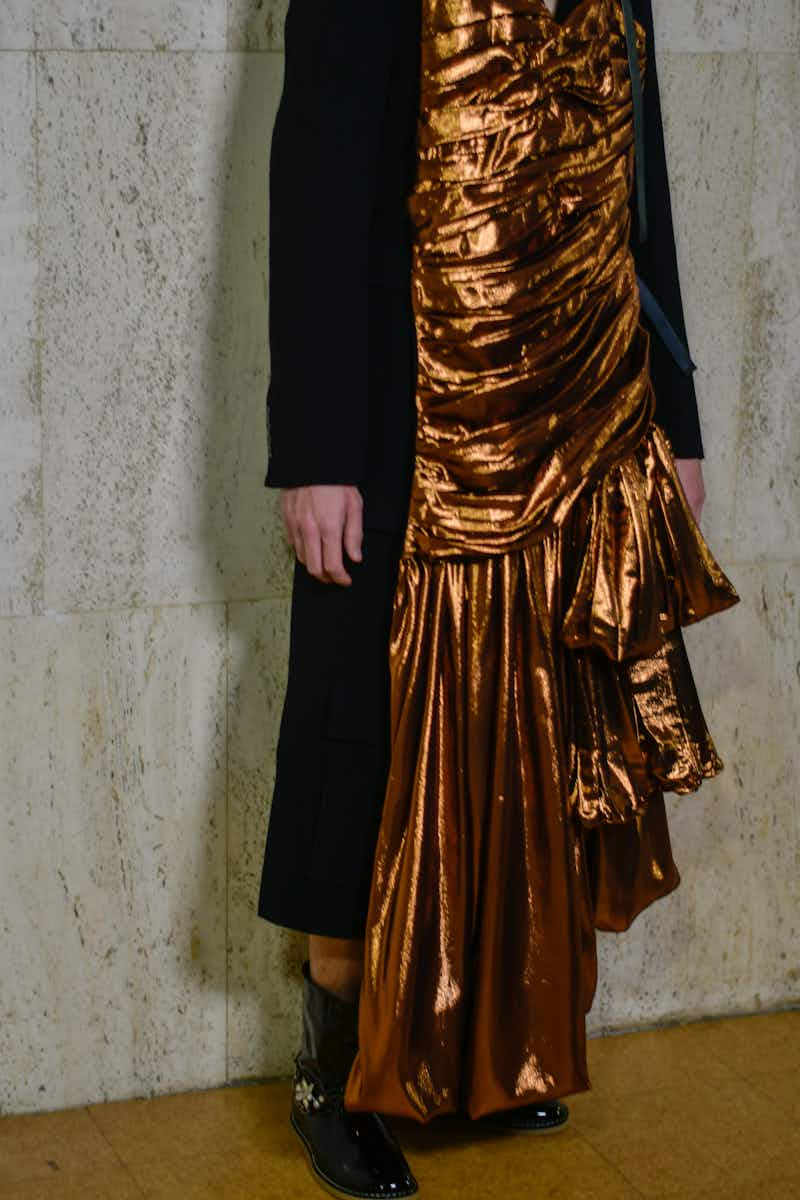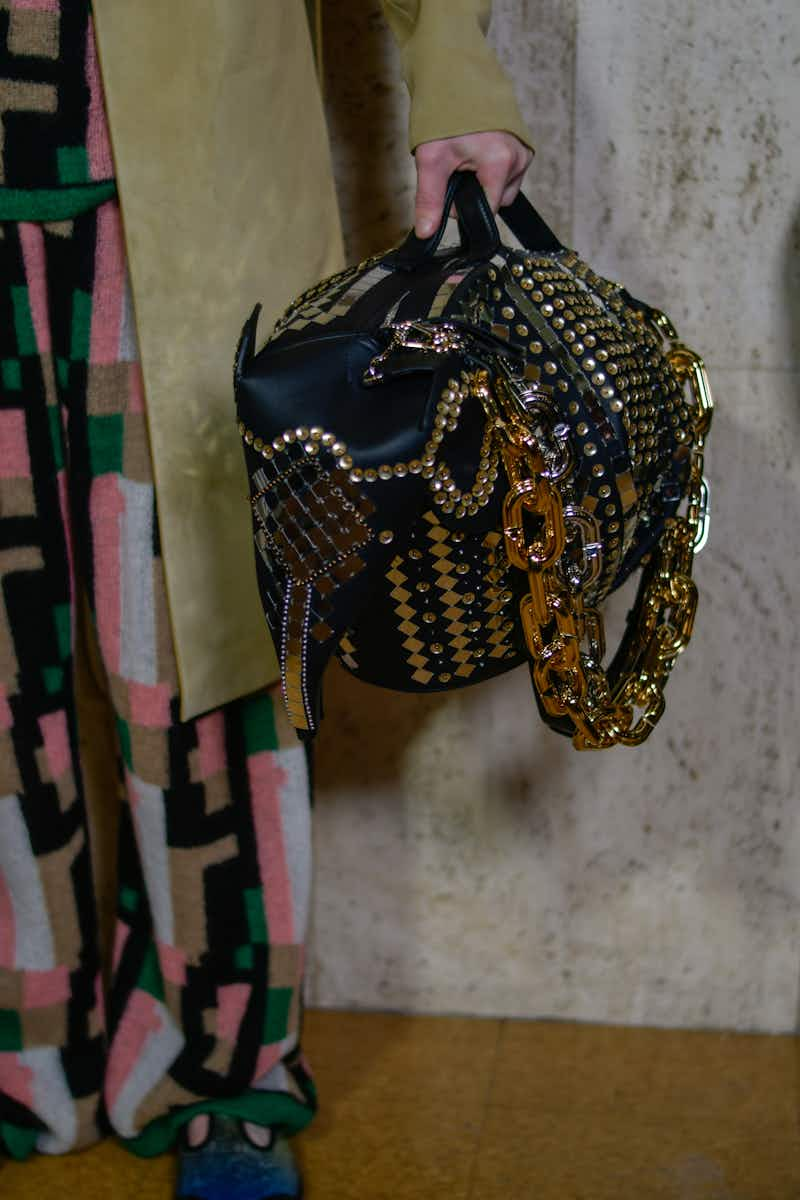 BALMAIN AW20
Taking place within a pink-sand desert setting, Olivier Rousteing's AW20 Balmain show took guests on a journey from the sands, to the cigar lounge and back to the sands again. As Rousteing explains, ​"while I do continue to love to play with the beauty and style of France's classic signatures (always adding the necessary modern touch, of course), I do so knowing that as a 1/​2 Ethiopian, 1/​2 Somalian and 100% Frenchman there's an incredible beauty to be explored in the wider world beyond those classics.

Soft cashmere, swathes of satin, rust-hued knitwear and beige velveteen lounge pieces morphed into a series of smarter tri-colour (navy, black and beige) looks. Next came a number of bold, bright and typically-Balmain pieces, before a return to the laid-back, slouchy fits – like those seen at the start – this time all in black.
VETEMENTS AW20

Taking place in a disused parking lot, Guram Gvasalia's first Vetements show without his brother Demna opened with a plain, logo-less black hoodie (worn with thigh high flame-boots) – an indicator of what was to follow. The Vetements-isms we've grown to know and love were present – oversized cuts, broad shoulders, sports-inflected outerwear, alt-party pieces, lots of leather (and less logos) – but the devil was in the details: intricate, tiered tulle maxi-skirts, pleated leather mini-skirts and slick tailored suits. Guram's post-show notes declared a new era – "#NEWVETEMENTS" sat alongside the words ​"NO SOCIAL MEDIA" and ​"NEW ERA OF SOPHISTICATION". Watch this space.
Of note:
The casting: Kate Moss (fake Moss), Naomi (No-omi), Snoop Dogg (Snake Dogg) and Angelina Jolie (Ain't Jelina) had us all doing double takes.
What about the invitation?
It came in the form of a flashlight. Guests were asked to use their torches or phone lights to illuminate the space at the start of the show.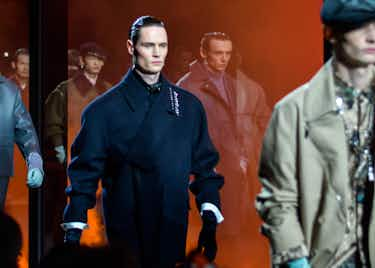 Style
Kim Jones paid tribute to the memory of late, legendary stylist and Buffalo gang member Judy Blame.
GMBH AW20

Watched by Sid from The Internet and an assorted crew of people who look like they know how to party, GMBH's AW20 show was slick, sculptural and extra-sexy. And in the spirit of sexy – a quick scan of the front row suggested that GmbH was potentially the best show at which to try your luck on Grindr. While a vocal moment to compete with FKA Twigs' Valentino appearance cut the show in two.

GmbH are owning their own brand of trompe l'oeil corsetry and the double zip-fronted trousers. This time as well as seductive, structured (sometimes to the point of posture-altering) club-friendly gear, there were louche silks, elegant cut-out, knitted dresses, sculpturesque suits and killer pieces of costume jewellery.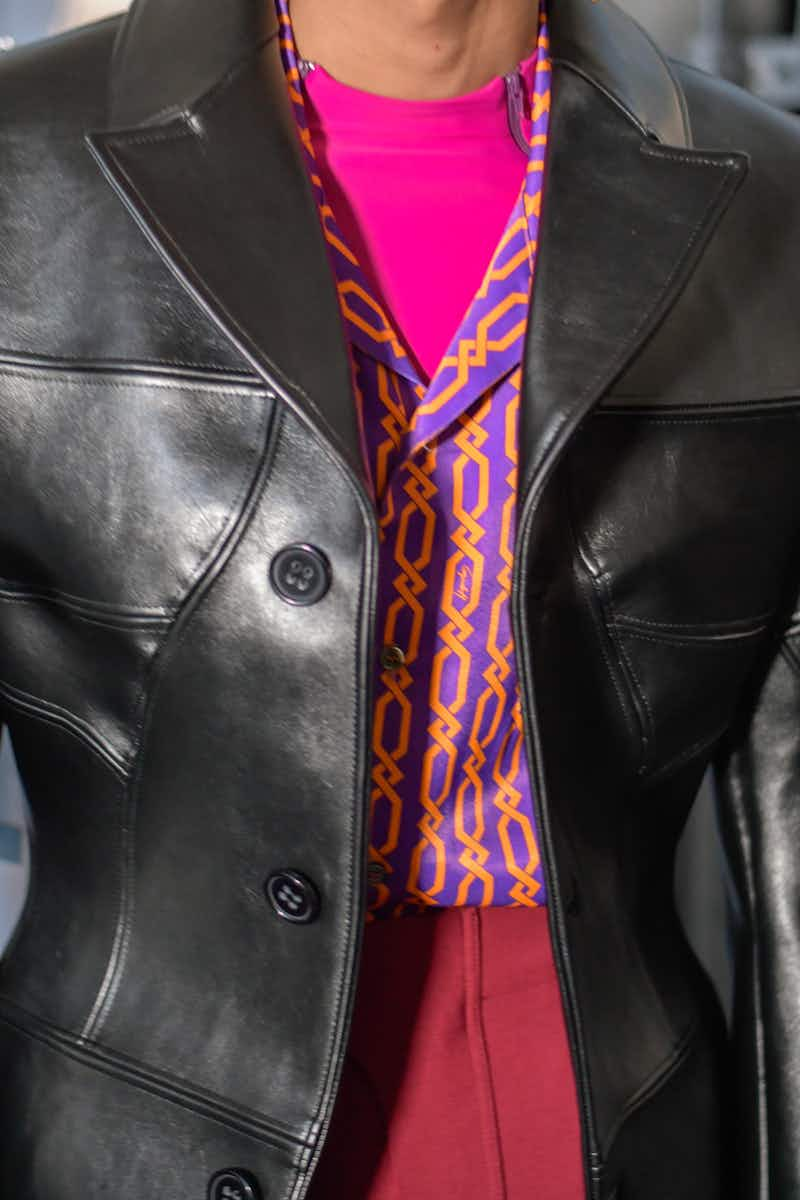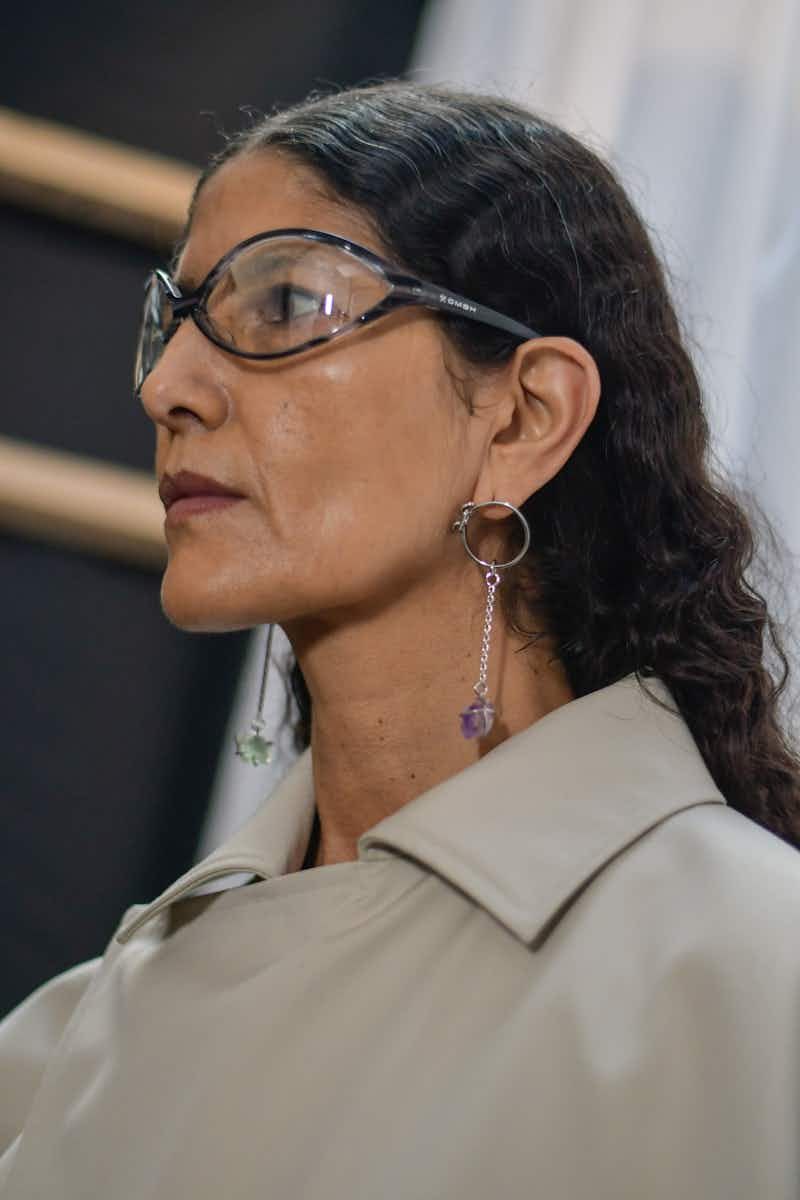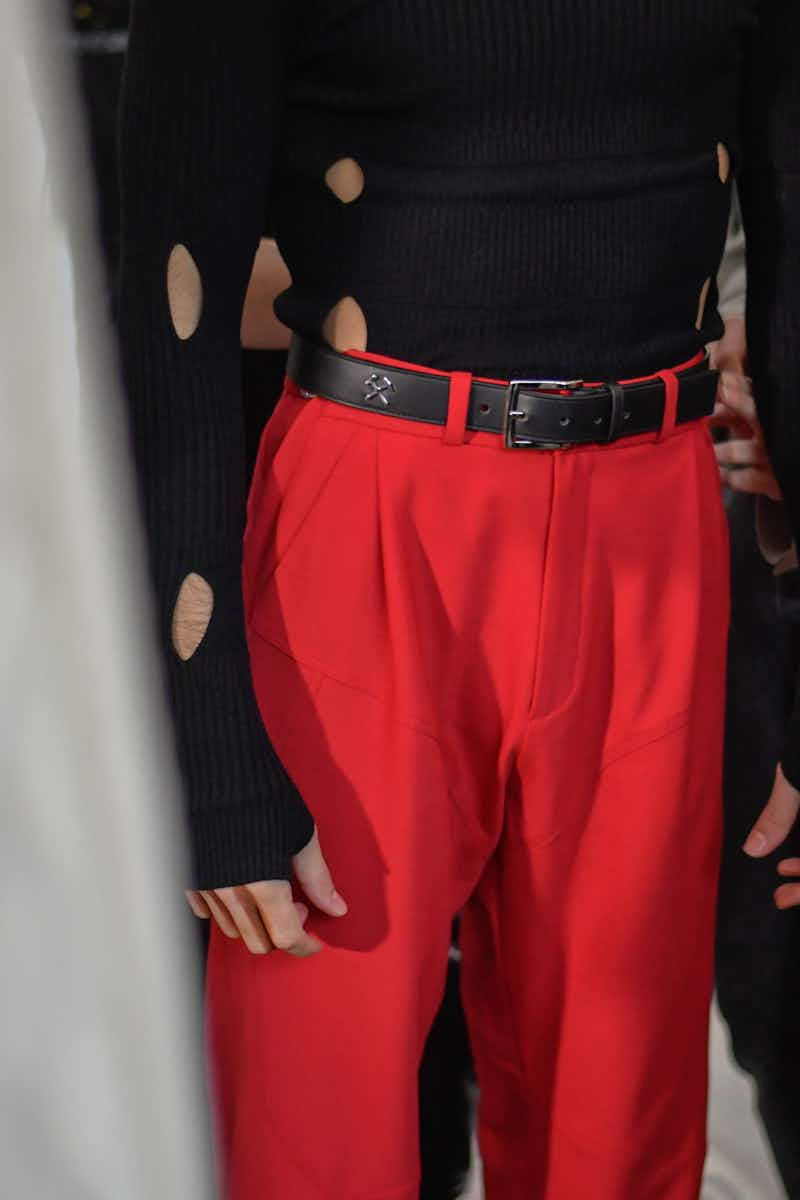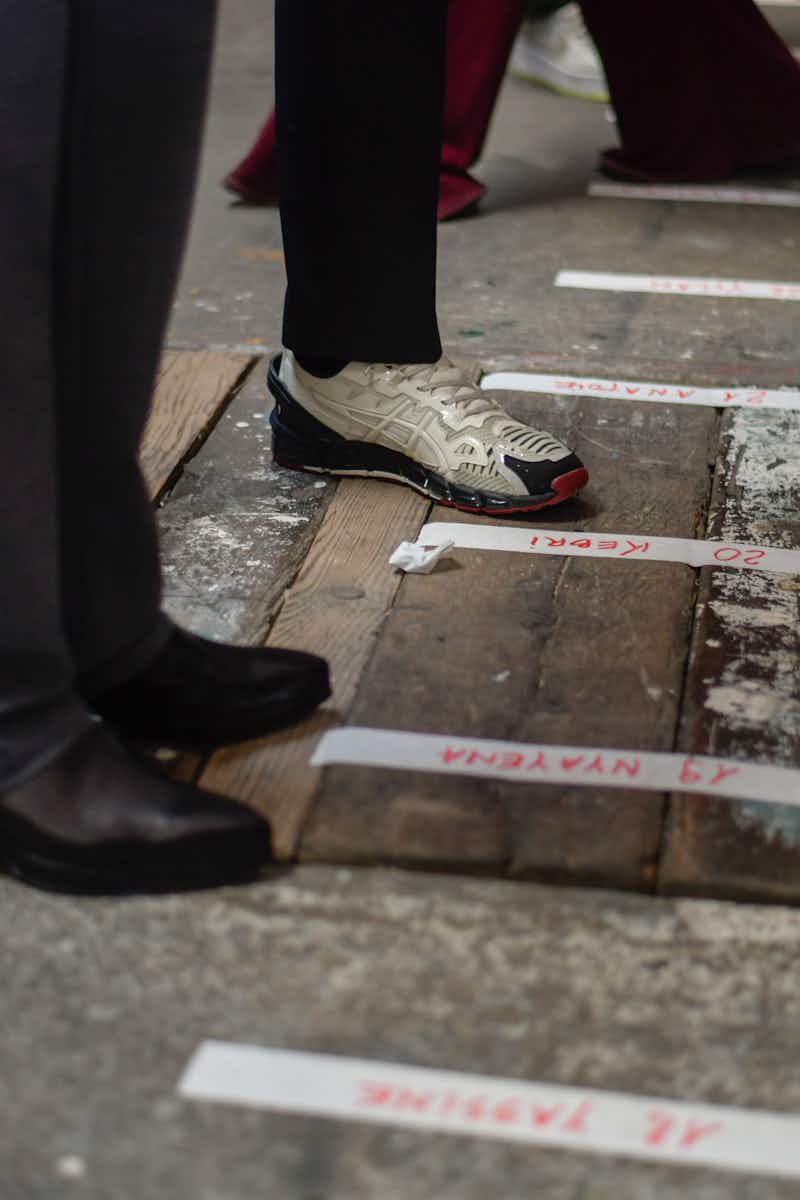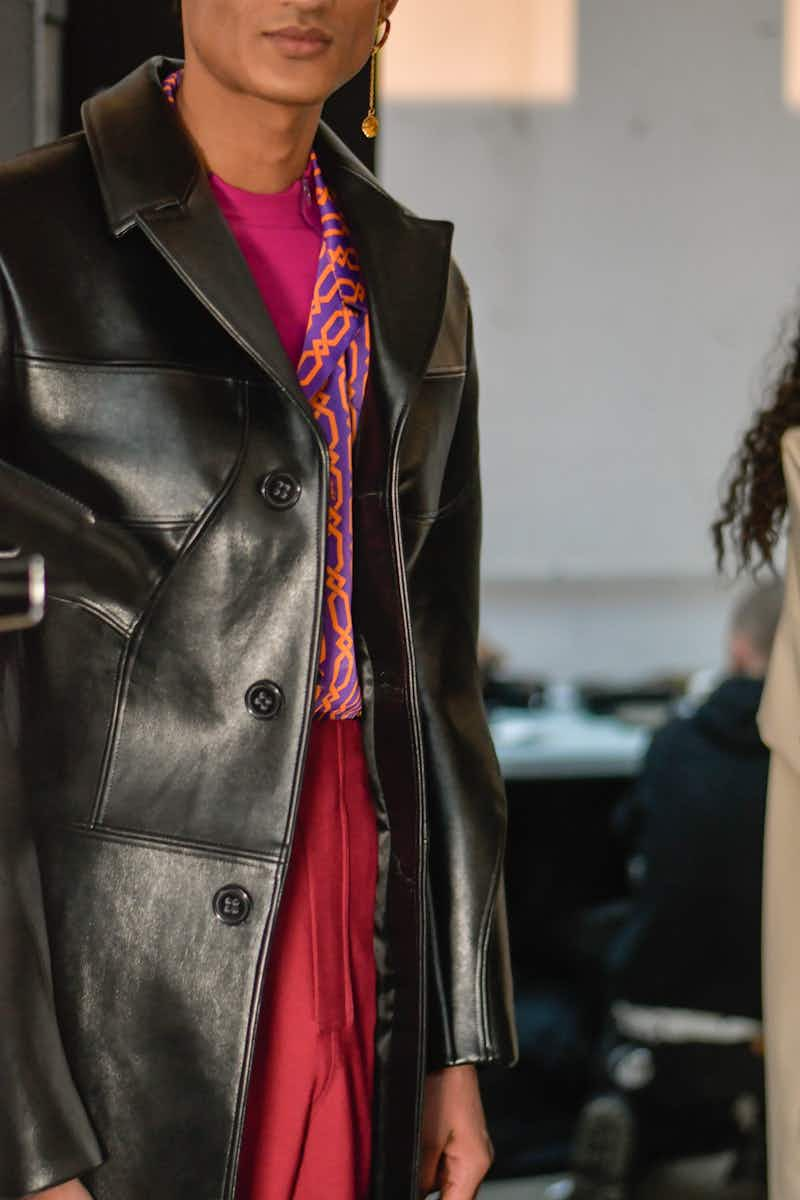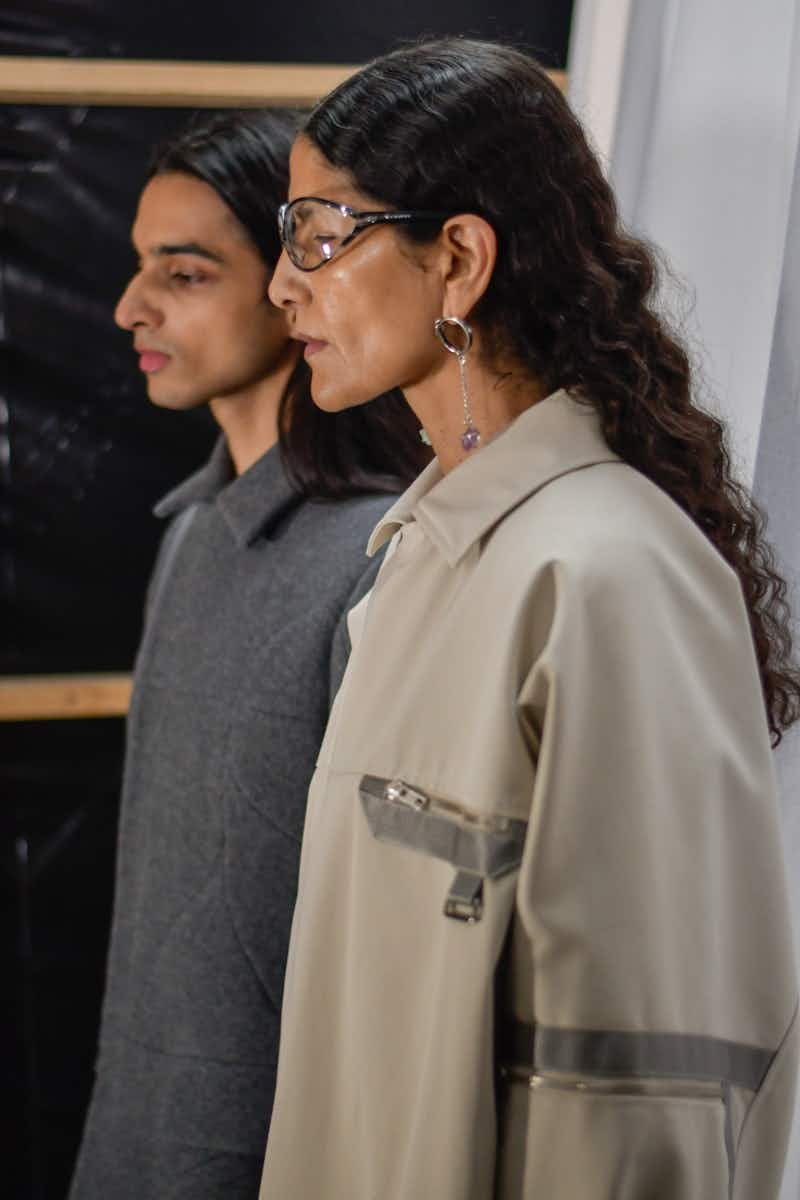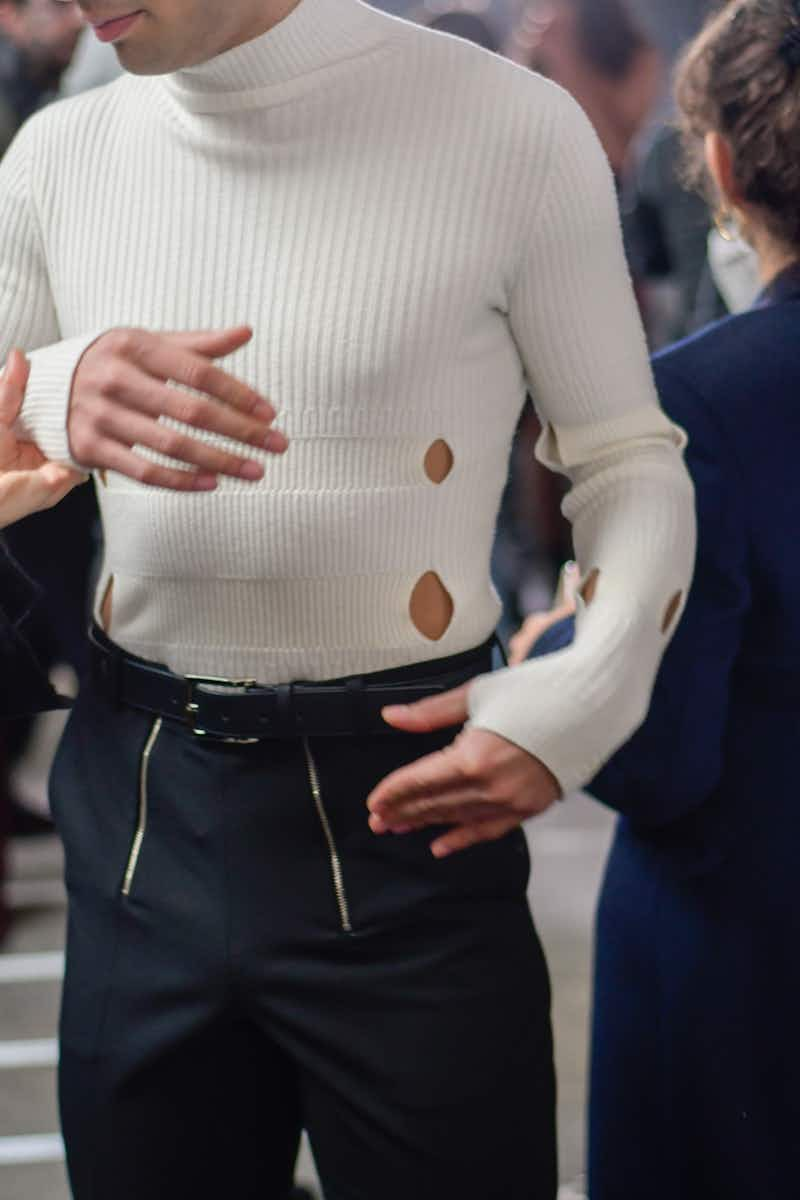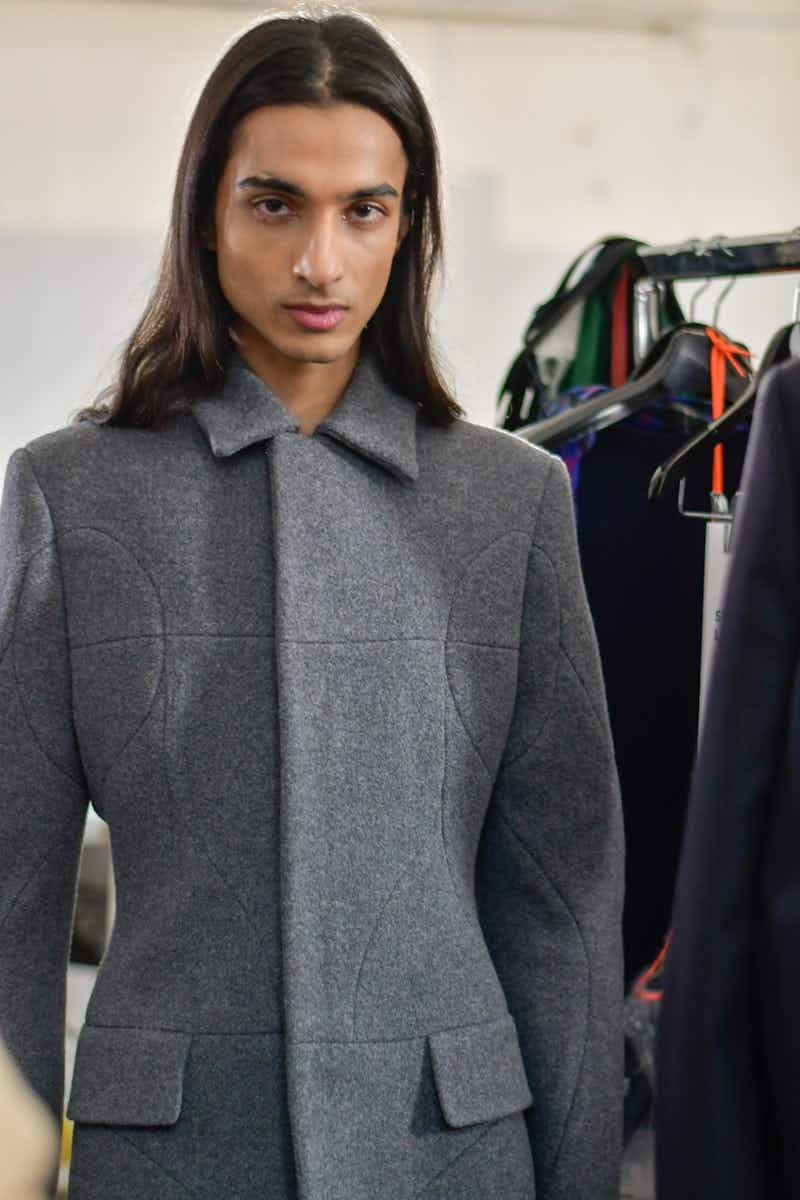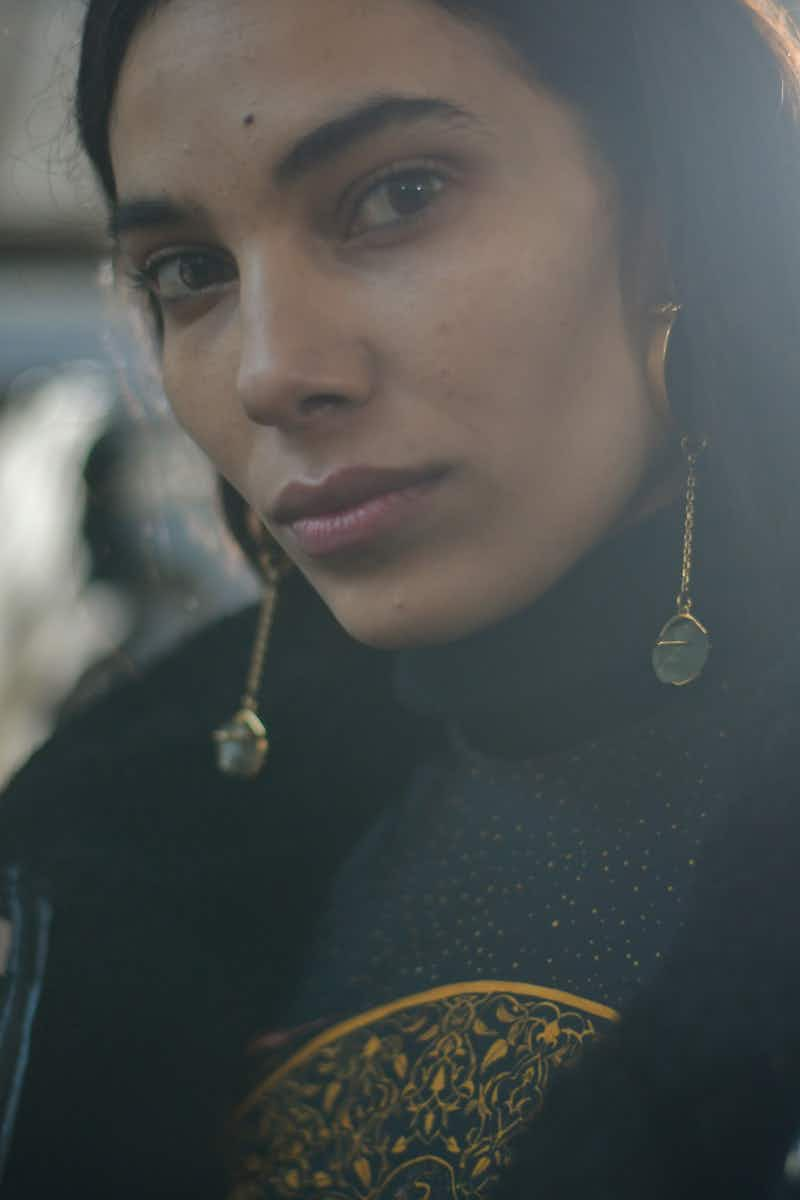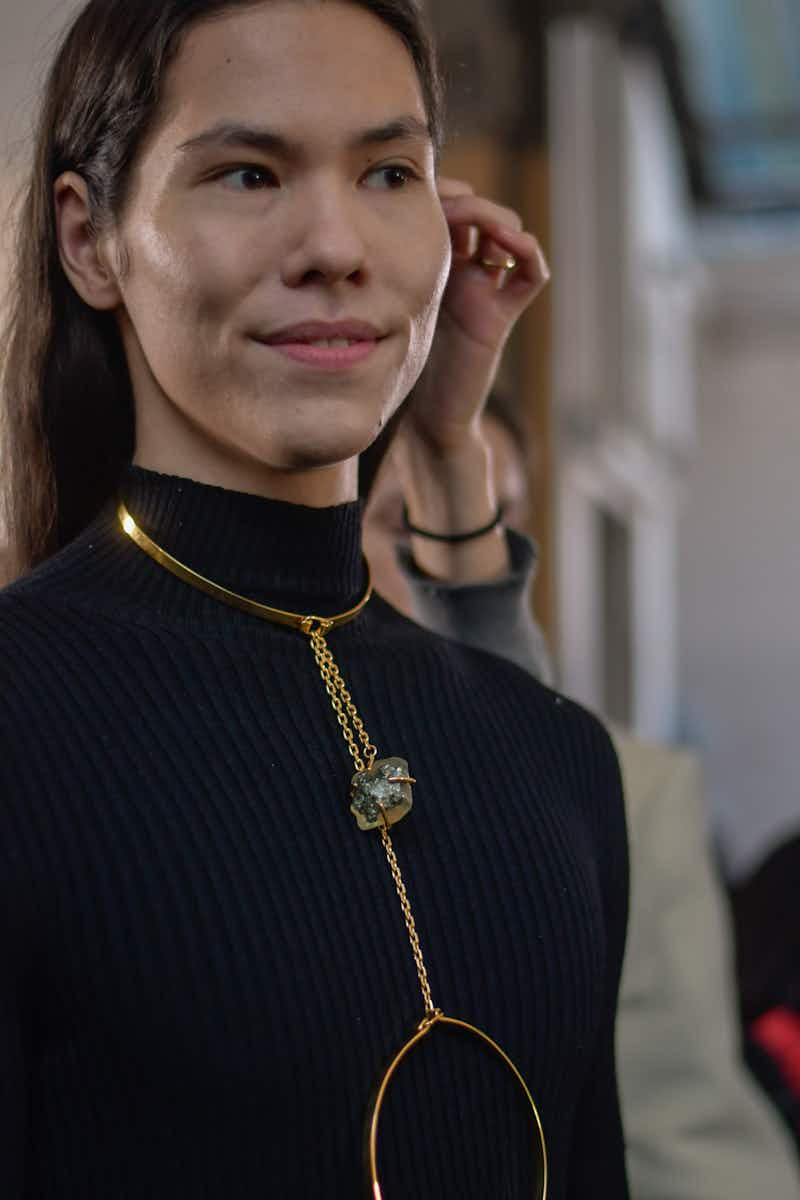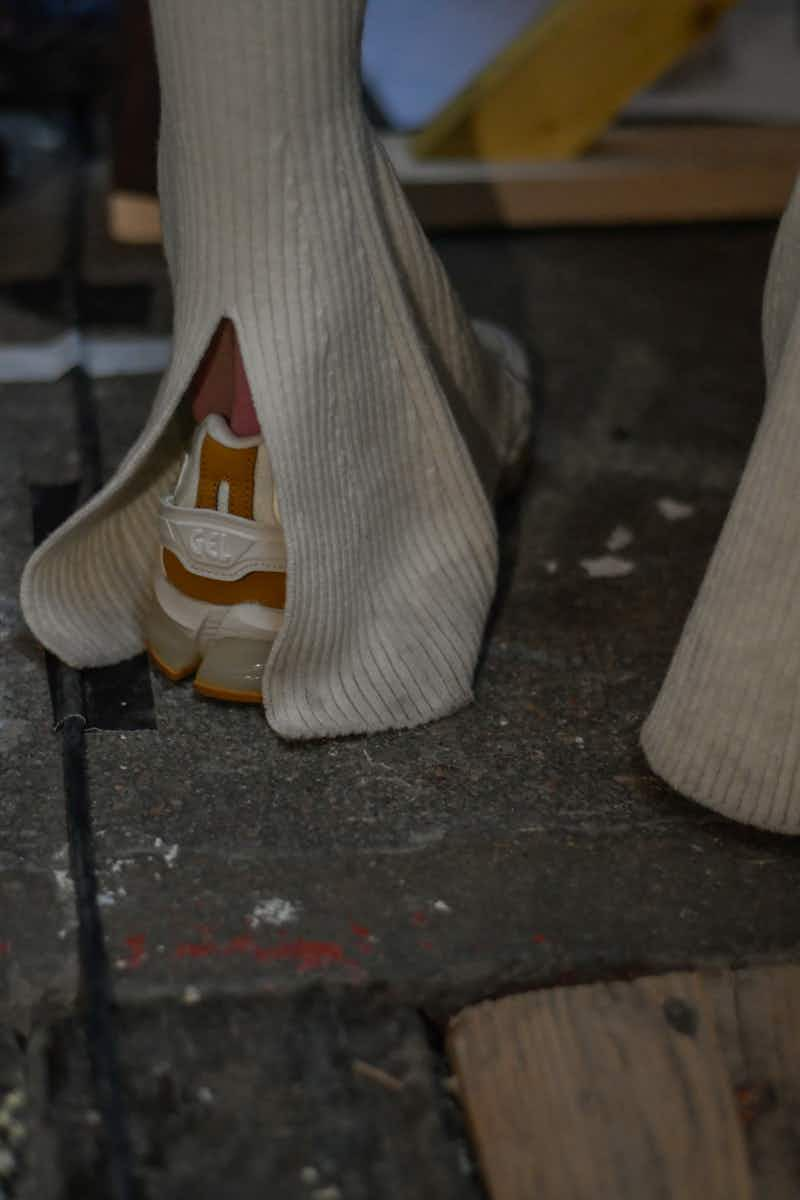 BERLUTI AW20
Colour was eye-startlingly good at Berluti, with Prince-purple and The Mask-yellow just part of the popping palette. Part of the brilliant was the way it was sometimes jarringly combined, and also toned down with the house brown and sobering greys. The shapes were as maximal as the colours were loud: some were almost Zoot suit in style. Double-breasted tailoring with a contrast roll-neck and an alpha overcoat were the order of the day – on the men as well as the few women (including Bella Hadid). The leather footwear and hardware (Berluti's house staples) were devilishly desirable. Kris Van Assche is hitting a very confident stride.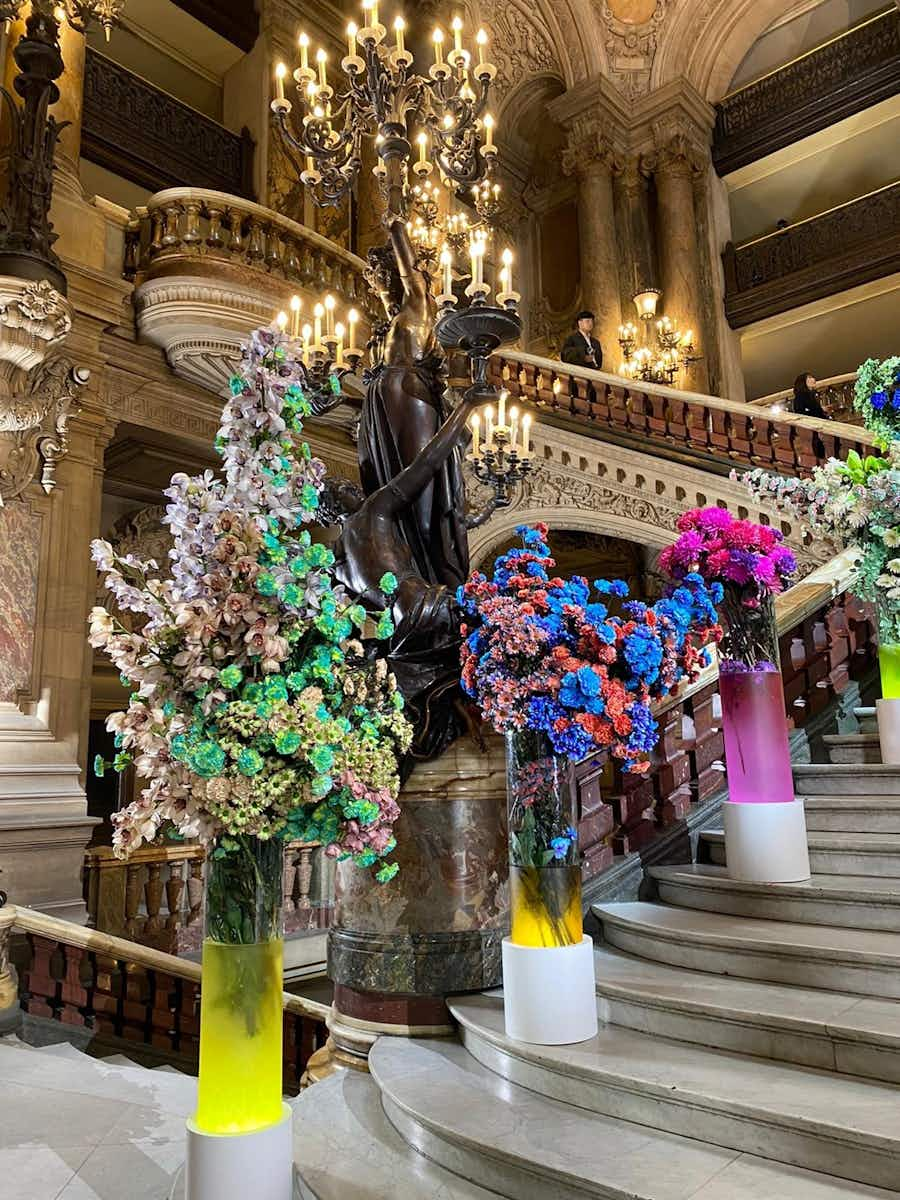 TELFAR X GAP
Having brought the spirit of New York to Paris for the first time last season, all eyes have been on Telfar Clemens' next move. A week ago the designer presented his AW20 collection at Pitti Uomo – preppy cable knits, oversized puffer jackets, spliced leather, slashed denim, an imaginative jean-quilted-trouser hybrid and a new collaboration for 2020: Telfar X GAP. It's an all-American match made in heaven – universal basics and affordable, yet unique, fits that don't compromise on style.
Last night, Gap threw Telfar's Paris Fashion Week Men's party at it's multi-level Tronchet store. The space was transformed into a club – typically Telfar – and merchandise tables morphed into stages that host performances by the likes of Yves Tumor, SOPHIE and Sega Bodega.
"Working with Gap is a dream come true for me," says Telfar of the collaboration. ​"It shouldn't be a surprise that I'm obsessed with Gap – what I do is about the idea of ​'normal' – and changing that – because that is when you change real life. Gap created the blueprint for my brand because the Gap person is literally everybody: every possible race, gender, rich, poor. I want to take that idea to the year 2020 – and to take my clothes outside of just fashion capitals and boutiques and actually make them available for everybody. Gap makes that possible."

RICK OWENS AW20
"Have The Sweet reformed?" ventured one commenter on my Instagram post from the Rick Owens Men's AW20 show. Well, no – but not far off by the looks of the metal-toed platforms sent down the runway at Paris' Palais de Tokyo today.
The ultimate shock and awe designer has this season found inspiration in the ultimate shock and awe music scene: glam. A visually flamboyant pop style that tore through both sides of the Atlantic in the early 1970s, it's key themes included androgyny, image, perversion, and the apocalypse. No, we've no idea what Rick sees in it either.
Titled ​"PERFORMA" – after the performance art organisation founded by American artist RoseLee Goldberg – notable moments came in the one-legged and one-sleeved jumpsuits (very Bowie), the Kansai Yamamoto-inspired stripes (very Bowie) and the smattering of exposed flesh (very Rick). Our favourite silhouette, however, had to be the exaggerated shoulders at the end. Perfect for working your way through the crowd at a Mott the Hoople concert.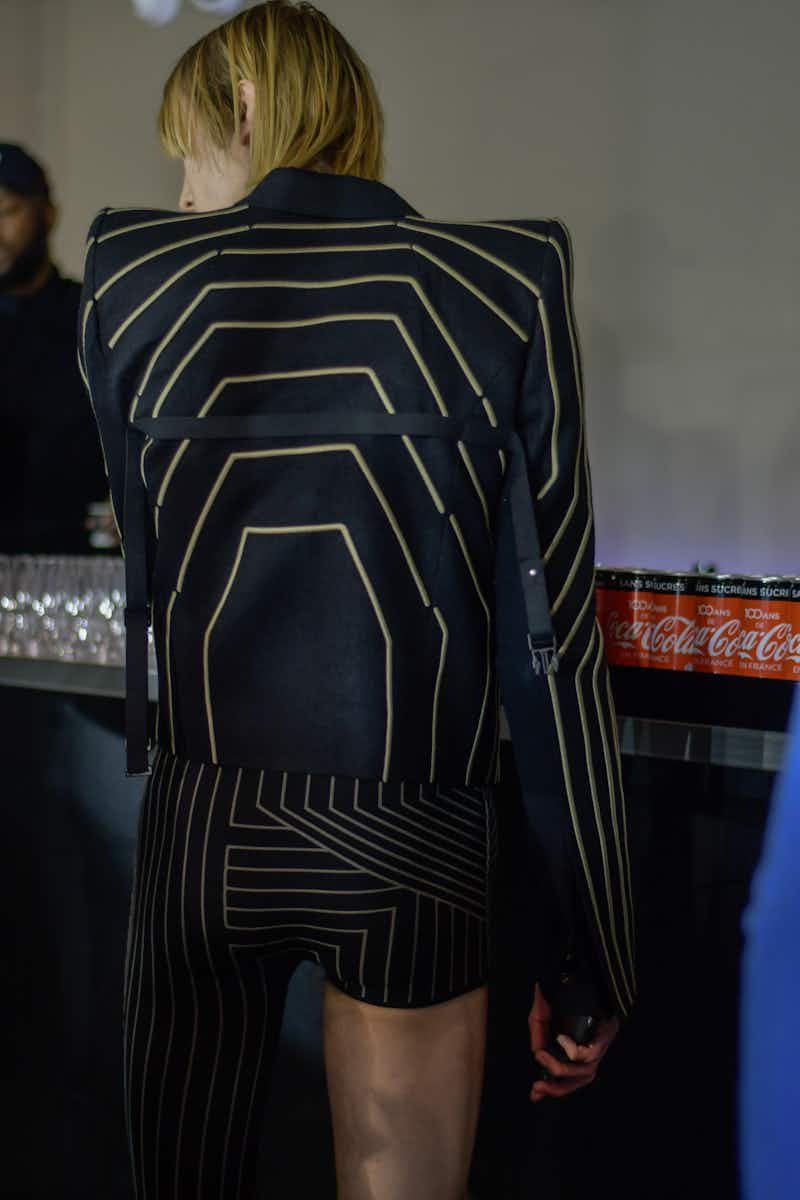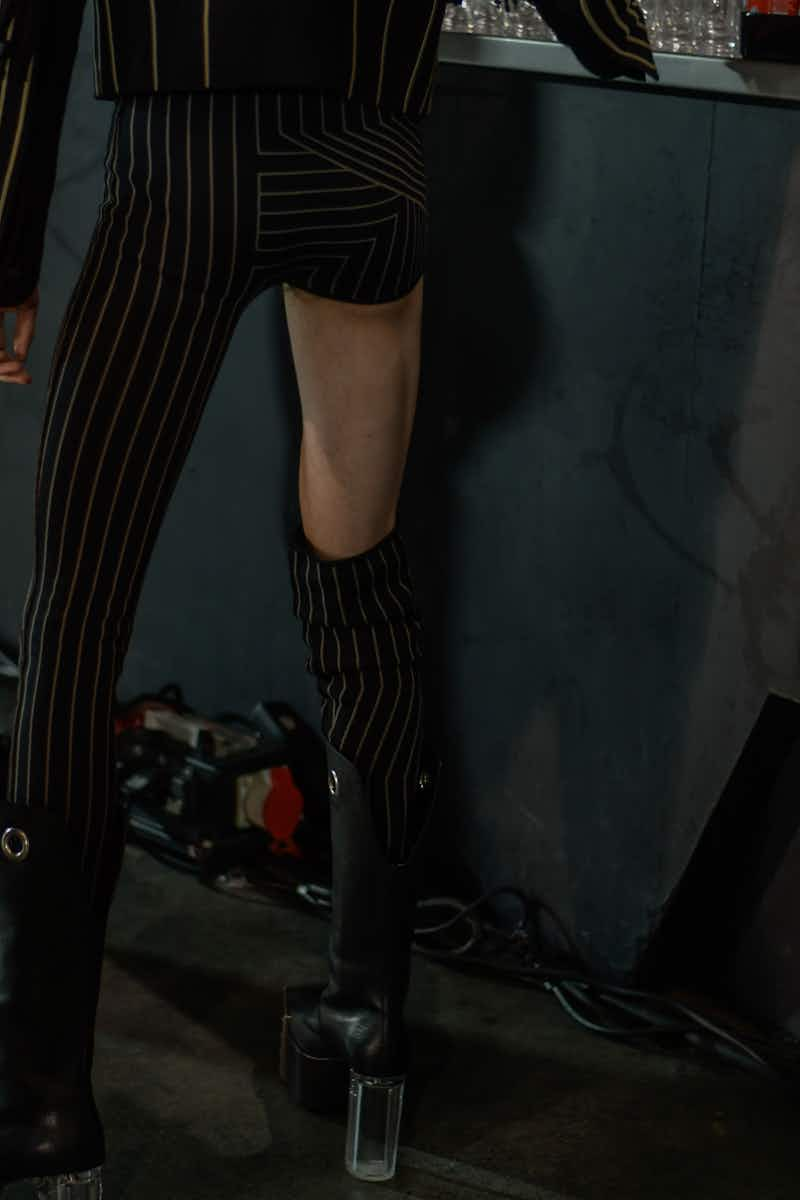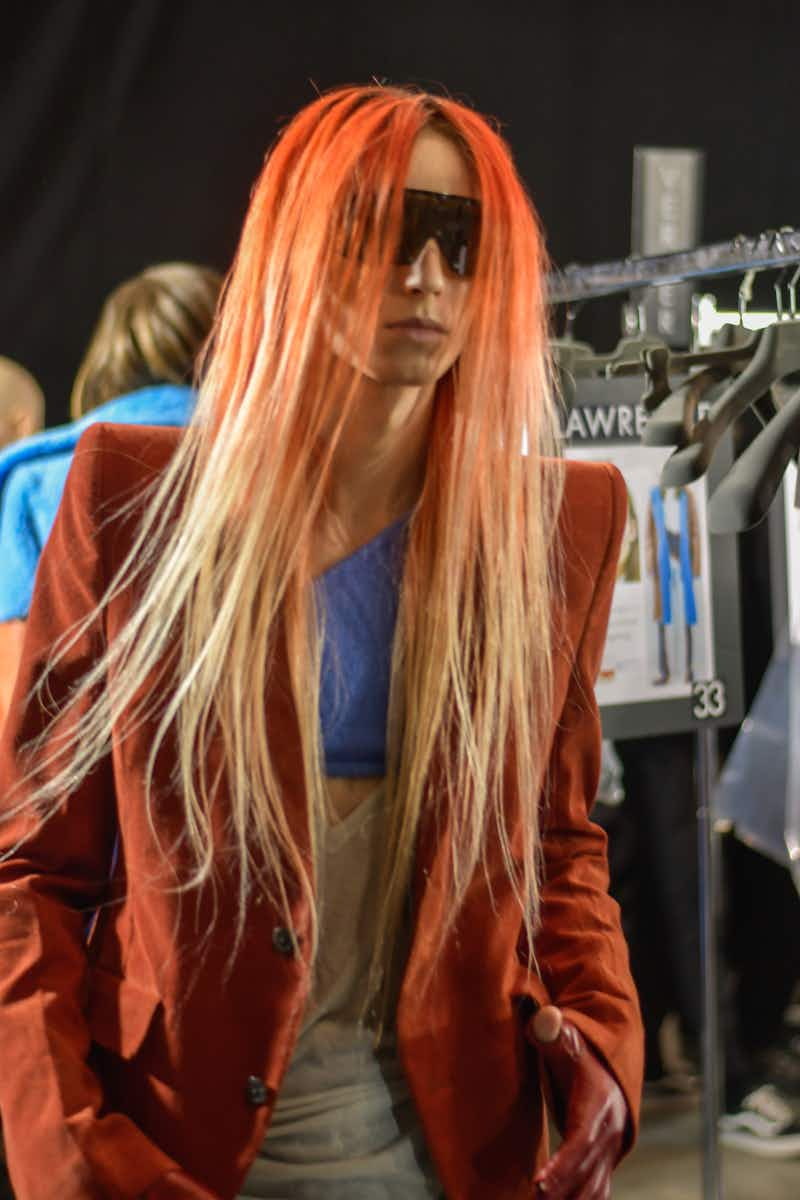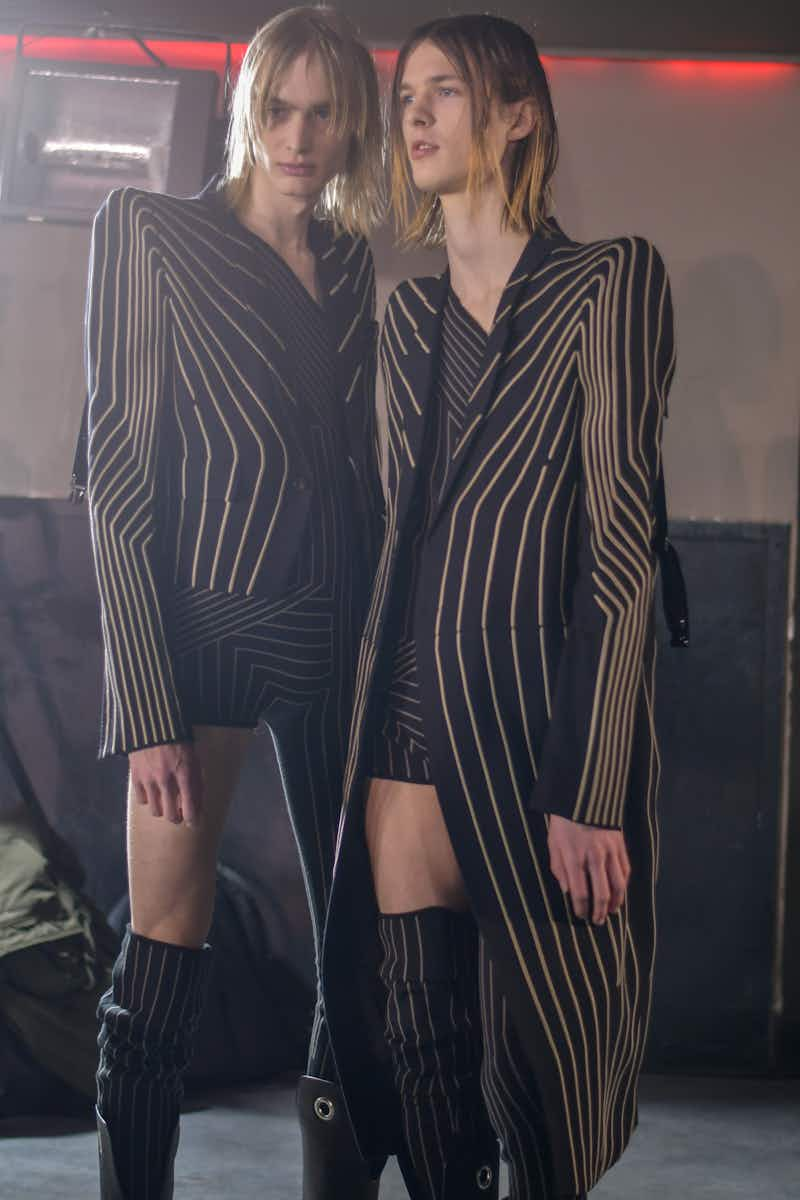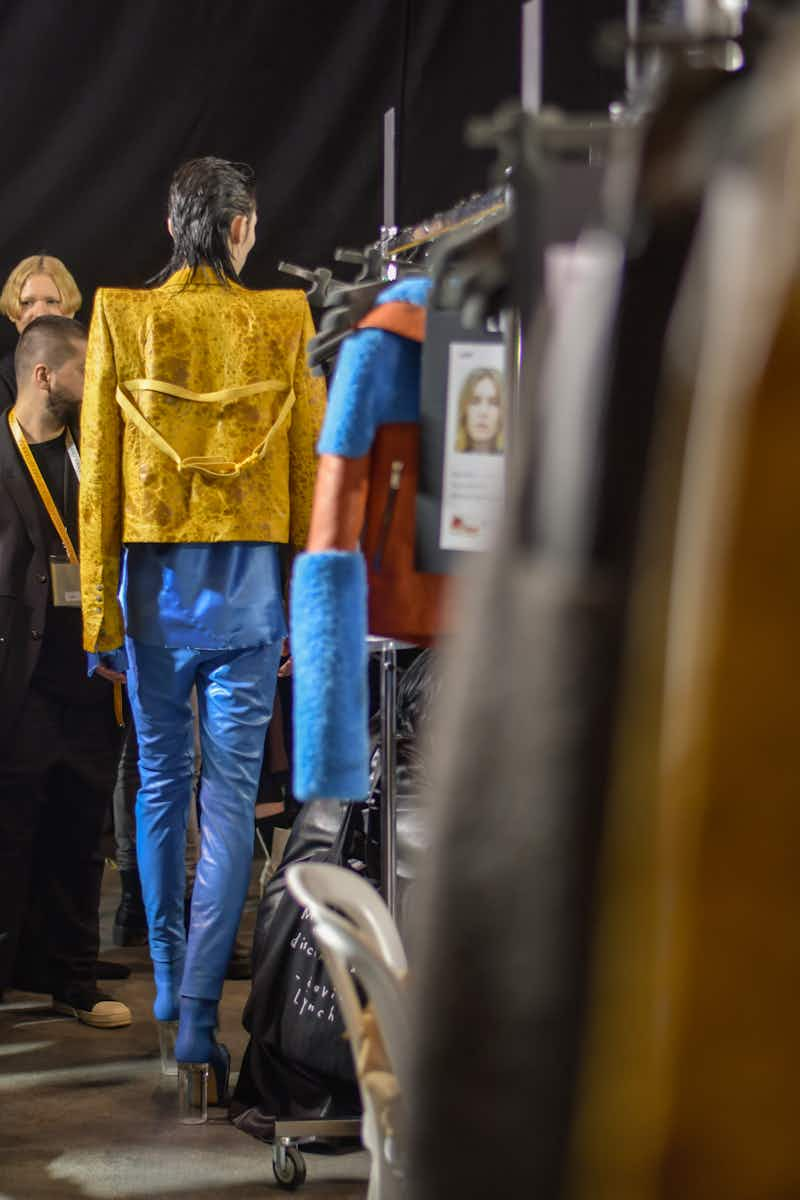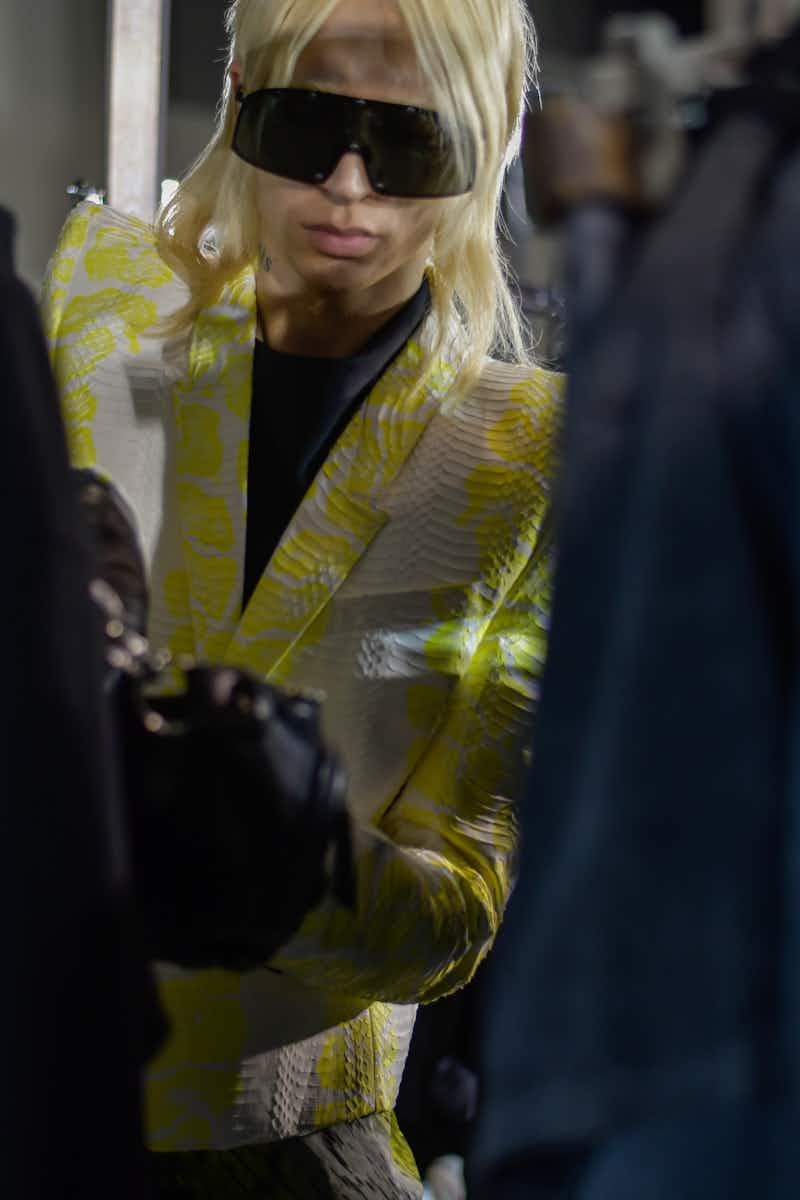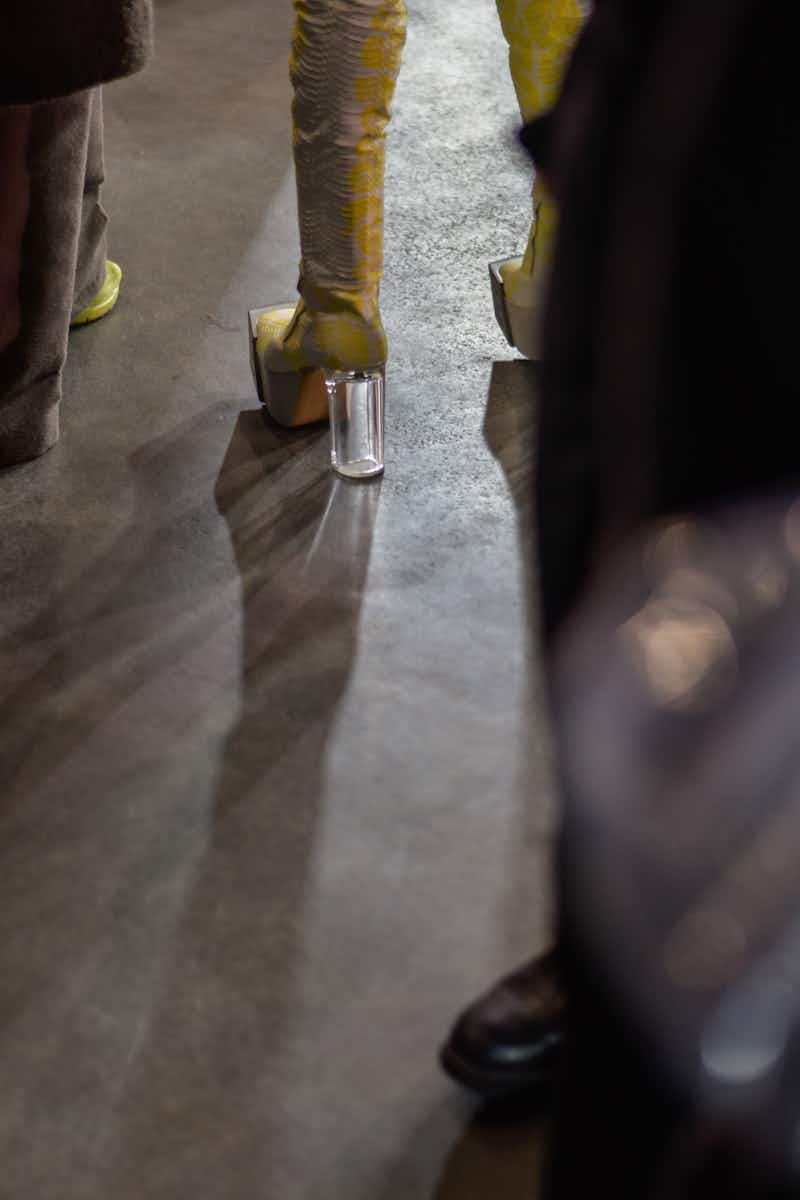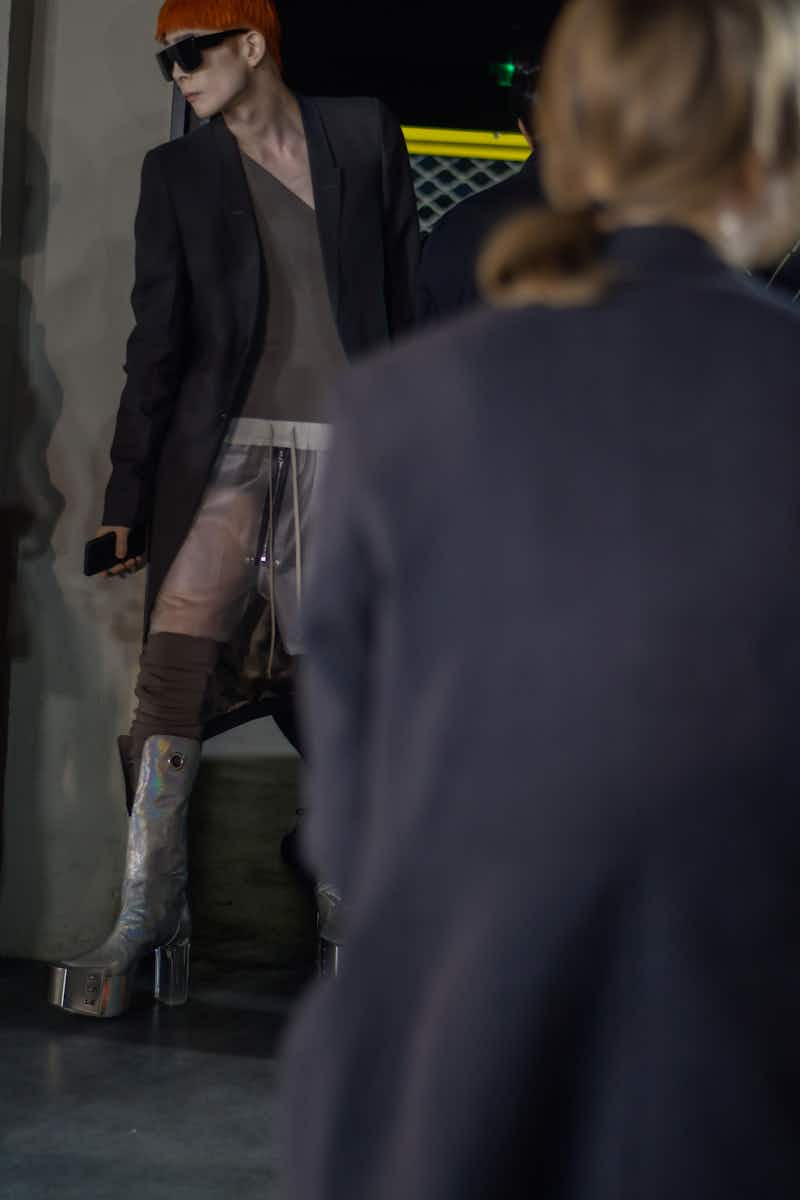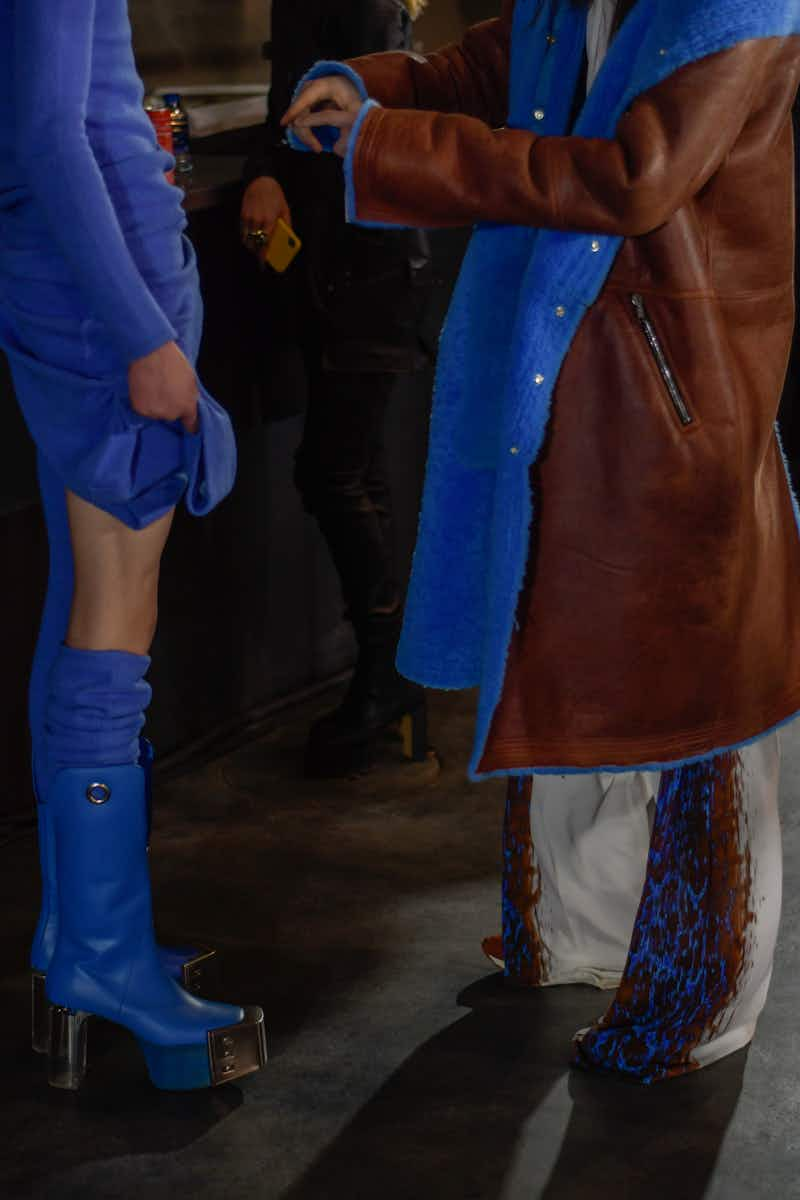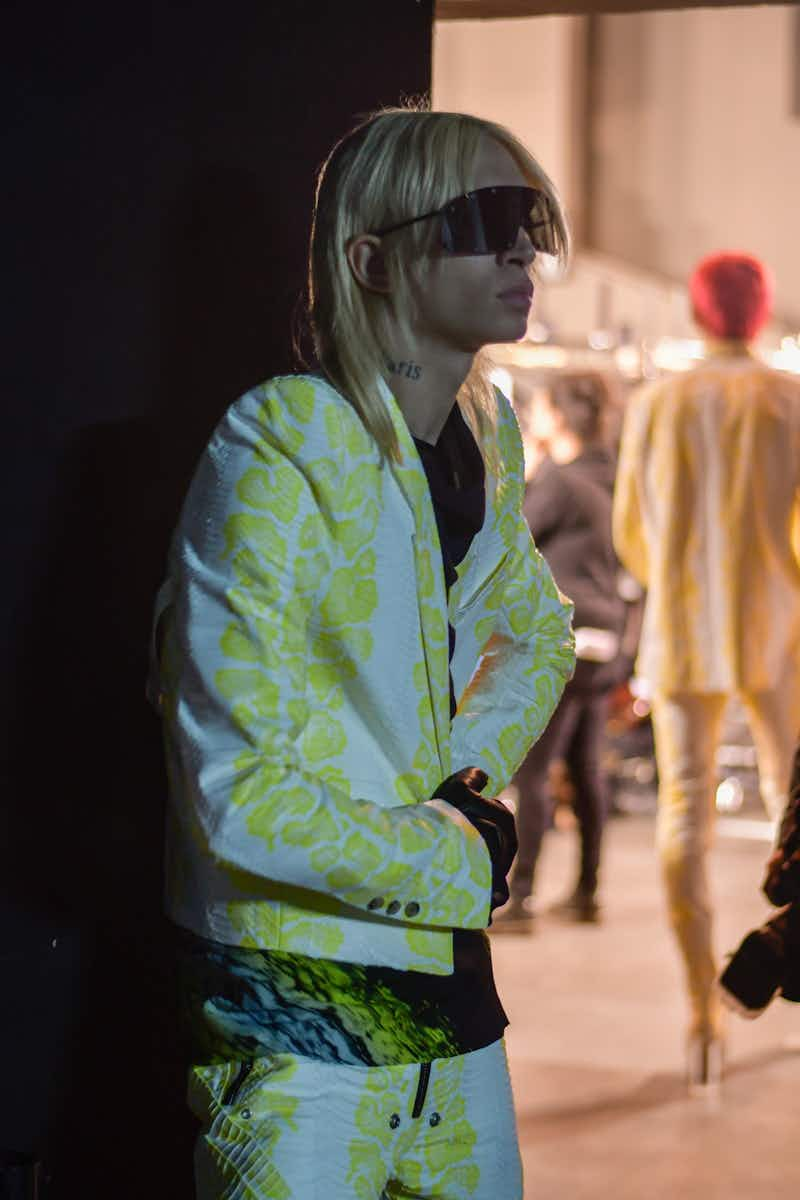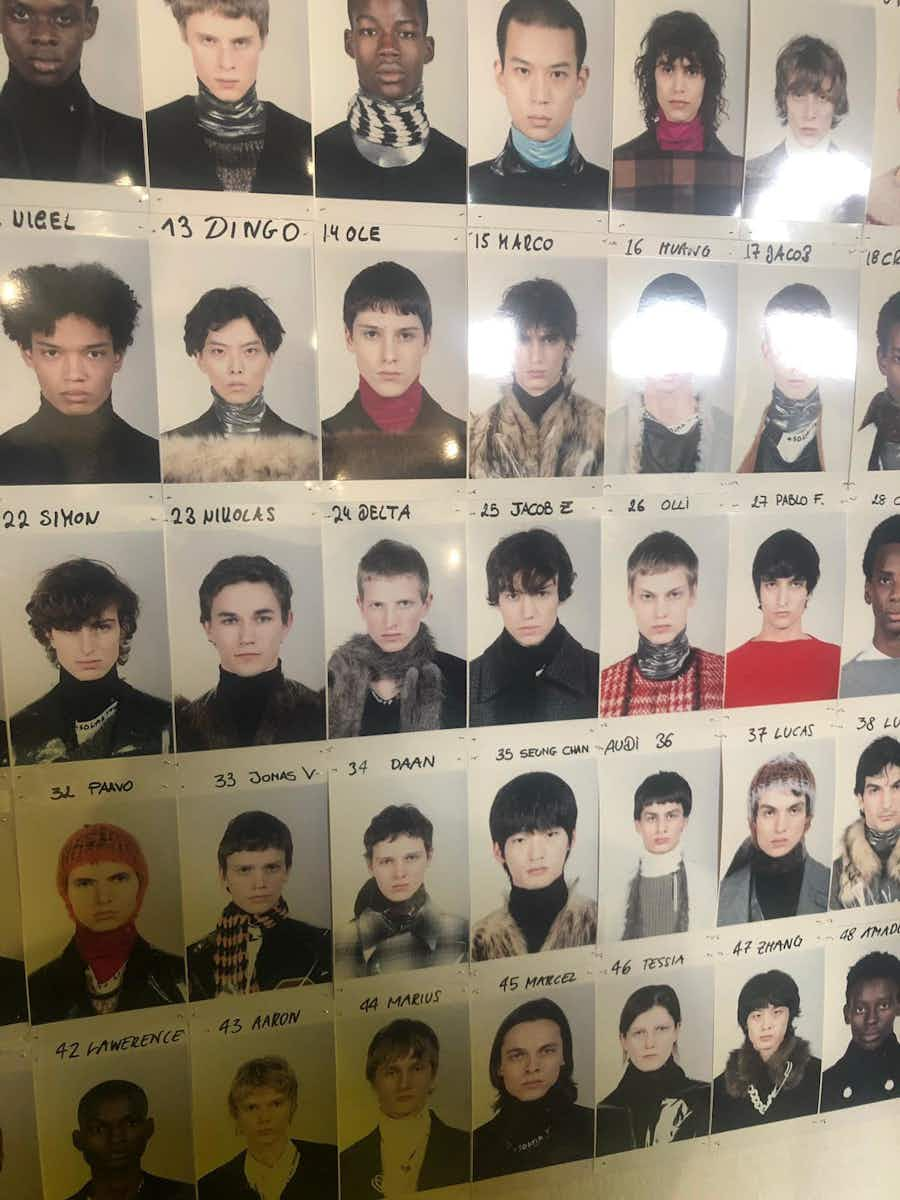 "I think she finds herself disappointed with reality," David Bowie once said, of the protagonist to one of his – and by extension pop music's – greatest songs, Life On Mars?. ​"That although she finds herself disappointed with reality, she's being told that there's a far greater life somewhere, and she's bitterly disappointed that she doesn't have access to it."

It's the song chosen by Raf Simons for the finale of this Men's AW20 show, held in Paris on Wednesday night. But where Bowie sang of resentment, ​"a sensitive young girl's reaction to the media," as he put it around the time of the song's release in 1971, Simons imbues the track with a sense of hope: that his ​"solar youth" for whom the collection was named, can one day ascend to it. It was a moving finale, as the models returned on mass through a glowing yellow tunnel to… I wonder if we'll ever know?
As noted by Osman Ahmed, the words ​"They Can't Stop Us All" were written onto faux fur-lined muffs – a nod to the viral Storm Area 51 campaign of last year. It's a theory backed up by the inclusion of Lee Hazlewood and Nancy Sinatra's 1967 classic Some Velvet Morning (featuring the lyric: ​"Some velvet mornin' when I'm straight /​I'm gonna open up your gate"). But while the music looked back, the clothes asked you to focus on the future: the debuting of Simons' new (RUNNER) project – a line of ​"sportswear-influenced and facilitating footwear" – topping off a collection of optimism and beauty. You just have to open up your gate.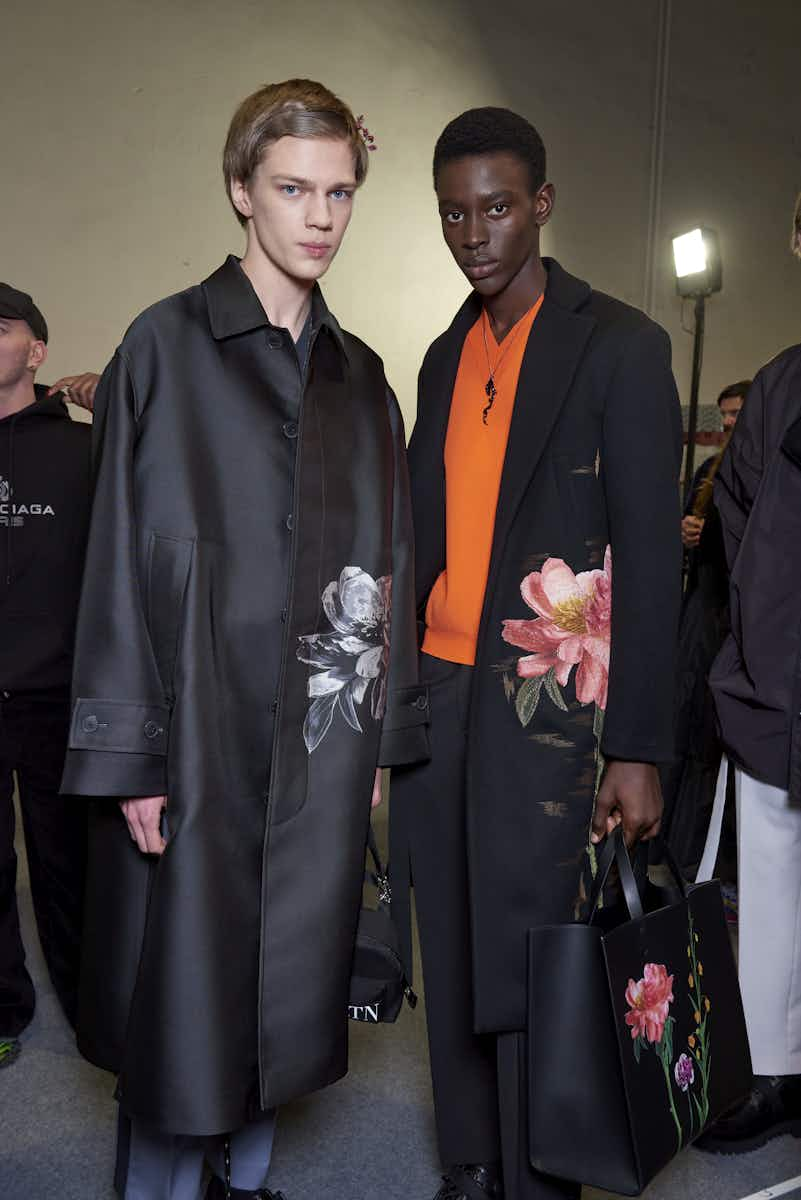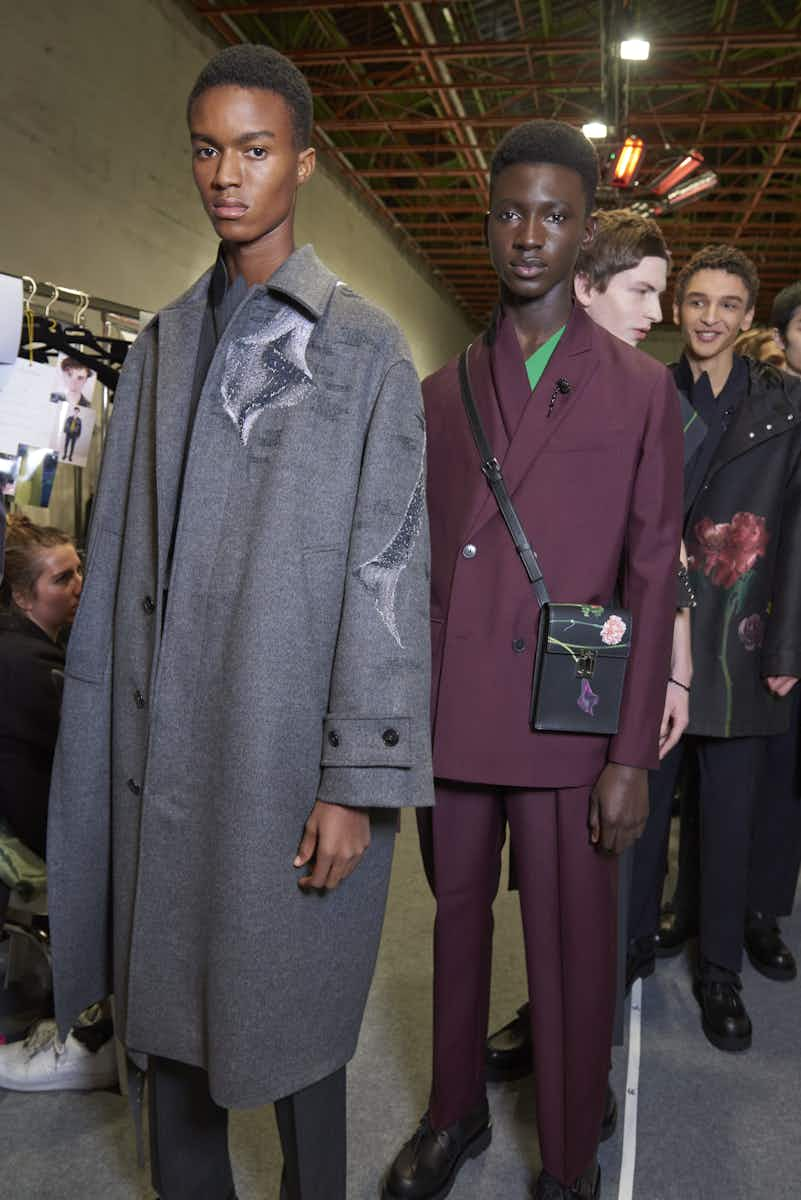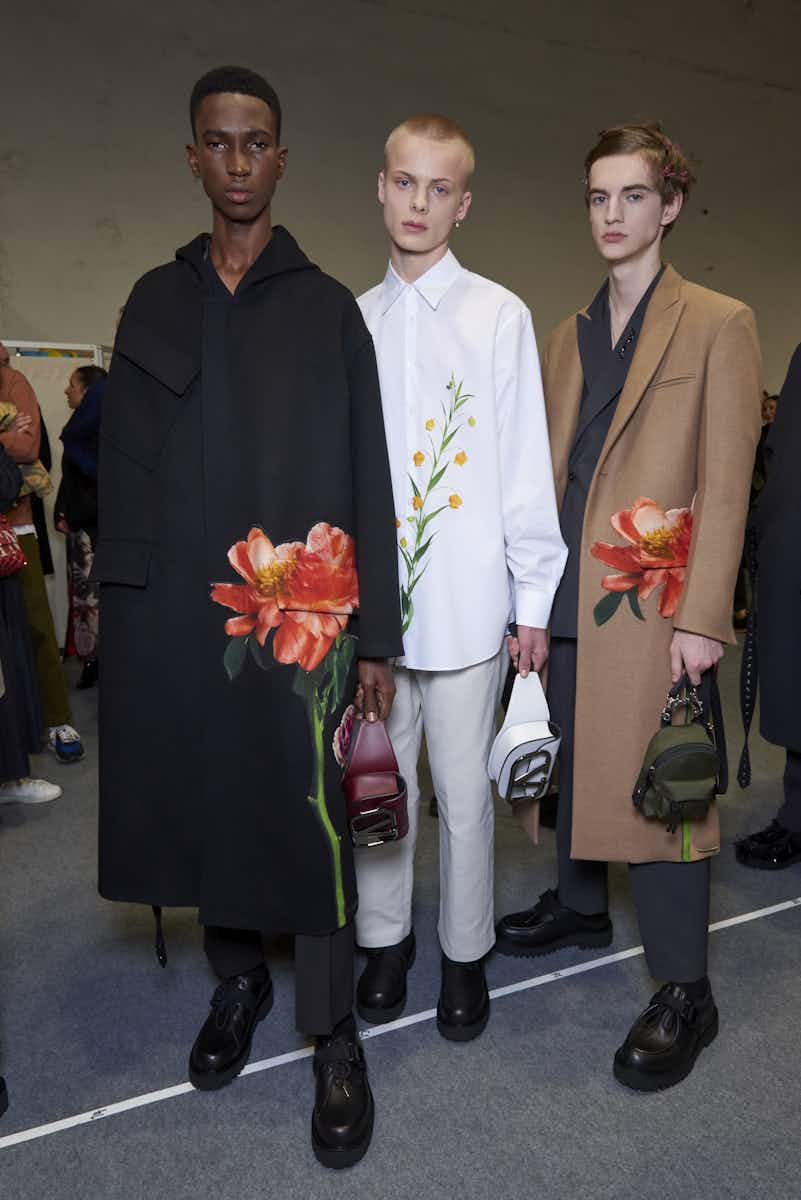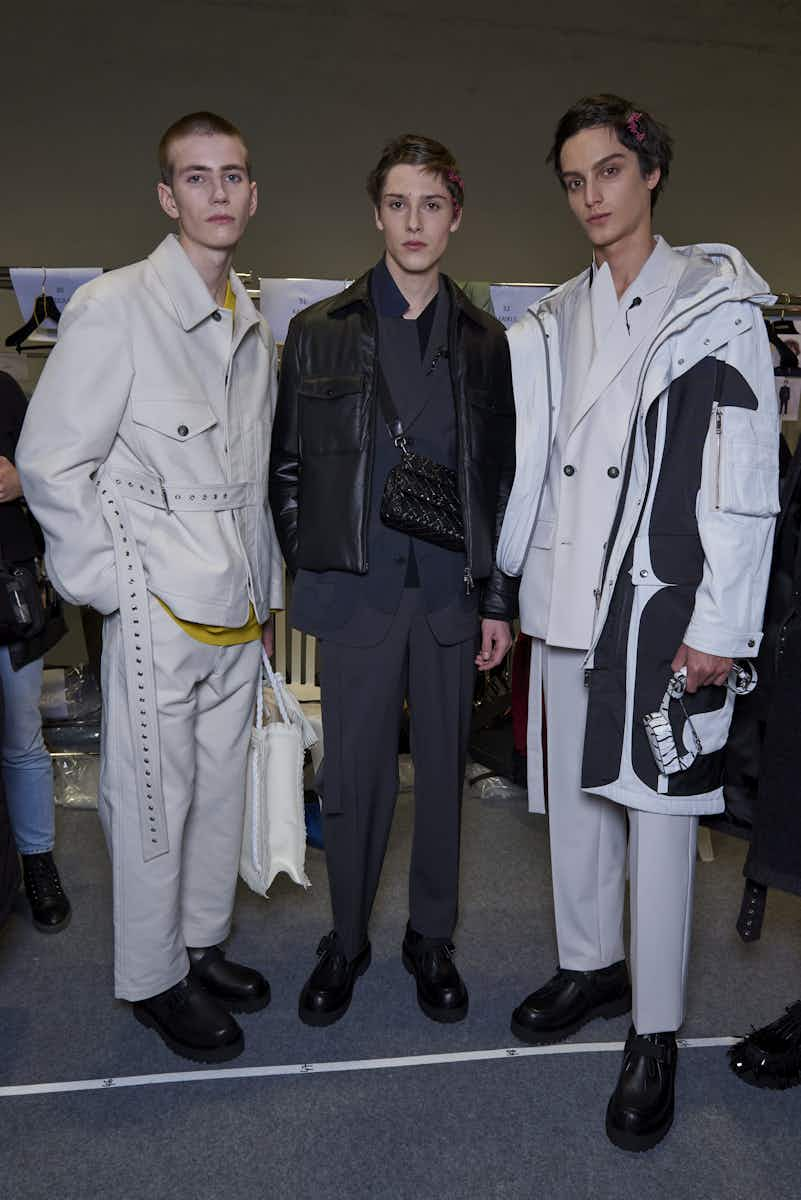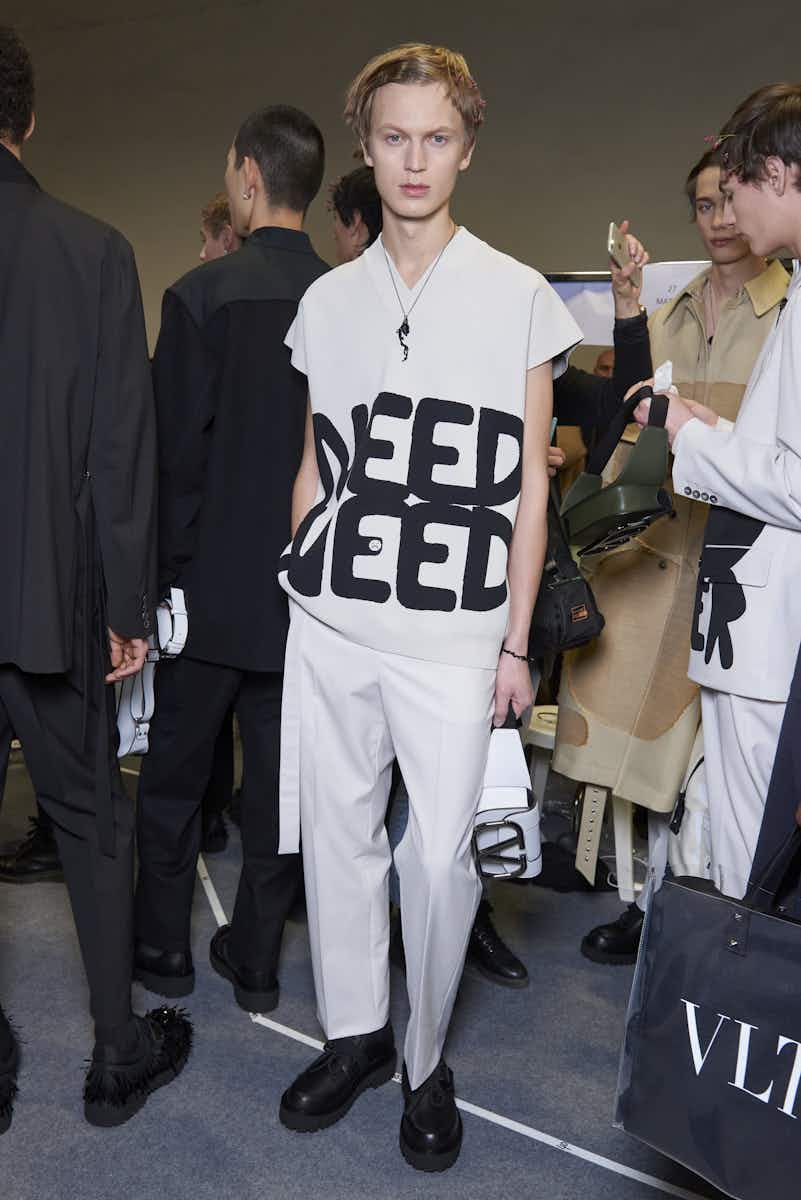 The spectral voice of FKA twigs served as the perfect accompaniment to Pierpaolo Piccioli's Men's AW20 collection. Performing two songs, Mary Magdalene and Cellophane, accompanied by a pianist and cellist, and wearing couture Valentino, her presence seemed to reinforce the ideas of sensitivity and romanticism that Piccioli was striving for, creating an affecting show that stayed with you long after the final bow.
An artist who has, since her debut EP1 in 2012, successfully blurred the lines between the typical and the atypical, the classical and the avant-garde, it seemed intentional that Piccioli was doing the same thing here. The collection provided little hierarchy between suiting and streetwear, smudging the distinctions cleverly. A collaboration with Japanese sneaker brand Onitsuka Tiger felt tactful and unforced.
This was a collection that presented the suit as something intimate, as opposed to armoured. Personal rather than uniform. The collection felt feminine, most notably in the repeating Inez and Vinoodh flower prints, as well as the blossoms, which featured in the hair of several models. The inclusion of twigs felt fitting: performing work from her latest and most visceral record to date.
Images courtesy of Valentino.
Y‑PROJECT AW20
Y/Project's creative director Glenn Martens innovates on a staggering scale having built a reputation for remixing the ordinary: SS17's sexy denim chaps and AW18's thigh-high UGGs and mind-altering, aerodynamic detail that amplifyied every day (used loosely) evening coats and leather trousers. In the middle of a grey January, it was left to Belgian-born Martens to inject some fun back into fash-un (fash-fun?) again. The red balloon teased in an Instagram story yesterday found itself at the co-ed show – a pit of red balloons were placed around the runway as Y/Project's tribe wore contoured mini-mini dresses, twisted and knotted stone denim jackets, slashed knitwear and voluminous, body-cocooning jackets created in collaboration with Canada Goose.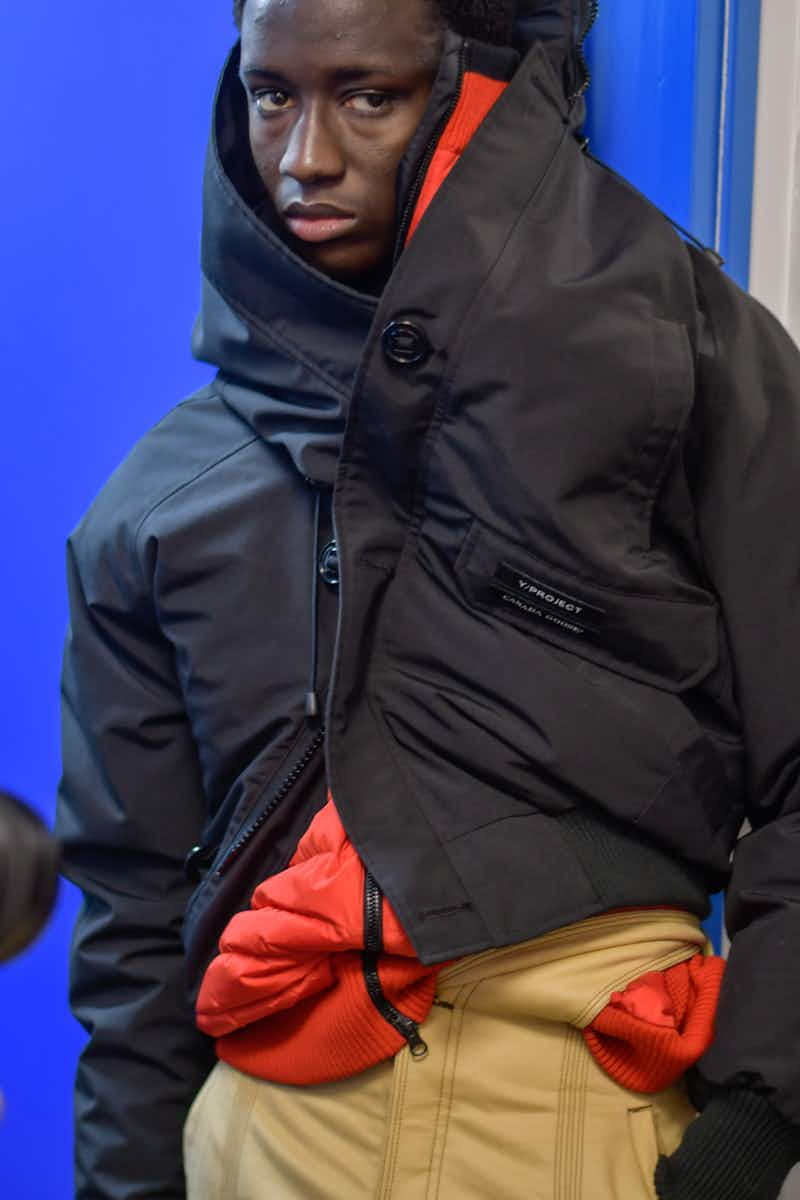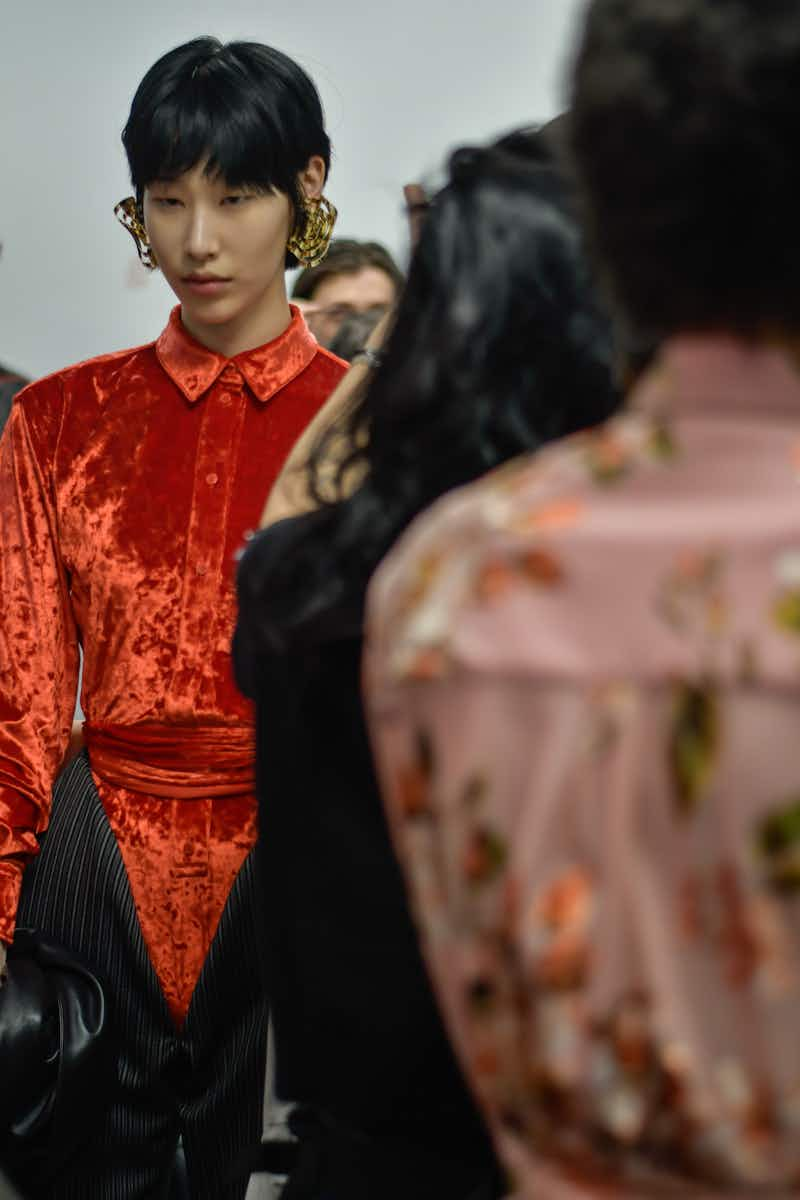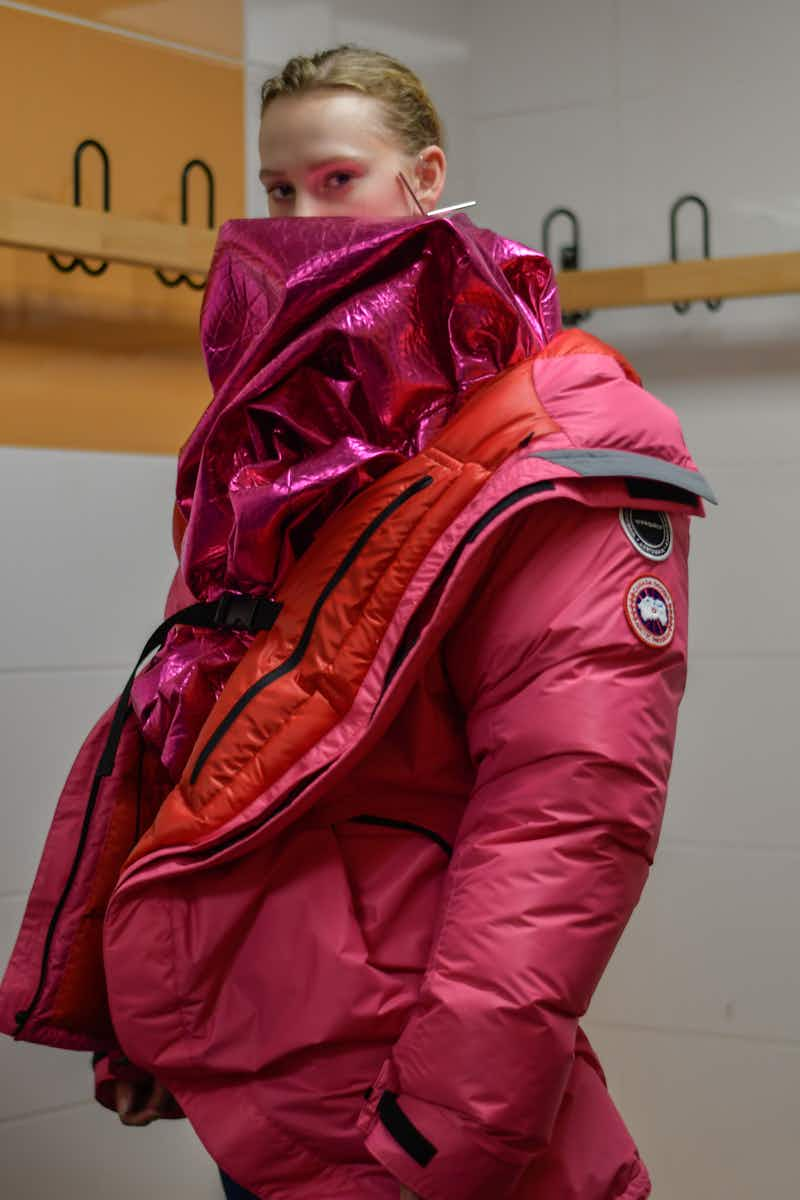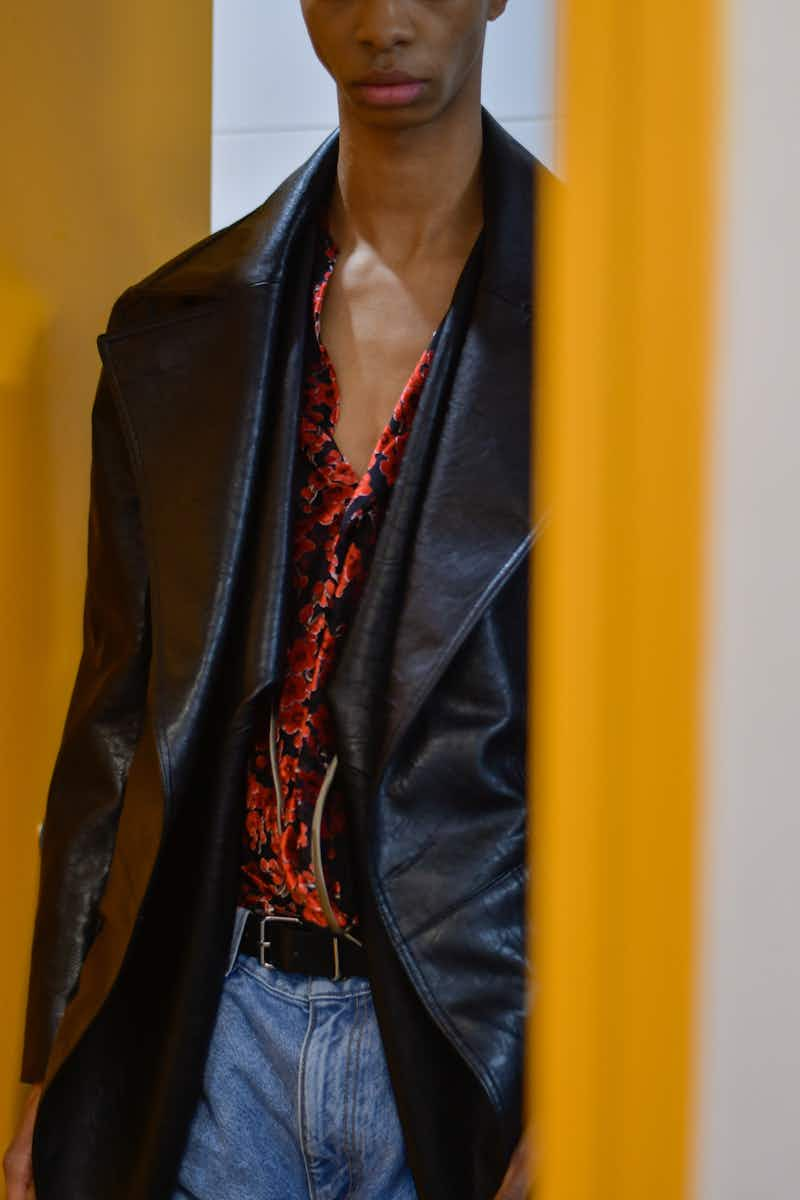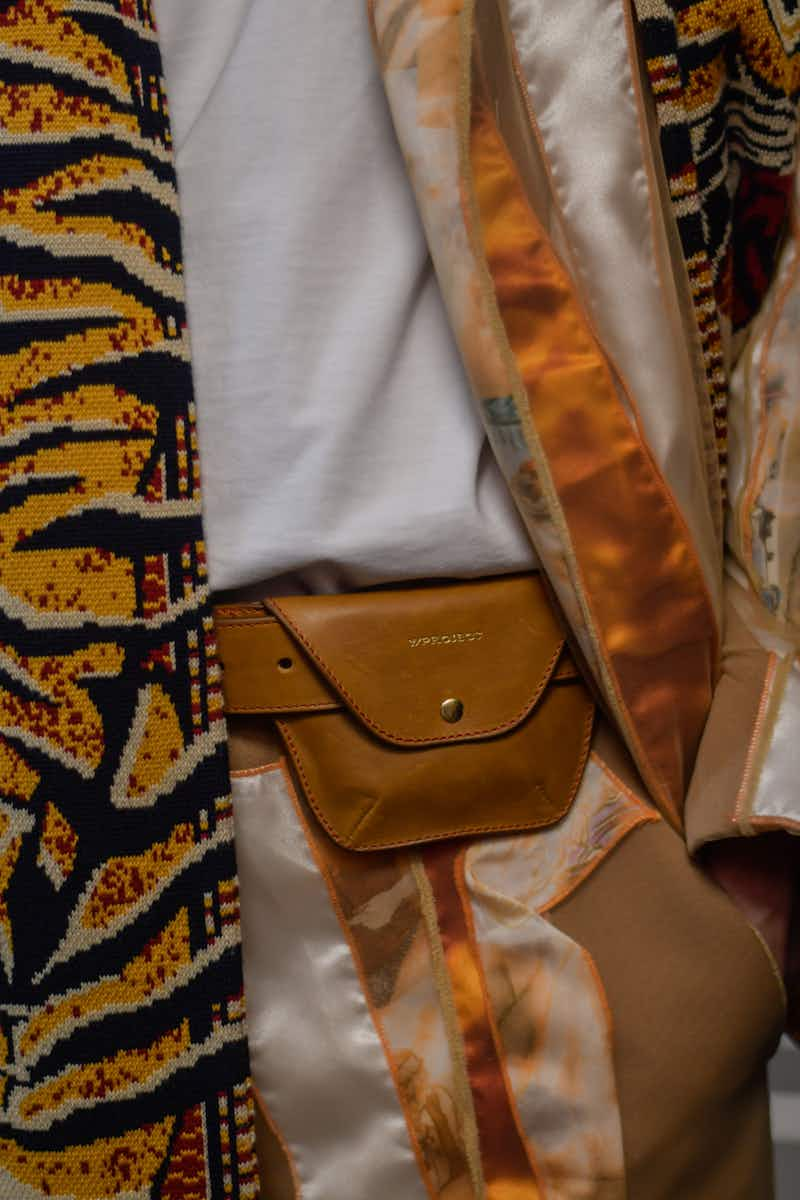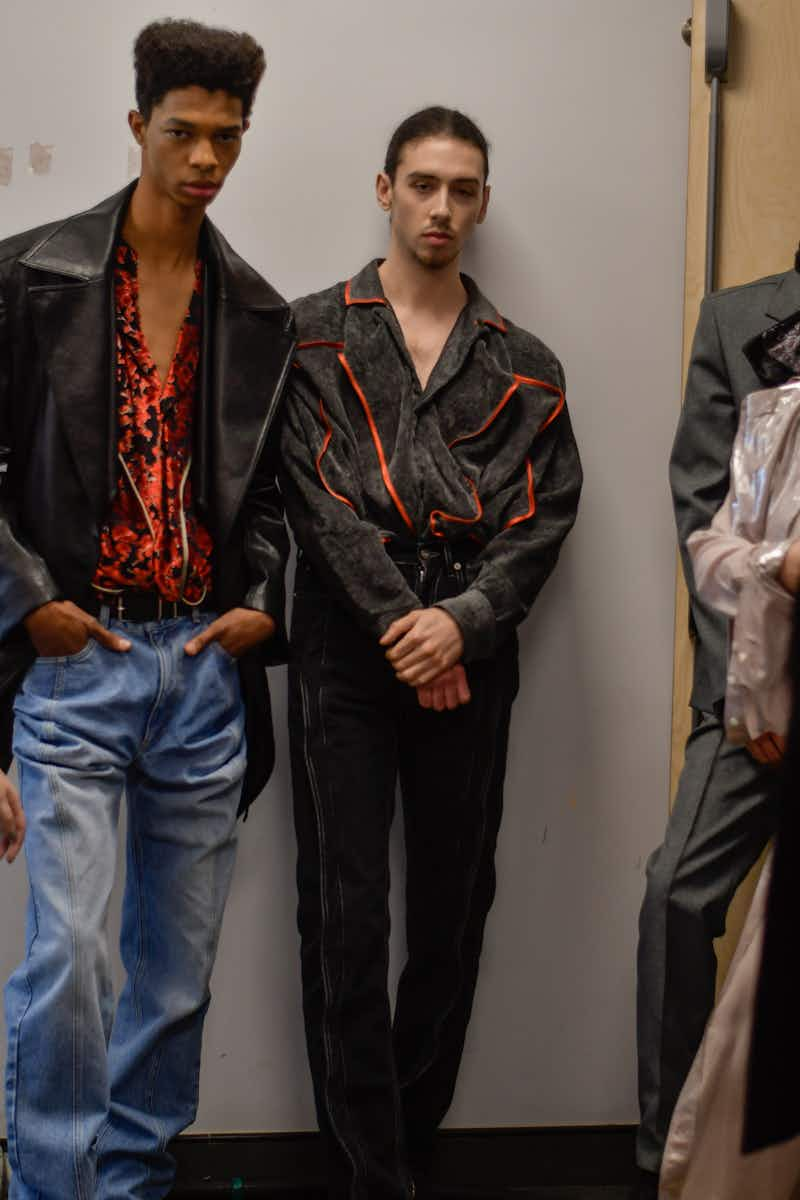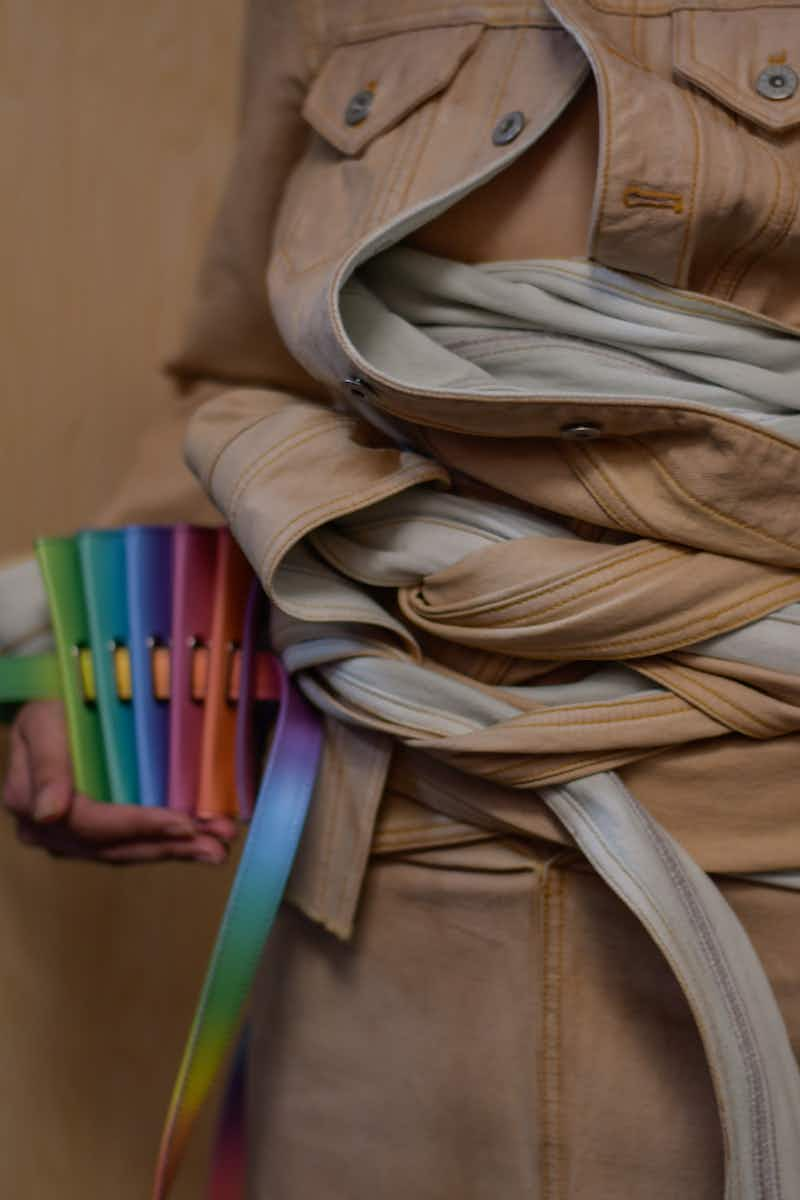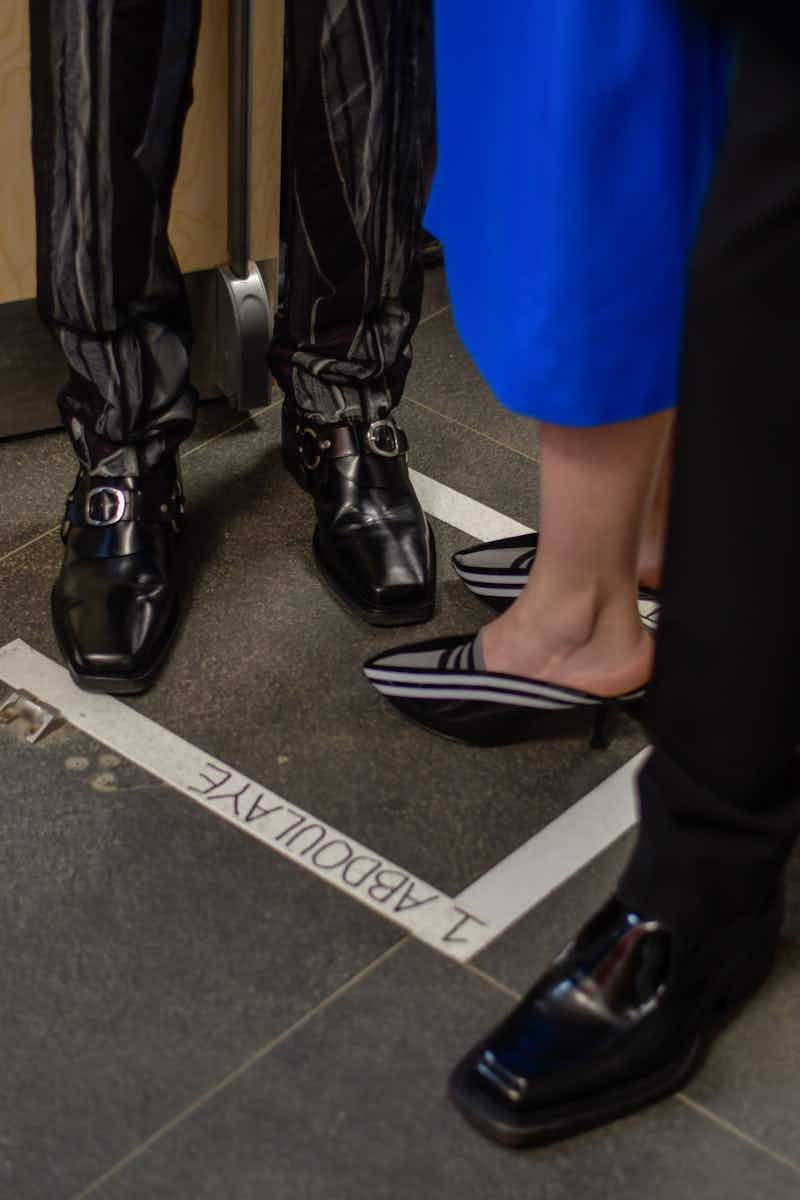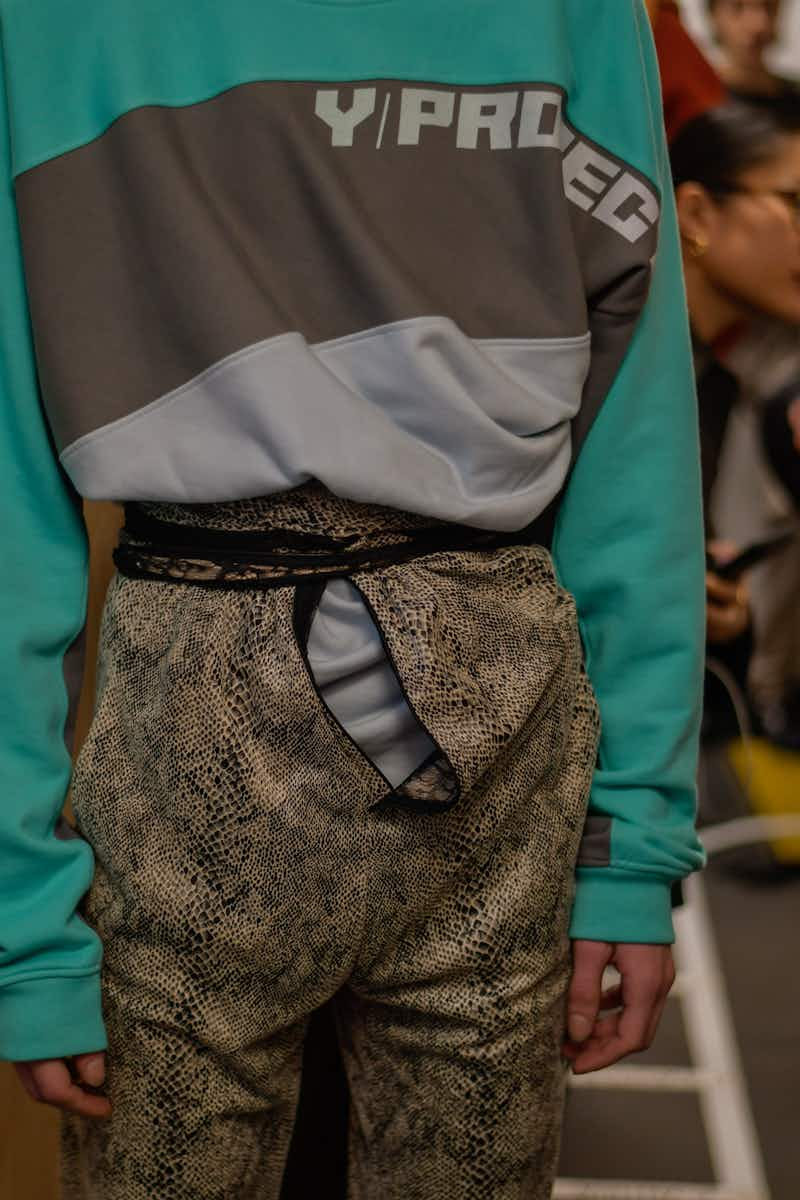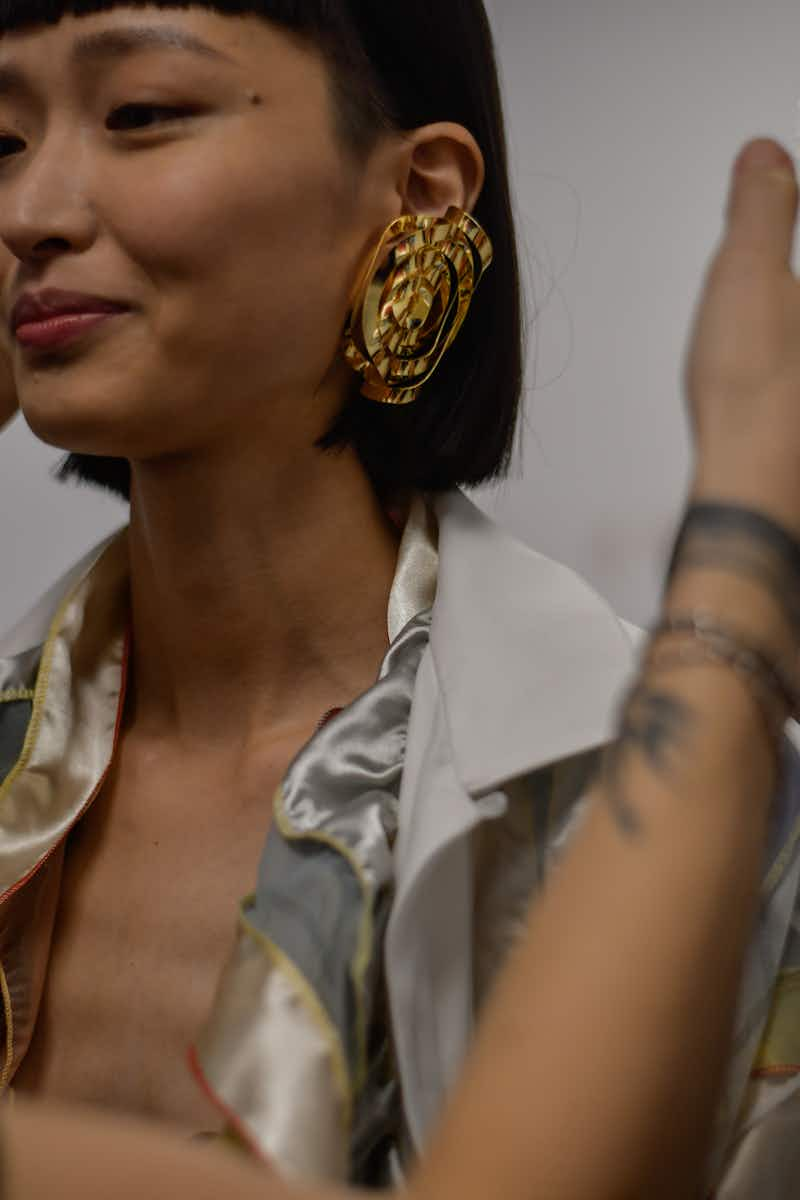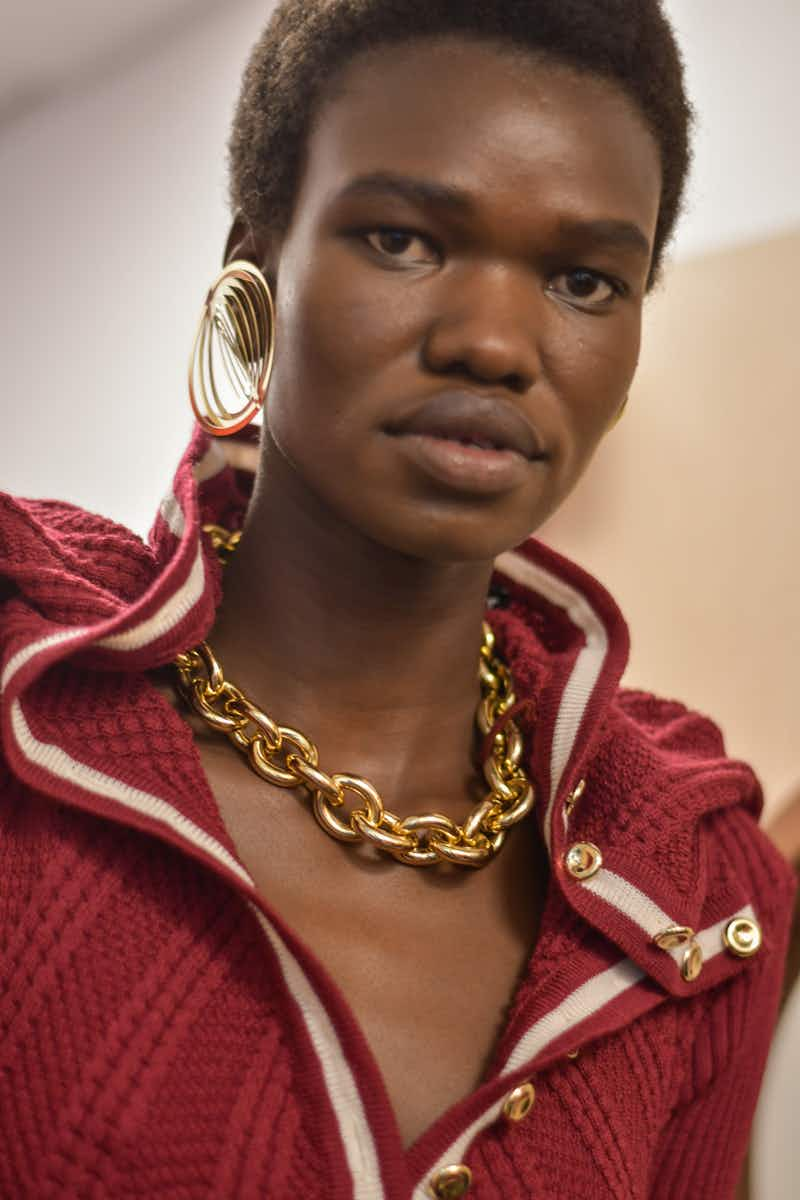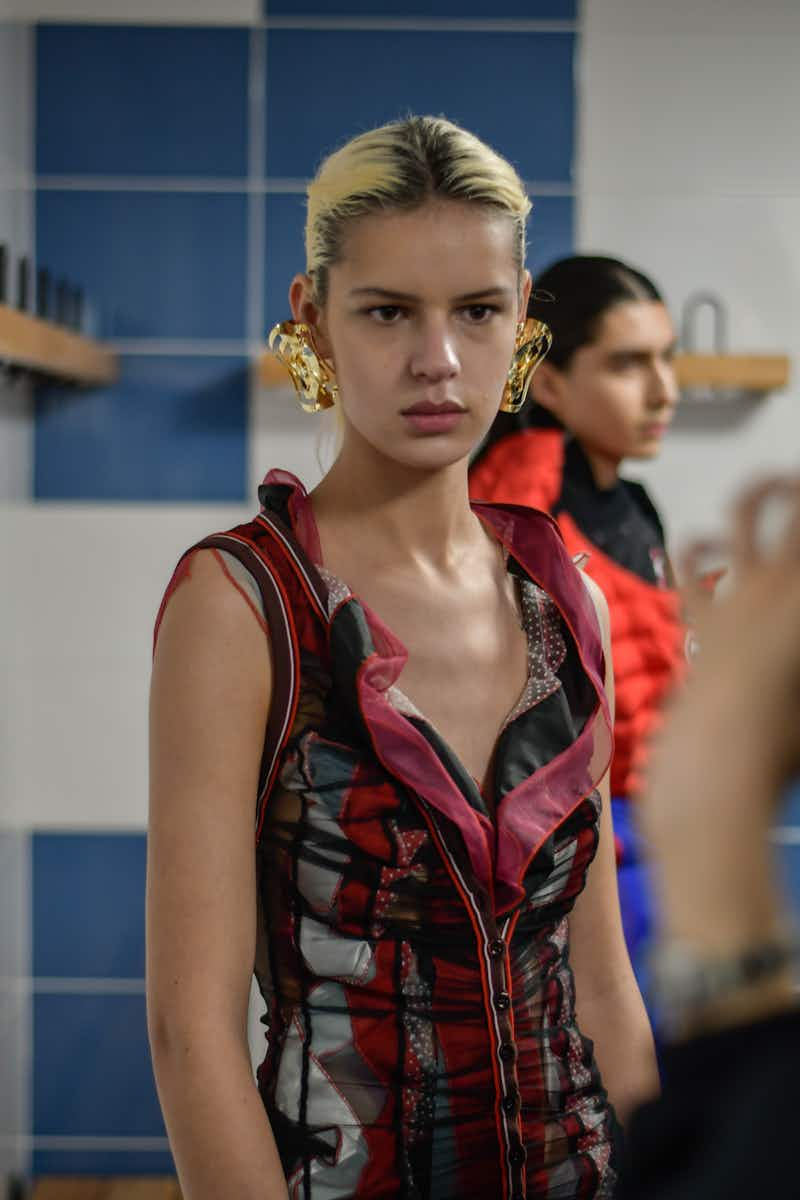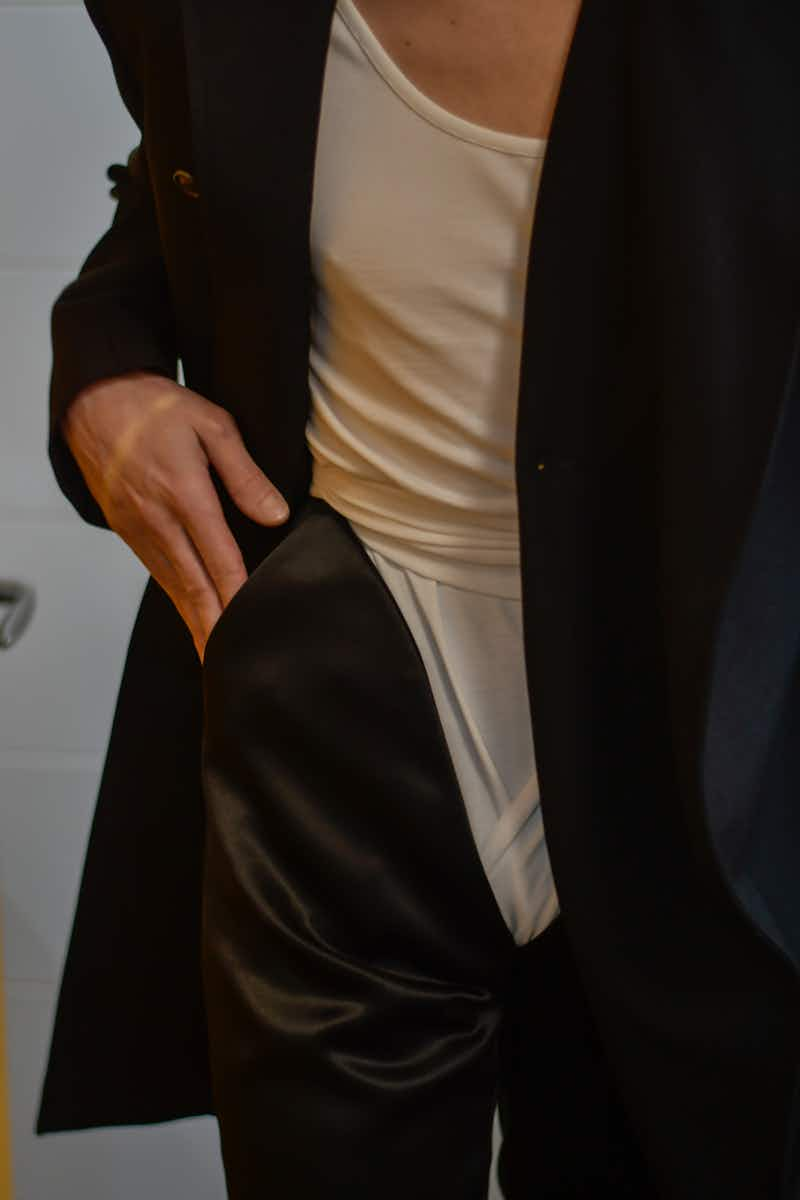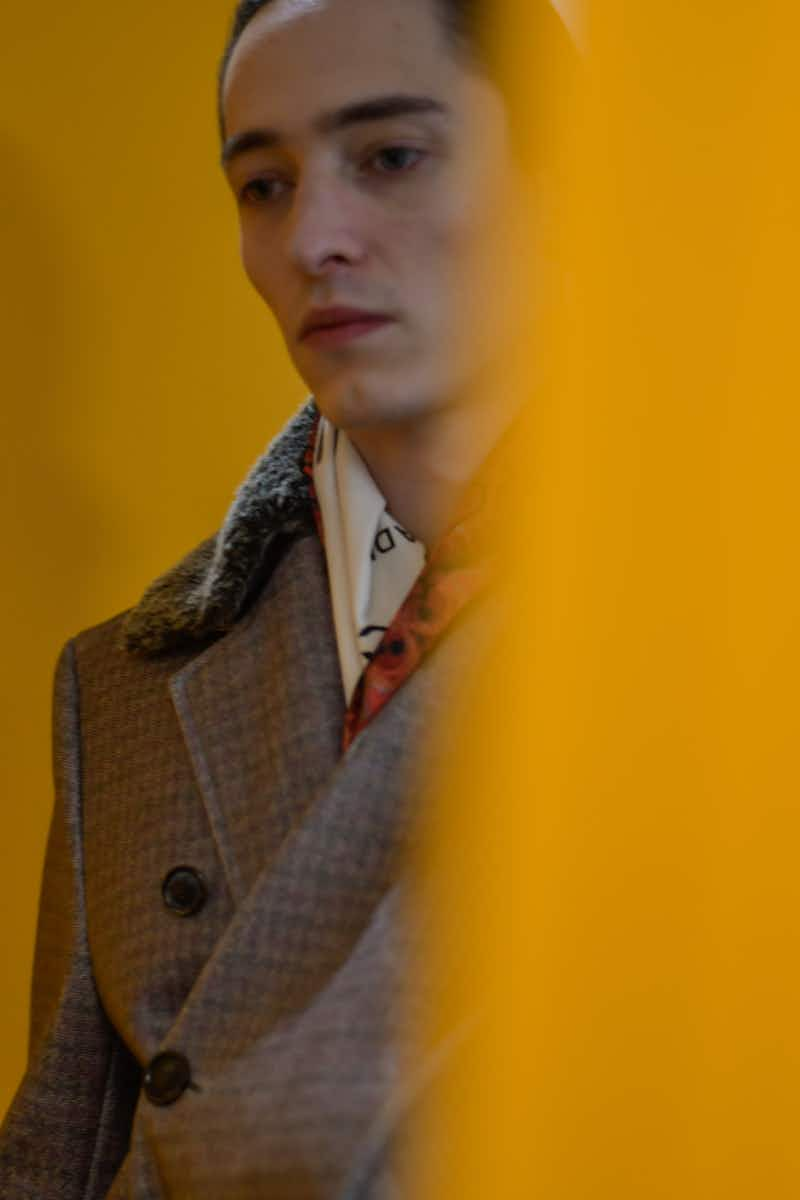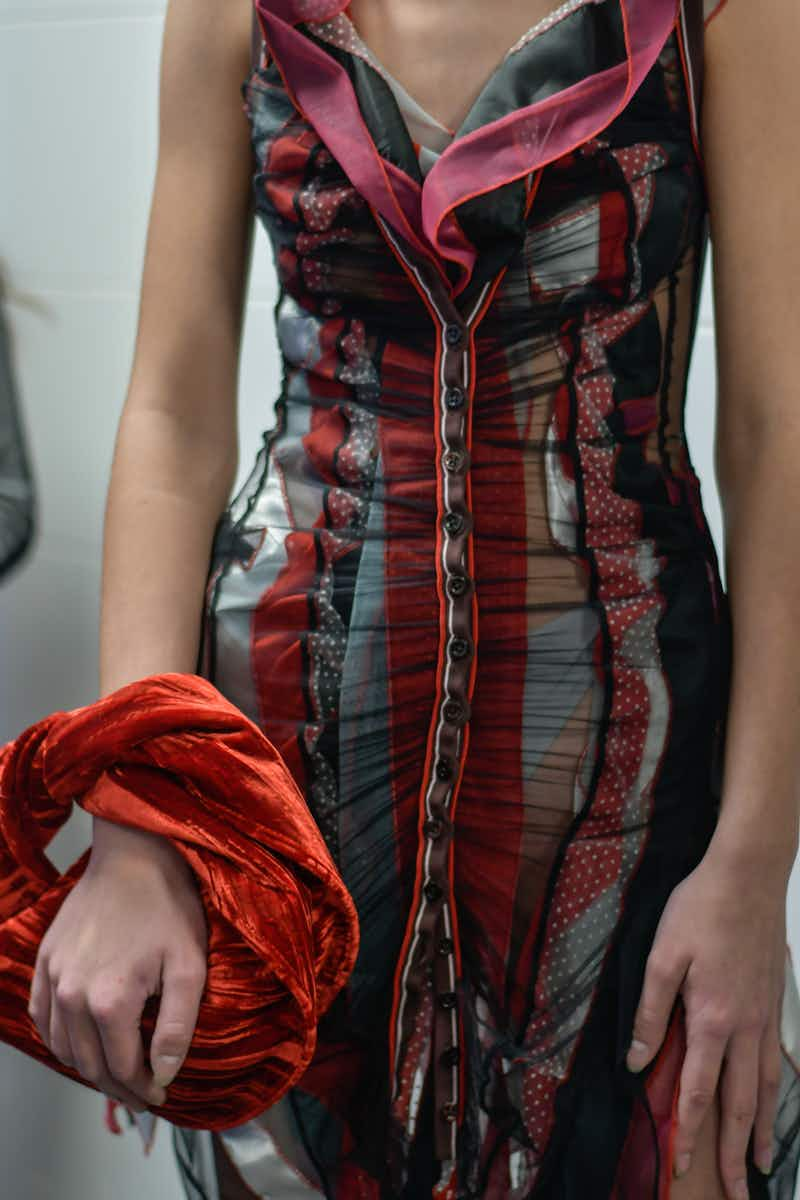 Style
Inspired by the work of David Wojnarowicz, JW Anderson's AW20 collection encourages optimism in uncertain times.
OFF-WHITE AW20
As Virgil Abloh explained backstage at OFF-WHITE's show at the Carrousel de Louvre: ​"These things have emotion… I'm just trying to make work that represents my generation." Read between the lines and you've got an elevated collection with barely any streetwear in sight. Models walked the runway in leather, tailoring, knitwear and bold block colour looks, fist pumping to greet one other as they crossed paths before finishing underneath a central chandelier. As the curtain fell, Abloh walked out from the centre – back in the spotlight after a brief break.

What about the clothes?
Everything felt elongated: long cardigans, tall turtle necks, long, knitted ponchos and tassels that hung from crisp, skew-whiff white shirts. Suiting with spherical cut-outs and slick leather trousers were blurred with casual pieces – from a cashmere hoodie, to a balloon-sleeved bomber jacket – marking the dawn of a new elevated aesthetic. Are the 2020s ushering in OFF-WHITE 2.0?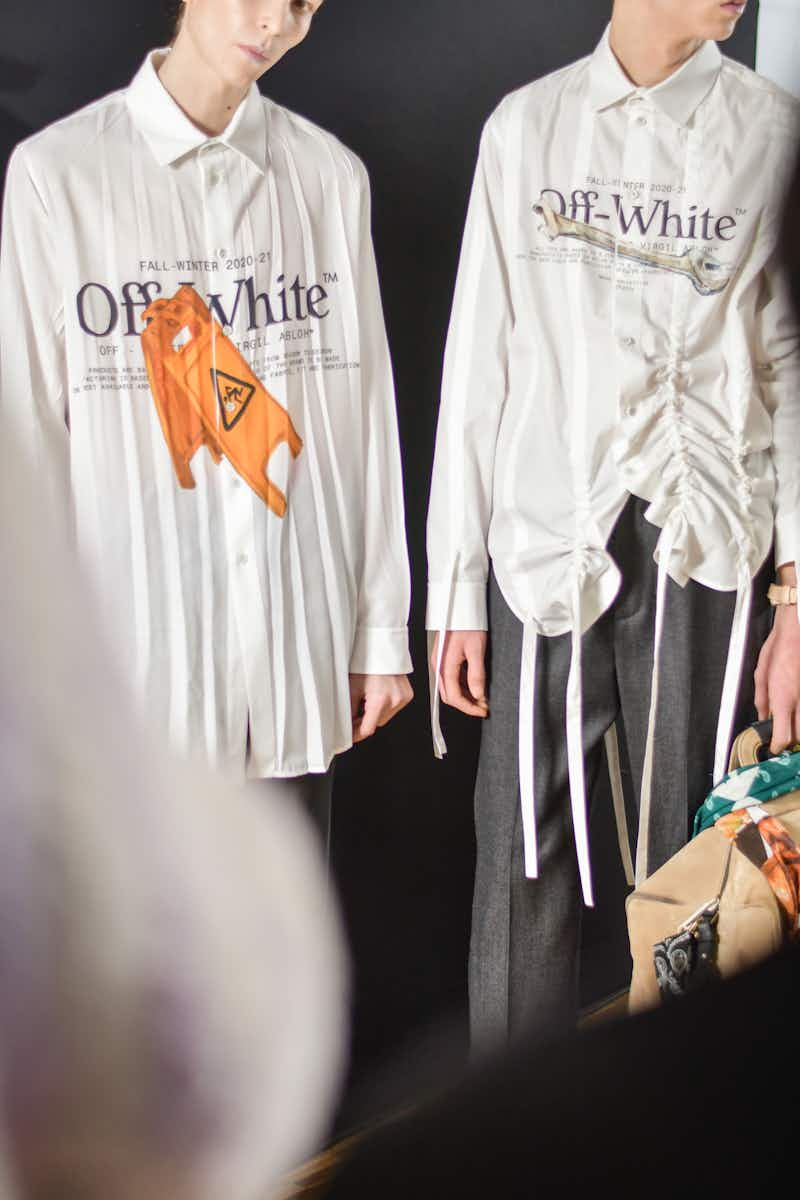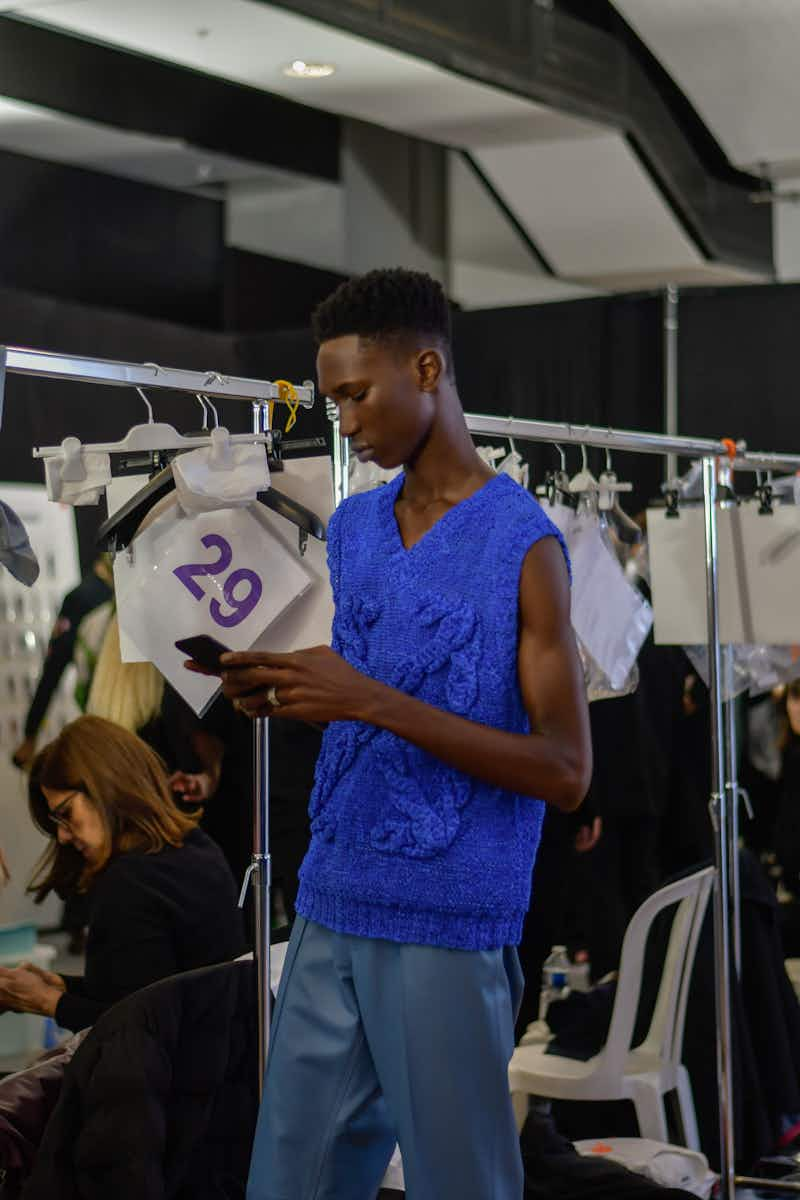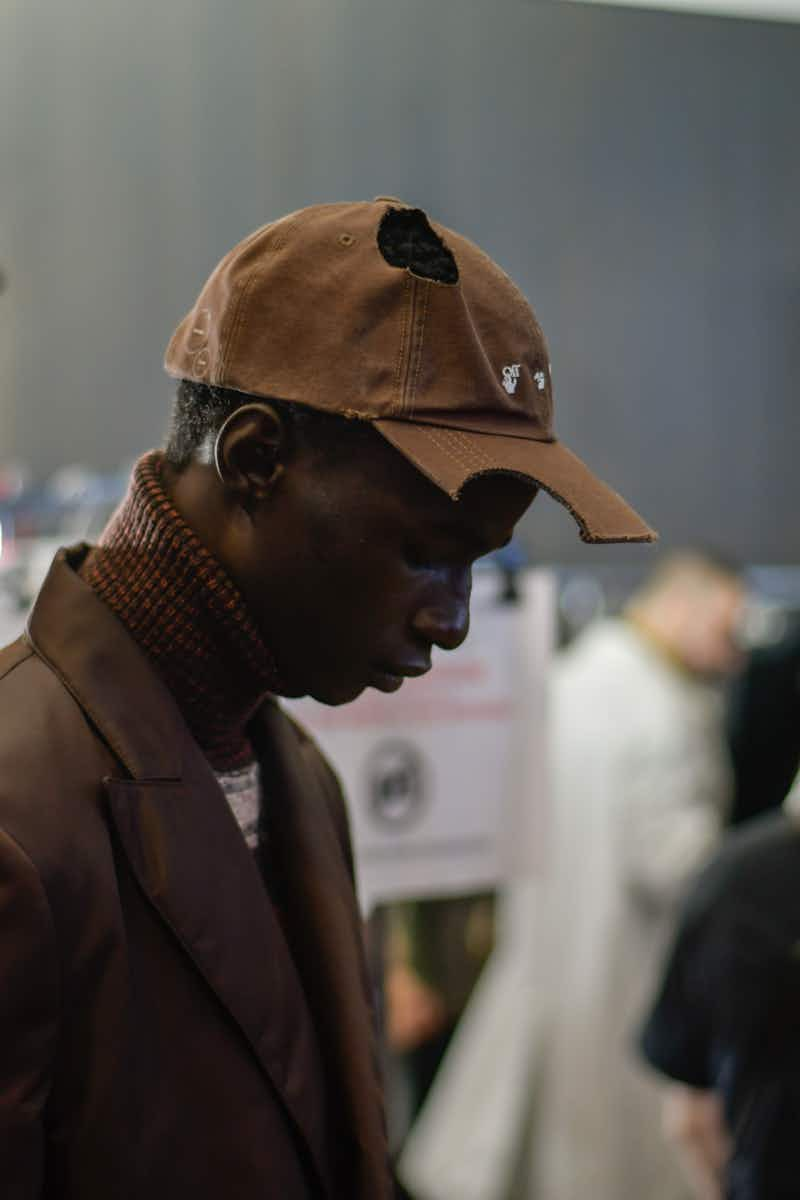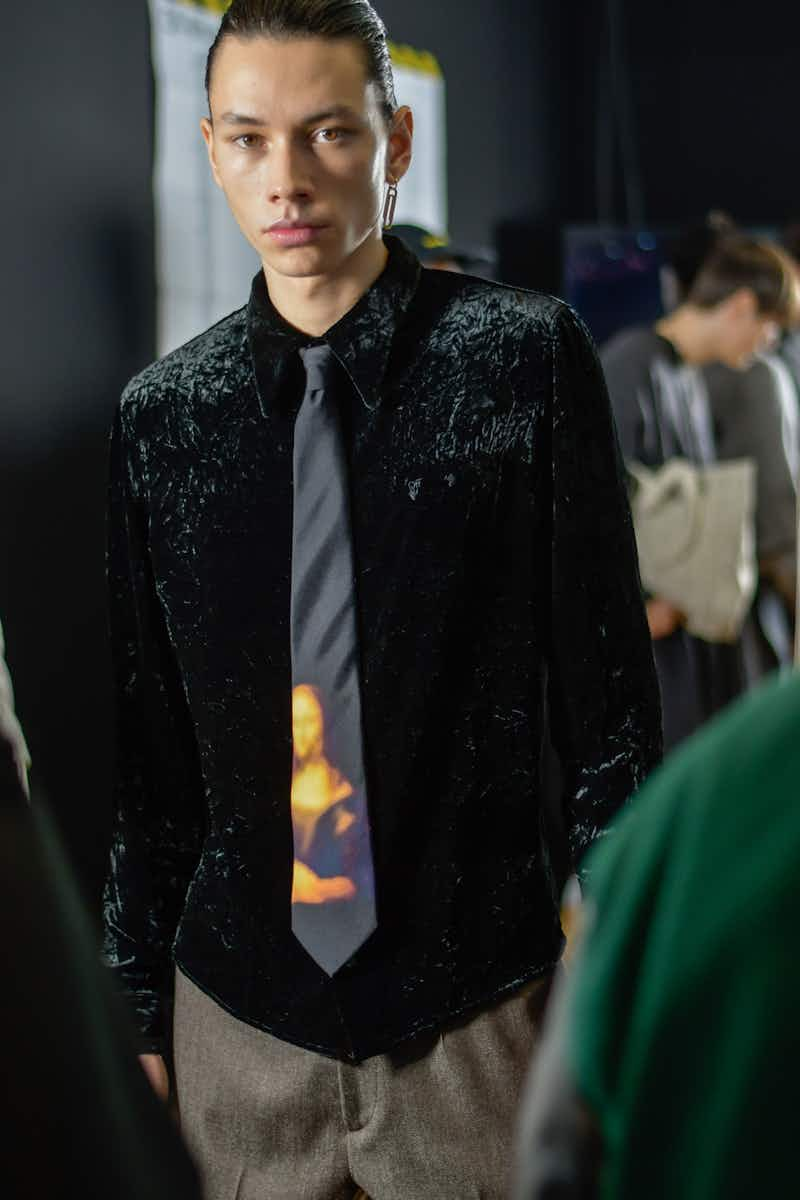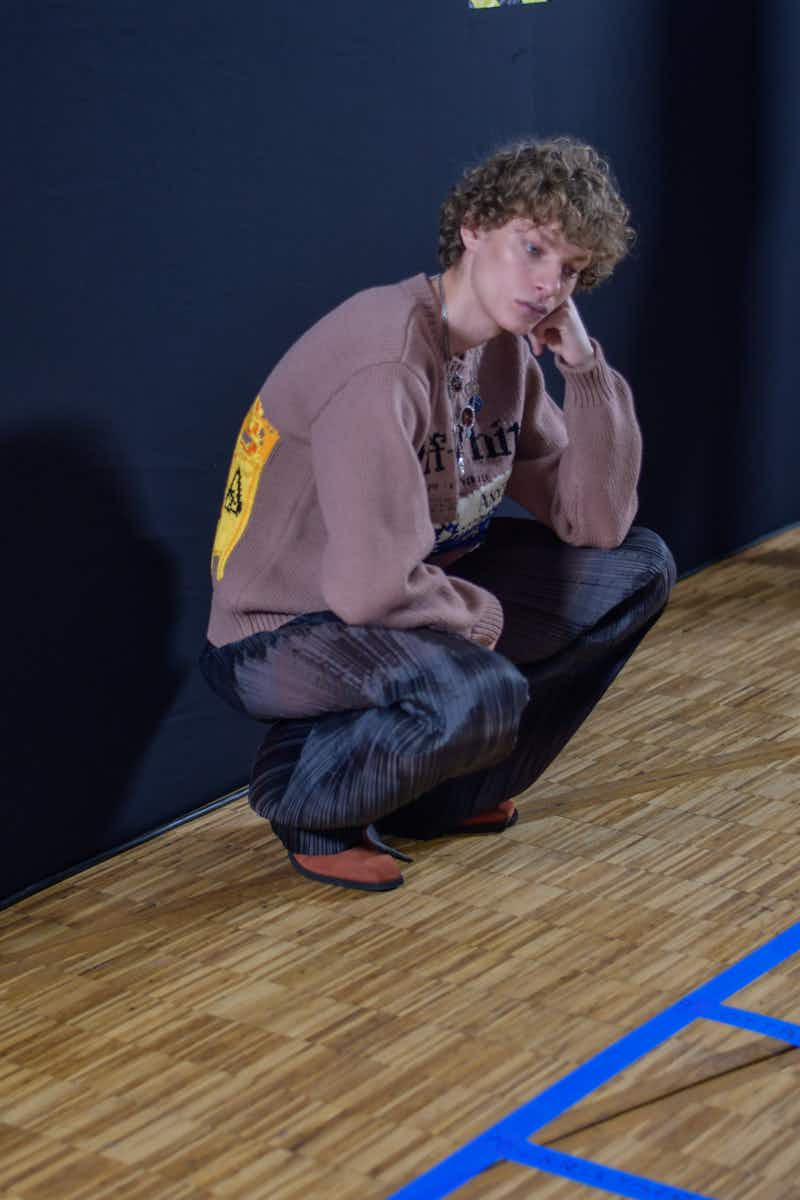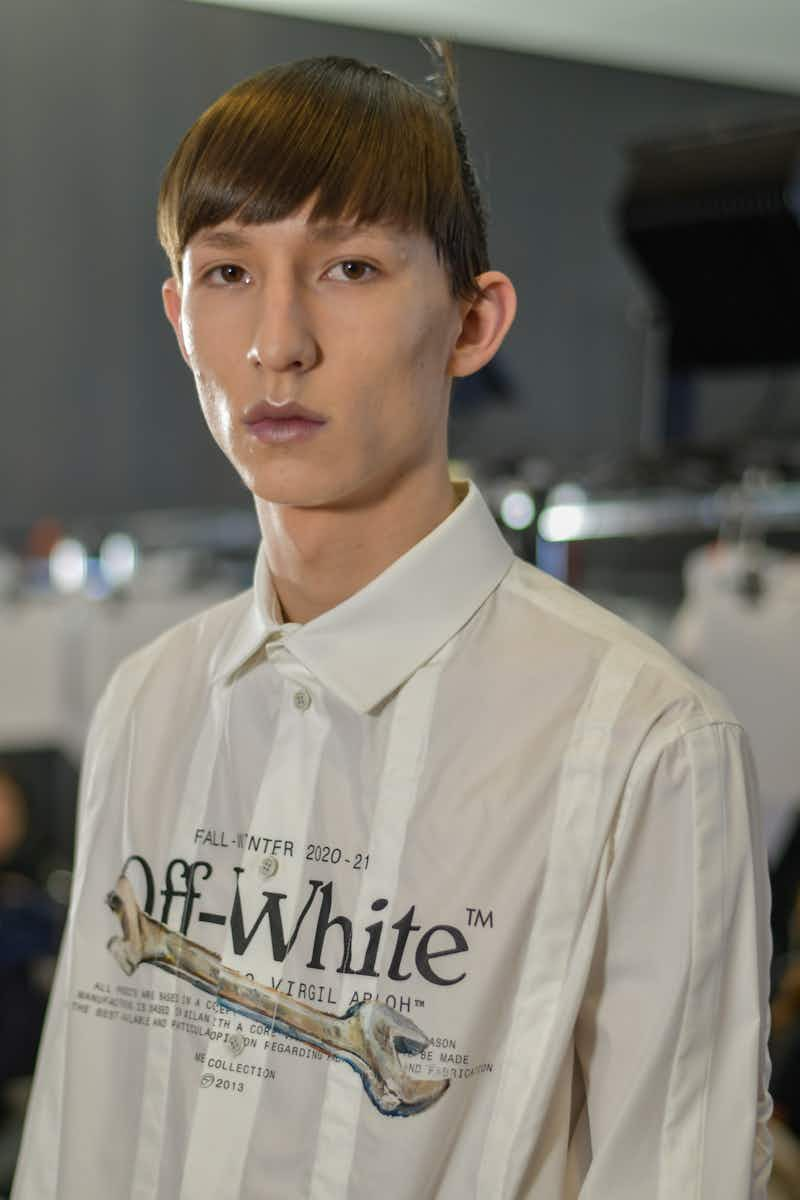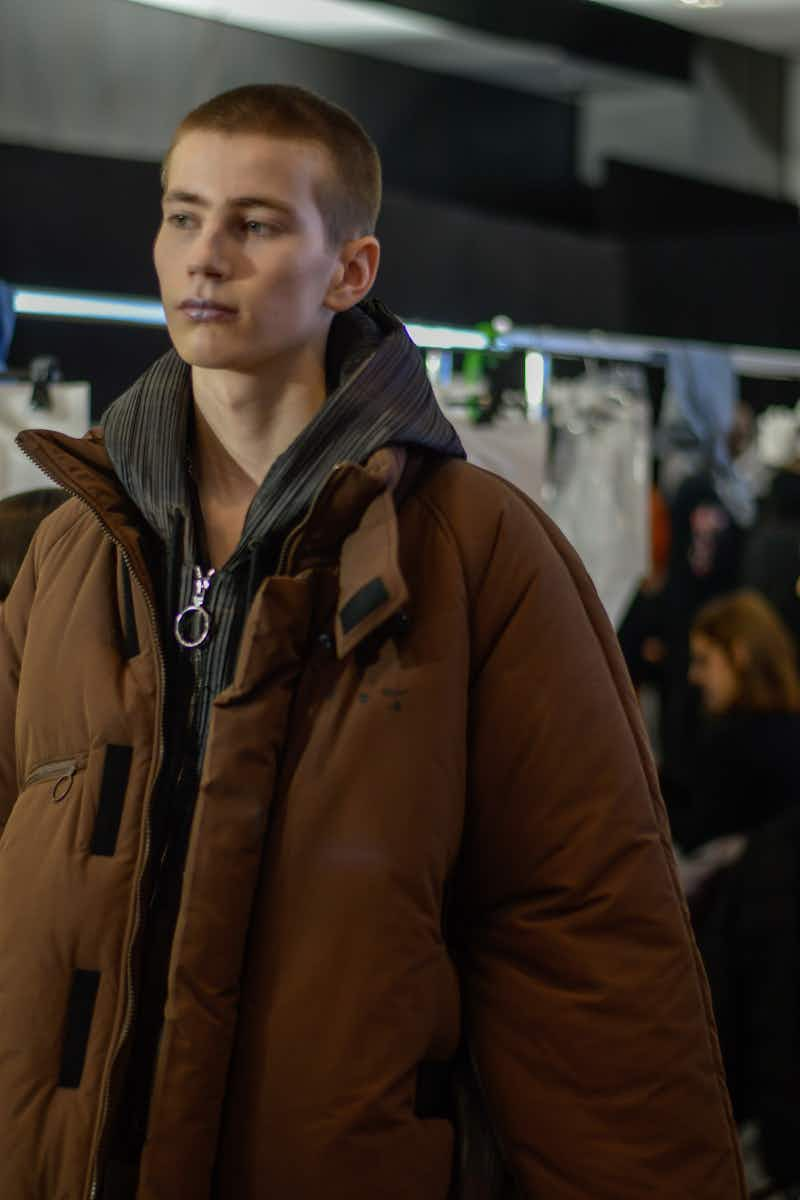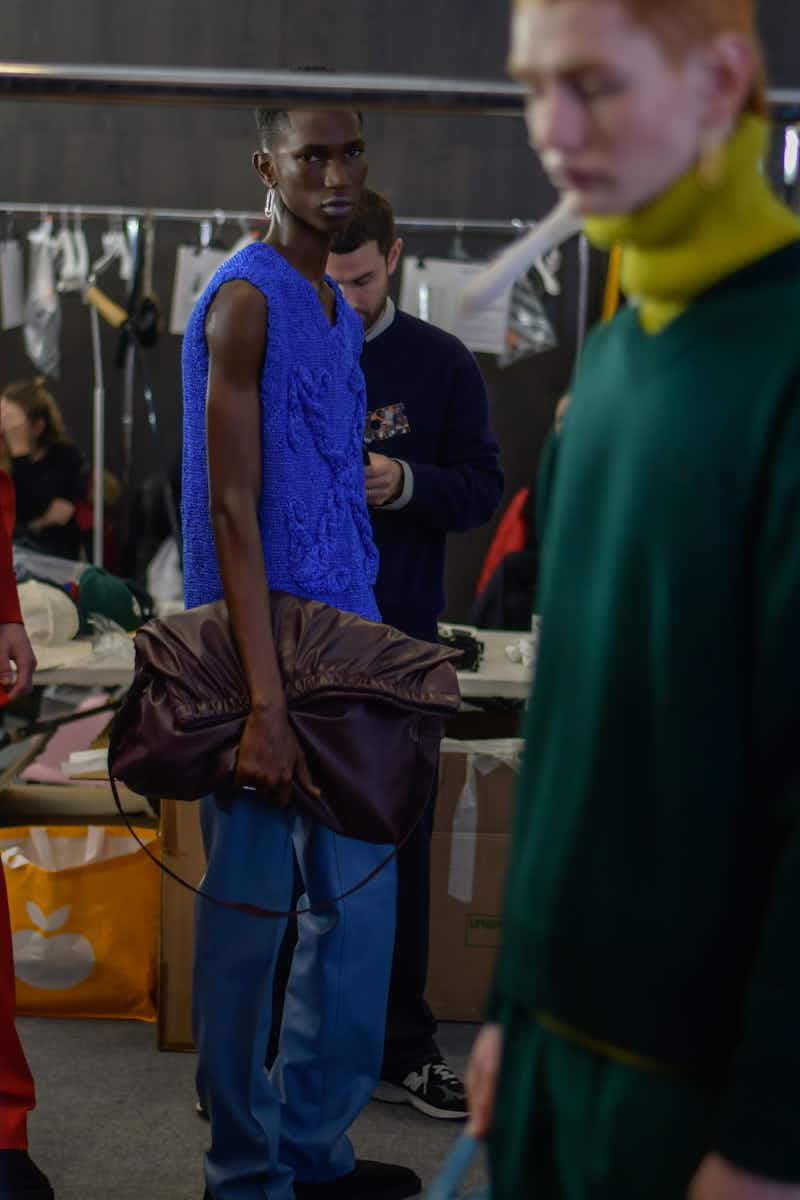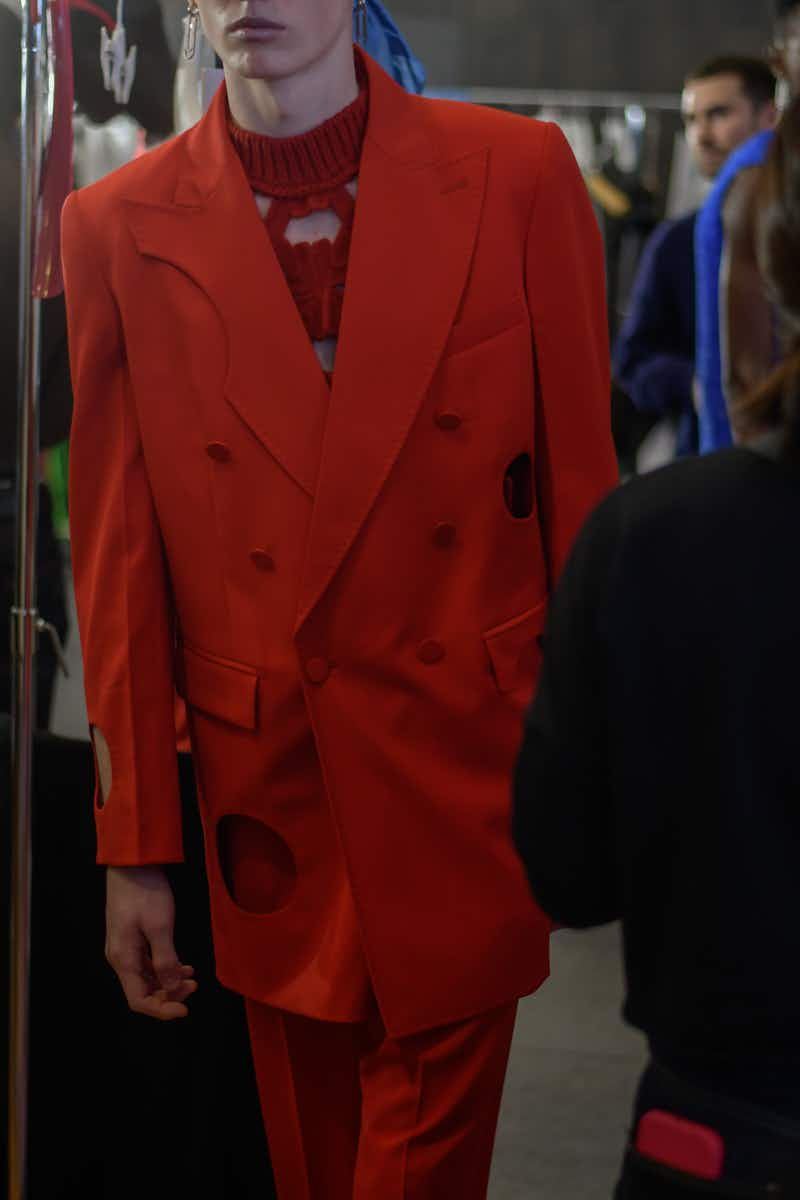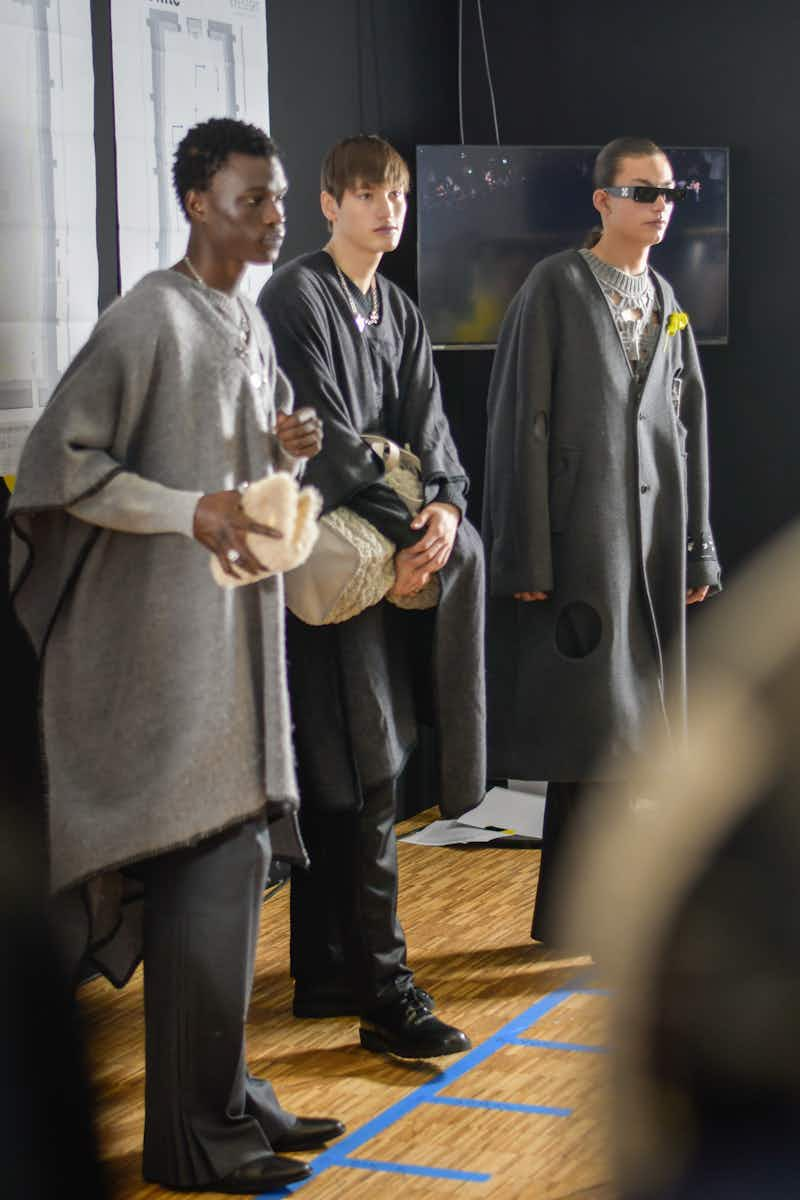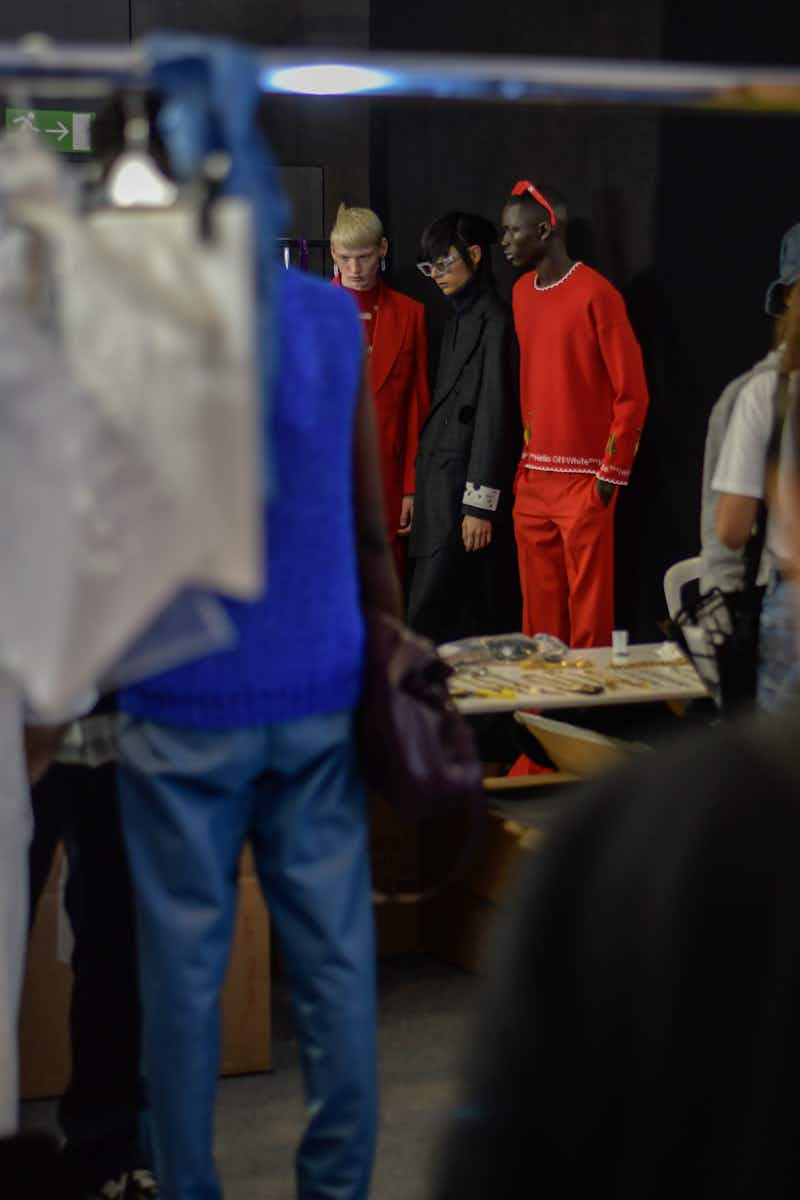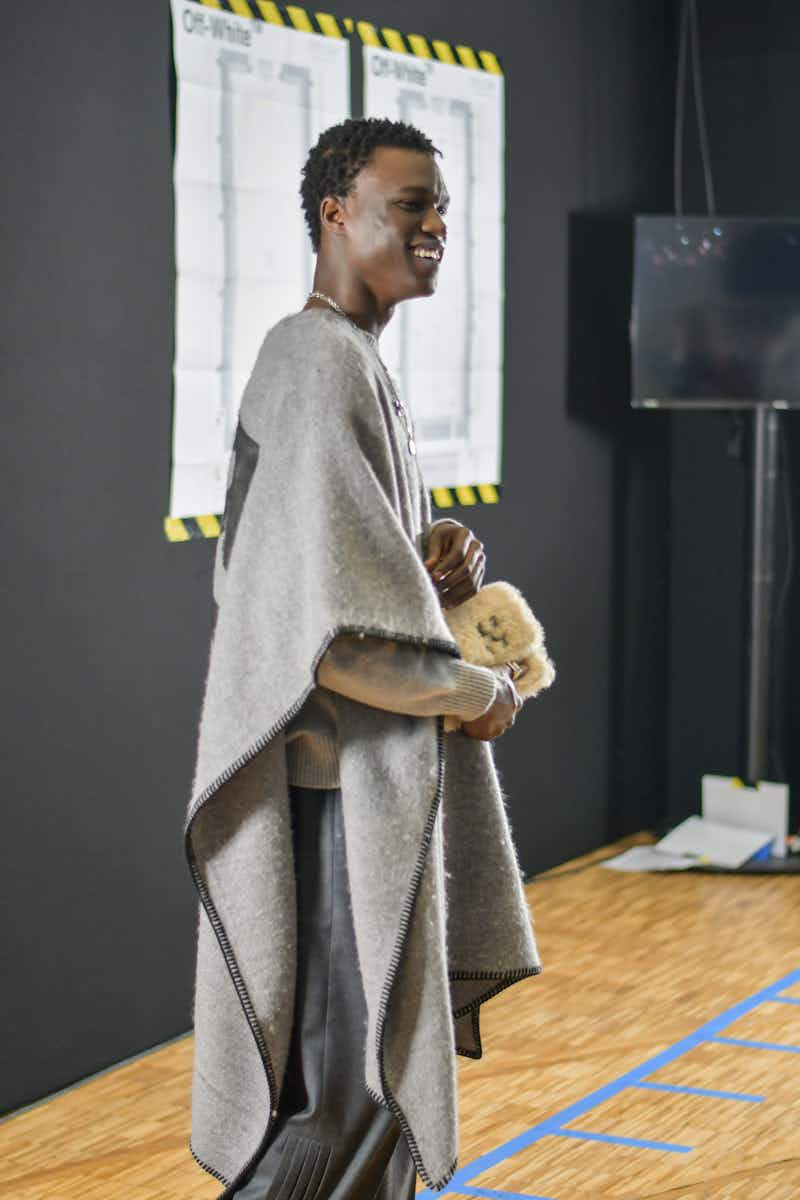 What did it sound like?

The show started with the sound of a young tap dancer: Cartier Williams, a Washington DC-based choreographer and performer wearing a T‑shirt that read ​"I SUPPORT YOUNG BLACK BUSINESSES". Williams' metal heel-toe-tap beat bled into Mercury Prize-nominated singer-songwriter Michael Kiwanuka's Cold Little Heart.

Listen now:

The sound of OFF-WHITE AW20
Of note:
A whole lotta bags: extra-large knitted totes, small shearling handhelds and woven leather holdalls accessorised with scarves.

SANKUANZ AW20
Sankuanz's AW20 collection is made for mourning in the hellish underworld and if referencing a sombre funeral is considered crass, the brand's founder, Shangguan Zhe, has thrown the unofficial rule book into a coffin and buried it 6ft under.
Tightly-buttoned black shirts paired with equally gloomy black ties, face tattoos, superbly slim, tailored trousers with a restrained kick flare (big trend alert, boys) and a collared blazer belonging on a holy vicar are as much Saville Row as they are punk. But by the mid-section of the show, Zhe's rave influences come out to play once again (this time last year, he showed a collection fusing exaggerated tailored pieces with reflective rave-inspired pieces).
Hoods, pulled tightly around the face, were worn with deadpan Daria expressions, while Day-Glo neon lime trousers appeared like a flash. Gradually, colour was introduced with a burnt orange two-piece suit, an ankle-grazing violet overcoat pierced with thick silver wiring, and an earthy khaki (fake) bulletproof vest which complimented the oversized, layered styling by its founder – a nod the Chinese youth street style scene he so often references.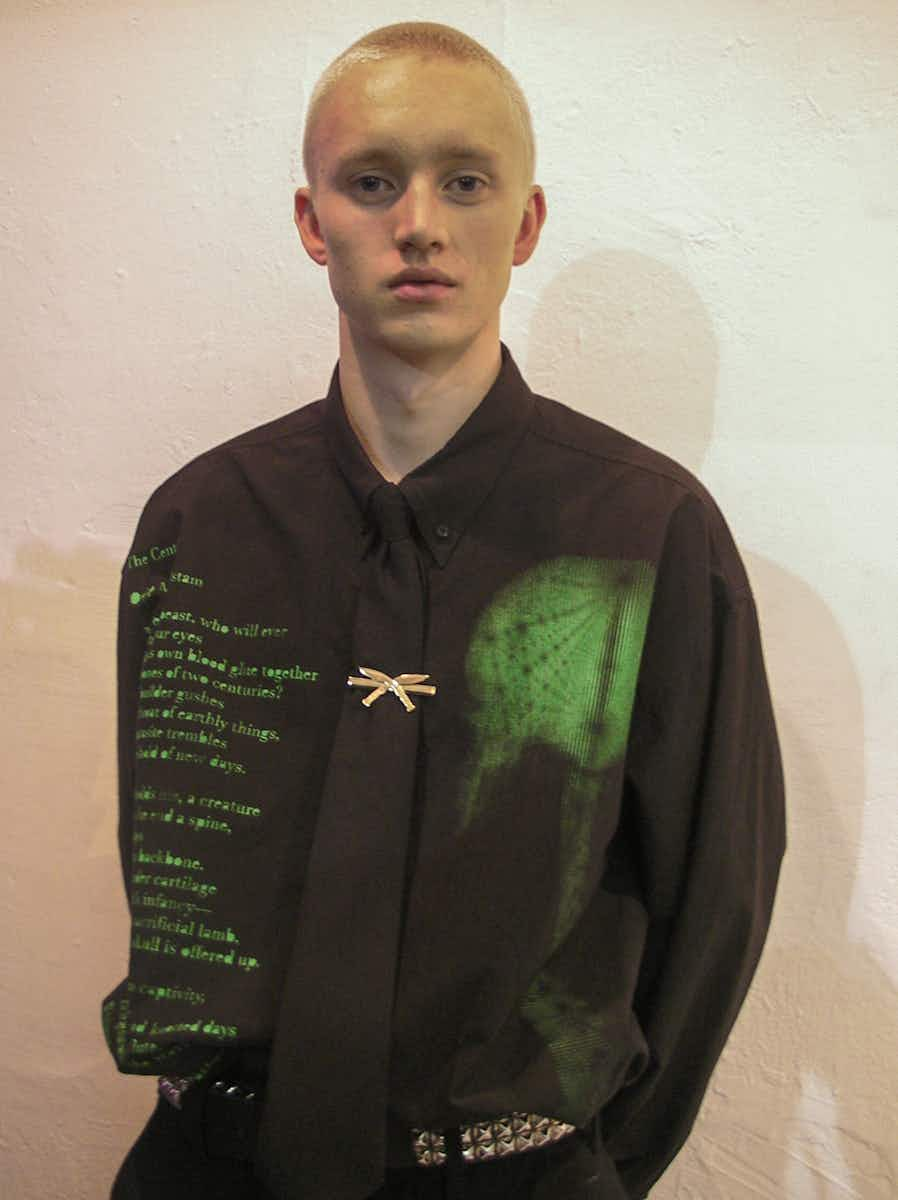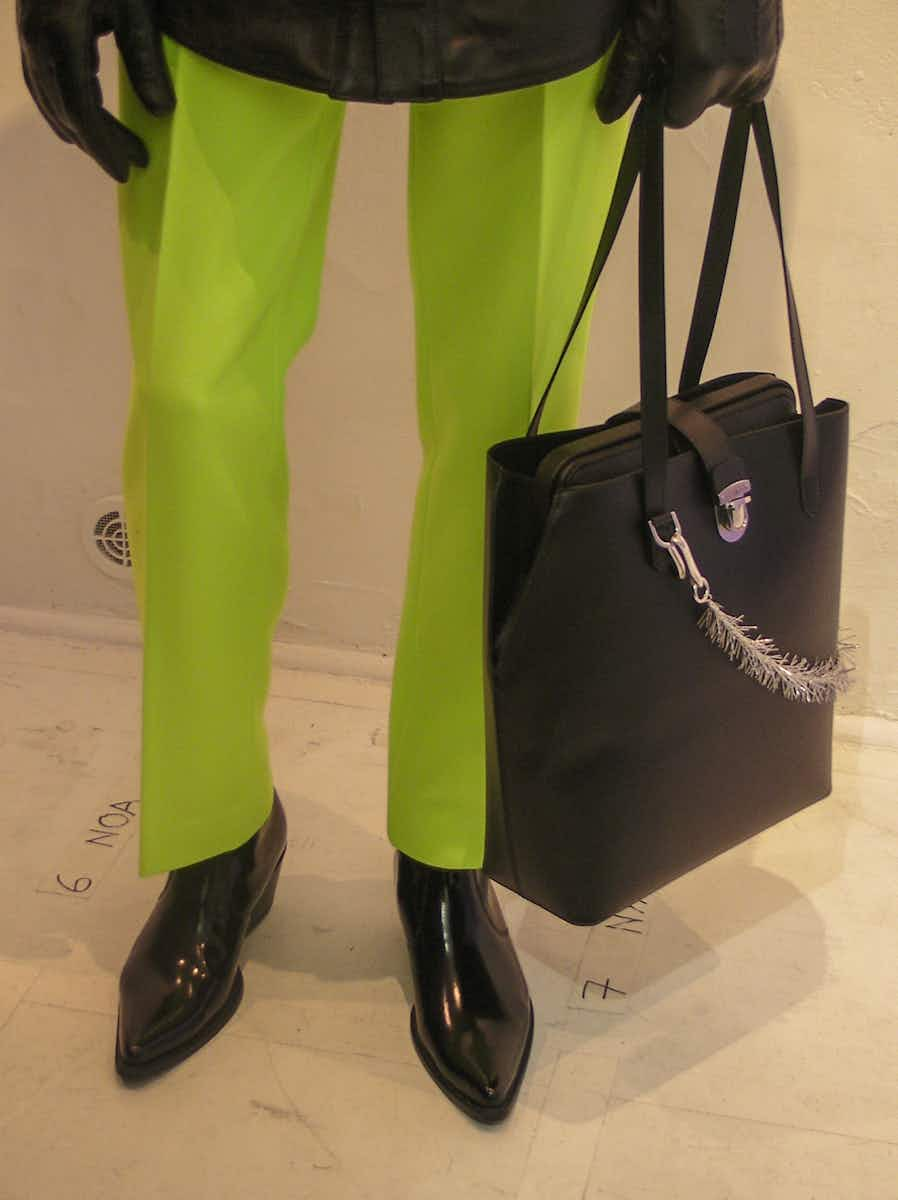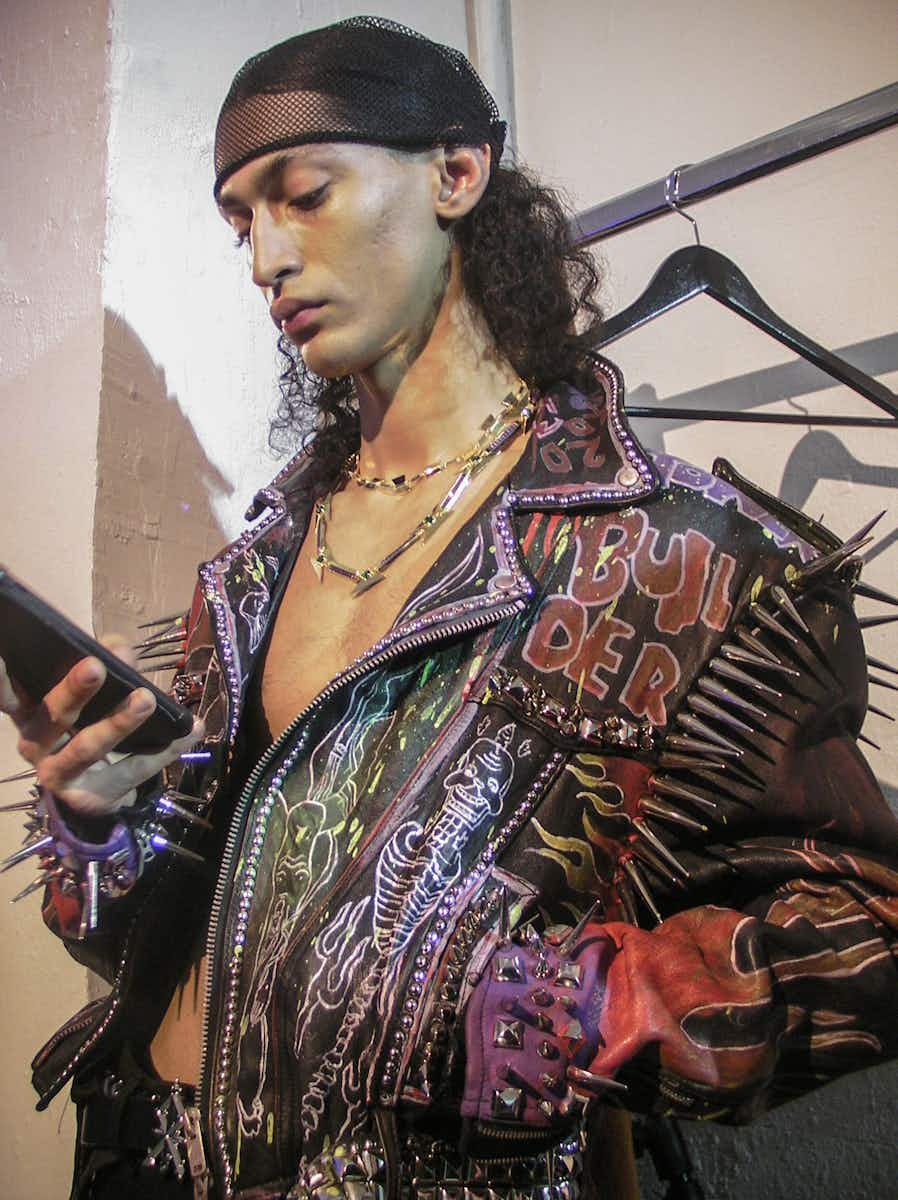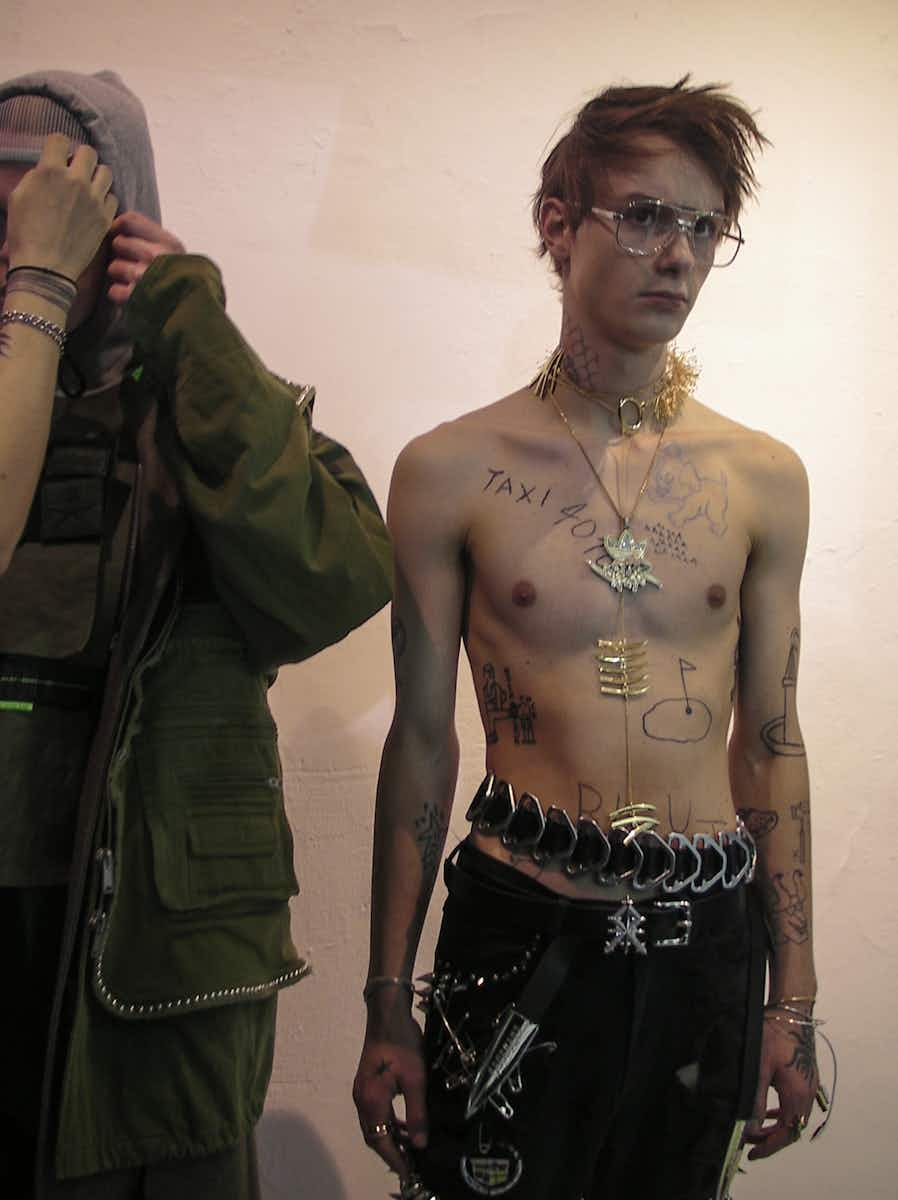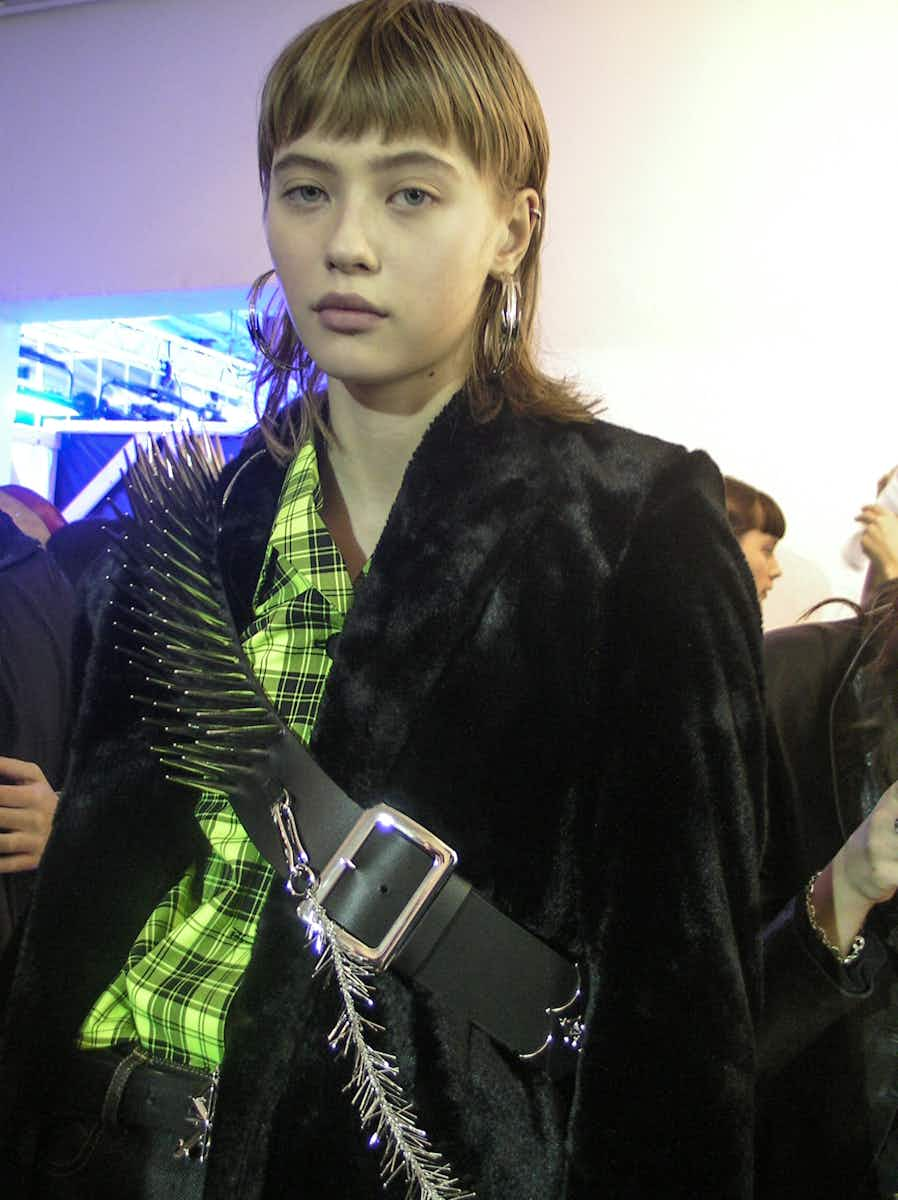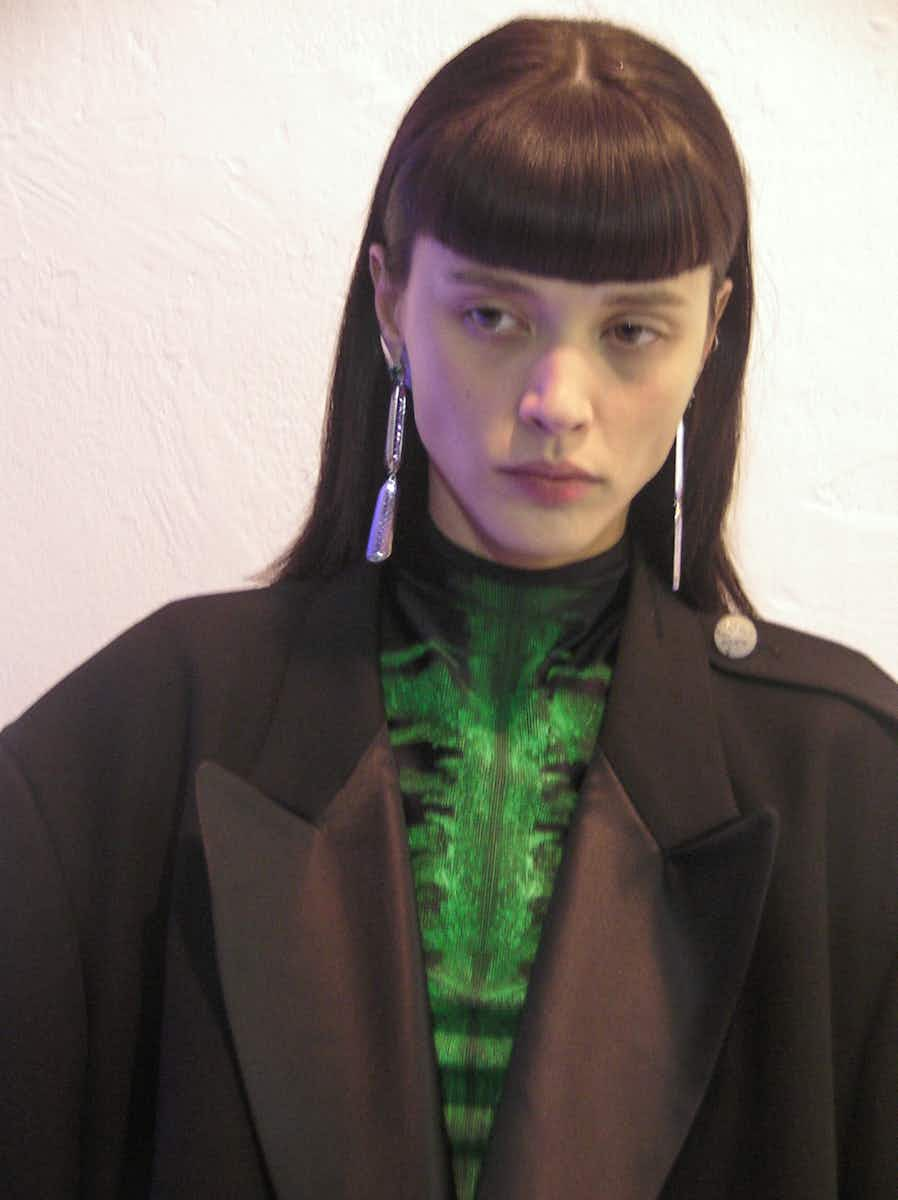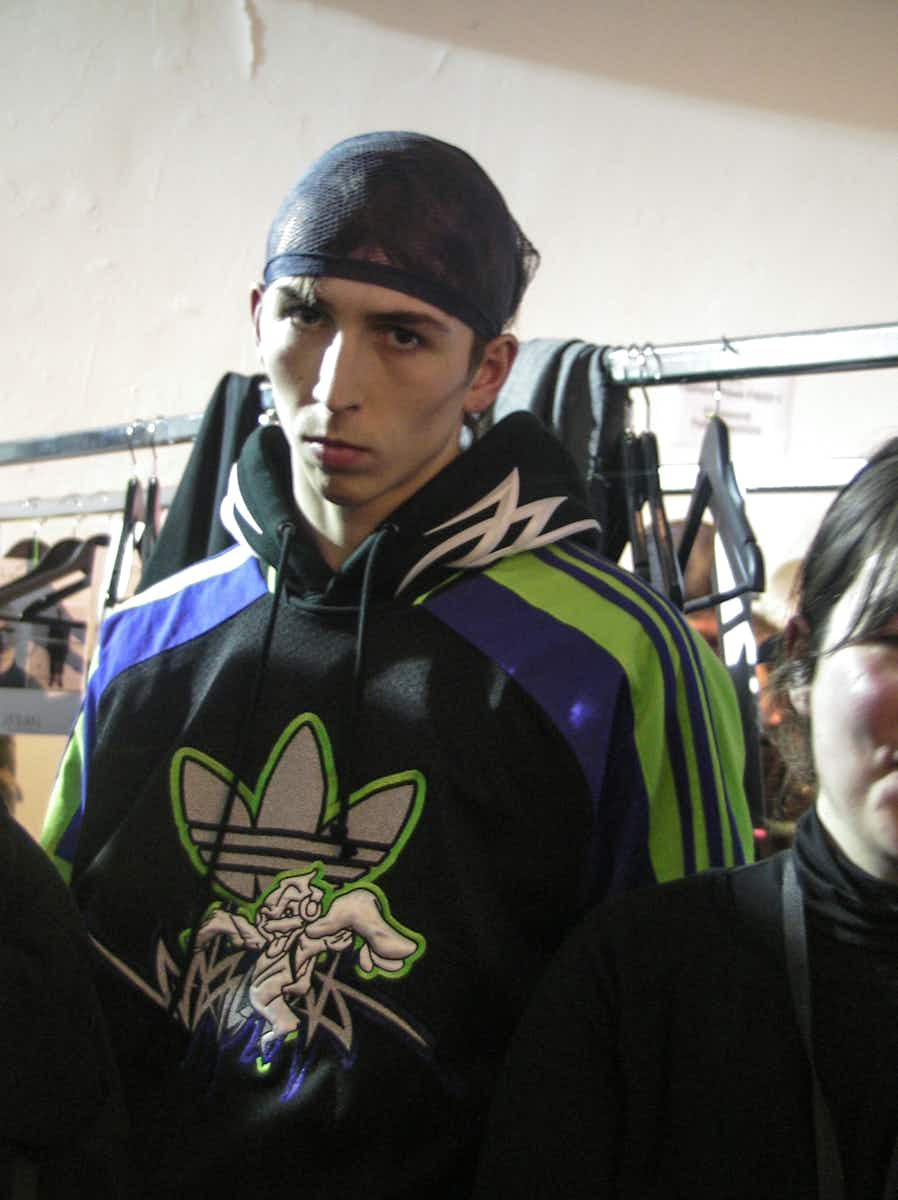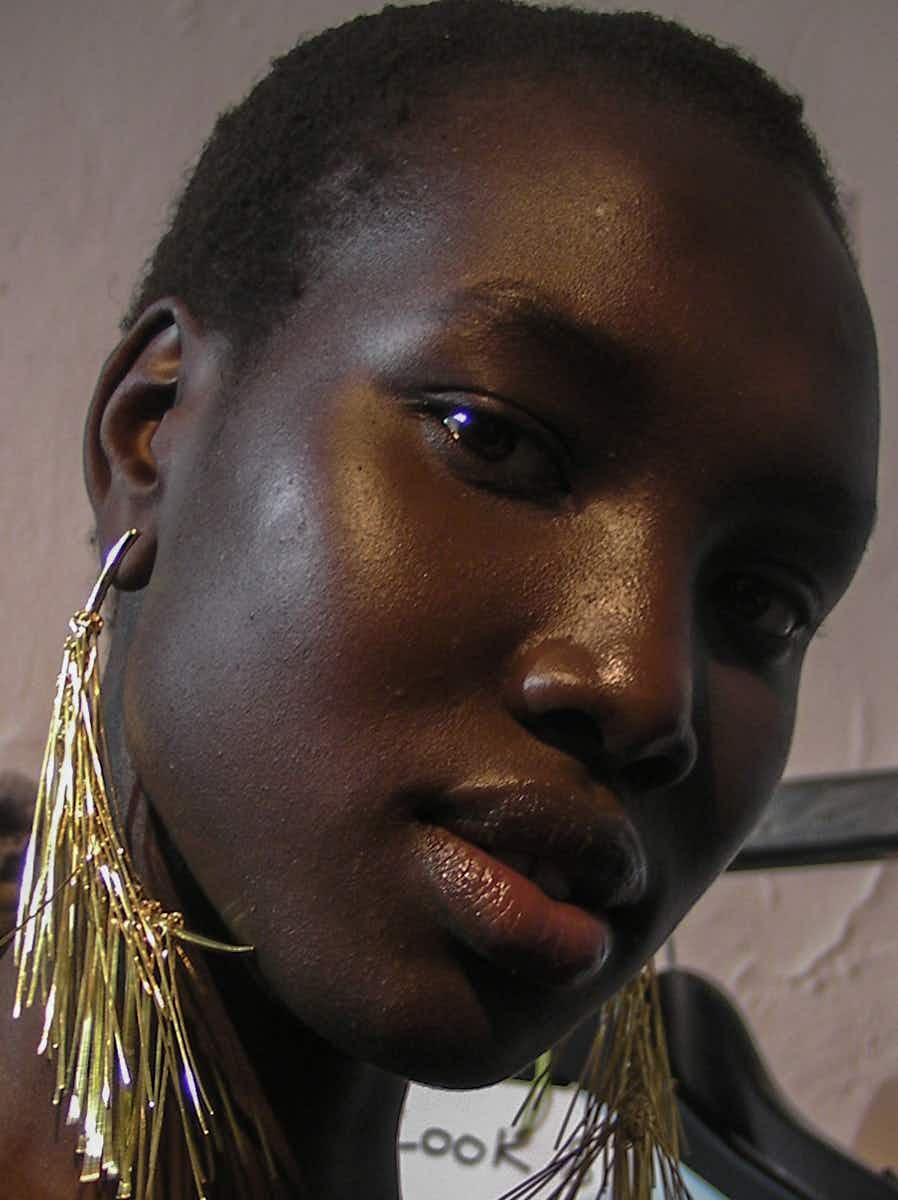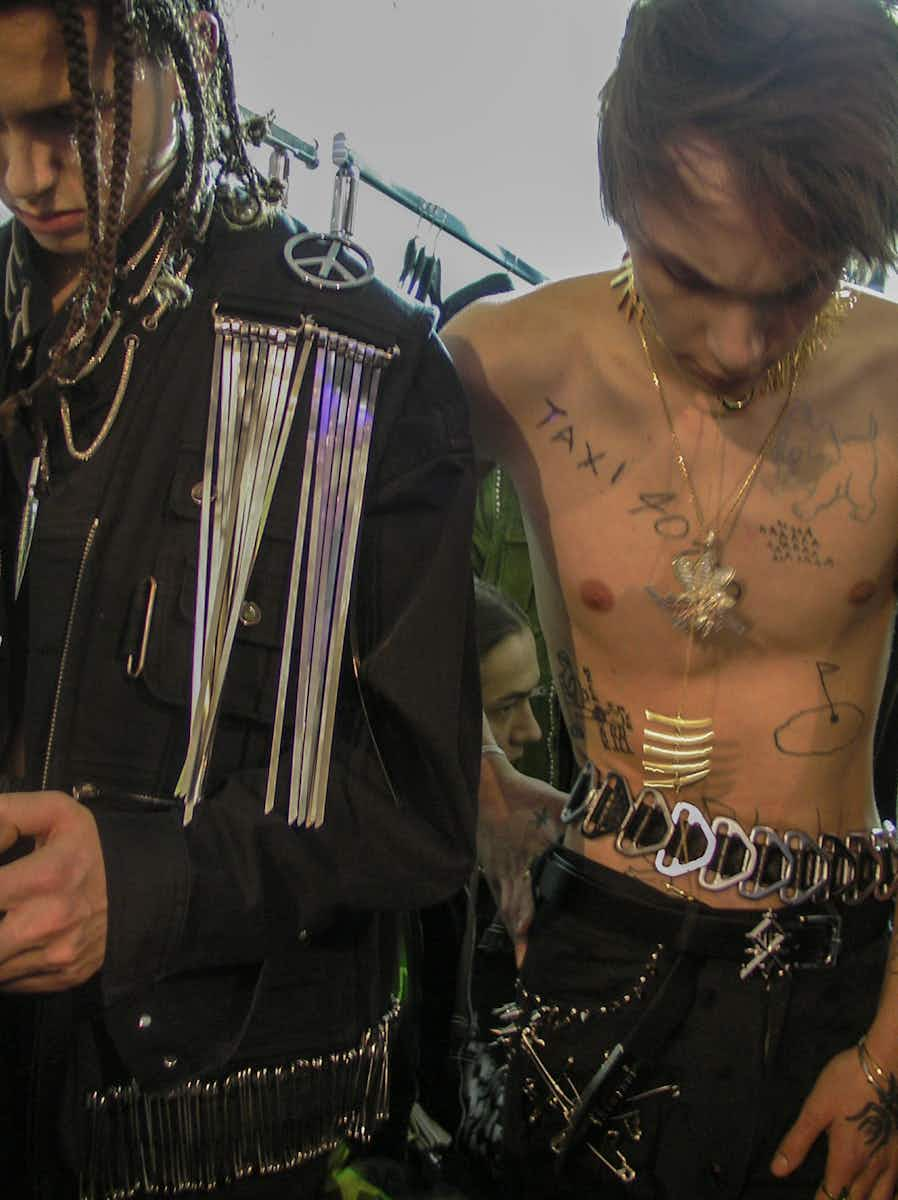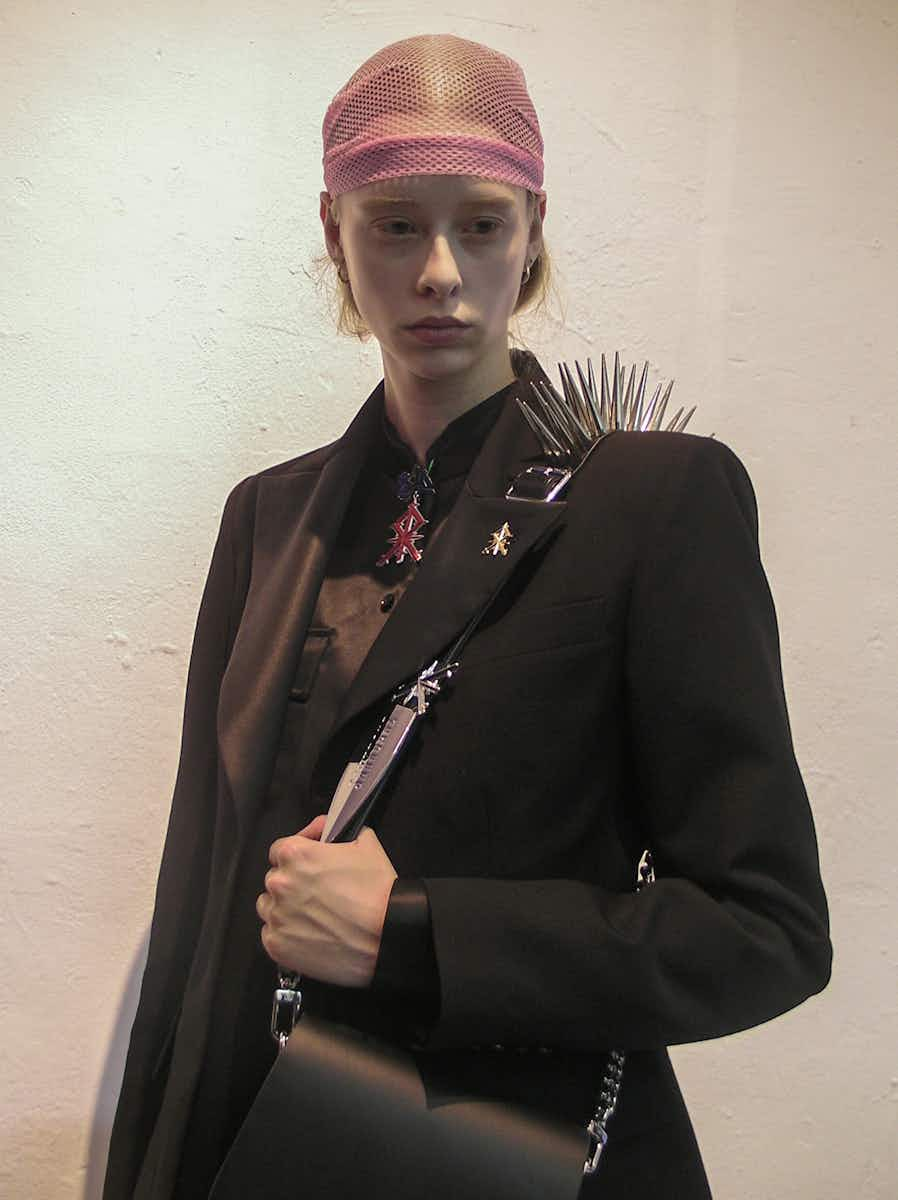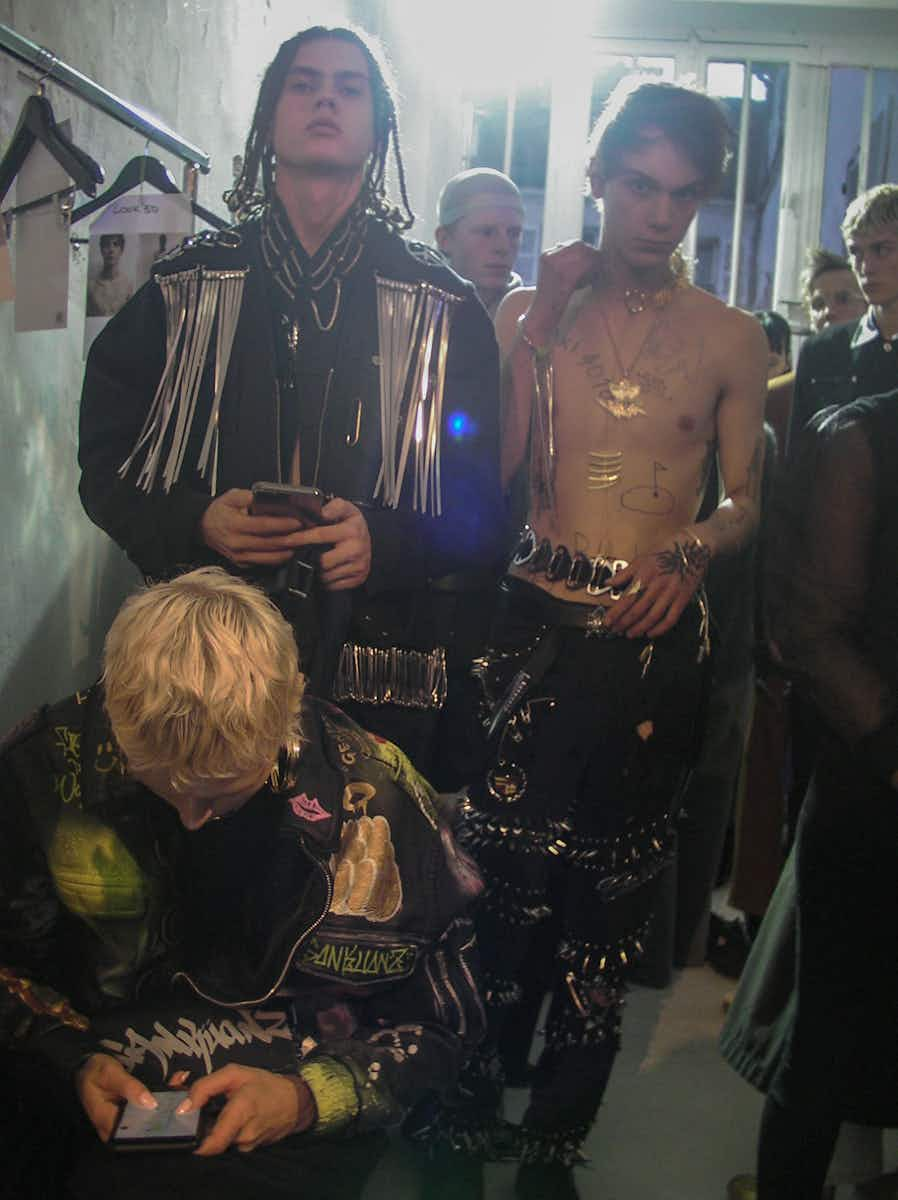 Photography: Jamie-Maree Shipton

More like this