Why Netflix's new zombie show will be the next Korean mega-hit

Schools out… for the apocalypse. All Of Us Are Dead already sounds unmissable.

"A group of students trapped in a high school find themselves in dire situations as they seek rescue from a zombie invasion… Who will make it out alive?"
This, my bingeing friends, is All of Us Are Dead, the ultra-violent ​"gorefest" recently announced as Netflix's first South Korean production of 2022. Even three days before it launches (on 28th January), we are already sold on the show about a deadly virus (heard that one before) that causes the afflicted to feverishly attack without prejudice. Even better, these school-uniformed undead are of the sprinting (rather than shambling) kind.
Think: World War Z meets Sex Education. Or The Walking Dead meets Grange Hill.
This is an ambitious zombie apocalypse serial of the variety that only a booming South Korean screen industry can offer. And judging by the amount of blood and viscera present even in the two-and-a-half-minute YouTube preview, it's safe to say that this isn't going to be a show that's holding back.
We're not the only ones excited for flesh-eating mayhem at Bloody Battleground High. Since the first trailer dropped on 13th January, YouTube has clocked over 11 million views for All of Us Are Dead, making it the perfect opening salvo in Netflix's epic expansion of South Korean content. The streamer has just announced a massive slate of new K‑thrillers, K‑shockers and K‑dramas for the year ahead (more on that below). But even without that strength-in-depth, we're inclined to feel quite hyped about this post-Squid Game must-see. Here's why.

Battle Royale with zombies. With a strong cast and crew, to boot
All of Us Are Dead – which carries the unbeatable tagline ​"School's out… for the apocalypse" – is director Lee Jae-kyoo's first Netflix series. And while he's not yet a big name in the West, he has great filmmaking chops.
Lee has previously received acclaim for works such as the prize-winning TV series The Beethoven Virus (sadly not about zombie music composers, although we'd totally watch that) and blockbuster 2018 comedy Intimate Strangers. The latter was included alongside Parasite as one of the 10 best films of the year by the Korean Association of Film Critics (KAFC) in 2019. Fine company to be in, it must be said.
Leading the show's cast is Park Ji-hoo, who won an armful of acting awards for her role in 2018 indie drama House of Hummingbird (another film that made the KAFC's list that year; also the winner of the Grand Prix for Best Film in the 2019 Berlin Film Festival's Generation 14plus section). She's joined by at least one Squid Game alumnus in Lee Yoo-mi, alongside a wave of rising stars threatening to turn All of Us Are Dead into this generation's Battle Royale.
Fans on YouTube are already commenting on the impressive cinematography, which certainly adds a sense of scale to the production. Some of the trailer's most memorable shots see crowds of the swarming dead unleashed through huge playing fields, suburban backstreets and in the corridors of the school itself.
Those speedy zombies, by the way, look gnarly. Hungry, too.

South Korea's already set a major precedent for zombie productions
The country has major form in the genre, with the likes of #ALIVE, Zombie For Sale, The Wailing and Netflix's own Kingdom (the platform's first original Korean series, in 2019) raising the bar incredibly high in recent years. In fact, the best line in the trailer for All of Us Are Dead directly references one of the country's biggest crossover hits. ​"It's Train to Busan!" quips one uniformed student, in a meta-moment of terrifying clarity.
The line directly links All of Us Are Dead to the 2016 smash hit that Edgar Wright called "[the] best zombie film I've seen in forever." An action-packed modern classic about a group of stragglers attempting to outrun rabid flesh-munchers on a speeding train, Train to Busan was so successful upon release that it remains Korea's 14th highest-grossing film of all time today.
The film has only become more relevant to the wider cultural zeitgeist in the years that followed. Star Gong Yoo playing a pivotal role in Squid Game, while supporting cast member Ma Dong-seok (also known as Don Lee) made history after becoming Marvel's first-ever Korean superhero the same month, starring opposite Angelina Jolie and Richard Madden in Chloé Zhao's Eternals.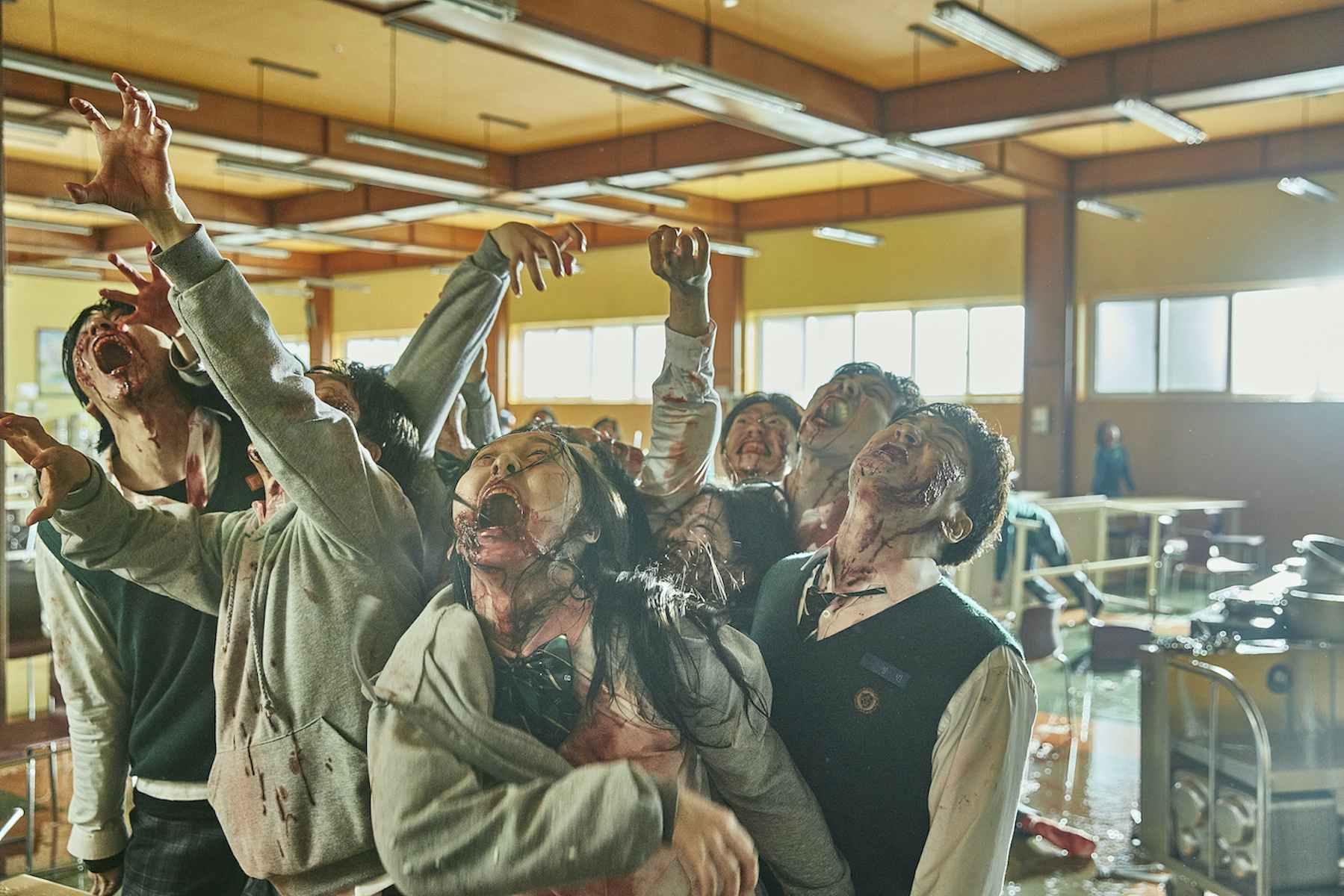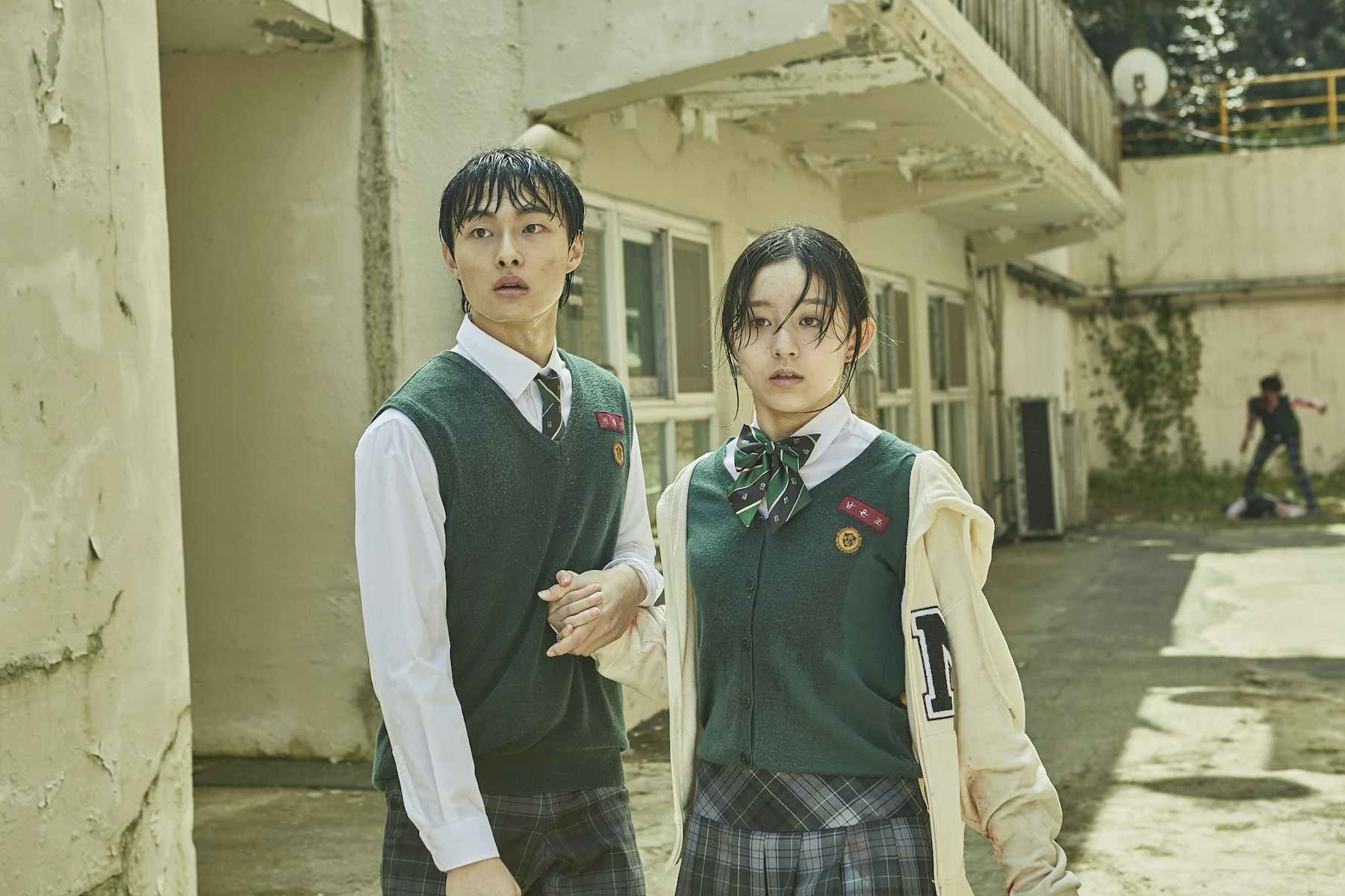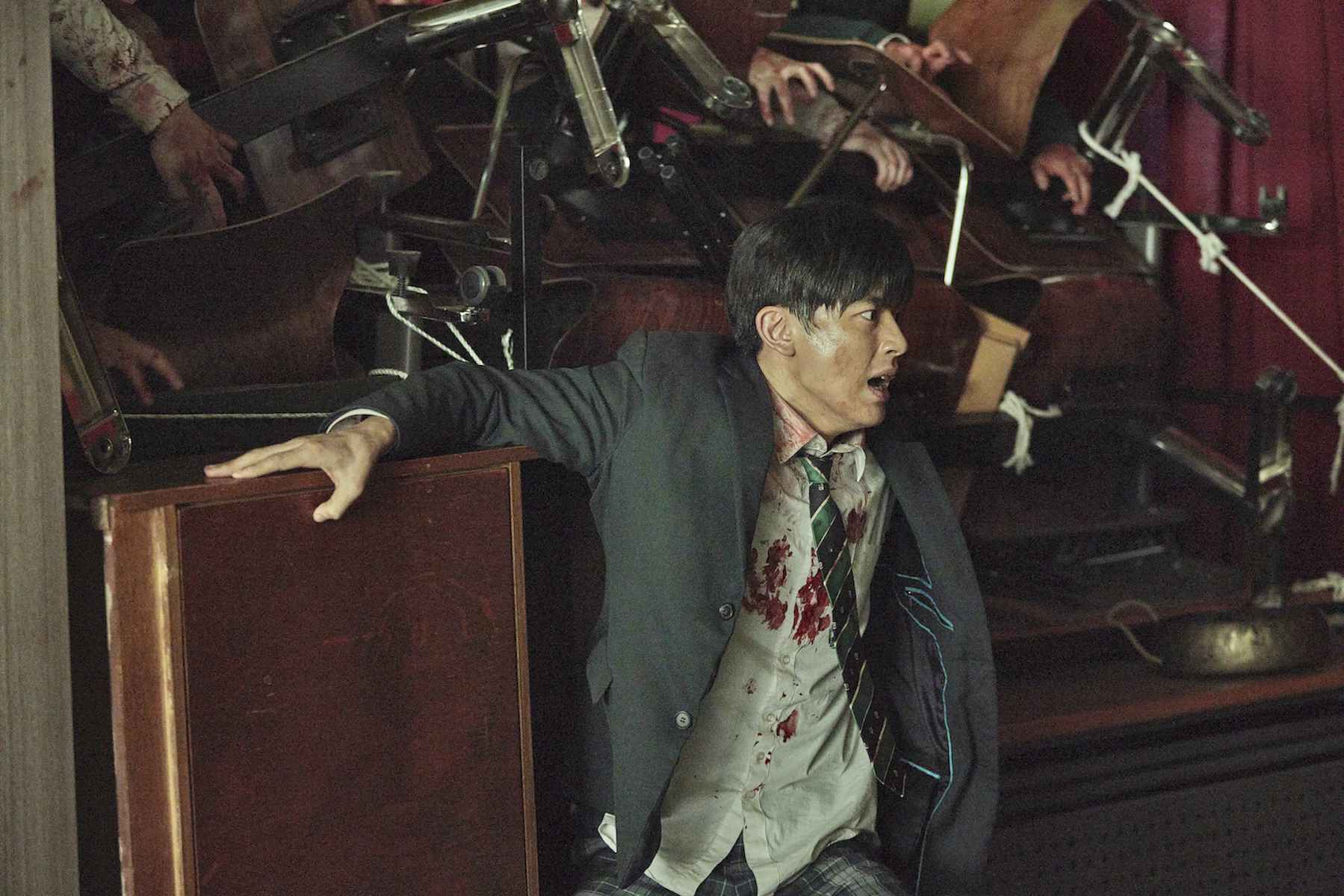 Further linking All of Us Are Dead with the works of Train to Busan director Yeon Sang-ho are the show's origins as a webtoon (a kind of mobile-friendly comic presented in a scrollable vertical strip).
All of Us Are Dead is adapted from a wildly-popular work by Joo Dong-geun ("deemed legendary by fans", says Netflix) that was published between 2009 and 2011. Train to Busan director Yeon, meanwhile, just reaped massive success after adapting his own webtoon, Hellbound, for the streamer. In November, it trumped Squid Game to become the most-watched show on the planet.
Evidently, bringing Korean digital comics to the screen is a winning formula, so watch this scrollable space.

A flagship title for Netflix's latest wave of Korean investment
We'd barely finished digesting the figures Netflix published last year on their ventures into South Korean productions – in 2021, $500 million was injected into developing the country's TV and film – when, earlier this month, they announced that they were going significantly further with their investments. A further 25 new South Korean Originals are now being readied for the screen in 2022 (up from 15 in 2021). And more than a few highlights are already evident:
The Accidental Narco (working title) is a new series helmed by major writer-director Yoon Jong-bin (Nameless Gangster, The Spy Gone North). It features a star-studded cast including the Grand Bell award-winning Hwang Jung-min (A Bittersweet Life, The Wailing), Ha Jung-woo (The Handmaiden, The Chaser), Park Hae-soo (Squid Game) and Chang Chen (Dune).
Meanwhile, Jung Byung-gil, director of the rivetingly-shot 2017 revenge thriller The Villainess, will return with the film Carter, an action-thriller about a spy suffering from memory loss.
Seoul Vibe, an action thriller set against the backdrop of the 1988 Seoul Olympic Games, will be led by contemporary star Yoo Ah-In (Hellbound, #Alive, Burning). And Yeon Sang-ho (Hellbound, Train to Busan) will also return with JUNG_​E, set upon a near-future Earth ravaged by climate change to the point that it is no longer habitable. With words like ​"war", ​"human survival" and ​"robot mercenary" littering the Netflix plot synopsis, it sounds like some kind of Korean Terminator flick. All in for that.
But in the meantime, the school bell is ringing. Let class – and carnage – commence.
All of Us Are Dead launches on Netflix on 28th January.

More like this