"

She's a god": dancing in the aisles with Swifties

We joined fans at the cinema for the Eras Tour doc's opening weekend in New York. We queued, we cried and, despite ourselves: we danced. This is Taylor (Your Version).
An 11-year-old in a Travis Kelce jersey cried out, her voice cracking: ​"SHE WOULD'VE MADE SUCH A LOVELY BRIDE. WHAT A SHAME SHE'S FUCKED IN THE HEAD."

At the 7:30pm showing of the new Taylor Swift film on 84th and Broadway on Manhattan's Upper West Side, I am in a cluster of preteen girls dancing in the back of the movie theatre. High on a Coke slushie, I flit around.
I'm here with Liv Solomon, photographer extraordinaire, who has agreed to forfeit her Friday to go gonzo at the opening night of the Taylor Swift: the Eras Tour documentary.
By Sunday, it will have grossed around $97 million in North America, giving it the highest opening weekend for a concert film. By the end of Monday, if projections are correct, it might be the highest-grossing October opening ever, beating The Joker. It is, minus a handful of songs, the entirety of the singer's best-selling Eras Tour, meant to simulate the experience for people who couldn't manage to get tickets (scalped tickets were going for over $3,000 in a fiasco that essentially broke Ticketmaster and has resulted in a Senate hearing). It's a two hour and 48 minutes singalong, the performances taken from Swift's six-night August stint at the SoFi stadium in Los Angeles.

And the Eras tour isn't even over! In fact, it's barely started. After the completion of the opening American leg, Taylor is taking a break before hitting Brazil next month and, eventually, reaching Europe in May 2024. The New York Times estimated that by the end of the 146-stadium run, sales could exceed $1 billion. This documentary is a documentary about an ongoing tour which is itself a retrospective for an artist who's only 33.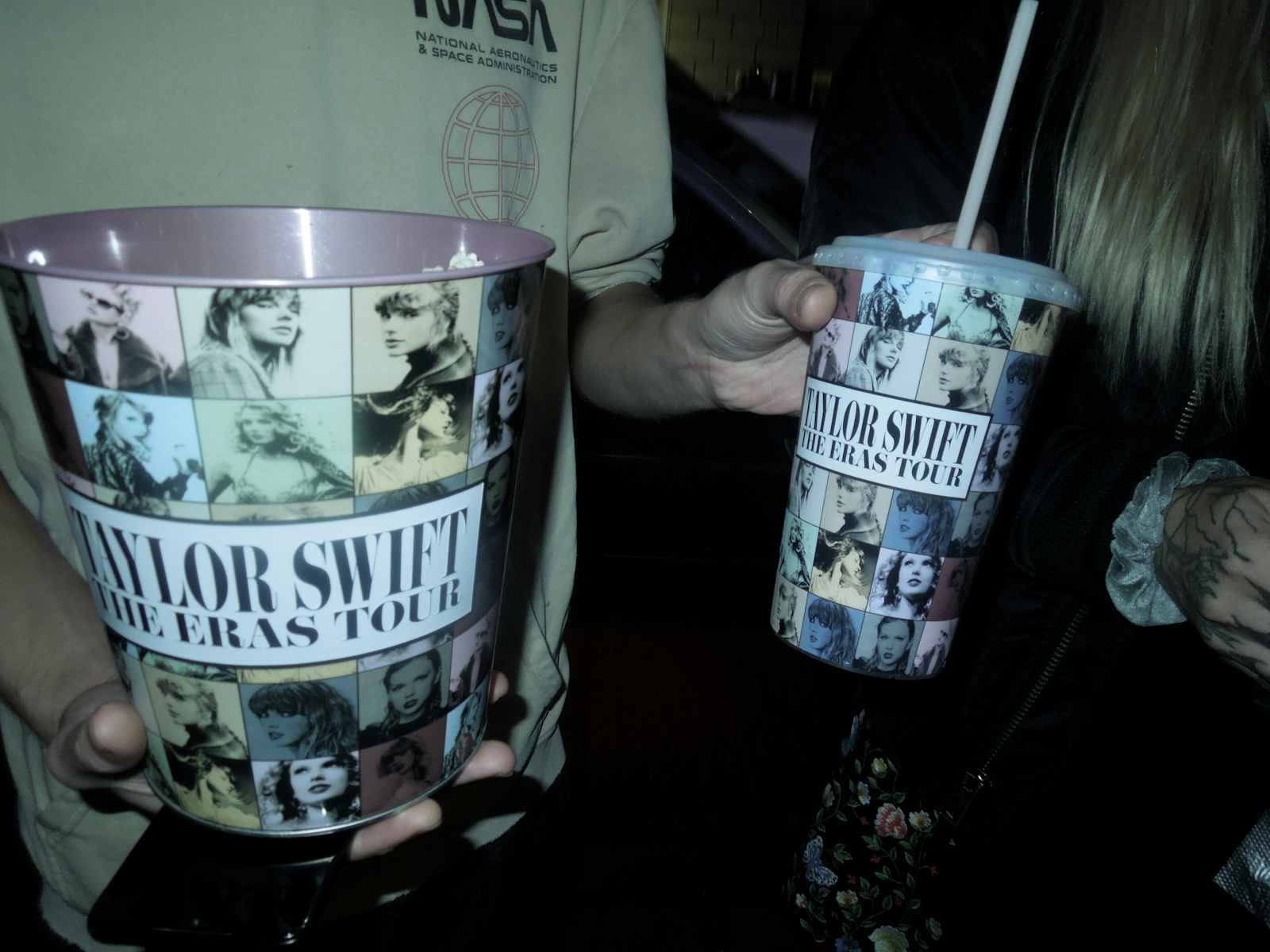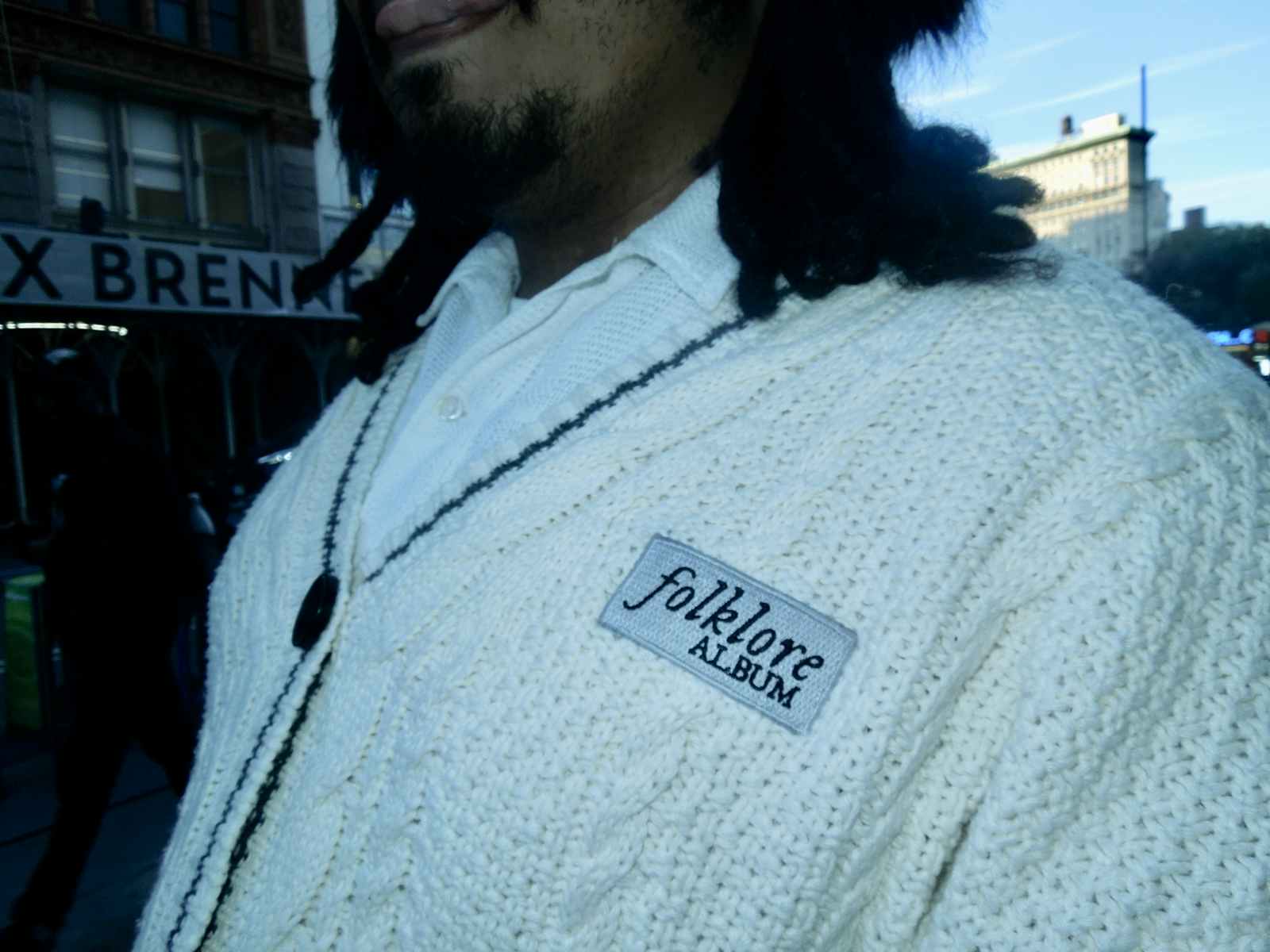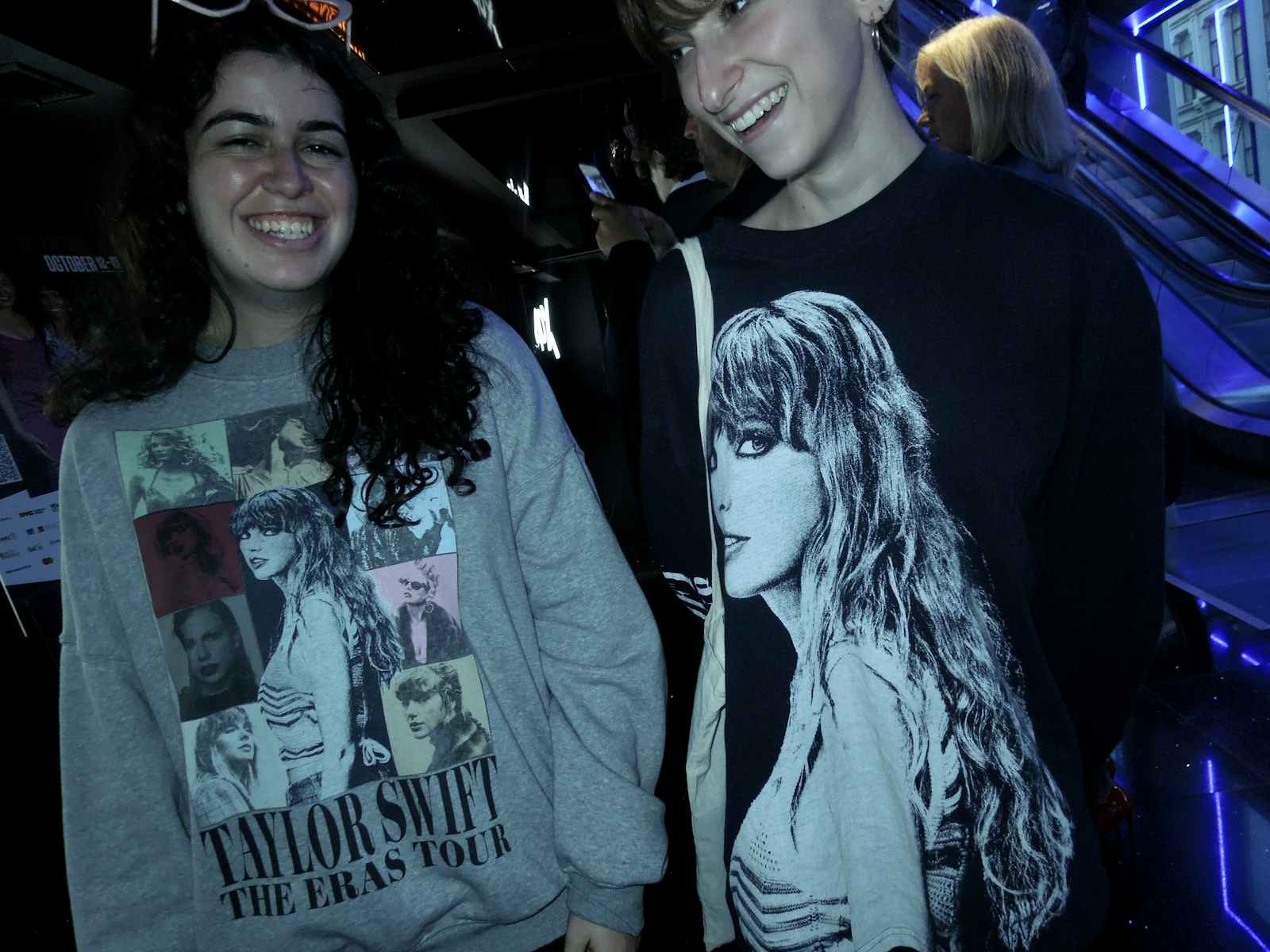 In the days before the screening, I scrolled through headlines which read like tabloid alien encounters. Father John Misty took LSD at a 2015 Melbourne concert and described how Taylor ​"fully impregnated my dilated soul with her ideology. I remember laughing uncontrollably." The beardy 35-year-old singer-songwriter ​"experienced the show like an eight-year old girl". I've seen the outfits on TikTok, coordinated with her different albums. I've read the earnings report – just from previews, the documentary, which sold out cinemas weeks in advance, made $2.8 million. I've watched the videos, captioned things like ​"crowds of broken Swifties in cinema" over images of young adults prostrating themselves on the flinty movie theatre carpet or joining hands and running in circles under the credits. Billy Joel compared the mania around her to that surrounding The Beatles. Taylor moves the economy.
I have always been Taylor agnostic. During the Great Ticketmaster Trauma my Twitter was filled with millennials either spending thousands on tickets or crying about not having been able to spend thousands on tickets. I found the whole thing tasteless and I utilised the mute button. This got me in trouble because one of my best friends is named Taylor so I stopped seeing all her tweets.

Anyway – I've always admired Taylor's ability to distil nostalgia to the point of intoxication, but I just never got her. Maybe participating felt like too much work, maybe I always thought she was too beautiful and too blonde. Maybe I'm just a bitter brunette.
As I approached the first movie theatre, Liv texted me that she had run into Kerwin Frost, (DJ, Fashion favourite, Swiftie) who happened to have two extra tickets to an earlier showing of the movie. Over the evening that followed, I felt like I was in It's A Wonderful Life and Kerwin was the guiding angel, sent to show me the true meaning of the mania.

As everyone from frat boys to bus drivers stopped to ask for a picture or just tell him to ​"keep doing him", it dawned on me that sitting through six hours of Taylor Swift (yes, we also still went to our scheduled showing) with Kerwin Frost was some people's biggest wish in life. Kerwin, who was perpetually disappointed at my lack of faith, is a more recent Swiftie – first he got into ambient noise, then he got into Taylor. He'd been to two Eras shows and, he later explained, collected coveted merch cardigans the way others copped Rick Owens.

Entering the AMC, the security guard handed us each a friendship bracelet. These bracelets are currency in the Taylor Swift-verse. In You're On Your Own, Kid soulfully Taylor sings ​"so make the friendship bracelets". At concerts, the Swifties trade bright beaded friendship bracelets with phrases, and now they do it at the local AMC, too. You can buy them on Etsy – $11.45 for 16. John, an AMC worker, proudly showed me his wrist wrapped with the 10 friendship bracelets he had already been given. I asked if things had gotten rowdy and he shook his head. ​"It's been really fun."
Inside the AMC lobby were women and preteens dressed in what looked to me like seemingly normal outfits. Kerwin shook his head at my ignorance and explained the cardigan thing. They were references to Taylor's song Cardigan, in which she sings about a cardigan – maybe it's also about Karlie Kloss, but it seems like everything maybe is about Karlie Kloss. Then Taylor sold cardigan merch which resells for $500. I counted seven homemade Junior Jewels shirts (You Belong With Me music video). A large group of nine-year-old girls had been so nervous that the special Eras AMC merch – a tin bucket filled with popcorn – would be sold out that they made a belaboured mother (sporting a 2015 On The Pavements Chanel messenger bag retailing for 11k) bring them early to secure the tins.
In the Taylor Swift fandom there seems to always be a more devoted fan. Julia, 24, who I met later in the night, told me: ​"However big a fan you think you are, you're not." Most of the adults I talked to, though, demurred: they weren't really fanatical, they were just the type of fan that had all already seen the tour and had the merch and now were spending three hours watching the documentary on opening night.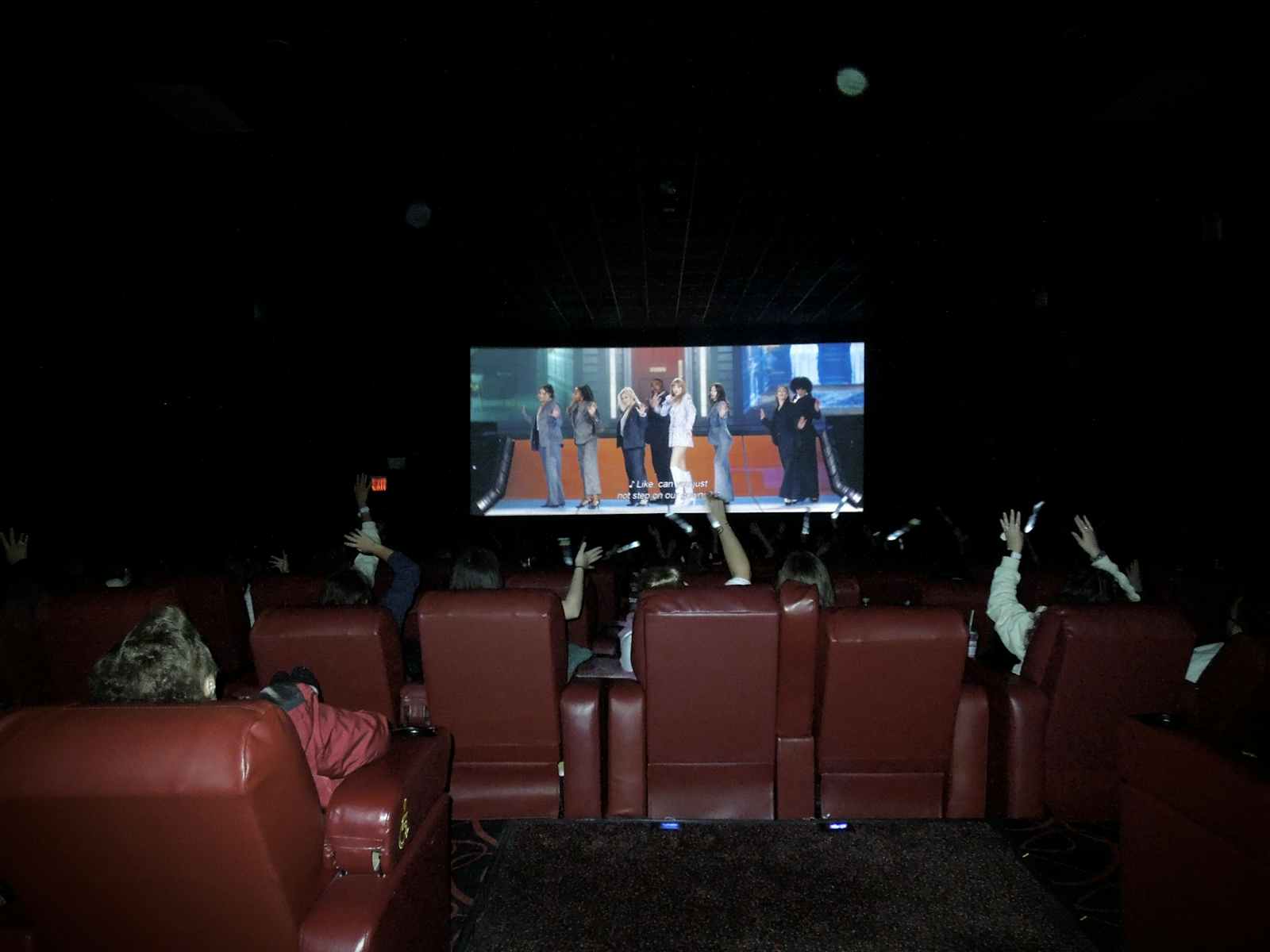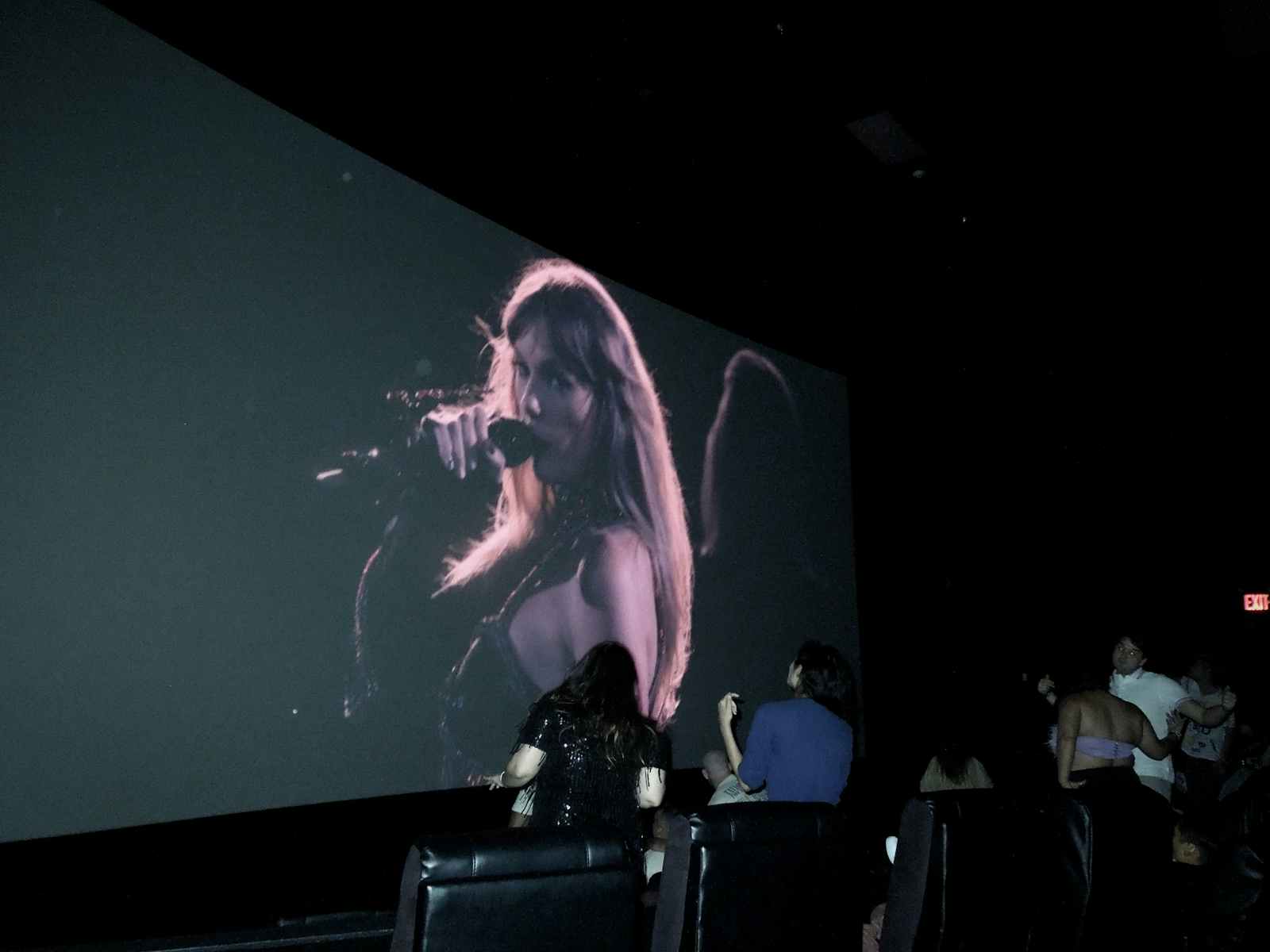 Except, that is, for maybe 30-year-old Jess (everybody's name has been changed unless they explicitly gave me permission). Jess was at the AMC with her mom, 61. They'd seen the Eras tour three times. They'd also seen the Speak Now tour, and they were going again in Paris next year.

Before I could ask any questions Jess interrupted me: ​"I also already saw the movie, last night." Surprising everyone, Taylor had dropped the movie a day early and it had been showing every 30 minutes in Times Square. Then, with a mischievous look in her eyes, between handfuls of popcorn, Jess said she first wanted to ask me something.

"Do you think Karma is a real album?"
Quickly I ticked through what I knew of Taylor's oeuvre. ​"Uhhh, yes…"

"So, you do? You think Karma is a real album?"

Jess had me in a corner. ​"Yeah, is it not a real album?" My voice caught, I had no idea what I was saying. Jess cocked her head. ​"I think there is a lost album called Karma." Perhaps due to my clear confusion about Karma, her mother was suddenly suspicious of my credentials, ​"What media do you work for?" When I said THE FACE, she frowned. ​"What is that? I don't know what that is."

Quickly losing control of the interview, I asked if Jess had anything to say to me. ​"I hate Travis Kelce," she said of the (American) footballer who plays for Kansas City Chiefs and is allegedly Taylor's new beau. She also was surprised by how many (actual) kids there were here – ​"not looking forward to that part," she said of the upcoming fan theatrics inside the cinema. This was a good reminder that it was time to take our seats in the back row.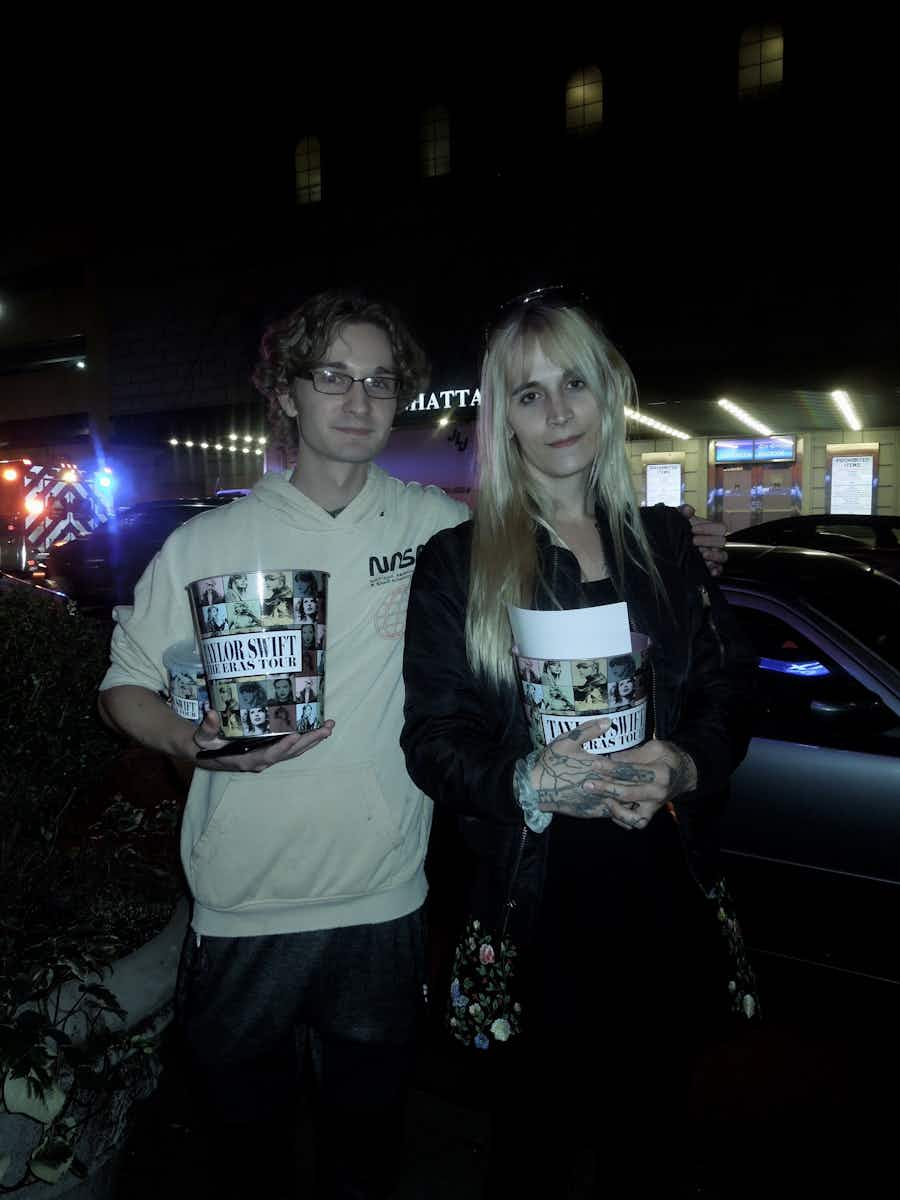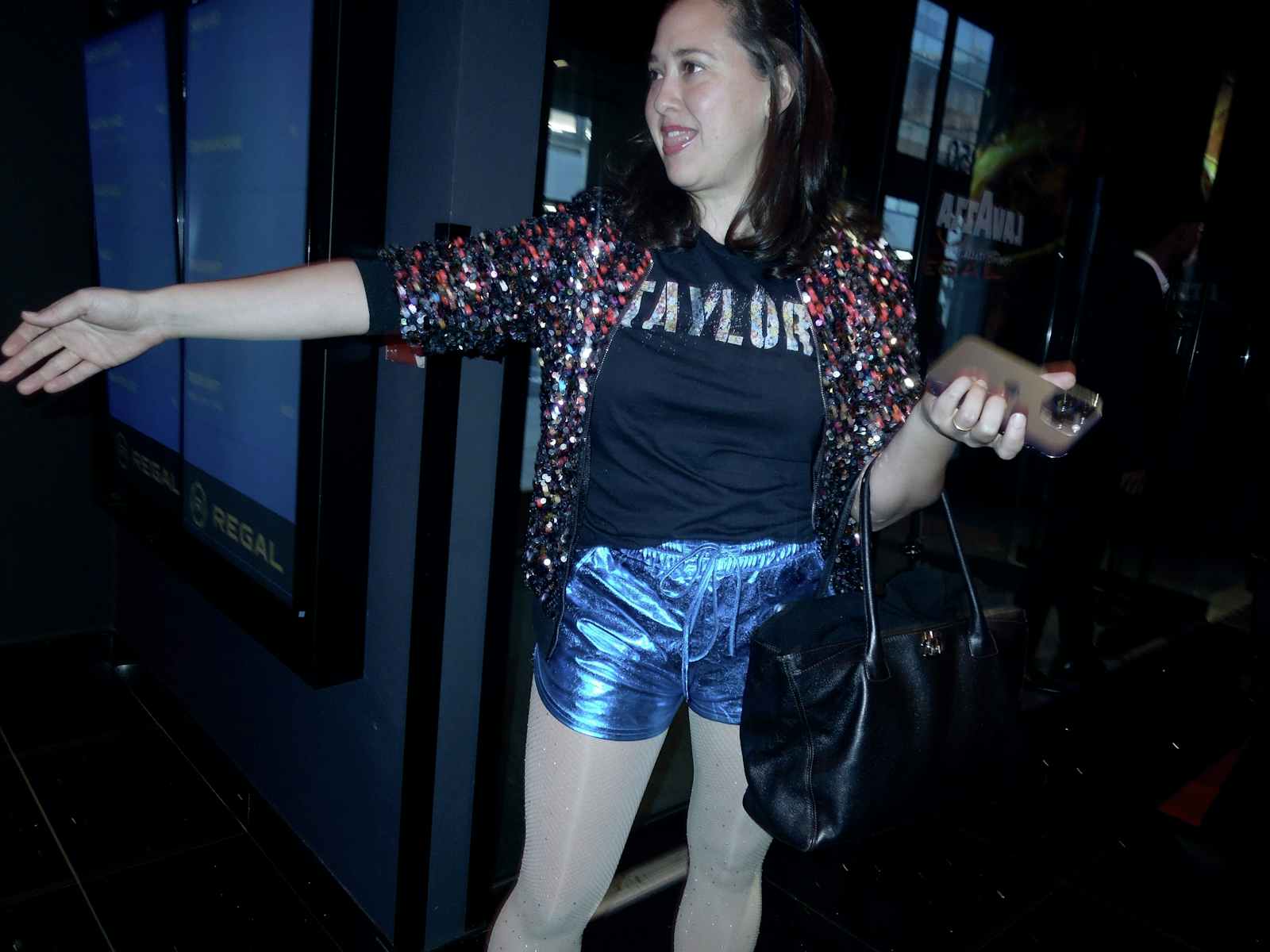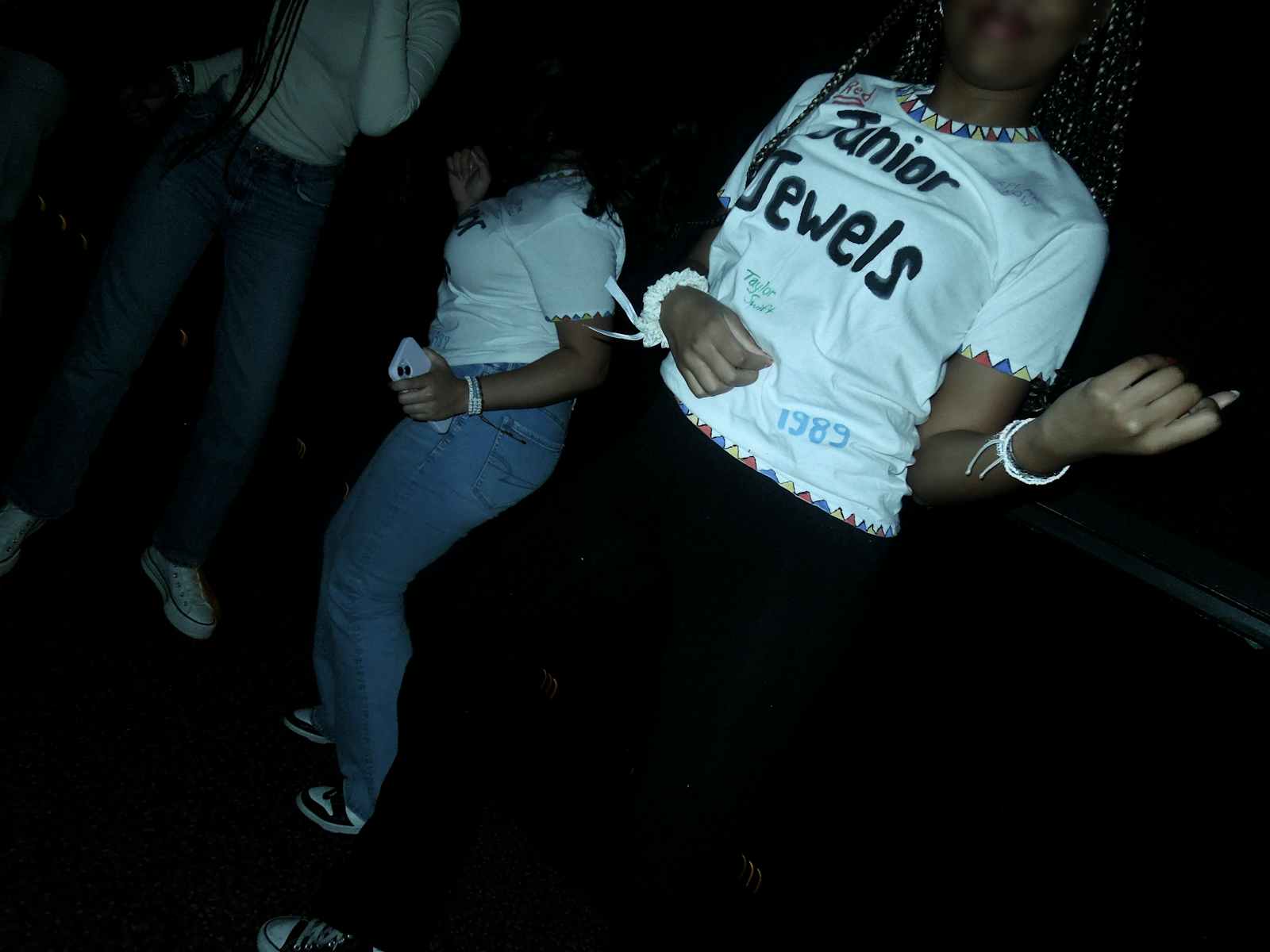 By the third song, girls timidly have got out of their chairs and are hovering behind us. By the fourth, they're dancing. By the fifth, Liv and I are, too. Somebody records the screen like she's at the concert. As we danced, my cynicism melted. Anything that makes teenage girls this happy can't be bad, right? For the first time since I was 13, I was soberly dancing on a Friday night. There, in the back of the AMC, the darkness allowed a release of inhibition as we danced under the gentle guidance of nine-foot-tall glowing Taylor Swift. Halfway through the screening, a gaggle of AMC employees crept into the back of the theatre and swayed, mesmerised.
As the movie played out, I also realised how much Taylor I knew. I screamed to Look At What You Made Me Do. I remembered being in middle school and seeing Taylor on the bleachers. I remember sitting in my parent's room watching a skinny blonde girl with a guitar on TV. When The Last Great American Dynasty came on, I heard myself faintly say, ​"it's probably about Connor Kennedy, who she dated." How did I know that?
In All Too Well, Taylor sings about her relationship with Jake Gyllenhaal: ​"I'll get older but your lovers stay my age". As the teenage girls danced around me, I had an eerie feeling. I'll get older but your lovers stay my age. Artists that occupy one's adolescence seer into the brain. By virtue of having been famous so young and being so prolific, Taylor has essentially achieved that in people ranging from eight to 38.

Everybody has an album that defines their coming of age. Everybody has an era. Taylor sings of love and life the way you conceive of it in adolescence; a cat-eye sharp enough to kill a man is the most grown-up thing possible. There's permission to imagine adulthood safely: filled with champagne problems and red lipstick. Kerwin, the seemingly unlikely Swiftie, explained it to me: ​"She's relatable. She keeps it clean but open." Her lyrics provide room for interpretation. She's Taylor Swift (Your Version).
At one point in the doc, Taylor, in hipster cosplay, walks down the end of the stage and lovingly places a black fedora on the head of a child who also happens to be Kobe Bryant's daughter. Kerwin tells me: ​"Every night of the concert she gives away the 22 hat." Right, I think, every night she bestows the fedora on a child. This had the same level of absurdity that religion often holds for me (and then you eat the body of Christ and it's basically a dollar store Ritz cracker?).
But I get it. The iconography of Taylor Swift sprawls through her discography. It's not just a cardigan, it's The Cardigan. The Scarf. The Red Dress. The White Dress. The Little Black Dress. The 22 Hat. That's the power of Taylor Swift, of any deity, and of also most teenage girls: hallucinating meaning in objects and experiences that typically would have none and then being able to impress that newfound meaning upon others. There is a folkloric element to the fandom. Friends passing to friends the tales of Taylor Swift, the rites and the passages, making offerings (bracelets) at the altar. Writing about Taylor Swift feels like writing about Christianity. What else is there to say but a personal prayer?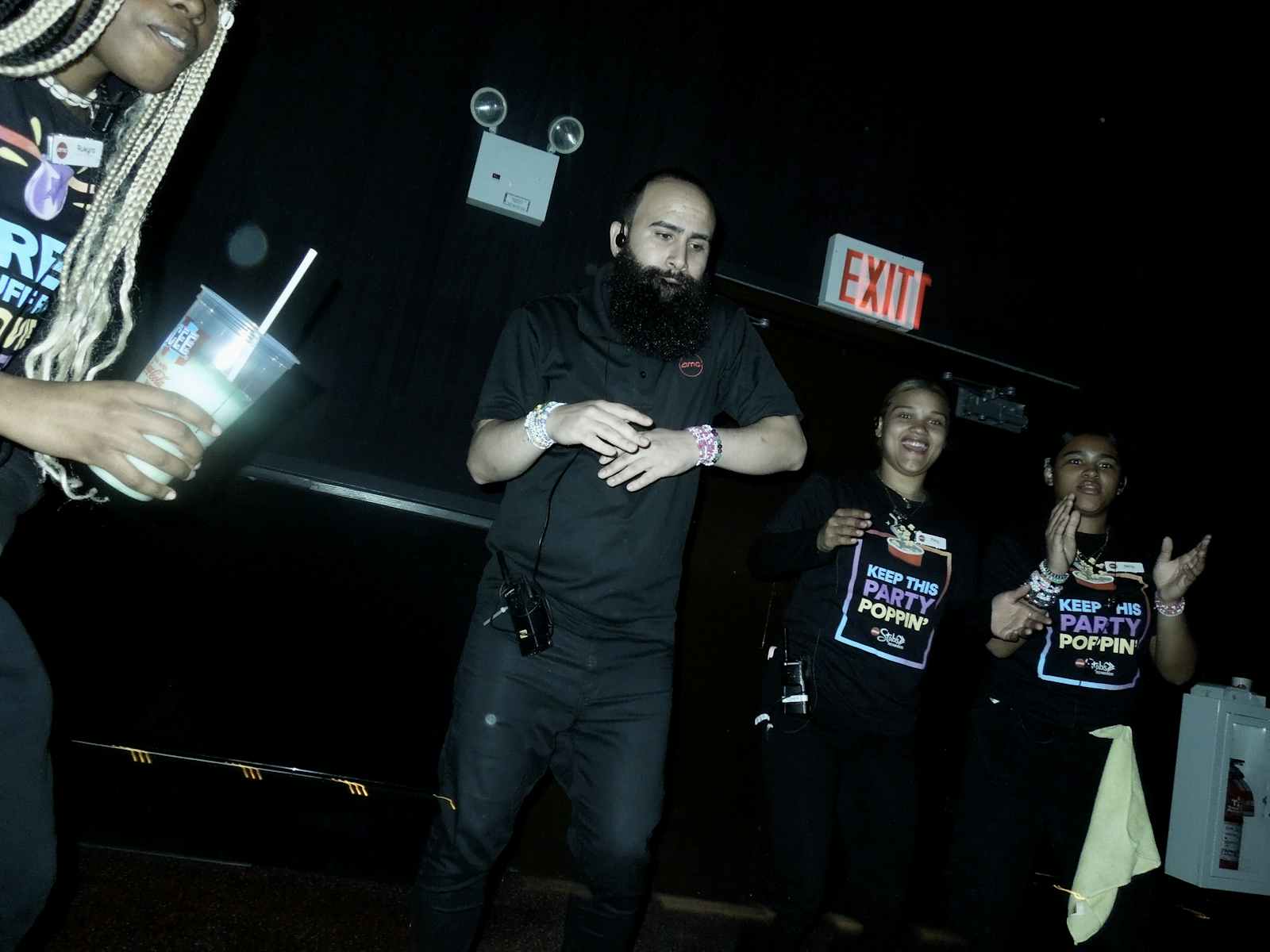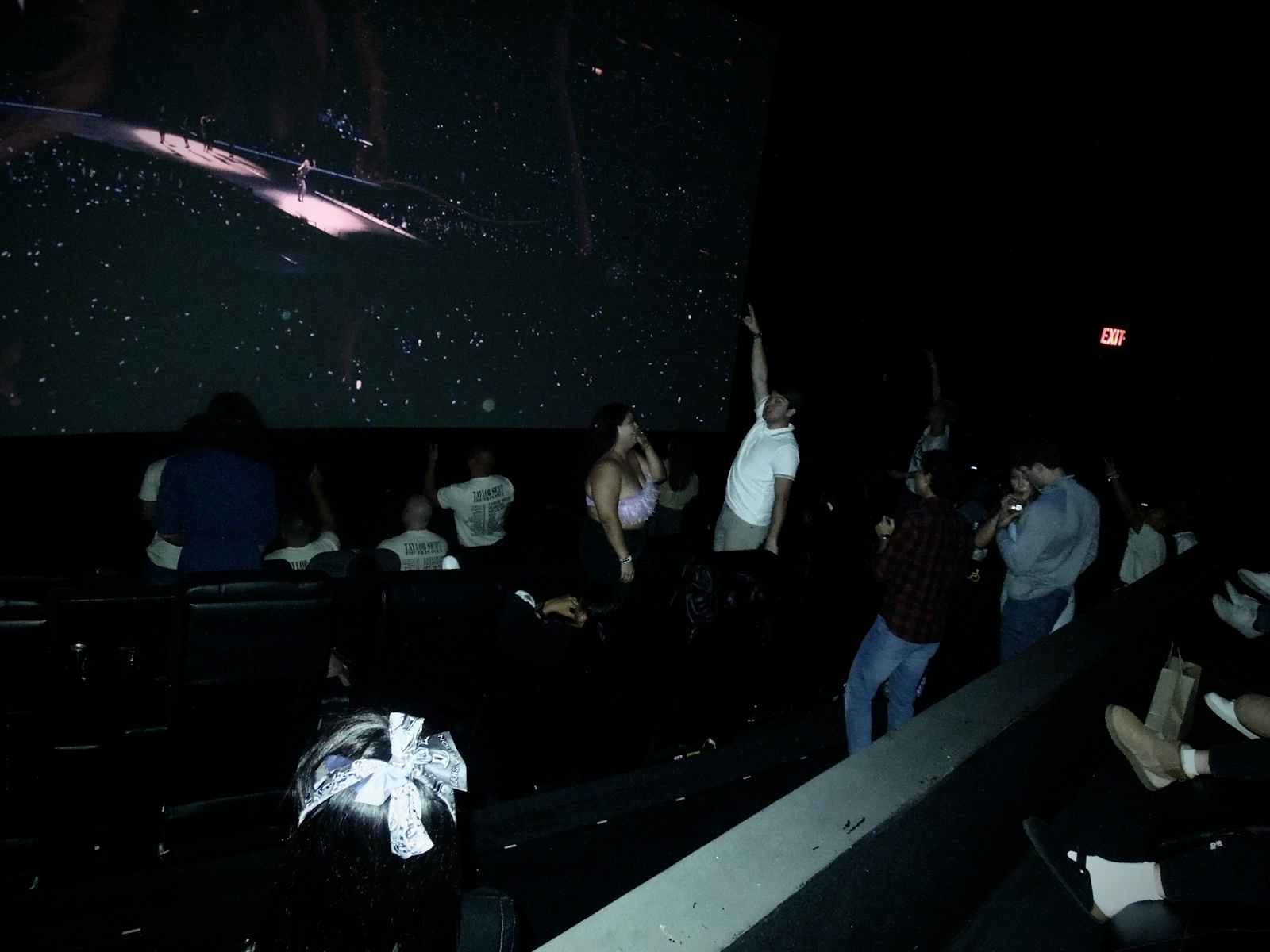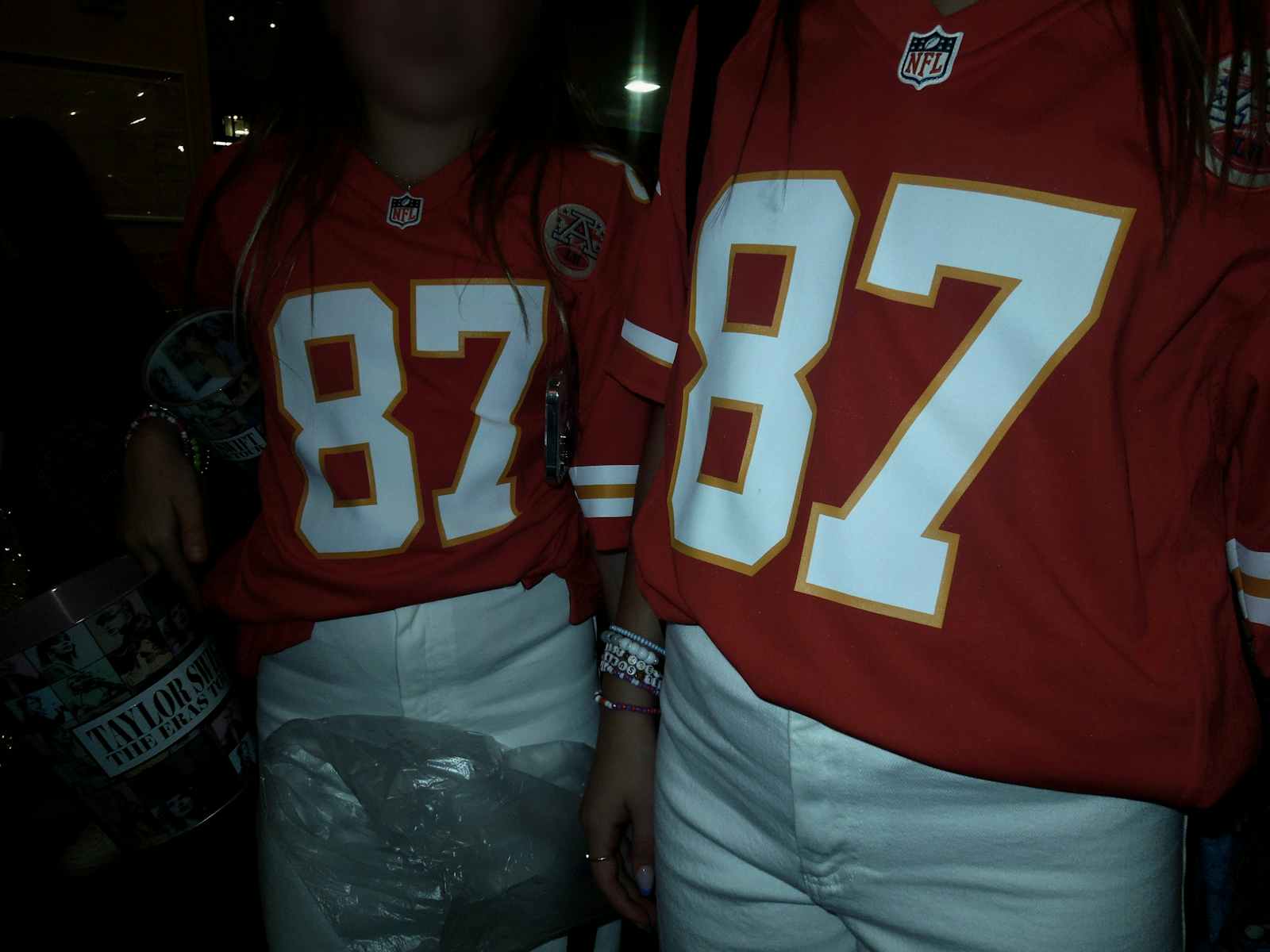 Another theme that came up talking to Swifties is what I'm going to call The Loss of Faith. The point where they stopped listening to Taylor, because she was now embarrassing. When the world turned against her, they did too.

Maddie, 23, was there with her best friend Julie. They grew up together but were now in separate colleges. Maddie had always been a Swiftie but Julie had a lull. So, every night leading up to seeing the tour, Maddie had sent Julie a new song. What made the faithless return? Their friends who were devout. Friends evangelised the other through Swiftiedom by sending intensive playlists and reading materials. The Eras tour itself – and now the film of that tour – were also turning points, self-fulfilling acts of self-mythologisation. Through a combination of savvy marketing and organic devotion, this is a moment in culture not to be missed. It is the Eras era. People remembered how much they loved her and how much she always meant to them.
In fact, what her fans love about her is exactly what makes everyone a fan: Taylor's inescapable, inseparable from the culture of the last 18 years. And she is always there for you. There's a Swiftie within us all; you just have to open yourself to it. Avery, 22, explains it to me. ​"She's a true celebrity. She's the only true celebrity. So what if she's derpy? She's real. She makes me want to dance. She makes me want to cry. She's everything. She's real. She's raw. She's a god."
Leaving the theatre people murmured, ​"I could see it again." While I didn't quite feel that way, not least because I'd already seen it twice, after sitting through so much Taylor Swift screentime, there was a disquieting emptiness. We blasted Mine as we walked. The world is filled with a Lavender Haze. Kerwin and Liv renewed vows of friendship.
At a taco stand off Tompkins Square Park we were singing Love Story and a group of girls walked the opposite way humming Our Song, and briefly there was a crossbreeze of Taylor. On the subway home I sat next to a fan with an Eras Tour film trash bucket/​popcorn bin and stuck up a conversation. Julia, 24, said about Taylor: ​"It's actually bone-chilling how powerful this one woman is."

I found myself nodding and responding: ​"She's a mastermind."


More like this