Five TV shows and films to watch over bank holiday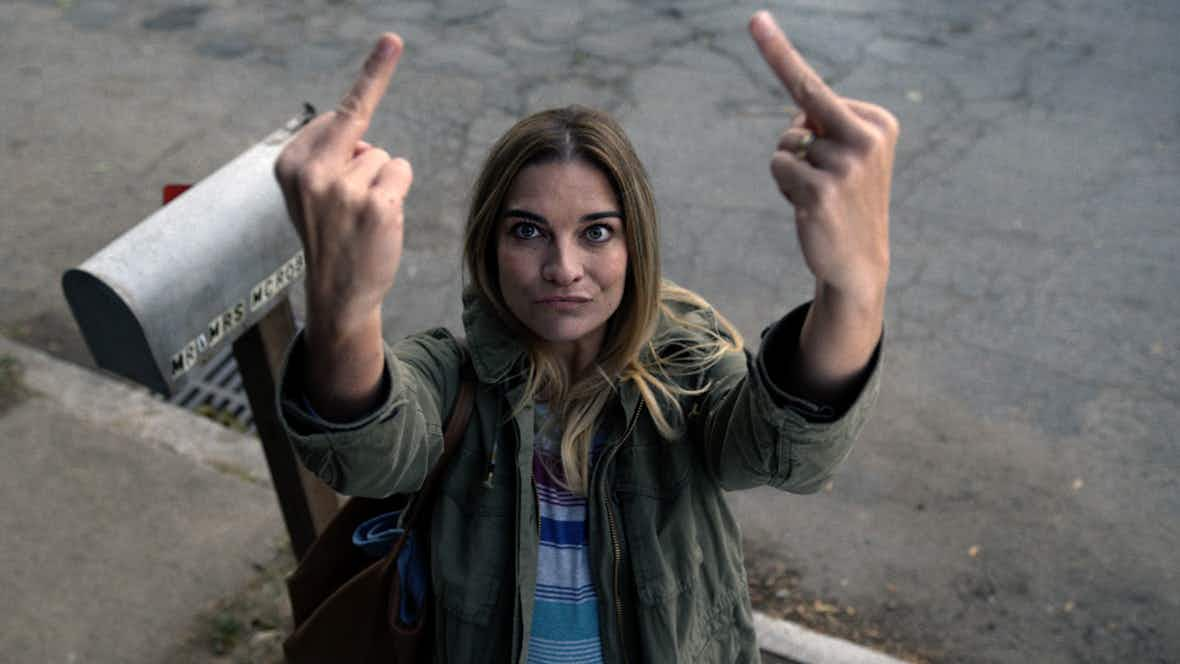 Screen Time: Let's face it, summer is over. Time to pack in the outdoor activities and stay home with boredom-busting content instead.
Bloody summer. Where did it go? When we all raced to sign up for Covid jabs a few months ago, we had grand visions of the hot vax summer ahead. Festivals! Impromptu park parties! Late nights dining al fresco, Aperol Spritz in hand! Alas, mother nature had other plans – namely, relentless rain. We still soldiered on and partied regardless, but those hastily purchased plastic ponchos from festival kiosks sort of dampened the vibe.
Now that autumn is almost upon us, it's time to let go of our lost summer and prepare for hibernation. The good news? This is the time of year that film and TV releases typically get really good, starting right now. Sure, there's still a few days of summer left, but after you return from your last festival of the season this weekend, you'll need some good content to soothe your hangover with. From Schitt's Creek star Annie Murphy's return to screen to the Gossip Girl reboot, these shows and films should do the trick.
Got time? Watch it all in one go
Kevin Can F*** Himself
After scooping up an Emmy for her portrayal of Alexis Rose in Schitt's Creek, Annie Murphy takes on a darker style of comedy in Kevin Can F*** Himself. At first glance, the show is a squeaky clean sitcom with laugh tracks and all, but it soon breaks into bleak reality, as Murphy's picture-perfect housewife becomes increasingly frustrated with her ​"man-child" husband. A surreal takedown of suburban domesticity, Kevin Can F*** Himself shows another side to Murphy that you'll only want to see more of.
Available on Amazon Prime now

The film worth leaving home to see
Candyman
Helmed by Jordan Peele and directed by Nia DaCosta, Candyman, a reboot of the 1992 horror classic, retells the story of the titular urban legend, a ghoul who appears to slaughter victims if they dare say his name five times in a mirror. But this isn't your average slasher flick. With the action taking place in Chicago housing project Cabrini-Green, DaCosta's Candyman is a poignant commentary on race and generational trauma. Go on, say his name. We dare ya.

Out in UK cinemas now

A documentary to feed the brain
Turning Point: 9/​11 and the War on Terror
As the 20th anniversary of the 9/​11 terrorist attack approaches, a slew of upcoming documentaries are reflecting on the tragedy that changed the world forever. Netflix's Turning Point: 9/​11 and the War on Terror interrogates those changes head-on, analysing the roots of Al Qaeda and the subsequent societal shifts that have shaped our current political climate. As the synopsis reads, ​"Modern history can be divided into two time frames: before 9/​11 and after 9/​11." With the Taliban now in control of Afghanistan, the time to get clued up on what happened on either side of said time frames is now.
Available on Netflix from 1st September
Absurd comedy or reality TV to crack a smile
Pen15 animated special

Maya Erskine and Anna Konkle's pre-teen cringe-com returns for a one-off animated special, following the awkward, teenage versions of themselves as they embark on a summer vacay. For the uninitiated, Pen15 usually stars the Erskine and Konkle dressed down as their younger selves, acting alongside actual teenagers to recreate their halcyon days of gel pens and braces in the early 2000s – think The Inbetweeners meets Lizzie McGuire. Both terrifyingly and hilariously accurate, this is one to watch when you're feeling nostalgic for your youth.
On Sky Comedy at 9pm on 28th August
Talking points for when your next wave of social fatigue hits
Gossip Girl
Attention, Upper East Siders and all those who binged the original Gossip Girl a decade ago. The Gen Z reboot has finally landed in the UK and honestly? It's simply just not as good as the original. Sure, the cast is suitably hot and dressed to the nines, but an overworked self-awareness means that the goss simply ain't that juicy. The good news is that to accompany the new series, BBC has also stocked up iPlayer with all of the original series. Once you've checked in with the GG newbies – you know, out of curiosity – catch up with your old friends Serena and Blair to watch some real drama unfold. You know you love them. XOXO.
Available on BBC iPlayer now

More like this