Beabadoobee: searching for Beatopia
When her debut album, Fake It Flowers, was released just before the UK went into lockdown, Beabadoobee became a bedroom indie star who would have to remain in the bedroom. Now, with an expansive second album, the musician is at the top of her game – and out in the world.

Taken from the new print issue of THE FACE. Get your copy here.

Beabadoobee is crawling, head-first, out of a window. Her wide-legged jeans and chunky white trainers slip through the wooden frame and she disappears, like Alice down the rabbit hole – if the rabbit hole was a film studio in North London and Alice was dressed like a pupil at Euphoria High.
Beabadoobee, real name Beatrice Kristi Laus, is shooting the video for the blissed-out alt-rock of Sunny Day, a song from her second album, Beatopia. The visuals depict the 21-year-old chilling out in a reconstruction of her bedroom before escaping into a lush utopia of ferns, mushrooms and spring flowers, all sprouting from a floor made of real moss. The fresh smell of it fills the studio, transforming a dark, windowless space into the Elysian Fields.
Off-camera, Bea is goofy and uninhibited, unfazed by Storm Eunice, the most memed cyclone in British history, banging and whistling outside. The musician kicks back on the sofa in her dressing room, grazing on Kettle Chips and scrolling through TikTok. She pulls up a few viral videos – men being blown down the road in Croydon, a guy tying a bedsheet to his wrists and ankles in an attempt to fly in the park – and throws her head back, cackling (it's all fun and games until she goes outside and tries to light a cigarette).

But the second the cameras are rolling, her easygoing charm transforms into rock star magnetism as she lip-syncs and rolls around in the moss. Later in the day she'll be strapped into a harness that will give her ​"the craziest wedgie I've ever had in my life" so she can fly through the air. She'll make that look cool as fuck, too.

Beabadoobee is the poster girl for a smart take on British indie culture. Her songwriting is honest and relatable, her guitar playing – an instrument she taught herself via YouTube tutorials – an inspiration to her hordes of fans. Then there's her head-turning style: a collage of cross-generational references, embracing today's environmentally-conscious looks, while taking inspiration from the archives of legendary Tokyo street fashion mag FRUiTS (whose founder Shoichi Aoki flew to London to shoot this cover story).
The fans lap it up. There are countless YouTube tutorials on how to recreate her make-up, while the Beabadoobee subreddit is busy with people asking for an ID on this skirt or that top. This is fandom as lifestyle. Hours before the venue doors open for her gigs, you might find a long line of teenagers queuing outside, and they'll hang around by the side door in the hope of meeting her afterwards, too.
Dedicated fans were recruited via an open call to star in the video for Talk – the first single from Beatopia, a good-time college rock anthem about why Tuesday is the best night to go out and get loaded – so they could mosh and snog while Bea and her band perform on a bright white platform in homage to the raucous video for Papa Roach's 2000 nu-metal banger Last Resort. The crowd was dressed immaculately: boys in skirts and ties, girls with bright red hair, cardigans covered in flowers, beanies of all shapes and sizes. In classic teenager form, gin was smuggled onto the set in water bottles, and it didn't take much persuading for Bea to join in for a few swigs.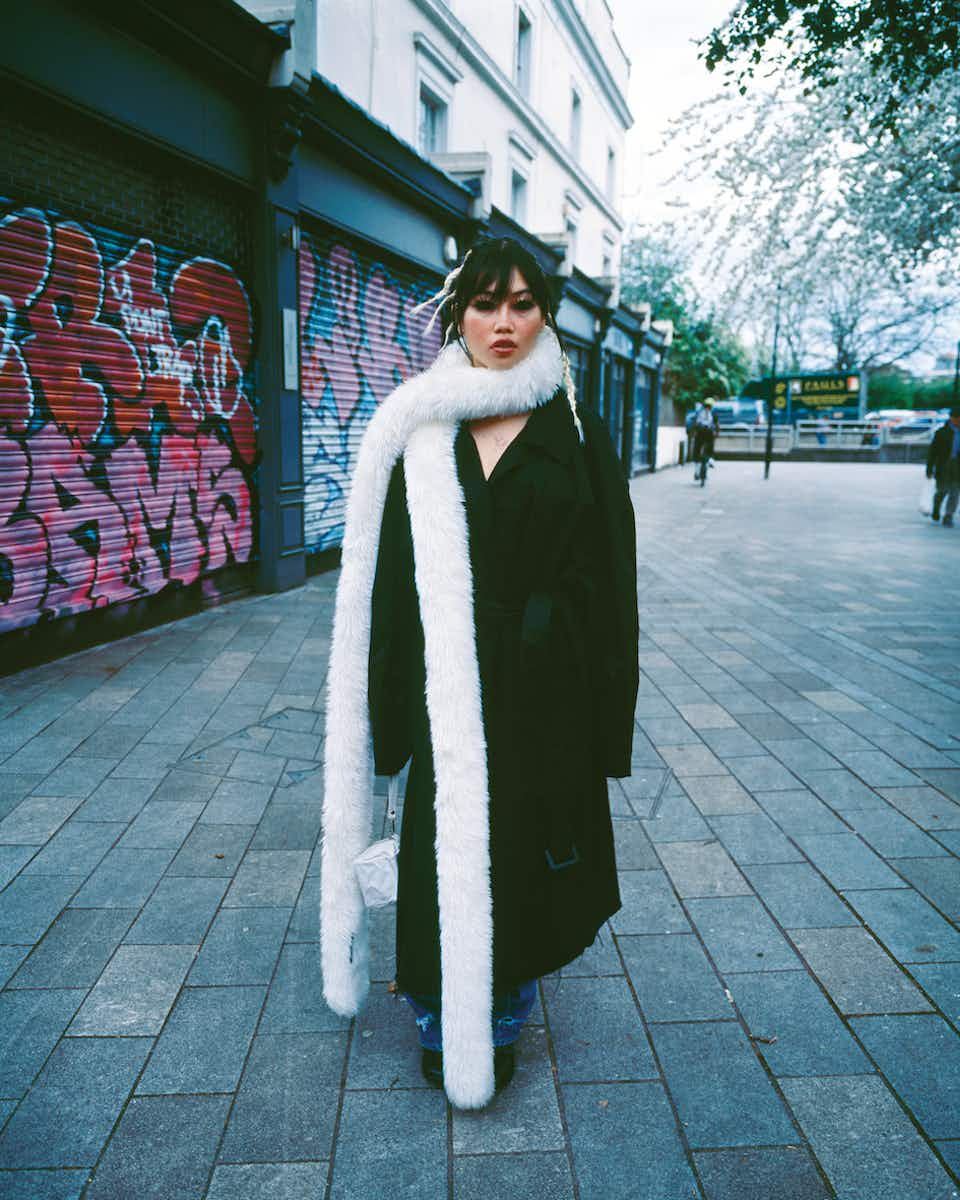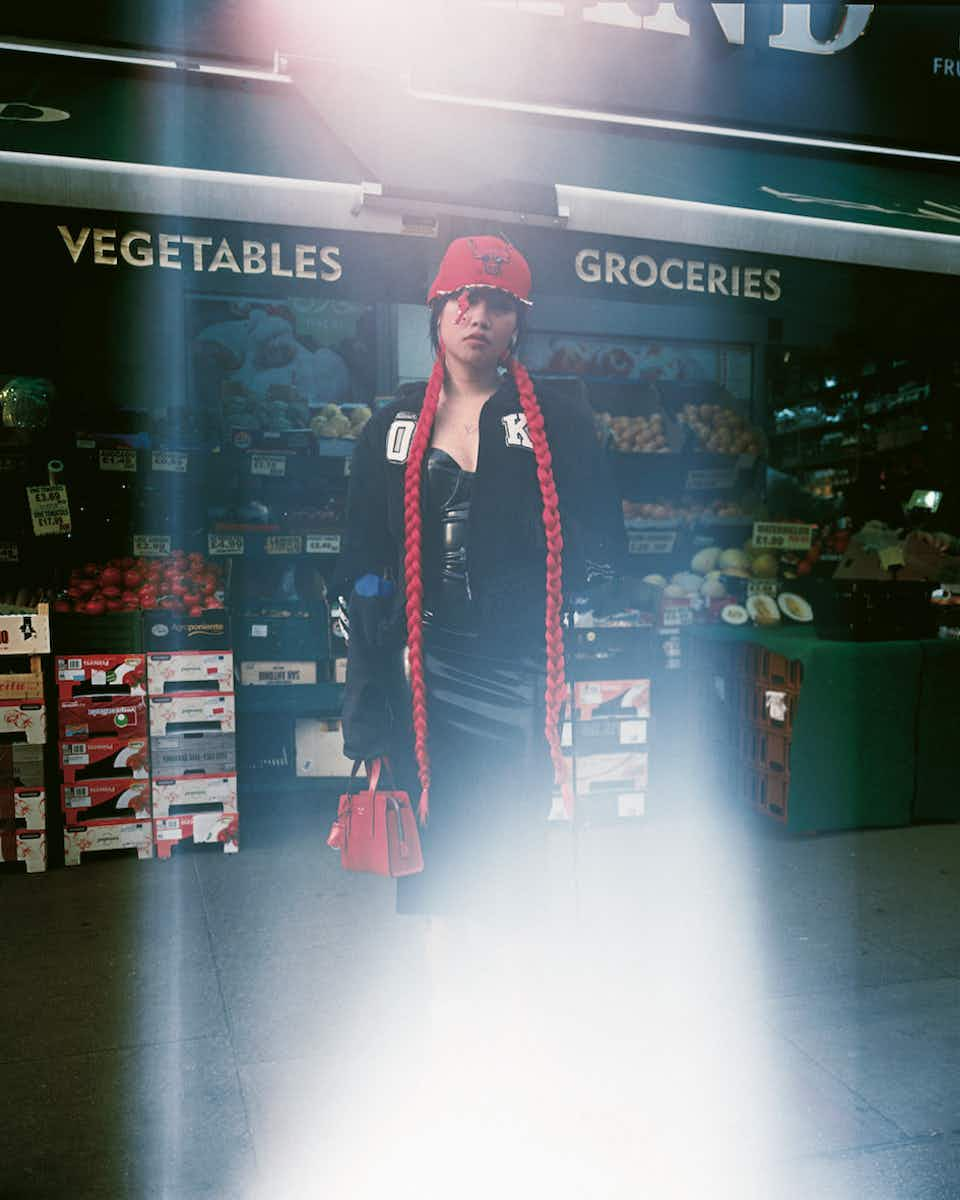 I catch up with her a few weeks later in a West London pub overlooking the Thames. Although she's still recovering slightly from partying on the weekend, Bea has every reason to be animated this Monday afternoon: the first Beatopia billboard appeared in Shepherd's Bush last night and she's about to announce the album on her socials. She enters the pub like a tiny bolt of lightning, bursting through the doors in a puffer coat and loose-fitting jeans. Just about 5"3″ without Buffalo Londons on, her hair is in messy plaits, one draped over each shoulder. At some point since I last saw her, she's acquired a tooth gem.
"Oh my God, sorry, I have to say hello," she says, spinning around as soon as she arrives. Moments later she's halfway across the room introducing herself to a stocky French bulldog, fussing with its face while the owner smiles politely, presumably used to this sort of thing. ​"I love animals," Bea says, coming back over. ​"I'm obsessed with rats right now. I really want a pet rat."
Having signed to Dirty Hit – also home to The 1975, Wolf Alice and Rina Sawayama – in 2018 when she was 18, Beabadoobee is poised to be the independent label's next star. Certainly, everything about her story so far has screamed ​"indie rock wunderkind". Having started performing as a 17-year-old, in just a few years she's gone from driving to one-off shows in ​"shitty clubs" with her tour manager and an acoustic guitar, to hiring a full band and doing a fanbase- building run of small venues in the UK, subsisting on cigarettes and Pringles, to supporting The 1975 in 15,000-plus arenas.
All that happened before the Philippines-born, London-raised musician even released her debut album, October 2020's Fake It Flowers. There had been a string of EPs across 2018 and 2019 – Lice, Patched Up, Loveworm and Space Cadet – and double viral fame with Coffee, the first song she ever wrote. She put it online in late 2017 and it was instantly swept up in the bedroom indie renaissance that, with a helping hand from TikTok, would also see songwriters like Girl in Red and Mxmtoon rapidly achieve fame. Then the Canadian rapper Powfu sampled Coffee on his TikTok sleeper hit death bed (coffee for your head), exposing millions more people to the first thing Bea ever wrote on guitar.

Fake It Flowers – entirely written in her bedroom, and which entered the UK Albums Chart at number eight – deepened that fandom. It also wore its influences on its sleeve. Google the album now and you'll be hard-pressed to find a review that doesn't make various references to the ​'90s, as journalists latched onto its fresh take on radio-friendly indie rock and appeal to pop culture's nostalgic impulses. Bea was happy to lean into that at the time – she inherited her love of artists like Nirvana and Alanis Morissette from her mum, and still mentions The Cardigans often in interviews. But, a year and a half on, that revivalist narrative is something she's keen to put to bed.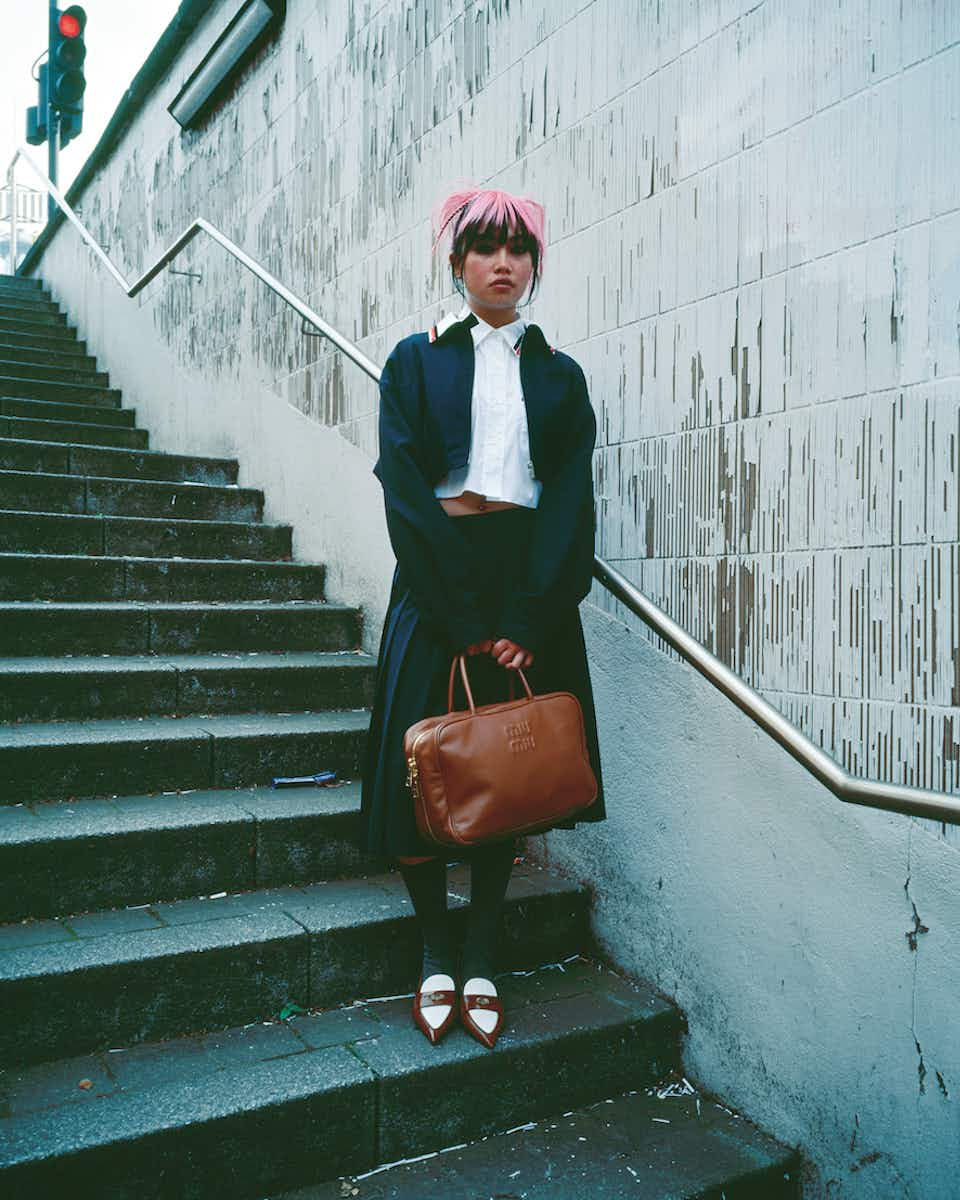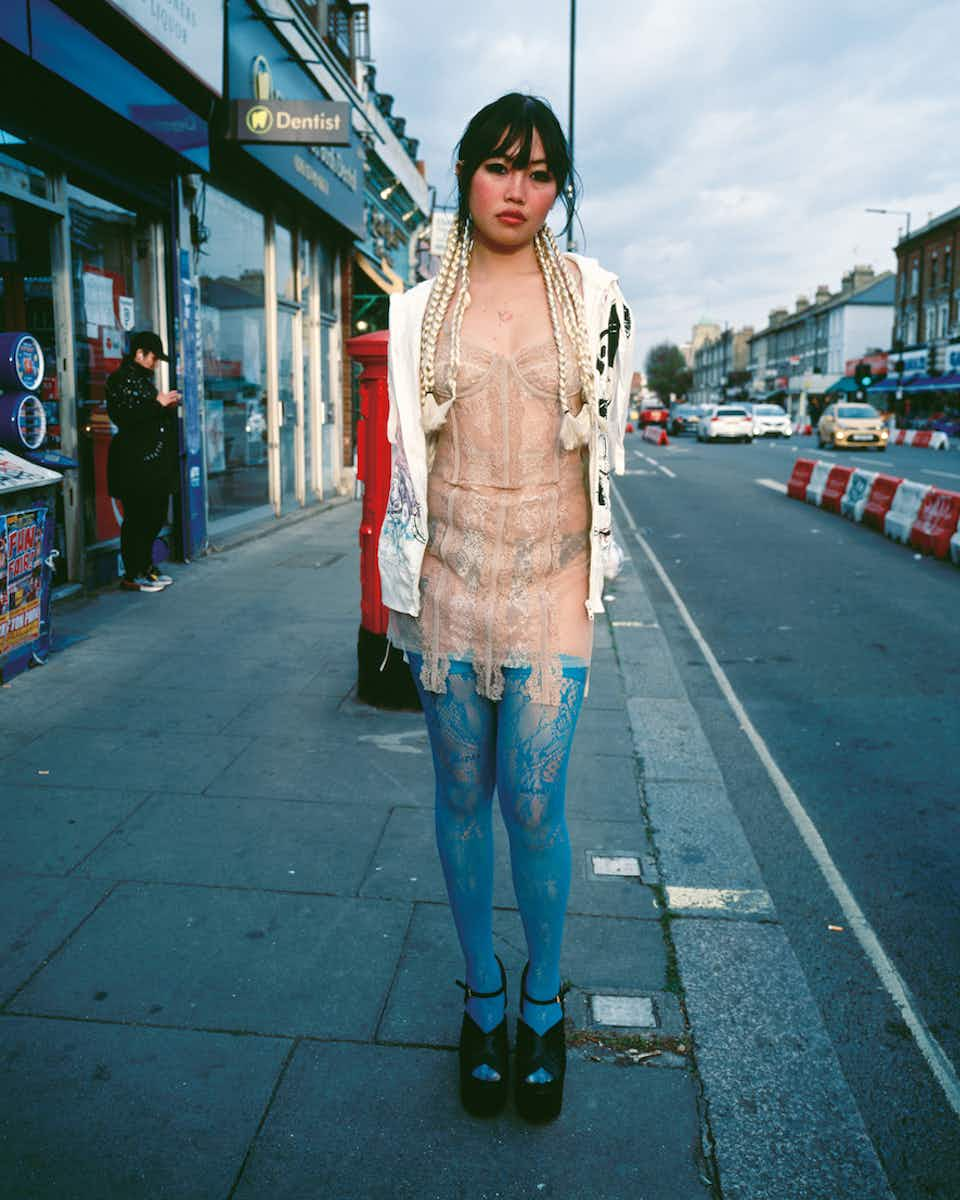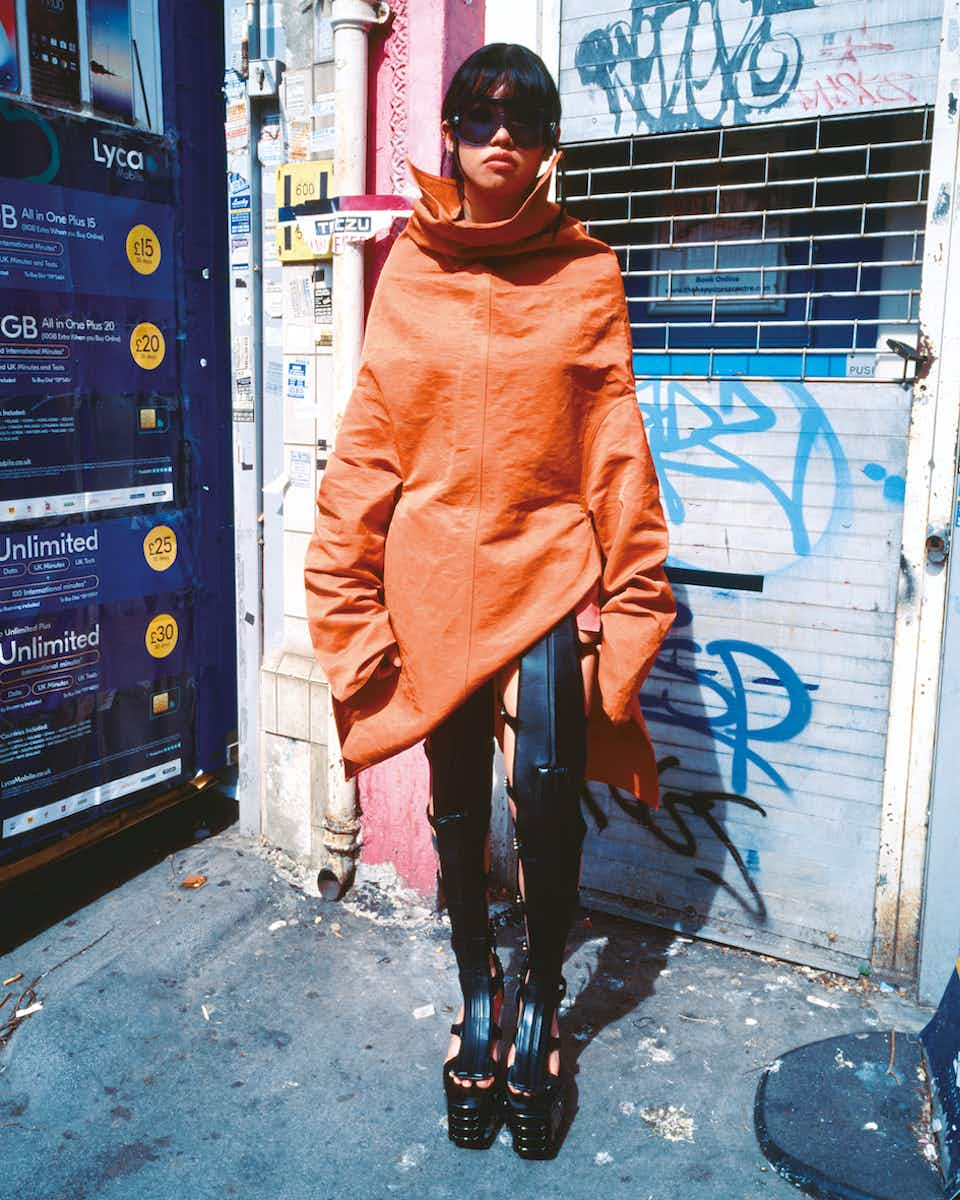 "At the time, I was like, ​'I'm a ​'90s rock chick!'" Bea quips, affecting a voice not unlike that video of Avril Lavigne talking about punk. ​"But I was also 19. Like, for sure it could be nostalgic to people, and they can compare it to a certain decade, but I just wanted to make music that I wanted to make. I definitely didn't want to be stuck to a genre.
"I look back at it fondly," she says, smiling. ​"It's kind of cringe, but it's sweet. It's what it was at the time and I needed that to be able to do this."
By ​"this" she means Beatopia. Framing the deeply personal within the realm of the fantastic, the album shimmers and shifts like a daydream, using a range of sounds – from psychedelia and midwest emo to singer-songwriter – to bring to life the imaginary world it's named after.
The story of Beatopia begins when seven-year-old Bea returned to her school classroom from a violin lesson to find everyone staring at her. The teacher – a large man who always smelled of cigarettes – had Blu-Tac'd one of her drawings on the whiteboard. ​"Do you have anything to tell us?" he asked. She looked confused, so he asked again – mockingly, this time. ​"Beatopia?"
The class erupted into laughter. Pinned up was an A4 piece of paper illustrating a universe Bea had created at home. Everything was laid out in lurid detail, from a map dotted with the names of all the continents and countries, to each letter of the alphabet that provided the building blocks of its language. She crowned her fictional kingdom Beatopia and kept the drawing on her desk at school.

​"My two friends made worlds as well, but they weren't anywhere near as enthusiastic about theirs, which was quite embarrassing… I guess I just wanted to escape reality," she says thoughtfully, dipping a chip into a little pot of ketchup. ​"I kind of latched onto it because a lot of things were happening back home and it was a way of escaping everything that was going on around me."

It was also around the age of seven that Bea started going to therapy, something she's been doing on and off ever since. The decision was prompted by a few things. A family move from the Philippines to London when she was three. Feeling isolated at her all-girls Catholic school in Hammersmith, where she was one of very few Southeast Asian kids. A ​"major breakdown" around the age of 11 was followed in her mid-teens by a struggle with self-acceptance and a period of drug and alcohol misuse. She was ​"kicked out" of Sacred Heart High School in Hammersmith – due, she's said, to a combination of ​"grades and behaviour", presumably both bad – but then completed her A‑levels at Hammersmith Academy. She describes how she would deal with bullying or feelings of discomfort by ​"just letting it happen".

Beatopia had sank into the depths of childhood memory, like an emotional Atlantis, and she never mentioned it again – until recently. ​"I talked about it once in an interview and it was almost like a little throwaway conversation, but it made me think about it again."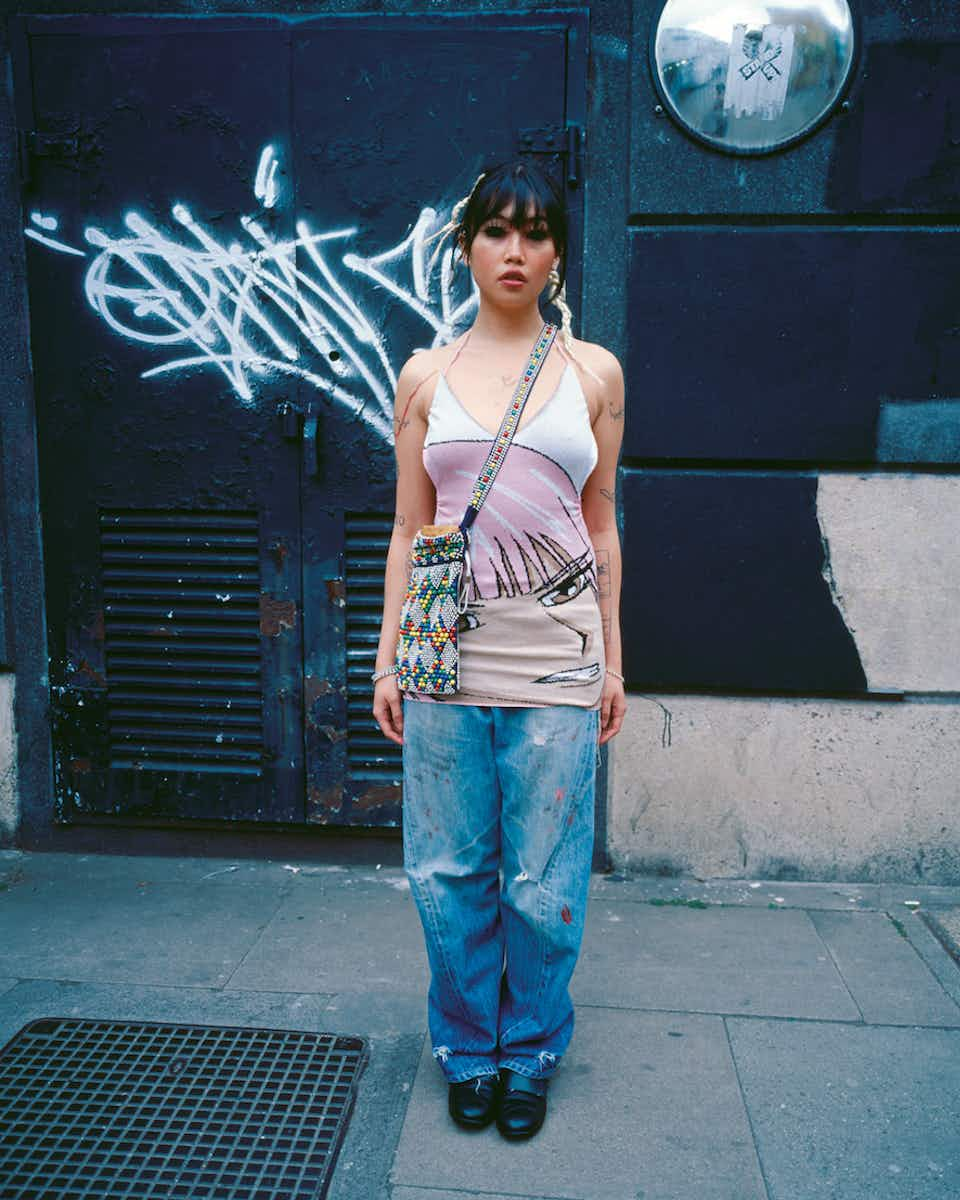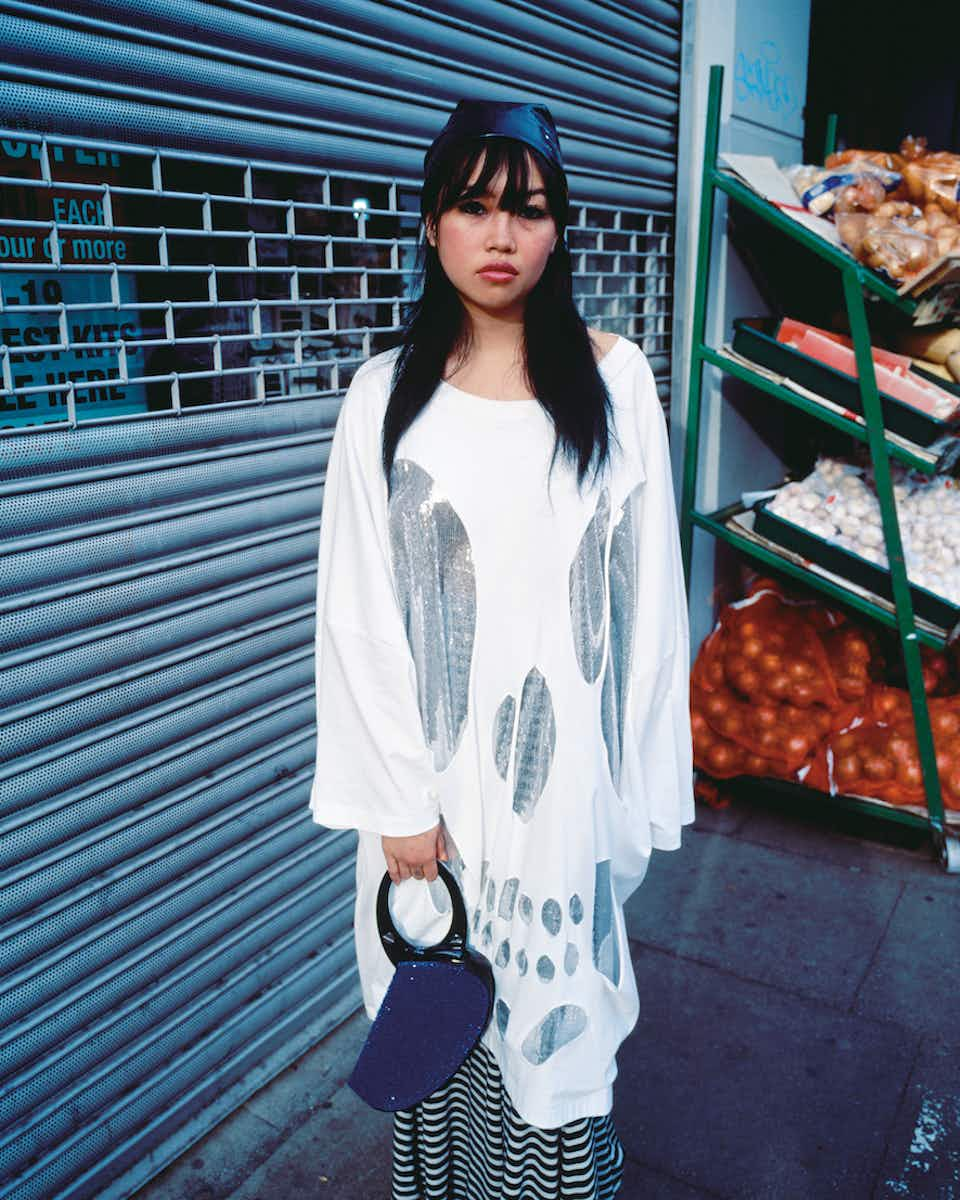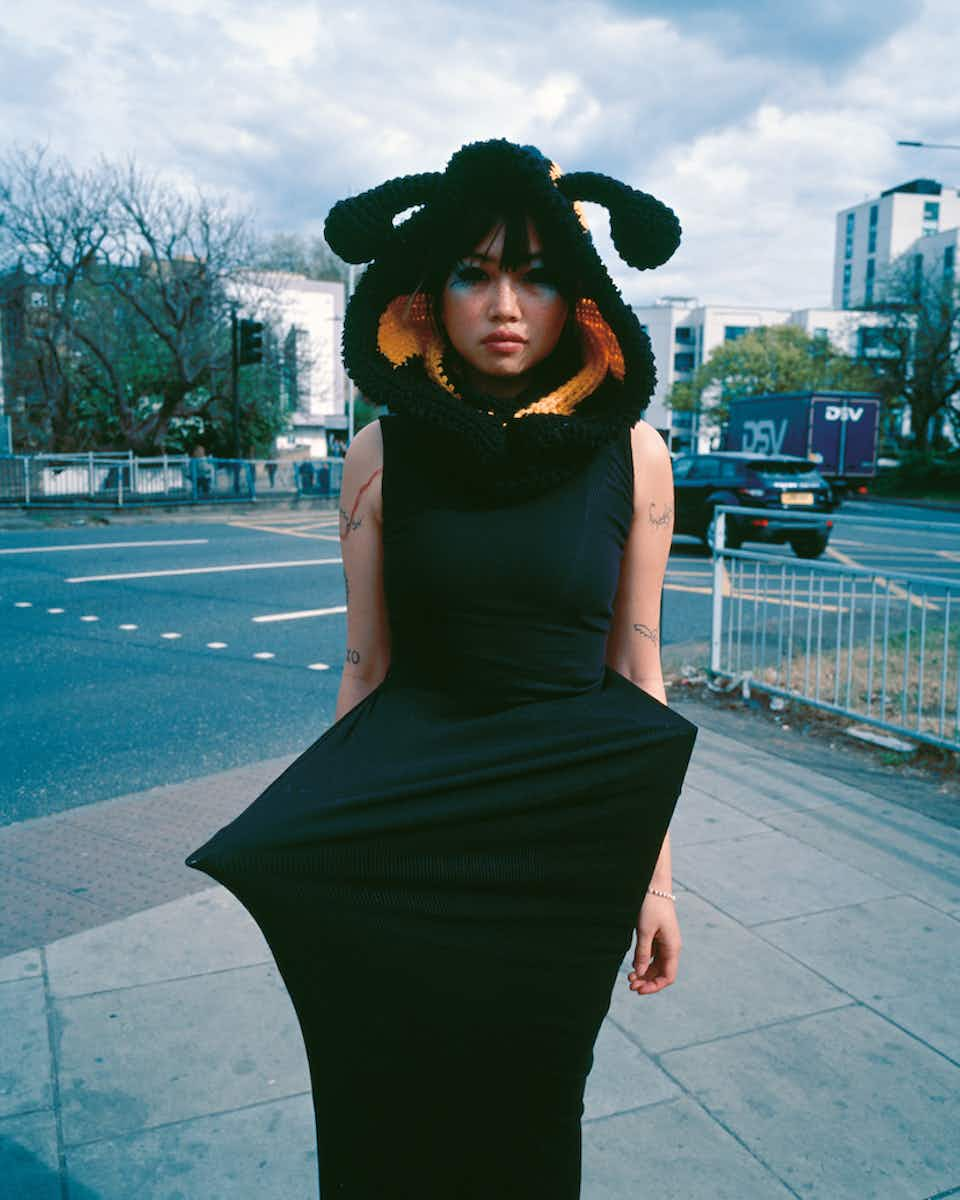 Inspired primarily by her day-to-day life and relationships, a lot of the songs on Beatopia were created during, or shortly after, the cathartic process of getting fucked up. Opener Beatopia Cultsong – a kaleidoscopic flurry of strings and wind instruments, a simple acoustic guitar riff, voices talking, glasses clinking – came together spontaneously when Bea was playing bongos and getting high with her boyfriend Soren Harrison, a video director and collaborator, and the upcycled fashion creative Molly Hayward. Spangled pop track See You Soon was written the day after her first time doing mushrooms last winter, its glitchy beat reminding her of her own heartbeat while high.
"You feel like a fairy but in your own house," Bea says, thinking back to that first trip. The use of psychedelics has surged among Gen Z over the last couple of years as various Covid restrictions have increased people's desire to escape their immediate surroundings. The experience unlocked something for Bea, and her immediate reaction was to cry – a lot.
"[All my friends] were tripping and I remember them just not processing me at all," she remembers. ​"I'm there, like, sobbing, literally heaving, and there's nothing behind their eyes. Then after two hours I just stopped and I was like… I feel great." Convinced she felt no physical pain, she became fixated on throwing herself to the ground and jumping back up again. ​"I woke up the next day: no bruises," she says, wide-eyed, like someone who's just been bamboozled by David Blaine. ​"I was stacking it as well. I felt like I was magic."

A lot of Bea's mates contributed to Beatopia​'s 14 tracks. Jacob Bugden, the guitarist in her band, is the record's key collaborator. ​"I cannot stress enough that it is his album as much as it is mine," Bea says. They spent a year making the record in a ​"a really stinky, tiny" studio in Wandsworth, South-west London, which had no windows but ​"great vibes", writing, smoking and soaking in inspiration from The Chemical Brothers, ​'90s Swedish singer-songwriter Stina Nordenstam and arty Japanese-American trip-hop duo Cibo Matto. ​"I've honestly never spent that long working on something. We just had so much time, so we were like: let's just take the piss and make it everything that we want in an album."
Elsewhere, The 1975 frontman Matty Healy co-wrote the emo-vibed Pictures of Us and the folksy You're Here That's the Thing. He also co-wrote Ripples, a gorgeous singer-songwriter moment that sounds like Simon and Garfunkel by way of Olivia Rodrigo, created moments after he showed Bea a video of Paul Simon playing guitar. The 1975's drummer and co-producer George Daniel lent his skills to Tinkerbell is Overrated – a collab with fellow Gen Z icon and THE FACE cover star PinkPantheress – while pop producer Starsmith and Bombay Bicycle Club also dropped by for writing sessions. The album's distinguishing strings come courtesy of Georgia Ellery of Jockstrap and Black Country, New Road.
On a more personal note, Beatopia wouldn't have come together the way it did if Bea hadn't gone through a long period of psychological growth. Now, after years of therapy, she's finally arrived at a point of acceptance about her past and confidence in who she is right now. ​"I felt myself getting better for the first time and being able to reflect on a lot of situations that I didn't want to reflect on," she says, explaining the ​"therapeutic" process of working things out through songwriting. ​"It had a lot to do with many of the relationships around me, family relationships, and finally coming to terms about my past and my trauma and not letting it dictate how I am as a person."
The song Ripples attempts to find a balance between self-reliance and depending on other people, while Tinkerbell is Overrated looks back to the first lockdown, when Bea was struggling with her mental health, trashing her room out of frustration and acting out online. ​"I had a weird relationship with my room. I started doing really weird shit – like, I memorised a Trisha Paytas video, made a two-minute video of me lip syncing the whole thing on Photobooth, edited it and posted it to my finsta. Everyone was like: ​'Are you OK? What the fuck is going on?' I love that for me."

If 2018 to 2021 were defined by bedroom recordings and bedroom breakdowns that saw Bea writing and coping alone, 2022 is all about collaboration. Learning to let people in, as well as learning to let herself out of the mindset she'd been stuck in for so long. Ten years on from the classroom experience that saw Bea lock Beatopia in a box, she's found her way back to it by reconciling some of the things that prompted her to create it in the first place. ​"Fake It Flowers is more like: ​'Oh my FUCK, someone help me PLEASE!'" Bea exclaims, laughing. ​"With Beatopia it was a lot of reflecting and being like: ​'My life's OK… It's not that bad, Bea.'"
The rest of this year will be spent on a victory lap. Beabadoobee's schedule is full of the kind of moments every teenager with a cracked copy of Ableton and a desire to escape imagines for themselves: slots at Coachella, Glastonbury and Summer Sonic in Japan. There's also a North American tour with Halsey, which Bea is very stoked about, even though it's unfortunately meant pulling out of Primavera Sound in Barcelona and passing up a pivotal life experience. ​"Yeah Yeah Yeahs are playing Primavera the week after my birthday," she says with a sigh, her face like a sad theatre mask. ​"Imagine listening to Maps, turning 22, and coming up. If I died at that moment, it would be fine."
Those are just the headlines. But the moment Bea is most looking forward to is yelling ​"GLASTONBURY!", overlooking an endless sea of flags, a full circle moment that will see her complete the evolution from TikTok phenomenon into full-blown rock star.
"When I'm having my manic episodes and I'm playing guitar really loudly in my bedroom at 3am, the thing I say in the mirror when I'm staring at myself like a psychopath is: ​'GLASTONBURY!' Now I'm going to say it in real life," she says, looking a little incredulous for the first time. ​"There's going to be a second of silence where I'm like: fuck, I can't believe I just said that… and it's in not my bedroom."

Hair Takuya Uchiyama Make-up Lauren Reynolds Stylist's assistants Borys Korban and Hollie Williamson Producer Katherine Bampton
This article initially stated that Beabadoobee first came up with the ​'Beatopia' concept when she was 11-years-old and in Year Seven. This was amended on 25th May.

More like this