100% Pa Salieu: the Coventry rapper leading the UK rap Frontline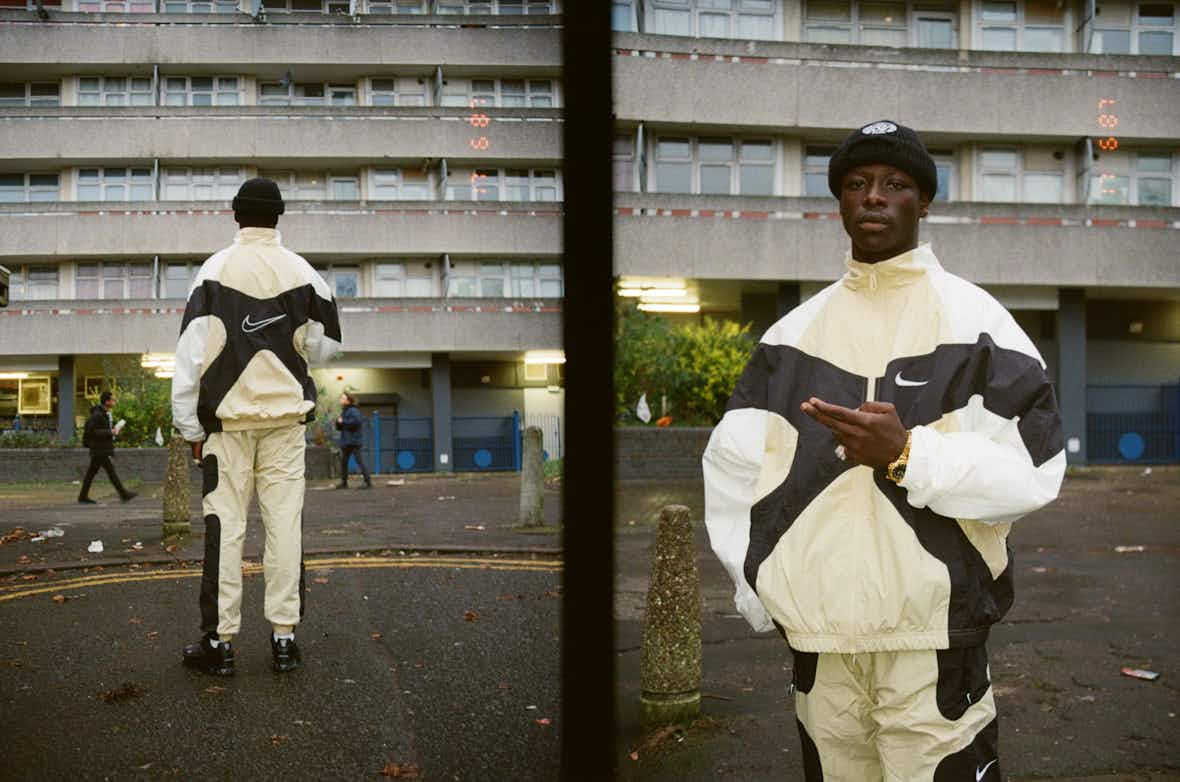 Despite a meteoric entry onto the scene, the fresh-faced talent's two new tunes prove he's in it for the long haul.
Pa Salieu is the 22-year-old artist who exploded onto the UK rap scene with his single Frontline back in January. Effortlessly blending African melodies with the raw siren-laced London soundscape, it sent Twitter into a tizz with many commenting on the track's resemblance to early J hus. It was a comparison that the Afroswing pioneer himself co-signed, with Hus referring to Salieu as his ​"Gambian brother" to his 369.5k followers.

He wasn't the only one: Tiffany Calver, Toddla T, Annie Mac have all shown their respect for the MCs' gritty flow on their respective radio shows. While his streaming stats (the music video for Frontline has already clocked over 2 million views on YouTube) are a big nod of approval from his rapidly growing fanbase.
Turning to music after his close friend was killed, the emerging rapper believes that this is his calling. Destiny, fate, whatever you call it, Salieu's latest tracks – the drawled out dancehall groove Betty and the garage-tinged drill tune Bang Out – affirm that the young rapper was born to be behind the mic. Check them out below before getting your 100% fill.
10%: Where were you born, where were you raised and where are you now based?
I was born in Slough but moved to Coventry when I was young and I've been here ever since.

20%: At what point did you realise you'd be able to do what you love for a living?
I've always been into music, but I started taking it seriously when my friend A.P was killed. My friend Ricky took me to a studio run by a guy called Jam. He would give me free studio time and help me make my music. There I met my manager and things have just started to move on quick.

30%: What's a piece of advice that changed your life?
Hard to say, but maybe to ​"know myself and forget about anybody else". It's important in the sense that, like Frontline for example, I've been getting mad comparisons and hella jokes on me with people saying I look and sound like Hus. But I do me, I know what I'm on, and I'm just staying focused on me.

40%: What kind of emotions and experiences influence your work?
My music is a reflection of my environment and my culture like many people out there. Life's been hard at times, so it will reflect that side of me. Same time you know, my black culture is vibrant and fun, so my music will also reflect that too.

50%: What can you tell us about your next project?
I'm working on a mixtape project which I'm looking to drop like early summer. I'm just trying to make the best waviest mixtape I can do, been a long time coming but it's soon ready. I'll probably release a couple more singles before I drop the mixtape it's just about what as I'm sitting on a lot music.

60%: Break down your typical day at work…
For me a typical day is like studio. I love the studio, like it's where I'm home. If I'm not there then. I'll crawl out my bed at like 11am I don't really have a routine as such, I'll just chill with some friends and hang out.

70%: What can artists do to help save the world?
I don't know … can anyone save the planet? Like it's all messed up. You see the news and it's always negative, and it's pure mad people in power. But my way of saving the planet is to try and inspire people. Like there's a lot of mad things happening, so if I can somehow inspire people to [be] positive, that's my help to the planet.

80%: Love, Like, Hate?
Love studio, like money, hate liars.

90%: Biggest pet peeve?
When people tell you they gonna come at a time and turn up late.
100%: No.1 holiday destination?
Jamaica.

More like this