Skepta and Jammer on their new house label Más Tiempo: ​

"

This is something we were always capable of"
The grime legends talk Ibiza, their early DJing years and the future of Boy Better Know.
You've got to hand it to Skepta, he knows how to keep his fans on their toes. The grime legend's most recent solo single, 2021's Nirvana, was a slick collab with reggaeton superstar J Balvin. Last year, he revealed himself to be a gifted painter, fetching a pretty penny for his artwork Mama Goes to the Market, as well as launching the company Big Smoke Corp, with projects ranging from Paris Fashion Week parties to a dinner with the homeless charity Shelter.
Skepta has always been close to club music – grime, after all, first emerged in the early ​'00s as a darker mutation of UK garage. But having been primarily known as an MC and a producer of grimey beats for almost two decades, his recent pivot to house music felt like a curveball.
In August last year, Skeppy DJ'd at the Circoloco night at Ibiza's DC-10 superclub – a coveted gig for big-name DJs – and was joined by Jammer, an authoritative veteran of grime and Skepta's longtime ally in Boy Better Know, the North London collective formed in 2005 after Skepta and his brother JME left the Meridian Crew.
Following the hype around the Ibiza set, Skepta and Jammer did follow up DJ gigs in London and Miami, where A$AP Rocky could be seen smoking and bopping his head to tech-house behind the decks. Now, the pair have officially announced their house imprint, Más Tiempo. The label's debut release is a 2‑track EP featuring production from Skepta and Jammer plus J Kolo and Ossie, who are also on the bill for the Más Tiempo launch night alongside Benji B and Kitty Armor.
The party, taking place on Sunday 30th April, is part of KOKO's first birthday programme. Since reopening last year, the legendary London venue has also been home to new members club The House of KOKO, which has hosted the likes of Little Simz, Tems and Daniel Kaluuya, and counts Mat Collishaw and Stormzy as patrons. KOKO also holds some significance to Skepta and Jammer, as both of them appeared on stage with Kanye West and Raekwon from Wu-Tang Clan at a legendary last-minute gig in 2015, and Skeppy launched his 2016 album Konichiwa at the venue.

When I interview them a few days before the KOKO launch party, Skepta and Jammer are doing the necessary prep. ​"Do we look like we've just woken up to you?" Skepta asks when they join a video call for this interview at 2pm. ​"Because we have just woken up. Because we went to bed at like six o'clock this morning. We were making beats, DJing. Just having fun."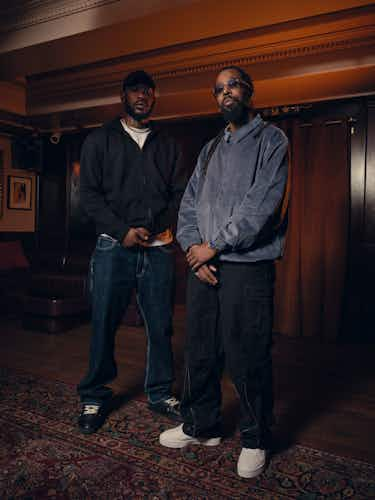 When did you get the inspiration to start the label?
Skepta: I think after we played Circoloco back in August. We had a lot of good responses from that show, a lot of DJs and producers started reaching out to us. I think when people heard the set and saw what we were doing, they realised that we were taking it seriously. We got messages from [DJs] Loco Dice and the Martinez Brothers. Jamie Jones posted the set. People welcomed us with open arms, so we just thought, we produce as well – we're not just DJs – so it makes sense for us to release music that we produce.
What was going through your head when you were doing the Circoloco DC-10 gig, and how did you feel?
Skepta: It was good to be there with my guys, first of all. You know, in a lot of situations where we MC, you're just on the stage by yourself by the end of it. All your guys are with you in the studio, they're with you at the video [shoots] and then when you get to the stage, you're by yourself. So it was good to be in a group of all the guys. Obviously, Jammer [was] right next to me – he produced a few songs that I played that night.
And I definitely felt Virgil's presence, knowing that he was – rest in peace – one of the guys who was opening doors for being multifaceted in the art world. One of the guys in the crowd had a ​"Virgil Was Here" t‑shirt, which was a seal of approval for us.

I know you've been involved in different types of club music – like the dubstep stuff you did with Plastician, and there's been a drum ​'n' bass connection – but would it be accurate to say house music is new ground for you?
Jammer: We've been listening to and raving to house for a very long time. When I was growing up, my sister introduced me to Carl Cox tapes and then [from the age of] 18 onwards, I was going to Ayia Napa and being introduced to the club scene. Sometimes I would just make house beats to listen to at home, but it wasn't something where I was thinking, ​"I'm going to branch off into this," do you know what I mean? So I wouldn't say it's new ground for us.
Skepta: This moment is something that we were always capable of, maybe it was just timing. I think anybody who listens to our sets will be able to hear the knowledge and experience that we have in house music. Going back to what I was saying earlier, I'm sure a lot of people [in Ibiza] probably thought: ​"What is Skep going to play?" They probably thought I was gonna get on the microphone and start spitting or whatever. But I'm playing songs from many different years, way back. And I feel like that's what made people take Más Tiempo seriously.

Skepta, you were the DJ in Meridian Crew before you were an MC. When did you start DJing?

Skepta: When I was in school, probably like year eight or nine. I had a karaoke machine but it had speed on it. And then I had another deck. So what I'd do is I'd mix with the tape and a deck. Everybody from Meridian – not just that estate, around Wood Green, Edmonton, Enfield – they would come to my estate. When my mum and dad used to go work in the morning, my front door would be open until they came home – which obviously turned out to be a mistake, in the long run. But people would come and MC while I was DJing. So everything started from DJing, which is why this feels so good and organic and natural.

Jammer, what's your history as a DJ?
Jammer: I started DJing when I was like 12, 13 years old. I bought my first belt drive decks from Hackney Marshes with a DJ named Supa D, who was known in the underground house scene. We started out together mixing and I kind of became the guy in my area who would play the house parties. I eventually got some Technic 1210 [turntables] and I would go and play at my bredrin's birthday party and things like that. That's when I had the name Jammer P, I'd consider myself a soundboy, from Jamaican sound culture. I played jungle on vinyl, I had a lot of garage on vinyl and bashment on vinyl. I would say I was a DJ first, then MCing came in. A lot of people might not know the journey of where man's come from.
There's been a lot of debate about whether grime is a form of club music or a type of rap music. What's your opinion on that?
Skepta: It's both, innit.

Jammer: I think it's both. The beats were made for playing clubs. And then the people around it wanted to put their story on that, so I feel like it can go into both worlds.
Why did you call the label Más Tiempo?
Skepta: Más Tiempo means ​"more time" in Spanish. After doing music for so long, we don't plan to be doing a show rapping week in, week out for the rest of our lives, you know what I mean? We'll always want to perform to the crowd and MC, but people have seen us MCing for a long time, so it's not a thing that you should just see us [doing] all the time. [We want] to make that more special and well-curated, maybe do bespoke rap shows, Boy Better Know shows with the whole crew. But DJing is something that's really given us more time to enjoy music. We was in Ibiza the other day with Carl Cox for his 60th birthday. And he looked great. He was enjoying himself, smiling, shirt buttons open like he was having a great time. DJing is something that's basically given us more time to enjoy music.
So, generally speaking, rap and grime have different emotional palettes to house music, and you want to explore different areas of the emotional spectrum?
Skepta: Yeah. With the rap side of what we do, it's very personal. Like, if we go into the studio and you have to write music, we have to start delving into our minds and our pain. So pressure shouldn't always be on that. [When you're] making beats and painting, you can be a bit more abstract. You can be more empathetic and go into the minds of others and make a beat because you watched a movie or something.
[But] I feel like grime has taken us to crazy heights. Like, all of this, what we're doing, is because of grime, our love for grime and our passion, and us pouring out our emotions and the rest of the world saying: ​"Yeah, we relate. We like that expression. Thank you BBK. We love you guys." And people still are still giving us the time of day 20 something years later. It's a blessing.


More like this