Robyn Lynch's playful après-ski fantasy

The Irish menswear designer reprised her collaboration with outerwear giant Columbia this season, pushing herself to innovate beyond what she ever thought possible.

Irish menswear designer and Fashion East alum Robyn Lynch made a triumphant return to physical shows this London Fashion Week, with her largest yet most concise collection to date. It also marked the second iteration of her collab with outerwear giant Columbia, a continuation of the pair's mutual knack for pushing the boundaries of textiles and fabrications as far (and as sustainably) as they can go. That ethos was at the forefront of Lynch's AW22 collection.
Ten collaborative Robyn Lynch x Columbia outerwear pieces were deftly woven into Lynch's mainline collection, evoking the symbiotic, interchangeable relationship between the two. Slightly weather-beaten, rosy-cheeked, après-ski-ready models came down the runway to a high-energy soundtrack courtesy of Irish musician Or:la, as Lynch's sporty silhouettes shone bright – literally.
The show opened with a selection of acidic green and yellow get-ups, with balaclavas, luxurious knits and super-breathable trousers in tow. ​"I developed this viscose fabric from Italy and we coated it in a waterproof seal," Lynch explains. ​"That means water rolls off in little beads to create a slime effect – the [trousers] look wet and, if you take a photo with flash, it creates these really interesting lines."
Matching knitwear was heavy-set, striped and reminiscent of popular Ben Sherman numbers from the ​'90s. Made with thick cotton yarn, ​"they feel rough and structured," Lynch continues, ​"without that softness or delicacy – I wanted them to be rough and ready." Although there's a strong sense of spontaneity throughout this collection, Lynch has put thought into every last detail.
One of her key pieces, a trompe l'oeil, fitted football jersey that appeared throughout the show in royal blues and washed-out khakis, was created with the help of Japanese startup Synflux. ​"I gave them photographs of my dad's old jerseys, scans of them, which they then manipulated into their algorithm," Lynch says. The jerseys came back with a singular distortedness to them, which was then translated into cotton yarn in Japan. ​"The texture is amazing. It almost looks like a digital print but then you see all the tiny fine threads, the components."
Pieces like this helped Lynch toe the fine line between masculinity and femininity, putting a delicate twist on typically blokey garments. Those jerseys, for example, aren't made from robust polyester but from soft knitted cotton.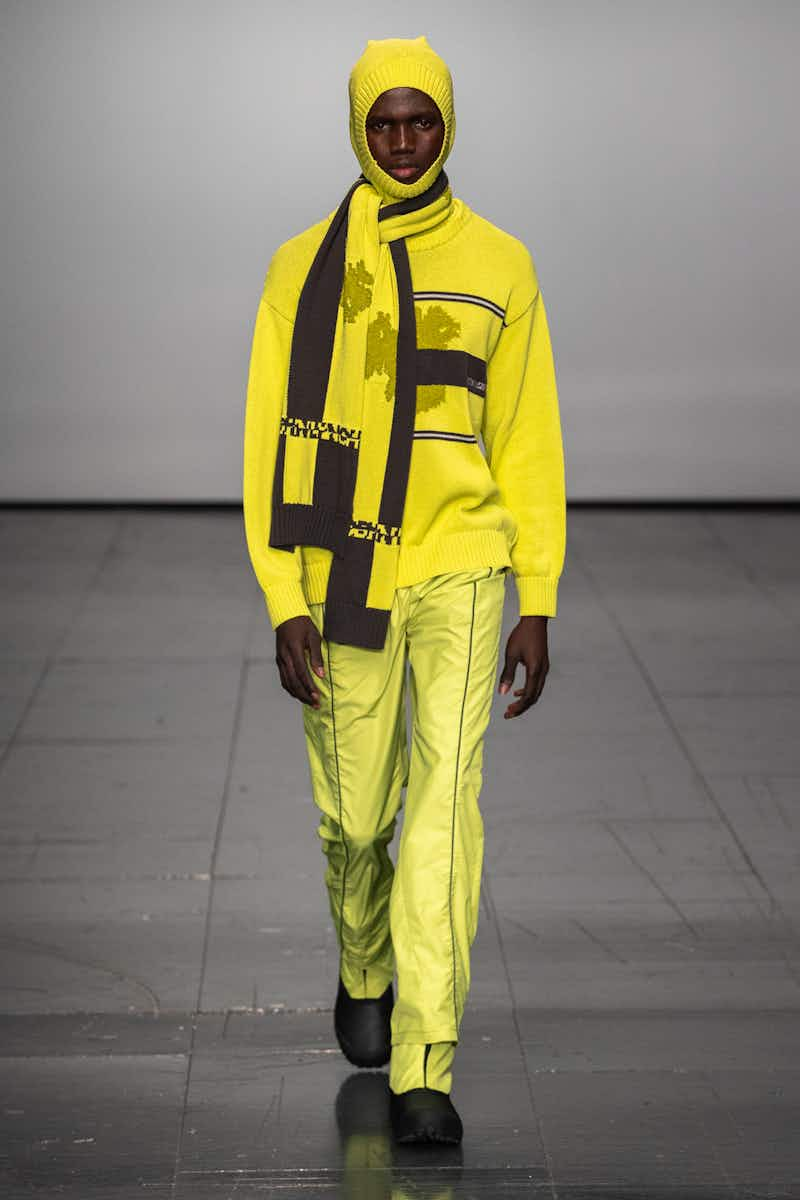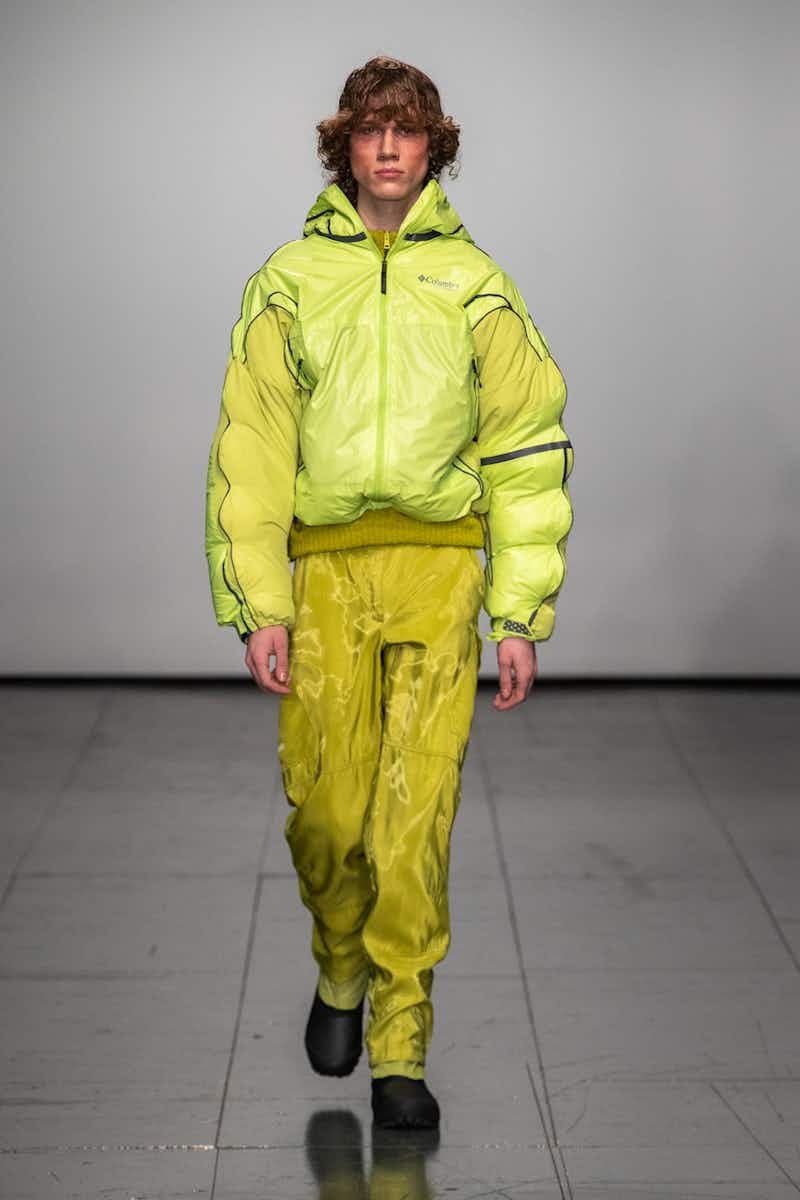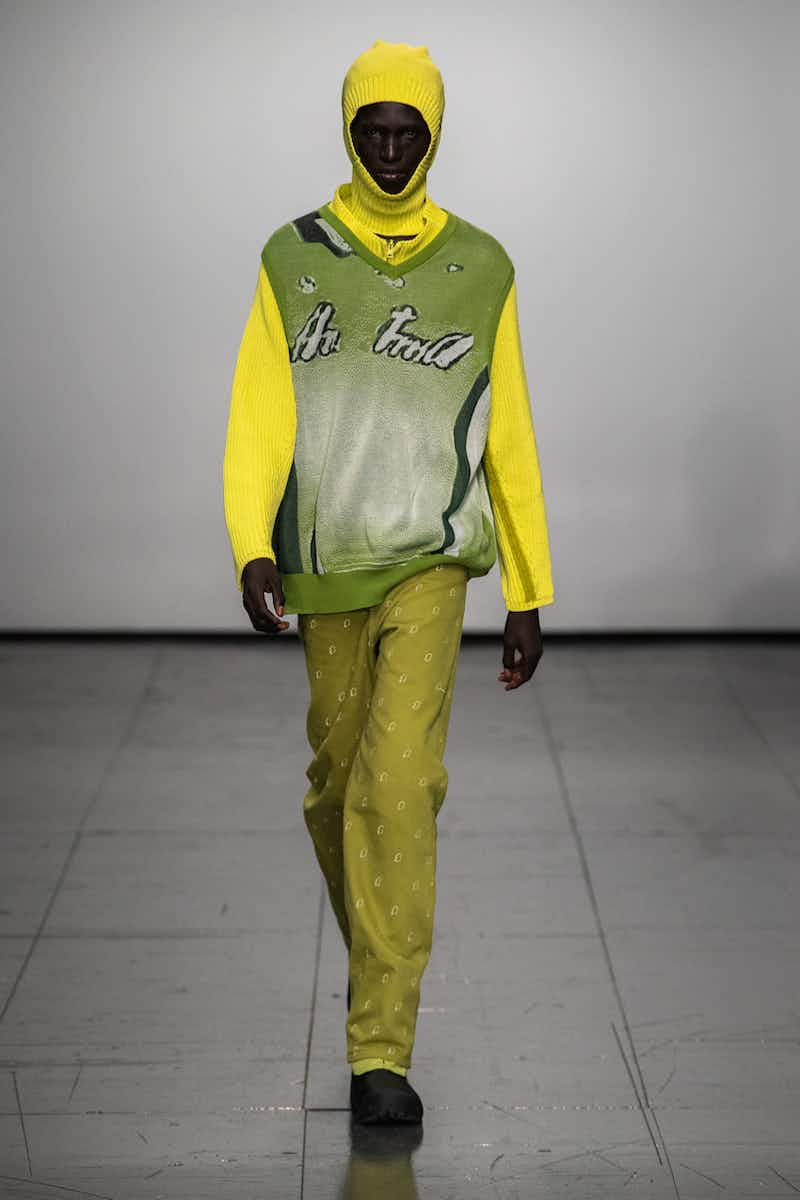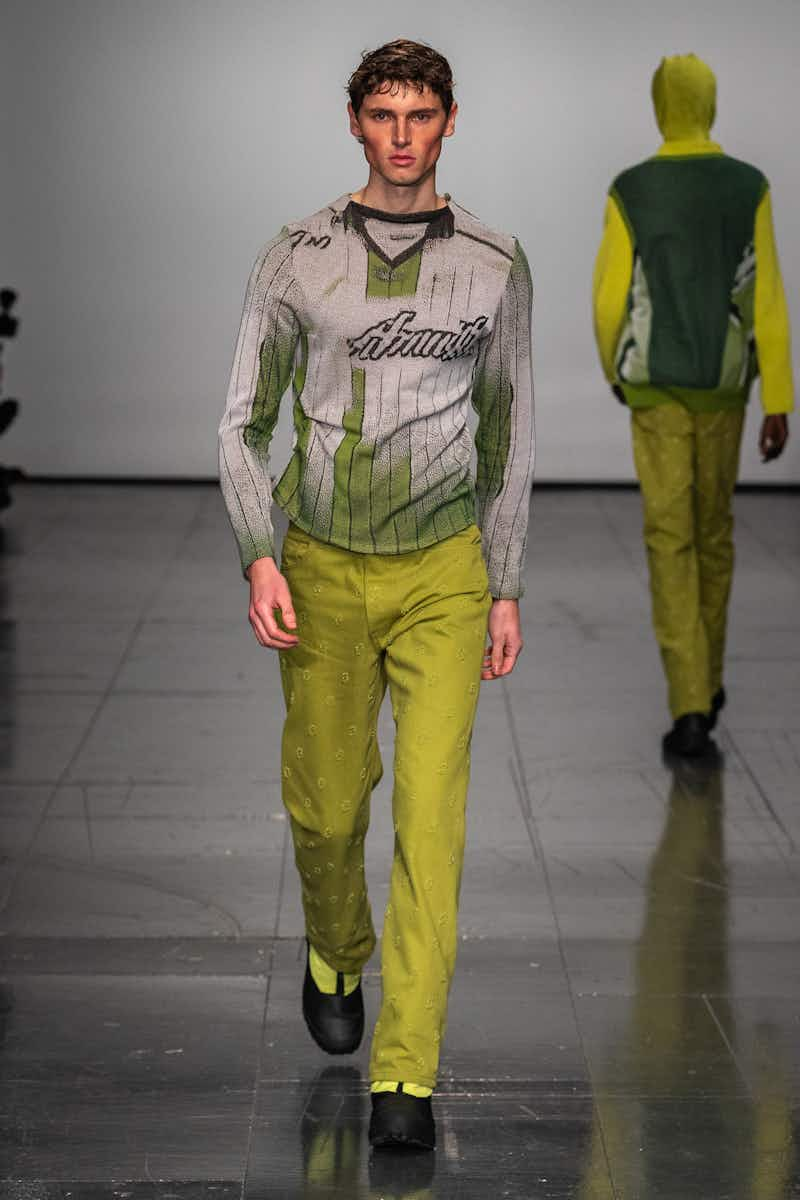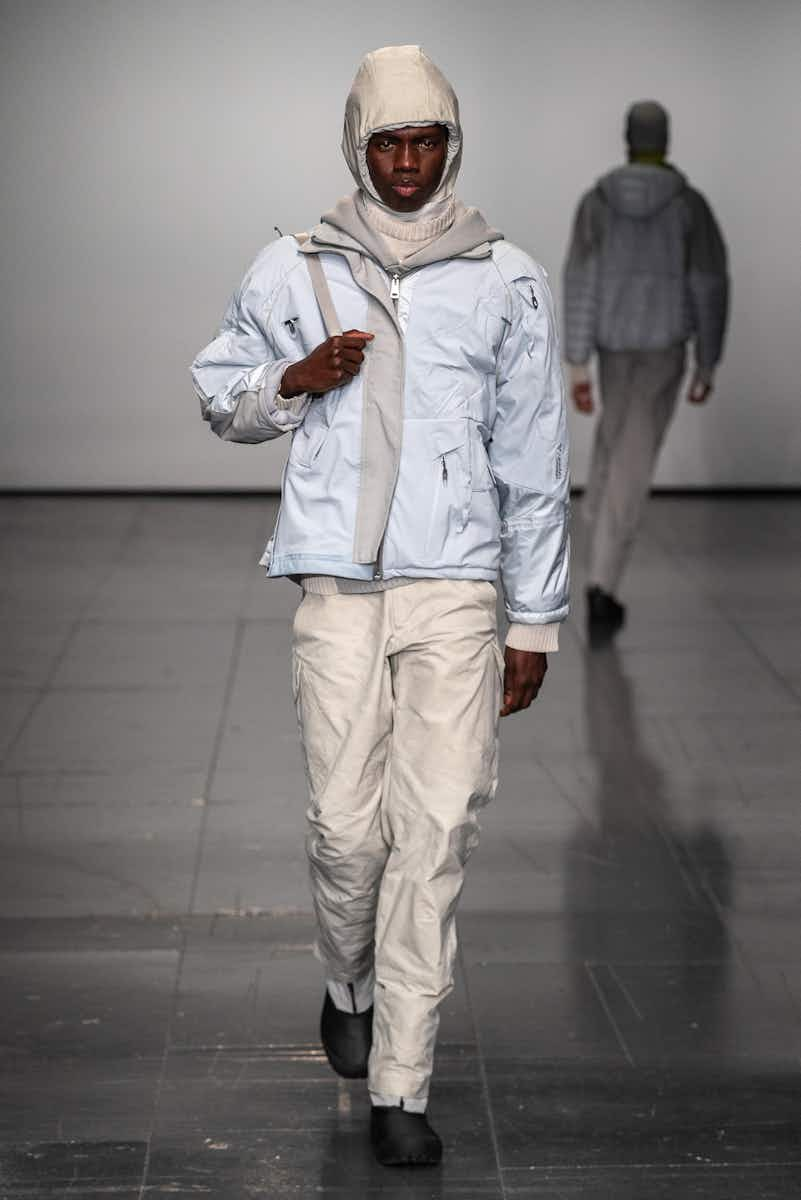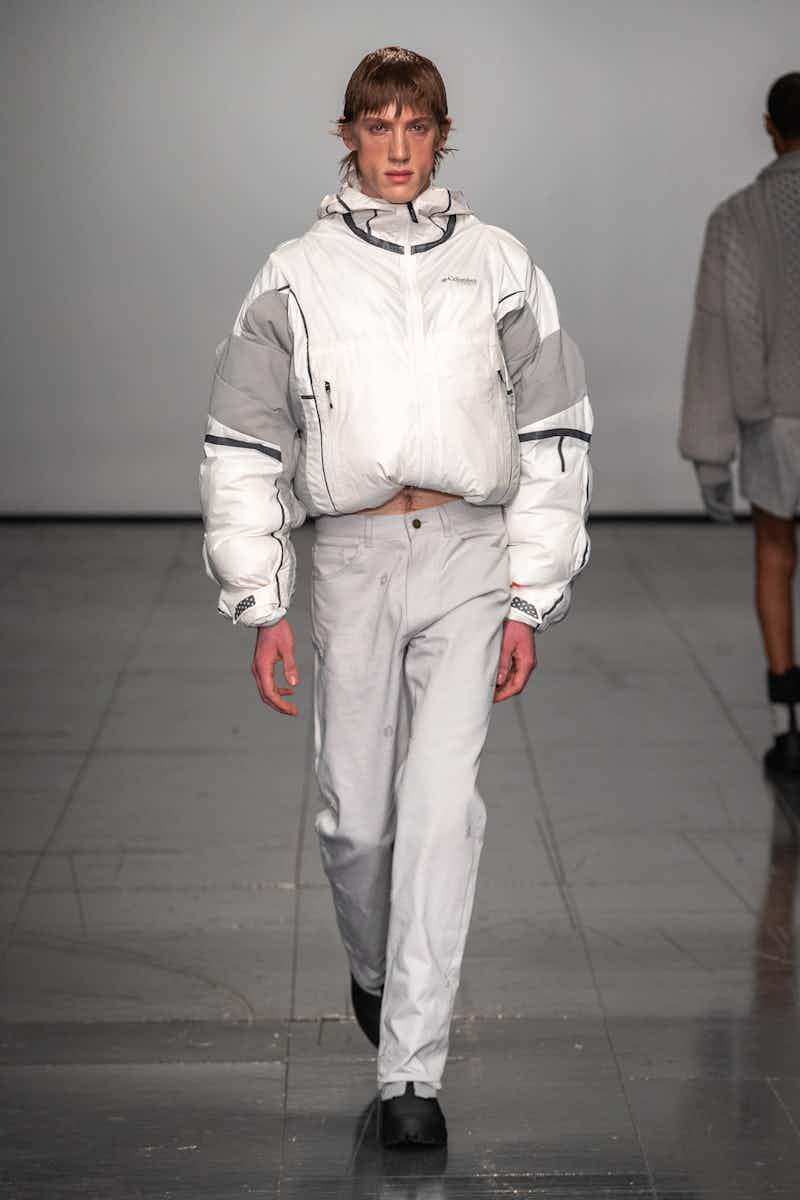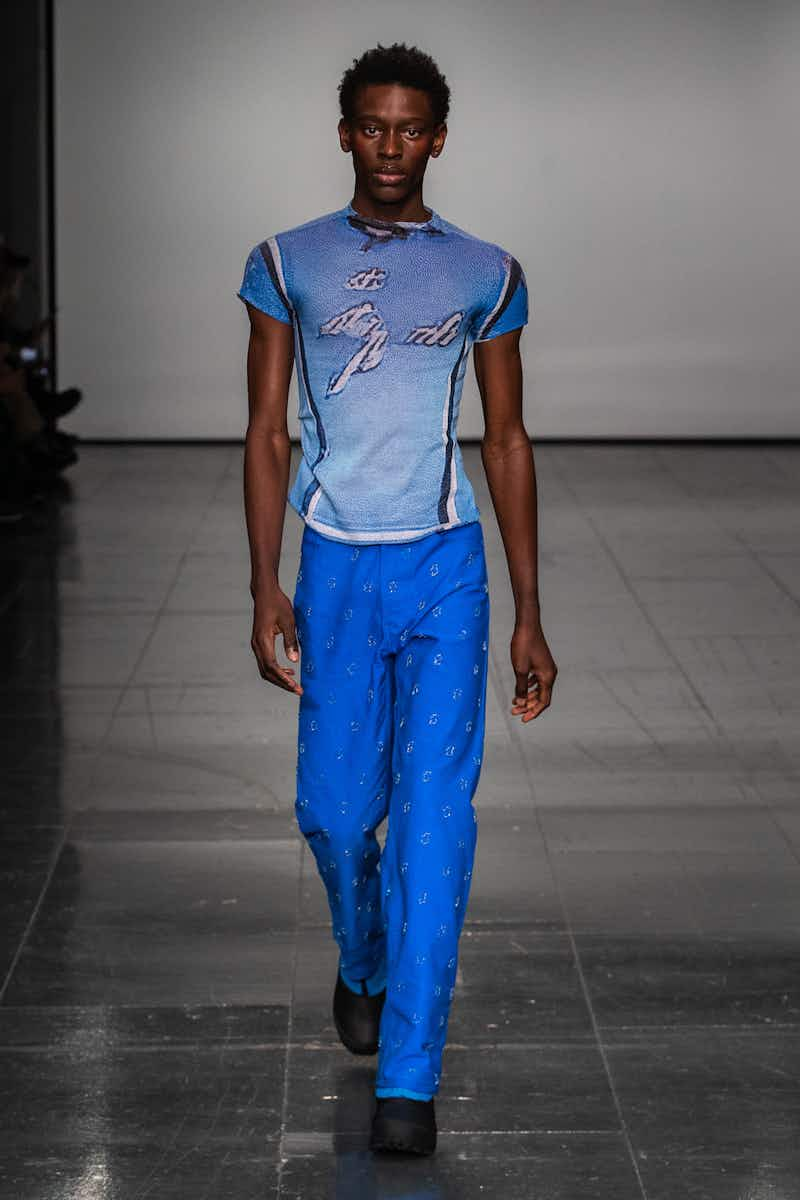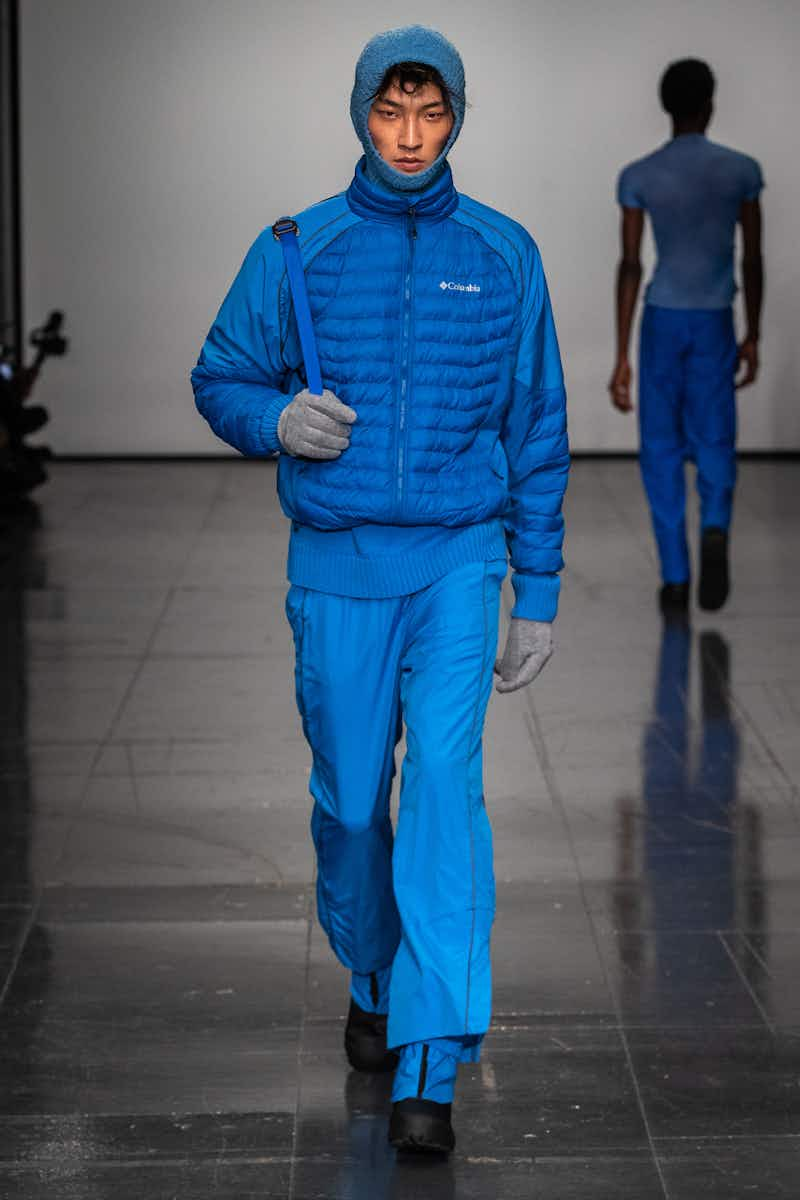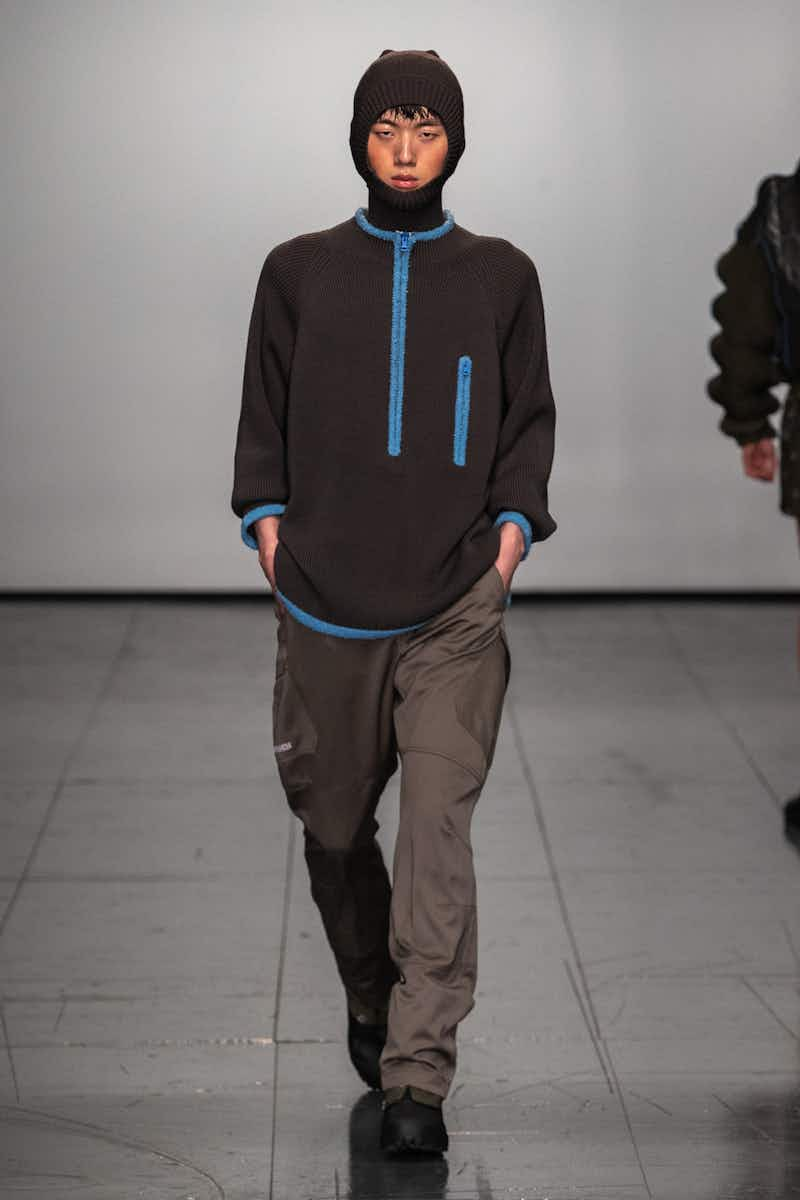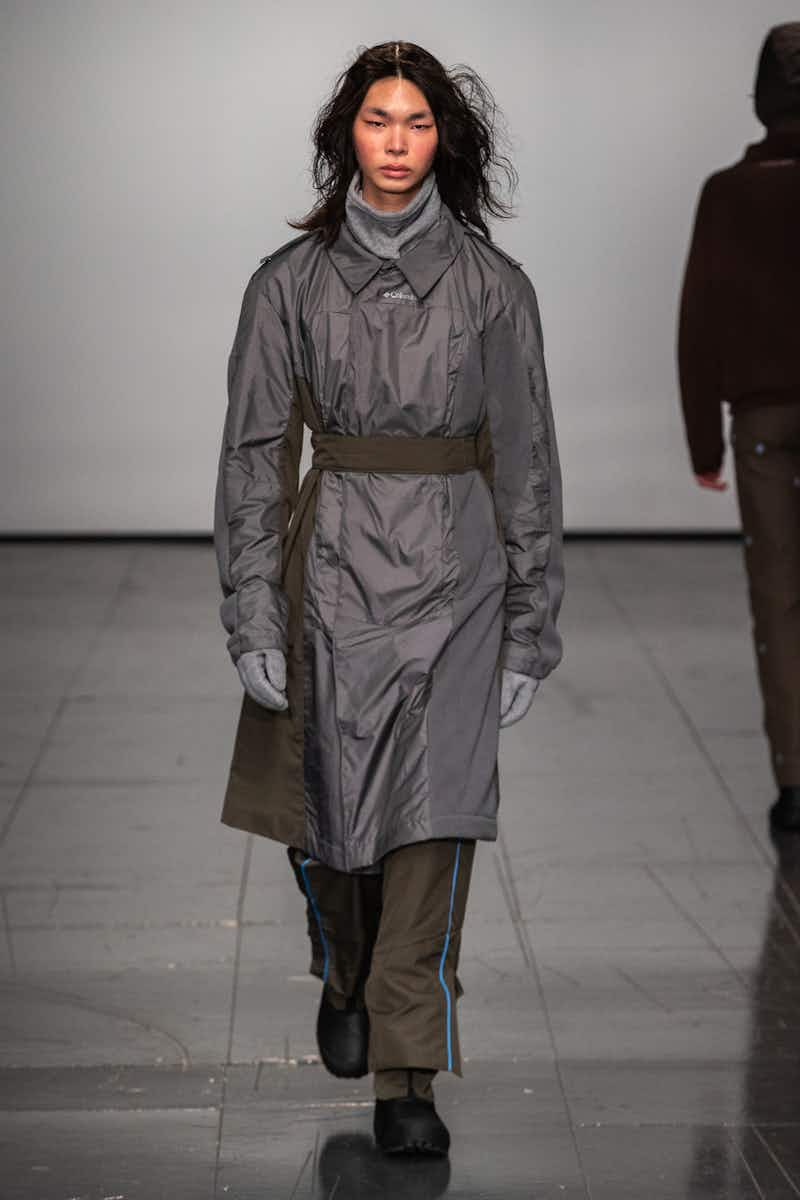 The playful attention to detail doesn't end there. Lynch's denim, which had a strong presence in the collection, features hand-beaded glass embellishments in the shape of mini Irelands, ​"bringing a delicate, beautiful touch to a workwear fabric," as she puts it.
In terms of her key themes and references, Lynch doubled down on irreverence by borrowing fashion from the Olympic uniform of the very first Irish bobsledding team, as well as a few graphics posted on Irish Instagram page @themodernist. ​"There's this funniness to it, this high energy super-buzz," she says. ​"I want people to feel that. I also love looking back at old school graphics, they're so humorous and give me more of a vibe than, say, silhouettes."
That being said, what perhaps felt most important for Lynch this season was showing the world how she'd evolved and continued to build the Robyn Lynch story over the pandemic. ​"I'm not starting fresh every single time," she says. ​"Everything trickles over. There are knitted shapes from my very first Fashion East season, patterns from AW20. My product is more developed, it's evolving." All the blocks of colour that gave her collection a feeling of chapters, for example, is a trick from Lynch's early Fashion East book.
And really, there's no better time for Robyn Lynch to be broadening her vocabulary in terms of fabrics and textures. After all, we're all obsessed with dressing like we're going camping right now and highly technical outerwear is a key element of that. Her Columbia collab has also allowed her to further innovate with sustainable textile Seaqual, which is made from recycled ocean waste and plenty of deadstock fabrics.
"This became second nature," Lynch says. ​"This hiking and outerwear trend, it's only going to get stronger. It's hyped up at the minute, but Columbia is the dark horse of that game and it's not oversaturated yet. I just want to see everyday people wearing my pieces!"


More like this