Cool people look like they're going camping
And you can, too. Trek with the designers heading for the hills like Robyn Lynch, Jimmy Howe and Acne Studios, invest in a pair of Salomon's and breathe a sigh of relief – you're in the great outdoors now.

Walk into a pub and you'll see, lurking in the corner, or smoking out the back, someone dressed like they're about to go camping. Their looks are scrappy, put together in a Millets bargain bin, not a charity shop. A return to nature, they could be well into foraging mushrooms (magic or otherwise). There's waterproof, utility, functionality, and it's not your geography teacher – they are really cool people. The Great Outdoors is upon us. It's on your feet and over your backs, and it looks pretty good – if you buy the right kit.
The trend didn't come as a sudden storm; rather a gentle pitter patter over the past few years. We've all watched North Face​'s popularity sky-rocket for some time now: branded puffer jackets, caps and beanies coming out in wintertime, worn by fuckboys, bus drivers, ravers, mums, dads and fit geezer types.
But sometime in 2017, camping got serious with Prada's SS17 menswear collection. Making a case for otherworldly ravers, the brightly-hued collection went beyond the trail, featuring printed windbreakers, waterproof jackets, clip-on water bottles and, mostly brazenly, socks and sandals. Prada's boys were off to a world unknown, backpacks slung. It was a collection exploring travel and followed Miuccia Prada​'s previous AW16 collection, a beautifully jagged interpretation of historic, askew sailors travelling far and wide. This second-coming of travel, though, was optimistic: the orange, wide-brimmed camping hats, jackets nerdily tied to the waist and socks pulled up all pointed to a new, casual way of dressing.
Both Givenchy and Lanvin went camping for SS17 too, with the latter opting for masculine cuts, utility bags hung across the body and a palette running from beige and khaki green to brown. Meanwhile, Lavin's light-touch approach saw nylon windbreakers and minimised hiking boots. Both were conservative compared to Prada's socks and sandals – less brazen, but wholly functional.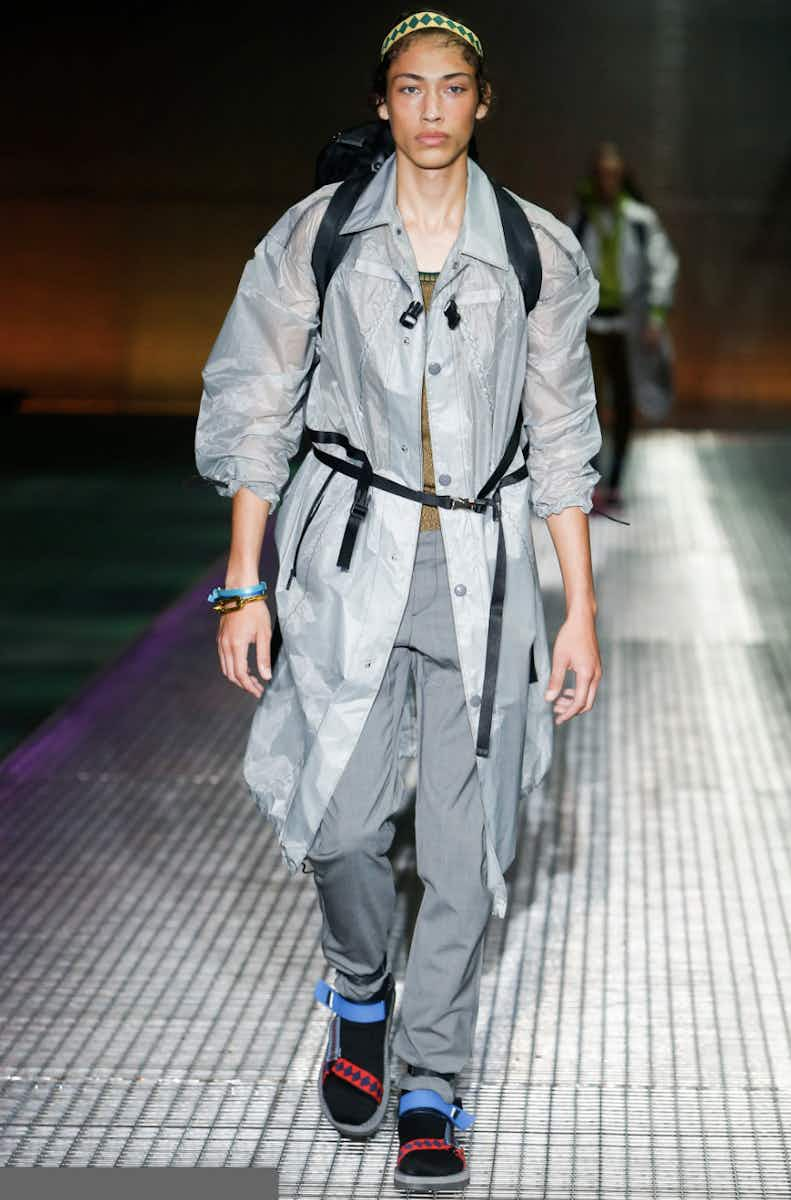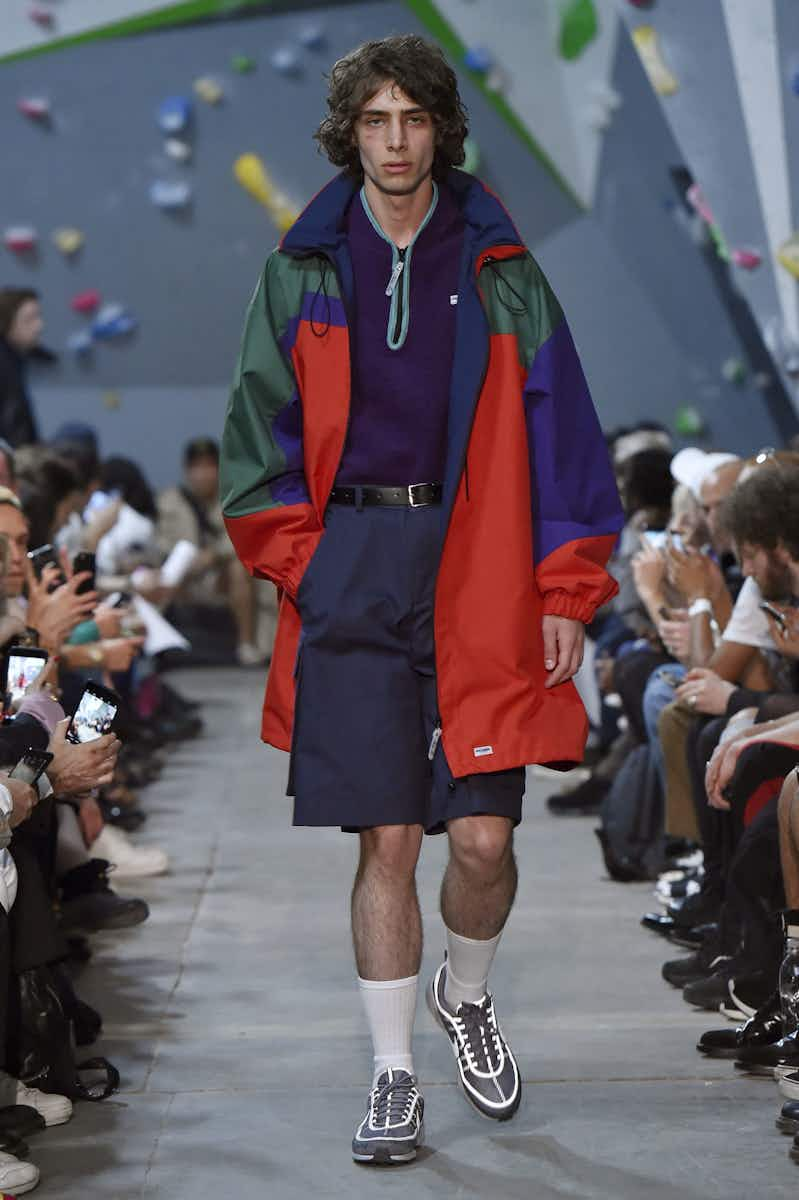 A season later, Martine Rose took us on a school trip to a rock climbing arena for SS18. In a show lauded for its painfully subversive take on classic dressing – like oversized tuxedo jackets paired with cycling shorts and python loafers – camp-wear became cooler. Knee-length cargo shorts and high socks, casual waterproof jackets hung over shoulders, and hair centre-parted and slicked down as though sodden, Rose's boys looked cool – really cool – and gave way to a legion of art-school kids donning knee-length Columbia parkas found in charity shops for under a tenner.
Balenciaga continued camp-wear for their AW18 collection. Namely, parkas that exploded in size: a seven-layer jacket made of plaid shirts, fleeces and technical fabrics, it was fashion as utility, maximalised and meme-ready for the internet generation. Within hours, it was being likened to that episode of Friends where Joey wears all of Chandler's clothes. But the codes of utility dressing had now officially shifted: Demna Gvasalia made fashion funny and that's an important landmark in the camping trend. It's quite humorous to look like a geek and – crucially – not so put together, isn't it? Gvasalia sending a coat that could double-up as a tent down the runway aimed to send a clear message to Balenciaga's young fans and followers: camping is cool. Alright, probably not – but it worked.
Somewhere between then and now, camp-wear has become unavoidable, worn by Gen Zers, pubbers, clubbers and stay-at-homers. But this time round, it's not just subtle hints like the odd puffer jacket or Birkenstock. It's proper gear and designers are coming out in spades to support it.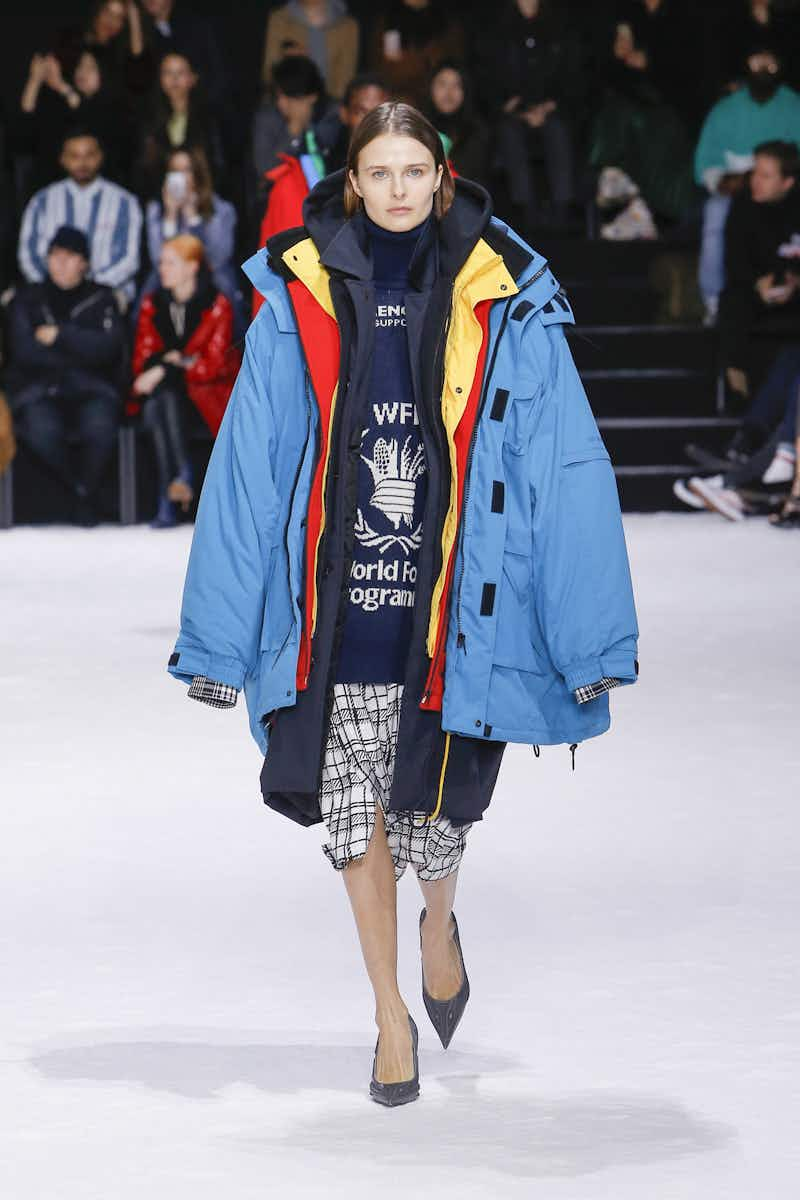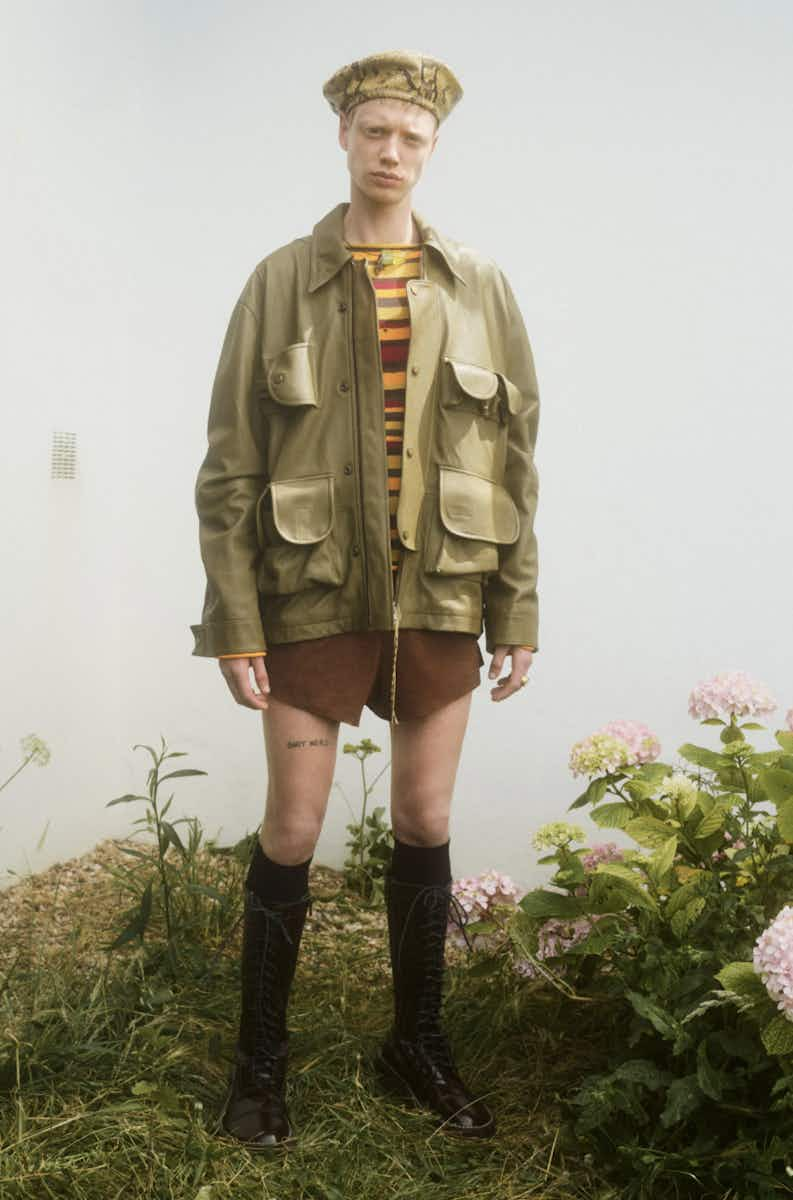 Jimmy Howe, who graduated from Central Saint Martins' MA Menswear course last year, takes his ​"Men Who Care" label statement as a literal reflection of his customers' caring for the world around us. Back in April, he told THE FACE, ​"My work explores why men struggle to talk about climate change, since it requires care." His materials are sustainably sourced and carry his love for the outdoors into the garments. Often, he'll photograph boys wearing his practical windbreakers, pullovers and waterproof trousers while trekking up Ben Nevis or mountains in Iceland. Howe's designs are functional but, when interspersed with floral prints on fleeces, micro shorts and block-coloured cycling shorts, they become progressive, challenging masculine lines and classic styles like tailored trousers and clean white shirts. Somehow, functionality becomes as cool as a tracksuit.
Camp-wear became nostalgic for Irish designer Robyn Lynch for her SS22 collection. Collaborating with Columbia, Lynch was drawn to the outerwear brand after coming across a load of teenage pictures of herself and friends on Facebook. They were all wearing Columbia gilets, jumpers and ski trousers to hang out in. Yet her collection feels hyper-modern, futuristic even, using fabrics and off-cuts from Columbia's archive and reinterpreting them with her oversized silhouettes, even introducing thermo-heat into the fabrics.
And like something out of the Balearic hippie trail, Acne Studios' SS22 menswear collection took earthy, oversized elements and placed them on long yarns of fabric that were as relaxed as a yogi on shroom oil. Further down the collection, models left the hippie retreat and were sent camping, wearing utility jackets with huge, heavy pockets, khaki trousers tucked into military boots and wrap-around sunglasses.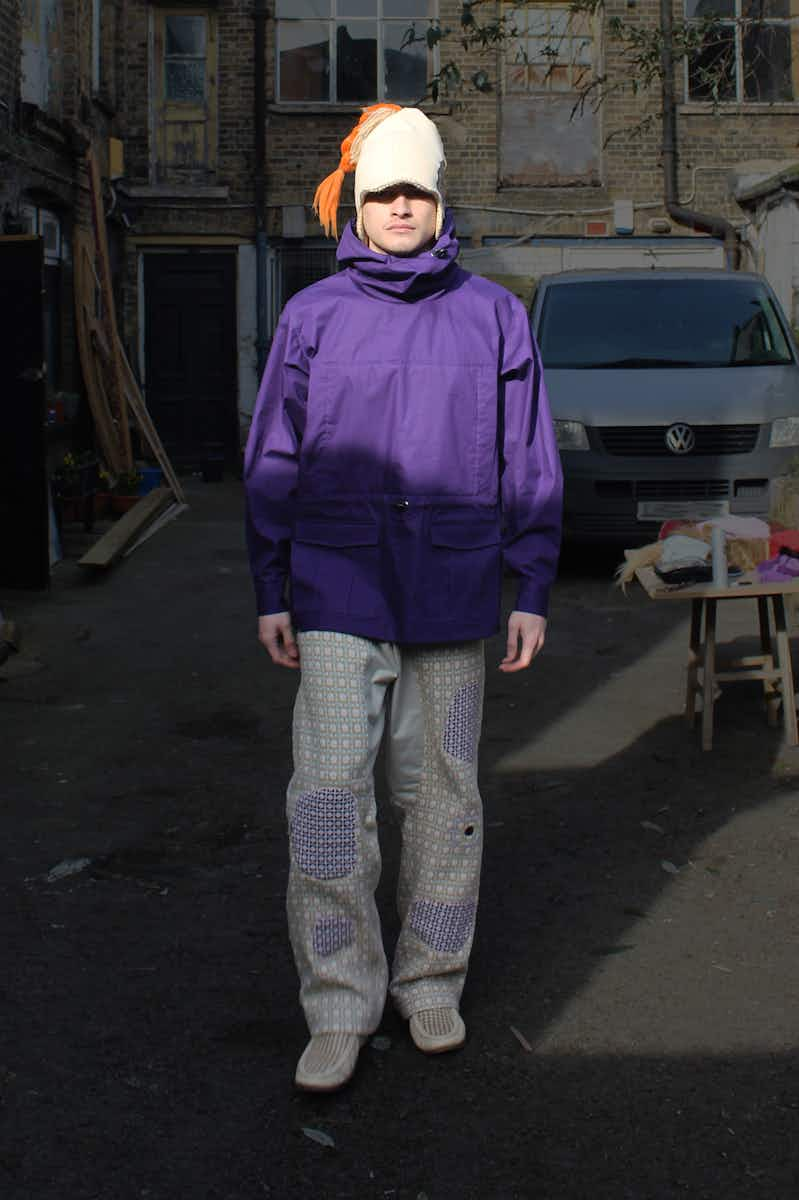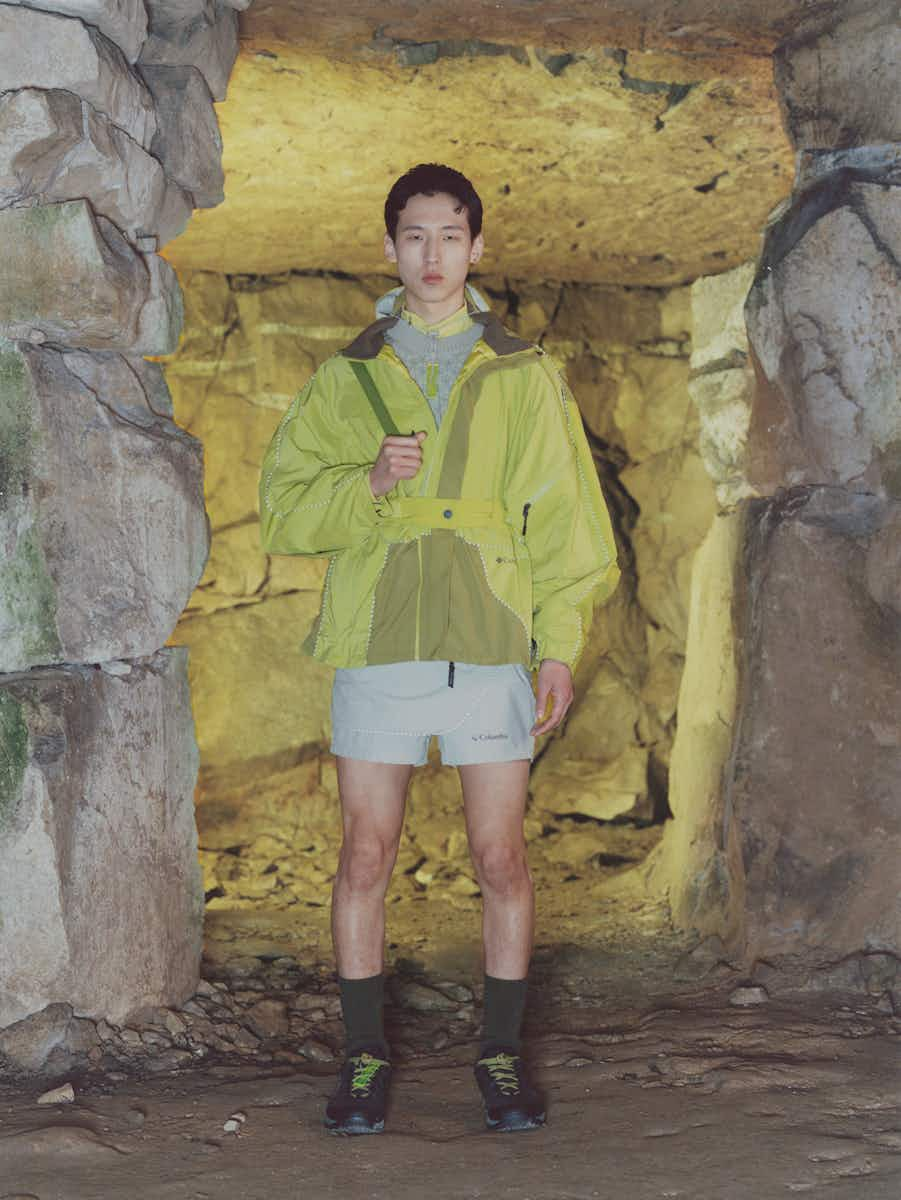 Kiko Kostadinov makes a case for a less in-your-face take on the trend. His SS22 collection was more about ease and comfort – slouchy soft T‑shirts, layers and an icy-blue windbreaker is enough to suffice. But fret not. Those wanting to get proper geared up can look to Stüssy, Palace and Stone Island this season. They're all going camping, whether it's via Gore-tex tracksuits, camo trousers, landscape prints or runner caps.
Sort your feet out, too. Salomon shoes are super functional and super trendy, even though they look awkward and you probably took the piss out of a teacher who wore them to sports day. But that's the whole point of camp-wear – don't take it too seriously.
After being locked up indoors for the best part of a year-plus, this trend seems like a return to nature. Now, we're not suggesting everyone who dresses like they're going camping is off their head, but there's something to say about the increase of mushroom use in fashion and culture, as reported by THE FACE early last year, and the sudden rise in outerwear. Are we so perpetually bored of being at home that all we want to do is dress in functional garb and trek up a mountain? Perhaps. If you're not entirely sure, though, just ask: ​"are the portaloos that way?" every so often, just to be safe.


More like this