How Wednesday Addams style took over the world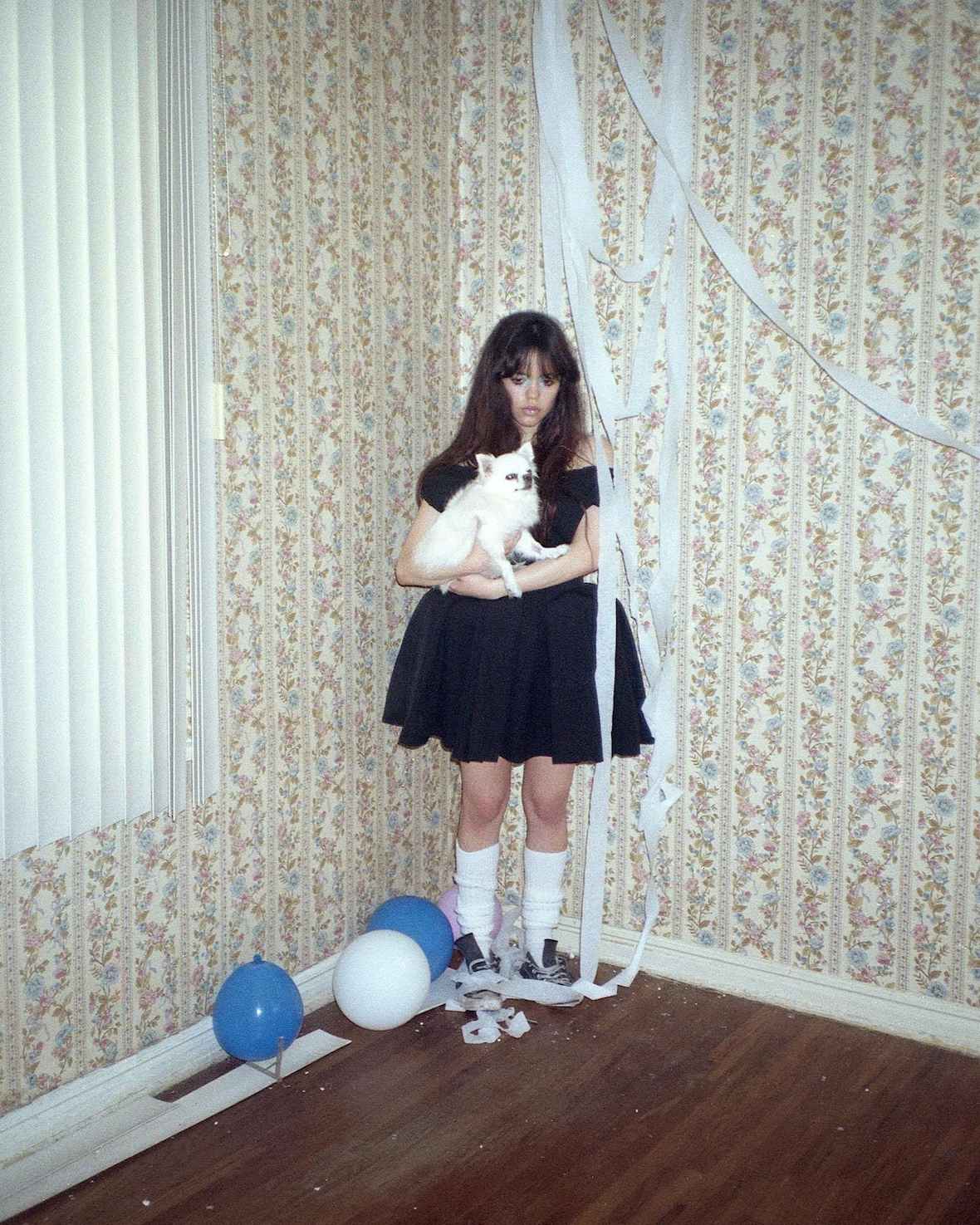 From Christina Ricci in the '90s to FACE cover star Jenna Ortega in the latest Tim Burton-helmed Netflix series, Wednesday Addams is the original goth girl.

Here's how Wednesday, the daughter of the Addams Family, is introduced to a new generation: ​"Please excuse Wednesday," purrs Catherine Zeta Jones' Morticia Addams in a trailer for Tim Burton's new Netflix series. ​"She's allergic to colour." Cut to FACE cover star Jenna Ortega as Wednesday, in a black dress with white collar, no-nonsense pigtails and a face like thunder.
This combo (and allergy) have been Wednesday's shtick since the 1930s, when The Addams Family debuted as a comic strip in The New Yorker. A schlocky TV sitcom followed in the ​'60s, and Wednesday (full of woe, as the nursery rhyme goes), her mum Morticia, Uncle Fester, and a disembodied hand named Thing have been part of our culture ever since.
If the ​'60s Wednesday, played by a six-year-old Lisa Loring, had the look – severe plaits, black dress and white collar – it was Christina Ricci's turn in the ​'90s, in The Addams Family and Addams Family Values, that cemented the character's place on fashion's moodboard. With her deadpan delivery, black clothes and a non-smile better than Posh Spice, Ricci – at the age of 11 – was the original goth girl.

You can see her influence in sassy world-weary characters in stomp boots: from Daria to Gossip Girl's Jenny Humphrey and Kat in Euphoria. There are memes on Instagram, fan fiction and her popularity in the cosplay community (see: TikTok). Wednesday, the opposite of the smiling obliging little girls loved by the patriarchy, should arguably be an inspiration to us all.
Ortega's turn as the character who thinks smiling is for losers is likely to give her a whole new set of fans. Her wardrobe strictly adheres to a black and white policy, as designed by costume designer legend Colleen Atwood. There are black tulle dresses, collars that look like spider webs and black and white stripes reminiscent of another Burton classic, Beetlejuice. Burton is, of course, an OG of all things goth, with his own Edward Scissorhands shock mop and purple-tinted glasses. He has said he was always drawn to Wednesday ​"because she shares my worldview on things". Same.
Wednesday is admirably dark to the core. The comebacks alone are to be admired. When negotiating with a particularly perky child to buy girl scout cookies in the 1991 movie, she deadpans: ​"Are they made from real girl scouts?" Asked, in the same movie, where her Halloween costume is she replies: ​"This is my costume. I'm a homicidal maniac, they look just like everyone else."

Fashion is feeling Wednesday's homicidal maniac look this season: goth is back. Rick Owens, fashion's dark lord, is surely her couturier in waiting and brands such as Gucci and The Vampire's Wife work a kind of geeky spookiness. Ortega's Wednesday wears a collared dress that looks very Gucci, and Thing is nothing if not a Gucci accessory in waiting. There's also a newer crowd too: see black-loving designers like Dilara Findikoglu, Nensi Dojaka and Edward Crutchley, who was inspired by the idea of a ​"gothic queer god" for his autumn collection.
Celebrities, meanwhile, are adding new goth love to the pap shot. Megan Fox and Kravis are key proponents here, while Ortega did corpse bride chic for the premiere of Wednesday, and Kylie Jenner's recent Mugler get-up is a play for the goth queen crown. The trend doesn't look like it's letting up any time soon. North West, nine, is bringing a Wednesday-worthy emo mood to Gen Alpha.
Talking of kids, the new Wednesday series is set in a school – the Nevermore Academy – which gives it another tick for 2022. Dark Academia, the aesthetic that is tagged on 3.2 billion (yes, that's billion) videos on TikTok, loves all things gothic and studious, so blazers, school skirts and frilled black umbrellas will no doubt see this Wednesday up there with Donna Tartt as a new favourite on Pinterest boards.
Her dorm room, as seen in the trailer, will seal the deal. Split down the middle between her black side and the unicorns and rainbows of her roommate Enid, it's like a manifestation of aesthetic wars played out every day online. Dark Academia comes out on top, of course. As Wednesday, and all children full of woe know, the dark side reigns supreme when it comes to style.

More like this