Jerry Lorenzo: ​

"

There's something about living in LA that is luxury"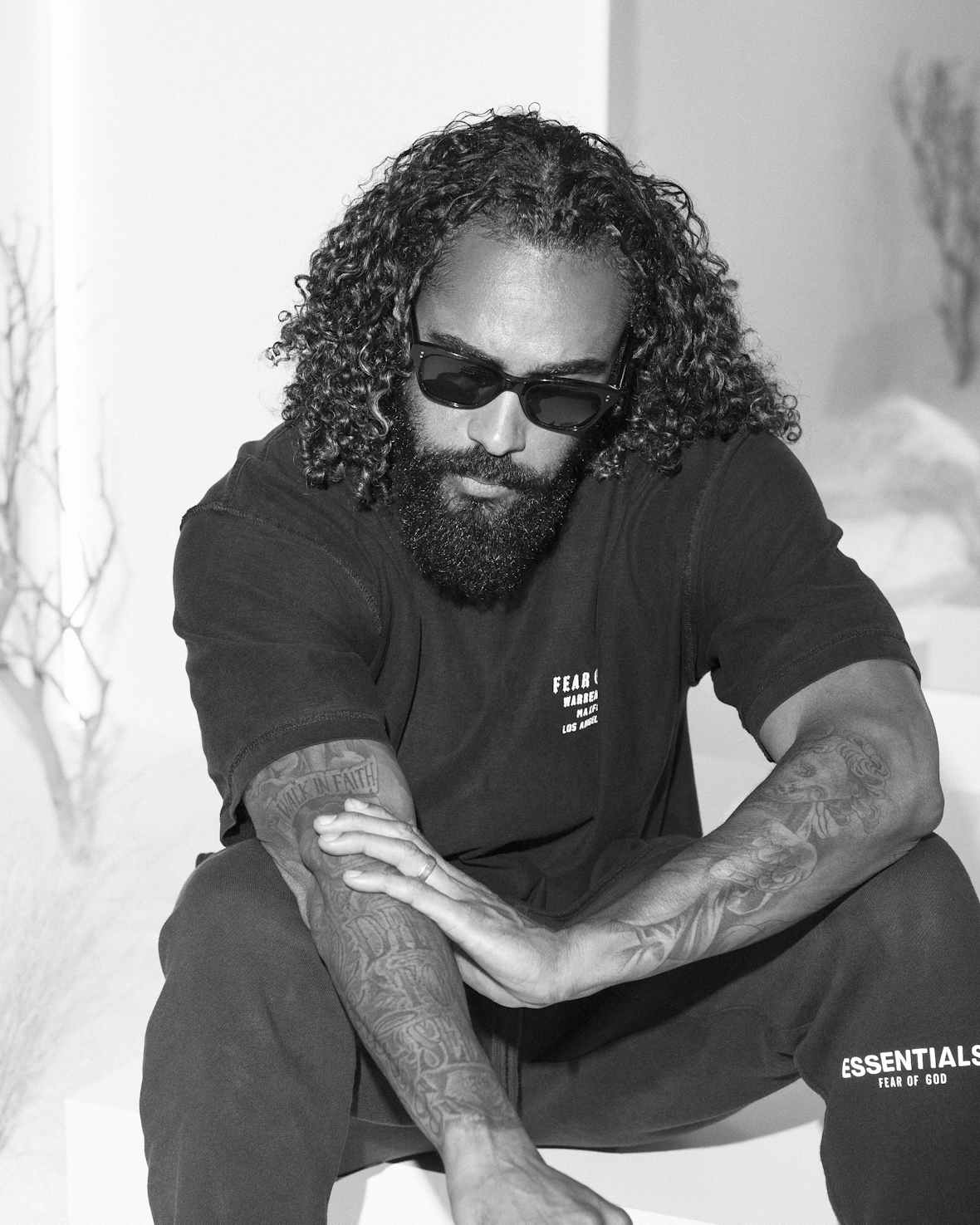 The Fear of God founder talks time and space, faith and redefined luxury at the launch of the label's first physical store.
Jerry Lorenzo may have been a late starter in the world of fashion but he's sure as hell made up for lost time. At the start of the decade, Lorenzo was still working in sports management and struggling to find suitable clothes for one of his clients, LA Dodgers baseball star Matt Kemp. It was then that Lorenzo took matters into his own hands and decided to design them himself. His early work was such a hit that in 2013 he founded his clothing label, Fear of God. Since then he's worked extensively with Kanye West, designed tour merch for Justin Bieber, Jay Z and Kendrick Lamar and created his own Nike shoes. It's been a meteoric rise, but until now one thing Lorenzo never had was a shop to call his own.
That changed this Saturday, the day of Lorenzo's 42nd birthday, with the opening of what he calls ​"the atmosphere". For the next month, Lorenzo is inviting Fear of God fans to pay a visit to a quiet street in downtown Los Angeles. Stepping inside the enigmatic all-black facade they'll find select pieces of his collection displayed among gnarled tree stumps twisting out of black sand, an alien landscape brought to Earth. It's a recreation of the desolate desert Lorenzo first conceived last year for a short film starring Jared Leto and model Maggie Maurer that he made to promote his sixth collection. ​"It was important for me as a creative to design an environment," says Lorenzo as we enter the space. ​"Right now, if you're a kid that's looking for Fear of God you go and grab it off a rack in Barney's. That's not in the spirit which the product is from. You're missing the emotion that I'm really trying to give you."
As we make our way down a black runway raised above the sand, motion sensors are activated to illuminate pieces as we approach them. The attention to detail is painstaking, right down to the sourcing of the trees that loom like twisted sculptures out of the gloom. ​"It's hard to find trees that give you this feeling of otherworldliness but don't feel corny or Halloween spooky," says Lorenzo. ​"There's a really thin line. We looked at hundreds of trees to try to find ones with the perfect vibe to give you the sense of being outside of space and time."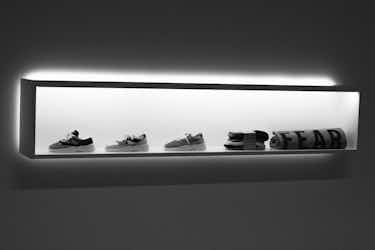 The landscape was partly inspired by the Swamp of Sadness from ​'80s kids fantasy film The Never Ending Story, and if that seems like an incongruous way to showcase streetwear then Lorenzo says that's exactly the point. ​"What I loved about that scene is that you don't really know where that place is, or when it is. I remember that feeling as a kid and I wanted to recreate that here with this space," he says. ​"At the end of the day, where these clothes are going to live is in the city. I don't want to give you that same emotion as where it's ultimately going to land."
At the back of the room a doorway leads through to a more conventional retail space, bringing together pieces from the main Fear of God line, Lorenzo's Essentials collection and his collaborations with Nike. Lorenzo, whose father Jerry Manuel was a major league baseball manager, is clearly inspired by sportswear but his clothes also show the influence of alternative style icons like Kurt Cobain. ​"There's everything that went into influencing me as a kid growing up in this country," he says. ​"It's me being a college athlete but also the music that I listened to, the different subcultures from grunge to hip hop and rock. A kid that's influenced by sports and grunge wants to express all of it. He doesn't want to be boxed by one of those things. I think a lot of Fear of God is my point of view. It's me trying to find how I can be a part of all the different subcultures that I'm a part of and still be myself. After years of trying to find that language it's now coming out through clothing."
Lorenzo likes to describe his clothes as ​"American luxury", and it's fair to say that Fear of God has played a hand in redefining what luxury is in this decade. It's not just that rappers and Kardashians want to wear Lorenzo's clothes, but that the richest and most powerful people in the world are now more likely to be seen in hoodies than business suits. For Lorenzo, his own shift in his definition of luxury came when he moved to Los Angeles.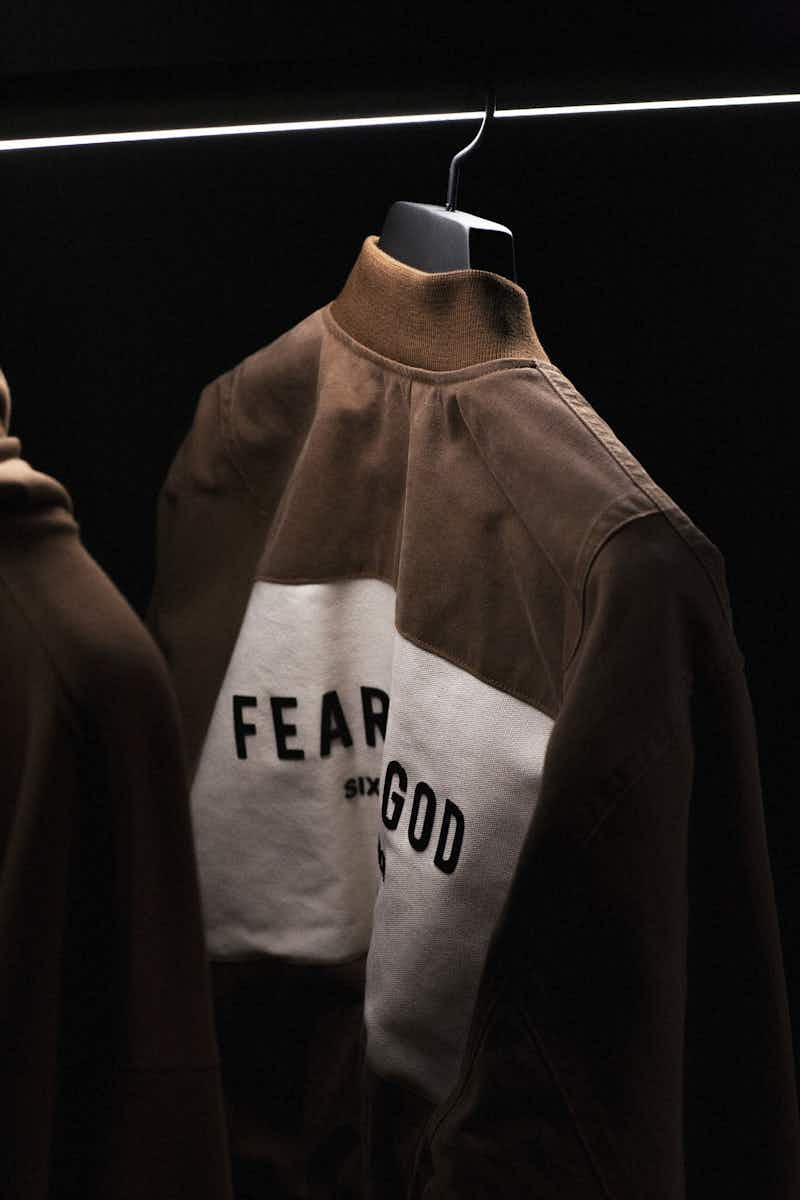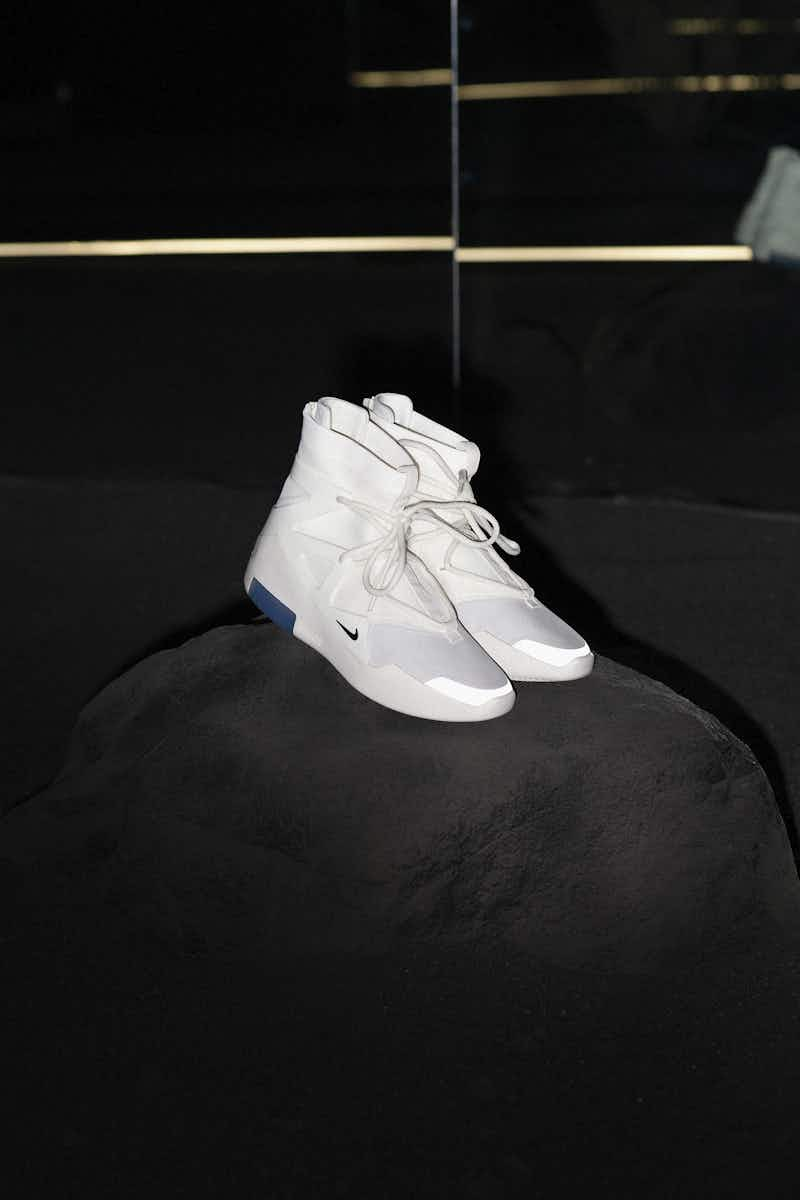 "There's something about living in Los Angeles that is luxury," he says. ​"It has to do with the landscape and the terrain and the mountains next to the ocean. It's so beautiful here, and the way of life is a little more casual than the East Coast. The hustle is the same, but the pace is different. I think that pace is luxury, and so is being able to wear sweatpants and a T‑shirt to work. On the East Coast it's a suit and I have to get uncomfortable to be appropriate. What I'm trying to say is that you can be comfortable and appropriate."
That idea manifests itself in the clothes that are on display here, and Lorenzo points out some of his favourite pieces to illustrate his point. ​"It's about taking these American staples, whether it's a hoodie or a workwear jacket, and elevating the materials," he says. ​"We elevate the fabric and then perfect the fit, the shape, the proportions and the way it drapes. It's all those small things that maybe a lot of people don't see."
Beyond selling upmarket comfort, Lorenzo also sees Fear of God as a way of spreading a message. A devout Christian, he came up with the name of his brand after reading the devotional book My Utmost for His Highest by Oswald Chambers. ​"It's a heavy undertaking, designing clothes," he says. ​"There are highs and lows, so I needed a message that I really believed in to keep me going. At the end of the day, it can get kind of corny, being so worried about your appearance and what you're wearing and designing and trying to be conceptual. I'm not really so into it like that, so I needed a bigger picture. I needed a foundation and a story to tell to drive this thing."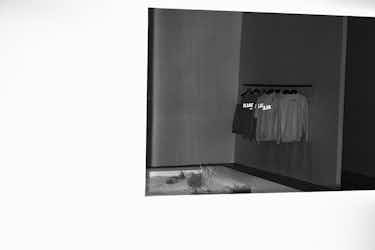 With his frequent collaborator Kanye West about to release a gospel-inspired album called Jesus Is King and Justin Bieber now a regular worshipper at Hillsong Church, I ask Lorenzo if he feels Christianity is more in vogue than it was even a few years ago. ​"Yeah, I mean, I would hate to almost belittle Christianity because it's so much bigger than whatever little moment that's happening right now," he says. ​"It's so much bigger than that. If you really believe in it then it is everything to you, so these pop culture moments are going to come and go but what I've found in my life personally is that it is eternal and it is outside of time and space. It's the most important thing in the world to me, and with Kanye and Justin Bieber I think that once you're exposed to the truth it's hard not to identify with it. I feel like these guys are just exposed to the truth, what they believe is the truth, and it's hard not to champion that message once you've been exposed to it. I think God works in ways that are beyond our understanding. With what's happening now, whether it's how he's working or not I don't know, but I chalk it up as beyond my reasoning anyhow."
Kanye first came across Lorenzo's work after seeing some of his long tees worn by Big Sean. He liked them so much that he called Lorenzo personally, eventually offering him a job working on his A.P.C. collaboration and various other projects for his creative company Donda, including the Yeezus tour merch, Yeezy Season. Watching Kanye work up close only served to reaffirm Lorenzo's belief in the connection between faith, place and creativity. ​"I remember working with him on the Yeezus album and going to Rick Rubin's place up in Malibu and it just made so much sense," he says. ​"You're in the mountains overlooking the ocean. This is where you go to make phenomenal music, you know what I mean? You sit in the middle of what is one of God's most beautiful creations, so of course it's a place where you can be creative. I just remember that feeling of: wow, this makes so much sense."
As we head back from the retail space back towards the shadowy main room Lorenzo sees that The Face's photographer has arrived and quickly goes back into directorial mode, making sure some unsightly cardboard boxes are moved out of the way of his shot. His eye for detail never blinks. He tells me he's more concerned with making sure that the people who come here over the next month have an emotional reaction to this strange world he's created, outside of space and time, and while he can't be sure whether it will connect, as ever, Jerry Lorenzo has faith.

More like this