Everything going down at London Fashion Week AW21
Ahluwalia, Art School, Saul Nash, Central Saint Martins, Matty Bovan, Molly Goddard, Bianca Saunders, Vivienne Westwood, Miles George Daniel, Burberry, JordanLuca, Simone Rocha, JW Anderson...
The body becomes a vessel for sculptural experimentation

Jonathan Anderson, creative director of JW Anderson, presented the brand's AW21 womenswear collection by continuing a format established several seasons ago – his garments were printed onto 19 double-sided posters, along with an intimate video message from Anderson, distilling his design process this season. The collection also harks back to the brand's initial DNA, merging art and fashion. This time they collaborated with artist and ceramicist Dame Magdalene Odundo – who Anderson met while curating the Disobedient Bodies major exhibition in 2017 for The Hepworth Wakefield – and American artist Shawanda Corbett, whose work Anderson first saw at the Corvi-Mora gallery in London last year, during which time lockdown restrictions had relaxed. For this collection, both artists have produced a series of six limited-edition blankets based on three of their works, each, to sit alongside pieces fixating on silhouette, pose and figurative lines. Shot by Juergen Teller (following his debut collaboration with Anderson for men's last month) and modelled by the two artists, Anderson reinterprets his recurring theme of blown-up proportions, exploring increased volume on totemic structures like a layered smock dress in lime green, and baggy silk trousers hanging way over the feet. Knitwear becomes an armour-like cocoon, with a lavender dress taking on an extreme bulbous shape, circling the knees extending out from the body – emulating the voluptuous shapes of Odundo's ceramics. The body, then, is celebrated as a vessel for experimentation. TJS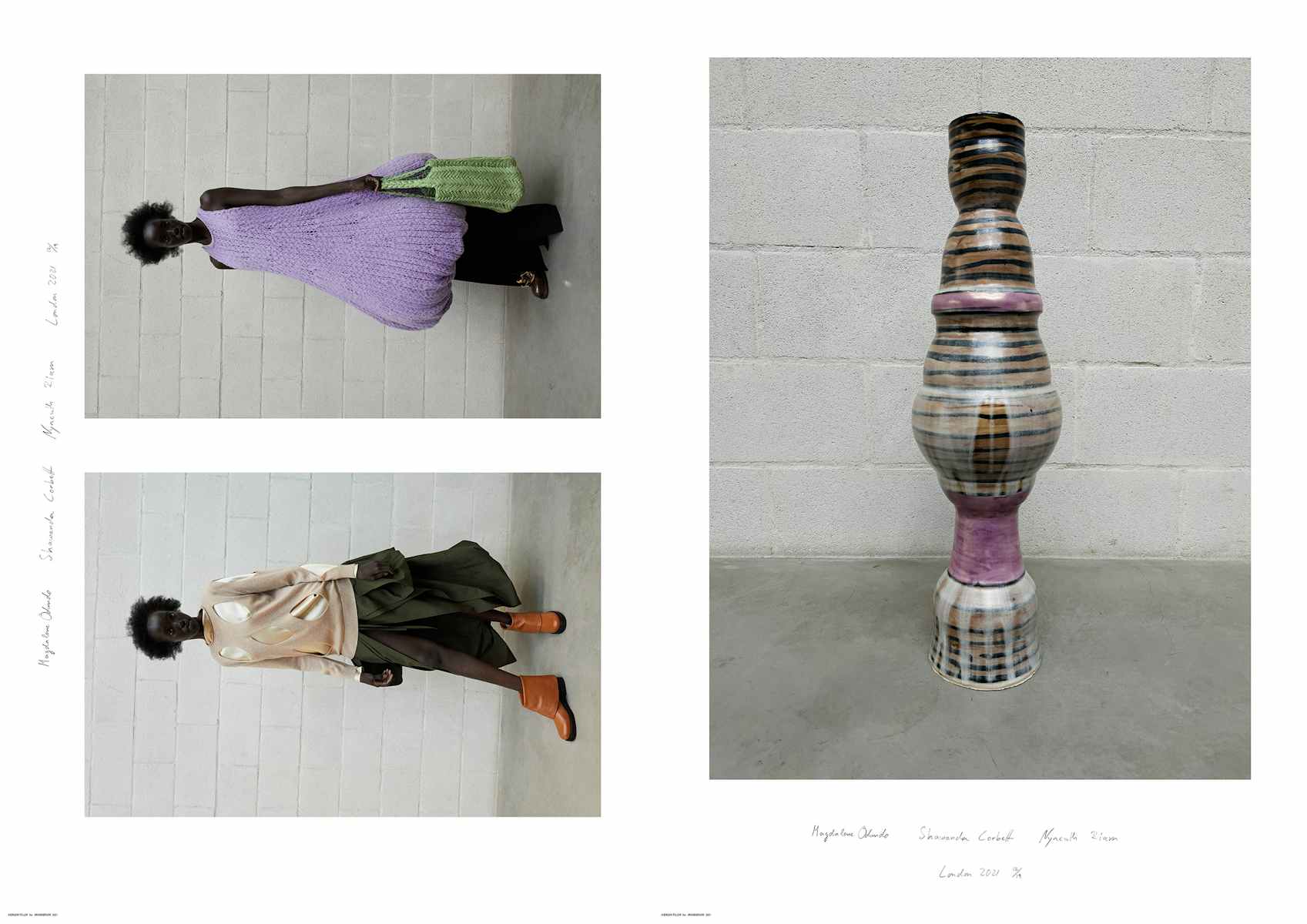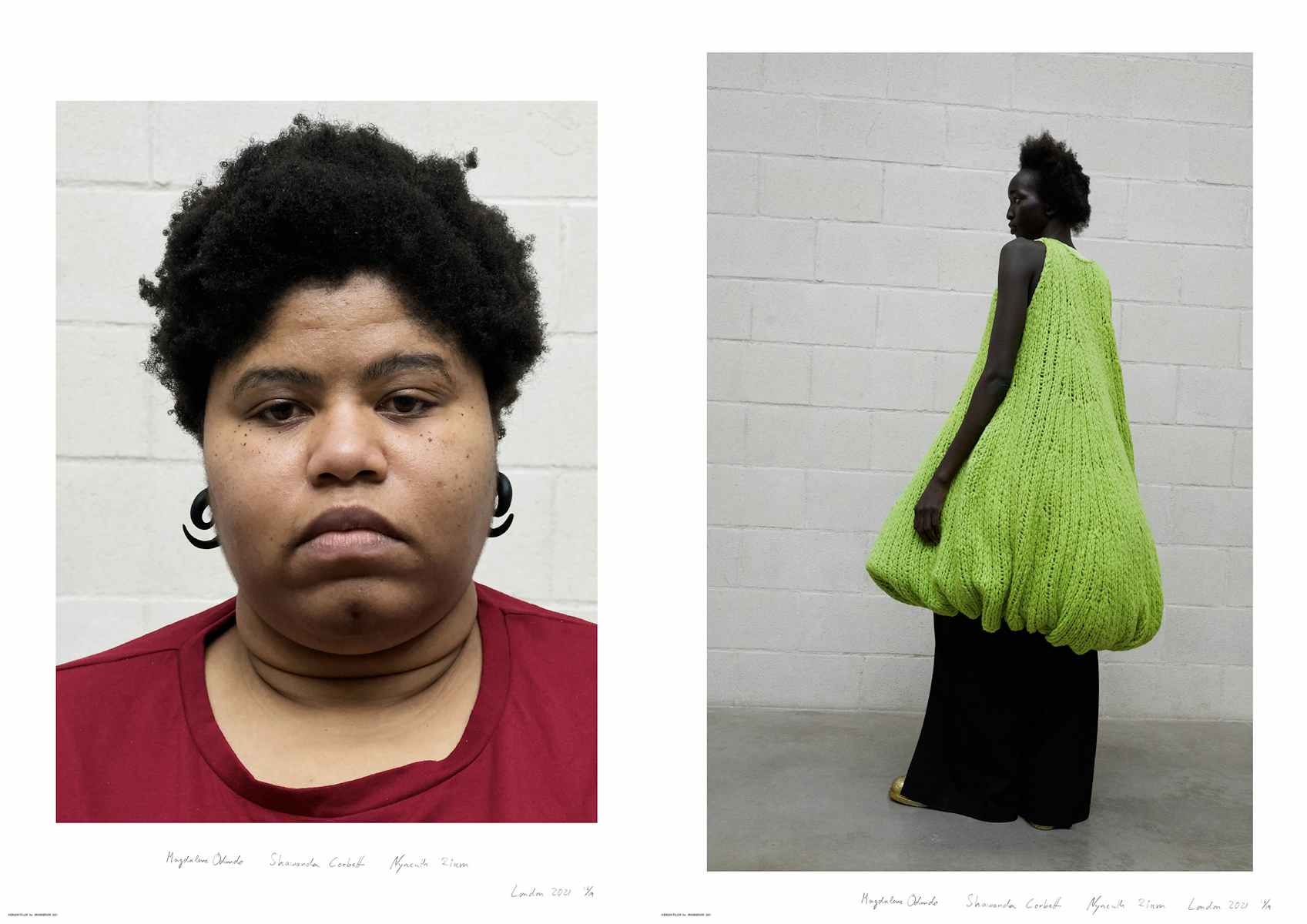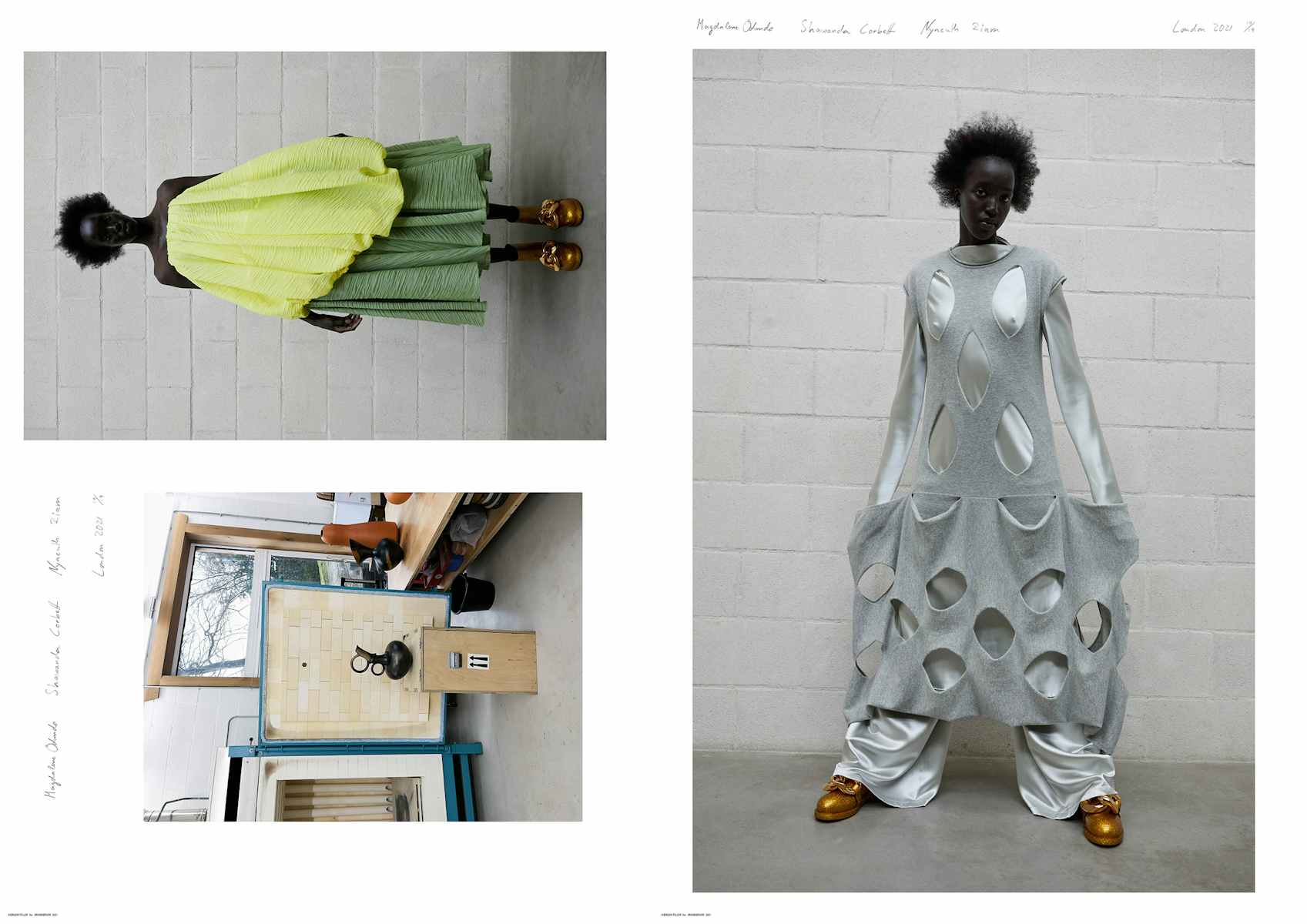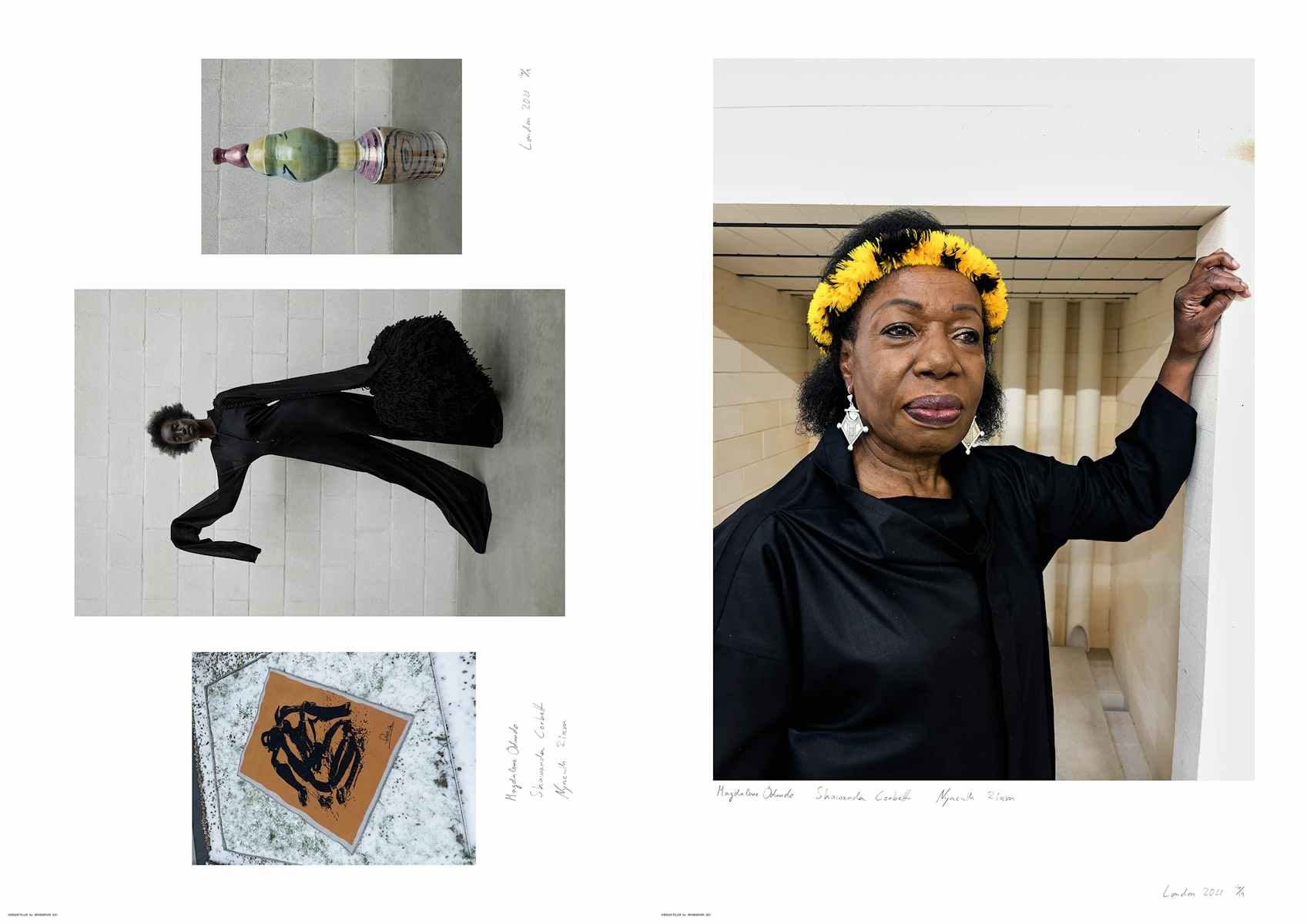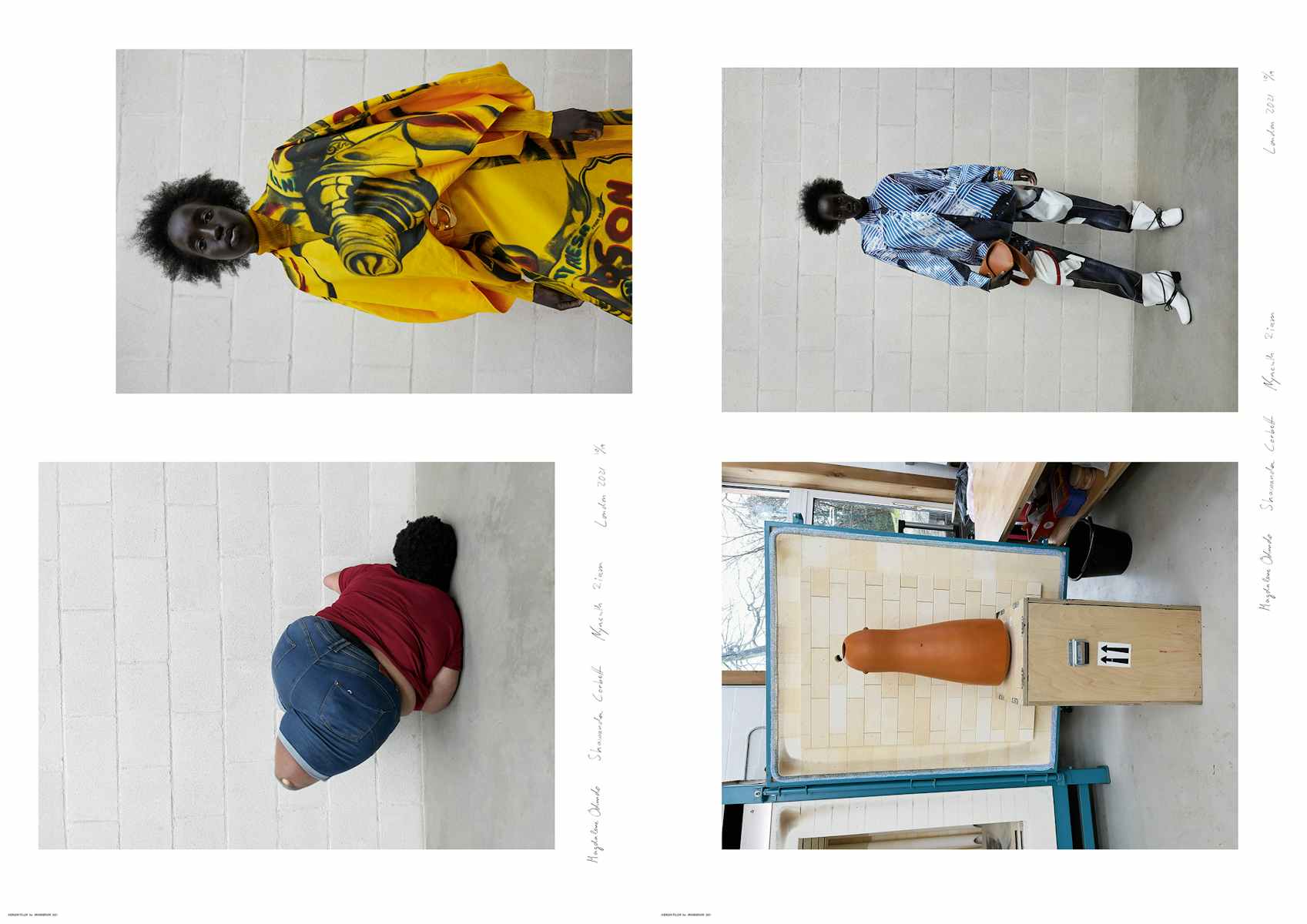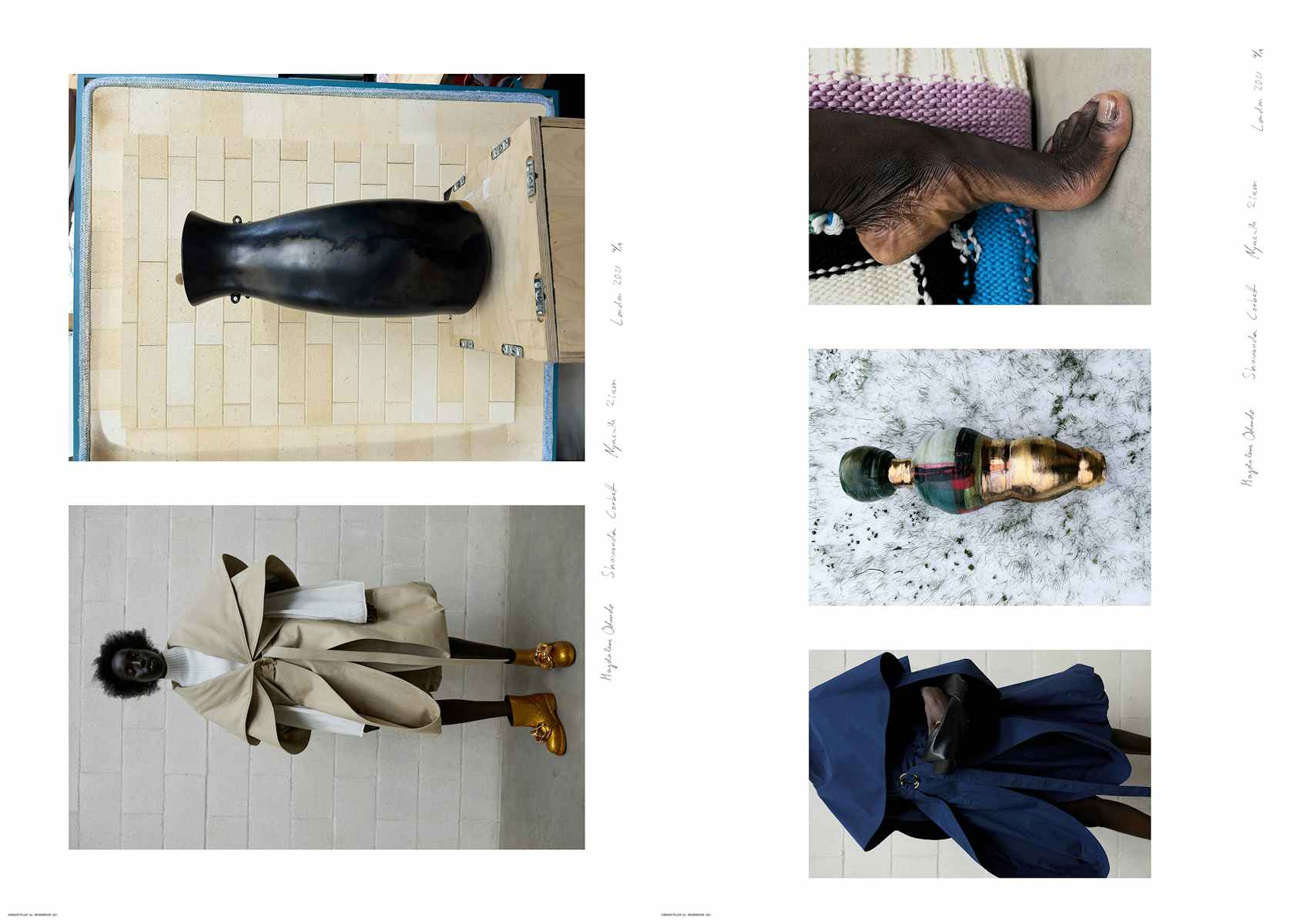 An incisive blend of elegance and structure channeling the inner ​"fragile rebel"

Simone Rocha went back to school for her AW21 collection, featuring crisp white shirts with smart sharp collars nodding to Wednesday Addams worn under practical, tailored leather jackets. With strong shoulders and functional pockets aplenty, Rocha's schoolgirl felt determined and mature, a ​"fragile rebel", as the press notes hinted.
With a strong sense of identity, Rocha retreated to her signature cuts and silhouettes before expanding into new realms, introducing rounded, full shapes made from floral embroidered organza. Uniformity and naivety are reflected in equal measure, as floral patterns reigned supreme among severe biker jackets with cinched in waists, rich, earthy knits styled with tulle petticoats and skirts accessorised with patterned tights and black platforms.
Rocha cites ​"lunch boxes, school bags, order and education" as key themes for the collection, which included both protective and practical designs built around satin, leather and tulle. Oversized black culottes layered with white shirting and grey knitwear are matched with lace-up boots and knee high socks, as a baby pink tulle suit with delicate pockets of floral embellishments breaks up the muted colour palette. In one delicate swoop, Rocha has put together a structured, sophisticated collection that packs quite a punch. JW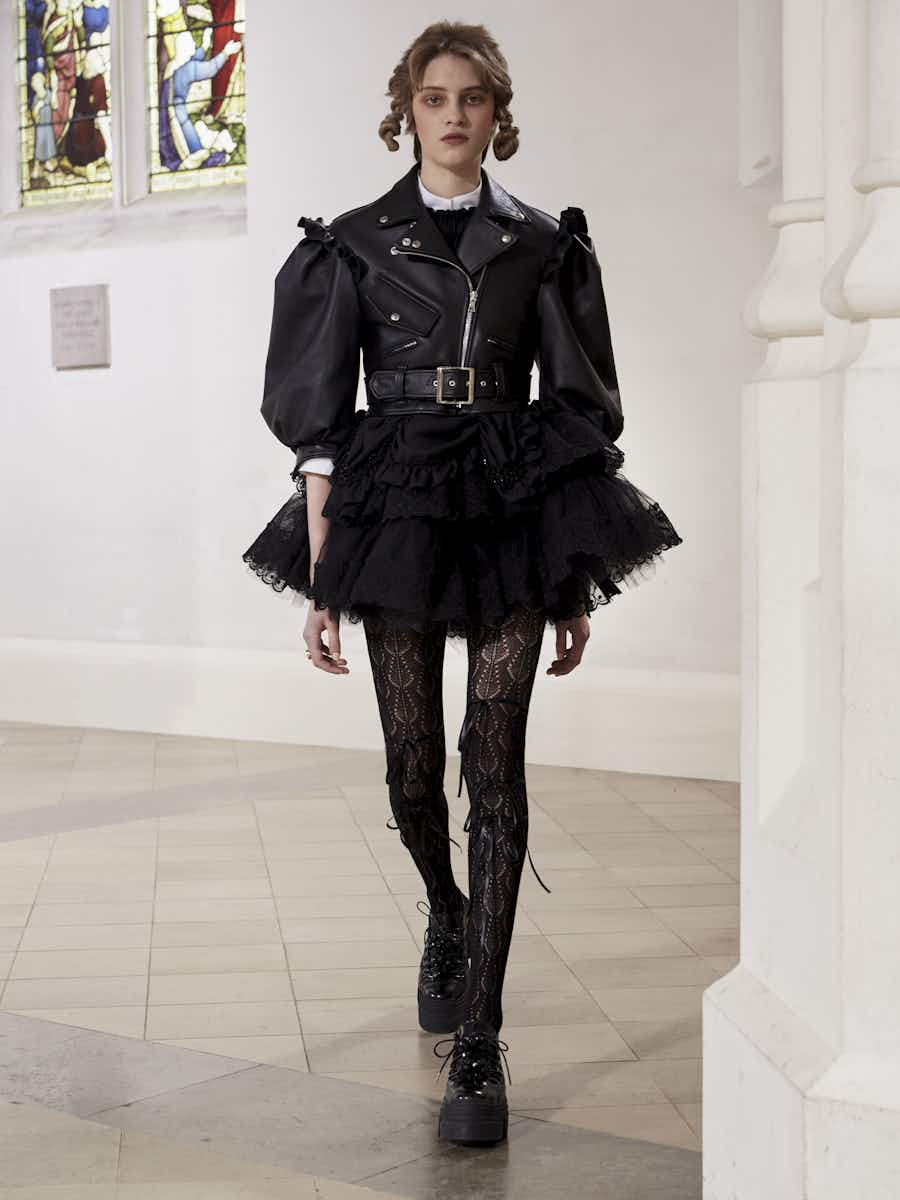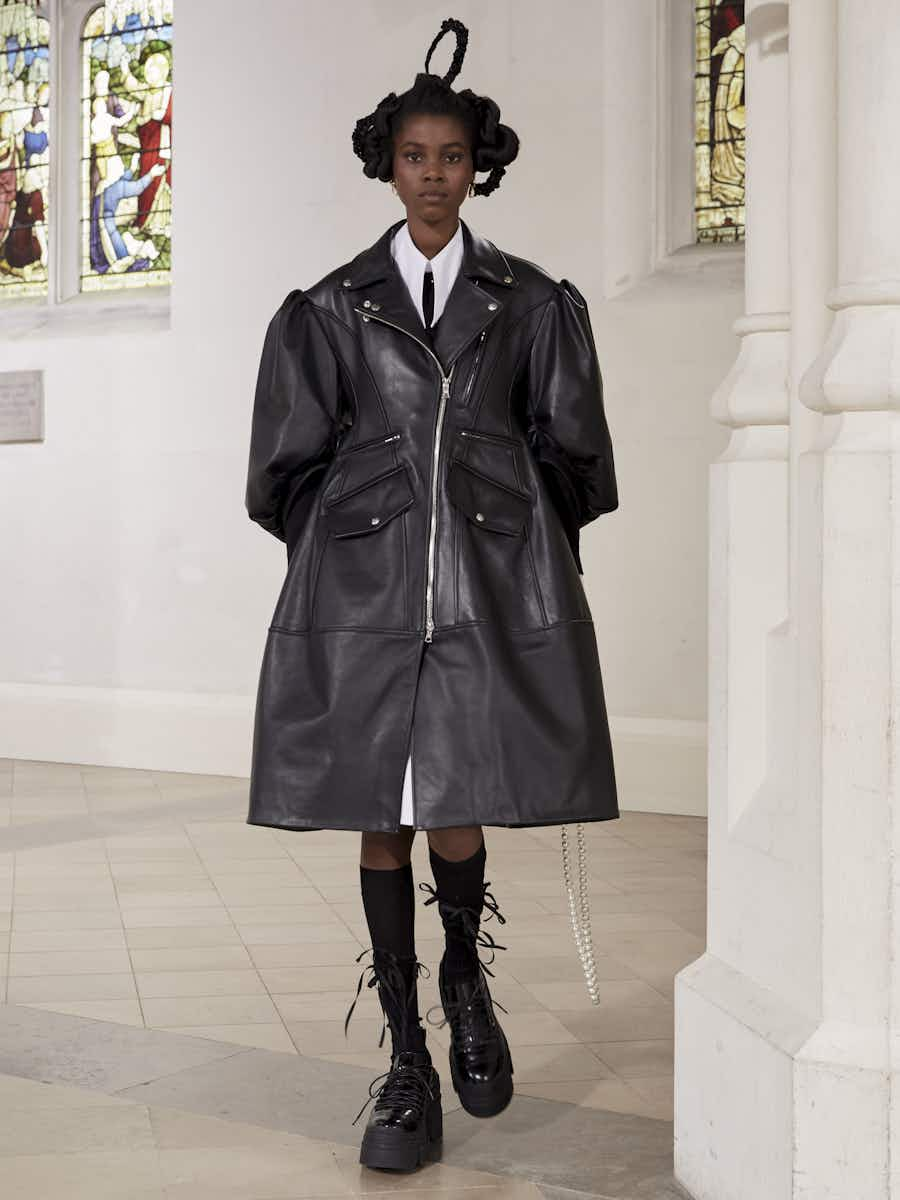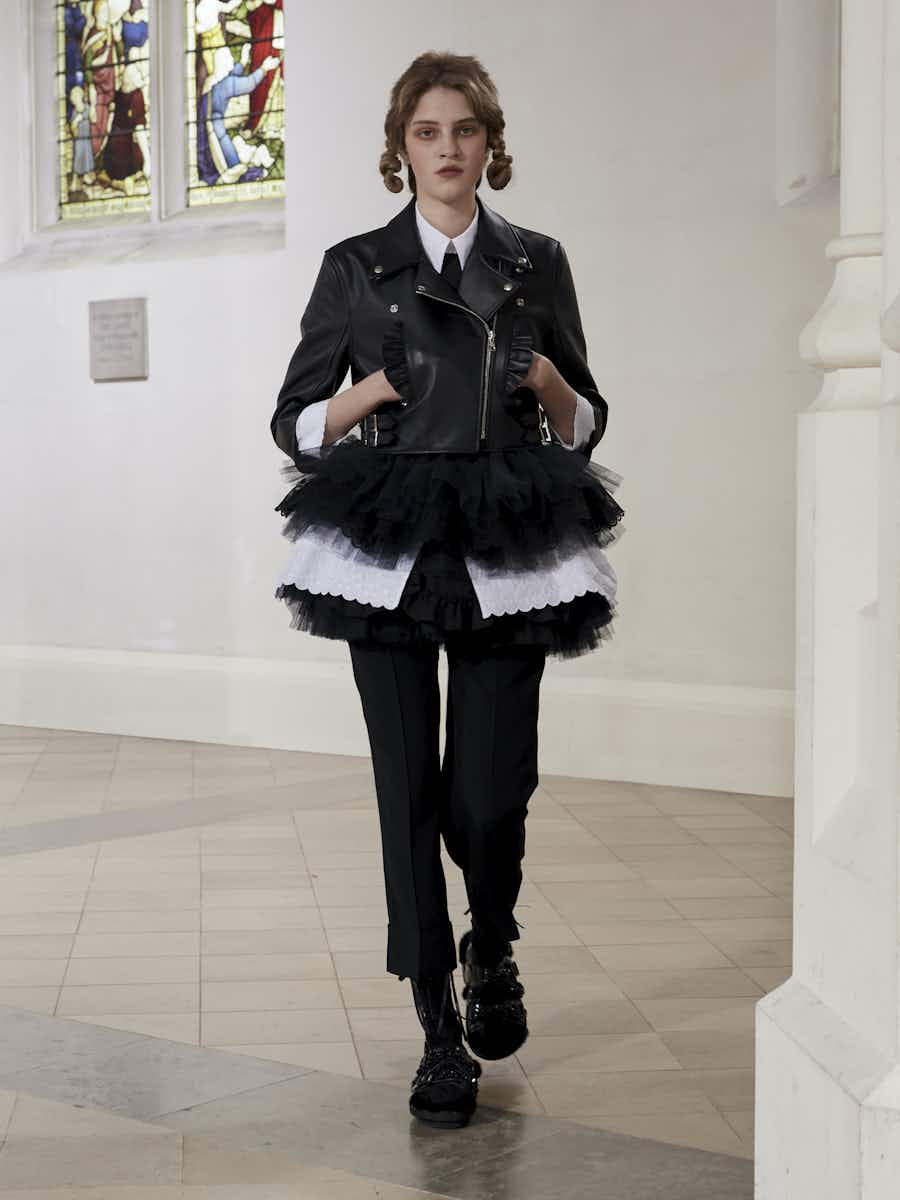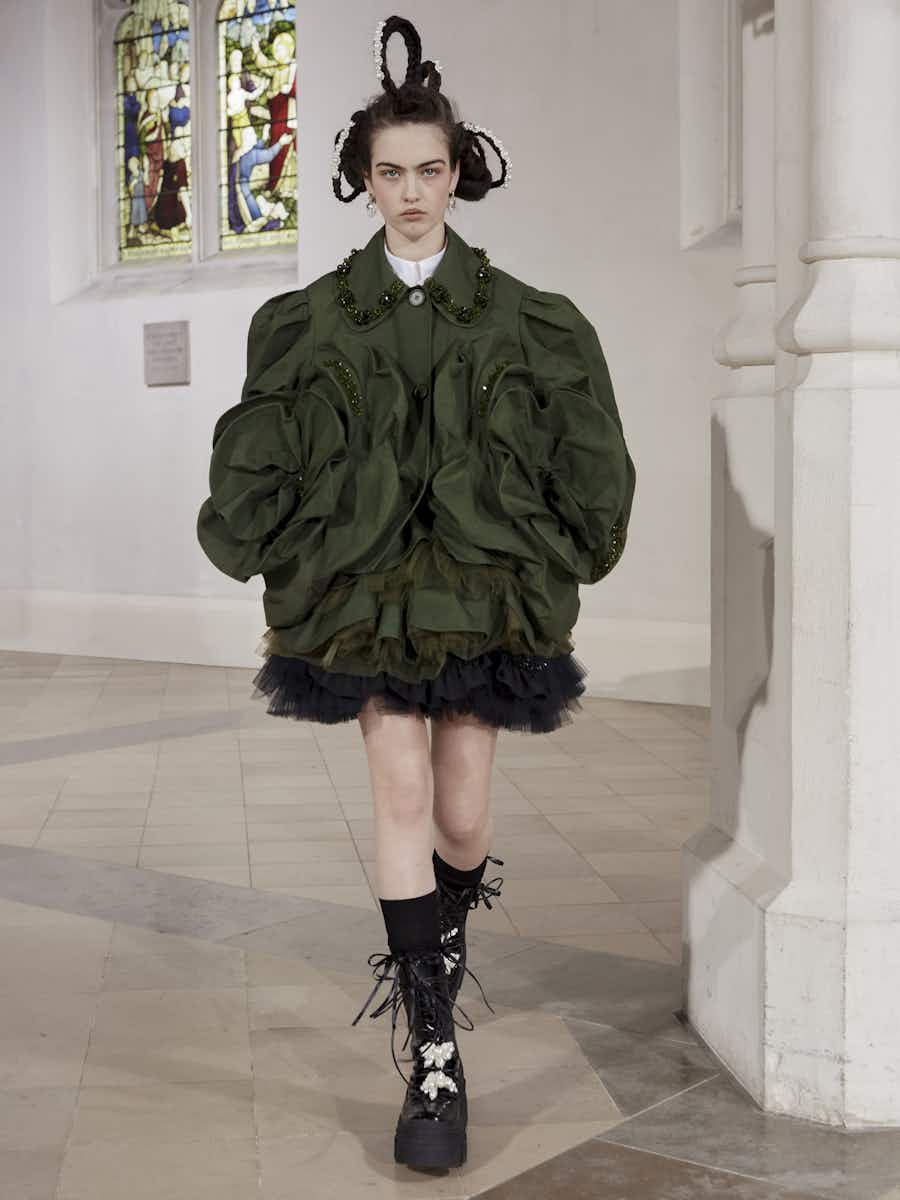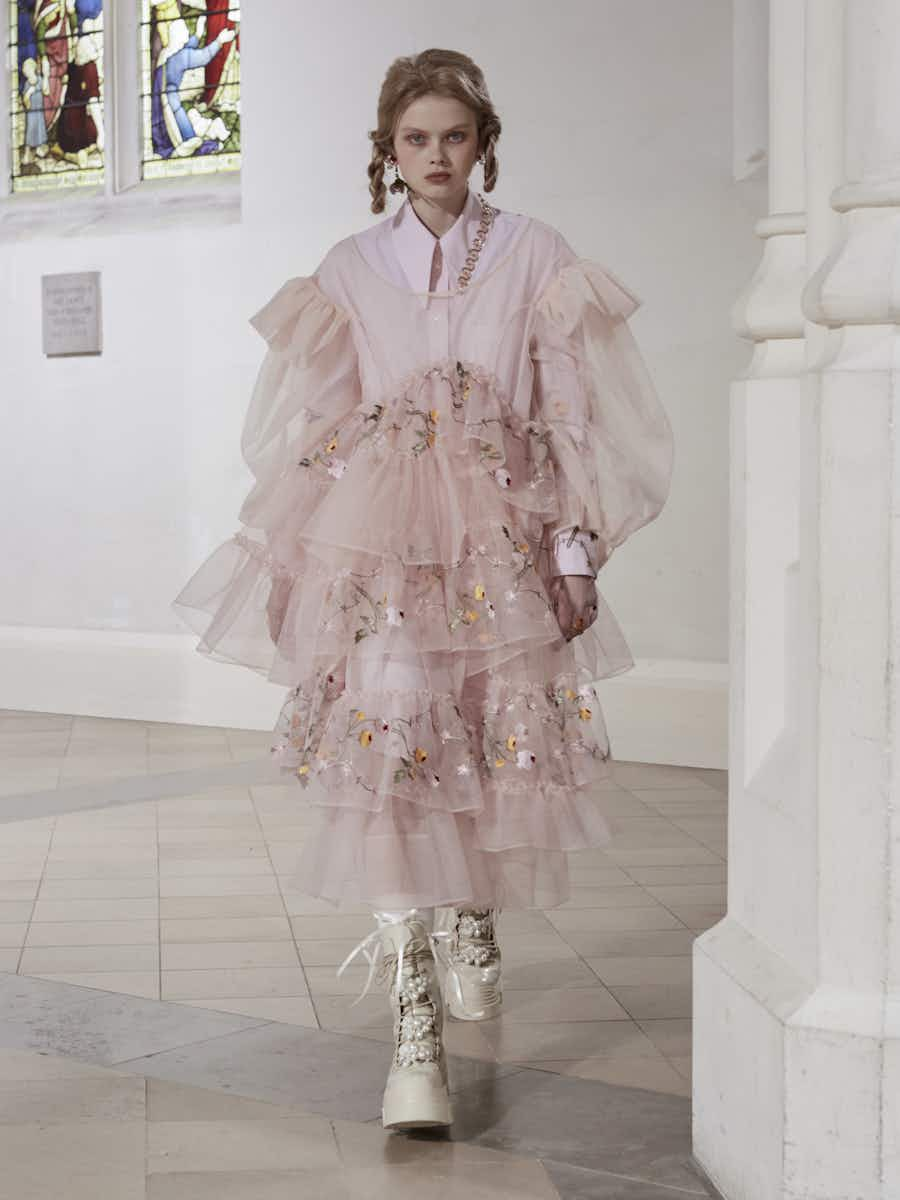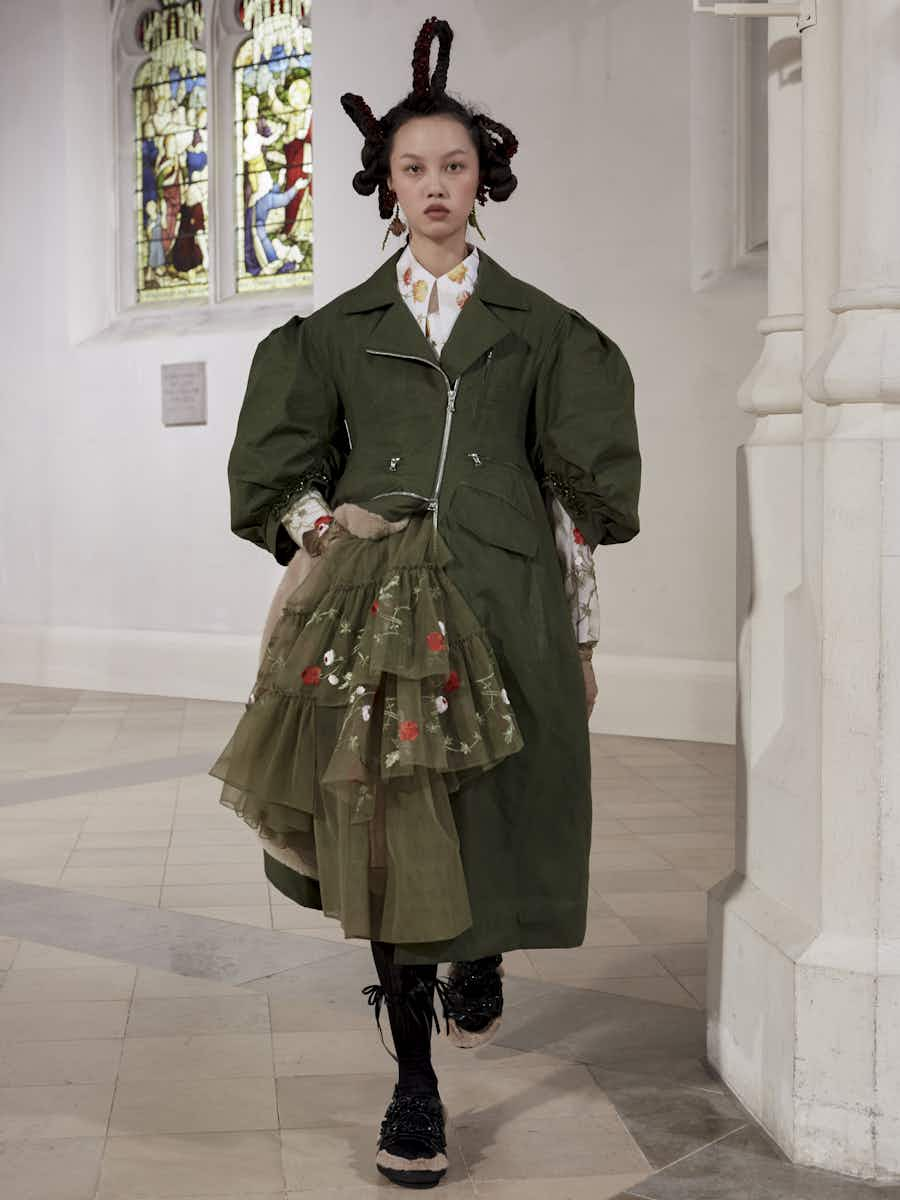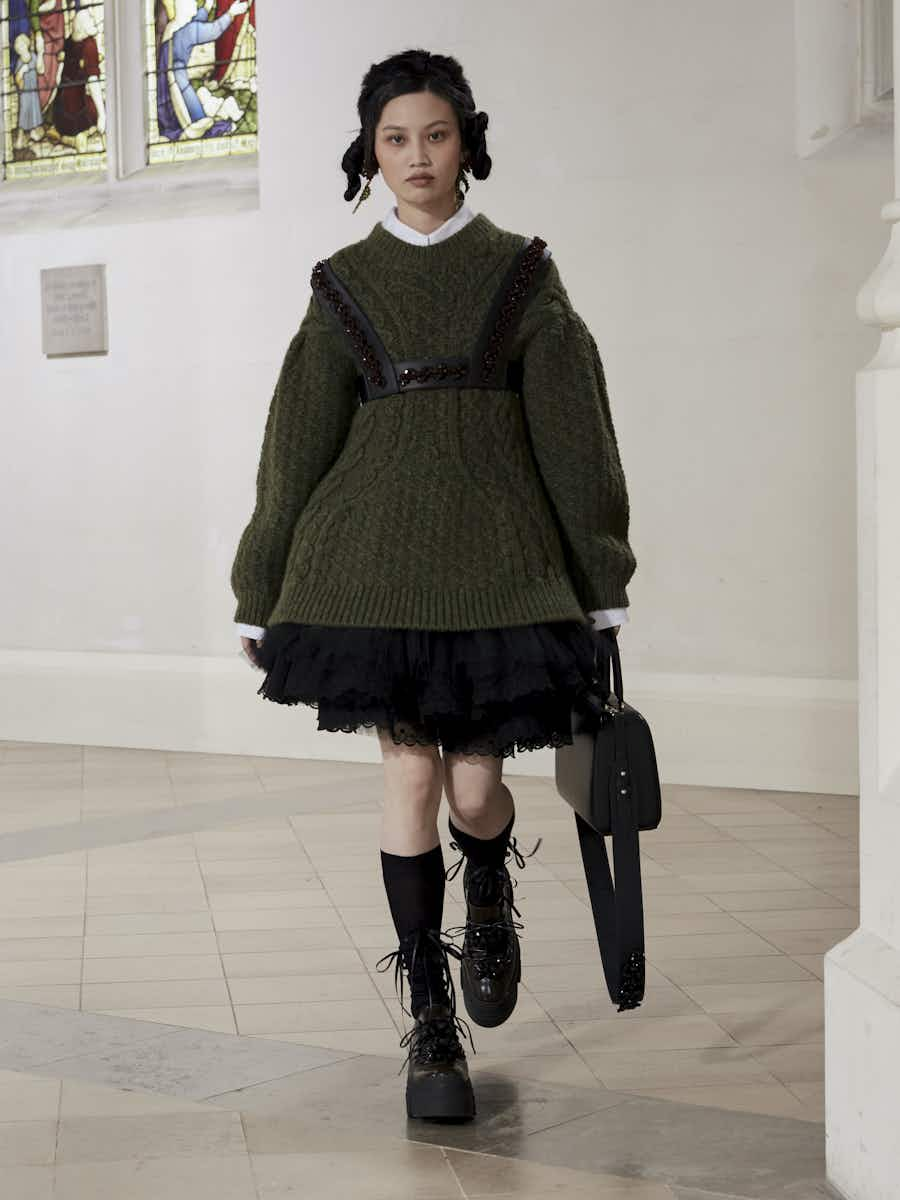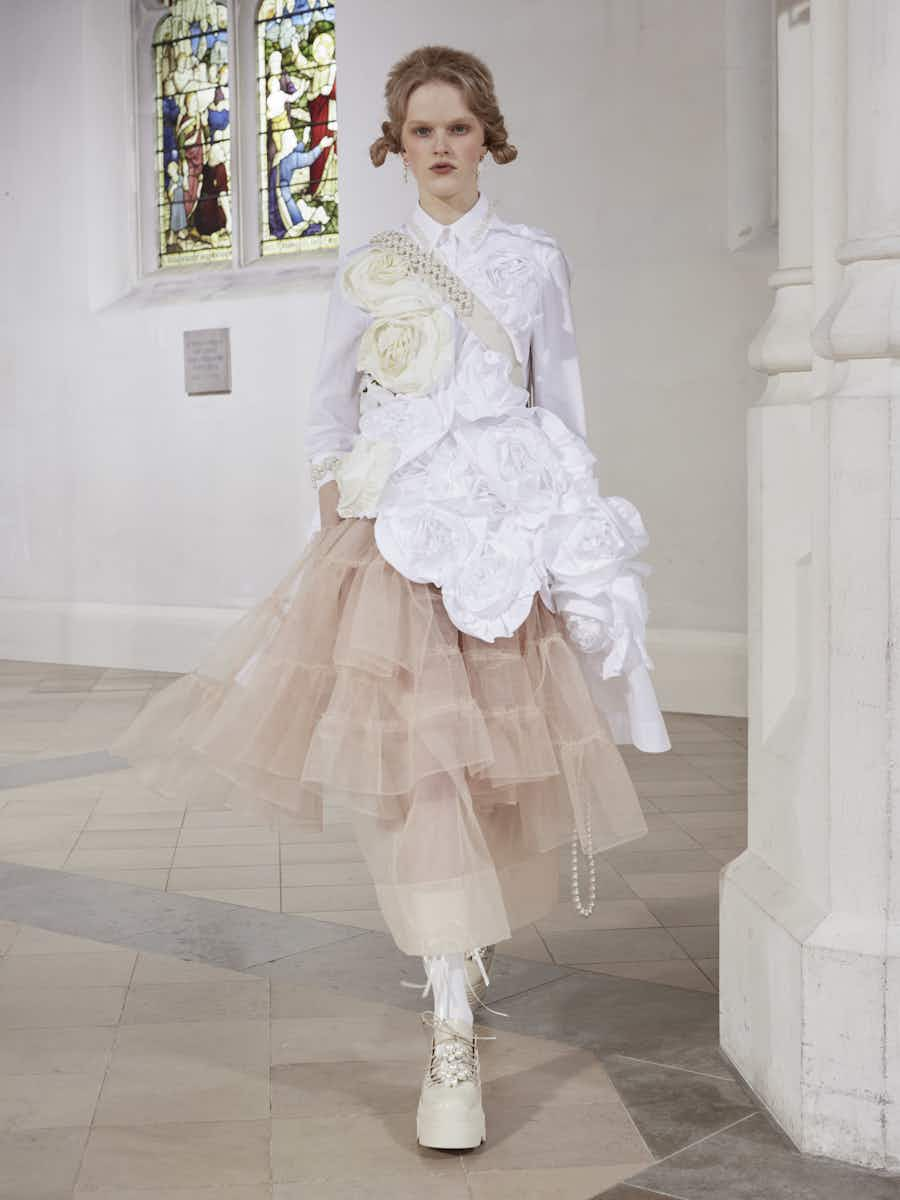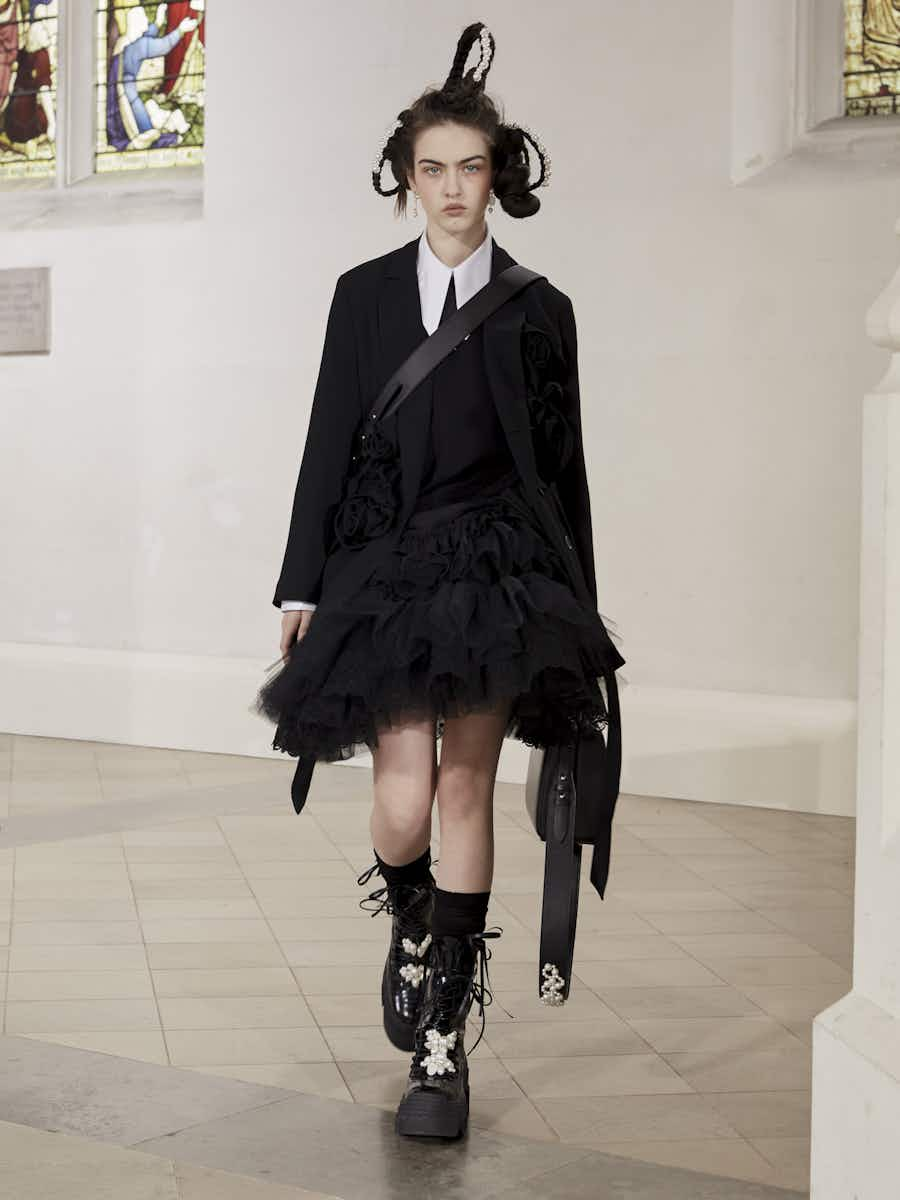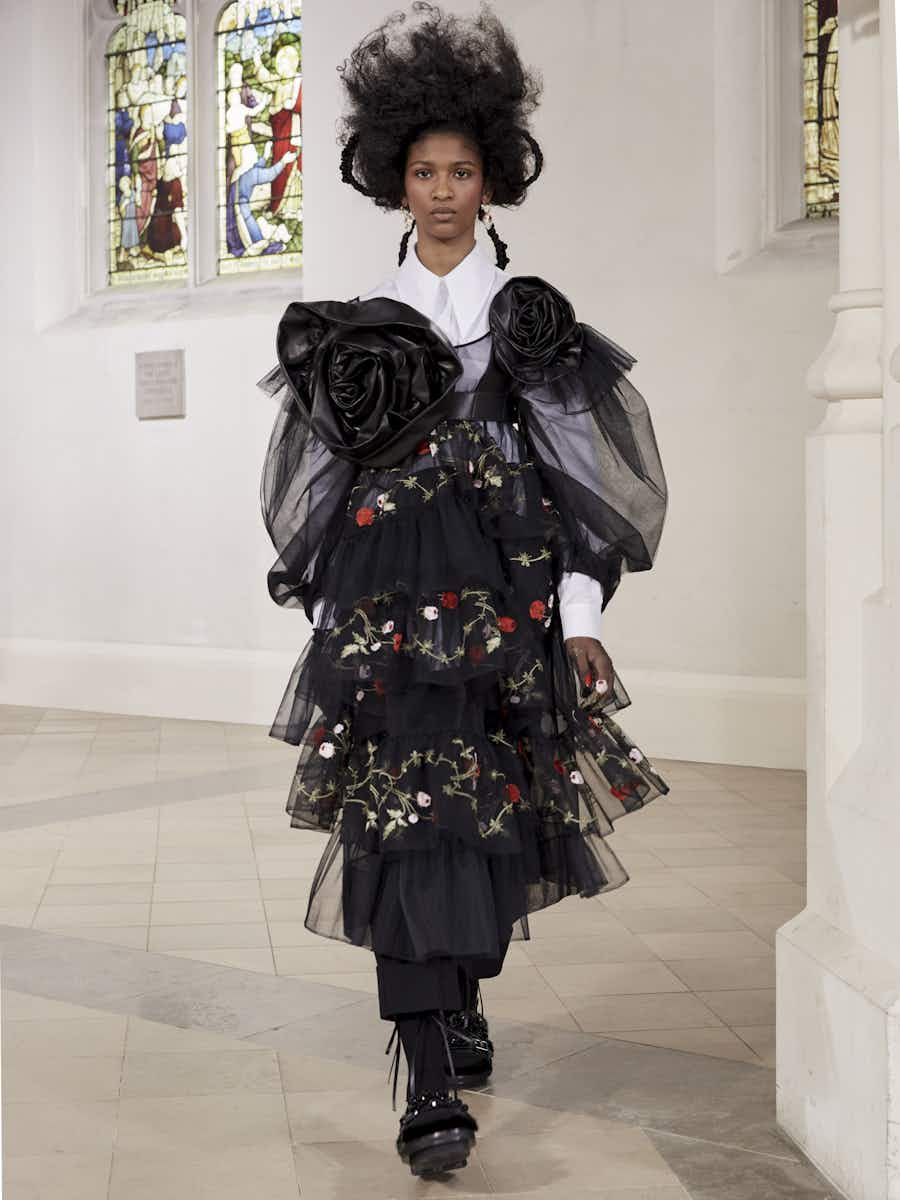 "We have thrived in the chaos and the trauma. There's an aphrodisiac in that"

Since Jordan Bowen and Luca Marchetto launched their namesake brand, JordanLuca, in 2018, they've made it their mission to marry a strong Italian heritage with the rawness of London's dancefloors. Ever since, the result has been a reimagined take on masculinity: strong, vulnerable, irreverent, and always sexy.
Presenting at London Fashion Week yesterday, the duo's AW21 collection felt like a significant departure from their previous work, which featured playful floral patterns and was decisively poetic, future-facing and joyful. But this time around, you could count the flashes of colour on one hand, and a solemn mood was palpable.

​"We didn't feel any desire to use bright colours," the duo say of the collection's shift in mood.​"This wasn't our moment to shine through the clothes but for them to serve us – we found a different kind of expression through black and muted colours, our floral prints faded as we went back to our passion, the construction of a garment."
This season's sombre colour palette speaks to JordanLuca's desire to create garments that are utilitarian in style and purpose – serving a specific need for the here and now while focusing on the details of a piece beyond surface decoration.
The co-ed collection's title, YOU ARE HERE, is a reflection of Bowen and Marchetto's unfiltered anger at the state of the world and engages their instinct to push the boundaries of their shared creativity, stating a fact that many have perhaps had trouble reconciling with over the last year: how to sit with your thoughts and make sense of the present rather than yearning for the past or anticipating the future.

"We decided to create our own heritage, the kind of stuff that builds you as a person. Seeing as we're not able to access that right now, we decided to replicate it ourselves, write our own history, open up," Bowen says. JW
Click to continue reading
Speaking to the​"unquantifiable space" between past and present and the​"ephemera that slips through them", the process of putting this collection together has most importantly allowed for healing to take place, a catharsis which emerged from the duo's years spent in recovery from addiction and battles with mental health.
Silhouettes have been diminished to reveal only the most necessary base elements: suiting made from breathable materials merge elegance and practicality, as lightweight, loose-fitting cargos are paired with a matching waterproof jacket, worn with a crisp white shirt and black tie.
"The shrunken silhouettes reflect how we feel right now," Marchetto explains.​"We want to keep everything close to the body to convey this feeling of protection. While working on this collection, even our house became more minimal and clean. For the clothes to look like that as well felt very natural."
Black slim-fitting trousers and leggings nod to a rock and roll sensibility, while a sharp shouldered, checked overcoat and nylon suit with matching velour gloves indulge the collection's dark tone.​"We decided to take decisive control of the colour palette," Bowen adds.​"We wanted something pure. Usually, fashion is a product of the time and also a telegraph for the future.
"But this past year's anxiety and obsession around what the future will look like, what London will be like after Brexit, what will happen after Covid, whether the fashion industry will remain as democratised as it is now… This collection is a demonstration of how these things have taken up so much of our energy."
Bowen and Marchetto's meditation on the present led them to design intuitively, a mood which was compounded by references to the duo's personal experiences with addiction, forming the foundations of the collection.
"Jordan and I suffer from [mental health challenges] and we have been in recovery for many years," Marchetto says.​"When you're in recovery, you learn to live with your past. The first rule, in fact, is to take things one day at a time. That's how we felt about this collection, it's about love and loss, with a bit of hope."
There are daring, sexy moments and bursts of colour, too. Trim and tan leather jackets are weaved throughout, along with plum knits and sheer chocolate coloured shirting matched with corduroy and cropped suits in cooling lightweight wool. A floral harness is worn over a cut-off bodysuit, or accessorises a nylon shirt with flashes of warped purple and turquoise knitwear inbetween.
Marchetto made references to his hometown of Tyrol, Italy, by using cut out details on jacket pockets inspired by his dad's best traditional Sunday suit. Previously, using this as a reference for his designs never came naturally to him, but this time leaning into his heritage meant reconnecting with home – a place Marchetto hasn't been able to visit since the pandemic broke out early last year.
"This was about focusing on ourselves, our needs, what we wanted to express and what we didn't. The silhouette is slimmed down and tactile, which feels very self-referential," Bowen says.
The extra time that the pandemic afforded Bowen and Marchetto also gave way to material experimentation. They explored recycled yarn techniques, quilted nylon, recycled cashmere and cotton, heat techniques with zero emissions, and even fur spun from a yarn made out of corn extract.
Both Bowen and Marcheto have taken a moment to breathe and harness their creativity to create dialogue about mental health through a narrative personal to them.​"We have thrived in the chaos and the trauma," Bowen concludes.​"There's an aphrodisiac in that, especially as former addicts. There's a drive for innovation amongst the chaos."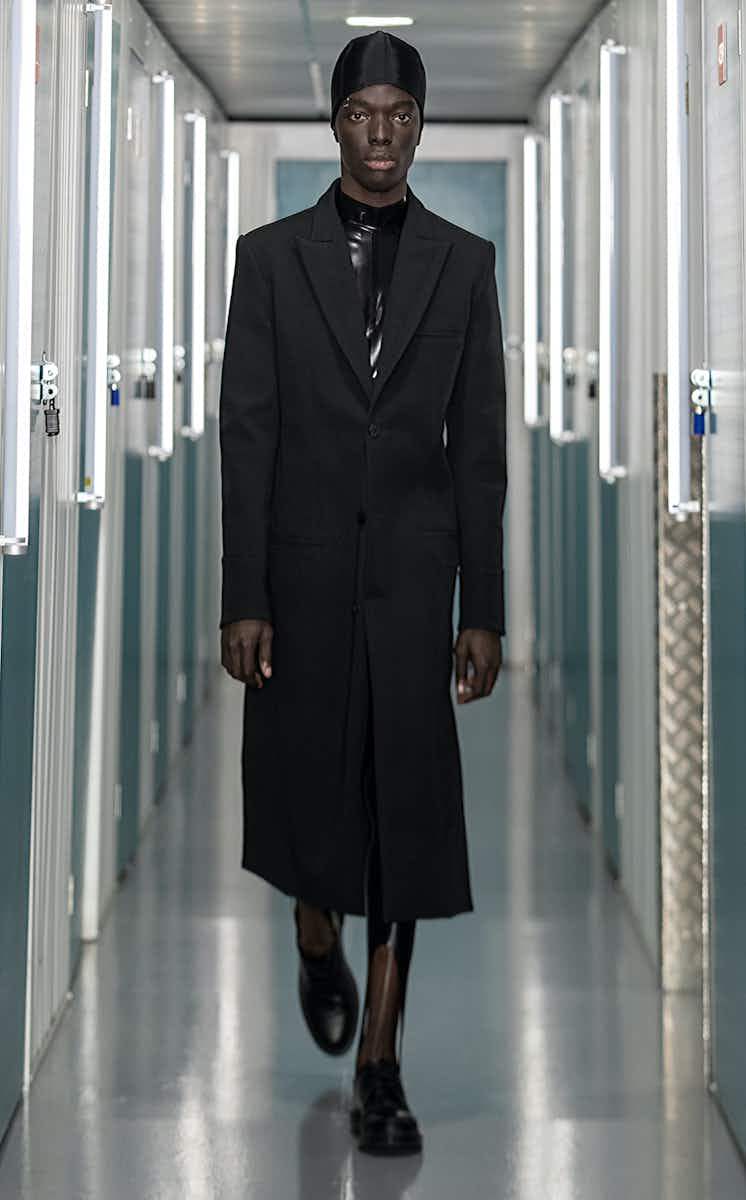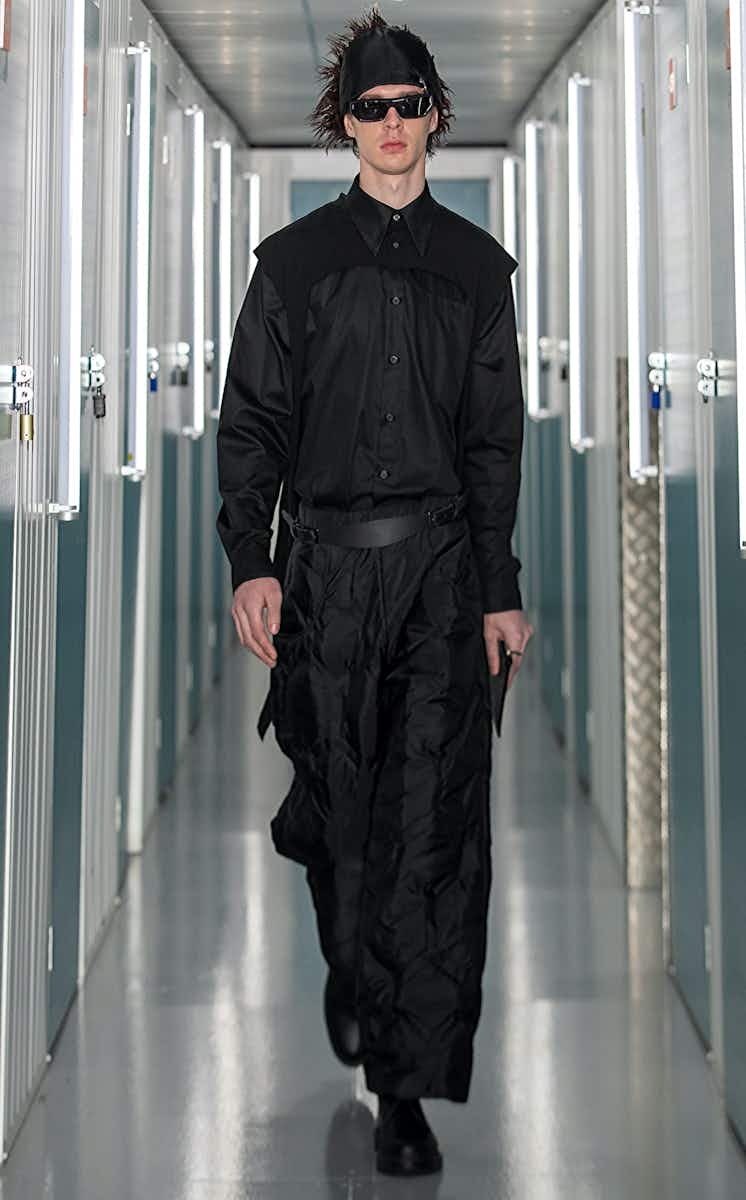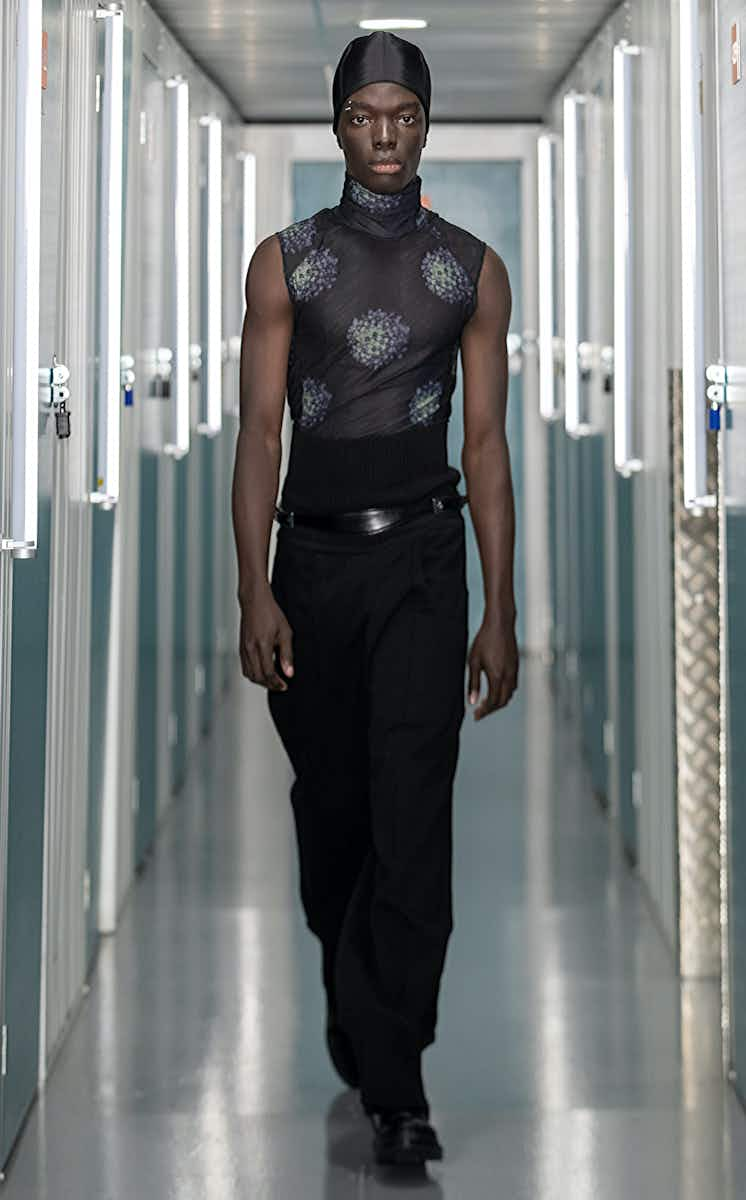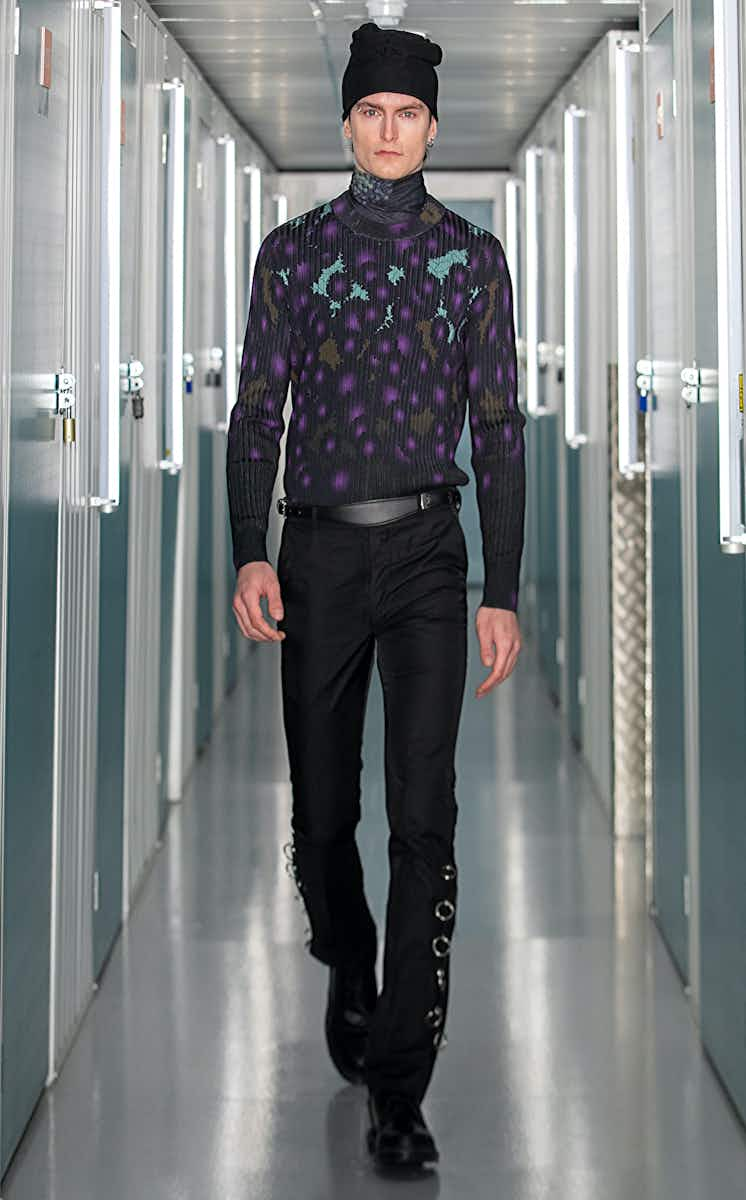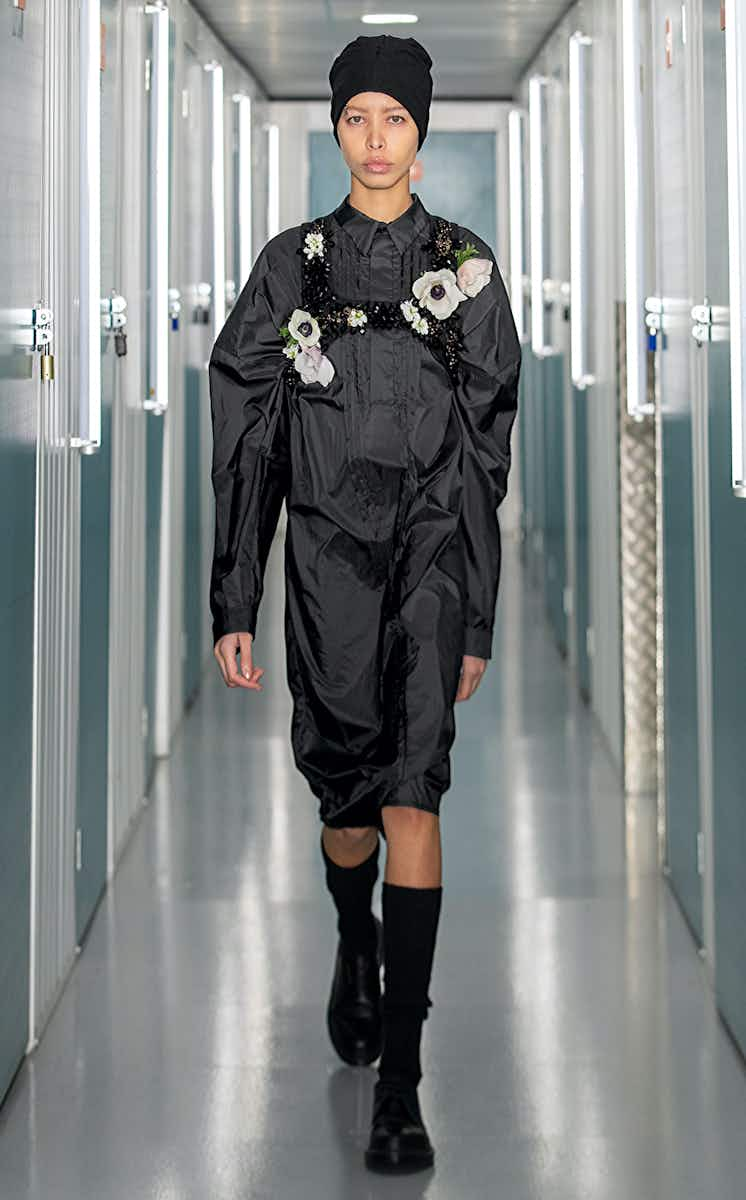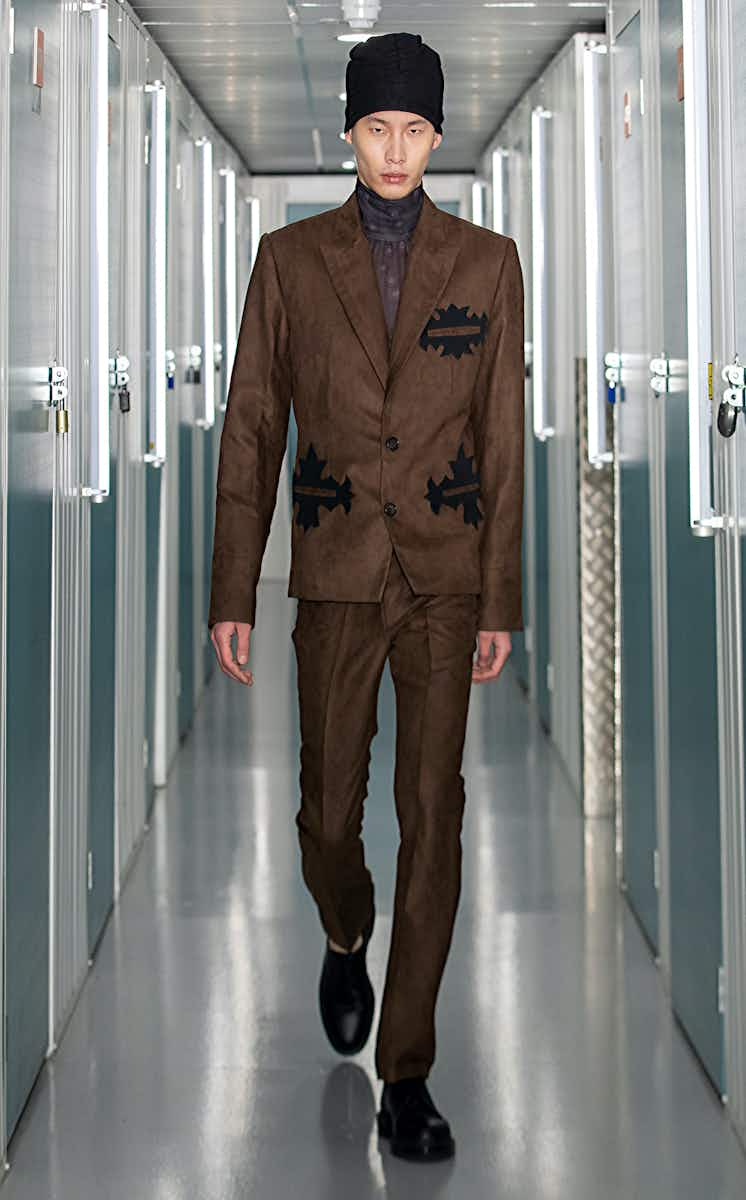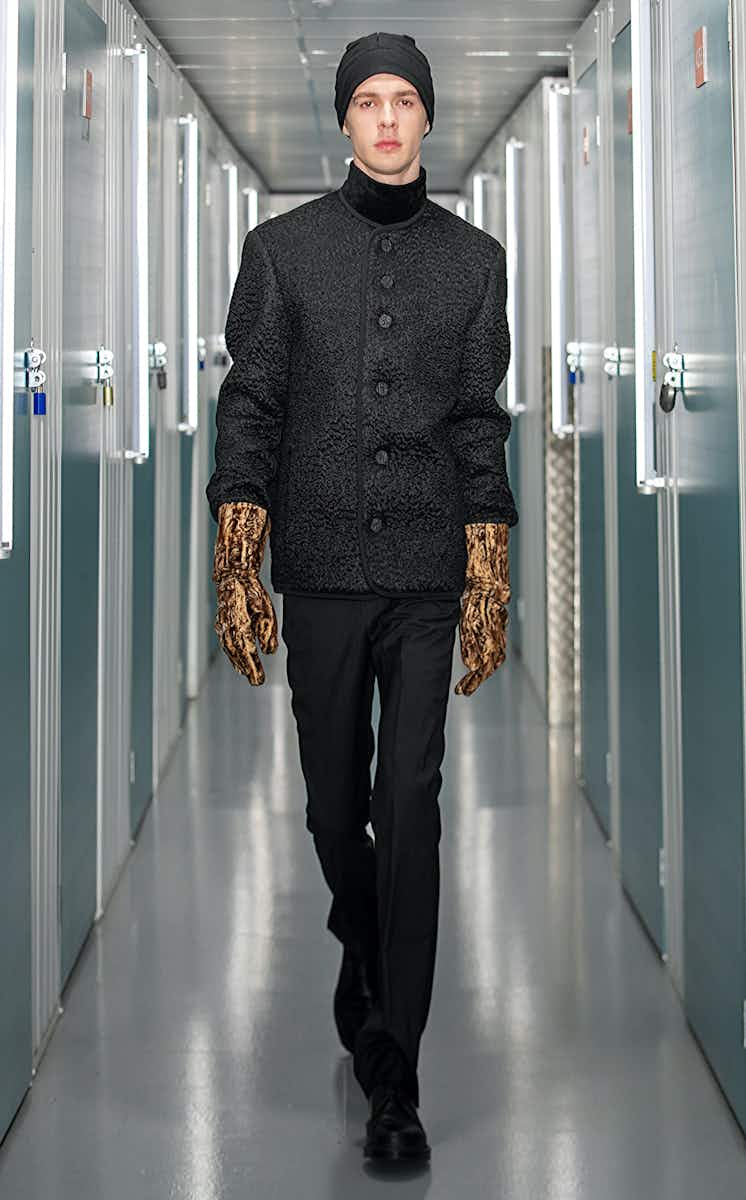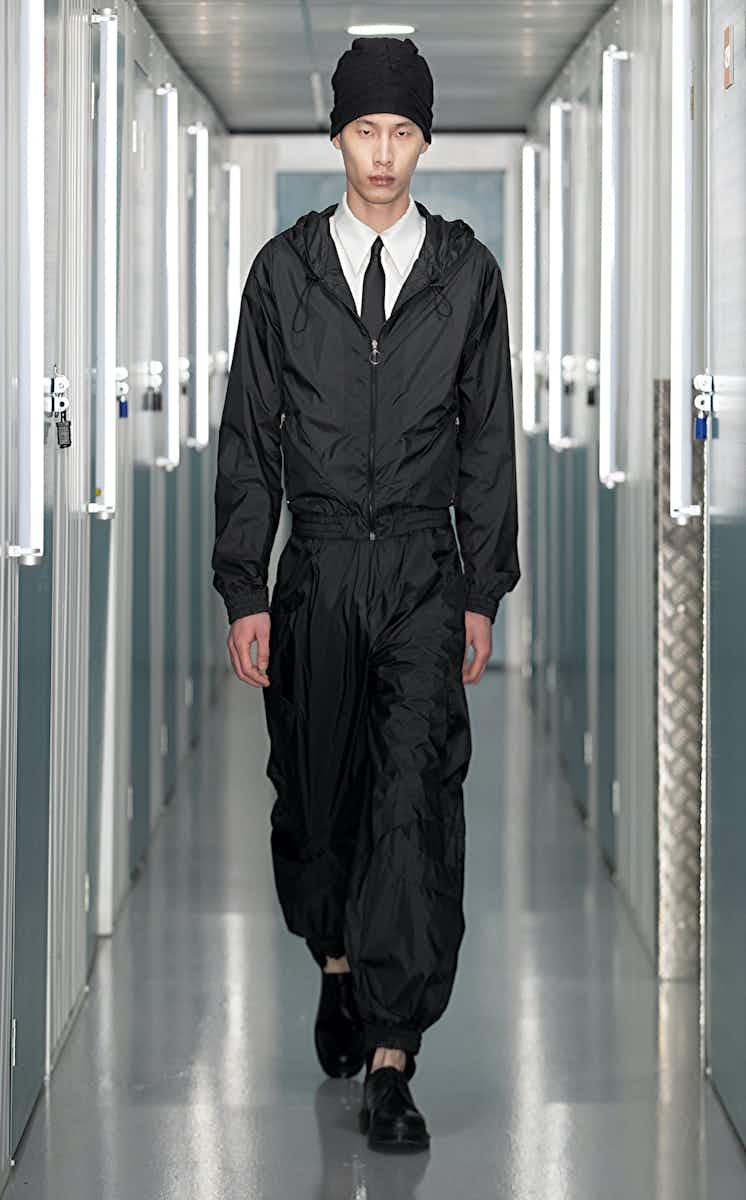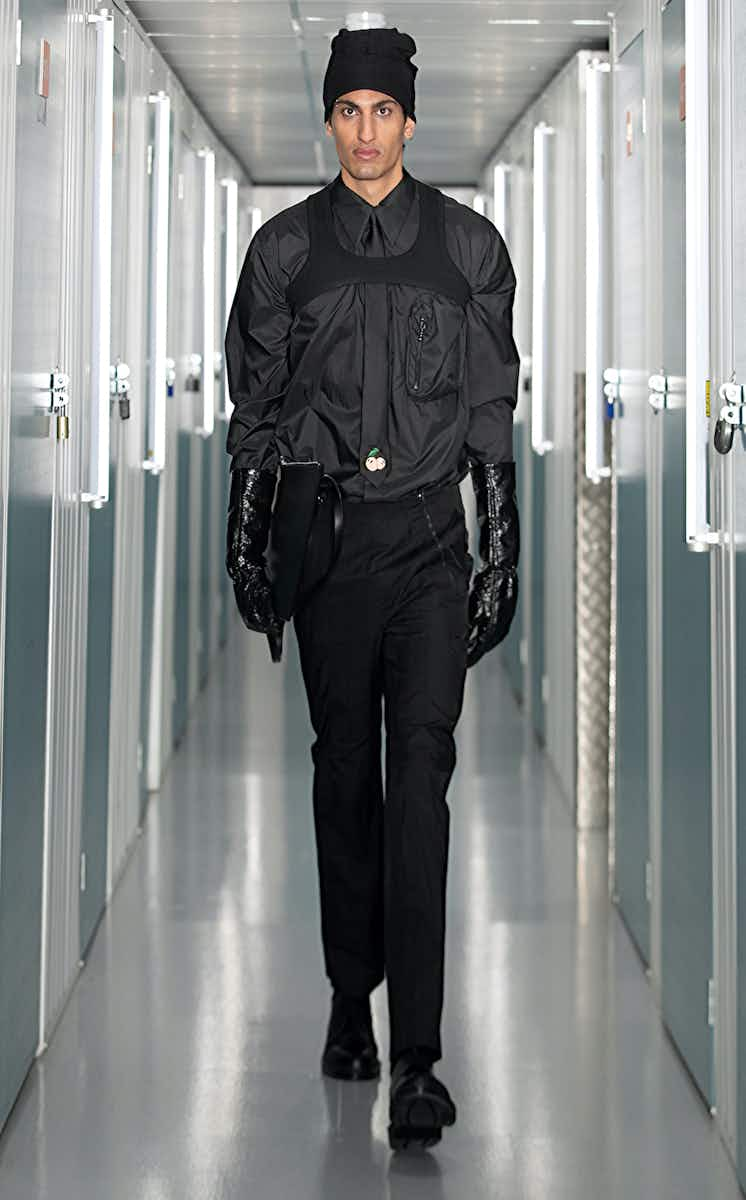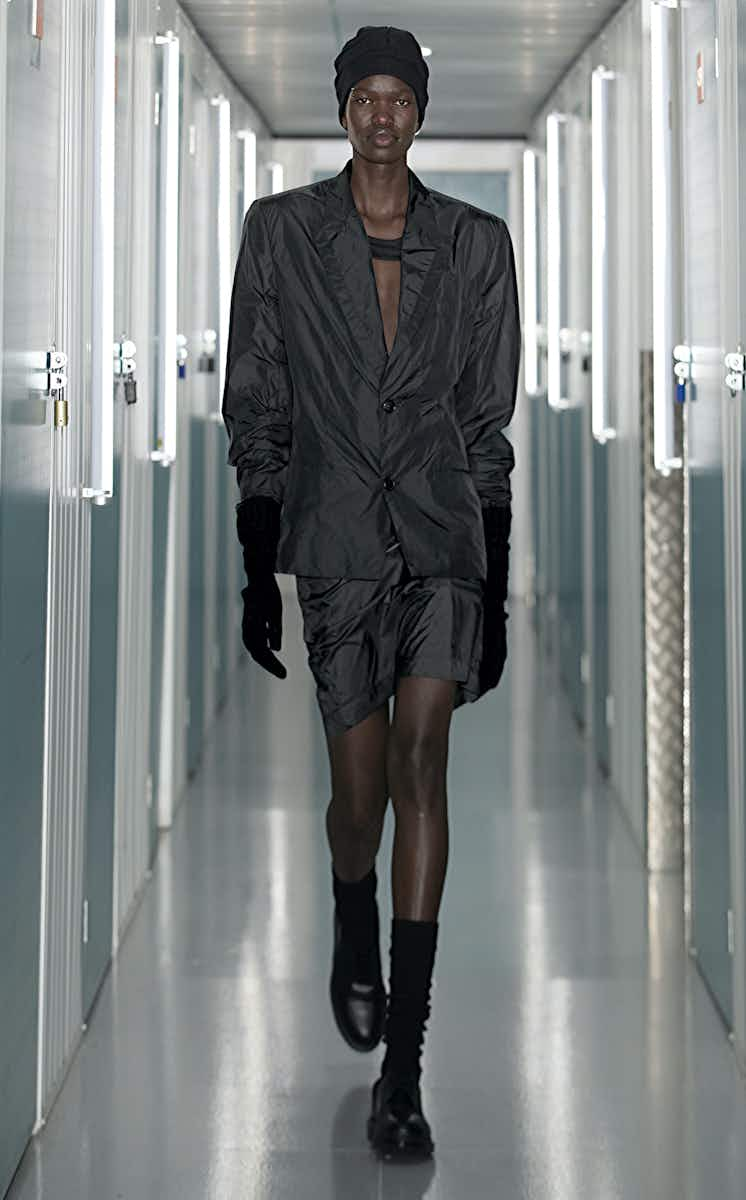 Riccardo Tisci escapes to the country and finds a new agenda for expression

Riccardo Tisci, Burberry's chief creative officer, ventured to the great outdoors – if only through imagination – to present his first menswear-focused collection since his 2018 appointment titled Escapes. And it comes through a collective feeling of itchiness, stuck inside the same four walls since the third nationwide lockdown was announced in late December. But undeterred, Tisci used the power of the mind to guide him through the unknown countryside, creating a newfound freedom of expression along the way.
AW21 references the British craftsmanship and outdoor movements of the early 20th century, when Burberry were producing trench coats and macs for military personnel and, later, World War One. Tisci specifically hones in on those who escaped to unknown lands in various parts of the United Kingdom: ​"They formed communities with a deep respect for nature and the outdoors and looked forward to a future full of possibility," he writes in the accompanying press notes. Along with them, the Burberry animal kingdom – a signature sartorial code shown through deer silhouettes on knitted beanies, boots and sneakers sculpted to resemble hooves, and a tonal, rich colour palette including beige, dark brown, oxblood, and shirts in pale blue and pink.
The focus throughout, unsurprisingly, is outerwear, with Tisci subtly reimagining traditional coats, trousers and jumpers with pleats, panels and fringes, as though moving in the wind. The trench coat becomes a regal statement of the collection, with a sharp V cut out of its front, its belt sturdily tightened across the waist and buttons lining either side. And with yet another nod to big outdoor adventures, models walk with backpacks slung over their arms.
Evolving the British house and its political standpoints, Tisci follows a long line of designers this season introducing skirts for men, this time paired with subverted varsity jackets and leather leggings, harking back to Tisci's initial ambition to set a new agenda for expression. TJS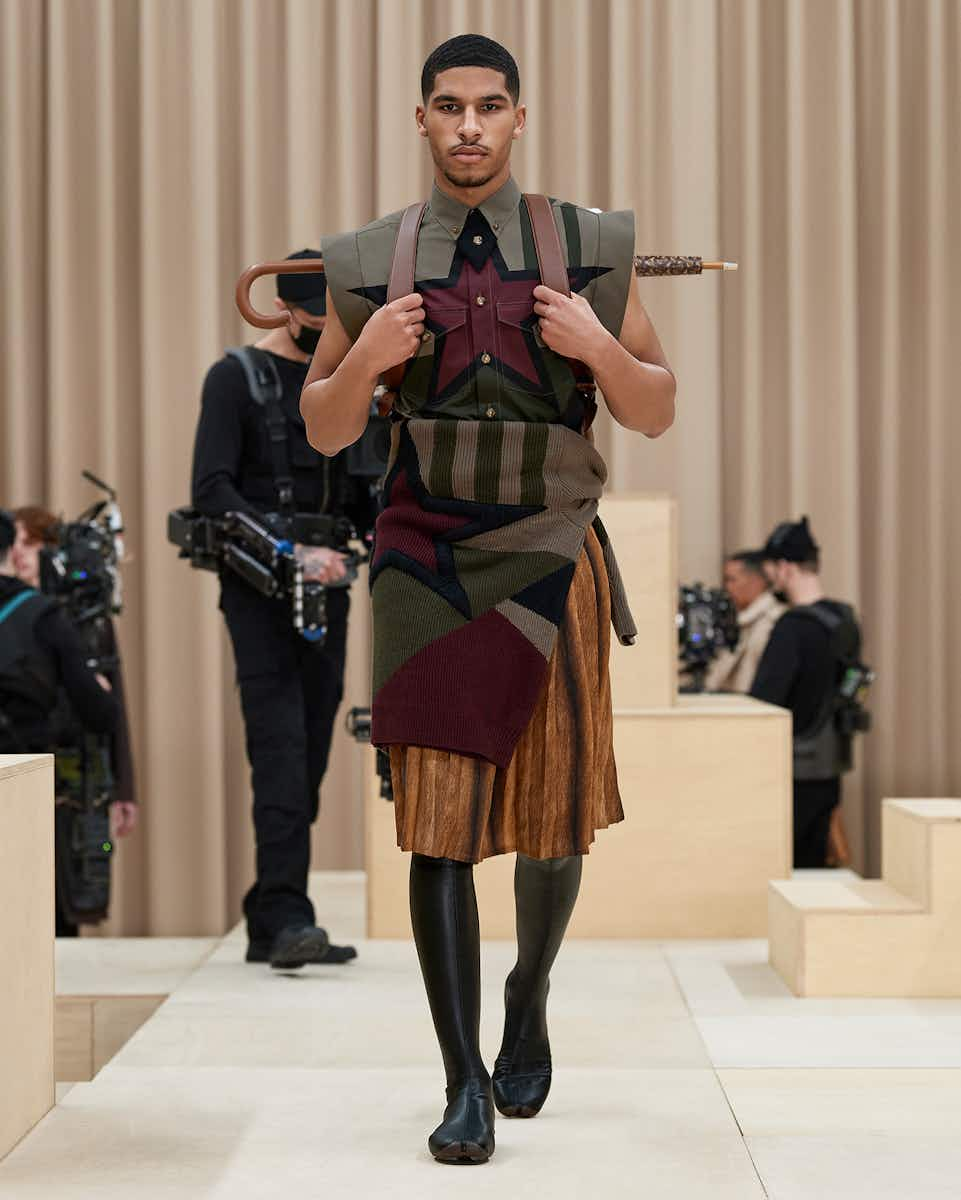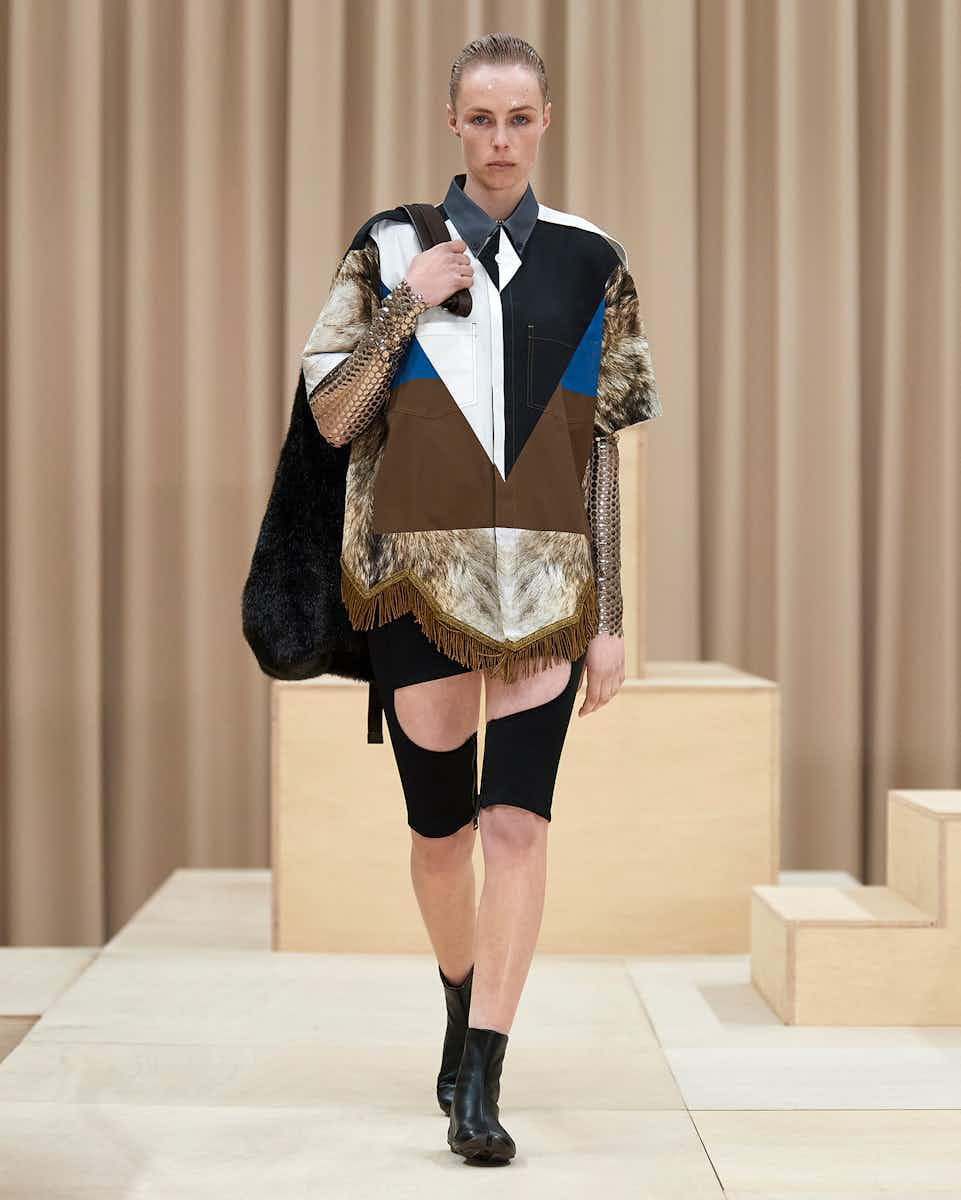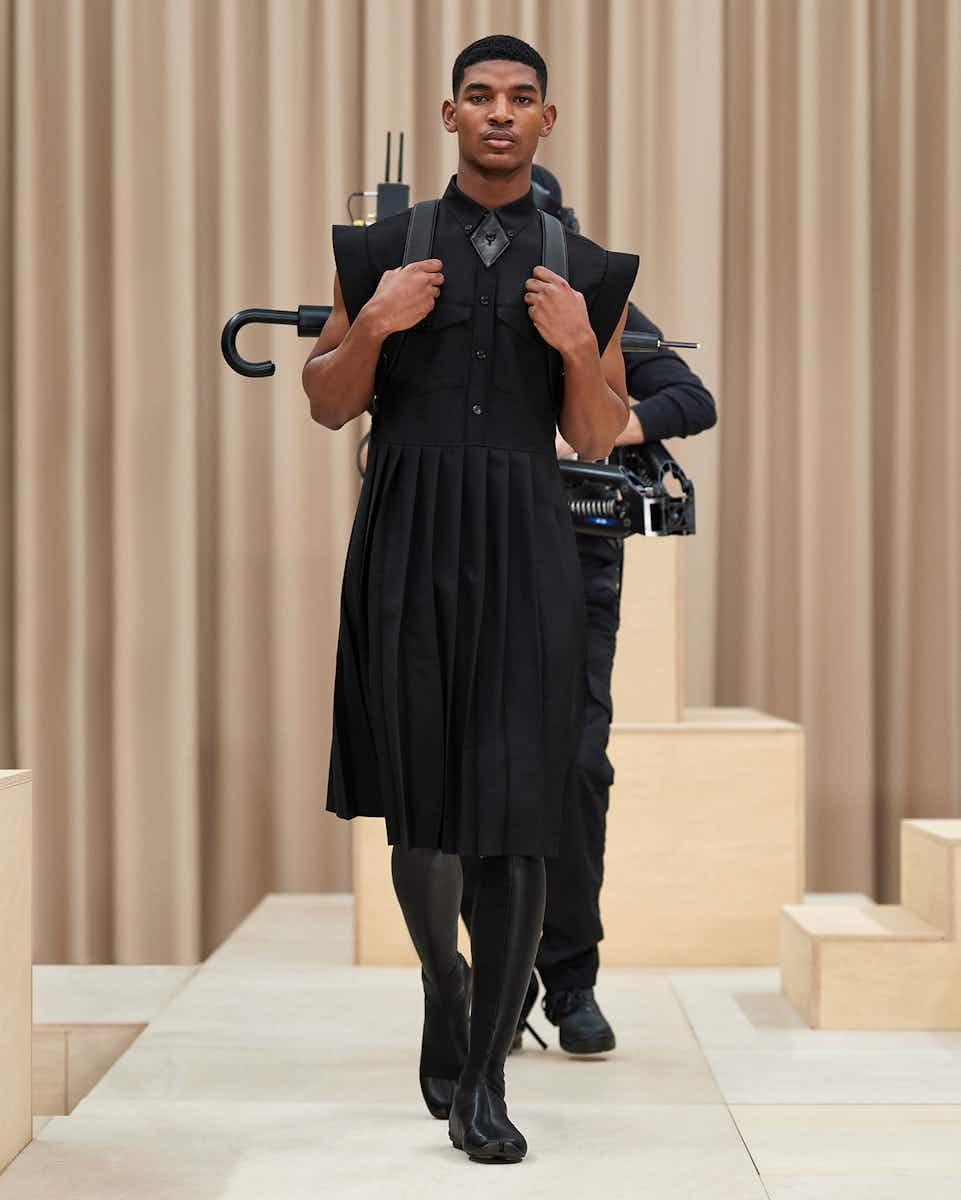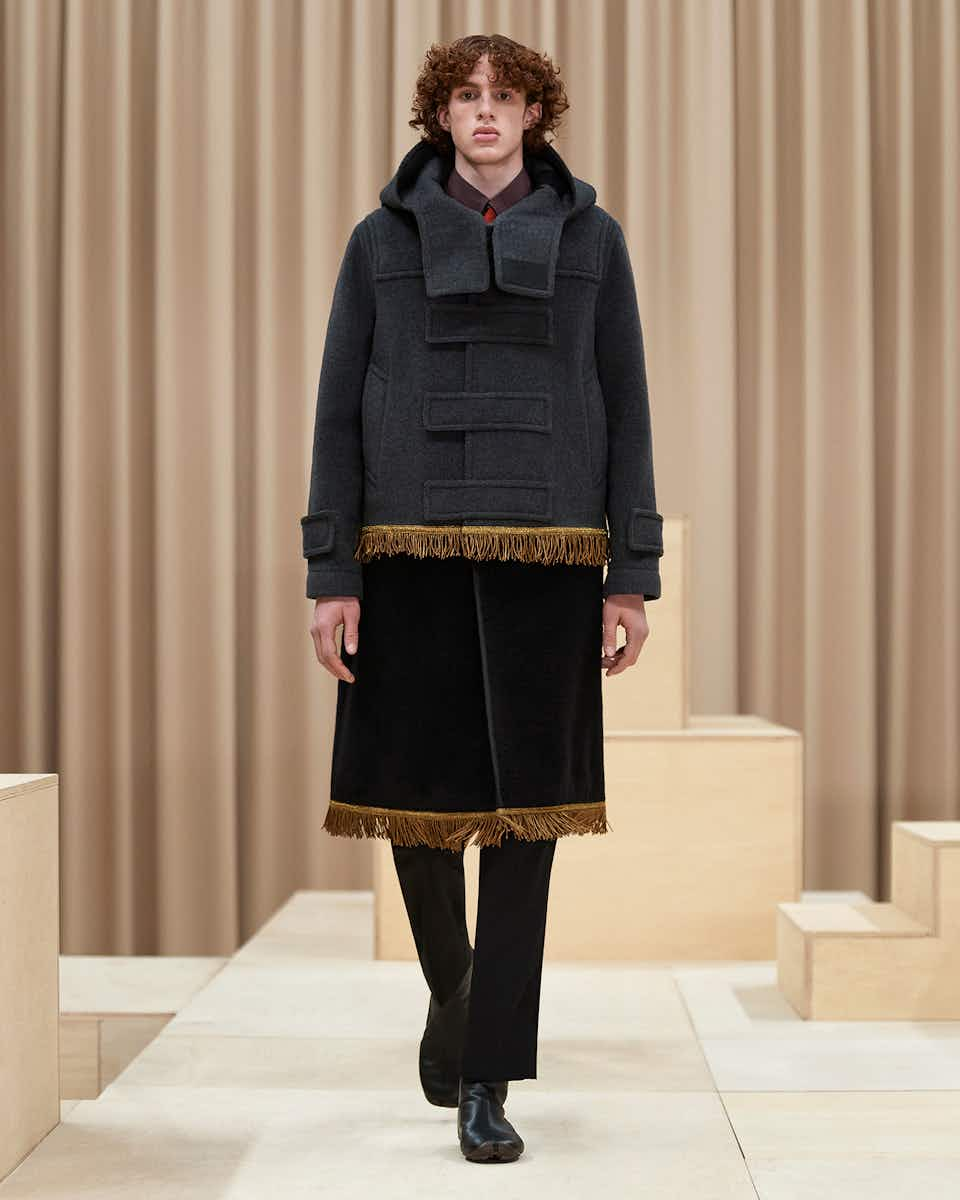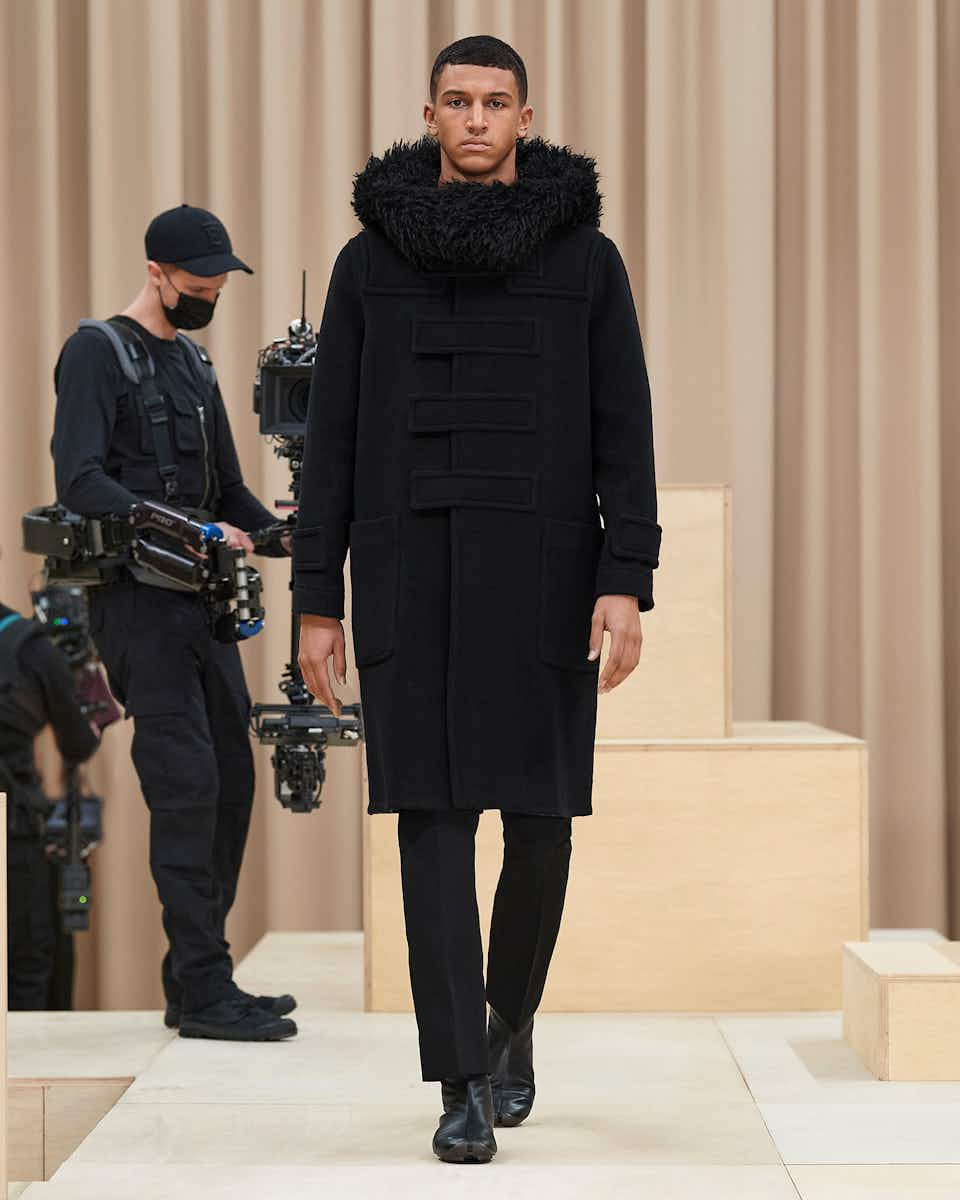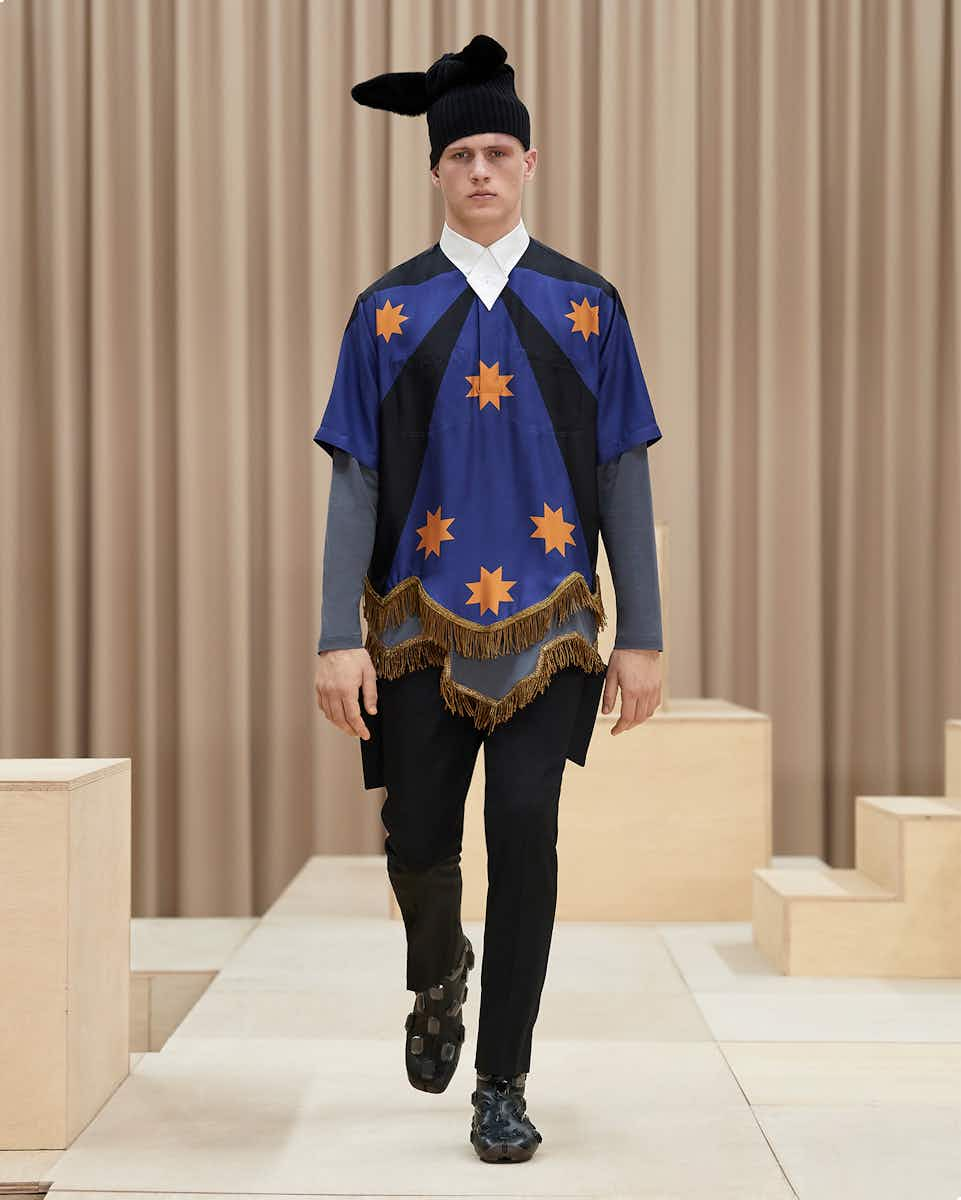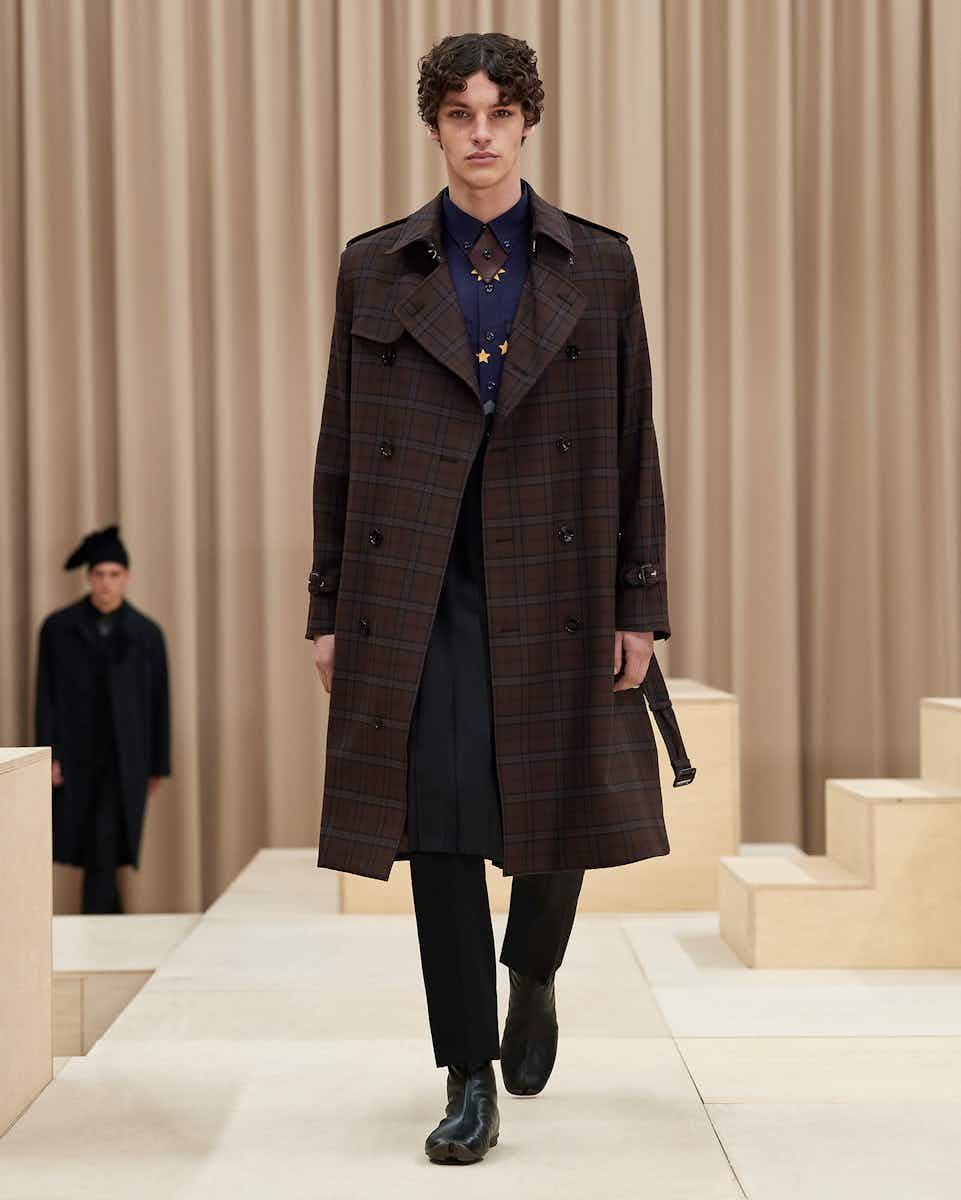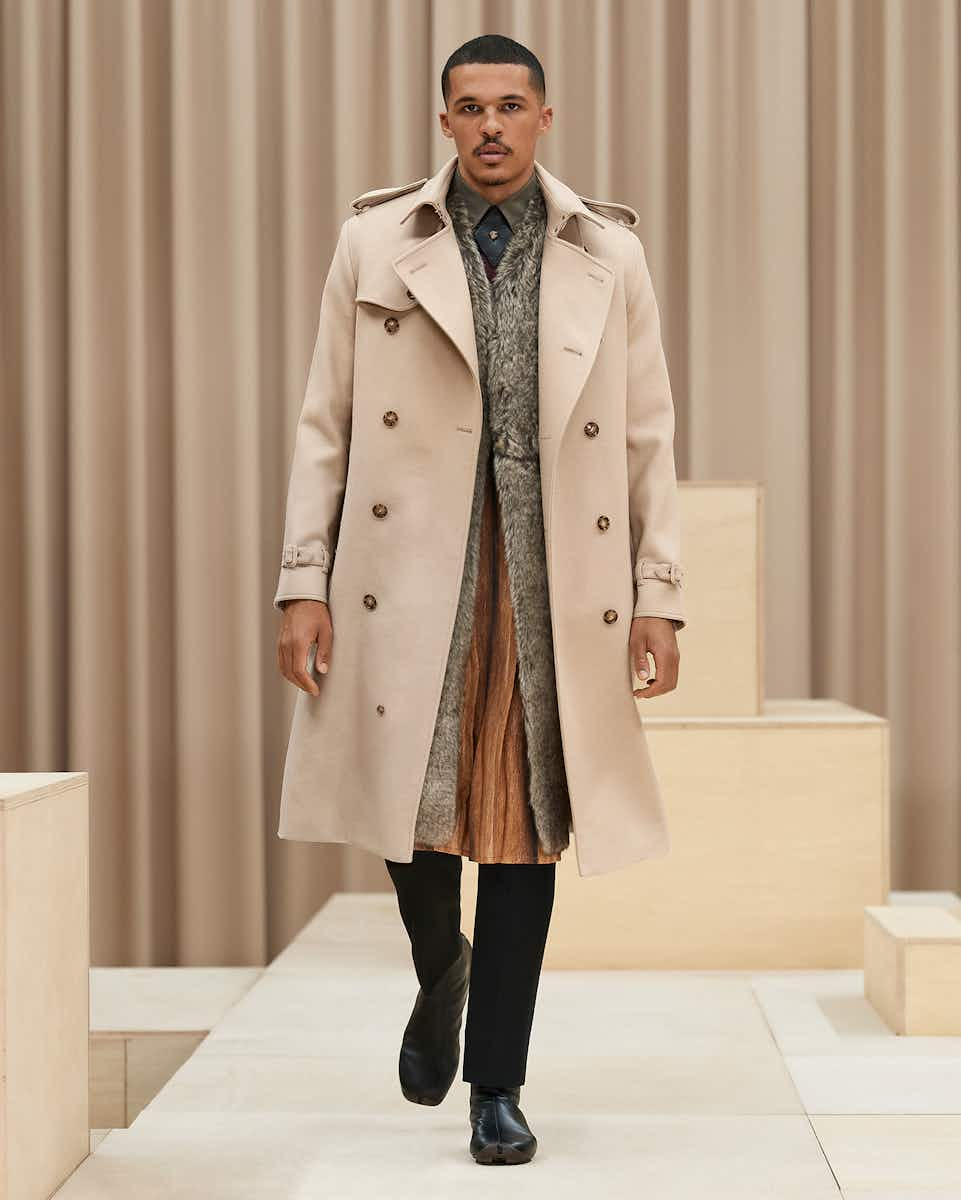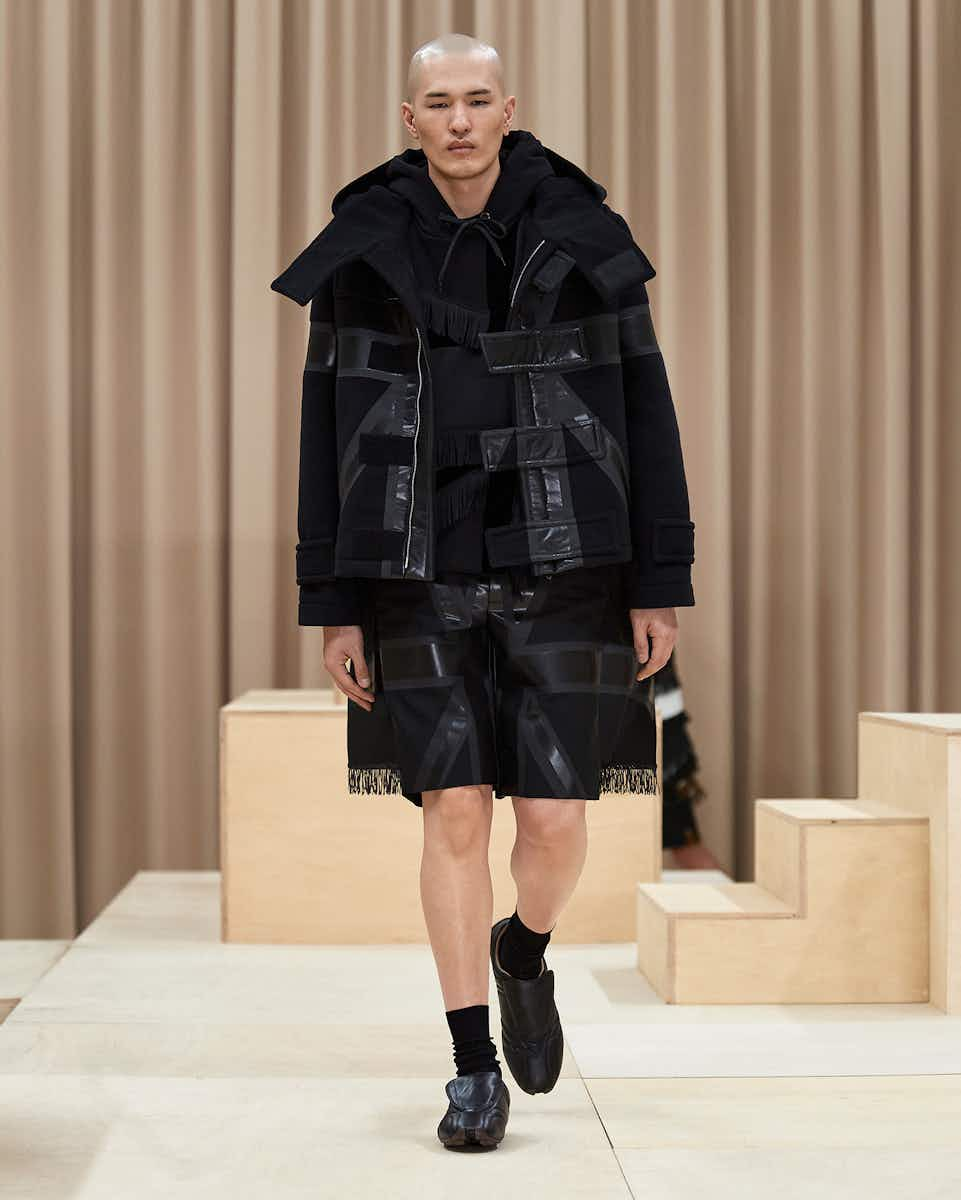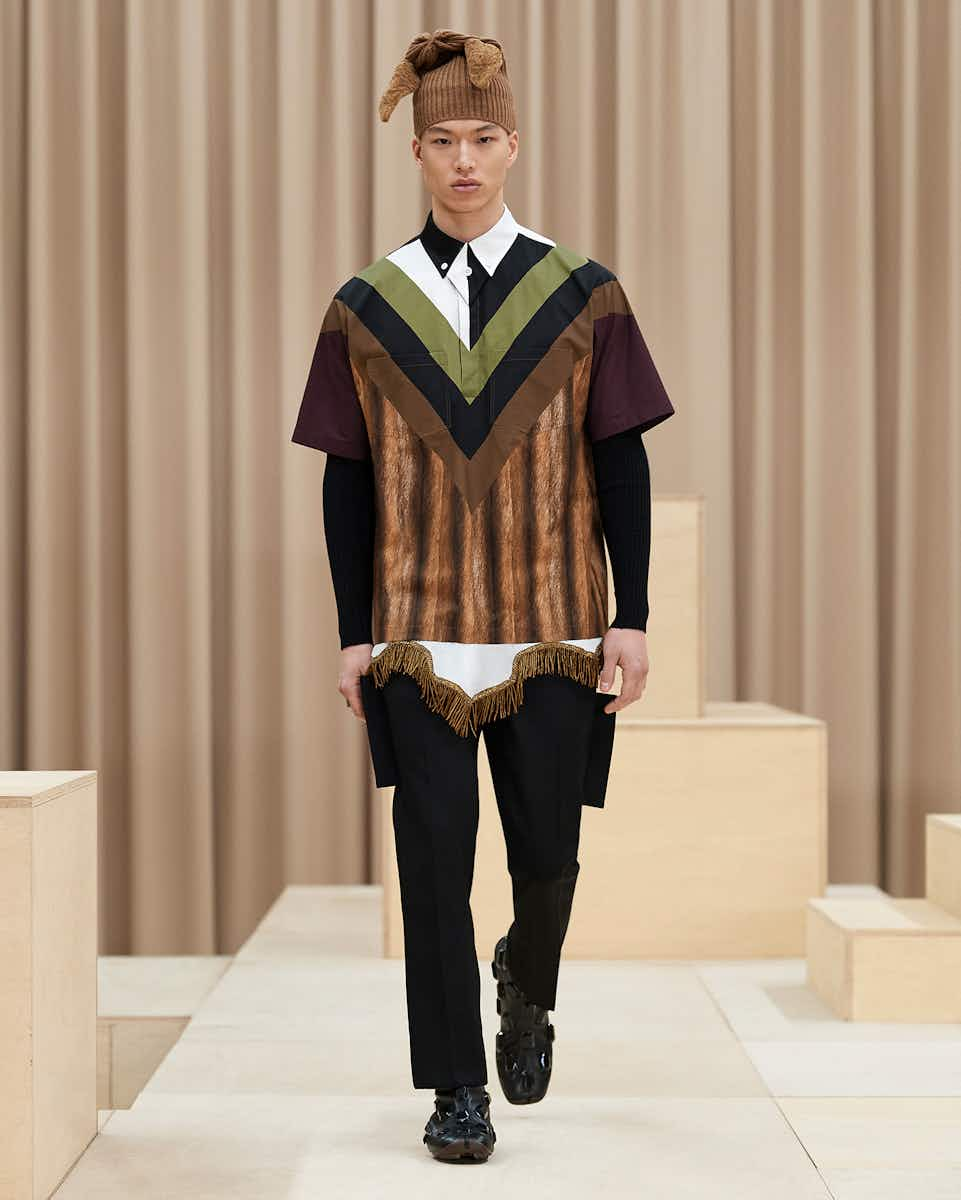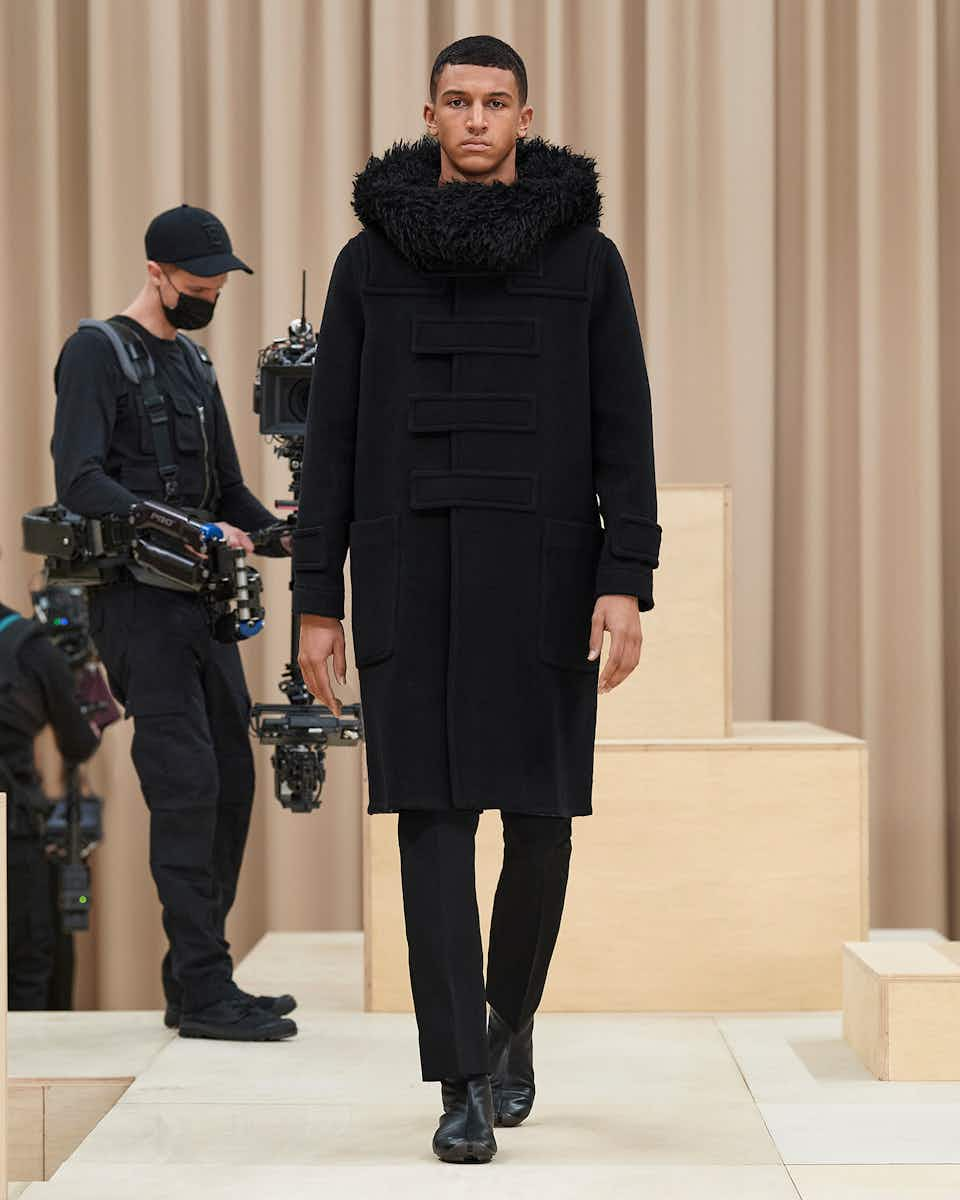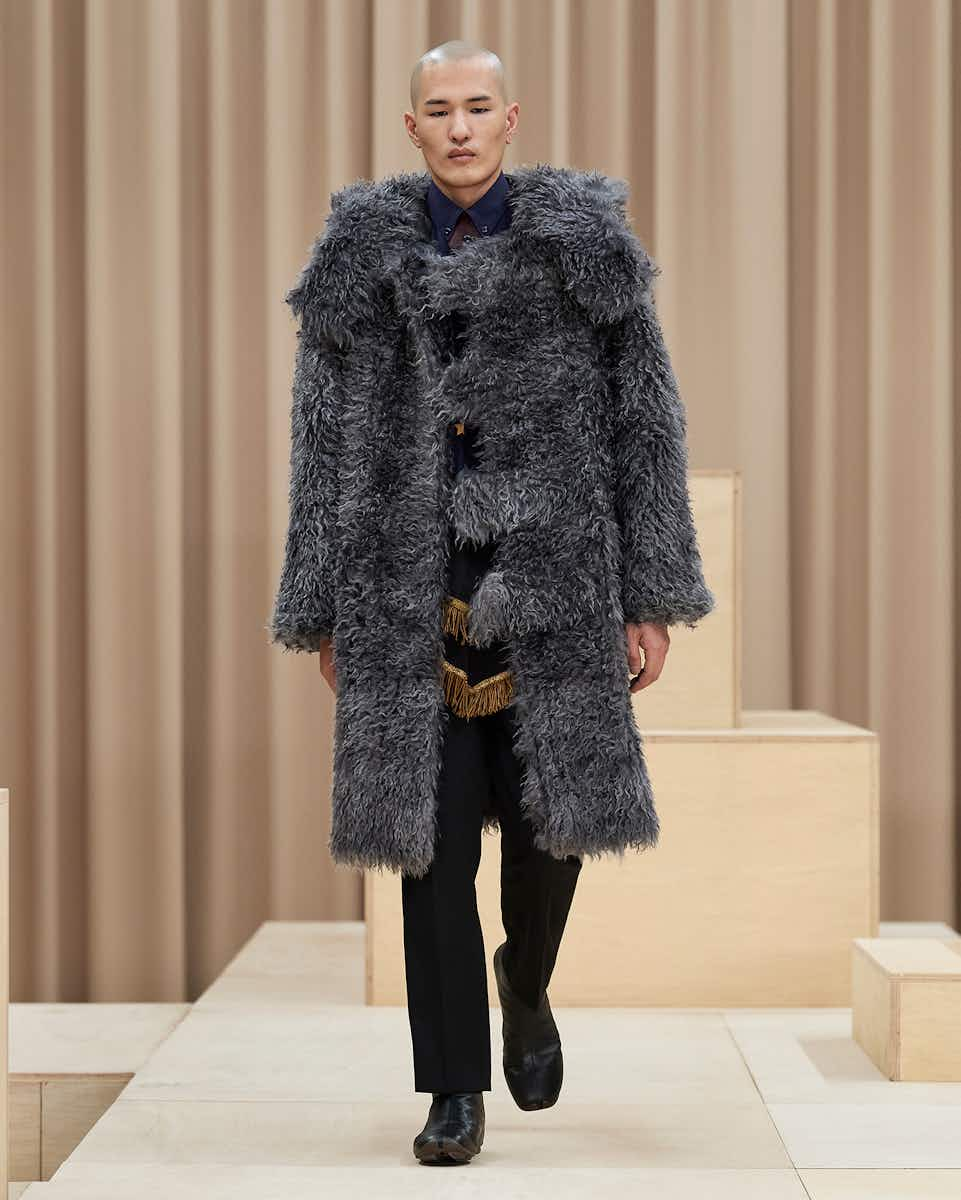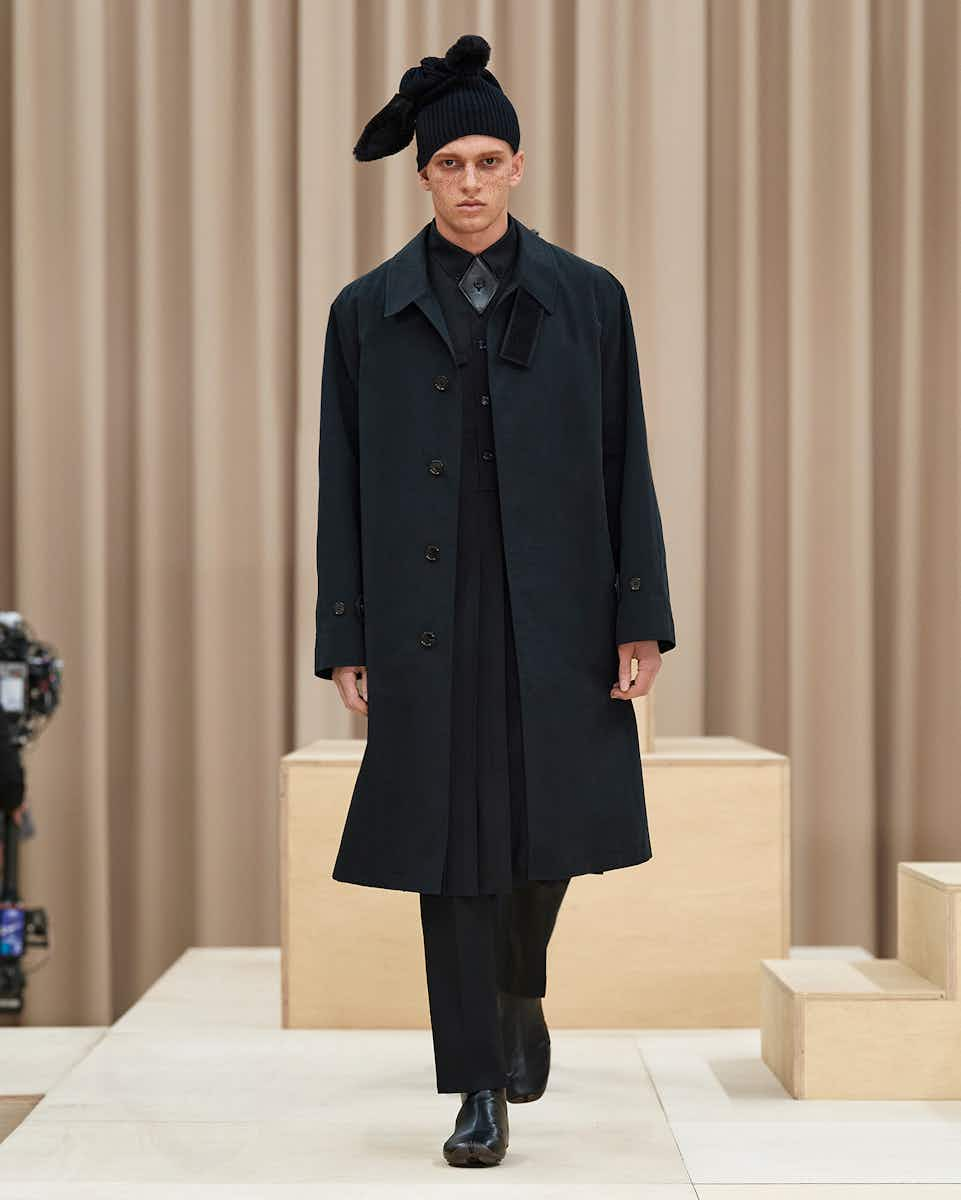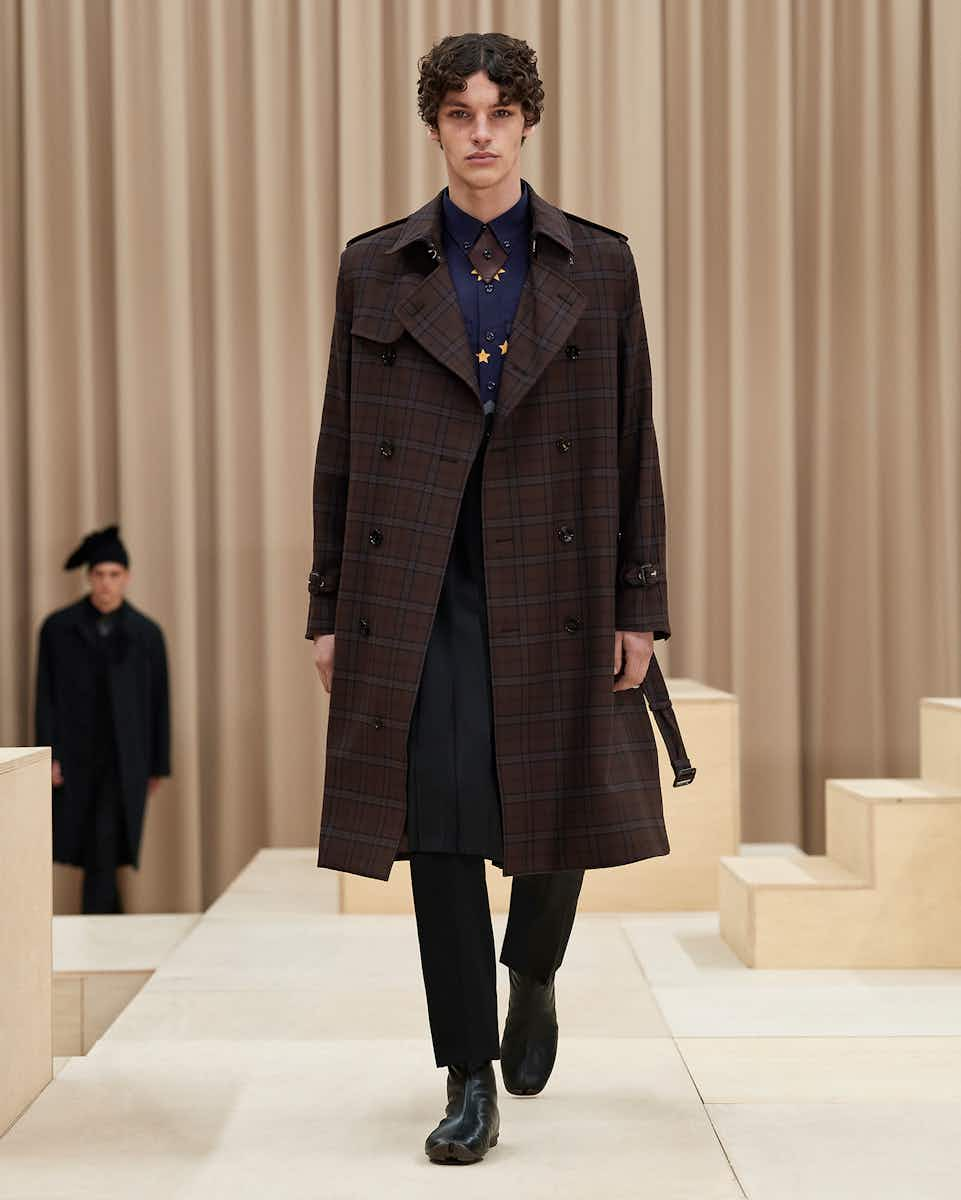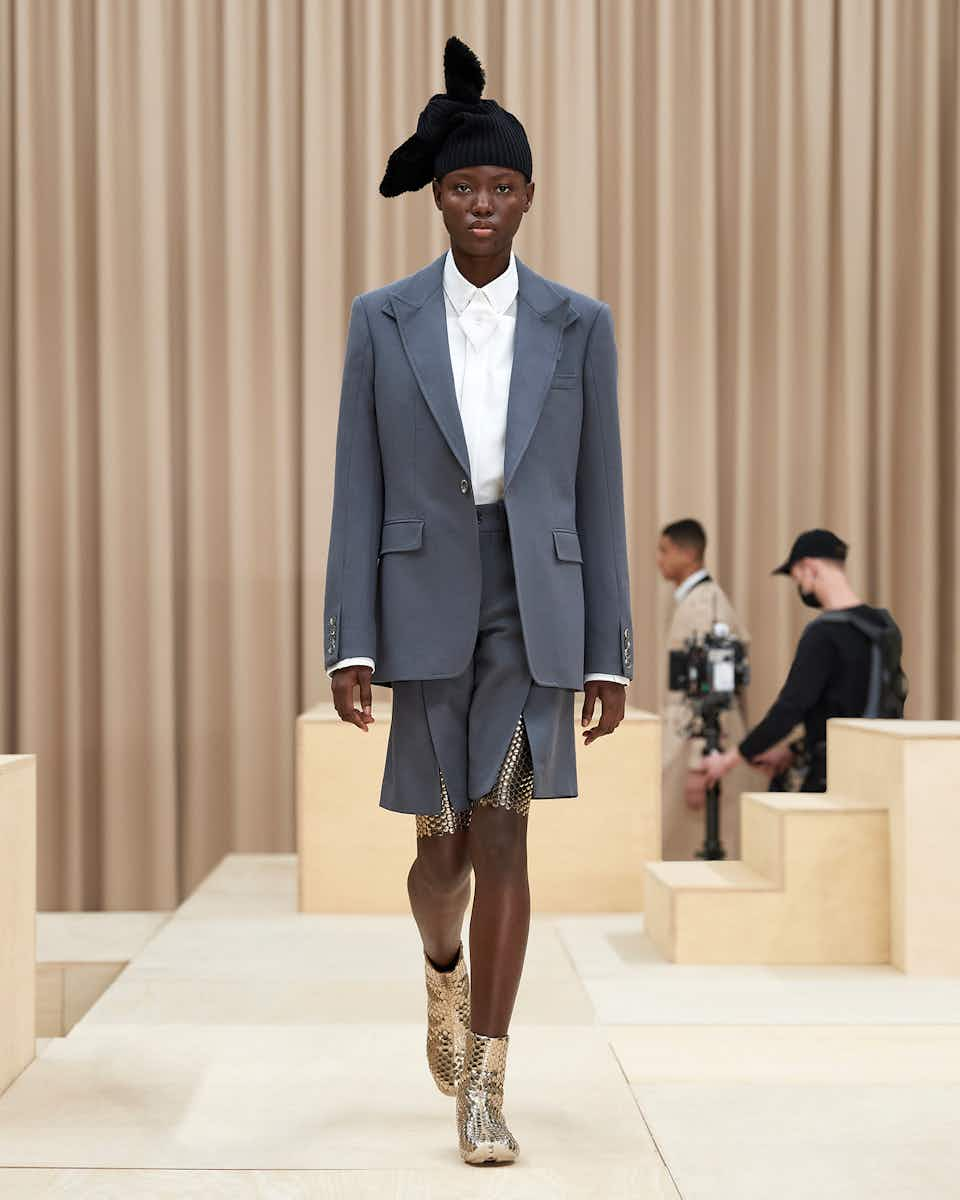 An exercise in provocation which raises the bar on sustainability

For AW21, Vivienne Westwood embraced her roots in a co-ed collection that sits harmoniously between the classic and the unconventional. The designer took inspiration from Daphnis and Chloe, a 1743 painting by French Rococo artist, François Boucher, printing it across shirts, denim, fitted mini-dresses, a parka coat and, with a seductive wink to the past, provocative corsets – a subversive homage to the bucolic pastoral.
The collection's defining feature was its commitment to sustainability, though. 90 per cent of it was made ​"from materials that have a reduced impact on our environment", as per the show notes, which lends itself to Westwood's position as an ethical designer refusing to compromise on innovation.
Immaculately tailored, oversized silhouettes came in recycled denim and organic silk incorporated into a characteristically boisterous mix and match of sexy tartan kilts, checked, billowing shirts with sharp oversized collars and a burgundy peephole knitted dress – all finished off with fishnet tights and shimmering silver platforms. As well, traditional gingham overcoats and high-waisted trousers were accompanied by strong shoulders, cinched in waists and powder pink velour. This season, Westwood firmly embraces the future by reinterpreting the past to dazzling effect. JW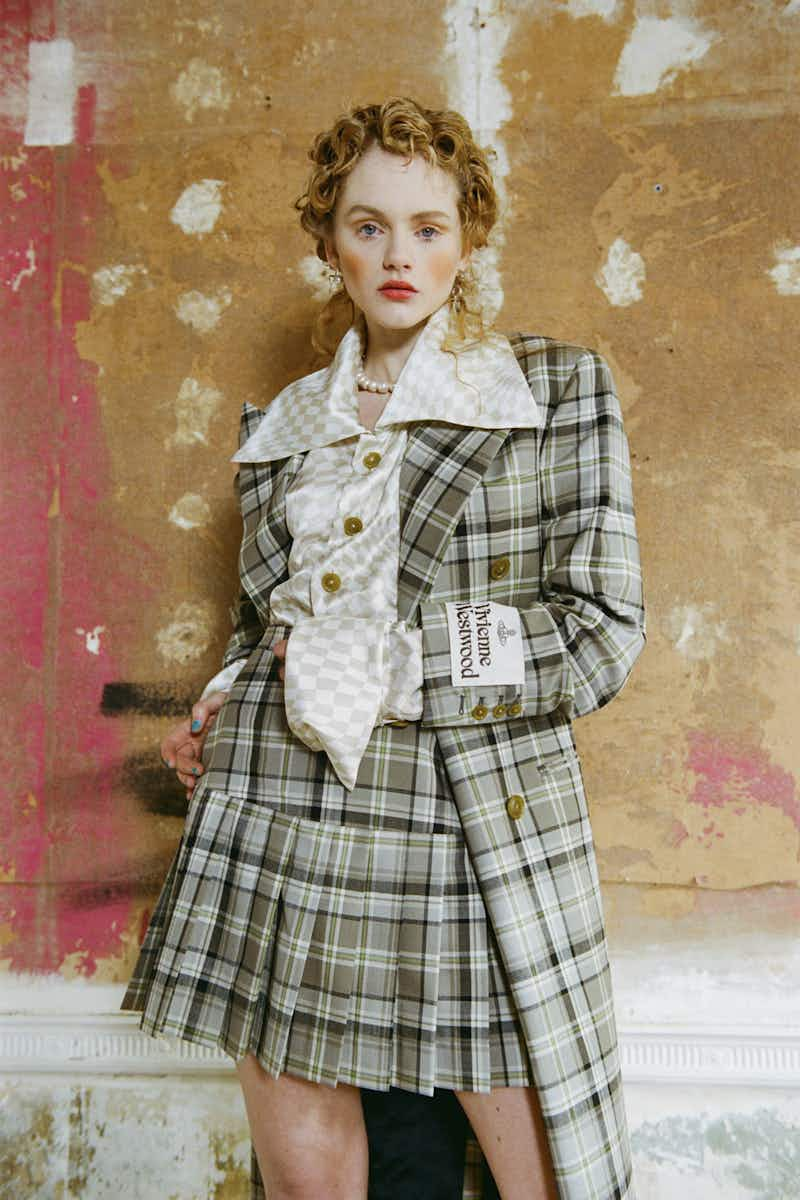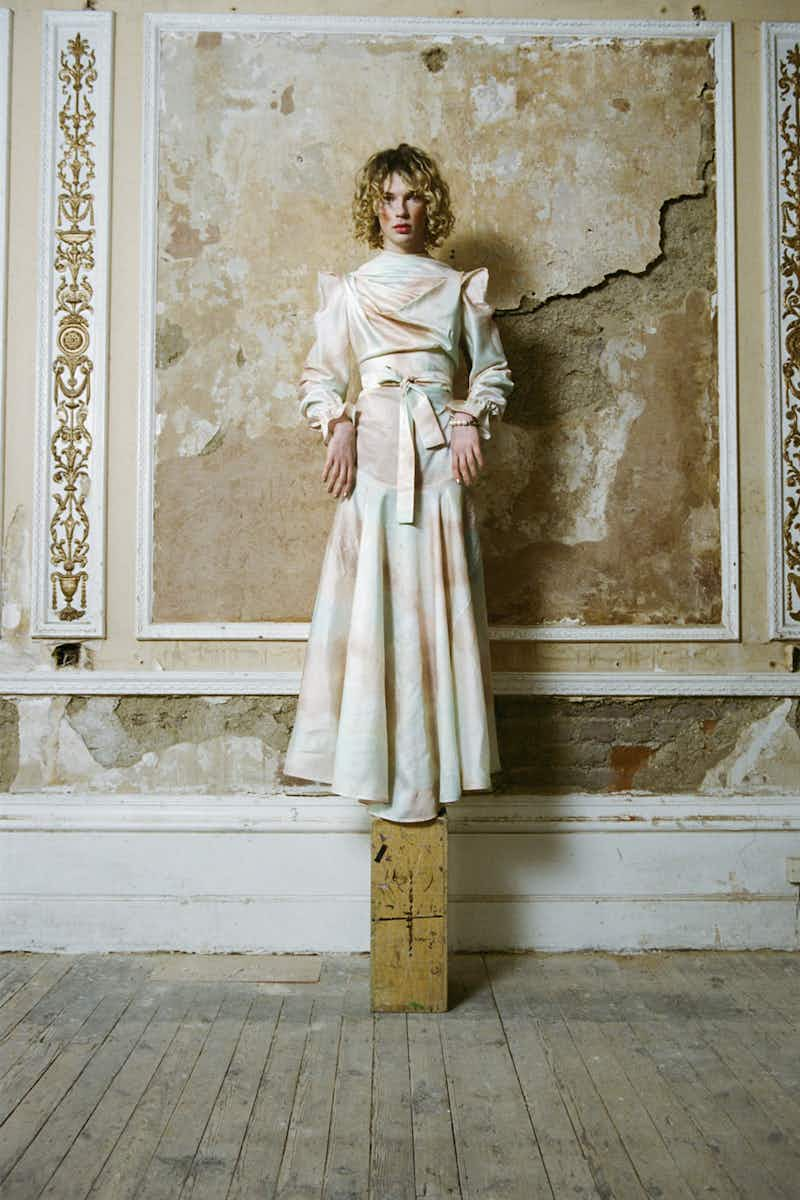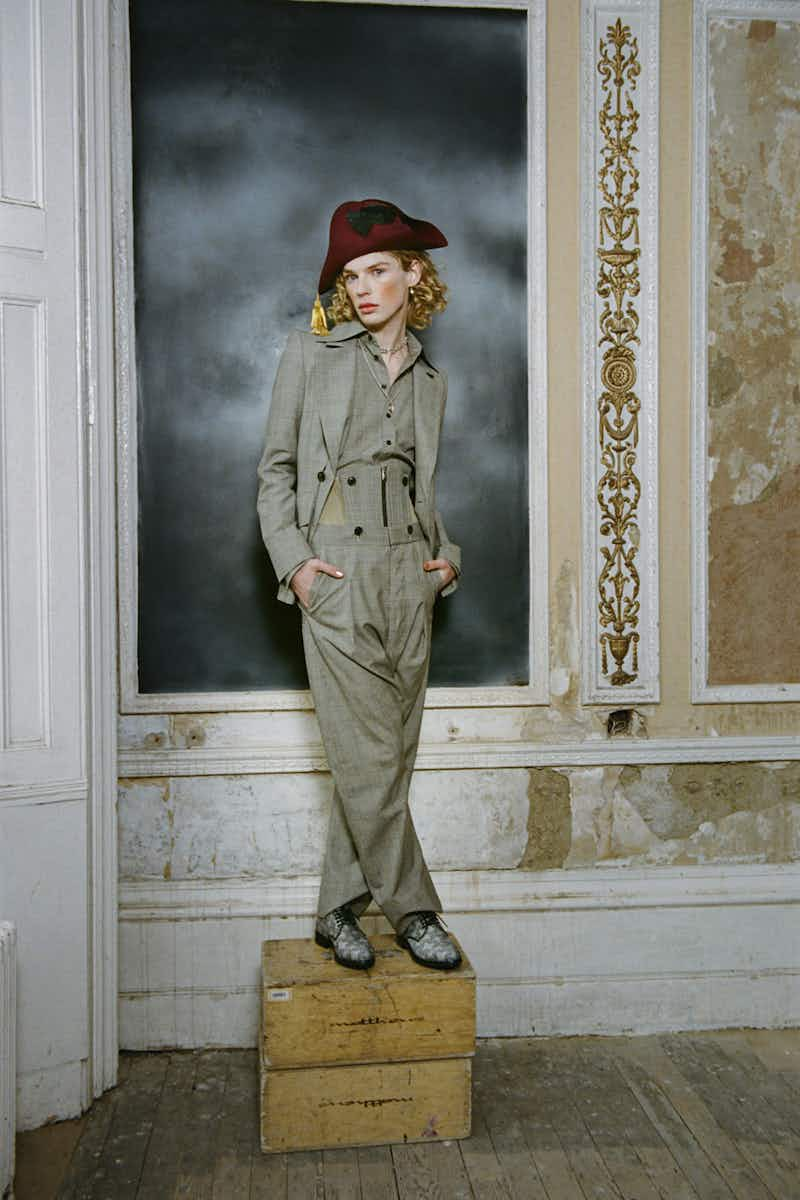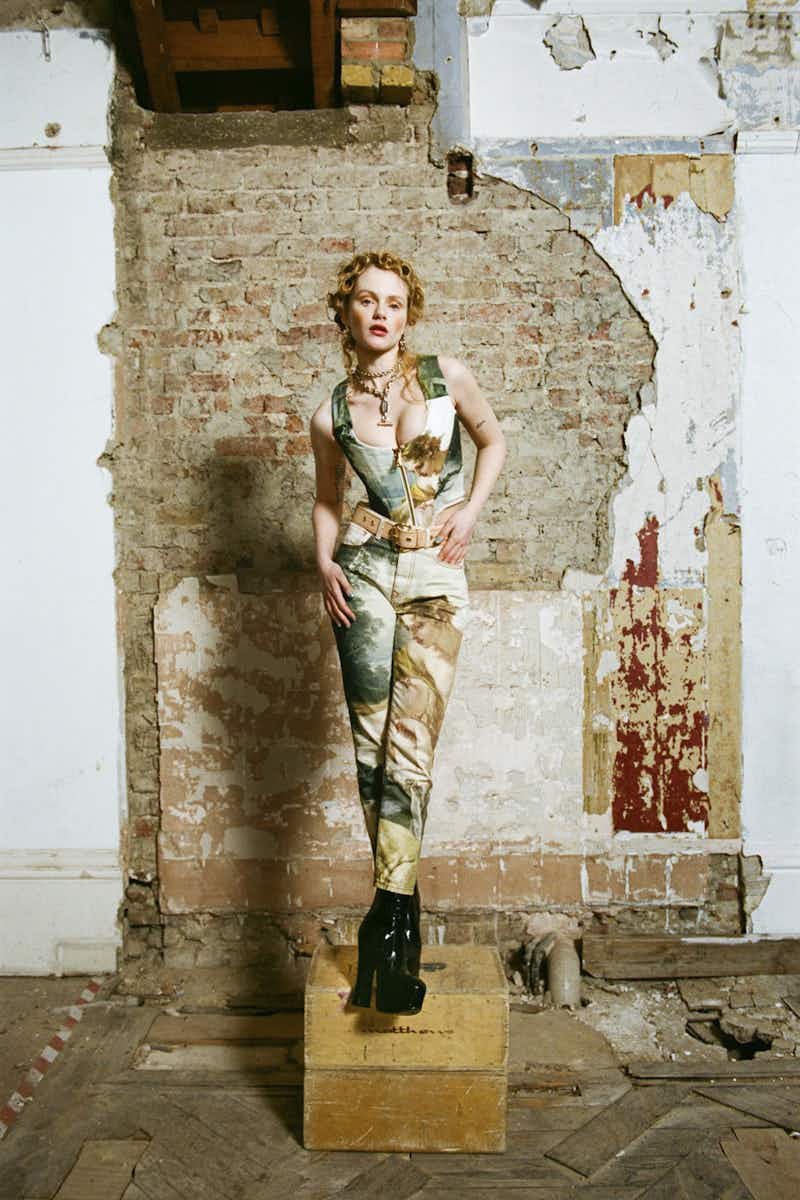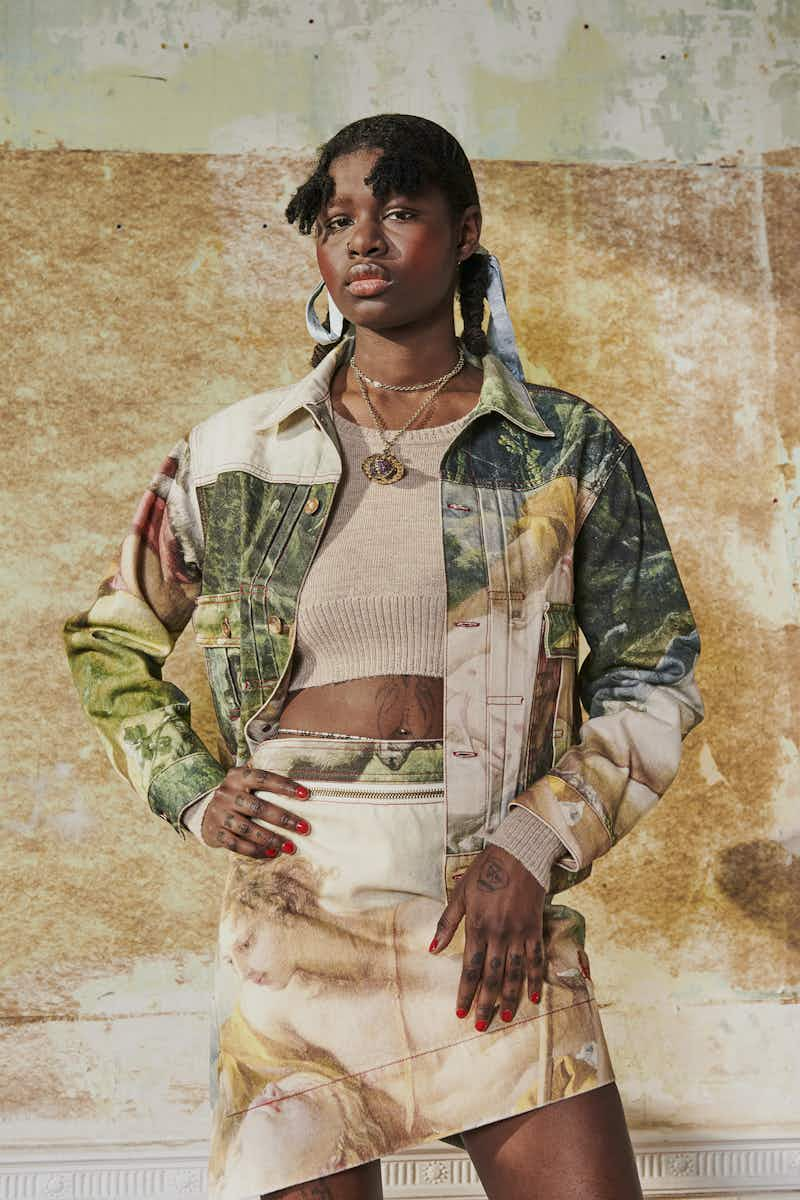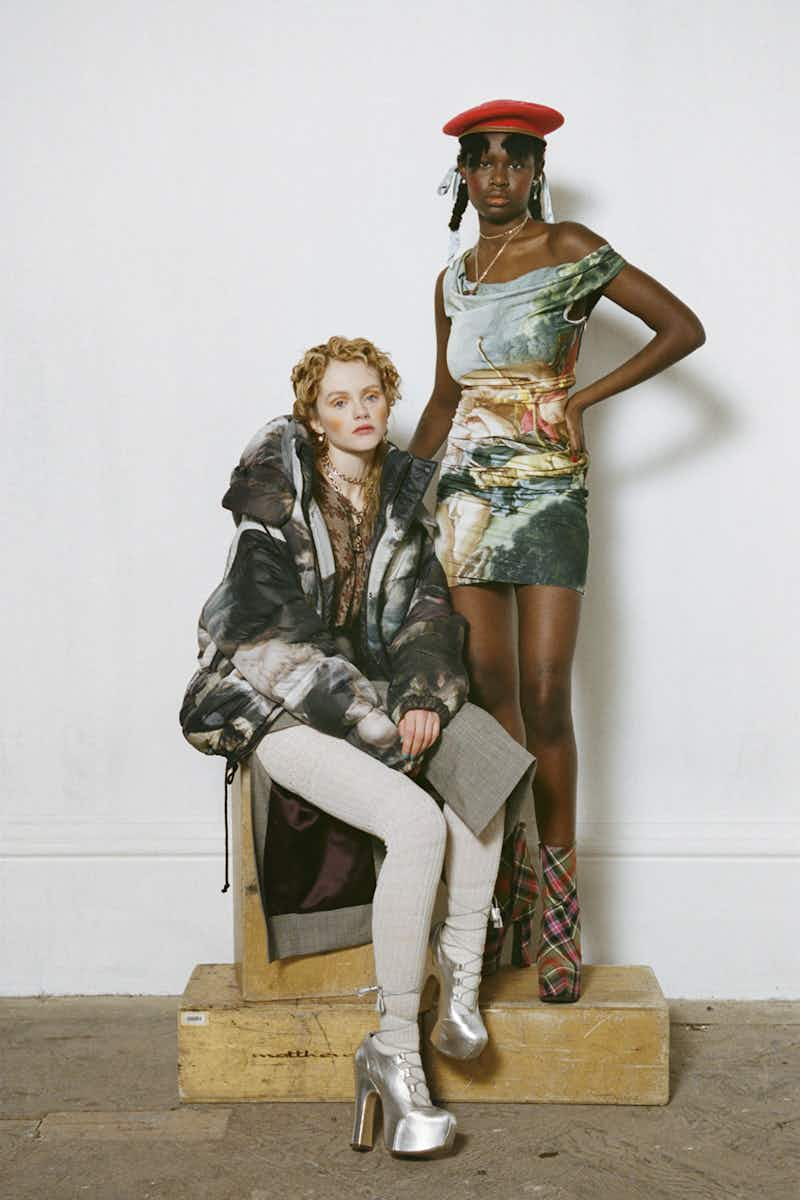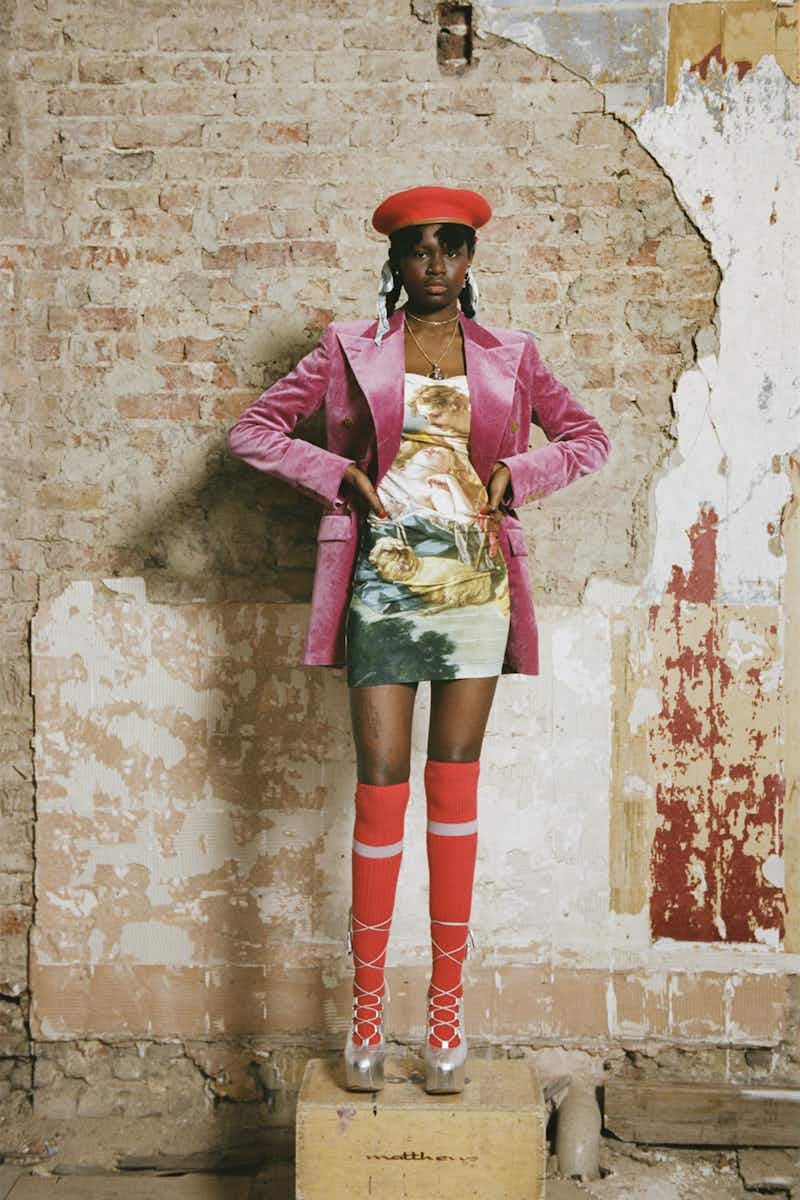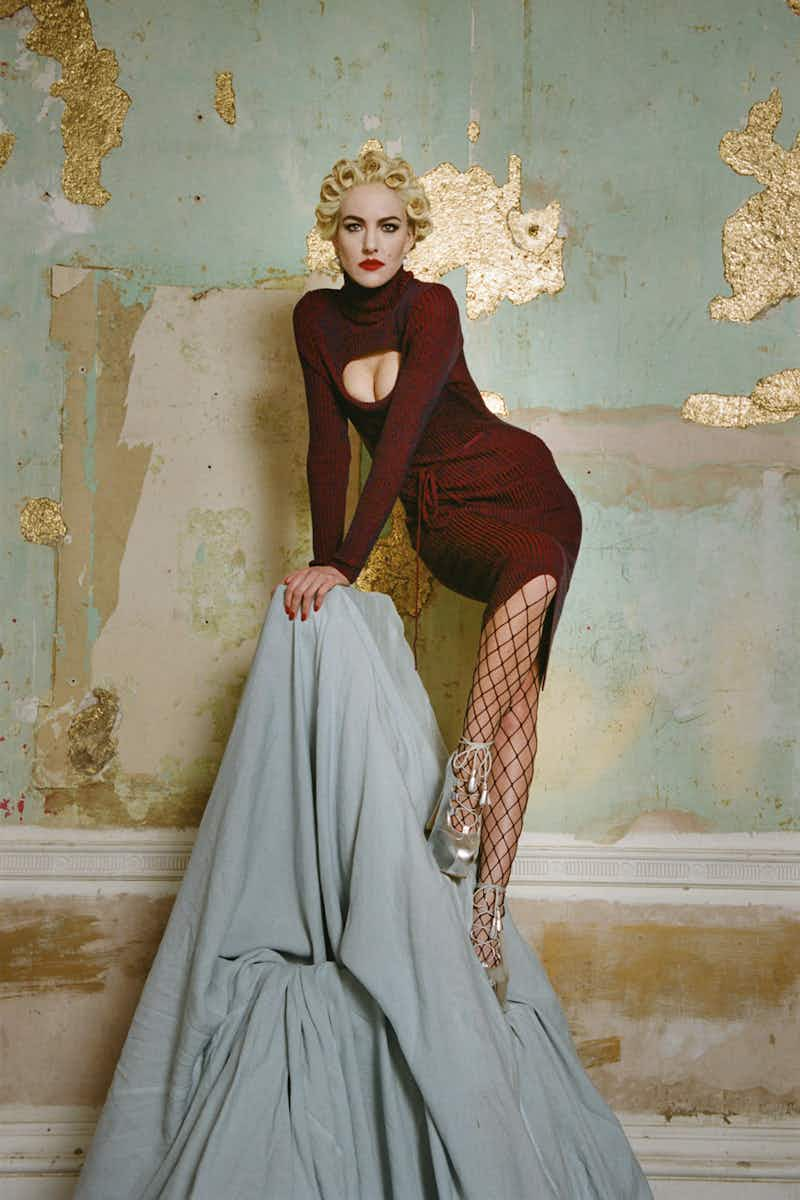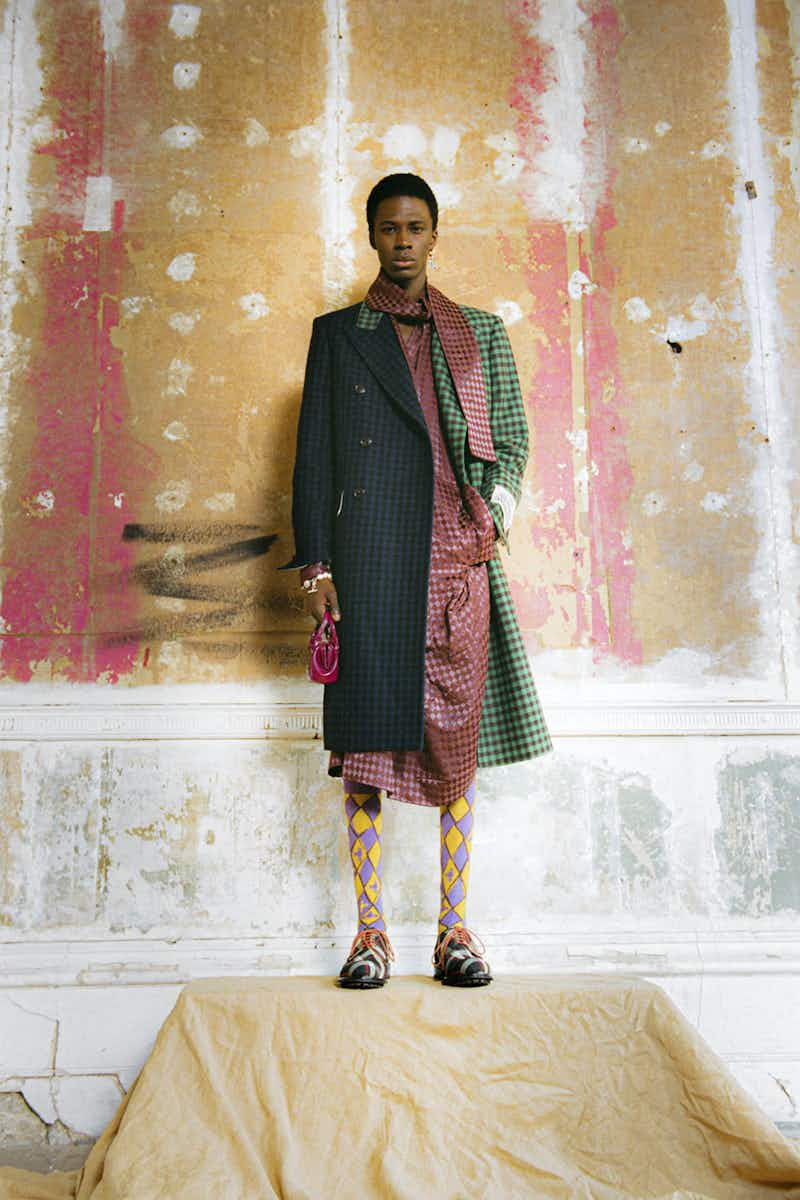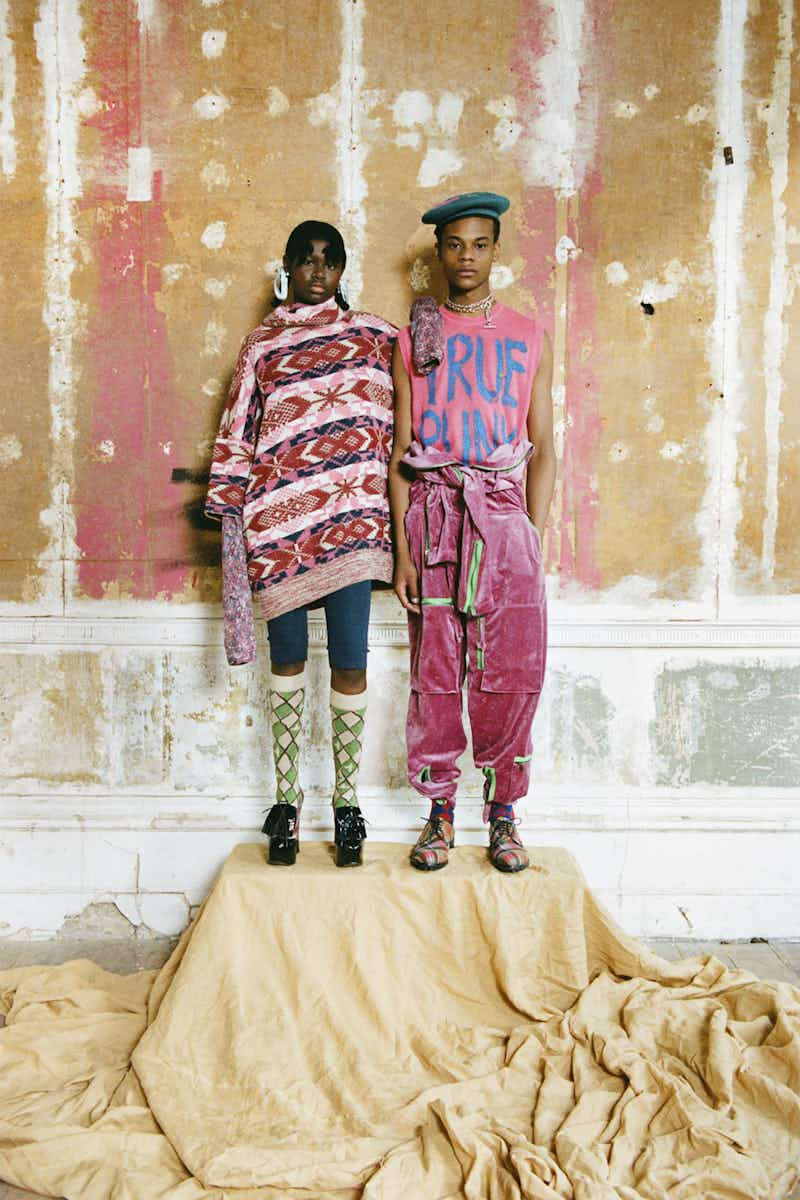 "Turn it up loud and have a fashion show in your living room"
Like most of us, Miles George Daniel has spent a lot of time inside his room – and his own head – of late. The rising British designer, who graduated from Middlesex University last year and presented his debut collection at London Fashion Week today, has had to adjust his practice to fit our new reality, and it turns out he's a natural.​"I was in a studio and the world was in front of me… I had all the tools I needed," he tells THE FACE.​"Then suddenly I was in my room, like,​'Wow, what do I do now?'".
Compelled to work with what he had to hand, and moved by the negative impacts of wasteful fashion on the environment, Daniel took a​"zero cost" approach to his graduate collection last year, creating strikingly sculptural garments from repurposed second-hand items, fabric offcuts and materials like wire and cardboard. And his AW21 collection is similarly thrifty.​"All the fabric has been donated or deconstructed from my old clothes, or taken from old collections," he explains ahead of its unveiling.
The fabrics were the main driving force behind the 18-look collection.​"I came to the realisation that, even in a commercial context, I wanted to keep the focus on creativity," Daniel says.​"So I decided not to do any sketching or research, and to base the collection solely off my emotions towards my fabric and my philosophies as a sustainable designer. It was just about laying the fabric on my body, safety pinning everything together, and then hand sewing it." DW
Click to continue reading
The result is what Daniel deems a​"very personal" unisex collection, ranging from a voluminous satin tracksuit, a punk take on a tailored suit, and an artfully draped asymmetric shirt and linen trouser combo – and multiple face coverings.​"I used them before the pandemic," he expands.​"I like to stay a bit elusive, to let the work be the focus".
As with his past offerings, music was also a key element in the creative process.​"I like to find music that I can relate to when I'm starting a collection – I play with it and chop it up alongside making the garments. The music plays into the work – I'm always thinking about how it can be translated into fashion." This interdisciplinary approach is a defining element of Daniel's output which, as a quick glance at his enigmatic Instagram feed attests, incorporates everything from graffiti and embroidery to film.
His inaugural presentation comes in film format, shot and edited by Daniel himself, allowing the designer to further immerse viewers in his singular world. Throughout the design process, Daniel questioned how he could bring the audience into an otherworldly realm of fashion, art and music, in the hopes of offering something entirely new.
With the first half of the collection set to samples of music the designer grew up listening to, chopped and changed, the second half takes a livelier turn with Jamaican dub rhythms. But ever the provocateur, Daniel infuses​"a little bit of punk," he adds.

​"I hope you'll turn it up loud and have a fashion show in your living room."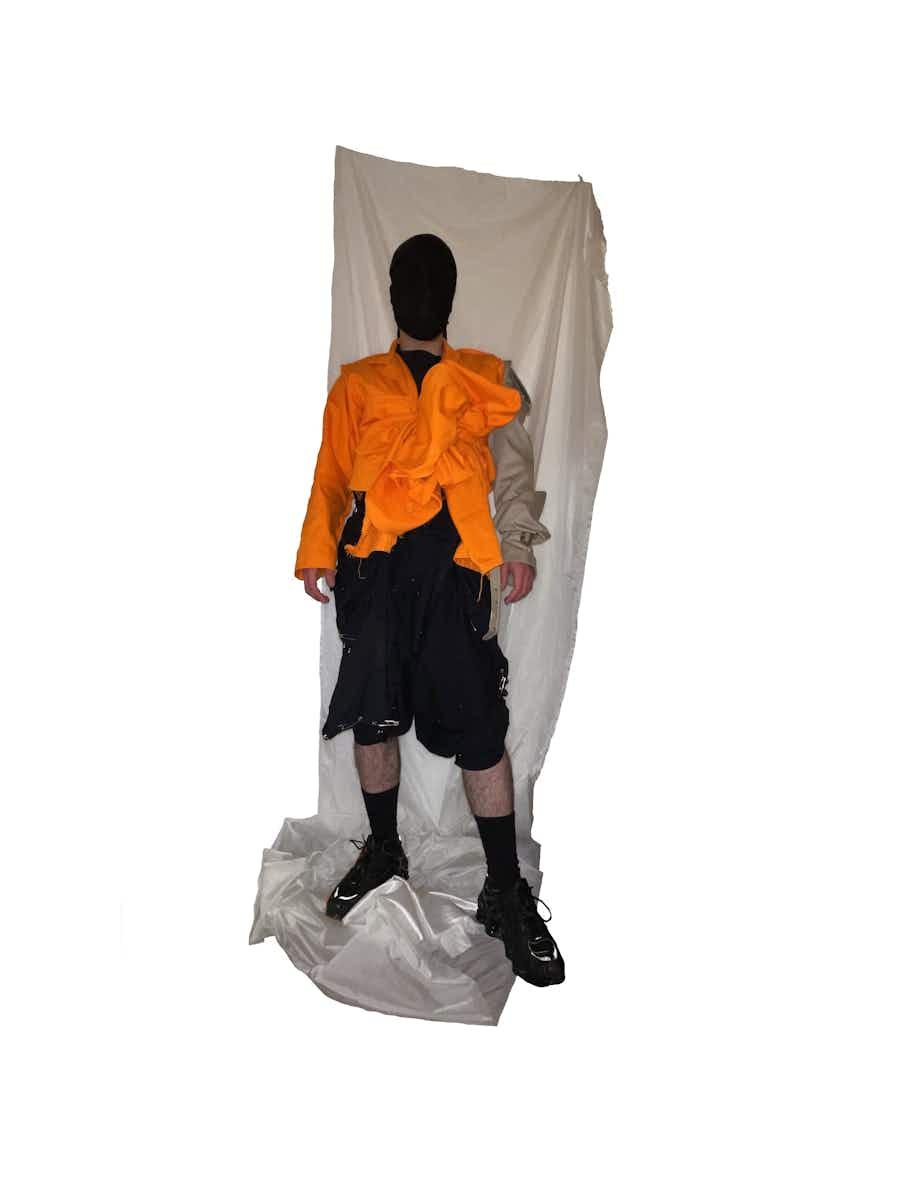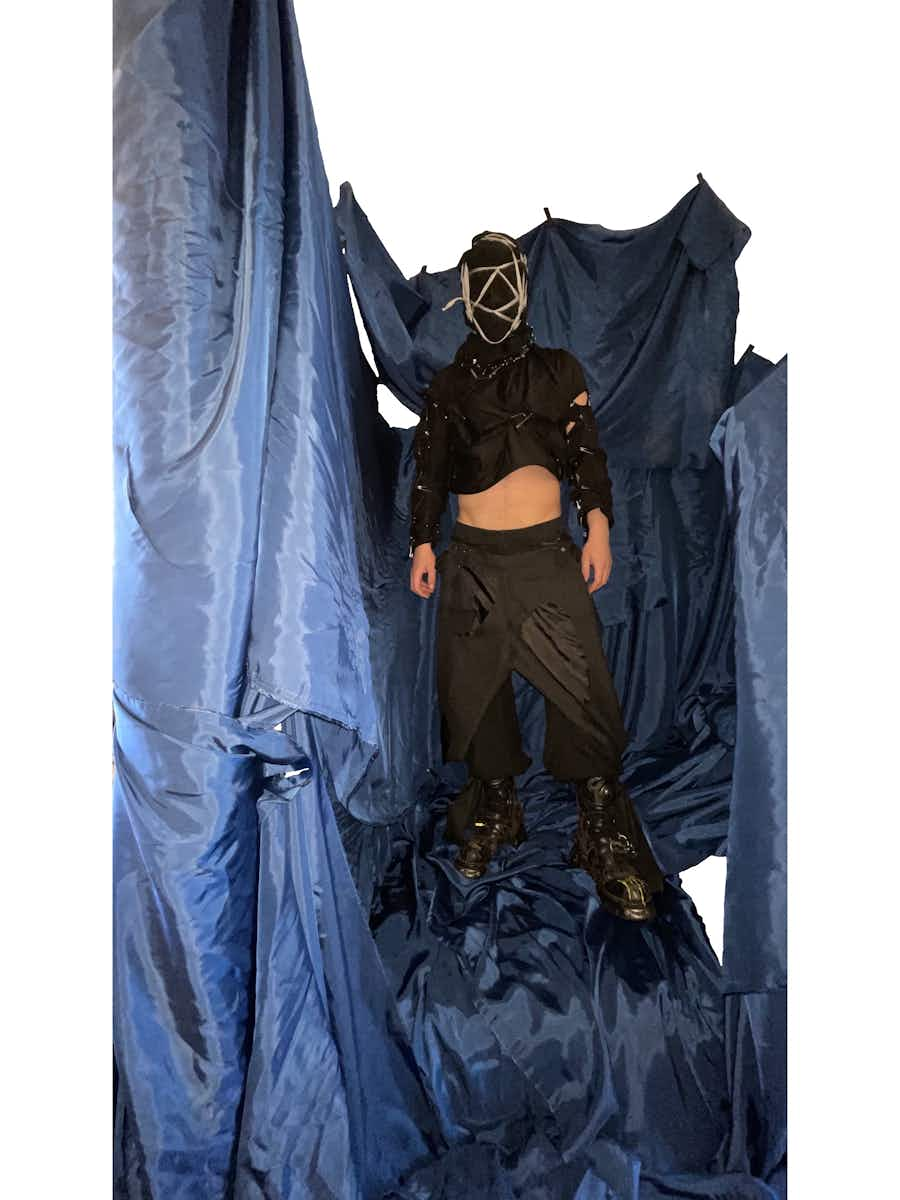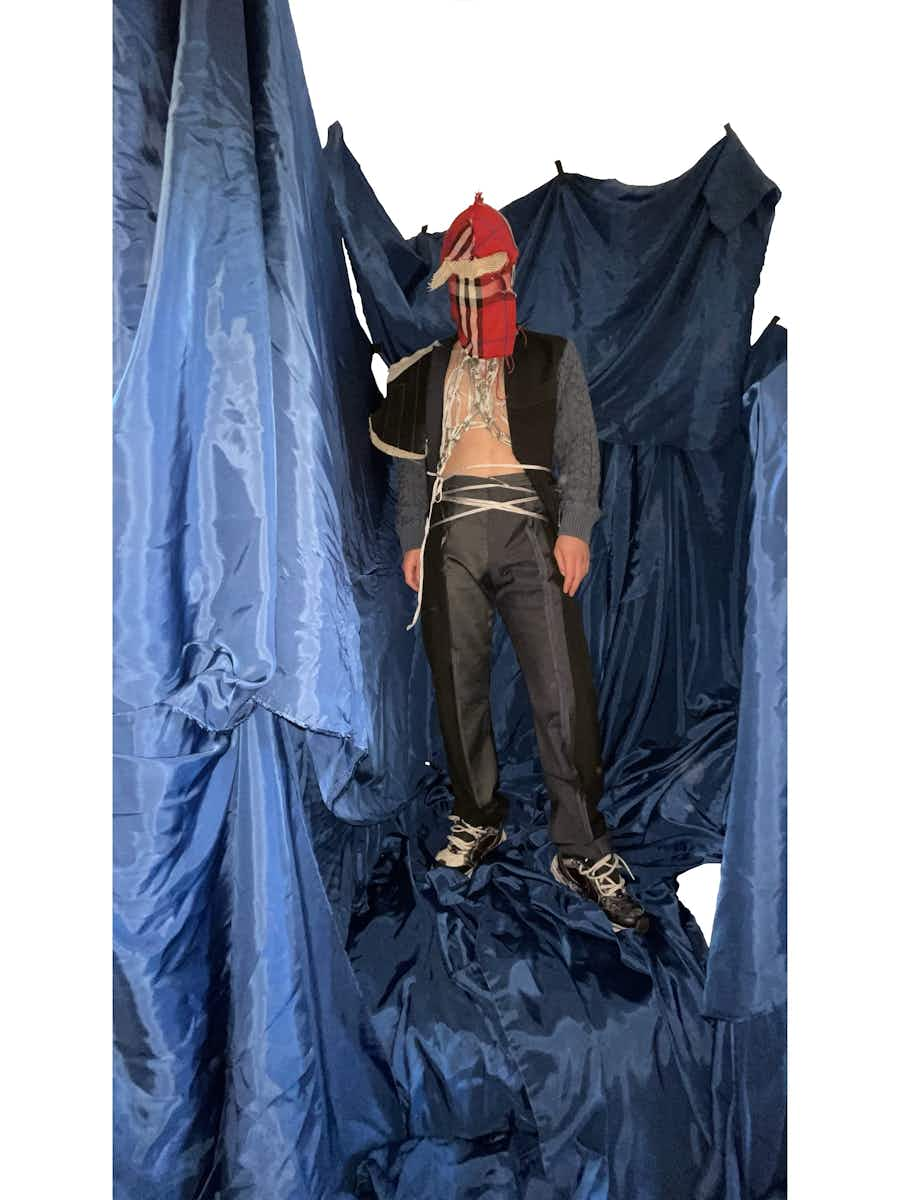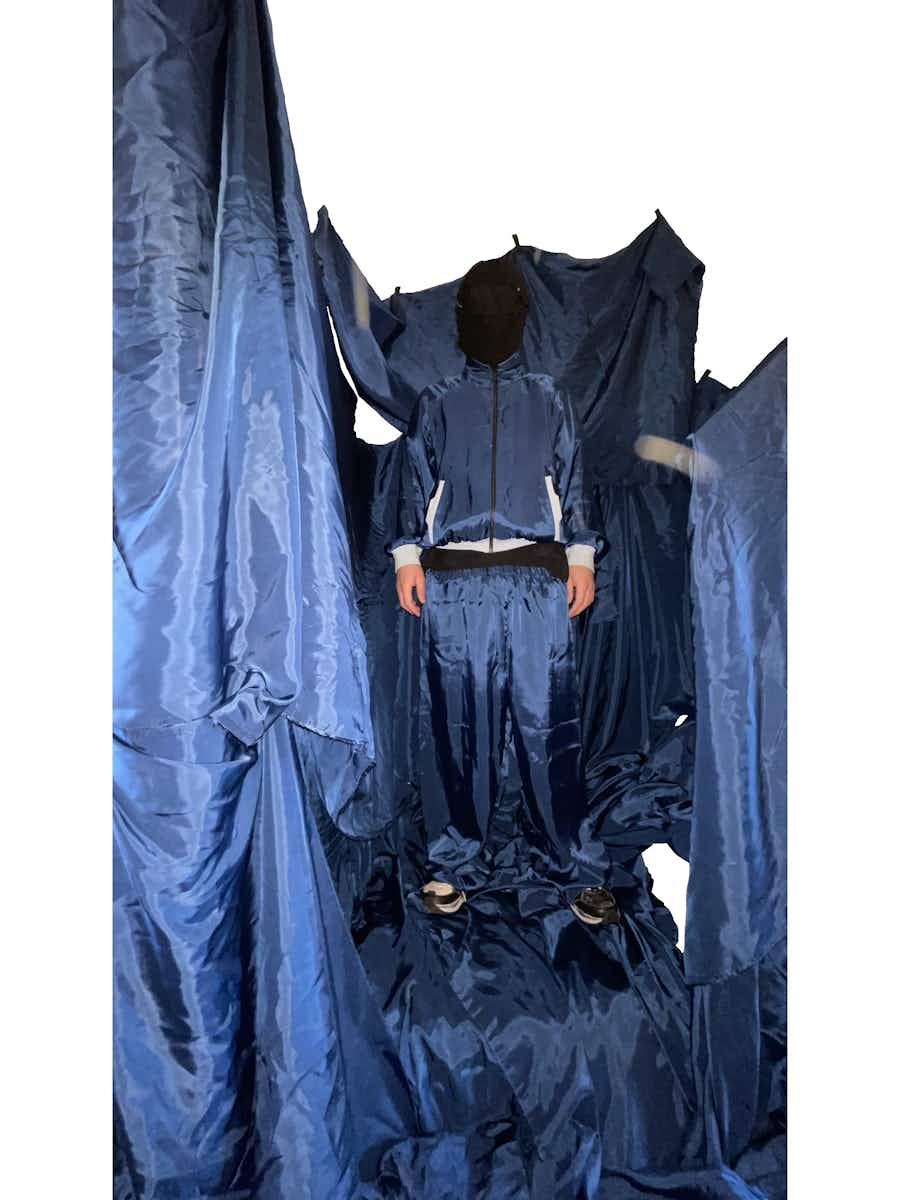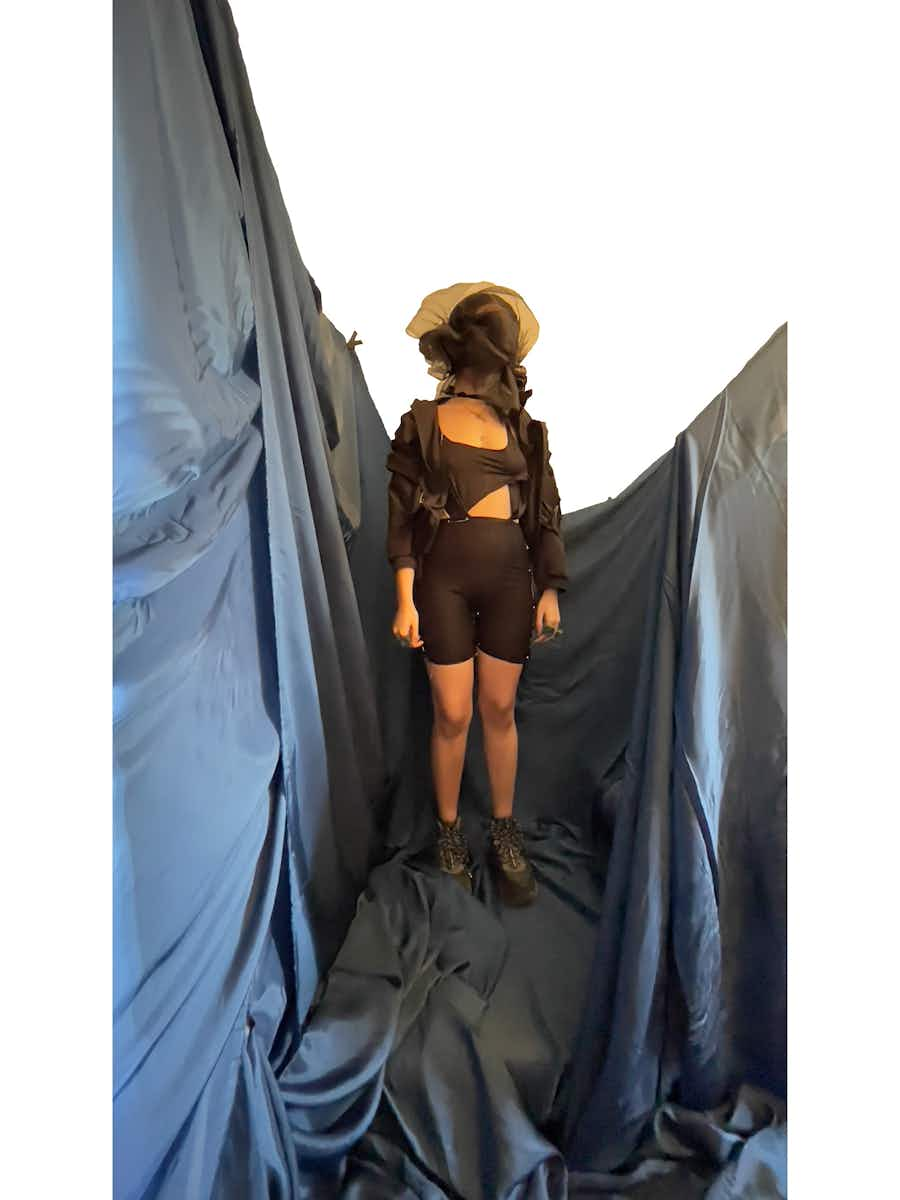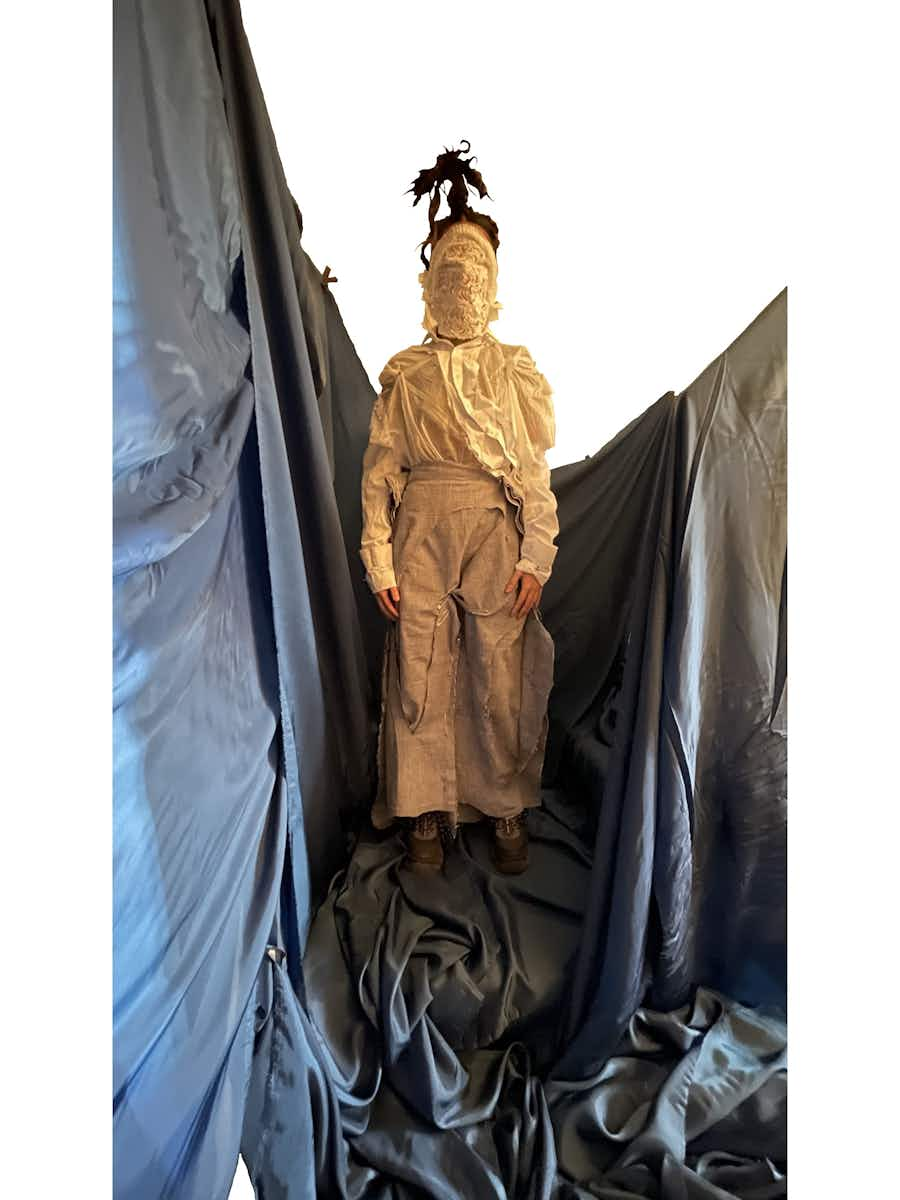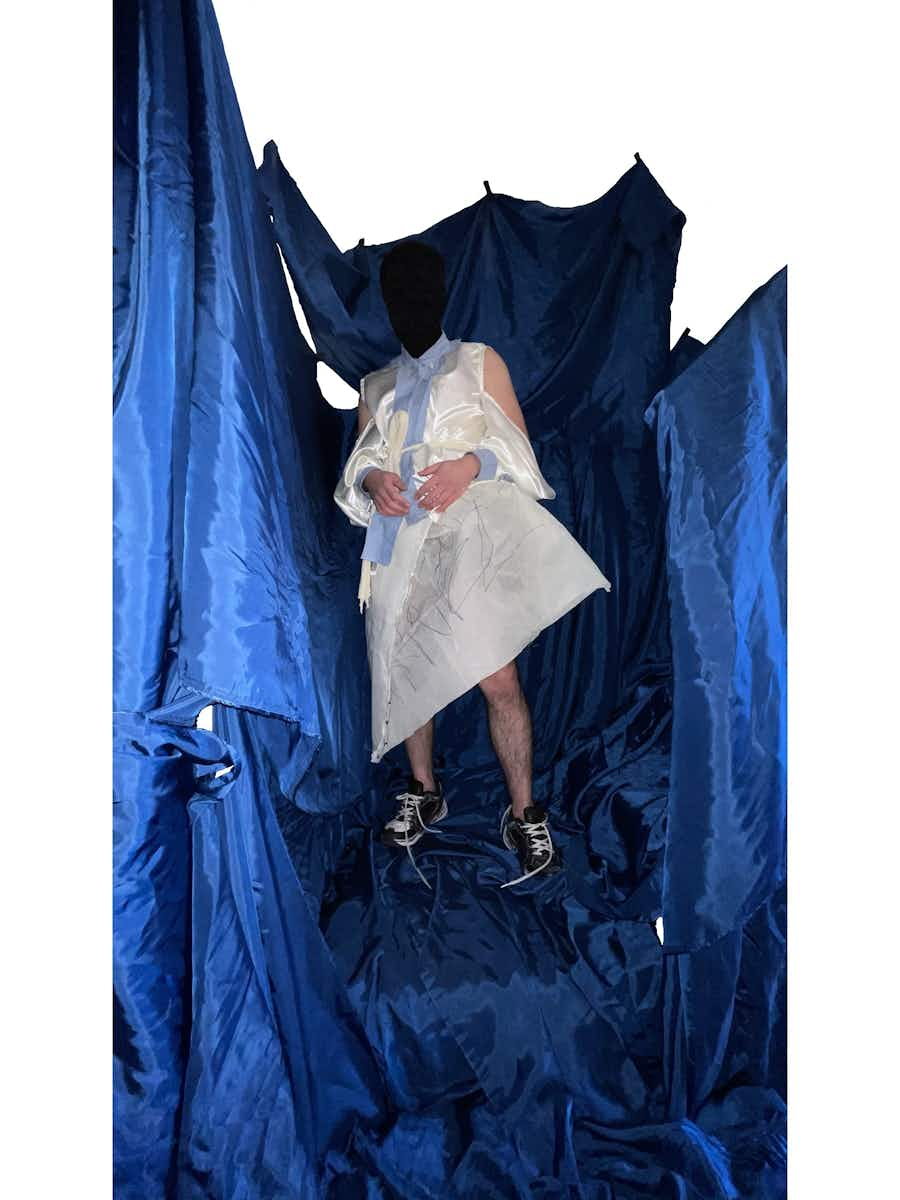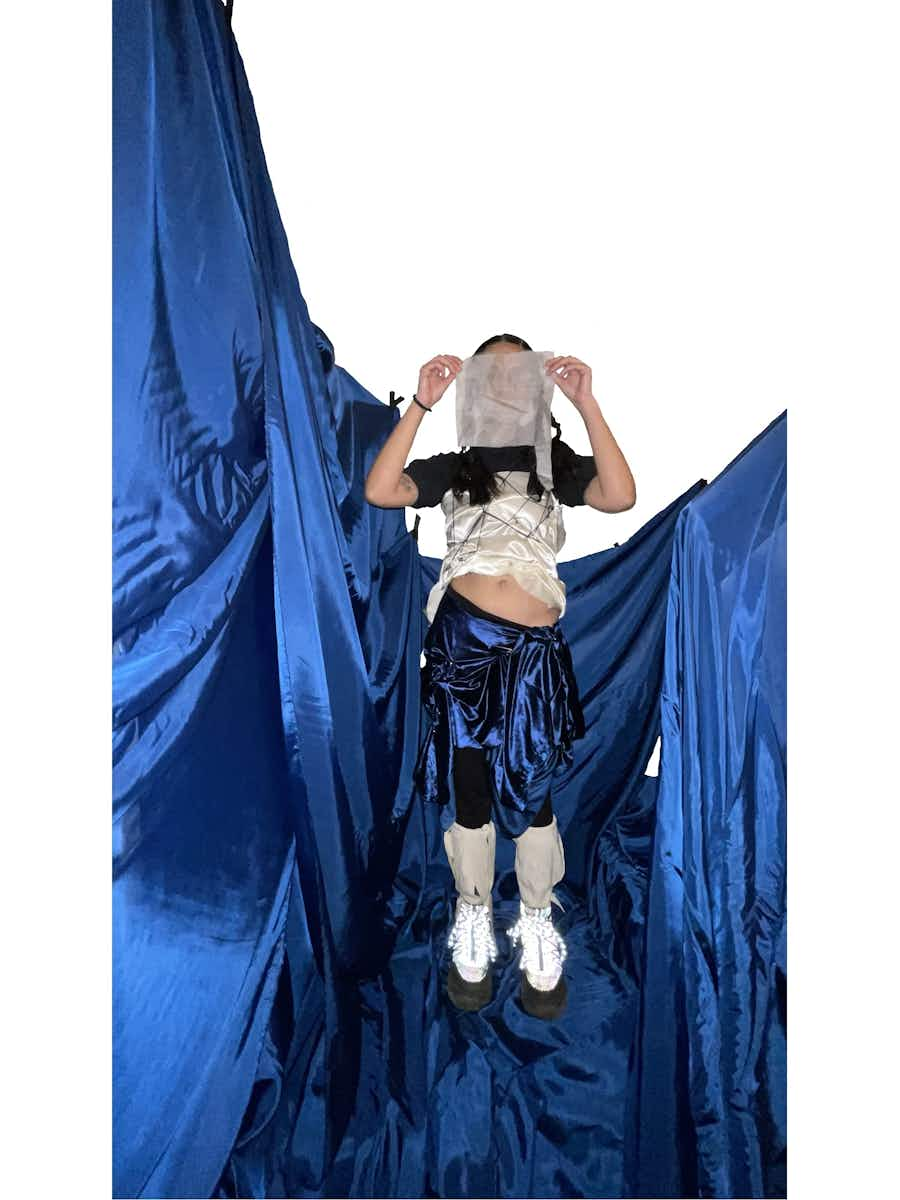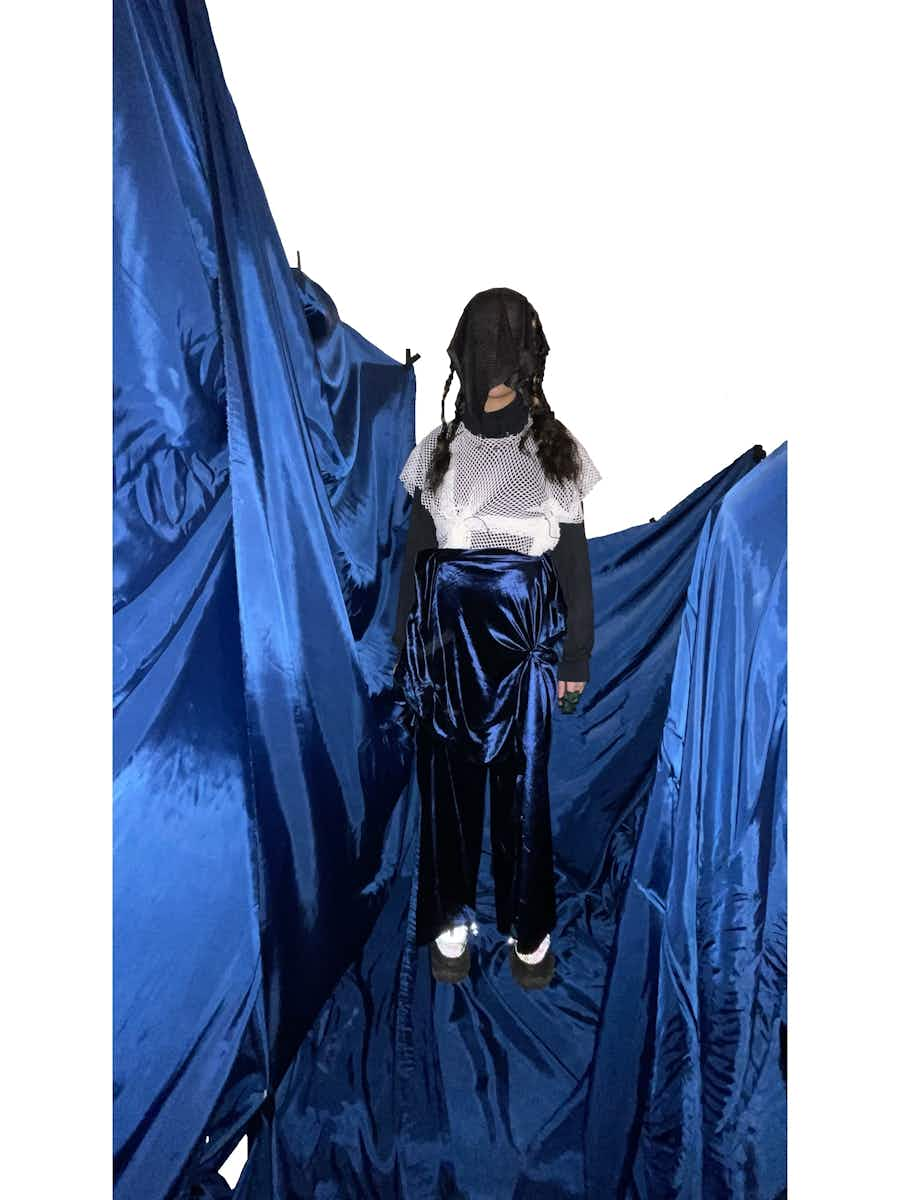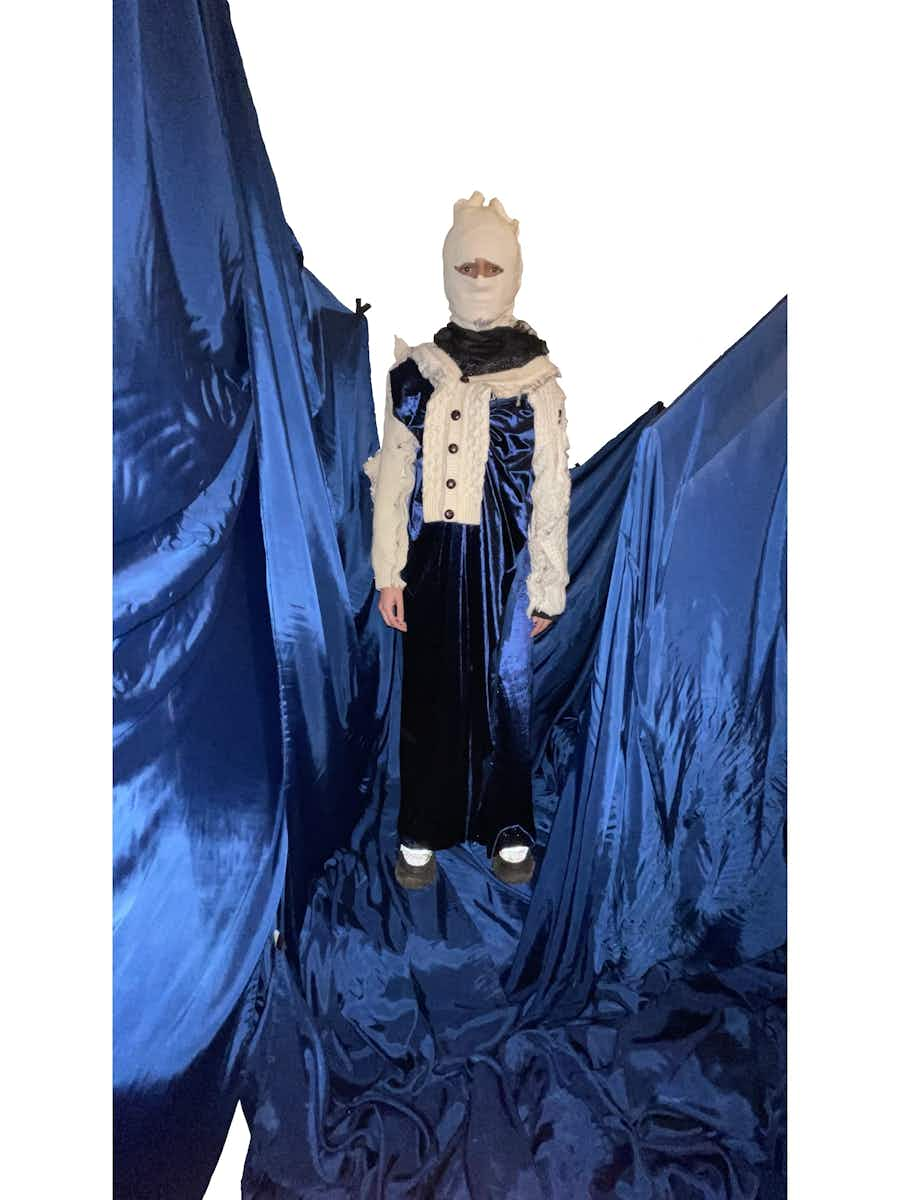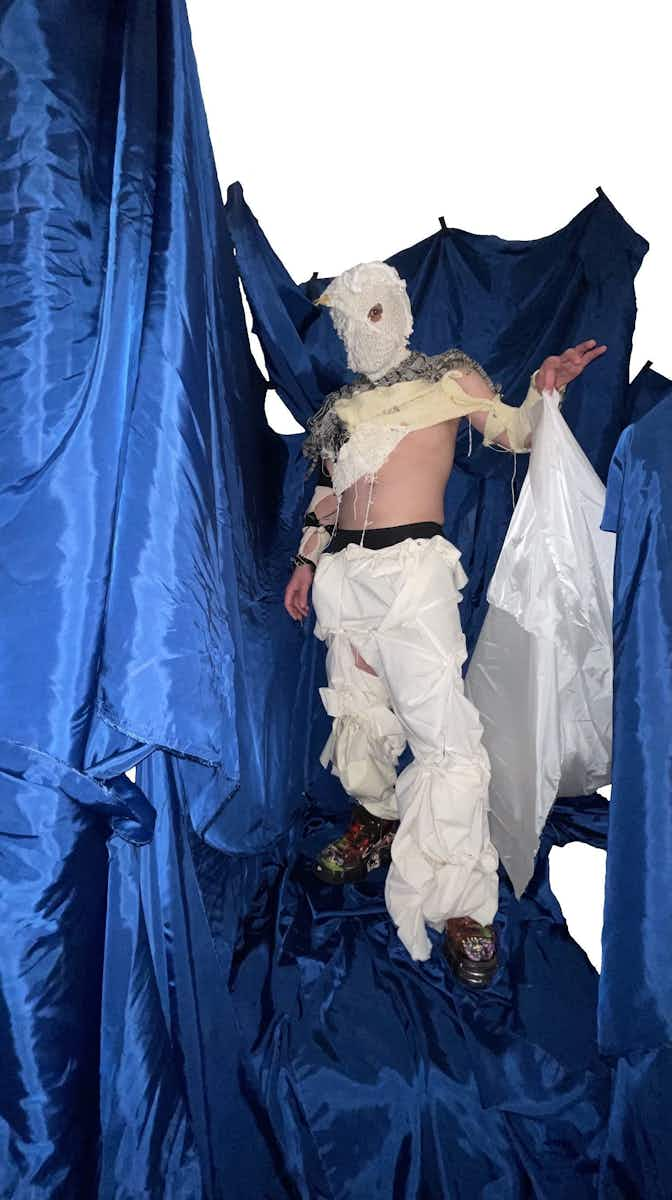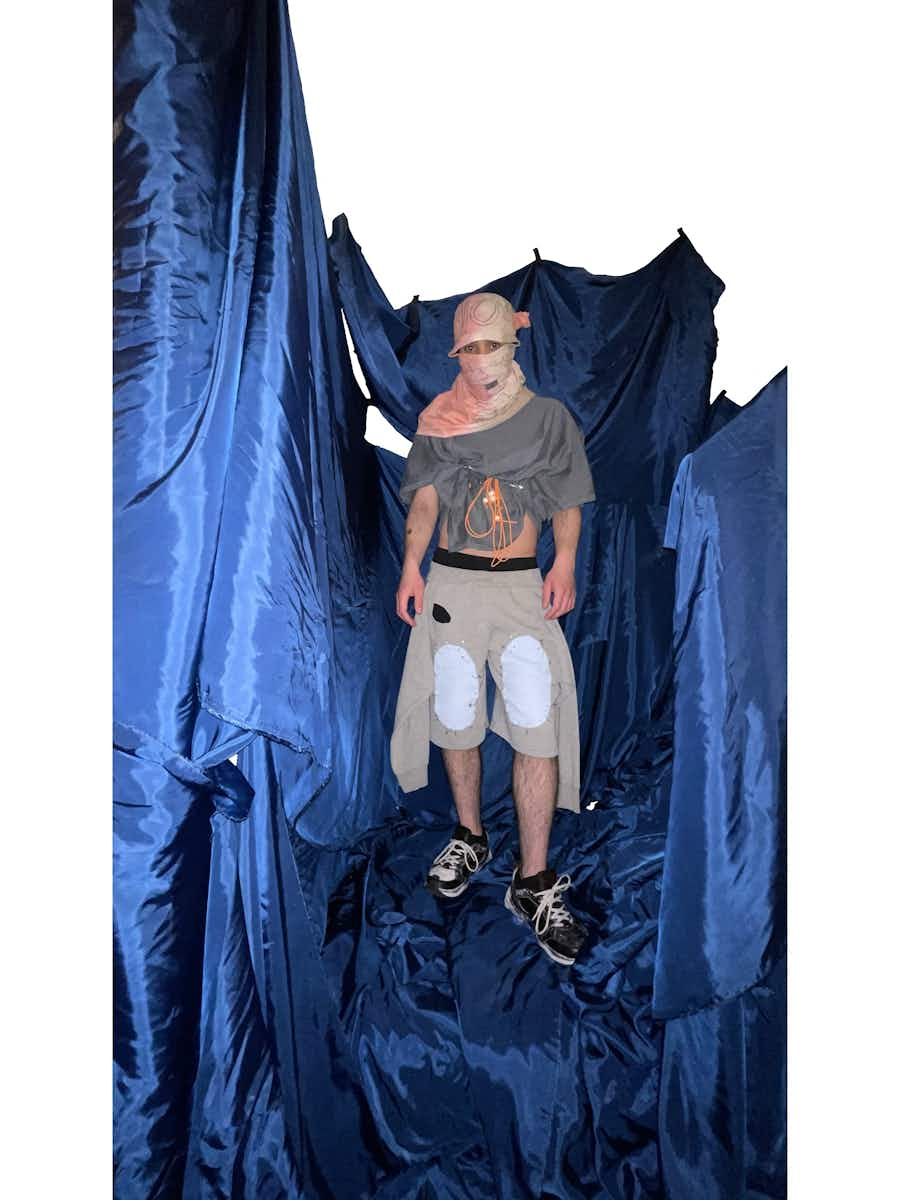 A surrealist approach to modern menswear
Bianca Saunders has, like many young designers in the past year, felt the wrath of the pandemic, factory closures and remote working. But also, insidiously, Brexit. With the UK's official break-up with the EU on 31st January, Saunders quickly had to navigate her way through fabric deliveries, sourcing suppliers closer to home and all the while ensuring she filmed, shot and produced her AW21 collection in time for her London Fashion Week slot today.
"It's still shocking to me that I've been able to get it all done," the designer says, on her 17-look collection, Superimposed. But through the financial burdens and irritating stop-start work-from-home constraints, Saunders has produced her most developed collection yet, creating her own textiles, exploring conceptual themes on masculinity and manipulating fabrics to form surreal shapes.​"It's still wearable, but very experimental at the same time," she adds.
As with previous collections, Saunders' eyes were set on perfecting the tailoring element – her past designs indulging in ruched shirting cinched to the body and wide-leg trousers supremely cut to allow for ease of movement. But this time, warped, pegged trousers hug the thighs and end some way from the feet. Ruching re-appears, but reimagined in an intricately detailed blazer where the fabric technique isn't a small detail, but rather the main event, creating waves in the jacket lines when placed on the body. A black mac coat defies gravity, static as though caught mid-air, and a shirt, or is it a jumper?, is layered on top of one another – as the collection title aptly suggests. TJS
Click to continue reading

These experimental developments were guided through her referencing of visual artist Man Ray's work at the height of the Dada and Surrealist movements, and warped imagery of Erwin Wurm where the photographer captured stretched fabric through worm-like movement, as seen in Untitled (Skull) (Pullover) (1998) and Psycho 7 (2010). And these art references are a nod to Saunders' recent endeavours, presenting an installation, Loose Man, in Ben Broome's Drawing a Blank exhibition in Paris last September. The piece depicted a loosely hung, bodiless blazer and trouser ensemble lying limply in mid-air – assumingly defying gravity while referencing Jean Cocteau's avant-garde 1930 film, The Blood of a Poet.

"I wanted to create a collection that appeared as something, but then also appeared as something else," Saunders explains.​"Every element of the collection was either creating large silhouettes on top, and then more focus on the textiles, prints and fabric manipulations."
There's a noticeable strength to the Bianca Saunders man this season. While before vulnerability came through personal nods to the designer's British West-Indian heritage, in sensual dance moves and cuts familiar to her from an early age, Superimpose is a newfound confidence both for the garments and the designer herself, introducing newly-formed techniques, exploring unknown territory and proposing Saunders as a serious multi-dimensional artist. As well as one of Britain's most promising menswear designers right now.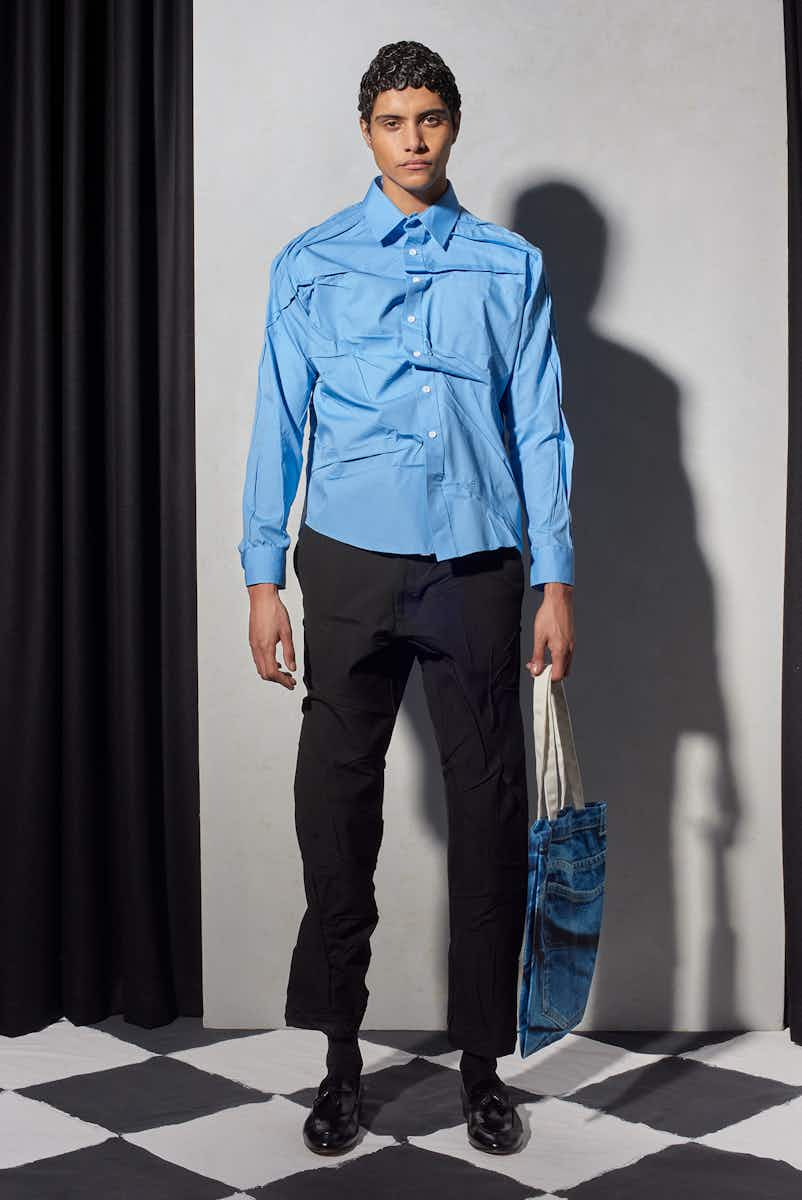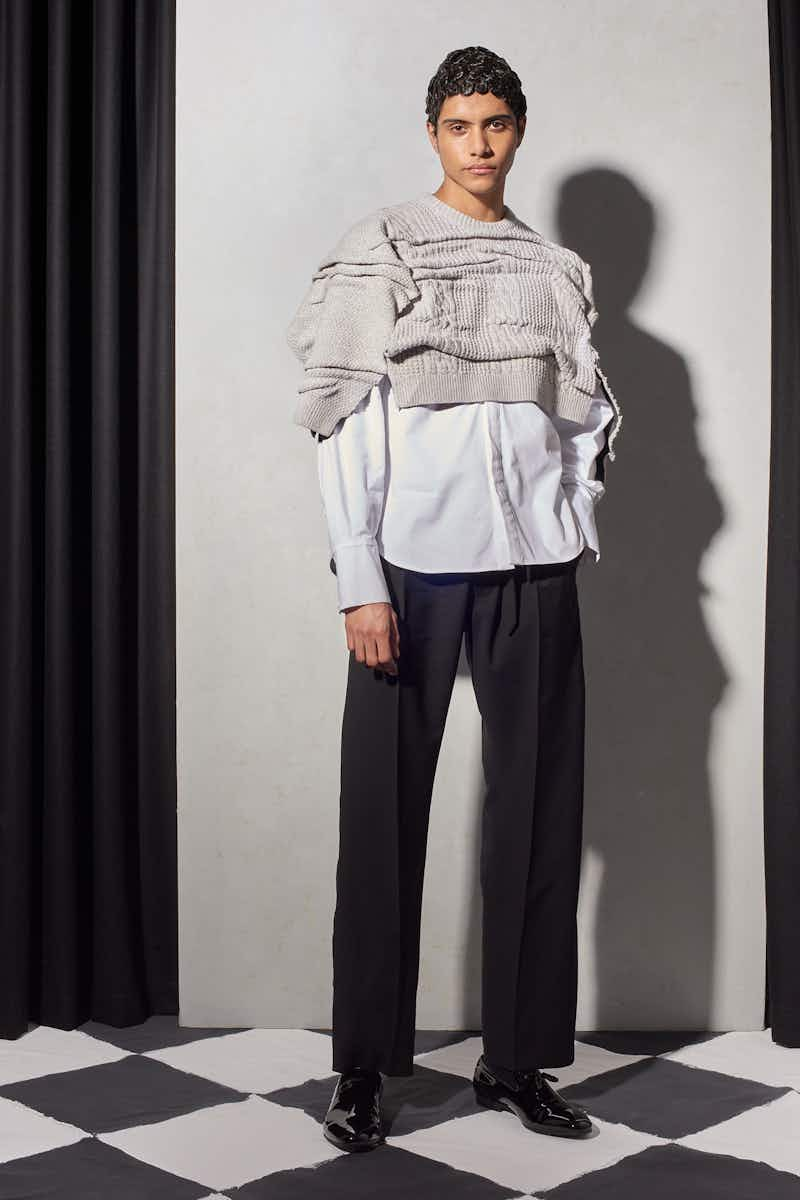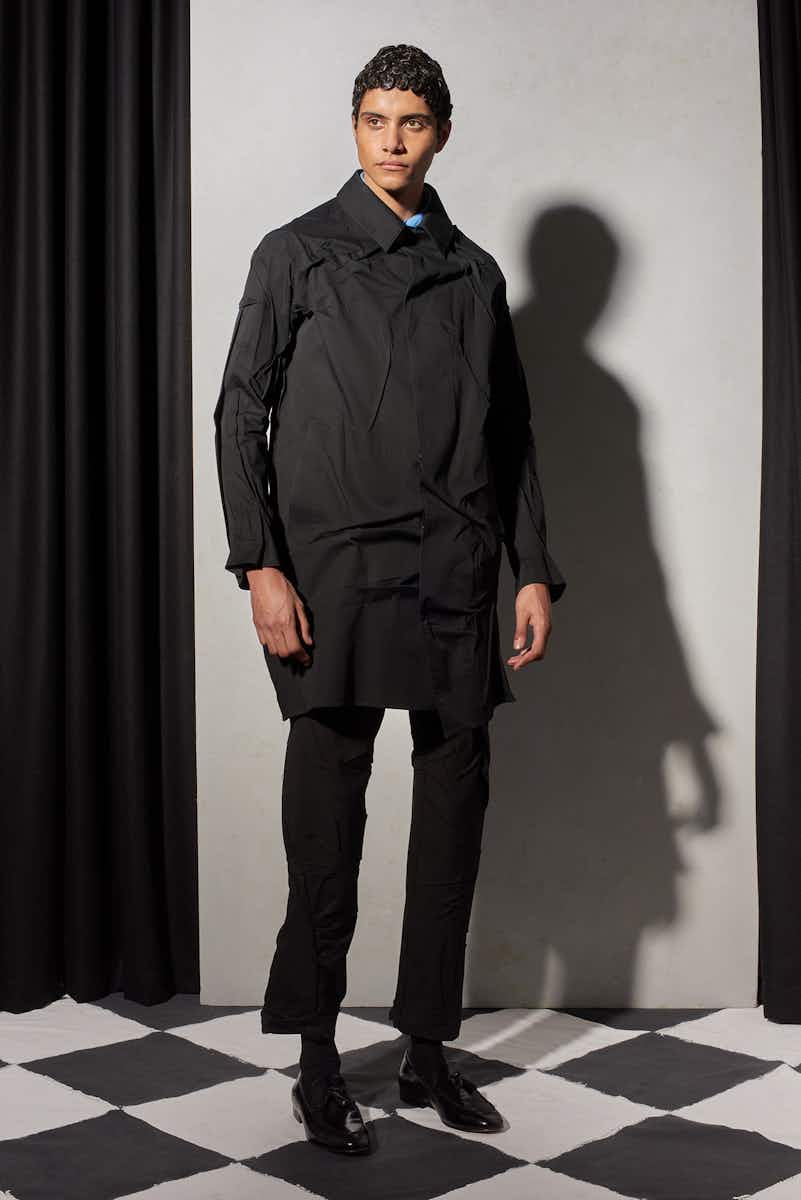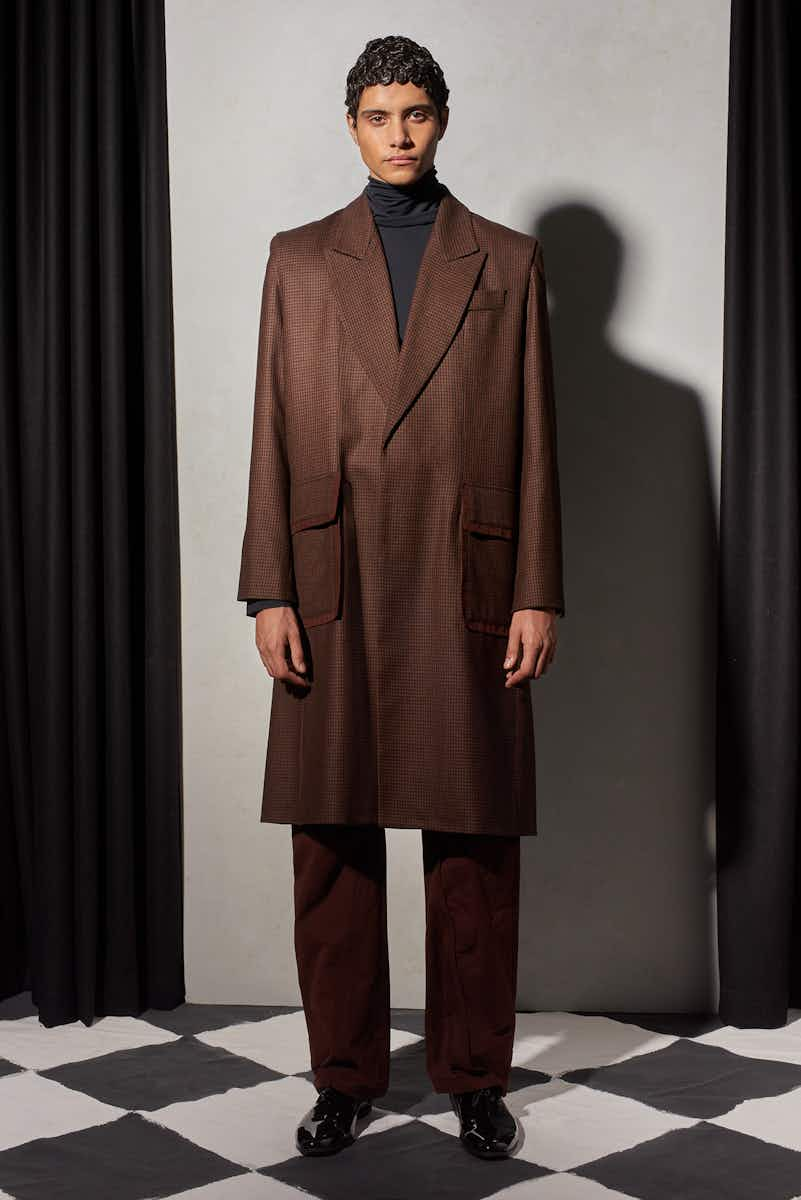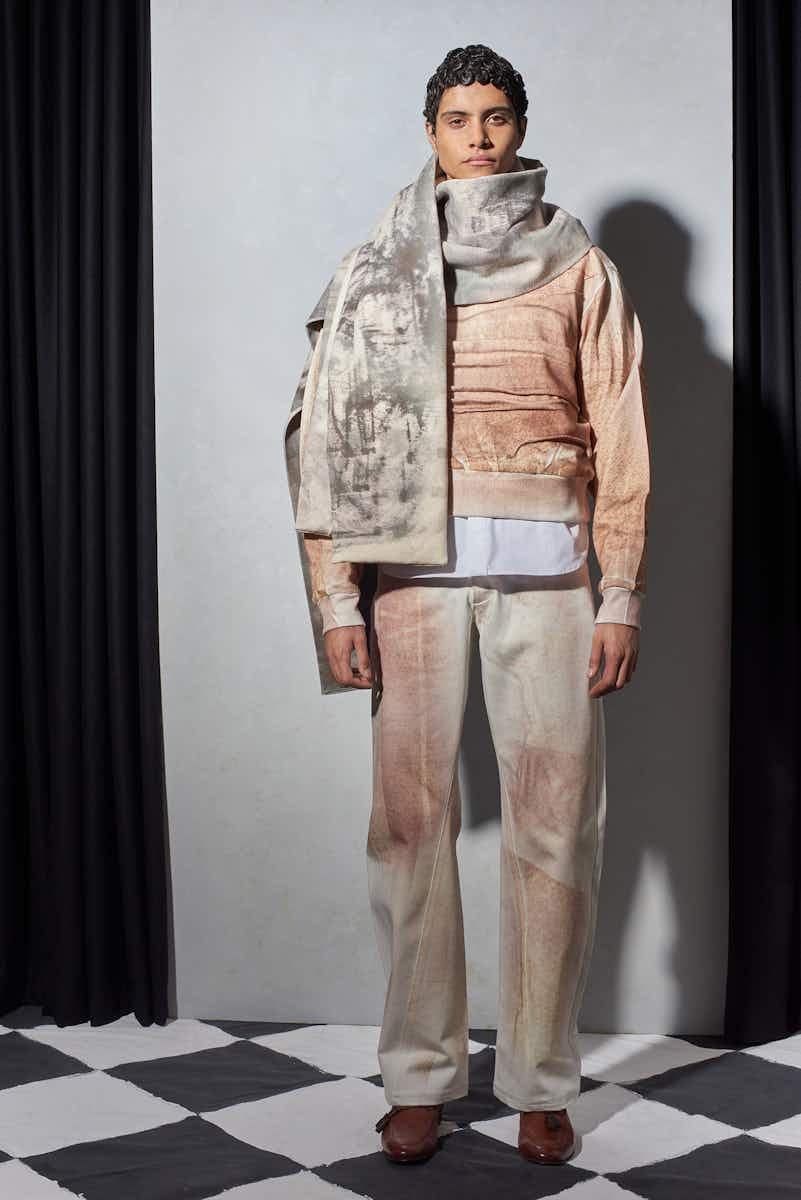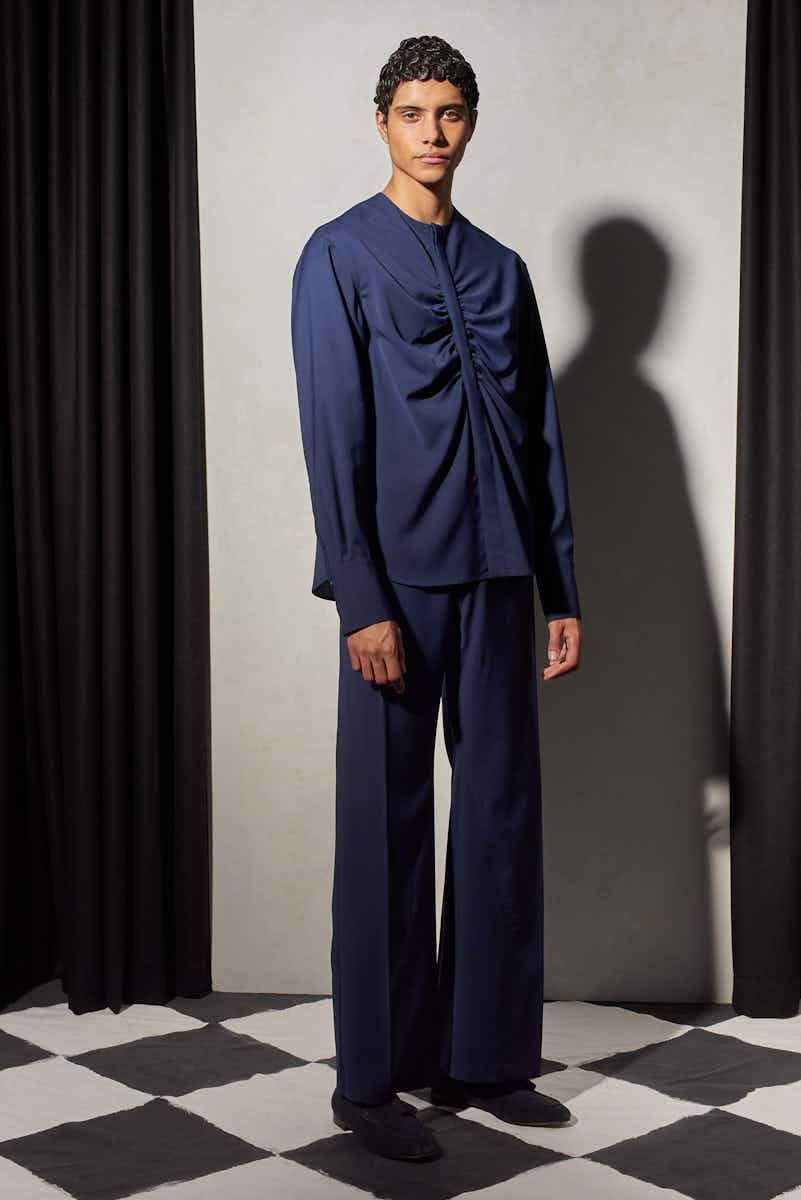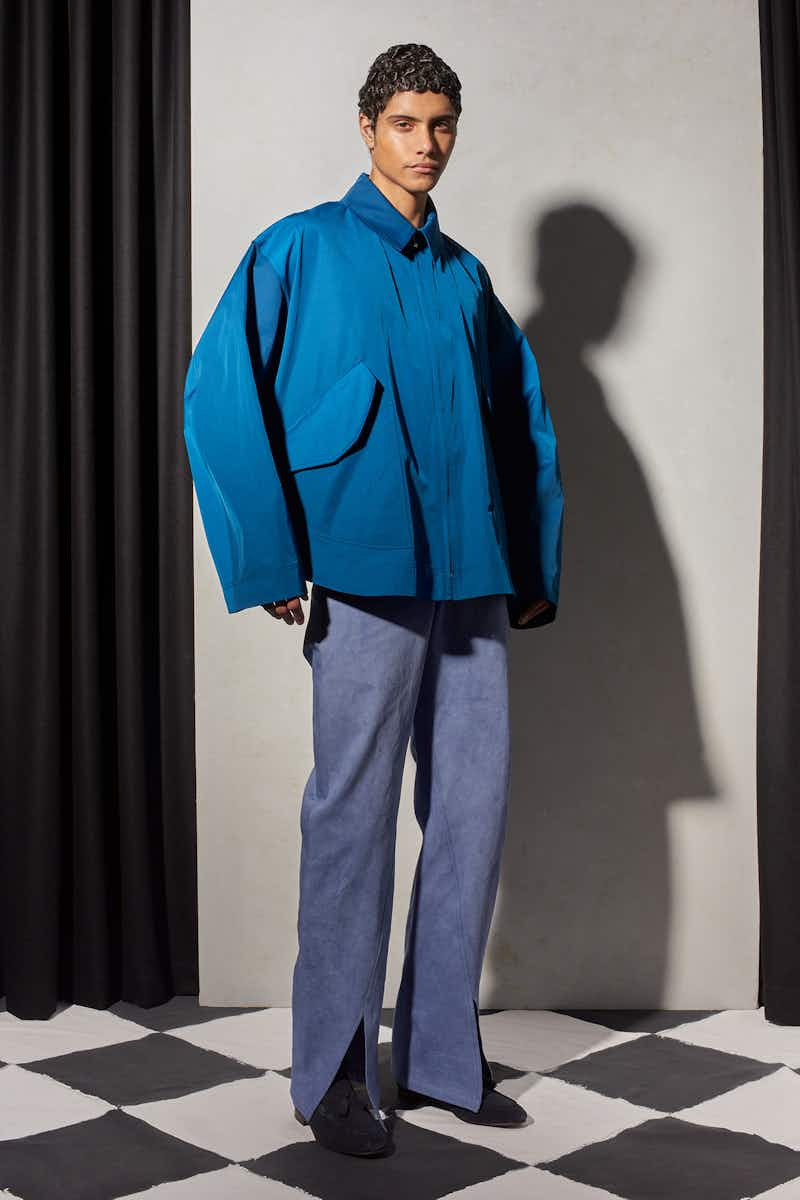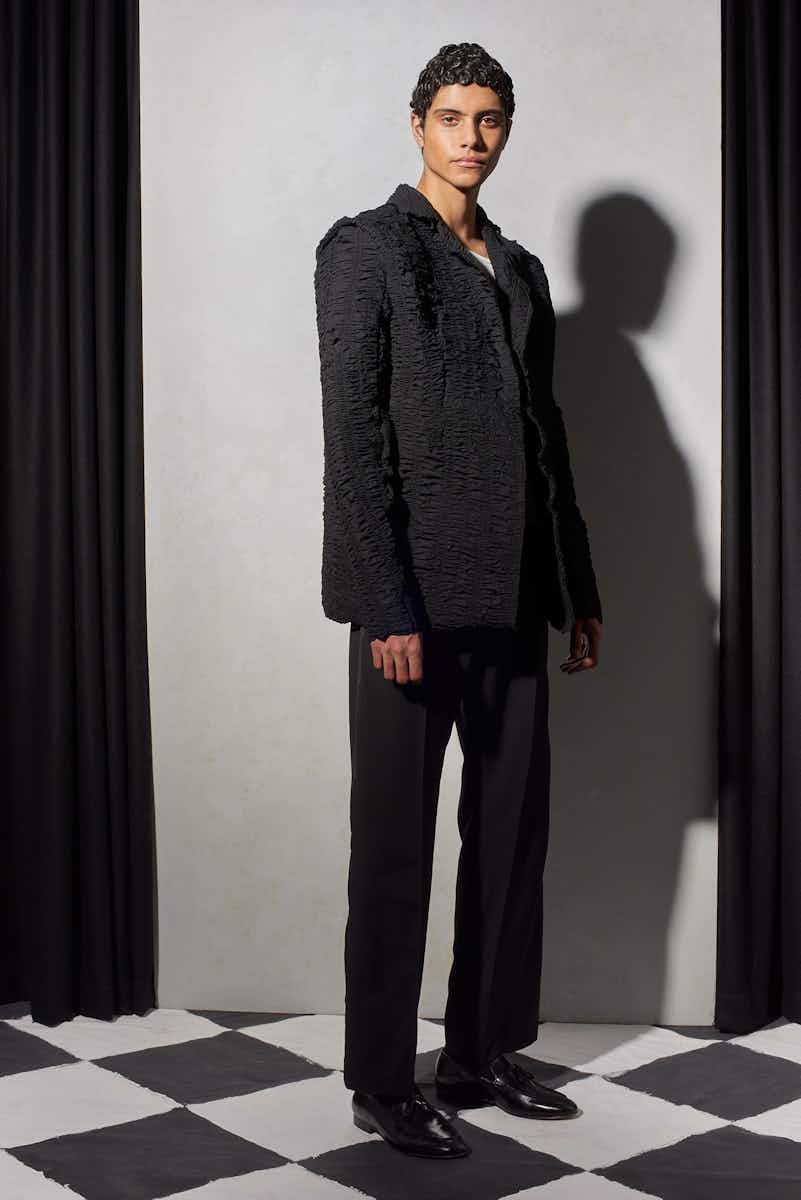 A confident wink to a dancefloor-filled future
Molly Goddard's co-ed collection was a boisterous lesson in subversion, reimagining wardrobe staples for an optimistic, post-pandemic future. With traditional knitwear shapes, boxy blazers and tartan coats and kilts – for both men and women – came vibrant, voluminous skirts and a welcome return to the designer's signature dresses, frothily built from metres of tulle.
The designer expressed her longing for libraries over lockdown in the accompanying press notes, referencing three key books that inspired the collection: Tina Barney's vivid depictions of family life in photobook Europeans, David Douglas Duncan's documentation of Pablo Picasso in Goodbye Picasso and many of designer Terence Conran's DIY manuals, often featuring well-dressed people lounging around handsome homes. ​"All of these books represent something that has always inspired me," Goddard writes. ​"I love looking at people (especially families) of all generations and how they wear clothes."
And so the designer remixed classic pieces like straight-legged, cuffed jeans and Fair Isle knits, contrasting them with brightly coloured tights, lace finishings and shimmering go-go boots – a twisted take on functionality. As well, Goddard's mission was to make ​"the ultimate dress" – and so a riotous approach on the classic prom and party dress becomes loud, clashing and inherently tough as a result, using spiky sharp taffeta bows and maximising the colour palettes to their most technicoloured potential on voluminous gowns.
Referencing family figures like the glamorous gran, angsty teenage son, tweed-wearing chap and the young girl ready for a night out, sustainably-minded Goddard hopes these pieces – with all their ancestral ties – will too make their way down a family line one day: ​"Pieces in this collection are for celebrating and enjoying. Each item could have been handed down through generations and now hopefully will be" she adds. ​"Long lasting, but spiced up wardrobe classics."
Admittedly tired of seeing ​"leggings and black puffa jackets" when walking in the park, Goddard's collection sings a longing prayer for a return to the heady dancefloor, hopefully in the not so distant future. Hands together, now. TJS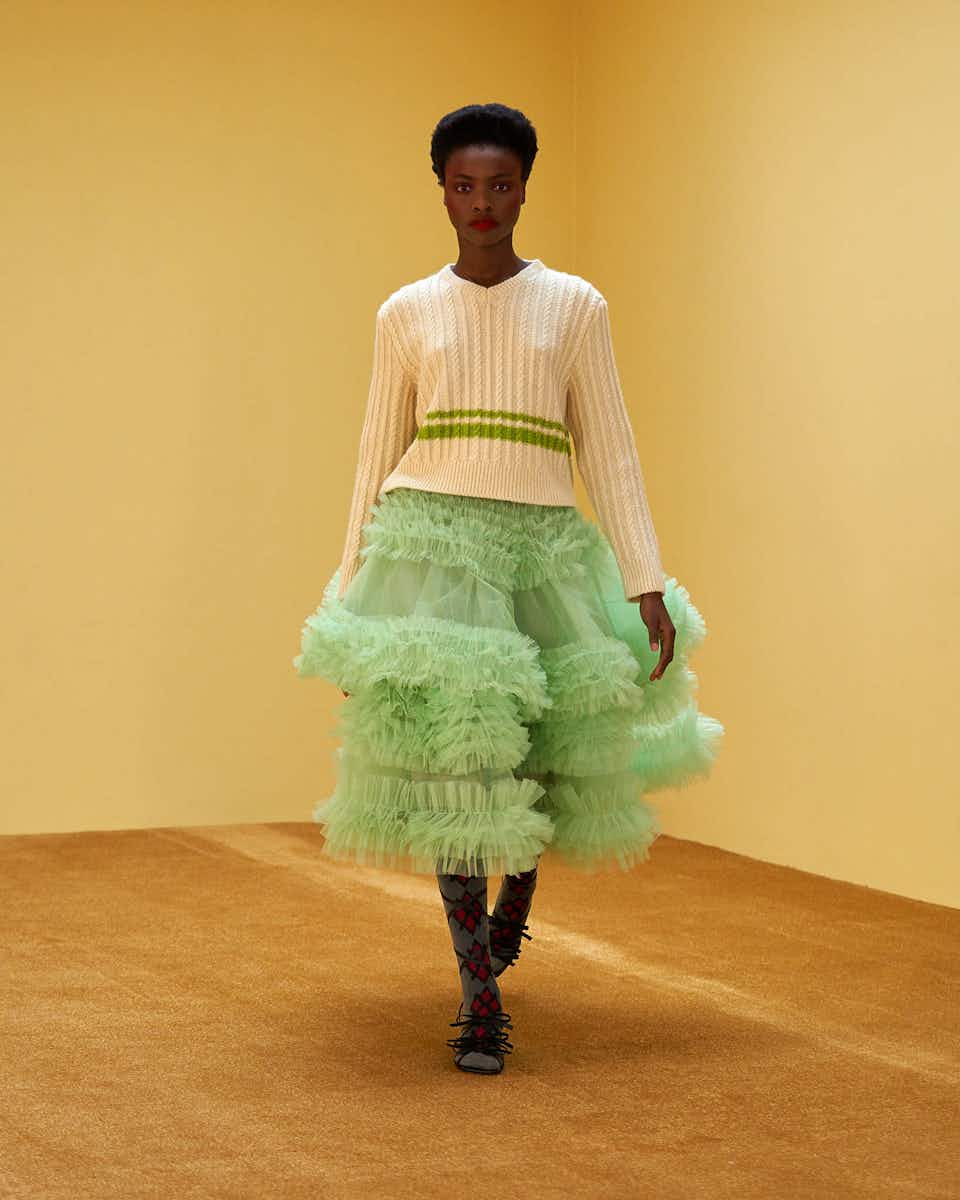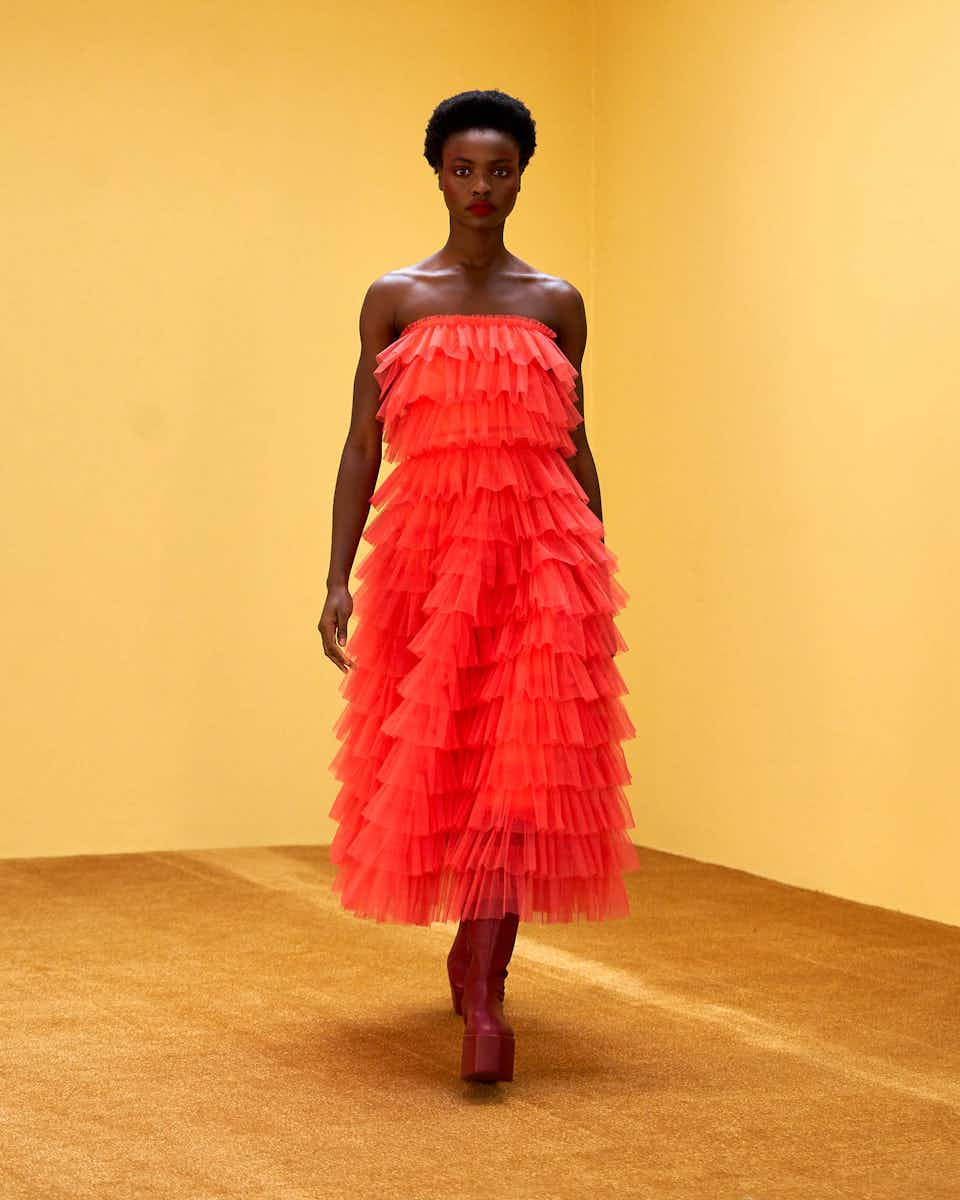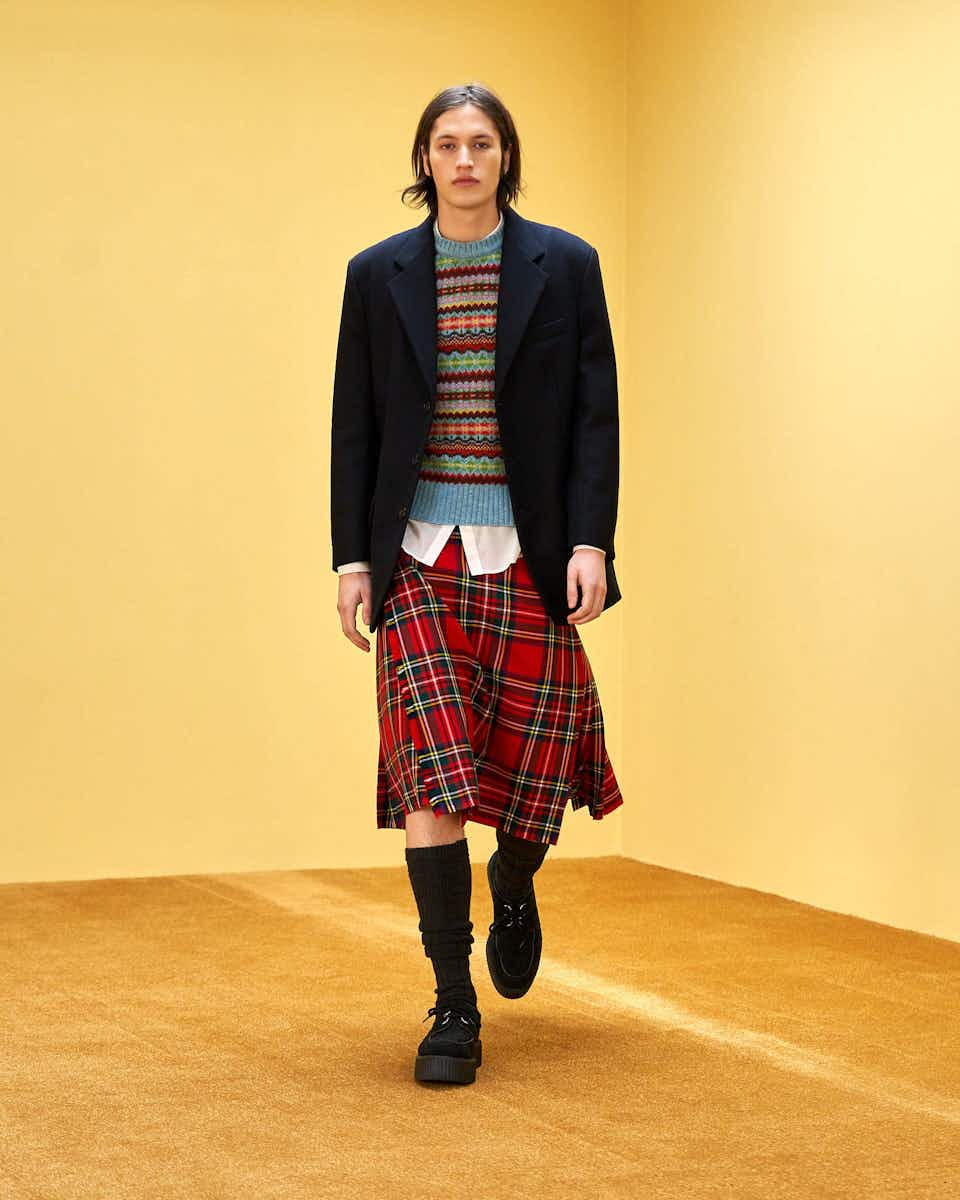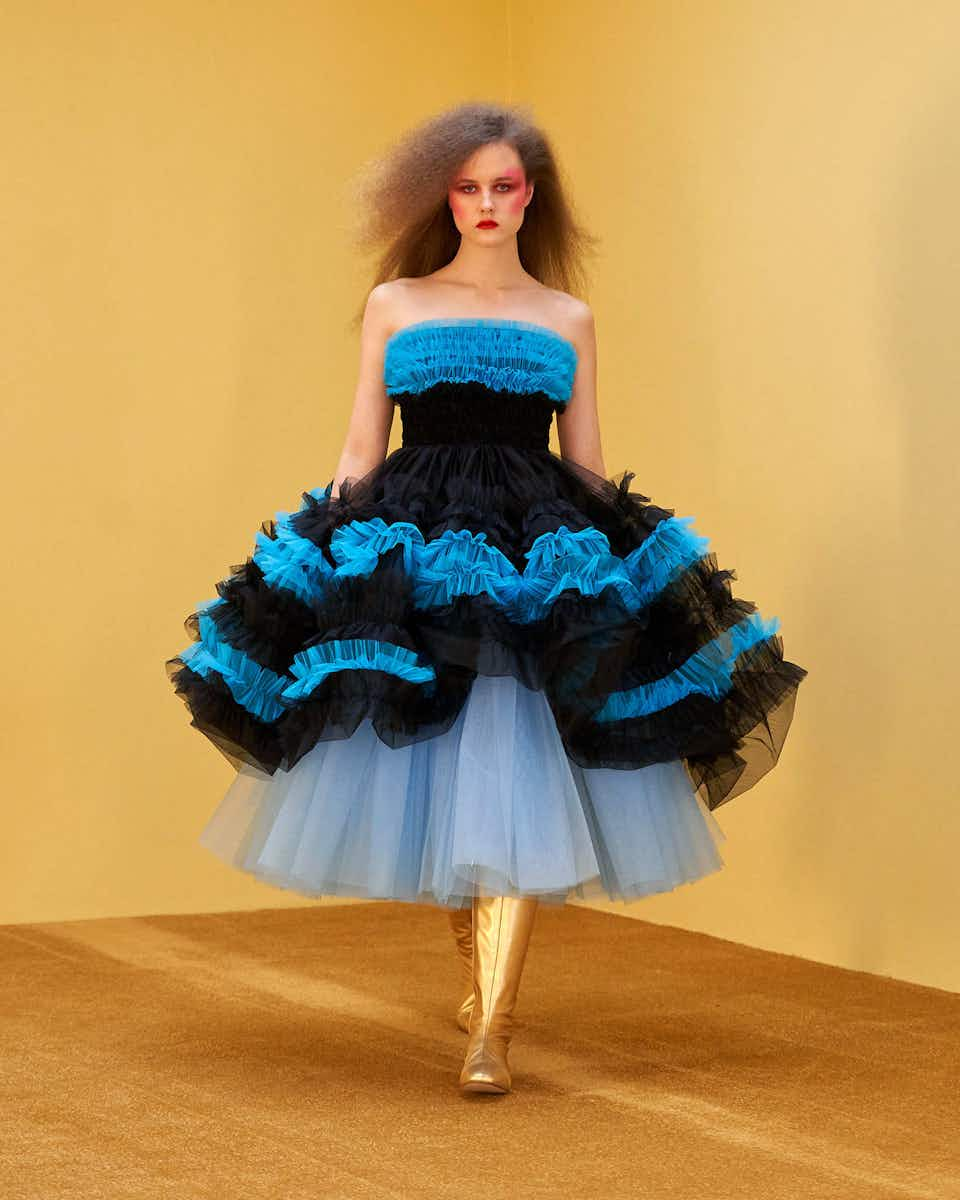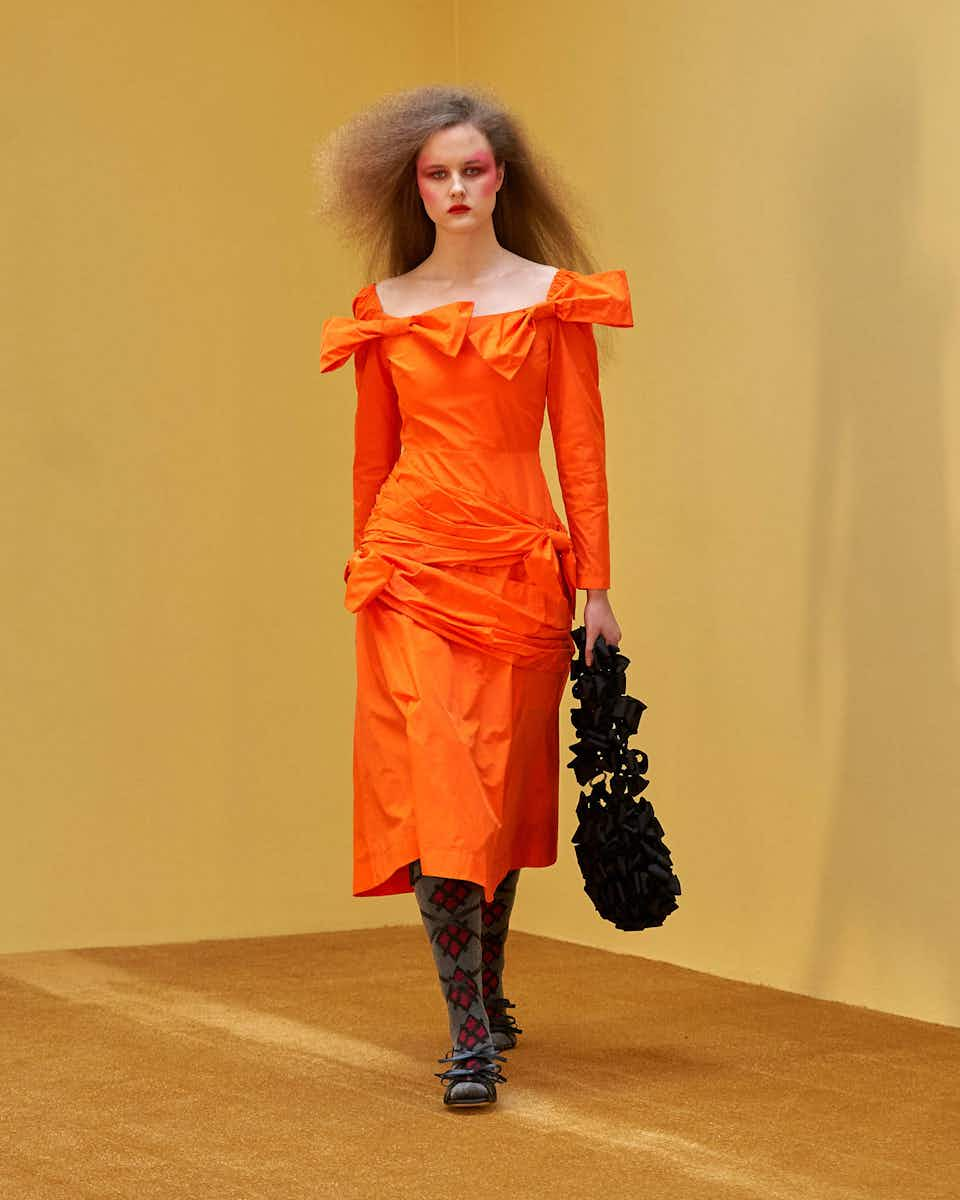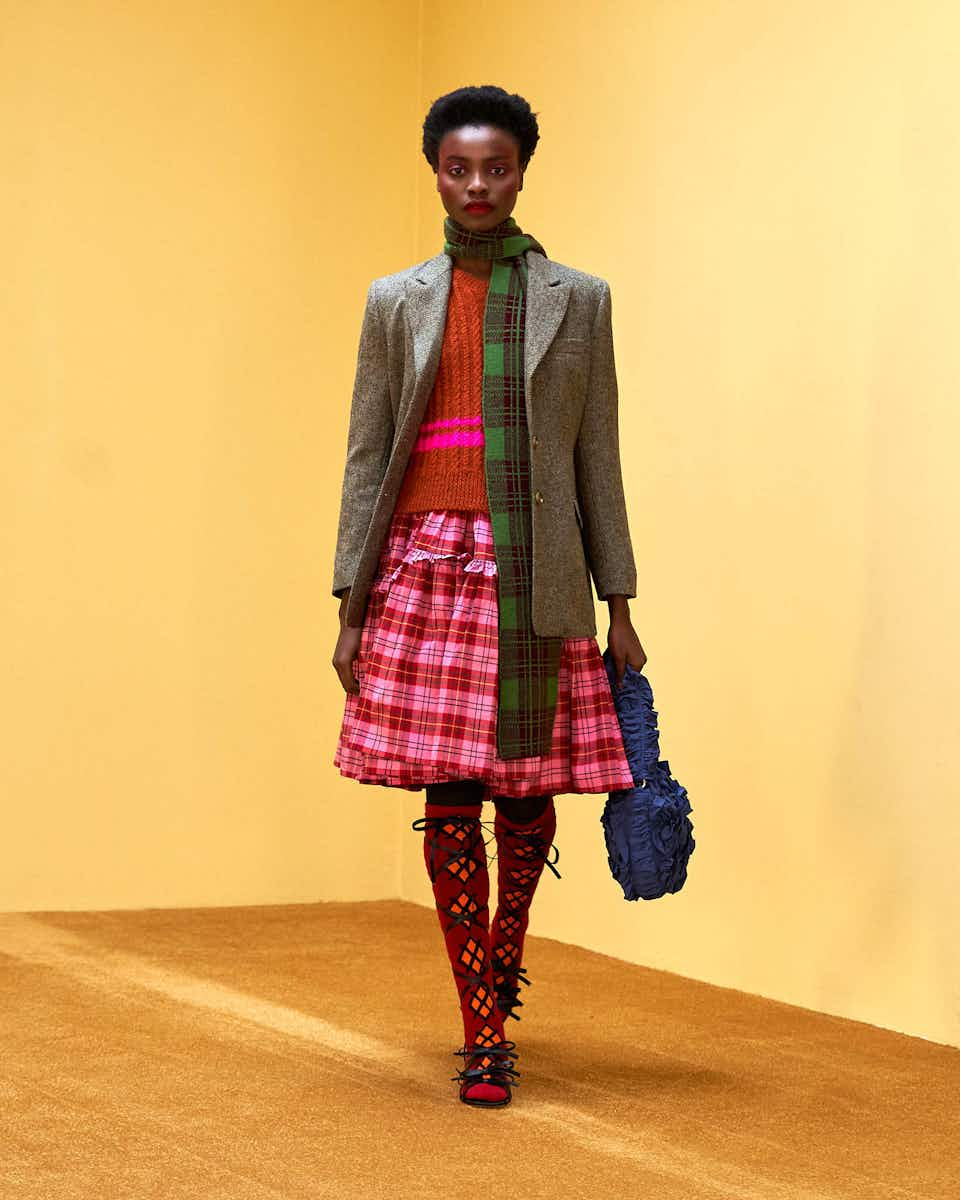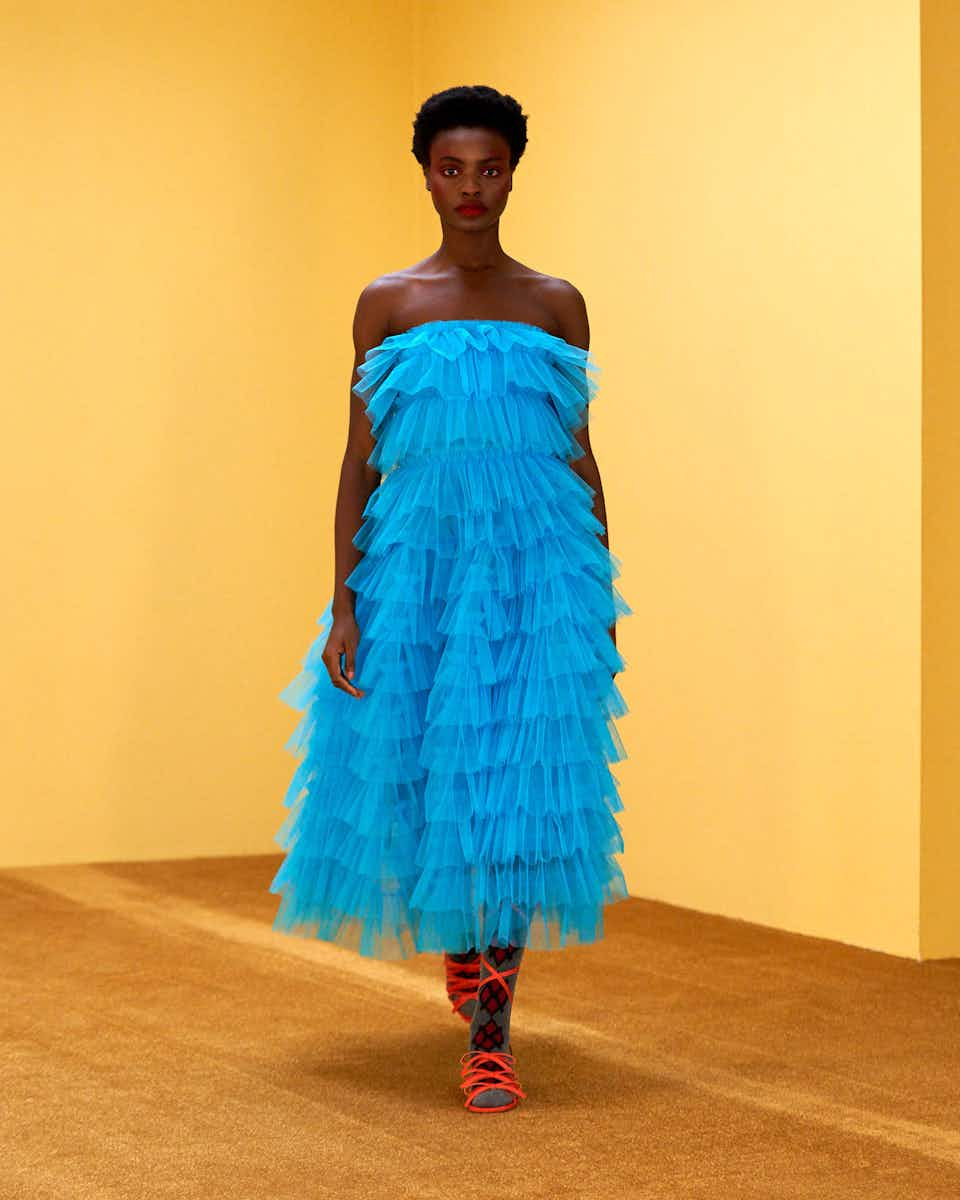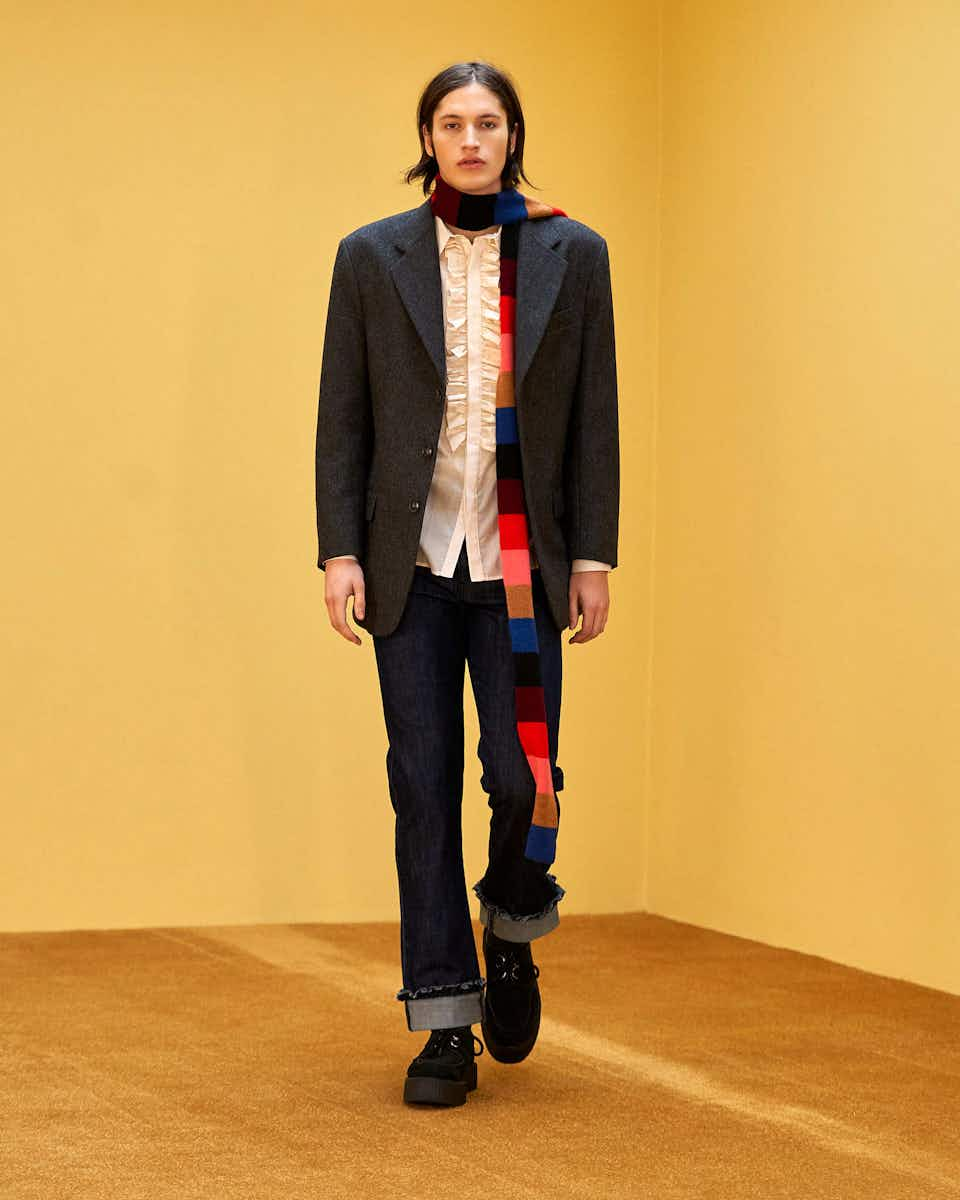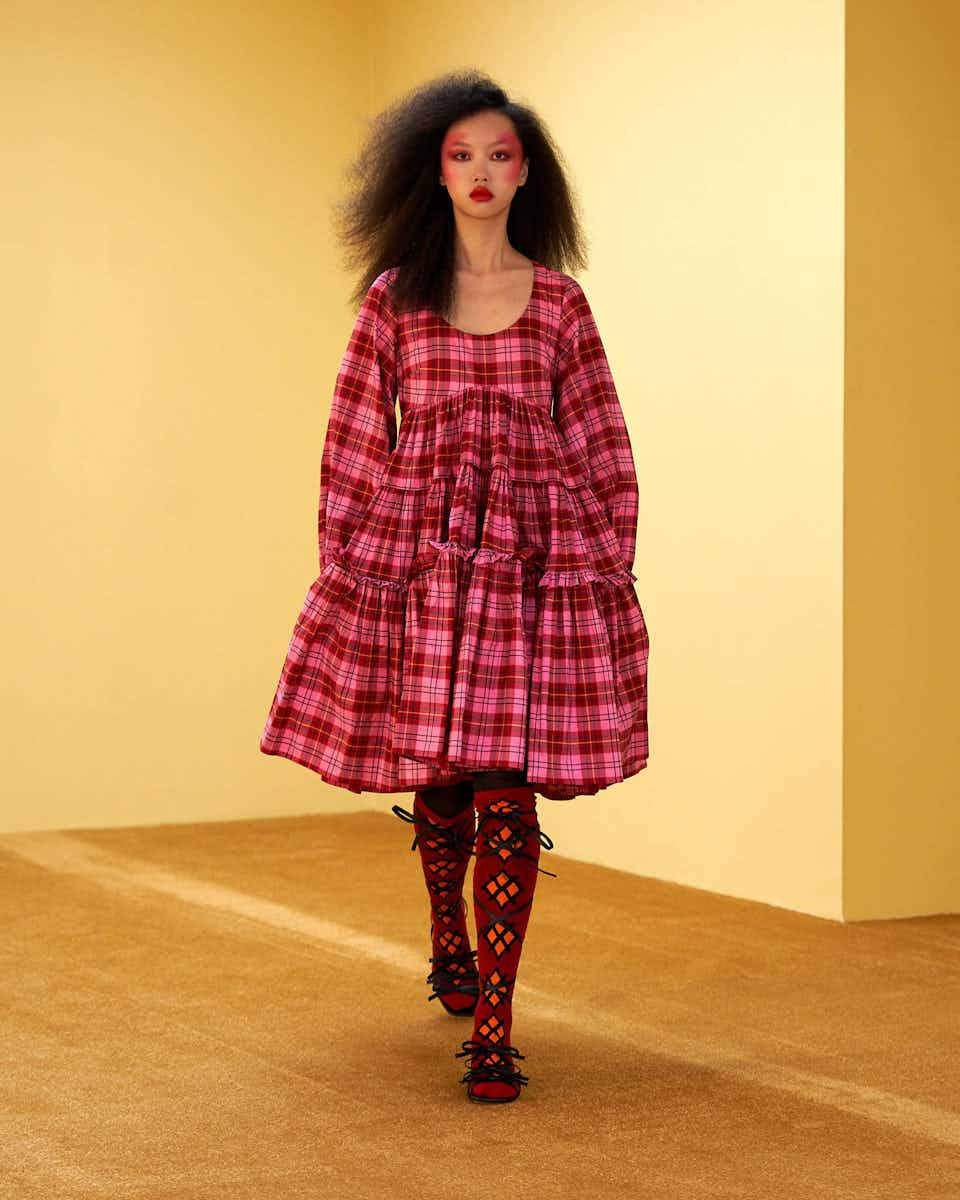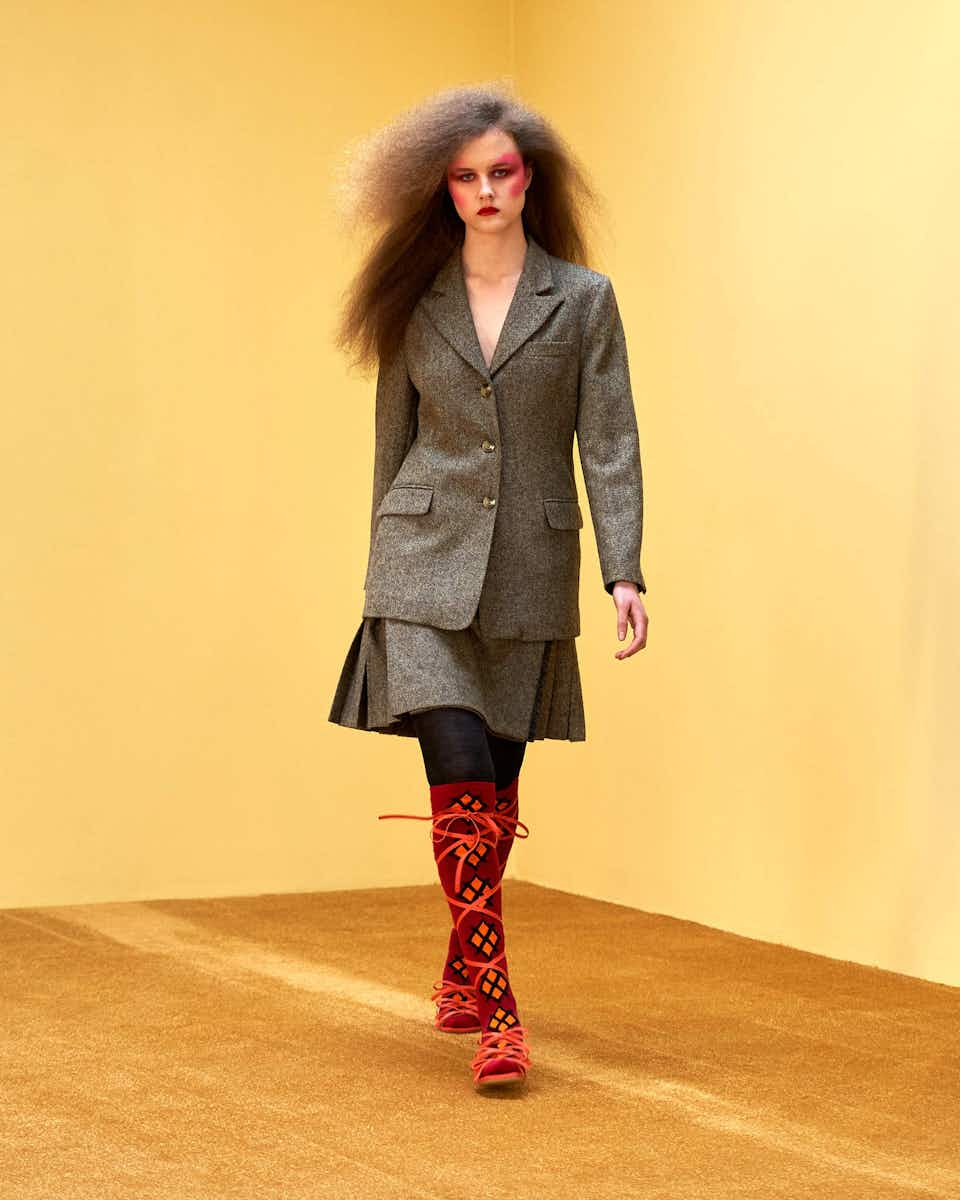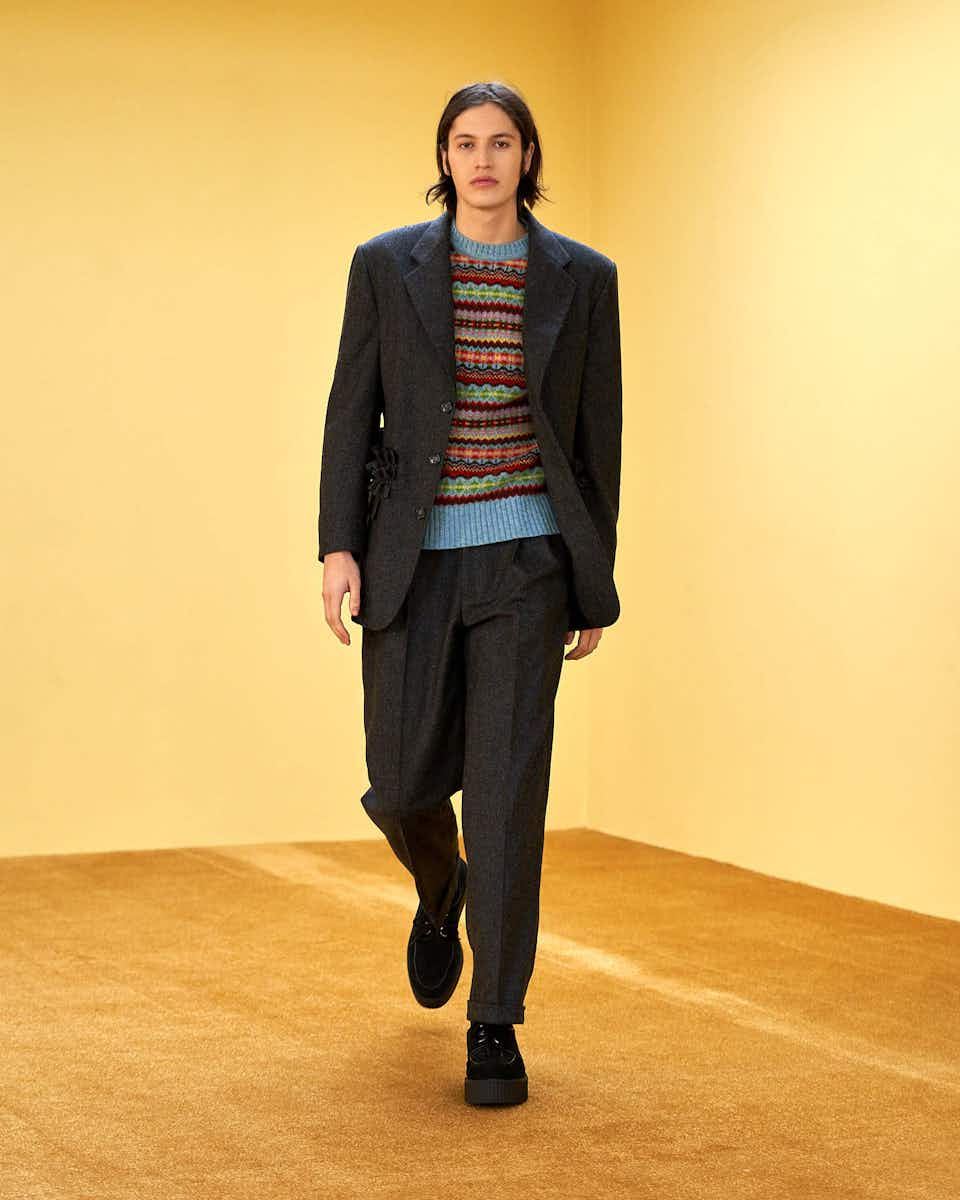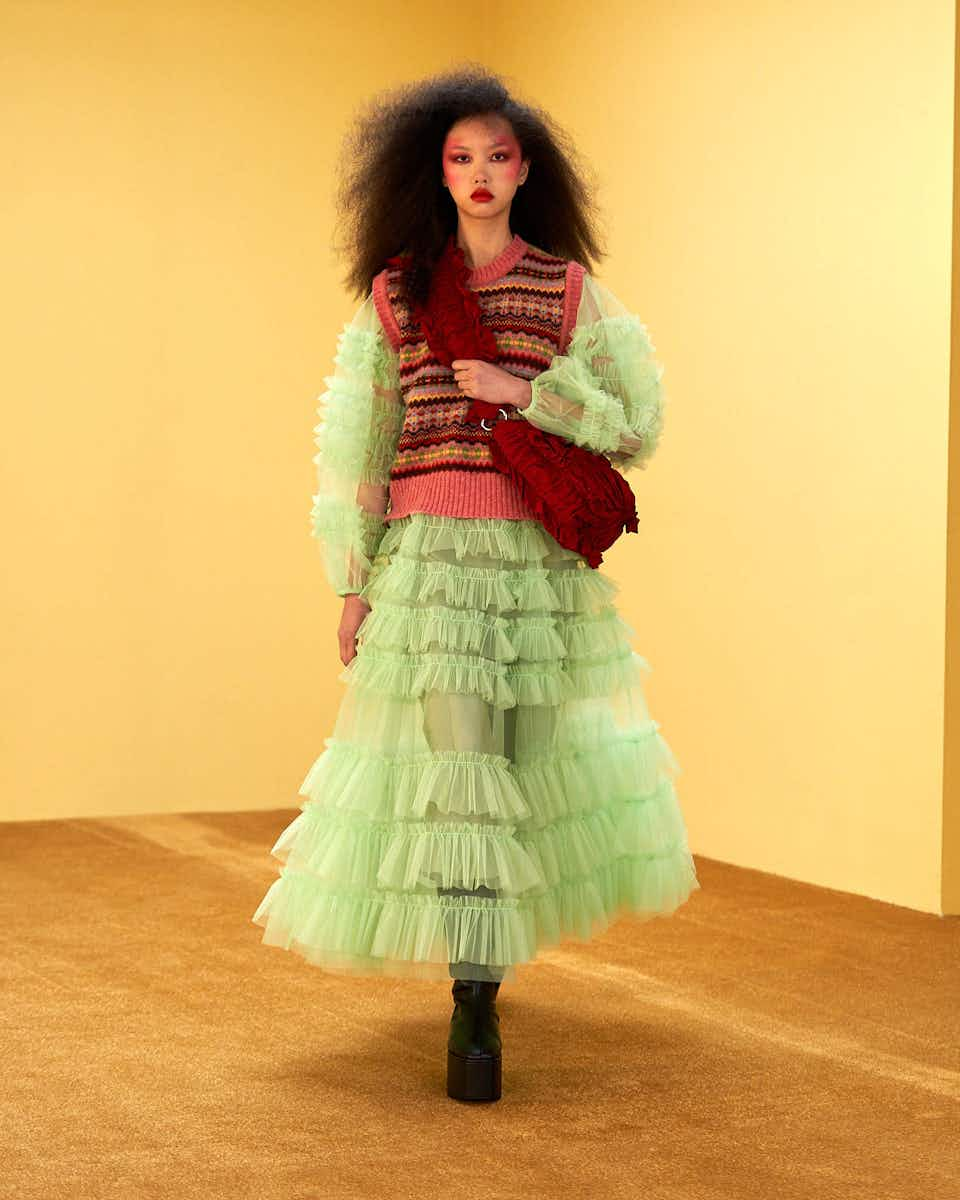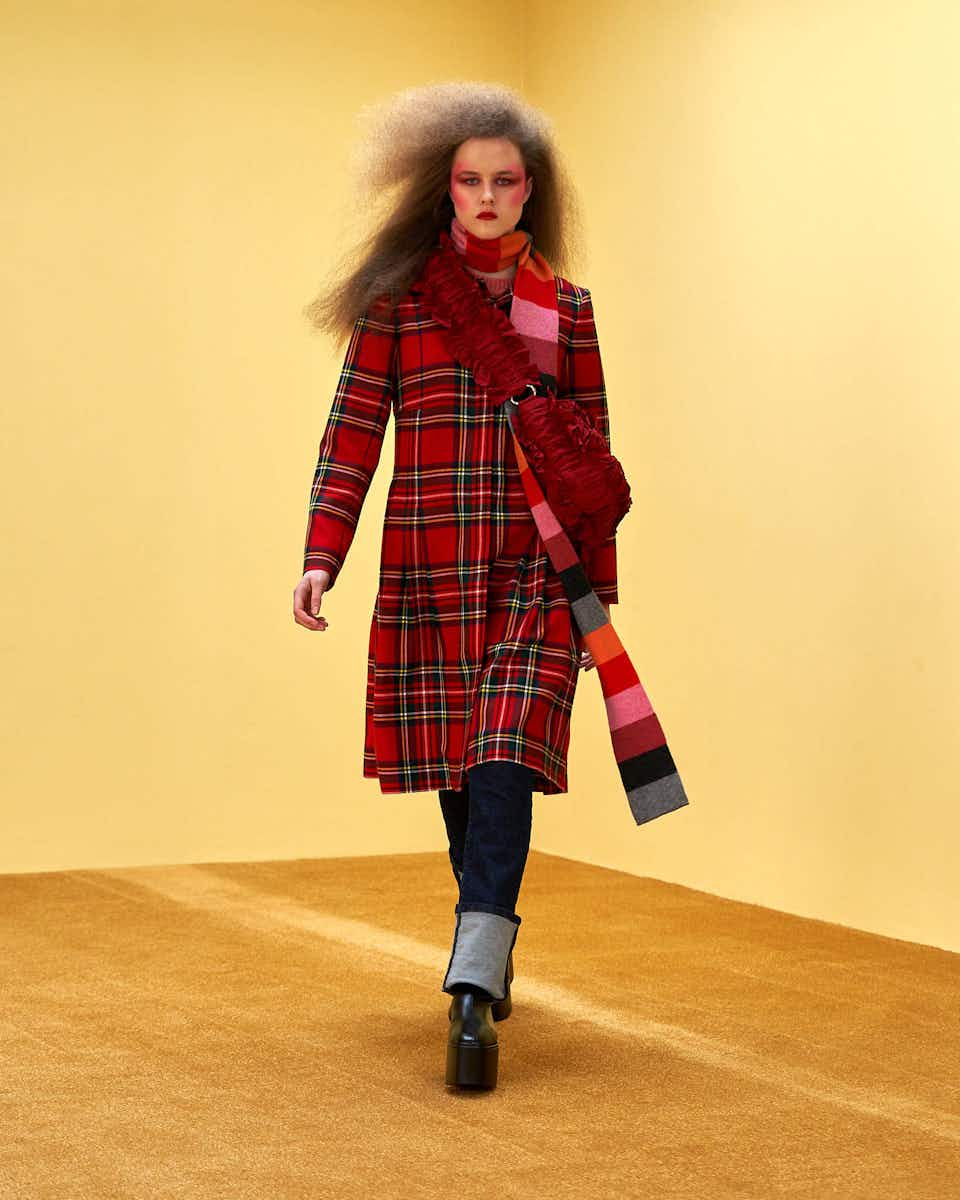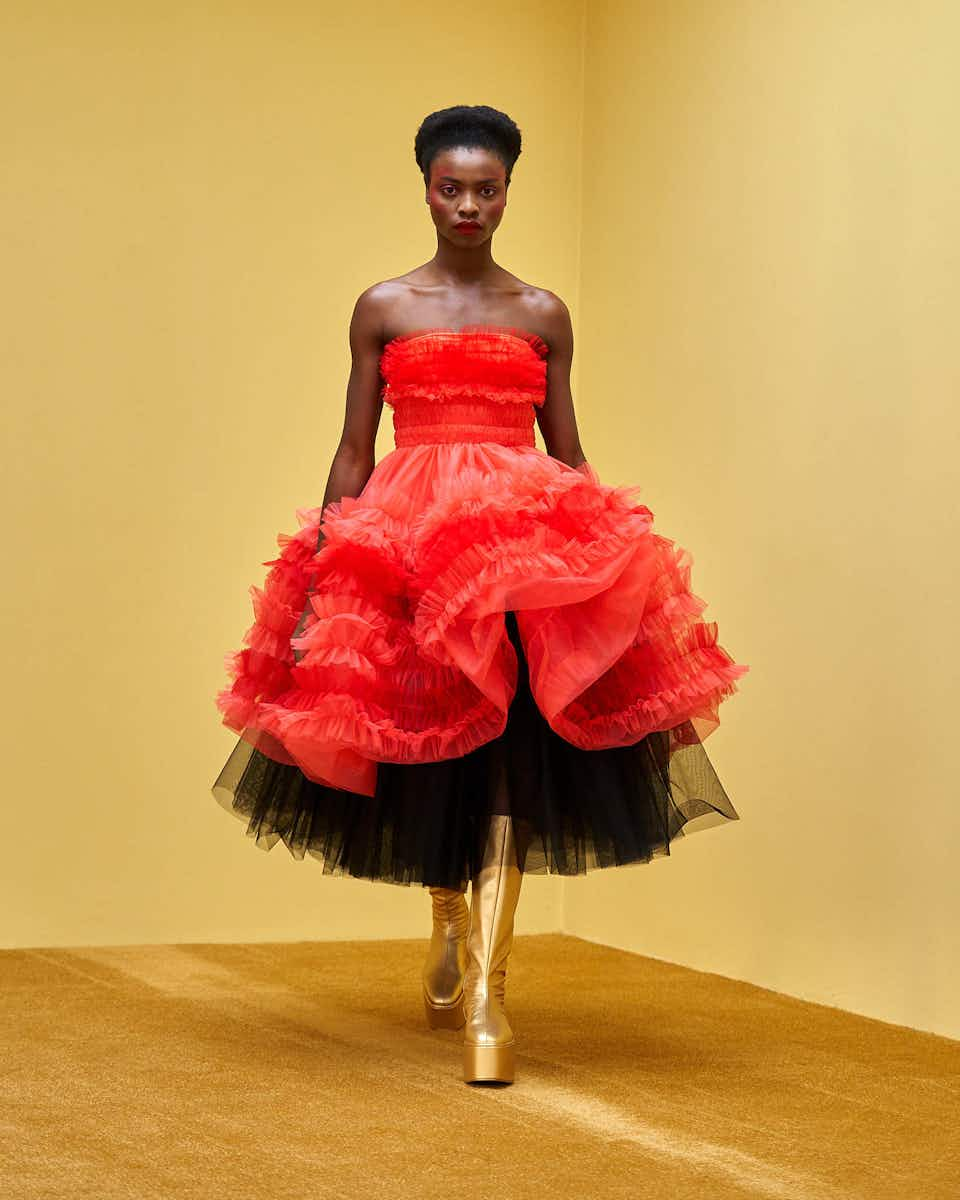 "I quite like it that people can't quite put their finger on my brand sometimes"

Strangely, Priya Ahluwalia of namesake brand, Ahluwalia, finds presenting her collection on screen – as opposed to the real life shows she was used to before the pandemic hit last year – far more anxiety-inducing. ​"Oh my God, I just feel so much pressure having to get everything done weeks in advance," she says over the phone. Luckily, she's pretty organised and had her AW21 collection finished by the third week of January.
But, specifically, it's the human interaction that Ahluwalia misses the most. Prior to Covid-19, she relied on the adrenaline rush in the lead up to her critically-lauded collection presentations, guaranteed to be filled to the brim with friends, family and fans. They'd be huddled around diverse models wearing bright orange cricket shirts bearing ​"INDIA" slogans and intricately printed trousers using only the most innovative of sustainable design approaches – products of her extensive, deeply personal research often taking from her tri-mixed Indian, Nigerian and British heritage.
Last year, Ahluwalia was a part of Gucci Fest​'s virtual fashion festival, bringing together a number of designers like Mowalola, Bianca Saunders and JordanLuca to present individual short films – Ahluwalia presented Joy, a celebration of the everyday strength and beauty of Black existence bringing together activists, community leaders and steelband players. ​"I had a little viewing party with my team in the studio, and I was in tears of emotion!", she recalls.
Ahluwalia presented her second photobook, Sweet Jalebi, as well last summer – an ode to the British Indian communities based in Southall, West London, drawing upon her experiences visiting the busy streets with her mum as a teenager, and her regular excursions throughout her years studying down the road on Westminster's BA Menswear course. With all that under her belt in the past 12 months, the designer was understandably a little nervous putting out work again. TJS

Click to continue reading

And yet Traces, Ahluwalia's AW21 offering, along with an accompanying film directed by Stephen Isaac-Wilson, is a big step up for the designer. ​"It's much bigger, and that wasn't necessarily done intentionally," she says, mentioning how she enjoyed the process, frequently adding bits as time went on. ​"I feel 2021 is going to be a gear shift in terms of Ahluwalia performing as a business as well as a fashion brand." This meditative headspace gave her the energy and momentum needed to not only design a full collection, but throughout a pandemic, too: ​"I'm used to it now," she says, reassuringly. ​"So I wasn't in as much despair as I was during the last one!"
Both the collection and film are rooted in Ahluwalia's discovery of Homegoing by Yaa Gyasi – a fictional tale about two sisters separated at birth, each chapter skipping between generations of either sister's family. Starting in 1700s Ghana, the story transcends time, borders and narratives. ​"It highlights how our family's ancestry around the world really affects us in life and the generations after," she says. ​"Then I started to think about periods in history where there was a real melting pot of ideas." The Harlem Renaissance came to mind – but less about sartorially emulating the zoot suit, and more for its school of thought: a period of new literature, poetry, art and music produced by Black creatives throughout the 1920s and ​'30s. From there, Ahluwalia then traced contemporary artists inspired by that period, like Black American painters Kerry James Marshall and Jacob Lawrence.
"I love both of their works and I always have," she says. ​"I feel like this is the first time I've really had the chance to analyse it in a big way." The expressive, richly coloured palettes of James Marshall's paintings came through in Ahluwalia's inclusion of primary colours throughout the pieces, almost jewel-toned placed against darker hues of black, blue and emerald green. Then in the film, a sensual time-capsule of movement choreographed by Holly Blakey, make-up is painted onto the face taking cues from James Marshall's extensive use of blue-grey tints, as well as bright spots seen in works like When Frustration Threatens Desire (1990).
But with Ahluwalia's determination to take the brand to big business heights comes her consideration for the wearer. There's a sense of utility throughout, with a multifunctional puffer – the first of Ahluwalia's – brightly coloured on one side and dark black or blue on the other. It's an interchangeable element she was keen to address in times of great uncertainty, drawing upon our ever-changing moods, needs and wants. Tailored corduroy trousers warm the body, while ribbed track tops and zipped jackets provide contouring and allow for ease and comfort. As well, Ahluwalia reaffirms her relationship with Adidas, reworking their Forum trainers by incorporating prints like Afro combs, the African continent and globes.

Ahluwalia's intrinsically sustainable DNA is present throughout. Heavy stripes and decadent prints are achieved using organic, non-toxic dyes stamped onto repurposed deadstock materials. She's recently found a ​"top secret" supplier with Italian-quality deadstock fabrics leftover from factory runs, allowing the designer to offer garments made from one succinct material for the first time. ​"Sustainability underpins everything I do," she assures. ​"It won't be going away anytime soon."
Ahluwalia mentions the word syncretism, and that it kept popping up throughout her design process for this collection. An amalgamation of thoughts, cultures and ideas is perhaps the best way to describe the London-based brand, isn't it? There's no simple way to underpin exactly what Ahluwalia references: it often means different things to different people, depending on how you look at it.
"I think it really sums up what I'm about," she says. ​"I quite like it that people can't quite put their finger on my brand sometimes."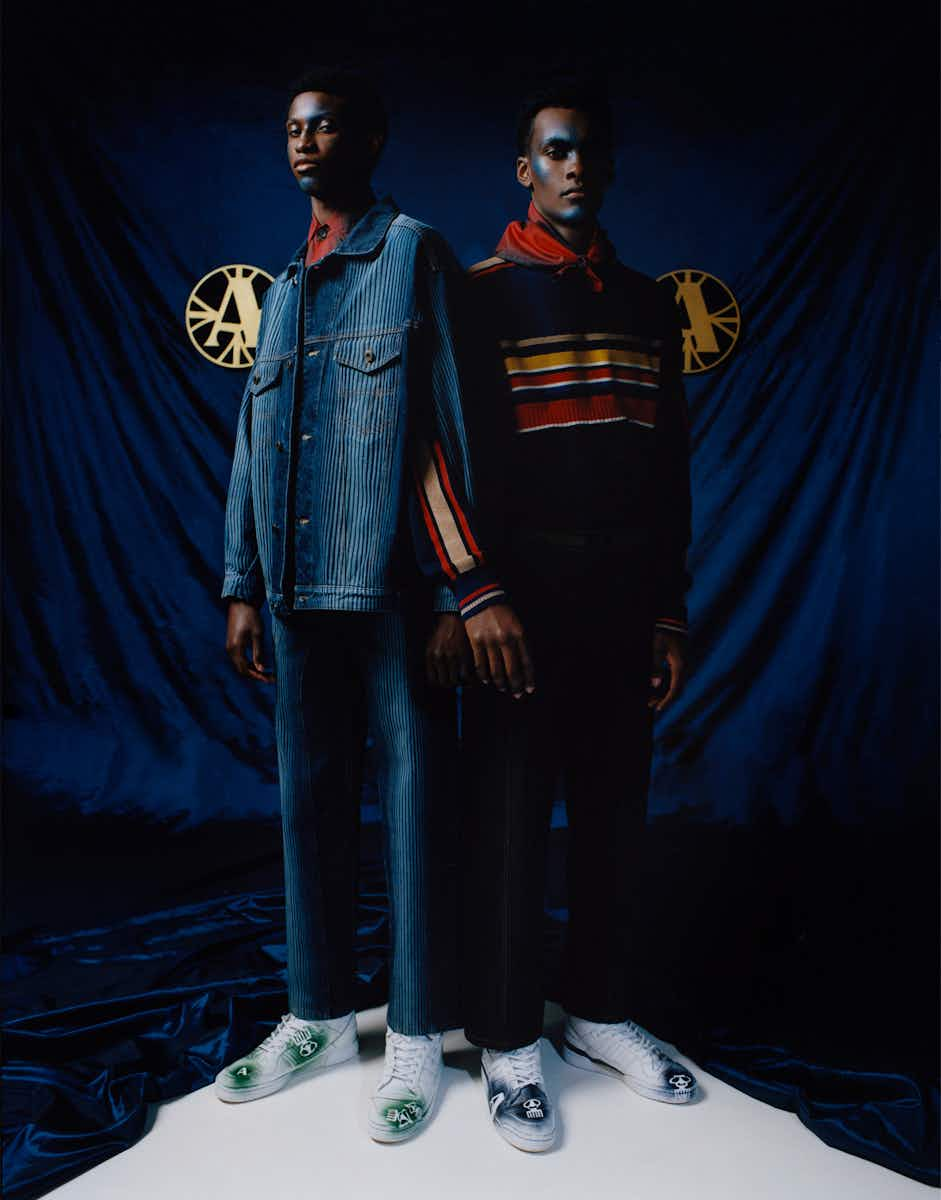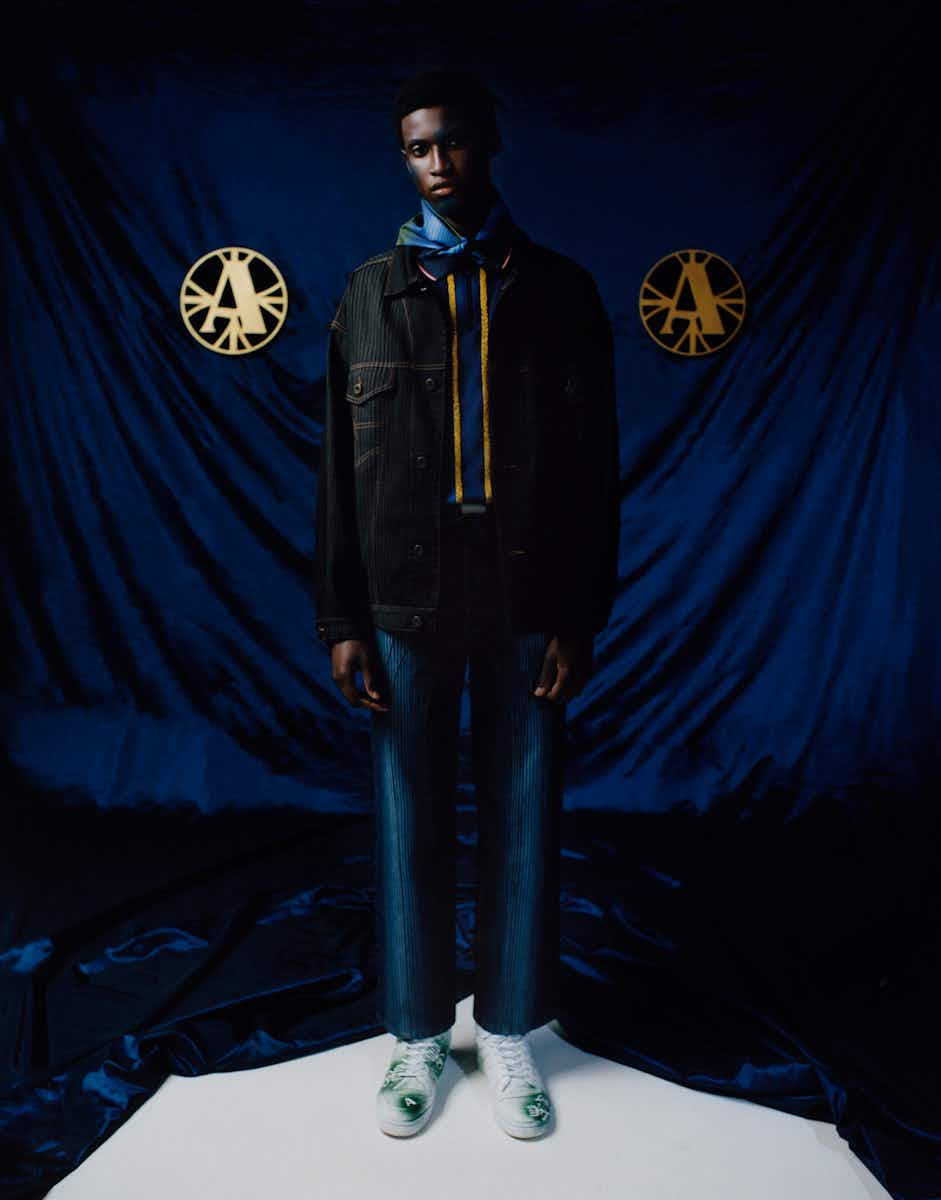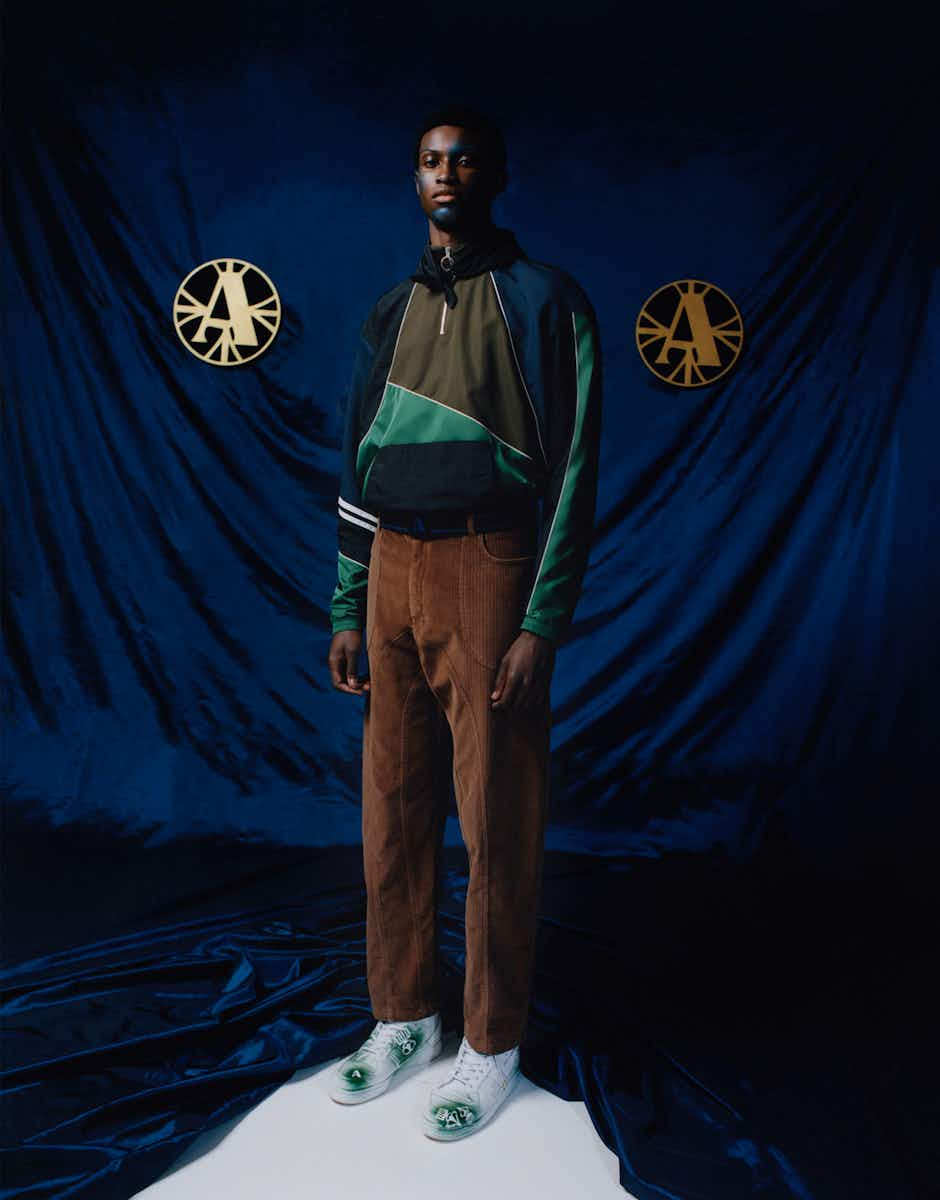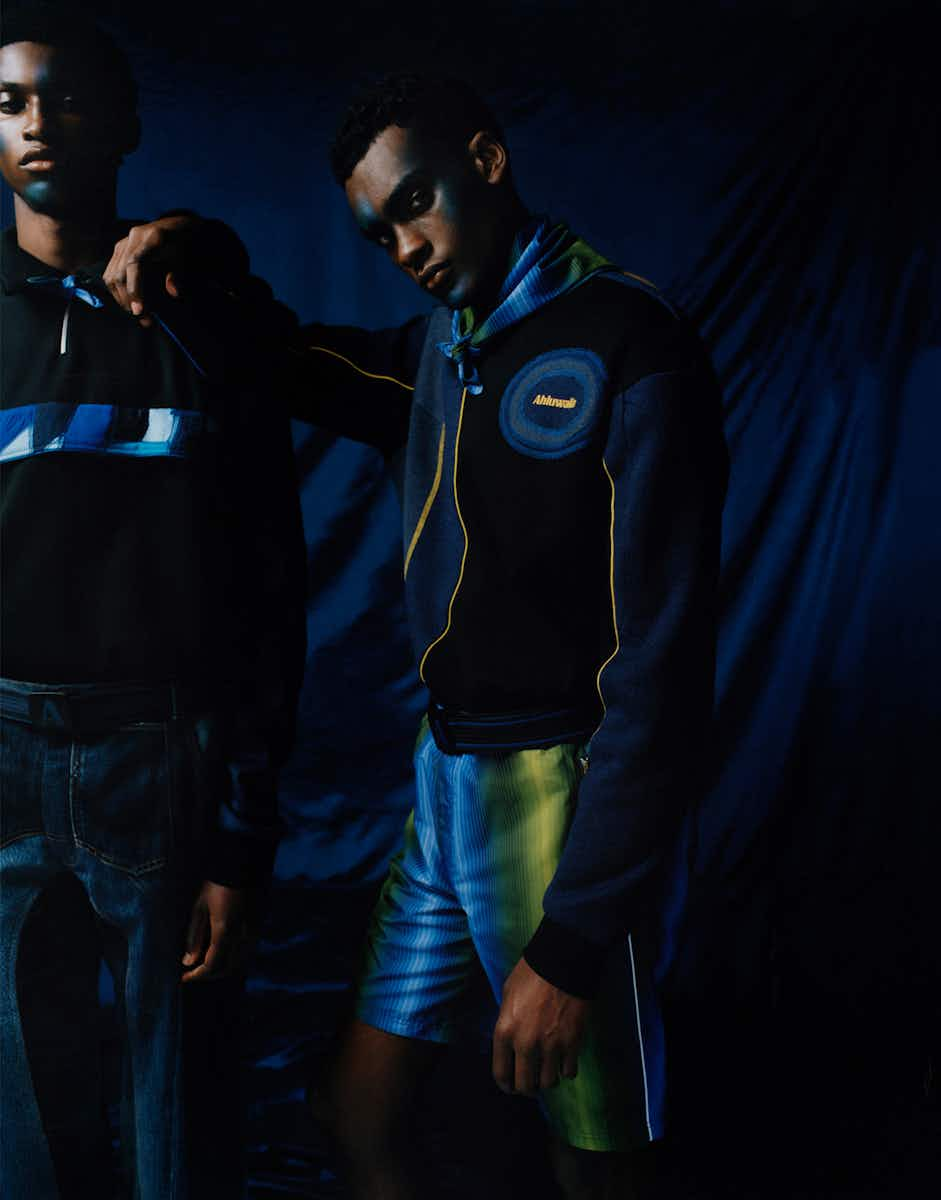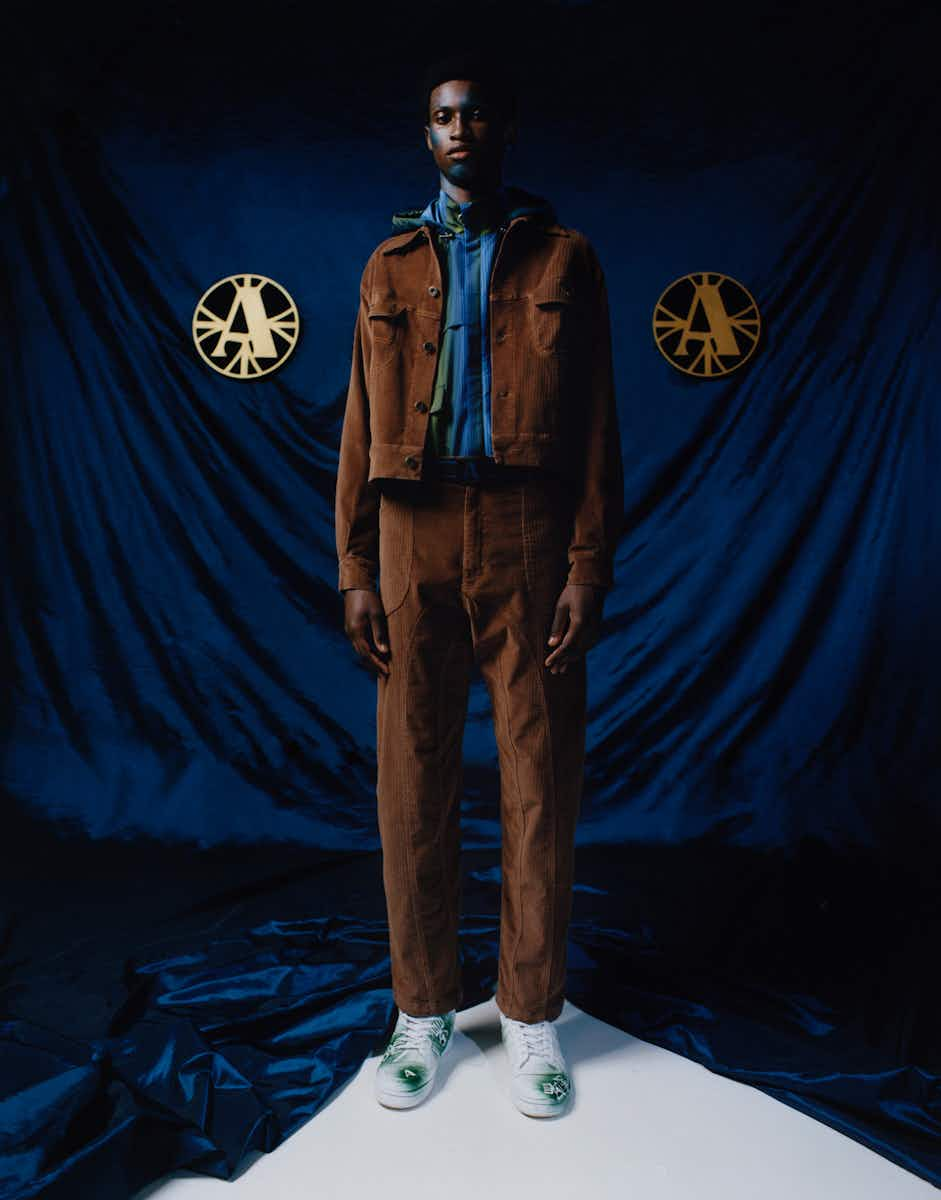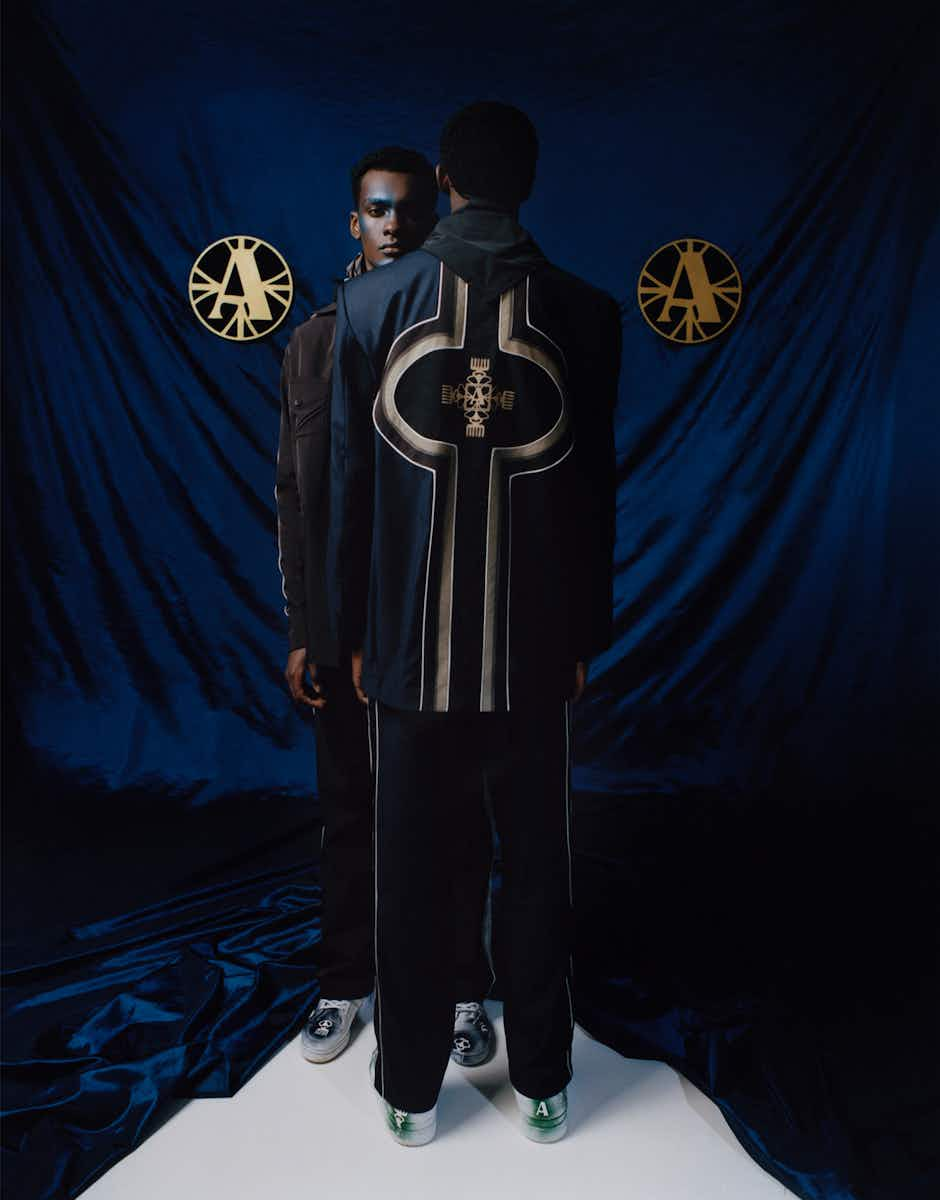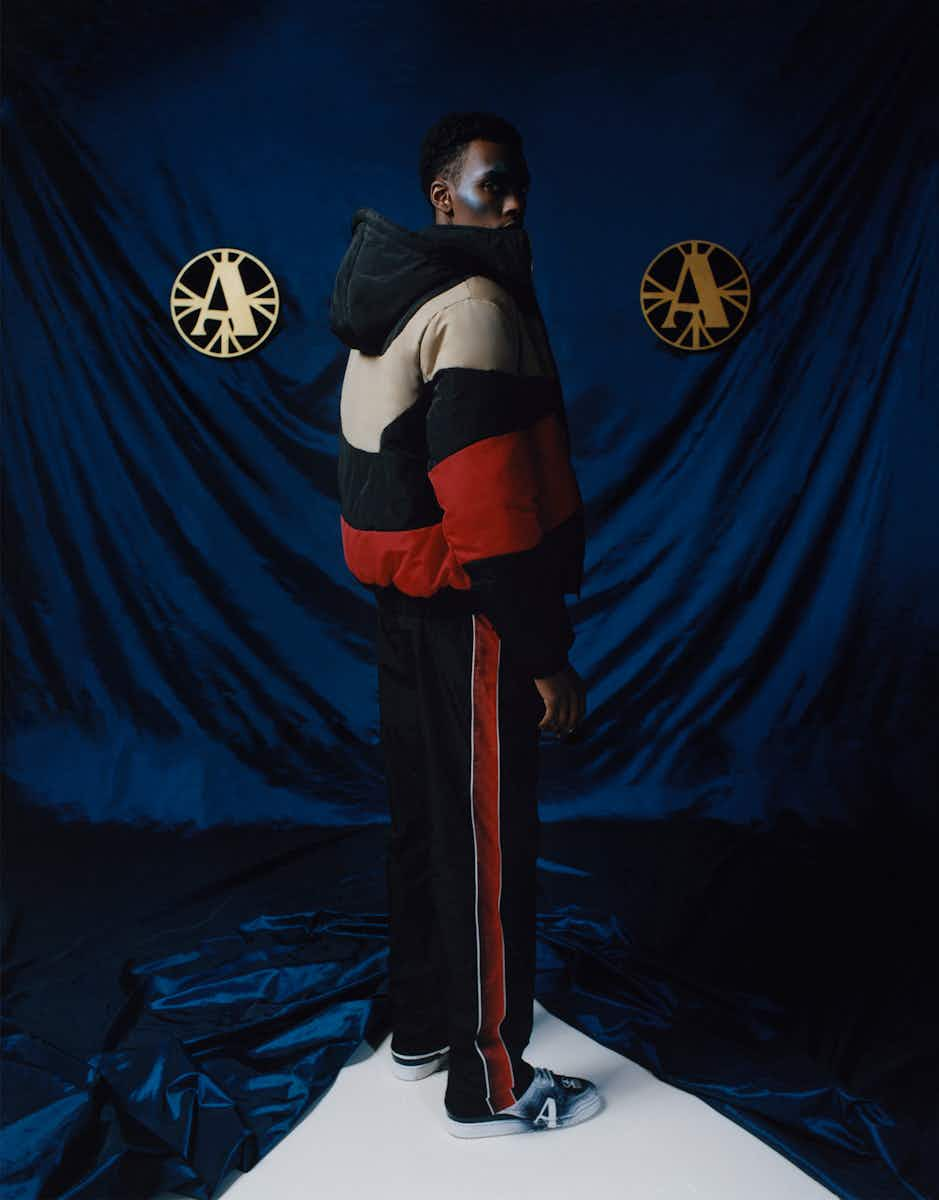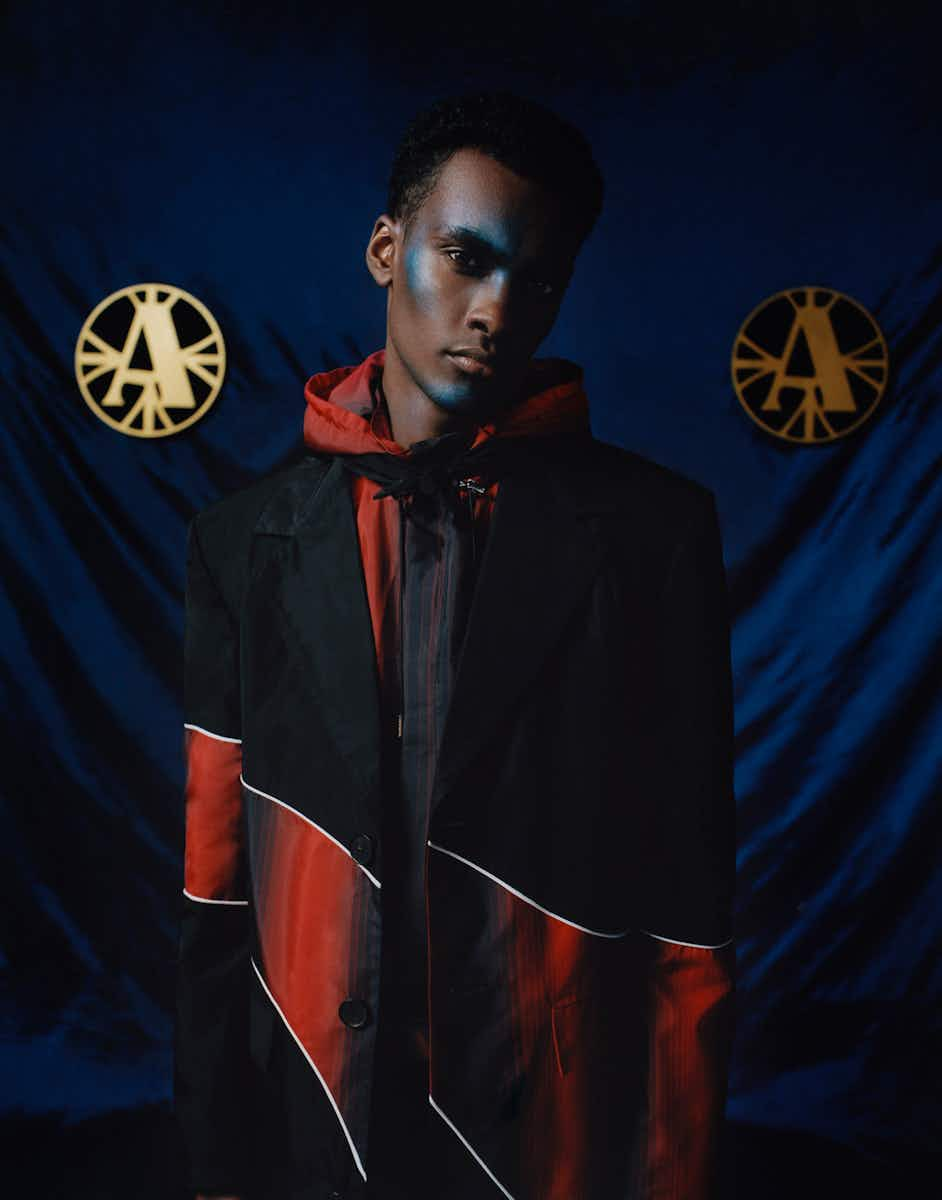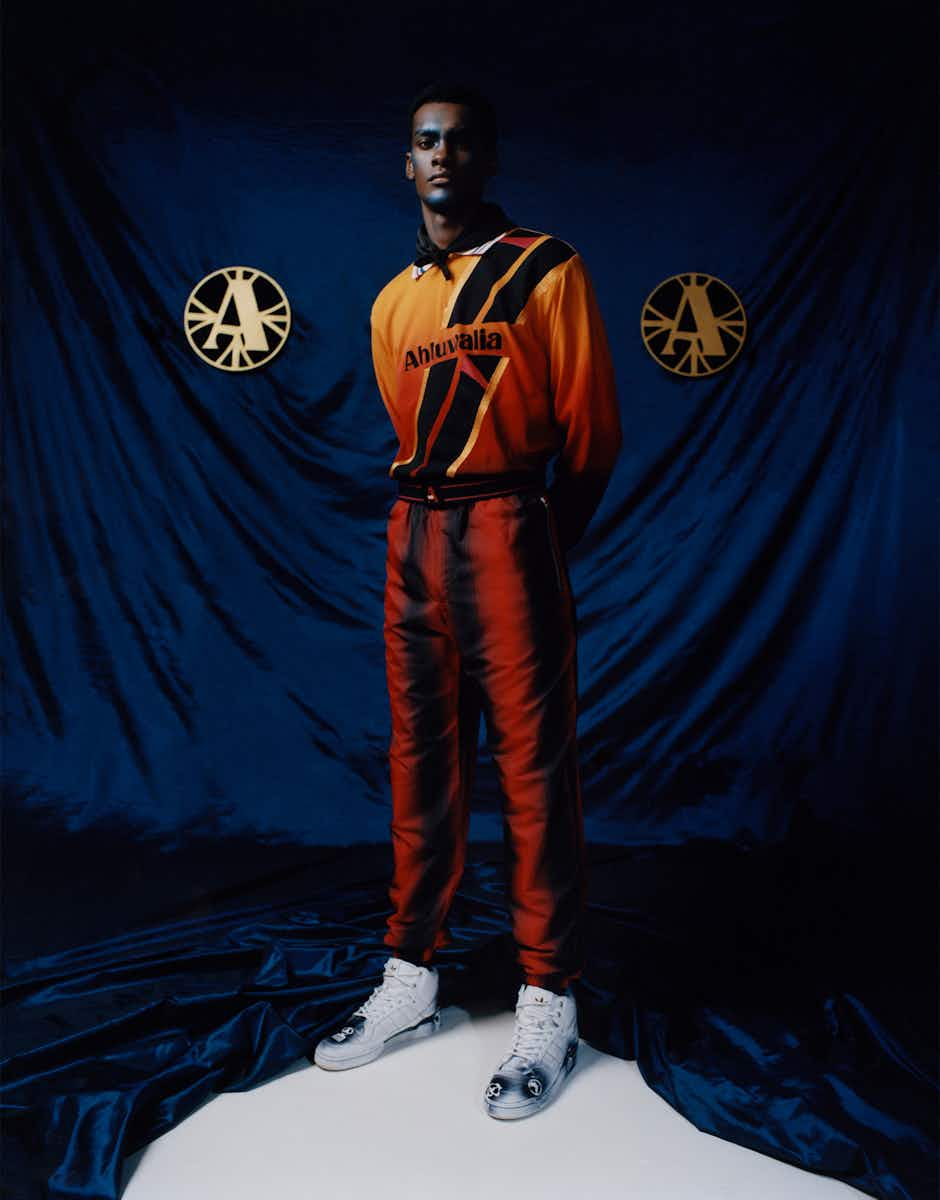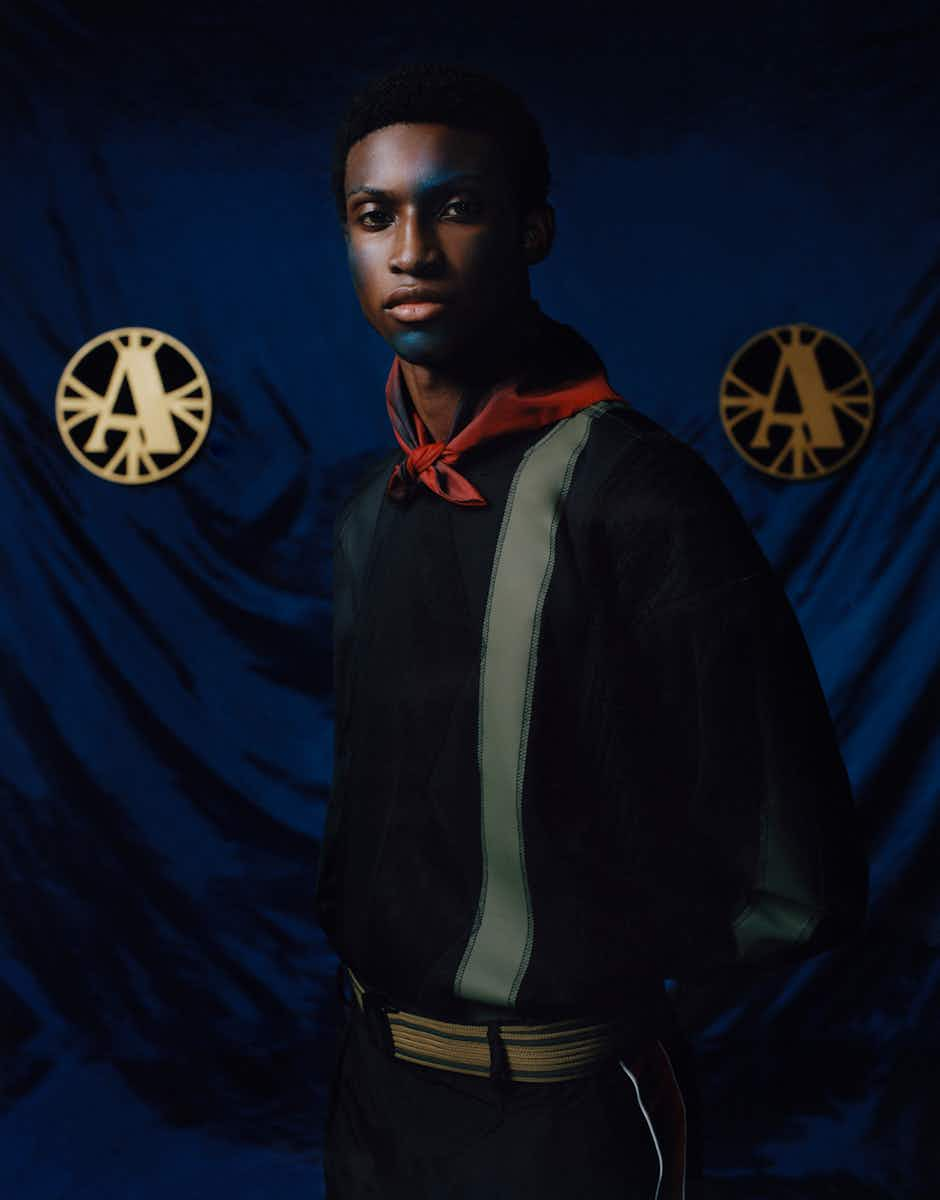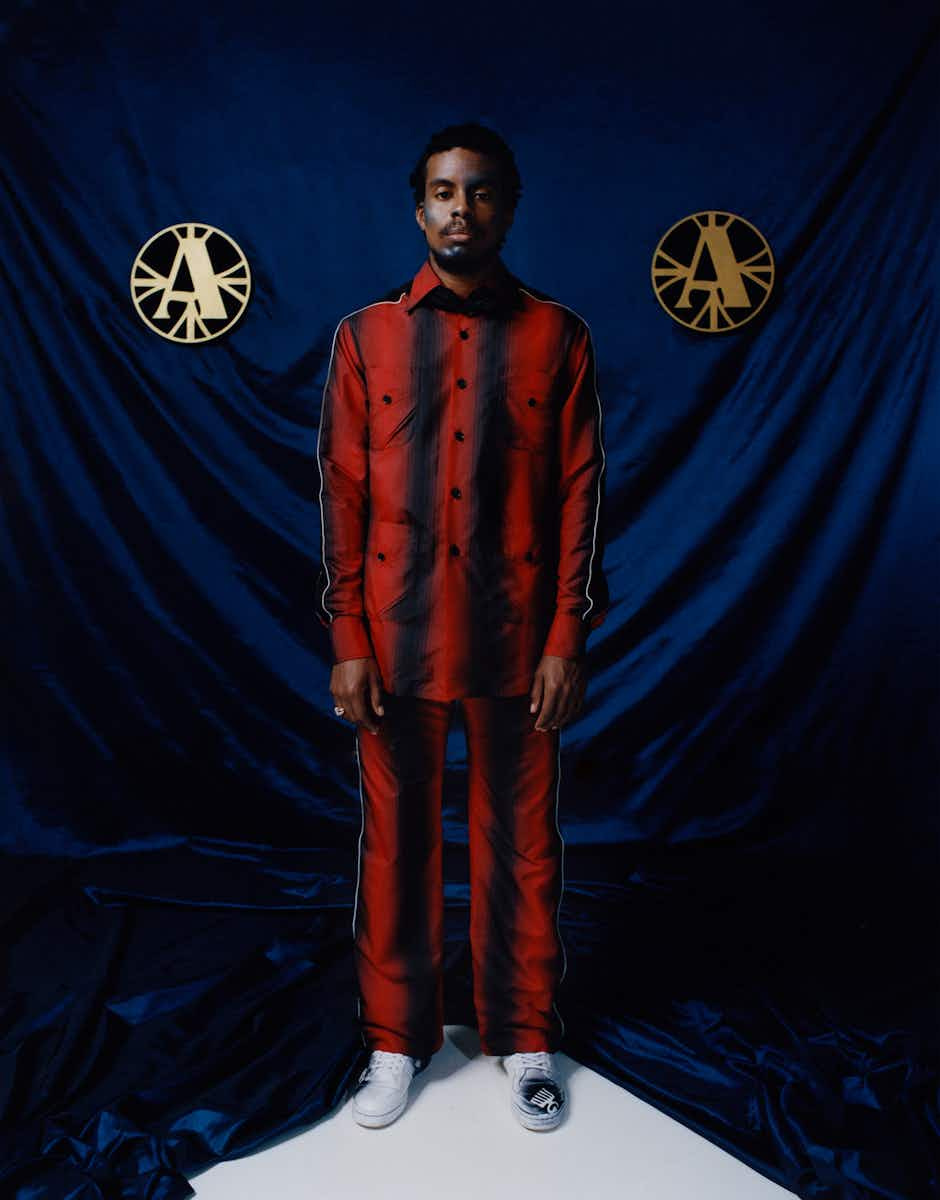 "The freedom of movement shapes my DNA as a designer"
Saul Nash is in the early stages of his design career, having only presented his first collection in 2019 as part of Fashion East. But he's quickly transcending heights to produce the most boundary-breaking, most durable, most functional garments he can. Part of it comes down to his own experience as a dancer from an early age, understanding movements and restrictions with emphasis to the body, as well as his own pleasure-seeking principles to source a variety of fabrics comfortable enough for his wearer – men who move.
"It's about developing new materials and trying to find the best way that the garments function," says the RCA-taught designer.​"The freedom of movement is something that is integral and shapes my DNA as a designer."
Nash often deals with the liberation of man through movement. This time last year, he opened the Fashion East show with his AW20 collection including show-stopping choreography and showcasing dancers who introduced his take on luxe sportswear, all steely grey, blue and black, zipped, unzipped and malleable. It was a big hit, with critics noting its combative take on masculinity through its confrontational moves and pulling on/​taking off aspects of garments. TJS

Click to continue reading
But this current collection, though still eschewing the Meaning of Man, feels his most personal yet.​"My work begins with a self-reflectional aspect, it often comes from within," he says, of the collection titled Twist.​"I'm reflecting upon my upbringing and my relationship with garments through the different men I grew up around." For the designer, the​"twist" comes as a contrast between how one presents oneself to the outside world, and the person you truly feel like you are. It's spurred from many years hiding his gay identity from those around him.​"As a lot of my friends began to accept my sexuality, I had a completely different idea on how they would perceive it."
The​"twist" has been conceptualised into a short film directed by Nash's past collaborator, FX Goby, too. In a similar style to last year's show, a group of men aggressively huddle, eventually squaring off. Until… they kiss, leaving the lip-locking pair with a circle of stunned observers.​"The twist was questioning this idea of judging a book by its cover, and understanding the nuances around these different types of men that I grew up around," Nash explains.

The designer weighs down his collection this season. Where before he worked​"kinetically", with an aim to provide air-like weightlessness to his garments, Nash has introduced organic cotton used on fleeces, softshells and even aspects of embroidery – the former being a nod to the need for comfort for his wearers in the midst of the pandemic, a cue many young designers are responding to this season. But the key element, one that is always the way for Nash, is functionality through interchangeability.
It's a mantra that's in his subconscious throughout the entire design process.​"It's always something that is there in the background," he confirms.​"There is always a choice that I'd like to enable the men to have when they wear my garments." Whether they're wearing a hooded, ventilated track jacket to jog, or tapered trousers to play, the duality of the pieces is what sets the menswear designer apart – producing garments for men of all needs, finding their way through Nash's ever-developing design spectrum.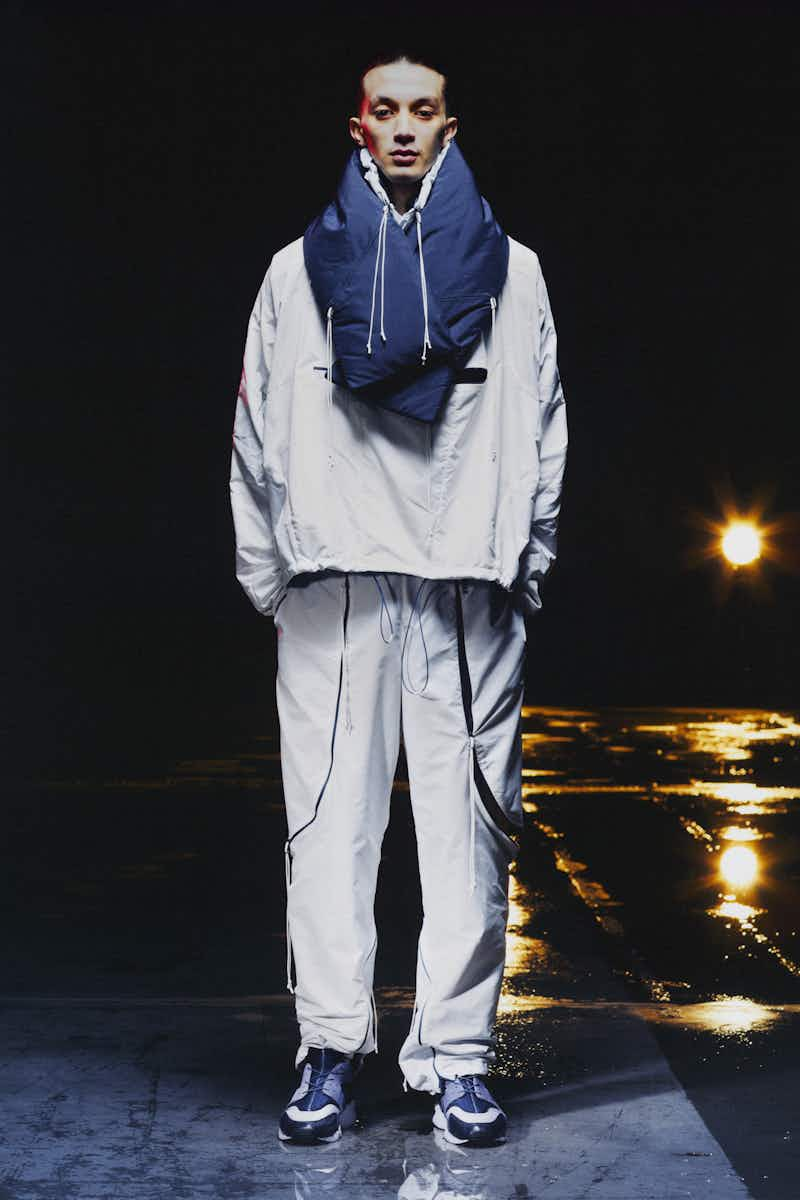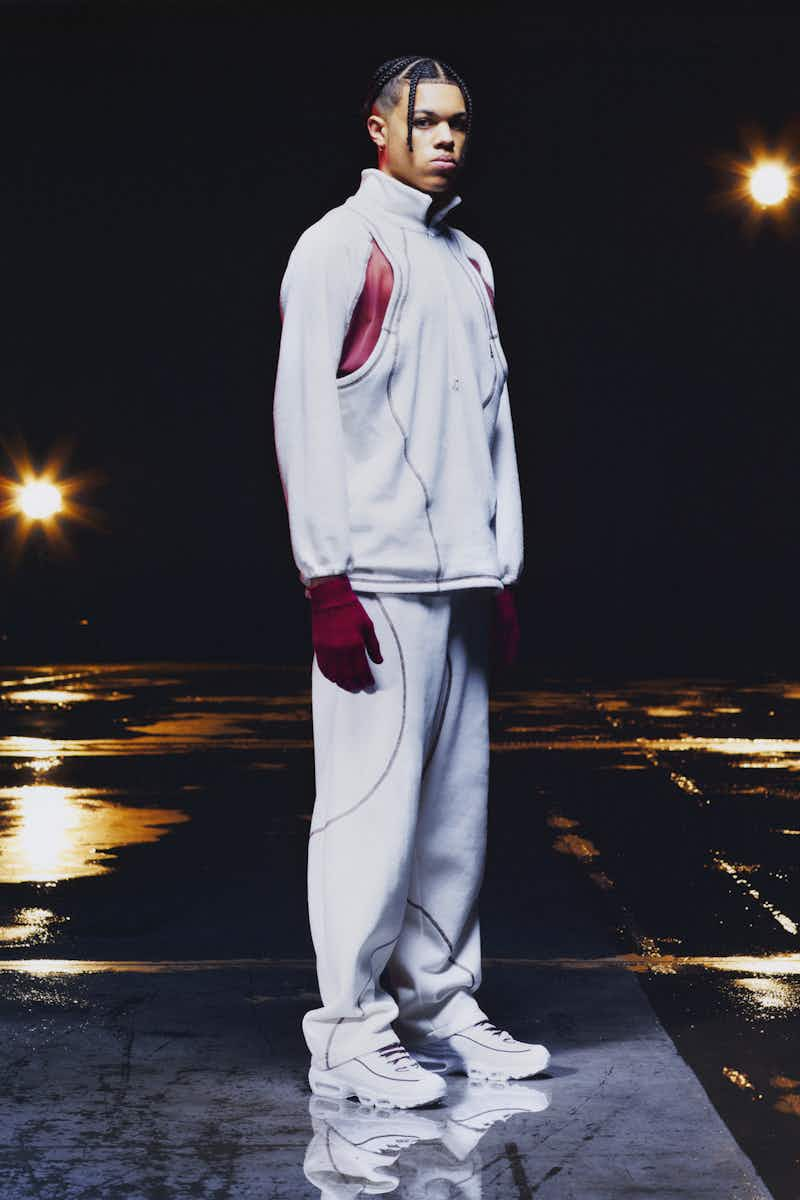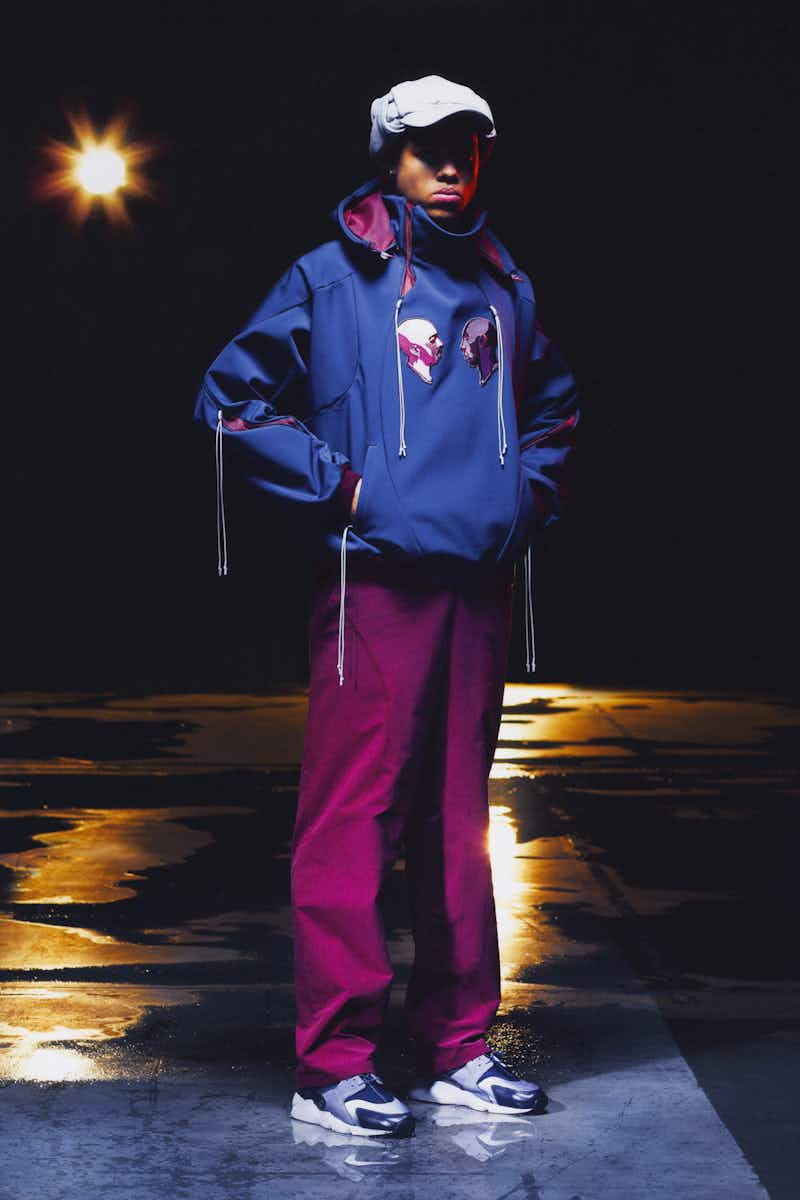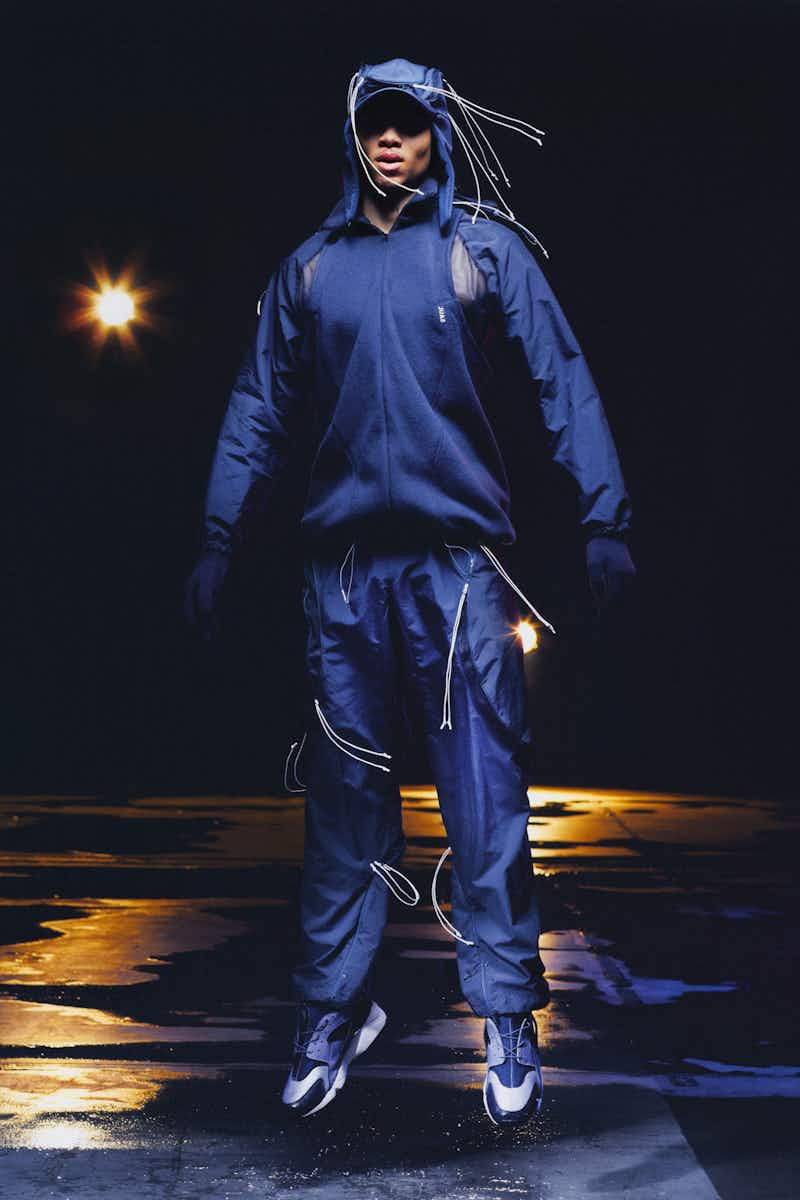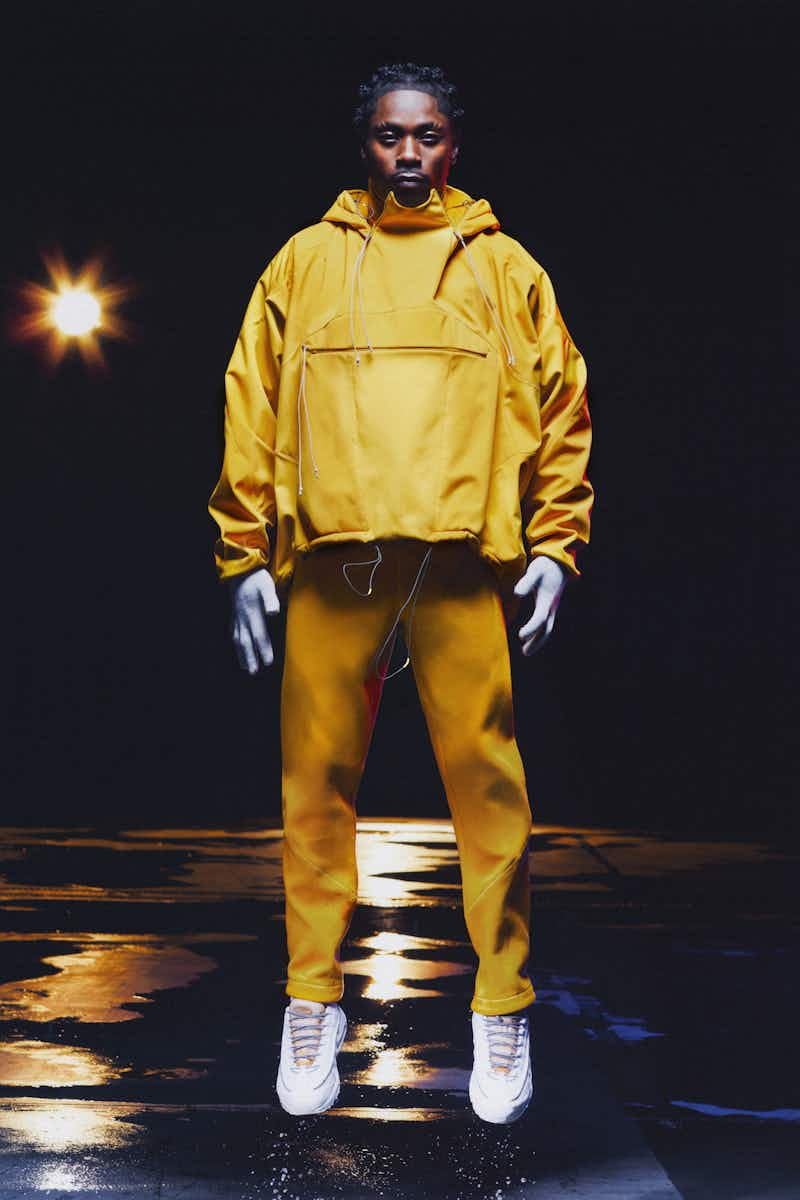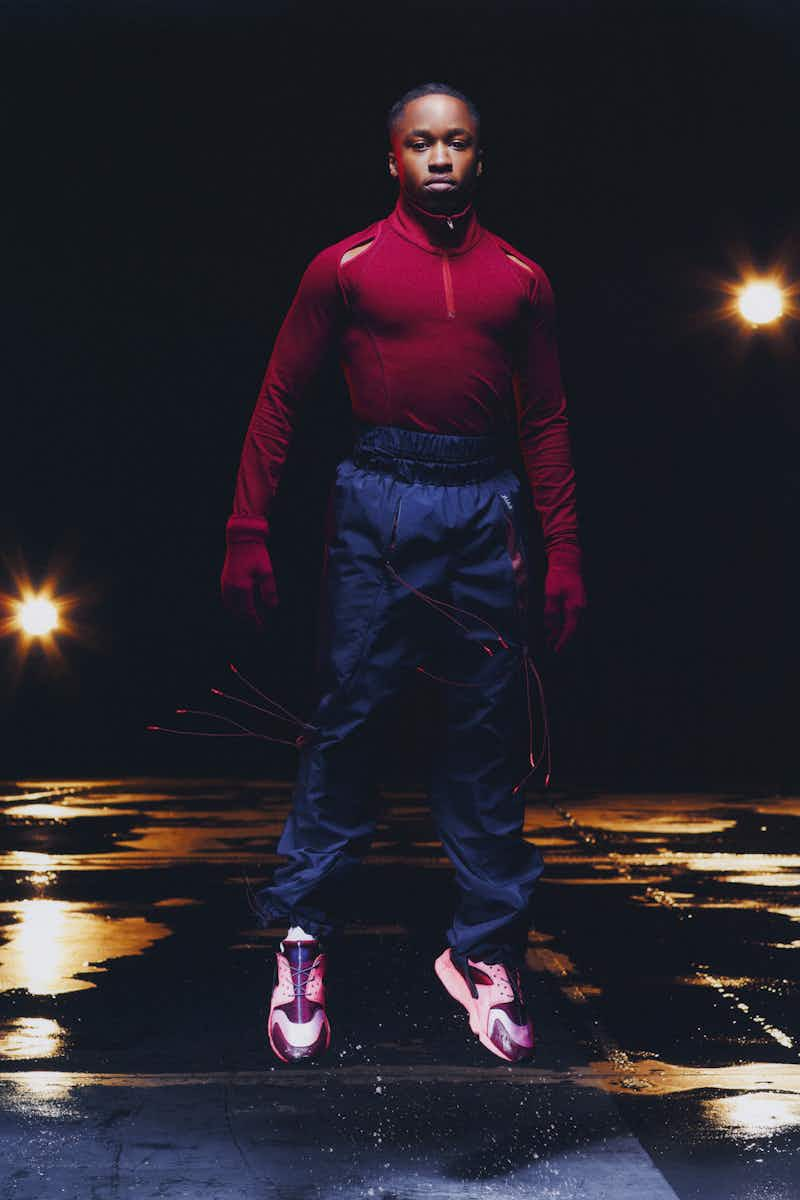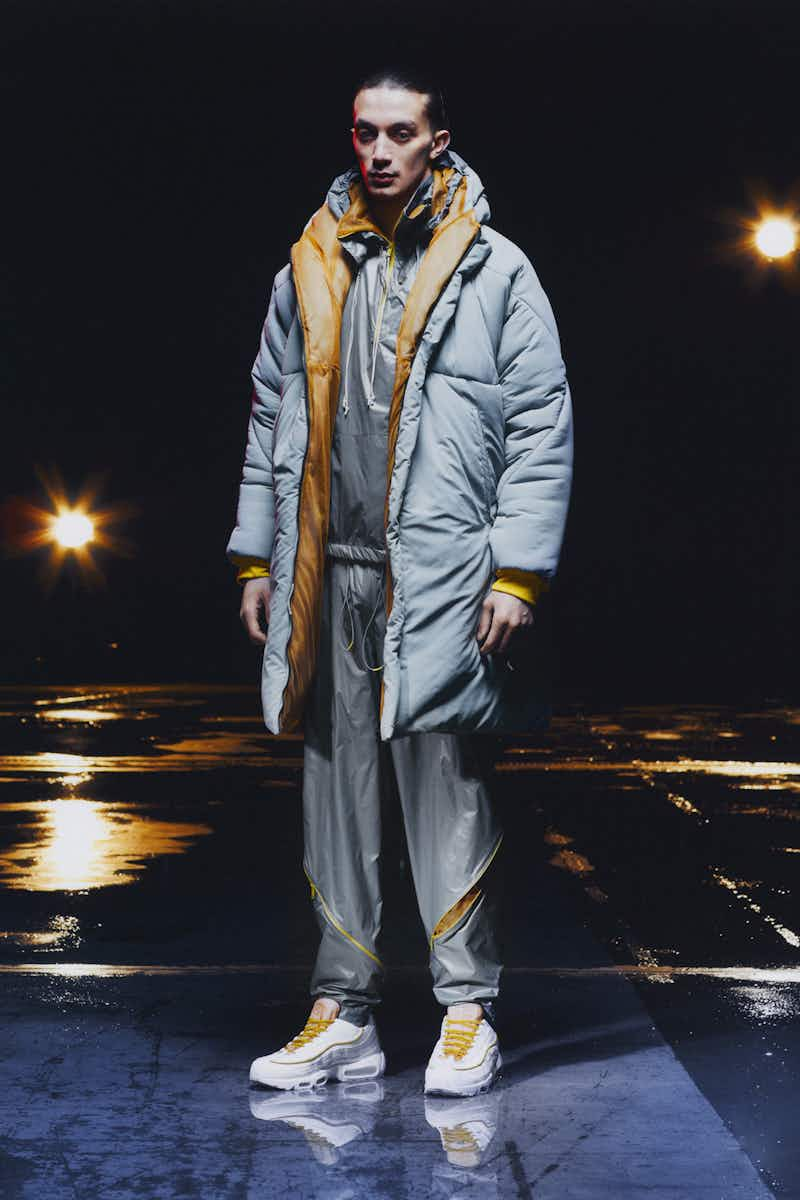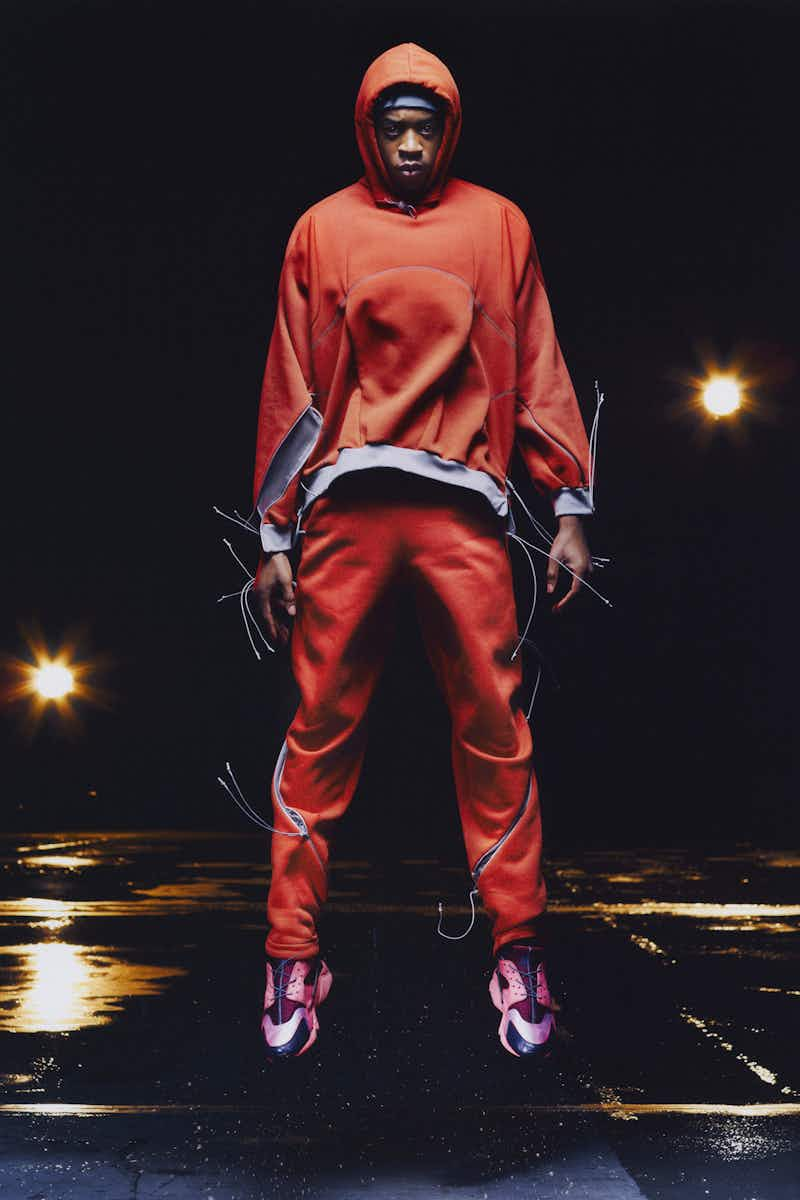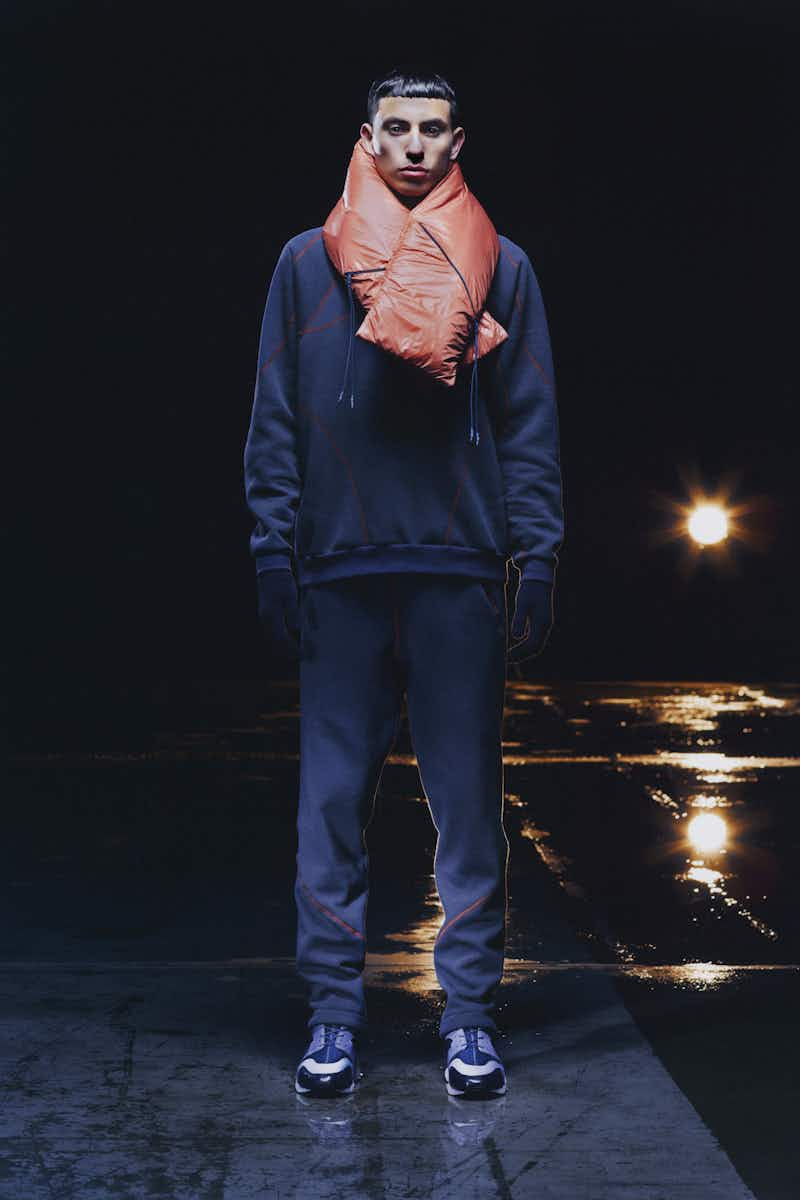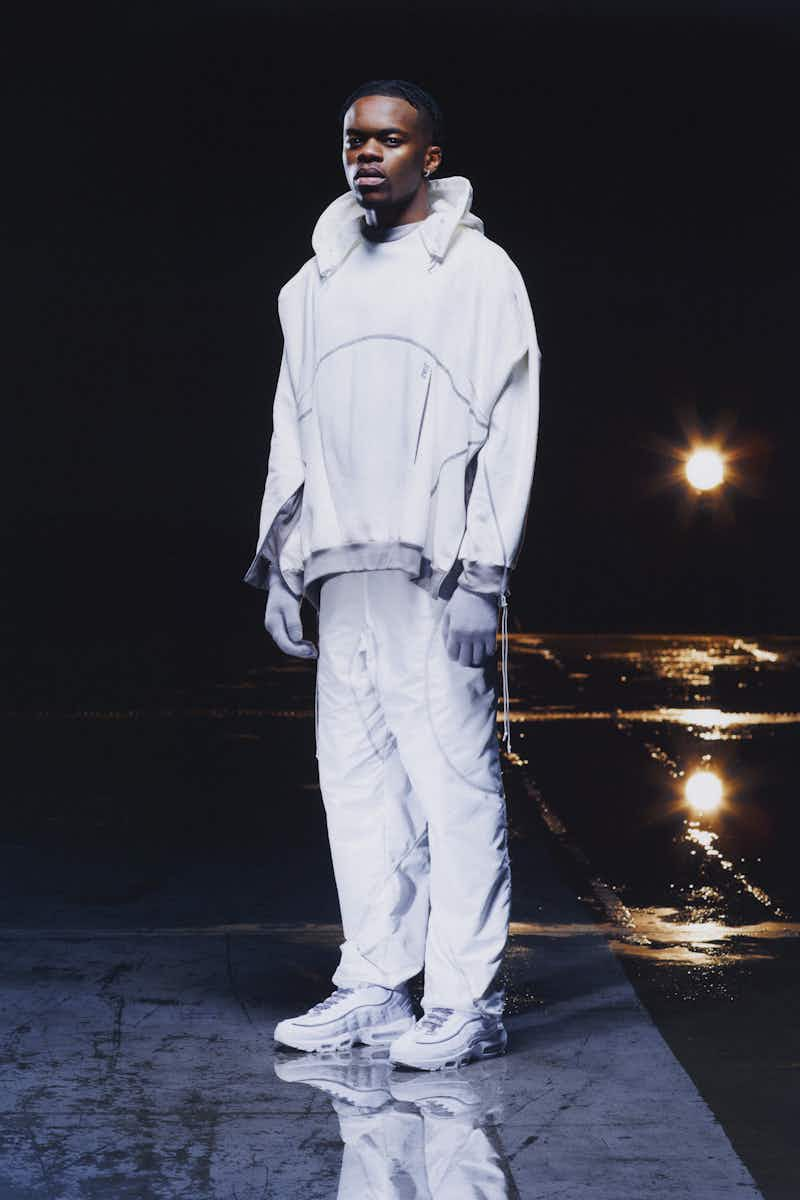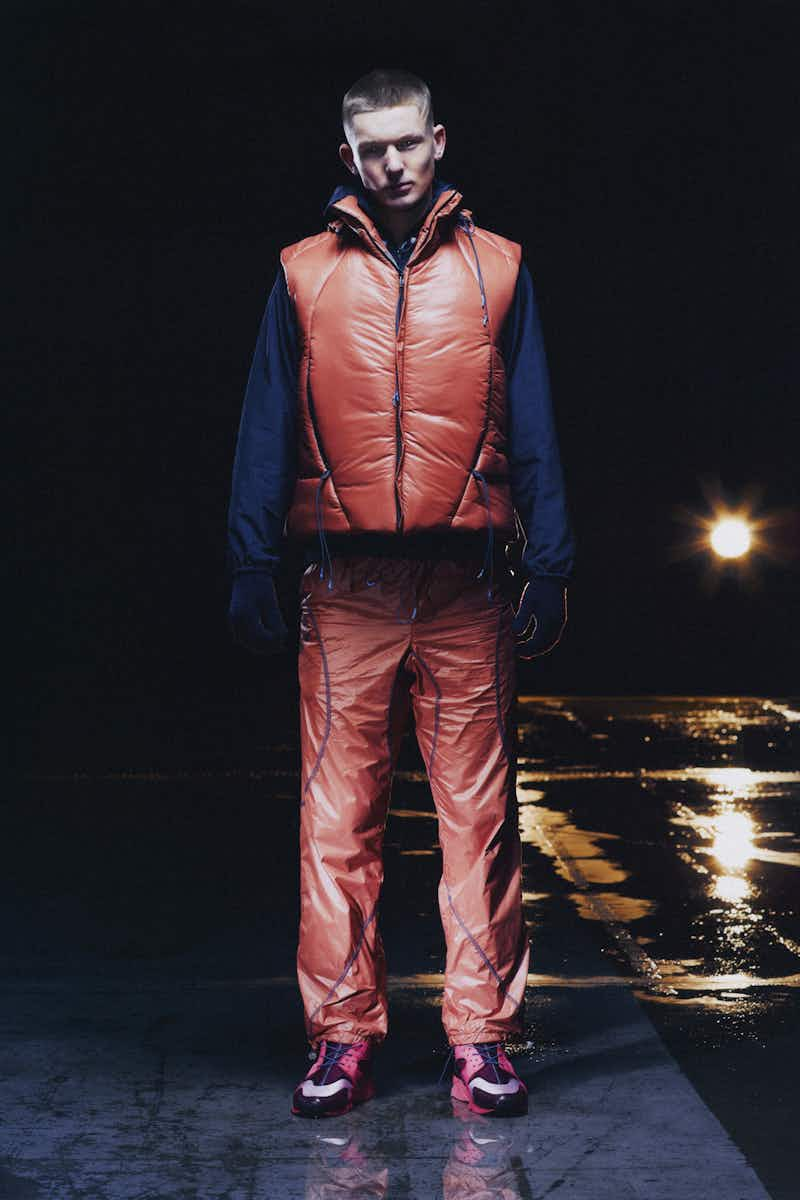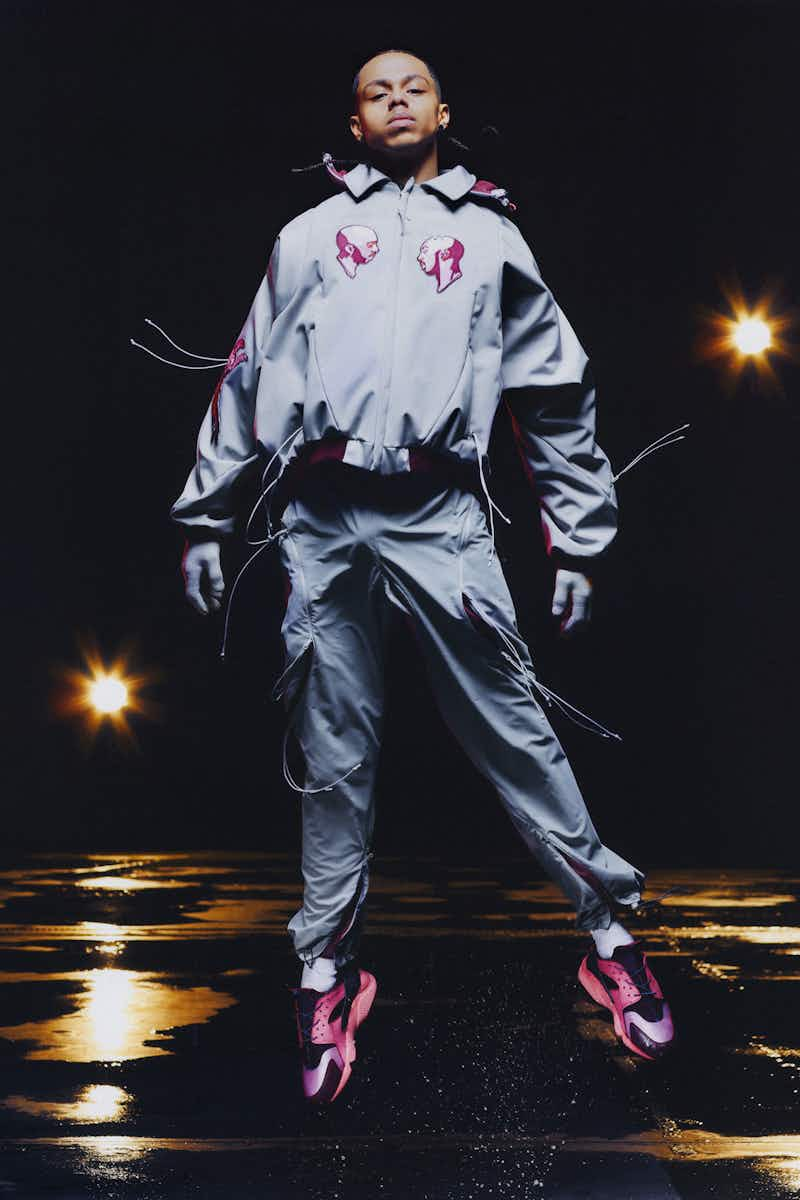 "I really wanted to create something that acted as a beacon of hope"
Last season's Art School presentation was the beginning of a new chapter for the London-based brand, which saw its creative director Eden Loweth go it alone for the first time following the departure of his ex-partner, Tom Barrett. But now, we're witnessing the full transition. Or Ascension, as the AW21 collection is titled, an initial nod to Loweth's confidence at the helm of a collective that has, since its Fashion East beginnings, championed those in the fringes of society.
"This season has been the first opportunity for me to flex my muscles in terms of where I see the brand evolving," says Loweth, over the phone. Recently, Art School has revealed a new logo (a sleek, overlapping A and S), wiped clean its Instagram feed to make way for the new, and hired a new team over the course of the past six months – including Lucia Blayke and Emily Crooked of London Trans Pride who put together the ever-diverse, co-ed cast – perhaps Art School's strongest cast to date.​"This is really about respecting everything we built together but, now, me moving on alone with a new set of ideas."
There's a certainty in Loweth's voice in the run-up to the collection reveal. He seems sure, optimistic and, importantly, excited to present the 41-looks. It's a massive development from the nerves he felt mere days before presenting Therapy last season. And it comes with an assurance that this time, his vision has had him strip away anything​"over performative and gimmicky", to introduce a strong political vision that Loweth himself stands for. That's not to say the brand has done a full 360, though – Art School is still a cross-section of communities, and a torch-bearer for diversity. TJS

Click to continue reading
"The wider community of queer people, globally, have been hit incredibly hard by the pandemic," he says.​"But also by the political and social situation that is happening in the UK and in America. I really wanted to create something that acted as a beacon of hope."
The collection, styled by Katie Grand, is divided into three distinct sub-sections, opening with all-black, billowing gowns and restrained, belted waists, while a silk skirt is heavily distressed. Then, a gear-shift, as a shimmery, scarlet evening dress is followed by strong asymmetric cuts and a particularly tough leather mini-skirt. The light at the end of the tunnel, then, is ethereal white fabric draped across the body, and Art School's signature smock dress presented in its most refined interpretation yet, constructed from a delicate, sparkly knit.
There was a moment, Loweth admits, where he questioned the ethics of presenting a show in the middle of a pandemic, during which those in his community are struggling to make ends meet. But after a long discussion, pulling his team in, he decided it was the right thing to do.​"I have the ability to give people a moment of hope," he says.​"This show is really designed to act as that."
With models quite literally emerging from a cloud of dark into a not-so-distant light, this is Art School's most conceptually-grounded collection so far. Now, Loweth is keen to shake (some) aspects of the club kid association they've carried since their very first show in 2019 – an intention for the title, Ascension, itself.
"I'm here to prove queer people don't need to live in the shadows as a flash in the pan sort of thing," Loweth says.​"I'm very serious about this being a long-term business, and for me to uplift as many people as I can along the way, for us to grow together."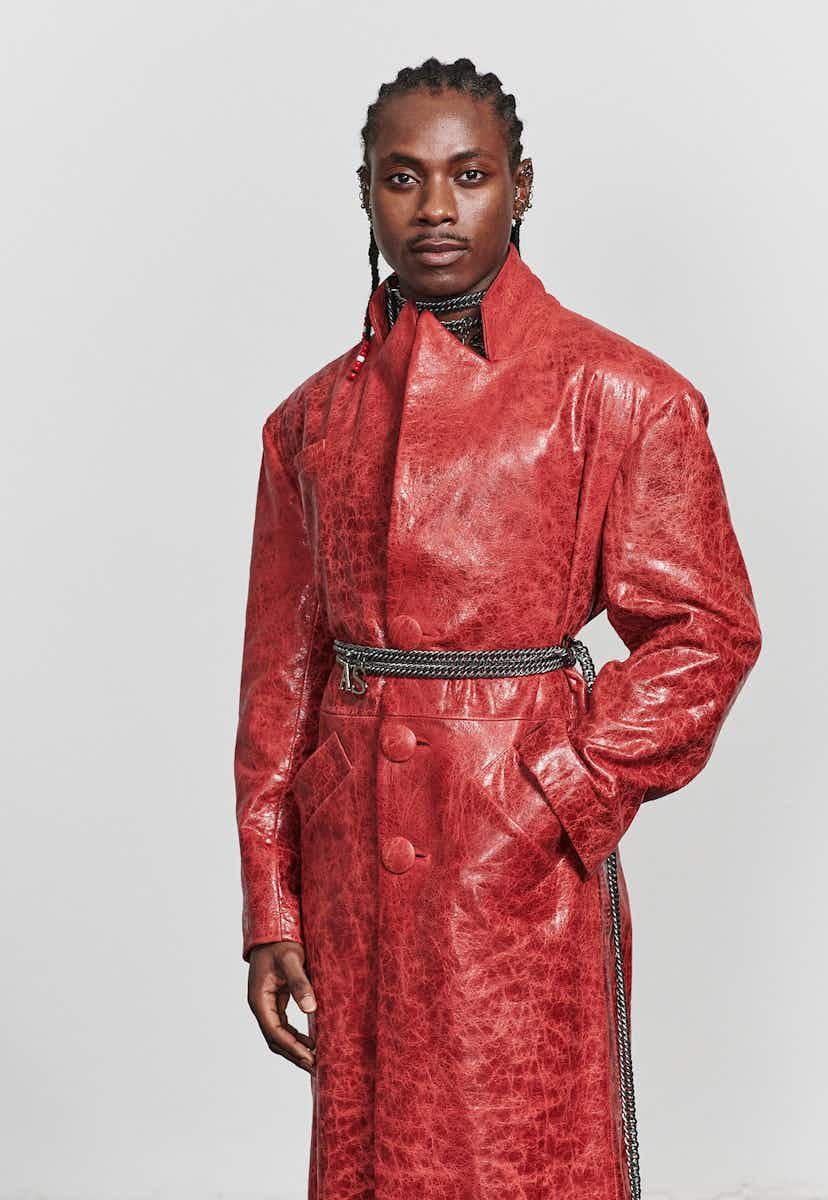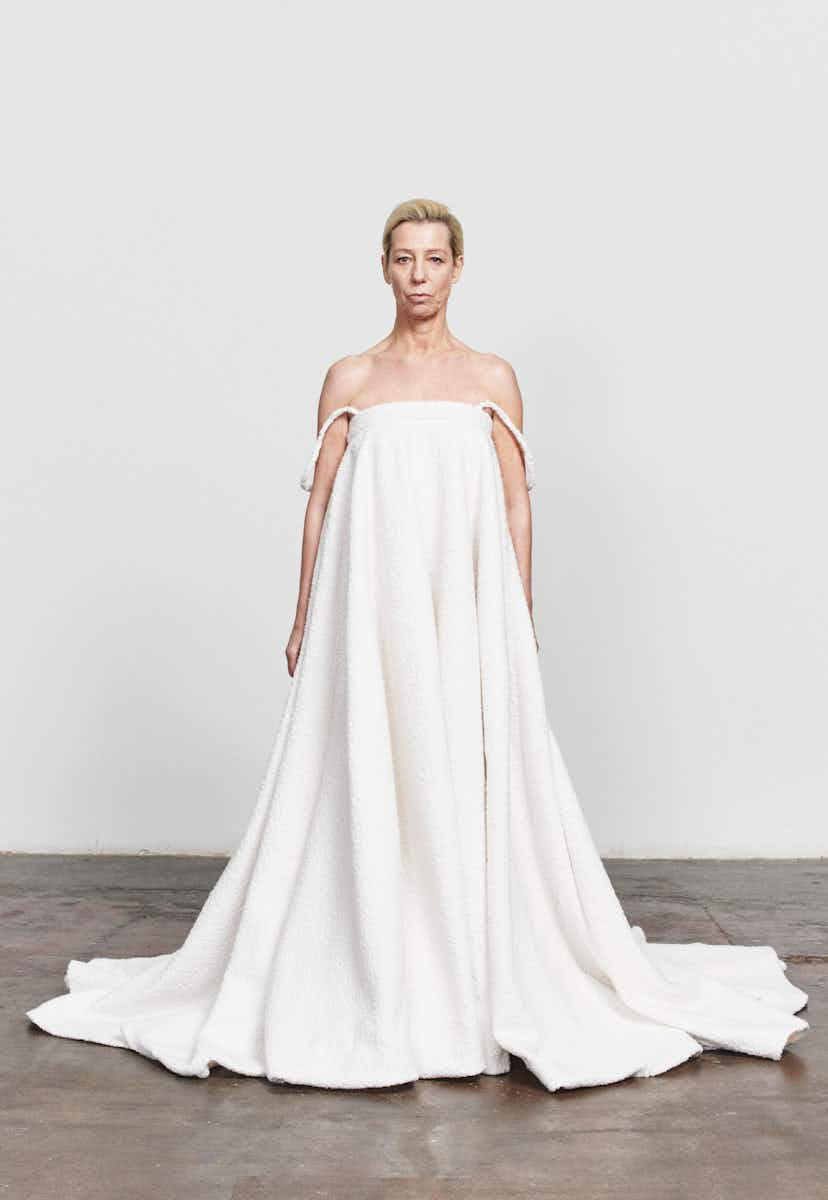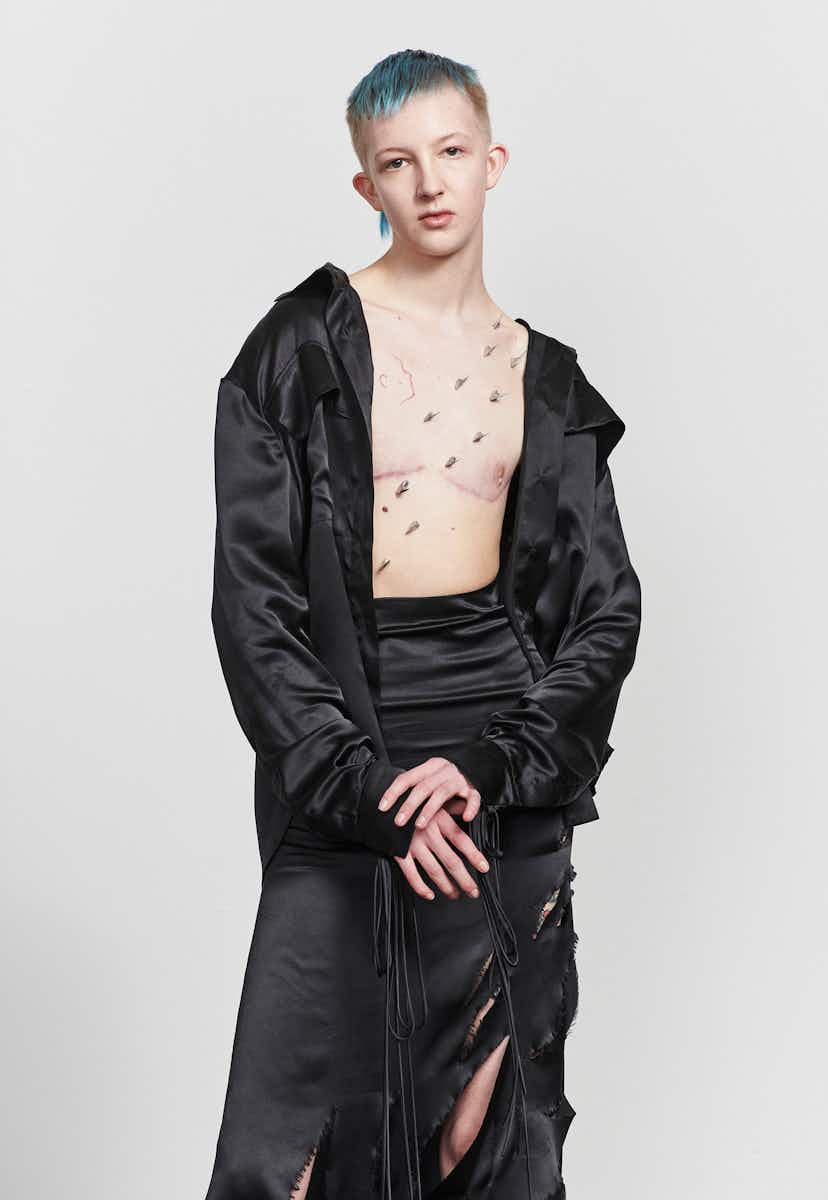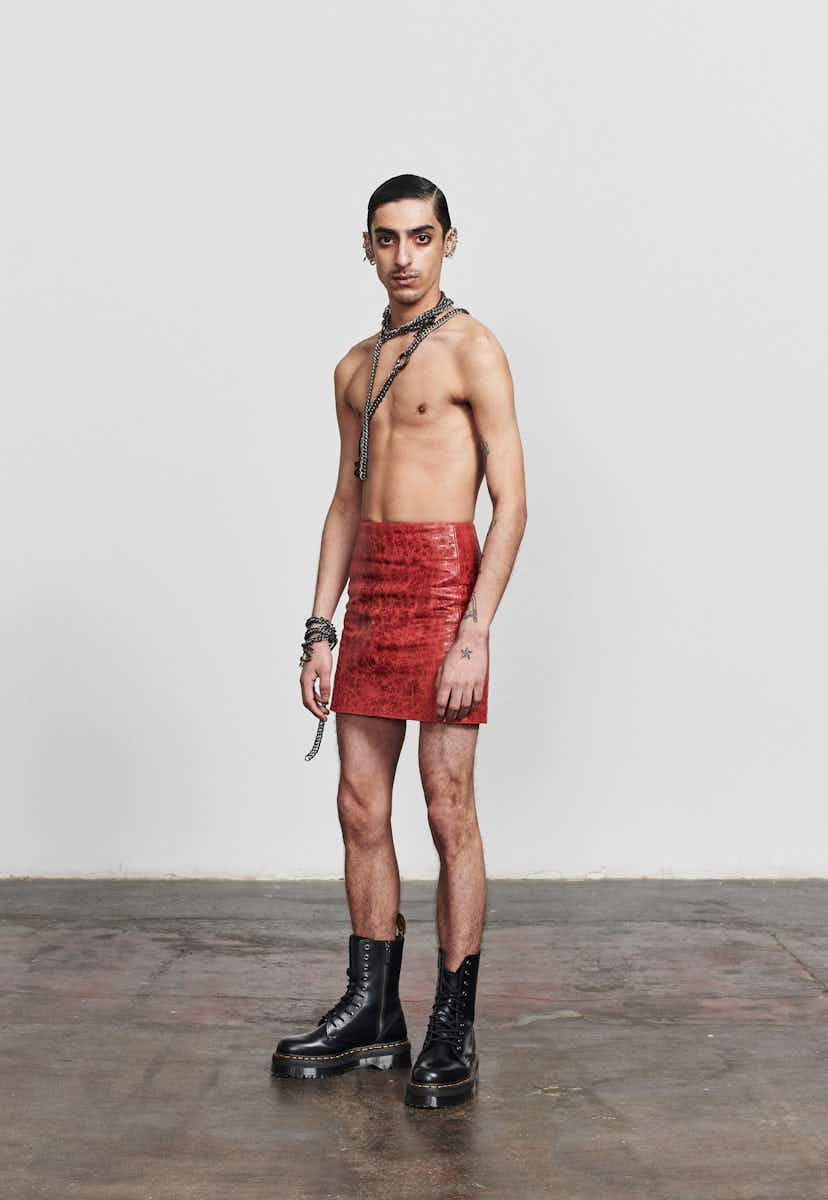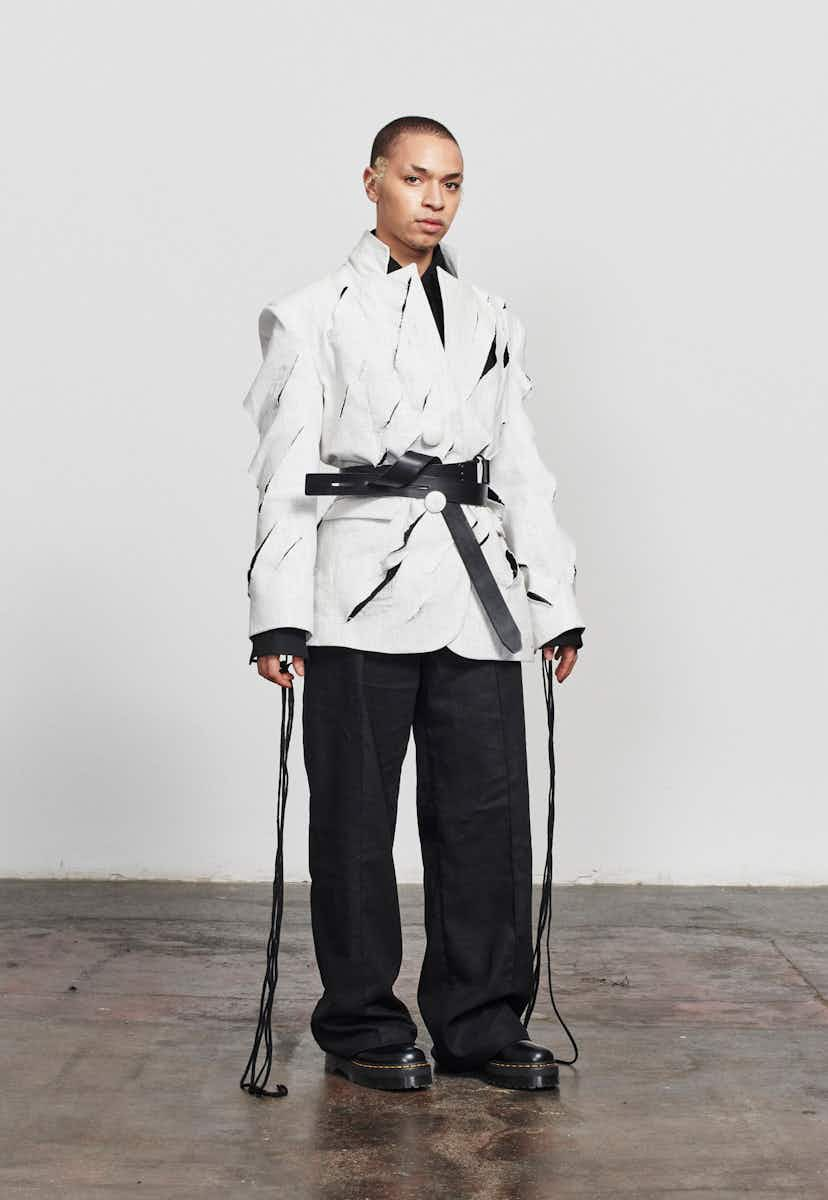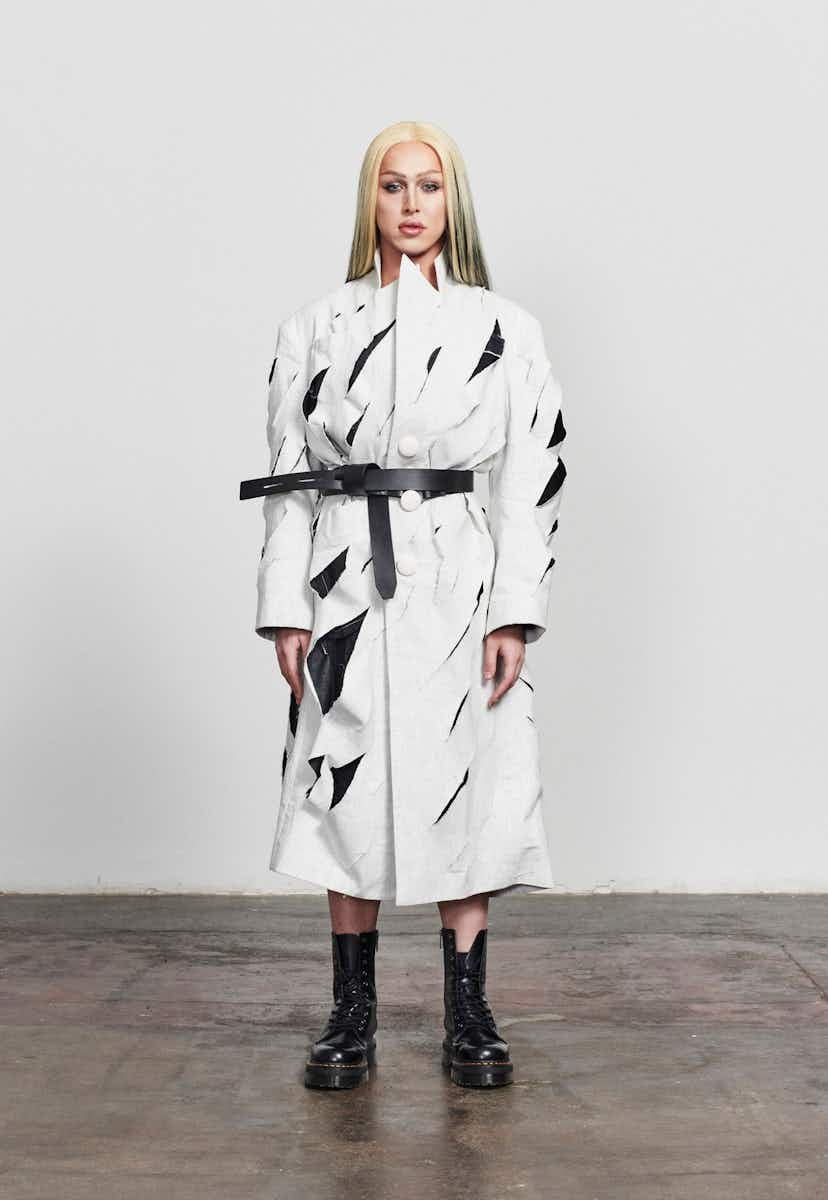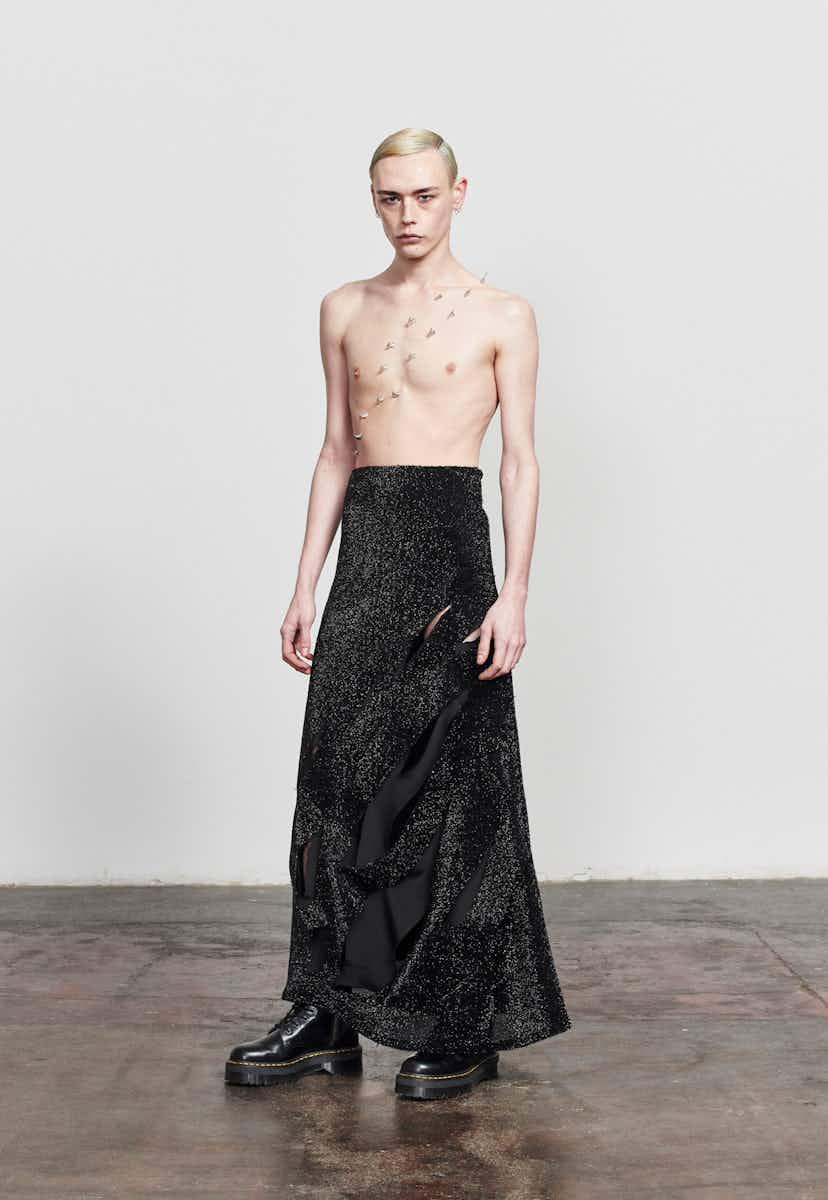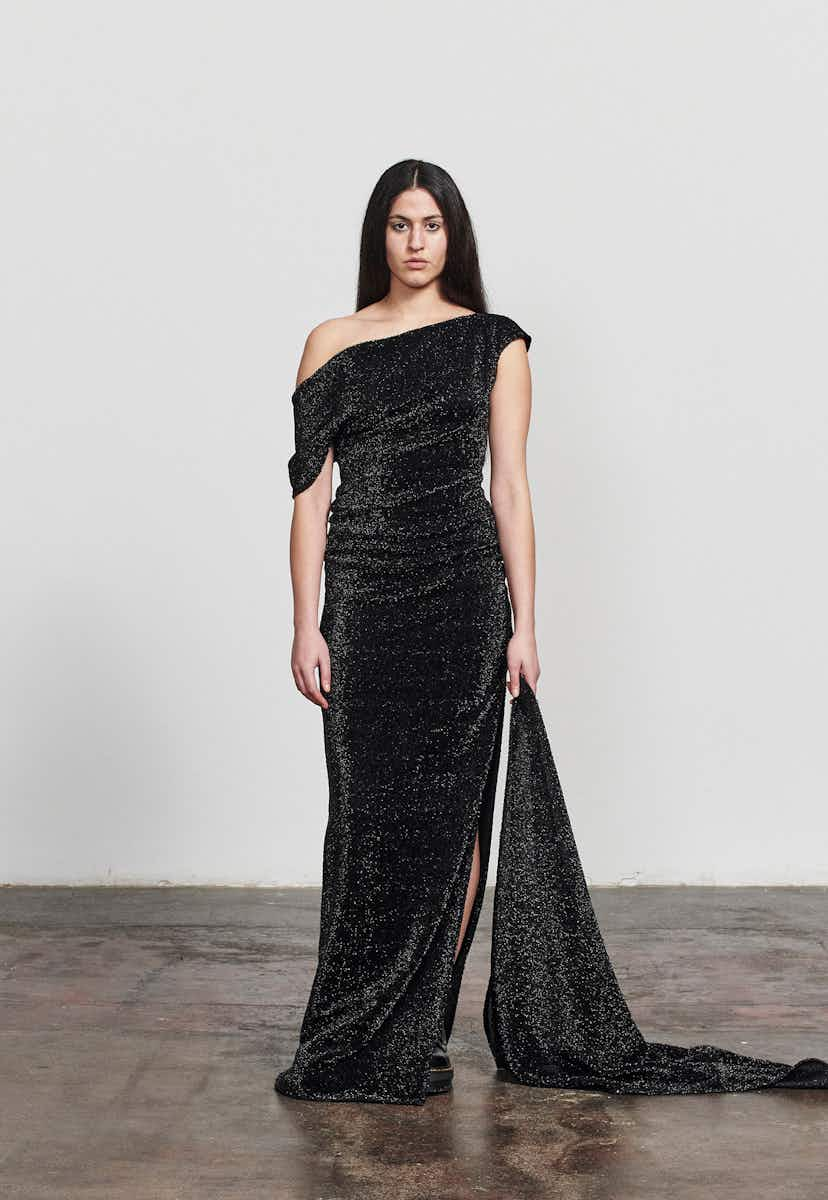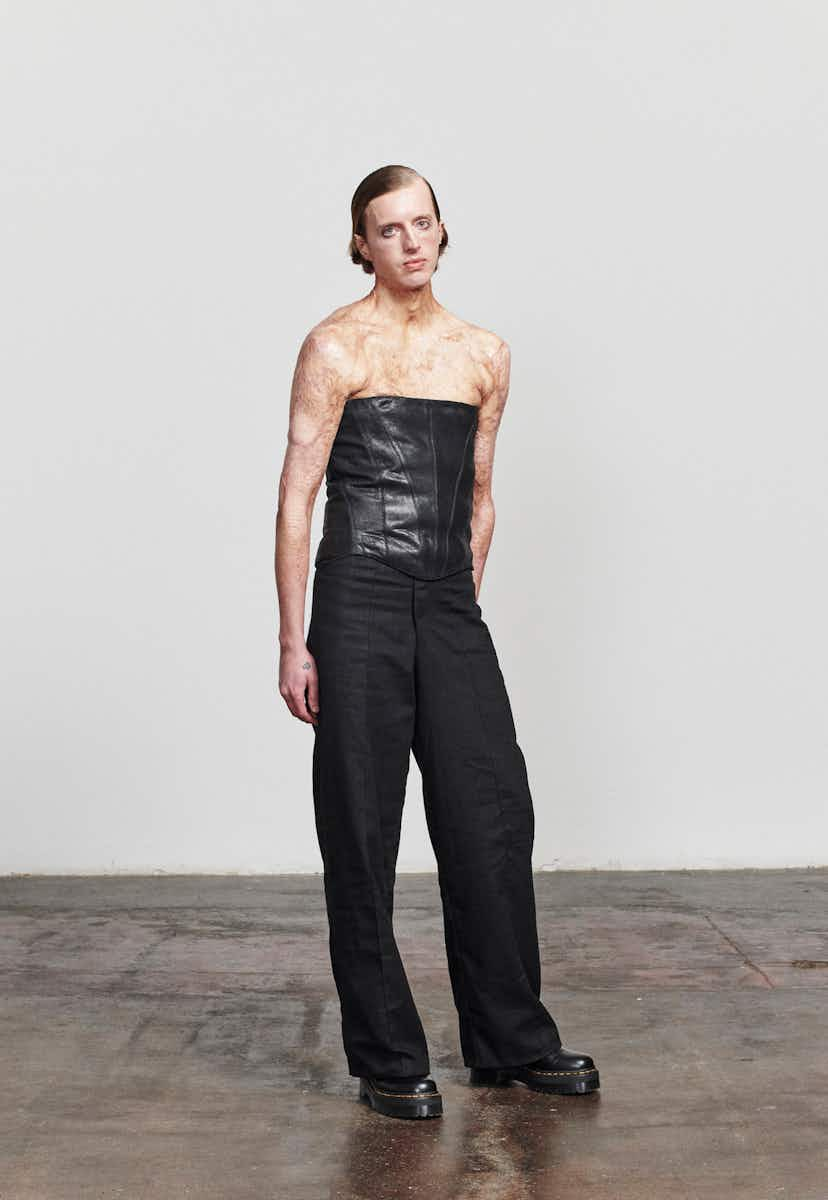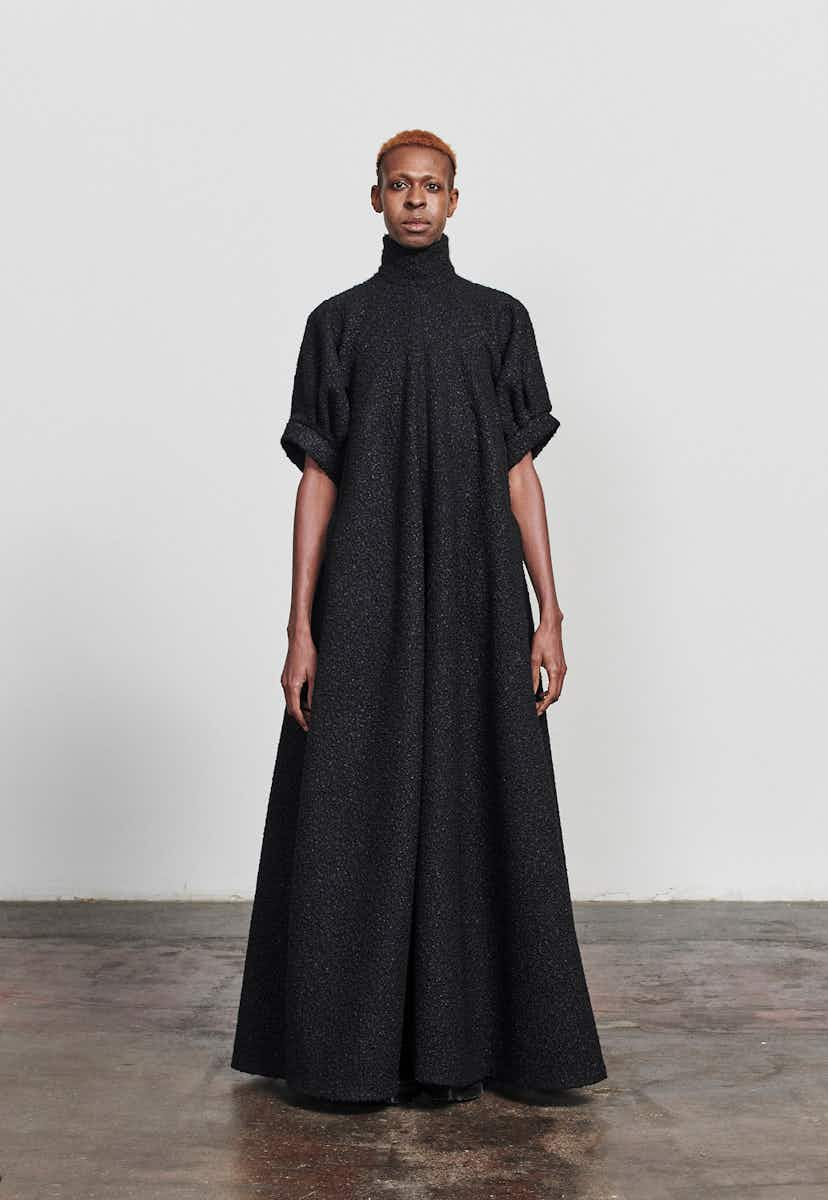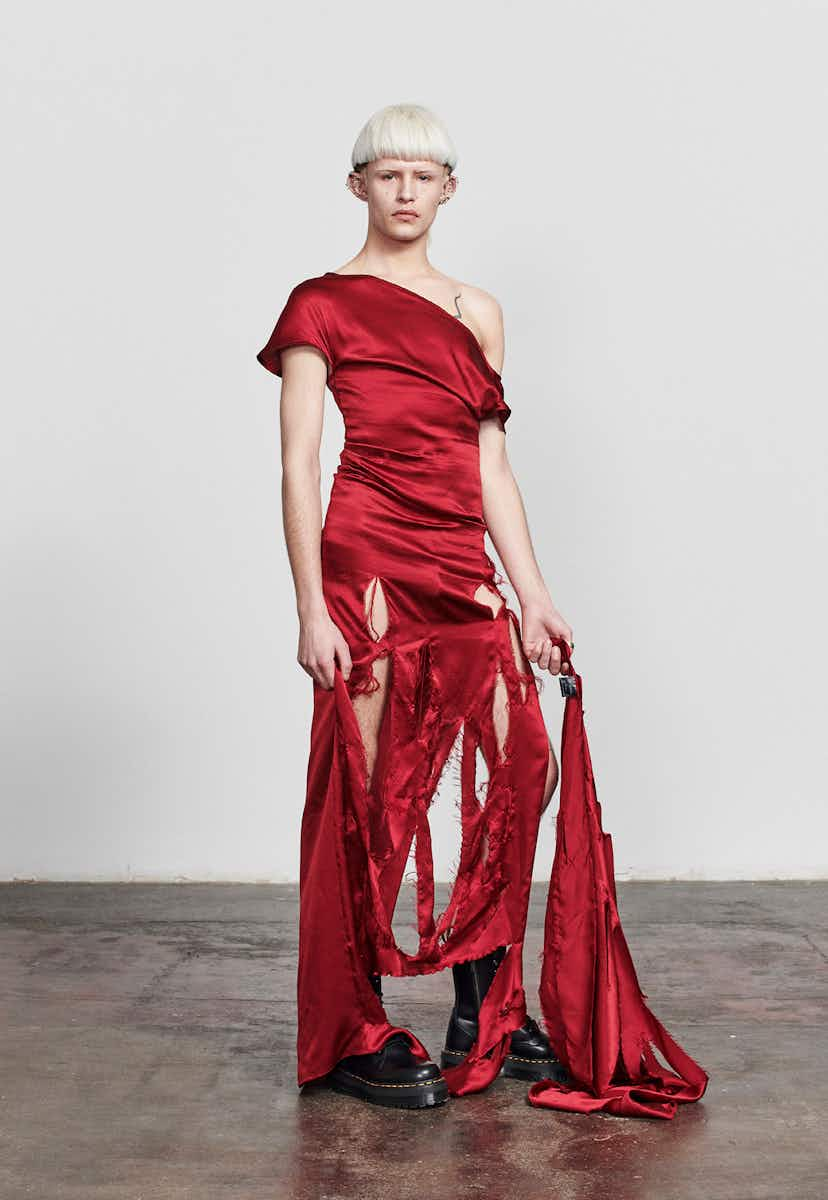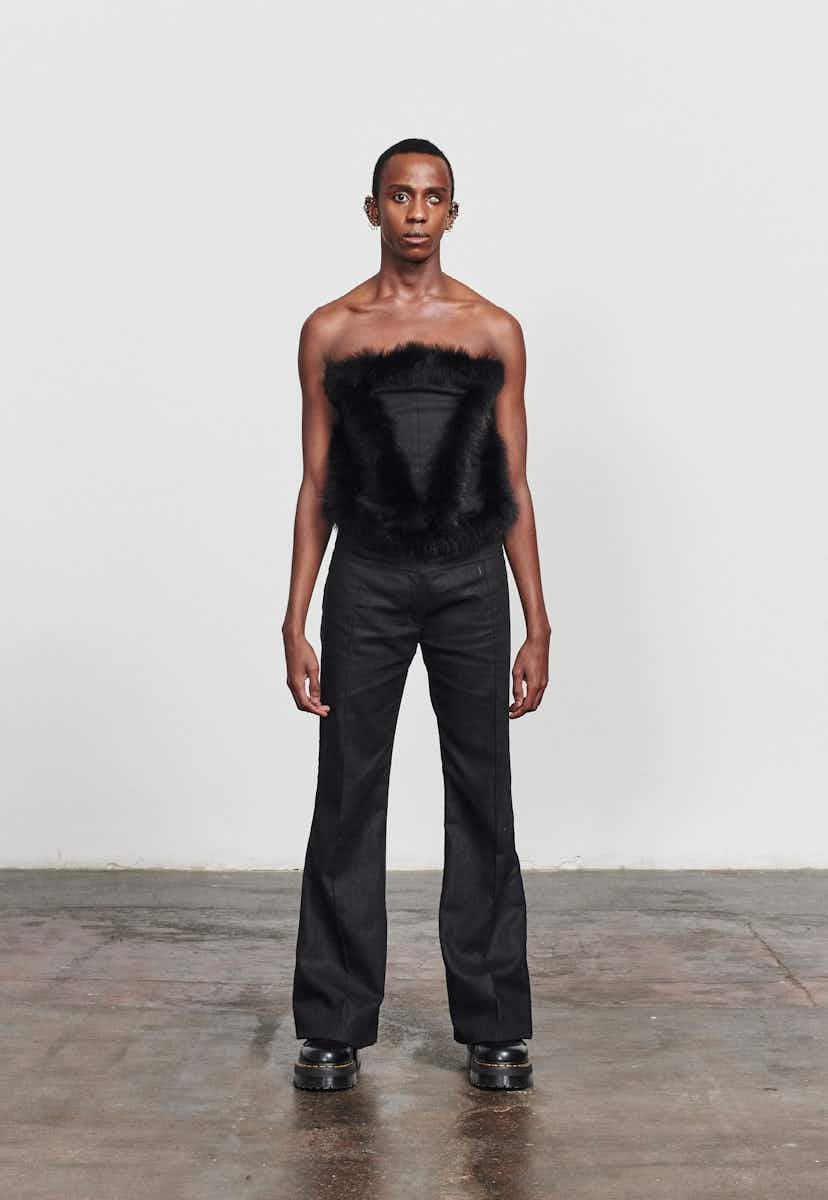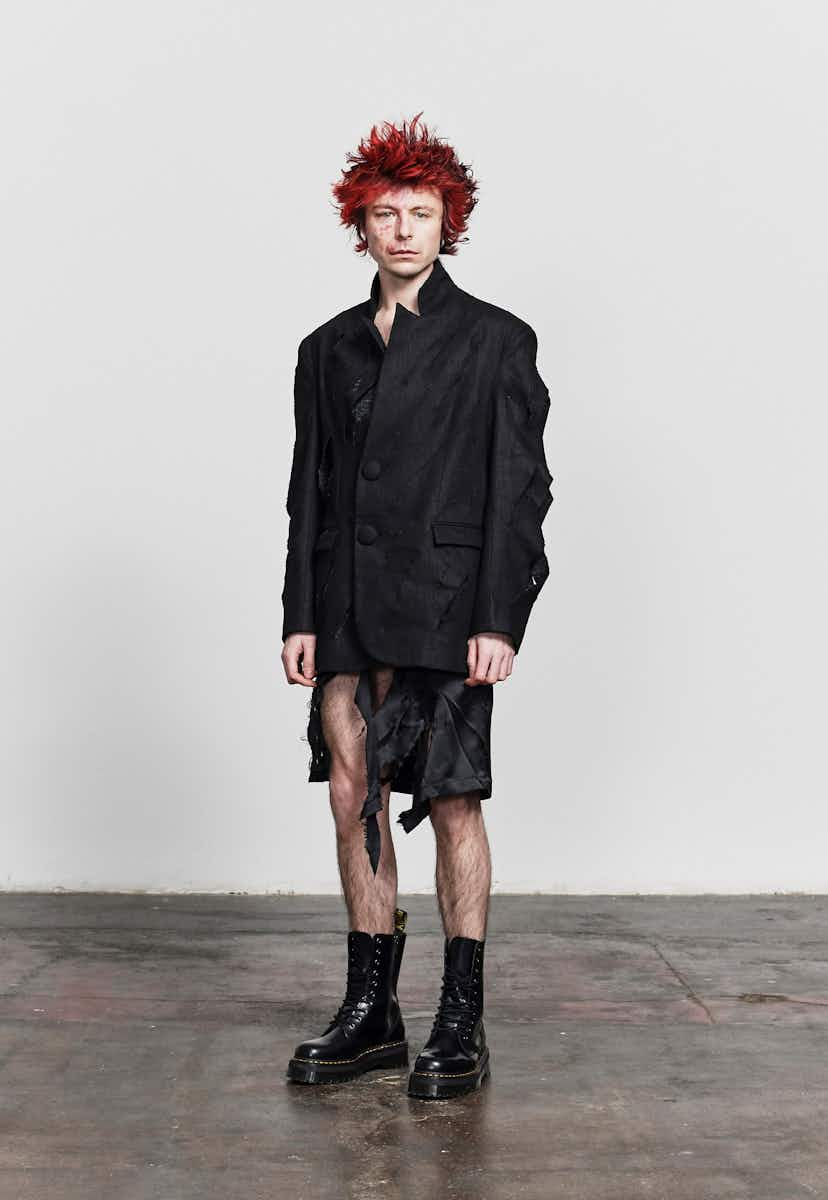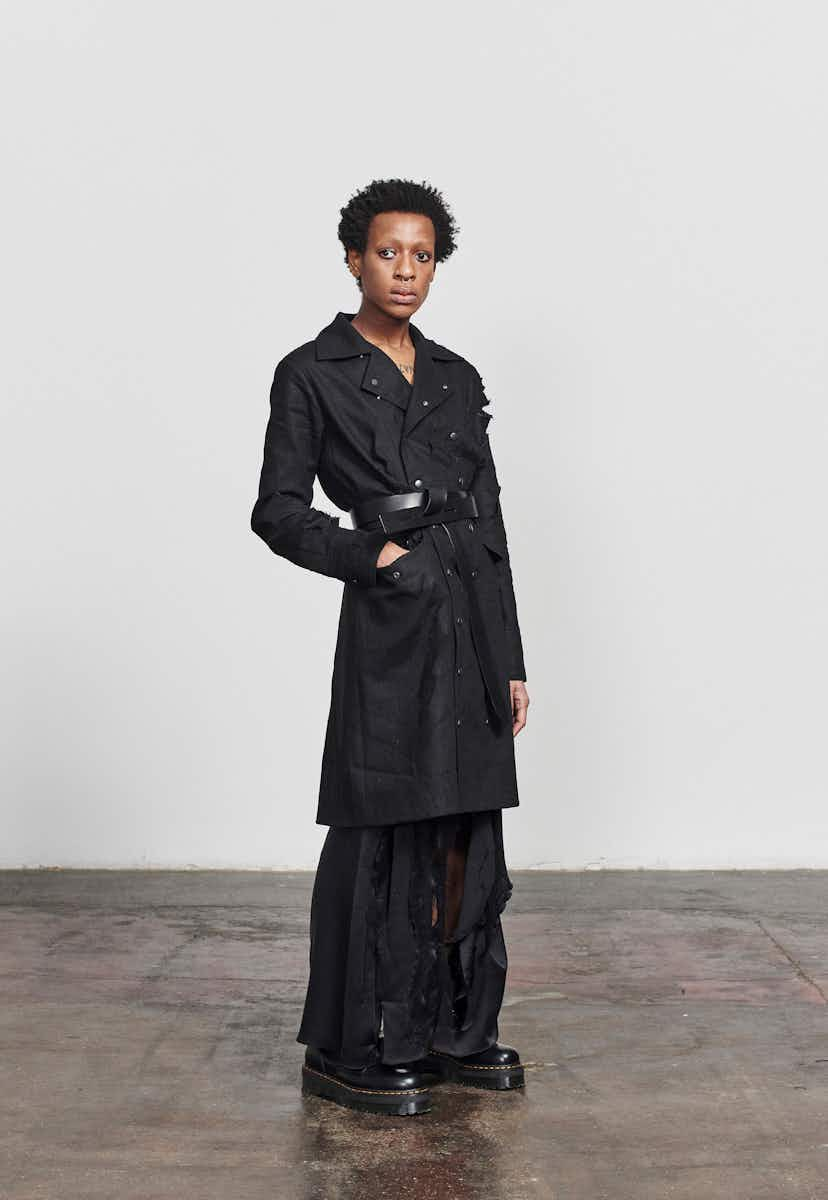 Richly patterned knitwear and technicolour hues influenced by the unknown depths of the sea
This season, Matty Bovan delivered to us via a characteristically dream-like film, Odyssey. Splitting the collection into three parts: The Fall, The Void and The Light, Bovan's sartorial proportions were pushed to their very limits.
Its overarching theme, though, was nautical. A dizzying selection of reworked, vintage fisherman prints and texts were custom woven in Merino wool from the designer's hometown of Yorkshire. Heavily sequinned, psychedelic fishnet mini dresses sauntered down the digital runway, interwoven with netting and adorned with cream coloured tulle.
Bovan cites the power of the sea and its elemental and destructive nature as a key reference point for the show, which is reflected in the trippy, layered and otherworldly nature of each garment, like the oversized jeans depicting rolling waves – the denim supplied by sustainable brand ISKO Denim for the second time since Bovan's SS21 collection. Chunky, checkered knits in contrasting ochre, red and monochrome tones, a sherpa bustier dress matched with powder pink tights and embroidered with thousands of upcycled Swarovski crystals all evoke notions of metamorphosis and the wild, unpredictable nature of the great blue sea. JW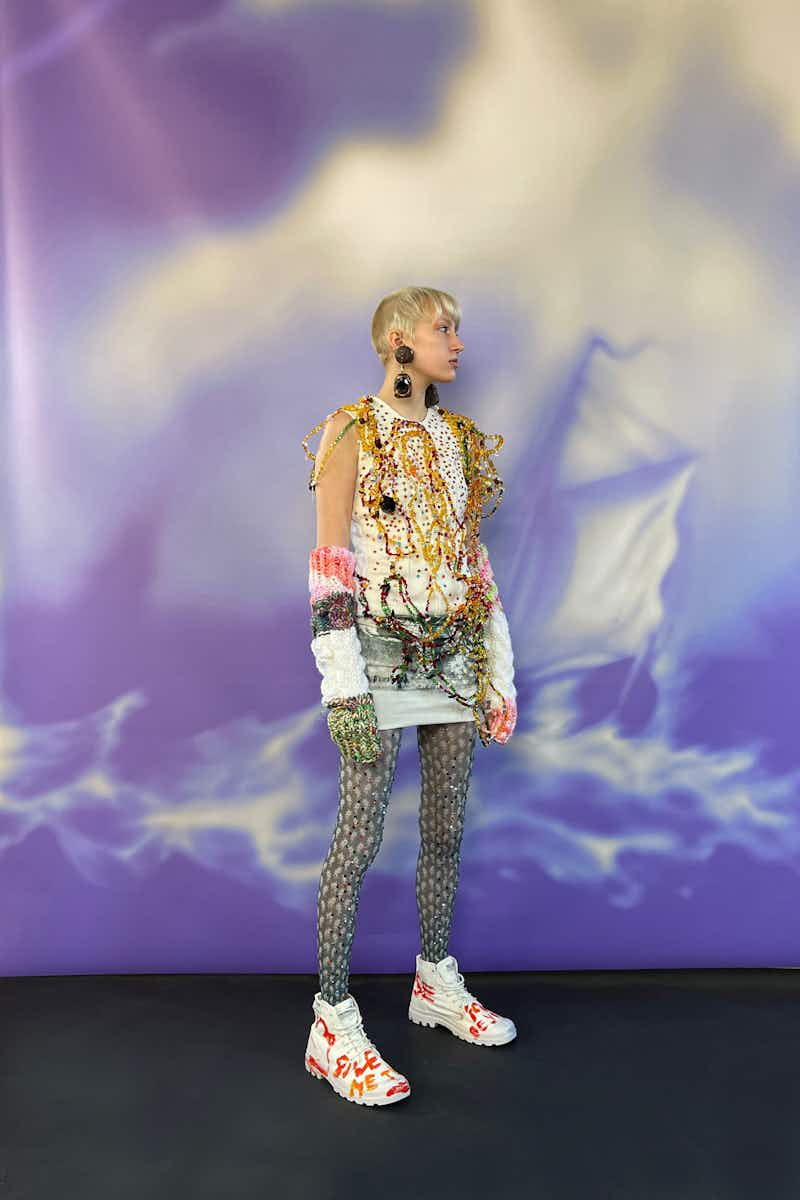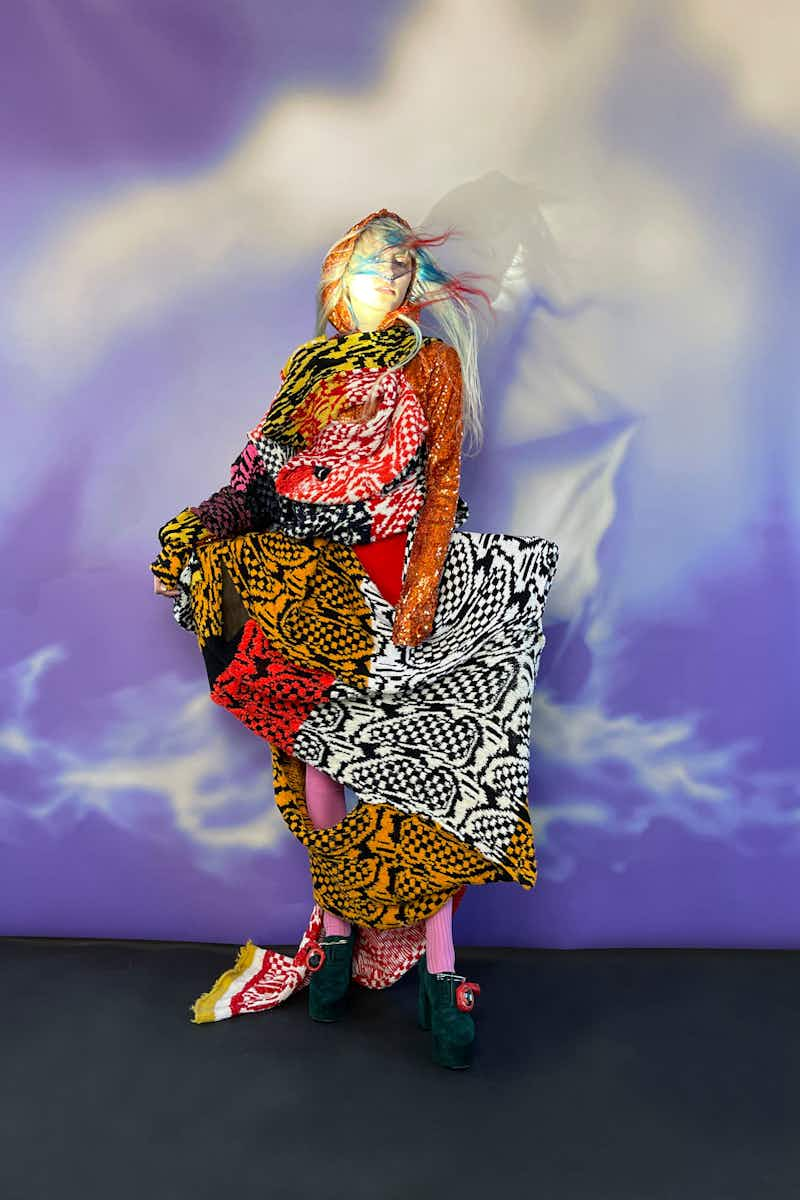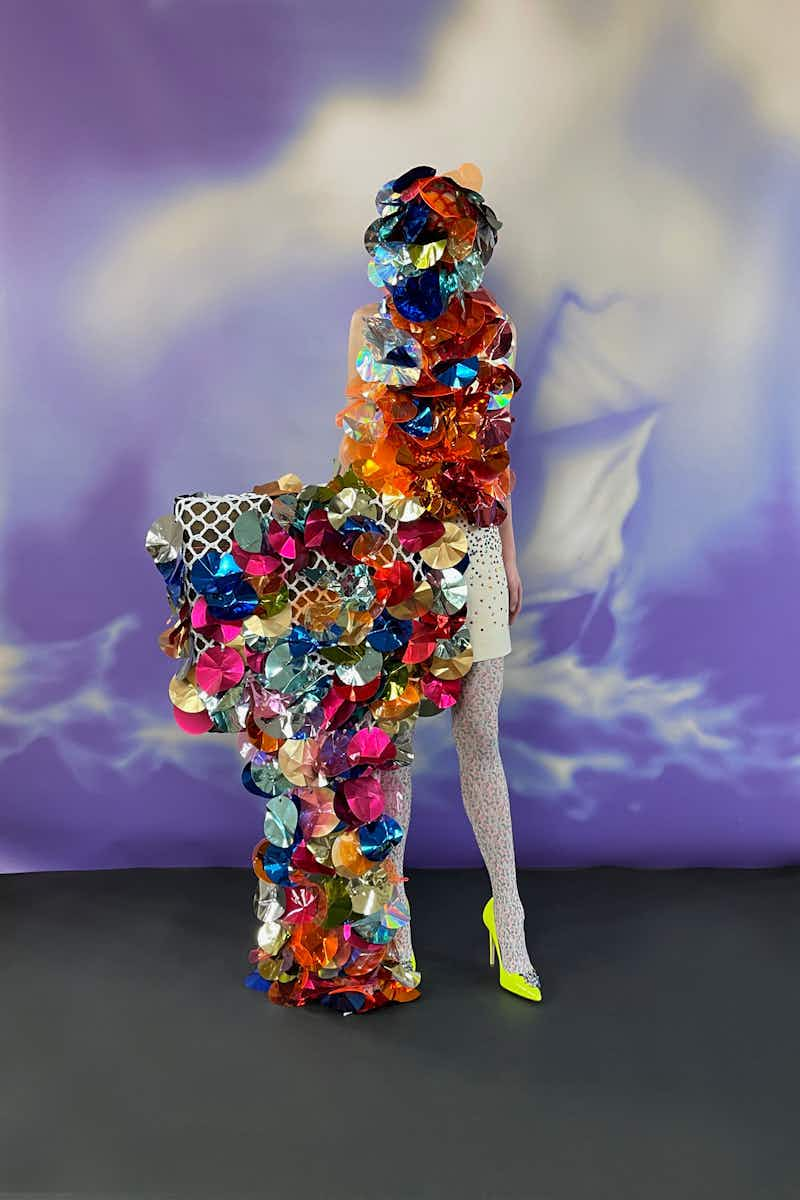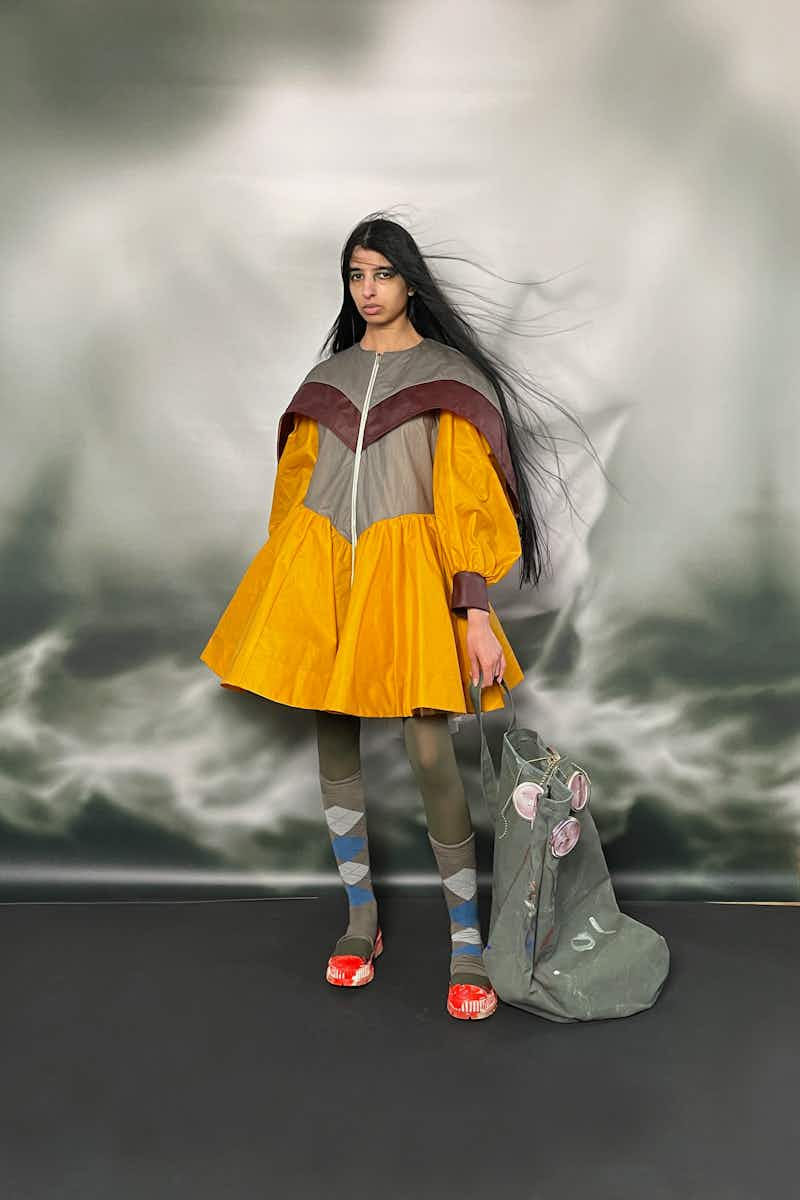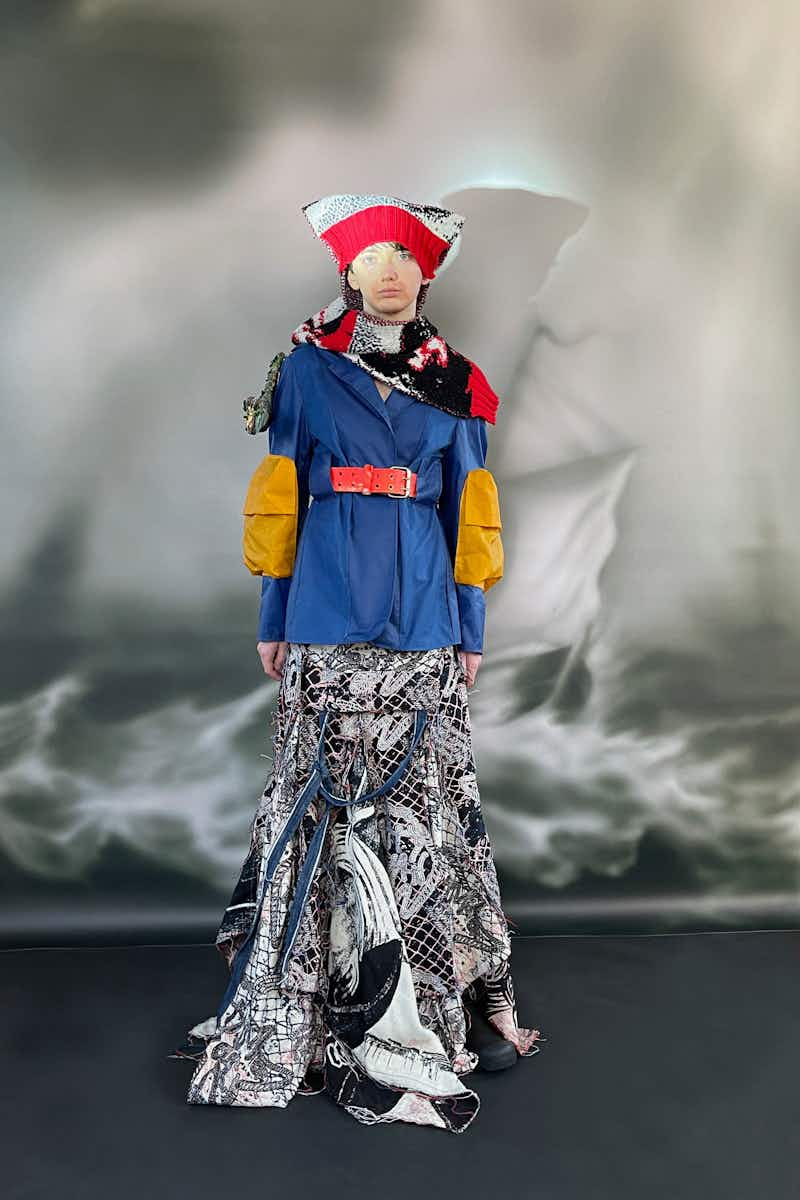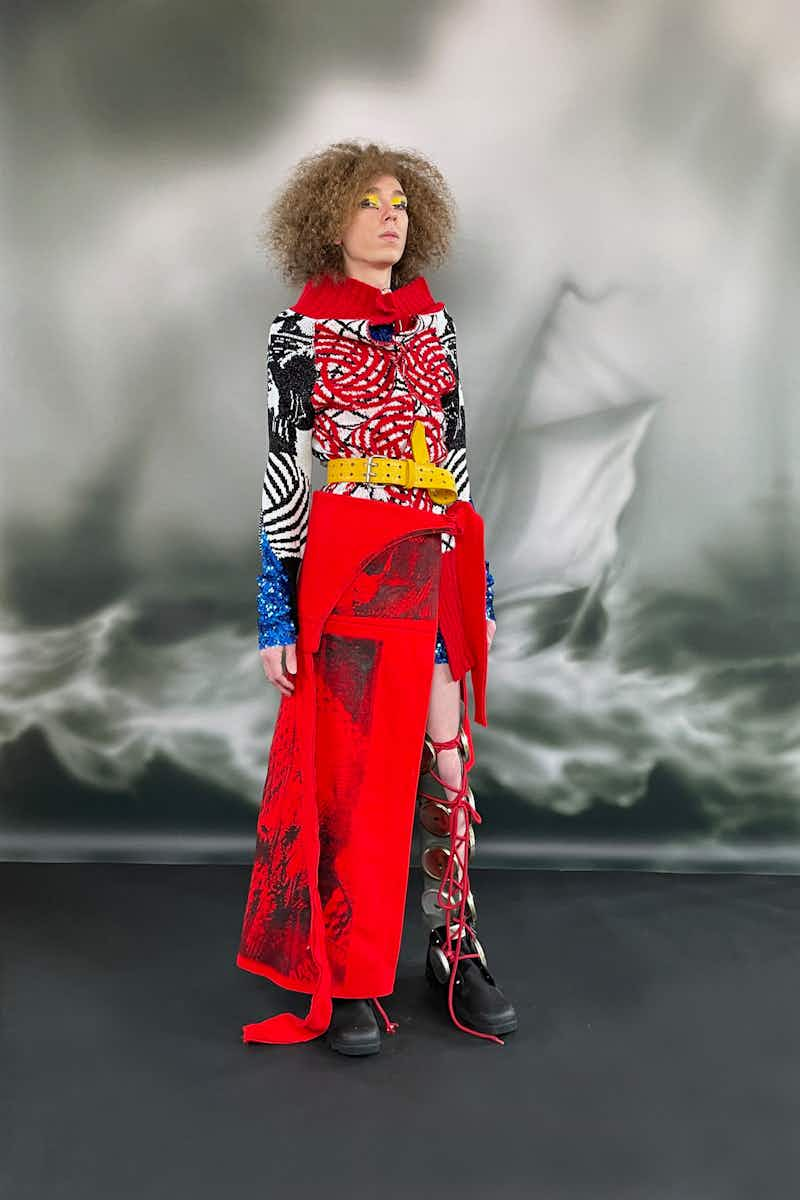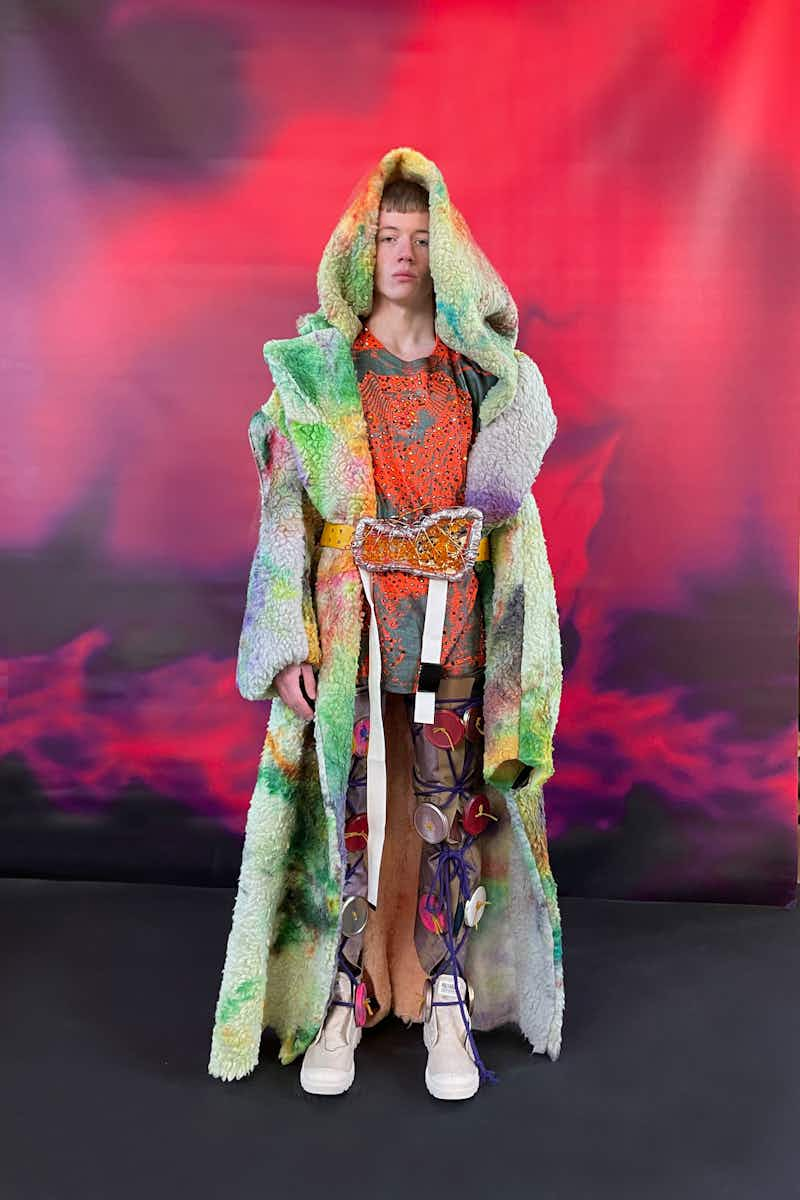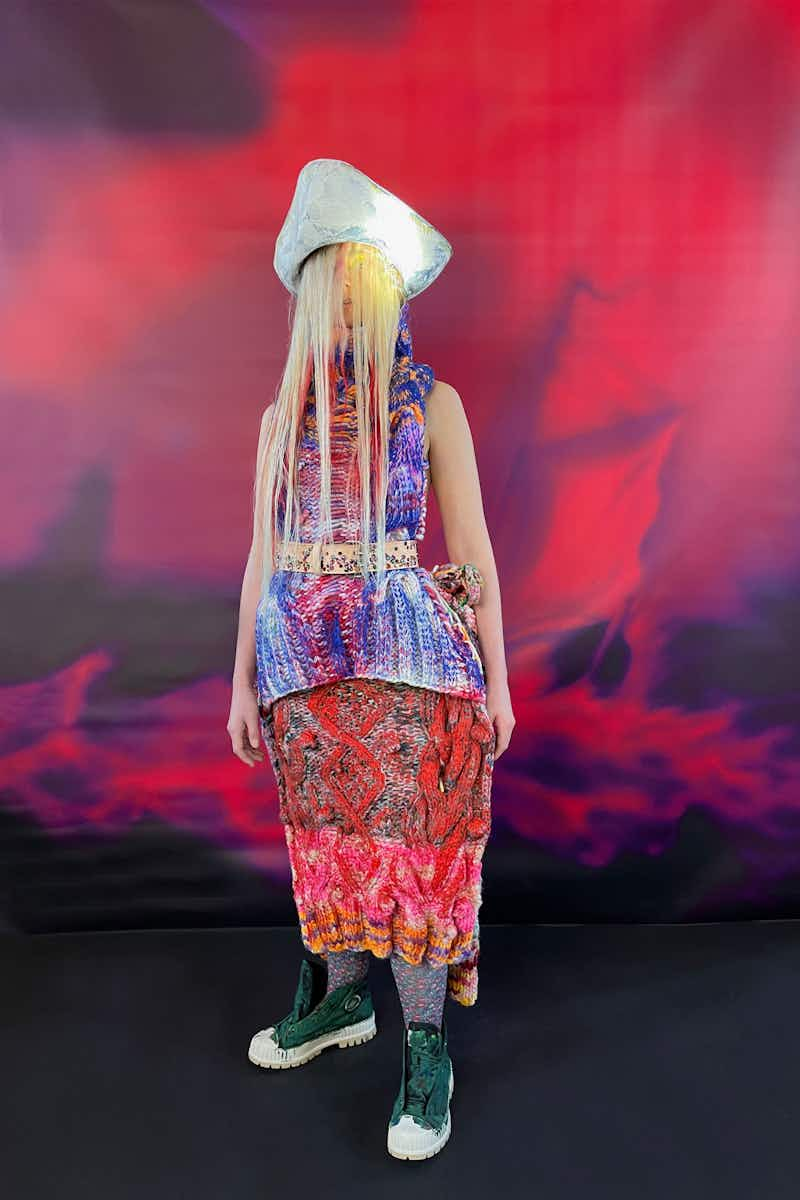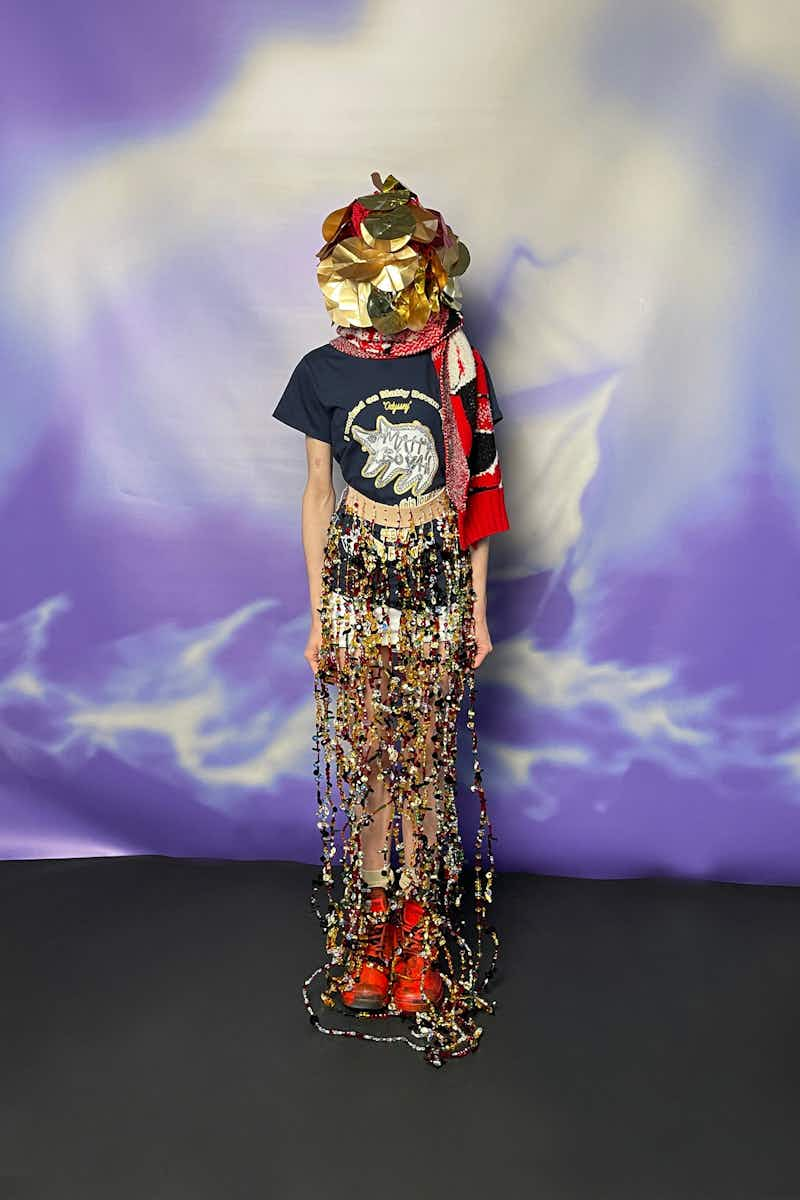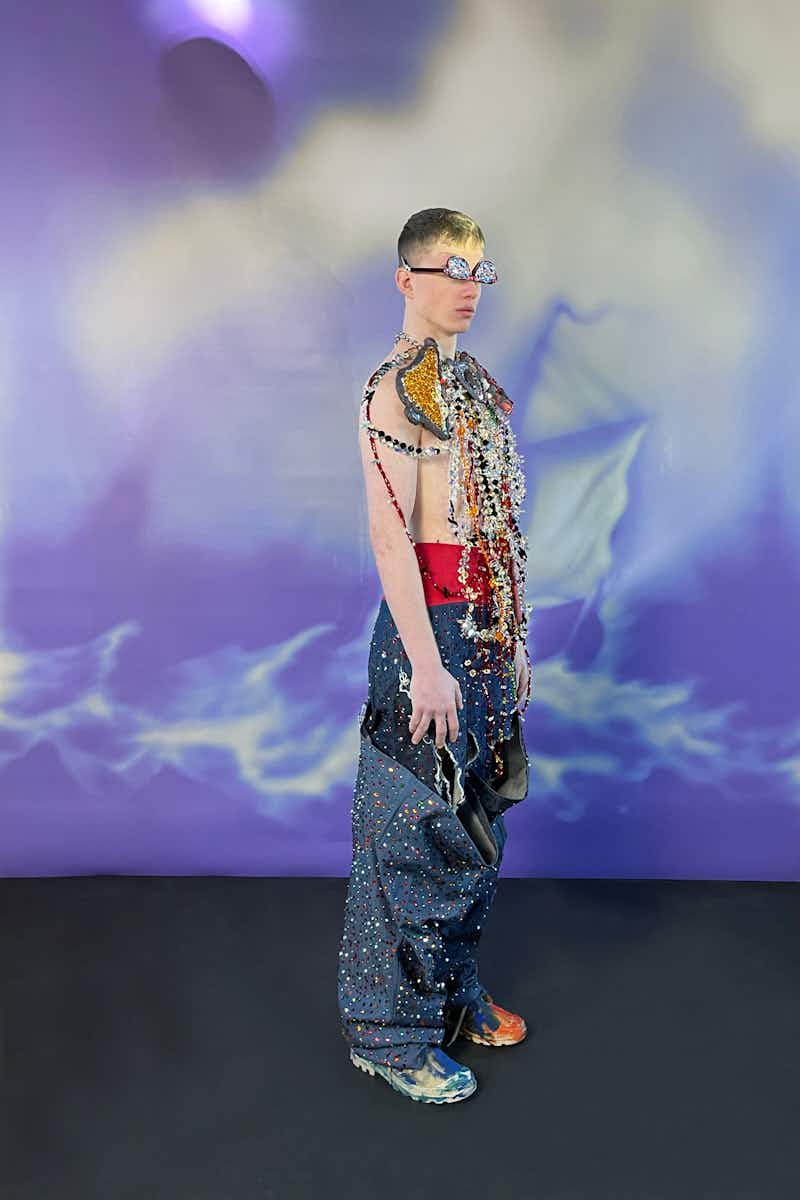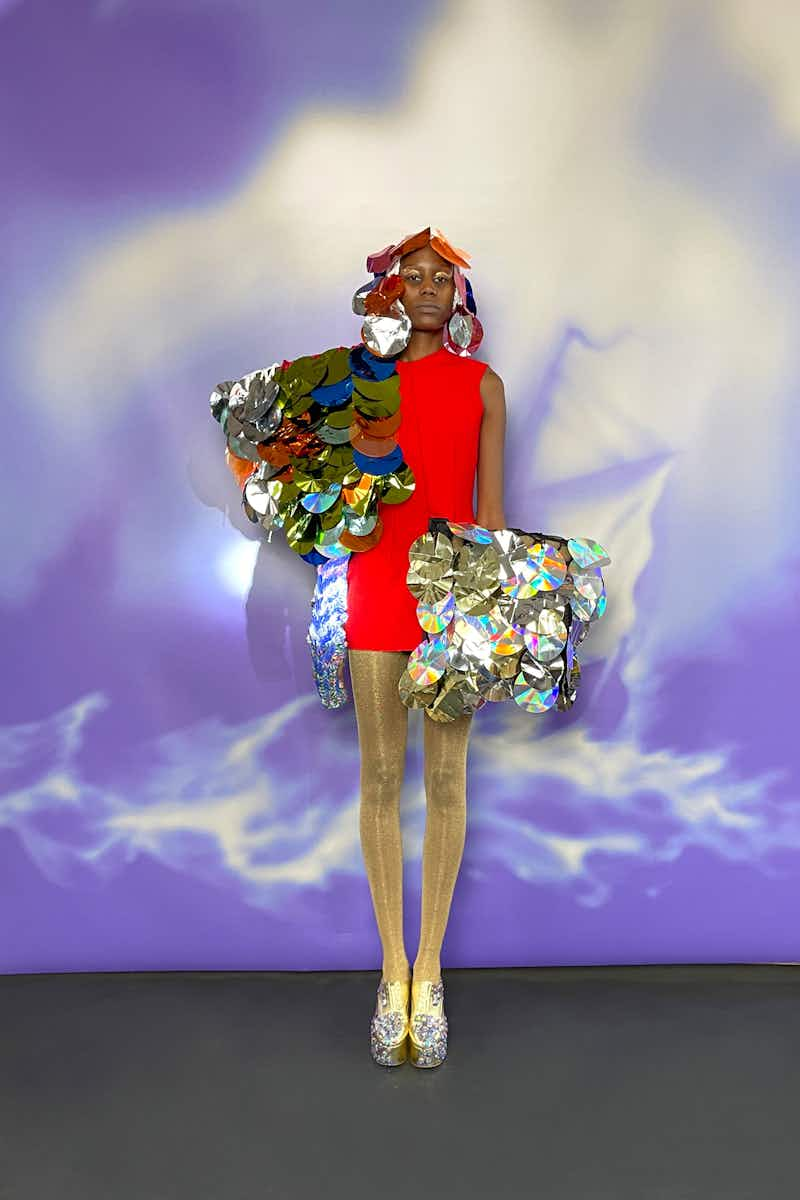 Luxury shoe brand Tod's offer support for the art school's emerging designers in a sustainably-minded collaboration
In an affirmative start to London Fashion Week, today saw the unveiling of Tod's Legacy, a collaboration between 35 Central Saint Martins MA students and luxury shoe and leather brand Tod's. A brilliant means of offering support to emerging designers during unprecedentedly challenging times, the project paired each student with a fashion industry expert including Simone Rocha, Charles Jeffrey, Hamish Bowles and Sara Maino, and tasked them with reimagining one or more of Tod's most iconic pieces.
"The proposal was read through very personal lenses," Tod's explains of the students' responses. "[Pieces were] deconstructed, taken apart, patchworked, embroidered, made in sustainable materials or assigned to new functions." And it's true, the results heralded some truly fresh takes on accessories, including a lot of rubber studs – the pebble-soled Gommino driving loafer being Tod's signature.
British-Morrocan designer Adam Elyassé drew on his dual heritage, conjuring up studded babouche slippers with hand-embroidered detailing, and an array of deconstructed streetwear. Andrew La Casse took crowded city life as his starting point, giving rise to a line of futuristic modular totes and backpacks with removable elements designed to make them more compact, all made from a pineapple-derived leather alternative.
Torishéju Dumi crafted playful patchwork shoes and a sculptural ​"bag within a bag", inspired by the work of Murano glass artist Fulvio Bianconi and the Italian cubist Gino Severini. While Andrej Gronau took German punk pioneer Nina Hagen as his muse and created an eye-popping range of footwear, including covetable platform Gomminos, and boldly embellished handbags (given the seal of approval by his mentor, Simone Rocha).
The launch video opens with screenshots of the designers and their mentors engaged in animated discussions from their individual homes, offering up a truly hopeful message of creative connection in this strange period of physical separation. DW

More like this