Bianca Saunders SS22: the designer's optimism is contagious

The designer presents her first collection since winning the prestigious ANDAM award in July. A vibrant, sartorial exploration of Jamaica, it's a family affair for the ages.

It's a sunny Friday afternoon in Milan and Bianca Saunders is all smiles over Zoom. That's not to say the menswear designer isn't usually cheerful, but this time, there's a very specific reason. At the beginning of July, she became the latest recipient of the ANDAM award, the French fashion prize that's previously kickstarted the careers of Martin Margiela, Saint Laurent's Anthony Vaccarello, Iris Van Herpen and, last year, Marine Serre. So yeah, you could say it's a pretty big deal.
"It changed my life, it really did," says the London-born designer of the award. The prize? €300,000 (£259,035) and a year's worth of mentoring from Balenciaga​'s CEO and President, Cédric Charbit. Having only graduated from the Royal College of Art's MA Menswear course in 2017, it's a huge feat. ​"Being on that list of previous winners who have come before me, like Margiela… it's crazy," she says.
See, what makes Saunders so brilliantly impressive is her appetite for deep, thoughtful references; the psychology of artist Erwin Wurm, sensual movement on dancefloors, her Caribbean roots and old menswear advertisements from the ​'90s. But make no mistake, these are clothes modern men want to wear.
This morning, Saunders presented her first collection since the big win. Most people would be feeling the pressure, but for her, it's a chance to look forward, dream bigger. More than anything, she's excited. "[Winning the award] made me feel as though I wasn't dreaming big enough [in terms of] what the possibilities were for the brand," she says. ​"It's given me a push to step outside of [wanting to] just being known as an emerging or young designer."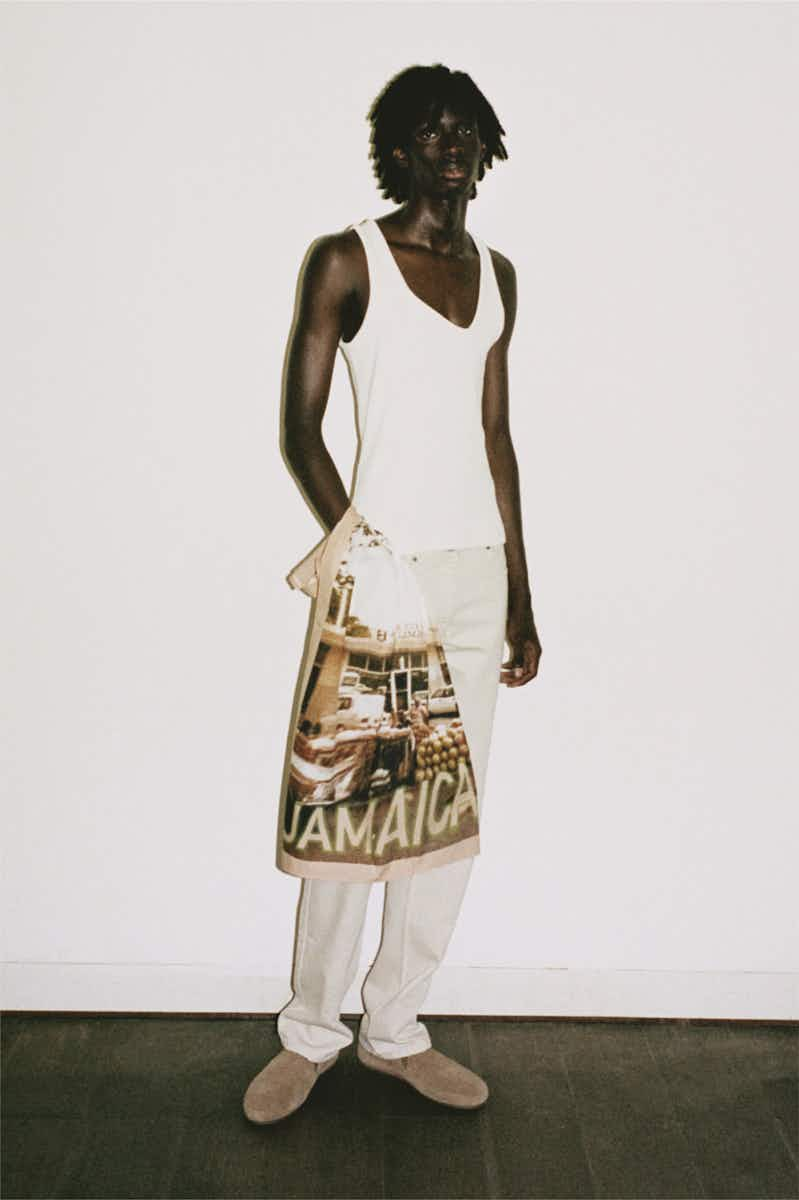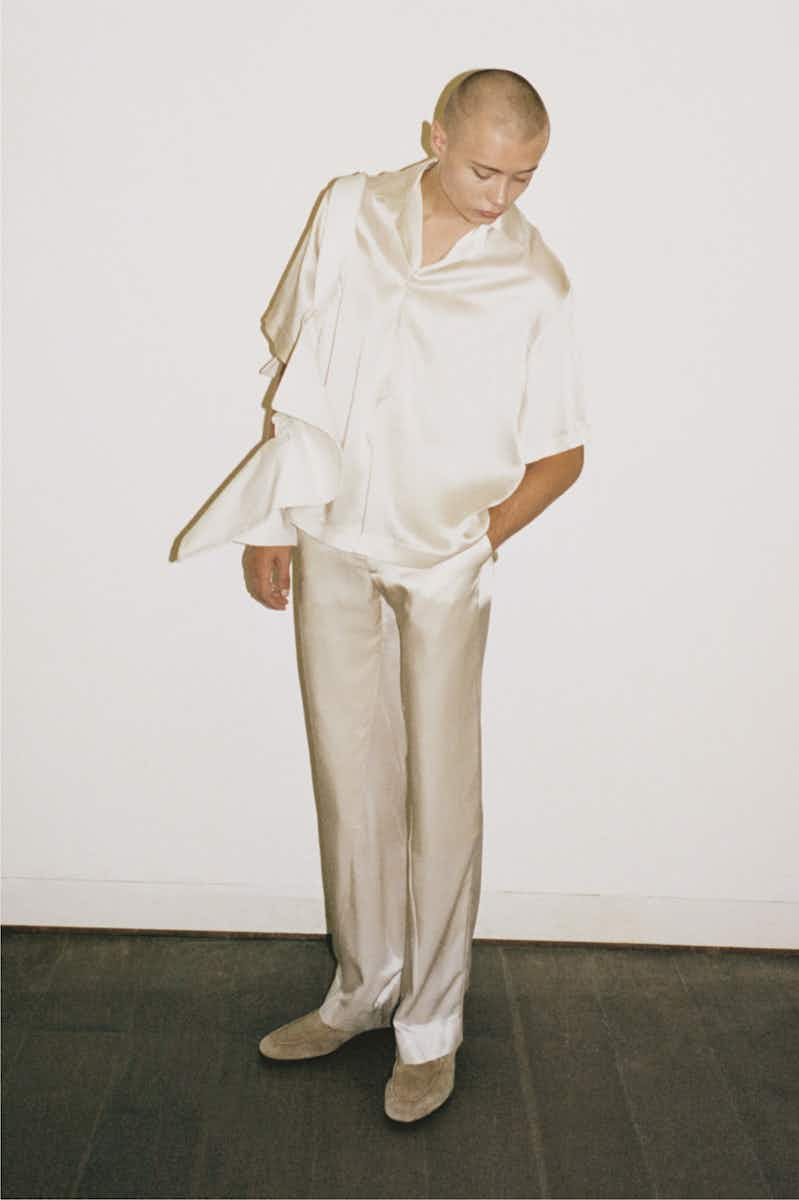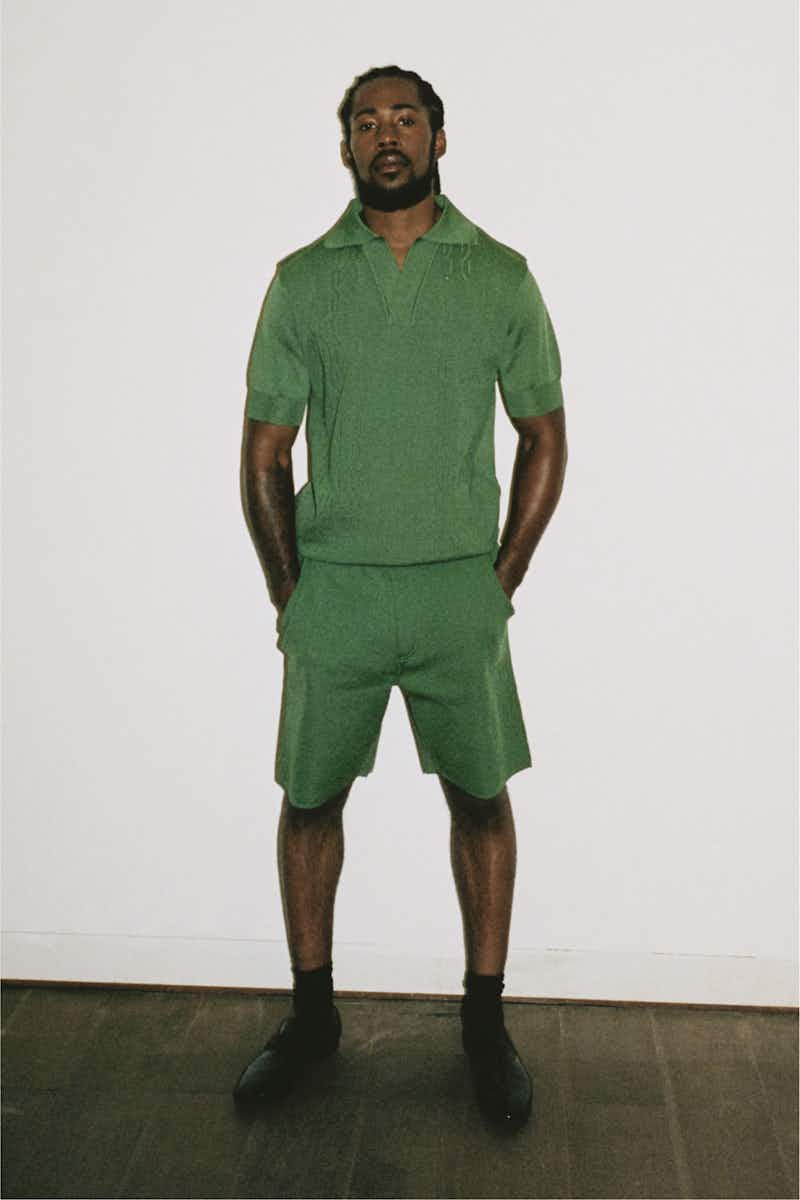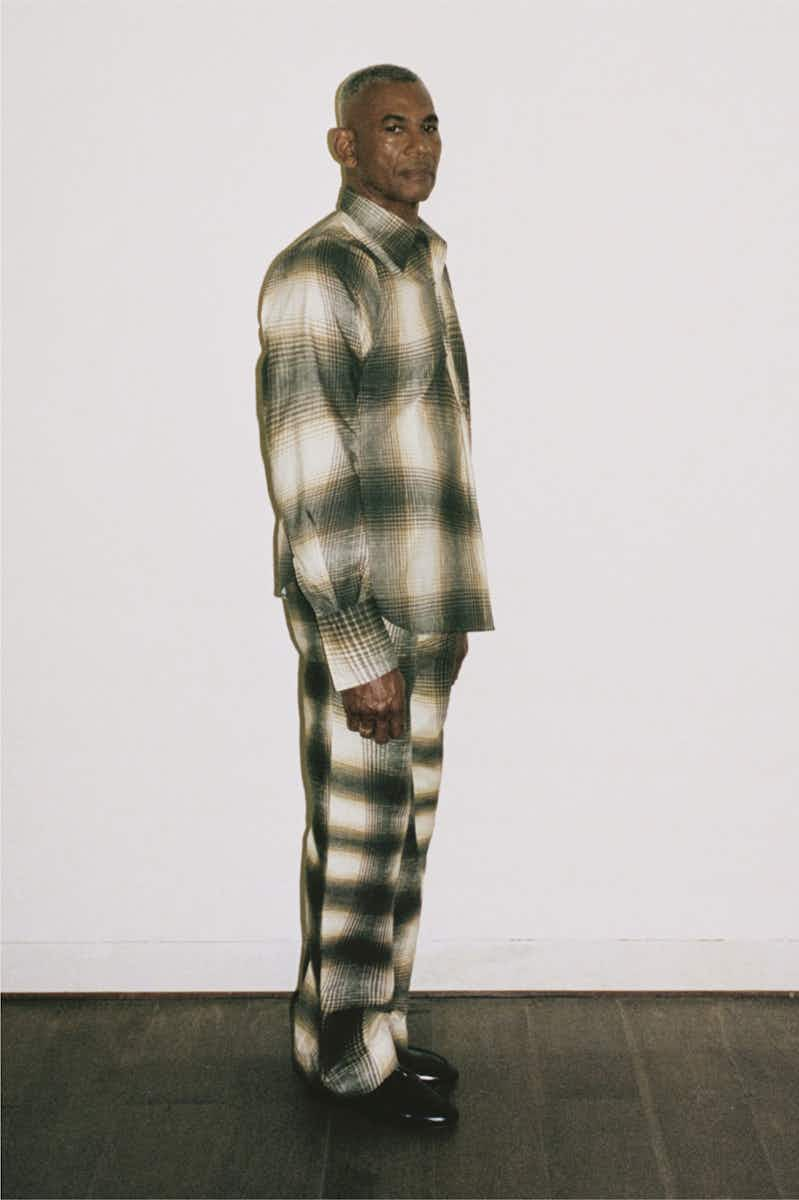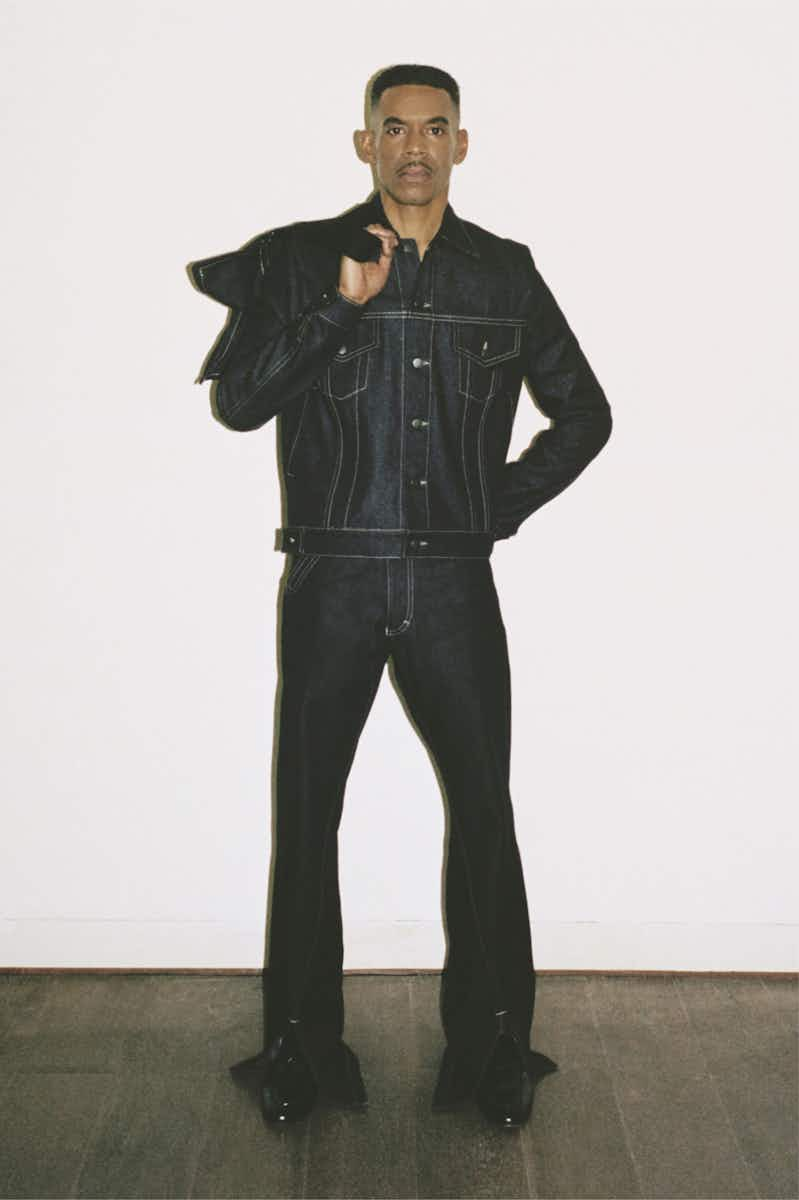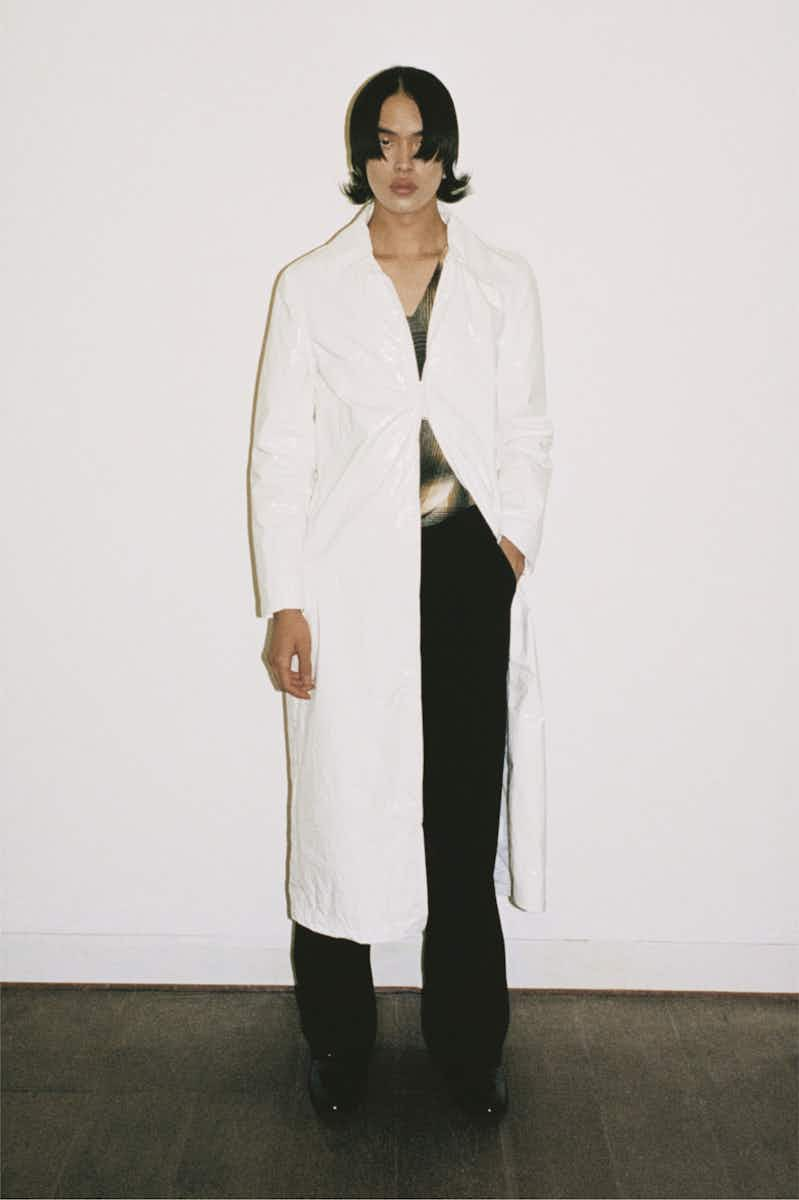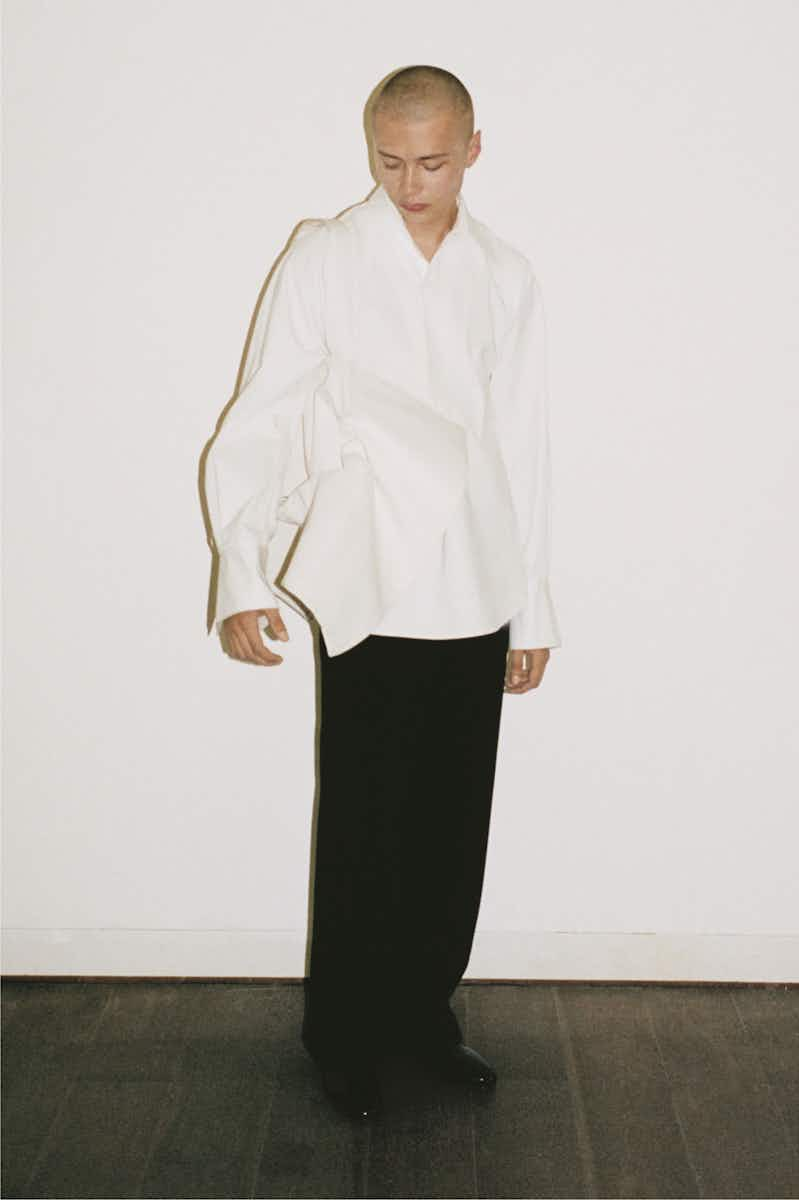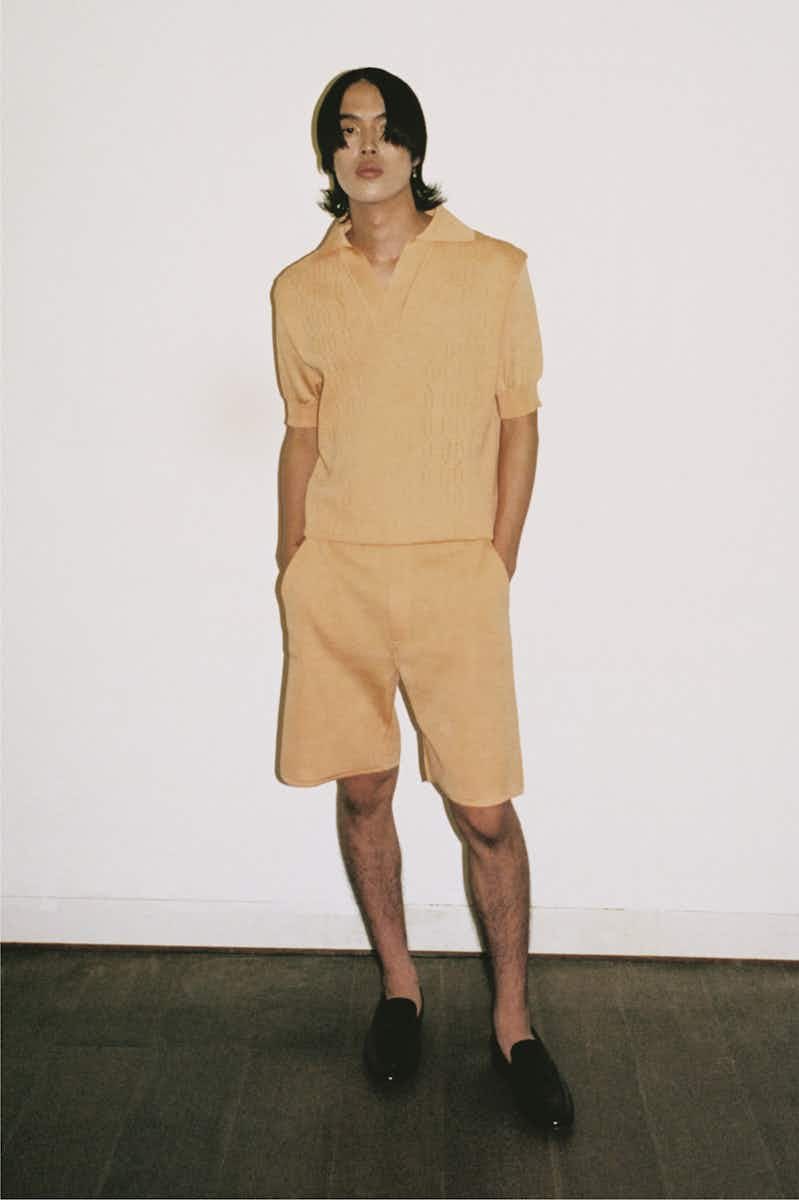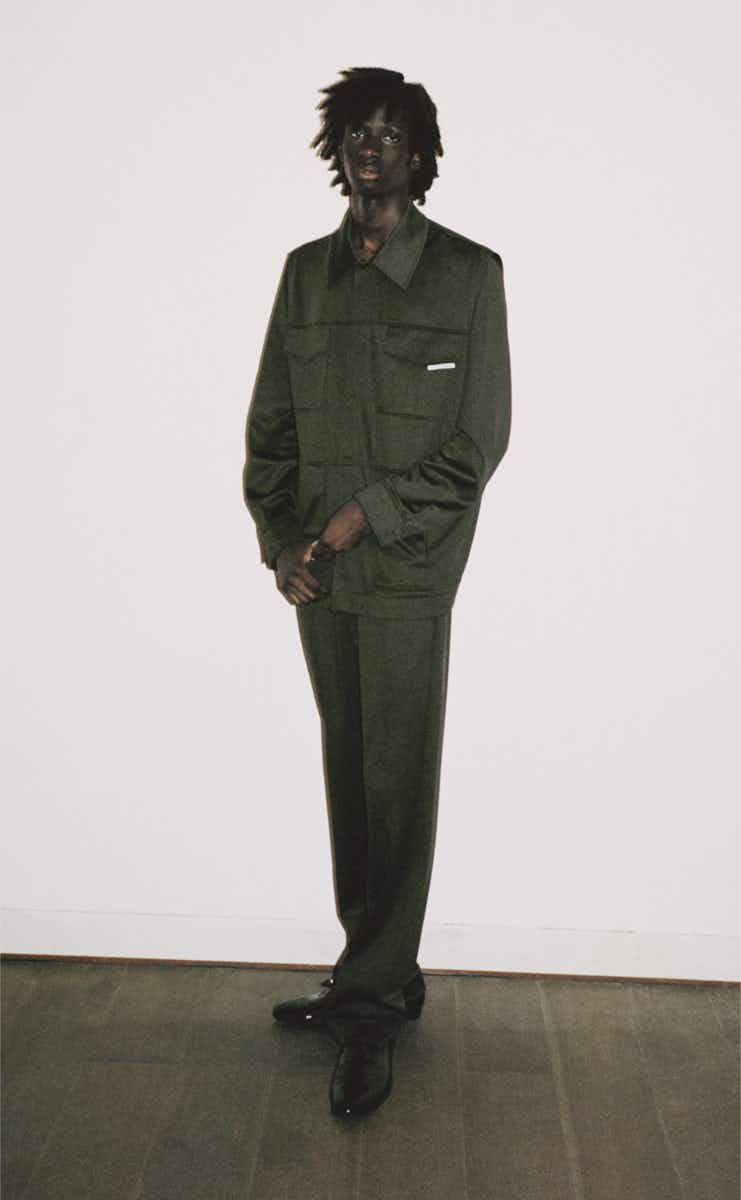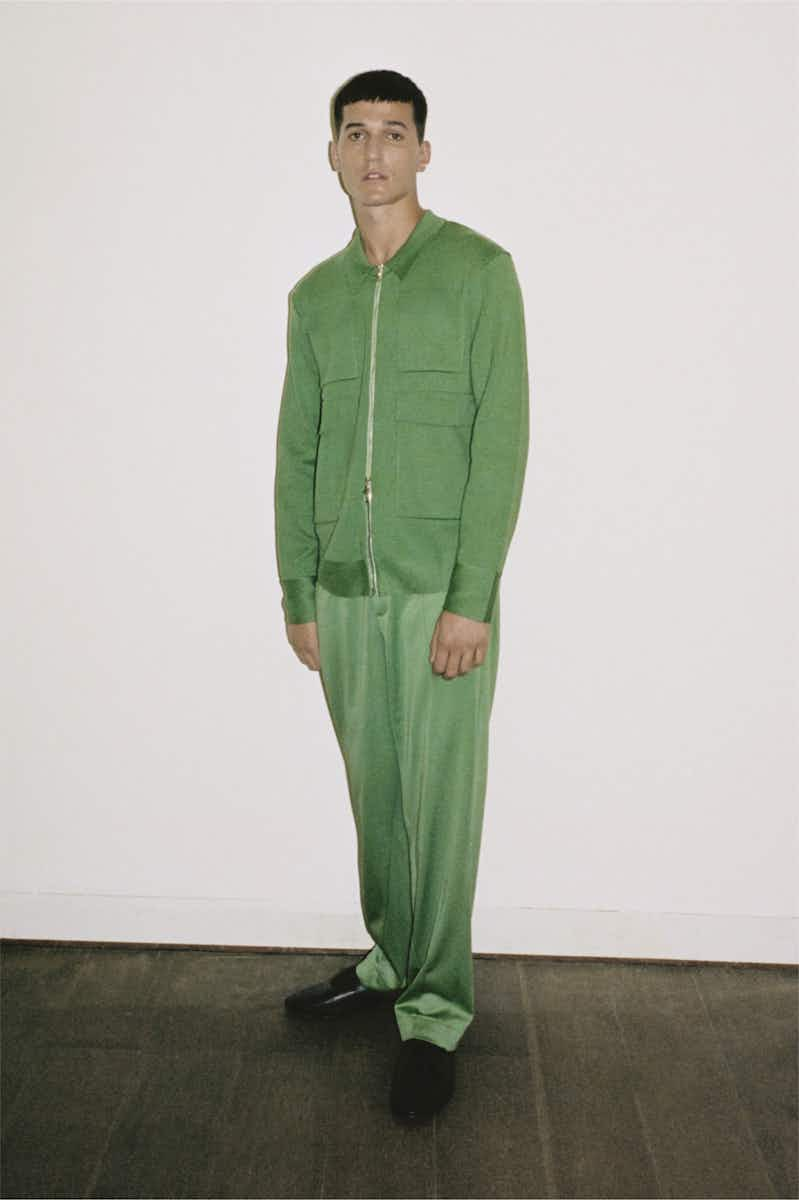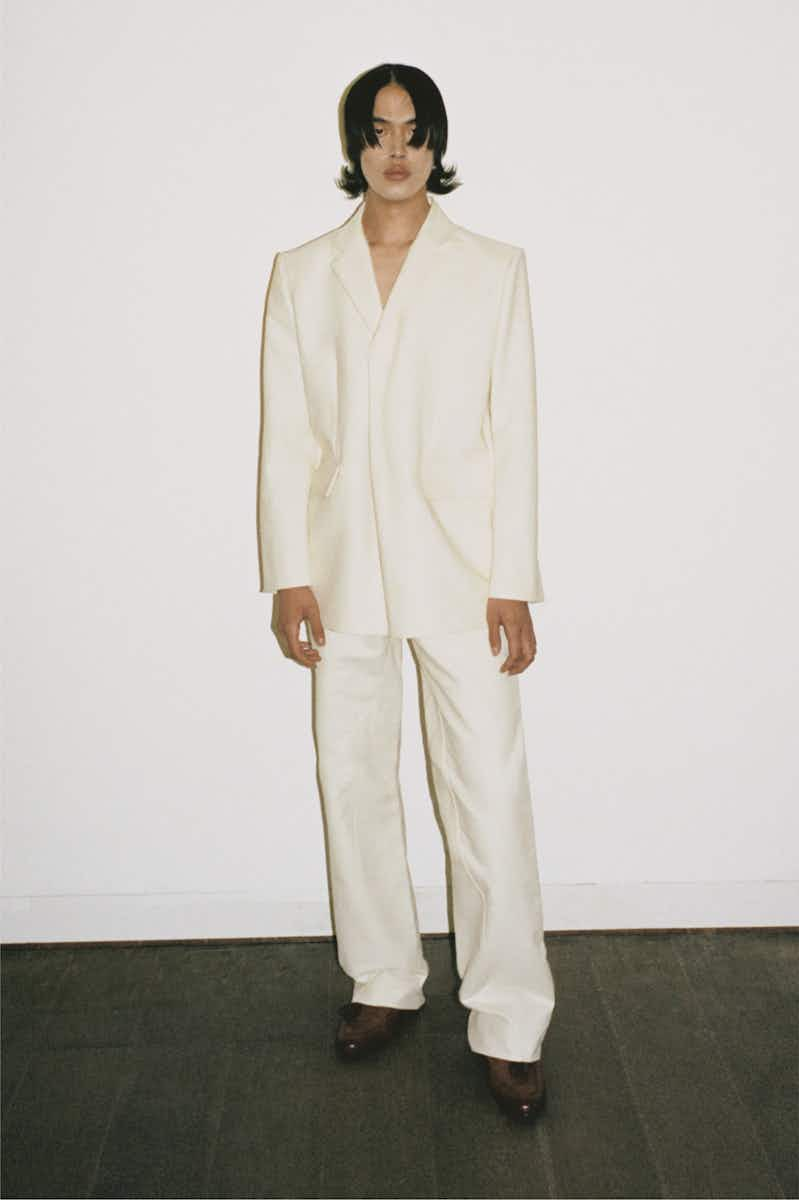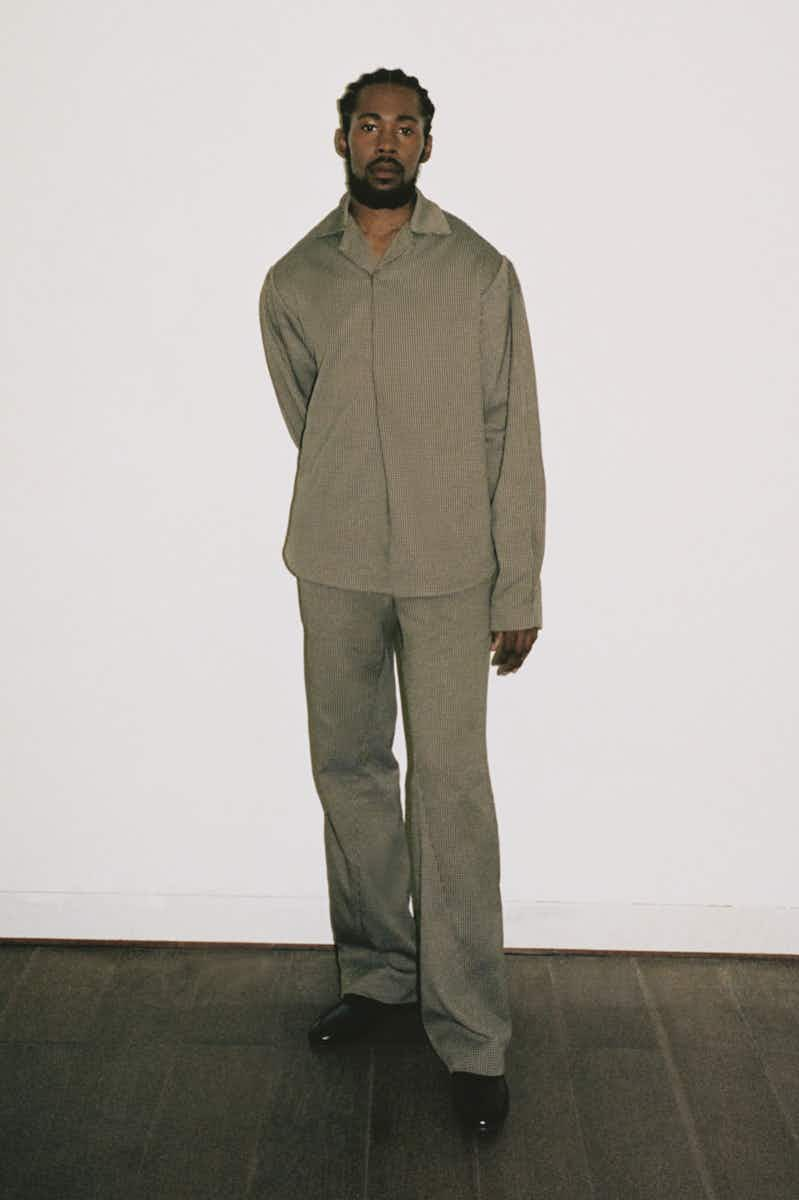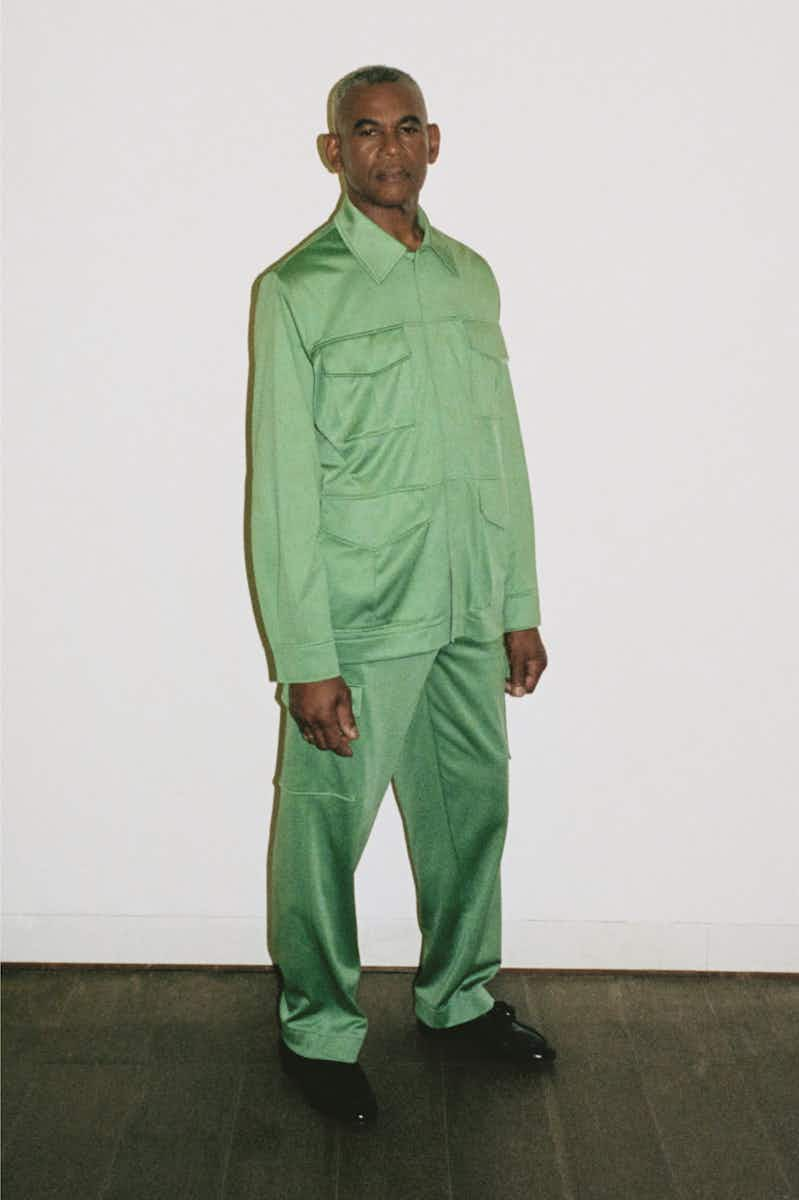 Saunders was rifling through family photo albums when she came across a series of photographs her mum took in Jamaica when she was 18. She was struck by the rich colour palette of the images – crystal blues, vibrant greens, sandy neutrals – which went on to form the basis of her SS22 collection. Then came the silhouettes, inspired by muscular men wearing printed tops that distorted when stretched over their bodies, sta pressed trousers lining the legs and shirts curved around bulging biceps.
"I was really interested in working out how to merge sta pressed trousers with casual pieces," she explains. ​"Most of my collections have always been a mix of tailoring and denim, and finding that balance, taking elements of that elegance, felt like a good mix for how we're coming out of [the pandemic]."
No detail is compromised here. This season, Saunders introduces the ease of pullover shapes, pointing to her forward-thinking optimism for life after the pandemic. But rather than a hoodie, the designer opts for slick, tailored jackets, using her signature rolled shoulders to blend smart and casual. With her aptitude for distorting the male figure, pockets are cut super high on trousers to create a waist. On tailored jackets, a rounded silhouette is built using a dart at the top of the sleeve head, barely perceptible to the eye and allowing Saunders to add volume to the sleeve with a clean line, sitting flat against the body.
The colour palette of Saunders' initial family photo reference shines through feel-good yellow on a crisp shirt-shorts co-ord, a collared emerald green polo top and sweet peach on a full-zip jacket. She introduces prints, too; checks and green and light gold striped knee-length shorts, top and jacket. It's a departure from the often darker, earthy tones of the designer's work (with the odd baby blue, maroon or copper orange punctured throughout the seasons), but the base notes carry forward; a sandy trench coat, smart black trousers, indigo denim and khaki viscose casualwear.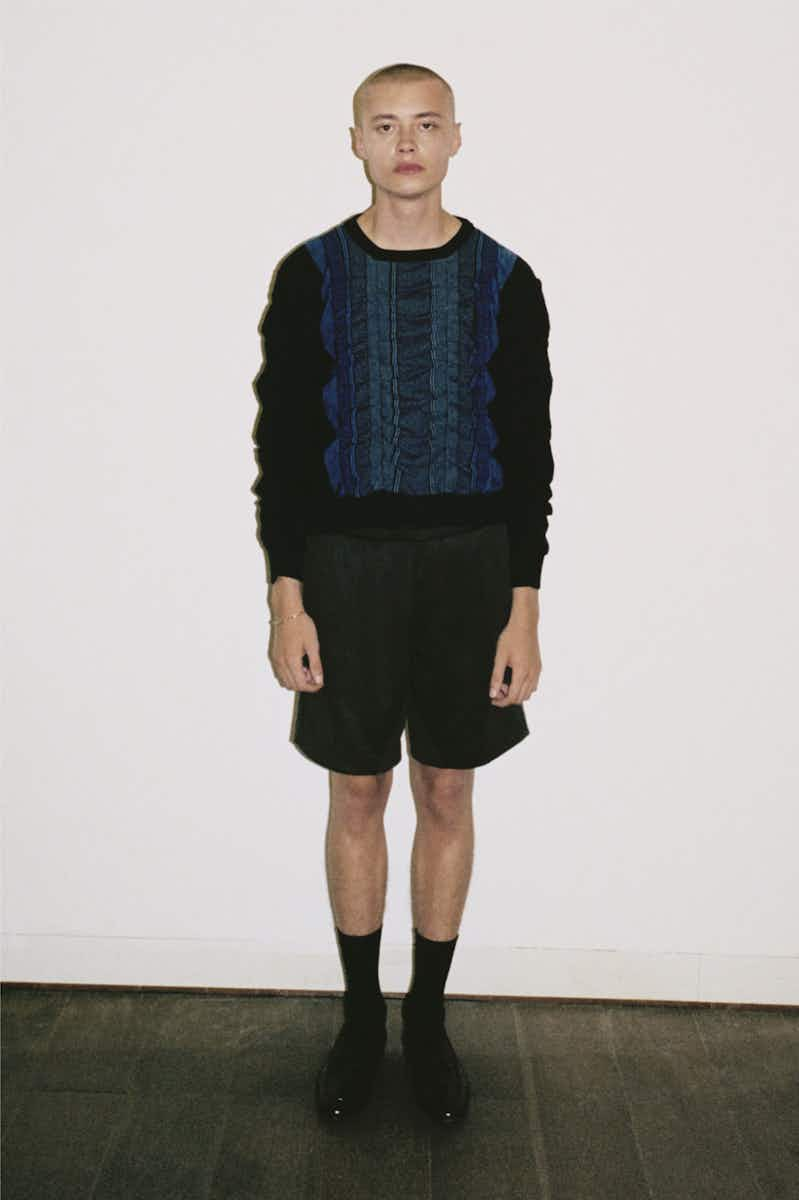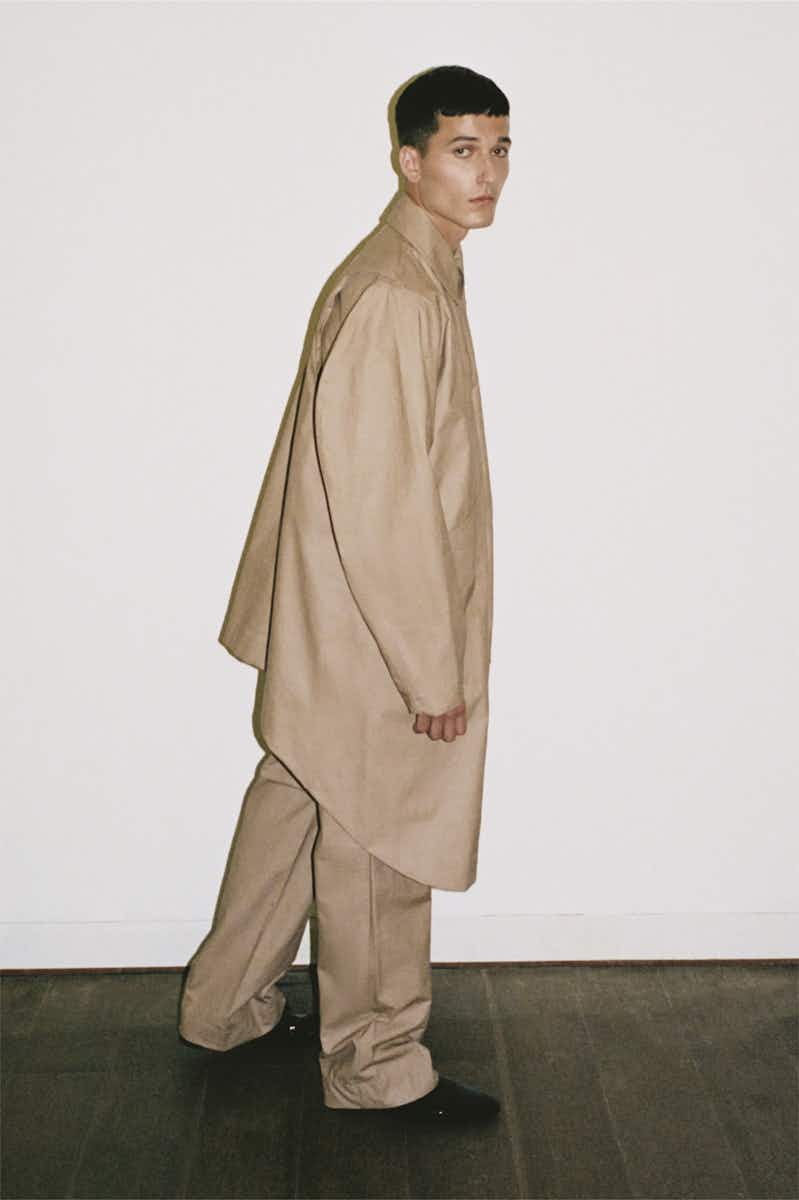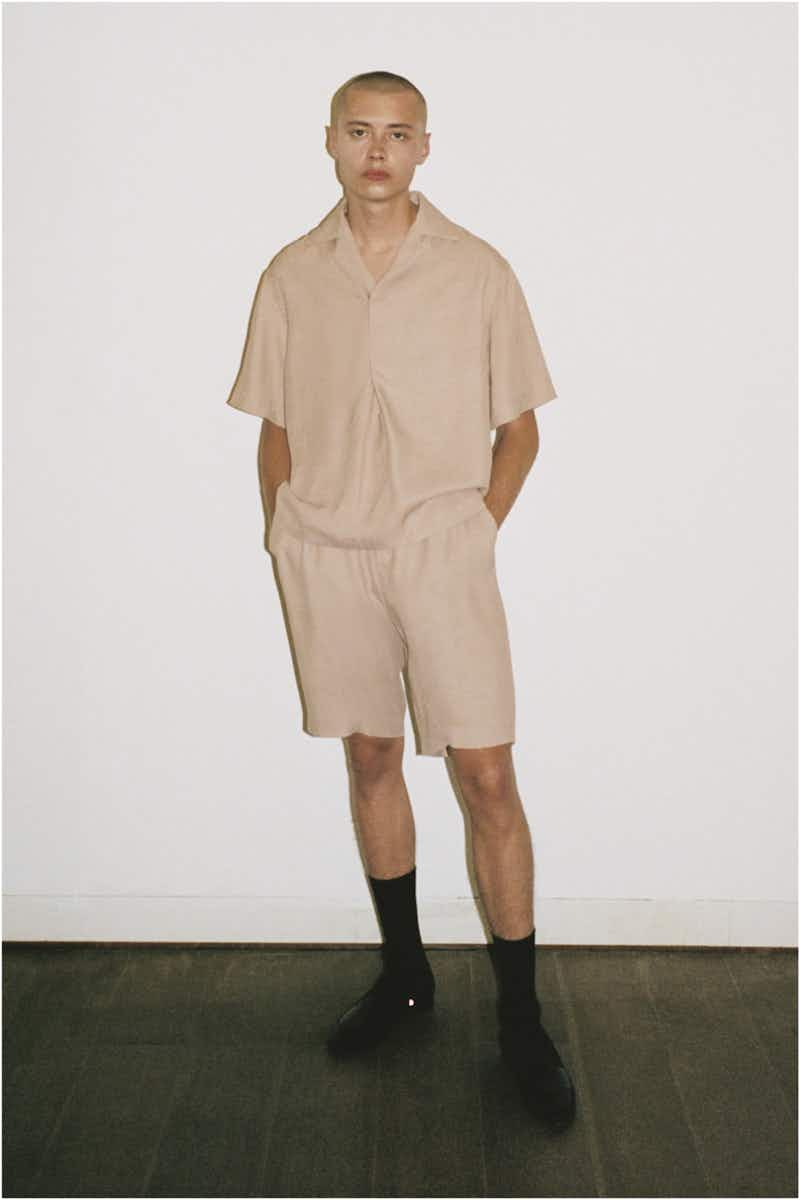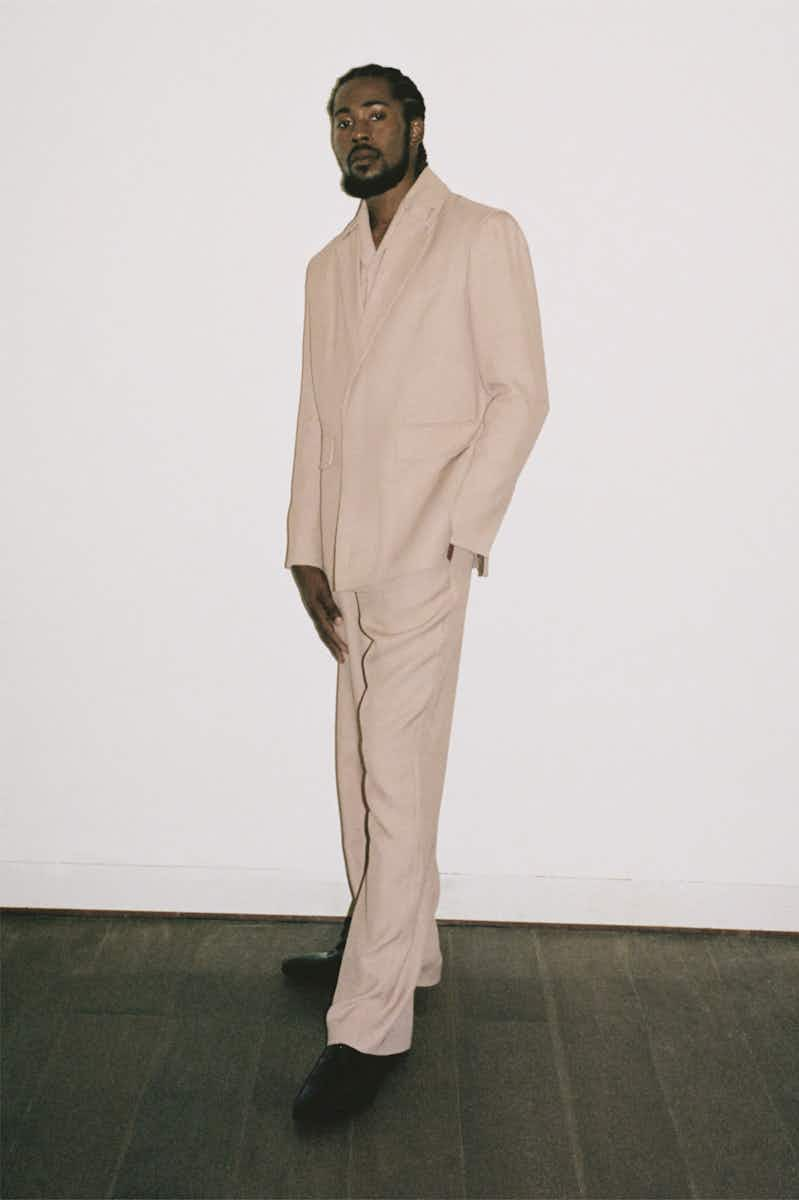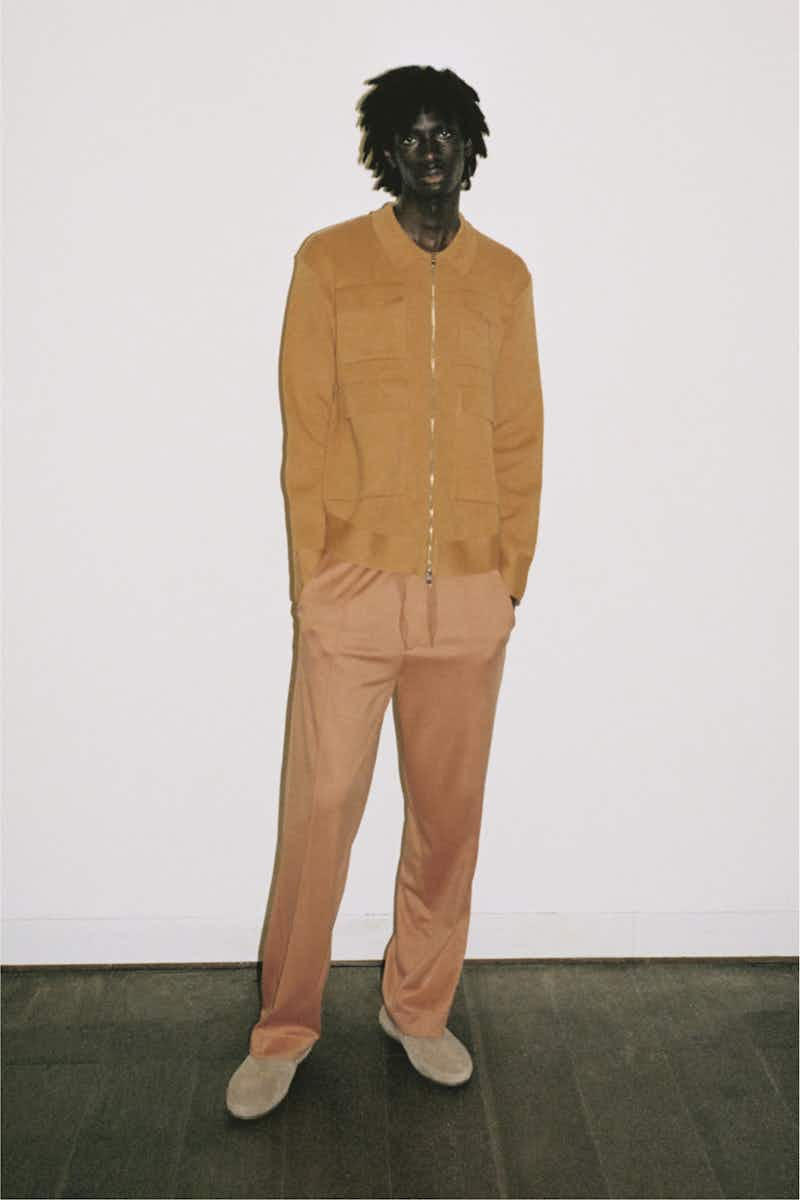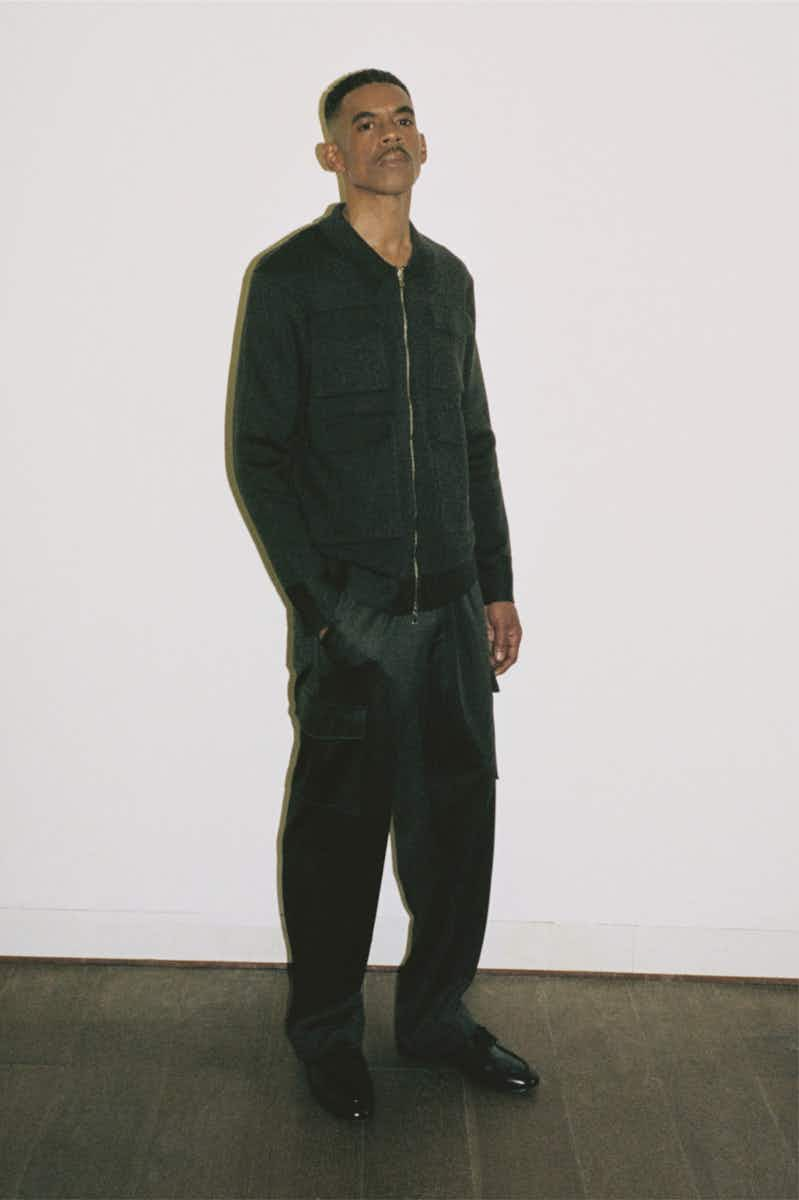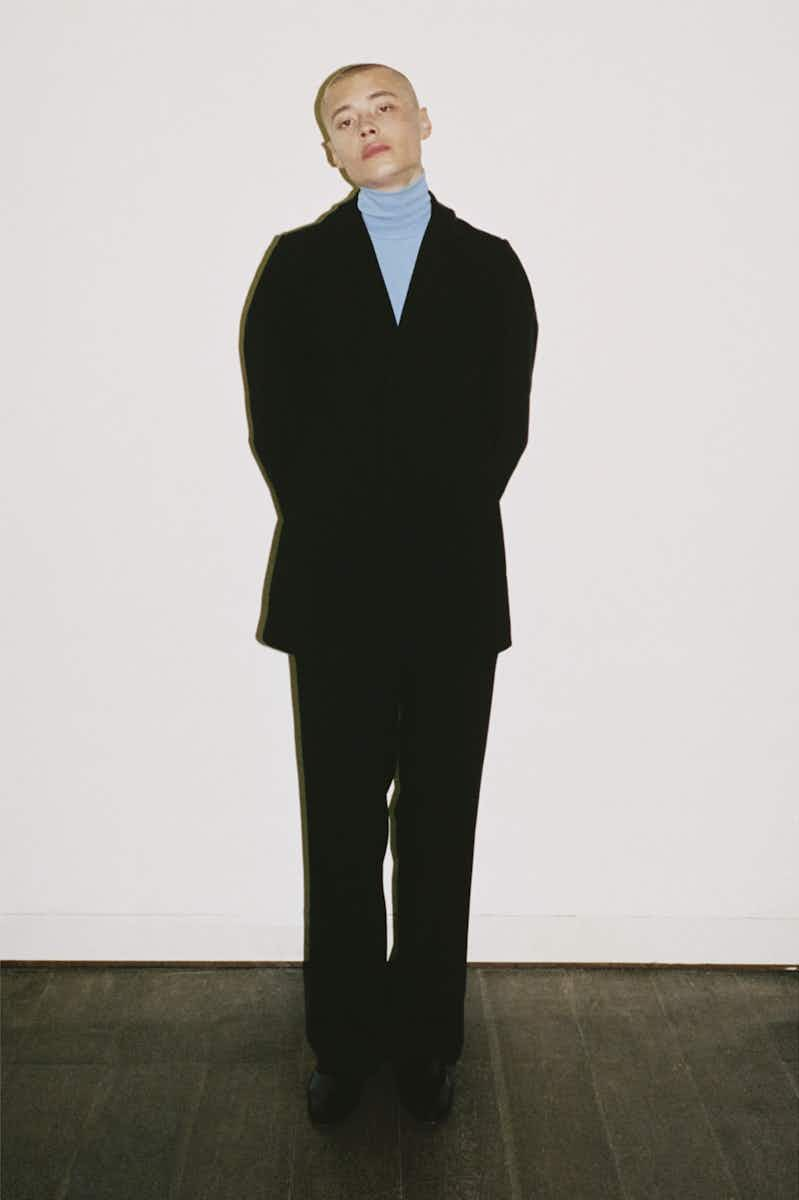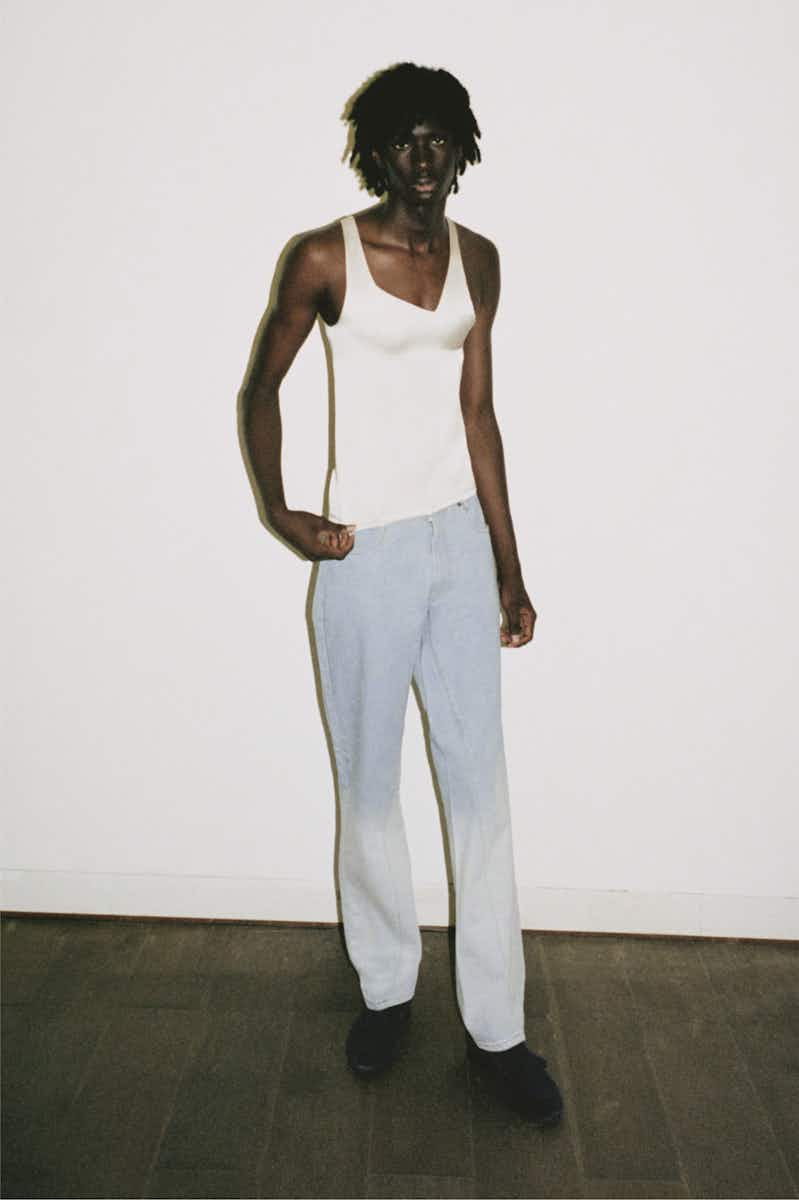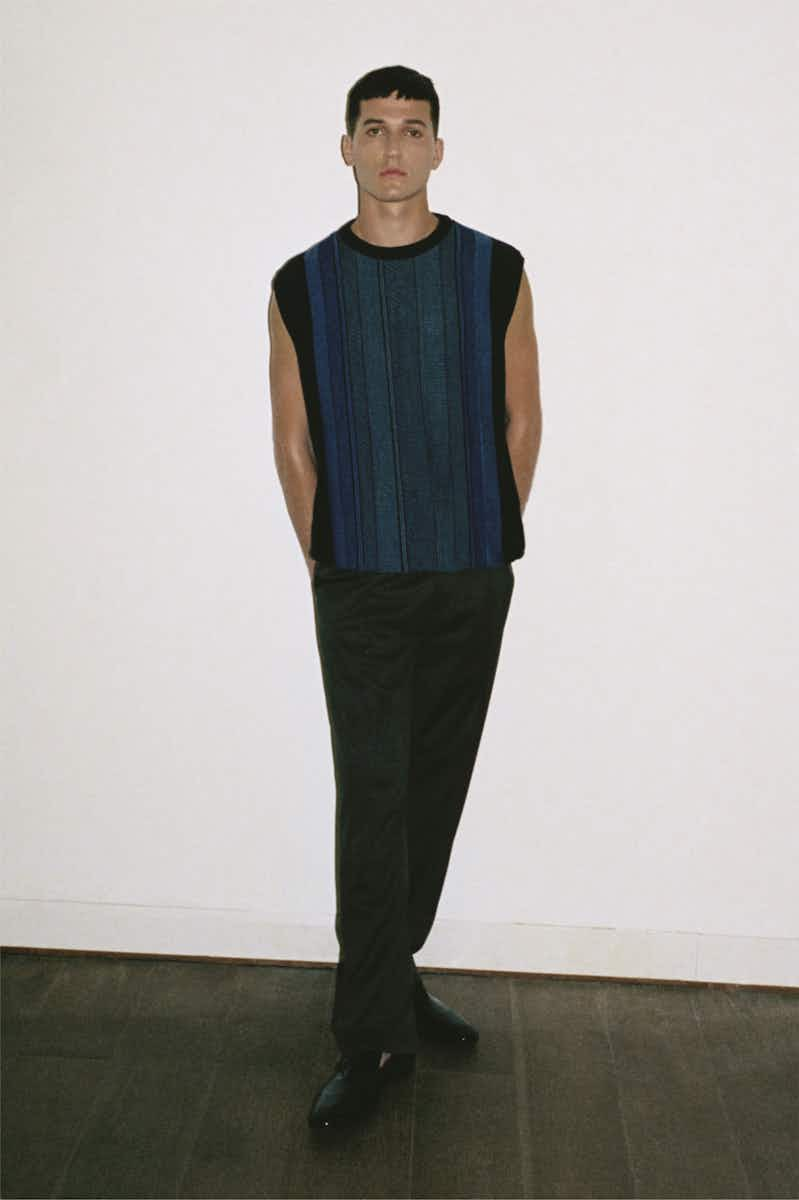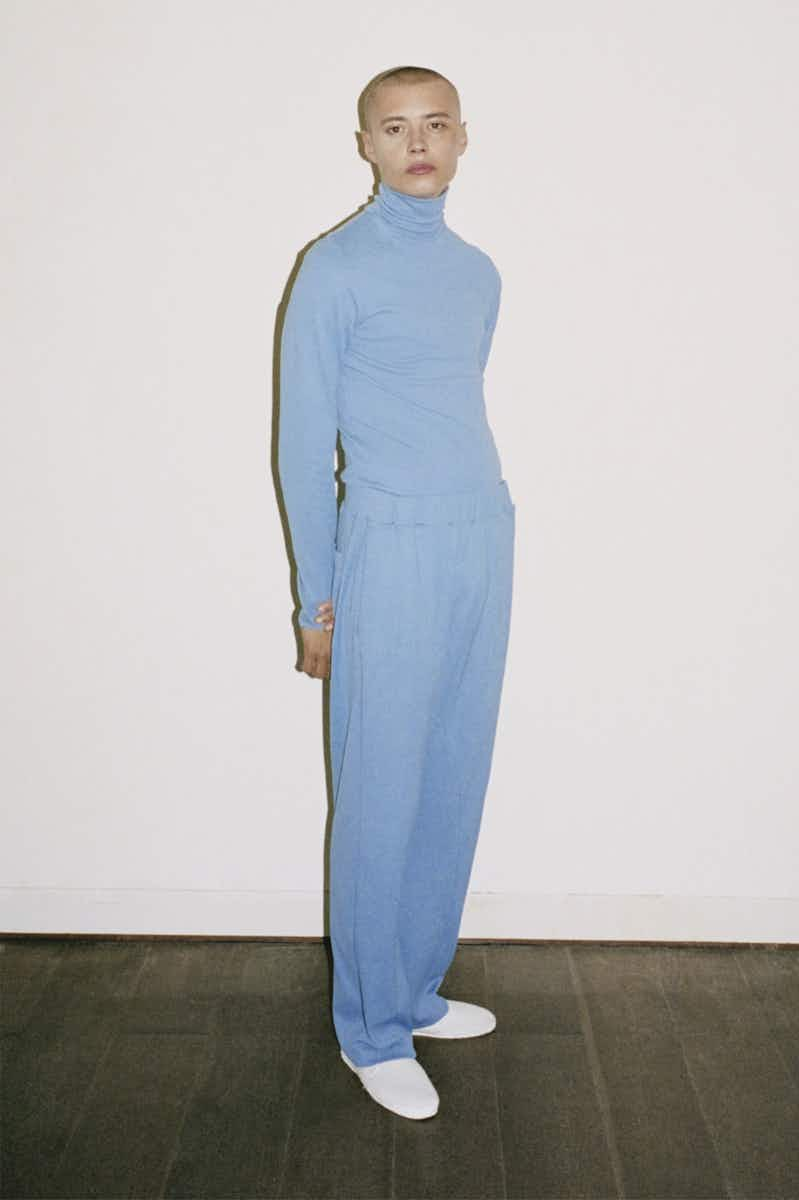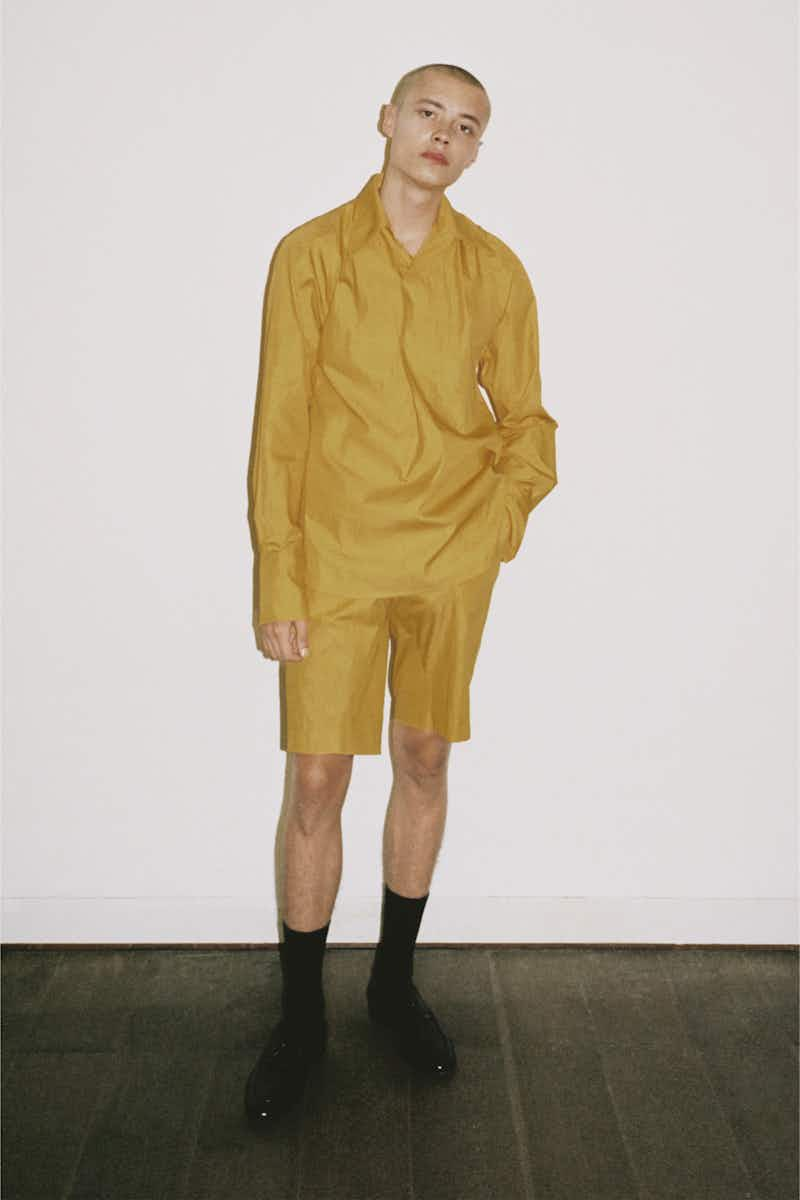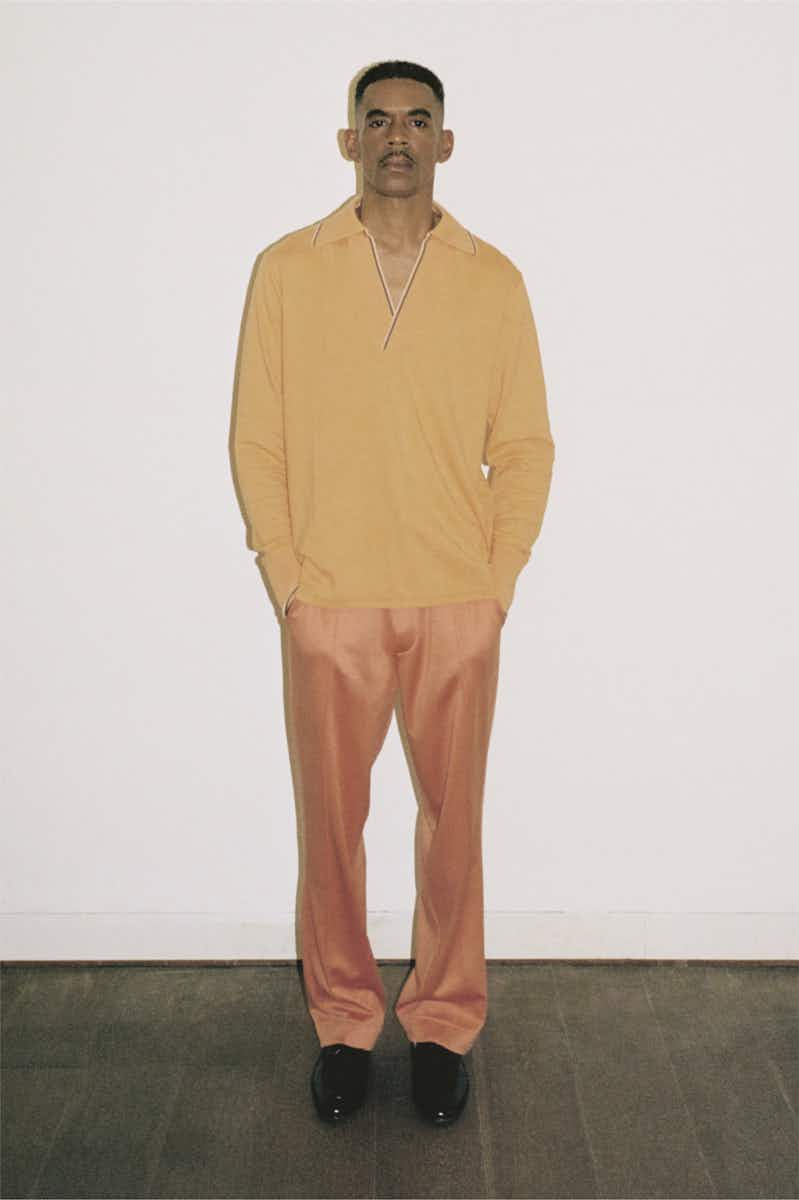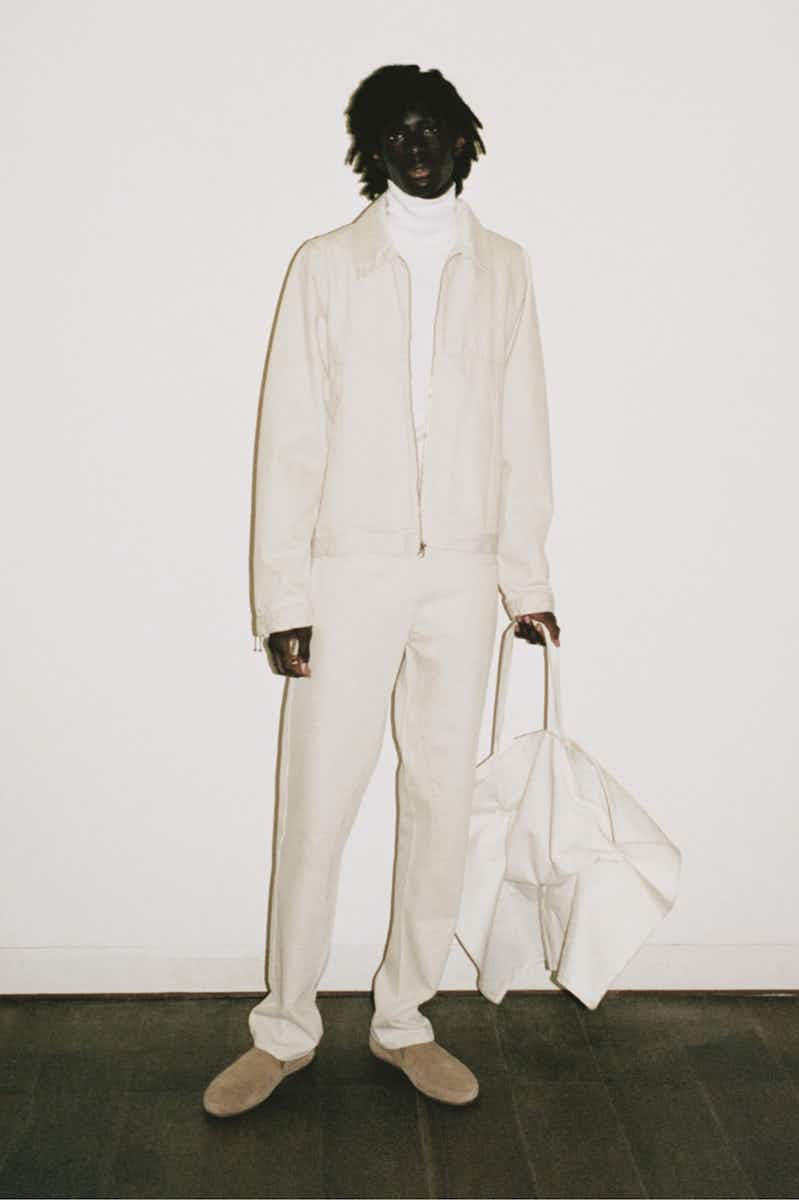 Saunders is one of many twenty-something British designers who, in the past five or so years, have explored their dual heritage through fashion, such as Priya Ahluwalia of Ahluwalia, Saul Nash, Nicholas Daley and Paria Farzaneh, to name a few. For this designer, though, it's about channelling the subtleties of her home in London and her Jamaican heritage.
"I think people are starting to understand my language, being playful but very much sophisticated in a subtle way," she says. ​"That's how I try to merge those worlds with my brand, finding a good balance to be able to tell my stories and pick references that I want to speak about."
For the first time, her family were involved in the collection, her brother, cousin and uncle all featuring in the lookbook. ​"They really wanted to wear pieces so that was good. Sometimes, fashion can be a bit too crazy for them," she says, laughing. ​"When they first wore it they felt good. It's nice to have that appeal.
"That's what I want people to get from my brand. It's about feeling good, included and seen."


More like this