Fashion news of the week: Madonna's Sex, Dior and Tremaine Emory

Exhibitions, new shops, cosy bedding and fashion fundraisers for homeless charity Crisis.

Matty Bovan debuts his very first exhibition
He's one of the most brilliantly flamboyant designers to have come out of the UK in the past decade, so it's only right Matty Bovan now has his very own exhibition. Ribbons, held in Greenwich's NOW Gallery is unsurprisingly a visual feast. The Yorkshire-born designer made a monumental, floor-to-ceiling hand-knitted jumper for the occasion, along with an immersive, multicoloured tent-like sculpture for visitors to perch inside.
Ribbons is open to the public at NOW Gallery from 30th November. Free admission.

66°North arrives in London
It's gotten a bit nippy recently, hasn't it? As luck would have it, Icelandic outerwear brand 66°North has finally arrived with its first store in the UK. On London's Regent Street, the shiny space is stocked full of puffers, parkas, fleeces and Gore-Tex jackets. These guys know what they're doing – they're only the original gorpcorers, after all.
66°North is located at 100 Regent Street, London.

Stella McCartney launches Yoshitomo Nara capsule collection
In an ongoing partnership, Stella McCartney returns with her latest collaboration with Yoshitomo Nara, the legendary Japanese artist whose recognisable work features animal children, big-headed girls (literally) and political statements throughout. Following a hugely successful, sold-out collab two years ago, McCartney presented the upcoming Nara designs in the British house's SS23 show in September. All the pieces will become available next year, but for now, enjoy a capsule collection available from today through ​'til March. It's a full wardrobe of tees, hoodies, denim, joggers and even silky pyjamas, all featuring Nara's illustrations and anti-war messages such as ​"Stop the bombs".
Stella McCartney x Yoshitomo Nara is available to buy now at stel​lam​c​cart​ney​.com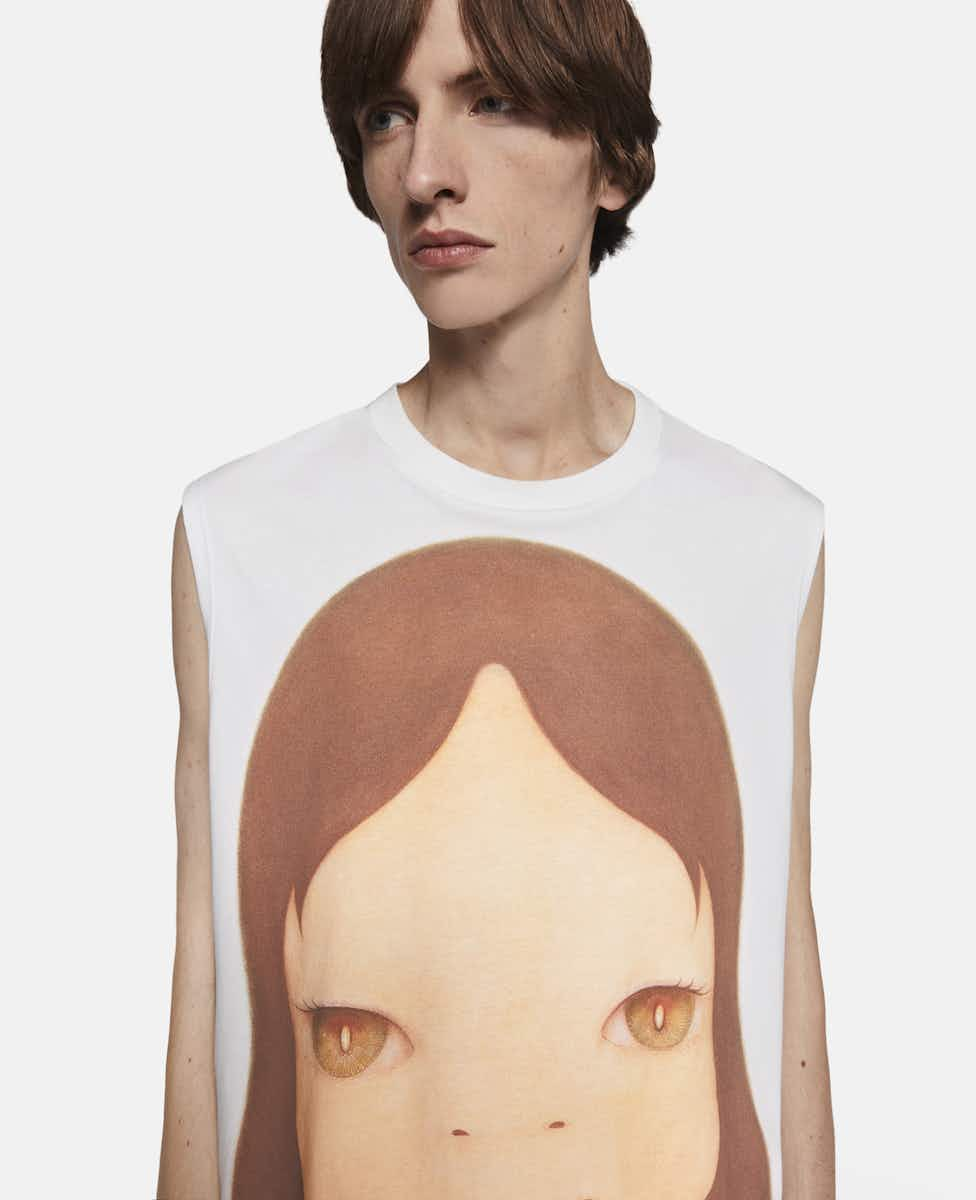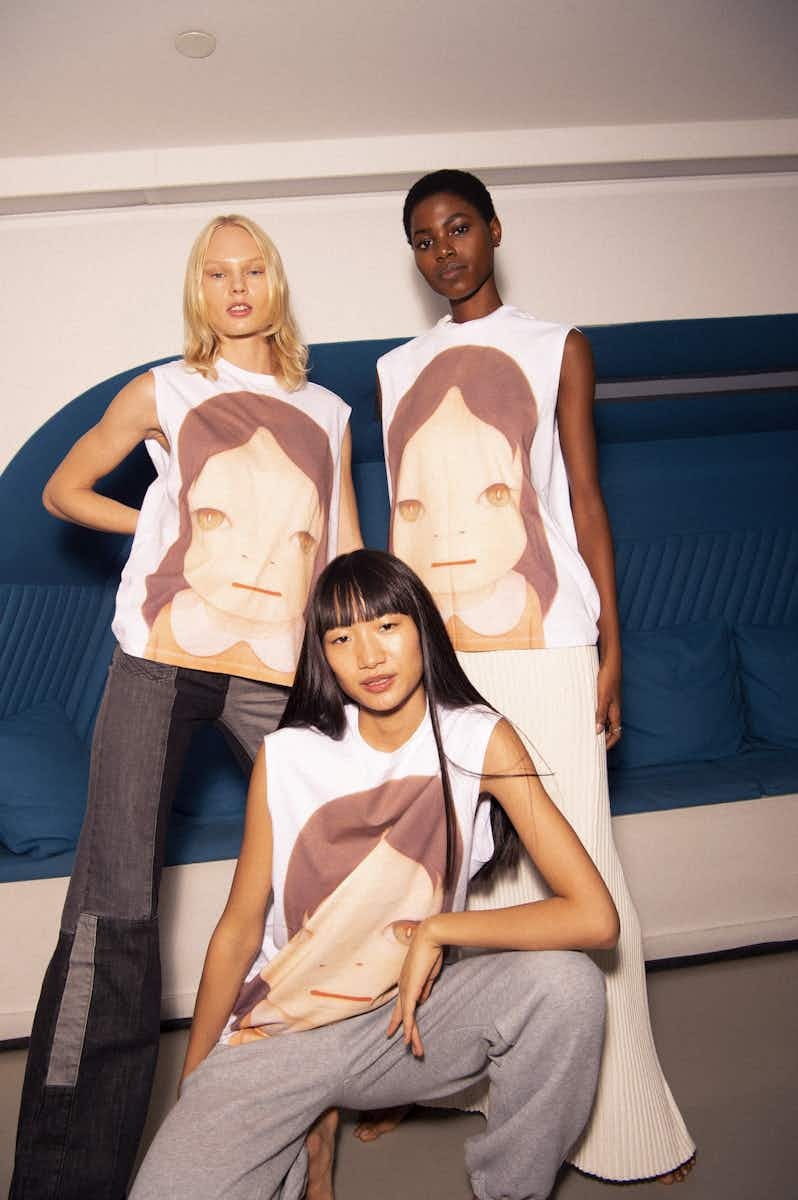 Cosy up with Tekla and Jacquemus

Get snug with Tekla and Jacquemus' first collaboration, as the Copenhagen homeware brand and the French fashion house release a limited edition collection of sleepwear pieces, such as oversized striped shirts and shorts, blankets and, of course, Tekla's famous bedding. ​"This collaboration between our two brands came naturally and spontaneously," says Simon Porte Jacquemus. ​"I have always dreamed of developing a bedding and homeware line with TEKLA." See, dreams do come true. Now for a bit of shut-eye…
Tekla x Jacquemus is available to buy now at teklafab​rics​.com
Saint Laurent taps Madonna's SEX
Thirty years after its original release, Madonna's book SEX is being memorialised by Saint Laurent at Miami Art Basel. In an exhibition curated by the Queen of Pop and the French house's creative director Anthony Vaccarello, expect to see large-scale prints of the book's many salacious photographs. Conceived by Madge and photographed by Steven Meisel in 1992, the metal-bound book is the stuff of legend. Its highly explicit content (think: BDSM, rimjobs, that kinda thing) pissed off conservatives, reimagined the modern day pop star and sold 150,000 copies on its release day. These days, the book is a hardcore lesson in pop culture subversion and an ode to ​'90s underground culture.

The Saint Laurent beachfront gallery will be free to visit for anyone over age 18 from November 29th to December 4th.


Dior Men's recruits Tremaine Emory as a guest-designer
Yesterday, it was announced that Kim Jones will be teaming up with old friend, Denim Tears founder and Supreme's creative director Tremaine Emory. The collection, guest-designed by Emory, will be revealed at the Grand Egyptian Museum in Cairo on 2nd December, when Dior presents its latest Men's collection. ​"This line celebrates the inventiveness of the house of Dior and the strength of its creative dialogues," Dior said in a statement. What can we expect from the duo? Vivid prints, serious denim and a vision that forefronts radical youth culture.

Fashion fundraiser for Crisis takes over Savile Row
Next Monday, Crisis are opening a fundraiser pop up shop on Savile Row to raise much-needed funds for the homelessness charity. Headed by fashion editor Tom Stubbs and Anda Rowland of Anderson & Sheppard, over 100 brands will be on sale at discounted prices, including Bianca Saunders, Wales Bonner, Burberry, Charles Jeffrey LOVERBOY and Aries.
Crisis at the Cop Shop will be open to the public from 5th-14th December at The West End Central Police Station on Savile Row.

More like this