Pitch perfect: the mighty power of the FIFA soundtrack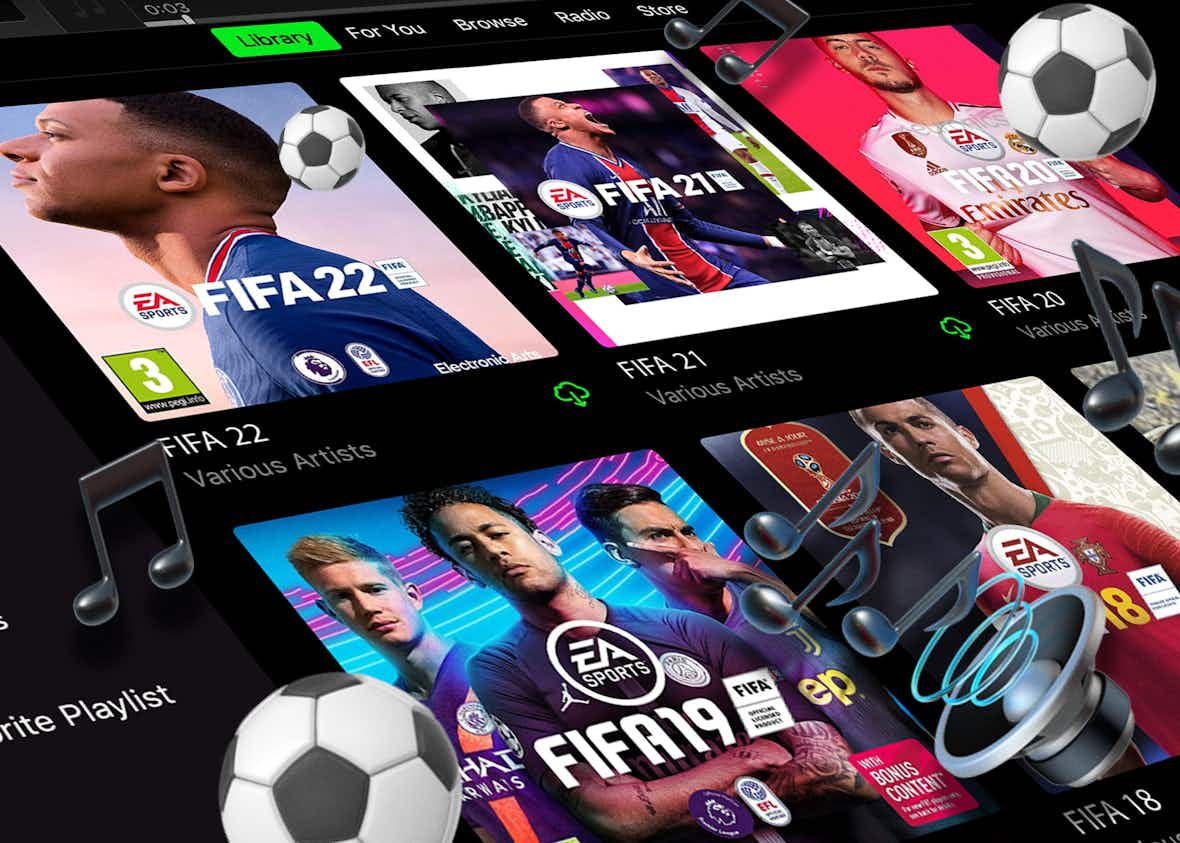 Countless artists have scored hits thanks to the footy game's much-loved menu music.
The history of FIFA​'s soundtrack is a study in ambience turned active. Twenty-three years since EA Sports put Blur's Song 2 on FIFA: Road to World Cup 1998, the background music that accompanies the in-game menus has slowly blossomed into one of the title's key selling points. As tweaks to the gameplay become more minute and in-game features like Ultimate Team exhaust their capacity for reinvention, the annual playlist refresh has become a much-anticipated event in itself.
But it wasn't always this way.

​"For years, whenever we would announce the bands that were going on FIFA, the most common feedback from users, games and kids was ​'I've never heard of a single one of these bands'," says Cybele Pettus, the Senior Music Supervisor at EA. ​"We're like, ​'well, that's kind of the point'."
The ​'22 announcement describes the game's playlist as a ​'cultural mirror', a phrase that downplays how committed the game's programmers are to introducing listeners to new artists. ​"We're obsessed with the concept of music discovery," says Steve Schnur, President of EA's Music division.

The programmers' music policy has subtly shifted over the years too, from an indie rock infancy to its twenty-something prime that now incorporates an eclectic mix of EDM, grime and hip-hop. But despite the wide-ranging mix of styles, the game's fans have turned it into a subgenre of itself, known simply as ​'FIFA Songs'. Where older music lovers might bond over the first albums they purchased, there's now a number of generations who can do the same remembering the FIFA songs of their youth.
Does FIFA merely reflect music taste, or actively shape it? According to Schnur, it's both, ​"and it possibly even nurtures it too. We don't ever pay attention to what was, we pay attention to what will be, and we take very seriously the responsibility of shepherding people there and turning players on to things they don't know yet."
Schnur is keen to point out that the game's playlists are not ​'Steve and Cybele's Greatest Hits', but over the years, the soundtracks do bear resemblance to a title like NOW compilation series: a group of ​'hot right now' tracks are sealed off in their own time capsule once they reach their sell-by date, to be replaced by a newer, shinier edition. That relentless pursuit of the new means FIFA also plays a big part in shaping the nostalgia of tomorrow.
It's a pungent nostalgia too. Stumbling across one of those tracks is like getting a whiff of a smell you thought you'd forgotten – powerful, with a faint mustiness, and not entirely pleasant. For all its merits, The Hoosiers' Goodbye Mr A zaps me back to the embarrassing time I thought bootlegging the entire FIFA 06 soundtrack would be a cool thing to do.
It felt awkward, agonising even, to spend that amount of time on a single menu just to listen to some music, battling the obligation to Just Get On With The Game. How things have changed. Time spent in menus now makes up a huge proportion of the game, as players experiment with the engrossing microfinance of Ultimate Team, or work the transfer market to send Crewe Alexandra to Champions League glory. Having an interesting soundtrack to accompany that fiddling suddenly becomes vitally important.

It's not just in menus where the soundtrack is increasingly visible. Volta, a relentlessly addictive add-on that brings a FIFA Street-style format into the franchise's main title for the first time, provides the biggest change to the music-football relationship in years – namely, by replacing the in-game commentators with another, purposely different playlist.
"There's so much about the sport that isn't just professional stadium football," Pettus explains. ​"It's kids on the street in Brazil, or just kicking a ball about anywhere, doing their thing with friends. We're able to integrate two completely different areas with two different personalities." That's reflected in the music programming – whereas the ​'regular' menus are pumped full of the freshest sounds the programmers can muster, Volta is where EA becomes more comfortable ​"leaning back into history. This year [for FIFA 22], we introduced a remix of John Newman's Love Me Again, because it's one of the most iconic songs we've ever programmed – people are going bananas about that too, which I love."
Newman's hit is an outlier for tracks programmed by FIFA, reaching Number 1 in the UK Singles Chart in 2013 before an appearance on FIFA 14, cementing its status as a classic FIFA tune. In most cases though, appearing on the playlist acts as an artist's ​'big break', sending catchy tracks directly into the ears of new listeners.
This was certainly the case for Deptford jazz collective Steam Down. ​"You might know this one – it's on FIFA," cried a vocalist from the buzzing main stage at We Out Here back in August, as the band launched into their own FIFA Song: Etcetera flips a track by saxophone legend Wayne Shorter on its head, with popping ostinatos and a slugging clavé groove. The group's founder Ahnansé (aka Wayne Francis) was startled by how far the track got.
"We played Green Man earlier this year, and there were some really young kids with their parents, like ten years old or whatever," Ahnansé remembers. ​"They were like ​'yeah, we really love your song from FIFA', they wanted to take pictures of us and all. It has an impact outside of the ​'UK jazz' media, and there's lots of younger kids that play games who now have that gateway into it."
The soundtrack has given countless unrecognised artists a glimpse at a global reach, at a time when the traditional narrative arc of an ​'artist breakthrough' is flimsier than ever. It's the same for Steam Down (Etcetera is their first tracks to hit a million Spotify streams), but Ahnansé sees the FIFA moment more as a cool coincidence than something to try and replicate – writing music in hope of playlisting ​"has a way of homogenising genres or idioms, to try and fit into these new, collective albums."
"When bands write songs for FIFA, I think that's where maybe they go wrong," says Schnur, ​"because they make presumptions, and our definition of what a FIFA song sounds like is forever changing."

What does it sound like at the moment, then? ​"Celebratory and rhythmic," Pettus argues, ​"but generally, I like to think that people just know a FIFA Song when they hear it." Ten years ago, that might have been possible, but tasked with holding a mirror to global culture in 2021, what's reflected back is everything from Sam Fender to Slowthai to Swedish House Mafia, from girl in red to Greentea Peng. It makes you look forward to looking back.
Back in the day when menus were an obstacle to progress, the frantic indie-rock of Bloc Party soundtracked many a rushed squad selection on FIFA 06.

From FIFA 11. When people talk generically about FIFA Music, this is probably what they mean. Up-tempo, pop-inflected indie stuff that moved seamlessly from console to Reading & Leeds festivals. Are TDCC the quintessential FIFA band?
This one was on FIFA 20. Simz perhaps best represents a cultural shift away from the MGMTs and TDCCs (although, shockingly, Arctic Monkeys have never featured on FIFA). She's on the new soundtrack, too, with Fear No Man.
"Ahhh FIFA 15, back when EA was focusing on making a good game instead of being ​'too busy earning money," comments one YouTube user. ​'15 was the peak of Ultimate Team's coin selling gold rush, and what better way to soundtrack it with a salute to hustle culture.

More like this