What's behind 2021's fashion collaboration boom?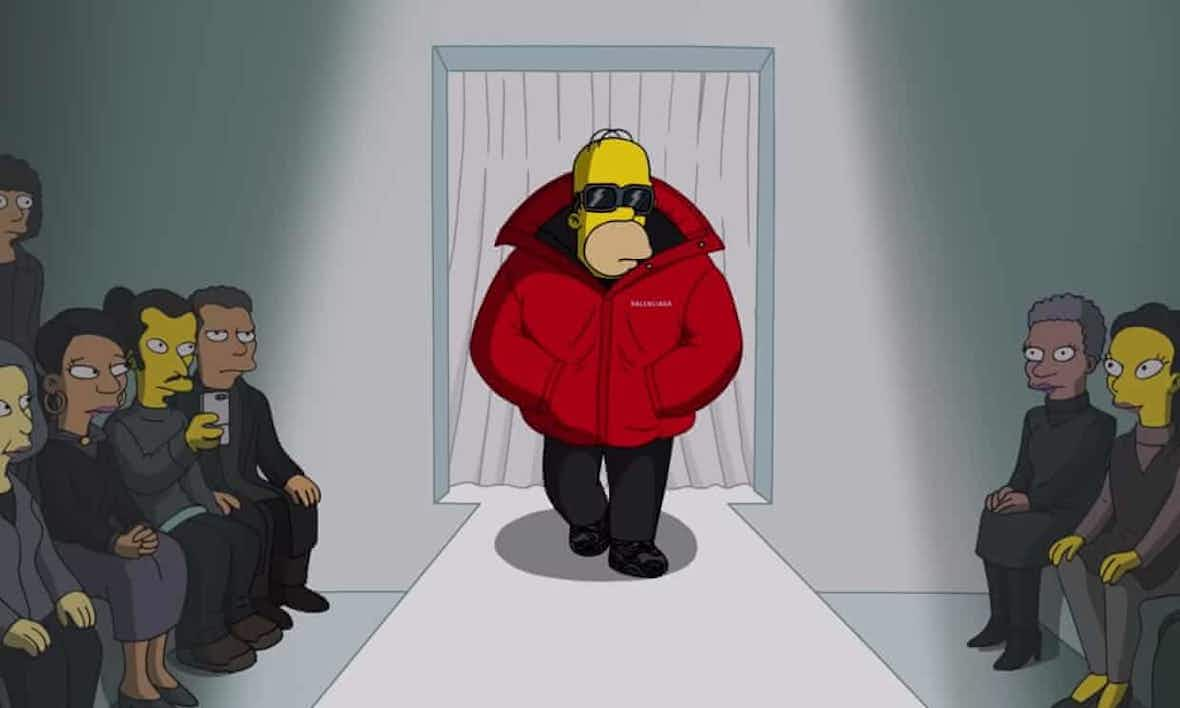 Fendace, Gucci and Balenciaga, Balenciaga and The Simpsons (!): this year has seen a wave of fashion moments that cause ripples and disruption, taking things to the next level.
On 27th September, Kim Jones and Donatella Versace finally revealed what had been the worst-kept secret in fashion. Fendace, as it inevitably came to be known, was a collaboration between the two designers, with Versace designing a Fendi collection and Jones, as creative director of Fendi, designing one for Versace. Closing Milan Fashion Week, the collection was chockablock with Versace scarf prints and Fendi Fs, while the show had all the razzle dazzle you might expect. Models including Kate Moss, Naomi Campbell and Amber Valletta were on the catwalk, while Damian and Liz Hurley, Demi Moore and Dua Lipa sat front row.
Depending on who you ask, the collaboration between two of Italy's biggest brands either broke the internet or showed that the system was broken. It certainly posed the question: where are we at with collaborations in 2021?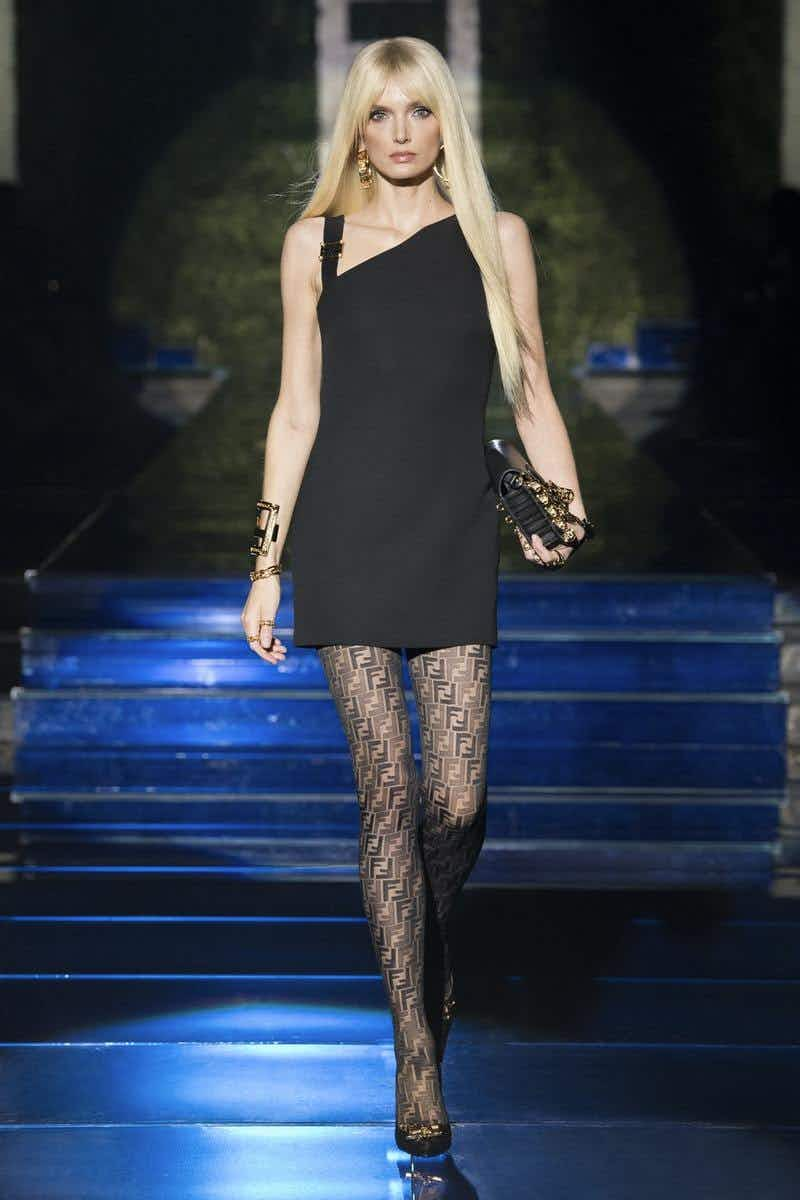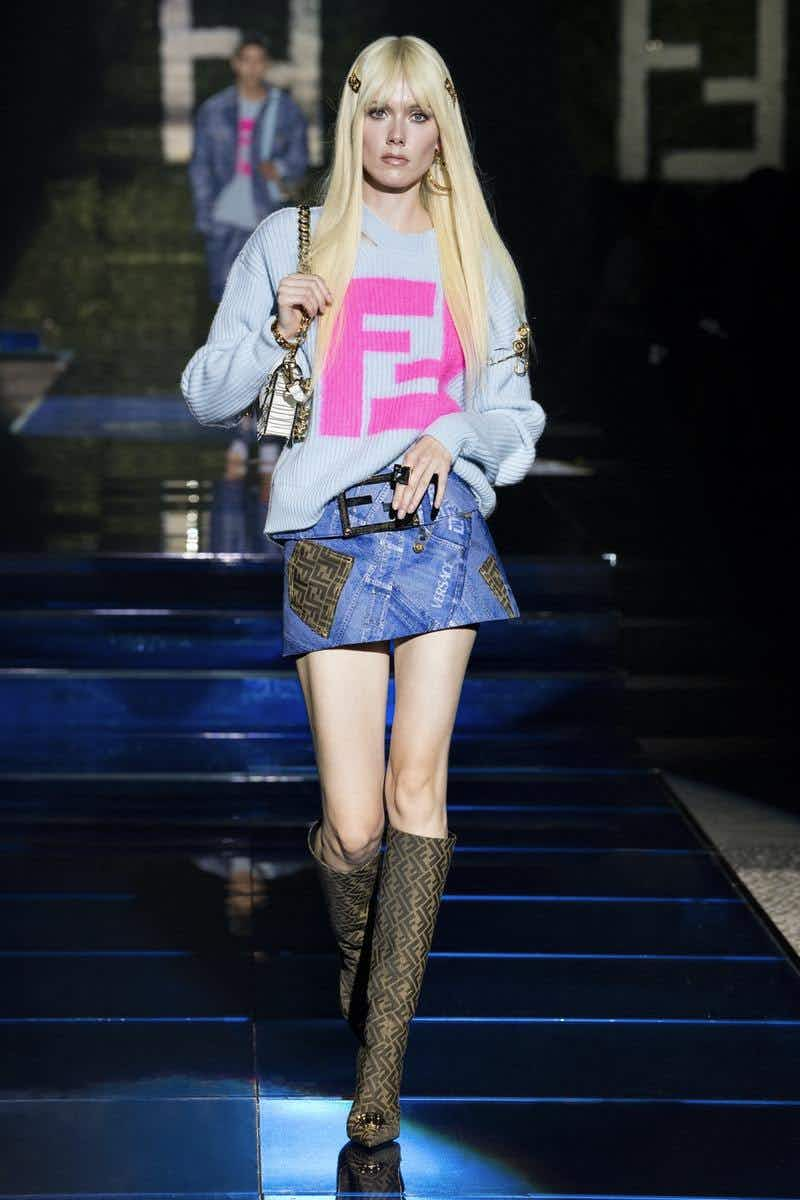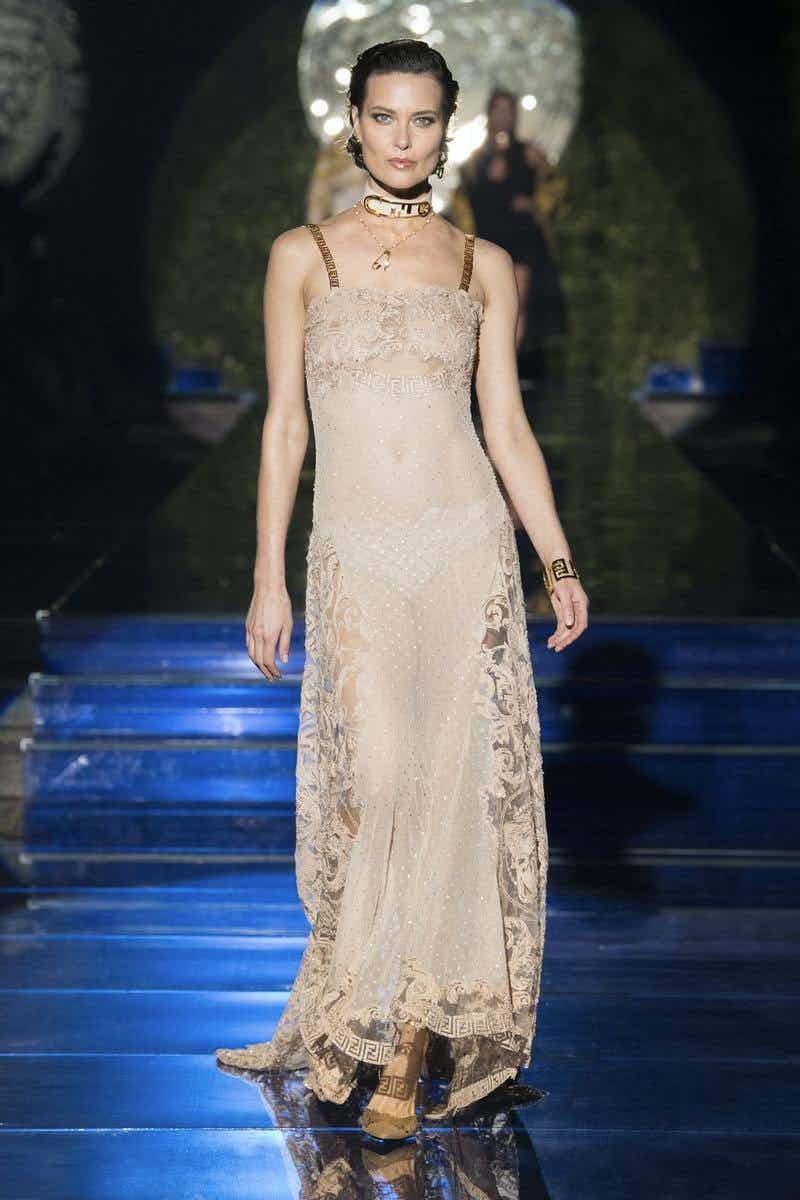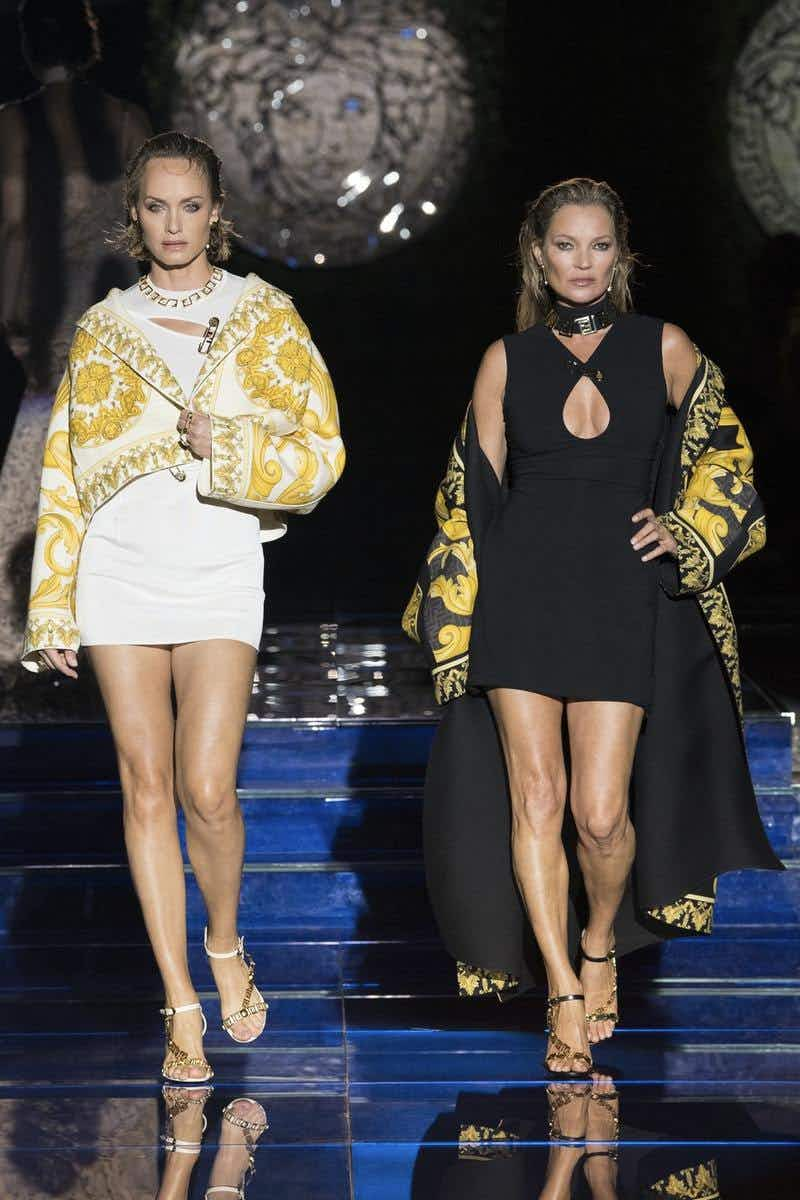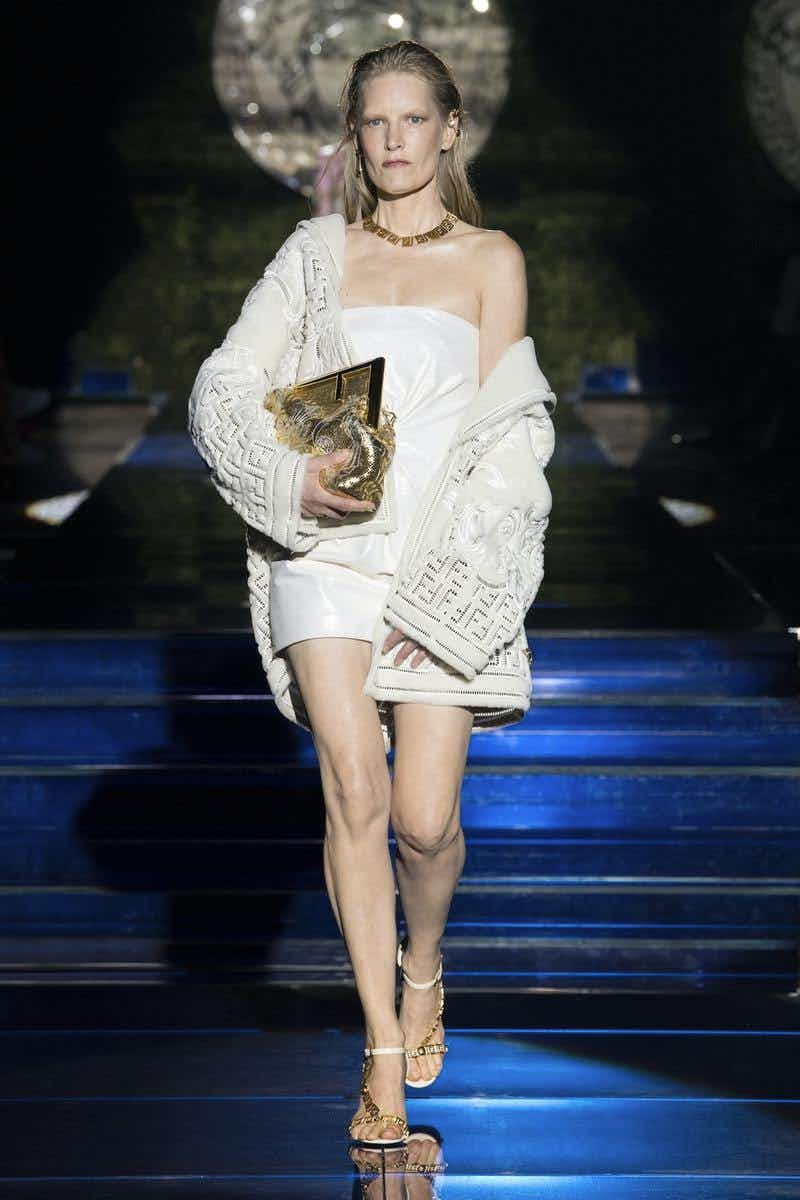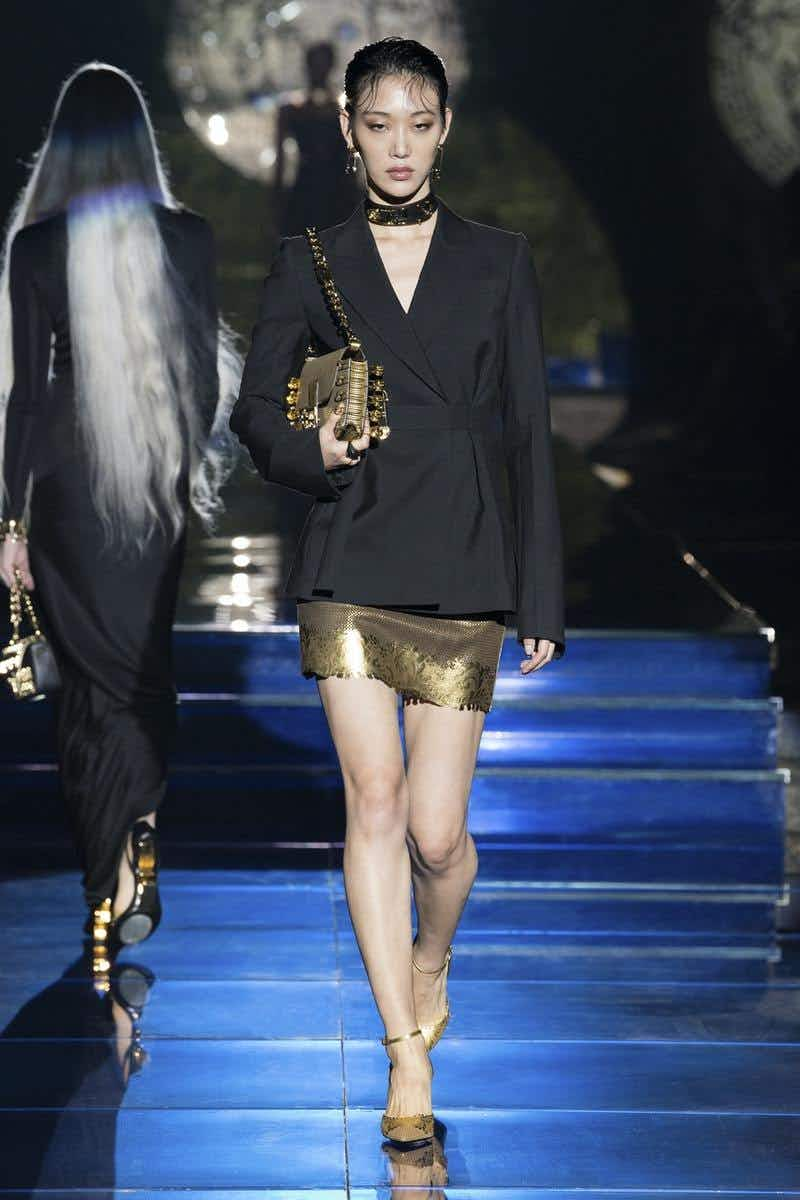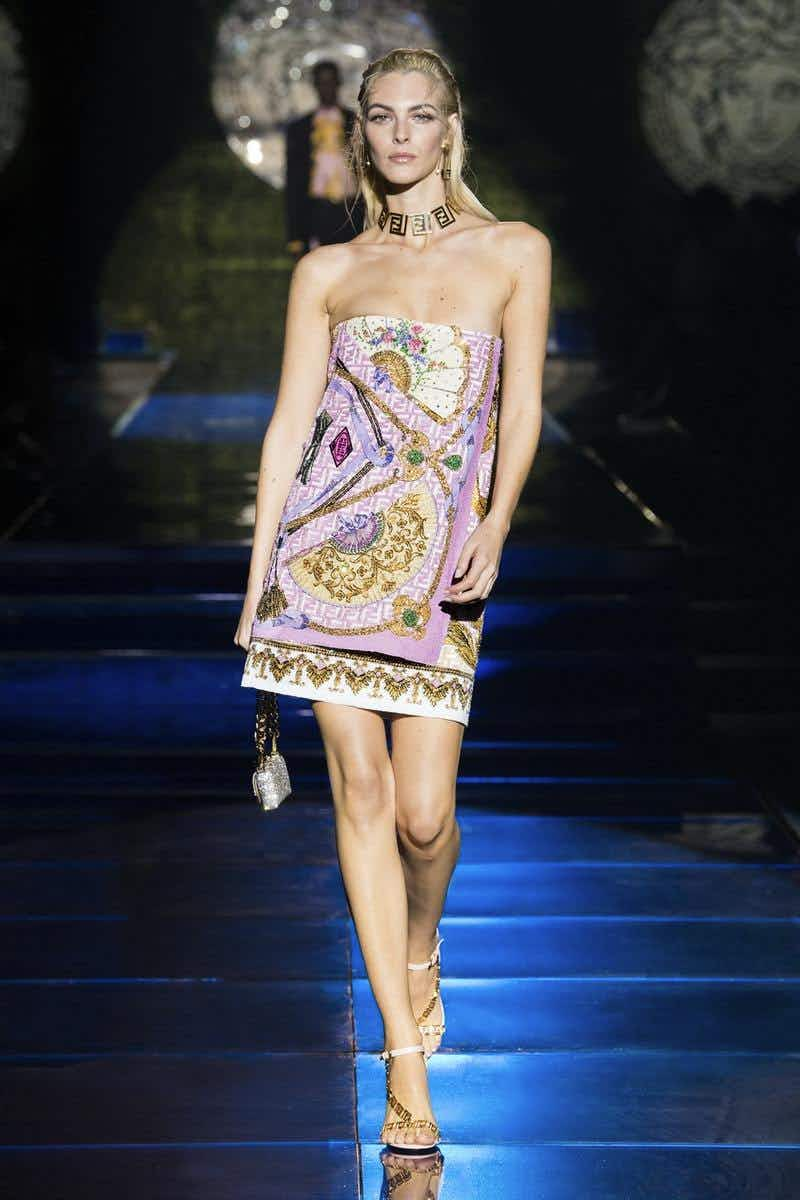 While Fendace is the latest collab, it's part of a wave of fashion moments that cause ripples and disruption, taking things to the next level. While not a collaboration in a strict sense, Raf Simons and Miuccia Prada announcing their plans to be co-creative directors of Prada, in February 2020, was perhaps the original mic drop. This year, that's been followed by the so-called ​"fashion hack" between Gucci and Balenciaga in April and the momentum keeps building (not least with a Balenciaga x The Simpsons collab in September). Kim Jones has arguably already trumped his work with Versace less than a month after Fendace – a Fendi collection with Kim Kardashian's Skims was announced this week. And H&M's latest, with Iris Apfel, will launch next year to celebrate the fashion influencer's recent 100th birthday.
Of course, collaborations aren't new. Designers have worked with artists/​scientists/​musicians/​sports stars/​logistics companies/​delete as appropriate for a long time. See: Elsa Schiaparelli and Salvador Dali in the 1930s, Vivienne Westwood and Keith Haring in the ​'80s, Michael Jordan and Nike in the ​'90s, Vetements and DHL in 2014.
The current phase can be dated back to 2001, when Marc Jacobs, then new-ish at Louis Vuitton, collaborated with cult New York artist Stephen Sprouse on a radical move: drawing all over the famous LV logo with Sprouse's graffiti-like neon. The internet was still dial-up at the time, so basically already broken, but the move certainly caused a stir and had fashion's grande dames clutching their pearls. Jacobs called the bags ​"anti-snob snobbism".
He, as is often the case, was cannily prescient. This year's Louis Vuitton x Stephen Sprouse bag, once seen as defiling a classic, is now considered a classic. The first x of the modern era – that now-familiar shorthand for a collab – marked the spot.
In the two decades since LV x Sprouse, collabs have multiplied and the ​"x" is everywhere, from high street shops to the catwalk, from supermarkets to skate brands. If some predicted the peak as Louis Vuitton x Supreme in 2017 – a collaboration, like Fendace, that was both lauded and criticised – they show no signs of letting up.
There are some cold, hard, cash reasons for this collaboration boom. Collaborations allow bigger brands to get a boost of buzz and press that comes from working with a smaller brand. They allow that smaller brand to support their business with an injection of cash. And smaller, limited edition collections work to keep us all interested – a hard task for fashion brands when up against the multiscreen, low-attention-span lifestyle that so many of us lead.

But it can't be all business. In fact, the key, says founder of Palace Lev Tanju, is working with people or brands you genuinely have a connection with. This goes all the way back to their first collab with Umbro on the England kit in 2012. ​"We didn't go for it to be successful," says Tanju. ​"We just like to work with people that mean stuff to us and so we really wanted to do the England kit."
Tanju says the ​"wow" factor has become increasingly difficult to hit as the market for collabs saturated, but he retains the same rule of thumb. ​"We make stuff that we like, really, and we hope people like it, but we try not to do it the other way around," he says. The variety of their latest drops show this to be the case. October's collabs have so far ranged from running shoes with Adidas one week to a collection with Pez, who created rave flyers in the late ​'90s, the next.
Hillary Taymour sees collaborations as part of the universe of her brand, Collina Strada. In the past year, they have collaborated with Reebok, Skullcandy (on wireless earbuds) and The RealReal, while her most recent show featured jeans that were a collab with Levi's. Taymour is under no illusions when it comes to the motivation for bigger brands. ​"That's their marketing budget, right?" she says. ​"That's what it's for."

Taymour says the collaboration that she values above all others isn't, strictly speaking, a collab at all. Collina Strada is one of 13 brands on Gucci's Vault, a new online concept store. It's not the first time the mega-brand has supported them. Collina Strada were part of GucciFest, a film series put together in the pandemic. ​"That's kind of how it started, but they have been so lovely to me," says Taymour. ​"They sponsored us to go to the Met [Gala] and the platform [ Vault] is really amazing. You can tell there was a lot of effort put behind it."
In September's issue of THE FACE, Ava Nirui, the art director of Marc Jacobs' Heaven, said she felt ​"like everyone is super-fatigued by the traditional setup of a fashion collaboration in 2021" and a more friends-based approach eventually led to the much-loved Heaven. Similar approaches across fashion may be how collaborations are evolving, with these like-minded points of view, friendships, community or genuine connections at their centre. This goes back to the originators of this new era of collabs, Simons and Prada. Speaking at the press conference when the news of their partnership was announced last year, Prada said simply: ​"We like each other, we respect each other, we will see where that takes us."
Richard Malone collaborated with Mulberry this year, as part of the British brand's Editions project (Ahluwalia Studio and Nicholas Daley were the other designers involved, with Daley's collection due for release next). Malone says that he will ​"only work on a collaboration that respects my own morals and with a brand that is clearly on the same page as me".
This time, the pieces slotted into place. ​"The Mulberry collaboration is the very first time I've been approached for a collaboration that fits with what I believe contemporary and directional fashion needs to move towards," says Malone. ​"It is really a meeting of minds, where two brands are open, lay their problems and solutions on the table, and truly work together."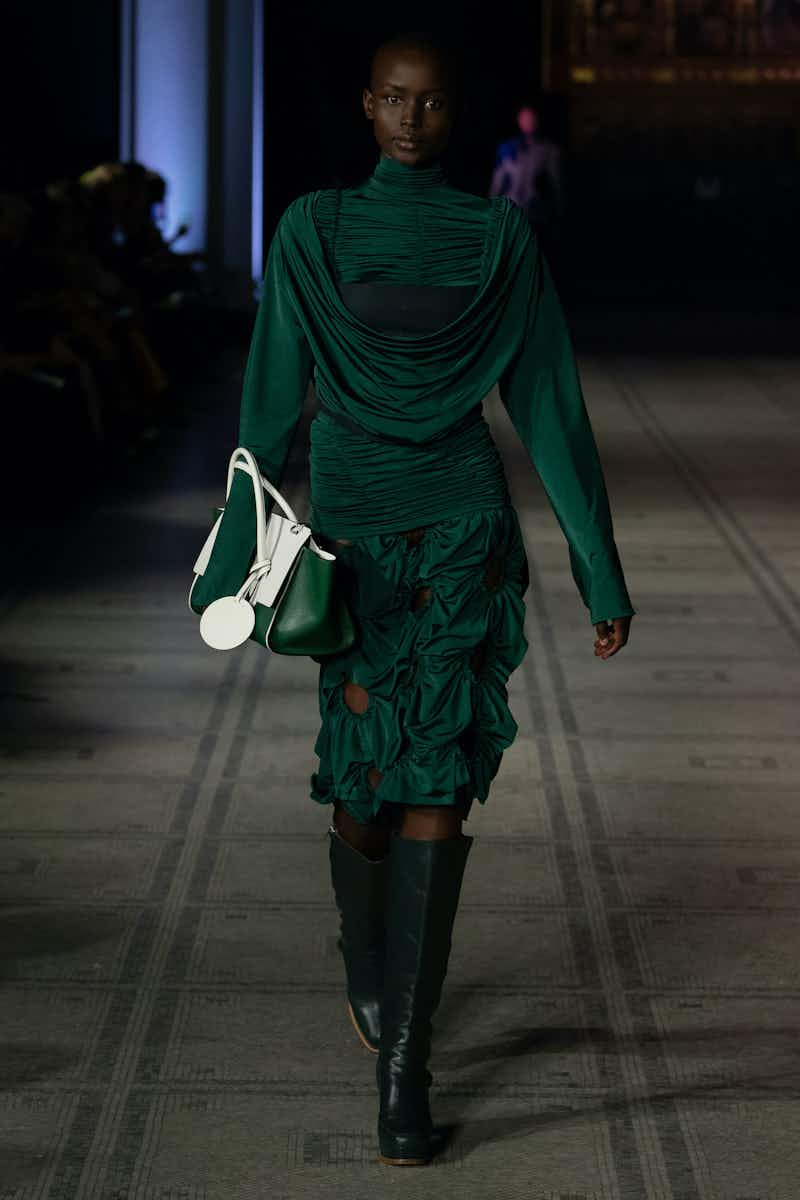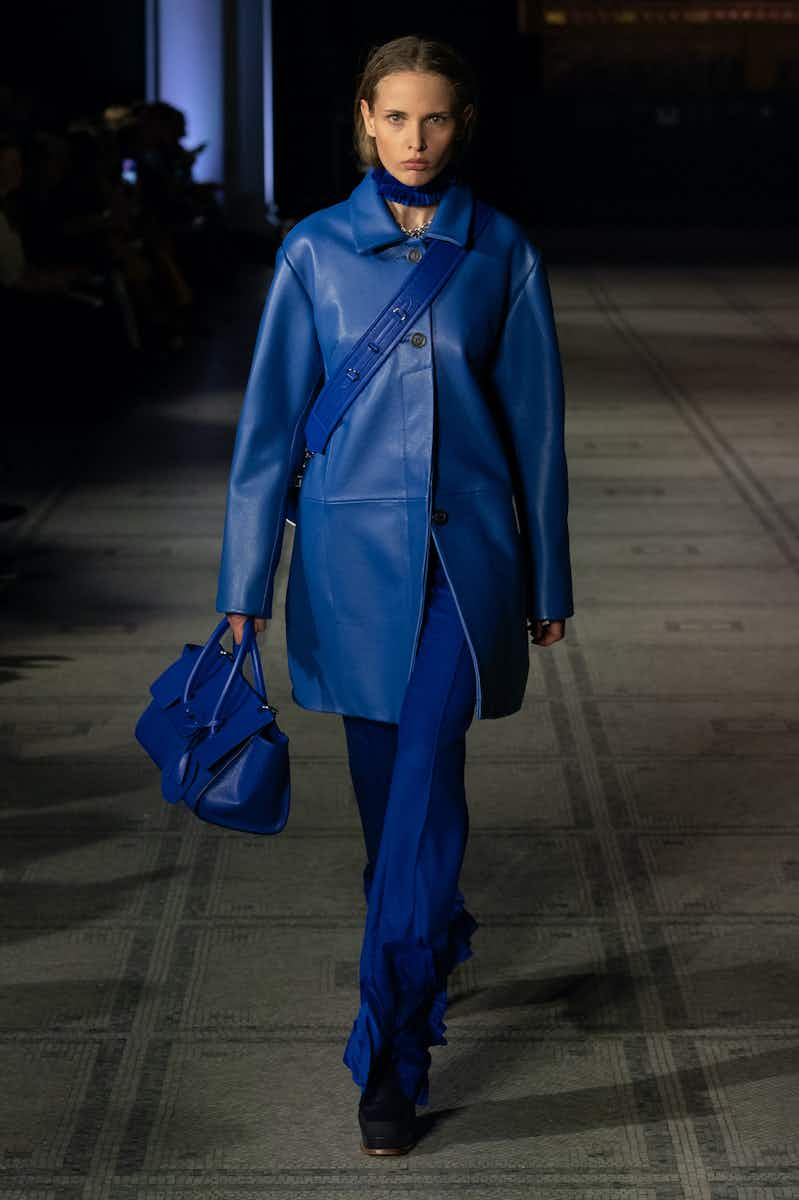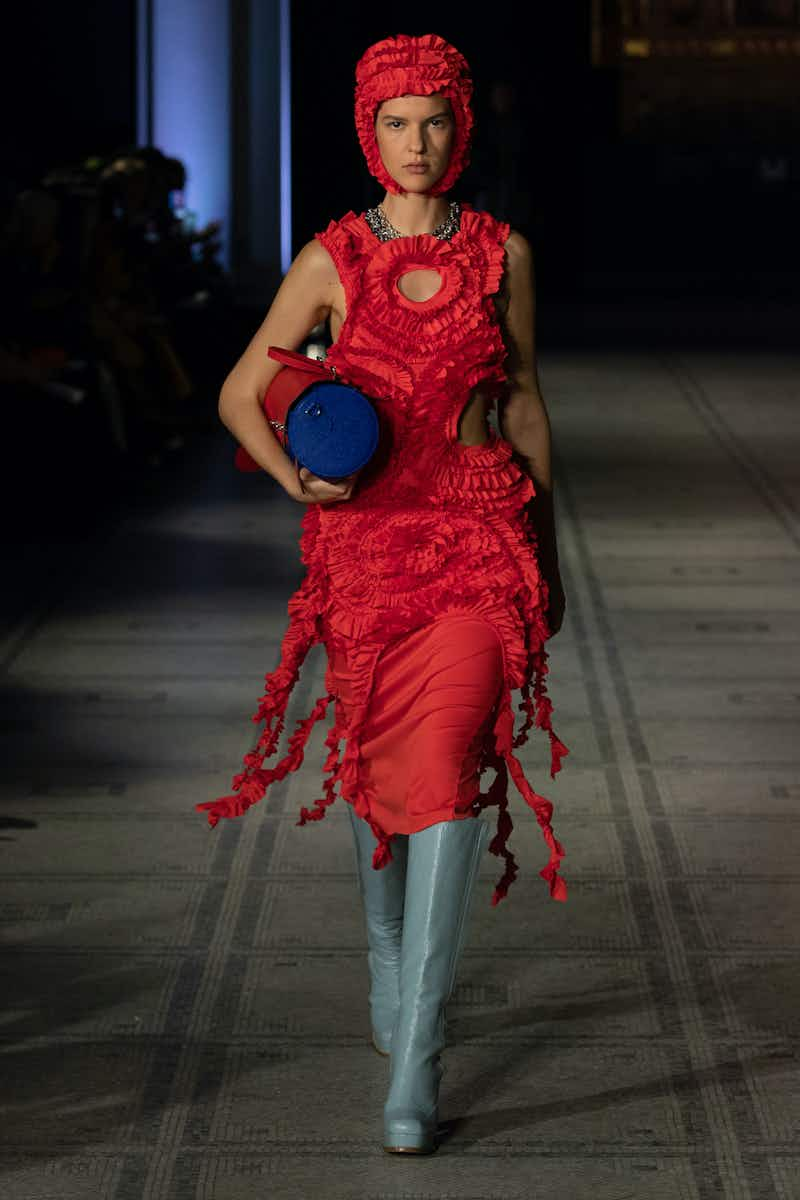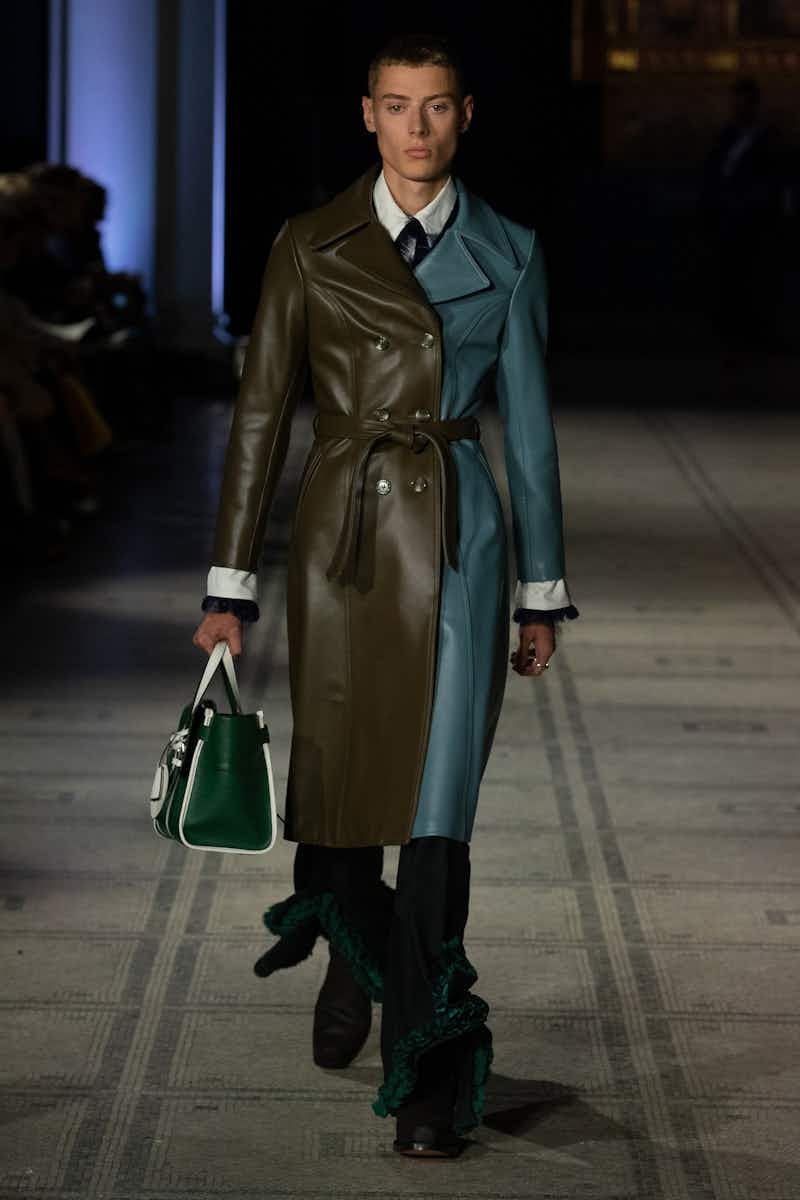 Marques'Almeida come from a similar school of thought. The duo, Marta Marques and Paulo Almeida, ditched the usual show schedule post-pandemic and moved back to their hometown Porto, Portugal. They showed their SS22 collection there in early October, which featured collaborations with six young designers who they met in the city. ​"It's got a really amazing sense of community," she says. ​"We wanted in on that."
The collection featured layered collabs, with one look, for example, featuring Marques'Almeida trousers, a coat by gender-questioning brand Arieiv and a top that combines the work of sculptural label Rebeca Letras with deadstock jewellery by Nani Campos. Is the collection partly a platform for younger brands?
"That's how we started and now, looking back, it actually feels ridiculous to say that," says Marques. ​"Actually, I think we learned more and we've benefited more than they did."
Marques points to punk icon Genesis P‑Orridge, whose quote featured on the show's soundtrack as a fitting expression of what they wanted to do. The leader of pioneering noise group Throbbing Gristle said: ​"At the moment, my feeling is the only way to fight control is communities… People who agree with each other enough about how they Iive, that they support each other… It's a different way of living where it is about sharing and generosity and kindness and other things that are destroyed by capitalism and totalitarianism."

It's hard to say that fashion, which at its base level is about selling stuff, has found a higher purpose through collaboration. But this new mood does show the influence of a wider shift in society, where collaborating is increasingly seen as a richer, more fulfilling, more powerful way of working.
This idea is there in everything from Shayne Oliver's Anonymous Club, a creative studio that produces output based on the work of young talents that Oliver works with, to the Turner Prize, which features four collectives this year, to the recent Pandora Papers exposé of offshore tax deals done by the world's richest people.
If, once upon a time, news outlets would have got territorial about a scoop, this saw more than 600 journalists from 150 media outlets breaking the story together. The International Consortium of Investigative Journalists called it ​"the world's largest-ever journalistic collaboration".
Malone hopes collaborations like Mulberry Editions could make a difference, by spelling a way through to a future where the industry will be able to function in a more sustainable way. The logic being that two or more heads are better than one when it comes to big ideas. ​"We need to support the most daring, original, abstract ideas," he says. ​"There are solutions. I hope this proves that real collaboration can exist and be about learning and teaching for brands at any size."
So post-Fendace, where are we at with collaborations across fashion? In a way, exactly where we were before.
"Brands working together is just a part of the [landscape]," says Tanju. ​"The doors [are open] so it's just going to be happening for a long time now."

More like this