Martine Rose: ​

"

Have your eyes open, take notice of what's going on"

Last night, the British-Jamaican designer mashed-up rave, new wave and punk for an SS23 show that paid homage to Britain's community centres – part party, part political, all killer.

Crank up the heat, England said. On a wickedly warm weekend, good time anthems blasted out of car windows, tequilas poured, parks filled. Forget the Sunday dread. For us lucky lot, at least, Martine Rose kept the summertime spirit alive well into Sunday night with her SS23 show. If you're reading this with a sore head, don't worry. We are, too.
Rose has had something of a transformative couple of months. A collaboration with hip-hop superstar Kendrick Lamar gave her a moment in the global spotlight in November 2022, after she designed a special stage outfit for his Big Steppers tour. Not one to keep a grid post up for long, Lamar dedicated his entire Instagram to Rose after she kitted him out in kinky leather bondage trousers. Meanwhile, Rihanna's also been wearing Martine Rose during her second high-profile pregnancy, no doubt triggering a spike in ​"who is Martine Rose" Google searches. And, naturally, her clothes can be spotted in the wild, too: on the way to the SS23 show, a fella on the Tube was wearing a Martine Rose signature tee, chatting away to his girlfriend.
While the British-Jamaican designer is a London treasure through and through, this could be the year that she goes from cult fave to bonafide, global household name – when Martine Rose extends far beyond the capital's fashion pack and into the wardrobes of likely lads the world over.
Showing off-schedule during Men's Fashion Week, this was a homecoming show for Rose, who showed a collection in London exactly this time last year. In between, she took over a historic square in Florence, complete with a piss-yellow carpet, as part of her guest stint during Milan's Pitti Uomo. You never quite know when Rose will show. A bit like an illegal rave – which she's been influenced by since watching her sibling's attend them as a youngster – you sit and wait, patiently, for the announcement. Could be months, maybe years.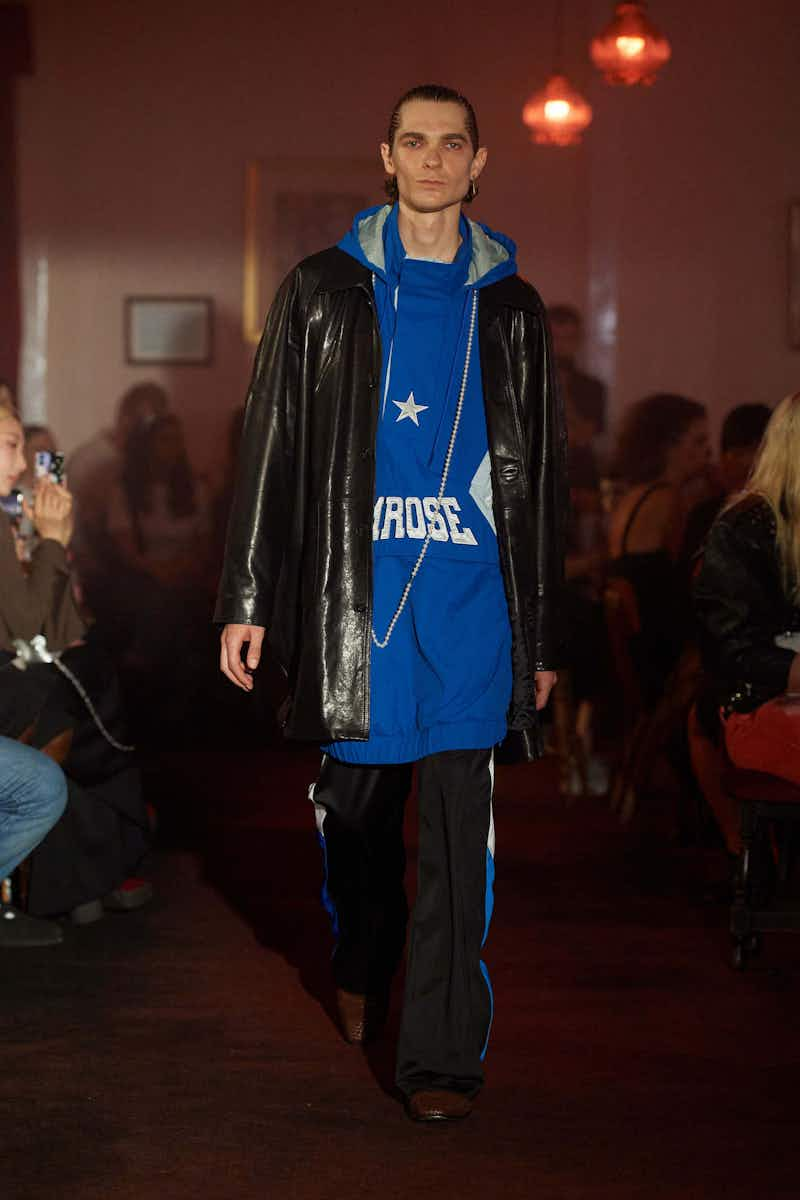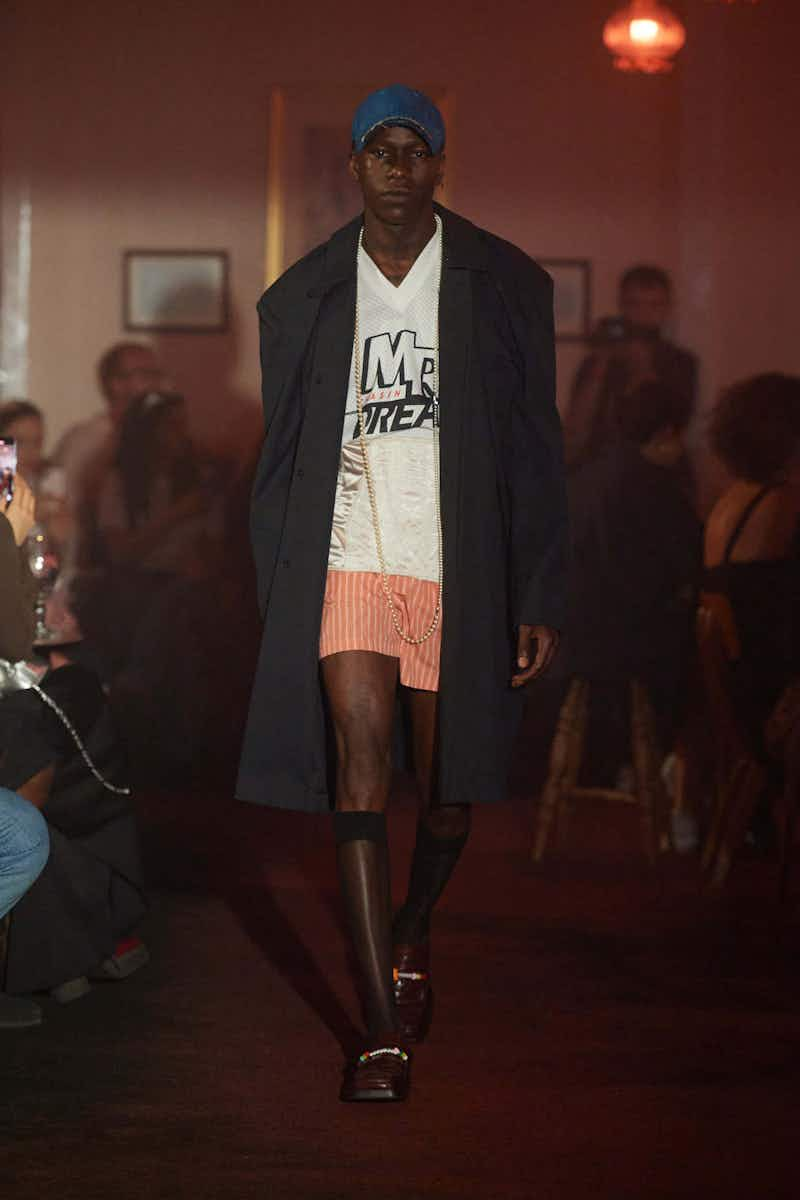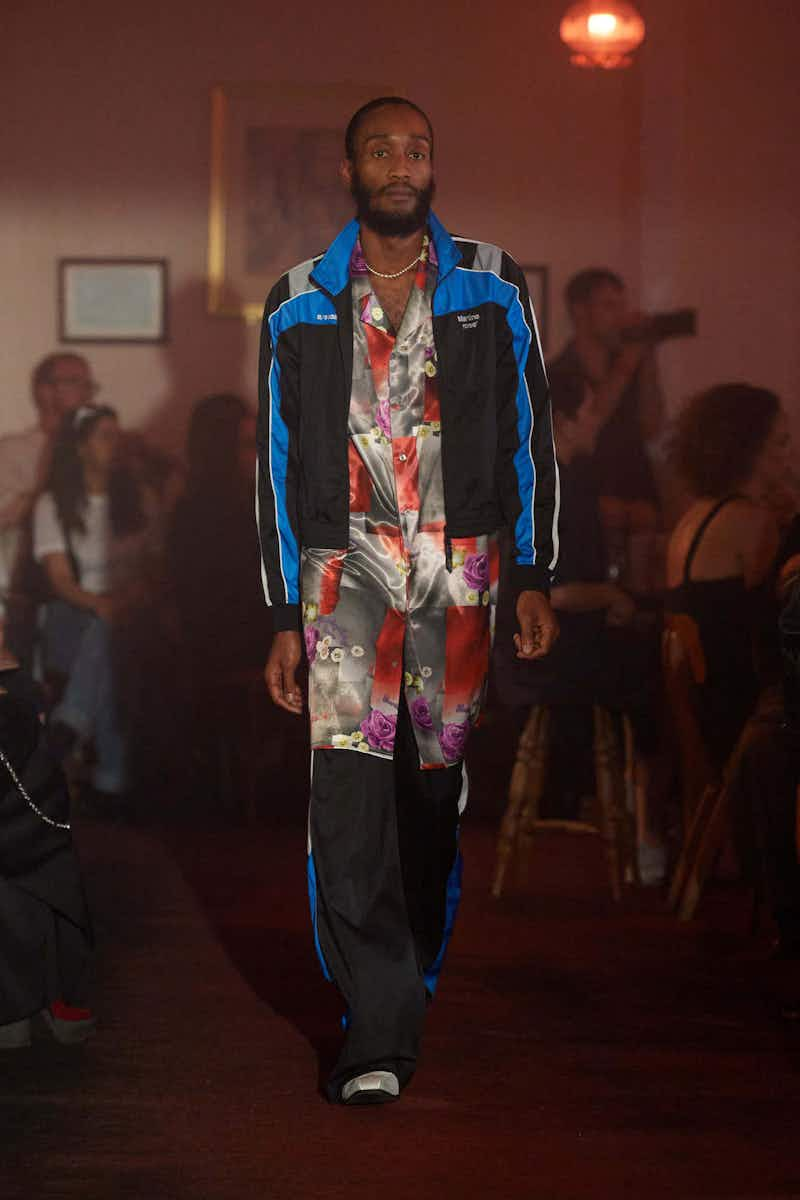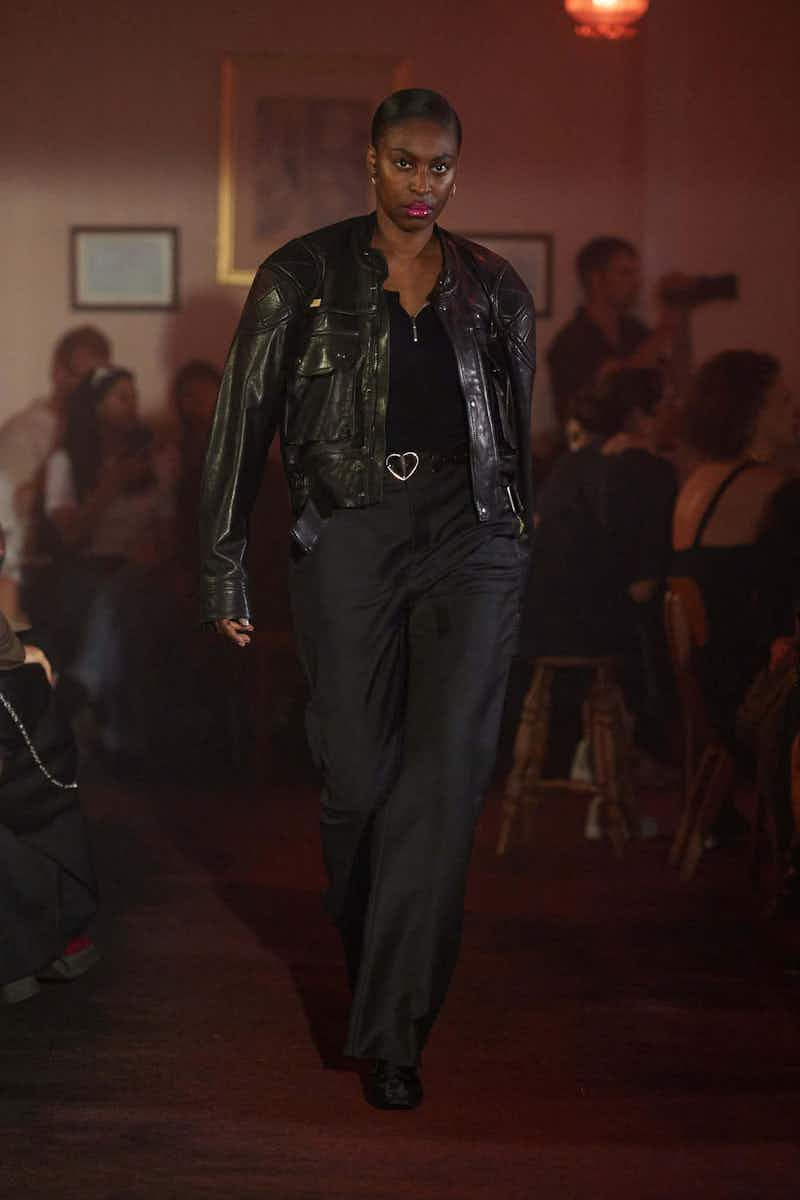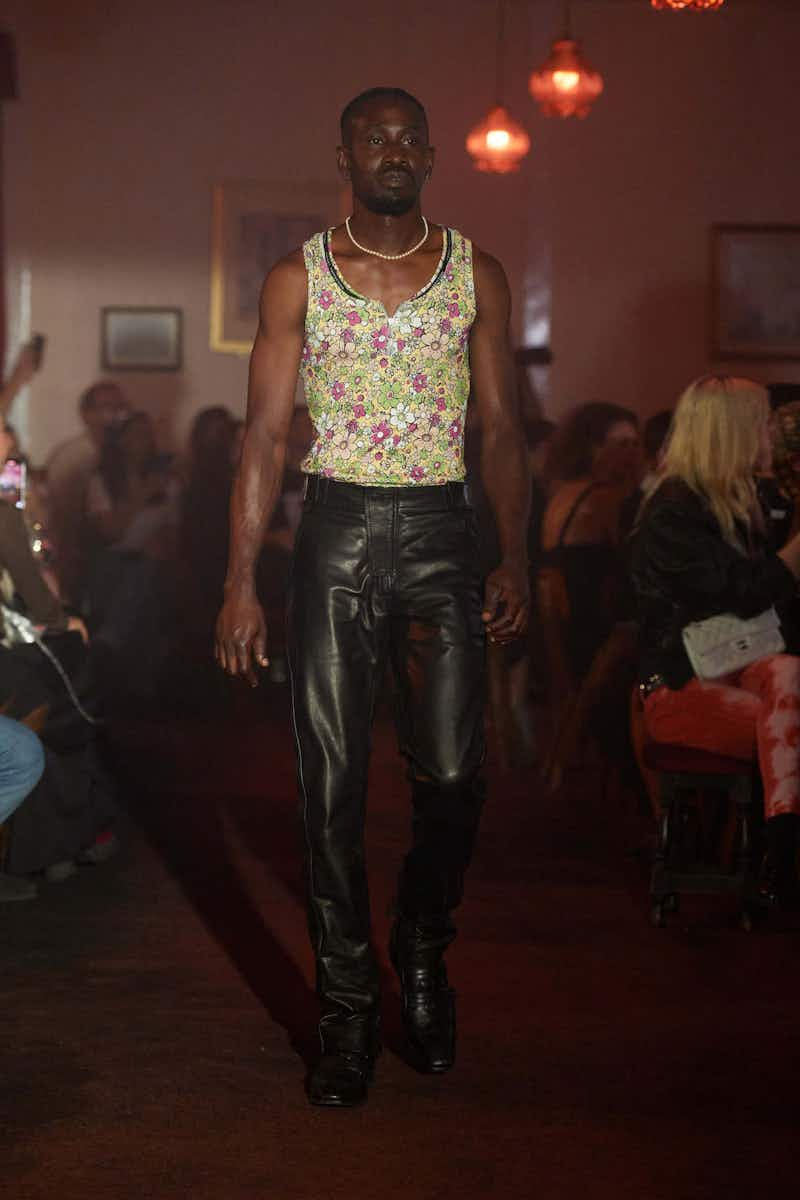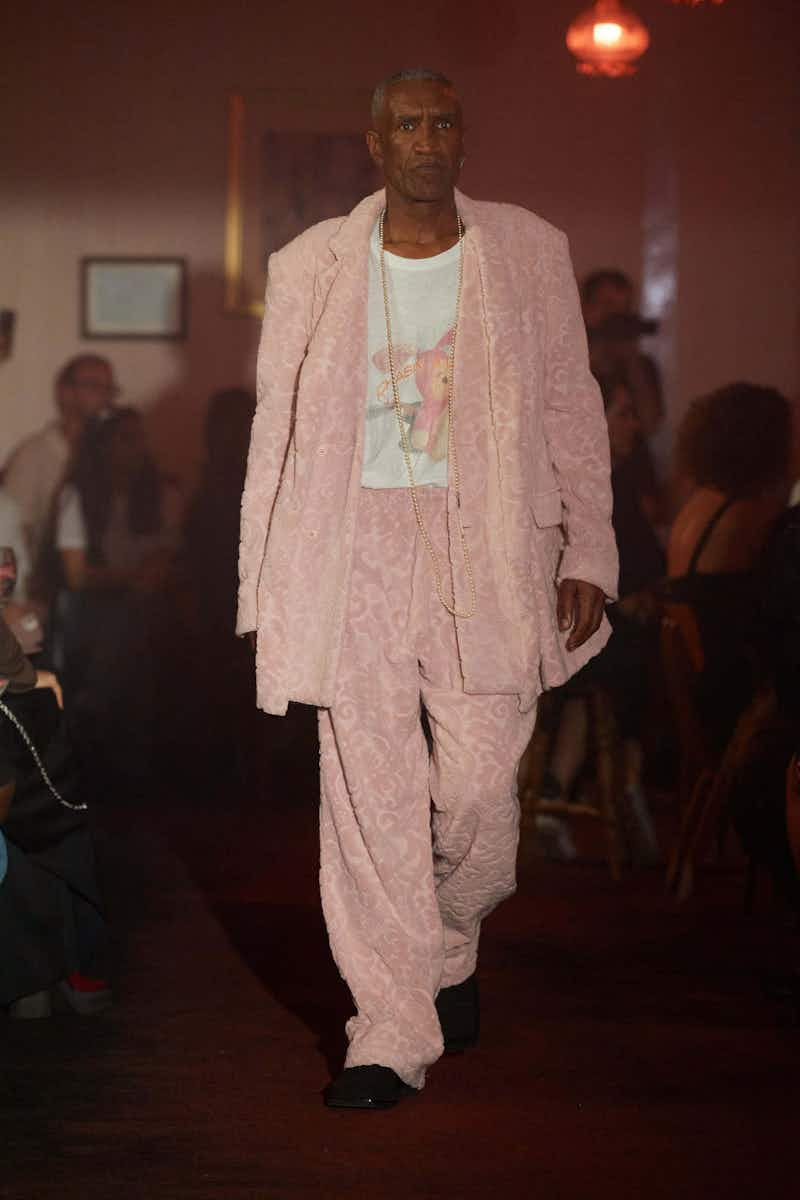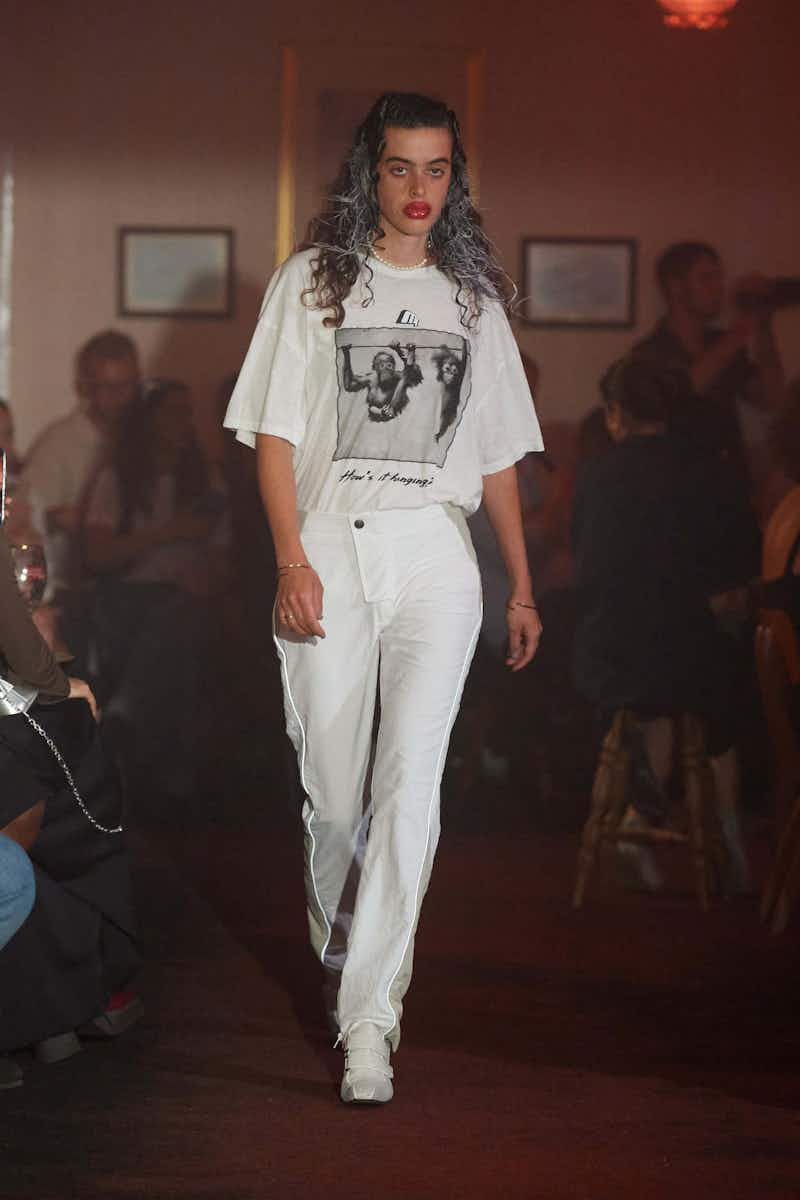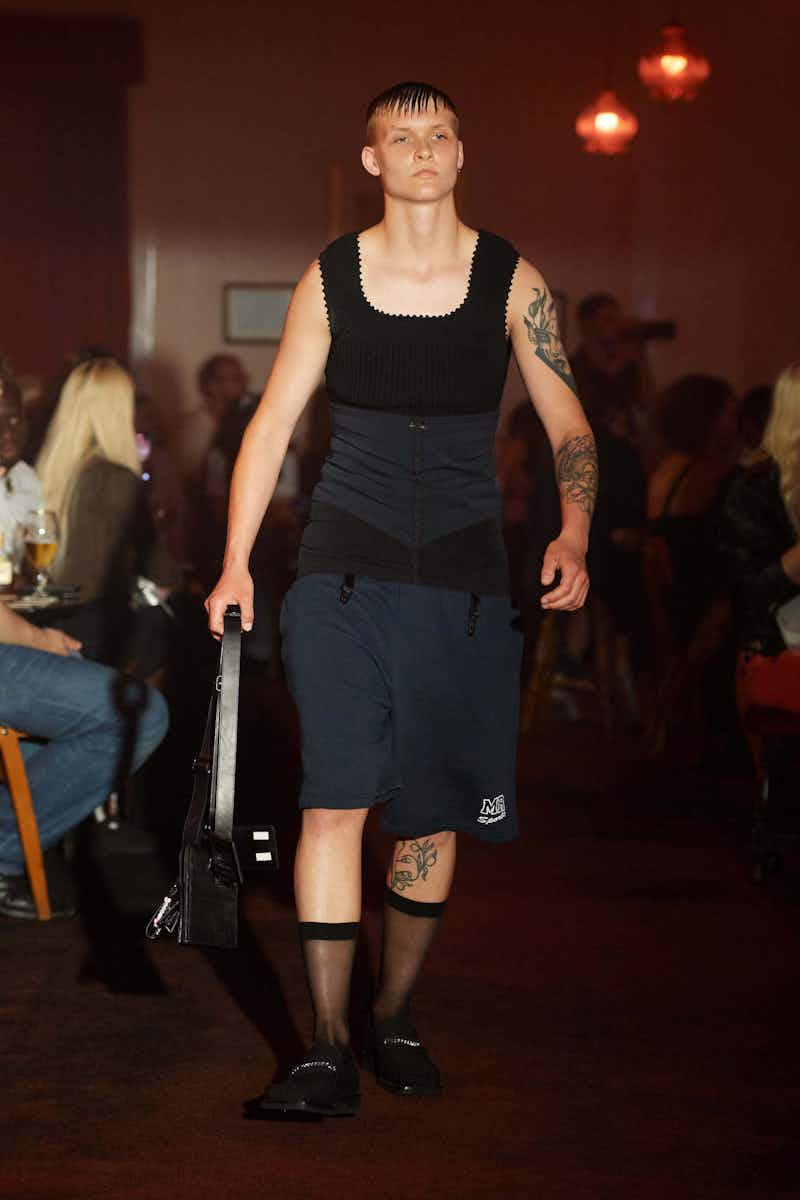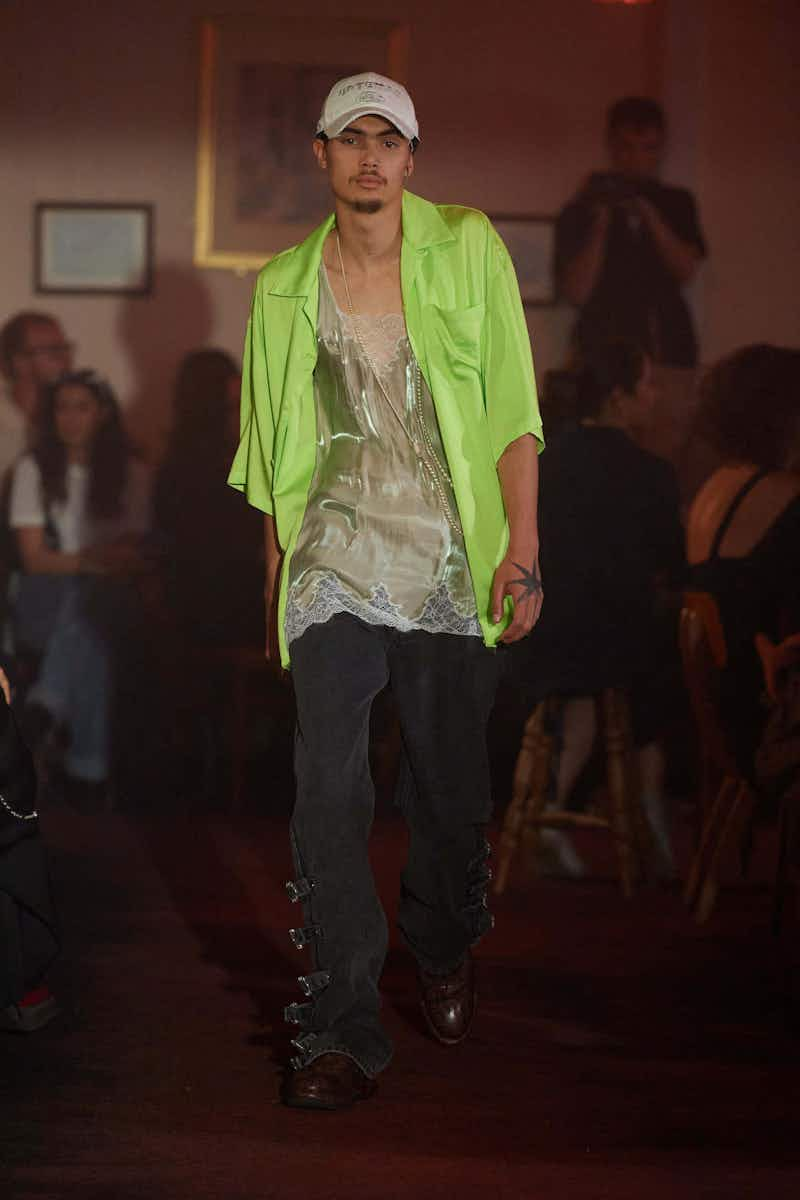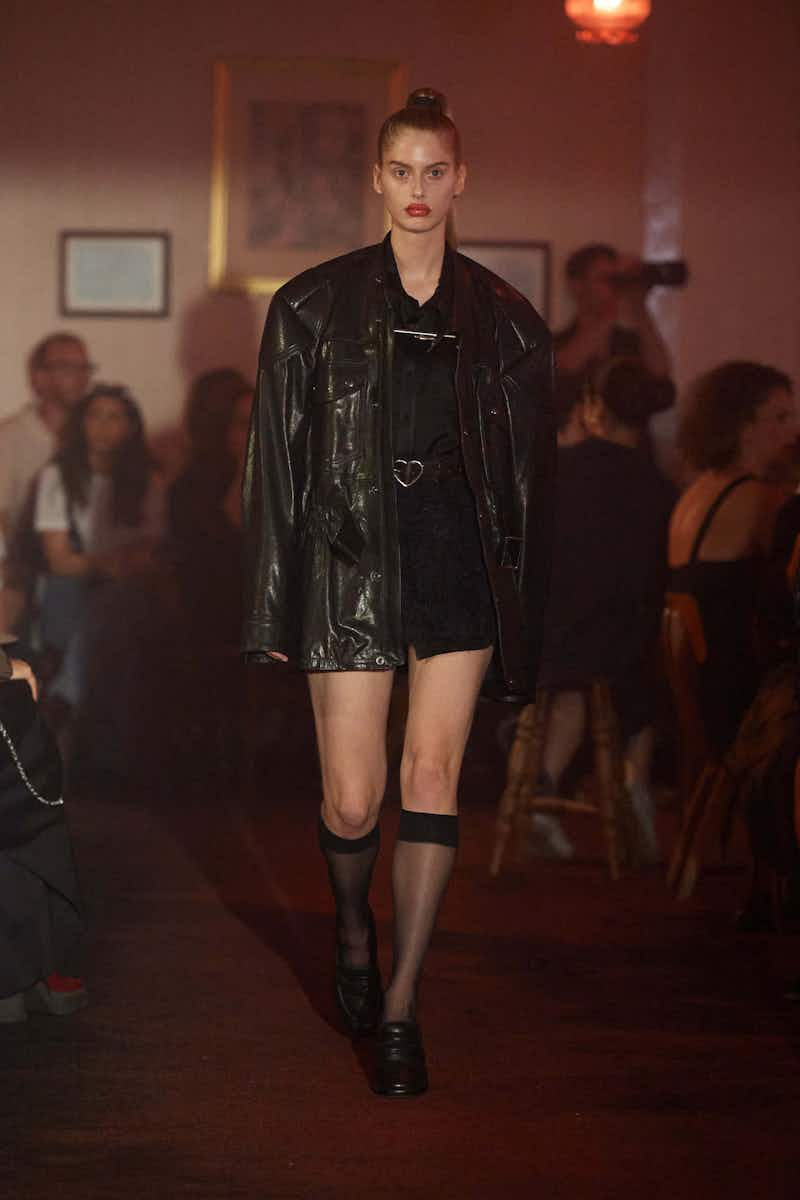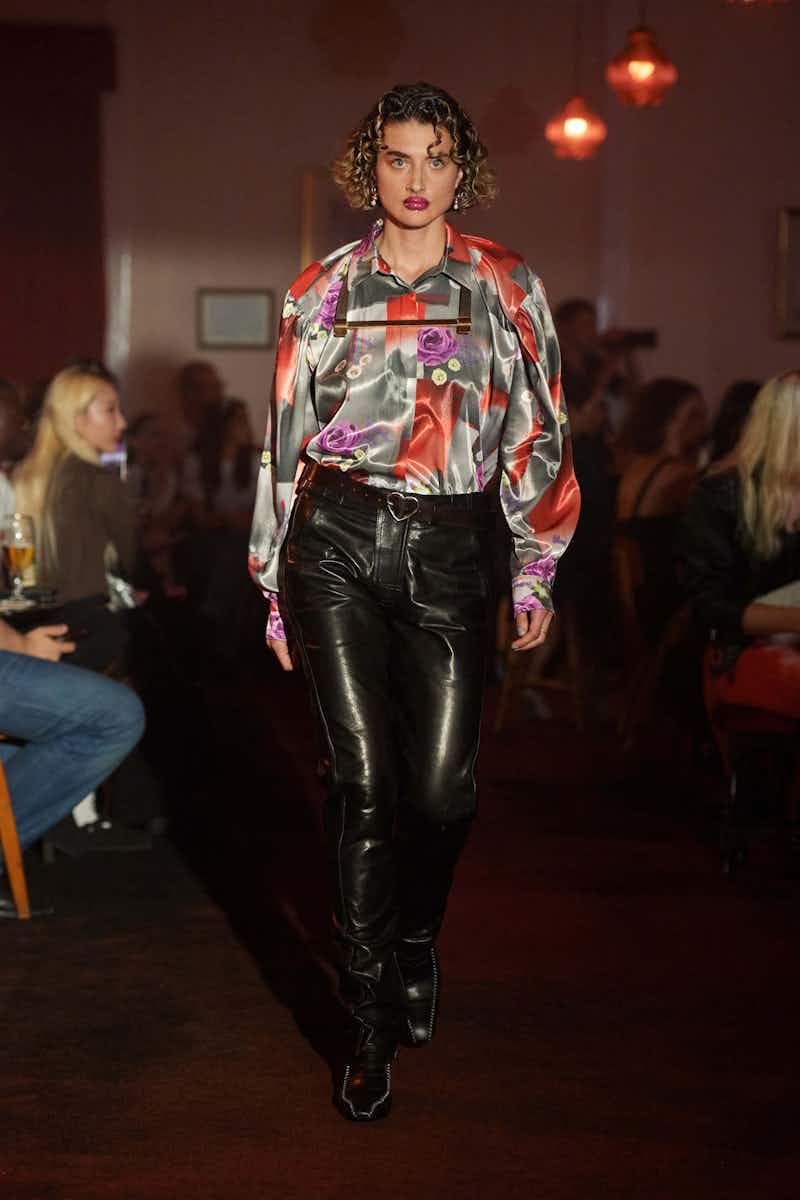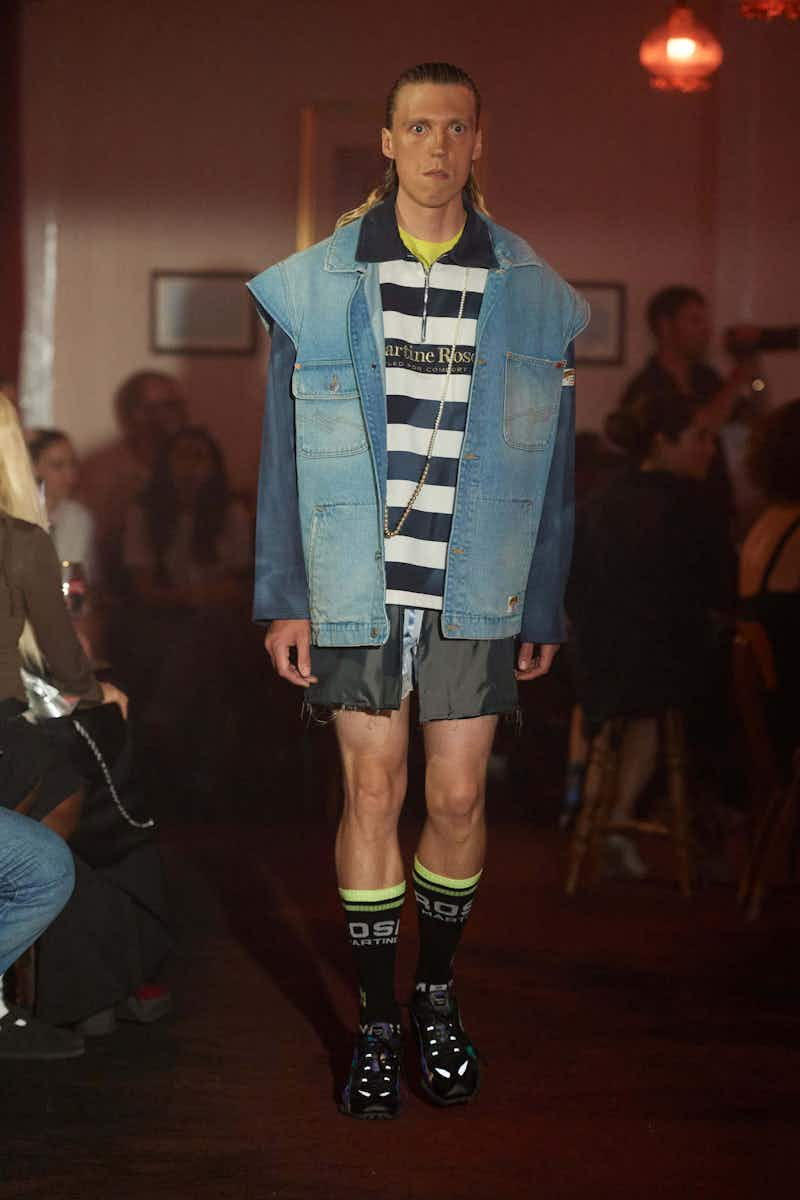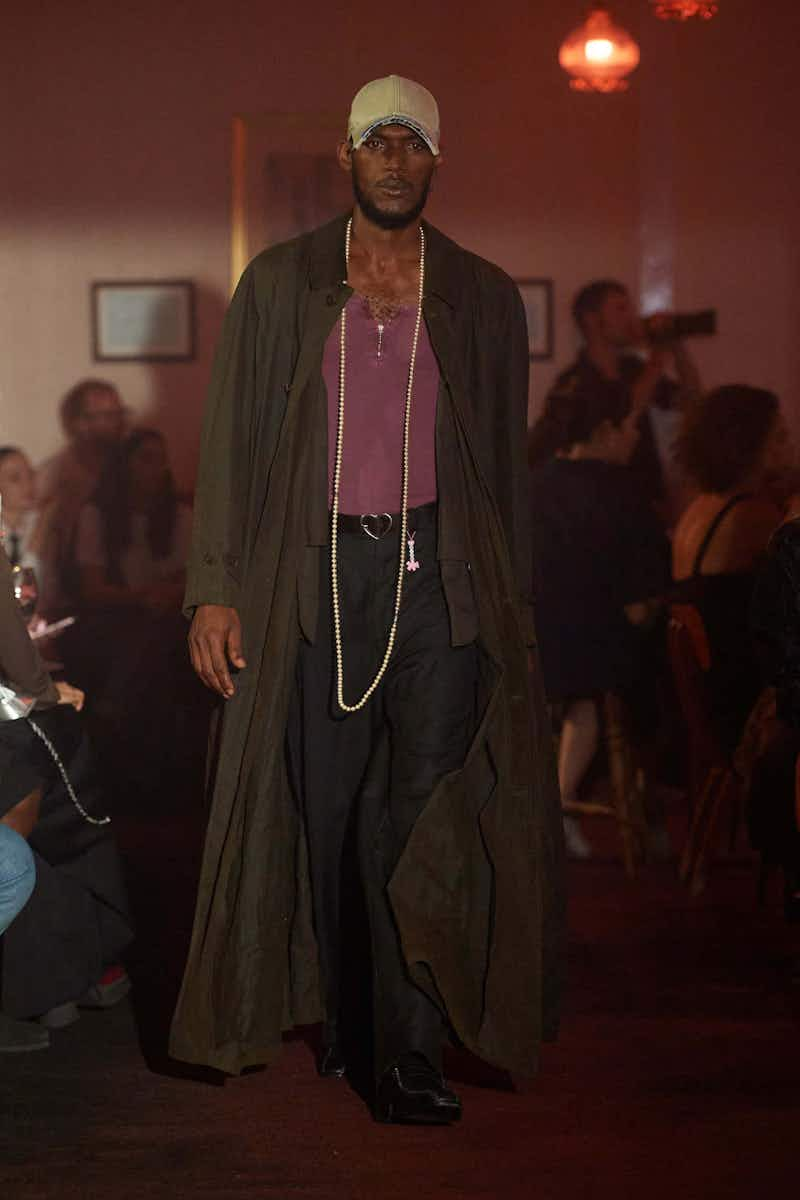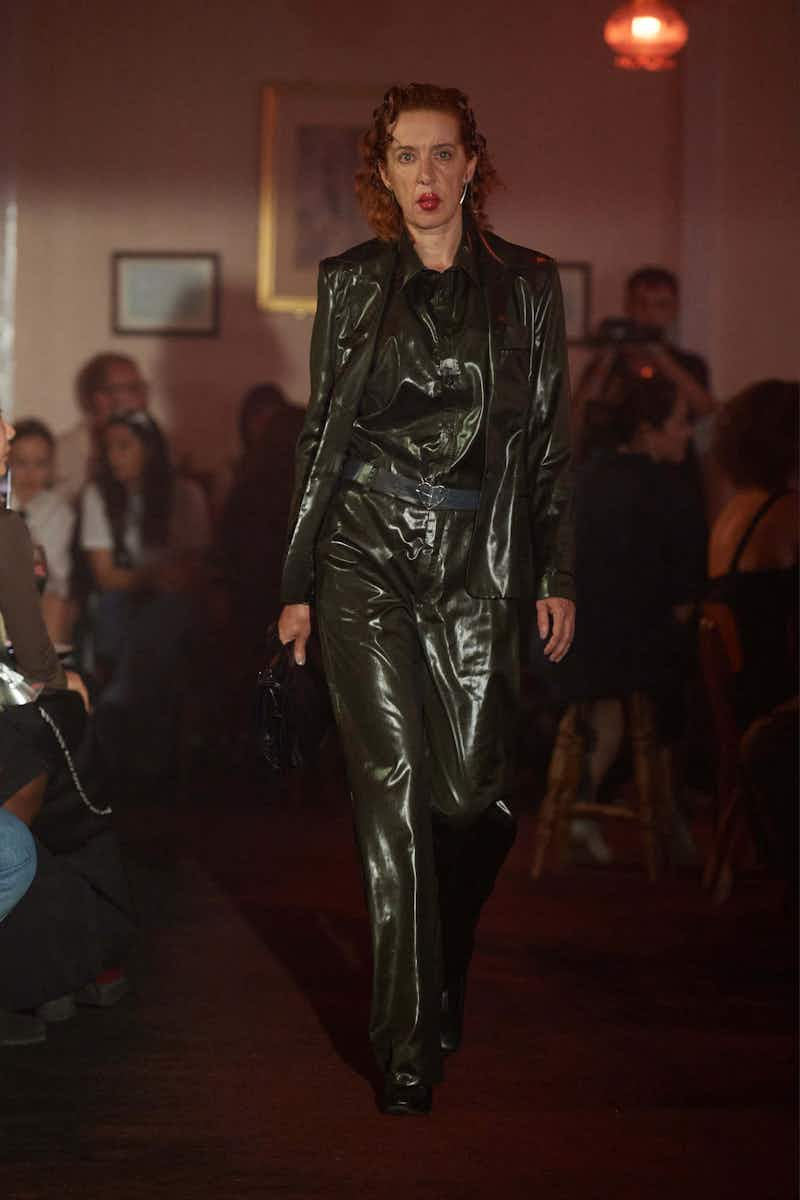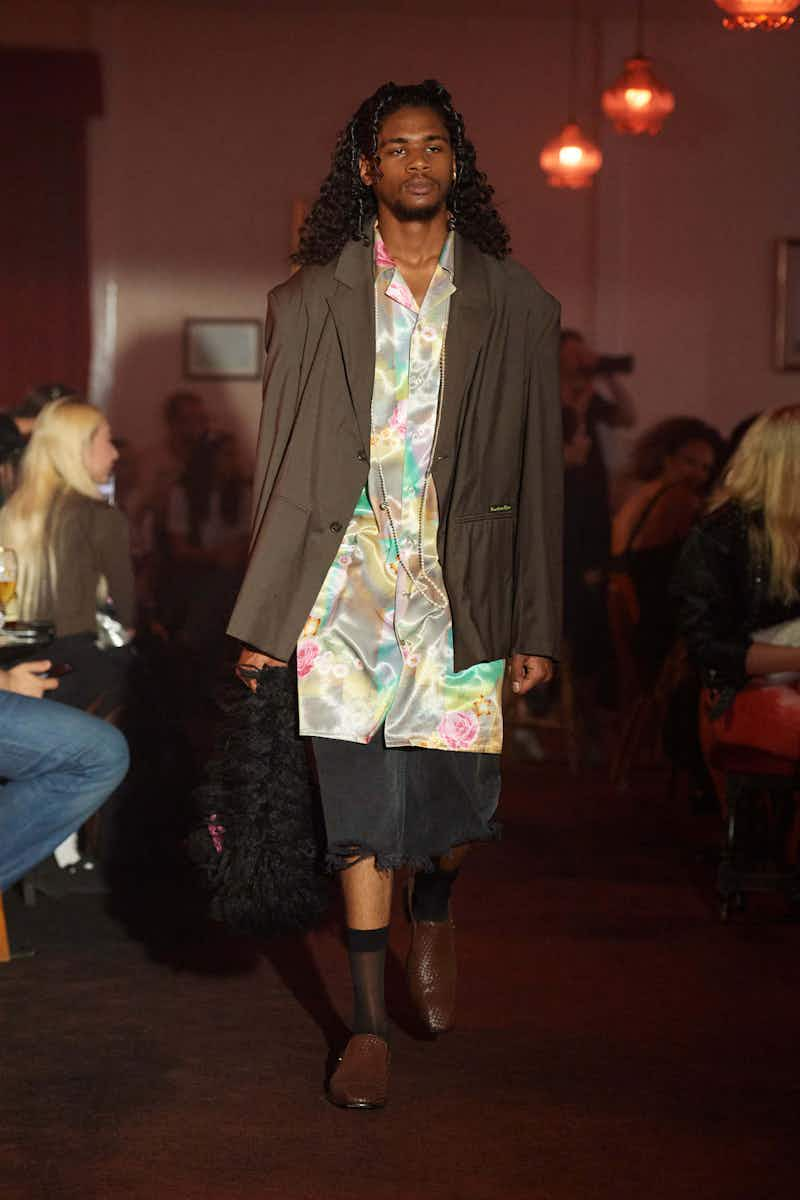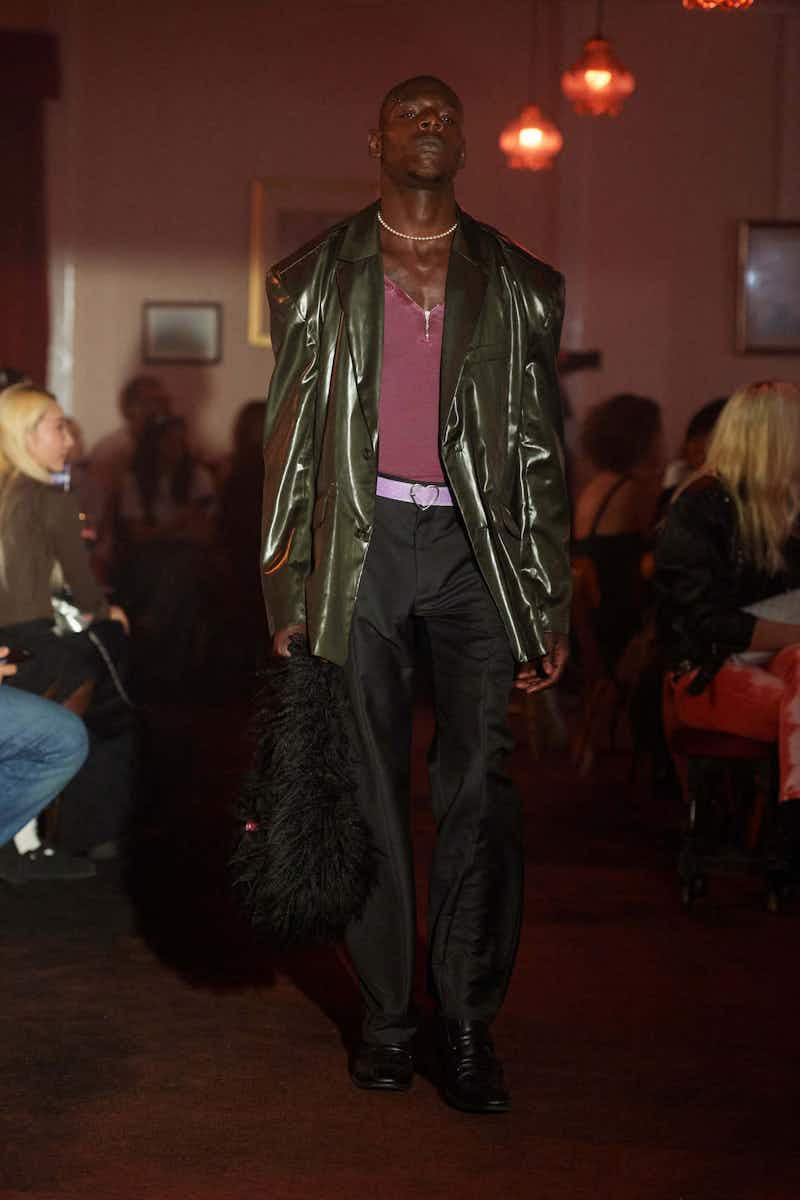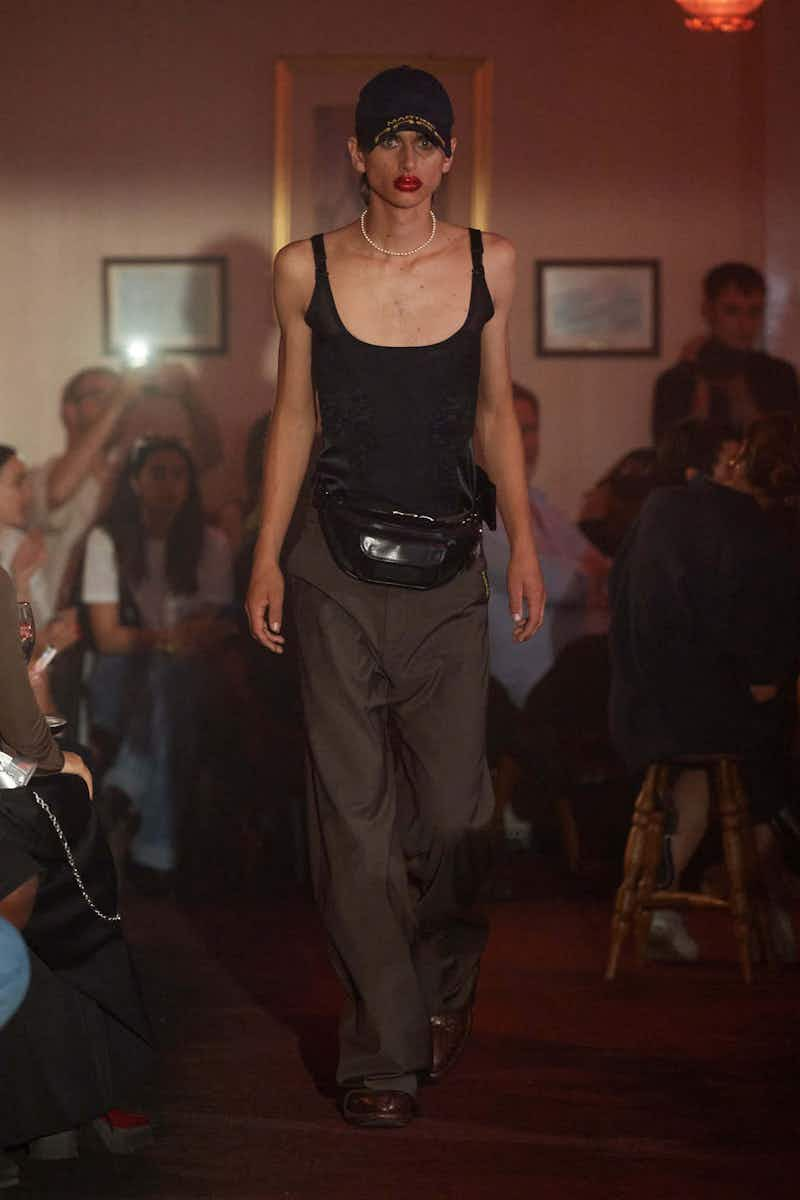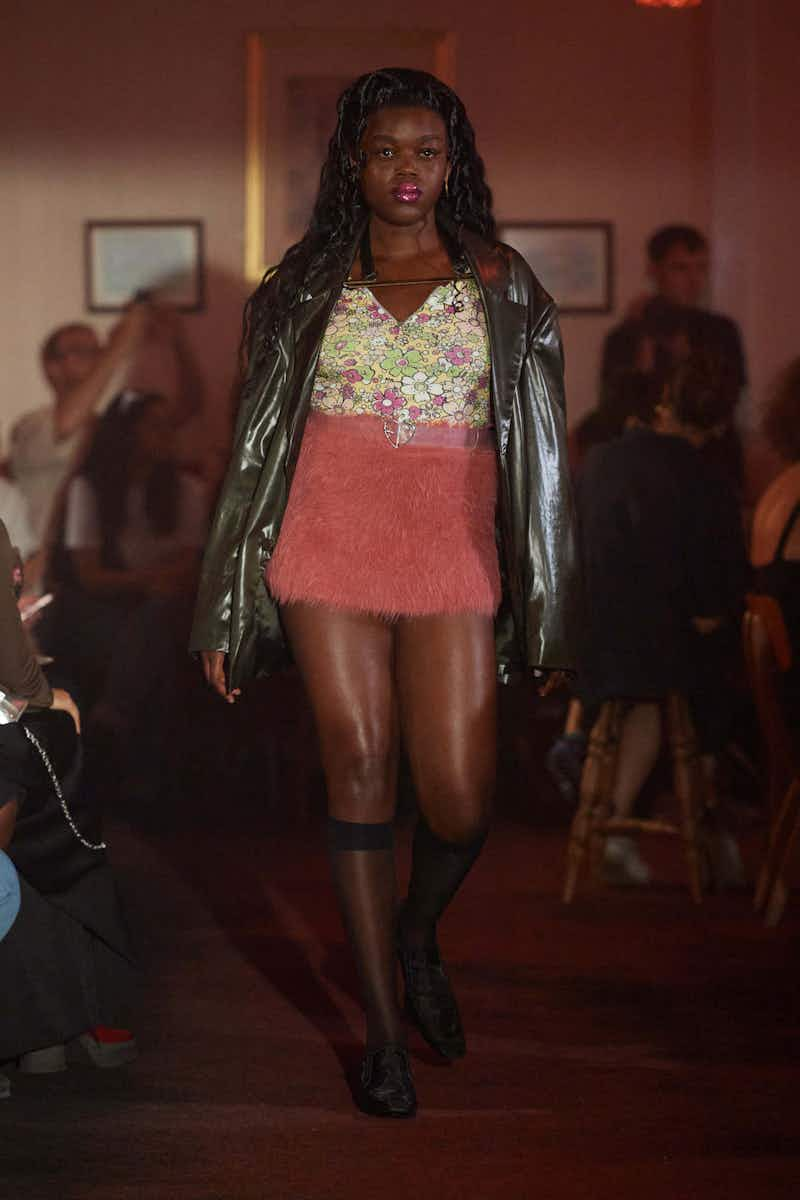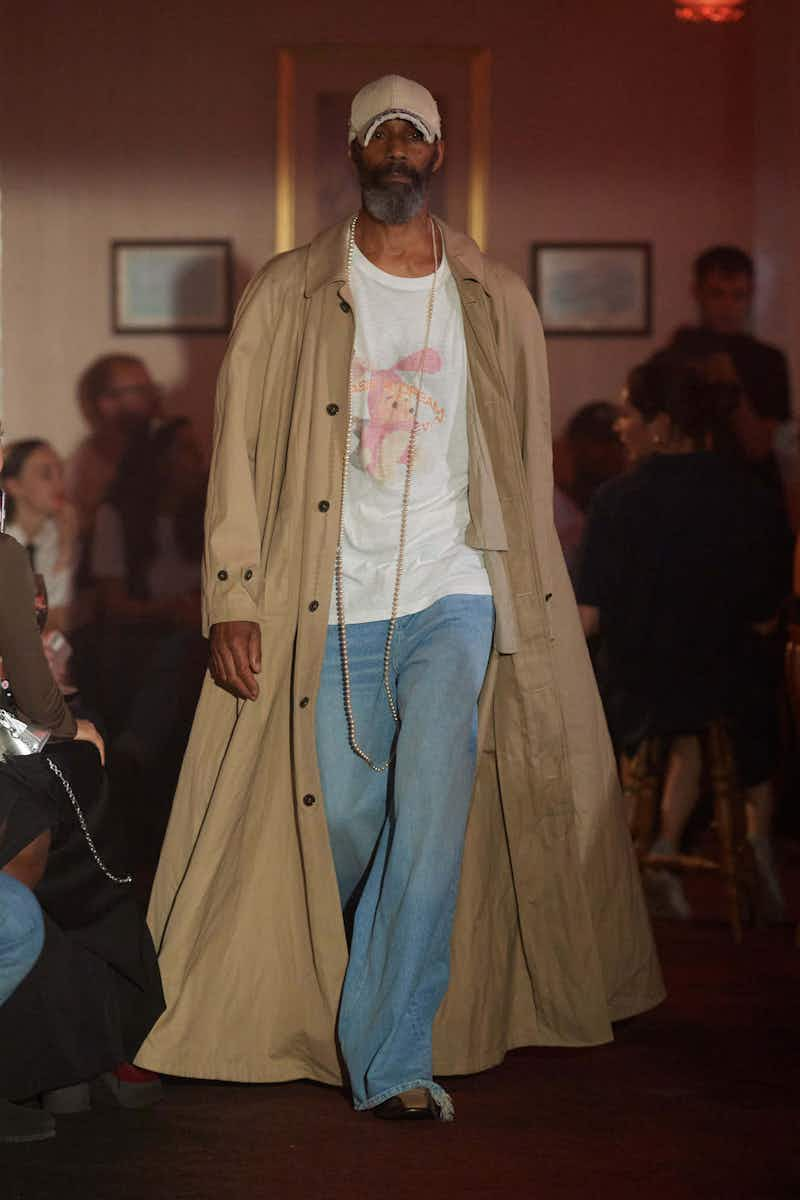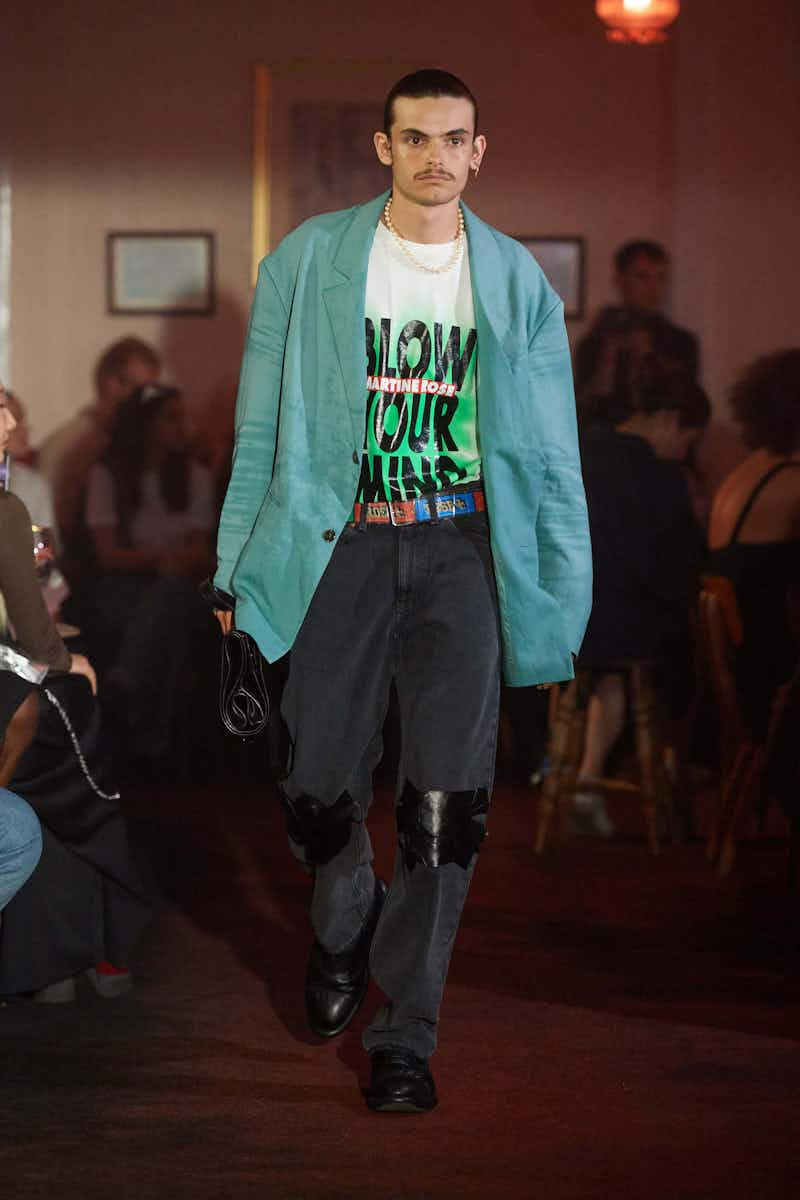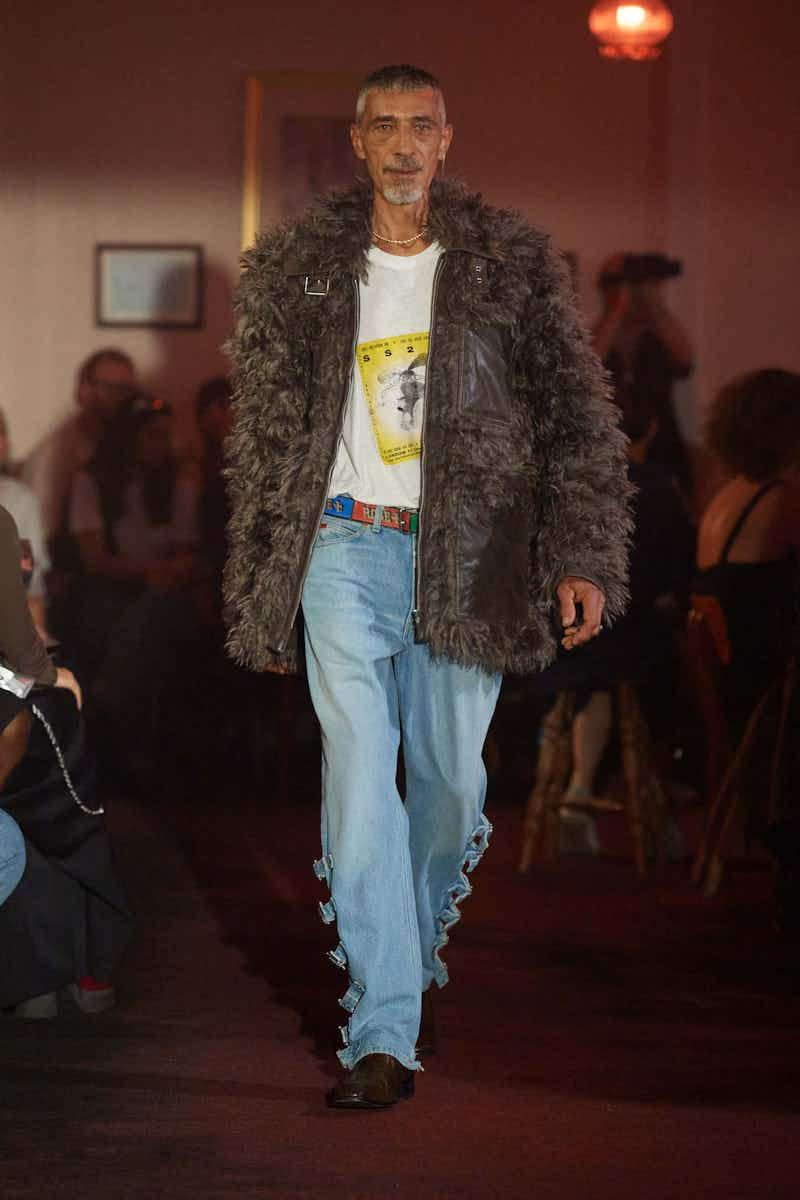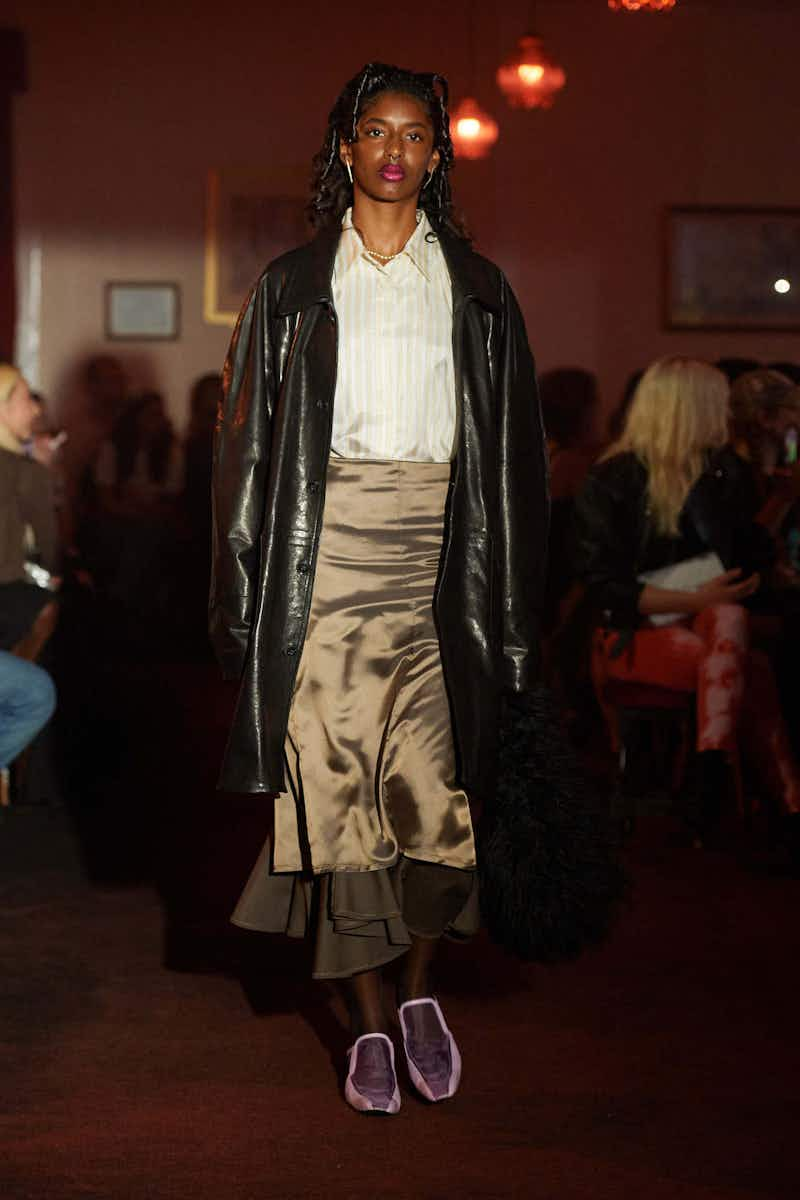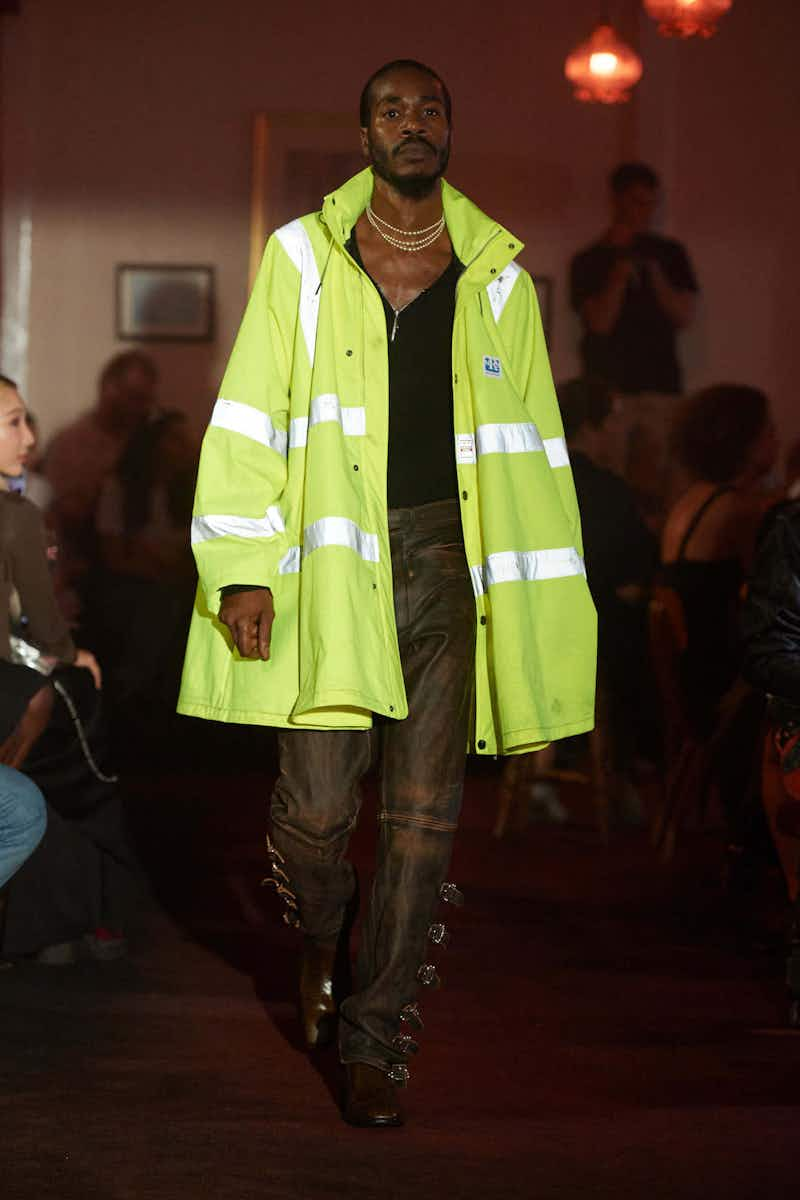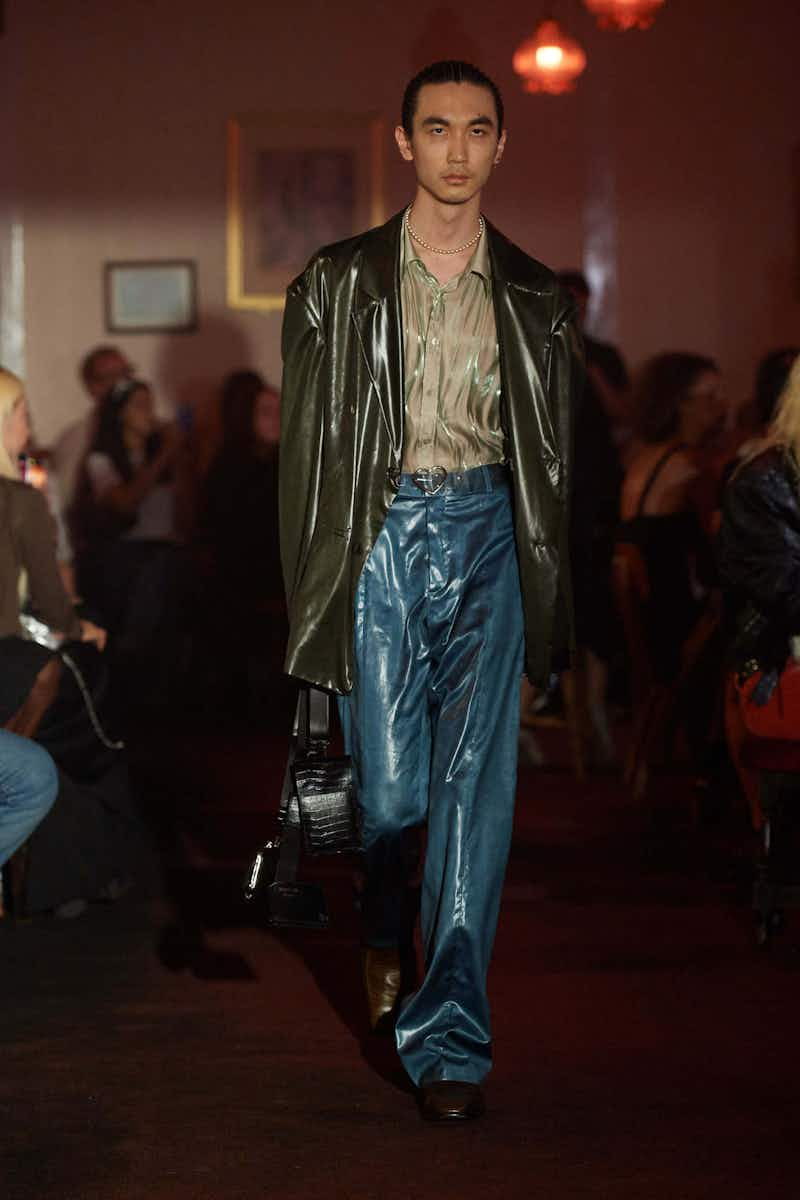 It almost seemed as though the designer had predicted a weekend of sweet summer bliss when reception drinks welcomed guests an hour before the catwalk kicked off. Held at a North London community centre, St Joseph's Parish Centre, not far from her studio in Crouch Hill, like all of Rose's shows, the venue was as important as the clothes itself.

This season, Rose looked back to the 1970s and ​'80s, when community centres like these were run by locals, for locals, transforming into makeshift nightclubs and hoarded by youth. They became hotspots during the UK's waves of immigration, too, as Jamaican, Indian, West Indian and North African communities transformed these spaces into their own special parties, complete with food, music and dancing.
It's spaces like St Joseph's that are under threat in the UK. Like clubs and pubs up and down the country, community centres are struggling to keep up with rising rent costs and a lack of public funding from the Tories. ​"When I first walked in this morning, [the owner] was like, this might give us the boost we need, so we don't have to close," Rose says backstage after the show. ​"There's nowhere else anyone her age can go and dance on a Saturday night. These are really important spaces – every community has one that services them."

Once Stella's had been sunk and guests perched their bums on the centre's wooden stalls, the show kicked off in familiar style, against an acid house soundtrack and with a slouchy signature Martine Rose look: an elongated blue parka layered under an ​'80s-style leather jacket and tracksuit bottoms. While she'll always call herself a menswear designer, Rose has been branching into womenswear over the past few seasons, too – a sexy short-length dress here, a pinstripe skirt-suit there.
"[This season], I've taken womenswear codes and put them on men," she says. You could see it in all its subversive glory on A‑line shapes, pearl necklaces, women's hosiery with lace detailing, and a heady displacement of standard volumes on shrunken vests, billowing trench coats and warped blazers. There were fun textures, too: fluffy skirts and bags, a rusty pink mohair dress and a wickedly exaggerated suit in terry cloth.
The clothes were also a riotous mash-up of subcultural references: punk buckles on the side of acid-wash leather trousers; tight, low-cut vests straight out of a steamy mid-'90s gay rave; New Wave floral prints; breezy Reggae-influenced shirts; and a DIY New Romantic attitude. Stick all that in a blender and you get a weird, nostalgic concoction of Britain's best bits that feels painfully modern, breaking rules, gender norms and traditional sartorial codes.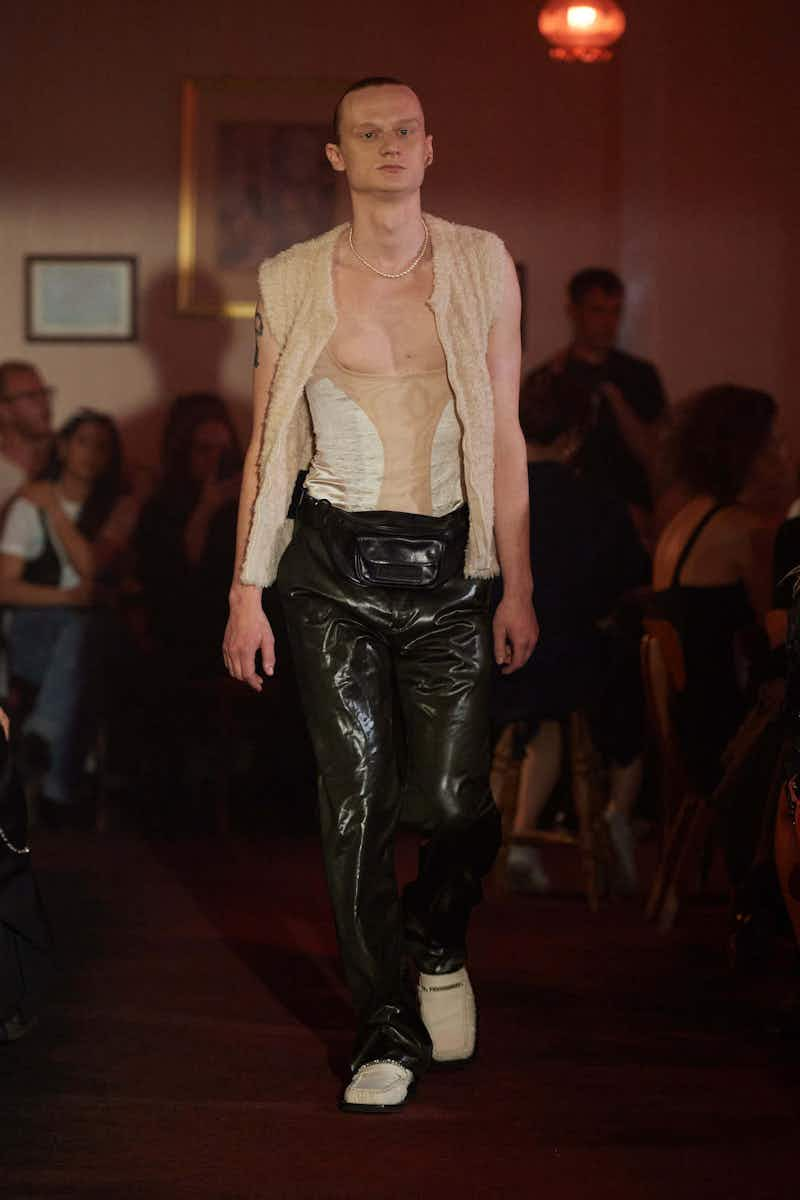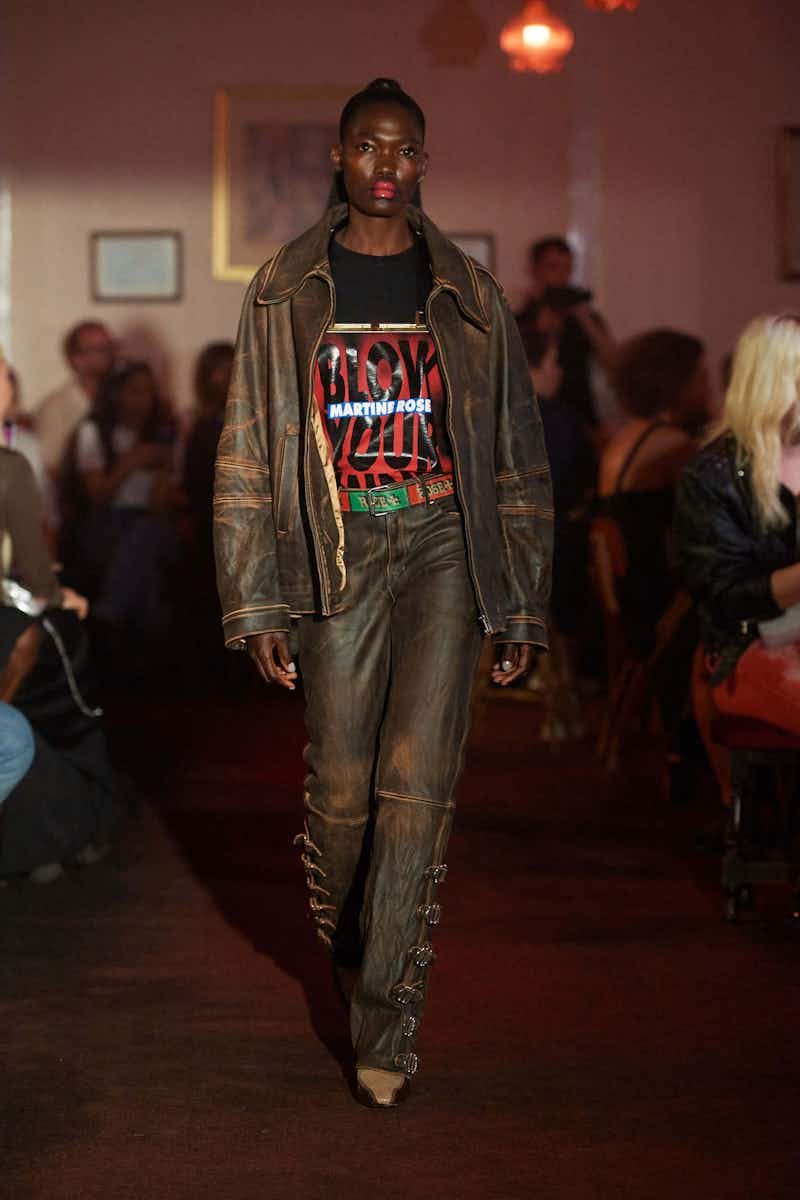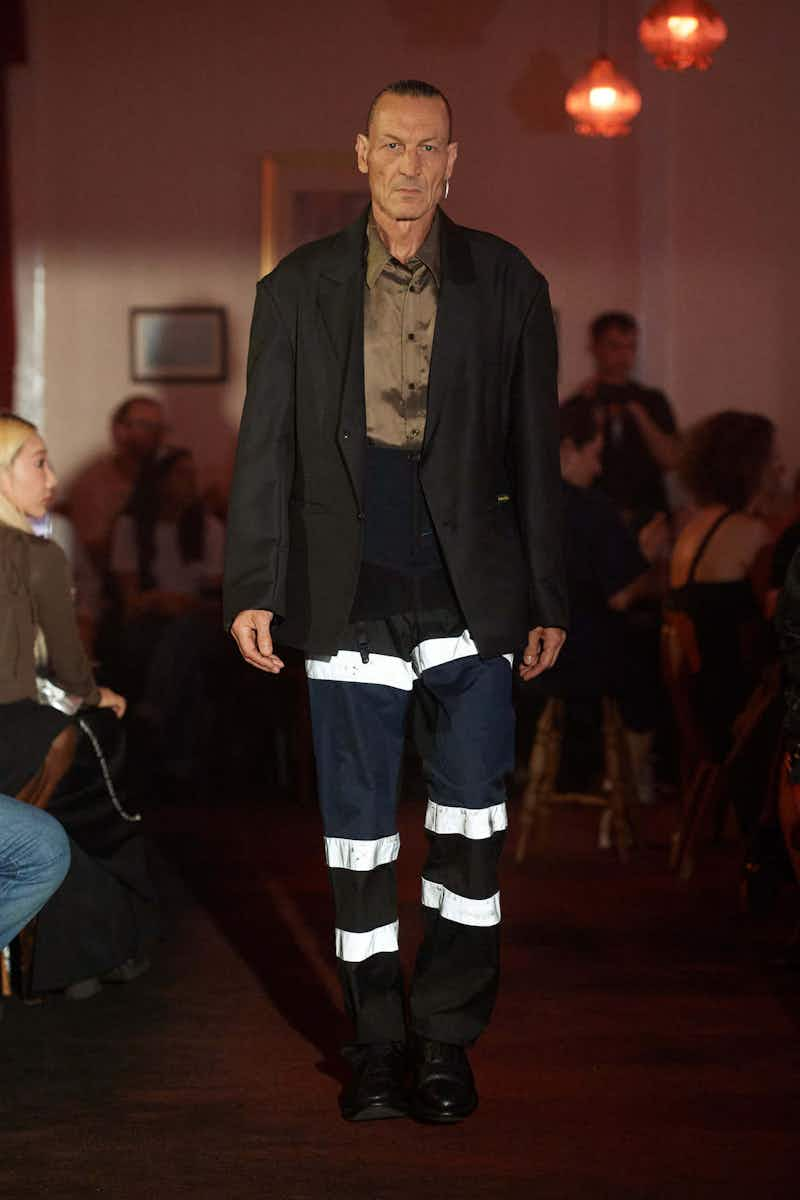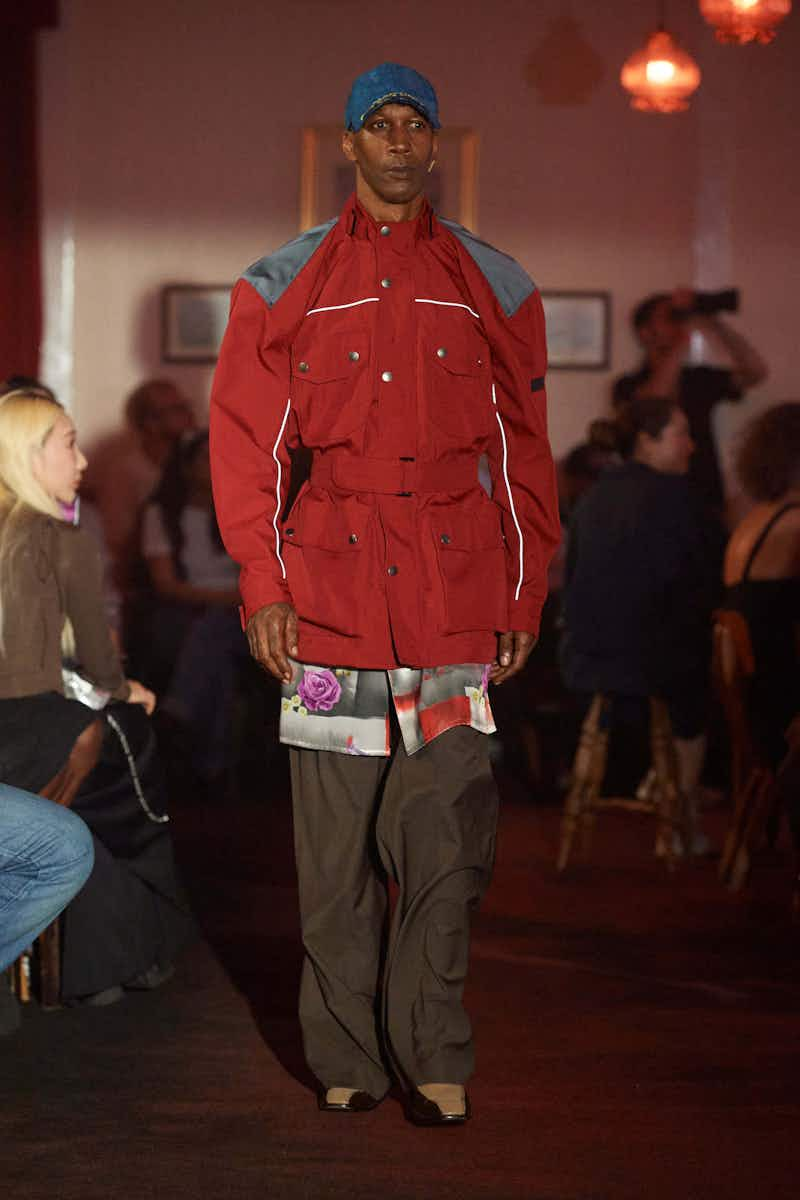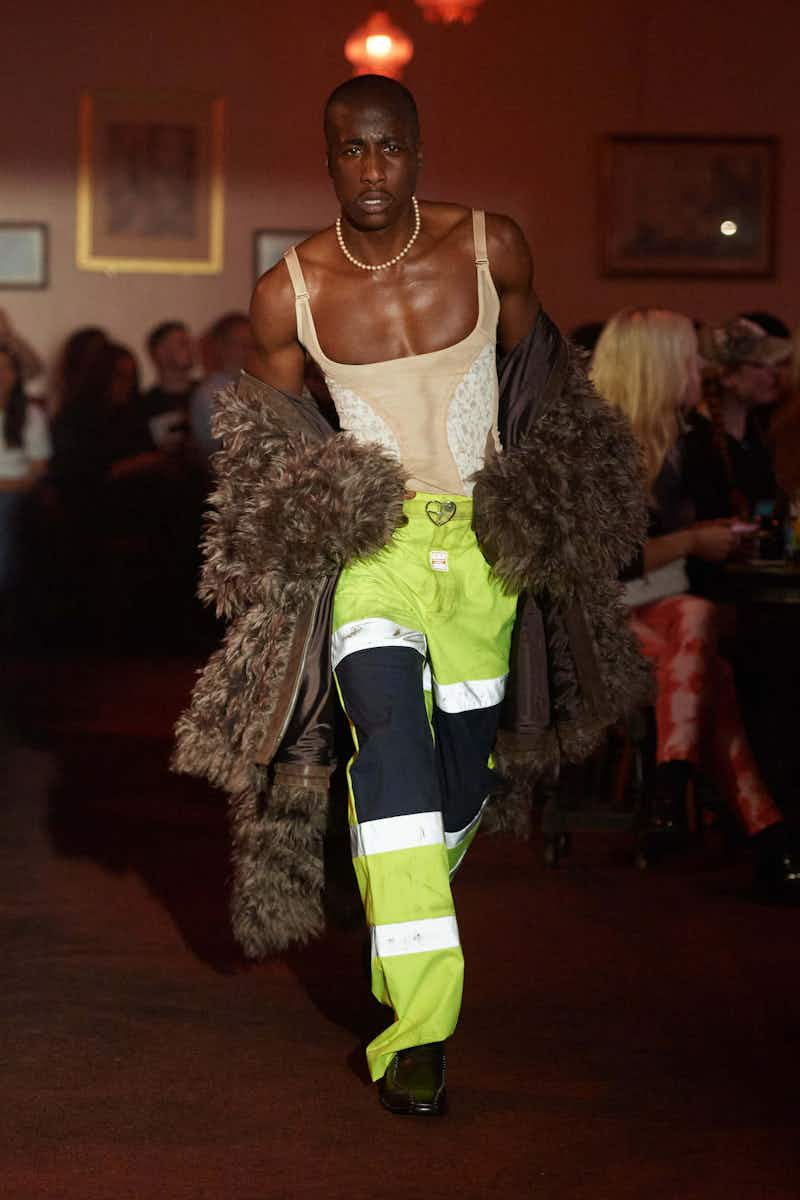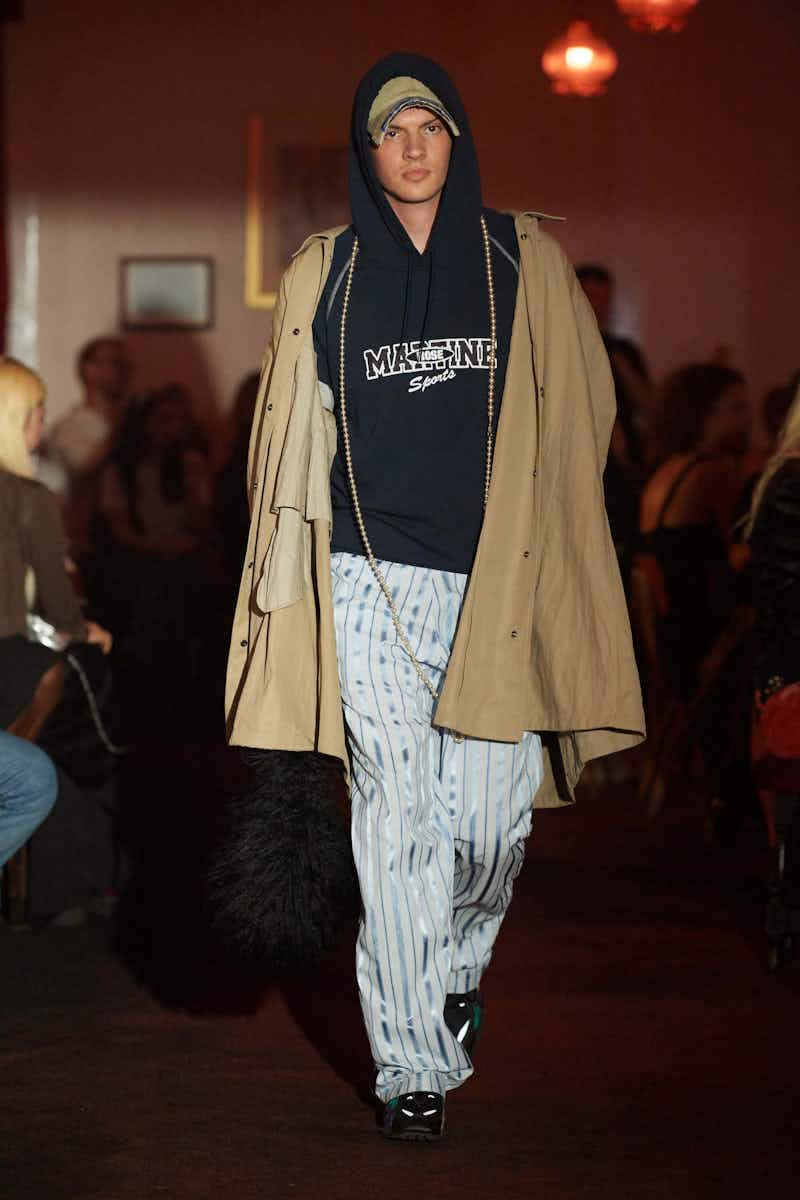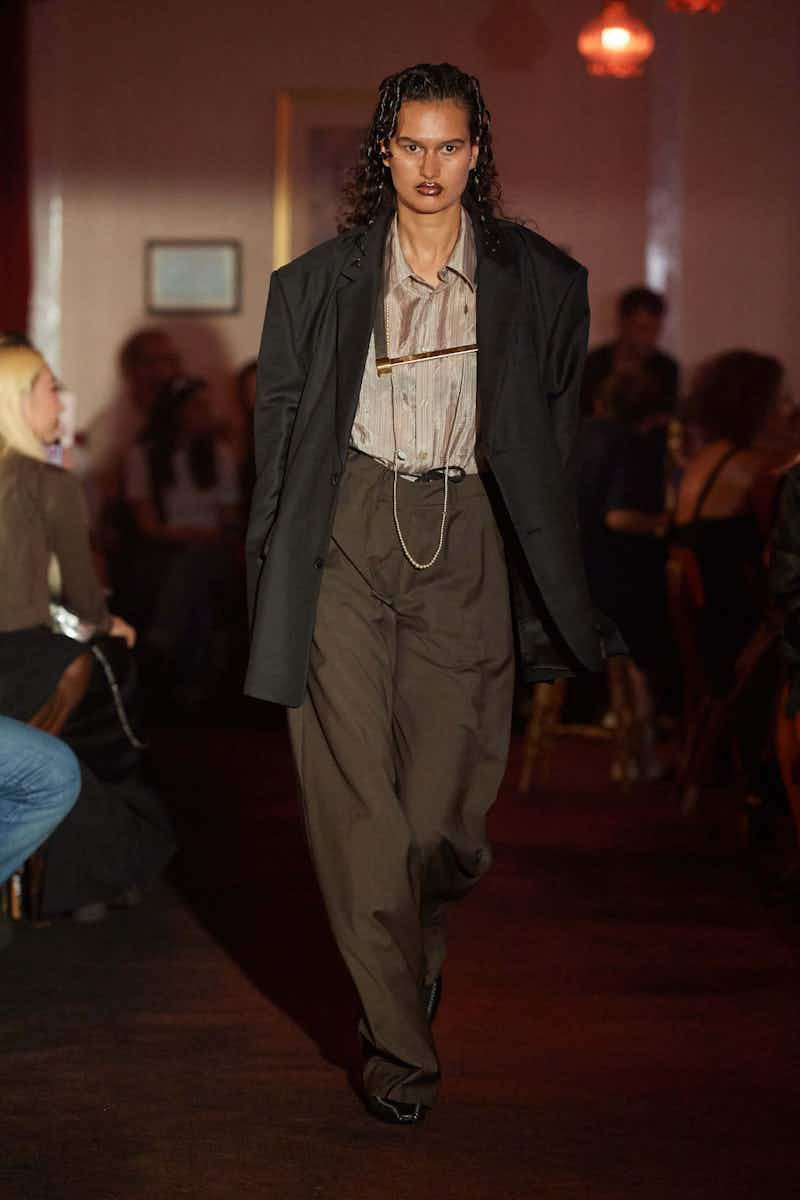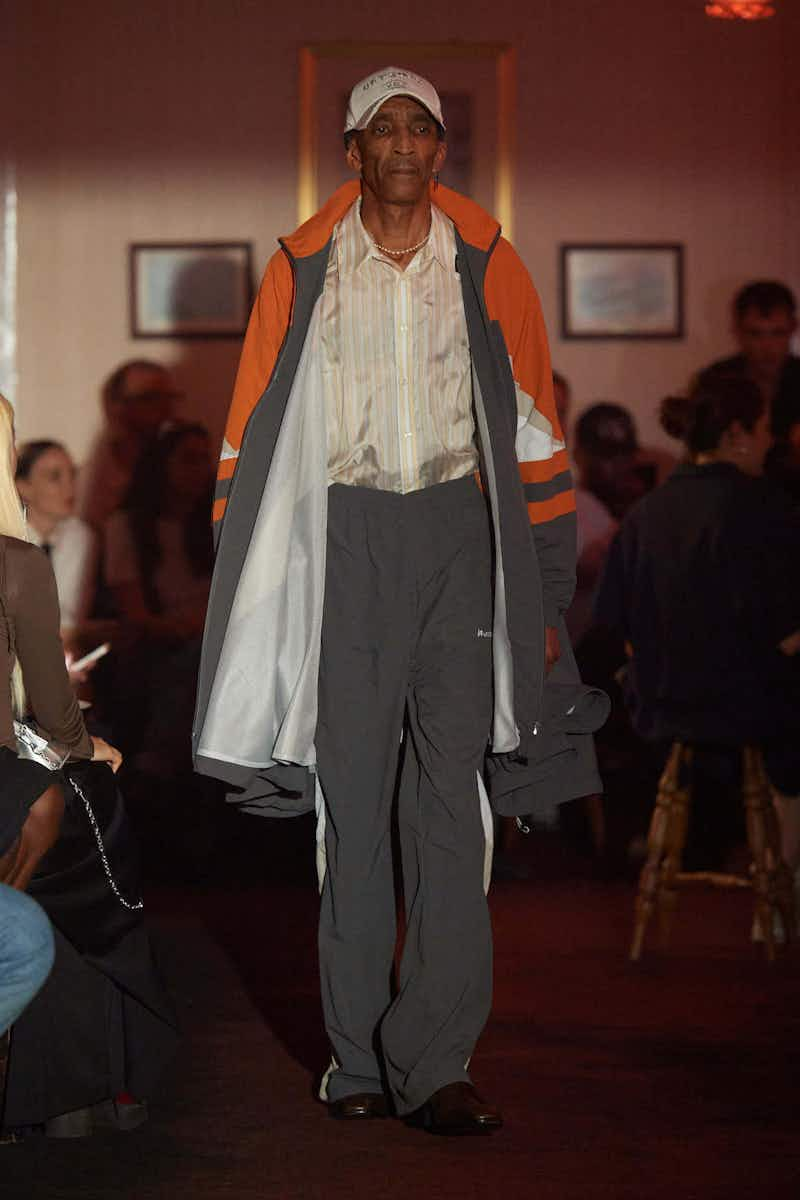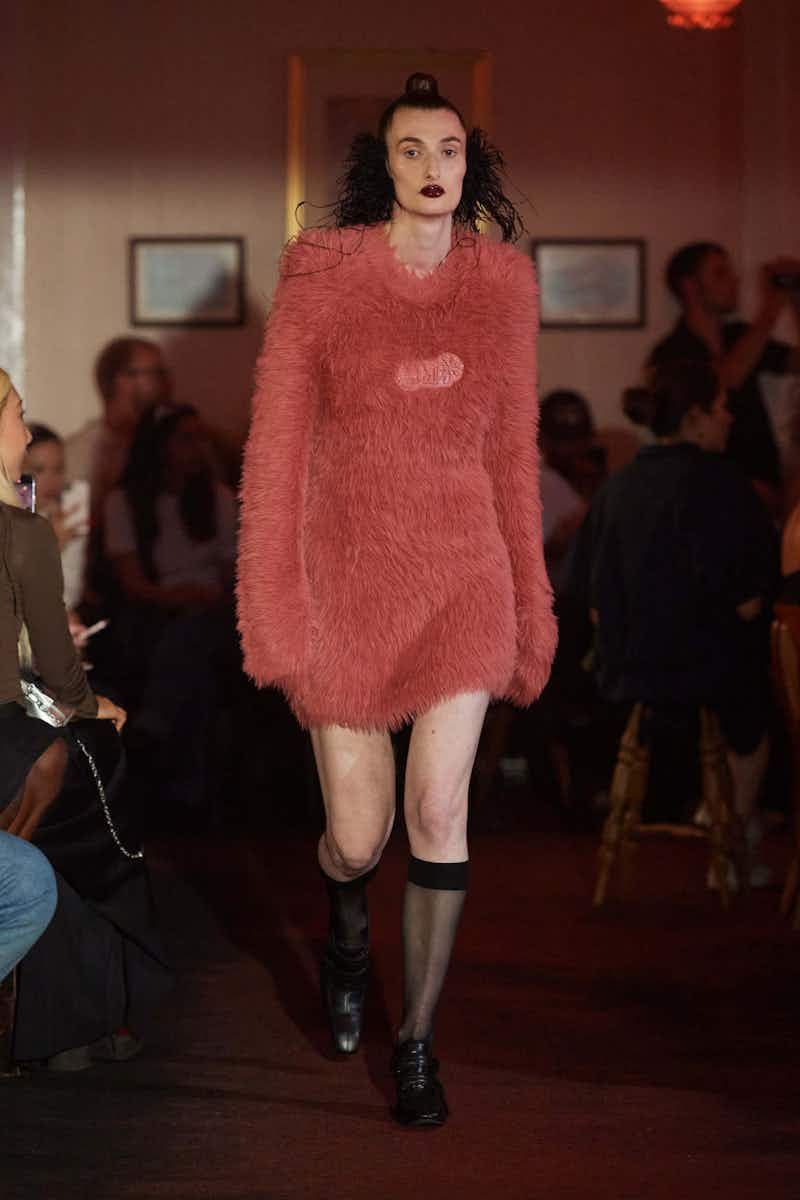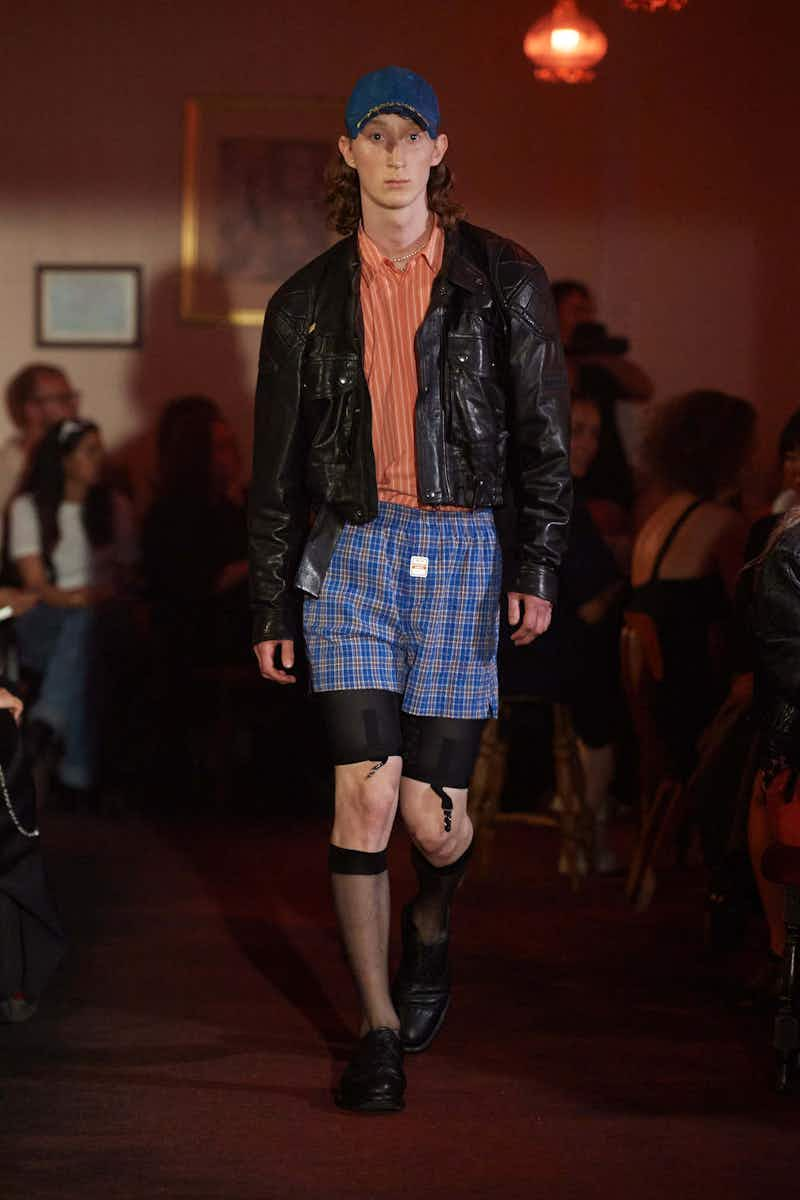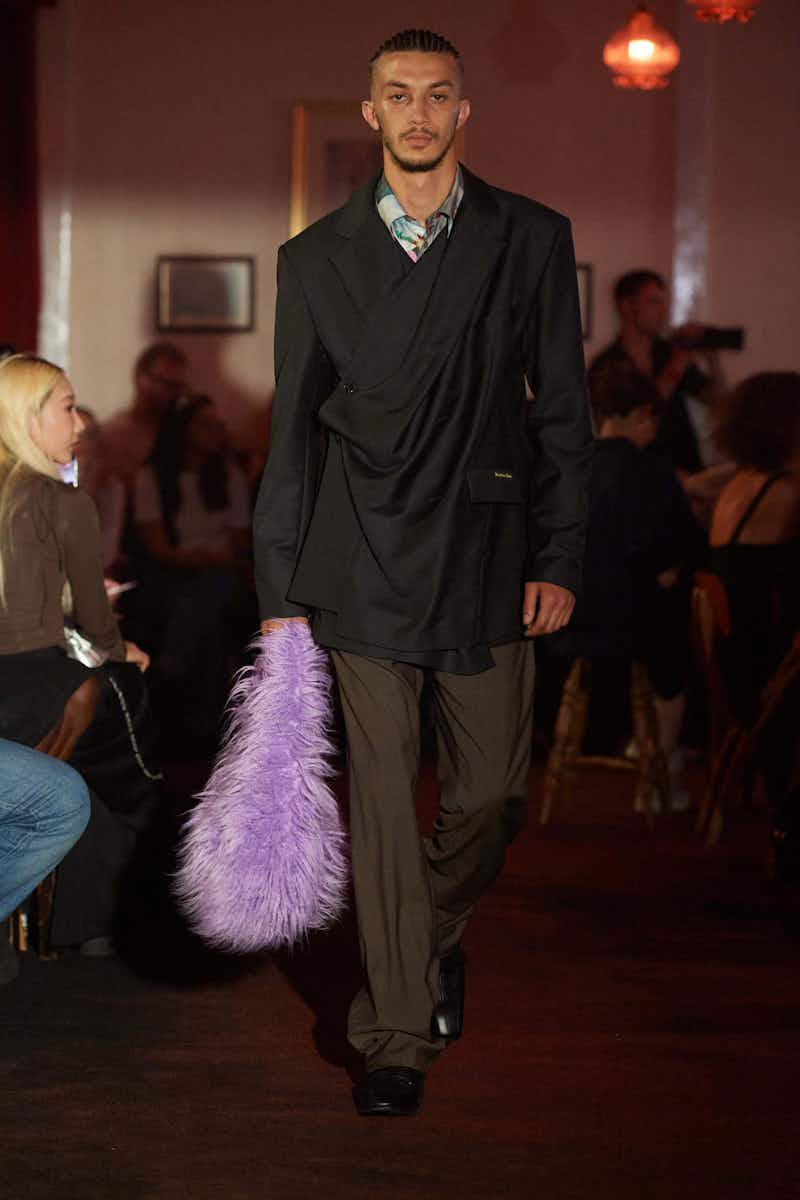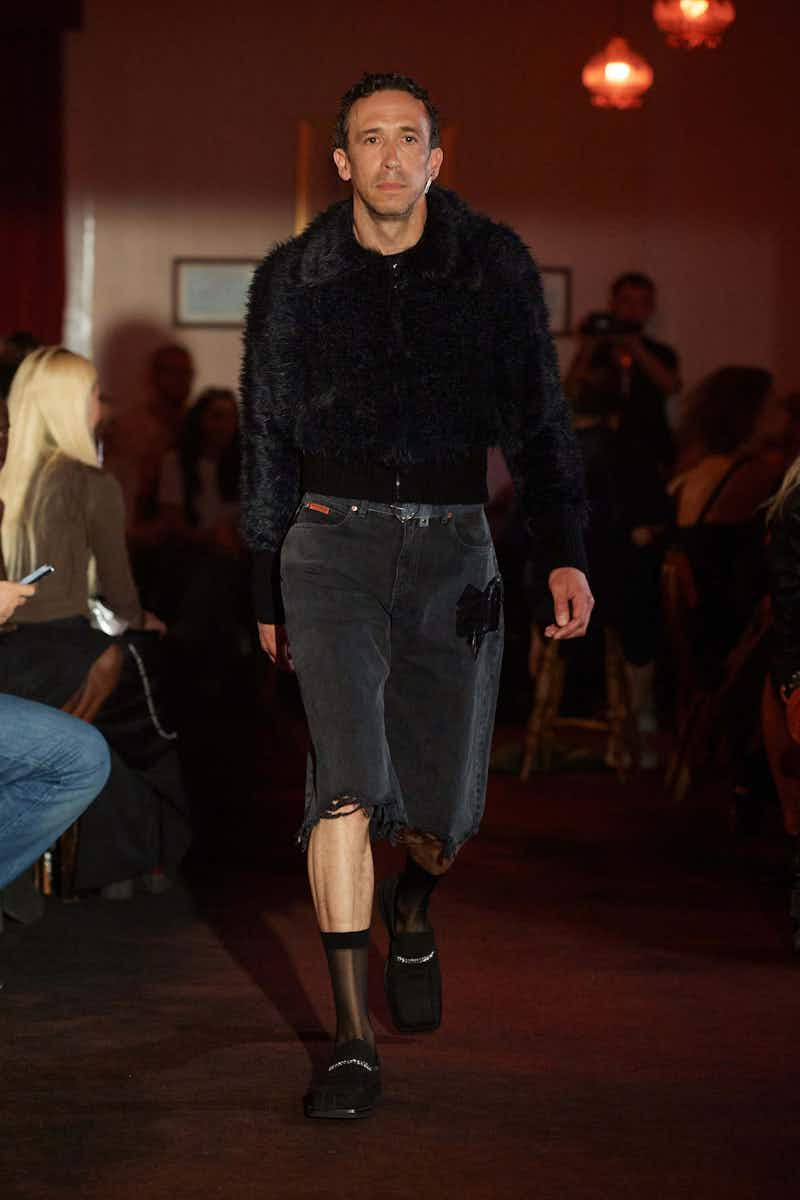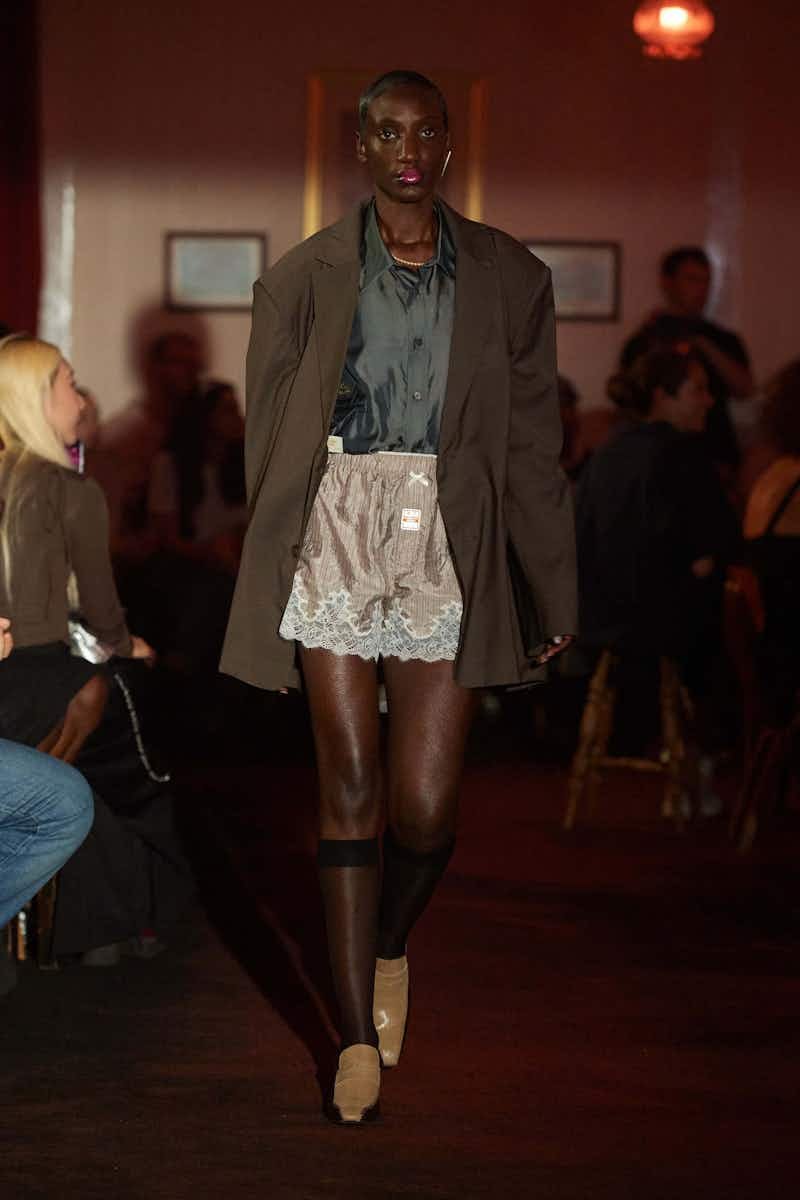 Following collabs with Stüssy, Tommy Jeans and Napijiri over the years, this SS23 collection was Rose's first showing since she was appointed as Clarks' guest creative director – the first to ever do it. Debuting two styles from the collection, lovingly titled Coming Up Roses by Martine Rose, eyes were on the ground for the designer's remixed take on beloved British footwear classic, Oxfords, as well as a women's heeled loafer, both in black leather and mock-exotics. The third iteration of Rose's Nike Shox MRF was presented, too, in a brilliant paint-splattered print, inspired by archive goalie kits from the sports brand.
For all the fun, the collection also had moments of political riot. The current, on-going strikes by the UK's key workers came to mind when Rose sent a hi-vis jacket down the runway and, later, a bright red parka that looked like a Royal Mail uniform. ​"I always have political themes running through my collections," she says. ​"It's always sort of referencing what's happening around us. It's difficult to ignore even if it is unintentional. It seeps in there."
As ever, she's heartfelt about the next generation, and what government cuts, more than 10 years of Tory rule and a cost of living crisis means for youth. Her advice?
"Go out and have as many experiences as possible," she says. ​"I don't mean that in a ​'get fucked up' way. I mean have your eyes open, take notice of people, take notice of what's going on, respond to it, and just be brave." We love you Martine, we do.
We at THE FACE would like to add a very special thank you to Mercedes-Benz, who drove our team around London – drive-thrus and all – during London Fashion Week.

More like this